Adirondack Peaks driving itinerary and things to do
This post includes affiliate links. As an Amazon Associate, I earn from qualifying purchases. Full disclosure.
A few hours away from New York, the Adirondack Peaks offer everything you could ever want. Breathtaking beauty. World class recreation. Trailways. Wildlife… and great food, too! This Adirondacks road trip will drive us through the most unique attractions on the 46 High Peaks. If you're planning to road trip in Autumn in the Adirondacks, this is the perfect guide for you!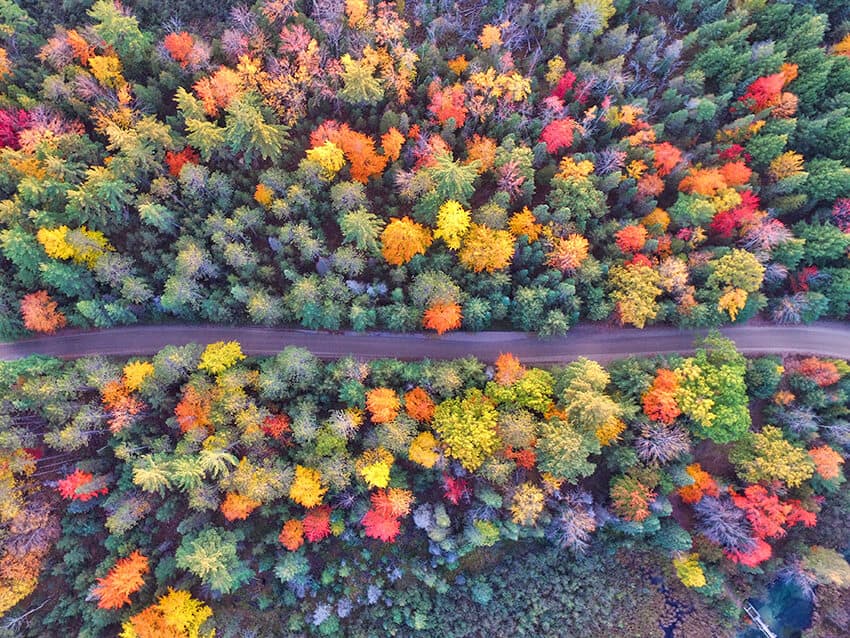 Have you ever mentally prepared for a long drive, sure that it will be boring? One of those "useless" transfer days, for which we carry hundreds of MP3s, a big bag full of snacks and drinks to be able to munch away your extreme boredom?
I knew already what I wanted to do once I got there. Try the best Adirondack dishes (for… uhm scienctific purposes!), test the best Adirondack hikes, hey, I just wanted the best of everything to enjoy my vacation after a super busy period at work. I only had one dreaded transfer day between me and my Adirondacks road trip.
Yet a couple of hours out of New York City I had to put aside everything (even my precious bag full of snacks). The landscape around us was just that good. We weren't only driving down scenic road, it wasn't just that. Maybe it was the fact that we explored the Adirondack Peaks during Fall with the foliage, or maybe it was just that the wildlife was everywhere. Sadly used to the "urban noise" that surrounds our cities, most of the times we're too busy to look at our smartphones to even realize where we are going (which is a very bad thing, if you ask me).
Renting a car is the best way to explore the Adirondacks. Click here to see how much it'd cost you. This is the service we have been using for years: no hassle and the lowest rates we've found online!
The Adirondack Mountains National Park seduced us right from the start with Bambi-like deers and squirrels running around to hide their acorns. And I realized that for the whole time I never missed the "big fellas". Forget Walmart and Starbucks (more or less): we found much better stuff in the Adirondack Peaks.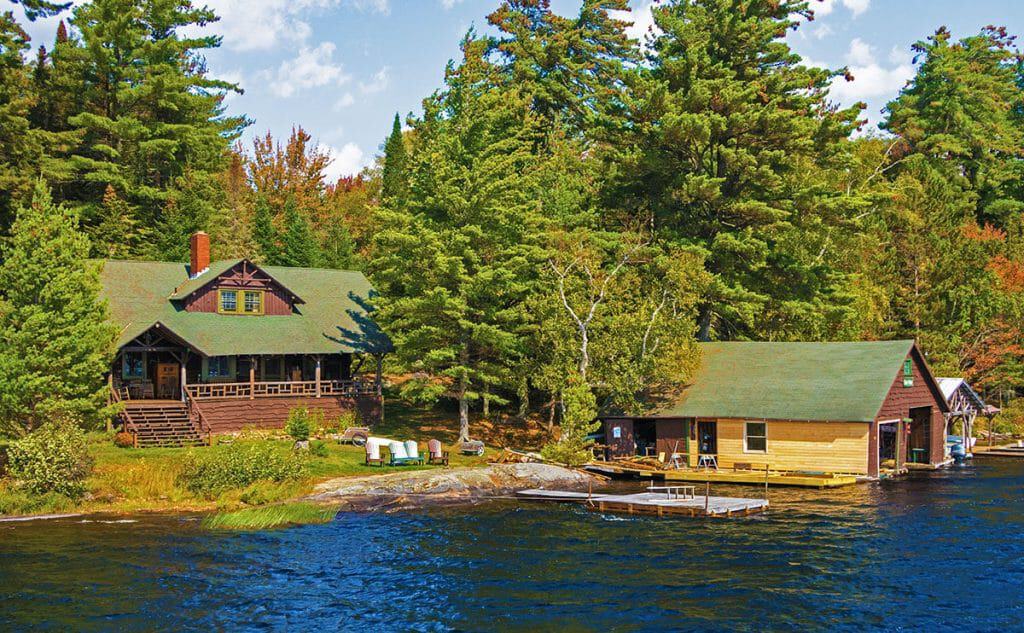 Quick Links to Post Content
Adirondack Great Camps
The first stop of our road trip through the Adirondack Peaks is Raquette Lake. Narrow, quiet roads frame a lake close to a smaller one, where in the early 1900s dozens of steamboats cruised to bring tourists to the area. The rich families from New York loved to spend their vacations here.
If you want to see the best side of the Adirondack Great Camps, we strongly suggest you book a lake cruise with Raquette Lake Navigation. We were invited by Captain Dean Pohl and his wife Donna to experience a half-day cruise with lunch. This family-run company has been working in Raquette Lake for over 26 years, with their boat W. W. Durant.
The Captain is an inexhaustible source of historical information about the area: he told us all about the story of the Great Camps, built in the Golden Age specifically to be almost invisible unless you got very close to their buildings. It was an "ecological" kind of architecture, the precursor of a more modern one, which tries not ruin the beauty of the natural environment.
Raquette Lake Navigation offers evening cruises with dinner, cruises with lunch to explore the lake, and for those who want to say I do… wedding cruises, to get married on the water!
By purchasing an admission ticket to Adirondack Experience (scroll down to read more about this) you can also get a $ 2 discount on the Great Camp Sagamore entrance ticket and on any cruise offered by the Raquette Lake Navigation.
Planning a road trip?
Click to download our FREE printable
ROAD TRIP CHECKLIST!
Great Camp Sagamore
Getting to the Great Camp Sagamore, if you don'thave a good GPS system and you don't know the area, can be difficult. In fact, you have to drive a few miles on a narrow road in the woods, following signs that you won't find easily, and at some point you will find yourself… in the middle of nowhere. Just like us.
When we arrived in front of a closed wooden gate, we stopped to reconsider our options and check our Adirondack Peaks itinerary. Perhaps we took the wrong turn? We couldn't see the buildings and we didn't want to just waltz into private property. The providential arrival of a photographer who was shooting landscape pictures of the Great Camp saved the day. Phew!
The Great Camp Sagamore, formerly known as Sagamore Lodge, was built by William West Durant, son of Thomas, Vice President of the Union Pacific Railroad. His visionary concept of a vacation camp for the wealthy families across the state of New York was precisely what shaped the whole area: he wanted to hide the buildings in the forest, to give his guests the idea of being isolated from the rest of the world.
Thomas Durant entrusted all his fortunes to his son, who seemed to develop almost an obsession with this project. He studied the Great Camp Sagamore in great detail. When W.W. Durant arrived in the Adirondack Peaks, there was just a wild area where people mostly worked as woodcutters. This camp brought work and attracted the attention of the great masses of tourists.
The materials with which Sagamore's buildings were built have been carefully chosen by W.W. Durant: everything had to be harmonized with the surrounding forest. Even the stones for the large fireplaces were numbered: if Durant wasn't happy with the result, he didn't hesitate to ask his workers to start it all over again. This, unfortunately, made construction costs way more expensive.
Yet the "Adirondack style" we know today, the one that has become a trend throughout the region over the years, was invented right here at Great Camp Sagamore by W. W. Durant.
In the early 1900s, the wealthy New York families wanted to feel like pioneers, but they didn't want to lose the comforts they were used to. To get to the Great Camp Sagamore from the Grand Central Station in Manhattan, it took them 23 hours. Durant was a genious. His guests had to change several trains and then hop on a steamboat. As they approached the Camp, the forest seemed to open like a curtain, allowing them to see the magnificent main building. Yet the still weren't there. Durant had decided they had to go through one more mile on a carriage, only to arrive to the Camp through the secondary entrance.
In a period when not even every housein New York had such luxuries, guests at Great Camp Sagamore had hot running water and electricity. Each and every family had a bell they could use to call a butler, asking for oysters and champagne, if they felt like it. However, the long and difficult trip to the lodge was the perfect means to convince them that they were in a far away land, just like the old pioneers.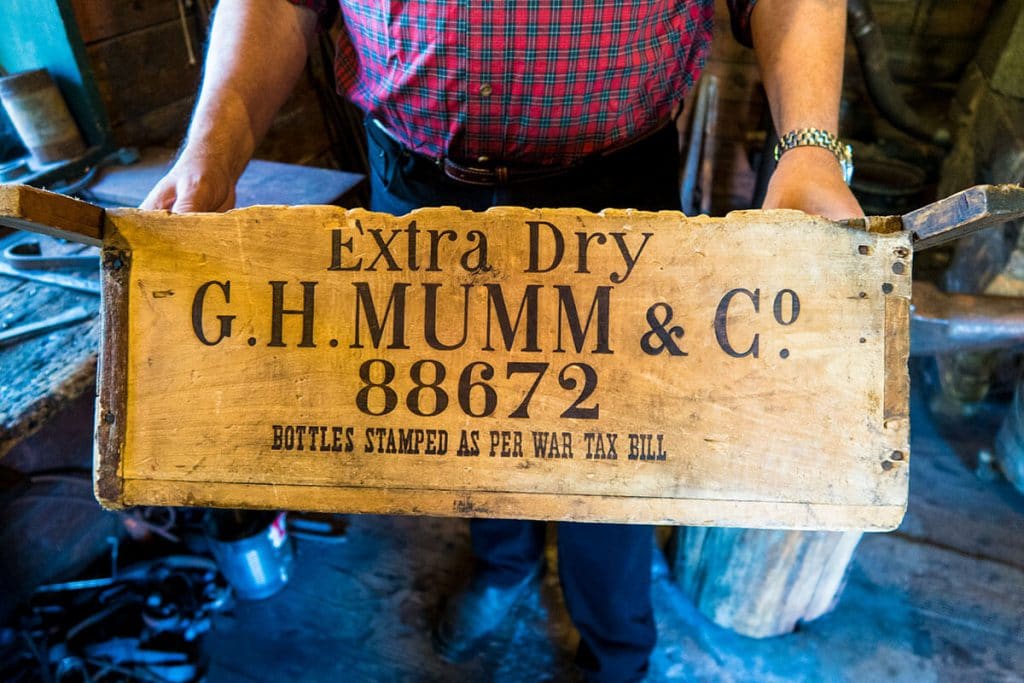 Due to his enormous debts and legal proceedings (he had been sued by his own sister), W. W. Durant was forced to sell Great Camp Sagamore for a third of what it costed him to build it.
The buyer was Alfred G. Vanderbilt, a young millionaire from New York, whose family had built the Grand Central Station and a series of luxury hotels all over the United States. Alfred had just married and at only 22 years old, he wanted to use the Camp as a gathering place for parties and to spend time with his friends from Yale. But his wife didn't appreciate the quiet of the place and decided to divorce him.
Despite being the owner of many villas, even in Europe, Alfred decided to spend time in the Adirondack Peaks whenever he could, to get away as far as possible from the paparazzi who tailed him. His second wife, Margaret Emerson McKim, on the other hand, fell in love with Great Camp Sagamore.
Yet W. W. Durant's concept, that of a vacation place for up to two families, felt now obsolete: Alfred and Margaret decided to add more buildings to accommodate more guests. Margaret also wanted to make some other substantial improvements. The dining room designed by the previous owner was small and had no windows. She asked for it to be enlarged, adding a series of windows that would allow guests to enjoy their meals by watching the lake and the forest. The dining room has remained the only building that interacts directly with Sagamore Lake.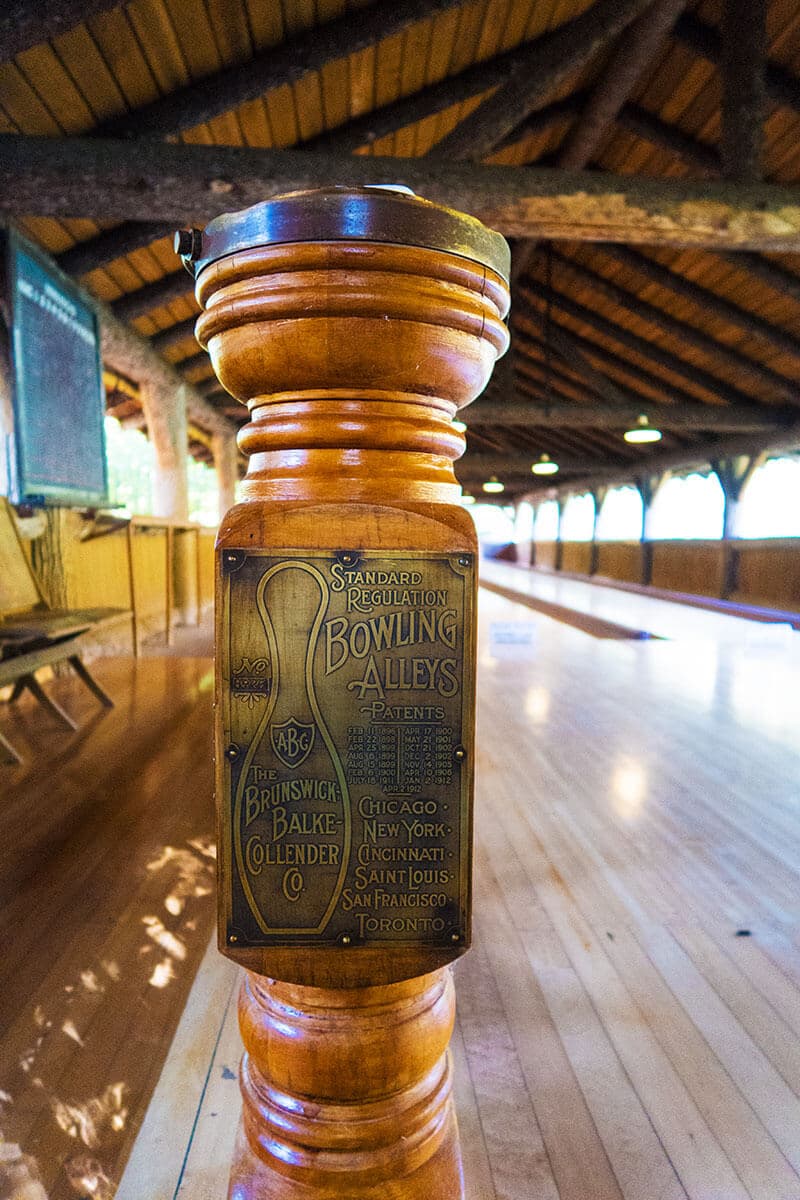 Margaret also volunteered a lot, especially with war veterans. Back them they thought that the best method to heal their mental scars was to distract them with any kind of sport, possibly outdoors. That was why they built a magnificent bowling hall, entirely in wood and still working (as you can see from the video at the top of this page) at the Great Camp Sagamore.
Behind the Camp there's a small village of colored buildings of a nice shade of red for the Camp staff. Durant had thought of everything: there was the locksmith's shop, a carriage shed, stables, but also a small farm and a field whose fruits were served fresh at Great Camp Sagamore. Among the buildings that housed the staff, we can still see a small school.
W. W. Durant, the true pioneer of the Adirondack Peaks, wanted to make sure that the children of employees could read and write, before they were sent away at schools that kept them away from their families.
After risking the demolition because of a number of reasons, Great Camp Sagamore was saved through the efforts of a number of supporters. Even today there are guests who come back every year… some have been vacationing at the Sagamore for over 20 years!
The Camp today has a capacity of about 70 guests and about twenty staff members. Mostly they are college students. The Sagamore is open from May until mid-October, and organizes, through an outside association, many interesting courses. It goes from photography to forging metal, to the construction of the long wooden canoes typical of Adirondack.
You can get a 2$ discount on the entrance ticket by buying a ticket for the Adirondack Experience Museum (keep reading for more info).
Blue Mountain Lake and the Adirondack Experience Museum
Over the years Blue Mountain Lake has become a cultural hub, not just for the history of the Adirondack Peaks but of the entire New York State, thanks to the Adirondack Experience Museum. Like many other activities here, it's unfortunately only open from May to mid October.
Tickets cost 20$ per person, with reductions for students and the elderly. They can be purchased online and are valid for a second visit within one week of the first obliteration.

The new exhibition within the museum is called Life in the Adirondacks and serves as a starting point, then moves to other areas of this interactive museum. Believe it or not, it's 19,000 square foot and yet it never gets old.
A video introduces visitors to the beauty of the Adirondack Peaks, in a themed room with a curved screen, to offer the most immersive experience. Inside the new exhibition we found cars, crafts, boats, canoes and even a railway wagon, that you can enter to see a beautiful reconstruction, showing you… the old way to take a road trip in the Adirondacks!
The main theme of this part of the museum, the first of five thematic areas, is the way in which tourists, as well as the most famous visitors such as Teddy Roosevelt, arrived to the Adirondack Peaks over the years.
The second thematic area is devoted entirely to the Native American tribes Mohawk and Abenaki, with photographic and artistic exhibitions, but also interesting videos that show the culture of these populations, still present throughout the region.
The third area explores the ways in which pioneers and early inhabitants lived in the Adirondack Peaks, and is closely linked to the fourth, whose theme is Working in the Wilderness.
Working here was never easy, it was hard and very dangerous. The last section is dedicated to the Adirondack Mountains National Park, a real act of love that gives voice to the different perspectives of the people who live and work here, or who come back every year to spend the holidays.
Before going away, visitors are encouraged to share their favorite memory, a moment of the visit that has particularly affected them, on a media device that transfers the script to a set of leaves.
There are already thousands of leaves in this virtual lake, with dedications from travelers from all over the world.
We really enjoyed this museum suitable for kids and adults alike, especially because it engages visitors, making them understand by trying things themselves through the most realistic experiences, what it means to live in the Adirondack Peaks area.
In every section you can tap, see, explore, but also play. Using interactive video games, you can try rowing on a canoe, or push logs along the rapids to get them down the river. The open ticket, usable within a week for a second visit, is the perfect way to enjoy the entire museum, even when it is crowded, without risking to miss something.
As you walk out of Life in the Adirondack, stop by the flower pots: dozens of huge butterflies will fly all around you. The magnificent Blue Mountain Lake, framed not only by forests, but also by the flowers planted here by the museum staff, looks even better!
The Hedges
I don't think I've ever met someone more in love with their job than Larry Grossman, General Manager of The Hedges, another Great Camp located on the shores of Blue Mountain Lake. Since our arrival at this lodge, that seems to exude the luxury of the Golden Age, with an interesting vintage feel and a very elegant taste, we only met smiling faces.
From the receptionist, a lively and charming Spanish teacher, to the staff members, to the guests, everyone at The Hedges seemed… tremendously happy to be there. When we met Larry we understood why.
It's easy to fall in love with a place like The Hedges. It seems to have jumped out from an ancient fairy tales book, it's a place out of the world that instills serenity.
The concept of "Camp for the wealthy families" is the same as the other Adirondack Great Camps. Here, too, you have the opportunity to interact with others, or to just enjoy a bit of time immersed in the forest. The cabins always leave the necessary privacy to the guests, even thanks to large bushes full of flowers… even late in the Fall.
The secret of this magic hasn't been revealed, but we're thinking it has to do with Larry's infinite love for this place.
He arrived here with his wife as a guest, and they both decided to return every year to relax for a weekend or more.
Which is what many of the guests do, here at The Hedges. They always book the same room, which is what makes it difficult to find accomodation (book early if you want to stay here!). And I thought this only happened in Italy for the Lucca ComiCon!
When the owner needed a hand in managing this place that, for obvious reasons, requires lots of love and hard work, Larry and his wife immediately offered to help her. They shut down their gardening company in New York and moved to The Hedges.
I wish you could see Larry's face as he showed us the different rooms of this wonderful complex immersed in nature, telling us how proud he is that he can take care of so much beauty. Confidently, with a pinch of shyness, he confessed he feels sorry when the guests leave. But then he realizes that he lives in this magnificent place and this fills his heart with joy.
From each one of our travels we save memories of faces, moments, feels. One of the most beautiful memories we have of our trip to the Adirondacks, was to meet Larry Grossman.
This is one of those meetings that, no matter what, you just can't forget: to be so enthusiastic and so much in love with your job is really a rare thing.We were Larry's guests for dinner, discovering with pleasure that even those who haven't booked a room at The Hedges can have dinner here.
The large restaurant, typically Adirondack style, is lit up in the evening, offering a truly original experience. From the dining lodge you can see the sunset over the Blue Mountain Lake in a very romantic atmosphere.
The price of the menu includes four courses. A soup, a salad, a main dish (there is always a vegetarian option) and cake: after tasting Chef Sue's food we understand why so many people smile at The Hedges!
Tupper Lake and the Wild Center
As we moved on our schedule for our tour of the Adirondack Peaks, we headed for Tupper Lake.
The road that crosses Long Lake to get to the Wild Center is really lovely, especially in Autumn. We often stopped to take photographs, and although the weather was a bit odd, we were dressed in layers, just like we do in Italy, and so we just had fun. Perfect road trip material, if you know what I mean!
The Wild Center was opened in 2006 and includes 81 acres of forest and over 54,000 square foot of interactive exhibits. Just like the Great Camp Sagamore and Raquette Lake Navigation, the Wild Center also benefits from a 2$ discount on the entrance tickets if you bring your ticket to the Adirondack Experience museum.
If you visit the Wild Center in Summer I suggest you to arrive in the morning as soon as the center opens (at 10am) so you can choose to access canoe tours if you have.
The Wild Center Management has granted us the chance of peeking behind the curtains, with the absolutely nice Nick Corcoran.
They wanted to show us the animals they are taking care of, and we wanted to find out how a wildlife center this big can entertain both children and grown ups. The Staff members who take care of the animals are only four or five.
Nick also showed us the feeding timetable, joking about the fact that their guests eat better than their dogs at home! From what we have seen, we can understand why!

There are many animals that this center has saved from certain death. Much of them have been run over by cars… even the magnificent birds of prey that I love.
We met several owls with permanent brain damage, because they were hit by cars. But also a couple of clever crows, cute otters and majestic hunting falcons. I was worried that I'd find small and overcrowded cages, but I was pleasantly surprised.
The animals have room to move, the cages are clean and the staff is genuinely attached to each one of them. Those who are exposed for educational purposes are never over-stressed. Yeah, because here the keyword is: to teach. The mission of the Wild Center is to show adults, but especially to future generations, how to take care of the environment with a keen eye to wildlife in the Adirondack Peaks.

The kids who visit and attend the educational programs at the Wild Center learn a lot about the forest but also how not to pollute or to damage the environment.
And then, full of gratitude for the experience, they leave drawings and cards to their favorite animals and members of the staff: in the staff area there is an entire wall full of gifts left by the little guests of the Wild Center.
Nick showed them to us with great pride and it was really nice to see how much care and affection they put into each one of them.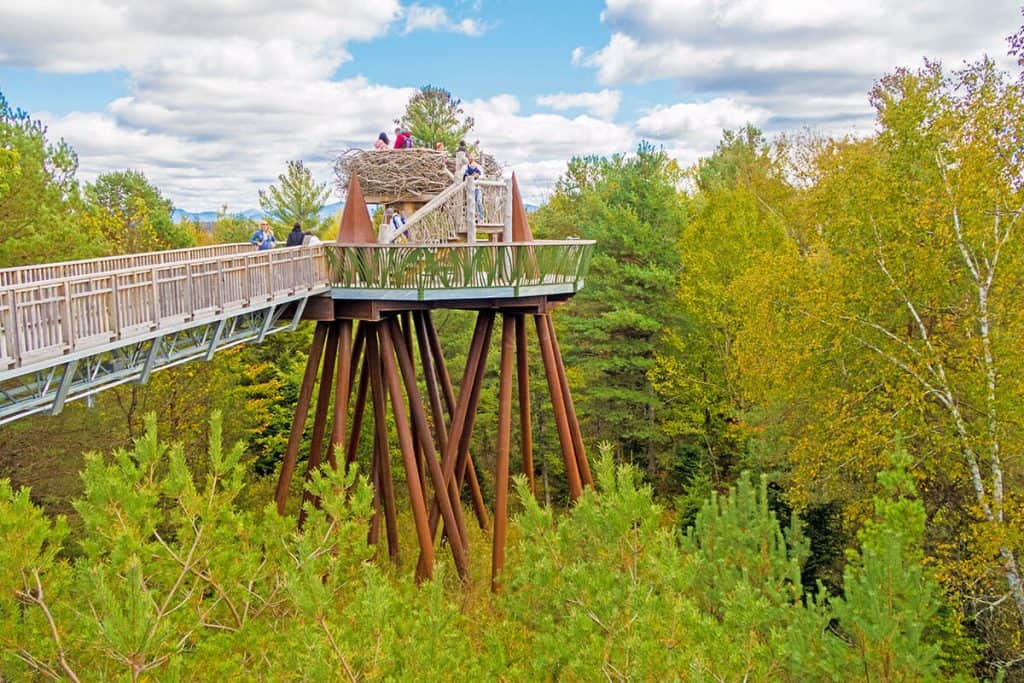 The Wild Center is not just an interactive museum but also an immersive experience. One of the latest news is the iForest, an artistic installation designed by the English composer Pete M. Wyer. It's a walk in the woods, in silence, to listen to Mohawk songs. The experience is really very impressive and since it is a "natural" show, the scenario changes with the changing seasons.
Another point of interest is the Wild Walk: children love it! This elevated structure allows you to look at the forest from above, just like the birds of prey. Through suspended bridges and walks in large logs, the life of the forest is explained in detail, starting with the smallest beings, ants … up to a huge spider!
The Spider's web is an installation always full of children. This is a cobweb made of ropes, suspended mid-air among the trees, in which the little ones love to jump and relax. If you want to take a few good pictures, I recommend climbing up to the Eagle's nest, the view is indeed spectacular!
If you are planning a road trip in this region, make sure you add the Wild Center to your itinerary because in our opinion it's one of the best things to see in the Adirondack Peaks: you won't be disappointed!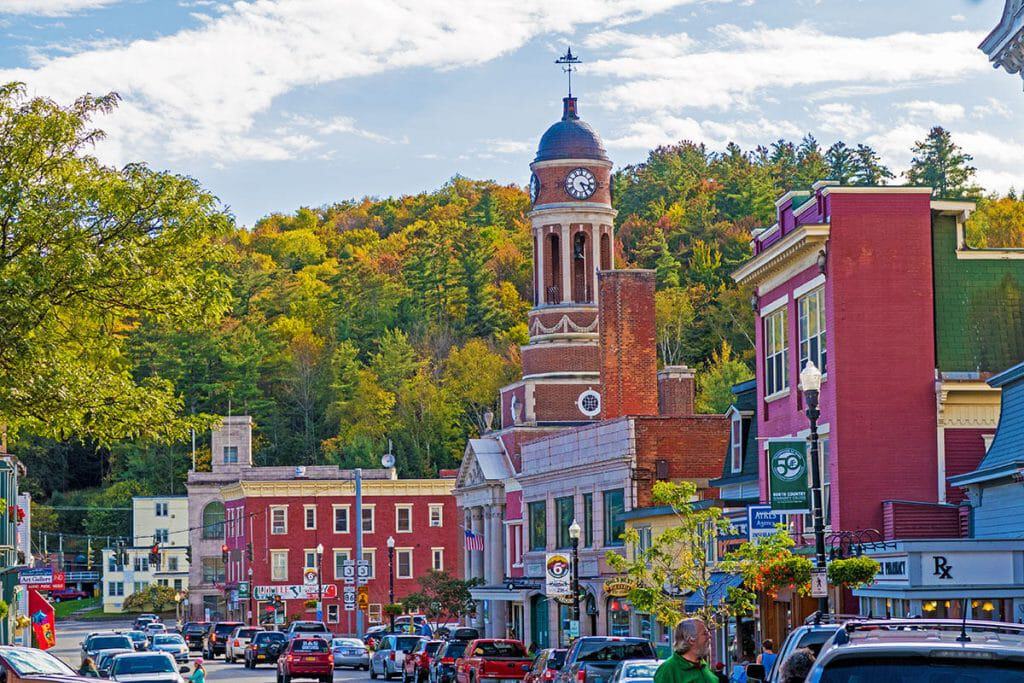 Saranac Lake
When we decided to visit this part of the State of New York, I immediately added to our itinerary that I wanted to find one of those "typically American" towns that we see in so many movies here in Italy. Now that I've seen quite a bit of the Adirondack Peaks, I can finally say that Saranac Lake is just what I was looking for.
The charming town with the beautiful clock tower is small and delicious. People always smile and welcomes tourists as if they are family members.
We explored Saranac Lake with Kelly Brunette, discovering all the little details that only a local knows and that you won't find in any travel guide. Here nobody locks the door at home because the crime rate is very low and the crime offenders are mostly people who drink and drive. If you are looking for the "Real" America, that Hollywood has been selling to us for ages, this is the authentic version.
At the top of the hill, a children's playground smells of delicious popcorn: we have even found a pretty wooden carousel with elephants, caterpillars and birds instead of horses. The fantastic thing is that each one of these animals was hand painted with great care.
Here there's no fast food trash, no big supermarkets or Starbucks. This made sure that this lovely community of artists developed good food, so you will find quite a few good places to eat in Saranac Lake.
We tasted the best muffins ever, with chocolate chips and orange zest, at Origin Coffee, which prepares an "almost" Italian coffee and is also open for lunch.
Find cheap accommodation at Saranac Lake! See if there are vacancies and what are the most recent deals!
At dinner, if you want a quiet place, a family atmosphere and great cuisine, I recommend you go to visit Ken and Trish Fontana at the Blue Moon Café. Not only the food is delicious, but Ken, with his Italian heritage, is a cheerful big man who loves to chat with his customers. You will feel just like a guest at their home. And did I mention that the food is delicious?
If you are looking for a luxury restaurant where you can enjoy delicious steaks, you can drive a few miles to the outskirts of Lake Placid for The Whiteface Lodge, where besides from luxury rooms and a large spa, there is a restaurant that reflects the Adirondacks style with a touch of extra class.
At Kanu, the room with the high ceiling has two huge fireplaces and seems to recall in every detail all the elements that have made the Adirondack Peaks famous. Canoes hanging on the walls with black bears dressed as fishermen, Adirondack dishes and great attention to the details make the Whiteface Lodge one of the best Adirondack resorts.
Being from Naples we immediately spotted the wood oven for fresh pizzas, which could be a great alternative to their steaks. Yet let me tell you that you'd miss out!
For a more informal dinner there is the Kanu Lounge, which offers, aside from live music and traditional Adirondack dishes… the chance to meet Zachary Blair! This incredible mixologist is able to prepare the perfect cocktail for you, only by asking you a few general question. He's a great fellow: I definitely recommend you stop by to say hi!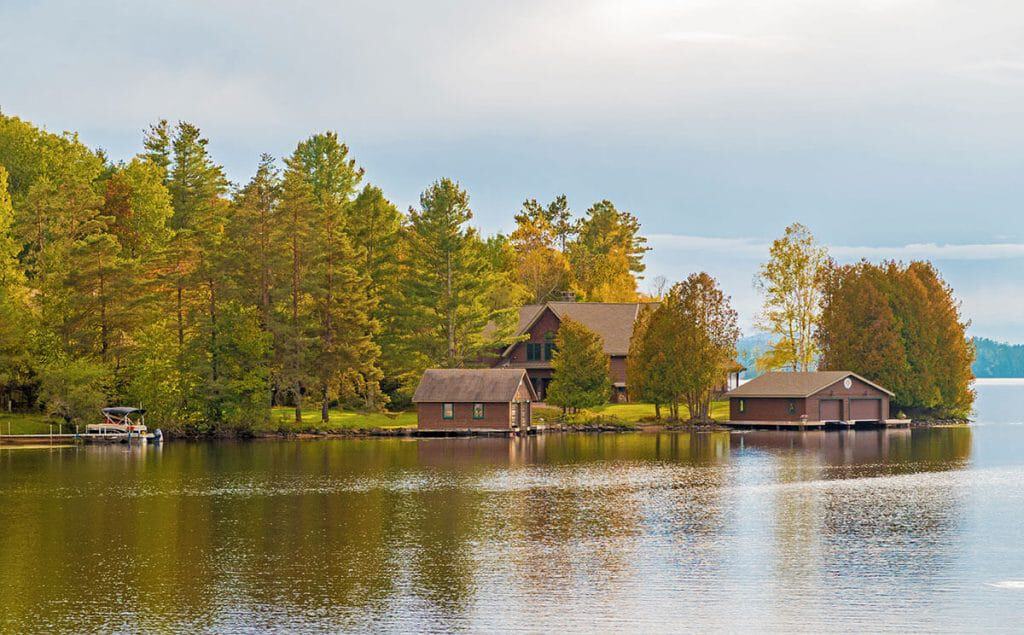 One of the largest hotels in the area, Hotel Saranac, a historic building from the 1960s, pretty famous here in the Adirondack Peaks has just recently been reopened. So there's definitely more chances to find lodging at Saranac Lake.
In the meantime, if you are looking for a place to stay, just outside the city is the Ampersand Bay Resort. A series of beautiful cabins surround the lake shore, half hidden in the forest.
In the evening the staff turns on a pretty bonfire, not far from a romantic gazebo. Guests are invited to enjoy the stars sitting by the fire, and even to roast marshmallows or s'mores.
As if that was not enough, here you can rent canoes and pontoon boats to enjoy your stay at the lake – the perfect place to enjoy some healthy relax in the middle of nature, just a few minutes from the city. Their suites have a jacuzzi. I'm just sayin'!
Saranac Laboratory
Not many people know that Saranac Lake for many years has been a great sanatory for people suffering with tuberculosis.
In 1873 Dr. Edward Livingston Trudeau, seriously ill with TBC, arrived to the Adirondack Peaks in the hope that the climate of these mountains would help him to feel better.
Realizing that the clean air, far different from the polluted one he breathed in New York, and the good, rich and healthy food, had actually improved his conditions, he decided to build a nursing home in Saranac Lake to take care of the poor suffering with tuberculosis.
In Saranac Lake he started to work on a cure, studying a disease that back then bore thousands of victims without anyone even succeeding in slowing down its course.
Because of an accident, Trudeau's house burned down with her all of his studies and the material had collected. He was then offered a solid laboratory made of bricks by Dr. Baldwin to continue his studies. The Saranac Laboratory, whose construction was completed in 1894, was the first laboratory built on American soil to conduct a research on tuberculosis.
Today it's a museum, open from Tuesday to Thursday, from 10 am to 4 pm, and on Saturday from 10 am to 4 pm. The cost of the entrance ticket is 5$ but the children get in for free.
We visited with Director Chessie Monks-Kelly, who lives in Saranac Lake and has a deep love for history.
Chessie showed us the interesting halls of this large red brick building, explaining to us that back then, Saranac Lake wasn't a rich town. The arrival of mass tourism interested in Trudeau's studies was a great news for everyone.
The Saranac Lake people weren't scared by the tuberculosis, so they housed the patients in closed porches (widespread in the area for this reason), because it was believed that to cure tuberculosis they had to stay outdoors, even in winter, lying down not to stress their body too much.
In order to counteract the effects of the disease (also called consumption), they were given food rich in flavors. Even today the Adirondack dishes have the same flavours, they're rich, tasty… and very caloric!
The Saranac Laboratory is a very interesting place to discover the history of this town and how great progress has been made in treating a disease that has killed so many people for years.
Chessie is also often busy researching historical records, at least those who haven't been lost in the fire. There are still so many Americans who write to her, searching for news about their loved ones: tuberculosis was a disease people were ashamed of, so they didn't say anything about it, not even to their family.
Day after day, with great patience, Chessie combines pieces of information like jigsaw puzzles, helping a lot of people not only to rebuild their family tree, but also to retrieve, wherever possible, photographs, letters and quotes in newspapers of the time.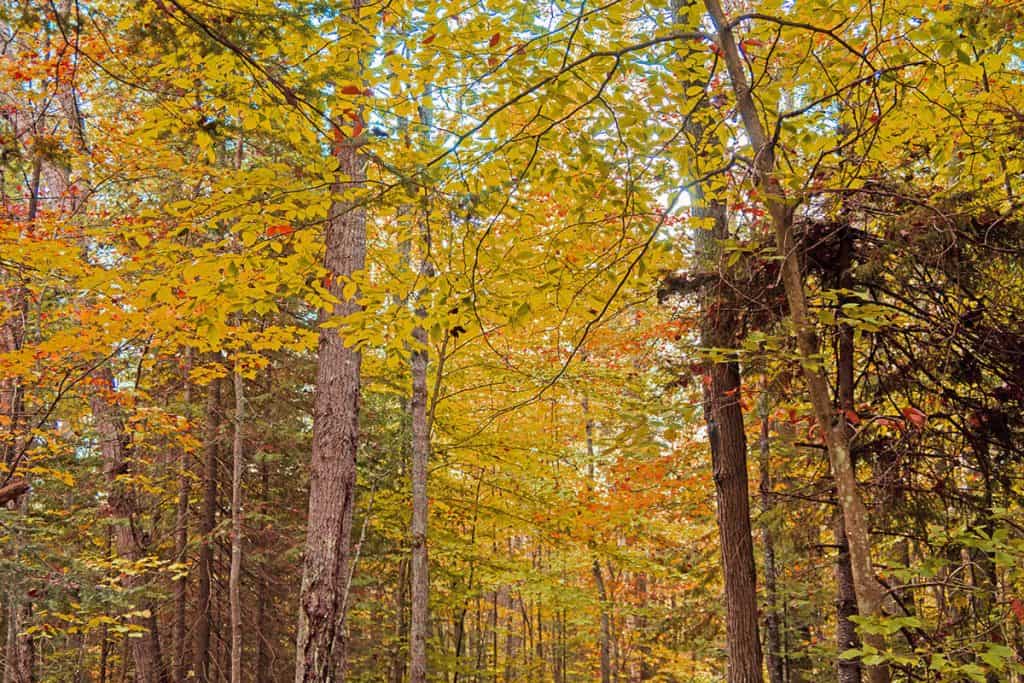 Forest bathing with Adirondack Riverwalking
I'm sure not many of you would add the "forest bathing" to your list of things to do in the Adirondacks, mostly because not many people know that you can practice this Japanese discipline also in the Adirondack Peaks.
In Japan they call this practice "shinrin-yoku" and it consists in taking short walks in the forest to lower your stress levels. Forest bathing studies have in fact measured significant changes in stress hormones and proved that this "natural therapy" can strengthen the immune system.
The Adirondack Peaks forests are the perfect place for forest bathing, and yet, in spite of what you might think, this kind of practice has to be handled with qualified staff, who can guide us along the way, allowing us to actually relieve the tension. This is where the Adirondack Riverwalking comes into play.

This group of nature lovers and experienced therapists works in the forest owned by the Paul Smith's College VIC, organizing forest bathing sessions in every season. After all, the Adirondack Peaks and the forests that cover them can be absolutely beautiful even in Winter… provided that you use snowshoes, of course!
The Adirondack Riverwalking also offers a much more adventurous experience, the "Riverwalking". It consists in wearing waders and boots (like those worn by fly fishermen) and walking inside the Ausable river.
The groups they schedule for their forest bathing sessions can reach a maximum of 10 participants (20 with two guides) and the cost to participate is 40$ per person for adults (80$ for riverwalking, and it includes the waders and boots rental) and 35$ for children (70$ for the riverwalking).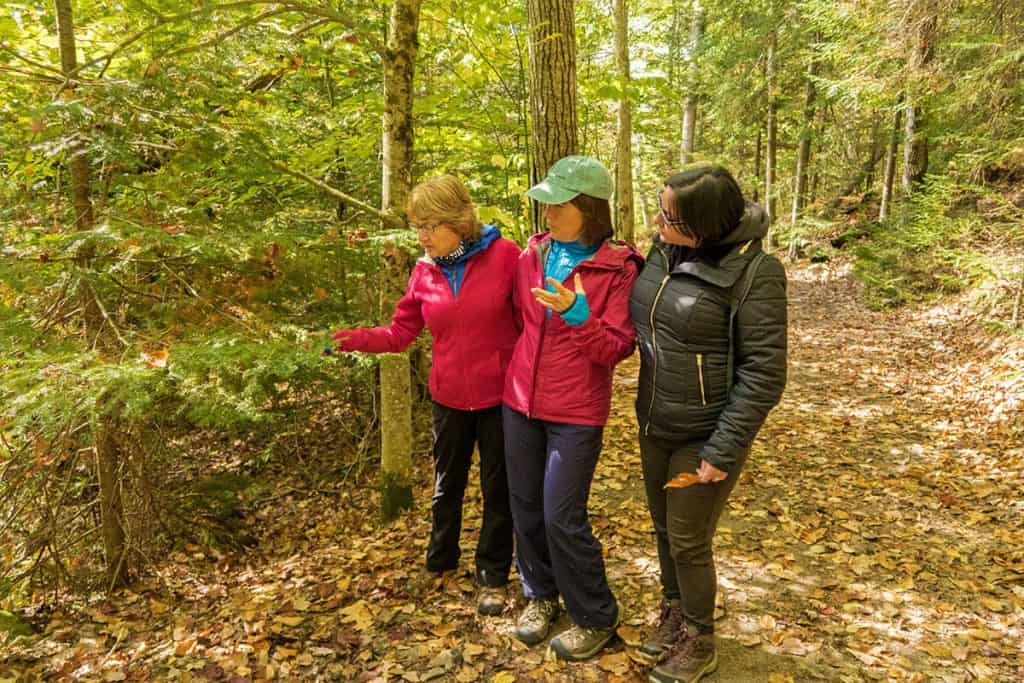 But… what is forest bathing?
We were hosted by Helene Gibbens and Suzanne Weirich, who sent us a long mail with all the necessary information, things we would find useful as we walked in the forest (not many people know the forests on the Adirondack Peaks like them) and a list of items we might need, the day before our forest bathing experience.
Not knowing much about forest bathing I was worried that it might be one of those grueling and hard hikes in the forest, early in the morning, when the air is cold and your lungs freeze. I got so worried that I asked Helene if even a person who suffers with asthma like me could take part in their forest bathing session.
Now that I've experienced it I can reassure all of you: it's easy, interesting and I never got tired. An experience everyone can do. In fact, I think it should be one of those activities to be practiced often by those who have the opportunity (like having forests or forest bathing groups close by). It is not just a walk in a forest, experiencing it passively.
As soon as we arrived, in fact, Helene and Suzanne immediately warned us. Some things could have pushed the boundaries of our comfort zone, yet the process would benefit us in the end.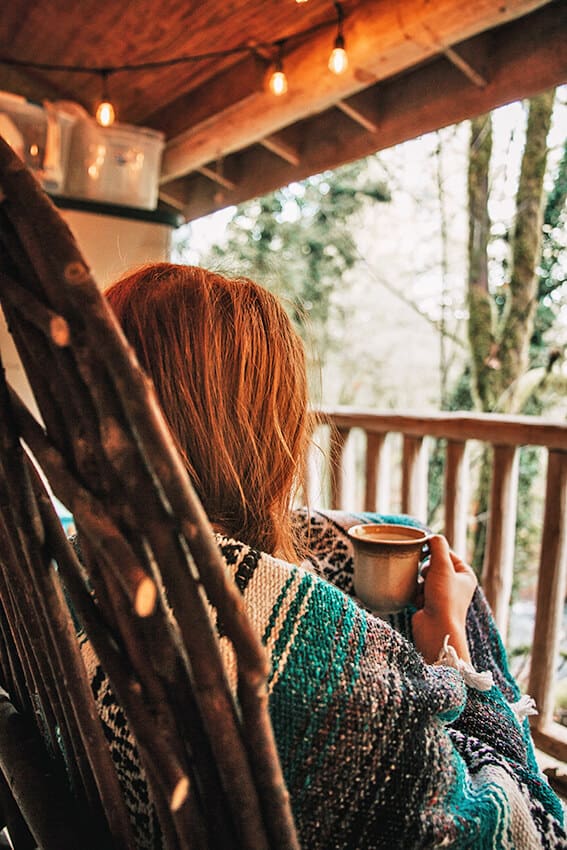 The reassuring presence of these two amazing guides has allowed us to break down every barrier. The path includes a series of "tasks" to be performed while walking, involving all of our senses.
We sniffed various elements to discover what is our favorite scent (moss for Aldo, pine for me), we touched stuff like bark, rocks and moss to explore the wood even with your hands, and we even got to listen to the sounds of water as we crossed a couple of little creeks.
Not knowing much about forest bathing I was worried that it might be one of those grueling and hard hikes in the forest, early in the morning, when the air is cold and your lungs freeze. I got so worried that I asked Helene if even a person who suffers with asthma like me could take part in their forest bathing session.
Now that I've experienced it I can reassure all of you: it's easy, interesting and I never got tired. An experience everyone can do. In fact, I think it should be one of those activities to be practiced often by those who have the opportunity (like having forests or forest bathing groups close by). It is not just a walk in a forest, experiencing it passively.

As soon as we arrived, in fact, Helene and Suzanne immediately warned us. Some things could have pushed the boundaries of our comfort zone, yet the process would benefit us in the end.
The reassuring presence of these two amazing guides has allowed us to break down every barrier. The path includes a series of "tasks" to be performed while walking, involving all of our senses. We sniffed various elements to discover what is our favorite scent (moss for Aldo, pine for me), we touched stuff like bark, rocks and moss to explore the wood even with your hands, and we even got to listen to the sounds of water as we crossed a couple of little creeks.

At the end of this incredible experience, the group gathers on the university's outer porch, still in the forest, with the Adirondack Peaks as a scenic background, for a tea ceremony.
In fact, Suzanne had collected pine needles and other beneficial herbs we sniffed and learned about, and she used them to prepare a hot tea for us.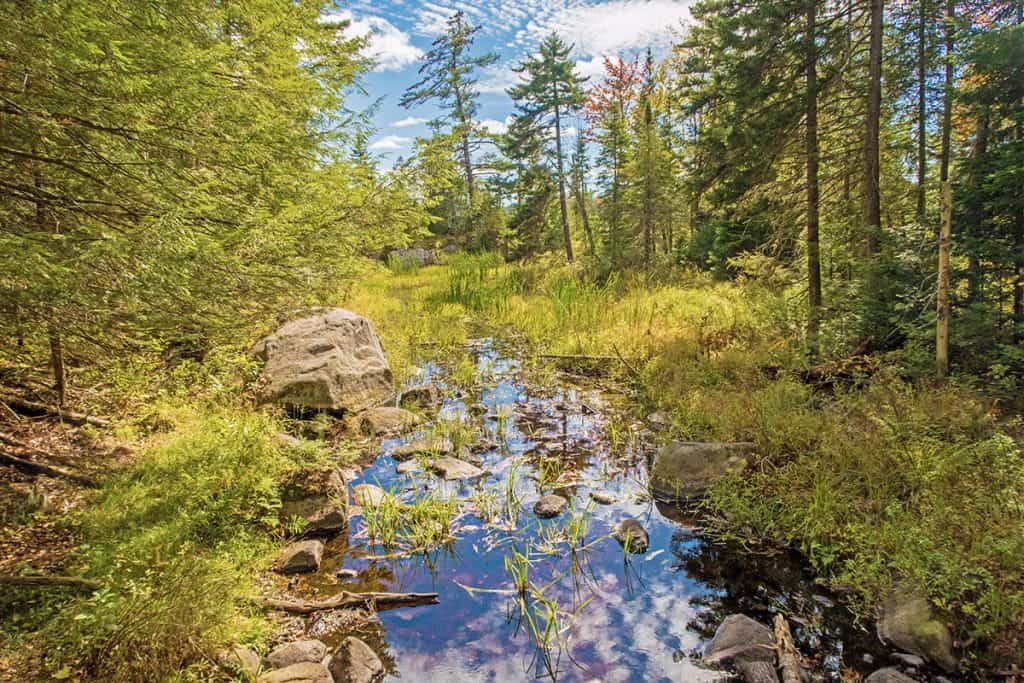 Sitting in the circle, we got to talk about how we experienced the forest and how we felt. "No judgment" is the motto of the Adirondack Riverwalking: in modern society we don't even realize how much the judgment of others can influence us. Yet, immersed in the forest, in front of a cup of scented tea, it's easy to let go and talk about your emotions.
Just as much as it's easy to realize that you have finally gotten rid of all the accumulated stress, just by disconnecting and tuning in on the frequencies of Mother Nature.
You can book book a forest bathing session with Helene or Suzanne using their official website.
Lake Placid
Saranac Lake and Lake Placid are just a few miles away. Yet the difference between the two cities is abysmal, to those like us who had gotten used to the quiet.
While Saranac Lake exudes peace, family atmosphere and tranquility, Lake Placid is way more trendy, crowded and full of tourists. The first sign for us was a McDonald's we found as soon as we entered Lake Placid. When we found the first Starbucks we met in the Adirondack Peaks on Main Street, we realized that things here would be completely different.
Located around the spectacular Mirror Lake, named like this because its placid waters reflect everything like a mirror, this town was the theater of the Winter Olympic Games in 1932 and 1980. The last edition, specifically, is remembered in United States of America as "Miracle on Ice". A hockey team formed by college students and non-professional players defeated the Soviet national team 4-3 and two days later won the gold medal.
Since then Lake Placid has remained a landmark for every Winter sports enthusiast and it's one of the few places in the Adirondacks whose tourist and business activities remain open all year round.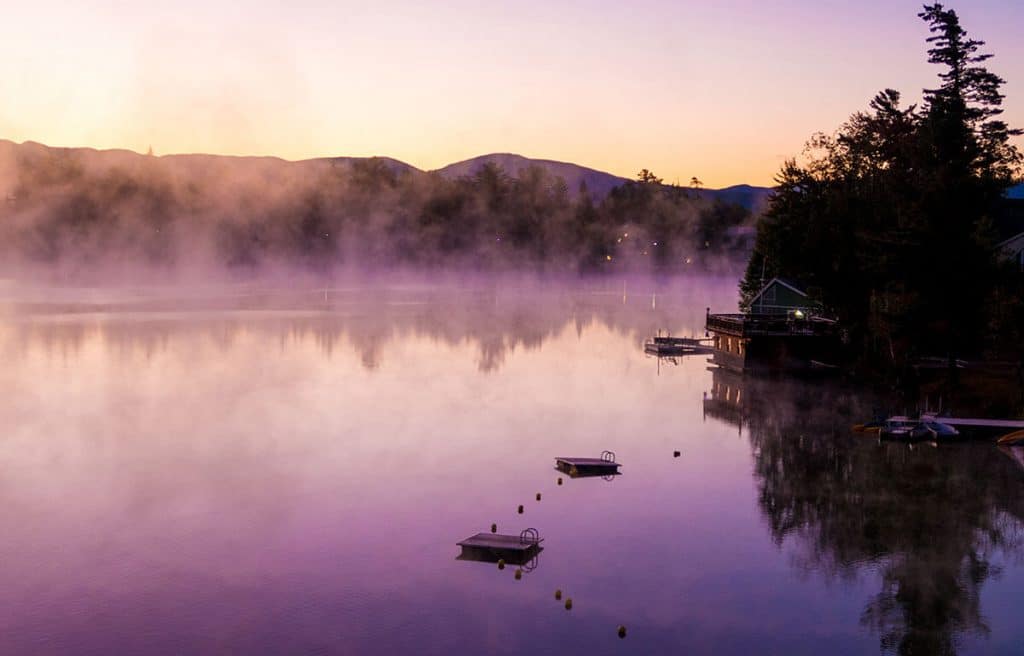 We stayed at the Golden Arrow Lakeside Resort, located on the shores of Mirror Lake. And let me tell you, as soon as we entered the lobby we were left breathless.
At first we ignored the lounge and the magnificent stone fireplace, focusing on an immense glass window covering an entire side of this building in stead. The effect is like being in front of a living picture representing Mirror Lake. The thick wooden frame contributes to this effect: the sunset on the lake, seen from here, sitting on an armchair by the fire, is a show of indescribable beauty.
All the rooms of this large, family-run hotel overlook Mirror Lake, allowing guests to experience the lake directly from their own room. From the magical colors of dawn, to the mist rising from the water, to the romantic sunsets that will make you fall in love: you can have it all right from your own bed. How cool is that?
You can bathe in Mirror Lake and in fact at Golden Arrow Lakeside Resort they also have a sunbathing area, you can rent a canoe to experience the lake on your own, or enjoy the swimming pool, which is, as far as we have seen, one of the areas kids like the most.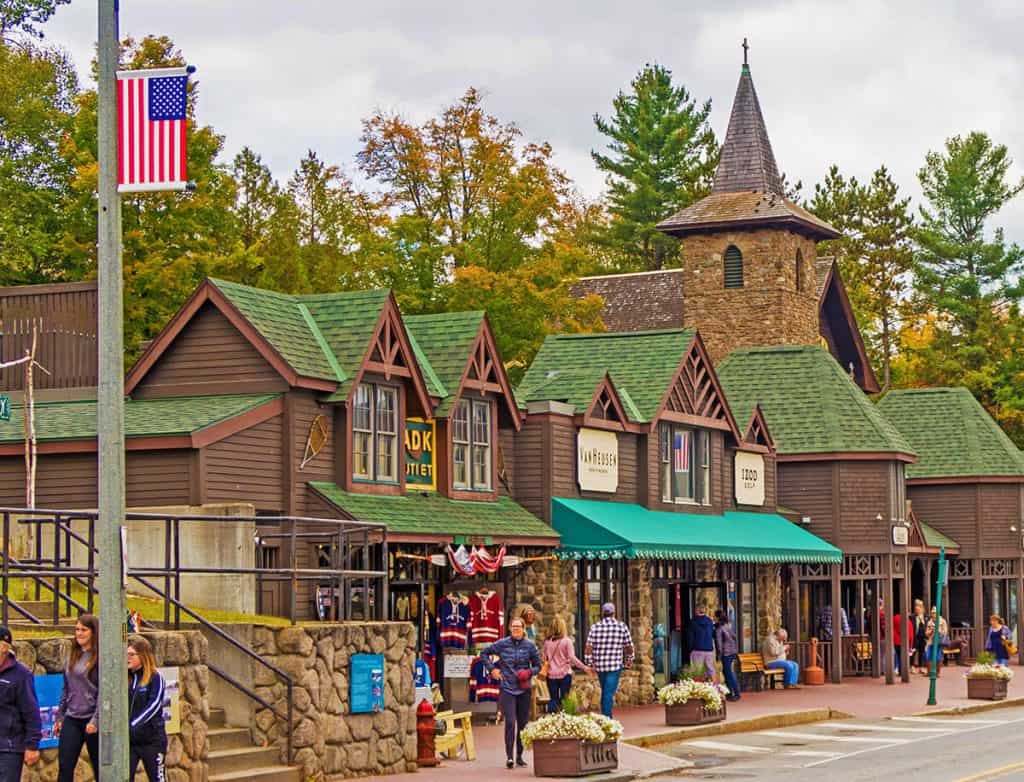 From the Golden Arrow Lakeside Resort you can explore Main Street in Lake Placid just walking around, since it is located in the center of this quaint little town.
We had breakfast at The Breakfast Club, where they make huge pancakes that you're bound to eat topped by the maple syrup produced in the Adirondack Peaks. Although we love road trips, sometimes it's nice to just forget about your car and just walk around to do some shopping or reach that very nice restaurant!
Check out the latest deals for hotels and lodges at Lake Placid: click and see if there are vacancies!
Within a few steps you will also find the Olympic Museum where you can purchase the Olympic Sites Passport, the cumulative ticket that will save you lots of money to the Olympic facilities located in the area, which we have already talked about in our previous post about a Fall trip in the Adirondack Peaks.
If you don't mind driving some more, you should pay a visit at the Lake Placid Lodge, located on the other side of Mirror Lake, and often fairy-tale frame where couples celebrate weddings.
Within the complex, Maggie's Pub is the local reference point for those who want to spend an evening drinking good cocktails, maybe playing table games or billiards with their friends. The beautiful terrace overlooks the lake. If the air is too cool in the evening, the pub staff provides guests with warm and comfortable blankets to enjoy the sunset or the starry sky that reflects on the lake.
Adirondack trailways from Lake Placid
With over 2,000 miles of marked trailways for all types of hiking, the Adirondack Peaks are a paradise for whose who love hiking. From Lake Placid you can reach the ones that take you up Mount Marcy, but this is a very difficult hike, considering that this is the tallest one of the Adirondack Peaks, so it is only recommended for the experienced hikers who have the right equipment.
If you have half a day, there are some of the Adirondack trailways in the Lake Placid area that I'd love to tell you about, for the warm season (even if many people come here to train in Winter as well).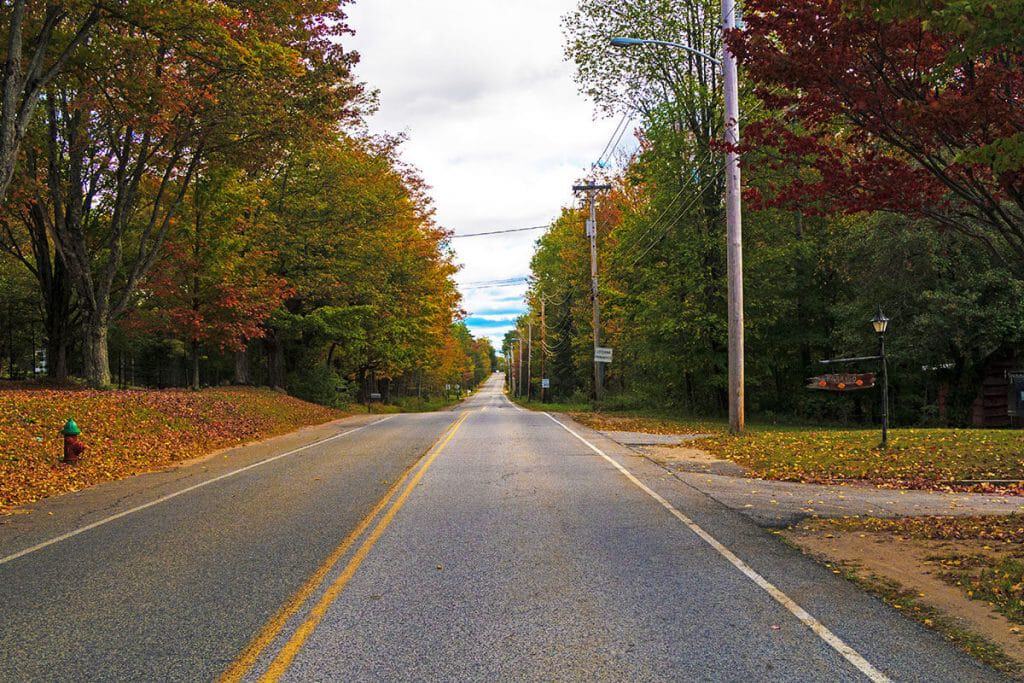 Brewster Peninsula Trails
These trailways can be reached through a gravel road and are very popular with mountain bikers, marathon lovers, fishermen and families looking for a place to have a picnic.
Our favorite was the Peninsula Nature Trail, which was, in our opinion, one of the best we have hiked in the Adirondack Peaks.
It can be reached from the intersection between Route 73 and Route 86, between Lake Placid and Saranac Lake. Following Route 86 up a hill, you will find an indication for Peninsula Road. At the next junction along the road you will find a convenient parking where you can leave your car.
Heaven Hill Trails
About 5 miles of enticing trails that allow you to leave the crowds of Lake Placid behind you.
The trails aren't too difficult to hike and the views are spectacular. All these trailways are dog friendly, so you can bring your pet with you.
To reach the Heaven Hill Trails you have to drive to Old Military Road in the direction of Bear Cub Lane in the Lake Placid area. GPS parking coordinates for the Heaven Hill Trails parking lot are N44 14,539 W73 59,821.
Cobble Hill
This hill is located on the shores of Mirror Lake and is easily recognizable by the fact that there is a rocky area on top, from which you can enjoy a magnificent view of Lake Placid and the Adirondack Peaks.
There are two options to reach the summit of Cobble Hill, depending on what kind of hiker you are. The first one is climbing a 0.8 miles long, steep and adventurous trail.
The second is a less steep, but longer (1.6 miles) one.
To get to the parking area for Cobble Hill you will need to travel along Route 431 for about 3 miles. At the intersection with the Whiteface Memorial Highway you will have to turn right onto Gillespie Drive (country Route 18A) and proceed for less than half a mile.
From the parking lot, to reach the fork from which you can choose which trailway you want to hike, you have to go over a fence and then you will find an indication on the right of the trail that goes to the left in the woods. After about 0.4 miles you get to choose which way you want to go to reach the top of Cobble Hill.

Adirondack Wildlife Refuge
This animal shelter was founded in 2009 by Wendy and Steve Hall on 50 acres of land along the Ausable River in New York State. Together with their son Alex and many volunteers (especially college students), they managed to build the largest rehabilitation center for wild animals in the Adirondack Peaks.
We talked for a long time with Wendy, who introduced us to some of their guests as she gave them food. I can admit, here, that I have felt angered and disgusted from some of the stories she shared with us.
Not just those related to the pollution that inevitably affects the wildlife, and that should ring a few alarm bells in the American politicians. But stories of human cruelty that you would never want to hear. I find it plain cowardly to scare to death a rare owl, pursuing him with your car, just to force him to fly.
Even more cruel is to run him over with your car and let him alone in the woods to die, because it's not funny anymore.
Just walking by the aviary of this poor animal you understand how terrified he still is. When Wendy brought him his food, the owl tried to jump down from a branch he was perched on. But without his wings, he fell badly on the ground, turned over tiredly and then he tried to reach for his food. How can you even think of hurting this bad such a majestic creature?
All the animals at Adirondack Wildlife Refuge have a history of cruelty or pollution that almost killed them. Even the magnificent eagle with three-quarters of wing missing due to a bullet that made it fall to the ground as it was flying over one of the forests on the Adirondack Peaks.
I think it would be very important (and enlightening) for everyone to stop at this center and see with your own eyes what the lack of civic education and pollution are doing to the wildlife. The entrance to the Adirondack Wildlife Refuge is a little hidden (the sign along the road is really small, be careful not to miss it!) but free. The structures in which they keep the wildlife are in the woods.
They also have a few wolves and bear cubs: often Steve gives lectures (once again for free) on the wolves behavior. He is so much in love with these animals that the others named him "Wolfman".
Once you get there, the volunteers will come to you to tell you story of the animals that are brought to them or that they find in the woods. Each one of them is a member of the family and as is treated accordingly.
The Adirondack Wildlife Refuge and Reabilitation Center is supported solely by the contribution of volunteers and supporters: it is a nonprofit organization and they need all the help we can give!

Lake Champlain and Dacy Meadow Farm
From a love story to animals to another. When we drove down from the Adirondack Peaks to the rural area of ​​Lake Champlain, we were looking for a place to stay that was immersed in nature. The Dacy Meadow Farm felt like the perfect place, especially because we never really slept in a working farm before.
"DaCy" comes from David and Cynthia Johnston, a couple who has decided to buy a huge piece of land on which to live like the old times. They produce most of the food they eat and the rest is often sold or exchanged for other items with the neighbors. They live here with the whole family, and they now have decided to welcome tourists in one of their homes.
I challenge you not to get all mellow to see a man like David sitting on the porch to offer cornbread to their chickens. And then, noticing our astonished face, he just justified himself with a gruffy "well but they really love it so I always keep some."
This is what you can experience at this farm. While his grandchildren bring the goats to the pasture, David breeds historic and rare breeds of cattle, such as the wonderful Highlander from Scotland. He told us that with Cynthia they used to travel a lot. But now the family dog ​​is very old (you can see them together in the video at the top of this page) and they don't feel like leaving him alone. In case he needs help, you know. He's always been such a good dog.

Staying at David and Cynthia's when you're used to live in the city felt like being in another era. The Lake Champlain region is huge, so much so that, as Dave told us, in order to find a large supermarket sometimes you need to drive for miles and miles.
Yet here the community is very cohesive and there is a kind of trust in your neighbors which isn't so common today. The farm has in fact installed a shed with refrigerators, a register and a cash box.
Here they leave what they want to sell: meat, eggs, maple syrup, vegetables. Anyone can enter, choose what they want to buy, write it down on the register and leave the money in the box.
There is no surveillance. I asked David if he was worried about someone stealing from him. His answer was absolutely genuine: "If someone takes a few more hamburgers without paying for them, I guess they need them to feed their family, that's fine by me."
At DaCy Meadow Farm you can also have breakfast and dinner, renting the only dining room for you and your family or friends for an evening of "private diner". Cynthia will cook for you with the farm products. We had milk, cream, a delicious quiche, freshly baked scones and even freshly harvested berries. What can say, everything tastes different from the stuff you buy in the city: Cynthia's quiche was to die for!!!
Throughout their land, there are a few trails, some of the most beautiful in the Adirondack Peaks, open to everyone, even if you aren't staying at the farm.
If you are a guest and decide that you want to go hiking first thing in the morning, you can leave your car by the lodge and cross the woods following one of the popular trails. To get to the farm, cutting through the woods, you have to walk for over 1 mile!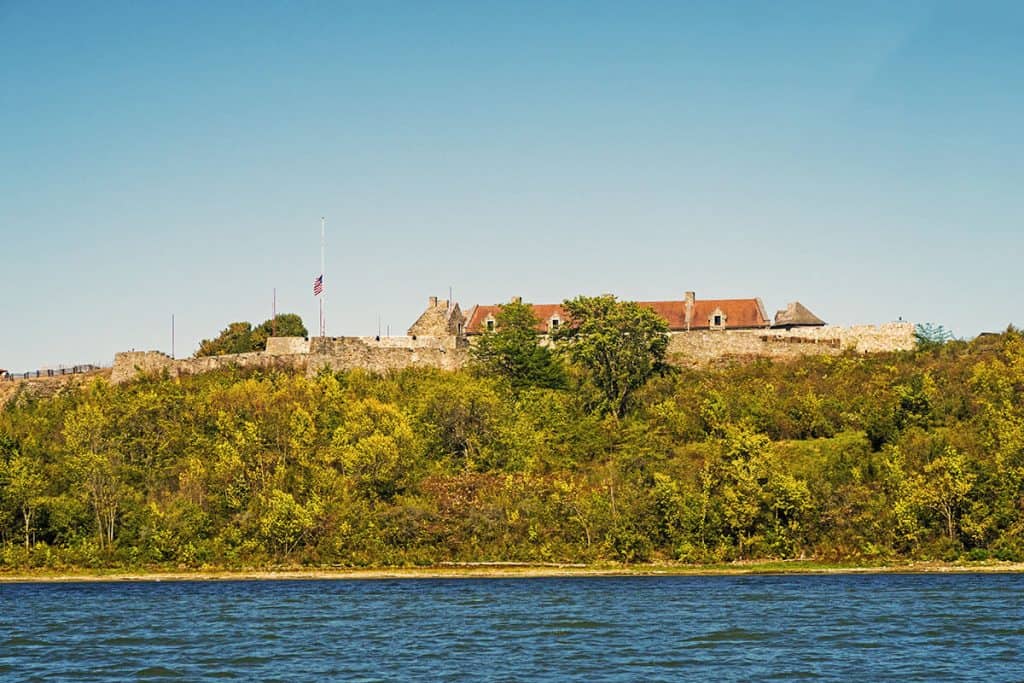 Fort Ticonderoga and The Last of the Mohicans
When I watched The Last of the Mohicans, the movie from James Fenimore Cooper novel, for the first time in English, I decided I would learn how to speak proper English. Love at first sight. That's why I was looking forward to going to Fort Ticonderoga. If you've read the book or watched the movie with Daniel Day-Lewis, then you've probably heard of Fort Carillon, the old name for Fort Ticonderoga.
The structure itself is impressive. You feel like you'll see Nathaniel, Uncas and Chingachgook (the characters from the Last of the Mohicans) any moment. As soon as we arrived we found a French soldier cooking his food on the field. It caught us by surprise, yet so many people expect this at Fort Ticonderoga: today the fort is very famous for their historical reenactments.
The love these guys have for history and specifically for the events that occurred at Fort Ticonderoga, is clear on their face each and every time they talk about it.
They sew their own uniforms and dresses, as they have seamstresses inside the Fort (way more complicated than handcrafting your costume for Lucca Comics Cosplay!). The techniques they use to make their uniforms and shoes are the same that people used back then.
That's the level of accuracy they have here. Every year they reenact a specific year in the Fort Ticonderoga history, with a different set of uniforms. I can tell you that sewing and making shoes as they do requires hard work and great patience. It's not something you see every day.
Plan to spend at least a full day at Fort Ticonderoga. We can tell you that you will regret it bitterly if you leave something behind because you have to go somewhere else!
At the Fort you will be able to attend a demonstrations that will show you how to use muskets or cannons. You will see the tailors sewing broken uniforms or shoemakers trying to repair a hole in one of the shoes. Today the Museum is pretty small, but finally a major expansion has been planned for the next few years.
Here they will build a large museum that will allow them to exhibit all of the recovered objects and the stuff that was by their supporters.
Aside from watching the demonstrations with soldiers and exploring museum, at Fort Ticonderoga you can just stroll around in their wonderful gardens where, back when the Fort was active, they grew vegetables and fruits to feed the troops.
Today, everything they grow here is used for the restaurant in Fort Ticonderoga: stop by to eat some of their delicious Adirondack dishes!
If you want to know The Last of the Mohicans true story, buy a ticket for to cruise Lake Champlain on the boat Carillon.
The cruise lasts about 90 minutes. Yet the most pressing question from everyone as soon as we boarded had nothing to do with Fort Ticonderoga.
It was crucial to know if we were going to see "Champie", the local version of the Loch Ness monster. Unfortunately we weren't that lucky, but we were told that Champie lives in another area of ​​Lake Champlain: we will have to come back for more, not that it's such a bad thing, mind you!
By now you might be wondering what to do with the silver coin they gave you at the entrance in Fort Ticonderoga.
You can use it to look at Fort Ticonderoga from above. At 4 pm every day from May to October, that coin will allow you to access with your car the private road that leads up Mount Defiance.
Here, next to two cannons pointing to the Fort, a French soldier will tell you the importance that this mount had over the years when the Fort passed from the French, to the English, to the Americans and back to the French. Like the rest of the staff at Fort Ticonderoga, he is always willing to answer any of your questions, so don't be shy!
Gunnison Lakeshore Orchards
On the road to Fort Ticonderoga, make sure you stop at Gunnison Lakeshore Orchards. It's a shop located on the edge of a large orchard. Here they sell mainly delicious apples.
You will find fragrant bags ready to go. They are the perfect snack to take with you for a hike. You can also buy delicious jams, organic honey, apple cider and above all the most awesome dessert that we discovered thanks to Kimberly Rielly, who accompanied us for the tour at Mount Defiance: cider donuts covered with sugar and cinnamon.
I'm so sorry that I didn't take a picture, but I will be honest with you. We ate all of them before even thinking of shooting!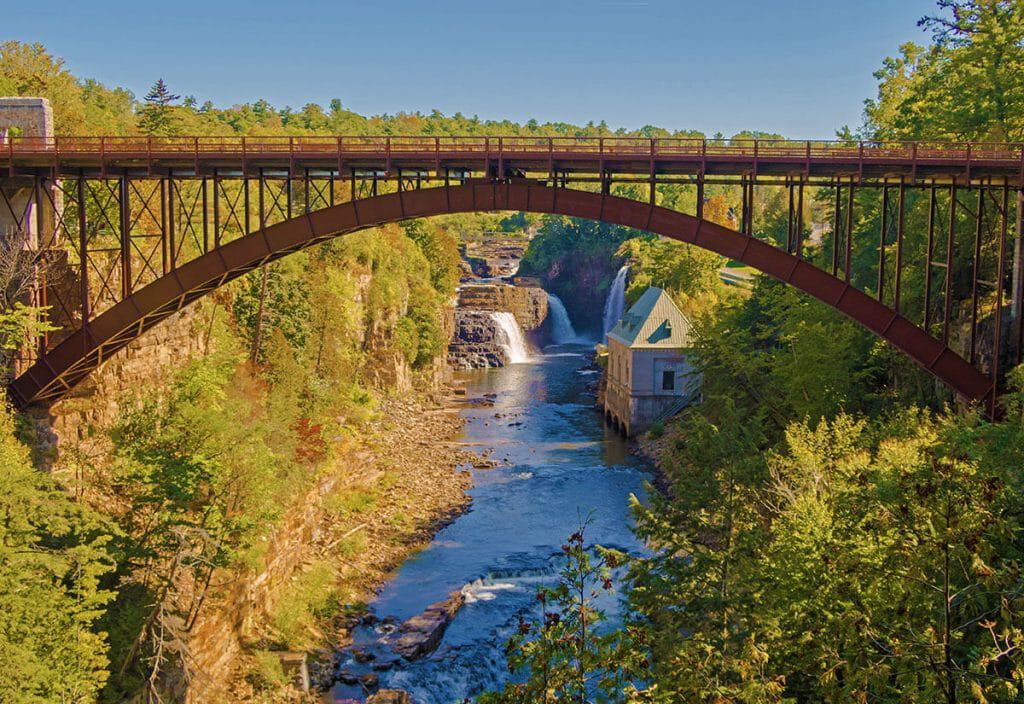 Ausable Chasm and Turtle Island Café
The Ausable Chasm is also known as the Grand Canyon of the Adirondacks. Needless to say, being in love with the sights at the Grand Canyon, we couldn't avoid a trip to this canyon. It's also one of the best known attractions in the Adirondack Peaks region.

The Ausable Chasm is a true rocky record of the geologic eras of our planet. Sure, you left the highest Adirondack Peaks, but it's here that you want to be if you want to see where those come from.
You should consider spending at least half a day in this canyon, but it really depends on what you want to do once there. At the entrance you will be given a very useful map showing the trails inside the park.
They are easy to follow and indicated according to their difficulty. You go from the easy ones to the intermediate trails, up to the Adventure Trail, the most difficult and potentially dangerous.
It involves the use of a sling, crossing tiny bridges across the canyon and climbing of rock walls. Being frightened by the heights, I wisely decided to skip it! If you intend to give it a try, follow the instructions given on the brochure, especially with regard to clothing and those who should stay away from this experience.
If you aren't afraid to get wet, you can buy a cumulative ticket that includes a rafting tour with a guide along the rapids. The rafts are lowered from above with a winch, in a rocky gorge from which they slide down the river: there is a panoramic point along the trail that allows you to view the scene from above. For a while you will follow the river and hear the screams (scared or happy?) of those who are rafting down the canyon!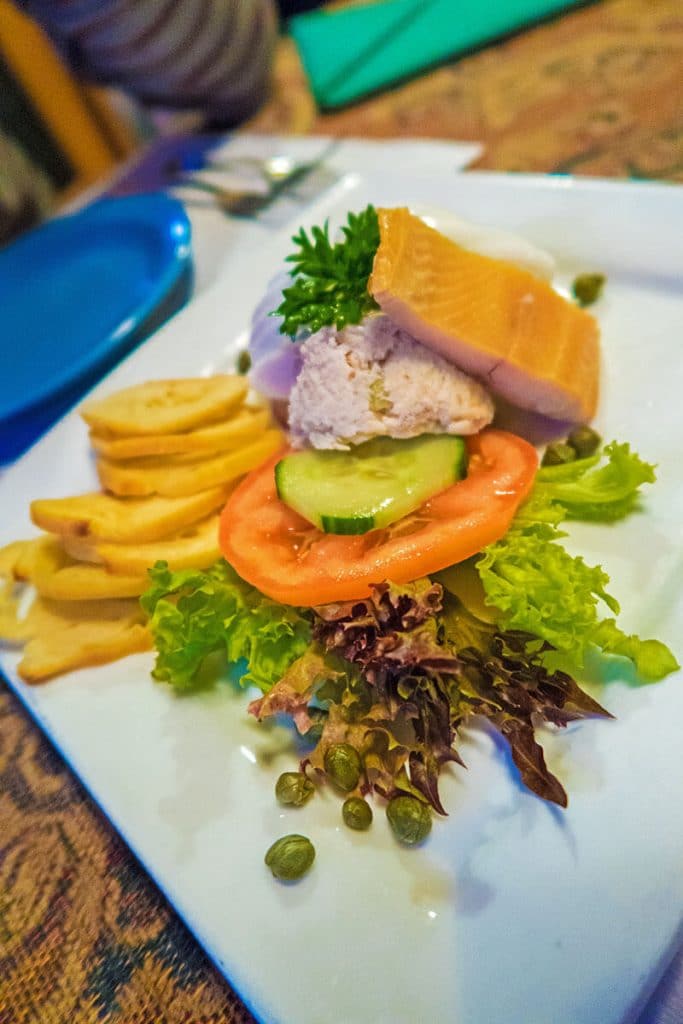 During your road trip through the Adirondack Peaks, you absolutely have to stop for dinner at the Turtle Island Café.
As soon as you step inside, the first thing you'll notice is the scent of good food and home. Right after, the Steve's jovial smile, even while he's busy at the counter. This café is small and intimate, the vintage and familiar feel will allow you to enjoy a delicious dinner in absolute tranquility.
Chef and owner, David Martin, loves to cook, so much so that he surprised us with a dish of ravioli. We are Italian and therefore quite weary of eating pasta when we are abroad, especially if it's a kind of pasta this elaborate. Well, David's ravioli passed the Italian test! Perfectly cooked and with an interesting filling.
They are handmade by David's family and honestly it's something you won't find in any other restaurant on the Adirondack Peaks!

All the ingredients are strictly local: theis quality is at the basis of their food. But this is not a place where residents only go to have dinner. It's a meeting place, a place where you go to spend time with your family or friends. Sitting at our table we realized that they all knew each other.
If you are like us and you don't like the tourist traps, then we suggest you to go for something authentic. It tells you a lot about a place and the people who live there: we found that at Turtle Island Café and at the Blue Moon Café in Saranac Lake during our road trip through the Adirondack Peaks.
This post was written in collaboration with the Regional Office of Sustainable Tourism for Lake Placid. They helped us to plan our trip through the Adirondack Peaks and to make lots of new friends. But we would like to thank all of those who welcomed us with open arms: you have a special place in our heart! Thank you to Lawrence, Carrie, Kelly and Kim: you were awesome.
Needless to say, our opinions are our own. If you have read this article you will soon realize why this is true.
You might also like:
Fall in the Adirondacks – how to plan the perfect road trip
20 awesome destinations in Europe you should visit in autumn
Pin it for later!
Travelling Dany
Danila Caputo is a bilingual travel writer living in between Naples and the Amalfi Coast (Italy). She travels and works with her husband Aldo, photographer and videographer. Their blog chronicles their adventures around the world, Italian/European culture and tips on how to be responsible travelers. You can find out more about their latest trips and their life on Instagram and Facebook.