Ultimate Miami to Key West Road Trip Itinerary
This post includes affiliate links. As an Amazon Associate, I earn from qualifying purchases. Full disclosure.
Planning a road trip from Miami to Key West in Florida (USA) can be a lot of fun. Let me show you all the best stops along the Miami to Key West drive… there's a lot of delicious food involved! Let's enjoy one of the most impressive American road trips ever – also on a budget!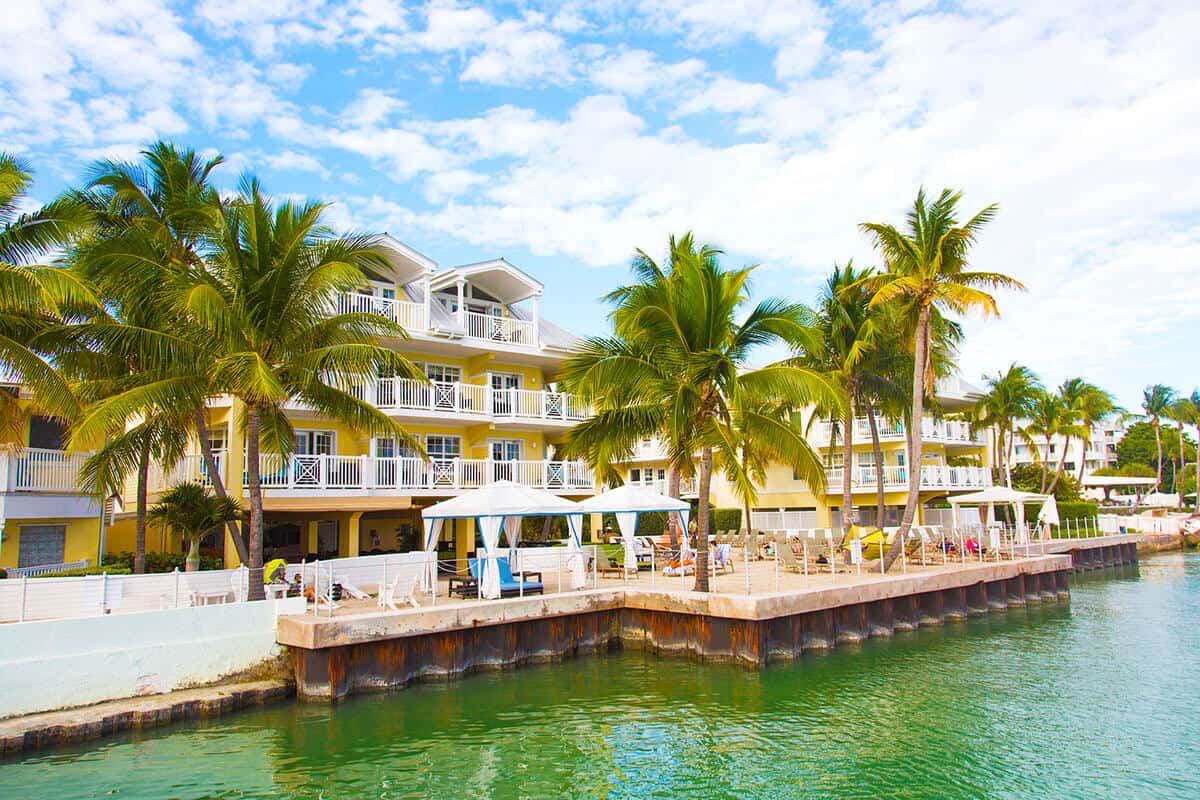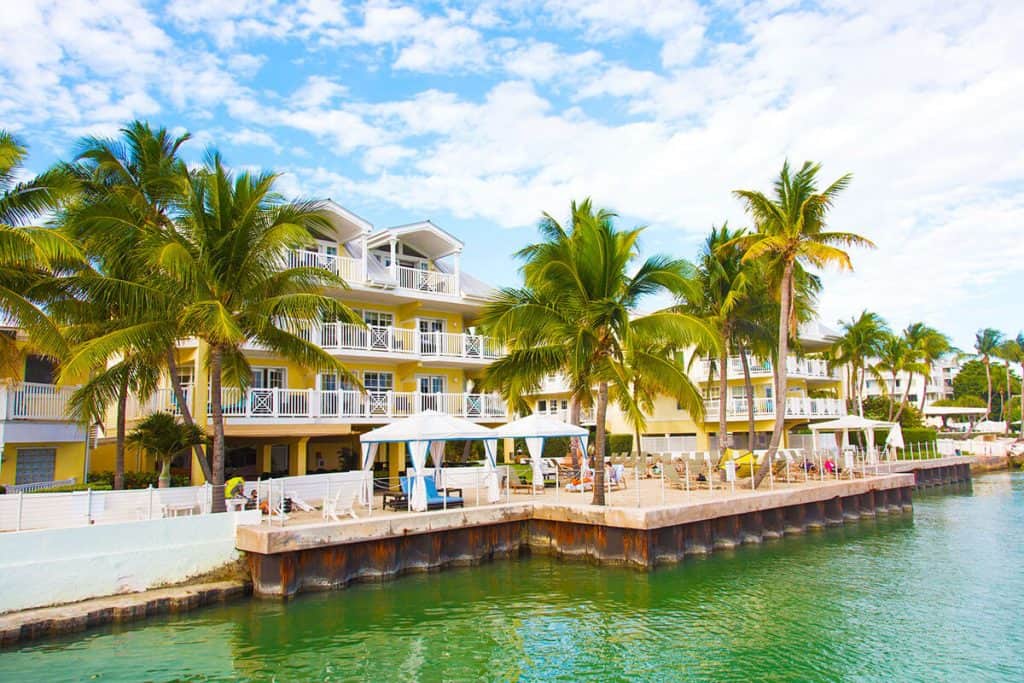 Florida is one of the awesome tropical paradises in the United States of America. Yet beaches, stunning views, a fantastic climate and wild areas like the Everglades National Park are not everything you will find there. I strongly encourage you to rent a car to treat you to a romantic trip from Miami to Key West.
Planning your trip to Miami last minute?

Let me help you!
Here are our favorite experiences, tours, hotels and more: no need to stress out, we have you covered!
Don't forget to plan ahead also when visiting Orlando!

Top Activities and Tours in Miami & Orlando:
1. Open-top tour and Millionaire's Row Cruise
2. Biscayne Bay Evening Cruise
3. Everglades National Park Airboat Tour and Wildlife Show
4. Kennedy Space Center Entrance Ticket
5. Orlando Hop On Hop Off Trolley Pass

Our Favorite Hotels in Miami:
1. Mandarin Oriental
2. Mondrian South Beach
3. Shelley Hotel

Our Favorite Hotels in Orlando:
1. Hyatt Regency Grand Cypress
2. Floridays Condo
3. Universal's Endless Summer Resort

Click to check out the updated rates to rent a car!
While there's a Miami to Key West bus, in fact, it won't let you stop to all the places we're telling you about in this article.
Having your own car, on the contrary, will allow you to have much more fun, as you'll be able to stop along the drive to Key West.
Believe me if I tell you that there are so many things to do and see on this Florida itinerary.
Do you need an example?
Some of my favorite Key West drive stops were to take photos of the mailboxes.
People who are lucky enough to live in the Florida Keys have the cutest marine inspired letterboxes ever!
Another thing you should consider is that if you rent a car you can also plan more Florida road trips on the same vacation.
While you can chose any rental car company for this Miami to Key West road trip, I'm a big fan of comparing prices.
Click here to find the best rates according to your needs.

There are a lot of options, whether you need to get a car in Miami, Fort Lauderdale or Orlando.
Click here to check their daily rates.
You'll soon realize that comparing prices is the best way to save a ton of money!
You might also like:
Handy guide to the best time to visit Florida (+ seasonal events)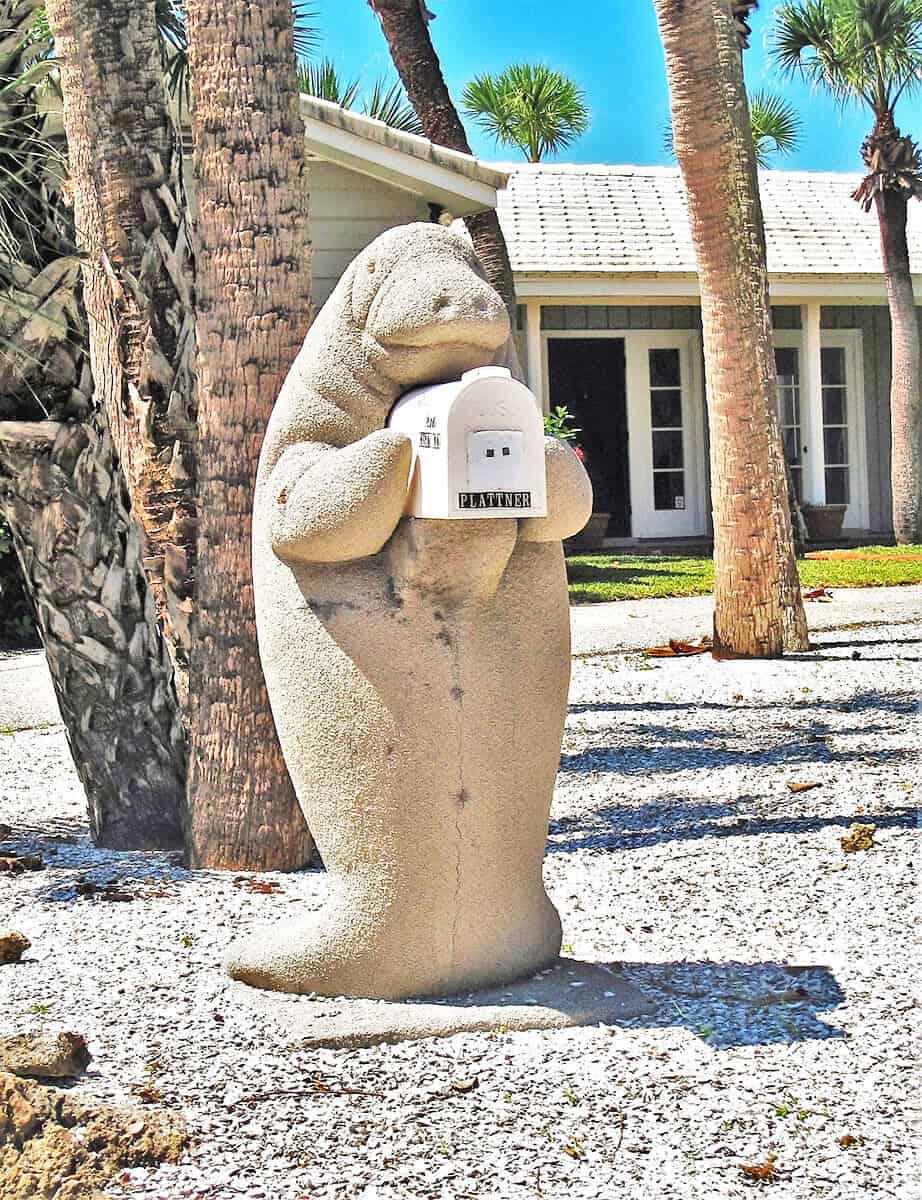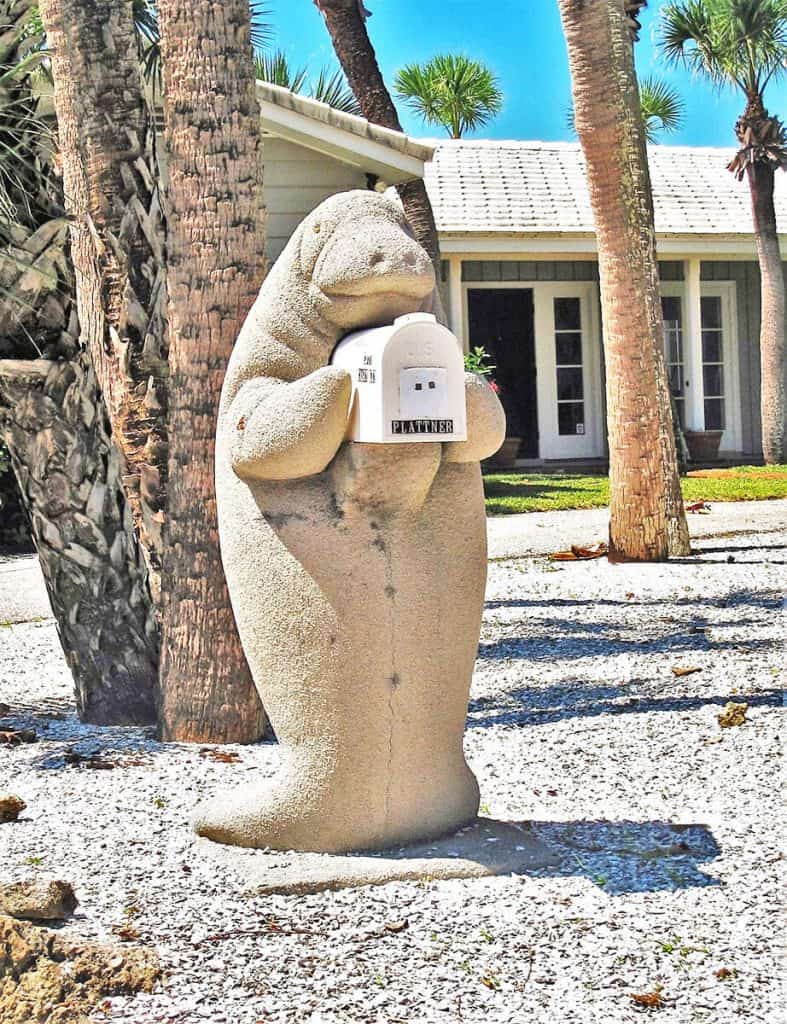 Quick Links to Post Content
Key West Drive Time From Miami
Key West is the Southernmost town in the United States, just 90 miles from Cuba.
It is connected to Miami via the Overseas Highway.
The distance to Key West is about 125 miles (201 km).
Route 1 goes through the Keys in a scenic and sunny trip.
The first bridge was built by the Florida East Coast Railway, but it was heavily damaged by a hurricane, and then sold to the State of Florida.
They decided that a highway was to be built on the same path.
The old bridge thus became one of the popular Florida attractions on the way to Key West.
Although there are also buses that drive each day tourists up and down the Overseas Highway, I think the best way to appreciate this road trip from Miami to Key West is by renting a car.
It takes about four hours to get to Key West.
If you have limited time, then consider at least a Key West day trip from Miami.
If on the contrary you're planning to stay on the Keys for a few days, then you'll have all the time you need to enjoy the many things to do during this Florida itinerary.
Planning a road trip?
Click to download our FREE printable
ROAD TRIP CHECKLIST!
Sure, the driving distance from Miami to Key West might not look huge but it's really packed with nice things to see and do!
If you have decided to rent a car, I suggest asking for a Sunpass. Even if you're only planning a Key West day trip from Miami.
By crossing the toll-paying areas, the car's license plate will be photographed and checked.
Each rental company offers different deals. In my opinion, a flat-rate daily payment is typically the best way to go.
If one day you do not go through any road toll areas, then you won't have to pay your daily fee for that specific day.
In case you have planned a Key West drive itinerary with your own car, or if you don't want a Sunpass, the toll fee will be charged directly to your credit card.
It's not a big deal at all!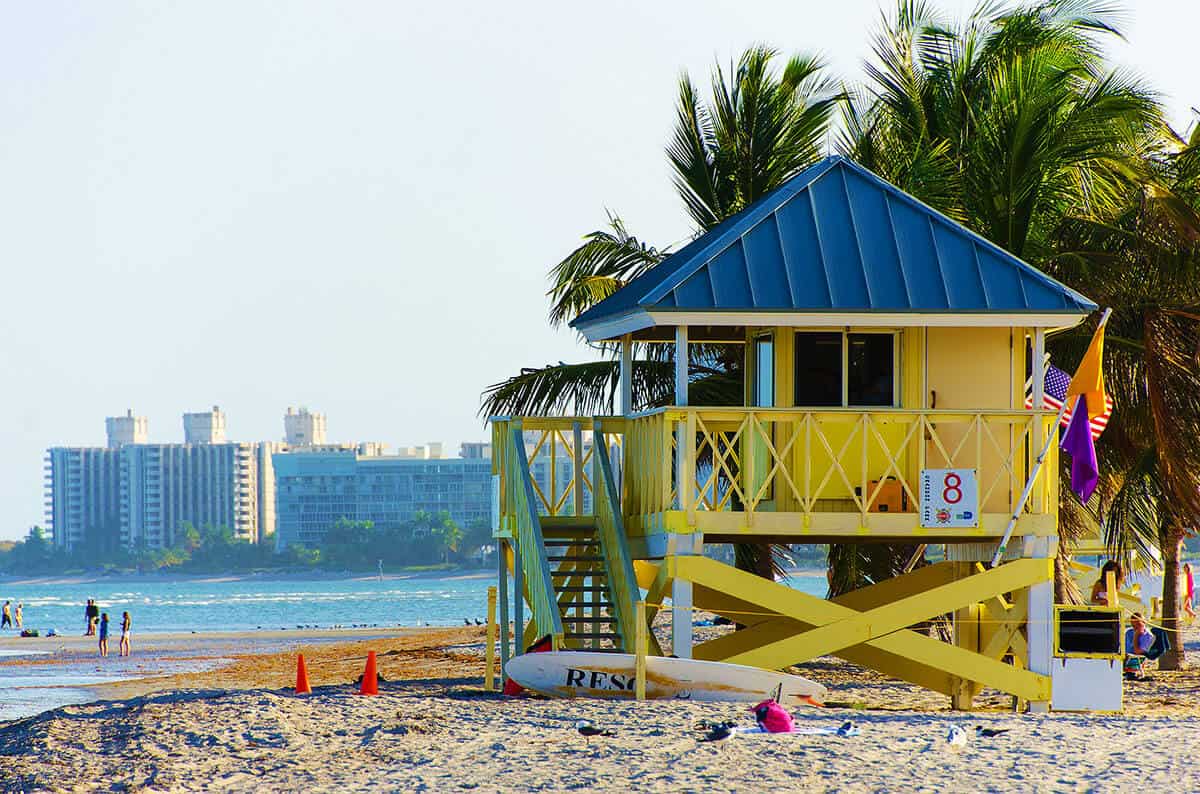 What car should you rent to drive to Key West?
The kind of car you should rent for a trip to Florida depends on your budget.
We went for a Ford Mustang, first because I'm Mustang-bsessed, and then because we really wanted to open the top.
The Key West drive is much more fun with the sun shining on you and the wind in your hair!
You can opt for a convertible or a Jeep Wrangler if you like to open the top once in a while.
Make sure you apply lots of sun lotion in this case.
The sun can be quite strong, especially if you're planning a Florida trip in summer!
Another bonus of a convertible is that you will be able to take great pictures and awesome videos.
One thing you should know about this Key West trip is that it's super instragrammable.
The Overseas Highway crosses 42 bridges!
So yes, in case you were wondering, the Florida Keys on Highway 1 are definitely cool and full of breathtaking views.
Keep your camera at hand!
Me and Al always use this service to book a car whenever we travel and we've found they have by far the best rates out there.
Saving a bit will mean that you can eventually spend a little more on fun activities in Key West old town.
Not only that, they proved to be super-reliable and with the best insurance plans… that won't break the bank!
Check their rates for a road trip from Miami to Key West here.
Click to see our favorite 5 stops on the way from Miami to Key West!
Do you really need a car to plan a Key West day trip?
In case you don't feel like driving or renting a car, you can book a day trip to Key West from Miami.
This one for example has a pretty useful pick-up service from many hotels in Miami, and will let you explore at your own peace.
In my opinion, you don't have to get stressed if driving for hours is not your thing.
This is a good alternative to plan a Key West day trip.
It will be like having a private driver to visit Key West (Florida)… on a budget!
Check out rates and availability here.
When is the best time to visit the Florida Keys?
The most ideal time of the year to visit would be from April through October.
These months are traditionally considered hurricane-free in Florida.
During this period, the temperatures tend to stay comfortable and dry, so you can spend more time outdoors.
However, it's important to keep an eye on the weather forecast at all times – even during this peak season.
Tropical storms and hurricanes can occur unexpectedly.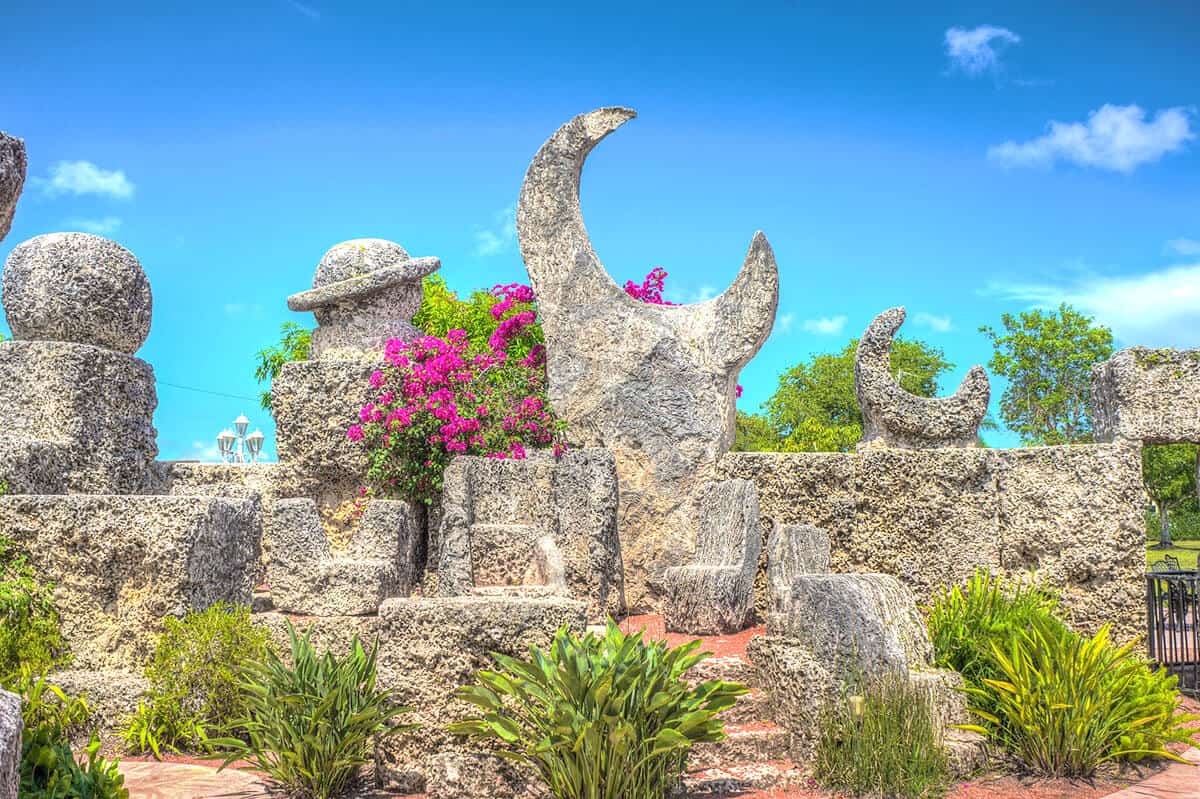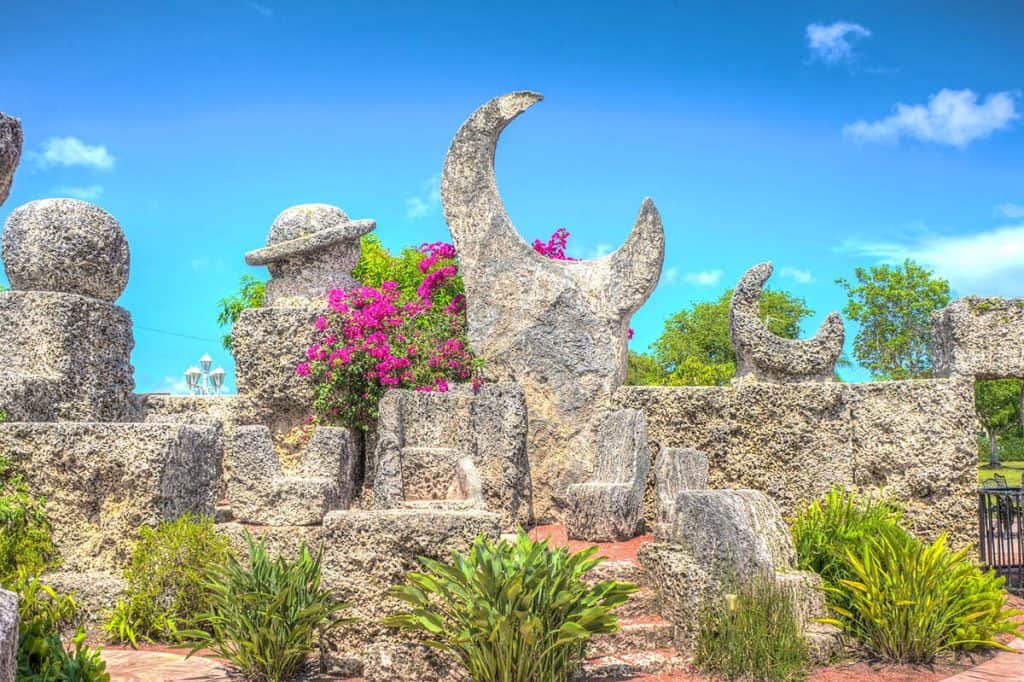 The best way to start a Key West day trip: Homestead
The first point of interest you'll find while on this Florida Keys road trip is Homestead.
This getaway to the Overseas Highway has some interesting highlights.
Coral Castle is a famous area not far from the city.
This stop on the Florida Keys drive is not really a castle, and definitely not made of coral, but it has been compared with Stonehenge, in England.
No, not by me. With all due respect, while I really liked Coral Castle, I don't think it has anything to do with Stonehenge.
Yet it's an interesting spot with a pretty interesting story, that also your kids will appreciate.
I'd add it to your Key West itinerary options as a bonus. If you have some time left, you'll already know where to go.
You might also like:
30 Florida souvenir ideas you should think about!
Ed Leedskalnin, its creator, quarried and sculpted over 1,000 tons of sedimentary rock into what looks like a fantasy world.
Those visiting Florida with kids should definitely add this stop to their itinerary!
Many sources, and even several tv programs here in Italy, claim that this place is "inexplicable". At a certain point it became so famous that Billy Idol wrote "Sweet Sixteen" about Coral Castle, on the way to Key West.
Yet the most amazing thing about Coral Castle is probably that this wonderful place was created just by one person.
Ed was tiny, just 5 feet tall and weighed 100 pounds.
Not what you'd call a giant!
Allegedly he started working on this project when his fiancee left him.
He wanted to prove the world he could do something incredible.
As of today, Coral Castle is still one of the very popular attractions on the Miami to Key West drive, so Ed has become a true hero in Florida.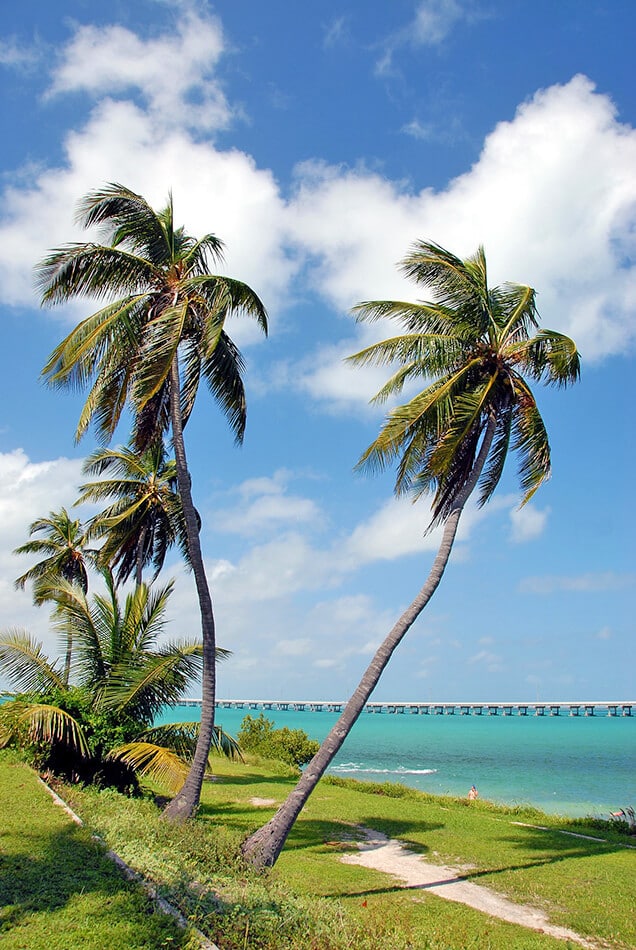 Not far from here you can find the Homestead Miami Speedway.
It's the only speedway in the Florida Keys.
If you are a bit of a motorhead like us, you definitely have to stop here!
Check their program online to see if there are interesting events you want to attend.
You can add these as a bonus or you can maybe plan a shorter Florida Keys itinerary specificaly to attend one of the races.
This is a Nascar Speedway, which is something that swept Aldo off his feet, as we don't have Nascar in Italy!
He'd have planned a Florida Keys itinerary all by himself only to attend a Nascar race: if you ever dated a motorhead, you know what I mean!
Getting some fresh fruit for your Miami to Key West drive is also a great idea.
The best shop you will find on the road is Robert is Here, a great fruit stand where you will also find delicious Key lime milkshakes, homemade jam and fresh produce.
Stock up before you move onward, even if yours is just a Key West day trip from Miami, it's definitely worth your time!
You might also like:
56 Gorgeous Photography spots in Miami You'll Love!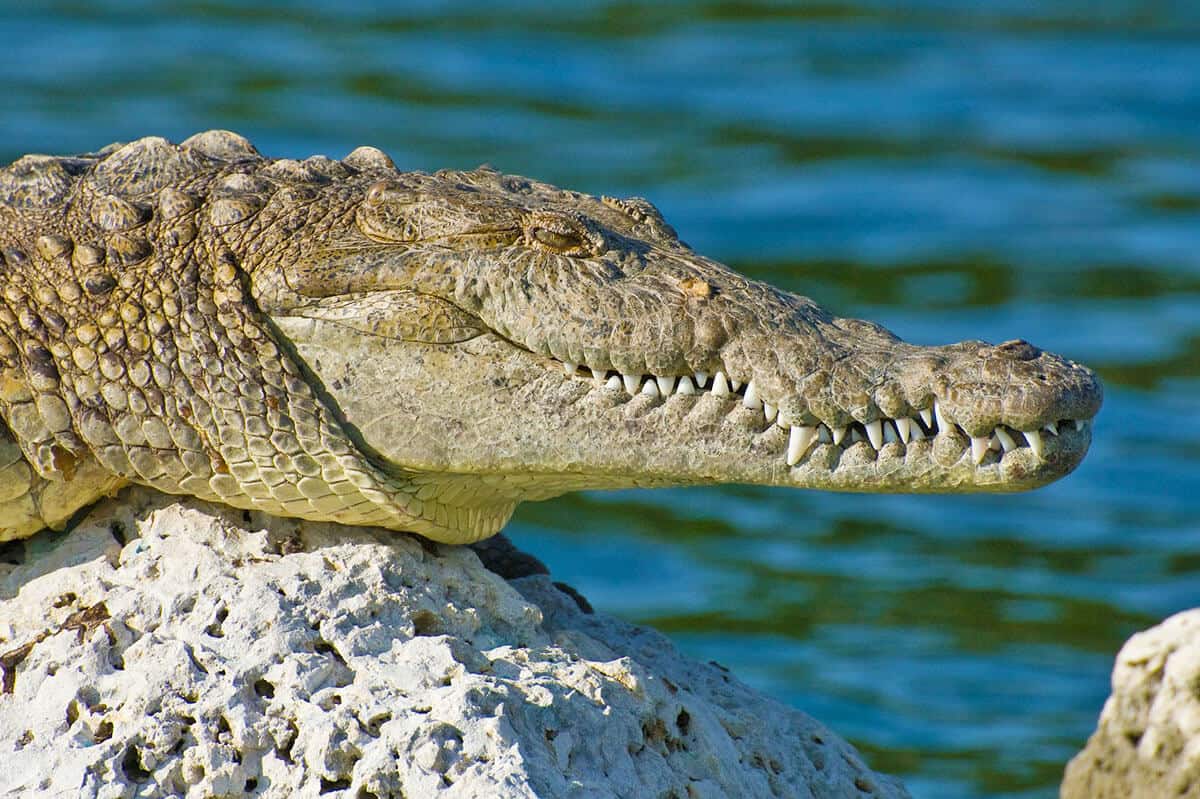 Key Largo: the perfect Key West eco tour
The first o the Florida Keys is home to two State Parks, a National Park and a portion of a National Marine Sanctuary.
My favorite stop was the John Pennekamp Coral Reef State Park.
Because it's another one of those unique and yet lovely places not many people know about.
Make sure you add it to your Miami to Key West itinerary because you're going to adore it!
The John Pennekamp is the first undersea park in the US.
You can visit it with a glass bottom boat tour, by scuba diving or snorkeling.
We both agree that it's the perfect stop also if you're just sightseeing from Miami to Key West.
Canoeing and kayaking are popular activities, because this is a reef park.
But what if you don't want to jump in these blue waters, or if you don't have enough time?
After all, there's still so many things to see on the way to Key West!
In this case, go for a glass bottom boat tour and you'll never look back!
You might also like:
– The best Arizona road trip itinerary
– Utah road trip: the Mighty 5
– Epic road trip from Miami to Key West (Florida)
– Amalfi Coast Road Trip info (Italy)
– Road to Hana stops for a Maui road trip (Hawaii)
– The Devil's Tower travel guide
– Upper vs Lower Antelope Canyon: how to choose
– Fun Joshua Tree Day Trip Itinerary (California)
– Guide to Sleeping In Your Car on a Road Trip
– How to visit the Grand Canyon in one day
The John Pennekamp is also the perfect place where you can test a waterproof case for your camera.
You can't really say you've been on a Florida Keys unless you show gorgeous underwater photos and videos, right?
At the Visitor Center you will find a 30,000 gallon saltwater aquarium and you can watch nature videos in an adorable theater.
The free beach wheelchairs and a 24 hour free Wi-Fi service are nice bonuses that can make your day trip to the Florida Keys even more pleasant.
There's also another very interesting Marine Sanctuary, the Florida Keys National Marine Sanctuary.
It protects the waters surrounding the Florida Keys, from South Miami to the Dry Tortugas National Park.
You will have to book a snorkelng tour or dive trip through a third party, because the Sanctuary doesn't offer this kind of services.
Planning your itinerary from Miami to Key West well in advance in this case is mandatory.
You'll want to make sure you have enough time left for a snorkeling tour!
Bonus: If you are in love with marine life, there's an amazing ethical tour from Key West: you'll get to cruise in the ocean while watching bottlenose dolphins frolicking in their natural habitat!
Check out more info on this dolphin watching tour here!
Because of the sensitive nature of the habitat, dogs aren't allowed.
If you are attempting the Key West drive with your pet, you might want to go to the John Pennekamp Coral Reef State Park in stead.
Leaving your dog in the car is absolutely not an option: Florida in summer is scorching hot!
Are you already tired of the ocean?
Since it's something you will definitely see a lot on your Miami to Key West road trip, you need a plan.
Enjoy a relaxing walk in the forest at Key Largo Hammock Botanical State Park.
It covers one third of the island of Key Largo.
This park is home to 84 protected species of plants and animals, including the American crocodile.
Do you want to stay in Key Largo?
Check out the best hotel prices and book well in advance!
Islamorada: Make the trip fun!
An unusual but very popular activity on Islamorada is fishing giant fish.
Especially Alantic tarpon.
The tarpon that visit this area each Spring love to hang out at bridge passes.
They can grow up to 8 feet long and weight over 200 pounds.
One of the best places to go, if you want to hand feed tarpon is Robbie's on Islamorada.
According to your schedule, see if you want to plan a whole day tour from your Miami to Key West road trip.
If you are on a Key West day trip from Miami, you might not have enough time to stop at Robbie's.
I suggest you actually write down a list of things you want to actually see and do on the way to Key West. It will be easier to add them all to your itinerary.
And in case you just can't visit everything in one day, you can still plan a weekend in Key West for your next trip to Florida!
Oh, before I forget, I have a very important note that might be of help!
If you're planning to feed the tarpon, make sure you don't pull your hand back when it's in their mouth, they have small teeth that might hurt you!
If I have to be super honest, I think Robbie's is one of the best stops along the way and one of my favorite places to go if I want to spend some super fun time in the open.
Try to break up the drive by spending some time there. You can also have lunch or order something to drink!
Planning to drive the Florida Keys?
Check out our Islamorada video guide – you'll love it!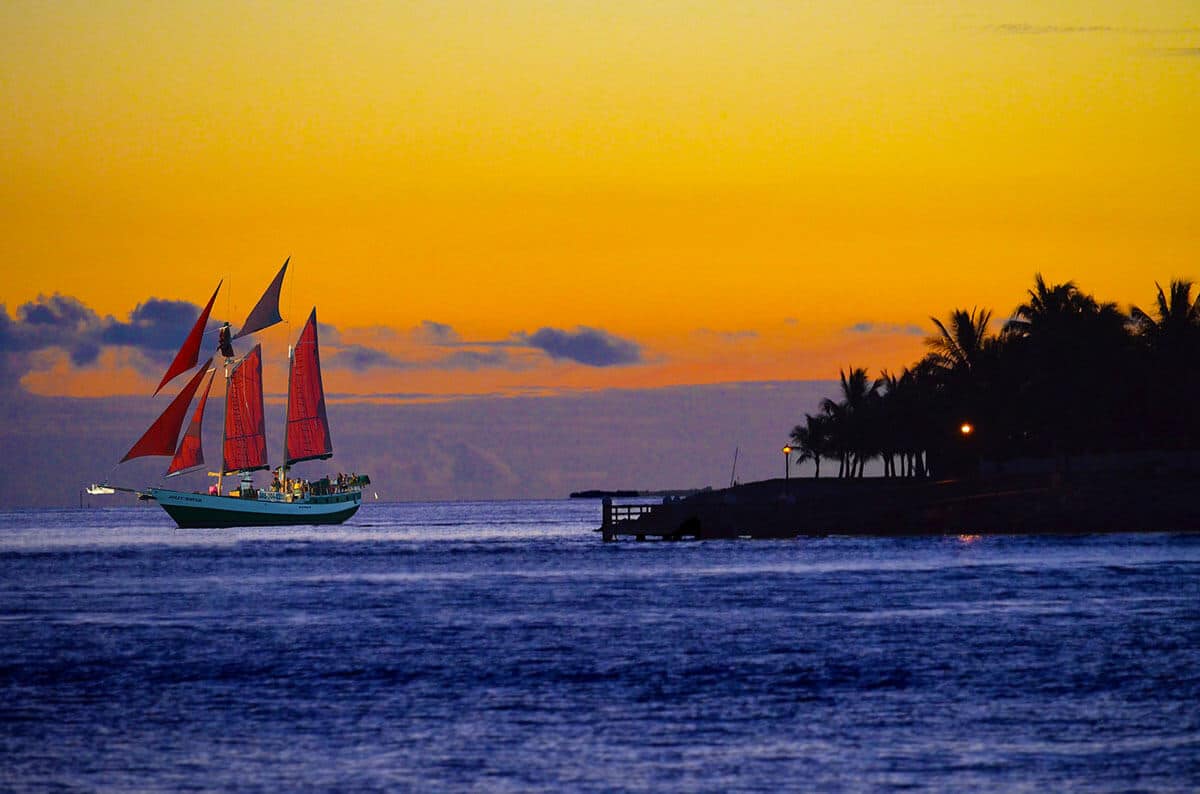 Marathon Key: the fun stop on the Key West drive
Another interesting stop on our road trip from Miami to Key West is Marathon Key.
Here you can visit a sea Turtle Hospital, located in the heart of Florida Keys.
This isn't a zoo, so please, be respectful of the animals, the volunteers and the veterinarians.
The guided tour lasts about 90 minutes.
It includes a presentation on sea turtles and a behind the scenes tour.
You will get to visit the hospital facilities and the rehabilitation area.
It's one of the Key West drive stops you should add to your itinerary if you are visiting with your kids.
At the end of each tour, guests are invited to feed the turtles who live permanently at the hospital.
The tickets costs 22$ for adults and 11$ for children, but make sure to call first before you go, to make sure they're open and that you can go for a tour.
Short on time?
Add the Turtle Hospital to your next Key West trip, so you won't have to rush it!
Another educational facility that you might enjoy, also if you are planning a shorter itinerary, is the Dolphin Research Center.
This famous Florida Keys organization wants to offer a home for life to the dolphins.
They have also established an educational centre where people can learn to understand these beautiful animals.
Preserving South Florida nature is on the top of the list.
Their ultimate goal is in fact to promote a peaceful coexistence between marine mammals and humans.
We've been there along the way to Key West and I remember it as a particularly peaceful place.
Not to mention that here I bought a small starfish plush for one of my cats: it's been his favorite toy until his very last day.
If you're looking for a pet gift, have a look at their souvenir shop.
Big game fish might be more appreciated but it's definitely not practical!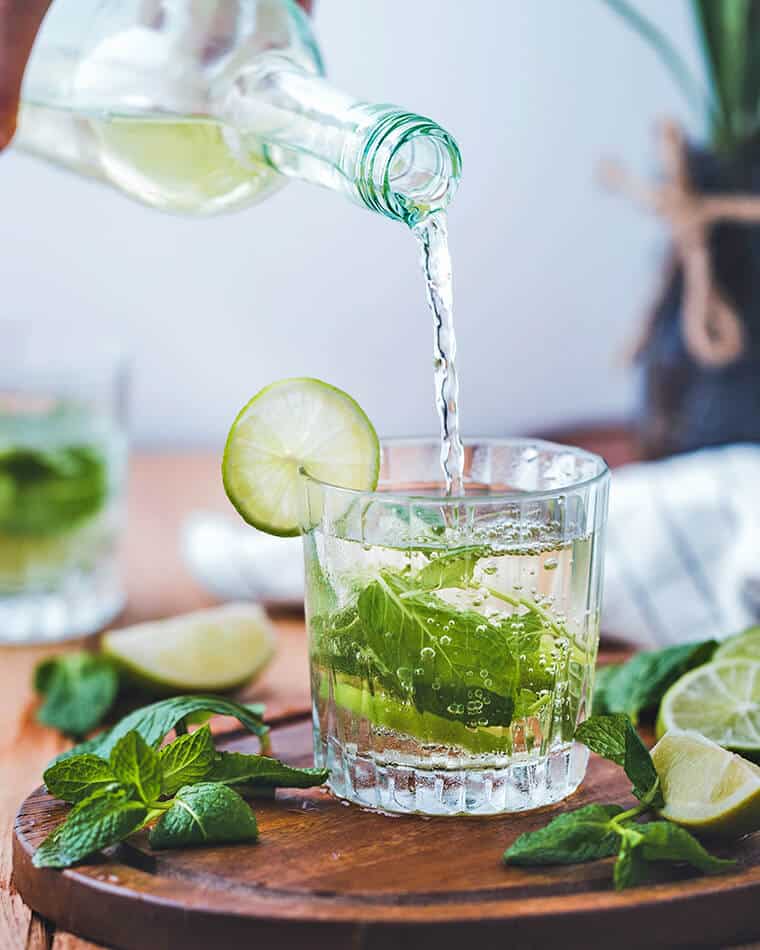 The most beautiful beach you will find on the Miami to Key West drive is Sombrero Beach.
You can find it about one mile off the Overseas Highway, at mile marker 50 on the Atlantic Side.
There's a particularly nice park here, it's handicap accessible, with a children's playground, bathrooms and picnic facilities.
Sombrero Beach is also clearly visible from many Key West helicopter tours.
If you are planning a romantic trip to go sightseeing from Miami to Key West, you should add Sombrero Beach to the itinerary.
Watch the sunset sitting on the slightly damp sand: it's unforgettable!
You might also like:
– Florida off the beaten path: 8 cute towns you should visit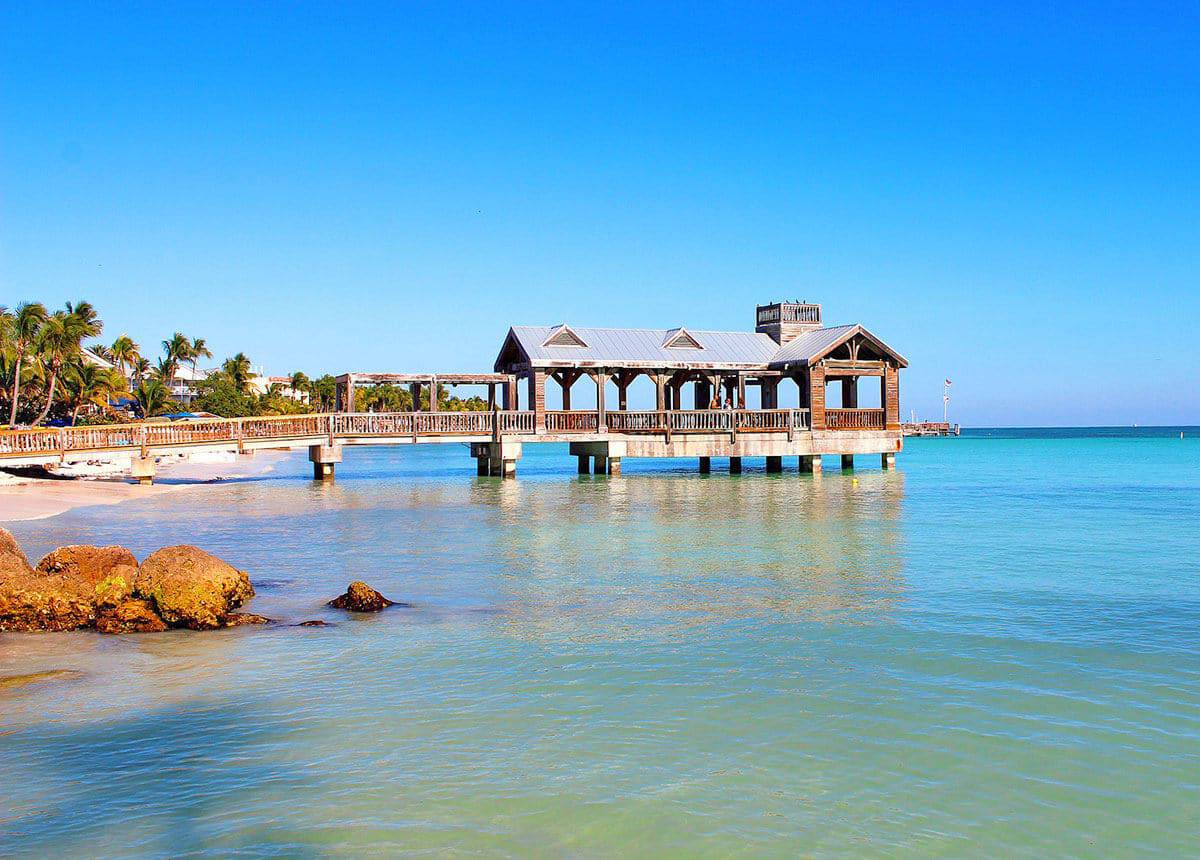 Florida Keys must-see spot: Seven Mile Bridge
While driving for your for your Miami to Key West road trip, be careful not to miss this beautiful bridge.
It connects Knight's Key in the Middle Keys to Little Duck Key in the Lower Keys.
It's one of the most scenic parts of the drive to Key West so get your camera ready for some breathtaking photography!
Instagram, here we come!
The Seven Mile Bridge can also be explored while experiencing the Florida Keys Overseas Heritage trail.
A little curiosity: the bridge splits at a certain point, as the old part is now used only by pedestrians and cyclists, while the new one is open to vehicular traffic.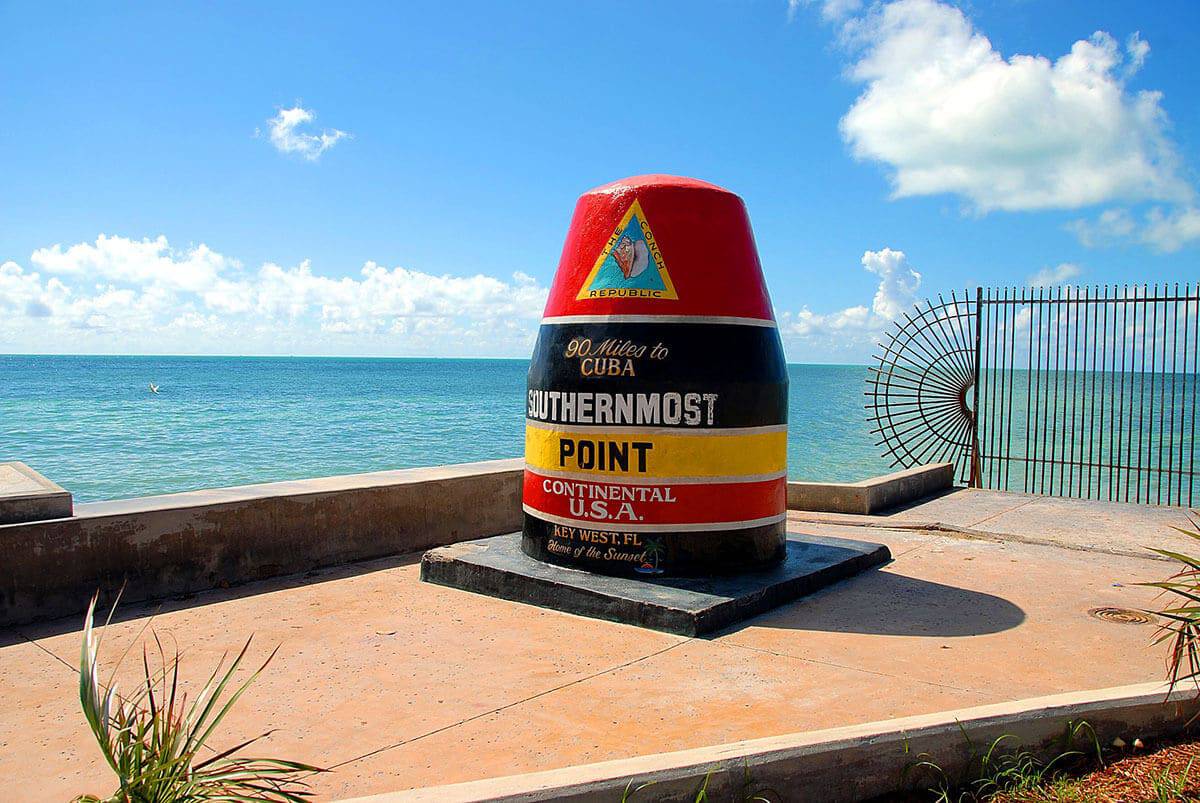 Key West: vacations, great food and lazy days
The Miami to Key West drive is over but there's still so much to do and see.
Walk over to the Ernest Hemingway Home & Museum.
It's the place where the writer lived until his death.
If you love cats like us, you won't forget so easily the most popular attraction in Key West: about 50 of them live here!
I remember going to the ticket booth and finding this beautiful (and chubby) black and white cat at the window. He was probably selling tickets to the Ernest Hemingway Home.
Cats will clearly take over the world!
While you are in Key West don't miss the chance to do some super-awesome reef snorkeling with a professional.
If you are feeling adventurous, treat yourself to a jet ski ride to see Mallory Square and other attractions from the ocean!
Eating a slice of delicious Key lime pie in Key West is a must.
They make this pie using the small limes native to Key West, which are juicier and way more scented.
You can stop at the Key Lime Pie Company for a generous slice.
Believe me if I tell you that you'll never forget their lime pie!
Spending a night in Key West is mandatory unless you are on a day trip from Miami.
One of the hottest activities in Key West Old Town is bar hopping on Duval Street, one mile long and packed with small bars and old Victorian mansions.
The sunset at Key West is spectacular, so grab your margarita and walk towards the Southernmost Point, the red, black and yellow marker at the corner of South and Whitehead streets.
The marker itself is one of the most photographed spots on the island.
From this point you will be able to watch and photograph breathtaking sunsets… or sunrises, if you're an early riser!
Note: it's also the most crowded Instagram spot on the Miami-Key West scenic drive!
Do you want to stay in Key West?
Check out the most updated rates and book accommodation in Key West well in advance!
(It's the best way to save a ton!)
What to eat on the trip between Miami and Key West (and where)
Fresh fruit, jam and milkshakes
Stop at Robert is Here, in Homestead, right at the start of your day trip to Key West!
The locals know it as the "Disney World of fruit stands" and for a good reason!
This huge shop opened in 1959 and has been selling tropical fruit, milkshakes and yummy treats to the foodies ever since.
It's the perfect stop on the drive to the Florida Keys from Miami if you're looking for vegetarian or vegan options for lunch.
We always make sure to stop here whenever we visit Southern Florida.
The reason is simple.
We absolutely love to snack on crunchy fruit and veggies on the scorching hot Florida summer days!
Key West pink shrimps
The "Key West Pinks" are one of the all time favorite Florida Keys foods you should experience on your Key West vacations.
They mature on the coral sand bottoms of the Dry Tortugas, in the gulf of Mexico, where they develop their distinktive pink color.
This kind of shrimp is tender and sweet.
You can eat them at the Schooner Wharf Bar in Key West.
The locals love to order coconut dipped shrimp with mango sauce.
Another popular foodie spot at Florida Keys is the Island Fish Company in Marathon.
Try their deep fried shrimps with hot pepper sauce and ranch dressing.
If you're in for a different kind of treat, the Islamorada Shrimp Shack in Islamorada serves Shrimp and Grits.
Shrimps sautéed with peppers and onions in a creole sauce, on a bed of grits.
They are the perfect lunch after a sea fishing trip!
Key West Conch Fritters
I will admit that before we experienced our first drive from Miami to Key West we had never heard about conch fritters.
We cook different dishes in Italy and while we eat mussels and clams, we never really tried the large Queen Conch snails.
While they're no longer harvested in the Florida Keys, almost every shack or restaurant on the drive to Key West serves conch fritters.
They're basically small balls of chopped conch, mixed with cheese, chives, bell peppers and onions, deep fried in batter and served with seasonings.
It made us think of the Japanese Takoyaki!
The best conch fritter you can eat on your trip from Miami to the Keys is served at the Conch Republic Seafood Company in Key West.
They serve it with homemade lime mustard.
We also found a cute little place in Marathon, the Sunset Grille and Raw Bar which serves conchs with a delicious pickled ginger sauce.
Florida Keys Stone Crabs
This popular delicacy is the one thing you should make sure to eat on your trip to the Florida Keys.
They are very much loved also from those who plan Key West boat tours and want to taste something light and fresh.
Almost every restaurant on the Florida Keys serves stone crabs with drawn butter or mustard sauce.
The best crabs are usually harvested from mid-October to mid-May.
In case you have some time in Key Largo, you should stop to one of the spots the locals absolutely love.
Key Largo Fisheries sell fresh crabs that you can cook at home, and serve delicious bowls of Stone Crab chowder soup.
Key Largo is located on the first part of your Miami to Key West drive.
In case you're planning a Key West vacation, note down that the best stone crabs are served at the Half Shell Raw Bar.
Florida spiny lobster
The Spiny lobsters in the Florida Keys are sweet and tender.
We enjoyed a delicious dish at A & B Lobster House in Key West.
It was the Lobster Thermidor: medallions of lobster meat served in a sauce of thyme and sherry, with wild mushrooms.
This is an historical recipe, super famous among those who have already been vacationing in Key West.
It has made this restaurant famous since their opening in 1947!
In Islamorada you'll find the Hungry Tarpon restaurant.
Here they serve broiled spiny lobster tail with tropical rice and a side of asparagus with garlic butter.
Key Lime Pie
Last but not least, the one thing everyone should experience at least once on this road trip from Miami to Key West.
The absolutely delicious Key Lime Pie!
I swear I've never, ever tasted such a delicious pie anywhere else in the world.
Every time we visit Florida we make sure to eat plenty of delicious Key Lime pie!
The best ones are made with the small limes native to the Florida Keys.
You will find two types of lime pies.
One uses a standard pie crust and a meringue topping.
The other uses a Graham cracker crust and whipped cream topping: this one is our favorite!
The lime pie is the official Florida State pie, and you will find it everywhere.
The best Key lime pie slices can be found at the Kermit's Key West Key Lime Shoppe (two locations in Key West, at the Key West Bight and on Duval Street).
Here you can eat the lime pie with Graham cracker crust and whipped cream topping.
And the Midway Café in Islamorada, where they make a delicious Key Lime pie with meringue topping.
Do you want to experience the Florida Keys like a local foodie?
This awesome Key West food tour is perfect for you!
You will spend about 3 hours walking around at leisurely pace, with an experienced local guide who will tell you everything about the history, architecture and cuisine of Key West.
During your exploration, the guide will show you one of the most popular restaurants among the locals (not a tourist trap!) to enjoy a secret dish which will only be revealed to you during the tour.
It will be like a treasure hunt!
Food and drinks are all included, doesn't sound awesome?
Here you can check prices and availability.
Miami to Key West Trip – Frequently Asked Questions
Is it even worth driving to Key West from Miami?
The Miami to Key West drive is one of the best US road trips if you ask us!
So the answer to this question is: absolutely yes!
The road trip to Key West is stunning. There are tons of interesting stops, gorgeous beaches, instagrammable spots and great places to eat.
How long is the ferry ride from Miami to Key West?
To get to Key West from Miami you can charter a boat ride from private operators or hop on a high-speed ferry.
They generally transport passengers from Miami to Key West.
The trip takes three to four hours.
How is the drive from Miami to Key West?
The drive from Miami to Key West is absolutely safe and charming.
It will take you about 4 hours to reach Key West, and you'll cruise the scenic Overseas Highway.
We rarely find traffic, thus we can safely say that the drive is pleasant and full of photo ops.
Can I Uber to Key West from Miami?
You can, of course.
But the price would be insane, so it's not worth your money!
Renting a car for one day would be much less expensive.
Otherwise you can hop on a bus to Key West (or a ferry!).
Which one is better, Miami or Key West?
Compared to Miami Beach, Key West is much more laid back.
We found Miami to be quite loud and crowded.
Traffic is definitely a thing and it's not easy to find parking. Yet there's so much to see and do!
Key West on the contrary is colorful, quite small and much more quiet. You can just leave your car behind and walk around!
Do you think Key West is safe for a solo female traveler?
According to our searches, the crime rate in the Florida Keys is quite low.
We never felt in danger while on the islands, not even in Key West.
Yet if you're travelling solo, it'd be better to use common sense, especially at night. Duval Street and Mallory Square are where all the fun is, yet it's always a good idea to stay alert.
Let someone from home know your travel plans and check in from time to time, just to be on the safe side!
You might also like:
– Disney World Orlando: tips for first timers
– Romantic things to do in Miami for every couple
– Beginner's Guide to Halloween at Disney World
– Smart ideas for cool Florida souvenirs
– The 10 best beaches in St. Thomas (USVI)
– USA Babymoon Ideas on a Budget
– 7 benefits of traveling as a couple
– Florida Packing List for Every Season
– 12 Florida Natural Wonders You'll Love
Pin it for later!
Travelling Dany
Danila Caputo is a bilingual travel writer living in between Naples and the Amalfi Coast (Italy). She travels and works with her husband Aldo, photographer and videographer. Their blog chronicles their adventures around the world, Italian/European culture and tips on how to be responsible travelers. You can find out more about their latest trips and their life on Instagram and Facebook.