30 unique Florida souvenirs you can't live without
This post includes affiliate links. As an Amazon Associate, I earn from qualifying purchases. Full disclosure.
A handy guide to the best souvenirs from Florida that you should get on your next trip! It includes ideas for every pocket, as well as all the things you can only buy in Florida. Not enough? Check out our video with 10 shopping tips that will help you save a ton!
Whether you've planned a road trip from Miami to Key West, a romantic Miami getaway with your significant other or a work trip, this list of Florida souvenirs will be absolutely useful to pin down all the things you can't miss. It's a very interesting mix of unique things you can only buy in Florida and smart-but-cheap souvenirs that you can rely on if you have to buy a lot or if you're visiting on a budget. The ideas for souvenirs I've listed below are divided into several categories that I hope will help you decide what you want to get. Some things overlap in more than one category, so mix and match as much as you want!
Planning your trip to Miami last minute?

Let me help you!
Here are our favorite experiences, tours, hotels and more: no need to stress out, we have you covered!
Don't forget to plan ahead also when visiting Orlando!

Top Activities and Tours in Miami & Orlando:
1. Open-top tour and Millionaire's Row Cruise
2. Biscayne Bay Evening Cruise
3. Everglades National Park Airboat Tour and Wildlife Show
4. Kennedy Space Center Entrance Ticket
5. Orlando Hop On Hop Off Trolley Pass

Our Favorite Hotels in Miami:
1. Mandarin Oriental
2. Mondrian South Beach
3. Shelley Hotel

Our Favorite Hotels in Orlando:
1. Hyatt Regency Grand Cypress
2. Floridays Condo
3. Universal's Endless Summer Resort

Click to check out the updated rates to rent a car!
Quick Links to Post Content
The best Disney World souvenirs
Let me disclose something right now: I'm a Disney fanatic and a proud nerd. There, I've said it!
As a fellow nerd, Aldo couldn't agree more when I say that Florida makes me think of Orlando and Orlando makes me think of the super cool Disney parks!
Orlando is the theme park capital of the world. We've been there the first time 10 years ago and then recently we returned for more. Aside from the fact that there's a huge Disney Springs area that I would love to move in to – permanently – there's one more thing we noticed. Wherever you go there's some shop advertising too-good-to-be-true deals on Disney souvenirs. Unfortunately not all of them sell official Disney merchandise. You've got to be extra careful!
You might also like:
Orlando Disney World tips for first timers
Guide to spend Halloween at Disney World
How to find the top cheap eats at Disney World
Useful guide to Universal Studios Japan
The most popular one of the Florida souvenirs for the fellow Disney fanatics is the mouse ears headband from Walt Disney World. There are dozens of models. Some are seasonal (the Halloween Minnie Mouse Ears headbands were absolutely gorgeous), some others are themed (if you haven't seen it already, google "Princess Leia Ear headband" and be ready to jump off your chair): they're all absolutely beautiful. Prices are more or less the same, with a few particularly expensive exceptions, and you can find them throughout the shops at Disney Springs or inside the Disney parks.
There are a lot of Disneyland souvenirs you can buy in Orlando: the only thing you need to be aware of is that Disney stuff can be quite expensive. And don't even let me start on the Disney clothes for toddlers! We always bring back so much stuff for our nephew! There are pajamas, underwear, t-shirts, costumes, skirts and so much more, for… kids of all ages.
That being said, don't absolutely feel weird for wanting to wear your Minnie Mouse ears headband. Orlando is some sort of big fairytale realm where people wear Disney accessories and clothes all the time. No one will frown so you do you!
Of course, Disney merchandise is the kind of expensive souvenirs from Florida, isn't it? What would you say if I told you there are ways to shop for Disney souvenirs on a budget?
Planning a road trip?
Click to download our FREE printable
ROAD TRIP CHECKLIST!
In almost every one of the big outlets in Orlando there will be also a Disney outlet. They sell stuff from the previous collections at half price, more or less. Being an outlet, you might not find all the sizes and colors, but it's a good way to save money if you're visiting Florida on a budget.
If you don't find something, visit the next Disney outlet: they all sell different things! Of course some items are the same, but some shops seem to be bigger (and more crowded) than others, so don't give up!
Renting a car might be a great idea to explore Orlando, especially if you're looking for reasonably priced souvenirs. We have rented ours here, and were able to save quite a lot as this is a definitely less expensive company. Click here to check out how much renting a car in Orlando would cost you and make sure to pick a car with a decently sized trunk!
Note: a car will also be useful if you're planning to add a few Florida road trips to your itinerary.
Another place where you can find good Disney World souvenirs for less is… Walmart! I bet you weren't expecting that!
Quite a few Walmarts in Orlando sell Disney tickets and merchandise. While you won't find the same models that you can buy at the Disney parks, prices are way more convenient.
Click here to walk around the Star Wars: Galaxy's Edge area with us at Disney Hollywood Studios Orlando!
Just think that we found Star Wars t-shirts at Walmart for 12$. At Disney Springs (and inside the Disney Hollywood Studios park) we haven't found themed shirts for less than 28$. The nice ones were up to 32-35$.
So if you're looking for discounted Disney souvenirs, always check out Walmart first. They sell official Disney merchandise, unless many shops in Orlando that claim they have the cheapest stuff ever!
Our latest trip to Orlando was also a blast thanks to the opening of the Star Wars: Galaxy's Edge land (fall 2019) at Disney Hollywood Studios.
Just saying "Star Wars" back at home sent people on a frenzy. "Oh gosh have you been there? How was it? What did you buy?". I still proudly tell everyone I've been the main pilot on the Millennium Falcon, and I don't care that I'm supposedly too old for that!
As you might have guessed, if you're looking for Florida souvenirs for geeks, you should buy all things Star Wars. They're the latest trend!
Just like the regular Mickey Mouse stuff, you can find Star Wars souvenirs for less at Walmarts in Orlando.
You might also like:
Florida Packing List for Every Season + Outfit Ideas
Last but not least, there's a little gem you should visit on a trip to Orlando.
We're used to having Christmas every day of the year because in Naples we do have Christmas Alley at Via San Gregorio Armeno. So we were thrilled to be able to visit another place where it's always Christmas!
Disney's Days of Christmas is located at Disney Springs and sells all things Christmas. House decor, ornaments and limited edition items. How about having a Disney princesses themed Christmas tree?
But wait, I'm not done! At Disney's Days of Christmas you can also buy personalized souvenirs! For a small fee, the Disney artists can handwrite your name, a phrase or even a date on the ornaments.
When we visited we saw newlyweds buying a personalized Mickey and Minnie Mouse ornament (wedding day edition) with their names and the date of their wedding on it.
That is the cutest, most thoughtful souvenir ever!
Cheap souvenirs from Florida
Are you looking for cheap Florida souvenirs? If you were already thinking of giving up, because you think there's nothing nice unless you spend at least 20$, don't.
There are quite a few things that you can buy for less than 20$, if you know where to go.
While I'm aware that fridge magnets are not the most unique among the Florida gifts you can buy, they are quite often dirt-cheap. Especially if you buy them at the big super stores like Walmart. They start at just a couple of dollars and can be more expensive if you buy the very nice ones (ex. wooden fridge magnets or hand-painted ones).
Let me share with you one of my favorite things I collect from all over the world. It's super cheap and never disappoints: postcards!
I know, you might be thinking that paper is dead and no one reads postcards anymore. Well, I do!
You might also like:
Handy guide to plan your trip – Best time to go to Florida
In my travel-themed office at home I have installed a big cork board, next to my world scratch off map (I use this one that I found on Amazon). Whenever I visit somewhere new I buy a postcard and a stamp. I then proceed to write my impressions on the trip or a meaningful quote. I send it over to my own house. When I actually receive it, I pin it to my cork board. It's also great to avoid the post-travel slump!
Why do I like to ship them? Well, because the stamps are always amazing and I also get an original postmark from the place I was visiting. It's sort of like a stamp on my passport, only I can save it forever on my travel board!
Whether you're interested in decorating your study or another room, there's something else you can buy with just a few dollars. Art Deco posters bought in Miami can also be considered vintage Florida souvenirs, but I swear they are still a thing. Once again, if you're visiting on a budget you can find some cheap ones at many super stores like Walmart.
Also just so you know, the Art Deco District is full of the best instagrammable spots in Miami. Go there and engage in shopping and a nice photography session for your travel album!
The official Art Deco Gift shop in Miami Beach also sells some awesome Art Deco posters (starting art 30$). You can find their shop at 1001 Ocean Drive.
Posters aren't really things you can only buy in Florida: if you don't know how to carry them home, buy them online on Amazon. Some are absolutely gorgeous and you can also order a frame to turn them into classy decorative elements. Amazon will deliver them to your doorstep and you won't have to actually play Tetris with your suitcase!
Many souvenir stores sell baseball hats and keychains. They're classic American souvenirs you can buy for less. People also love to collect baseball hats from their holidays and they can be a good idea also for a present.
I sometimes buy my dad a baseball hat when I'm on the road, especially when I don't find something else that could interest him. He likes to show them around to his friends, usually starting with "my daughter has been to Florida…". And then he puffs out his chest like the proud papa he is!
Sorry, I've been mentioning it quite a few times, but let me add another short note because it will save you a few bucks: I've seen nice Florida baseball hats for as low as 5$ at a few Walmarts in Orlando and Miami!
Florida gifts and souvenirs for foodies
The foodies looking for yummy Florida souvenirs won't be disappointed. This trip will provide quite a few interesting new things you can (and should) try!
While driving from Miami to Key West there are a few things you can eat and buy. Robert is Here is definitely not one of the many Florida gift shops, but he sells delicious preserves, local jams and honey you can buy as souvenirs. As well as shakes, key lime pie and fresh fruit that will be super useful on the long drive to Key West!
Robert is Here is located in Homestead. All the fruit they have is local and they prepare genuinely good jams or preserves without any chemical stuff: they're very, very good.
Those who are visiting Florida from outside of the USA should check with TSA. Make sure you can bring this kind of stuff back with you.
Everyone else should consider buying jams, preserves or local honey, they're the best souvenirs from Florida and everyone will like them!
Cuban pastelitos and crackers are also great Miami Beach souvenirs.
Pastelitos are baked puff pastry-type pastries filled with sweet or savory fillings. The most loved ones in Miami are guava and cheese.
Cuban pastelitos don't like long trips: I suggest you eat them fresh, maybe with a delicious Cuban coffee. The Café Cubano is creamy and very similar to the espresso we drink at cafes in Naples (Italy). Delicious but quite strong if you're not used to it.
If you only have a short flight (or drive) home, I suggest you buy fresh Cuban pastelitos right before you leave Miami.
One of the best places in Miami where you can buy Cuban pastelitos is Vicky Bakery. They have quite a few shops in Miami and have been cooking delicious Cuban treats since 1972!
Cuban crackers are another one of Miami's most basic food traditions, imported from Cuba. They are made with flour, yeast, lard and a touch of salt on the top. Crackers are definitely going to survive a longer trip (provided that you can bring them home, always check first).
The best Cuban crackers in Florida are those produced by Gilda Industries and those you can buy at La Rosa bakery on Calle Ocho, Miami.
Not sure what to buy in Miami but you're not too fond of crackers? How about Alfajores?
Miami and Miami Beach are where you will find lots of great Argentine bakeries. Argentina means Alfajores: two yummy biscuits joined by a dulce de leche filling.
The traditional ones can be covered with sugar, while the modern version of alfajores is usually covered with grated coconut or chocolate.
Alfajores don't like long trips, but they can survive for 3-4 hours, provided you keep them fresh!
Try them at one of Graziano's markets, there are several locations in Miami and the surrounding area.
Key lime products are the kind of unique Florida gifts you should think about. Unfortunately a good slice of Key lime pie doesn't survive long when you pull it off the fridge, but there's so much more you can buy, according to how much you want to spend and what you like.
Key lime candy also fit into the "cheap Florida souvenirs" category. Throughout the Keys, and in some supermarkets in Miami, you will also find Key lime candles, tons of lime sauces, dips and marinades, cookies (that are easy to carry and can fly home with you)… I was surprised to know there are also bath and beauty products made with Key lime!
One of the shops where you can find it all is Key Lime Productions in Key Largo. Kermit's Key West Key Lime Shoppe in Key West (there are two locations) also sells a lot of interesting Key Lime products, as well as nice Florida gifts and souvenirs.
Best Florida souvenirs to decorate your home
I might be an atypical traveller, but on our last trip to Florida, I kept telling Al that… Oh. My. Gosh. Why didn't we have bigger suitcases? Home decor was awesome: throw pillows, slipcovers, wall art and crafts, I would've bought so much more!
While I'm an avid mugs collector, Al is much more of license plates. He hangs them on a wall in our house and buys them wherever we go (unfortunately not every place sells license plates, especially in Europe, but he does all he can to find them!).
License plates from Florida and the Keys can definitely be nice Florida souvenirs you can buy for just a few dollars. Used license plates are more expensive, but clearly have history. Big superstores or gift shops sell fake license plates for less. They're still very cute, especially if you have to decorate a room for someone who loves to travel.
Throughout the Florida Keys we also found lots and lots of local art you can buy. Expect the prices to reflect the hours of work that took to produce each one of the unique art pieces, but if you're willing to spend a bit more you can bring home cool souvenirs that no one else has.
Many souvenir shops sell driftwood sculptures: usually they are ocean-themed, but we also found gorgeous dragons, unicorns and eagles. Be careful: since they are expensive and usually pretty big, if you're flying back home it might not be the right souvenir from Florida. Consider buying driftwood sculptures only if you want to ship them home or if you're driving back.
Wooden signs and local art are also great Florida souvenirs you can buy to decorate your house. We found a very nice selections at Robbie's of Islamorada (Florida Keys). For 25$ you can buy hand-painted wooden signs with motivational quotes. There are also island home decor, metal art and cool rope signs.
Find them all at the very interesting open-air market (free entrance), even if you're not interested in feeding the tarpon!
You might also like:
– 8 Cute towns in Florida off the beaten path you'll love
This kind of souvenirs usually fit nicely in your luggage. To make sure they won't get ruined by a long flight, wrap some of your clothes around them, it'll be an extra layer of protection.
In case you didn't know, the Miccosukee tribe is a recognized Native American tribe that lives in Florida. If you are looking for sustainable, good souvenirs, think about buying Miccosukee crafts.
You can buy original Miccosukee crafts at the Miccosukee Indian Village, located in Tamiami, in the heart of the Everglades.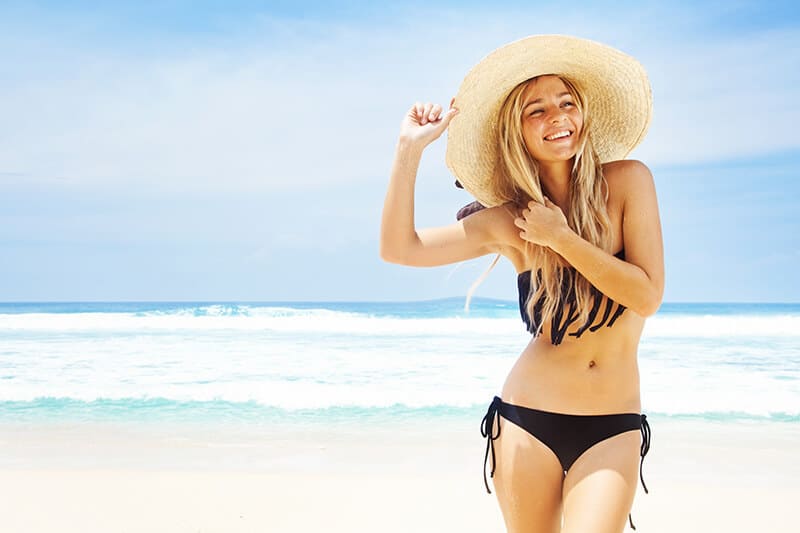 Unique Florida gifts: ocean & lifestyle
Among the most loved Cuban souvenirs you can buy in Florida, special mention goes to cigars. I know, I know, people shouldn't smoke and it's a really bad habit. I'm well aware because I have asthma so I've never even lit a cigarette (or a cigar!) in my whole life. But still, Cuban cigars are everywhere in Florida, especially in Orlando and Miami.
My dad and Aldo enjoy smoking a cigar when they're on their own, especially during the holidays, to celebrate a special occasion or after a particularly delicious meal. So we decided to buy a few cigars for them to keep in their humidor for the special occasions.
Aldo found quite a few very good shops in Miami, and he especially liked Cuban Tobacco Cigar Co in Little Havana. Another one he liked was Sosa Family Cigar store in Orlando's Disney Springs. Over there, the owner even gifted him a Romeo Y Julieta wooden box. It's now proudly sitting in my parent's living room!
Please be aware that you can't smoke cigars basically throughout Walt Disney World. Even at Disney Springs you can only smoke in designated smoking areas.
Cuban cigars are cheap Florida souvenirs you can buy for someone who already smokes and might want to try something new. You can pay as low as 4$, but the hand rolled cigars will be much more expensive (up to 25-30$). If you don't know what to buy, always ask for more information!
You might also like:
– 12 Florida Natural Wonders You Should Visit
Are you shopping for beach souvenirs for a girl? How about buying a sexy bikini? Beach Bunny is a cool swimwear shop in South Beach, known for having the sexiest bikinis ever. The only downside is that… because they're high quality and gorgeous, they're a bit expensive.
If you're looking for a cheaper option, check out Bikini Brasil, also in South Beach.
Please, allow me also a personal consideration: Amazon also sells great swimwear for less. If this isn't a present and you're actually in need of a new swimsuit, have a look on Amazon. I recently got this one for a tiny price and I absolutely, absolutely love it. Those who have signed up for Amazon Prime (clicking here you can sign up at 50% off) can also order a few models at zero shipping costs, see which one you like and return the ones that don't fit your body type. It's super easy and you'll be ready for an awesome beach vacation in Miami or for a cruise!
Tarpon Spring, located North of Tampa, is widely considered to be the Sponge Capital of the World. If you still don't know what to buy in Florida and you're thinking of driving North from Miami, by all means, make sure you stop at Tarpon Spring!
Natural sea sponges are harvested from the bottom of the ocean, usually by tiny family-operated companies. The Greek community harvesting them in Tarpon Springs makes sure to leave enough of the base of the sponge for it to quickly regenerate: natural sponges are 100% biodegradable and contain natural enzymes to inhibit the growth of bacteria, mold and odors.
Natural, ethically harvested sea sponges are one of the things you can only buy in Florida: they make a great souvenir but always make sure you can bring them back home if you're flying to another Country!
Those who are looking for the best souvenirs from Florida and have a super low budget might find this next part quite interesting.
Sanibel Island is considered to be the best shelling beach in the world. This means that you can actually find wonderful shells on the beach and bring them home as souvenirs, provided that you can import them.
Yet you should also make sure you're following the rules: ethical shell collecting is definitely a thing!
Don't take anything that is alive. It's illegal in Sanibel and Lee Country, and honestly also irresponsible.
Another thing you should never forget is that you should leave spiral shells alone, because hermit crabs use them as their home.
Collectible Florida souvenirs
I'm sure you can add many of the previous Florida gifts to this list of collectibles (after all we collect quite a few things so we know the feeling!). The first one being Disney souvenirs like Star Wars memorabilia from Star Wars: Galaxy's Edge at Disney Hollywood Studios. You will find lots and lots of Star Wars gadgets at Disney Springs or at Disney Hollywood Studios.
Unfortunately, even if we visited quite a few Disney outlets in Orlando, we haven't found anything Star Wars related. Either we were very unlucky, or at the moment Disney prefers people to buy the official merchandise without discounts.
Does it mean you can't buy cool disney World souvenirs if you're visiting Florida on a budget? Of course not!
Several Walmarts in Orlando sell Disney merchandise: prices are dramatically lower than what you'd find at Disney Springs or inside the Disney parks so you're all set!
Walmart also sells Universal Studios souvenirs and tickets. The designs are different from those you'd find inside Universal Studios but they're still very good. Walmarts in Orlando also sell lots and lots of Harry Potter merchandise!
The simpler Disney or Universal Studios gifts are very pretty and super cheap. You can find coffee mugs, pens, key chains and even hats at 2$-5$. It's perfect if you're planning to buy a lot!
Other superstores where you can look for Disney souvenirs or Universal Studios merchandise are JC Penney and Sears (in Orlando).
As I mentioned probably way too many times before, I'm an avid mug collector. Well, let me tell you something: mugs are great ideas for souvenirs from Florida! I my case, I love to drink my cappuccino in a mug that reminds me of a super cool trip!
I suggest you have a look at Starbucks mugs: they have Florida, Miami and Orlando themed mugs (the "Been there" series), and a very nice collection of reusable coffee cups, as well as cold cups with reusable straws: let's try to avoid single-use plastic, please!
In any Miami souvenir shop you will also find cheaper travel mugs (Florida, Orlando or Miami themed), but if you don't mind paying a bit more, have a look at the local art stores. Many sell hand painted mugs!
If you decided to rent a car, you're probably also visiting Kennedy Space Center. Once you're there, get ready for some shopping because they sell quite a lot of cool souvenirs!
The official Kennedy Space Center souvenirs store is "The Space Shop", the world's largest store selling space memorabilia and NASA gear.
Once you're there, you're faced with a lot of tough choices. There are quite a few absolutely lovely collectibles for adults, such as Apollo commemorative gold coins, framed stamps or even space shuttle models. They're not cheap but as time goes by, they will become a quite coveted heirloom.
NASA souvenirs for younger kids (or the young at heart) include astronaut helmets. They're super cool but definitely not cheap, and they will be difficult to carry if you're planning to fly home.
Cheaper collectible souvenirs, easy to carry and that won't hurt your wallet too much, can be mission patches and pins, pens and glass paperweights. Me and Aldo also bought a super lovely Christmas space ornament for our travel-themed Christmas tree!
Last but not least, if you're in love with music and would like a few unique Florida gifts, please, go to the House of Blues Orlando! Not only there's great music, an awesome venue and good food: they even have a souvenirs shop!
You'll find all kinds of things, from Jake & Elwood Orlando shirts to spicy sauces, glasses, incense, books, pins and patches. We always make sure to stop at HOB Orlando whenever we're in the area and they never disappoint!
Short Guide to Choose the Best Souvenirs from Florida
It has to be something practical
Don't feel ashamed to buy plenty of your new favorite treats
Buying collectibles can be a good idea
Christmas ornaments from Florida are very cool!
Get them jewelry only if you know them well enough
Shop from local artists for some unique souvenirs from Florida
Cuban food doesn't like long road trips (or flights)
Bring an insulated cooler bag if you want to buy fresh fruit (like the Florida lime)
Even a cheap postcard can be an heartfelt gift!
Native American Miccosukee crafts can be great souvenirs and they also help the Native American artists!
You might also like:
The very best souvenirs from Italy (tips from a local)
What to buy in London – a complete guide
25 incredible souvenirs from Japan
30 Florida souvenirs for every pocket
Souvenirs from Ireland – 40 smart ideas
Scotland souvenirs and gifts you should buy
Pin it for later!
Travelling Dany – Danila Caputo
Danila Caputo is a bilingual travel writer living in between Naples and the Amalfi Coast (Italy), graduating from the University of Naples Suor Orsola Benincasa in Foreign Languages and Literature. She travels and works with her husband Aldo, photographer and videographer. Their blog chronicles their adventures around the world, their love for the USA (where they have family), Italian/European culture and tips on how to be responsible travelers. You can find out more about their latest trips and their life on Youtube, Instagram and Facebook.