This post is also available in: Italiano (Italian)
Traveling comfortably seems to have become some kind of impossible dream. Our seats on planes, trains or buses are always more narrow, thus they aren't the best place where we can rest before to properly start our holiday. Maintaining a poor posture for many hours, as it happens in case of a long flight, can cause muscle contraction or pain: the fastest way to ruin your vacations.
A few years ago, for example, while I was flying to Ireland, as usual completely focussed on my Kindle, I didn't realize I was bending my head at a weird angle. Back then, I hadn't fully understood the importance of a travel pillow, and I thought it was yet another fancy accessory I didn't need. The very cold cabin air, sworn enemy of every traveler out there (always bring a sweatshirt or a long-sleeved shirt, even in summer!) did the rest. In the evening I barely managed to get to our bed and breakfast: I desperately needed to lay down. My neck and shoulder were in pain. I couldn't even lift myself up: every movement caused a stab of pain that made my toes curl. I remember thinking that somehow I'd managed to mess up. It's really that easy to ruin your vacations.
An Irish doctor explained to us that contractions caused by the cold and by a wrong posture might last also for a few days. In that specific case, it took me a couple of days to get out of the bed. Yet for the rest of our trip I still felt the occasional stab of pain while getting dressed. We never really think about it, but we always move the muscles of our neck. It's so natural that we don't even realize it. Spending half of your vacation in pain isn't exactly what one is hoping for, after waiting so long for it. What if you finally managed to book that romantic trip to Italy to propose and you can't get out of your bed?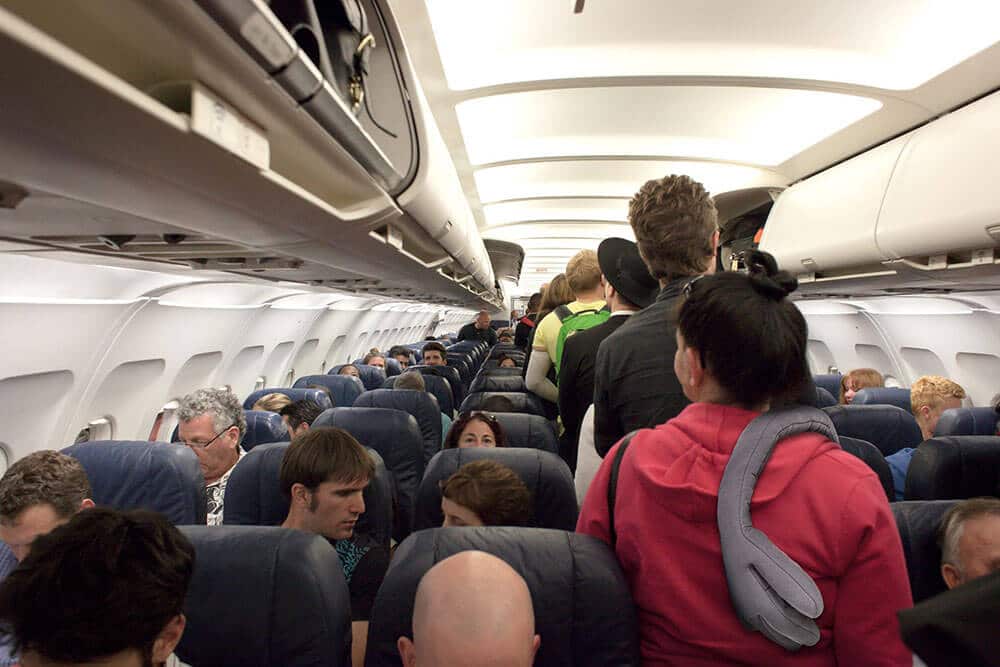 Since then, I have started to pay much more attention to my posture and my neck. I realized that neck and shoulders are our weak points. They can ruin your vacations also on short journeys: even air-conditioned fast trains can cause as much damage as pressurized cabin air on a plane.
That's the reason why, when I received a press release informing me of the start of a crowfunding campaign for an innovative travel pillow, I immediately checked it out.
My first reaction to seeing the big hands of the MonPère pillow was, however, quite puzzled. It felt like a joke: why did they choose such a bizarre shape?
After the initial shock, I read that the man who invented this new kind of travel pillow, Sylvain Bérubé, is a massage therapist and kinesiotherapist from Montreal. Passionate about long trips, especially in unseen Countries, he realized the struggle of sleeping comfortably without causing damage to your neck or spine only thanks to his little daughter, Raphaëlle. During a road trip to Hawaii, in fact, the kid often slept in uncomfortable positions, waking up in pain. Sylvain then did what every dad would've done: he tried to find a way help Raphaëlle and every other travel lover. It took him four years of hard work and tests to perfect what he refers to as a "sleeping tool". So I thought that this particular shape had been chosen to appeal to a younger audience.
Yet the particular shape of this travel pillow is its greatest strength. It features two large hands that wrap around you and offer support. They use the natural pressure points of our body to create resistance, making you sleep comfortably so that you can rest (for real) wherever you are. The linear shape and the fingers of MonPère fit any sleeping position and support the head by using a few anchor points. You can wrap a MonPère hand around the body or the back of your seat, and use the other one to make sure that when you fall asleep you won't bend your head. Or you can use the aircraft folding table to sleep bent forward, still keeping your head in it's axis. Your neck won't be able to ruin your vacations anymore.


The pleasant surprise with MonPère for me is the fact that its cushy cotton padding is completely removable. As far as I've seen, there aren't many travel pillow manufacturers who worry about the germs their products collect. We carry our pillows all around the world and it's not always possible to wash them when we get home. Which is pretty gross, if you think about it. MonPère, on the other hand, has proven to be very practical: you can just unzip the sleeve to remove the silicon interior and throw the fabric in the washing machine.

After a series of positive reviews on his project, Sylvain decided to launch a MonPère campaign on Kickstarter. In the first 24 hours since the opening of this crowfunding campaign, the first pillows (offered with a generous discount) were sold out: backers funded over 3000$ as soon as the campaign went live.

I admit that although there are so many projects that I like on Kickstarter, it's not a platform I use often for so many reasons. Shipping expenses to Italy are insanely pricey, just to begin with.
There have been only two projects that I felt like backing without hesitating. The first edition of the official Ghostbusters board game (nerd and proud!)… and MonPère. Sylvain reached out to ask me to inform my readers of the crowdfunding campaign. Yet aside from his request, I decided to put my own effort into this: I very much like this travel pillow.

I travel a lot, and I have an already damaged neck due to having bent my head down on my writing desk for years while studying for my University exams. For this reason it's not that uncommon for me to suffer from intense neck pain. After spending months in planning and dreaming about my trip, I absolutely have no intention to ruin it because of my medical conditions. After so many years I've learned my lesson: I'm never traveling without a good sleeping pillow again!

Check out the Kickastarter campaign to make sure not to ruin your vacations!

Note: This post was sponsored by the MonPère company and contains Amazon affiliate links. The opinions expressed here are completely my own and don't necessarily match theirs.
Pin this for later!