Are you planning to travel to Europe? If so, you absolutely need to be aware of the updated Europe visa requirements. Check out all the news, including the new ETIAS authorisation that will be implemented in 2024!
Because we live in Italy, we often do not realize that those who visit from abroad have to abide by the rules to stay in the Schengen area. But what are the EU entry requirements for US citizens, and for all the travelers who do not live in Europe?
Definition of a visa
A visa is a document that allows a person to enter, stay in, or leave a certain Country for a specific period of time.
There are a few different types of visa.
Each one depends on the kind of trip you're planning to take, on your nationality and of course on the reason why you're visiting.
A transit visa is required if you are passing through the Country without staying there.
Some Countries have a visa waiver agreement with other Countries.
What does it imply?
The agreements make it so that citizens from those Countries do not need to apply for a visa!
A short-stay visa is a type of visa that allows you to stay in a foreign Country for a limited period of time.
This is a type of national visa usually issued for tourism.
Usually it has a validity period ranging from one day to six months.
Depending on the Country and the purpose of travel.
It's always a good idea to check official government websites to learn the requirements and how to apply for a visa!
Last but not least, a long-stay visa is usually issued for people who plan to stay in a specific Country for more than three months.
You might also like:
Travelling as a couple – Why Is it So Important?
Do you need a visa to visit Europe?
Most of Europe is part of the Schengen Area.
It consists of 26 Countries that have abolished passports and any other type of border control at their mutual borders.
To travel to these countries, you will need a Schengen Visa.
Depending on your nationality, you may be exempt from needing a visa or may be eligible for a visa waiver.
In case you do need a visa, you will need to apply for one before your trip.
Because the application process can take several weeks, it is super important to start early.
You can find more information about Europe visa requirements and how to apply for a Schengen Visa on the European Union official website.
Note: Keep reading to discover the documents required for a Schengen visa!
EU Entry Requirements for US Citizens
Citizens of the United States with a valid US passport can travel to 26 European member countries in the Schengen area for a maximum of 90 days.
They won't need to apply for a Schengen visa for short-term tourism or a business trip.
While they won't need a visa to enter the Schengen zone, they will have to obtain an ETIAS authorization.
You might also like:
20 Super Romantic Places in Italy for Couples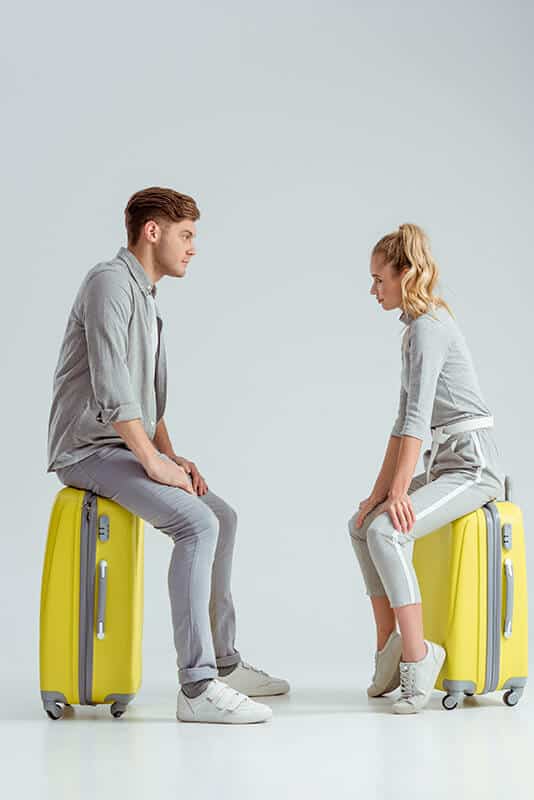 ETIAS Visa Waiver – What is it?
The European Union has implemented a new ETIAS Europe system.
ETIAS stands for European Travel Information and Authorisation System.
A bit like ESTA (Electronic System for Travel Authorisation) for the United States!
It is important to know that the ETIAS authorisation is absolutely not a visa.
Citizens of nations with visa liberalization (visa-free regime – Non EU citizens) will still be able to visit the EU without a visa.
Yet they will have to acquire a travel permit through ETIAS before their trip.
ETIAS will be a simple and visitor-friendly system.
Which doesn't reintroduce visa-like obligations.
A Schengen visa procedure, for example, can take at least 15 days.
Sometimes way more than that.
The ETIAS application, on the contrary, can be filled online.
It takes just a few minutes of your time and – according to the official sources – in more than 95% of cases, it will result in a positive answer.
ETIAS will be an easy and quick process for travelers from outside the EU (ex. USA citizens).
This means that you'll be able to save quite a lot of time.
How?
Bypassing all the bureaucracy and delays when arriving at the borders!
Visitors will be able to apply for an EU travel authorisation the easy way.
The full process should take no more than 10 minutes.
And it does not require anything other than your travel document (passport or equivalent).
Before you ask…
Yes, you can apply for someone else, provided you do have their travel document!
The ETIAS authorization also requires an electronic payment of a €7 fee for each applicant between the ages of 18 and 70.
All the assessment process will only start after the fee collection has been confirmed.
ETIAS has a validity of 3 years so make sure you keep a printed copy!
You'll only have to pay once and then you're done.
What does this mean?
Due to the fact that this authorization has a long validity, you can leave and then re-enter the Schengen area the following year.
No need to pay nor to fill the application form once again.
Just like ESTA, ETIAS will be a travel document required to enter the Schengen area countries.
You will thus have to show it prior to boarding (also if you're cruising to the EU!)
ETIAS is currently not in operation.
It is expected to be operational in 2024.
Check out this website to see when you will be able to apply!
What European Countries Require ETIAS?
If you are planning to travel to a Schengen member state mentioned below, you will need to obtain an ETIAS authorisation.
There are currently 30 EU countries in the official list.
• Austria
• Belgium
• Bulgaria
• Croatia
• Cyprus
• Czech Republic
• Denmark
• Estonia
• Finland
• France
• Germany
• Greece
• Hungary
• Iceland
• Italy
• Latvia
• Liechtenstein
• Lithuania
• Luxembourg
• Malta
• Netherlands
• Norway
• Poland
• Portugal
• Romania
• Slovakia
• Slovenia
• Spain
• Sweden
• Switzerland
You might also like:
Where and what to eat in Prague
Prague districts – where to find lodging
How to spend 2 days in Prague
Why Prague in Winter is awesome
Visiting Europe in October: 20 awesome fall trip ideas
The best destinations in Europe for a Fall trip
New Europe entry requirements and ETIAS authorization
Should you request an ETIAS authorization or a Schengen Visa?
You will need an ETIAS travel authorisation if:
• you're visiting from the US or any other place outside of the Schengen territory
• you're traveling in Europe to any of the countries mentioned in the previous chapter
• you're traveling to a European country requiring ETIAS on a school trip – also if you're coming from a visa-required country
• you're a member of the armed forces who is traveling on NATO or Partnership for Peace business
• you hold an ID and movement order provided for by the Agreement between the Parties to the North Atlantic Treaty about the Status of their Forces
The following cases will on the contrary require a visa:
• you're a citizen of one of the countries on this list
• you're living in one of the abovementioned countries and you're transiting through the international areas of airports situated in any of the Schengen countries
• you're planning to study, work or travel in one of the Schengen states for more than 90 days
So who doesn't need an ETIAS Travel authorization?
It's super easy!
You will not need an ETIAS waiver if you're a citizen of a European country requiring ETIAS, or if you live in any of the countries who need a Schengen visa to travel to Europe.
In case you live in the UK and are a beneficiary of the Withdrawal Agreement, you will not need to request ETIAS.
Same goes for those who hold a residence permit or residence card issued by any European country, or if you live in Andorra, San Marino, Monaco, Vatican City State or Ireland.
You might also like:
The Best Rome Itinerary for 4 Days!
Schengen visa requirements – The Easy Checklist
There are quite a few documents and info required for the Schengen visa application.
Here's a list of all the things you need to get a visa.
Please make sure you apply well in advance: it might take a while!
• a completed and signed visa application form
• 2 recently taken photos
• valid passport
• round trip reservation and your itinerary
• travel insurance
• hotel reservation or any other proof of accommodation
• proof of financial means (ex. bank statement)
• proof that you paid the visa fee
What do you need to apply for ETIAS?
Requesting an ETIAS waiver is much easier than getting a valid visa.
To apply, you will only need a valid travel document like your passport.
Make sure your passport (or any other travel document) is valid for at least 3 months from your application.
Another super important thing is that your passport shouldn't be older than 10 years.
Any of these two conditions can make your ETIAS travel authorization be denied!
When filling out the application form, make sure you have all the following info ready:
• personal information (including a valid email address and phone number, as well as both your parents' first names)
• travel document details
• info about your level of education and current occupation
• info about your travel destination and length of stay
• info about any criminal convictions, past travels to war or conflict zones
Worried you'll need a bit of help?
Download the FREE Italian Travel Phrasebook here! It includes the correct Italian pronunciation and lots of useful sentences that you'll be able to use on your trip to Italy!
EU Entry Requirements – FAQs
When should you apply for a visa or for ETIAS?
I absolutely suggest you apply for a Schengen visa as soon as you have your itinerary, documents and return ticket ready.
While obtaining the ETIAS travel authorisation is way easier, make sure you also apply as soon as possible.
Usually ETIAS applications are processed within 96 hours, at the very latest.
Yet sometimes you might be required to apply with extra documents.
And some other times you might need to be interviewed by the national authorities.
That will take up to 30 extra days!
Hence why you must apply as soon as you have your flight tickets!
Note: applying for the visa takes so much longer. The time depends also on the visa type you need. If this is the case, please make sure you start well in advance. Otherwise you will be denied entry into the Schengen zone!
Is ETIAS Europe the same as a residence permit or a visa?
Nope!
ETIAS travel authorisation only allows you to enter and remain in one of 30 states within the Schengen area for a short-term stay.
If you are planning long-term travel, a longer business trip or if you want to study in Italy for more than 90 days, you will need a long-term visa.
Will you be refused entry if you do not have a valid ETIAS waiver?
Yes – hence why you should make sure to apply well in advance.
If you do not have a valid ETIAS travel authorization with you upon landing in the EU, you will be refused entry at the border.
Can you visit Europe without confirmed travel plans?
Nope, sorry!
If you want to travel to any of the countries within the Schengen agreement, you either need a Schengen visa or an ETIAS authorisation.
Travel plans are mandatory to obtain a visa to enter Europe. Yet I strongly suggest you have everything ready also when you apply for ETIAS.
Better safe than sorry!
You might also like:
Insider tips for visiting Italy in winter
Why Prague in winter is absolutely amazing
Winter Packing List for Europe
Italian Christmas food you never knew existed
How to visit Vienna Christmas markets
The best of Bratislava Christmas market
15 awesome trip ideas to visit Europe in winter
Where to find the most amazing Christmas markets in Europe
Incredible travel gift ideas for women – have a smart Christmas!
20 awesome Christmas markets in Italy
Christmas in London – Everything you need to know
Why you should travel with your partner
Visiting Europe: Schengen visa or ETIAS Visa Waiver?
Discover the best time to visit Italy
Pin it for later!
This post is also available in:

English