How to plan a honeymoon without going insane (with easy tips)
This post includes affiliate links. As an Amazon Associate, I earn from qualifying purchases. Full disclosure.
Planning a honeymoon doesn't have to be a nightmarish experience. Whether it's a last-minute thing or not, being organized is the trick to make things easier. This guide with easy and actionable tips will show you how to plan your honeymoon. I promise you can do it, even with a small budget!
Are you ready for the trip of a lifetime?
Quick Links to Post Content
Where to Start Honeymoon Planning
Planning a big trip might sound scary, especially if it's your honeymoon. The very first advice I can offer is that you shouldn't do it on your own!
Taking over and deciding everything won't do you no good. Your partner should in fact always be an integral part of this honeymoon, right from the early stages.
When me and Al first started traveling together, I had to try very hard to convince him to discuss things together right from the start.
"Oh don't worry, I'll love everything you decide!". That was his standard reply to everything I asked.
To be honest, sometimes I felt a bit bit overwhelmed. Sure, at first you feel ecstatic about being able to take charge of a trip. But with that comes responsibility. What if your itinerary will bore your partner half to death? What if you two fight because they want something different? What if your budget is too tight?
You might also like:
Why travelling together should be on your bucket list
Sure, you'll think they would've had to help if they really wanted to visit the Devil's Tower in stead than going to horseback riding somewhere else! Yet my experience is that sometimes we tend to underestimate the early stages of a trip. We should talk things over: sharing your feelings and your ideas is always good for your relationship!
Thinking that you can change your itinerary once you're there is a utopia which can only cause stress and a huge loss of money. Uhm… nope thanks!
If you want to avoid fighting, remember to ask your partner to sit down with you and discuss things clearly. While good communication is one of the benefits of traveling together, you have to work for it.
In case your partner can't be there physically, use Skype, Zoom, Facetime or Whatsapp (we absolutely love Whatsapp in Italy for video calls, messages or voice messages!). Find a way: you'll feel together even when you're apart!
Planning a honeymoon is no easy task but it'll be a piece of cake if you share the burden with your partner, I promise!
Do you still need a little push?
How about saving a lot of money?
Planning is the most critical step because it can really help you to save lots of money.
If you have a limited budget, make sure you start the arrangements as soon as possible. That will help you to search for better deals or coupons, and to find an alternative route if the destination you wanted to go to is too expensive!
How to Prepare for the Trip of a Lifetime
Getting ready for your honeymoon is also absolutely important.
You will need a checklist with all the things you can't forget. I prefer to use Google Drive, which also has a handy app, and a spreadsheet. With Google Drive I have my files always online and I can easily download them on the phone, so I can also use them offline (when I don't have a mobile data plan – click here if you need an affordable roaming plan).
A well organized spreadsheet can be divided into separate tabs with bullet lists.
You might also like:
How to plan the perfect Italian Honeymoon (also on a budget)
At least six months before your honeymoon you should make sure you have a valid passport and eventually visas, if needed. Check out if the destination you chose has specific limitations so you won't have to deal with unnecessary issues that might ruin the fun.
Usually this is also the time when we sign up for travel insurance, which covers us, our trip and our luggage. I don't think we've ever been abroad without insurance: while some consider it an unnecessary cost, me and Al think it's an investment.
In case of health issues, or if the weather threatens to wreak havoc on your honeymoon, or even if your flights get cancelled due to last minute limitations, you won't lose your money.
When we had to leave for our honeymoon, Kilauea Volcano erupted and it was a pretty big one. Since one of our destinations was Hawaii, for quite a few weeks we thought our flights were going to be cancelled. It would've been a hard blow to us (we had been binge watching Hawaii 5-O for months!) but we were covered by our insurance so if things got worse, we would be reimbursed.
Travel insurance is absolutely mandatory in my opinion, especially if you're traveling abroad or if you're investing a large amount of money in your honeymoon. Saving a few bucks isn't a good reason to risk losing it all!
Two months before you leave for your big trip, buy a camera if you don't already have one, and make sure you have an extra memory card. Believe me, you'll take tons of pictures! Buying a memory card online is way less expensive than doing so while on the road. Prices in the touristy areas are much higher!
Also this is when you should start looking for honeymoon tours, if you want to treat yourself to something special. If you find good deals, book them already! Same goes for theater tickets (Cirque du Soleil shows in Las Vegas are usually fully booked months in advance) or Disney restaurants in case you're going to one of the Disney parks.
One month ahead of your honeymoon you should fill out a detailed packing list. Make a separate one for all the things you will need for this trip.
Many people tend to think they can buy their stuff while they're traveling. But that can be very expensive, especially if you're going to choose a sailing honeymoon. Prepare a detailed cruise packing list and shop online for all the things you might need. Believe me, stuff on cruise ships is way overpriced!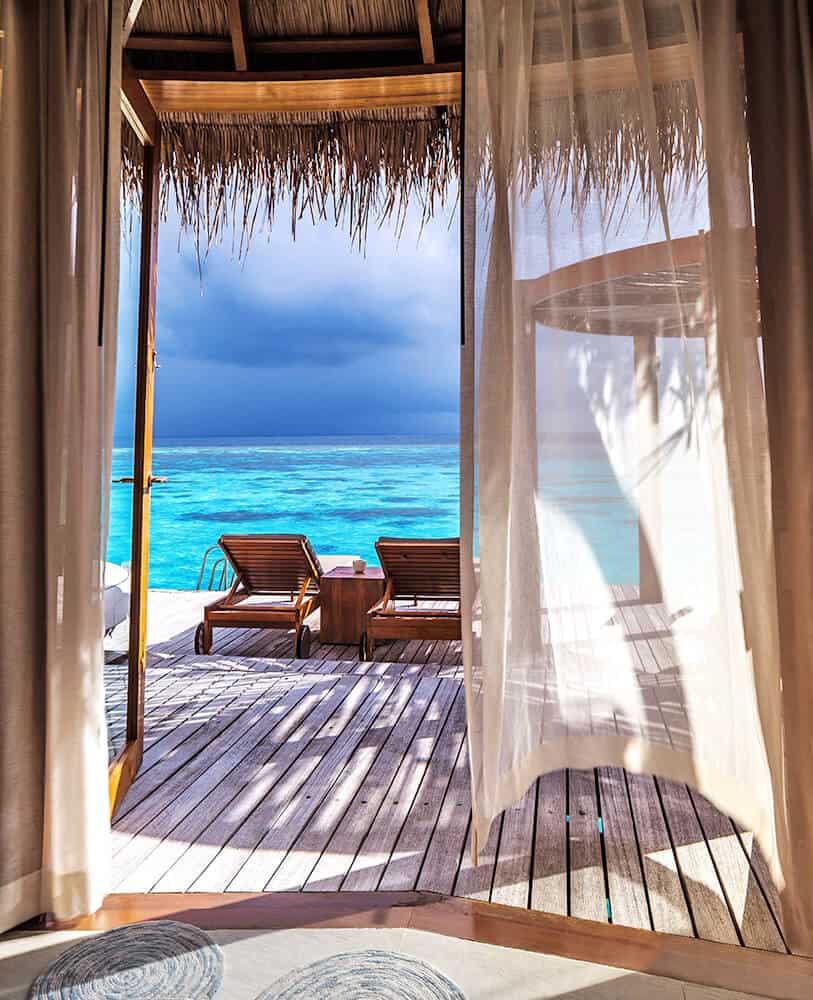 4 weeks before your departure you should also reconfirm all reservations and print them out, unless you have them on your phone.
In case you prefer to leave with a few dollars worth in the currency of the Country you'll be visiting, exchange them into small bills. It's cheaper than doing so at the airport!
Me and Al usually stop at an ATM as soon as we get out of customs, so we can have cash without having to pay an expensive exchange rate. Another way to save a few bucks is to withdraw only about $50/100: ATMs at the airport are usually more expensive than those you'll find in the city center.
The very last things you should prepare for your honeymoon are a couple of photocopies of your passport, credit cards and very important paperwork. I give mine to Al and I have a copy of his documents, in case anything happens.
Even when I travel solo, I generally leave a copy of my itinerary, with hotel info and details, at home. When I'm with Al, we leave everything to my parents, so if they don't hear from us, they won't get worried. And if by any chance there's any other issue, they know where to find us.
If you don't feel like leaving plans for your honeymoon to your parents, choose a relative or a close friend and let them know where you're going and all the tours you'll be doing. Better safe than sorry!
Note: In case you have to bring meds like allergy pills or asthma inhalers, bring along your original prescription bottles to avoid being questioned at customs.
What to Expect
A honeymoon is a much needed period of relaxation after a super stressful process. Here in Italy weddings are some serious stuff: it takes months – even years! – to plan everything. By the time people get to the honeymoon phase, they are already half dead. Been there, done that!
That is the main reason why many couples have such high hopes about this much needed vacation. So when something, even the smallest thing, goes wrong, they feel let down. Disappointment takes over and they start fighting.
We don't want that.
As I already mentioned, communication is the main key to fix many issues even before they arise. Before you start planning your honeymoon, treat yourselves to a nice evening. Just the two of you. Discuss your expectations, and make sure you take into account that sometimes tours can be disappointing.
It might rain on the day when you had planned to explore the best beaches in St. Thomas. Or you might lose the bus to Positano so you won't get to visit the tiny beaches on the Amalfi Coast.
Any trip is going to be unpredictable: we don't get to decide the weather, or strikes (which happen a lot in Italy), or traffic. Always keep an open mind and talk. Talk. Talk. It's the secret ingredient to a happy couple!
In a nutshell: have realistic expectations and try not to throw in the towel whenever something doesn't go exactly how you planned it!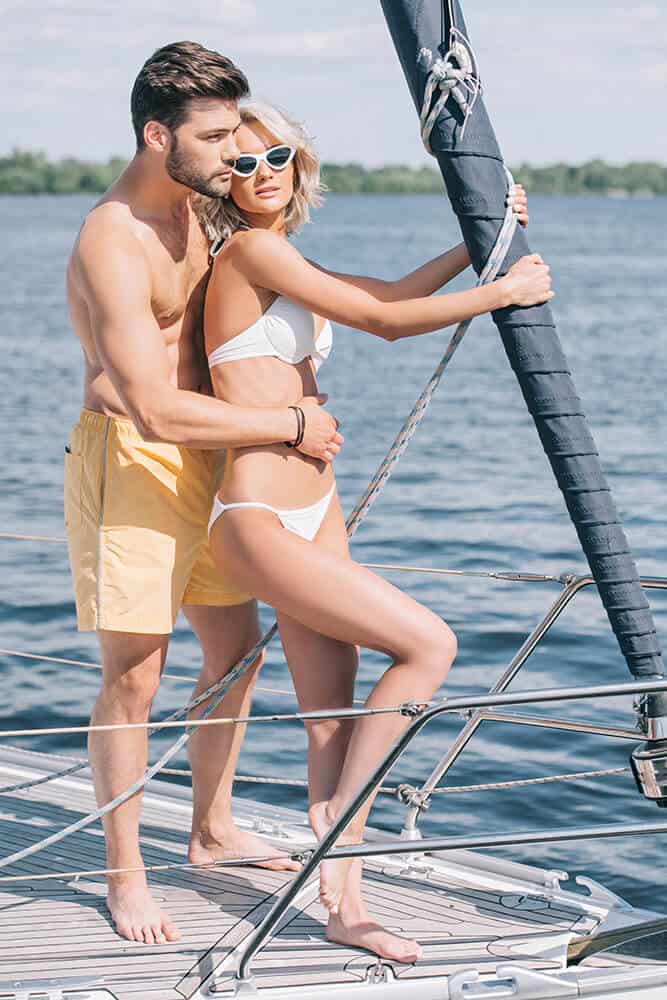 Where to Go – Honeymoon destinations matter!
Choosing the perfect honeymoon destination is a critical decision to make. To be honest, in our case it was one of the most difficult things we had to think about! There were so many wonderful places we wanted to visit, but of course we had to take into account different things all at once.
The best way to start looking for a honeymoon destination is focussing on what you want to do during this trip of a lifetime.
If you want to explore Europe, you could eventually spend a few days in London to enjoy the city and then take the train to visit Edinburgh. Or you could even move to the Netherlands for a weekend in Amsterdam. City stays in Europe are perfect for couples who love to explore historical destinations.
You might also like:
How to plan a romantic Italian Honeymoon
Then there's my own beloved Country. Plan a minimum of 10 days in Italy for food, crafty Italian souvenirs, history and art. If you're looking for romance, there are several very romantic Italian destinations you should add to your itinerary!
The couples who prefer to relax on the sand, with frequent dips in the ocean and spa hotels, could eventually decide to plan a trip to Hawaii or to enjoy the Caribbean.
If you're roadtrippers like us, Florida has so much to offer. From the road trip from Miami to Key West, to a romantic getaway in Miami, a trip to visit one of the cute towns in Florida off the beaten path or even a super funny trip to Disney Orlando! You just need to rent a car and plan a multi-layered honeymoon: you won't even have to deal with a lot of planes because you can just drive around!
Every couple is different when it comes to choosing the best destination. That's the main reason why talking with your partner is very important. Besides, what's better than sitting down drinking hot cocoa and dreaming about faraway destinations?
Once again an Excel spreadsheet will be the perfect ally in planning your honeymoon.
Write down your budget, how much time you have and the time of the year when you'd like to go. Then, of course, your favorite destinations.
Always research the weather conditions before you book anything. What if you're planning a tropical vacation, and once there you discover it's hurricane season?
Just a tip based on my experience: do not discount a destination just because you think it's super expensive. That's what trip planning is for!
Having enough time to organize your honeymoon will help you to research for alternative options you wouldn't be able to find for a last minute trip.
Maybe you won't be able to spend $10,000 on 7 nights in a 5 star resort on exclusive destinations. But you might be able to afford a few nights in a 3-star resort in the same place.
Then splurge away the rest of the budget at a 5-star resort in a lesser touristy area. Or maybe you don't care about spa and accommodations, but you prefer to spend more on events and tours.
Your spreadsheet will be super helpful: note down everything you want to do, with a daily allowance for food, drinks, transportation, tours and hotels. Then search for flights and see if by adding all the pieces to the puzzle, the trip fits in your budget.
How to Make Sure you Enjoy Yourself
Planning your wedding, moving into a new house, making sure everyone has lots of fun on your special day. You have a lot on your plate. And believe me: it's not just you!
The months before your wedding day will be pure chaos. Even the most organized bride will get almost to the breaking point.
That's exactly why you need to make sure you enjoy your honeymoon.
While on paper having fun while you're on vacation should be a given, sometimes it doesn't happen. Couples bring with them the anxiety and the load of stress they have amassed during the planning stage. That leads to fights and it's definitely not a lot of fun.
You have no idea how many friends told us they regretted having spent half of their honeymoon fighting and the other half desperately trying to have fun. This is not how it should go. You do not get to spend thousands just to come home with a bag full of disappointment.
To enjoy your honeymoon, you should try to get rid of the stress. Do not try too hard to visit all the places, or take the best pictures to impress your Instagram followers. It's a moment that should be just for you and your partner. There's nothing to prove. People will still believe you've had a great time, even if you don't upload thousands of pictures per day.
In case you're coming from a very chaotic few months at home, make sure you treat yourselves to a relaxing experience at the very beginning of your honeymoon. How about a fancy spa day? A relaxing massage will help you to get rid of the stress.
Find out the things that you both enjoy and fill the first part of your itinerary with them. You deserve all you can get!
Another important tip I can offer to have fun on your honeymoon is to turn your cellphones off for a while. Tell someone at home that you need a few days alone, so they won't worry, and get off the grid.
Your honeymoon should be no one else's business. It's the beginning of your new life together: make sure you start with the right foot!
Honeymoon Planning Checklist – In a Nutshell
Are you sure everything is ready for your honeymoon?
Let's ensure you're not forgetting anything, with this useful, quick checklist!
You can also copy/paste it in your honeymoon spreadsheet if you already made one.
Set a Budget.
Choose a destination.
Research Hotels and reserve a room.
Book your honeymoon tickets.
Get seat assignments and order special in-flight meals if you need them.
Check luggage allowances.
Reserve a rental car if you need one.
Obtain passports and visas if necessary (min. 3 months ahead).
Sign up for travel insurance.
Research and book honeymoon tours, spa, restaurants and theater tickets (min. 2 months ahead).
Make a packing and shopping list.
Reconfirm all reservations.
Make sets of photocopies of your passport, credit cards, insurance and any paperwork you might need. Give one set to your parents or a friend, one can be left at home and one should always be in your luggage.
Download any helpful travel app you might need.
Pack your clothes.
Make sure your phone, tablet and e-book reader are all charged so you have something to do in-flight.
The most important thing ever: remember to have fun and don't stress out too much!
You might also like:
The 10 best beaches in St. Thomas (USVI)
Disney World Orlando: tips for first timers
Romantic things to do in Miami for every couple
Smart ideas for cool Florida souvenirs
Guide to the best time to go to Florida
What to do in Las Vegas if you don't gamble
How to plan a Utah road trip on your own
Arizona Road Trip Itinerary: Bucket List Spots!
56 Gorgeous Photograpy Spots in Miami You'll Love
Pin it for later!
Travelling Dany – Danila Caputo
Danila Caputo is a bilingual travel writer living in between Naples and the Amalfi Coast (Italy), graduating from the University of Naples Suor Orsola Benincasa in Foreign Languages and Literature. She travels and works with her husband Aldo, photographer and videographer. Their blog chronicles their adventures around the world, their love for the USA (where they have family), Italian/European culture and tips on how to be responsible travelers. You can find out more about their latest trips and their life on Youtube, Instagram and Facebook.