Route 66: Oatman, the ghost town
This post includes affiliate links. As an Amazon Associate, I earn from qualifying purchases. Full disclosure.
A few miles from Kingman, on the iconic
Route 66
, in the United States of America, there's a real "
ghost town
".
Arizona
in fact isn't only home of amazing places like the
Grand Canyon
, the
Horseshoe Bend
or the
Antelope Canyon
. Here, among the Black Mountains of Mohave County, there is an historic town,
Oatman
. Its population once boasted over 10.000 people and now it has reduced to a little over 100 people who stay here year-round.
The name was picked after a young girl from Illinois,
Olive Oatman
, who had been taken captive by Yavapai natives during her journey westward with her family, was released around the area were this tiny town was built. The history surrounding Olive isn't clear, I've found sources saying everything and its contrary, so I will just say that she was first kidnapped and forced into slavery, then traded to Mohave natives who adopted her as a daughter and had her face tattoed in the custom of their tribe. If you have ever watched "
Hell on Wheels
" on AMC you probably have recognized already
Eva Tool
, portrayed by
Robin McLeavy
. The writers were first inspired by the story of Olive Oatman, but what you see on screen isn't the real thing: Olive moved to Texas and married there. There's no proof she ever worked in a brothel like Eva in Hell on Wheels.
The story of this city started around 1860, when prospector Johnny Moss mined the area for gold and claimed two mines, one named Moss, and the other Oatman, after Olive, who was a "celebrity" back then, because of what she'd gone through. As gold mining kept on having its up and downs, an official town began to form around 1904, with a Post Office, when the Vi-vian Mining Company began its operations. First a tent town, it quickly grew as miners flocked to the area. It seems that a large gold find brought a lot of money to the miners and this helped the city to grow. Finally Oatman had its own paper, the "Oatman Miner" and dozens of local businesses. When the Route 66 was built, this town was as its peak as a rich mining community, so a lot of those old Model T's journeyed there.
In 1921 though, a fire burned most of the town: it was rebuilt, but only three years later the main mining company, the United Eastern Mines, shut down operations for good. It was only thanks to the Route 66 that Oatman hanged on. After all, it was estimated that 36 million of dollars worth of gold came from these mines, and the city had two banks, seven hotels, twenty saloons and at least a dozen stores. Besides, the Oatman Hotel is the place where Clark Gable and Carole Lombard were said to have spent their first night after getting married in Kingman in 1939: this alone helped a lot with tourism.
Only when the Route 66 became what is now Interstate 40, Oatman almost died, earning the "ghost town" label. Today it's a mix of historical town and tourist trap. You can stroll around the main street and even visit the recreation of an old mine (a tiny one, just a couple of steps inside, I wasn't particularly impressed!), but what draws more and more tourists is the wild burros. Yes, you read that right. When the miners left Oatman, they didn't bring with them the old donkeys they used in the mines. They became wild and kept on roaming the area. They walk to the city to be hand fed by the tourists, get some cuddles, pose for a few photos, and as the sun sets, they quietly walk back into the hills.
It is not difficult to find vintage cars parked on the main street of Oatman: it still feels like an old western town. Especially the more so because twice per day (1:30PM and 3:30PM) cowboy actors, the Ghost Rider Gunfighters, organize beneficence shows with gunfights on the main street… while the tame burros just keep on walking, sometimes ruining the show, with a good laugh from both actors and tourists.
If you want to visit Oatman, my suggestion is to spend the night in Kingman or Golden Shores. While it's true that the road from Kingman to Oatman is very narrow and with several sharp curves (no vehicles over 40feet in length are allowed), driving carefully you can still spend a fun day here while travelling down the old Mother Road. If on the contrary you'd prefer an easier way, avoiding the "Bloody 66" (nickname given to the trait between Kingman and Oatman), the road from Golden Shores is much better and about 20 miles long. We decided to spend one more night in Kingman to visit Oatman, and driving slowly we didn't find this road that "dangerous". It's still better to move back before sundown, so you could have a nice dinner in Kingman (which is a much bigger and lively city). Unless you really like ghost towns, I don't suggest to spend the night in Oatman, even if you might be tempted to do so, maybe to see the ghost that is said to be haunting the Oatman Hotel, Oatie.
Having a bite in the saloon area at this old style hotel is still a great idea: they serve a wonderful double buffalo burger with fries, and offer free country music with a daily live show for the customers. The saloon is thickly wallpapered in years and years worth of dollar bills and upstairs, and tourists could peer through a plexiglass door at the room where Clark Gable and Carole Lombard slept, hardly changed for half a century. If you can still find an empty spot, you're welcome to pin your own national bill to the walls, as so many other tourists from all over the world have already done!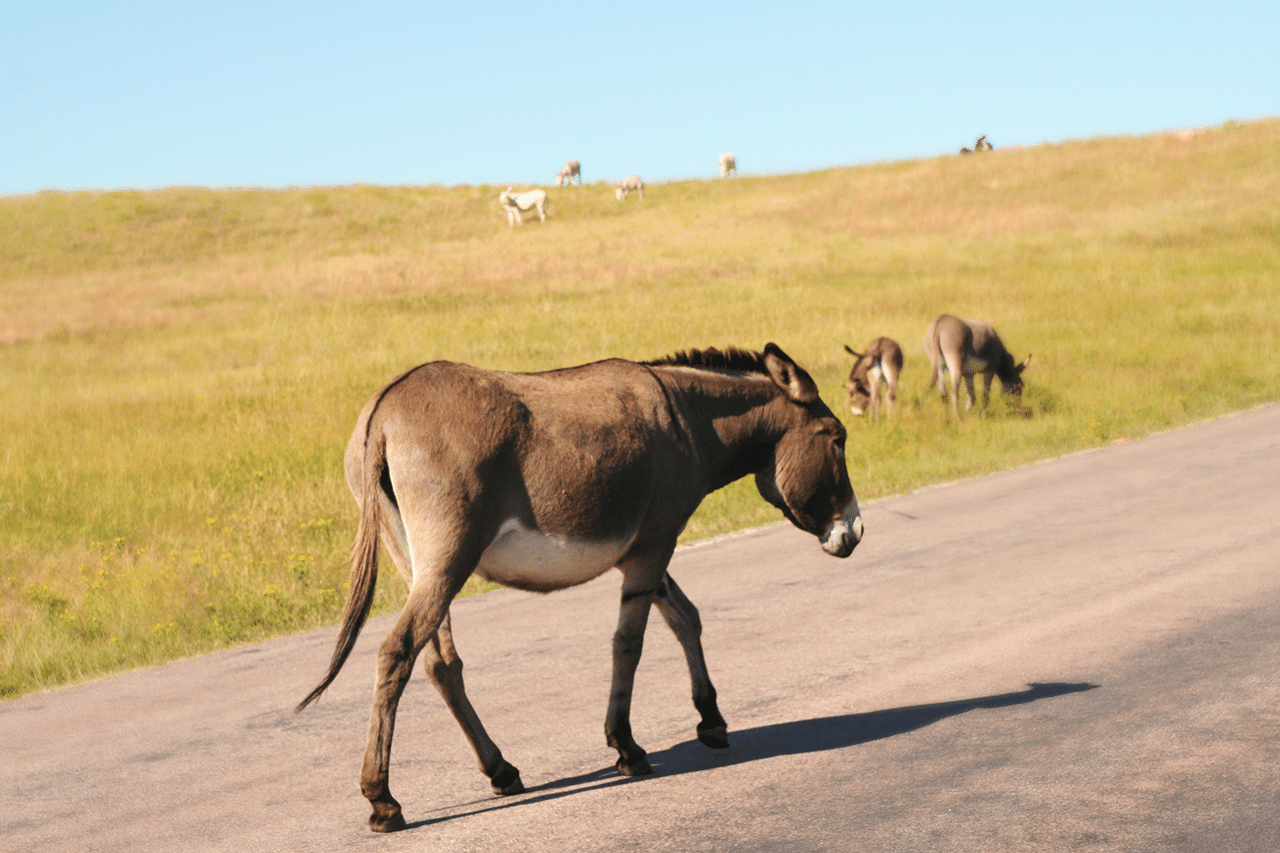 Pin it for later!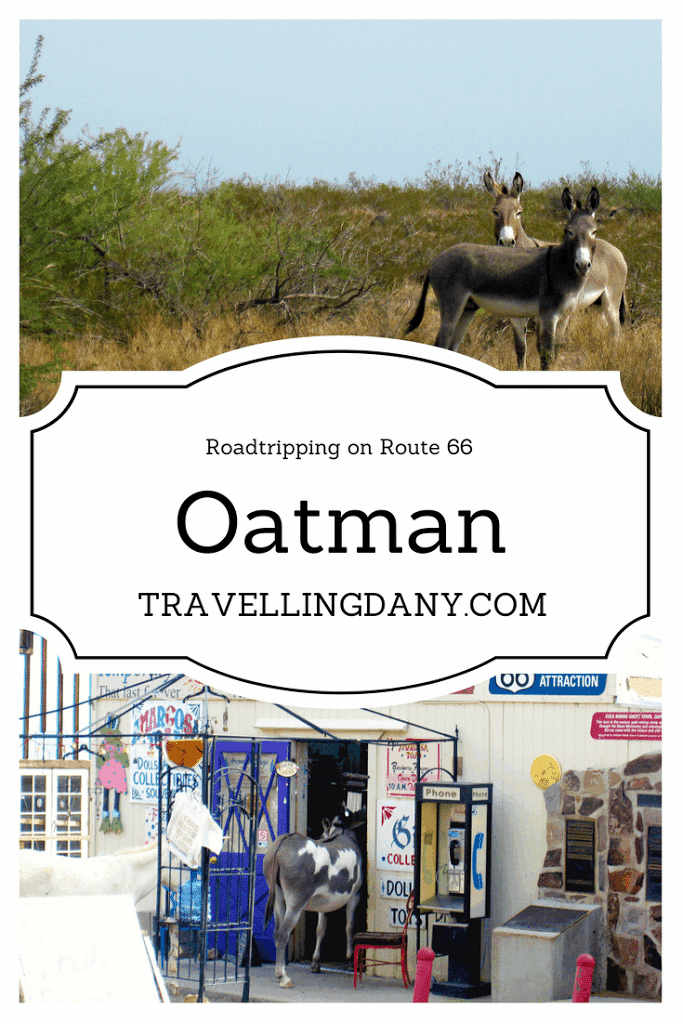 Travelling Dany – Danila Caputo
Danila Caputo is a bilingual travel writer living in between Naples and the Amalfi Coast (Italy), graduating from the University of Naples Suor Orsola Benincasa in Foreign Languages and Literature. She travels and works with her husband Aldo, photographer and videographer. Their blog chronicles their adventures around the world, their love for the USA (where they have family), Italian/European culture and tips on how to be responsible travelers. You can find out more about their latest trips and their life on Youtube, Instagram and Facebook.