Vienna is an amazing city to visit in winter. Especially because Christmas markets are an integral part of Vienna's culture and a must-see attraction for travelers.
This city hosts some of the best Christmas markets in Austria and even in Europe!
Let me show you an easy guide to Vienna Christmas markets. With all the updated info you need for your next trip.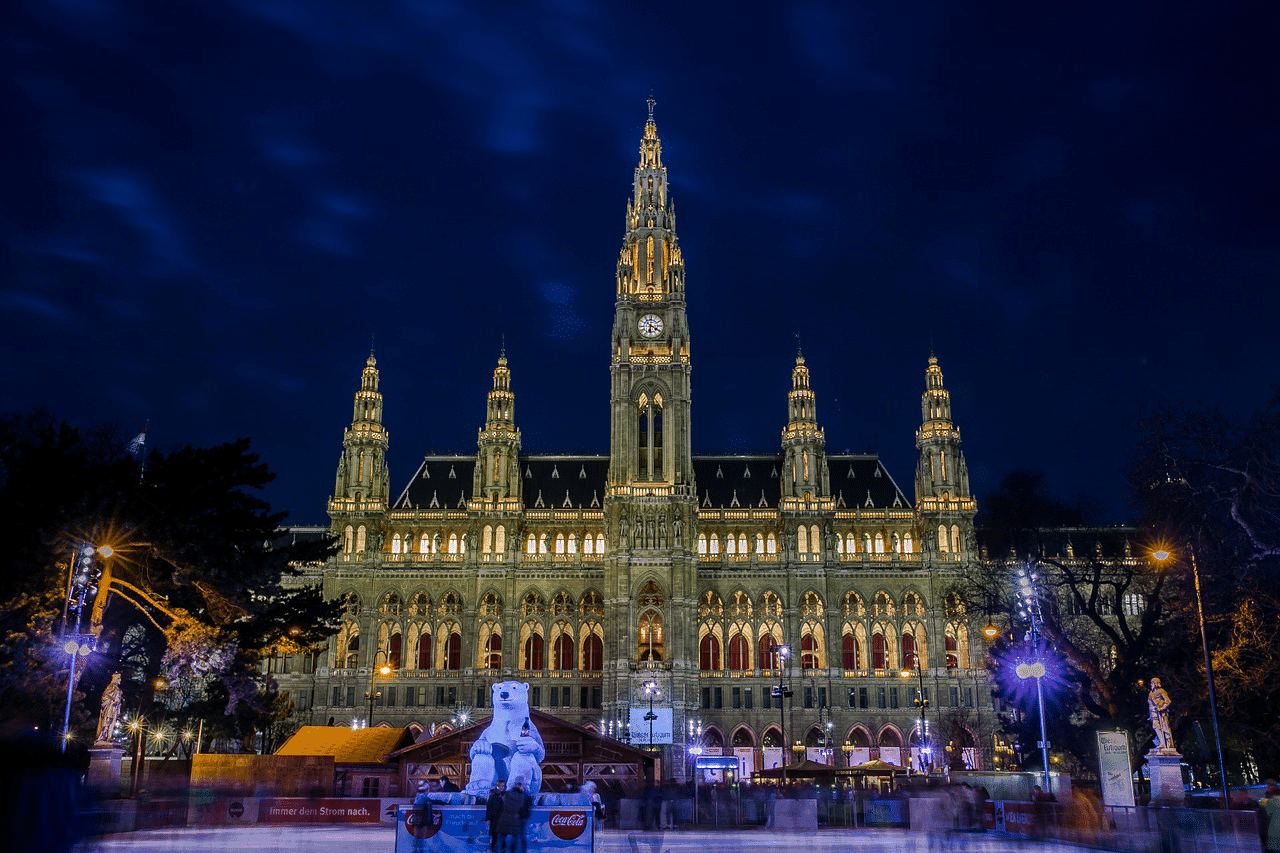 Christmas markets in Vienna (Austria) are a popular holiday tradition. So much so that Vienna defines the standard for the most atmospheric Xmas markets in Europe!
There are traditional markets and the "modern" ones that have popped up in recent years.
We'll check out the best Christmas markets in Vienna you should add to your holiday itinerary, and what to expect from Vienna in the winter!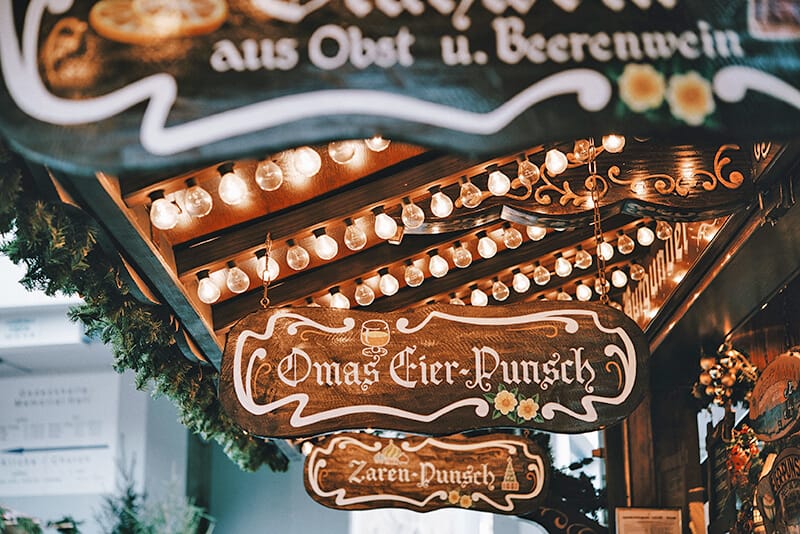 Vienna For Christmas: What Should You Expect?
Christmas in Vienna is a serious business.
The Viennese have an age-old tradition: exploring the Vienna Christmas markets and then heading to the nearest bar to chat and warm up.
If you're planning to enjoy a fairytale Christmas in Europe, then Austria is probably the place you should go to!
Vienna Christmas Markets have been part of the Viennese festive season since 1294, and have always been carried out in a very traditional way.
The main attractions are usually the traditionally decorated wooden stalls.
It's where you can buy all sorts of different goods.
From honey cakes to nutcrackers, from mulled wine to pieces of beautifully handcrafted wooden furniture.
Yet Vienna for Christmas is much more than that.
Expect special exhibitions, concerts and theatrical events taking place at various locations in the city during the holidays!
A good thing to know is that many of Vienna Christmas markets also have free Wi-Fi. Which is great because you're going to need your phone a lot to use the public transport.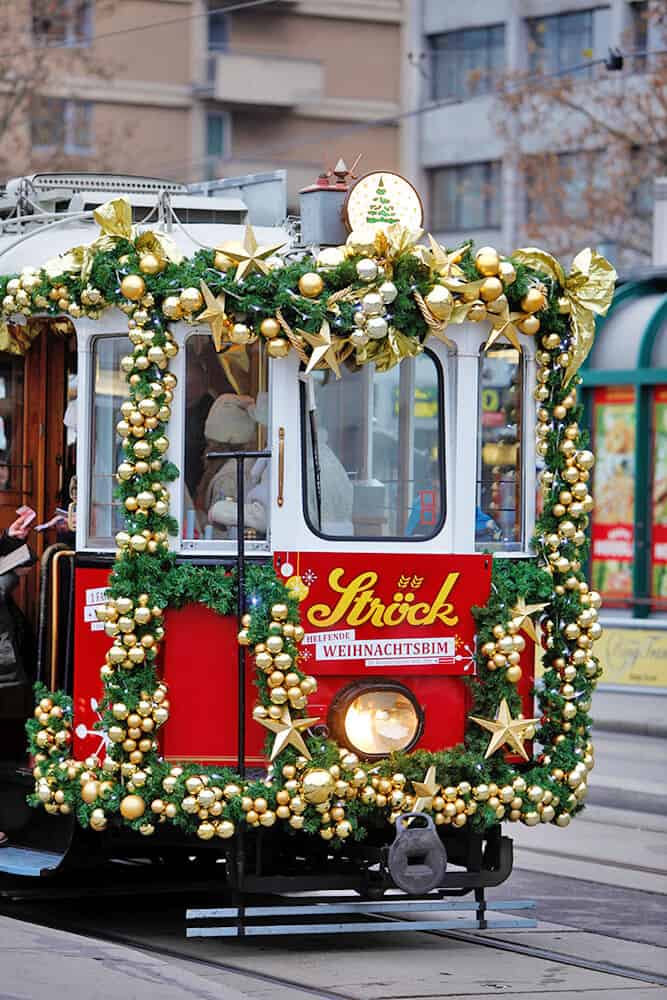 Renting a car in Vienna won't be necessary. In fact you can explore the whole city by bus, train, tram or subway.
This is how you can visit Vienna for the holidays on a budget, without having to worry about parking or fines!
The cheapest way to go is getting a Vienna City Card. Which includes unlimited rides in Vienna and lots of discounts on restaurants and activities.
Click here to buy the Vienna City Card for less and save even more!
A very interesting thing that not many people know is that from Vienna you can reach Bratislava by train.
The train trip only lasts a little bit more than 1 hour and it's super cheap!
Tickets start at €11 and can be bought at the train station or online.
Adding Slovakia to your European holiday itinerary means you can plan a very special day trip from Vienna.
Visit Bratislava Christmas market during the day and then hop on the train to get back to your hotel in Vienna.
It's that easy!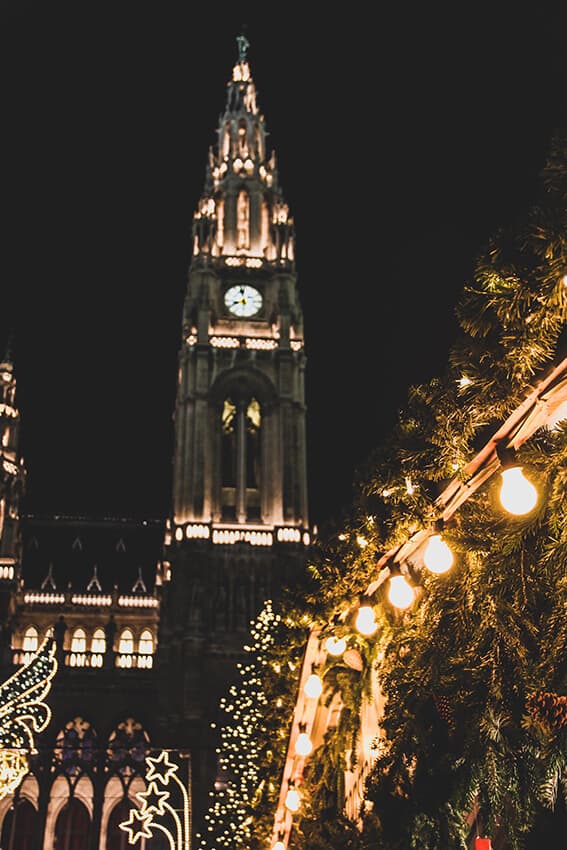 How to get to Vienna from Bratislava by train
From the Bratislava train station, every hour you can hop on a train to Vienna. Tickets cost about 11€-14€ per person, which is about 12$-15$ on average.
There are discounts for children too!
The ride lasts more or less 1:10 hour and you will be able to buy your tickets at the train station.
I've found a lot of stores selling train tickets online, but they always add expensive fees to the final price, so we decided to go straight to the station and risk it.
Guess what?
We found out that there's absolutely no need to book in advance.
There are so many trains departing from Bratislava to Vienna that even if one is full, you can just wait for the next one. Save your money, you'll need it to go on a shopping spree in at Vienna Christmas markets!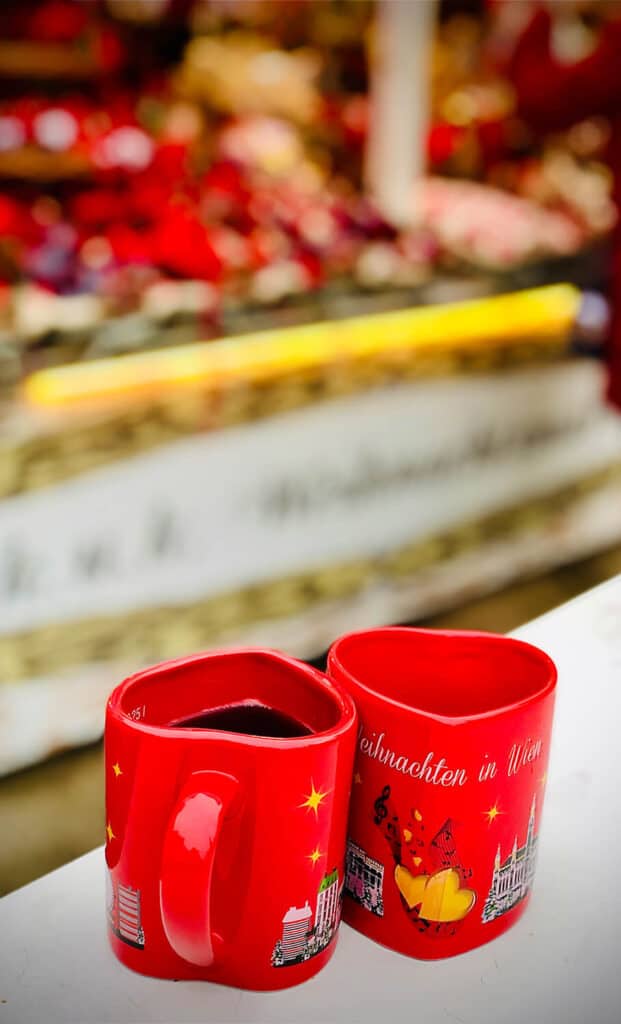 How to get to Vienna from Bratislava by boat
Train is not the only option if you plan to go from Bratislava to Vienna.
River cruises can be cheap, if you know where to book them.
Getting to Bratislava from Vienna on a river cruise should take 70-80 minutes.
Booking well in advance is one way to save a lot of money.
While you can also buy a ticket at the port, it's not a good idea.
Tickets will be overpriced and they tend to sell fast, especially in December.
Both Vienna and Bratislava are super popular in Europe because of their Christmas markets!
A great way to save money is to book a full day trip from Vienna to Bratislava.
It includes a guided tour of Bratislava with a local, transport, hotel pick-up and of course a river cruise on the Danube.
Click to check out rates and availability.
You might also like:
Insider tips for visiting Italy in winter
Why Prague in winter is absolutely amazing
Winter Packing List for Europe
Italian Christmas food you never knew existed
How to visit Vienna Christmas markets
The best of Bratislava Christmas market
15 awesome trip ideas to visit Europe in winter
Where to find the most amazing Christmas markets in Europe
Incredible travel gift ideas for women – have a smart Christmas!
20 awesome Christmas markets in Italy
Christmas in London – Everything you need to know
Why you should travel with your partner
Visiting Europe: Schengen visa or ETIAS Visa Waiver?
Discover the best time to visit Italy
2022 Update
The Vienna Christmas Markets were cancelled for 2021, due to the fact that Austria was undergoing a lockdown.
As of September 2022, however, some of the dates have already been confirmed.
It seems there will be Christmas Markets in Austria in 2022!
All the confirmed dates have been added next to each Vienna Christmas market.
Keep reading for more info!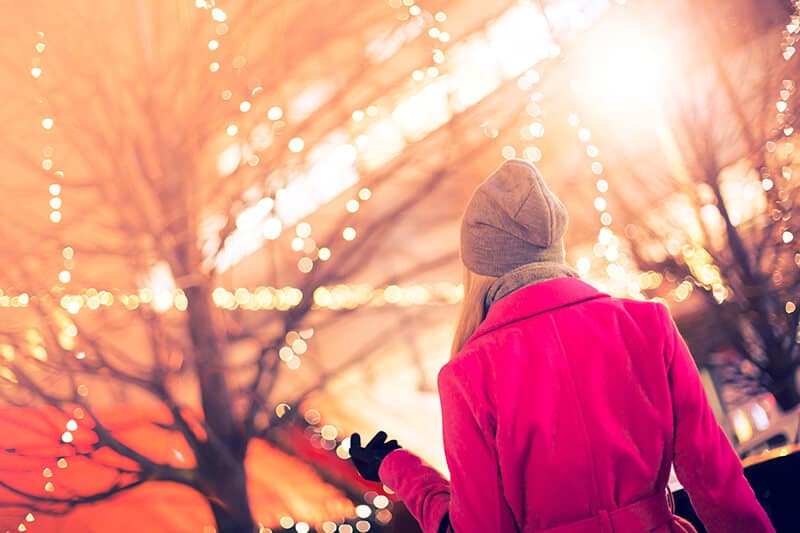 Winter in Vienna: Will it Snow?
Vienna in the winter is cold and quite often snowy.
We visited in early December, which shouldn't be that cold, according to the info we found online.
Well, it snowed for the whole trip! We explored at -4° C and we still had a lot of fun!
Vienna is one of the snowy places where you can get a fairytale European holiday.
All you need to do is to pack the right clothes for a winter trip.
While -4°C can sound brutal, we kept ourselves warm by eating krapfens or Vienna sausages.
If the cold got too much for us to handle, it was the perfect excuse.
For what?
To go to Hotel Sacher and order a huge slice of Sachertorte!
The most important things you should pack for this trip are: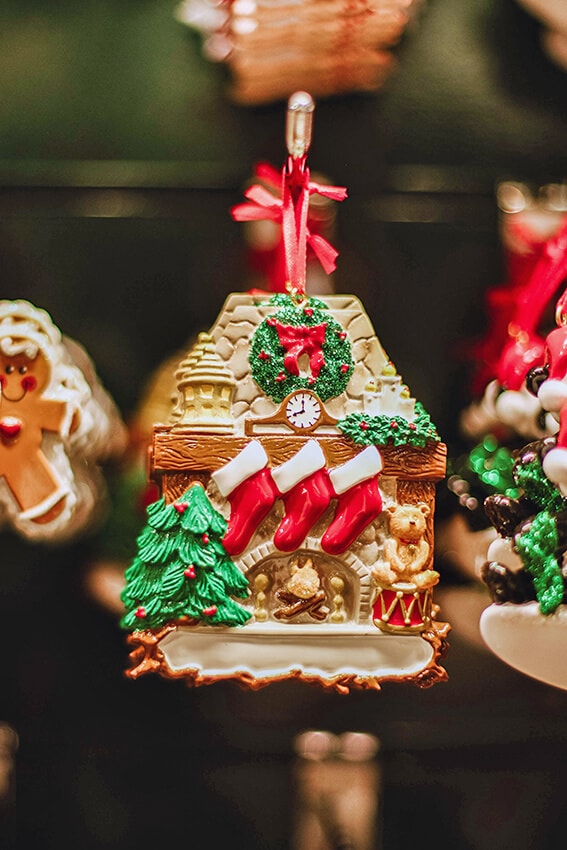 When Should You Visit the Vienna Christmas Markets?
From the third week of November until Christmas (keep reading for all the 2022 updated dates) the most beautiful spots in Vienna turn into something out of a fairytale.
The Christmas markets season is Europe is absolutely breathtaking! Vienna, in particular, turns into something straight out of a dream.
The nights shine with Christmas lights and candles. The air is filled with the delicious scent of gingerbread, cinnamon and mulled wine.
Generally speaking, me and Al prefer to visit the Wien Christmas Markets by the end of November or early December.
That's when they're not too crowded (yet) and hotels in Vienna are less expensive.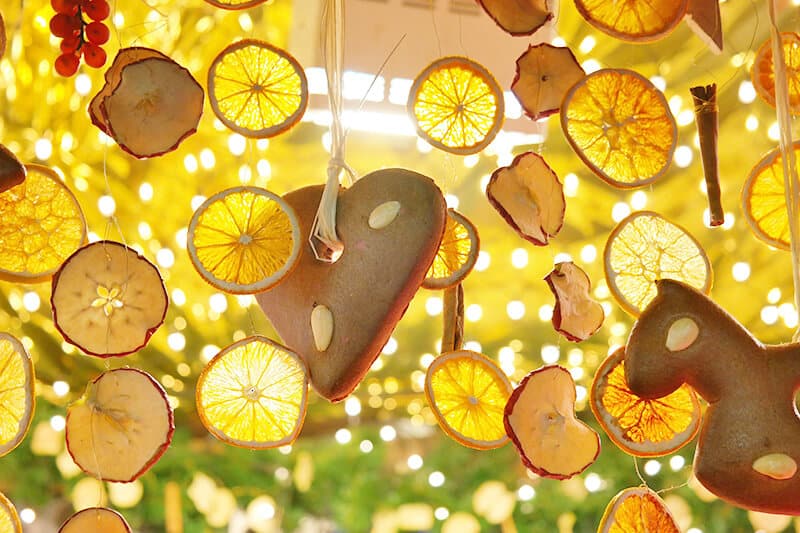 How Many Christmas Markets will You Find in Vienna?
The present day markets date back to 1294.
In Vienna there are over 20 Christmas markets, both in the city center and in the outskirts.
They all sell seasonal gifts and delicious Christmas treats.
The difference lies mainly in the background.
Vienna is a city full of history, monuments and art. Add this to the Christmas markets business and you'll understand why it's one of the most visited European cities during the holidays!
Unless you have at least 3 or 4 days, I suggest you add just a couple of the biggest Vienna Christmas markets to your itinerary.
That way you will be able to enjoy the Vienna Christmas lights, all the cute shops and the seasonal treats without having to run from one part of the city to the other.
Important Reminder: Vienna in December can be quite crowded so you must take that into account!
Let me show you our favorite Christmas markets in Vienna that you can visit from the end of November to the end of December: all the dates have been updated to 2022!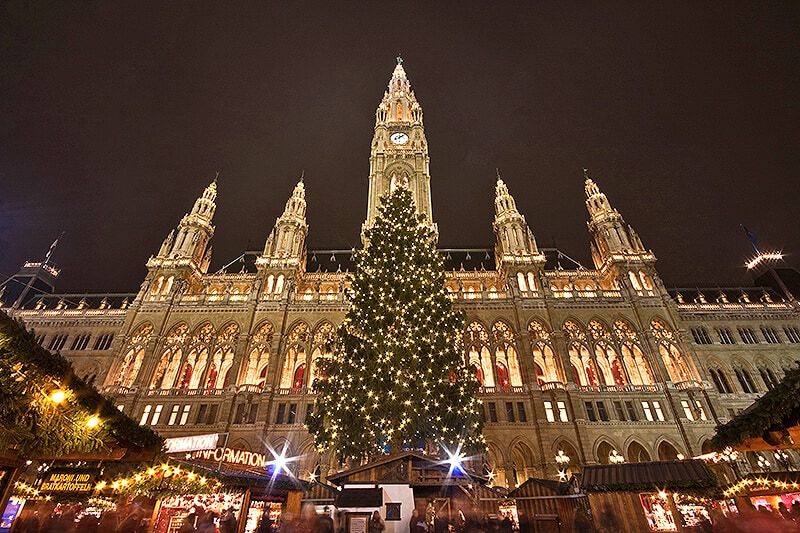 Rathausplatz Christmas Market
Located in front of the Vienna City Hall, it's the one we liked the most. You just can't miss it if you want to get into the spirit of Christmas in Vienna.
All it took us to get there from our hotel was a metro ride to the Rathausplatz.
The Vienna City Hall backdrop is unique, especially when it's all lit up. Inside the City Hall, on the ground floor, there's also a huge kids area, where they can learn how to bake Christmas cookies and how to make candles.
On Fridays, Saturdays and Sundays international choirs sing Christmas carols: the entrance is free. Here we found a lot of Christmas presents for our girlfriends and… well for everyone who is absolutely in love with the Viennese Christmas!
This Wien Christmas market is open from November 19 to December 26, 2022.
Opening hours: Sun-Thu 10am – 9.30pm, Fri and Sat 10am – 10pm; 7th December 10am – 10pm, 24th December 10am – 6pm, 25th and 26th December 11am – 9.30pm.
Closest hotels: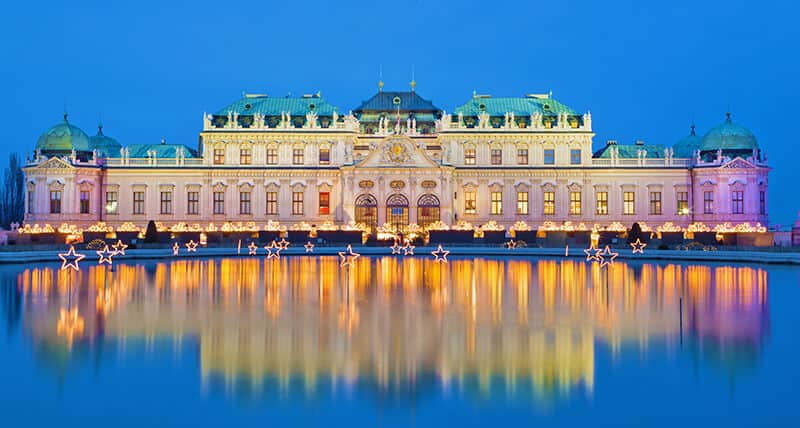 Christmas Village Belvedere Palace
This is another popular spot among tourists and locals. The Christmas Village at Belvedere Palace takes place in front of the Belvedere Museum, a beautiful Baroque palace, where you can find the world's largest collection of Gustav Klimt's paintings.
To get there the easiest option is to hop on a tram, line D to Schloss Belvedere or 18/O to Quartier Belvedere.
At the Belvedere Palace Christmas market you will find over 40 stalls selling elaborate ornaments, handcrafted goods and Christmas treats. The entrance is free.
This Christmas market is open from November 18 to December 26, 2022.
Opening hours: Monday – Friday 11am – 9pm; Saturday – Sunday 10am – 9pm; 24th December 11am – 4pm; 25th – 26th December 11am – 7pm.
Closest hotels: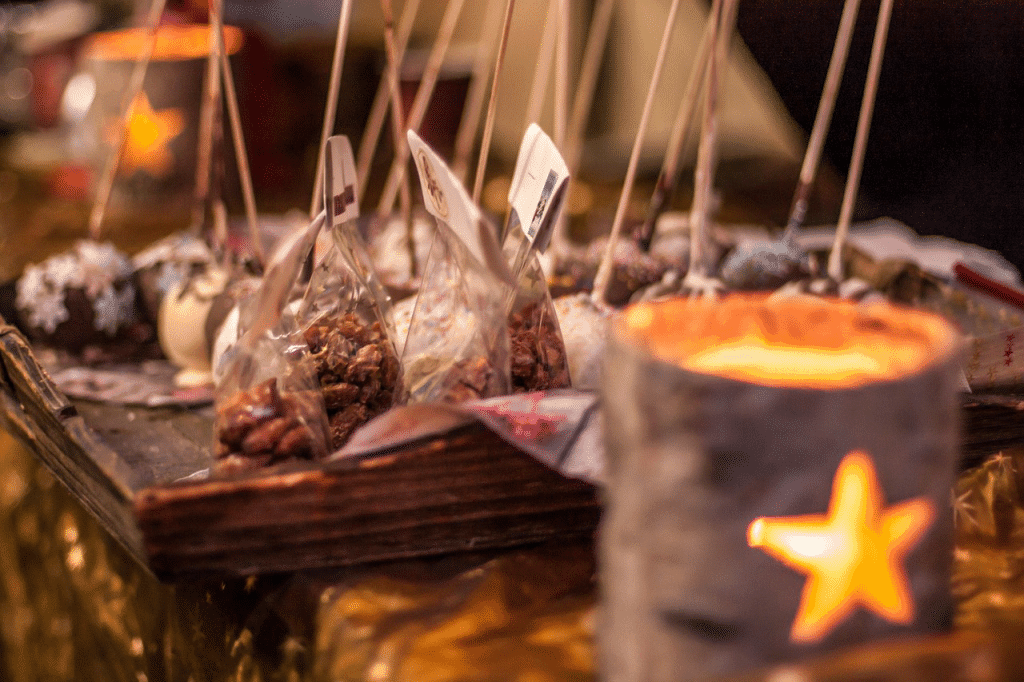 Maria-Theresien Platz Christmas Market
Located between the Museum of Natural History and the Museum of Art, this Christmas market in Vienna takes place at Maria Theresa Square ("Maria Theresien Platz").
It's easy to get here using either the metro (U2 to Museumsquartier), a tram (to Dr. Karl Renner Ring) or a bus (Dr. Karl Renner Ring) according to where you are in Vienna.
This time the background is Imperial, as the Museum of Modern Art is located in the former Imperial stables. At the center of the square there's a pretty large statue depicting Empress Maria Theresa.
This Christmas market is open from November 16 to December 26, 2022.
Opening hours: Sunday – Thursday 11am – 9pm; Friday & Saturday 11am -10pm; 24th December 11am – 4pm; 25th – 26th December 11am – 7pm.
Closest hotels: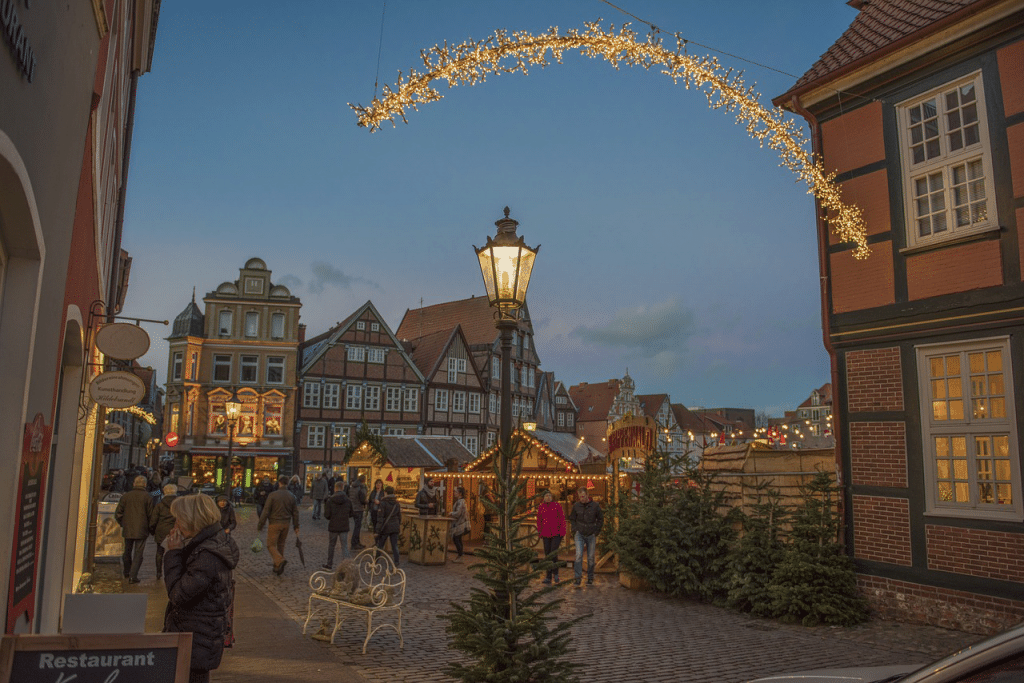 Altes AKH Christmas Market
The location of this Christmas market is peculiar and honestly I didn't know what to expect. One of the quirkiest Vienna Chirstmas markets is in fact located inside the former General Hospital.
While at first it felt a bit weird to visit a Christmas market held in a former hospital, you'll soon get used to it.
The Christmas Village in the Former General Hospital is one of the favorite Christmas markets by the locals.
The atmosphere is in fact very traditional and it doesn't fail to impress. The stalls are finely designed and decorated, all lit up and even more beautiful when it snows.
The easier way to get here through public transport is by rail (to Lange Gasse) or bus (to Skodagasse).
This Christmas market is open from November 11 to December 23, 2022.
Opening hours: Monday, Tuesday, Thursday, Friday 3 pm – 10 pm; Wednesday, Saturday, holidays 12am – 10pm; Sunday 12am – 9pm.
Closest hotels: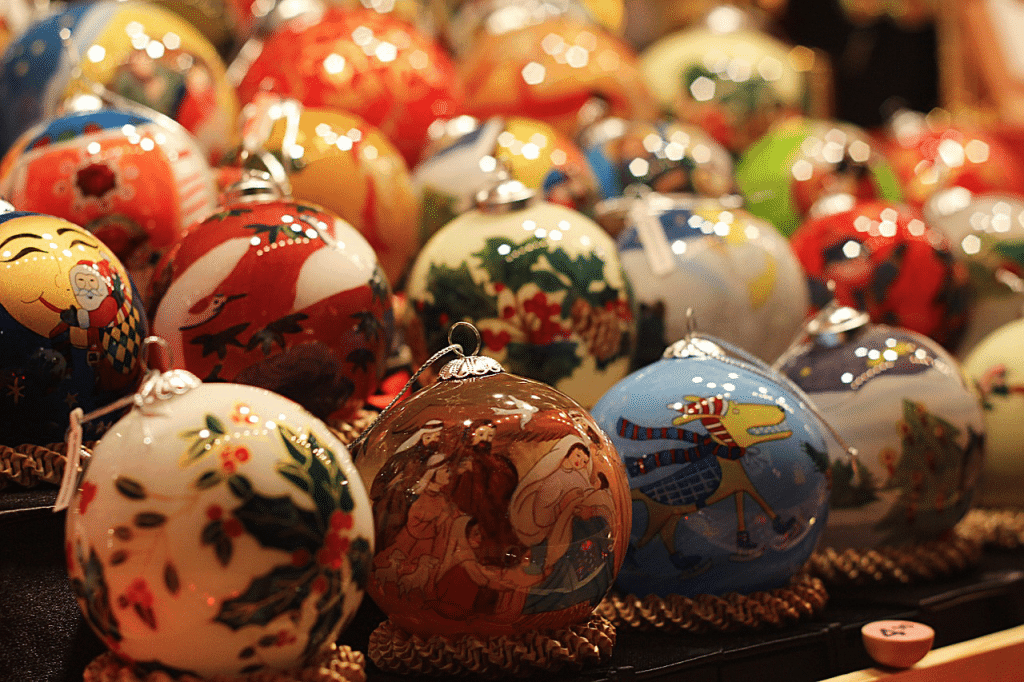 Schönbrunn Palace Christmas Market
This is one of the biggest Christmas markets in Vienna, with approximately 60 stalls selling handicrafts and Christmas gifts, including handmade Christmas decorations.
Located in front of the beautiful Schönbrunn Palace, former Imperial Summer residence and one of the most important buildings in Austria. Many stalls here sell local delicacies and the air is filled with the delicious scent of mulled wine.
In front of the Schönbrunn Palace there's a huge Christmas tree. International choirs sing Christmas carols during the holidays: enjoy a free show and make sure you take lots of beautiful pictures!
This Christmas market is open from November 19 to December 26, 2022.
Opening hours: Daily 10am – 6pm.
Closest hotels: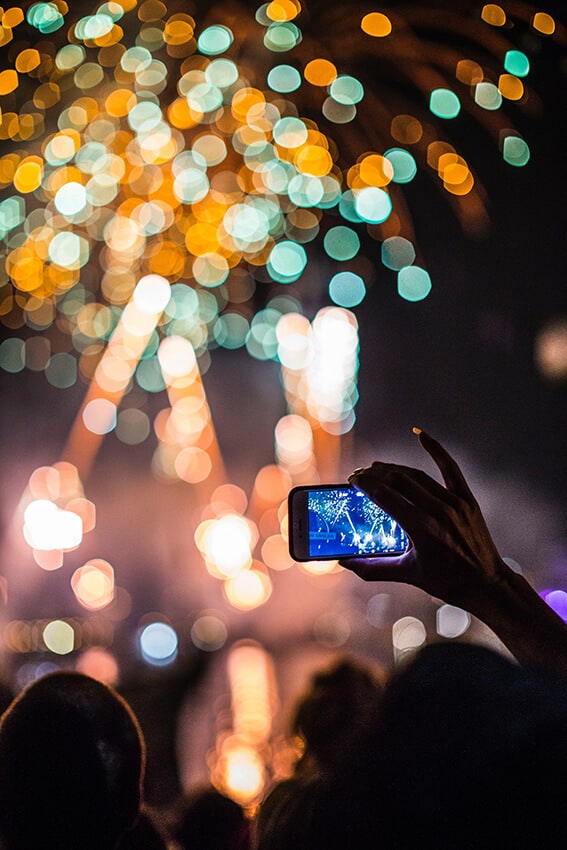 Spittelberg Christmas Market
In the last few years this Christmas market has gotten pretty big: it houses 100 stalls, making it the largest one in Vienna.
This is also the Christmas market in Vienna where you can find international artists who sell arts and crafts from all around the world.
It seems that in the last 25 years this Christmas market has attracted about 500.000 visitors every year and it can be particularly crowded. If you don't want to spend the day pushing your way through the crowds, it would be wise to get there early in the morning.
This Christmas market is open from November 10 to December 23, 2022.
Opening hours: Mondays – Thursdays 2pm – 9pm; Fridays 2pm – 9.30pm; Saturdays 10am – 9.30pm; Sundays and holidays 10am – 9pm.
Closest hotels:
What to Eat in Vienna For The Holidays
There are certain things you can't avoid while shopping for Christmas presents in Vienna.
Of course I'm not only speaking of a slice of the original Sachertorte at the Hotel Sacher, in front of the Vienna State Opera. Or the delicious bratwursts and Vienna sausages that you can eat hot in a long bun.
Vienna offers in fact many dishes that you can only eat during the Christmas period. Their most traditional dish is a fried carp, which is usually served during the Christmas eve dinner.
Some families also love to eat a meat fondue.
It's a dish that the locals eat for hours: the perfect excuse to sit down with the family. Laughter, good food and small talk are the staples of the Christmas eve dinner.
While exploring the Vienna Christmas markets you will find slices of Lebkuchen, which is similar to gingerbread, and Stollen, a fruit bread covered in powdered sugar.
The Weihnachtskekse, Christmas cookies baked in all shapes and often decorated, and the Spekulatius, typical spicy cookies, are especially popular among children.
Everywhere in Vienna you will find the Maronistand that sell roasted chestnuts and delicious slices of roast potatoes with a pinch of salt and pepper (be careful, they can be addictive!).
Pin it for later!
This post is also available in:

Italiano