The Mansion: best hotel to see the Niagara Falls
This post includes affiliate links. As an Amazon Associate, I earn from qualifying purchases. Full disclosure.
A few months before we left Italy for the US East Coast, a friend who had just returned from Canada warned me: the area surrounding Niagara Falls had become a circus! By that time I was looking for the best hotel to see the Niagara Falls.
Needless to say, I immediately started looking elsewhere, avoiding altogether the area with casinos, night clubs and fast food. As much as we would have loved to see the falls in the evening, in fact, we wouldn't have appreciated the traffic, the noise and the hordes of tourists our friend told us about.
It didn't take long to find the perfect solution. The luxury hotel The Mansion on Delaware Avenue in Buffalo (the city that invented the "secret recipe" of the very spicy Buffalo chicken wings!) popped up one day in my feed while I was looking for historical buildings in the Empire State.
We'd get to Buffalo after a very long drive, straight from New York, and right after our stay we'd have another long drive to get to the Adirondacks: the idea of a hotel that would take care of our tired bones was definitely tempting.
When you have to decide what's the best hotel to see the Niagara Falls, it's always important to take into account your itinerary. If you have to drive for many hours, it's very important to choose a hotel that will allow you to just leave your car and enjoy a relaxing evening that won't involve more driving to look for a restaurant.
In our case, The Mansion on Delaware Avenue, about half an hour away from Niagara Falls, looked like our best option.
I must confess that we didn't consider the New York traffic when we were preparing our itinerary. We visited the Big Apple using the New York City subway, so we didn't particularly worry about anything, trusting that our GPS would save the day. We got our rental car at JFK Airport, only to get thrown into some kind of hellish place we weren't prepared for. GPS directions were difficult to understand, the traffic was slow… and the toll booths weren't overly friendly to us.
In order to get in and out of New York City (here you can find a very useful NYC itinerary from a local) we had to pay a (quite expensive) toll. Because we didn't have an EZ Pass, we were to check what lines accepted cash (not many) and try to get there through the traffic. Apparently New Yorkers are always in a hurry, especially when they drive!
The result of a frustrating day behind the wheel, aside from having Aldo with his hair standing on end, was a late arrival in Buffalo, in stead than getting there in the afternoon as we had previously calculated using Google Maps. Before we understood that the elegant Second Empire building was The Mansion on Delaware Avenue, we drove twice around the block. The charming house illuminated by warm lights and surrounded by blooming shrubs was not private like we believed at first: it was the hotel we were looking for.
Up the stairs leading to the main hallway, we were in for another surprise. Actually a bit spooky at first, if I have to be honest: the main doors, in fact, opened automatically. It felt as if the house itself wanted to welcome the new visitors.
The atmosphere inside The Mansion on Delaware Avenue is extremely elegant, but it never feels stiff. Soft lights, a pleasant warmth, some guests playing pool, some others reading a book, sitting on the couch in one of the rooms beautifully decorated with paintings by local authors. Among other things, in fact, this hotel is some kind of small art gallery, featuring paintings and sculptures chosen by a curator just like in a museum.
Yet let me be material for a moment: one of the best features of The Mansion on Delaware Avenue, which lead to the best hotel to see the Niagara Falls title (according to us), is the 24h Butler service.
As soon as we stepped inside, we were greeted with a smile from the Butler on duty. There was no need to tell him that we were tired: he made every effort to make us feel at home and to satisfy our every need. One of the Butlers parked our car, and told us that we didn't have to worry about a thing. The Butler service in fact includes the chance of having a personal driver who will drive you around town, so you can have dinner (and a drink, if you want) without having to take your car.
They suggested some restaurants in the area and the Butler, without hesitating, booked us a table, arranging a car to bring us there for the dinner. I can tell you that after a day like ours, the last thing we felt like doing was to drive yet some more to find a restaurant.
Knowing that everything had already been arranged felt almost decadent.
In our suite, after a day spent driving in the hellish traffic of New York, we could finally just relax. A nice plate of fresh cookies with different fillings had been left for us, together with a welcome letter and a few customized cards that labeled us as customers of The Mansion on Delaware Avenue.
The room we were given was much bigger than what we expected. Not a luxurious but impersonal hotel room, but a small apartment with its history and character. In the classy living room, the only thing that maybe felt a bit out of place (but it was nevertheless greatly appreciated by Aldo), was a large flat screen TV hanging just above the large fireplace. The suites have two bathrooms, which is absolutely great, especially if you plan to leave early in the morning so you won't have to wait in line for your turn. Yet if I have to be honest, even just the main one could fit easily two people. It had a large hydromassage shower cabin, a whole mirrored wall, and two sinks.

Even in this case, guests don't have to worry about a thing: The Mansion on Delaware Avenue provides everything they might need. From the hairdrier to a smaller mirror, from face cleansing towelettes to Japanese body and hair care products. Yes, you got that right: I found a set of products made in Japan that I absolutely loved! Shampoo, hair conditioner, body wash, body lotion, to make it short, the management of this charming hotel seems to love pampering its guests. Are you really still wondering why I think this is the best hotel to see the Niagara Falls?
If I have to be honest, we appreciated even more the bedroom in the morning, when the light filtered through the windows. The room was very bright and all around the trees and the bushes of flowers offered us the feeling of being away from the city. A very nice difference from the chaos of lights, casinos and crowds we would've found if we'd ended up booking a hotel in Niagara Falls.
Like the living room, the bedroom also had another large fireplace, which I imagine makes the suite even more romantic in the cold winter evenings. We shared the bed with a huge number of pillows, including one of the long and rectangular ones that are very useful to pregnant women as they help them to sleep more comfortably. The writing desk, the one area in the room where I used every inch of space, was positioned right in front of the beautiful windows.
Once again I noticed a great deal of attention to detail. There was everything guests might need. A phone, note pads, pencils, interesting books on historic homes in the United States, and even earplugs… despite the fact that during our stay we never heard any noise coming from either the street or the other rooms. Not enough to name it the best hotel to see the Niagara Falls? Think of it that way: after a pretty hot and humid day around the falls, do you want to get back to a very crowded hotel, surrounded by the noise, and stand in line to find a decent restaurant, or get back to a quiet mansion, where you can park your car and have a Butler drive you around for dinner?
Exploring The Mansion on Delaware Avenue in the morning felt even more exciting than doing it at night. Being a small hotel, you never have the feeling of being just another number in a crowd of guests. The Staff remembers you, and you always end up chatting with the other visitors, who occupy the common areas just like they would at home.
The billiard room in the morning turns into a delightful breakfast room. We weren't expecting such a variety of options, but the quality was impressive, even in the presentation of the dishes. There was something for everyone, from bagels to smoked salmon and fresh cheese to prepare a delicious "New York style bagel". Vegan and vegetarians could also enjoy, among other things, various types of nuts, hazelnuts, dried fruit and raisins. Even us, accustomed to a sweeter breakfast, felt spoiled.
Every morning there was in fact a variety of cakes, including small muffins and mini cupcakes, that you could eat in one bite. And let's not forget the delicious chocolate pies! Dessert girls like me are going to love this hotel!

Another point towards the "best hotel to see the Niagara Falls" award: you can have a huge, healthy and delicious breakfast before to go out to explore the falls, stocking up until lunch time!
Breakfast at The Mansion on Delaware Avenue becomes thus a gathering moment for the guests. Someone chats, someone else works on his laptop using the available Wi-Fi connection, others enjoy reading the Financial Times or another one of the newspapers delivered by the Butlers each morning.
A second room lit by the sun's rays becomes a reading room after breakfast, once again reminding you that you are staying in a luxury historical building, pampered by a highly professional staff who takes care of your every need, which is why, in our opinion, after seeing all the area had to offer, we named this the best hotel to see the Niagara Falls.
And the outside? When we saw the luscious garden with the blooming shrubs and the iron chairs, we felt almost tempted to postpone our trip to the Niagara Falls!
The whole neighborhood is very quiet and full of trees. The chairs and tables in the garden are often used by the guests to enjoy a nice cup of tea or a cocktail. Each afternoon, in fact, The Mansion on Delaware Avenue offers its guests a cocktail in the billiard room, and many of them like to sip it in the garden.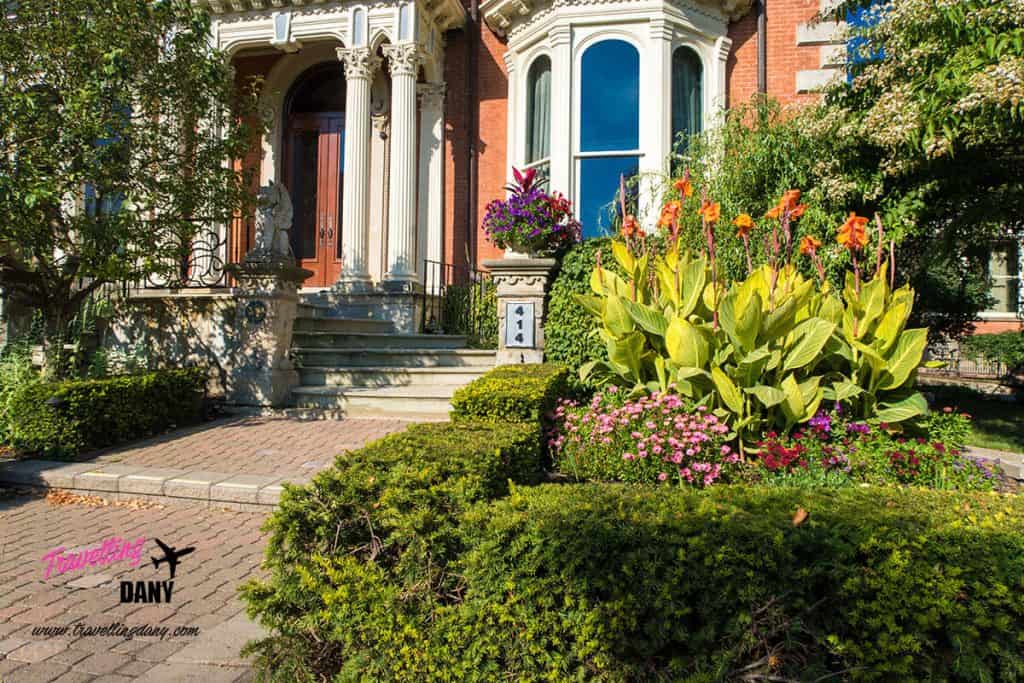 For our experience and our needs, we thus believe that The Mansion on Delaware Avenue is the best hotel to see the Niagara Falls. Situated in a nice area, it offers the best value for money, and it's close enough to allow you to go back and forth from the Niagara Falls as you please. We don't particularly like the touristy, overcrowded spots and thus we've enjoyed the chance to explore the historical side of Buffalo, one of the cities that in Italy not many people know about.
Have you been to Buffalo or The Mansion on Delaware? Do you also believe this is the best hotel to see the Niagara Falls? Share your experience in the comments!
You might also like:
USA Babymoon Ideas on a Budget
The management of The Mansion on Delaware offered us a free stay in exchange for a honest review of their services. Opinions expressed in this article are yet solely my own and haven't been influenced by their kindness in any way.
Pin this for later!
Travelling Dany
Danila Caputo is a bilingual travel writer living in between Naples and the Amalfi Coast (Italy). She travels and works with her husband Aldo, photographer and videographer. Their blog chronicles their adventures around the world, Italian/European culture and tips on how to be responsible travelers. You can find out more about their latest trips and their life on Instagram and Facebook.