Autumn is not only a season. It's a feeling.
The Adirondacks are the most popular destination to experience the fall foliage in autumn, where the hues of yellow, orange, and red are showcased against the backdrop of evergreens.
Fall in the Adirondacks is the best season for a road trip. Let's see what to expect!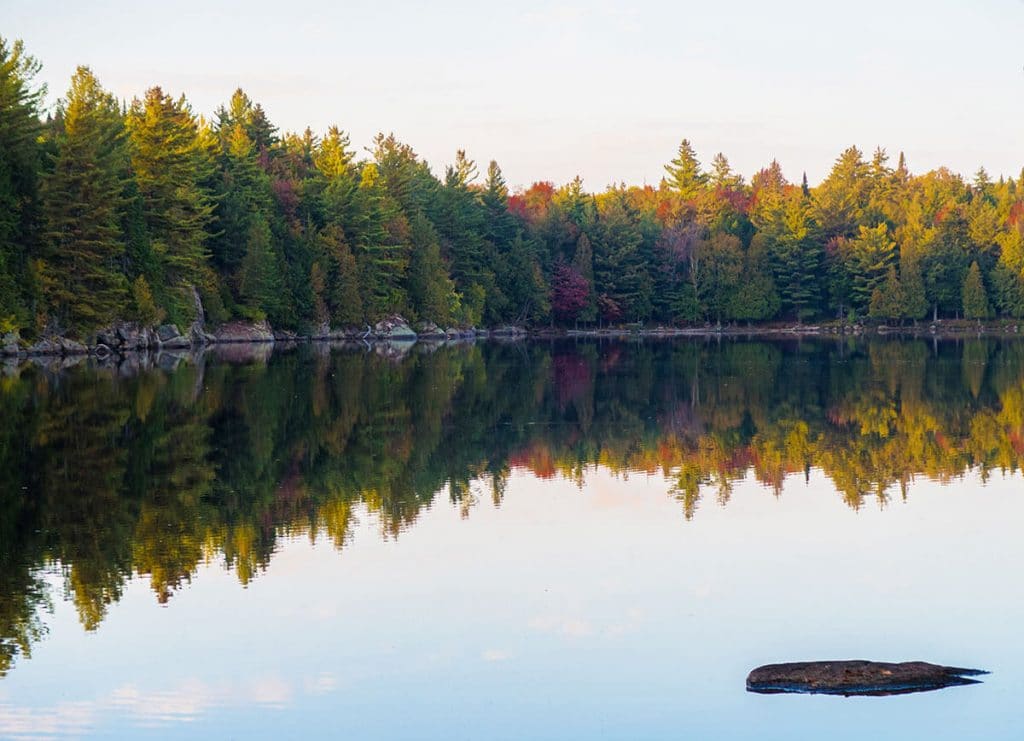 The Adirondack Mountains is a popular outdoor destination in the fall. Lake-facing resorts, hiking trails galore, and gorgeous landscapes make it a perfect getaway from the hustle of city life.
Planning a fall road trip in the Adirondacks had been on our bucket list forever. Me and Al absolutely wanted to see the gorgeous fall foliage. This is in fact one of the best spots in the US to see the fall foliage!
The idea of exploring wonderful forests dotted with red, yellow, green, and orange patches sounded pretty enticing.
Foliage season lasts longer in the Adirondack Mountains. From September to November, a remarkable window of time, considering how short it can be in other areas!
If you are planning a weekend trip Upstate New York, make sure you do so in the fall. It will be unforgettable.
Planning a road trip?
Click to download our FREE printable
ROAD TRIP CHECKLIST!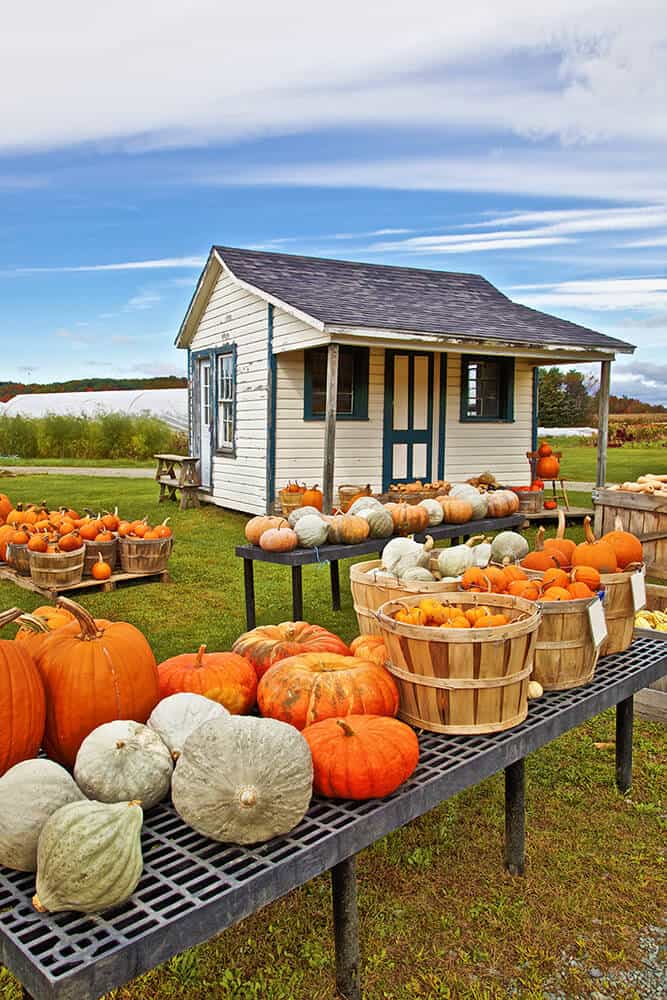 Where Are The Adirondacks?
The Adirondack Mountains are located Upstate New York.
You will find yourself roadtripping through scenic drives in about 5 hours from the busy New York City.
Part of the Adirondack Park's infrastructure of outdoor recreation options include two drive-up mountains. Prospect Mountain in Lake George and Whiteface Mountain in Wilmington.
Here's why driving there is the very best thing you could do. Especially if you love scenic road trips and the gorgeous fall colors.
This is one of the biggest State parks, which includes both public and private land.
Just to give you an idea of how huge it is, the Adirondack Park is bigger than Glacier, Grand Canyon, Yellowstone and Yosemite National Parks all combined.
Woah!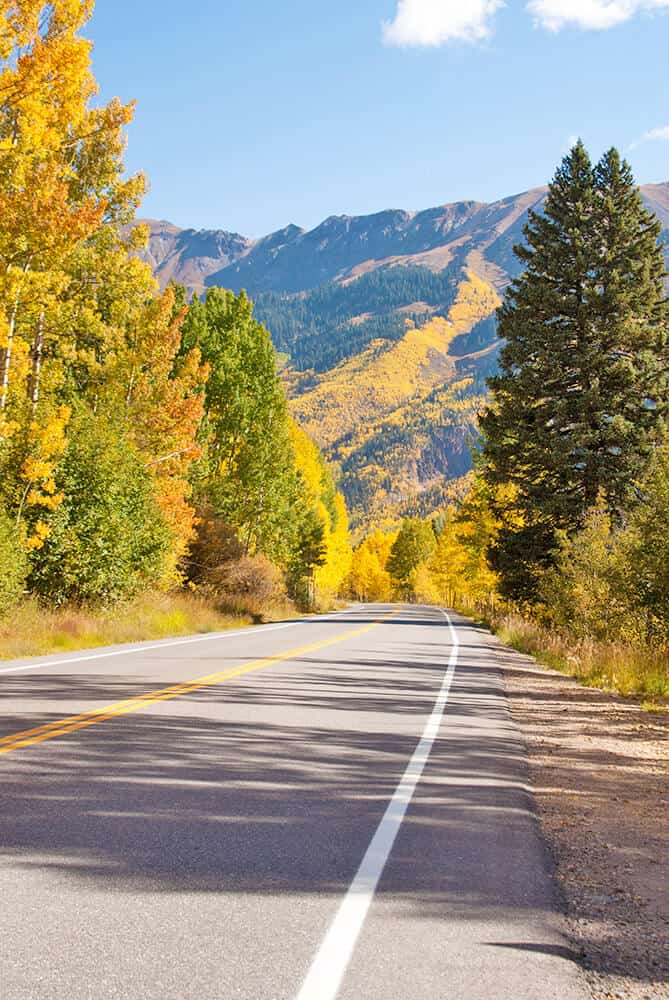 Fall in the Adirondacks: Why you Should Consider It
The term "fall foliage" refers to a natural phenomenon.
Leaves are green thanks to the chlorophyll, which is produced by capturing the light and using it to feed the plant itself. When the Summer season ends, the days become shorter and the "veins" inside the leaves become smaller and smaller until they close. Just like adding a cork stopper at the base.
Chlorophyll then begins to degrade until it is completely transformed: at this stage the leaves change color, becoming yellow, red or orange.
In the United States, this phenomenon mainly occurs on the East coast, and specifically in the North. Here in fact the temperatures drop in Autumn and Winter.
According to Garet Livermore, Executive Director of Great Camp Sagamore, they can get as low as -40° C!
This is just a note to remind you that you definitely won't find red and yellow leaves in Florida. But you can certainly visit for a different kind of road trip, or to have fun in Miami!
If you're looking for fall colors, head to the North!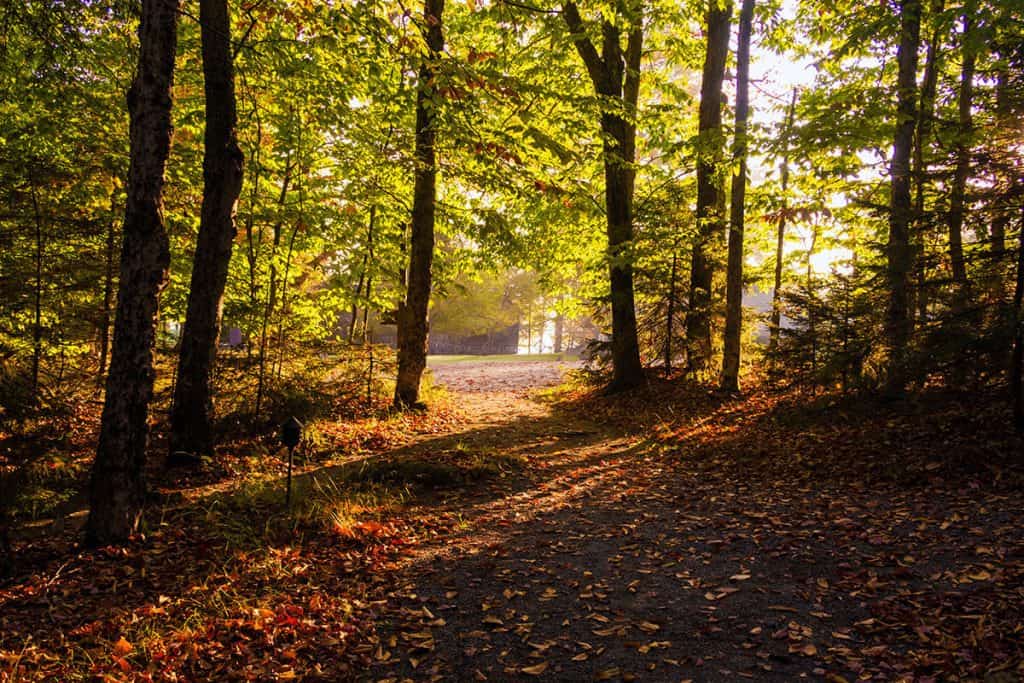 Beeches, sugar maples, red maples, aspens and birches are almost everywhere on the forty-six peaks of the Adirondacks. These forests are not only beautiful to explore, perhaps during a "forest walking" experience. They are also a food source!
In Spring, they produce the delicious maple syrup for which the Adirondacks are famous.
If you're planning a fall trip to the Adirondacks, you will have the chance to eat cookies, candy, waffles and pancakes. All made with local maple syrup.
Fall in the Adirondacks is an amazing season. Perfect if you love to hike, the great outdoors, and if you're a fan of those dreamy instagram seasonal photos.
The Adirondack Mountains are a super romantic destination. Also great if you're planning a US babymoon. There are a ton of cute little restaurants and cozy hotels where you can just spend some quality time together!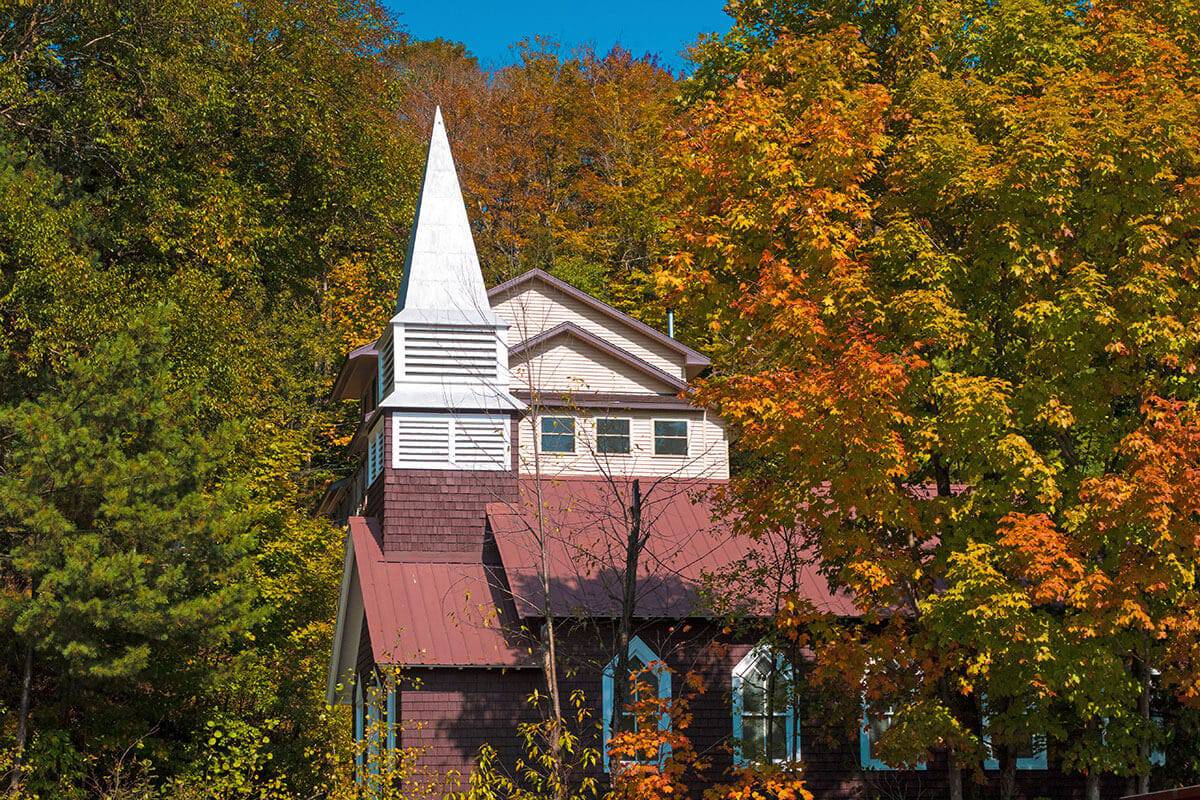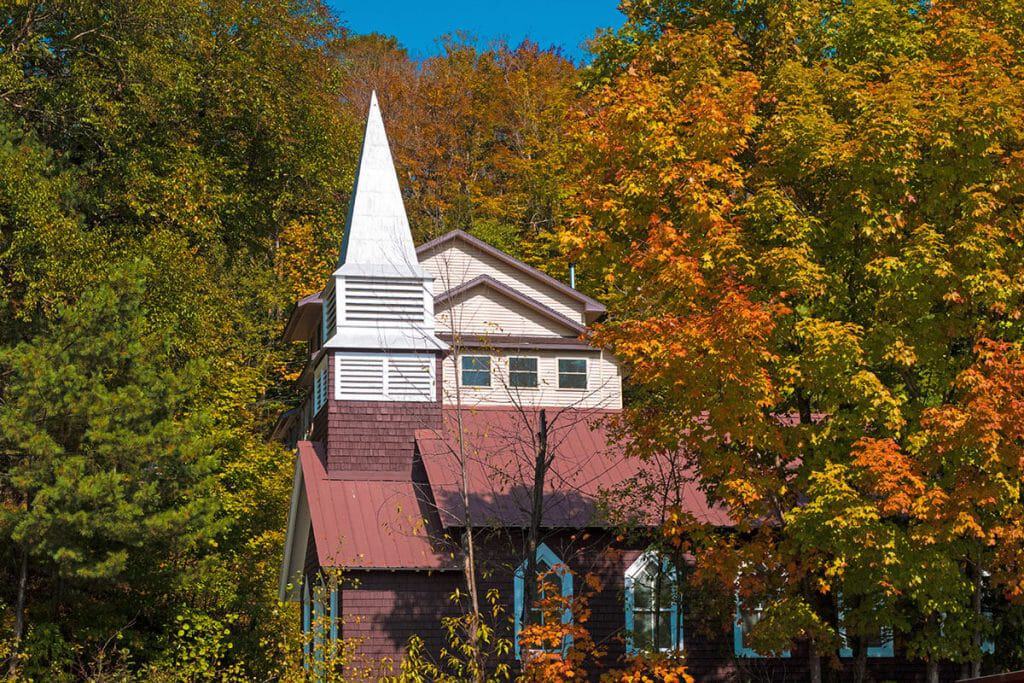 What to Pack For a Fall Trip to the Adirondacks
The best way to deal with a fall trip to the Adirondacks is probably to use a lot of layers.
I know I keep saying that, also when people ask me what to pack for autumn in Italy.
But I swear it's the very best way to avoid overpacking and to be prepared for everything!
Here's my go-to autumn packing list for the Adirondacks: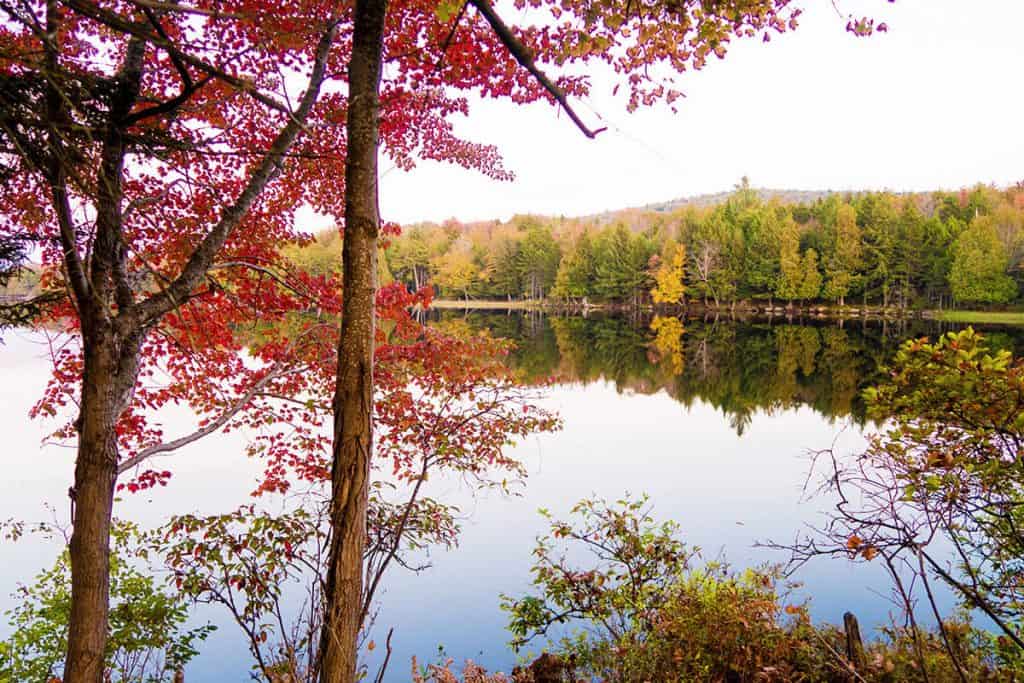 When is Peak Leaf Season in the Adirondacks?
There's only one big question that is asked every year about the Adirondack Mountains in autumn.
"When are the leaves going to peak?"
Usually the peak fall foliage weeks are the last two of September and the first two of October.
Sometimes, in the High Peaks regions, leaves tend to peak a bit earlier.
The first areas where the foliage appears are the forty-six peaks, including Mount Marcy, the highest mountain in New York State.
A good idea is to plan an early fall trip to the Adirondacks starting from the High Peaks. The very best gateway to this gorgeous State Park is Lake Placid on the shores of Mirror Lake.
You could then add the lower areas to your itinerary.
When we planned our autumn trip to the Adirondack Mountains, it was a loop itinerary. So we could fly in and out of New York.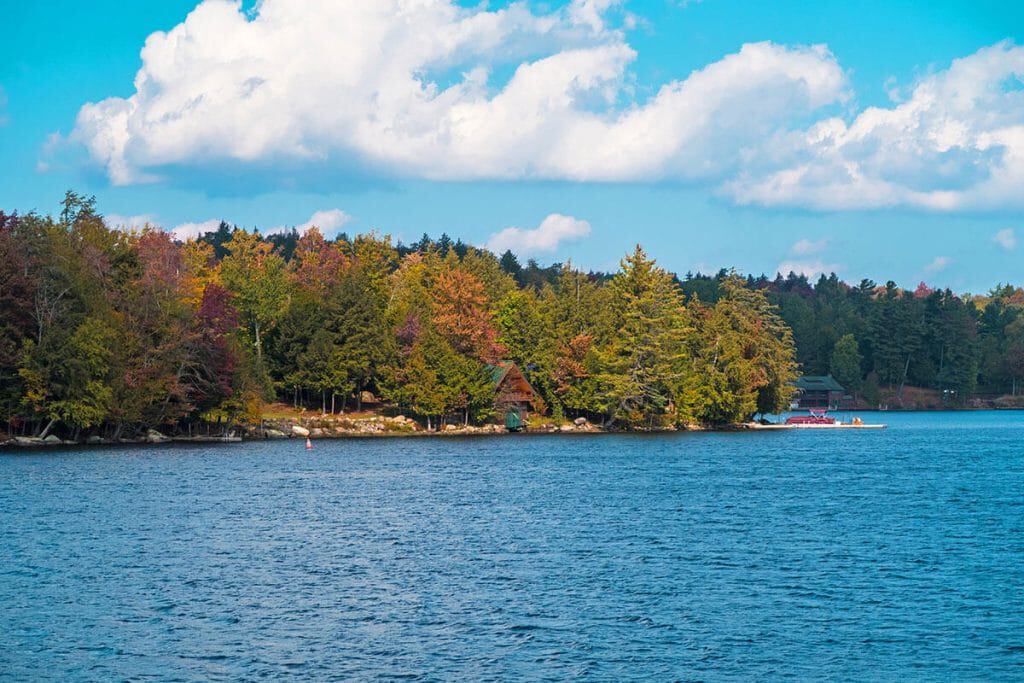 The Best Fall Hikes in the Adirondack Mountains
Fall is the best time to explore the Adirondack region.
The leaves are changing and there has been a change in temperature, so it isn't too hot and humid.
Hiking in autumn gives you the best of both worlds: cooler temps and stunning fall foliage.
The best trails this time of year are to be found in the High Peaks region. This area includes alpine lakes, waterfalls, and trails that go through places that haven't been touched by snow or ice yet.
Autumn hiking is a great way to get away from the crowds at peak season and enjoy some solitude with nature.
Oak Rim Trail
The Oak Rim Trail in the Tug Hill State Forest is an easy 2.2 mile trail / 3.5 km).
Expect to hike along the shores of Inman Gulf, with a magnificent view of Rainbow Falls.
The cascading waterfall, framed by white ash, black cherry, and beech trees is a popular Insta-spot.
We loved it!
Six-Mile Creek Trail
Six-Mile Creek Trail of the Cranberry Lake 50 is a moderately difficult hike.
It passes Olmstead Pond Loop & Cowhorn Pond, before reaching Cowhorn Junction.
Bring your camera, because there are some lovely fall views in the area!
If you're visiting when the leaves are peaking, you'll see plenty of vibrant orange, yellow and red maple trees.
Plattsburgh Heritage Trail
The Plattsburgh Heritage Trail offers a few hiking apogees and many different views.
By going there between September and October, you will see the autumn leaves against Lake Champlain.
You can then head downtown to enjoy the restaurants and bars in the city.
Make sure to whip around City Hall and check out the Kent Delord House.
You can also take some really beautiful photos at the Champlain Monument before ending your day trip with a nice picnic at Trinity Park.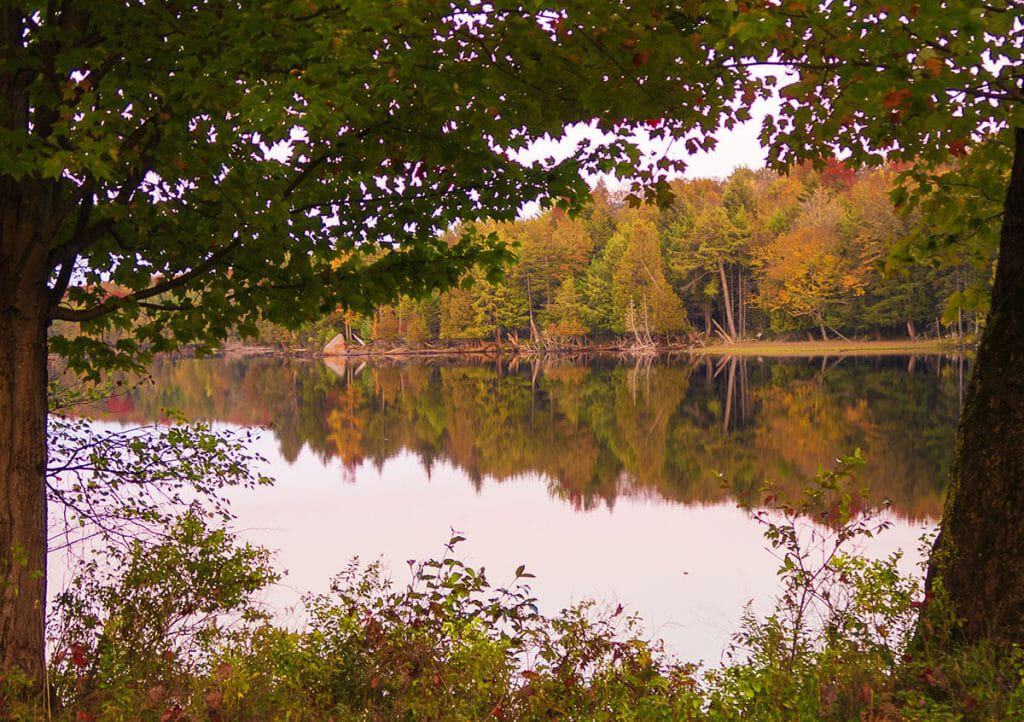 High Falls
One of the Adirondacks unspoken beauties is the High Falls trail, on the Chateauguay River.
This moderately easy round-trip hike is over level ground. It's not difficult, but you definitely need a good pair of hiking boots to avoid hurting your feet.
The main highlight is of course the steep waterfall.
Feathery and light, these falls flow over 120 feet (183 m), before they reach the wide, rocky river bed below.
Find this hidden gem off Route 11.
Mount Severance
The Mount Severance trail is a moderately easy and short hike.
Absolutely perfect if you're visiting the Adirondacks in autumn.
Located off of Route 9 in Schroon Lake, it's a 2.4 miles loop trail (3.86 km).
The views of Schroon Lake, the Pharaoh Lake Wilderness and the mountains covered in yellow, orange and green are definitely worth the trip!
Cat & Thomas Mountain
If you are looking for a hike that will take your breath away, by all means, try hiking at the Cat and Thomas Mountains Preserve.
This area in Bolton Landing offers breathtaking views of Lake George and a mix of easy or challenging trails.
Some are really super easy and family/pet friendly!
Beware: your dog should be leashed at all times.
Castle Rock
One of the top fall hiking spots in the Adirondack Mountains is definitely Castle Rock, in Blue Mountain Lake.
While it's also popular in the summer, we prefer to hike there in autumn. That's when you get the absolute best views and the stunning fall colors!
This is a moderately difficult 3 miles loop hike (4.8 km).
Expect great views of Blue Mountain Lake, with maple trees mirroring into the water.
10 Things To Do in Autumn in the Adirondack Mountains
Sightseeing
Fall Foliage season in the Adirondacks is a great reason to hop in a car and just drive.
There are miles and miles of tree-lined roads, where you can enjoy an epic view of the fall colors.
As you drive, stop by the lovely little towns along the way for homemade meals and cute souvenirs.
Hiking
There are so many scenic trails in the Adirondack Mountains that you might feel a bit overwhelmed!
Make sure you hit the best ones and bring your camera for an unforgettable trip.
Note: remember to pack a pair of sturdy hiking boots!
Taking Pictures of the foliage
While we already listed some great hiking spots where you can take great fall pictures in the Adirondacks, you do not need to hit a trail to see the best colors.
Most of the time you just drive down random side roads, and you find yourself immersed into a fairytale scene.
Just make sure you stay off private property and do not go sitting on someone else's porch!
Eating Seasonal Dishes
What do people eat in the Adirondacks?
Fish and meats seem to be the most popular options.
The greatest fall dishes in the area all include something that has to do with pumpkin!
We also had some delicious goat cheese, served with apple chutney, which we loved.
Oh, and of course… do not forget to buy some maple syrup!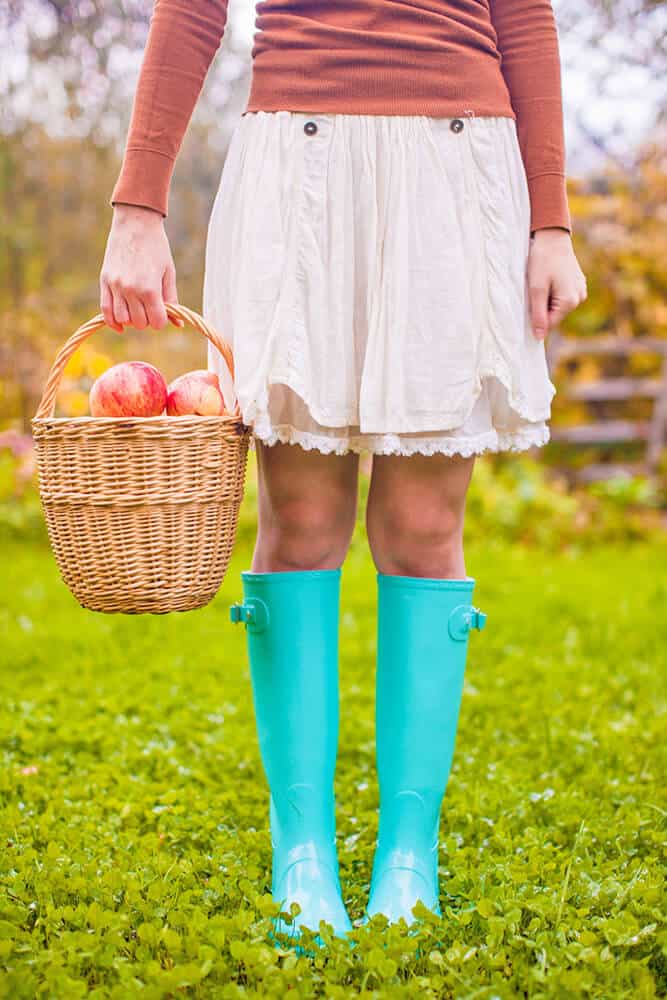 Apple picking
Apple picking is one of the most popular fall activities in the Adirondack Mountains.
Plan a half-day trip to a local orchard and have fun picking your own apples, pumpkins or even mushrooms!
We have loved Gunnison Orchards in the Lake Champlain Region.
Even the more so because we were introduced to the best cider donuts ever.
They sell warm, fluffy and mouth watering donuts at the farm.
They're perfect for a road trip snack!
Enjoying a local fall festival
Fall is a great season for local festivals.
From the Ticonderoga FallFest to the Whiteface Oktoberfest you sure won't get bored.
Visiting a local festival means you have the chance to mingle with the friendly locals. Listen to great music. And above all, eat delicious homemade seasonal dishes or snacks that you won't find anywhere else!
Hit the pumpkin patches and corn mazes
Hitting a pumpkin patch and having fun in a corn maze are possibly the two most seasonal activities ever.
Many orchards have pumpkin patches where you can pick your own pumpkins and take great pictures. Yet it's not so easy to find great corn mazes.
Here's where you can find the best corn mazes in autumn:
Fort Ticonderoga (Ticonderoga, NY)
Ellms Family Farm (Ballston Spa, NY)
Country Dreams Farm (Plattsburg, NY)
Sand Flats Orchard LLC (Fonda, NY)
Tucker Farms, Inc (Gabriels, NY)
Rulfs Orchard LLC (Peru, NY)
Camping in the crisp air
The Adirondack region has every type of camping you can think of.
Those visiting in autumn should opt for RVs or a campsite: at night you can warm up in front of a fire, while watching the stars.
Sleeping in the open or in a hammock is not advised because the air will be chilly, especially in October and November!
Note: if you are planning to sleep in your car on this road trip check the local regulations first. To make sure it's legal!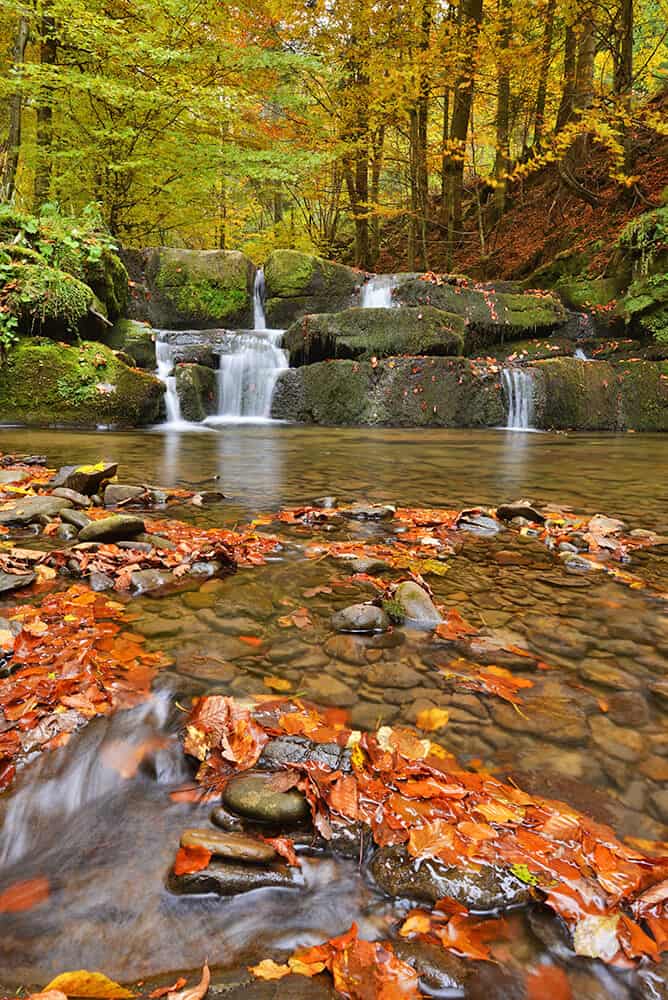 Going for a scenic drive
The Adirondacks are crisscrossed by miles and miles of scenic byways.
Any fall road trip Upstate should include at least one of them. Your trip wouldn't feel complete otherwise!
Our favorite (and lesser known) autumn scenic drives in the Adirondacks are:
Lake Placid to Ausable Chasm (86 miles round trip / 138 km)
Bartlett Road Loop (14 mile loop / 22 km)
Wilmington Notch (25 miles round trip / 40 km)
Blue Ridge Road (17 mile loop / 27 km)
High Peaks Byway (30 miles / 48 km)
Treating yourself to a romantic dinner
If you are planning an autumn trip Upstate NYC with your significant other, make sure to treat yourselves to a romantic dinner.
Fall colors are absolutely amazing, so go there a bit earlier and choose a restaurant with fall foliage views.
Many are located on the shores of the many lakes in the area. You're going to have a great time!
Note: it can be a bit chilly at night so bring a coat or a light jacket!
You might also like:
Adirondack Peaks road trip guide – all the must see spots
20 ideas for a fall trip to Europe
USA Babymoon Ideas on a Budget
This post was written in collaboration with the Regional Office of Sustainable Tourism for Lake Placid. They helped us to plan our trip through the Adirondack Peaks and to make lots of new friends. All opinions are our own.
Pin it for later!
This post is also available in:

Italiano