Best pierogi in Krakow (and other delicious foods)
This post includes affiliate links. As an Amazon Associate, I earn from qualifying purchases. Full disclosure.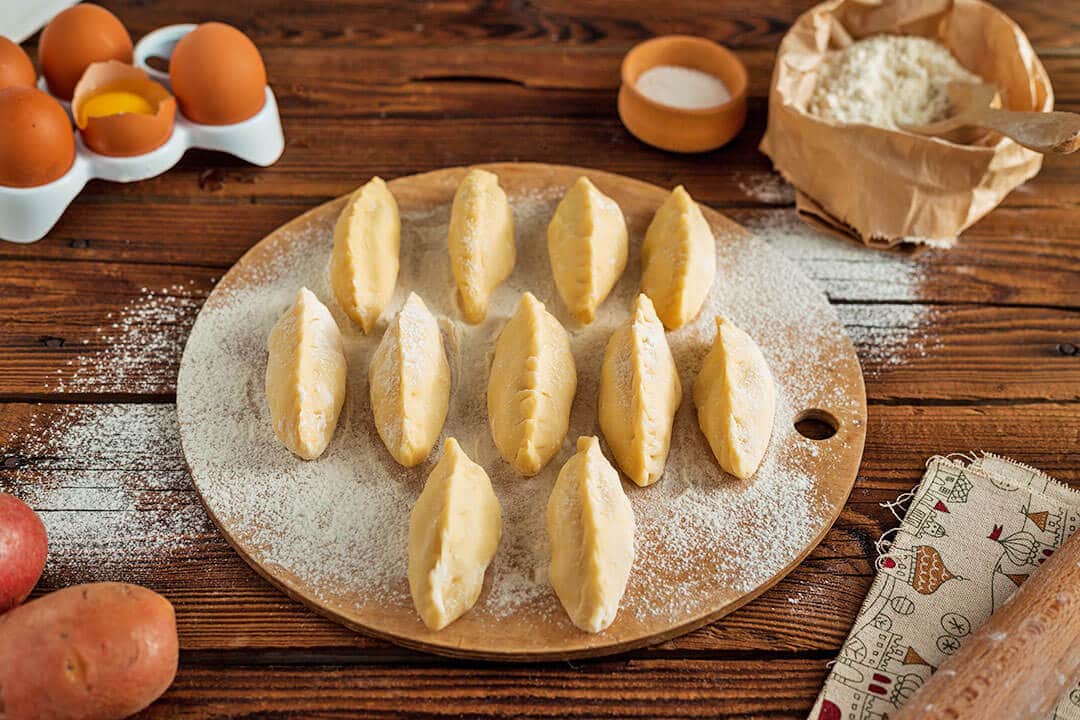 Pierogi is Poland's National dish: you can't leave the Country without trying them. Everyone loves this particular kind of dumplings, to the point that at the last festival in Krakow over 30000 pierogi were consumed daily by locals and tourists. Let's see where to find the best pierogi in Krakow, according to us, and what should you expect in terms of prices and location.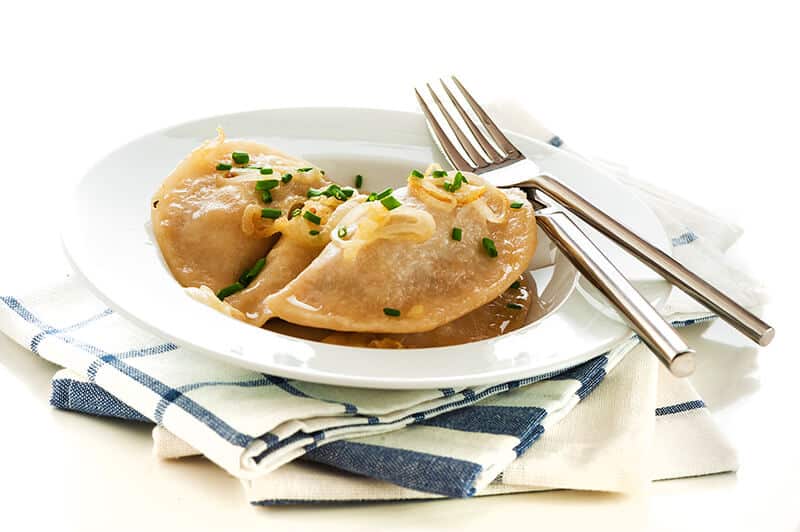 Traditional Polish cuisine, rooted in Slavic fare, was suppressed like all the other aspects of Polish culture during the Communist era. In the last few years the flavour of the old recipes has been rediscovered and enhanced by a new generation of chefs. Yet some things haven't changed at all.
Potatoes still act like a building block for many dishes, often together with cream and eggs, even if today's recipes are generally less heavy than they were in the past. The food in Poland is always an explosion of flavor and colors: it can be quite complex and yet it never fails to delight.
During our long weekend in Krakow we've realized that the city is full of restaurants and that sometimes it's difficult to choose what to eat or where. Yet if there's one thing we have learned is that food in Krakow is way less expensive than what we're used to.
We weren't expecting it to be with a Fiorentina steak in Florence, and yet we realized it's even cheaper than pizza in Naples. And considering the fact that pizza is cheap here if you know where to eat it, that is saying plenty!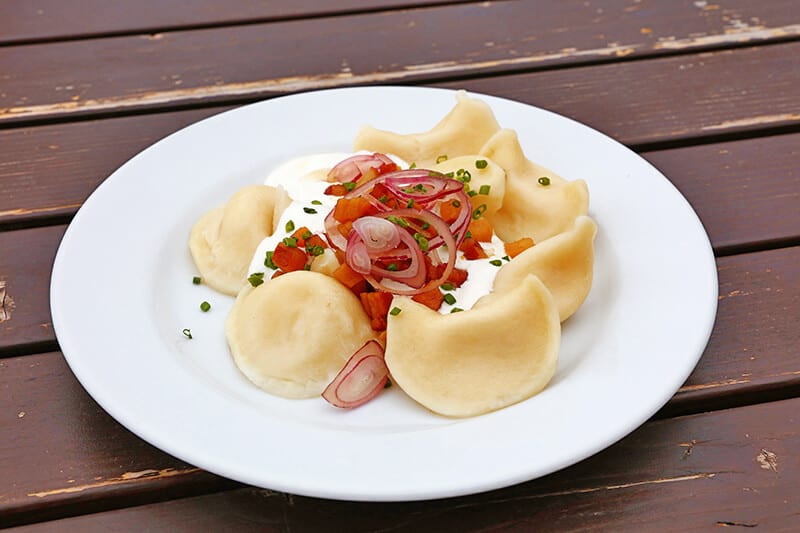 Quick Links to Post Content
What are Polish pierogi?
Pierogi are medium sized dumplings made with an unleavened dough (a bit like flatbread) and stuffed with different fillings. The Polish recipe dates back to the 13th century, but you will find pierogi on the menu also in Countries like Russia, Lithuania, Ukraine and Slovakia.
In the past they were the kind of food you'd eat for festivities like Christmas and Easter, or for events like a marriage. Today the Polish still prepare specific types of fillings for each festivity, just like in the past.
For example on Christmas eve they cook pierogi with cabbage, sauerkraut and mushrooms. Someone even told us that during the festivities you can eat the best pierogi in Krakow because the city really takes the holidays pretty seriously!
The Polish dumplings are very versatile, to the point that not only there are lots of fillings, but they can be cooked in several ways. Just so you know, deep fried pierogi are a thing.
The most used fillings are forcemeat, sauerkraut and mushrooms. Some of the best pierogi in Krakow are mentioned in English menus as Russian pierogi. You will find them in each and every pierogi restaurant in Krakow.
We thought that it indicated a Russian origin, but the owner of one of the restaurants we visited told us that it refers to Ruskie pierogi, which are filled with potato and cheese. They're one of the variants we loved the most. Also the all cheese pierogi are delicious: we always ordered one of each so we could share and taste some of both.
According to the kind of filling you choose, pierogi are served with fried onions, bacon or pork scratching on the top. If you want to plan your trip to discover Krakow through food, make sure you taste all the different combos!
In the summer you will find also sweet pierogi filled with seasonal fruits like strawberries, or with a sweetened Polish curd cheese. While we wanted to add the sweet version to the list of the best pierogi in Krakow, we've visited the Country in Winter.
With all the snow and cold, the restaurants didn't have sweet pierogi but other cakes that we'll mention by the end of this article. Not that we're complaining, but we'll have to get back with the warm season: we're really curious to try strawberry pierogi now!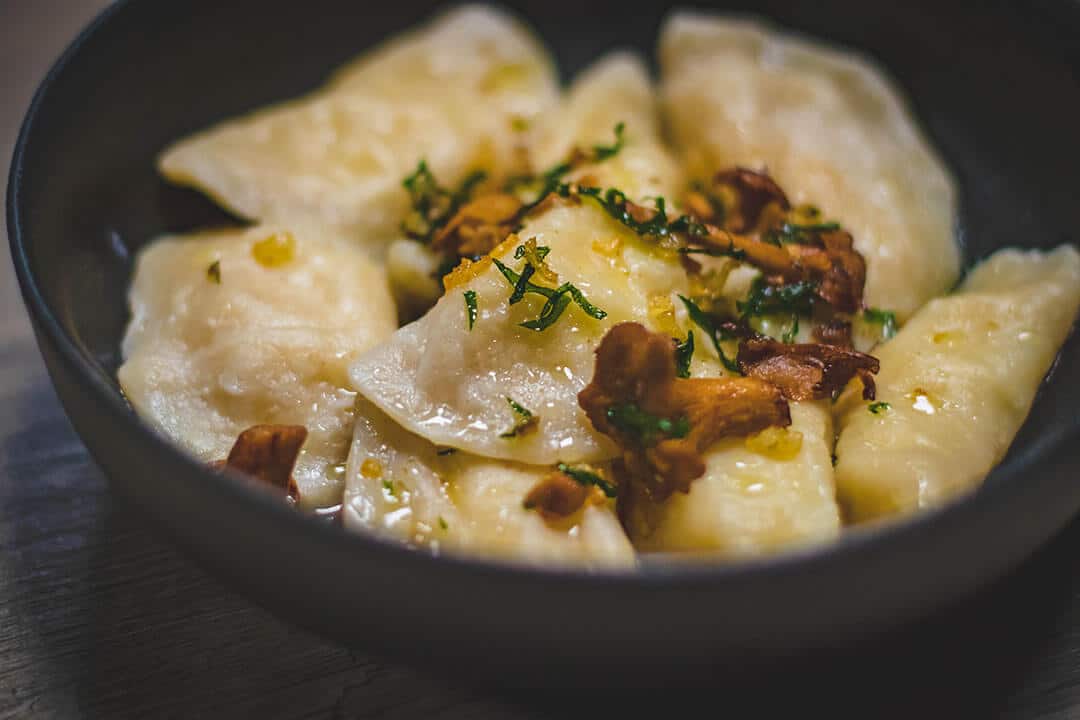 If you're staying at Kazimierz
Kazimierz is the Jewish district in Krakow, at the South of the Wawel hill. Before 1945 over 65000 Jewish people used to live here. But Krakow was deeply wounded by the Nazis during World War II: all the Jewish people who used to live in Kazimierz were brought to the Auschwitz-Birkenau camps. Today only about 300 people live in this district.
In between synagogues, cemeteries and artworks, you will find many restaurants and shops. Kazimierz has become a touristy district, very lively at night, and yet it hasn't sold its soul to the mass tourism.
It hasn't become one huge luna park, but it still preserves the soul of what once was.
We choose to stay at a hotel here to be able to go out at night without having to get the car or public transport. We never regretted our decision!
Best cheap pierogi in Kazimierz district
Pierozki u Wincenta is a tiny (really tiny) restaurant that offers some of the best pierogi in Krakow, with several fillings. They also serve deep fried pierogi and if you're very lucky you will also find a sweet pierogi with seasonal fillings. According to the locals (and we agree) they serve some of the best pierogi in Krakow.
Best classy pierogi restaurant in Kazimierz district
Miodova is a combination of tradition and modernity. This wonderful restaurant has been also mentioned on the Michelin guide for Krakow. It's particularly classy, and serves delicious pierogi inside of an historic building. Their menu wants to reinterpret the Polish cuisine traditional recipes in a modern way: make sure you book in advance!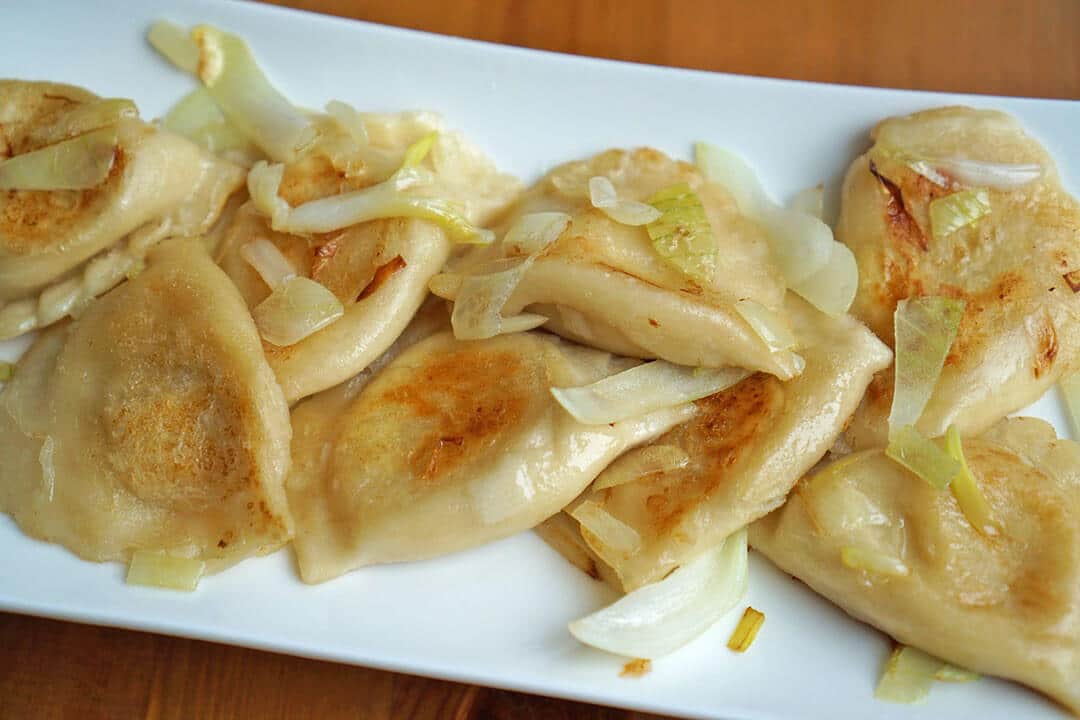 If you're staying at Stare Miasto
Stare Miasto is the Old Town Krakow, the ancient part of the city, UNESCO protected and located inside the city walls and the Planty park. The view on the medieval part of the city is breathtaking.
Stare Miasto is full of art and history. Its heart is Rynek Glowny, the biggest medieval square in Europe, where you will immediately recognize the two towers of the St. Mary's Basilica. It's one of the pictures of Krakow you'll find everywhere on Instagram (yes, I'm also guilty for posting one!).
Inside the Stare Miasto you will also find the university district, which is full of shops and restaurants. Because here there are a lot of students, you will find many pubs, steakhouses and international restaurants (which is also why it wasn't difficult to find some of the best pierogi in Krakow's Old town!) on the cheap. Yet let me tell you again: eating in Krakow is very cheap anyway!
If you want to do some shopping, beware: the shops all around the Rynek Glowny and the Ulica Florianska sell lots of plastic souvenirs. Not only they aren't cheap but they also look ugly. Just walk around. In the narrow, less touristy streets of the Stare Miasto you will find much better stuff, including handcrafted items.
We bought small kittens carved in wood and hand painted by local artists for our friends and family in stead than the usual magnets: they all loved them and the price was incredibly low too!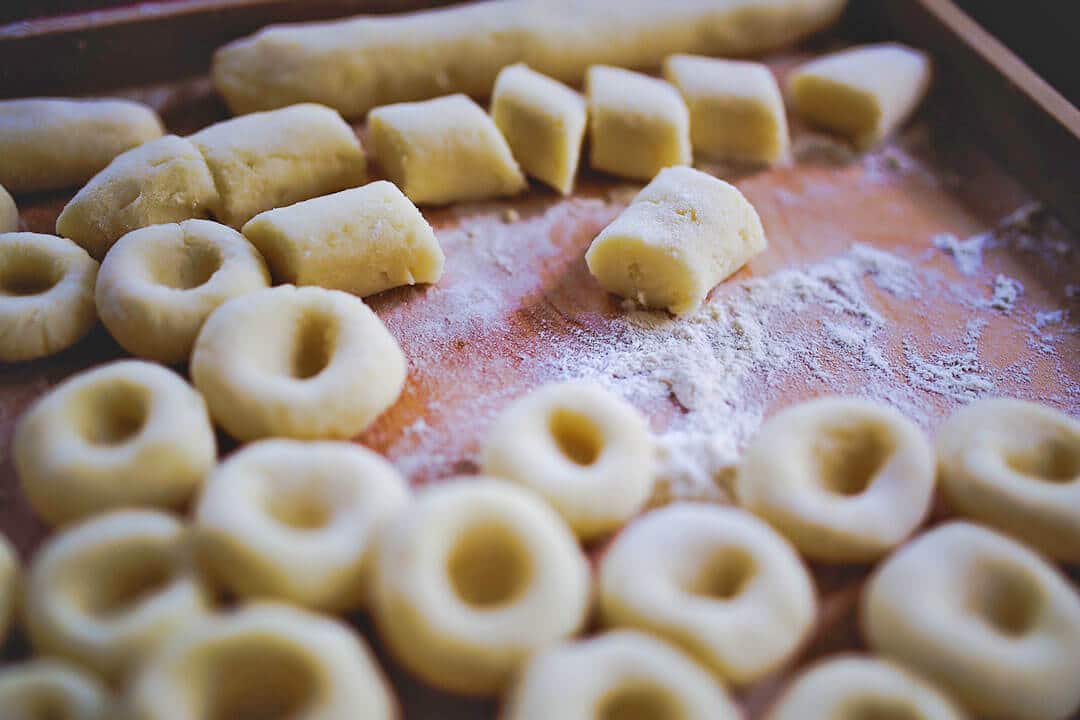 Best cheap pierogi in Stare Miasto district
Pierogarnia Krakowiacy is a traditional restaurant that only serves pierogi and a few soups. The prices are very low but they have some of the best pierogi in this area, which can be a bit above average when it comes to the bill. While at lunch you shouldn't have any problem in finding a table, in the evening it can be pretty crowded!
Best classy pierogi restaurant in Stare Miasto district
Wierzynek Restaurant is an historical (and very romantic) restaurant in the heart of Stare Miasto. Not only they have some of the very best pierogi in Krakow but they serve delicious Polish and European dishes. This luxury restaurant will make you feel like dining in a Royal Palace.
Upon request you'll also be able to tour the whole location: the staff is always very happy to dish out (pun intended) legends and curiosities about the Wierzynek Restaurant.
If you're staying at Kleparz
If you walk out of Ulica Florianska, past the nice park, you will get to Kleparz. All the artisans working in Krakow used to live here. The houses were made in wood and were often destroyed by huge fires. Only in 1972 Kleparz became part of Krakow, and it was rebuilt in stone, using the same neoclassic/art nouveau style that you can see at Stare Miasto.
Because the mass of tourists generally stops in the Old Town or in Kazimierz, Kleparz is a good alternative if you want a more quiet district. The restaurants are also pretty good.
Best cheap pierogi in Kleparz district
Chata is the restaurant you wouldn't expect. Inside, you will be welcomed by big wooden tables decorated with fake furs, in an atmosphere that almost makes you feel like you're sitting in a mountain cabin… in the heart of the city. While they have some of the best pierogi in Krakow, we recommend you also try their goulash (see below). It's delicious and comes in a loaf of bread!
Best classy pierogi restaurant in Kleparz district
Jarema Restaurant is a restaurant that feels like home. The inside looks like a traditional Polish house, and in the evening they also lit candles on the tables. The presentation of food is classy, they make sure the aesthetics are perfect but don't expect huge servings. The pierogi with caramelized onions are particularly good!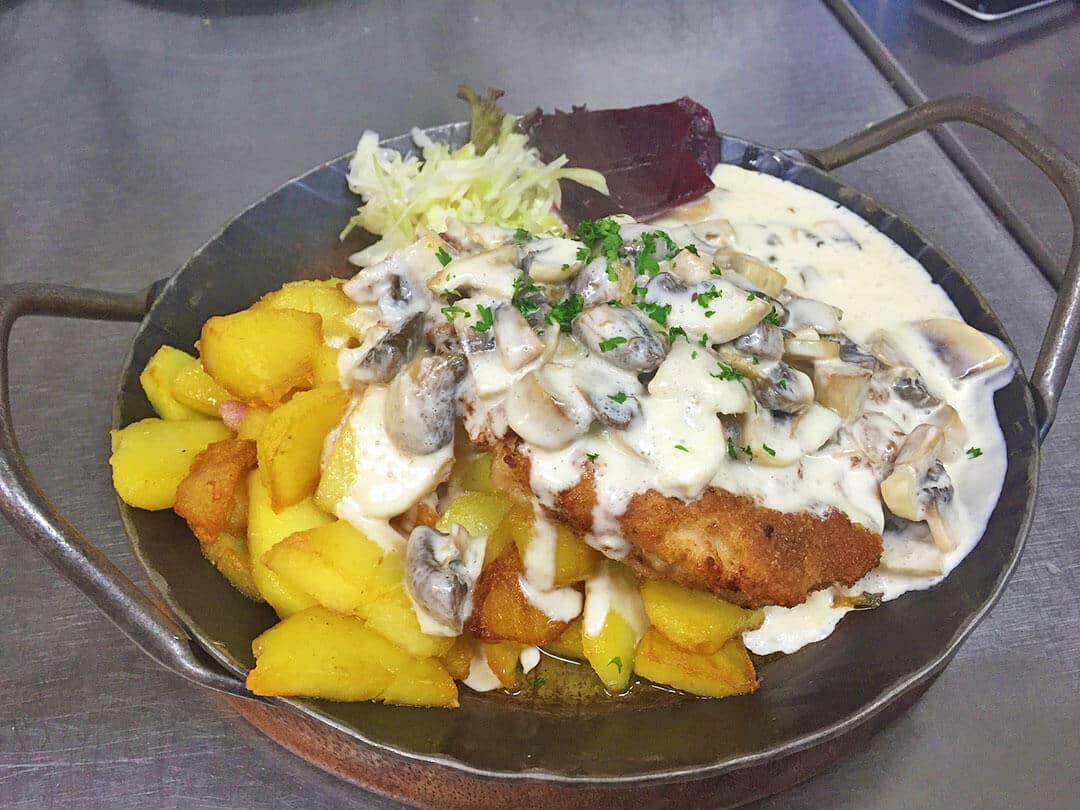 If you're staying at Wawel
It's not difficult to recognize the Wawel hill. It's the one with the Royal Palace on the top, protected by high walls and the Vistula river. Inside the castle you will also find the Krakow Cathedral, where Pope John Paul II (Karol Wojtyla) used to be archbishop.
While of course you won't be able to eat inside the castle, there are a few restaurants in the area that you can go to.
We walked from our hotel to the Wawel hill, in Winter. It was a particularly cold day. Our first in Krakow. When we climbed down, we met a young woman who was selling the traditional Polish bread in her little kiosk. This kind of bread looks like pretzels, or thin bagels, with poppy seeds or sesame seeds on the top.
The young woman had seen us walking by, it was snowing and to tell you the truth, she was bored out of her mind. Her friend wanted to go home with her so how about we buy some of her bread? She couldn't close the shop if she hadn't sold everything she had. Her English wasn't great, and we understood one word out of three.
What she was trying to tell us is that she was going to prepare a plastic bag for us with her best bread. We asked her how much we owed her and the price for a full bag was… the equivalent of 0,30€. We argued fiercely. We couldn't accept: it wasn't enough and we felt like we were robbing her! But she almost got offended. There was no way she was going to accept "all that money", and in the end, she just told us that it was her way to welcome us to Krakow, so we just had to accept.
Did I already mention that the Polish are very friendly and welcoming?
Best cheap pierogi in Wawel district
Kuchnia u Doroty is technically between Kazimierz and the Wawel area. This cozy little restaurant offers huge servings for tiny (and I mean really tiny) prices. They serve some of the best pierogi in Krakow but because they have really big servings, unless you're very hungry just order step by step. If you're still hungry after eating pierogi you can order another dish. Believe me, a serving of their pierogi will definitely fill you!
Best classy pierogi restaurant in Wawel district
Restauracja Kurka Wodna is located in a beautiful, historical building and is particularly well known in town because they serve some of the best pierogi in Krakow. They also serve several dishes in cereal bread. The beer is good and the servings are pretty big. Expensive if you compare it to other places in Krakow, but to us it was definitely well worth the price.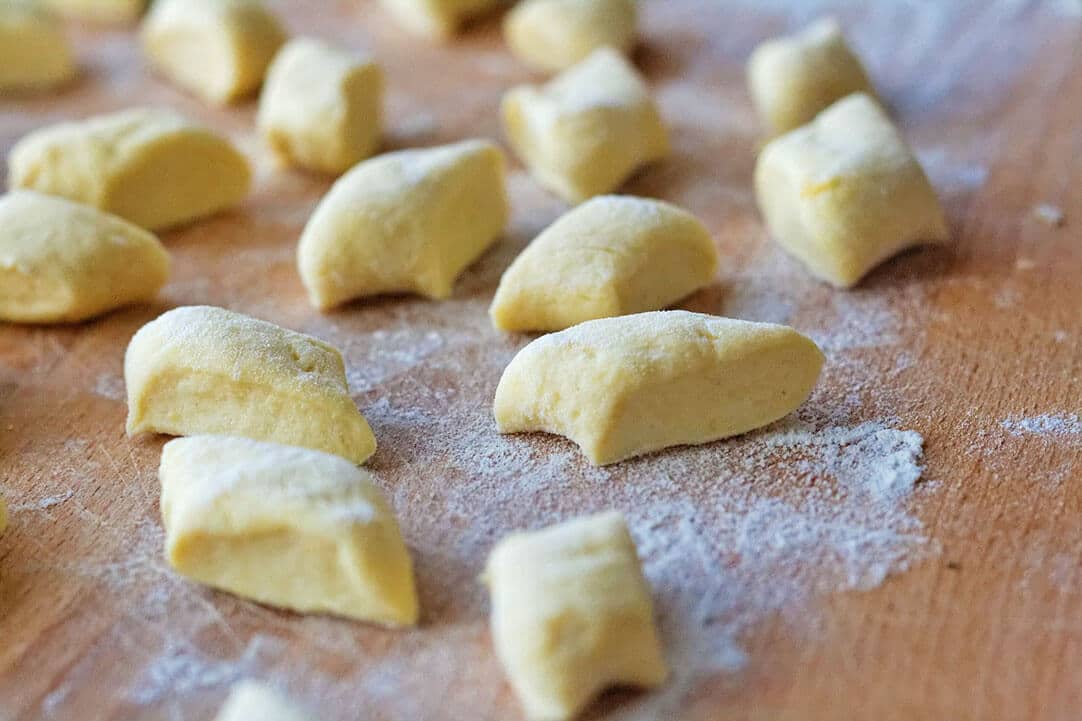 Beer in Krakow
If beer is your thing, then you'll be happy to know that Poland has seen an upsurge in small breweries. Polish beer (Piwo) is cheap and very good, according to Aldo. This explains also why Poland is becoming a popular destination for stag parties and beer lovers. There are about 90 breweries in Krakow, offering local craft beer as well as beers imported from Europe. Of course the local craft beer is much cheaper than the imported ones but the prices are still pretty low. On average a pint will cost you the equivalent of 2€.
Those that Al liked the most (I'm not much of a beer drinker, even if I love pubs) are:
Other must eats in Krakow
Bigos: Also known as Polish hunter's stew, is a stewed dish made with cabbage, dried sausage, dried mushrooms, onions and several spices. Cooking bigos takes two to four days, making it one of those very complex dishes I already told you about;
Golabki: Cabbage rolls filled with rice, mushrooms, onion and spices. I also tried a version with meat inside. The cabbage rolls are served with bread and boiled potatoes and they're covered with homemade tomato sauce;
Kotlet schabowy: It's a pork cutlet in a coating, served with potatoes and vegetables. Very closely related to the Wiener Schnitzel from Austria;
Kopytka: Another kind of dumplings, without a proper filling, and thus much softer than pierogi. They are served generally with pork scratching and fried onions;
Kluski slaskie: Also known as "Silesian dumplings". They are very soft and delicate. The Silesian dumplings are made from cooked potatoes and they have the shape of a flattened ball with a hollow in the center;
Placki ziemniaczane: They are mentioned in English menus as "Potato pancakes" but they are just grated potatoes in a batter with egg, onion and spices. Deep fried and served sprinkled with sugar, apple mousse or sweet curd cheese;
Goulash: This dish is originally from Hungary, but it was slightly changed in Poland. It's a meat stew served with potatoes and vegetables;
Paczki: the most well known dessert in Poland. It's round pieces of deep fried dough filled with custard or jam;
Sernik: Polish cheesecake, another very popular dessert in Poland;
Makowiec: A yeast cake stuffed with ground poppy, raisins, almonds or walnuts. It's generally covered with icing and orange peel.
Are you visiting Krakow? Buy the pocket Lonely Planet Krakow guide on Amazon: it will be super useful!
You might also like:
Where to eat the best pierogi in Krakow
How to visit the Auschwitz-Birkenau camps
The best European destinations for a fall trip
Guide to documents needed to visit Europe
If you're visiting Krakow in the cold months have a look at our super-useful packing guide for Europe in winter to learn a few hacks and steal some cool outfit suggestions!
Pin it for later!
Travelling Dany
Danila Caputo is a bilingual travel writer living in between Naples and the Amalfi Coast (Italy). She travels and works with her husband Aldo, photographer and videographer. Their blog chronicles their adventures around the world, Italian/European culture and tips on how to be responsible travelers. You can find out more about their latest trips and their life on Instagram and Facebook.