What to eat in Naples (Italy) like a local (and where)
This post includes affiliate links. As an Amazon Associate, I earn from qualifying purchases. Full disclosure.
There are so many things to eat in Naples (Italy) that sometimes travelers tend to feel overwhelmed. What are the authentic Neapolitan dishes and what is there just for show? Let me help you with that: as a local I'd love to introduce you to the 24 dishes you should add to your Naples food bucket list!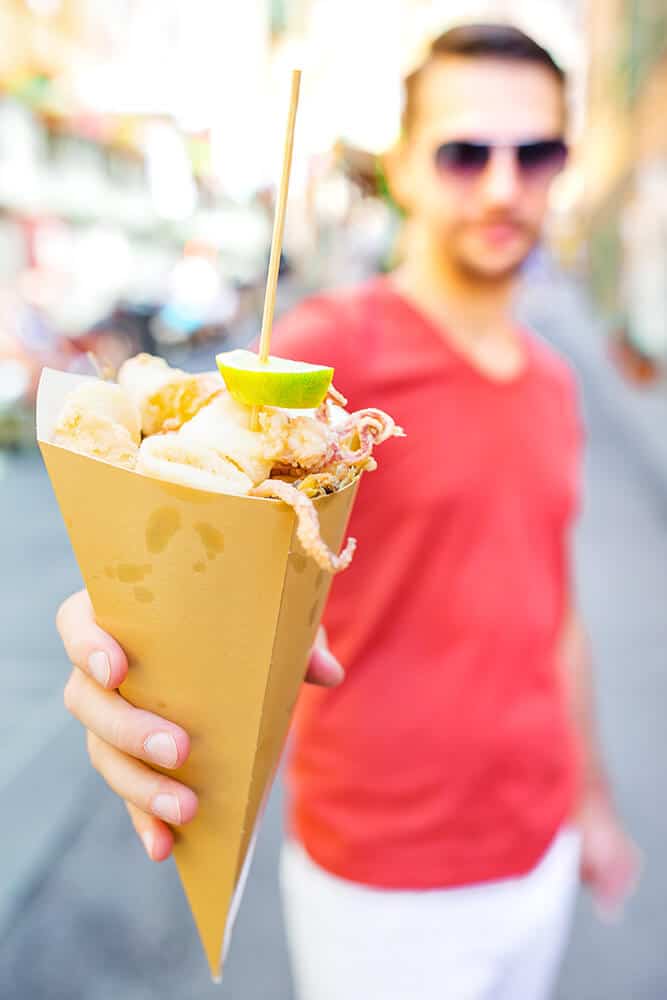 Let me walk you through the best places to eat in Naples and the dishes that you should never, ever skip if you want to live my city like a local. Take notes for your next trip to Italy on a budget!
Planning your trip to Naples last minute?

If you're booking your trip to Naples (Italy) and you are in a hurry, I can help you!
Below you can find some of our favorite tours, hotels and more!

Top Experiences and Tours in Naples:
1. Naples Underground: Entry and Guided Tour
2. Sorrento, Positano and Amalfi Tour
3. Pompeii and Mount Vesuvious Full Day Tour
4. Catacombs of San Gennaro: Entry and Guided Tour

Our Favorite Hotels in Naples:
1. Grand Hotel Vesuvio
2. Hotel & Apartments Piazza Bellini
3. B&B Hotel Napoli

Click to check out the updated rates for renting a car!

Us Neapolitans are passionate and quite opinionated about our cuisine.
Our food is as passionate as us, with strong flavors from the sea and ingredients enhanced by the sun and the fertile soil of our land.
We tend to use fresh ingredients as much as we can, cooking dishes that focus on fragrance and simplicity. In Naples there's something for every taste, from frutti di mare (seafood) to mozzarella di bufala.
Vegetarians and vegans are going to be perfectly fine in Naples because we eat a lot of vegetables with a yummy twist. And besides, you can wash it down with our delicious Neapolitan coffee, which is the best coffee in Italy!
An important tip? Don't let the Internet tales scare you from visiting or lodging in Naples Old Town. Naples is a safe city, and the oldest part of it are where you will find the best, cheapest food options!
Worried you'll need a bit of help?
Download the FREE Italian Travel Phrasebook here! It includes the correct Italian pronunciation and lots of useful sentences that you'll be able to use on your trip to Italy!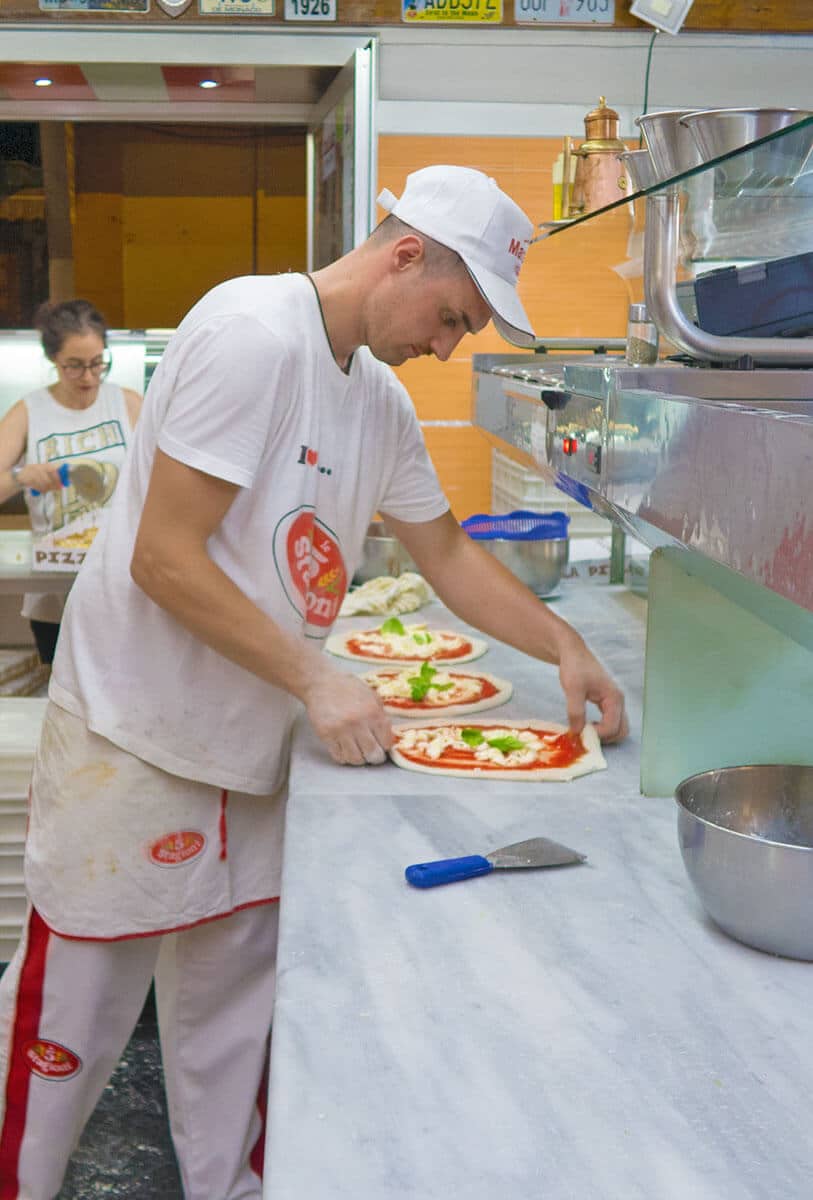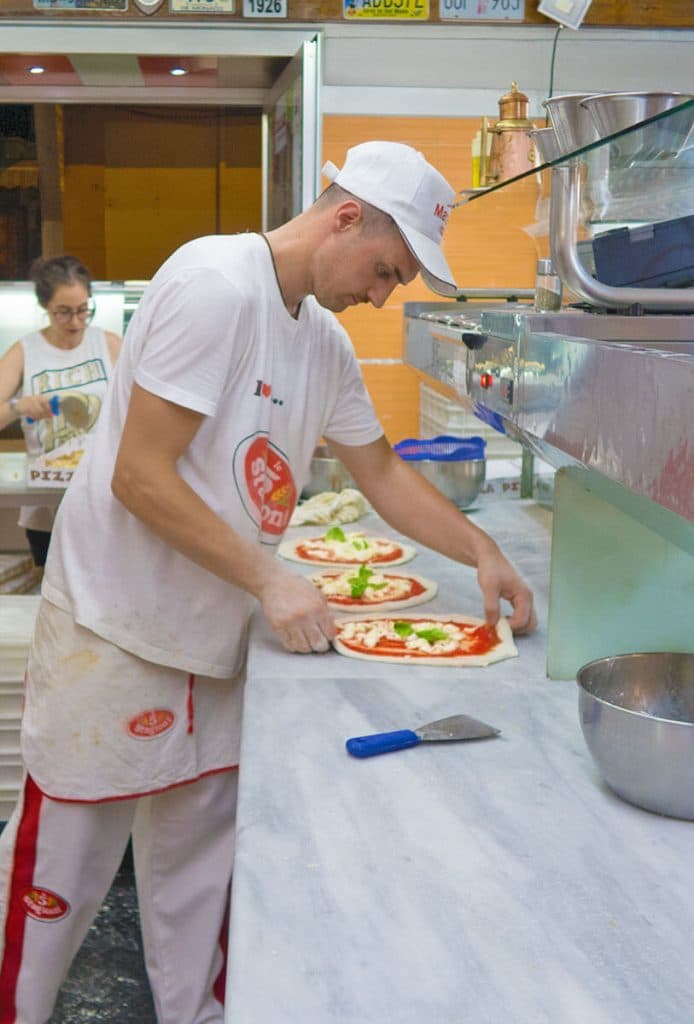 Quick Links to Post Content
Naples Pizza
Pizza margherita as we know it, is the most famous type of pizza.
Topped with tomato sauce, olive oil, fresh basil and mozzarella cheese (have you watched our video to discover how it's traditionally cooked?), it was originally created in Naples in the early nineteeth century.
Naples is the birthplace of the traditional pizza.
The "pizzaiolo" Raffaele Esposito wanted to represent the national colours of the Italian flag on a pizza, to honor the Italian Queen Margherita of Savoy.
Many Countries and other Italian regions try to reproduce the original Neapolitan pizza, but it has a different taste even if you just eat it in another part of Campania region so it's probaby impossible!
You might also like:
– Discover the Different Types of Pizza in Italy
– How to tip in Italy: a handy guide
The secret of Neapolitan pizza lies probably in the water and in the natural leavening. It can take from 8 to 12 hours (some pizzerias also work with a 24 hours leavening!).
That's why you can't visit Naples without eating the authentic pizza Margherita.
Our version is soft, thin and pliable, while in Rome and other Italian cities they make a different version, more crispy: Neapolitan purists refuse to consider that "real pizza".
Where to eat the best pizza in Naples
Four places are competing for the title of best pizza in Naples. Three are widely popular. The third one is the foodie option only us Neapolitans know about.

Pizzeria Michele is also lovingly called "Temple of the Holy Pizza".
It has made the history of Neapolitan pizza since the second half of the nineteenth century.
Their secret is the exclusive use of fresh products and the traditional phase of the dough rising. In this pizzeria you will only find two simple types of pizza: Marinara (tomato sauce, garlic and oregano) and Margherita.
Pizzeria Sorbillo was opened in 1935 and yet it has found a new success after a series of cooking shows on tv.
The owners, Gino and Antonio "Totò", will welcome you with the latest pizza trends or meatballs with tomato sauce.
They are especially famous for their deep fried pizza, filled with ricotta cheese, pepper and mozzarella cheese.
Pizzeria Sorbillo has won the "Best Neapolitan pizzeria in the world" award in 2016. Booking in advance is mandatory. The queue outside is always pretty long but the service is quick!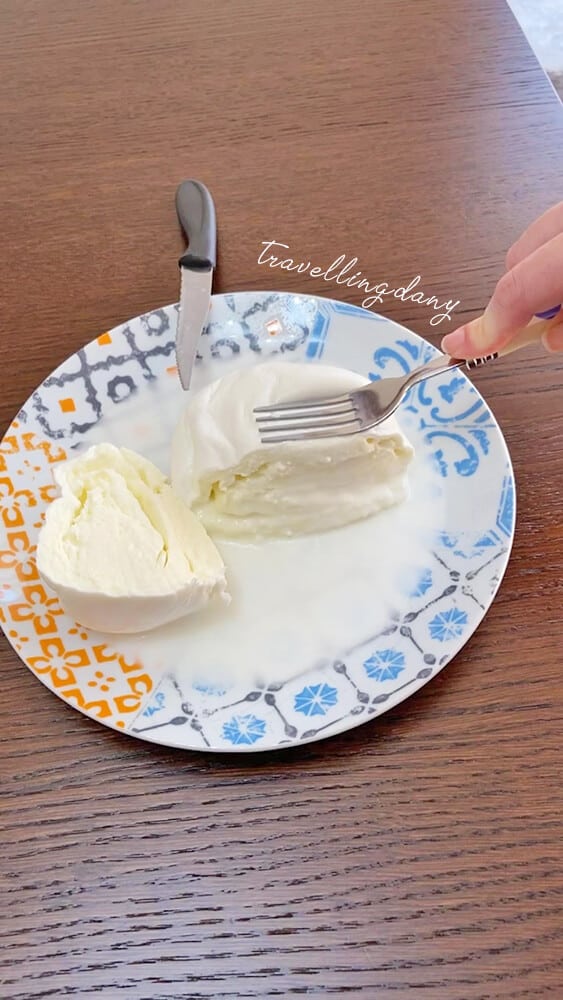 If the first two are super busy, let me suggest a third option: Pizzeria Trianon.
This is a place I've been eating at since when I was a little kid. It hasn't changed one bit.
Forget the classy restaurants: here you sit at marble tables, with no frills at all. Pizza is all that matters.
At Pizzeria Trianon you will eat what us Neapolitans know as "rota e carretto" (chart wheel).
This pizza is much bigger than the traditional Pizza Margherita you will eat elsewhere in Naples.
I'll be honest: it's huge! But you just can't say no, especially because it's pretty cheap.
At Trianon you will only find the basic kinds of pizza. Margherita, Marinara and Margherita with mozzarella di bufala.
On the other side of the street, you can find one of the historical theaters in Naples: Teatro Trianon.
Here our most famous artists like Totò have performed on stage. As the Pizzeria Trianon proudly states, they used to eat pizza "rota e carretto" every day.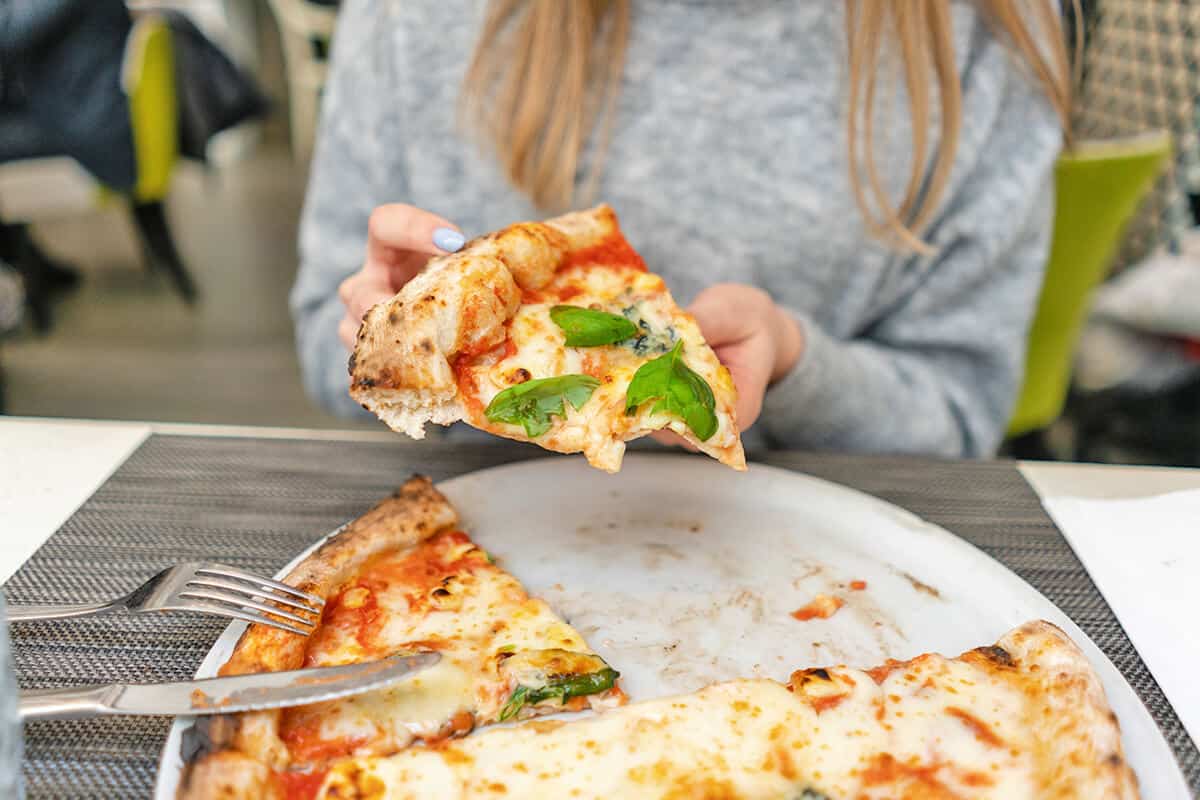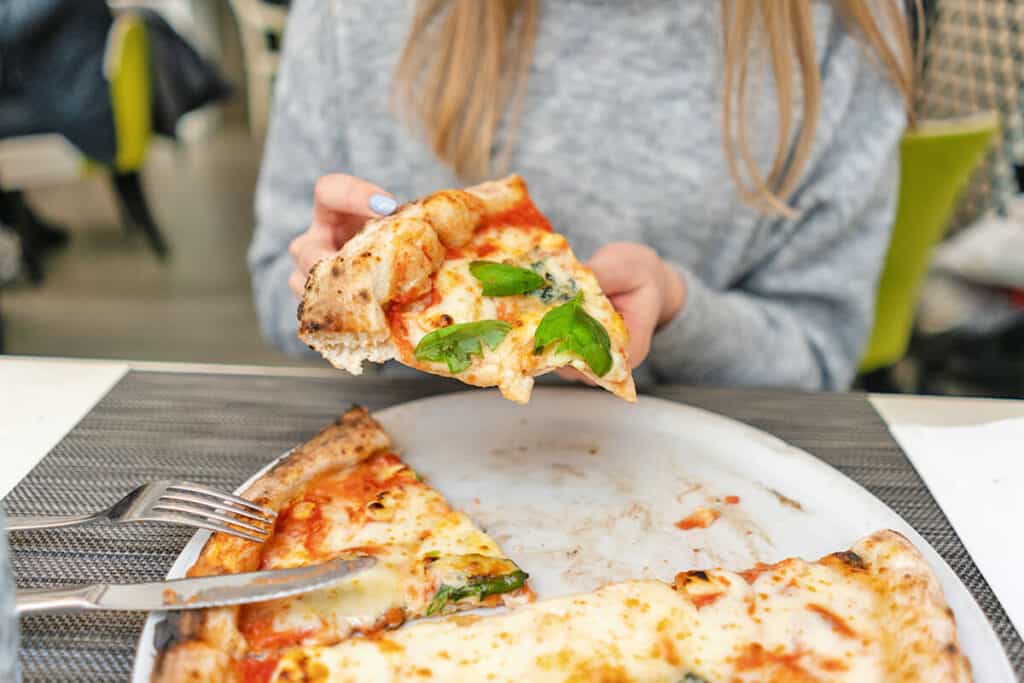 Ok, how about I tell you about a secret pizzeria you won't find anywhere else?
Starita a Materdei is the one non-touristy place where you will eat a fantastic Neapolitan pizza. One of the absolute best, if you ask me.
This place dates back to 1901 and is one of the pizzerias us Neapolitan love the most.
While they also opened stores in Milano, New York and Torino, their first pizzeria is the one that makes the best pizza ever.
If you have watched the movie The Gold of Naples with our beloved Sofia Loren, you might recognize Starita as the place where Sofia was filming the scenes in which she prepared traditional pizza.
While there are quite a lot of delicious types of pizza on the menu, us Neapolitans have a saying. If they can make a great pizza Margherita, then they're absolutely a great place to eat.
Margherita might look "simple" but it's very difficult to make us happy so try Margherita at Starita and you'll know what the fuss is about!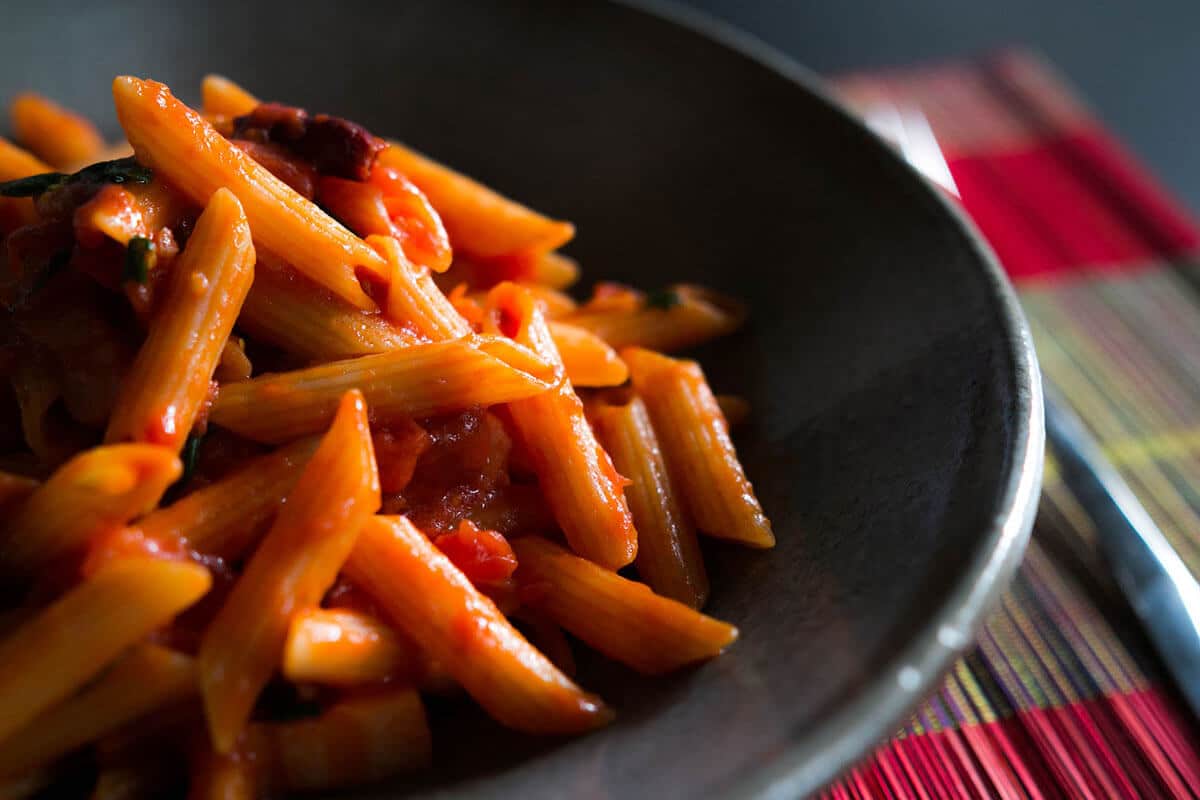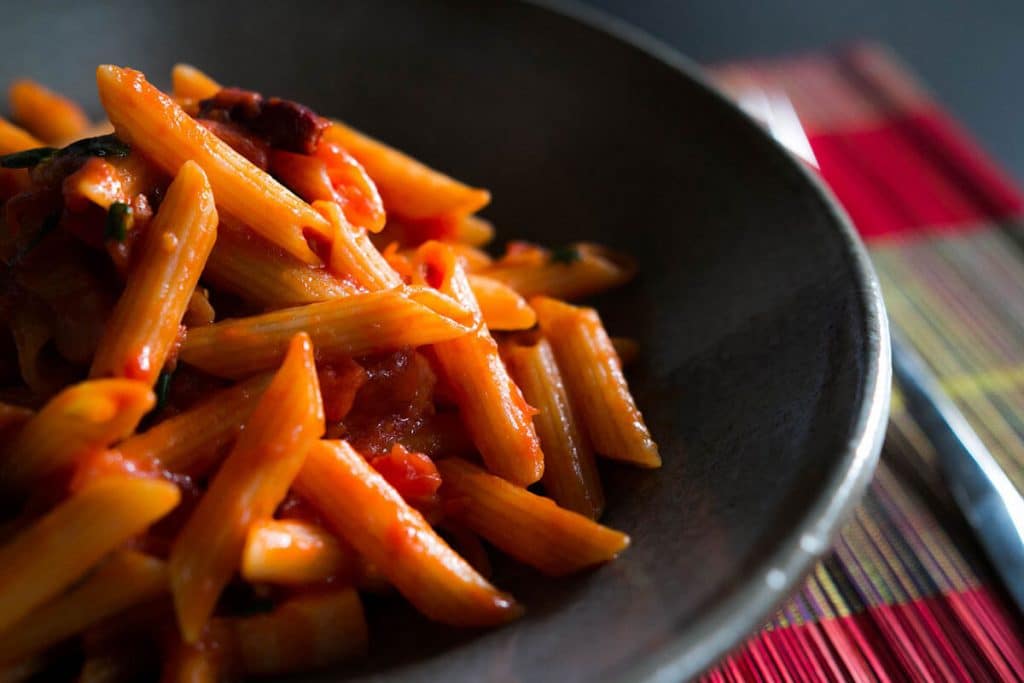 Best Naples Sauce: Ragù Napoletano
In Naples there's one tradition you can't escape.
The family lunch with ragù sauce on Sundays.
Moms and grandmoms start cooking it early in the morning, because it has to simmer on low heat for several hours. The Neapolitan ragù is used on homemade pasta (many Neapolitan moms and grandmoms still make fresh pasta from scratch!), served with some grated parmesan.
When you finish your pasta, you are allowed to eat the sauce in your plate with some freshly baked bread.
It's called "scarpetta".
There's only one place in Naples where you can eat the traditional Neapolitan pasta with ragù: Tandem restaurant.
Booking in advance is your best chance to find a table. The place is tiny and exactly as you'd expect it. Red and white tablecloths, wooden chairs and old photographs on the walls.
You can choose the pasta you want with your ragù but I especially recommend the Neapolitan classics: ziti, mezzani, manfredi, or rigatoni.
The chef here demands that you do the "scarpetta", so unless you want to offend him, clean the ragù off your plate with some bread!
Bonus: the servings are huge and the scent is divine!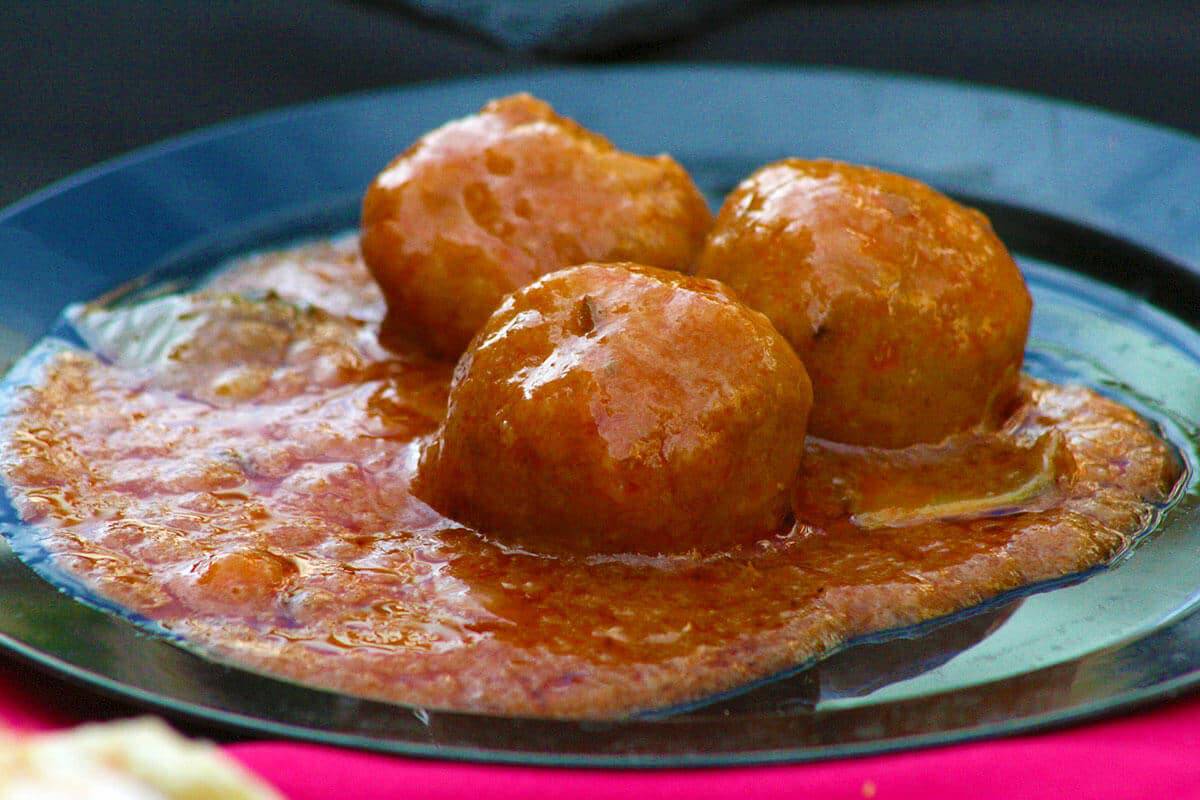 Must eat dish in Southern Italy: Polpette (meatballs)!
Directly linked to the ragù sauce, Neapolitan polpette (meatballs) are very popular, especially if served with the "cuzzetiello".
But what is "cuzzetiello" in Naples?
It's the final part of a loaf of bread, emptied so that only the thick crust remains. It then becomes a deliciously scented bowl, filled with hot polpette and ragù sauce.
Lately this delicious dish has has found its place in the Naples street food scene.
The prices are quite low, we're talking of about 5€ for a serving, so a bit more than 5$.
Each serving includes 2 to 3 meatballs with Neapolitan ragu sauce. The scent alone is divine!
Some kiosks also serve deep fried meatballs with cheese, or with a spicy sauce.
Polpette are easy to eat as you walk, will fill you and won't empty your pockets.
One of the most famous places where you can eat this delicious dish is O Cuzzetiello, a kiosk that offers several kinds of fillings for your bread bowl.
Another very cute and romantic bistrot is Salumeria Upnea, that mixes chabby chic and Neapolitan elements. You can either get your cuzzetiello to go, you can eat there.
The locals love their panini, with cheese and mozzarella di bufala, served with a lovely glass of red wine.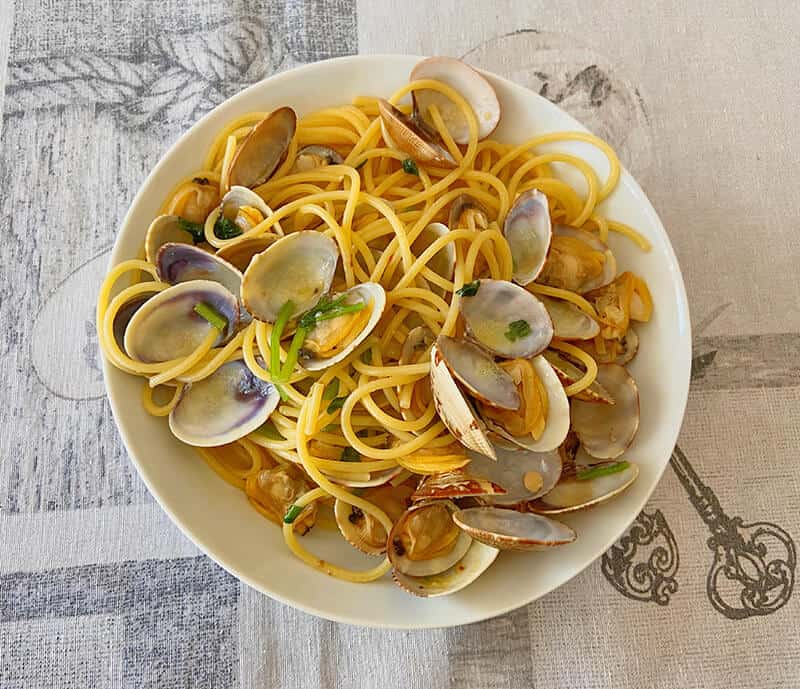 Spaghetti con Vongole
Spaghetti con vongole is one of the pasta dishes that you can find in Naples basically everywhere.
Naples is in fact famous for its clams: they're juicy, they taste like our sea and not like sand.
Which is what happens when you eat "vongole" that haven't been cleaned up well.
Many restaurants serve spaghetti con vongole as is.
Cooked with simple ingredients.
Olive oil, spaghetti, fresh parsley, clams and garlic.
You can add black pepper or chilli flakes if you like your food spicy.
A rare occurrence is to find a restaurant menu that offers spaghetti con vongole with fresh tomatoes.
While the traditional recipe is one of the best pasta in Naples, this version is usually one of the popular dishes we cook for the holidays.
It originated in Naples, and many families – including mine – cooks it on Christmas Eve.
In case you find it on the menu try this version as well. It's delicious!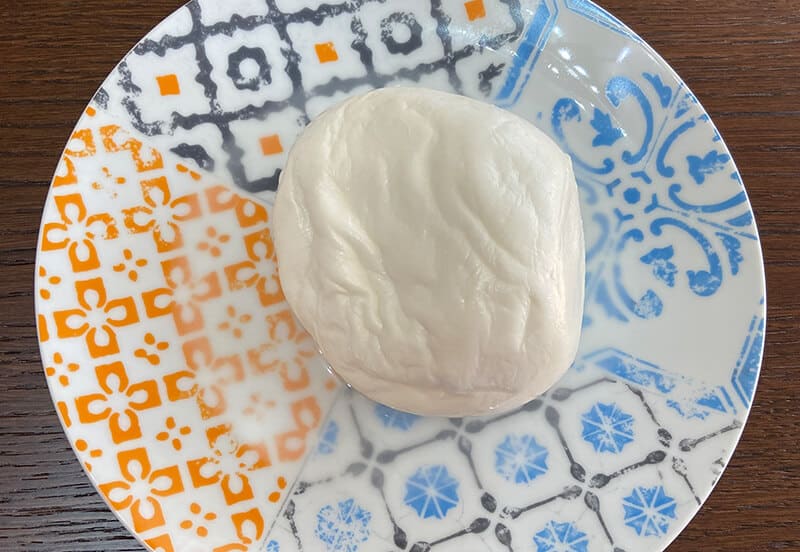 Mozzarella di Bufala
Buffalo mozzarella is the food in Naples (Italy) that you can often find in documentaries.
You can find it at other touristy places around Italy.
But we're the ones who have the real stuff.
Neapolitan Mozzarella di Bufala is a DOP product, which means it is protected by specific laws and rules.
It has to be produced exclusively in certain areas, with a specific kind of milk and using a specific recipe.
Naples is famous thanks to its mozzarella di bufala, and for a good reason!
Mozzarella di bufala is made from the milk of the Italian Mediterranean buffalo.
This fresh cheese has to be chewy, and slightly salty.
We usually have it with Italian prosciutto crudo and cantaloupe melon.
One of the traditional Italian antipasto dishes served everywhere in Naples.
Where to find the best buffalo mozzarella in Naples
There are quite few places where you can buy the absolute best, authentic mozzarella di bufala in Napoli.
My favorite two have a lot of history.
One is Salumeria Rafele o'Lattaro, located in the oldest part of Naples, in Via dei Tribunali.
It was also mentioned in a very popular photography book by our philosopher Luciano De Crescenzo "La Napoli di Bellavista".
This salumeria dates back to 1958 and is still family-owned!
Another family-owned store is Antica Caseraria Fierro, which dates back to 1948.
You can find it at Via Mergellina, super close to the amazing Lungomare Caracciolo.
One of the romantic spots in Naples.
In case these two are closed when you're visiting Naples, have a look around the city.
There isn't just a "best one": many shops sell fresh DOP buffalo mozzarella!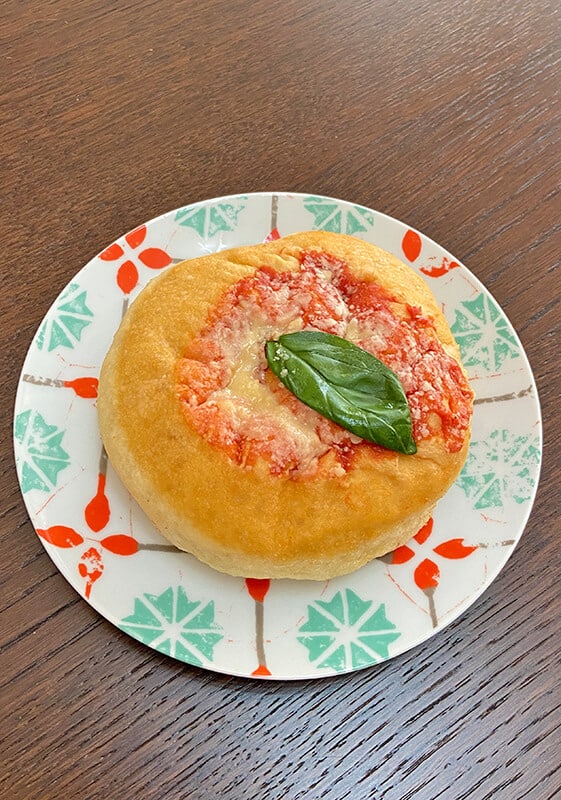 Pizza Fritta Napoletana – And the difference with Montanara
Naples is not expensive when it comes to food.
But you have to know what to order and you should definitely avoid the touristy places.
One of the best food in Naples you can buy with less than 7€ is Pizza Fritta.
Yes, you read that well: it's a type of deep fried pizza!
Here we consider pizza fritta like a popular street food.
Us locals absolutely love it, and we often buy it at street food kiosks. Where it's super cheap (sometimes sold for less than 5€) and served piping hot.
In case you're super hungry and visiting Naples on a budget, try pizza fritta!
It's cheap, filling and one of the Napoli dishes I promise you won't find anywhere else in Italy!
The traditional pizza dough is filled with ricotta cheese, black pepper, fiordilatte cheese and pork rinds.
Sometimes pizzerias also sell pizza fritta with salame napoletano (Neapolitan pepperoni) in stead than using pork rinds.
The pizza is then closed to a half-moon shape, so the filling stays inside. And it's deep fried.
While many websites state that the traditional pizza fritta has tomatoes in it.
Nope, not true!
As a true Neapolitan living in Naples I can assure you that authentic pizza fritta has no tomatoes.
What they might refer to is pizza fritta Montanara.
Which is still deep fried but has no filling.
Montanara is also a cheap street food, sometimes served as antipasto at bars and restaurants.
The difference with pizza fritta isn't just the filling.
This version is served with tomato sauce on the top, freshly grated parmesan and fresh basil leaves.
Let me state it again.
Dishes like these are only served in Naples!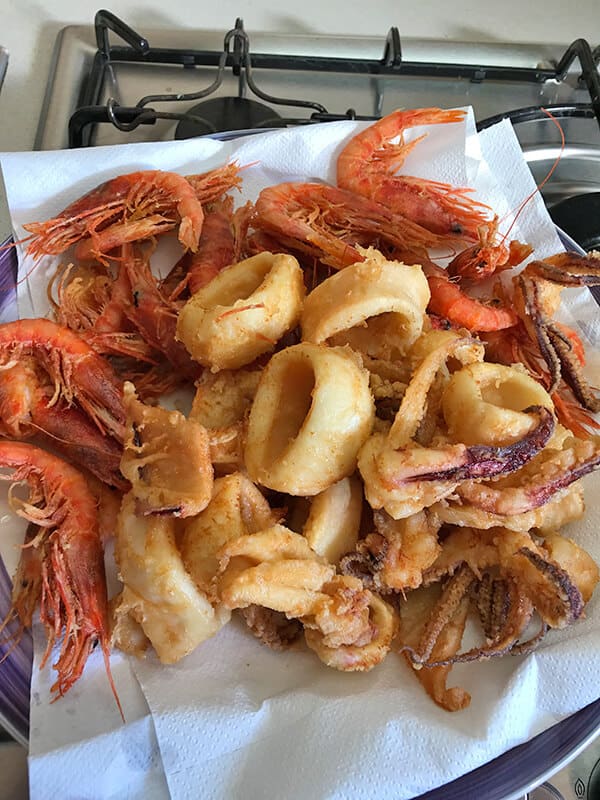 Frittura di Gamberi e Calamari
One of the yummy seafood dishes not many people know about is Frittura di Gamberi e Calamari.
As you might already know, fish and seafood is a big thing in Napoli.
When I was a little girl I used to walk with dad at Mercato del Pesce in the old part of Naples, or at Lungomare Caracciolo where the fishermen sold what they caught early in the morning.
Seafood is a way to eat here in Naples, and it has been for the past century!
This dish is exactly what you think.
Deep fried shrimps served with deep fried squid.
One of the must-eat Naples seafood dishes if you have had enough of pasta!
The only two things that go with Frittura di Gamberi e Calamari are a pinch of salt and some good Italian white wine.
That's it.
Some tourists think that they should also add freshly squeezed lemon.
But let me share a secret from the locals: if you need lemon so that your fish tastes good, then the fish is not fresh at all!
Frittura is also of the Italian dishes you can find in other parts of Italy.
Yet it is different according to where you order.
Sometimes there's no fish at all and only vegetables.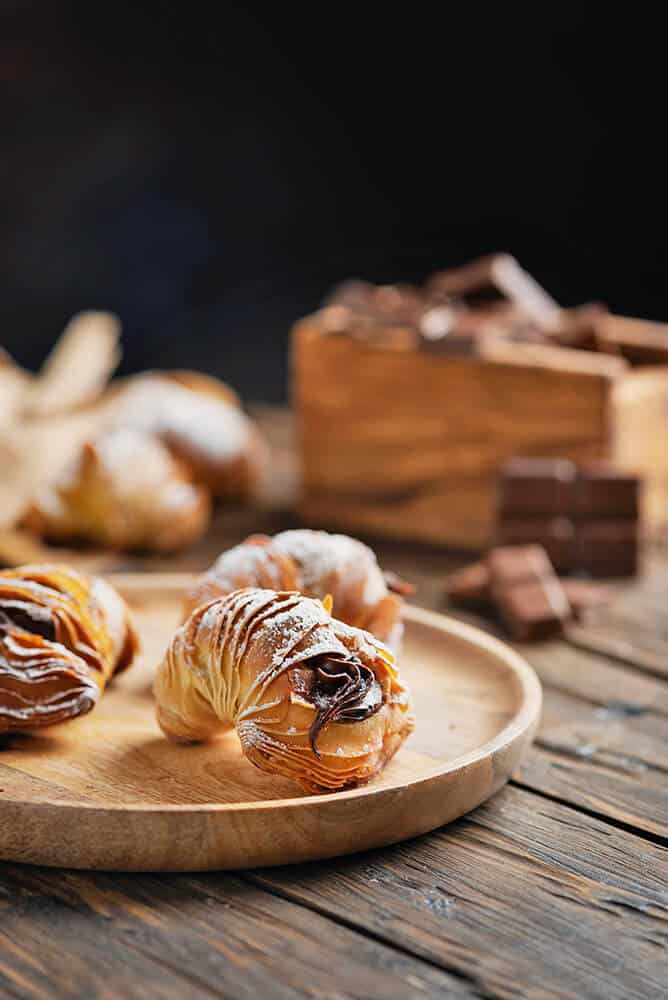 Queen of Neapolitan cuisine: Sfogliatella
Sfogliatella is a traditional pastry that you can eat in two versions: riccia or frolla.
Sfogliatella frolla looks like a clam, crispy and filled with ricotta cheese, vanilla, cinnamon and candied fruit.
Sfogliatella riccia has the same filling but the outside is made of soft shortcrust pastry.
Both have to be eaten warm and possibly with a cup of Neapolitan espresso. Yeah you can have one whenever you want, but us Neapolitans prefer to eat it in the morning for a real "breakfast of champions"!
Which one do I prefer as a local?
Sfogliatella frolla, because I think that there's nothing better than the spicy scent of cinnamon, mixed with the butter of the shortcrust pastry.
Santa Rosa is a pastry that was created on one of the towns on the Amalfi Coast. It looks like Sfogliatella riccia but it's topped with custard and cherries in syrup. Not every shop in Naples has it but it's very popular on the Amalfi Coast!
Bonus: Another delicious pastry that you can eat for breakfast in Naples, but especially on Capri island is Torta Caprese, made with chocolate and almonds!
Where to buy the best sfogliatella in Naples
The most famous places where you can eat delicious Neapolitan sfogliatella are Sfogliatelle Mary, in Galleria Umberto I, Attanasio, near the Central station, and Pintauro, a typical shop specialized in sfogliatella frolla. You can find it on Via Toledo.
In general we can say that sfogliatella is a great snack you can grab while exploring all the things to see in Naples: you'll find them everywhere you go!
Naples food walks hand in hand with Espresso
Coffee in Naples is a form of art.
The cup has to be, very hot, because it is believed that the warmth enhances the aroma of the coffee.
The espresso is always served with a glass of water that you have to drink before the coffee.
Beware: authentic Neapolitan espresso can be particularly strong if you're not used to it!
Many cafès in Naples will also spoil you with butter cookies or a bit of chocolate that will help you to deal with the strong taste.
Let me confess: in Naples we are coffeeholic! And nope, we're not even a bit sorry about that!
You probably didn't know it (or did you?) but in Naples we have one of the 10 best cafes in Italy.
Located between the beautiful piazza del Plebiscito and via Chiaia, not too far away from the Royal Palace of Naples, the San Carlo Theater and the Galleria Umberto I, it's impossible to miss the Gran Caffè Gambrinus.
You might also like:
38 Famous Italian Drinks & Wines you should try in Italy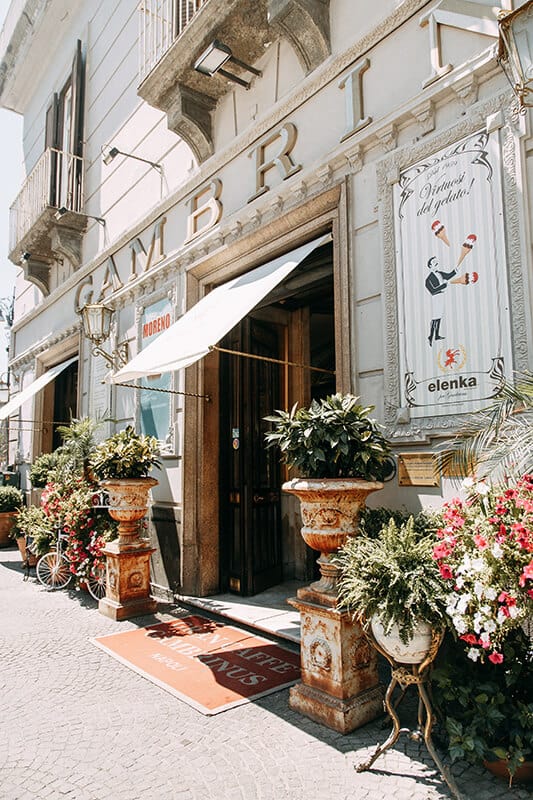 This historical café was opened in 1860 and it was an immediate success.
During the Belle Epoque its golden rooms were filled with artists and writers who gathered there to attend the Cafè Chantant (live concerts famous among the nobles).
The Gambrinus was so open minded and liberal that during the Fascist era it was closed, deemed too dangerous for the regime. It was luckily reopened right after the war, to give back to Naples its most iconic cafè.
The Gambrinus is one of the spots in Naples where you can easily meet actors, celebrities, politicians and intellectuals. Totò, the De Filippo brothers, Oscar Wilde, Ernest Hemingway, Jean Paul Sartre and many others have been drinking espresso and eating gelato or sfogliatella at Gambrinus.
Stepping inside this illustrious cafè will make you feel like walking into another era.
Next to Gambrinus there's another tiny café, Caffè del Professore. It's cheaper and offers many yummy alternatives to regular espresso: with white chocolate, nutella, pistachio and more!
Local places to eat Alici fritte (Neapolitan deep fried anchovies)
The Neapolitan "Cuoppo" is a cone of paper filled with delicious food, and it's a classic of Naples street food.
Generally served to go, lately it has been seen also at restaurants or in pizzerias in a smaller version, usually as a starter. Well, alici fritte (deep fried anchovies) are the queens of the cuoppo.
We've had anchovies on our tables for centuries, because they are a cheap kind of fish, abundant in our area, that can be cooked in several (all delicious) ways.
The most famous anchovies are those from Cetara, a tiny village on the Amalfi Coast, that you can also find also in Naples.
Where to eat Cuoppo and Alici Fritte in Naples
If you want to try a cuoppo di alici fritte, the 3 main places where you can eat the best (anche cheaper) ones are Il Cuoppo – Friggitori Napoletani, that makes several fillings for cuoppo, even sweet ones.
Then Friggitoria Verace, where they only make fish cuoppo, but sometimes you can also buy a sfogliatella as a dessert.
And Passione di Sofì, another to go place, with a cute, traditional setting that seems to recall the old Naples with modern tastes, scents and looks.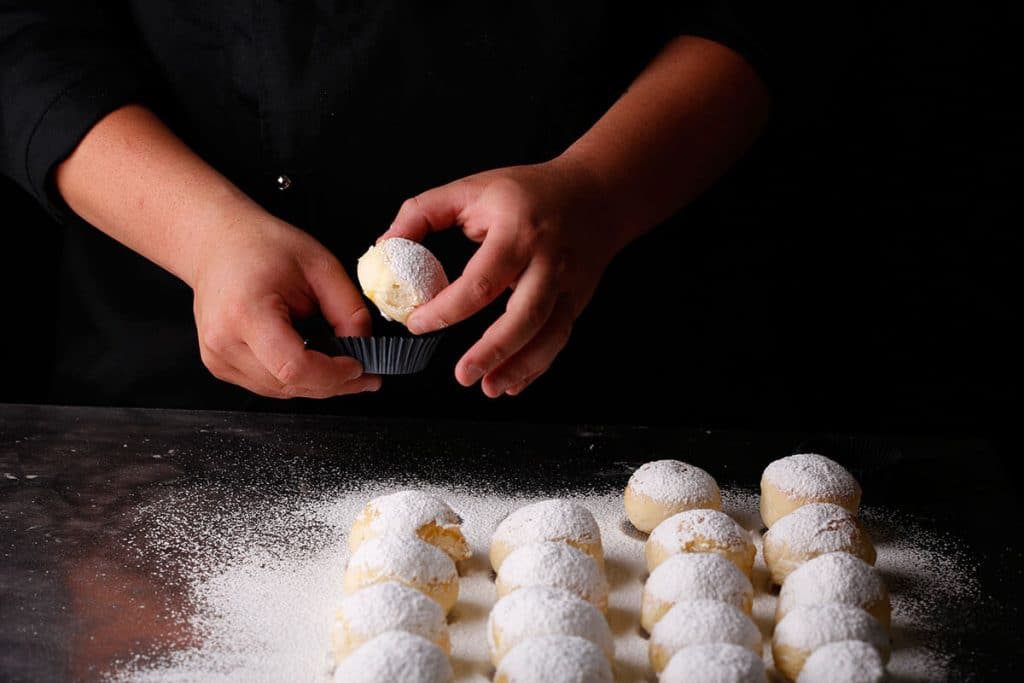 Neapolitan dessert: Fiocco di neve
If you want to see "snow" in Naples, then there's only one place you can go to: Pasticceria Poppella.
Because our city is so warm, we very rarely see snow. So this little pastry shop, opened since 1920, decided to make a particular kind of Neapolitan snow.
Ciro "Poppella" Scognamillo and Ciro Oliva created the "Fiocco di Neve" ("snowflake" in Italian), a special pastry that has to be eaten within 12-36 hours from the making, to preserve its quality.
The original recipe is top secret, but we know it's some kind of sweet and soft pastry (they let the dough rise for 8 hours) filled with a velvety and light cream that might be a mix of goat ricotta cheese, whipped cream and yellow cream, with a taste of citrus liquor.
When it's ready, the Fiocco di neve is topped with powdered sugar and served.
You can finish it in 1-2 morsels, because it's small, and you'll immediately want another one!
Parmigiana di melanzane
The Parmigiana di melanzane (eggplant parmesan) is a typical Neapolitan dish that every grandmom cooks for her children and grandchildren. It's made with local products and so irresistible that even those who are dieting can't say no, no matter how many (too many!!!) calories it has.
Think of Parmigiana di melanzane as layers of deep fried eggplants (the long ones) with tomato sauce and basil. Mized to layers of mozzarella cheese or smoked provola cheese (the fresh kind).
The topping is usually tomato sauce with parmesan and a few basil leaves.
The eggplant parmesan has to be cooked a second time (after frying the eggplants) in the oven, so that the layers and the flavours can mix.
It takes a long time to make Parmigiana, but once done, it never lasts much!
A few pizzerias have started to top pizzas with Parmigiana di melanzane. Try it if you want, but it's… So. Very. Heavy.
Where to eat a mean Parmigiana di Melenzane in Naples
The restaurants that make the best Parmigiana in Naples are Ristorante e Pizzeria Leon d'Oro, where also celebrities often dine.
It's located in a spectacular square, Piazza Dante, that you can reach using the Art Metro.
And Osteria da Carmela, that has been feeding Neapolitans for the last 50 years with traditional dishes. It's always better to book a table in advance!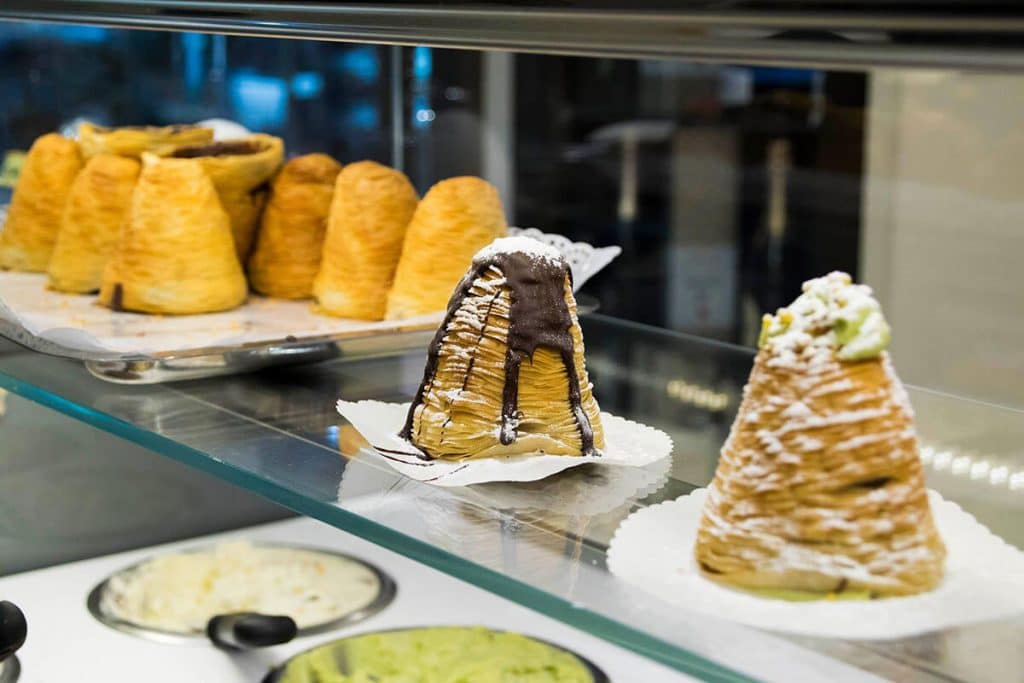 One of the best things to eat in Naples: The New Sfoglia Campanella
In Naples there's always something new to try, as our bakers definitely like to spoil us. Because two sfogliatella versions weren't enough, a pastry shop has invented a new variation on the theme that has immediately gone viral on the net… and in every other shop.
The new pastry is known as "sfoglia campanella", because it looks like a little bell, with the same crispy outside of the sfogliatella riccia.
Yet this one is filled with a tiny babà (more on this later on in this article), enveloped in creamy white or dark chocolate, and some ricotta cheese cream. It's an explosion of flavours that you just won't forget. A taste of Naples with each bite.
Many shops have created different variations of the sfoglia campanella, but the original version can be found only at Sfogliatelab, where the mind behind this masterpiece, Vincenzo Ferrieri, is still on the lookout for new ideas.
In case you're looking for some Italian souvenir, remember that Neapolitan Sfogliatelle or Sfoglia Campanella will spoil after a day!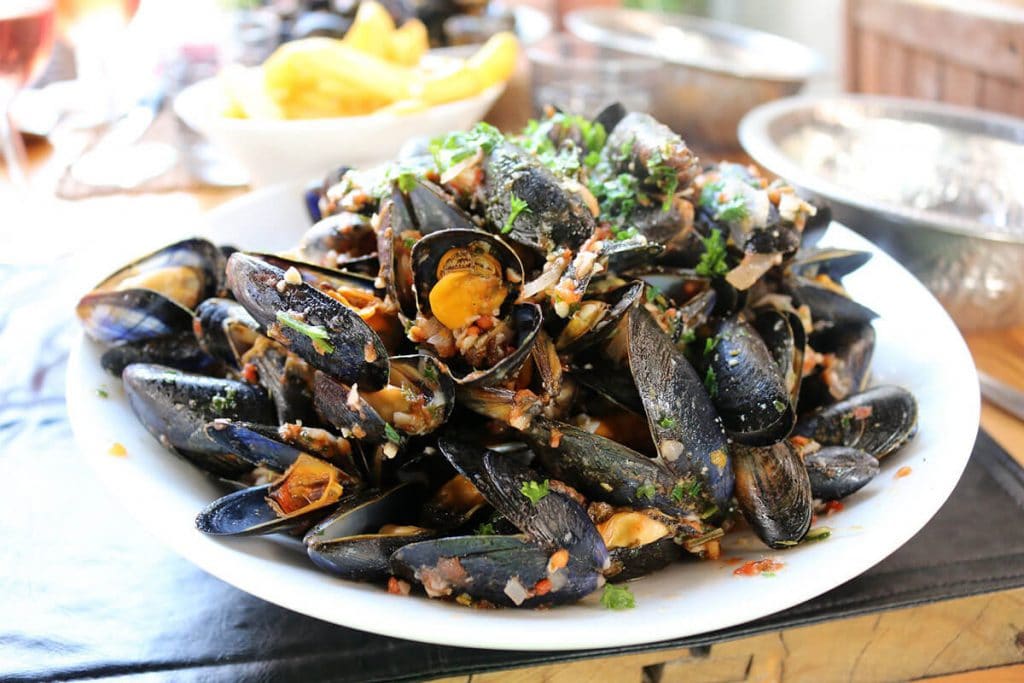 Traditional Neapolitan food: Impepata di cozze
In every street or restaurant in Naples you will find this dish, also seen as "zuppa di cozze" (a name that might make you think of a mussels soup, which is not).
Impepata di cozze means "mussels with pepper" and it's one of the most loved recipes of our tradition, served as a main dish. It's more delicious in the months when the local mussels are bigger.
My dad, like every other Neapolitan who loves to eath seafood, could be able to tell you in a second the months of the year when the mussels are bigger and tastier!
The legend states that King Ferdinand I of the Two Sicilies fell in love with this dish from Naples, because of the strong taste. There are variations of the Impepata di cozze with a lot of pepper of even with hot sauce… I prefer the basic version!
Where to eat mussels in Naples
One of the places my dad loves the most for the Impepata di cozze is Da Corrado, in via Foria. Here you will sit at tiny tables on the stairs of the Botanical Gardens.
Another famous restaurant is also A taverna do' Re, in the Old Town. Their dishes are very nice to look at, and the prices are absolutely fair.
If you're looking for a romantic location for your evening dinner in Naples, then head over to Castel dell'Ovo, where you can eat at Da Patrizia, in Borgo Marinari.
They have tiny tables near the sea, next to the Egg Castle, in one of the most beautiful and romantic areas in Naples. The prices are fair, all things considered!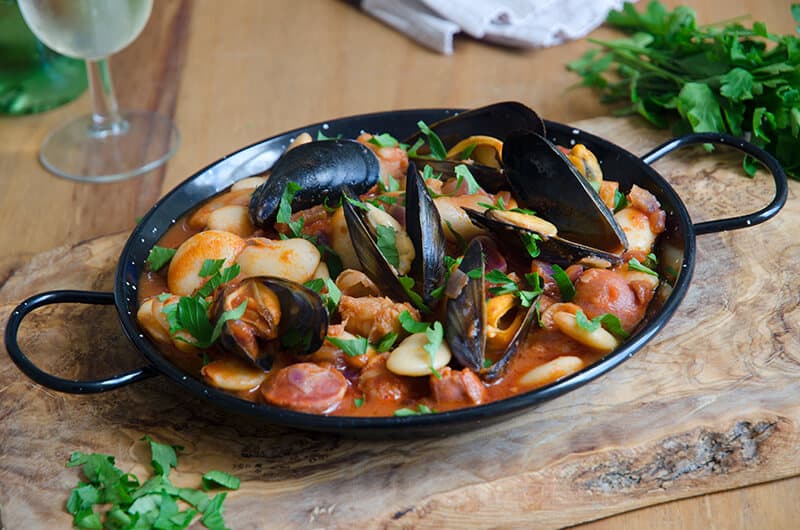 Fagioli e Cozze
Another one of the mussels dishes you must try in Naples is "Fagioli e Cozze".
Usually served with pasta.
My Caputo grandad absolutely loved gnocchetti pasta with fagioli e cozze!
It was his favorite dish till his last day.
Whenever we cook it at home we always think of him so it's bittersweet for us.
As you might have guessed, this is a pasta dish cooked with creamy beans and mussels.
It's super traditional and to be honest I'm not sure it's been heard of outside of Italy.
Sometimes Italians who do not live in Naples like me don't even know what I'm talking about!
Where to eat seafood and pasta dishes in Naples
You can find pasta fagioli e cozze or impepata di cozze at many of the best restaurants in Naples.
Yet the following ones are the places where locals like us go to eat!
Da Nennella is possibly one of the oldest ones in Naples, dating back to 1949!
This family-owned restaurant makes a mean pasta e fagioli con cozze.
Do not ask for a reservation: tables are assigned on a first-come-first-serve basis.
O' Munaciello is located in the oldest part of of our city.
Popular among those looking for unusual things to do in Naples because it's a good place to stop when you've been walking all day.
Piazza del Gesù is absolutely amazing and so is this ancient restaurant!
Antichi Sapori is one of the romantic restaurants in Santa Lucia, near the Grandi Alberghi in Naples.
Super close to the sea and Castel dell'Ovo.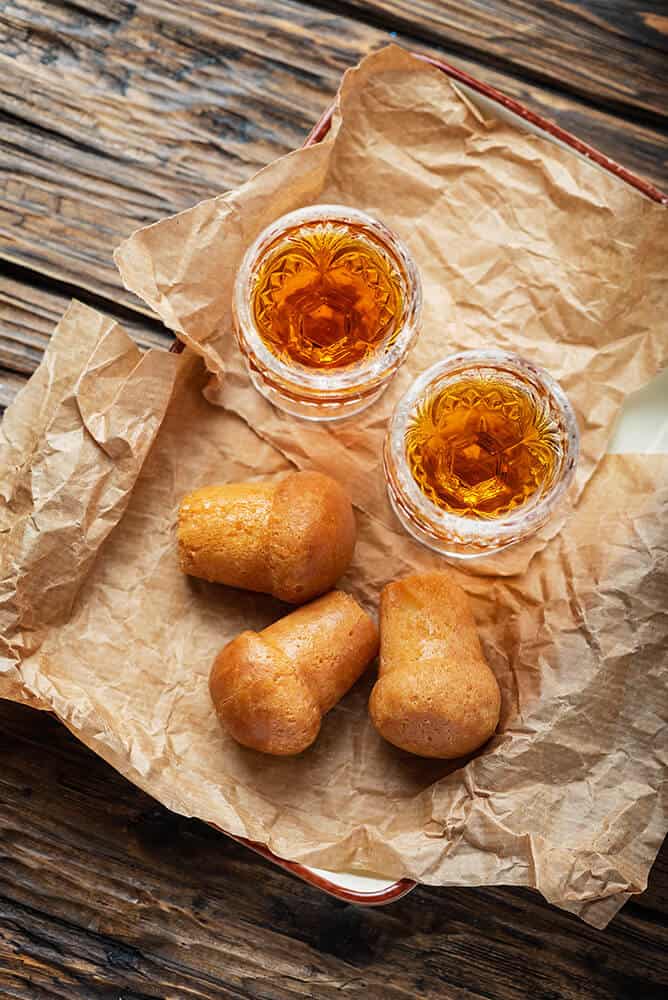 Babà: pastry with an ancient tradition
A few days ago me and Aldo were drinking an espresso at one of the kiosks on Lungomare Caracciolo. A tourist came in with his wife, asking in a perfect English if he could have "the best typical pastry".
The barman didn't hesitate: he served them a babà with rhum, whipped cream and fresh fruit. They wolfed it down within minutes.
Click to walk with us in Naples and watch our Neapolitan vlog!
Babà is in fact one of the classic pastries of Naples, that you absolutely have to try.
This pastry was created in Poland, then modified in France, and became the symbol of Naples, where they finally gave it the "mushroom" shape we see today. It's spongey and very soft inside, with a light brownish crust on the outside.
Babà is soaked in rum, water and sugar, and serve it alone, or with whipped cream, chocolate, strawberries or fresh fruit.
Lately I've also seen a new version that you can eat with a fork while watching the shops say in Via Toledo. It's a tall plastic glass filled with several tiny babà and gelato, whipped cream or fruit.
Several shops on Via Toledo sell it already.
Where to eat babà in Naples (Italy)
I am in love with the babà that Sfogliatelle Mary makes, both the basic one and those with whipped cream and tiny strawberries.
Pasticceria Scaturchio is another famous spot, where they invented the "babà Vesuvio", which is a babà shaped like Mount Vesuvius, surrounded by several tiny mushroom-shaped babà.
If you are at the Central Station, ready to leave, then think about buying some sfogliatelle and babà at Attanasio, the closest one to the Central Station.
Because it's common that people want to buy pastries before to return home, there's always a bit of a queue, but the service is quick so you won't have to wait too much!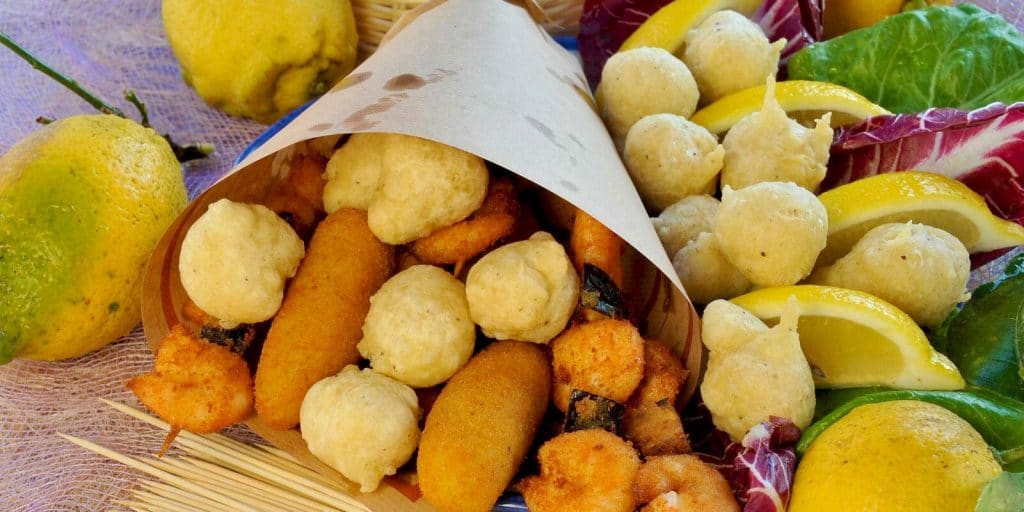 Things to eat in Naples on a budget: Zeppole e Panzerotti
As I already mentioned, there are several kinds of cuoppo in Naples.
If the fried anchovies are the favorite street food for fish lovers, then the cuoppo with zeppole and panzerotti is for everyone (vegans included!).
In Naples you get into a "friggitoria" (deep fried food kiosk) and you just ask "Can I have 2€ of zeppole and panzerotti?".
They will fill your cuoppo or a paper bag with scorching hot delicacies that you can eat while walking.
Zeppole and Panzerotti are pretty cheap and many young fellas here buy them when they don't have enough money to buy a pizza.
If they don't know what to eat in Naples when they go out with friends, they buy a cuoppo with zeppole e panzerotti that they can share without spending too much.
The Zeppole aren't the sweet version you might have heard about. They're made with flour, water, salt and yeast.
Some make them with algae or wurstel, but the original version that you'll also find at every food truck in Naples is the plain one.
The Panzerotti are made with potatoes, salt, pepper, fresh parsley and parmigiano. In the Neapolitan recipe there aren't eggs or bred crumbs (but some today still use the bred crumbs)!
For this cuoppo I don't have any specific place other than the ones I've suggested for the Alici Fritte. Zeppole and Panzerotti will be delicious wherever you buy them, be it at a food truck or at a restaurant. The most important thing is that they have to be scorching hot!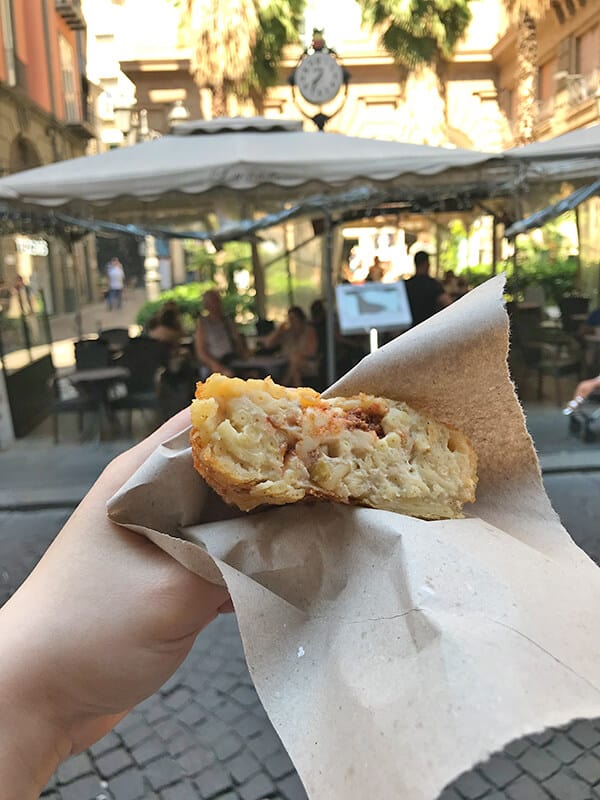 Frittata Napoletana and Frittatine
Some consider frittata or frittatine like snack food.
Yet Neapolitan food lovers know that they're much more than that!
Locals and visitors are used to see slices of frittata di pasta or round frittatine at bars.
They're a delicious – and very cheap – lunch to go.
Frittata di Pasta in Naples is a tall omelette made with eggs, spaghetti, ground pepper, grated parmesan and sometimes Italian pancetta.
It can be fried in a pan or baked in the oven.
The most important rule for us Neapolitans is that to make a good frittata di pasta you have to cook your pasta the day before!
What Naples called "frittatina", on the contrary, has nothing to do with omelettes.
Frittatine Napoletane are something every Southern Italian knows about.
Yet they can only be found in Napoli.
It is such an uncommon dish that once a travel writer colleague contacted me. Baffled.
"Do you really deep fry pasta in Naples?"
Yes, we do!
Frittatine are Neapolitan pasta fritters.
Unlike omelettes, they aren't made with eggs.
In stead we prepare medallions of pasta mixed with bèchamel sauce, peas and small cubes of Italian prosciutto cotto.
Some restaurants also cook gourmet frittatine "Nerano" with spaghetti, provolone del Monaco cheese, deep fried zucchini and bèchamel sauce.
Yet these can be more expensive and – as a local – I swear the traditional recipe is much, much better.
Frittatine and also slices of frittata di pasta can be considered street food.
Or lunch-to-go.
Where to find the best Frittatine in Naples
A ton of places in Napoli sell frittatine and frittata di pasta.
They're all very good.
The following places are mentioned here because I specifically like how they make these deep-fried goodies.
Whenever I can I just go to eat some: if you're in the area, check them out!
Rosticceria Imperatore in the Colli Aminei area in Naples is the one place where deep-fried Neapolitan dishes are absolutely perfect.
Here you will find pizza fritta, montanare, as well as panzerotti and frittatine.
Fiorenzano is one of the super old family-owned businesses in Naples.
It dates back to 1897!
They decided to keep only one shop open, at Via Pignasecca, in the heart of Naples.
Here they sell pizza a portafoglio, deep fried dishes, cuoppi and of course pizza fritta.
Beware: sometimes queue times are super long!
La Figlia del Presidente is another tiny pizzeria that sells great Neapolitan pizza and deep fried goodies.
If you decide to eat here, make sure to also try a unique kind of frittatina.
"Frittatina salsiccia e friarielli" makes sure to blend one of the most popular pizza toppings in Naples with frittatina.
I'm referring to yummy Neapolitan pork sausage and friarielli.
But what are friarielli napoletani?
Here in Naples we know them as friarielli, but in Puglia they know them as cime di rapa. And in Rome my friends know them as broccoletti.
Neapolitan friarielli are broccoli rabe.
They have to be cooked in a way that preserves the slightly bitter taste, then fried in a pan with garlic, olive oil and chilli peppers.
In case you're wondering… friarielli are one of the best things I love about Neapolitan cuisine!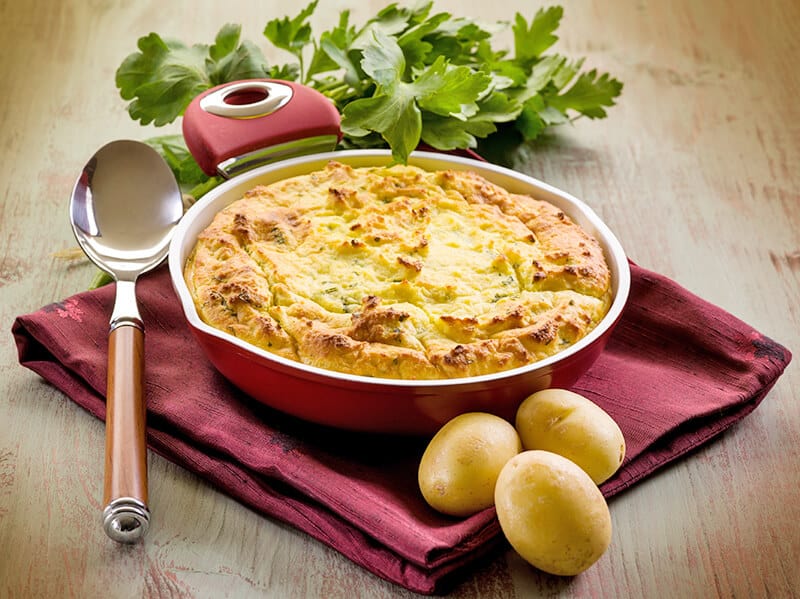 Gateau di Patate or… "Gattò di Patate"
Gateau di Patate is known in Neapolitan dialect as "Gattò di patate". This delicious potato dish is one of the most ancient recipes in Naples.
We prepare a savory cake with mashed potatoes, eggs, bits of mozzarella, provola cheese, Neapolitan salame and Italian prosciutto cotto (pork steamed meat).
Usually served in slices, it's especially loved as a filling dish for the colder months. So if you're planning to visit Italy in winter, by all means add "gattò" to your Naples food bucket list!
According to us locals, the best gattò di patate is the one from yesterday. If it's one day old it gets even more tasty!
You can eat a delicious gattò in Naples at Antica Trattoria di Ettore, which makes great Neapolitan traditional food with farm-to-table ingredients.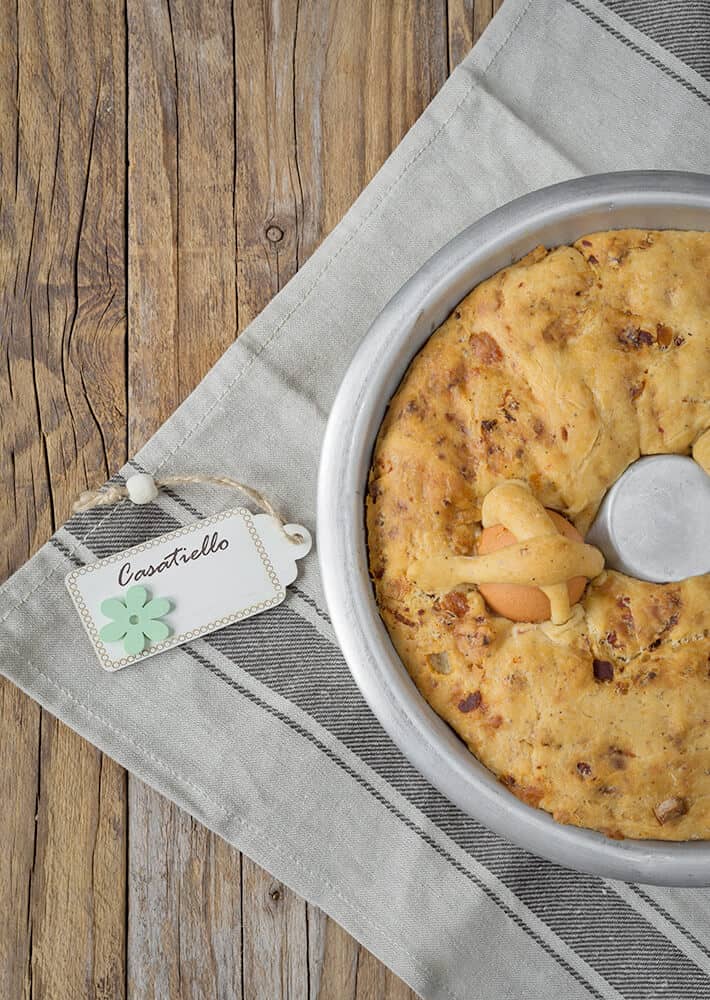 Neapolitan Casatiello – The Traditional Easter Dish
If you are planning to visit Italy in spring for the Easter holidays, then you can't miss Napoli.
Here the most cooked dish for Easter is Casatiello Napoletano.
This savory round cake traditionally had to resemble Jesus crown of thorns,
Every household in Naples makes casatiello and keeps eating it for at least a few days. The more it "ages", the best it tastes.
This savory cake is filled with Neapolitan salame, provolone cheese, eggs, Italian prosciutto and lard.
Not the best dish if you're on a diet!
If you want to buy a slice (or the whole thing) you can find the best casatiello at Chalet Ciro, on Lungomare Caracciolo.
Another great place in Naples where you can eat casatiello is Bar Augustus, at via Toledo, not far from the most beautiful metro station in Europe, according to several magazines!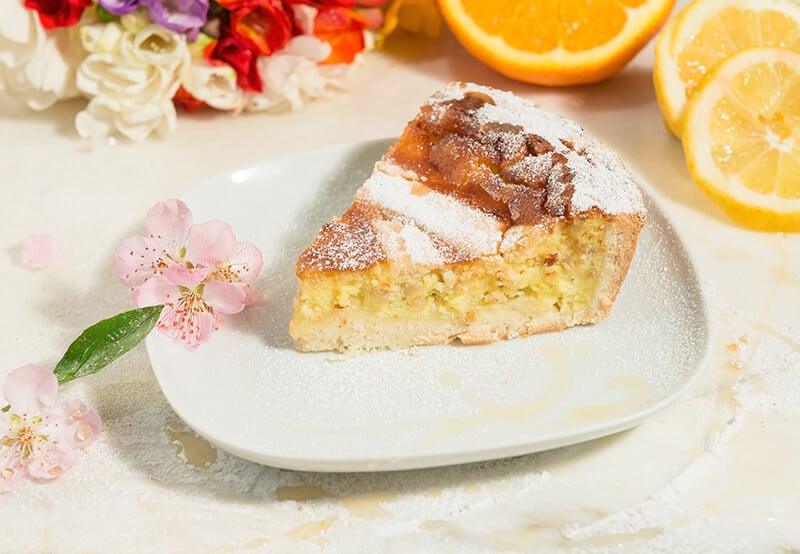 Pastiera Napoletana – The best Napoli cuisine for the holidays
Many Naples restaurants serve pastiera in specific months.
It is in fact the staple of the Naples cuisine at Christmas and Easter!
The traditional Neapolitan pastiera is a cake made with shortcrust pastry that us locals make at home.
Then filled with wheat cream, ricotta and candied fruit.
Let me tell you something about pastiera only the locals know.
The authentic pastiera has to have 7 stripes of shortcrust pastry on the top.
But why seven?
Well, it's because the first part of Naples that was built was our Centro Storico.
And it had 7 main streets!
While some believe it's a "fake news", I can assure you that here in Naples, pastiera is always baked with 7 stripes. No matter what!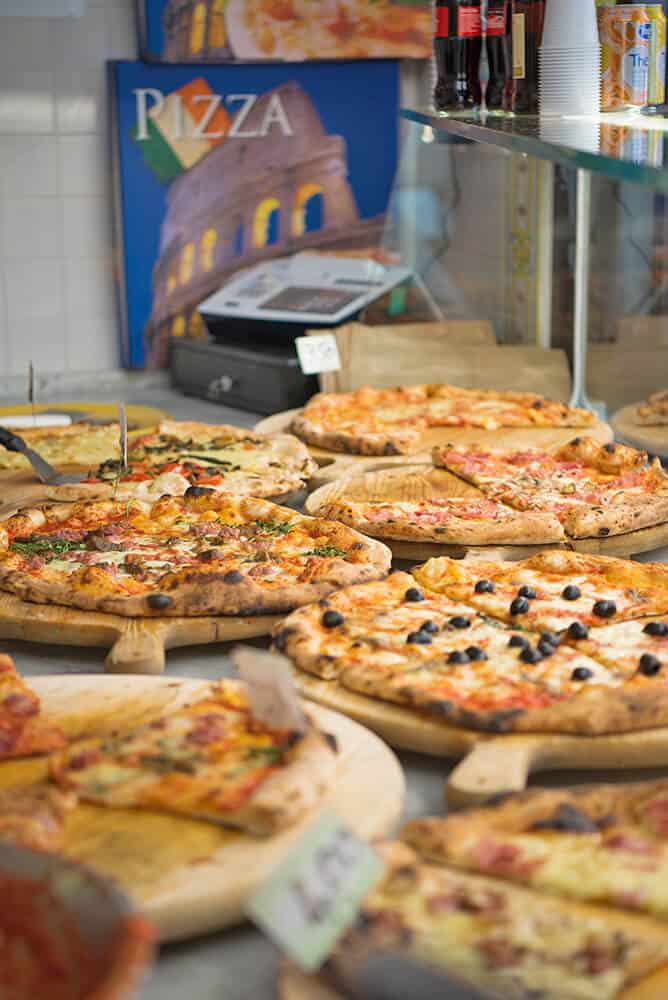 Naples Food Tour – Which One Can you Trust?
You've finally discovered what to eat in Naples… but you don't know how to go to all the places I suggested?
Some of you have asked me if I know of reliable local guides or food tours that I trust. To get the best of Neapolitan food without risking to get lost in the narrow vicoli.
I am very happy to inform you that I've personally tested a few food tours, both with Al and with my family.
I thought I'd leave all the info here, for everyone who is looking for a reliable food tour in Naples.
These have all been personally tested, we did eat great food and had lots of fun. I hope you have the same experience!
All of them have a free cancellation policy up to 24 hours before.
Cheap Naples Street Food Tour
This tour is cheap, fun and can be done in a little less than 3 hours. Which is great if you don't have much time.
You will taste the best street food in Naples, with a local guide. The tour starts in Piazza Bellini and includes babà, sfogliatelle, Neapolitan taralli, fresh mozzarella, and so much more!
Click here to check rates and availability.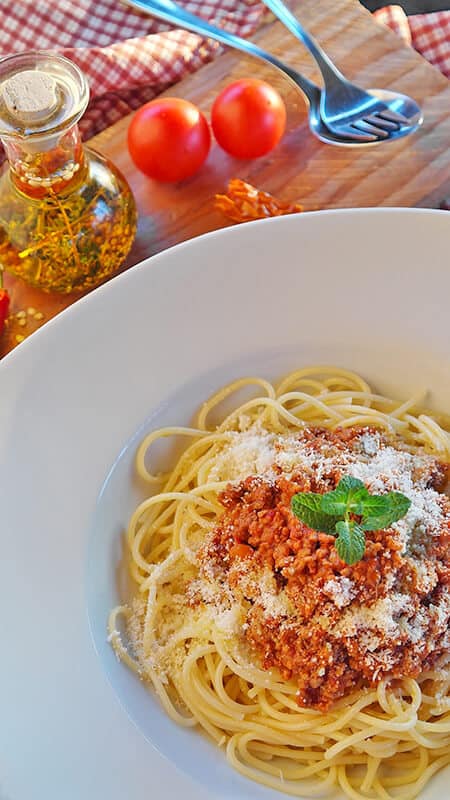 Make Your Own Pizza Workshop + Lunch or Dinner
Have you ever dreamed how to make the authentic Neapolitan pizza?
Now you can learn from a real pizzaiolo in Naples!
This 2-hours workshop with a small group includes a lesson from an experienced pizzaiolo. You will make your pizza starting with flour and water.
We had a lot of fun!
After you choose your favorite topping, you will bake your own pizza in a traditional Neapolitan oven.
You'll get to eat it with a glass of wine, Amalfi lemon sorbet and Italian bruschetta.
Click here for rates and availability.
Private Naples Food Tour – Walking Tour
With everything that is going on, many people prefer to book a private food tour.
There's one you can book with a fantastic Neapolitan guide, which is a bit long (4 hours) but includes all the dishes you've seen on this page.
It's the perfect introduction to those who are visiting Naples for the first time.
After booking you won't have to pay anything else. Everything is included, from access to kitchens and pastry laboratories to the different servings, and even coffee, served with a small gift from Naples.
Please make sure you book well in advance!
Check out rates and availability.
You might also like:
What to eat in Naples
Naples neighbourhood guide – where to book your hotel
The best 45 things to do in Naples
How to spend one day in Naples
Naples cafes and how to drink espresso
Is Naples really dangerous?
Pompeii travel guide from a local
Riding the art metro in Naples 
Hiking Mount Vesuvius – how to get there
18 lip smacking street foods in Naples
How to visit Naples Christmas Alley
Procida island travel guide – Our hidden gem
20 best destinations in Europe for a fall trip
30 different types of pizza you should eat in Italy
22 Amazing Day Trips from Naples (Italy)
10 Completely Free Things To Do in Naples (Italy)
Do you need ETIAS Authorization or Visa to enter Europe?
Guide to the best time to visit Italy
Ultimate guide to the best movies set in Italy
Pin it for later!
Travelling Dany – Danila Caputo
Danila Caputo is a bilingual travel writer living in between Naples and the Amalfi Coast (Italy), graduating from the University of Naples Suor Orsola Benincasa in Foreign Languages and Literature. She travels and works with her husband Aldo, photographer and videographer. Their blog chronicles their adventures around the world, their love for the USA (where they have family), Italian/European culture and tips on how to be responsible travelers. You can find out more about their latest trips and their life on Youtube, Instagram and Facebook.