20 best places to visit in October in Europe: Fall trip ideas
This post includes affiliate links. As an Amazon Associate, I earn from qualifying purchases. Full disclosure.
Are you planning your fall vacations and you're wondering where to go? Let's discover 20 amazing places to visit in October in Europe. With all the updated info you will need and more than a few good reasons to add them to your itinerary.
After all this is a great time to visit Europe: the weather is still amazing!
Autumn in Europe can be absolutely amazing. We were among the travelers who thought you couldn't get great foliage and Fall vibes in Europe. After quite a few trips we had to change our mind!
Let me show you all the very best places to visit in October in Europe if you're looking for cheap trips, foliage, romantic cities and lesser crowded destinations.
You can in fact explore Europe in Fall also if you are visiting on a budget. All you need is a good itinerary.
Autumn can be considered a shoulder season. While it might rain, many popular European destinations will be still warm enough and sunny.
You also have two main bonuses. First of all, Europe in October is usually cheaper.
Then the crowds won't bother you as much, because it's much more quiet.
Let me offer a few ideas on the cities you should visit on your fall vacations in Europe!
Quick Links to Post Content
Lugano (Switzerland) – Celebrating autumn in Europe
If you're looking for the best place with a lot of things to do in Europe in autumn, you've found it.
It's Lugano, in the Southern part of Switzerland.
Located in the Italian-speaking canton of Ticino, bordering Italy. This beautiful city is the 9th largest one in Switzerland.
Not only that: it's one of the places to visit in Europe with the largest Italian speaking population outside of Italy!
Every year in October, Lugano hosts the amazing Autumn Festival.
The one event that probably best celebrates autumn in Europe.
The Autumn Festival in Lugano is usually held in the town's pedestrianised zone, by the lake.
You will be able to taste the finest local produce at the "grottini". They are eating stations where you can taste traditional Ticinese specialities and quite a few yummy Italian dishes.
While polenta, mortadella and risotto can be delicious, the queen of this festival is the Swiss chestnut.
They cook them in many ways, and since it's the symbol of the Autumn Festival, you'll find all sorts of "chestnut themed" souvenirs!
Lugano is thus the perfect place to go for those who love travelling in October.
Especially good if you are in need of a European city break and if you're a foodie.
Plitvice Lakes National Park (Croatia) – The Best Fall Hikes
If you have planned to spend one day in Plitvice Lakes National Park in October, you're in for a surprise.
Plitvice Lakes is Croatia's best-known Park and listed by UNESCO as a World Heritage site.
Sixteen gorgeous lakes interconnected by cascades and waterfalls, where the turquoise water clashes with red, brown and yellow hues when foliage season starts.
October is the best time to go if you're looking for some stunning fall foliage.
Adding Plitvice Lakes National Park to your fall Europe itinerary is a great idea. The area will be way less crowded, whereas summer can be crazy busy.
You will have to deal with the occasional rainy day, and temperatures might definitely be lower.
While you might not be able to tan, hiking will be much easier!
You can get to Plitvice Lakes using public transport. Yet the easiest way for you to explore the area is by renting a car.
Croatia in autumn is the perfect destination for those interested in road trips and beautiful fall foliage.
We actually prefer to explore Croatia in October because we do not like the huge crowds (from July to September)!
Florence (Italy) – Smart October trip
I'm sure you all know how amazing Florence can be. It's not only one of the most visited cities in Italy (that I always include in my Italy itineraries): it combines great food, history, art and overall beauty.
Unfortunately Florence is also very crowded and expensive.
We have friends who live there and thus we visit quite often. Only a bunch of times we've been able to enjoy the beauty of Ponte Vecchio without having to push our way through hordes of tourists.
That is the reason why we both agree that Florence is one of the absolute best European city breaks in October. Especially if you are planning to visit on a budget.
October is when many summer tourists have already left. Hotel prices are lower. And you will be able to enjoy the authentic Italian hospitality!
Make sure you stop to chat with the locals, take pictures of the monuments without having to wait in line, and enjoy a romantic dinner at an Italian osteria.
Of course if you're planning to visit the Uffizi Gallery, make sure to buy a priority entrance ticket in advance, to maximize your time in Florence.
The weather will be slightly colder if compared to September. Like many other cities in Europe in October, you might get quite a few rainy days.
Yet it's not a problem.
Visiting Italy in October means you can still enter museums and Churches when it rains. So you won't have to spend the day inside your hotel room!
Florence is a great destination for those looking for good places to visit in Italy in October. It offers a lot of options to spend your time on rainy days, it's romantic and way less crowded than usual.
You might also like:
30 Amazing Day Trips From Florence You Can Plan On Your Own
The Best 60 Ideas for Lovely Souvenirs From Italy
23 Gorgeous Tuscany Village You Will Love
Autumn in Italy – How to Pack Light!
Guide to the best time to visit Italy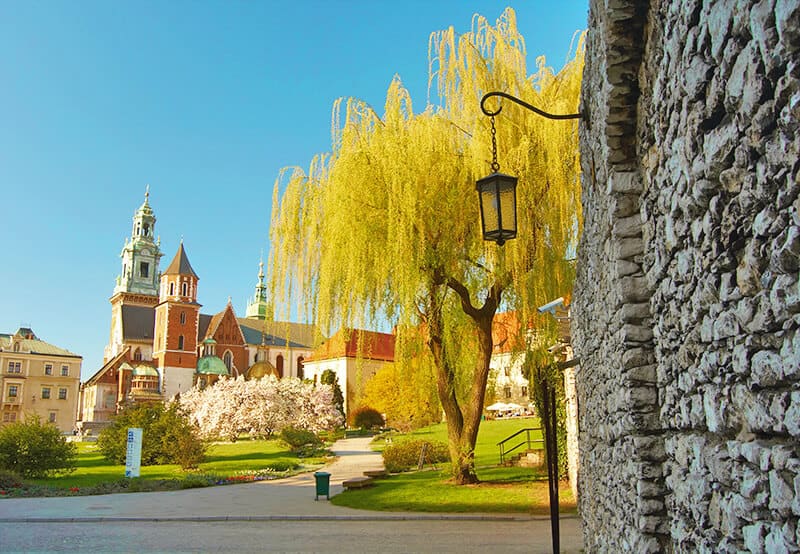 Krakow (Poland) – The Budget European City Break
Those who don't have a big budget and want to explore Europe in fall have found the perfect place. Krakow is amazing and also super cheap.
We have been there several times and we're still eager to get back for more!
Autumn is a good time to visit Krakow because there are lots of festivals, events and activities.
You won't even have to worry about the rain because while autumn in Krakow is a bit colder, there are quite a lot of indoors things you can do.
Even a trip to Auschwitz-Birkenau Death Camps is going to be (a bit) less traumatic in fall.
We visited in winter and it's one of the things we will never forget. Paying your respects there is something everyone should do at least once in their life, to keep the memory alive.
Early October is going to be perfect for a trip to Krakow, because it won't be too cold.
Pack a raincoat anyway but don't worry about the snow. It usually comes by the end of the year.
Among the most interesting events you can attend there are the Krakow Jazz Autumn festival (October 19-29, 2023) or the Unsound Festival (October 01-08, 2023), with electronic music and wild parties.
There is also another event that has returned in 2023. The Patchlab Festival, held on October 19-22, 2023.
This digital art festival is all about the latest technologies and creative coding. Perfect if you are into contemporary culture and art, augmented reality and artificial intelligence.
Krakow is a particularly interesting place to visit in autumn for those who love art, music and culture.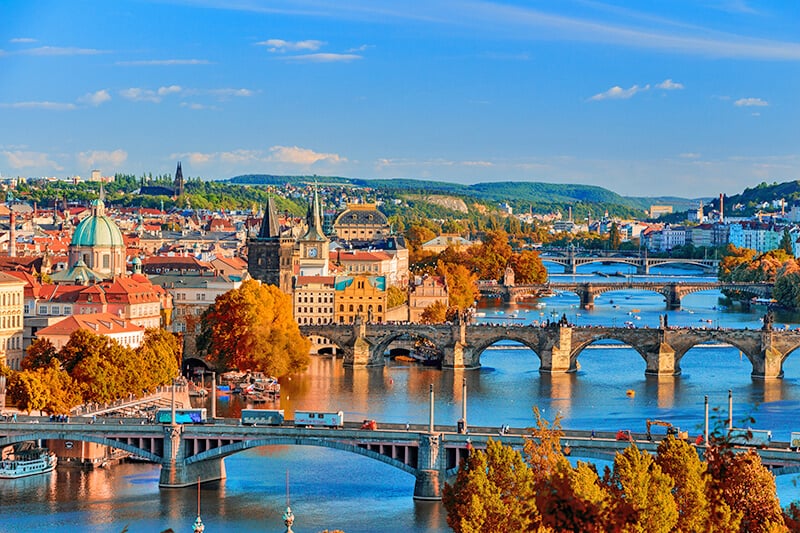 Prague (Czech Republic) – The Magic of Europe in Fall
While we absolutely love to visit Prague in Winter, autumn is also a great time to go.
Especially if you're not a fan of snowy and cold evenings.
October is a great time to visit Prague, because it's a shoulder season. Expect pleasant temperatures during the day and chilly (but not too much) nights.
Weather aside, Prague in Autumn is awesome because you'll experience fewer crowds. You might be able to find good flights and great hotel deals.
All you have to do is decide in what part of Prague you want to find lodging and then start digging.
Many hotels won't be fully booked so they will lower their rates.
Another great thing you might like is that if you want to taste the best Czech food in Prague, you won't be forced to book a table in advance. It's easy to find seating also at the smaller foodie spots, which are super crowded in high season.
If you're planning to spend a couple of days in Prague don't forget to add the Beer Spa to your itinerary. There are great chances to be alone in there since it's a lesser crowded time to visit!
Prague is perfect for your October holidays in Europe if you are looking for a romantic, fun and interesting place to go.
You might also like:
Where and what to eat in Prague
Prague districts – where to find lodging
How to spend 2 days in Prague
Why Prague in Winter is awesome
Visiting Europe in October: 20 awesome fall trip ideas
The best destinations in Europe for a Fall trip
New Europe entry requirements and ETIAS authorization
Amalfi Coast (Italy) – For a Warm European Holiday
As you probably know already, as a local we tend to avoid the Amalfi Coast in summer because it's super crowded. We'd spend hours blocked in traffic jams, melting away due to the extreme heat.
Those looking for iconic places should consider adding the Amalfi Coast to their bucket list.
October is the perfect time to visit!
October is in fact one of the best months to visit the Amalfi Coast. It's way less crowded, less expensive, less noisy, and the weather will be pretty much amazing.
The Amalfi Coast is thus a great choice if you're looking for warm places in Europe, still warm enough for swimming.
There are great chances that you'll be able to spend the day tanning on one of the Amalfi Coast beaches, or possibly enjoying a day trip to Capri.
October is not usually rainy and yet you won't have to deal with the super high temperatures we experience in July and August.
As locals we prefer October to September. That's when we get the "authentic" Amalfi Coast experience.
We can talk to the residents and eat great food while having a great time.
That's how things are in the South of Italy when it's not overly crowded. We make new friends as we love to talk to people… even when we don't get their language!
While many people worry that restaurants and shops are closed, it's really not an issue.
October is when Italians visit Positano and all the other towns on the coast.
That's why shops and restaurants are still open. There are also good chances that you'll find interesting discounts on sundresses, hats and shirts!
You might also like:
Where to find lodging on the Amalfi Coast
The best Amalfi Coast tours reviewed from the locals
Discover the best beaches on the Amalfi Coast
Plan a fantastic Amalfi Coast road trip
What to pack for Italy in Fall
Capri in a day – plan your day trip from the Amalfi Coast
Find the best souvenirs from Italy on the Amalfi Coast
Autumn in Europe – 20 ideas for smart trips
Delicious types of Italian pizza you should eat in Italy
22 Awesome Day Trips From Naples
Top Things To Do On The Amalfi Coast On A Budget
Updated Europe entry requirements and ETIAS waiver
Guide to the best time to visit Italy
Must-watch movies set in Italy
23 Best things to do in Positano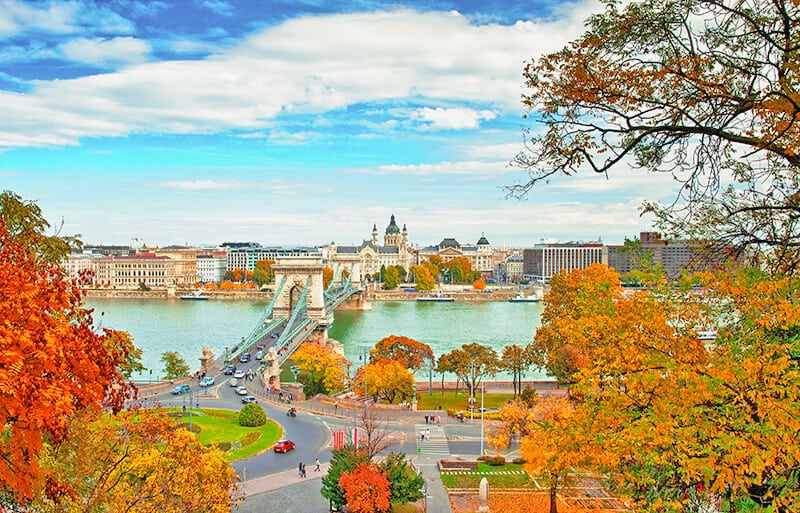 Budapest (Hungary) – Autumn Colors and Foodie Events
Among the best places in Europe to visit in October, Budapest is a real must-see, especially if you're a foodie.
It will welcome you with nice temperatures, plenty of attractions and the quiet which usually follows the busy summer season.
The first part of October is the perfect time to plan your trip to Budapest. The weather will in fact be still warm.
Rain and lower temperatures will come as you move towards November.
The best way to approach a fall trip to Budapest would be to pack a nice sweater and a light raincoat, so you're prepared to all kinds of weather!
Budapest in autumn is amazing not only because of the fall foliage. There are quite a few food-related festivals you're going to love.
One of the best is the Palinka and Sausage Festival, from October 2 to October 4, 2023.
It has everything you might be looking for. Ancient traditions, authentic food and the perfect location, as it's held inside Buda Castle.
If it rains, you can shop for souvenirs or eat yummy Hungarian treats at the Great Market Hall. Or visit one of the excellent Budapest museums: there's plenty to keep you busy for a few days.
Budapest hosts also one of the best Christmas markets in Europe, in case you're visiting during the holidays!
You might also like:
The best Christmas Markets in Europe – Where to find some snow
Guide to Vienna Christmas Market
Visiting Bratislava Christmas Market
The best Christmas Markets in Italy
What to eat in Italy at Christmas
Ultimate guide to Christmas in London
Visit Christmas Alley in Naples (Italy)
All the new Europe entry requirements you need to know!
Guide to the best time to visit Italy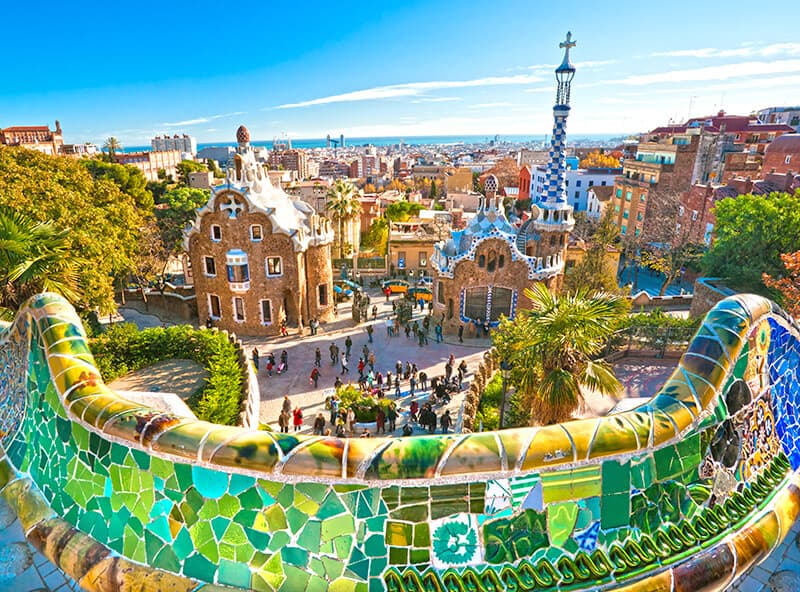 Barcelona (Spain) – Warm enough for swimming!
If you still don't know where to go on vacation in October but you want a warm place, look no further: Barcelona is perfect for this kind of trip.
While many places in Europe in fall can be rainy and cold, Barcelona is warm, cool and provides a lot of fun.
October will allow you to walk around in a comfy t-shirt while eating gelato and taking pictures at the Sagrada Familia.
The huge summer crowds have left and the city is much, much better. No need to push through the hordes of tourists at Las Ramblas, and surely you won't need to book in advance to visit Parc Guell.
The lack of crowds makes Barcelona every photographer's dream. There are lots of instagrammable spots, enhanced by autumn's golden hues.
If you've planned your Europe trip in early October, you might be able to enjoy the Festa Major de la Barceloneta, usually held by the end of September and early October.
Watch fireworks, enjoy a football tournament, or just dance all day long and taste the traditional crispy coca bread. It's an unforgettable way to say goodbye to summer.
Other October festivals feature music and movies, like the LEM Festival or the Sitges Festival Internacional de Cinema de Catalunya. It will be held on 5-15 October, 2023.
Those who are visiting Barcelona on a budget should do so by the end of October. When there's the 48h Open House BCN.
On October 21-22, 2023, you can access over 250 different buildings in Barcelona for free. It's the perfect way to explore on a super tight budget!
While there are so many festivals in Barcelona in October, we have two favorites.
One is La Castanyada, which features all the traditional treats with chestnuts. They are usually roasted and served with "moniatos" (roasted sweet potatoes), or "panellets" (delicious treats made with almond paste and covered in pine nuts).
The other one is the Barcelona Manga Fair, which is almost as much fun as the Lucca Comics and Games in Italy, but smaller (and way less crowded).
2023 Update
The Barcelona Manga Fair this year will be held in December.
If you want to attend, note it down: December 7-10 (2023)
Porto (Portugal) – The Sunny Autumn Trip
The Portuguese city of Porto is best known for its river, the Douro. It's a popular spot for river cruises, is a great choice if you still don't know where to go in Europe in October.
The weather in Porto in October is usually sunny and warm, with chances of rain. To be on the safe side it'd be better to pack a light raincoat. You can carry it around in your backpack as you explore this beautiful European city.
Trying to understand what will the weather be like is more and more difficult so we always try to be prepared, packing light but trying to be smart!
Porto is what you could think of as an "uncommon" autumn destination, but that's all the more reason to think about it.
In our opinion it's a great place in Europe in October to visit. For a number of reasons.
Because people tend to travel to other, more popular European cities, prices in Porto are usually lower. October is also very quiet because the summer crowds have already left.
Being low season means that you will be able to enjoy a Douro Wine Tour and River Cruise without the crowds and also at a decent price.
Wine tastings at the Douro Valley are very popular, so usually during the high season they are expensive. That is if you manage to book well in advance.
My advice is to book a wine tour and river cruise with free cancellation. If it rains you can just cancel without losing your money. If not, you'll experience an amazing day trip from Porto!
Click here to check out the best Wine Tasting and River Cruise from Porto, with free cancellation policy.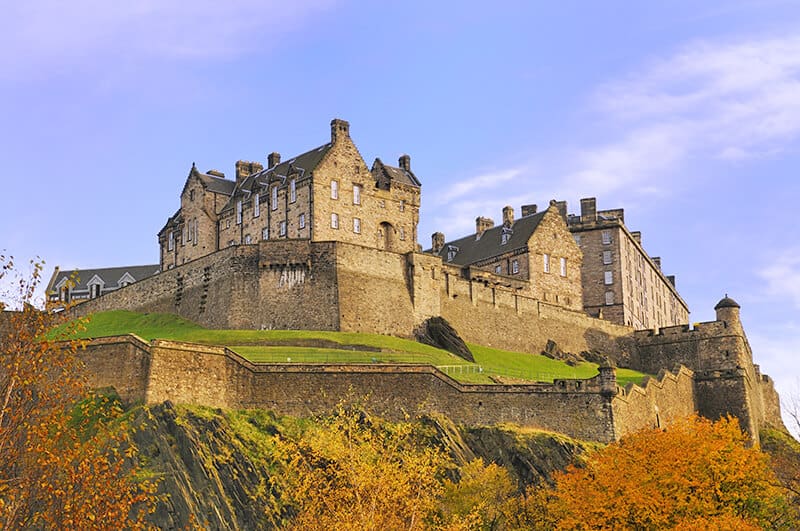 Edinburgh (Scotland) – The Perfect European Fall Trip
Edinburgh in October might be slightly colder but it's still an amazing choice for a fall trip in Europe.
Spring and autumn are in fact the best seasons to visit Scotland. October, in particular, is when the crowds begin to disperse.
If you're planning to spend a cheap few days in Scotland I'd suggest you pick the first two weeks of October. They're going to be cheaper and definitely less crowded.
If on the contrary you're visiting Scotland to see the Autumn foliage, you should consider late October or the first part of November. Beware: it'll be cold!
October is the rainiest month of the year in Scotland, so either you have to bring an umbrella from home, or you could buy it in Edinburgh.
We bought a few as awesome souvenirs from Scotland!
Fall is also when you can enjoy a number of festivals and special events in Edinburgh. Like the Comic Con Scotland, the Edinburgh Cocktail Week (06-15 October, 2023), and even a mini-Oktoberfest on October 05-08, 2023!
Another option is to enjoy a free and self-guided Edinburgh Harry Potter tour. Because the city will be way less crowded, you can take awesome Instagram pictures of the cute little themed shops in Edinburgh!
We are in love with road trips, so we decided to rent a small car to enjoy quite a few day trips from Edinburgh. We got to visit the Outlander sets, a few distilleries, many amazing castles and so much more!
Click here to find out how much renting a small car for a day trip would cost you in Edinburgh.
You might also like:
How to spend 4 days in Scotland
Where to buy the best Scotland souvenirs
Walk the Harry Potter tour in Edinburgh
Travel guide to the best 20 day trips from Edinburgh
Planning a trip to Scotland: the best tips & tricks
20 ideas for an awesome autumn trip to Europe
New requirements to travel to Europe
London (United Kingdom) – European Events, Fairs and Halloween Parties
I'm sure you're already aware, but we are absolutely in love with London. Since our first trip, two days exploring The Big Smoke (one of London's nicknames), we have returned over and over again.
London always makes sure to surprise you, and whenever you visit there's something new you hadn't seen before.
October in London is going to be rainy and chilly. Yet let me be perfectly honest with you: it was damp and cold also in May on our last visit.
The weather is not super reliable so pack the right stuff, don't forget a fleece jacket and a foldable raincoat. So you won't have any issue in enjoying your stay.
Usually London is pretty expensive, but early Fall is definitely not high season. This means that you will find cheaper hotels and flights.
That makes it one of the best places to visit in Europe in October. There's so much to see and do!
London is amazing so it's always going to be pretty crowded.
Me and Aldo make sure to visit during the week whenever we can.
The Londoners are at work so you won't have to deal with issues like crowded tube (unless you get there during rush hour) or long lines.
Fall colors in London can be admired at the city parks. Kew Gardens and Richmond Park are especially beautiful this time of the year.
London is one of the best places to visit in October in Europe especially because of the many events and festivals. There are two incredible art fairs like Frieze London and Frieze Masters (both on October 11-15, 2023). Then the London Restaurant Festival, from September 30 to October 31, 2023. An incredible foodie festival!
Halloween in London is also a huge event.
If you're looking for scary tours, there are themed events at the Tower of London, Hampton Court Palace and Kensington Palace.
You might even have the chance to retrace the footsteps of Jack the Ripper with themed Ghost walks at Whitechapel, or take part in a ghost hunt.
October is also when you should absolutely catch one of the West End musicals. The best ones to get ready for Halloween are The Phantom of the Opera and Wicked!
You might also like:
Spring in London – photos, flowers and events
Ultimate itinerary – 4 days in London
The best London souvenirs you should buy
How to spend a cool night in Soho
The most instagrammable spots in London
Plan a fabulous weekend in London
20 awesome fall trips in Europe
Easy-to-use guide to Christmas in London
Do you need a visa to enter Europe?
Amsterdam (The Netherlands) – Fall Colors and Romance
October is the best month also to visit another city in the heart of Europe.
If you're looking for a romantic, beautiful place like no other, then you must book a trip to Amsterdam, in the Netherlands.
Two days in Amsterdam will be enough to hit all the best spots, without spending too much.
October is considered off season, which means you'll find low hotel rates, nice flight deals and fewer lines at the most popular tourist attractions.
On the top of it, the weather might be rainy but you shouldn't expect it to be too cold.
Because the sidewalk cafes in Amsterdam will have already packed up their patio furniture, you will be able to take amazing pictures of the red and yellow leaves hanging on the iconic canals.
The Red Light District, usually super crowded, will be quiet. Since you're there, you could also enjoy one of the many music festivals in town!
The Amsterdam Dance Event (October 18-22, 2023) is possibly the most anticipated event on the club scene in Europe. This festival draws both industry professionals and fans, with incredible performances and wild parties.
In October there's even a mini-edition of Awakenings (October 18-22, 2023), a techno music festival usually held in June.
You might also like:
– How to spend a fantastic weekend in Amsterdam
– The best day trips from Amsterdam 
– Guide to Giethoorn – the fairytale Dutch village
– 20 gorgeous European cities in autumn
– ETIAS Visa Waiver and all of Europe Visa Requirements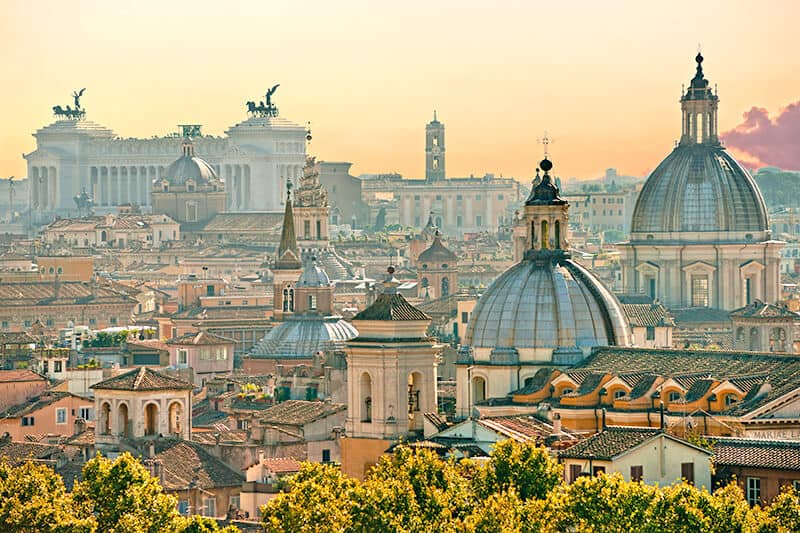 Rome (Italy) – Film Festivals and Chestnuts
October in Rome can be either super warm or have very few rainy days. The weather forecast has been a bit unreliable in Italy, but there's one thing you can be sure of: it definitely won't be freezing.
Temperatures in fall in the central part of Italy are usually mild and very nice.
While summer and spring are super crowded, autumn in Rome is definitely much better, albeit there are a few things you should take into account.
Booking a hotel room well in advance can definitely be a smart move to save quite a few bucks. Maybe try booking a room with a clear free cancellation policy, in case something goes wrong.
If you are visiting Italy in October, then by all means add Rome to your itinerary. There are quite a lot of interesting events that you will absolutely love.
October 18-29, 2023, is when the Festa del Cinema di Roma (Rome Movie Festival) happens.
Eleven days of movies, celebrities, red carpets and movie-themed parties. Many professionals think this is even better than the Venice Movie Festival!
In every small town in Lazio region there's a Chestnut fair (Sagra della castagna).
October is when we can eat the best chestnuts. You might be able to eat the first "caldarroste" (Italian roasted chestnuts), in a paper cone. It's a scent we always associate with autumn!
You might also like:
4 days in Rome – itinerary from a local
What to pack for Italy in Autumn
Italy tipping etiquette – how to avoid being rude
Hampton by Hilton's Rome East – Hotel Tour
20 amazing destinations in Europe – Fall trip ideas
Guide to Etias Europe and Schengen visa requirements
When is the best time to visit Italy?
Ultimate guide to the best movies filmed in Italy
Warsaw (Poland) – Cheap and Beautiful Autumn Destination
Warsaw is yet another one of the cheap autumn destinations in Europe you can add to your itinerary.
A couple of days should be enough to explore the best of this amazing city in Poland.
You can eventually visit both Krakow and Warsaw on a single trip. The two are connected by an easy-to-use railway, or you can use services like Flixbus, which is also pretty cheap.
The first half of October should still be mild, even if you have to be prepared to get the occasional rainy day. The second part of the month will get a bit more cold (you'll need a fleece jacket or a warm puffer coat) and rainy.
The good news is that you won't have to worry about the snow.
In general, since the weather is always a bit unpredictable, I suggest you pack a bit of everything just to be on the safe side. Dress in layers to avoid packing too much!
October in Warsaw is usually uncrowded and cheaper than other months. It's super easy to find discounted rates on flights and rooms, making this one of the budget destinations in Europe.
The popular Warsaw Film Festival takes place on October 06-15, 2023.
That is when the city can be a bit more crowded and expensive. If you aren't particularly interested, I suggest you avoid that period.
If you're visiting on a sunny day, you should absolutely go to Lazienki Park, my favorite park in Poland.
I have spent many lazy afternoons there when I used to work in Poland, quite a few years ago!
It's even more beautiful with the fall colors, and the gardening team always makes sure that everything is clean and beautiful. Besides, you might even be able to meet one of the peacocks that roam the park!
Chestnut trees are everywhere in Poland so there are usually chestnut festivals and lots of street vendors. After all, autumn in Warsaw wouldn't be complete without a cone of roasted chestnuts!
Munich (Germany) – The Iconic Neuschwanstein Castle
How could I not mention Munich, Munich is not only one of the best places to visit in Germany in October. It's absolutely one of the must-see places for your fall vacations in Europe.
Many people think that the iconic Oktoberfest, the world famous beer festival in Munich, is in… October. Yet it actually begins in September and you'll only be able to attend if you get to Munich in the first days of October.
But then why is Oktoberfest called Oktoberfest if it starts in September?
Well, the reason is quite simple. This festival started in 1810 and back then it took place by mid-October.
It wasn't even a "festival", but a way to celebrate the marriage between Bavarian Prince Ludwig and Princess Therese von Sachsen-Hildburghausen!
Visiting Munich in October means that you might not attend the opening ceremony at Oktoberfest and the best concerts, but you can still be part of the festival. Take part in the traditional gun salute by the Bavaria statue, which is when the festival comes to an end.
Not being there for the opening night means that you might get better rates, since most of the people have already left by the time you'll land in Munich.
Munich in October is going to be very beautiful also if you don't go to the Oktoberfest.
While autumn in Europe is amazing, this is also the time of the year when Munich becomes truly gorgeous. The city glows with the foliage and all the most famous monuments are surrounded by yellow and orange trees.
Once there, consider booking a day trip to Neuschwanstein Castle. It's the super famous fairytale castle which was used by Disney as an inspiration for the Cinderella Castle!
Renting a car just to get there is usually not worth the hassle, especially because there are very nice and cheap tours you can book.
Click here to check out my favorite day tour to Neuschwanstein Castle and book well in advance!
2023 Update
Oktoberfest will be held at Theresienwiese (Monaco) from September 16 to October 3.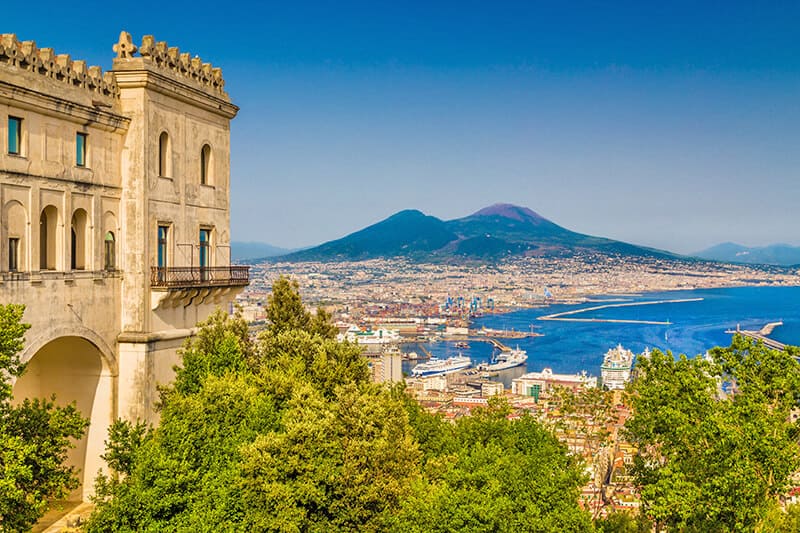 Naples (Italy) – Pizza, Pompeii and 365 Days of Christmas
While many people still worry that Naples can be a dangerous city, I'm a proud Neapolitan and I'd never move anywhere else.
But it's not the only reason why I added our hometown to this list. Naples is in fact one of the best places for quite a few good reasons.
Let me tell you all about it!
Summer in the Southern Italy can be absolutely brutal. High temperatures, too much sun, damp air that makes you sweat a lot (ugh!) and much more.
Early Autumn is by far the best time of the year to visit Naples. It is going to be less expensive than visiting in spring, it's way less crowded and still sunny.
October in Naples is a lovely month, whether you can spend only one day walking around Naples city or if you want to hike to the top of Mount Vesuvius.
The temperatures are mild and it only rains rarely.
Last year we had a very dry October and in fact it never rained! Yet since the nice weather and the sun won't melt you, there are so many things you could and should do in Naples.
Be it a self guided food tour in the historical city center, to eat the most delicious dishes in Naples for just a few Euros, or an itinerary to visit the best and lesser known gems in Naples.
October is also a great time to plan a day trip to Pompeii. Because it's less hot and definitely not as crowded as the high season, you can attempt the longer, self-guided, tour.
It lasts about 4 hours, and it'd be unthinkable in the warmer season because there's no shade at all in Pompeii and just one tiny shop selling very expensive bottles of water.
Another thing that us locals like to do in Naples in October is to go to Via San Gregorio Armeno, also known as "Christmas Alley".
While the artisan's workshops are open every day of the year, in October they actually start decorating the whole street, and they show off their newest creations.
San Gregorio Armeno is where you find the Neapolitan nativity scenes.
It's like having 365 days of Christmas, but in November, December and January this narrow street is super crowded because of the tourists.
Not only you won't see anything, but you'll expose yourself to pickpockets and to a lot of stress because people will push you forwards.
No, thanks!
October is thus the perfect month to visit Christmas Alley in Naples because it's way less crowded. You can just walk around, taking pictures of the new statuettes and of the very detailed Nativity sets.
Here is where you can buy fantastic Italian souvenirs without spending too much so definitely add it to your itinerary!
You might also like:
What to eat in Naples
Naples neighbourhood guide – where to book your hotel
The best 45 things to do in Naples
How to spend one day in Naples
Naples cafes and how to drink espresso
Is Naples really dangerous?
Pompeii travel guide from a local
Riding the art metro in Naples 
Hiking Mount Vesuvius – how to get there
18 lip smacking street foods in Naples
How to visit Naples Christmas Alley
Procida island travel guide – Our hidden gem
20 best destinations in Europe for a fall trip
30 different types of pizza you should eat in Italy
22 Amazing Day Trips from Naples (Italy)
10 Completely Free Things To Do in Naples (Italy)
Do you need ETIAS Authorization or Visa to enter Europe?
Guide to the best time to visit Italy
Ultimate guide to the best movies set in Italy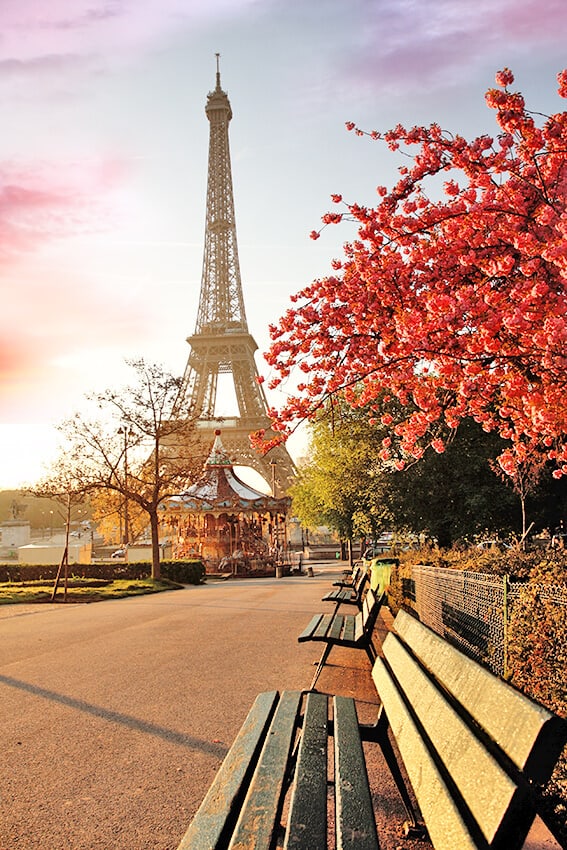 Paris (France) – One of the Best Places To Visit in France in October
I don't really think there's a season when Paris is less beautiful. Spring has amazing colors, summer is hot but great, heck, even winter can be perfect for a romantic trip with your partner!
Yet Paris is also one of the best places in Europe to visit in October because it's less expensive!
And since France can definitely kill your budget, I'd say it's a great thing!
Paris in October is considerably less warm than September, with a few chances of rain. As I mentioned before, to make sure not to overpack you should dress in layers and bring a foldable raincoat.
Even if it rains, you have a huge list of museums you can visit and thus you definitely won't get bored.
Besides, a huge bonus is that you will be able to hit all the instagrammable spots in Paris without having to battle against the crowds. Not sure about you, but that's huge in my opinion!
Europe in fall is always interesting, but Paris takes it to the next level. There's a huge number of interesting events and new exhibits that you should add to your itinerary.
If you're a foodie you're also going to love the Vendanges de Montmartre (Montmartre Wine Harvest). From October 11 to October 15, 2023 you can celebrate the annual batch of Paris wine with wine tastings and parties.
Once there, make sure to take pictures of the beautiful Montmartre, decorated by red and yellow leaves.
In case you didn't know, there's actually an Autumn Festival in Paris, which is the Festival de L'Automne. It celebrates fall season with music, cinema, paintings and contemporary visual arts.
A must see if you want to get a taste of fall in Europe!
Bruges (Belgium) – Cold, Romantic and Gorgeous
I'm sure everyone knows about Bruges, the capital and largest city of the West Flanders in Belgium. This amazing city in Europe, with its canals and romantic bridges, has been celebrated by movies and books for years.
Bruges is one of the perfect European city breaks in October. For quite a few good reasons.
Also known as the Venice of the North, it is usually a bit expensive. Yet in October there is a dip in the hotel prices, right after the crowded summer.
Since I live in Naples, temperatures like 14°C during the day and 7°C at night on average seem to be quite cold.
Sure, not freezing, but still… chilly. Naples definitely spoiled us!
Many tourists prefer to avoid Bruges when the weather is unpredictable and the temperatures start to get low. That's why October will be cheaper and way less crowded.
Yet we're smart so we won't let the chill scare us, right?
Imagine yourself sipping hot cocoa, or eating warm waffles on a cold day in Bruges. Is there anything better?
One of the things that usually ruins the romantic feel is the many tourists, all crammed into the historic centre of Bruges. October will help you to avoid that and you'll also be able to catch a bit of the the autumn colors that make Bruges even more of a fairy tale town!
Connemara (Ireland) – Irish Beauty in Autumn
Connemara is one of our favorite parts of Ireland. We always love to road trip at the Connemara National Park because it gives us the chance to connect with the authentic side of Ireland.
Much different than the touristy places like Dublin.
Usually the weather in Ireland is always unpredictable. On one of our trips it has rained for 15 days. We never even saw the sun.
When we got back for some more Irish beauty it was super warm and sunny.
Packing layers and a foldable raincoat is absolutely mandatory. To be on the safe side, add a hoodie, even if the temperatures shouldn't be too low.
Connemara in October is definitely less crowded and cheaper. You'll be able to enjoy the peaceful Irish countryside on a road trip.
No traffic and probably no one else around, either.
Many people even swap their hiking sessions with blackberry picking!
Fall is the warm soda bread season, with long days and sunsets that will make you fall in love.
You might also like:
Souvenirs from Ireland – 40 neat ideas for you!
I consider Connemara one of the best destinations to visit in October. That's because it's when there are a lot of festivals and interesting events.
The Cook and Catch for example is a food festival that starts in September, but if you visit Ireland by the first half of October you'll still be able to swing by.
If you stay at Renvyle House, an historic country house in Connemara with a private freshwater lake, every Monday afternoon you'll have the chance to catch your own fish and take part in a cooking lesson to learn how to cook it the Irish way.
Mid October is also when the Connemara Green Festival happens. It's a festival which started to raise awareness of the unique ecology of Connemara, raising funds for biodiversity projects and conservation.
You'll find it in Letterfrack, and it'll be full of family activities, walks with local ecologists, craft workshops and outdoor activities.
In October there's also an impressive event. The Gaelforce Great Fjord Swim, in Leenane.
It's the largest open water swim in Ireland. Perfect for experienced swimmers willing to jump in the cold water to swim around Killary Fjord, the only fjord in Ireland.
Even if you don't want to swim, you'll love to cheer for the brave people willing to test themselves: it's a tough adventure, hats off to them!
You might also like:
Where to drink a good pint in Cork
The best fairytale castle hotels in Ireland
Road trip at Connemara National Park
The best destinations in Europe in October
Documents needed for ETIAS Europe and Schengen visa
Berlin (Germany) – Warm Apple Pie and Pumpkin Soup
October is one of the best months to visit Berlin.
As the days get shorter, the capital shines with amazing fall colors.
The red and yellow leaves usually last for about three weeks, allowing you to take amazing pictures, also without having to actually leave the city.
Harvest season starts in October, so there will be plenty of apples, pumpkins and chanterelles. Every restaurant and food stop will sell warm apple pie and pumpkin soup, made with the best local produce.
In case you had doubts on where to go on vacation in October in Europe, I'm sure you've already decided now.
Don't tell me I'm the only one easily swayed by the promise of good food!
Not enough yet? Then let me tell you that there are a lot of interesting events in Berlin in October.
On October 3 there will be the celebrations for the Day of German Unity, at all the main historical venues between Potsdamer Plats and Platz der Republik.
Pin it for later!
Travelling Dany
Danila Caputo is a bilingual travel writer living in between Naples and the Amalfi Coast (Italy). She travels and works with her husband Aldo, photographer and videographer. Their blog chronicles their adventures around the world, Italian/European culture and tips on how to be responsible travelers. You can find out more about their latest trips and their life on Instagram and Facebook.