Ultimate Packing List for Europe in Winter For Women
This post includes affiliate links. As an Amazon Associate, I earn from qualifying purchases. Full disclosure.
Travelling in Europe in winter can be a bit difficult to get used to. It rains, it snows, the temperature drops and the days are shorter. Let us offer a few useful tips to prepare your packing list for winter in Europe!
Packing for a Winter trip to Europe is a bit of a challenge. With the baggage allowance shrinking, you must learn to pack light, unless you want to spend a large chunk of your budget just to buy additional luggage allowance.
Because we love to explore Europe in the winter, we've had to learn how to outsmart the system.
I couldn't believe it but bringing a suitcase on our flight to Krakow in January was going to cost us as much as an additional ticket!
And because we were planning to visit Prague in Winter, we had to learn fast.
Guess what? We discovered it can be easy to pack for a winter trip!
Here's what to pack for winter in Europe, with all our winter travel essentials. It includes lots of outfit ideas and how to make sure you're not overpacking!
Snow is not something me and Aldo are used to.
We live in Naples, in the warm Southern Italy, and we don't get to see it often.
Our first winter vacation was definitely a challenge!
After all, winter in Italy is never too cold, even if it might snow in the Northern regions.
Let me just say that a few Amalfi Coast hotels have heated outdoor pools. Because you can enjoy them even in December or January without freezing to death!
Campania region is that warm.
Clothes for the cold weather are bulky and to be honest, Europe winter fashion is something I'm quite interested in.
I wanted to look nice, without overpacking.
When we visited Poland, we tried a new restaurant every night to find the best pierogi in Krakow.
I was still forced to rely on cabin baggage only. And my winter packing list was way too long.
I didn't want to wear the same winter clothes over and over again (ugh, gross!). But I also didn't want to pay extra to bring a larger suitcase.
Packing a suitcase for a trip in winter in Europe seemed super difficult. Until I discovered the importance of thermal underwear!
Quick Links to Post Content
Layering is key for surviving winter in Europe
Layering allows you to adjust your clothing depending on the temperature outside. As well as adjust during the day when temperatures may rise and fall.
It is the perfect way to survive winter, no matter what countries in Europe you're visiting.
Start with a lightweight base layer of thermal underwear (more on this on next chapter!).
This will keep your body warm without making you too hot.
Add a thicker middle layer such as a fleece or wool sweater for extra warmth.
So make sure to pack something you feel comfortable wearing. And plan your outfits well in advance.
You want everything you need to pack on paper. Do not bring stuff you won't wear!
Finish off with an outer layer of windproof and waterproof coat or jacket.
Winter time in Europe can be tricky. You need to be prepared for any kind of weather.
Ensure that all layers fit comfortably. They shouldn't be too tight, so that air can still circulate around your body.
Hats, scarves, and gloves are also useful winter accessories.
Whether you're visiting Winter Wonderland in London or going for a cold winter adventure.
Pack the Best Thermal Wear for Winter
Because Europe winter packing can be difficult, you have to make sure to optimize your packing list.
This doesn't mean that you have to freeze!
Our secret to light packing is to use thermal underwear.
It's perfect to keep you warm even during the coldest winter city breaks, and I know something about it!
We have been walking for hours, exploring the neighbourhoods in Prague in winter, but I didn't feel cold at all.
Yet there are so many options for thermal underclothes out there, that it's easy to feel overwhelmed.
What model should you choose? What about the fabric? There are so many options!
Some swear by wool, especially Merino wool, because it's very warm and great for thermal insulation.
But it's also pretty expensive!
In our case, we've found out that synthetic materials make some of the best thermal wear for winter… on a budget!
Of course it all depends on the kind of winter trip you are planning.
If you are going to live for a few months in a cold European region, you might want something more expensive.
Yet let me tell you that if you buy good synthetic thermal underwear, it will last for quite a long time.
Just read the wash care label to make sure you won't ruin it when you wash it!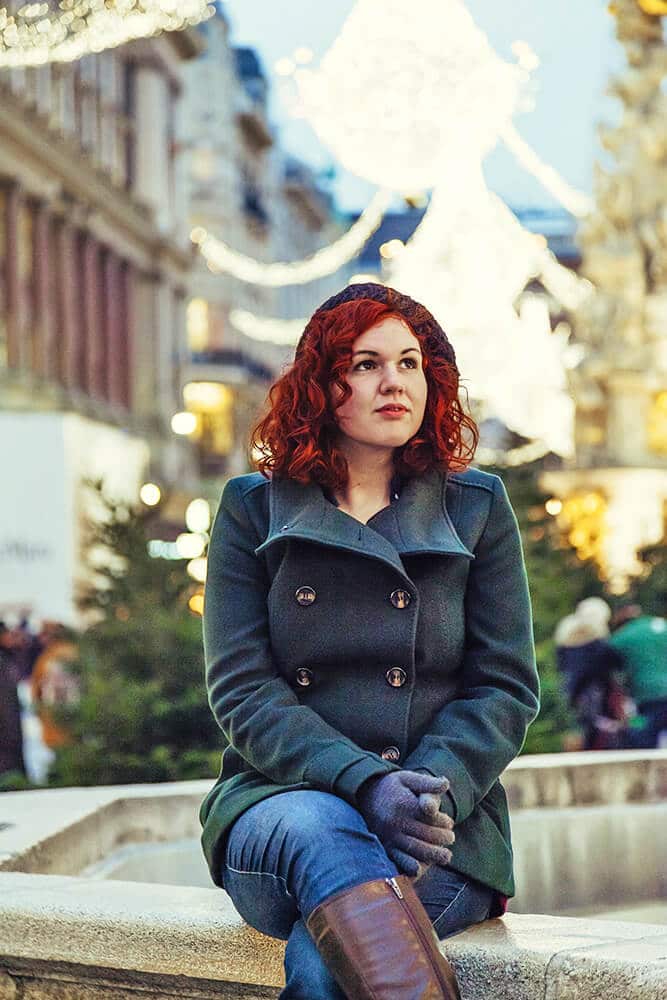 At least one pair of fleece-lined leggings is always on my Europe packing list.
They are the perfect choice for those who are looking for a budget pick for a cold vacation.
Because they're a spandex-polyester blend, they are very comfortable and stretch nicely, so you will be able to wear them all day long!
Also bring one thermal long sleeve shirt.
Again it's stretch fabric and tight fit, warm and breathable.
I love it because I can wear it under every shirt or sweater when I'm exploring central and southern Europe in the colder months.
Being a tight fit it won't make me feel trapped under a lot of clothes, and the V neck allows me to wear a low-necked sweater.
Wearing thermal underwear will allow you to pack lighter shirts and jumpers.
By reducing the volume, you'll get to bring more clothes also in a small carry-on.
Winter City Breaks vs. Ski Trips
Your list of what to pack for Europe in the colder months in winter has to take into account the kind of vacation you're going for.
There are quite a few European cities where you will find lots of snow (and amazing Christmas markets).
Consider those as fun winter city breaks.
Yet your travel list for Europe will look different if you're going for a ski trip.
Or if you're interested in hiking in the snow.
Winter city breaks in Europe mean that you will want to be comfortable while exploring.
You need to remember that you're packing for a winter day spent in the open.
Make sure you stay warm and dry!
Pick a pair of warm boots that you already know won't hurt your feet even if you walk a lot.
The most important thing? A large bag. Not only for packing things.
While planning a weekend in London you might be tempted to bring that gorgeous, tiny handbag.
Too bad that it only fits a lipstick and your phone: it would be pretty but useless!
I don't know about you, but I bring along a lot of stuff.
Camera, phone, lipstick, a foldable umbrella because you never know, hat, sunglasses… I don't do tiny bags!
If you're like me, go for something practical and chic, like a hobo bag (my absolute favorite!).
Or a crossbody bag. It won't be frown upon, even if you're going to explore Milan, the Italian capital of fashion!
When I'm planning to carry my mirrorless camera with me I usually bring a backpack.
It doesn't have to be huge, but make sure it's soft enough that you can fold it and pack it into your carry on!
Assuming you'll want to go out at night, you'll have to pack a few basics that are probably already in your winter wardrobe.
I never go anywhere without a black pair of skinny jeans.
I can wear them throughout the day, and they become perfect at night if I pair them with a nice sweater.
Let me just add that a nice, rich and dark (or red) lipstick will always vamp up your outfit. And it fits in every handbag!
Make sure you add it to your suitcase for visiting Europe in the winter months!
Winter City Break Essentials – Packing checklist
Packing for a ski trip will be of course a bit different. Yet your winter evening outfits might be the same, more or less. Especially because you should bring a good set of thermal wear.
For this kind of winter trip it's more important than ever!
Winter isn't in fact the time to fill your suitcase with light – but cool – clothes.
Especially if you're visiting Northern Europe, which is super cold.
You can still take plenty of winter photos without having to sacrifice your right to stay warm and dry.I recommend only packing clothes and accessories you feel extra good about.
Wear them at home, look at yourself in the mirror and be the judge.
If you have doubts, do not bring them.
Since you will need snow boots, a smart idea might be to wear them during your flight.
They are in fact quite bulky and might take too much space in your luggage!
I always wear a fleece neck warmer for a ski trip and a soft, wool infinity scarf for our winter city breaks.
While on a ski trip you'll want to add a few more layers, or a ski jumpsuit.
That takes the hassle out of layering on the top of your thermal wear. Its stretch fabric allows you to move freely and you will feel warm even for the extra-long days on the slopes.
Note: A ski jumpsuit is also sadly pretty bulky. Some resorts in Europe rent them: check out with your hotel first. Renting is the best option to avoid using too much space in your suitcase!
Another good option for packing bulky stuff is to get yourself some good compression packing cubes.
It's the perfect solution to reduce the volume in your luggage.
Packing a set of packing cubes makes things easier. Because you already know where everything is.
Getting the compression ones means being able to pack more stuff into less space. Smart, right?
Ski Trip in Europe – Essentials you'll need to pack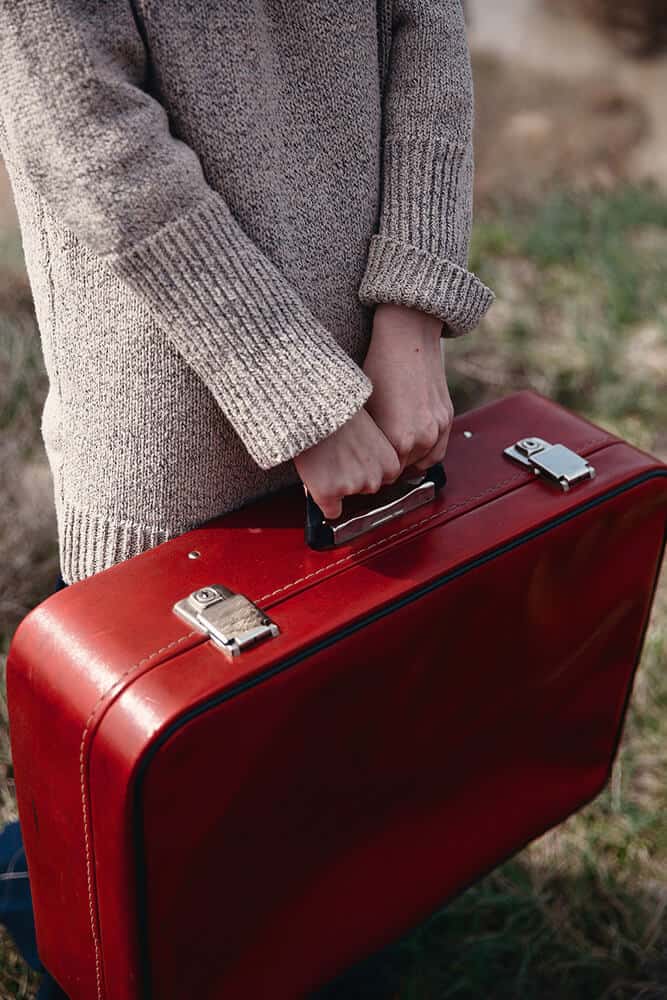 Winter in Europe: Backpack or Suitcase?
Even before you start deciding what to pack for Europe in winter, there's something you should do.
Try to make up your mind: are you a suitcase or a backpack traveller?
When we explore Europe in winter, we usually prefer to use our backpacks, for two main reasons.
The first one is that we often find pretty cheap flight tickets that only include cabin luggage.
And then we usually re-use at least one of our backpacks to go hiking.
It was pretty handy to have a sturdy one also while exploring the best photography spots in London, because we could easily carry our lenses and mirrorless cameras. Without having to bring an extra bag just for that.
For our winter city breaks in Europe we have two main backpacks.
One is a Eastpack casual daypack. I love it because it fits so much stuff and has a lot of pockets.
The other one is a 30L travel backpack that is flight approved and waterproof.
It fits a lot and is also expandable.
Both can be great choices for travelling in Europe in winter for up to one week.
If you decide to travel with a backpack, using compression packing cubes is almost mandatory!
In case you prefer to travel using a carry-on, by all means, check out this beautiful spinner.
The quality is great and their products will last you for years.
While this spinner looks tiny, with your compression packing cubes you will be able to fit in a lot of essentials for visiting Europe!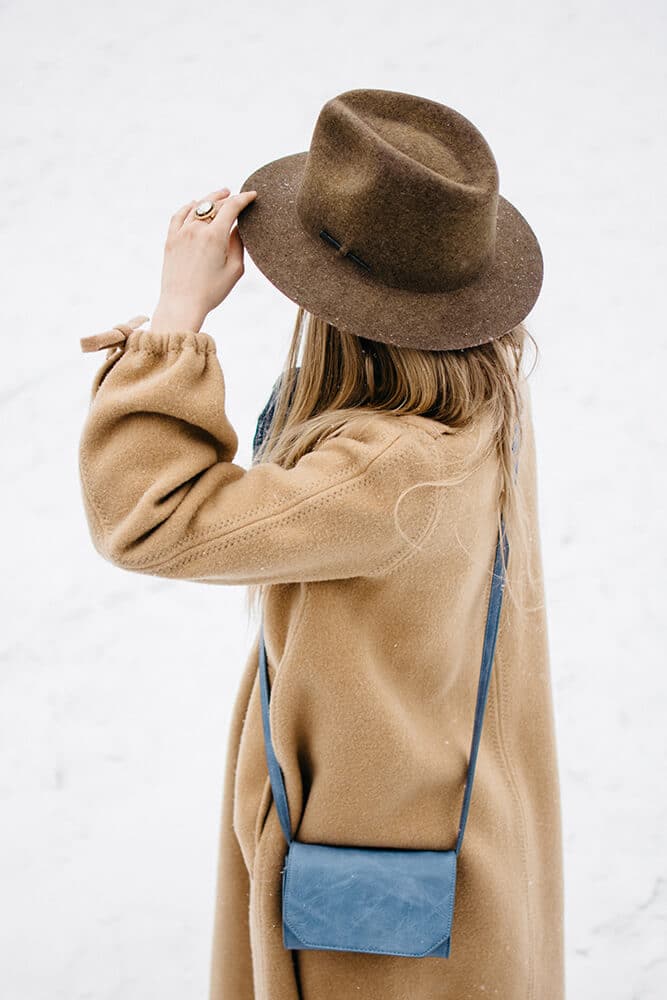 Packing for Winter Means Choosing The Right Coat
Picking a warm winter coat when planning a winter city break in Europe is the key.
You will need a versatile one so you can combine it for different looks.
If you can put your hands on a neutral color and a classic shape, that would be the very best option.
An understated coat won't be the focus of several looks, while still complimenting all of them.
Instead it will let the light shine on the accessories or on a fabulous hat.
Winter is one of the best seasons when it comes to experimenting with hats!
For the lesser cold cities in Europe, you might still do all right even with a smaller jacket.
Like a 100% wool blazer.
Of course, if you can, bringing a longer coat would be the best of options.
Traveling through Europe can be cold and you don't want to hole up in your hotel room at night!
Quite often, women's travel clothes for winter are pretty bulky. Maybe even plain boring.
That is why I recommend packing thermal underclothes throughout the winter months.
With those on, you can choose any (winter) outfit you want. It doesn't have to be bulky because they won't let you be cold!
If you're planning a ski trip to Europe, you will need a warm and waterproof coat.
Like this one, which is heavy but doesn't make you feel trapped.
Getting it in black is a smart option. It's also perfect to go out at night so you won't need to bring a second one.
In places like the Italian Dolomites, it's absolutely the norm to go to a classy restaurant wearing a puffy jacket.
Winter can be terribly cold!
On the contrary, you'll probably find lots of people only using a nice, classic coat on the while enjoying a city break in Rome or on the Amalfi Coast.
They never really get "cold".
More than about my jacket, I'd worry about etiquette.
Do you know how to tip in Italy?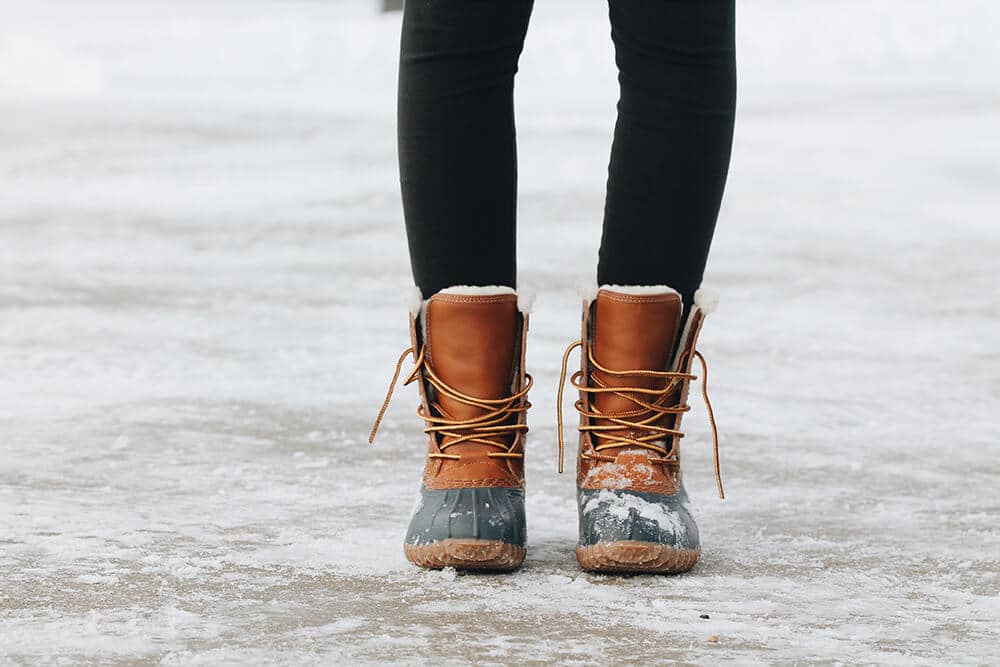 Make Sure You Keep Your Feet Warm in Winter
Footwear is another very important thing you should think about when packing for Europe in winter.
It should support your foot and be comfortable. Even if you walk for hours.
There are people who don't mind to walk around in high heels also for the whole day.
But that's not me.
I honestly could never pull that off!
Of course you're free to bring black pumps in your carry-on – especially if you're planning to go out clubbing. Yet consider adding a pair of black winter boots to your checklist for traveling to Europe.
They'd be confy and you can use them for most of your evening outfits!
In the lesser cold European regions – those where you can plan your winter city breaks without having to bring your ski overall – you might have to walk a lot.
If you need a second pair of shoes, get smart.
Wear the bulky ones on your flight and keep the other pair in your carry-on.
Another great tip for packing light for Europe in winter is to stuff your packed shoes with socks or small objects!
Since you'll probably be asked to remove your boots at the airport, choose a pair that is easy to take off.
Lots of tying and untying will only stress you out!
Sunglasses: Add Them to Your Winter Packing List
Did you know that the sun can be as dangerous in the winter season as it is in summer time?
Protecting your eyes should be a priority. Also for your winter city breaks.
Cold, dry air and bright sunlight (especially when it reflects on the snow) can damage your eyes and affect your eyesight.
It's very important to wear UV-A or UV-B protecting sunglasses.
Also keep eye drops at hand. If you're only traveling with a carry-on, choose single use vials, so you won't have to bring the whole box with you!
I could neer travel without eye drops. The air conditioning on planes tends to dry my eyes. They get red and puffy: a nightmare!
Sojos sells lots of sunglasses for less, even the trendy ones.
There's a shape for every face… or every outfit.
Because they're so cheap, you can buy one for every winter outfit you own!
Always Pack a Power Bank
Low temperatures affect battery life.
Which is why you should add a reliable power bank to your packing list for Europe in winter.
You will need a pocket size USB power bank that operates in low temperatures.
If you're carrying extras batteries, remember to keep them in your pockets.
If they stay warm they might last longer. Of course, make sure they're not too close to hand-warmers or the likes!
Another thing you might want to bring with you is a ziplock plastic bag.
The one you'd normally use for vegetables at home.
Hotels and restaurants are usually pretty warm, while outside the temperatures will be quite low.
This might result in condensation, that will ruin your camera and electric equipment.
The trick is to seal everything in a ziplock plastic bag before you head inside. It'll warm up gradually, surrounded by the dry air.
In a Nutshell – Ultimate Europe Winter Packing List
Lipstick or Chapstick
Ziplock Plastic Bag
I hope this guide to what to pack for a trip to Europe in winter was useful!
Let me know in the comments if you have more tips and where you're planning to go!
You might also like:
Insider tips for visiting Italy in winter
Why Prague in winter is absolutely amazing
Winter Packing List for Europe
Italian Christmas food you never knew existed
How to visit Vienna Christmas markets
The best of Bratislava Christmas market
15 awesome trip ideas to visit Europe in winter
Where to find the most amazing Christmas markets in Europe
Incredible travel gift ideas for women – have a smart Christmas!
20 awesome Christmas markets in Italy
Christmas in London – Everything you need to know
Why you should travel with your partner
Visiting Europe: Schengen visa or ETIAS Visa Waiver?
Discover the best time to visit Italy
Pin it for later!
Travelling Dany – Danila Caputo
Danila Caputo is a bilingual travel writer living in between Naples and the Amalfi Coast (Italy), graduating from the University of Naples Suor Orsola Benincasa in Foreign Languages and Literature. She travels and works with her husband Aldo, photographer and videographer. Their blog chronicles their adventures around the world, their love for the USA (where they have family), Italian/European culture and tips on how to be responsible travelers. You can find out more about their latest trips and their life on Youtube, Instagram and Facebook.