This post is also available in: Italiano (Italian)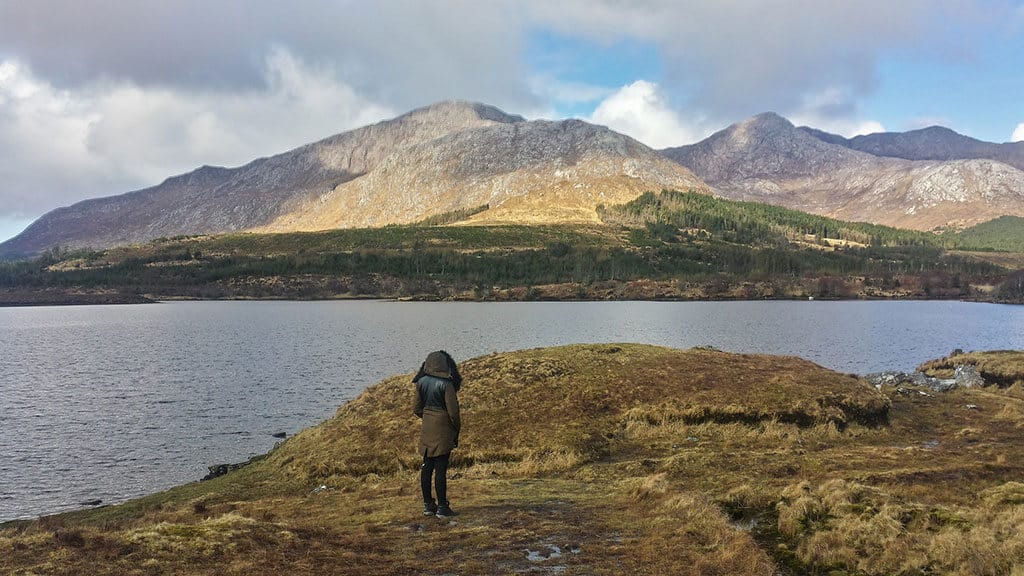 Connemara National Park is located on the West coast of County Galway, in Ireland. Widely known for its natural beauty, it delivers a mixed background of mountains, raw coastline, fairytale villages and ancient history. We have decided to drive the Connemara loop to spend more time in the area, but if you don't have time to stay for a few days, we'll discuss also a shorter itinerary that will help you to plan a Connemara tour in one day. One way or another you're going to fall in love with the wild side of Ireland just like we did!
Even before a few of our friends moved to Ireland, we already loved this beautiful Country. Our first trip there was in 2008 and since then things have changed a great deal. But one thing is still the same: you will need to rent a car to explore Ireland. Public transport is not so great, as my friends who live over there can confirm, so it's always better to be independent and to be able to choose your own itinerary.
If you are still in the early stages of planning your trip to Ireland, I strongly suggest you spend 2-3 days in the Connemara area. We have visited Ireland many times and the region we never seem to forget is still Connemara: it was love at first sight for us!
In case you don't have that much time, at the bottom of this article you will find a shorter itinerary, which is more hurried, but that will allow you to see the best of Connemara in one day.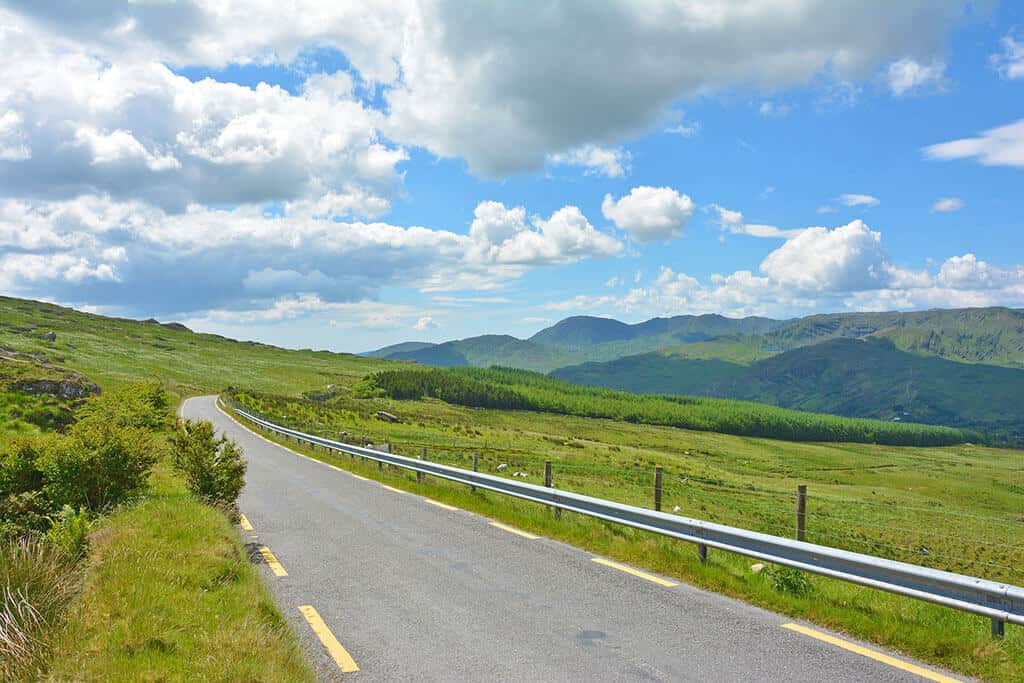 The starting point of your tour
Most of the Connemara National Park tour will be on the N59, with a few detours along the way. Some people start touring the area from Galway, some others from Clifden. Others drive there straight from Sligo, up in the North. Let's see what's the difference between these starting points, so you can decide how to better add the Connemara region to your itinerary.
You might also like:
The best 40 Irish souvenirs you absolutely need!
Connemara tour from Galway
Galway is a vibrant, cute and small city with lots going on. If you are planning to spend a few days on the West coast of Ireland, by all means, start your Connemara trip from Galway!
Pro: you will be able to go through Maam Cross (more info below) and the lovely wooded town of Maam: how do amazing pictures and a pint of Guinness sound to you?
Con: You will need at least two days to do the whole loop.
Connemara tour from Clifden
Clifden is a cute town that is generally considered the "Capital of Connemara". It's pretty close to the Sky Road (keep reading for more info) and you will find plenty of nice shops and restaurants.
Pro: If you don't have enough time, Clifden is the perfect starting point to have a day trip to Connemara, driving straight to the best highlights. It's also way less crowded than Westport or Galway.
Con: Because Clifden is a small town, finding a b&b can be difficult unless you book your room well in advance.
Connemara tour from Sligo
Some people prefer to drive to Connemara National Park from Sligo. It's a bigger city (according to the Irish standards) but it's too far away from the Connemara area. If you are coming from the North, I'd suggest stopping in Westport in stead. It is a bit closer but remember that there isn't a motorway so driving South will definitely take longer than what you might be used to.
Pro: It's the perfect place to rest if you are in need of an intermediate stop while driving to Connemara. According to several sources, food in Sligo is delicious!
Con: I don't think Sligo is a good starting point specifically for a trip to Connemara, because it's too far away from the main highlights.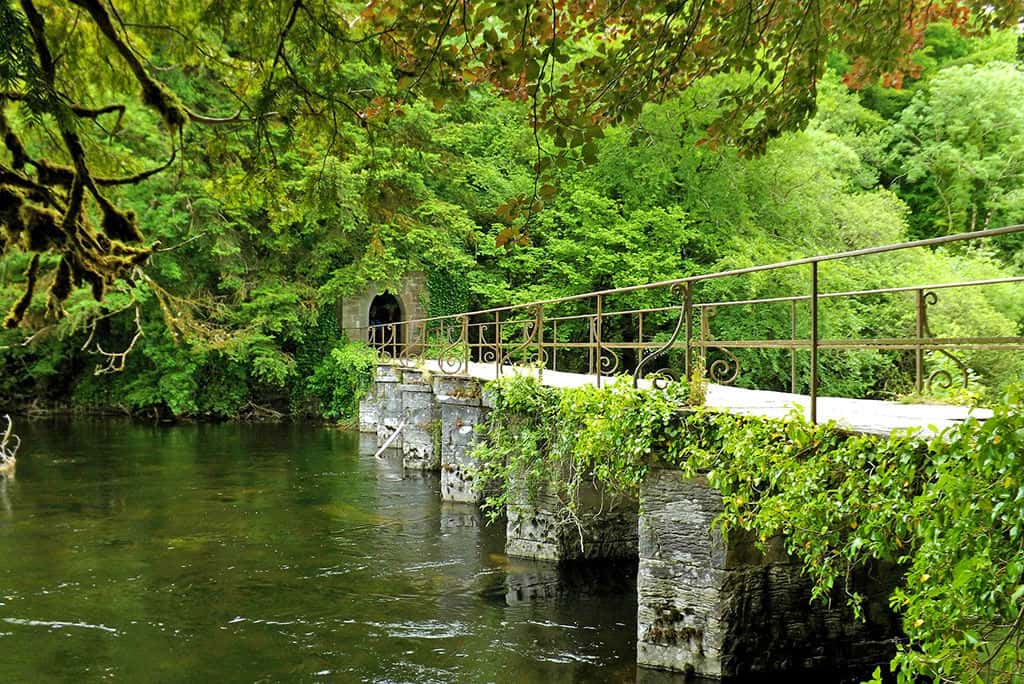 Quiet Man bridge
If you are driving the Connemara loop from Galway and you like to visit places where famous movies were filmed, then by all means, stop at the Quiet Man Bridge! The stone bridge is located about 8km after Oughterard, on the N59 heading West. This was the set of The Quiet Man, a 1950 movie starring John Wayne and Maureen O'Hara. The bridge is visible from the road: be careful to spot the small sign indicating where to turn! There's room to park a couple of cars, and you can stop here to take a picture sitting on the bridge just like John Wayne did, with the Irish countryside in the background!
Maam Cross
Maam Cross is a crossroads which is a famous photography spot for those who are exploring Ireland. Here you will be able to see an amazing variety of bog, moorland, lake and mountain scenery… all in the same area! Maam Cross is also popular among cyclists, botanists, and for those who love golf and horse riding. It's not too far away from the Quiet Man Bridge and if you are interesting in the lesser crowded Connemara walks to enjoy the beauty of this area, then you can spend some time at Maam Cross to take pictures and just walk around: you'll find beautiful spots wherever you go.
Bog road
One of the less traveled routes in this area is known as the Bog Road. To get there you will have to drive from the N59 on the narrower R341 towards Ballyconneely. Turn left at Ballinaboy before the bridge, and you will discover the famous Roundstone bog conservation area.
The tranquil scenery is definitely worth some of your time time, to enjoy the eerie views with the Twelve Bens in the background. While driving there keep your eyes open for the tiny viewpoints where you can stop for a few minutes to enjoy the rugged and glooming coast. The landscape here is one of the most unique in Ireland.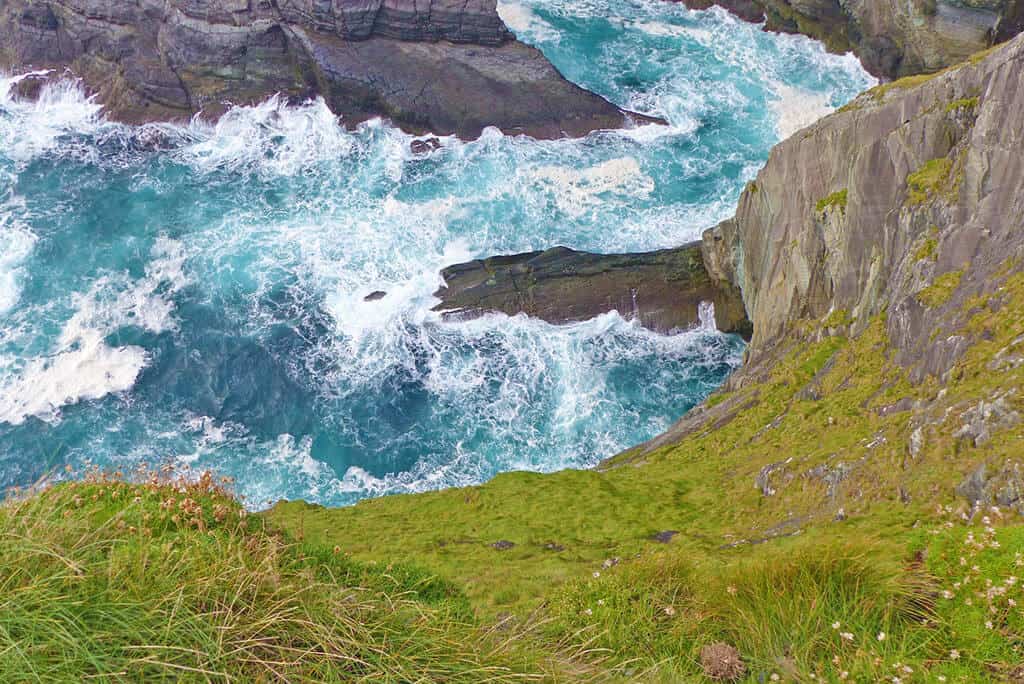 Sky Road
I must confess that the Sky Road was among the first things I added to my list of things to see at Connemara National Park. Everyone kept talking about this place and I absolutely wanted to see it with my eyes. The fact is that I am terrified of heights, and this is the road that scared me the most in Ireland. We visited on a sunny but particularly windy day, driving a small car (so imagine how much the wind making it sway). The Sky Road is pretty narrow and some parts of it, on the hills overlooking Clifden Bay and its offshore islands, when you find a car coming from the opposite direction… you get to sweat a little.
Did I mention that the road is very narrow? Well, even driving a small car, Aldo had to be extra careful to offer some space to the other car. Guess who was the one looking down the cliffs and thinking "oh my gosh we're going to die"? Yes, that was me!
A suggestion for you: don't panic and don't look down in case you're afraid of the heights. If you don't think you can make it, just pull over when you can and let the other car drive through, before to start moving again, it will be easier, especially if you're not used to driving on the left!
In case you have some extra time and you like hiking, at the summit of Monument Hill you will find a stone memorial to Clifden's founder, John D'Arcy.
On the highest point of the Sky Road there's a car parking and a viewpoint on the left, so even if you don't have time to hike, you'll still be able to take beautiful pictures!
If you are staying in the Connemara region for a couple of days, Cliften is a good place where you can spend the night. After the Sky Road, you could drive to Clifden to leave your car and then take a walk to the Clifden Castle to end the day.
Letterfrack
Letterfrack is a tiny village founded by the Quakers in mid-19th century. Famous for its live traditional Irish music, it's located beside the sea on the Wild Atlantic Way, and overlooked by the majestic Diamond Mountain. While you are driving there from Clifden, on the road you will find a small craft shop on your right. The shop is amazing and their parking area is perfect if you want to take a beautiful picture of The Twelve Bens.
Letterfrack was selected by Guglielmo Marconi as the location for the transatlantic wireless receiver station for his new wireless transmission service at the beginning of the 20th century.
It is yet another great option in case you're planning to spend 2 days in Connemara (or more!), because here there are plenty of places to stay in the area. Letterfrack is the starting point of many lovely Connemara walks and it's also pretty close to Kylemore Abbey.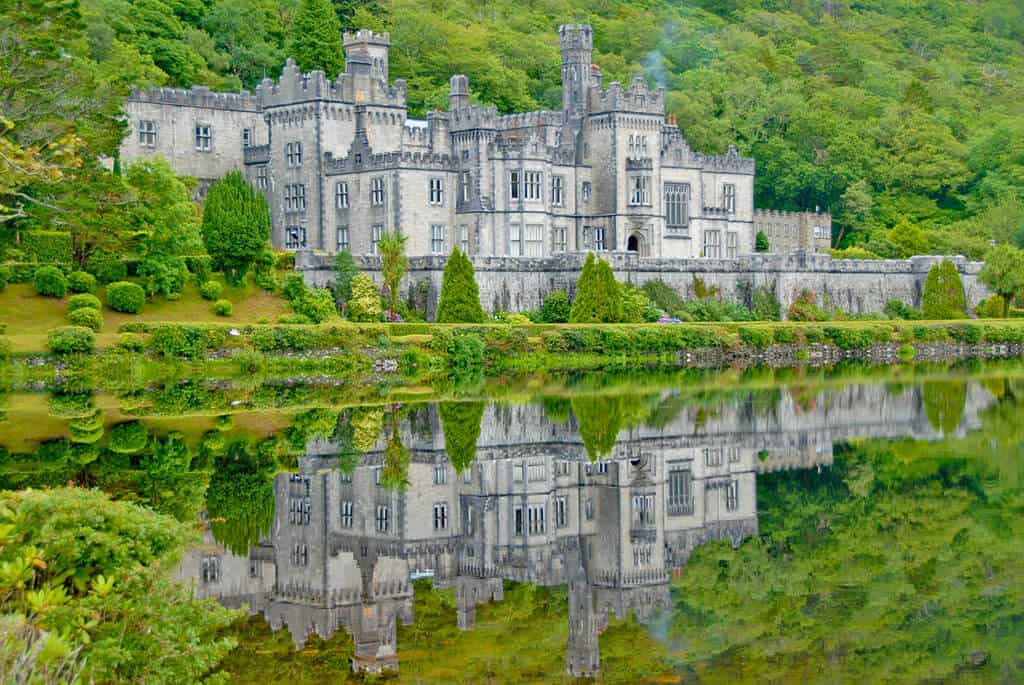 Kylemore Abbey
Kylemore Abbey (also known as Connemara Abbey) is one of Connemara's most popular attraction and also one of the most beautiful castles in Ireland. The Neo-Gothic castle was built by Mitchel Henry in the 19th century and became a Benedictine Abbey when nuns fleeing during World War I sought refuge there.
If you have a bit more time, I absolutely suggest you spend it here. We loved to visit the castle grounds, the chapel and especially the walled gardens. If you are visiting in Spring, then know this is one of the most instagrammable spots in Ireland: we took tons of pictures and still think that the Kylemore Abbey gardens are the most impressive ones we've ever seen!
By the time we finished it was late afternoon and we took a break at their tea room for a cup of tea with a delicious slice of cake. We sat outside, the weather was amazing and because the sun in Ireland sets quite late (we weren't used to that), we still had plenty of light to look around and to keep driving to the next stop.
Diamond Hill loop
If you are spending the night in Letterfrack and you like hiking, then you might be interested in the Diamond Hill loop. The hike to the summit is moderately difficult, but just like for Mount Vesuvius, the most important important thing is to wear proper outdoor clothing and good shoes (no flip flops, please!). The whole walk is pretty long, because it's divided in two parts. From Letterfrack you can access the Upper Diamond Hill Walk, which is 3.7km long and reaches the summit. The view from above is amazing, but of course it will take some time to hike to the top, especially because you're going to stop pretty often to take pictures!
Killary Fjord
Ireland has three glacier fjords, but the locals think that there's only one "true" fjord, Killary Harbour, on the Connemara loop. It extends for 16km in from the Atlantic, between the Counties Galway and Mayo: be prepared for some of the most spectacular scenery in the West of Ireland!
Killary Harbour is also extremely deep and is a centre for shellfish farming. Birdwatchers from all over the world come here to watch a number of protected species… and if you are very lucky you'll also be able to see the otters that breed here!
Killary Harbour is also a great spot to witness amazing sunsets!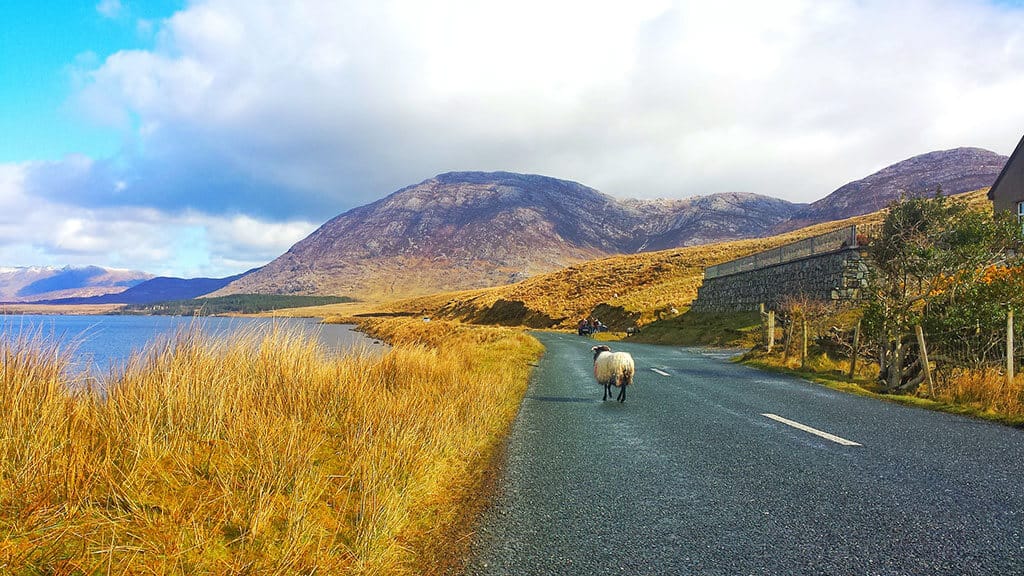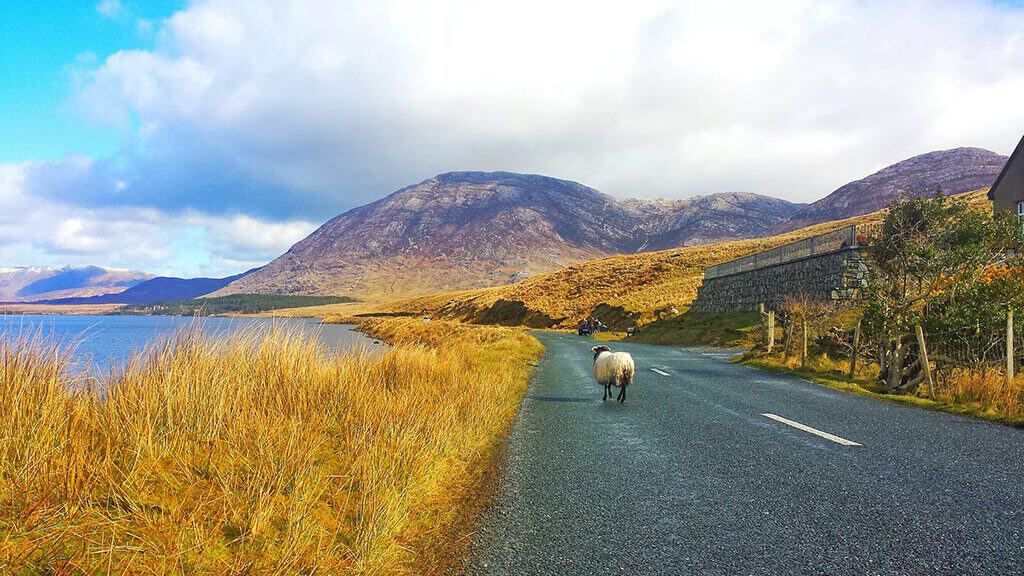 Leenaun village
Leenaun (also known as Leenane) is a picturesque village that featured in the movie The Field, starring the amazing Sean Bean. Driving towards the village you'll see a lot of lakes and turf hills. Even in the village itself there are multiple streams, and a nice bridge crossing the Lahill river in the village center. The bridge was swept away in 2007 after a huge rainstorm, cutting the town in half. It was rebuilt in 2009, mugh larger than before, and hopefully more solid!
In Leenane there are only a couple of pubs where you can stop for a quick snack so we didn't really spend a lot of time here, as there's so much to see in Connemara!
Inagh Valley
Inagh Valley is one of the most scenic areas you will cross on your Connemara National Park tour so keep your camera at hand, because you will stop pretty often to take pictures!
The valley boasts picturesque lakes and majestic mountains: several beautiful Connemara walks start in the area and they are always different, because of the light reflecting in the mirror lakes. Popular among fishermen, it's the perfect place to relax and soak up nature. This is the area were we found many herds of beautiful Connemara pony, sheeps and cows. The perfect postcard from Ireland!
If you are driving to Dublin after enjoying the Connemara loop, here are a few tips for out of the beaten path things to see in the Connemara outskirts:
Lough Corrib: it's the biggest lake in the Republic of Ireland and the second largest on the island of Ireland. Make sure to stop to take a few pictures and enjoy the breathtaking views!
Cong: This beautiful village is located on an island formed by a number of streams that surround it on all sides. Home of Ashford Castle, a luxury hotel built by the Guinness family, it's full of instagrammable spots. There's a monk's fishing hut on the river which also makes an interesting stop.
Ross Errilly Friary: the medieval Franciscan friary is a National monument and among the best preserved medieval monastic sites in the Country. Out of the beaten path, it's often disregarded by the tourists, but we actually liked it very much. The entrance is free!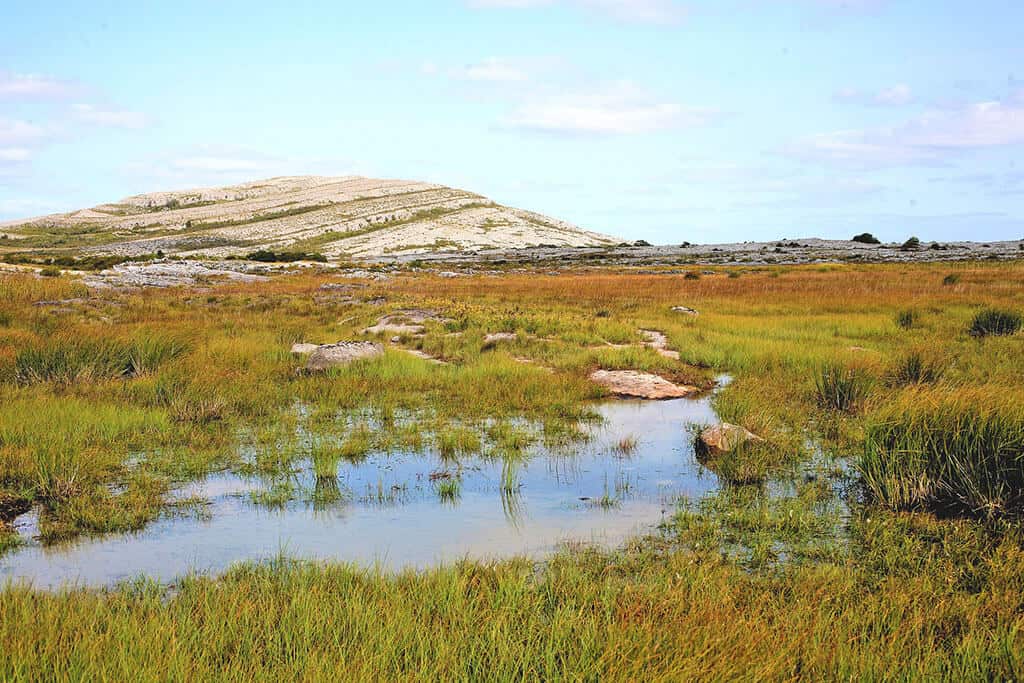 One day at Connemara National Park – Whistle-stop tour
If you can't spend too much time in Connemara but still want to visit, our suggestion is to plan an itinerary with the best highlights that you can see in a day. Of course you won't be able to hike or spend too long at the Connemara Abbey but you'll still get a taste of this amazing area!
Our suggested itinerary would be:
Clifden
Sky Road
Kylemore Abbey
Killary Harbour
Inagh valley
You might also like:
Where to drink a good pint in Cork
The best fairytale castle hotels in Ireland
Road trip at Connemara National Park
The best destinations in Europe in October
Pin it for later!