Best pubs in Cork to have a night out (+ great bars!)
This post includes affiliate links. As an Amazon Associate, I earn from qualifying purchases. Full disclosure.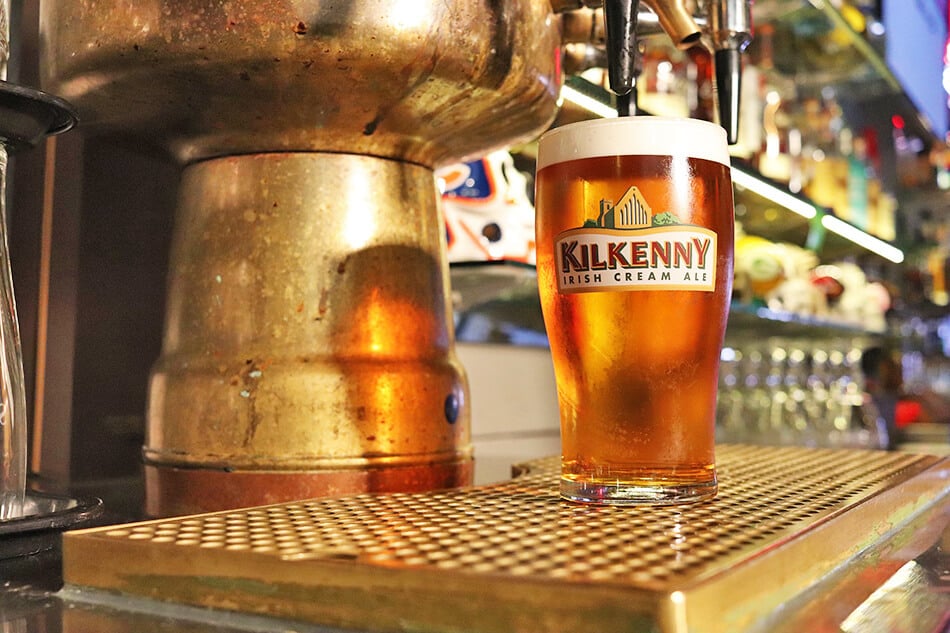 Ireland is a fairytale island full of legends, magnificent castles, mouth-watering food… and drinks, especially Irish ale. After road tripping in Connemara National Park, me and Al drove down to County Cork. There are in fact a lot of Italians in Cork, among them a friend of ours, Luca, who works at Marriott. To show us a bit of the beautiful city of Cork, he treated us on a tour of the best pubs in Cork. The cocktail scene in Ireland has upped its game, and Cork City has managed to monopolise some of Ireland's finest mixologists to serve the thirsty crowds in what is known as the "rebel county". Let's have a look at the quirky bars and pubs that you should absolutely try when you visit Cork!
Quick Links to Post Content
Best pubs in Cork (live music, Irish ale and great food)
The Crane Lane Theatre
This is one of the biggest pubs in Cork, that where you will often find live music events, from jazz to rock. They have an open area and two other big rooms inside, so you get to see several different locations in the same night. Even when there are live gigs admission is free and they serve fresh pints of IPA beer from local Rising Sons brewery (see below). People watching at The Crane Lane Theatre is one of our favorite pastimes!

You might also like:
40 souvenirs from Ireland you have to have!
Hidden Ireland: off the beaten path spots
Rising Sons Brewery
The Rising Sons Brewery is an independent, family owned microbrewery in the Old Town in Cork. They always brew small batches of beer mixed with seasonal specials and experimental recipes. This means that you will get to drink some of the best Irish ale out there! Because they have seasonal beers, good music and good food (including pizza, but it's not the kind of pizza you'd eat in Italy!) it's one of those pubs in Cork that never disappoint. You can also consider it as a "budget option" since they often have great deals. Pizza and a pint of beer at about 10€: just like in Napoli!

Reardens
Reardens is one of the most crowded pubs in Cork during Paddy's day weekend and for every rugby match, especially Six Nations! The reason why sport lovers come here is the large screen and the great offers during every sports match. People can grab a great pint of Irish beer for just a few Euros at the Birdie Bar. No wonder that it's popular! Guinness beer here was particularly good!
The Oliver Plunkett
The traditional setting of this pub doesn't mean "old", but it's exactly what you'd expect from a true Irish pub (as in not the fake ones you can find everywhere else in the world!). The food at The Oliver Plunkett is absolutely divine and for St. Patrick's weekend they usually plan a few days of "craic agus ceol" (beer and music) from March 16 to 19. It will be a time to take pride in the Irish heritage and raise your pint to Ireland!

Thomond
Thomond can definitely be considered the best sports bar in Cork. The atmosphere is very relaxed and their top feature is the fact that they serve food all day long, (not so common, in Ireland). Located in the city center, it offers large servings of delicious food at a honest price. It can be pretty loud in the weekend, so make sure you don't there too late!

South County
The only downside to South County is that it's quite far from the city center (Douglas Village area) so it's not easy to get there, especially using the local buses. Yet if you can make it or if you have rented a car, it's definitely worth visiting! This classic rustic pub has a great selection of Irish beers and homemade Irish food. Our favorites were definitely roast chicken and bangers and mash. At night there's usually live music.
Welcome Inn pub
This small pub in Cork City will welcome you with the nice scent of food and super-friendly staff. Welcome Inn (which is also a B&B, doh!) is one of the oldest pubs, well over 170 years. Yet it doesn't feel "old" at all! Both locals and visitors have lots of fun with the live music sessions, from jazz to pop, to rock. You might have to squeeze in or sit at a table with the locals, but that's even more fun!

Jim Cashmans Pub
Jim Cashmans pub is located in the heart of Cork city so you can easily just walk there. You will find it near the Crawford Art gallery, and it's one of the traditional pubs where the locals go. This doesn't mean that you will be the outsider, on the contrary, they seem to love to welcome tourists. So much so that it's not unusual to be approached from people wanting to know where you're visiting from. If you're hungry, please, order a bowl of Irish stew, it's absolutely mouth-watering! At night, as it happens in some of the best pubs in Cork, there's live music at no additional cost.

Franciscan Well Brewery
The Franciscan Well Brewery is, as the name suggests, built on the site of an old Franciscan Monastery that dates back to 1219. It combines modern technology with Irish tradition, creating a classic beer selection that includes lager, ale, stout and wheat beer. They proudly state that their beer is completely natural, free of chemicals, and we appreciated it a lot! The Franciscan Well Brewery also offers brewery tours for those who are interested in seeing how they make their amazing beer.
Sober Lane
Sober Lane is a very nice pub located on the bank of River Lee, so by the city center. It's pretty popular for their pizzas (again, not the Neapolitan pizza but it's still very good): unless you're very hungry, you might consider sharing one. Topping are very generous! Al tried their sweet potato fries (way better than those we had in Las Vegas), and we were pleasantly surprised by the fact that they serve food until late. Again, this is not common in Ireland! Music is not a common occurrence but the pub is still lively and very welcoming anyway!
Gallagher's Gastro Pub
Gallagher's Gastro pub is a live music venue hosting performances from Wednesday to Sunday. Located on one of the most instagrammable areas in Cork city center, it serves a variety of local craft beers and cocktails. Of course there's food and it can be a great pub to go to if you visit with your kids, since they have yummy kids' menus! If you're in doubt on what to eat or drink, just ask the staff: they're always happy to help!
Abbot's Ale House
Abbot's Ale House is a quirky pub located above a beer shop. Just as promised by their name, they offer an extensive collection of beers from all over Europe. There are well over 300 so I won't lie to you: it took Al ages to actually choose something! Gosh! The draught beers selection is often changed, and you can ask the servers for suggestions if you're in doubt. The only downside of this place is that they don't serve any food.
The Mutton Lane Inn
The Mutton Lane Inn has been included in the Cork Heritage Pub Trail and for a good reason! This pub is a beautiful gem in the heart of Cork, with a huge selection of local beers on tap. Located next to the English market, it's a great place to go to after you've spent the afternoon exploring Cork and shopping. There's good music, but to be honest we were more focussed on the cozy environment and great atmosphere. At Mutton Lane Inn it's impossible not to make new friends!
Dan Lowrey's Tavern
Dan Lowrey's Tavern is a traditional irish pub in Cork city, located near River Lee. We had fish and chips with a pint of Guinness, but there's all the Irish ale you can think of, and a large selection of pub food as well. Our friend Luca ate a Shepherd's pie and it was delicious. If you're into lamb pies, then go for it!
Best bars in Cork (awesome cocktails in quirky locations)
Electric bar
Electric bar is the kind of bar you go to without expecting to find a seat. But you'll get that soon enough: the crowd was spilling out onto the grass when we visited! This art-deco bar is located at the end of South Mall. The locals love to visit on Friday for after-work drinks. If you go there at sunset you'll be treated to a wonderful sunset on St. Fin Barre's Cathedral and Elizabeth Fort! In case you love gin, ask for the Gin Experience, you won't be disappointed!

Dockland
Dockland is one of the bars in Cork that starts selling cocktail at breakfast in the weekend. They serve in fact a Bloody Mary menu, in six versions available. One of the most popular is the Beetroot Bloody Mary, made with gin, beetroot, dill, and lime. If you're going with someone who doesn't like to start drinking that early in the morning, they also serve a regular weekend brunch menu!

The Oyster tavern
While the Oyster Tavern claims to be the oldest bar in Cork, it was recently remodelled. Turned into a glamorous and stylish spot, located on Patrick Street, next to one of the entrances to the English Market, it has soon become popular among the instagrammers looking for a great location to take a few pics. Yet the Oyster Tavern won't disappoint you , not even if you want to go drinking in Cork to taste a few traditional cocktails . They have a cocktail menu steeped in heritage and tradition, with a modern twist: most of their cocktails use local liquors!
Arthur Mayne's Wine Bar
Arthur Mayne's Wine Bar is a little gem located in the heart of Cork. From the outside it looks like an ancient apothecary. Built in 1720, it serves craft cocktails in a romantic atmosphere: how does having a drink by the candlelight in a 120-year-old bar sound to you? The glass counter cabinets and the walls are lined with ancient medicines, perfumes and other very old heirlooms. At night (usually until 1:30 am) they serve delicious tapas, every day of the week. The Wine Bar also has a second floor, known as "Upstairs" cocktail bar. It's the area usually reserved to couples looking for an intimate evening.

Cask
Cask is one of the places we found while trying to understand what to do in Cork (besides drinking and eating!). We've been told it's one of the newest bars in town, located in the Victorian Quarter on MacCurtain Street. Unlike some other places we mentioned in this article, Cask is a bit more expensive, so if you're visiting Ireland on a budget, you might want to look for something else! The cocktail menu here changes every eight weeks, and it's seasonal, so it always incorporates local spices and ingredients. If you're looking for an instagrammable (and mostly unknown to tourists) spot, walk to their outdoor area: it features a small waterfall! It's both relaxing… and perfect for the 'gram!
You might also like:
Where to drink a good pint in Cork
The best fairytale castle hotels in Ireland
Road trip at Connemara National Park
The best destinations in Europe in October
Documents needed for ETIAS Europe and Schengen visa
Pin it for later!
Travelling Dany – Danila Caputo
Danila Caputo is a bilingual travel writer living in between Naples and the Amalfi Coast (Italy), graduating from the University of Naples Suor Orsola Benincasa in Foreign Languages and Literature. She travels and works with her husband Aldo, photographer and videographer. Their blog chronicles their adventures around the world, their love for the USA (where they have family), Italian/European culture and tips on how to be responsible travelers. You can find out more about their latest trips and their life on Youtube, Instagram and Facebook.