The best London photography spots to shoot instagram pics: with lots of ideas to capture their beauty!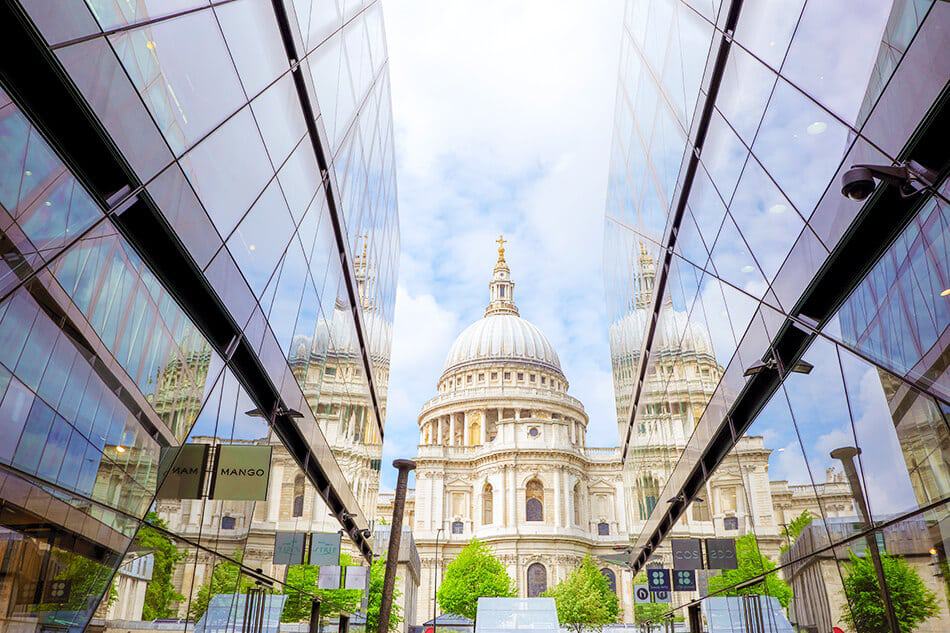 London, the iconic British capital, is one of the most famous and photographed destinations in Europe. On Instagram the hashtag "London" counts over 98 million results and that's without all the related hashtags!
However this is also a pretty big city, so if you are planning a trip to London and want to make sure you hit all the best London photography spots, check out our suggestions. Because they are scattered throughout the City, it's easy to fit them into almost every itinerary, no matter how short your vacation will be!
Our choices are all visually striking and also fun to visit: the right mix between the touristy spots and the lesser known areas. All in all, these are the best places to photograph in London, according not only to us but to millions of instagrammers!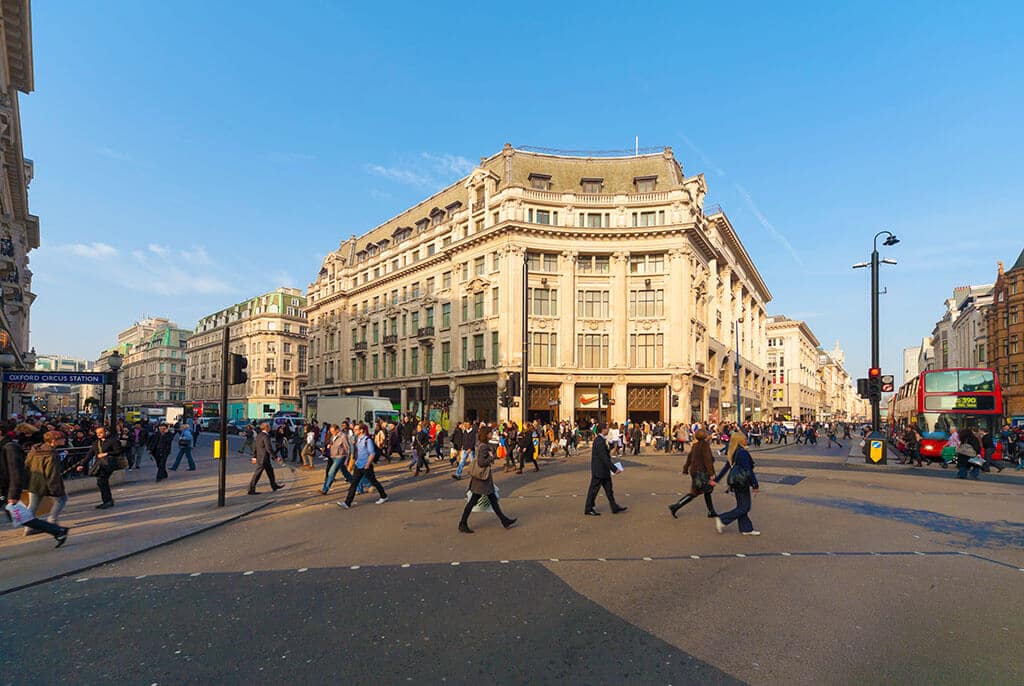 Oxford Street
Red telephone boxes, red double-decker buses and black cabs in the collective imaginary are everything London is about. Of course you don't want to get back home from your trip to London without an iconic shot, right?
Oxford Street is the perfect place to go to if you are looking for wide roads, a busy street and lots of red double-decker buses.
Here you will find a convenient pedestrian sidewalk in between lanes for you to take the perfect Instagram shot, without risking to get run over.
In case you have brought a good tripod with you, try your hand at long exposure shots of the moving traffic or of the red buses. You will be surprised by the good results!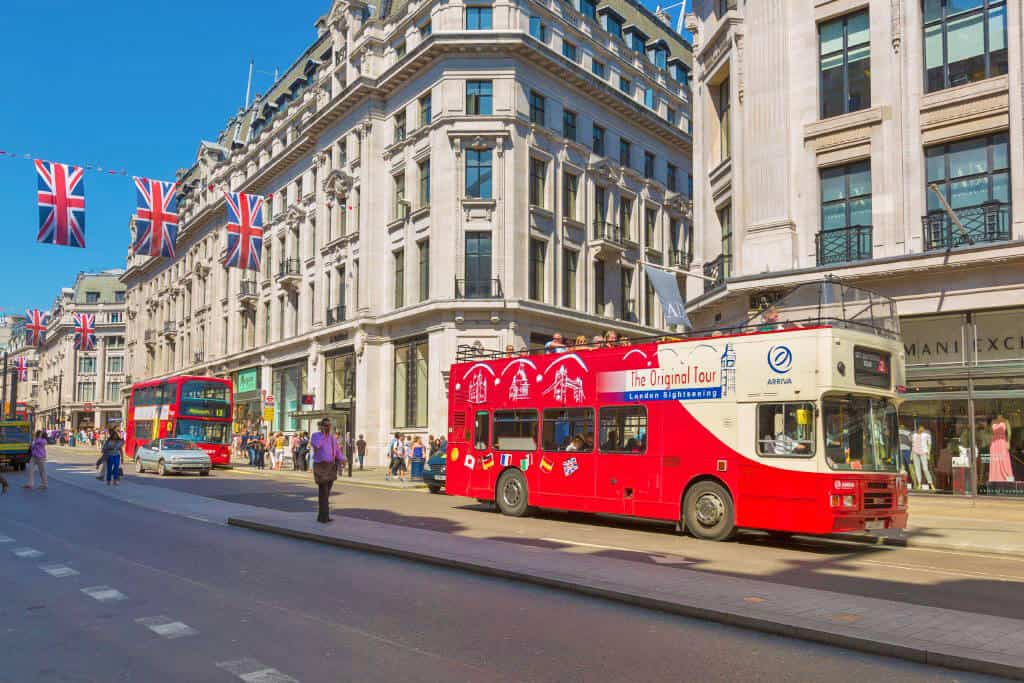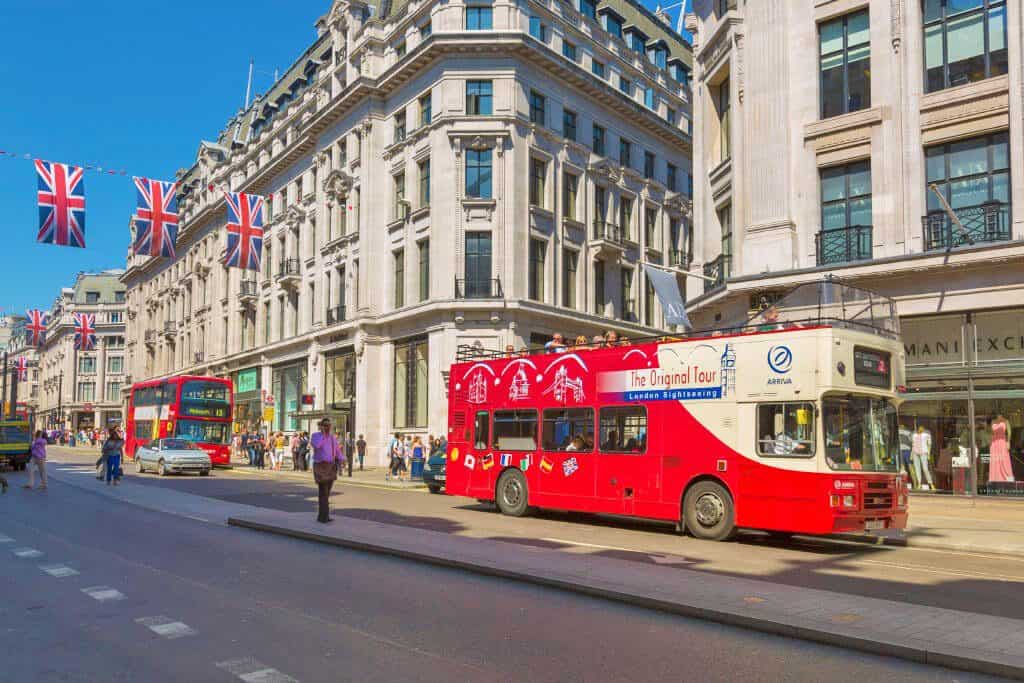 Regent street
If you're in Oxford Street, then walk over to Regent Street, it's just around the corner.
Located in the West End, it's one of the most famous streets in the City. Here you will find super famous, trendy shops like Liberty, Anthropologie, Nespresso or Apple which represent also interesting places to photograph in London.
But who said you can't also do some shopping while you're there? Just sayin', I absolutely don't have a compulsive shopping issue!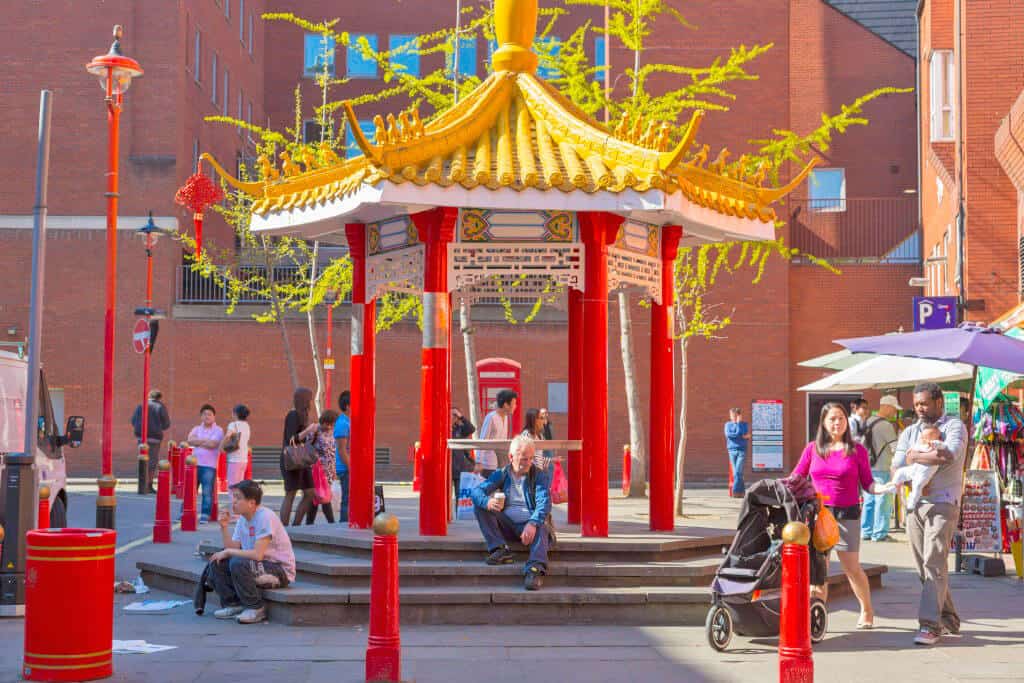 Chinatown
Many of the people who are planning to visit London won't add Chinatown to their itinerary. Some don't even know that London actually has a Chinatown, which is a pity!
The area is not only a great spot if you're looking for some awesome Asian food, but it's also full of amazing instagrammable spots.
You will find the great entrance gate (actually it's the largest Chinese gate in Great Britain) not too far away from Soho or Leicester Square, and if you're lucky enough to be there for the annual Chinese New Year Celebrations, be prepared to gape at the magnificence!
Chinatown is easy to explore on foot, as it's a relatively small area and some streets are pedestrianised. You will find streets and buildings richly decorated with Chinese symbols like dragons and red lanterns, that give an insight into Chinese culture and religion.
Because this area can be particularly crowded (especially around lunch and dinner time), make sure to arrive early in the morning for some good shots!
You might also like:
Find all the hidden restaurants in Chinatown and the secret Soho bars in London!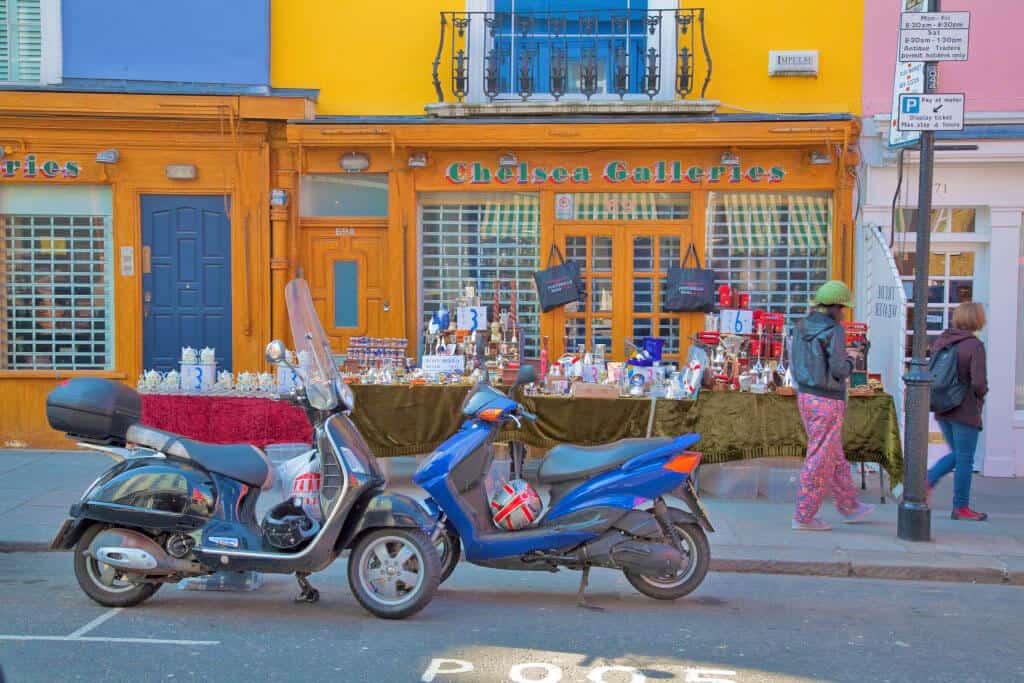 Portobello Road
I already told you about Portobello Road in my budget itinerary for London. It's probably one of the most instagrammable places in London.
Famous for the cute colorful houses, and for a very interesting market that attracts a number of curious and tourists, it has a huge downside. While the place is absolutely beautiful, it can be also assaulted by hordes of instagrammers.
A good option to take shots that won't become yet another copy of what other people are doing, is to wake up extra early to be there when no one else is around (yet).
Find your own style and mind the cute details. Like a nice bicycle in front of a pink house, the yellow flowers blooming from the bushes in springtime, or even the occasional cat strolling around.
Flowy dresses and floppy won't necessarily be a bad thing, but aim for originality!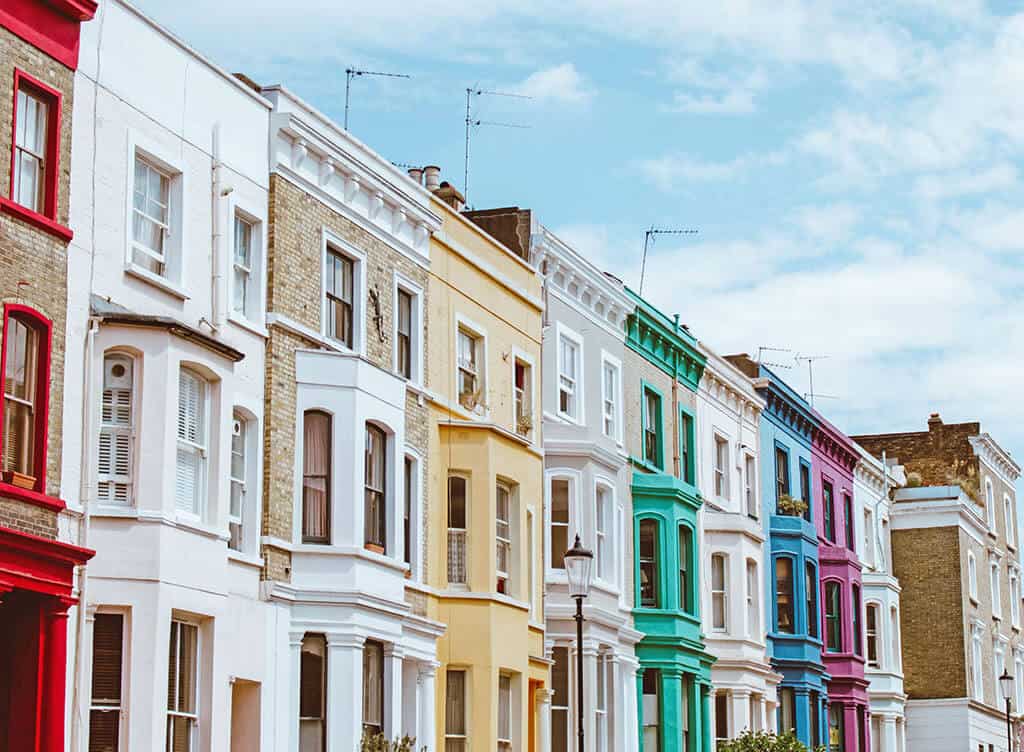 Notting Hill
Are you also fan of the romantic movie "Notting Hill" with Julia Roberts and Hugh Grant? Well, then while you are going to Portobello Road, make sure you stop around, to find a few of the places where they filmed it!
Because so many people just walk through this area to get to the colorful houses, it can be considered one of the very underestimated photography locations in London.
But in my humble opinion, I quite like the pristine houses and the beautiful architecture of Notting Hill, for almost every kind of shot (ex. fashion, lifestyle, travel photography).
If you're lucky you might find also a couple of nice vintage cars parked in front of such houses that will give your pictures the extra kick.
Yet make sure not to invade anyone's privacy by walking to someone's doors or into someone else's garden, please!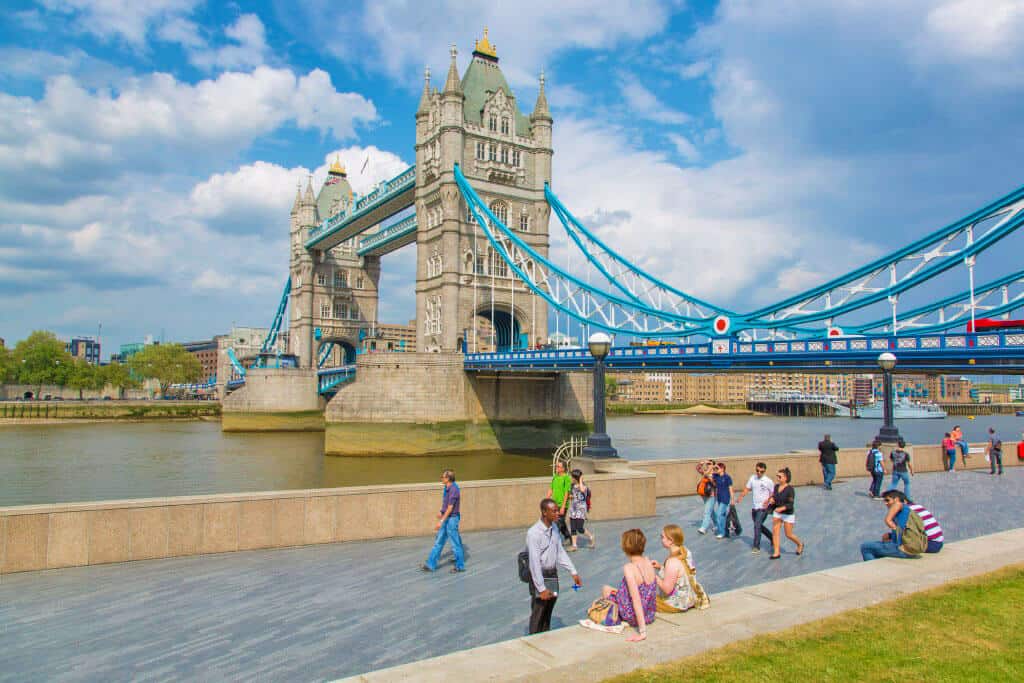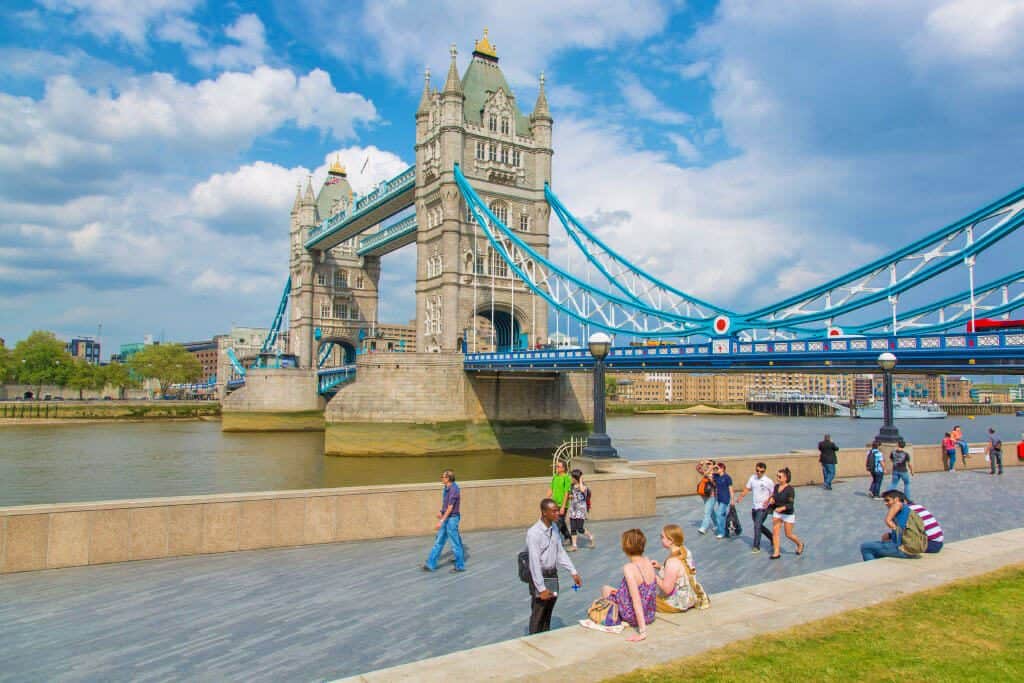 Tower Bridge from More London Place (London Bridge City)
Tower Bridge is definitely one of the iconic landmarks in London that you want to take pictures of. But finding the best angle can be a bit tricky.
Maybe it's one of the stereotypical postcards of London that everyone has, but I don't think it's absolutely a bad thing, you know? Some places are beautiful no matter what!
More London, also named London Bridge city, is a development area on the South bank of the river Thames, full of offices.
While the area has some nice views, one of the best is on the Tower Bridge, seen from "More London Place", which indicates the buildings 1 and 6.
If you're visiting in spring or summer, and it's not too busy, you can enjoy the view on deck chairs or eating delicious goodies from the local market stalls.
Borough Market is in fact pretty close, so you can definitely grab a bite for lunch there and eat it at More London Place, watching the magnificent Tower Bridge!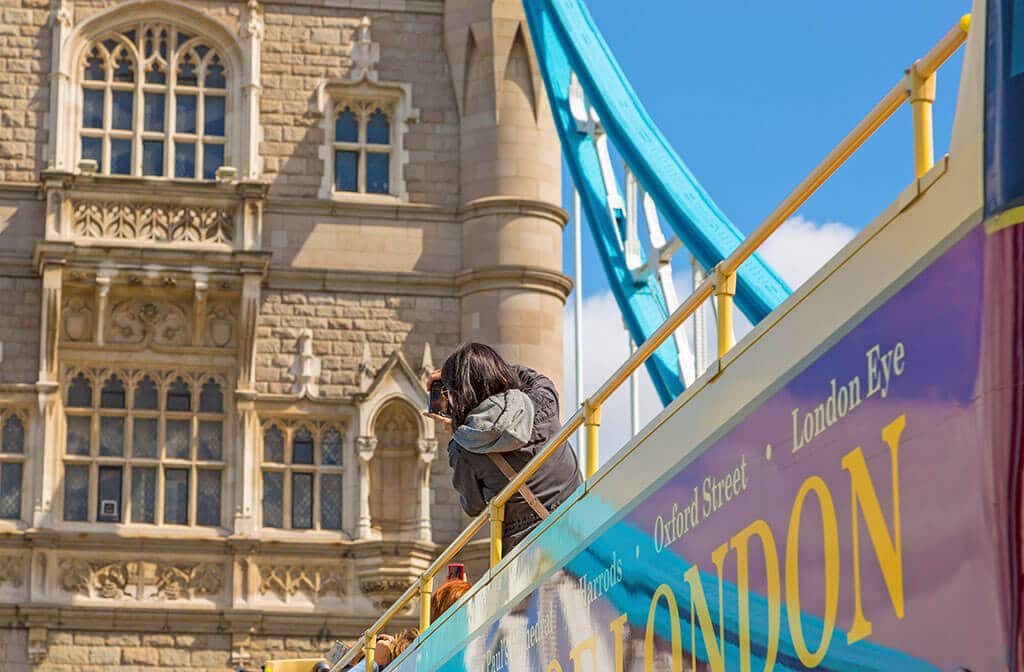 Tower Bridge… from the bridge!
You've probably seen everywhere these beautiful shots of the Brooklyn Bridge in NYC… from the bridge itself. Then why not making an European version of that view on Tower Bridge in London?
While I know some of you don't like to walk too much and prefer to use the London tube, I promise that this time it's worth the effort.
Walking on Tower Bridge gives you an idea of the size of this iconic landmark, and because of the facelift, terminated in 2012, it's even more colorful, all in baby blue and white. Just thinking that on our first visit to London there was still the "old paint" I feel… old! Gah!
In the evening the LED lights over the bridge make it even more beautiful: maybe you could consider cruising the Thames to see it also from above?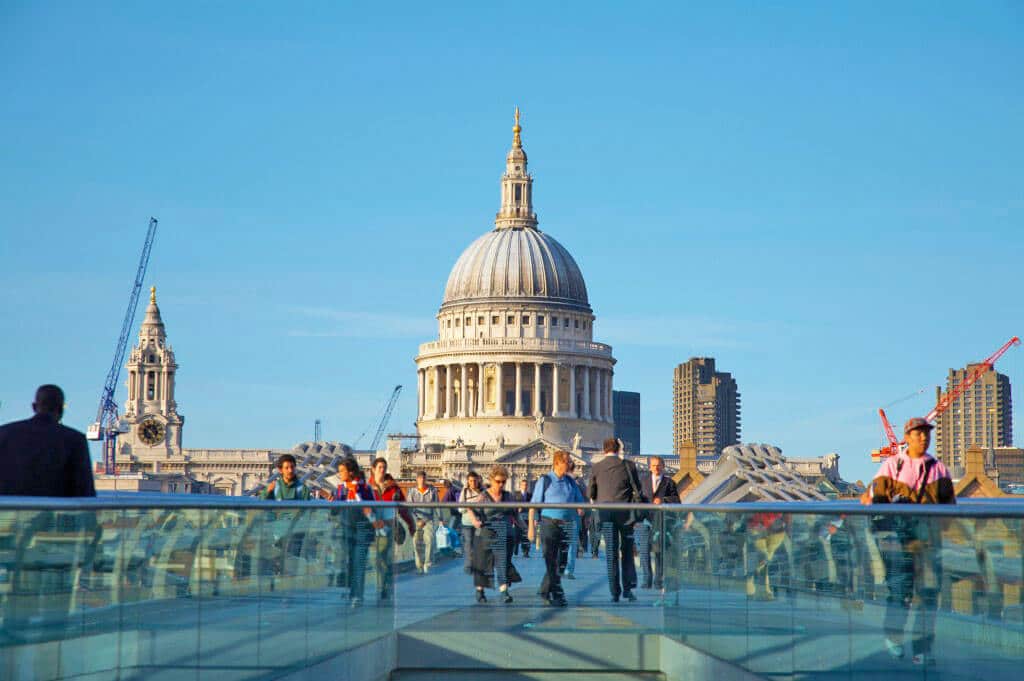 St Paul's Cathedral
St. Paul's Cathedral is one of my favorite landmarks in London. Especially if we visit in Spring, because of the cute pink flowers all around: it's one of the best London photography spots.
I don't think I've ever seen a "bad" picture of St. Paul's Cathedral out there, so you can shoot wherever you want. Yet I have a couple of tips that you might find useful.
If you are a Harry Potter fan you probably know that Millennium Bridge, right in front of St. Paul's Cathedral, is the bridge that the Death Eaters knock down at the beginning of Harry Potter and the Half Blood Prince.
You can go there early in the morning or, if you are lucky enough to find yourself mostly alone at the golden hour, try to frame St. Paul's Cathedral with the bridge. You can also kneel down or lower your camera almost to the floor to take a more creative picture.
Another very instagrammable spot is from One New Change. I'm sure you've seen on Instagram the cool pictures with the dome framed between the shiny mirror-like windows of the mall, right?
… and while you're there, you can always do some shopping…
I didn't say that!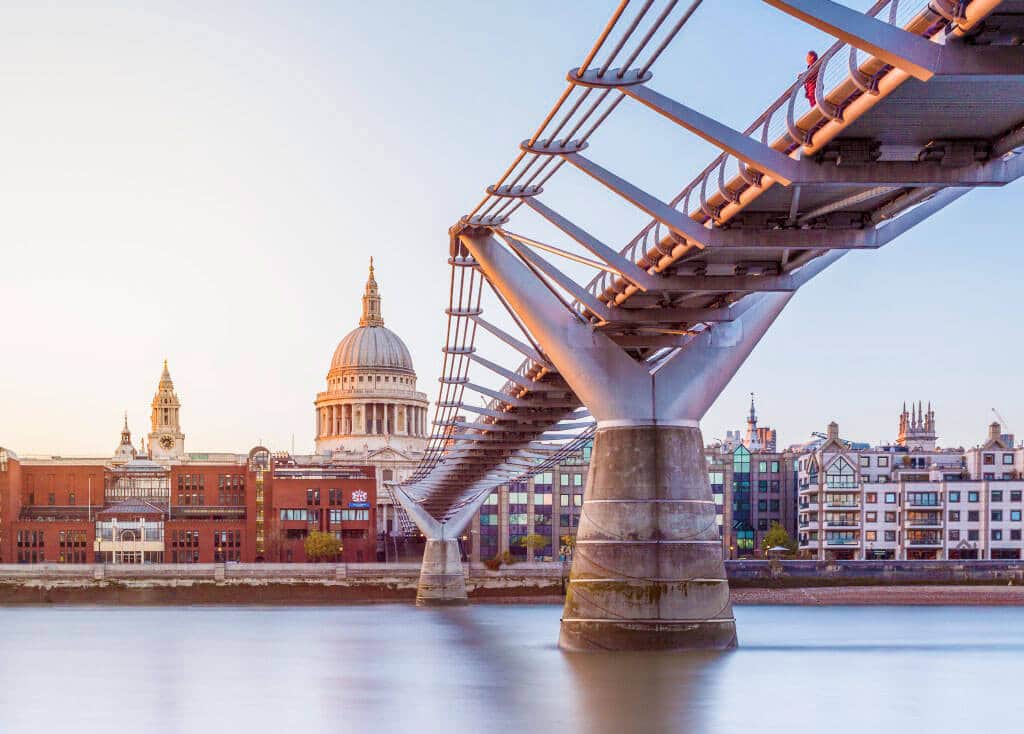 Millennium Bridge
The Millennium Bridge will let you walk from St. Paul's Cathedral, on the north bank, to the Tate Modern and the Shakespeare's Globe in Southwark.
This steel suspension bridge is definitely very instagrammable, wherever you photograph it from.
Aside from using it to frame a beautiful view of St. Paul's Cathedral, you can also take pictures of the other riverbank, and of the Tate Modern.
I like those pictures that you can shoot from the side of the bridge, using part of it as a "line" that draws the attention of those looking at it towards the Cathedral.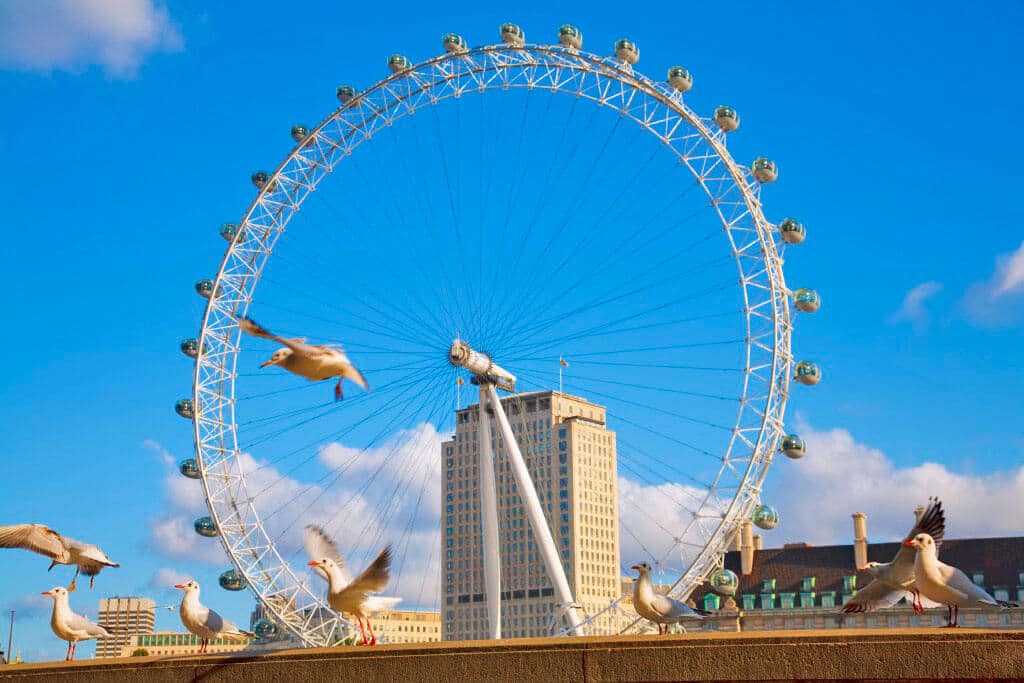 Coca Cola London Eye
The Coca-Cola London Eye is one of the London photography spots you don't want to miss.
Just like Millennium bridge or a few other iconic landmarks, it's almost impossible to take bad pictures of this beautiful ferris wheel. Even when the sky is grey and dull!
Whether you take pictures of the pods (or from the pods), or by the nearby pedestrian bridge, taking in also Westminster and the Big Ben, you are going to get great shots.
We generally like the big ferris wheels and have been also on the High Roller at the LinQ in Las Vegas (the tallest one in the world!), so we can tell that they are very pretty in every picture, whether you decide to hop in one of the pods or not!
The only thing that bothered us on our last visit to London was… the crowds! Ugh!
During the weekend this area can be a real nightmare. Unless you take pictures from below, using the sky as background, it's almost impossible to take a few good shots without the hundreds of people coming and going.
In the evening it's even more crowded, so my suggestion (again) is to go there early in the morning, and to avoid the weekends.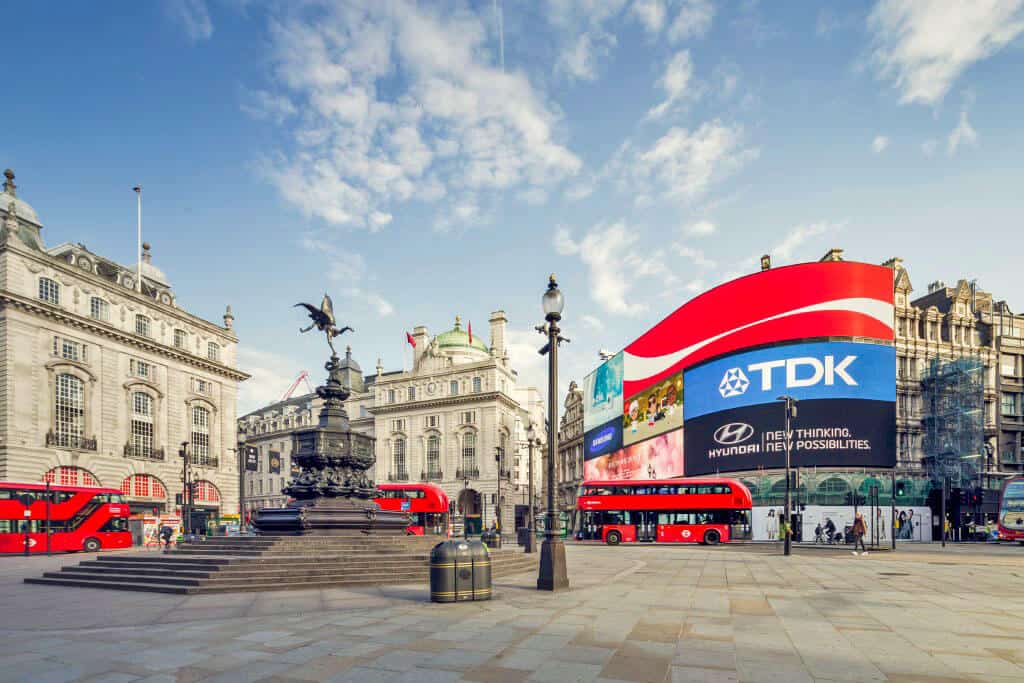 Piccadilly Circus
Piccadilly Circus is a road junction at London's West End. Built to connect Regent Street with Piccadilly, it has become also a place for those who love Harry Potter.
In fact here they filmed one of the most memorable scenes in Harry Potter and the Deathly Hallows, where we see Harry, Hermione and Ron rushing through London's West End.
When me and Aldo visited it at night, we felt the same thrill we had in Times Square (NYC): like stepping into a Blade Runner scene! At Piccadilly you will in fact find a huge ultra-high definition curved Daktronics display, first turned on by the end of October 2017.
While it's very cool to see at night, it can be also particularly crowded. If you want to try your hand at a night shot you will need a tripod, but I'm not sure you'll be able to take your sweet time. It could get knocked off by someone.
You're welcome to try, if you're very quick at setting your camera, but my suggestion is to come here during the day to take pictures of the beautiful buildings, and then to return in the evening to see how cool it can be all lit up.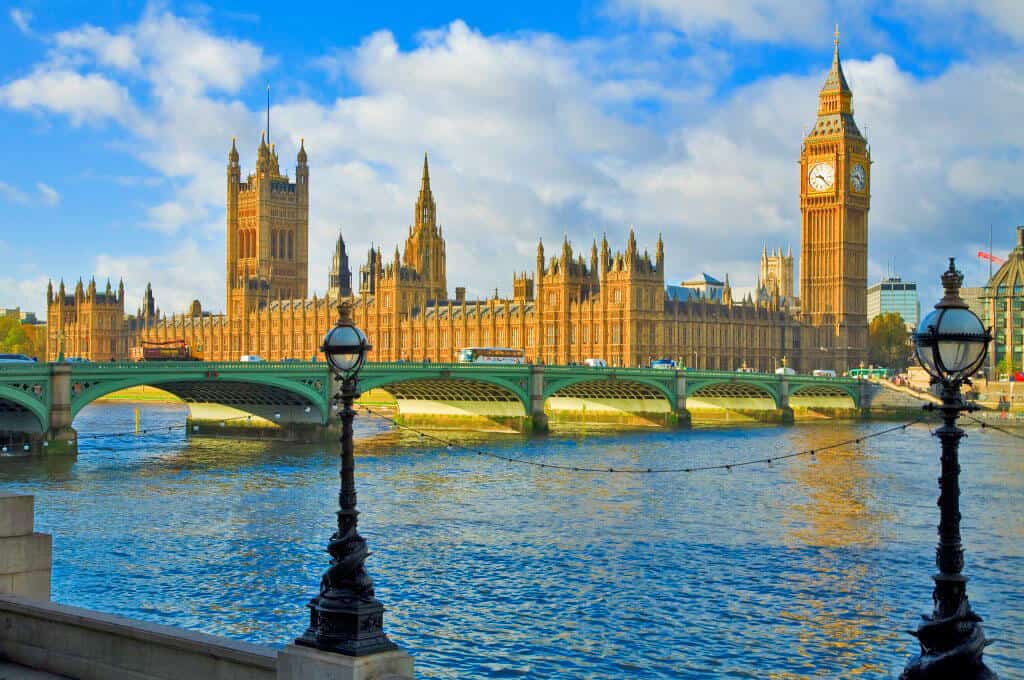 The Big Ben and Houses of Parliament (from South Bank)
Even with the Big Ben all wrapped up while they are renovating it, you can still take beautiful pictures that will become some kind of memento for the future. Just think that last time this iconic clock went silent was about 157 years ago!
You can take beautiful pictures of Houses of Parliament (if you have time, touring the Houses of Parliament can be amazing) and the Big Ben from South Bank, to avoid the crowds usually shooting from the London Aquarium or the London Dungeon museum.
To make it even more creative and instagrammable, make sure to frame your picture with the arch of the nearby under-passage!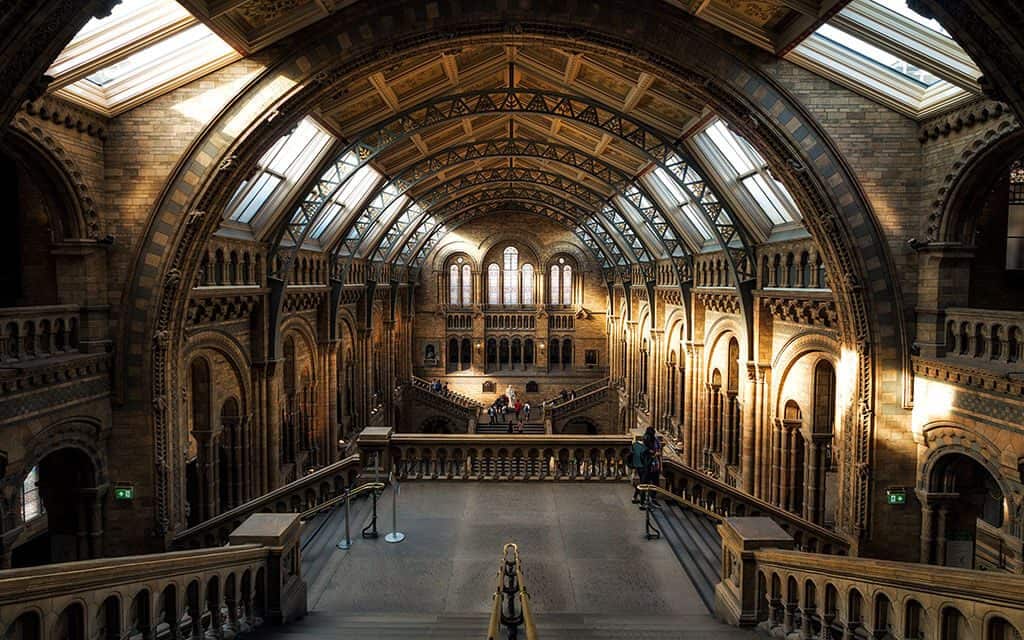 Natural History Museum
As I already told you, my mom is a huge fan of the National History Museum in London. The architecture of this building is stunning, and if you head to the main hall, you will enjoy breathtaking views down the staircases.
The entrance is free and much like all the other instagrammable landmarks in London, I suggest you to avoid the weekends as much as possible, because the museum can be very crowded. If you can't do that, then make sure to arrive early in the morning to be among the first to enter!
You already know that London around Christmas is absolutely amazing, right? Well, the National History Museum adds even more beauty, with lights and an ice rink!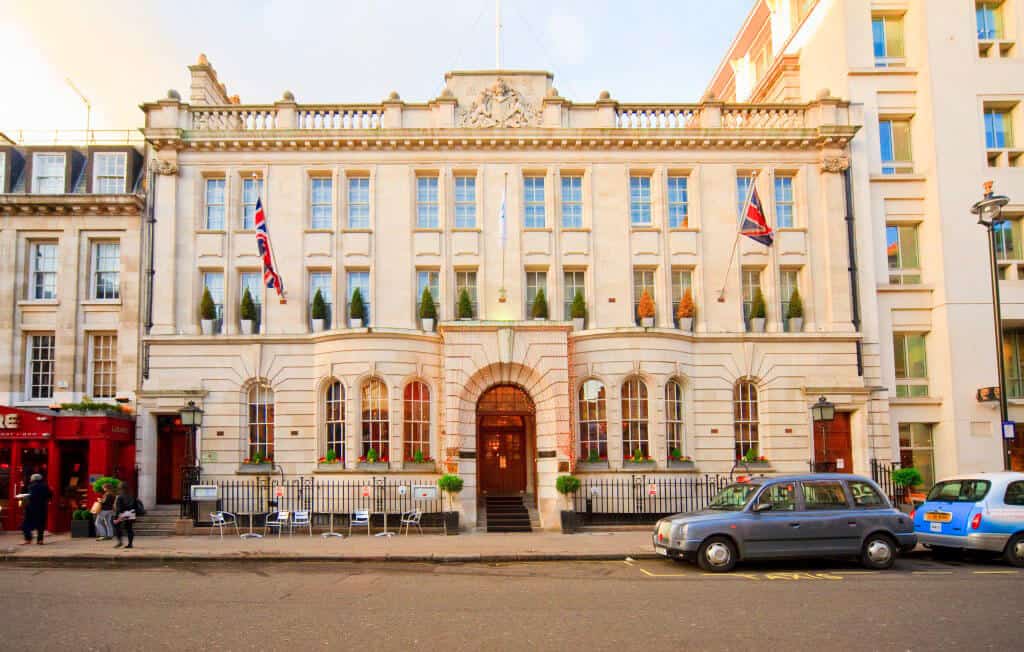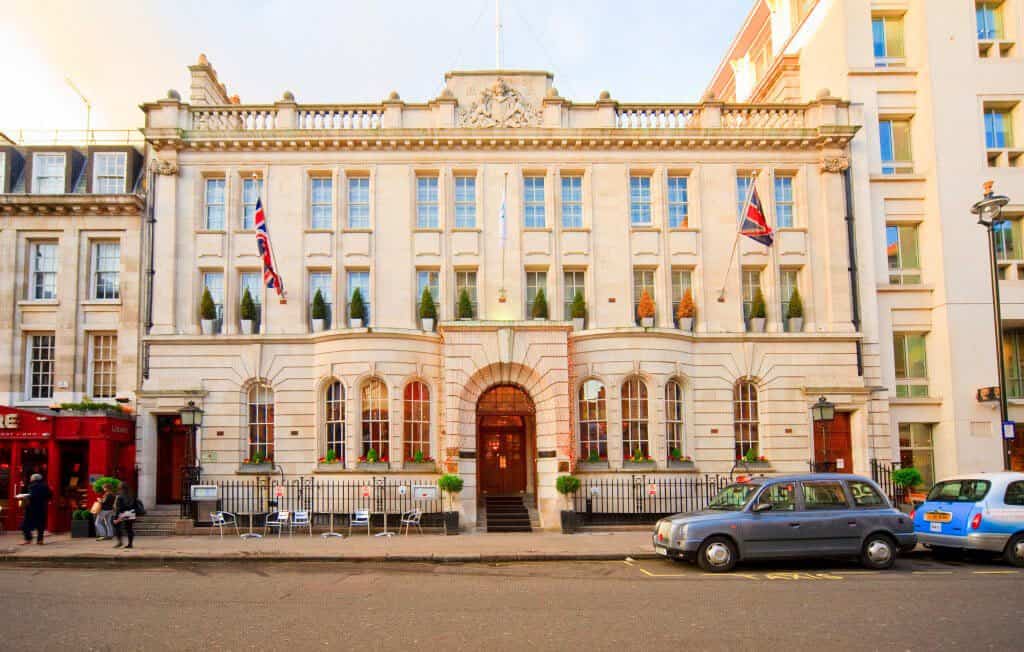 Courthouse Hotel
Are you looking for an iconic building as a background for one of your fashion shoots? The Courthouse, a boutique hotel, is close to Oxford Street, Regent Street and Carnaby Street.
Surrounded by amazing shops and famous theatres, it offers the perfect solution.
The beautiful architecture screams luxury and elegance, it's close to a few of the London photography spots I mentioned in this post, and thus easy to reach also if you don't have too much time.
If you are very lucky, you might also find a British black cab or a vintage car on the outside, making it an even more perfect shooting location!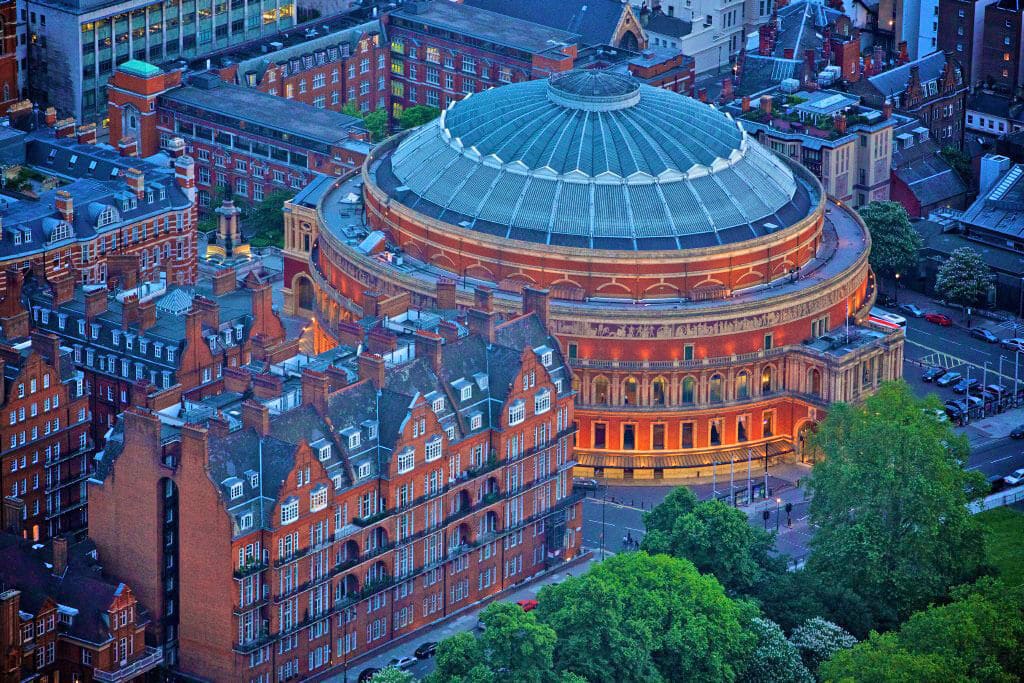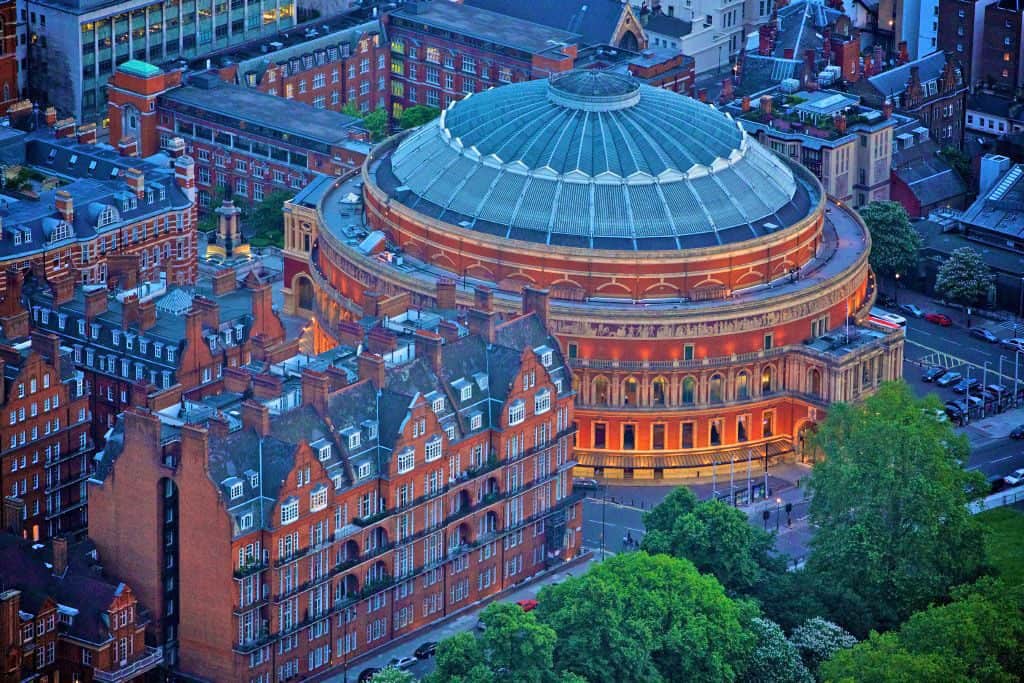 Royal Albert Hall
In case the other spots are too crowded, another one of the best places to photograph in London is the Royal Albert Hall.
This famous concert hall is often snubbed in favour of more "recognizable" buildings. Yet the distinctive red bricks and the architecture make this one one of the easily recognisable landmarks in London (if you know at least something about this beautiful British city, aside from the Big Ben).
For those of you who love musical facts and venues like me, Pink Floyd held an unforgettable concert at the Royal Albert Hall on June 26, 1969. After shooting cannons, nailing things to the stage, and having a man in a gorilla suit roam the audience, they were banned from ever playing in the Hall again.
A portion of the pipe organ recording from that night is included on Pink Floyd's album "The Endless River".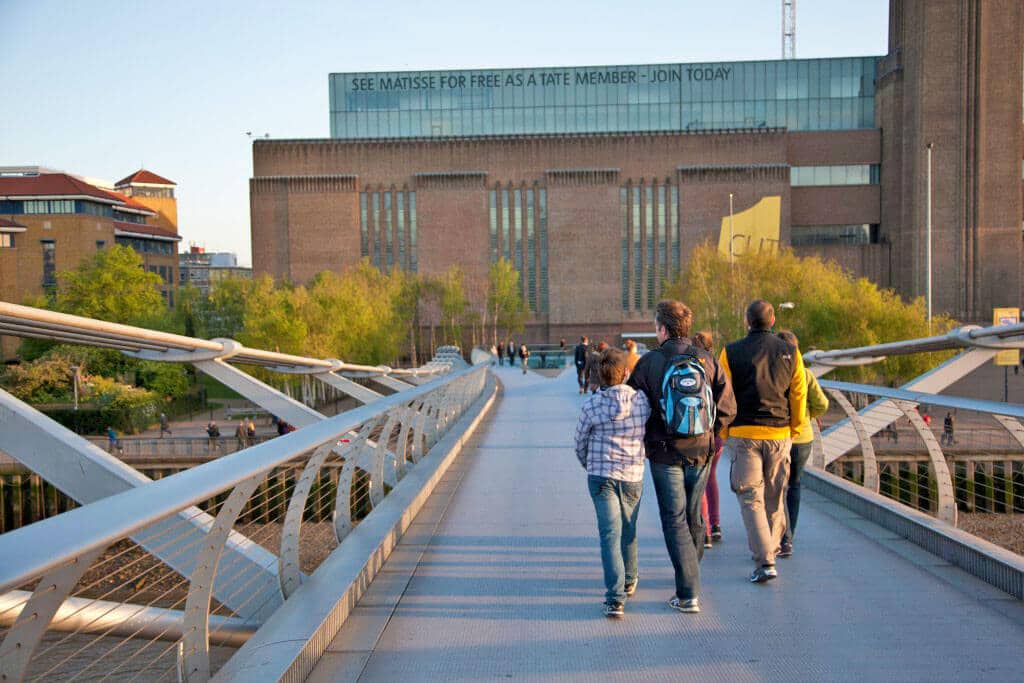 Tate Modern
This huge modern art gallery is one of London's most celebrated jewels and one of the most interesting London photo spots.
The former Bankside Power Station now houses an impressive permanent collection of international, modern and contemporary art.
The entrance is free, and you can bring your camera with you inside, unless there's a temporary exhibition. So you will be able to take pictures on the outside, with the red bricks building in the background, or inside, while you enjoy beautiful art.
I suggest you to go to the terrace on the tenth floor for a 360-degree view: it's priceless!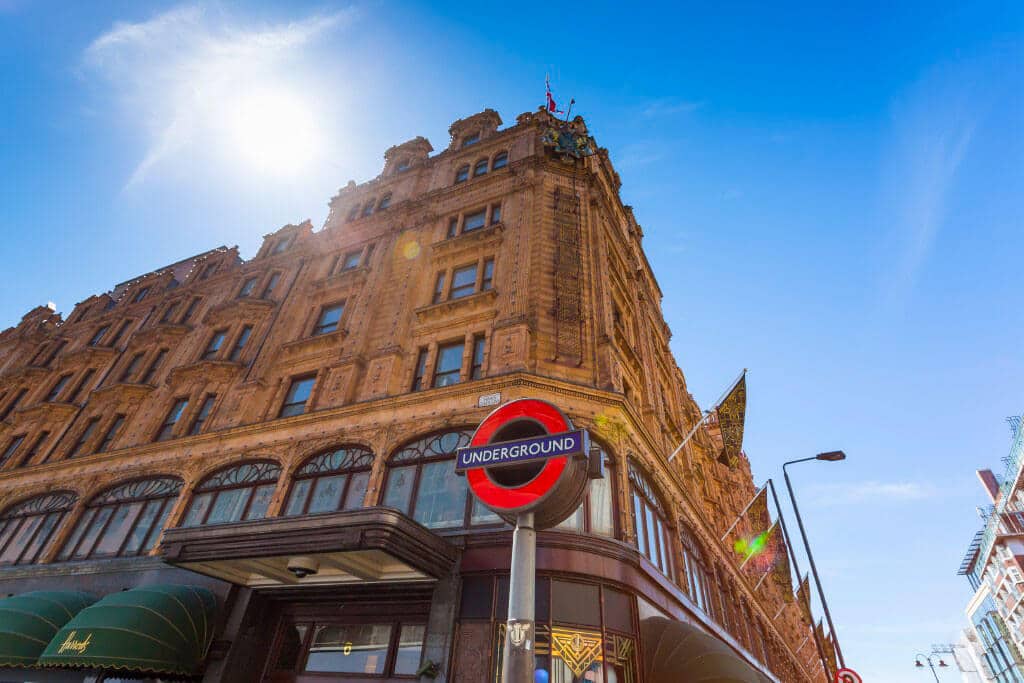 Harrods
Even if Harrods is crazy expensive, it still represents a "landmark" in London. It's in fact the most iconic shopping mall and while you're there, if you visit the food hall, you might be able to sample some delicious dishes from all over the world.
The outside is beautiful and perfect for Instagram pictures. My mother is a huge fan of Harrods, but she tries to visit in December when they have all the Christmas decorations on, from the lights on the facade to the Christmas trees and decorations inside.
Sky Garden
Sky Garden offers epic views, tasty cocktails and a nice indoor garden. Not many people go there, especially on their first visit to London, because they tend to focus on the more "recognizable" buildings.
Yet from Sky Garden you have a 360-degrees view all around London, bars and restaurants where you can stop to have lunch or dinner.
Food and drinks here are more expensive, due to the location and to the beautiful view, but the entrance is free, which makes up for it! A good idea if you want to skip the queues is to book in advance.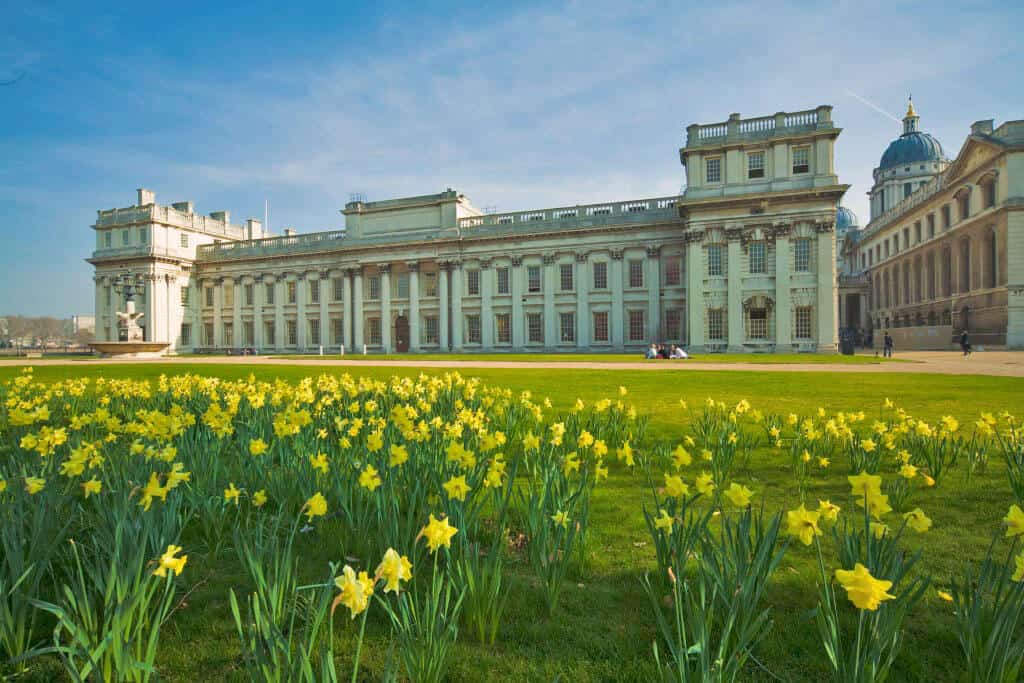 Greenwich park
On our last trip to London we have visited this beautiful park and had breakfast under the hull of the Cutty Sark. It was Sunday and while the City was full of tourists, Greenwich park was blissfully quiet.
The locals told us that it's never overcrowded, because people just go to the Observatory, in stead than laying down on the grass tp enjoy the day. This is also London's sanctuary for foxes, bats and over 70 species of birds. Here you will find tennis courts, a boating lake and a beautiful view from the top of the hill.
If this isn't enough to convince you to go there (it really is a good alternative to the most crowded areas on weekends), then try thinking of the National Maritime Museum, Queen's House and Old Royal Naval College as backgrounds for your instagram shots: sure, it's far away from the other instagrammable places in London, but the huge bonus is that it's always pretty quiet!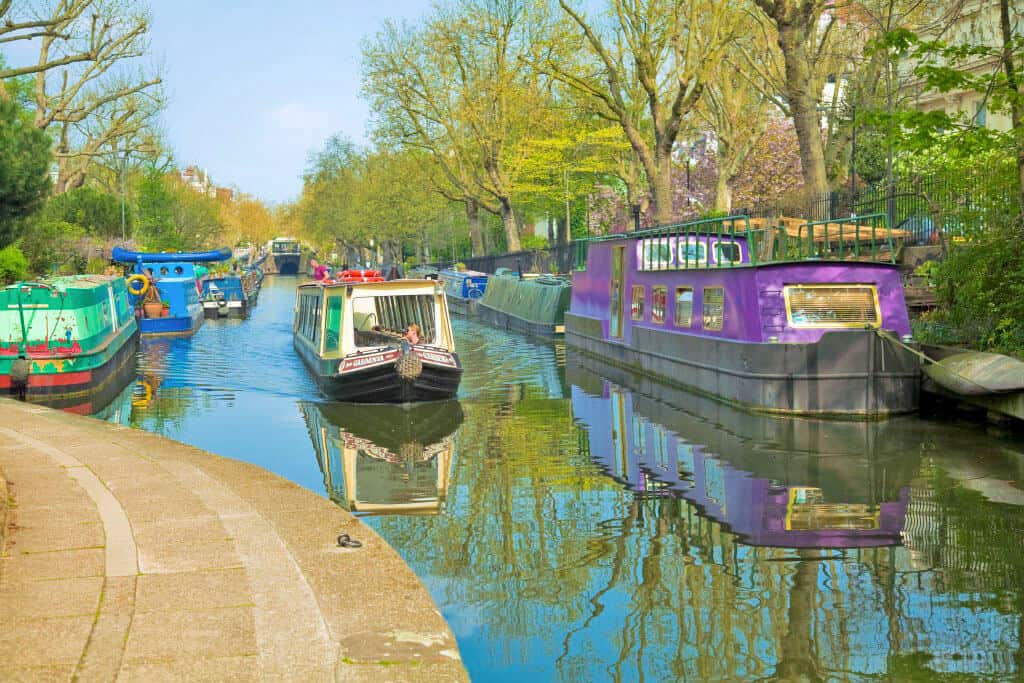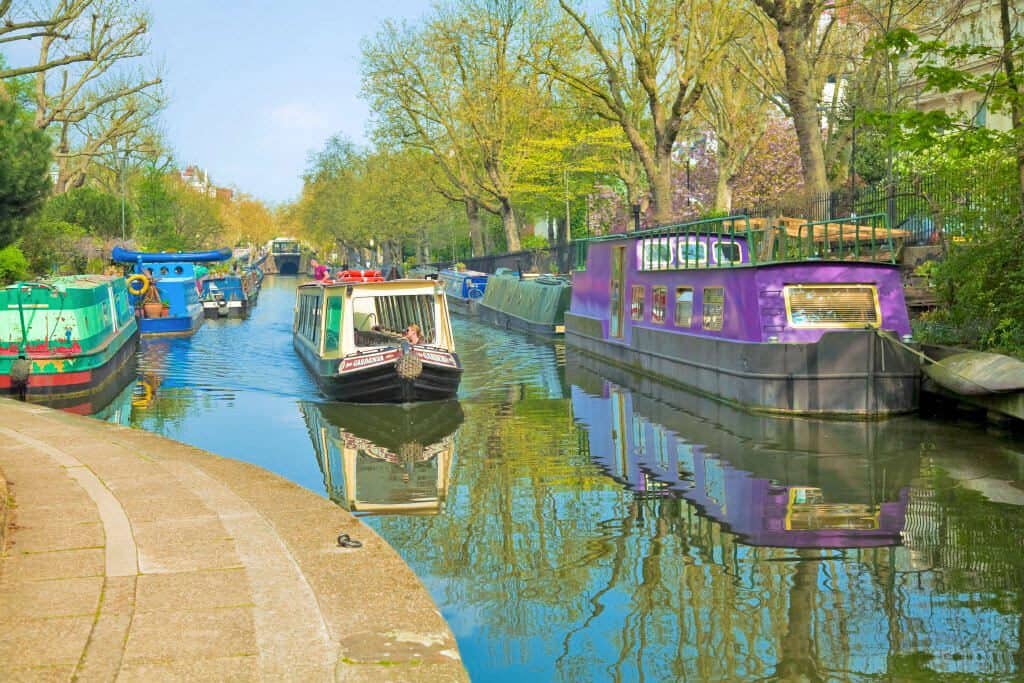 Little Venice
Little Venice looks a bit like Amsterdam, and for a moment you'll be wondering if you're really still in London. This picturesque spot, where the Grand Union Canal meets the Regent's Canal, was supposedly given its name by the poet Robert Browning.
This little community of floating activities offers a waterbus, a floating art gallery and water cafés where you can take pictures and relax, away from the crowds. The famous Little Venice mansions provide a stunning backdrop for every instagrammer out there.
The brightly coloured narrowboats are an unusual sight in London, and in a way they reminded us of Giethoorn, the Dutch fairytale village where cars aren't a thing.
Using the London tube, Little Venice isn't too far away from Regent's Park.
Shoreditch street art
Are you looking for a background like the Wynwood Walls in Miami? Then head over to Shoreditch for some very cool street art. Every door, wall or building in this part of London is covered with colorful art, from murals to mosaics.
The most famous is one of the two Banksy on Rivington Street that depicts a security guard with a poodle alongside the words 'This wall is a designated graffiti area', but don't stop there: each and everyone of the murals at Shoreditch is a work of art.
Wander the streets and just take pictures. The murals change pretty often and your favorite ones might not be there on your next visit.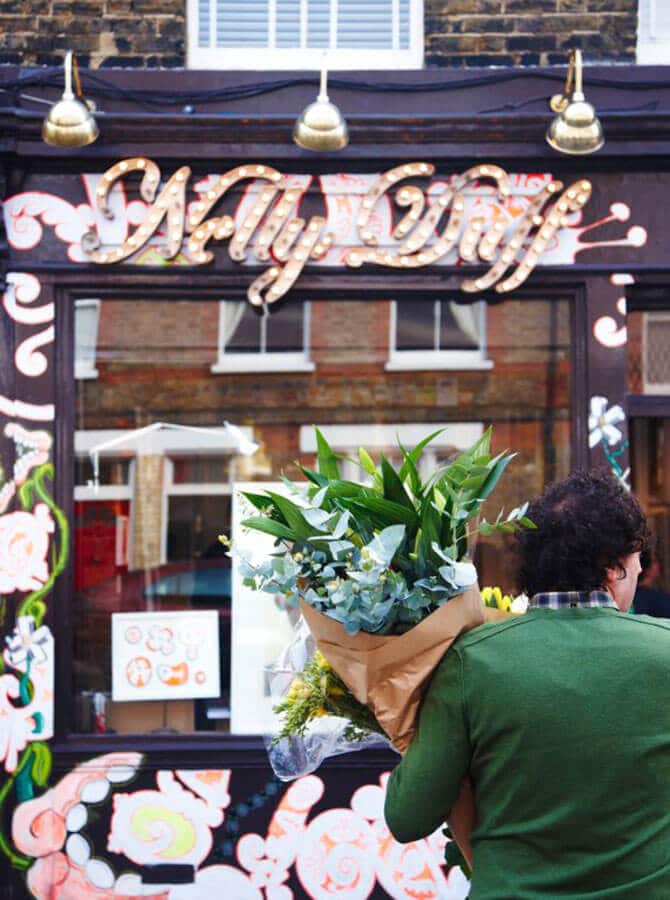 Columbia road
Columbia Road is very famous for its Sunday flower market and quirky shops. While it can be crowded, I definitely suggest you to visit, also if you don't plan on staying long.
Buckets of flowers and plants cover every part of the street and make this area so cute… and of course instagrammable!
At Columbia Road you will find many independent shops, cafés and galleries, that often only open during the weekend. It has that "vintage feel" we absolutely love, and while we've already visited it, we still have it on our London bucket list because we definitely want to go back for more!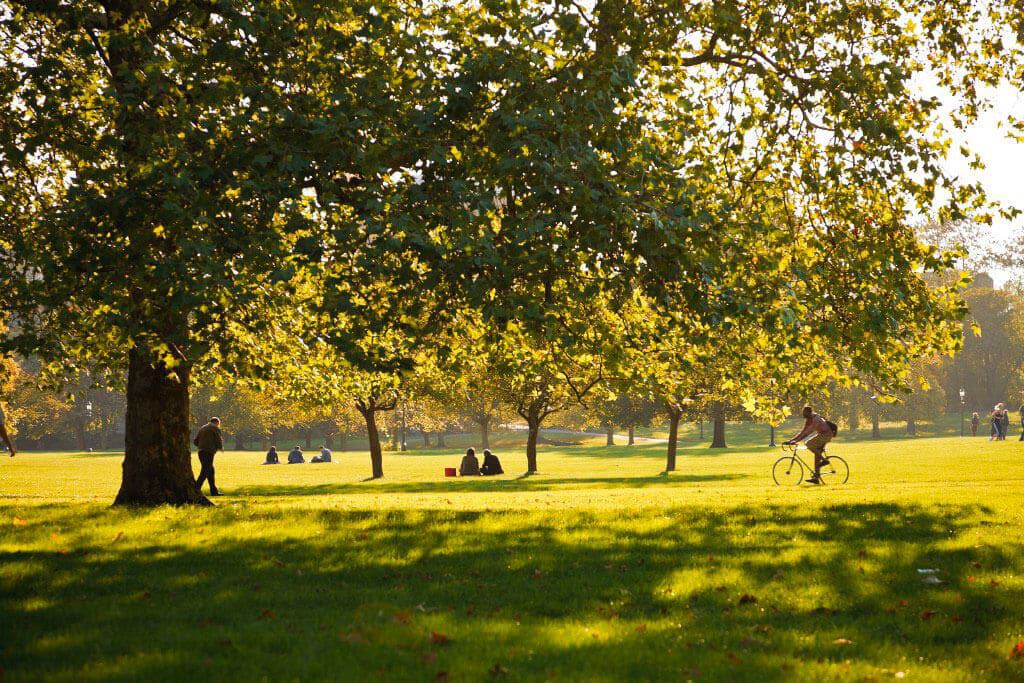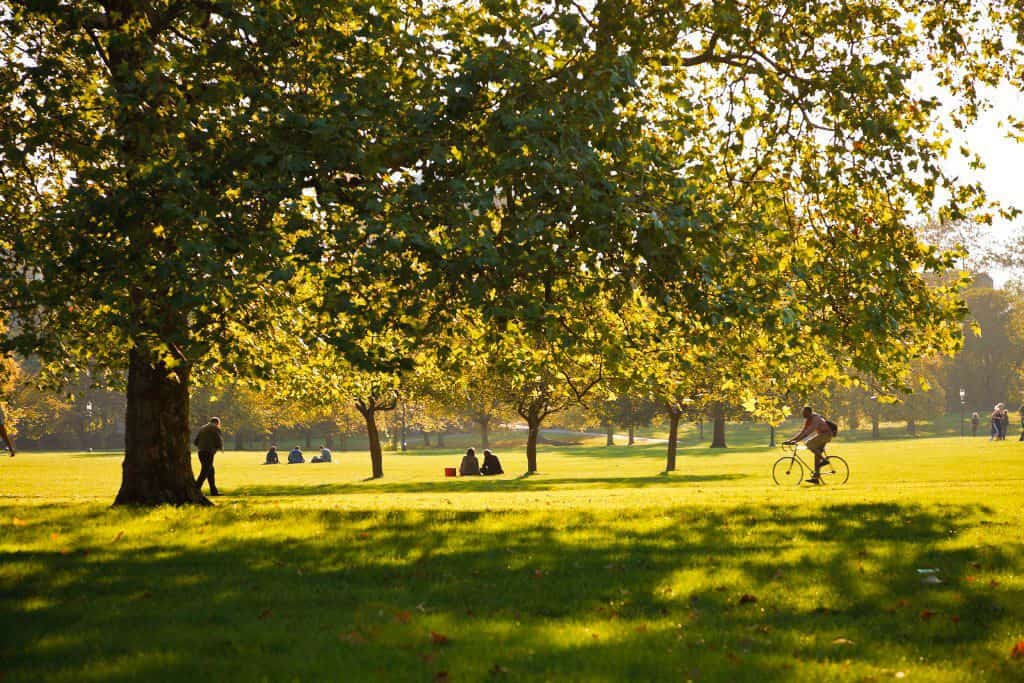 Primrose Hill
On our last trip to London I absolutely wanted to go to Regent's Park to take a few pictures. But a few of the Londoners told me to skip it because it is absolutely crowded during the weekend, especially the more so because I was visiting in Spring, and it was going to be a sunny, beautiful Sunday. They suggested Primrose Hill in stead, and we decided to visit.
While walking there, we immediately noticed how quiet it was. Located on the North of Regent's park, this beautiful hill offers great views of London and all around you will find cute victorian houses that are way less crowded than the ones in Notting Hill.
Many famous Londoners live here, from Daniel Craig to Tim Burton, to Jude Law, Ewan McGregor, Kate Moss and Chris Martin: keep your camera at hand!
Click to find amazing deals and book your hotel in London (without breaking the bank)!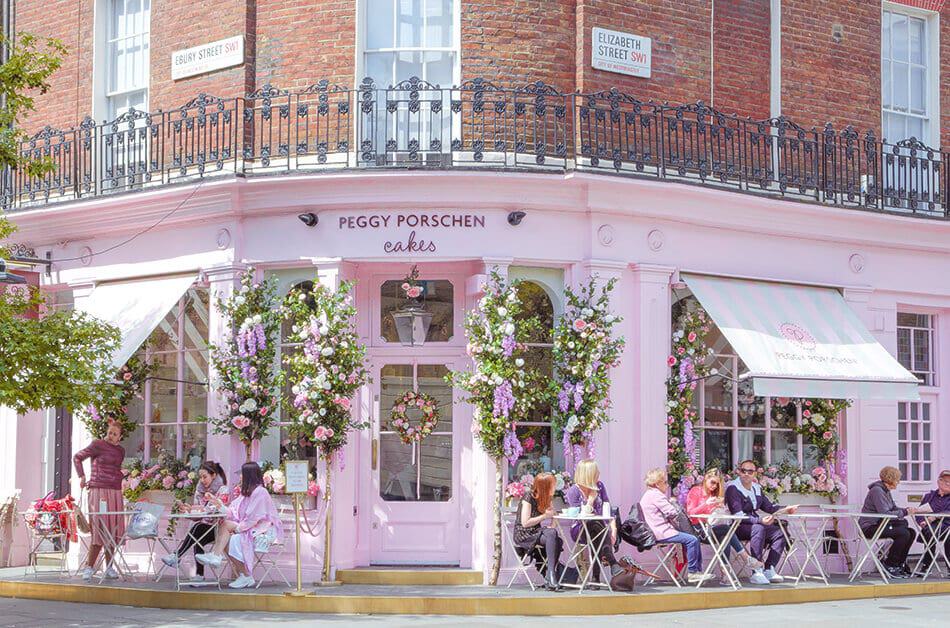 Peggy Porschen
Peggy Porschen is by definitely one of the cool places in London you want to visit. I'm sure you've seen its cute store front several times on instagram.
The lovely pastel pink, with fresh flowers and small tables on the street usually attract quite a few travelers, making it one of the most popular places in London to photograph.
While you're probably aware of the long line of instagrammers taking pictures in long skirts and beautiful hats, you might not know that even the Royal Family buys cakes at Peggy Porschen.
It's not uncommon to find celebrities like Elton John, Kate Moss, Stella McCartney, Anthony Hopkins, Madonna and Gwyneth Paltrow enjoying their fix of layer cakes, making it one of the best spots for London pics if you're looking to score one with your favorite star.
Because taking Instagram pictures should also fit in your "fun things to do in London" list, I suggest you get to Peggy Porschen Belgravia early in the morning.
They don't have many tables available, so you will be able to take nice pictures (without too many people around) and have a nice breakfast.
Did I mention that they serve their tea in super-cute, pastel colored teapots, and that their little cakes are both delicious and instagrammable?
I mean… it's like killing two birds with one stone!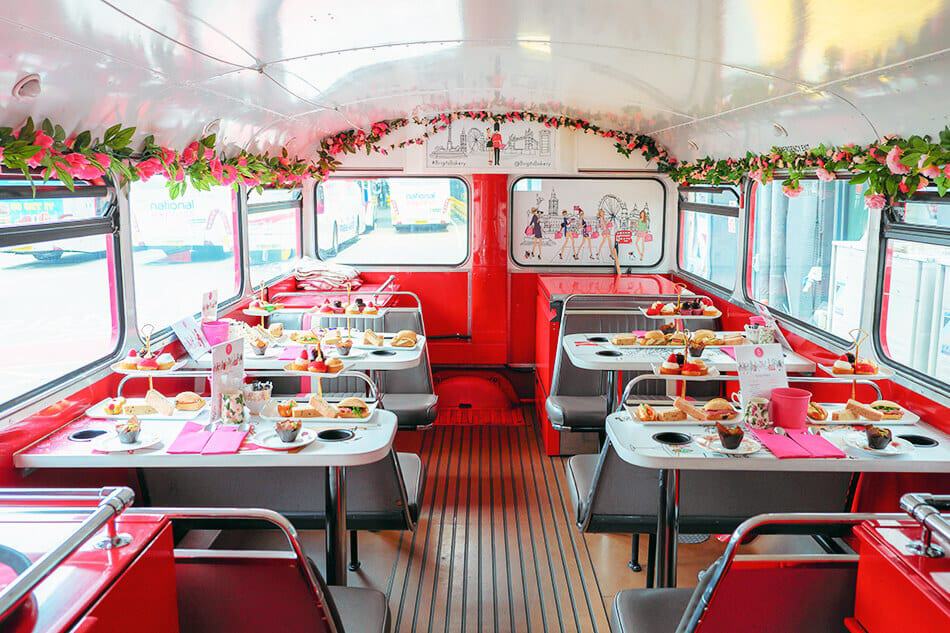 Brigit's Bakery Bus
Even if me and Al have been to London many times, we still feel a bit overwhelmed. There are so many things to see and do, that sometimes we spend our days walking around, taking pictures… and forgetting that the most important thing to do should be… having fun!
When we discovered that we could have a unique foodie experience on a refurbished British bus, we immediately booked a table. I'm sure you've heard about Brigit's Bakery: they make delicious cakes and savory sandwiches in London and Bath.
Yet you might not know that they have planned the perfect experience for couples who want to see the top photo spots in London, for groups of girlfriends who want to have fun, or for hen parties.
The Afternoon Tea Bus is a vintage red bus turned into a bakery on wheels, which puts together cuteness, wanderlust and photography.
This amazing experience will take you to some of the best photo spots in London, while feeding you a delicious British high tea.
The inside of the bus is decorated with pink flowers and super-cute tables. During the tour you will be served a lot of tiny cakes, cupcakes, savory sandwiches, salmon blinis and muffins.
When you think you're already stuffed, they'll attack your nostrils with the heavenly scent of freshly baked scones with clotted cream and strawberry jam. I'm warning you, be prepared to eat a lot!
There's a wide choice of drinks, from tea to prosecco, coffee, cappuccino and hot chocolate. At the end of the tour, you will be offered a to-go box for your leftovers, and a reusable Brigit's Bakery coffee cup.
While on the bus, the staff will be more than willing to take pictures of you and your friends, while showing you the hidden gems in London that you didn't know about.
The London bus tour lasts approximately 1 hour and half (depending on traffic): booking a table well in advance is absolutely mandatory!
Bonus: You can book in advance a themed tea party, or a vegan, vegetarian, Halal or gluten-free experience from the Brigit's Bakery website!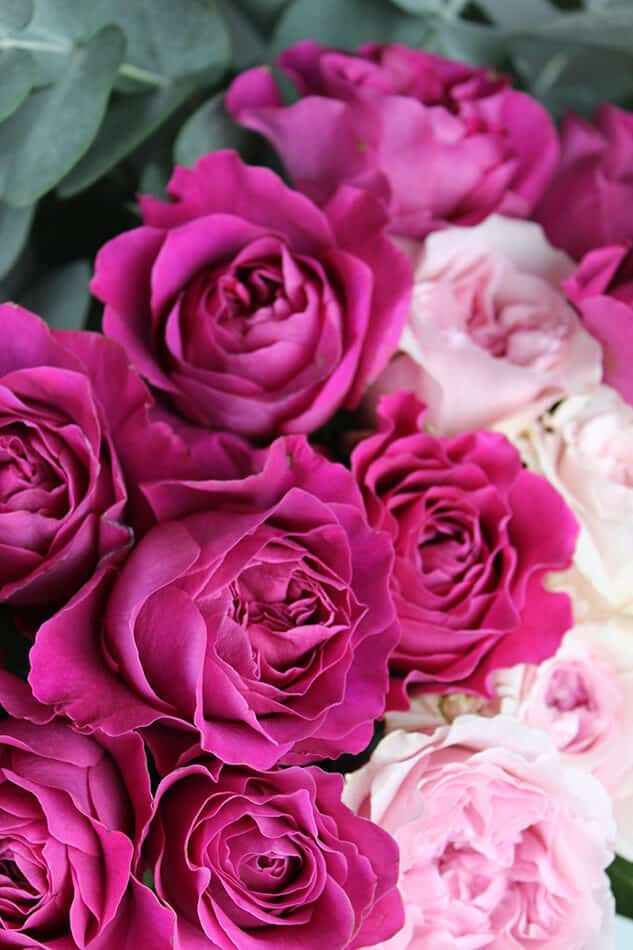 Queen Mary's garden – Regent's Park
If you have been reading my blog for a while, you already know I love the great outdoors, but I love gardens and flowers even more (we've also been chasing the cherry blossoms in Japan and the foliage in the Adirondacks).
Not surprisingly, I added Queen Mary's Garden to our itinerary on a recent trip to the U.K. Not only it's one of the most eerie, beautiful places in London, but it's also perfect for fashion shoots or Instagram pictures.
Queen Mary's garden is named after the wife of King George V and was opened to the general public in 1932.
It is amazing because you'll find London's largest collection of roses: approximately 12,000 rose bushes have been planted within the garden, with 85 different variety beds on display.
Yet roses are not the only treasure you'll find at one of the best hidden gems in London. There are over 9,000 begonias, Mediterranean Borders, colorful shrubs often visited by beautiful butterflies, statues and more.
If you're looking for the best photo opportunities in London, visit the Queen Mary's garden in the first two weeks of June, when the flowers are in bloom: entrance is free!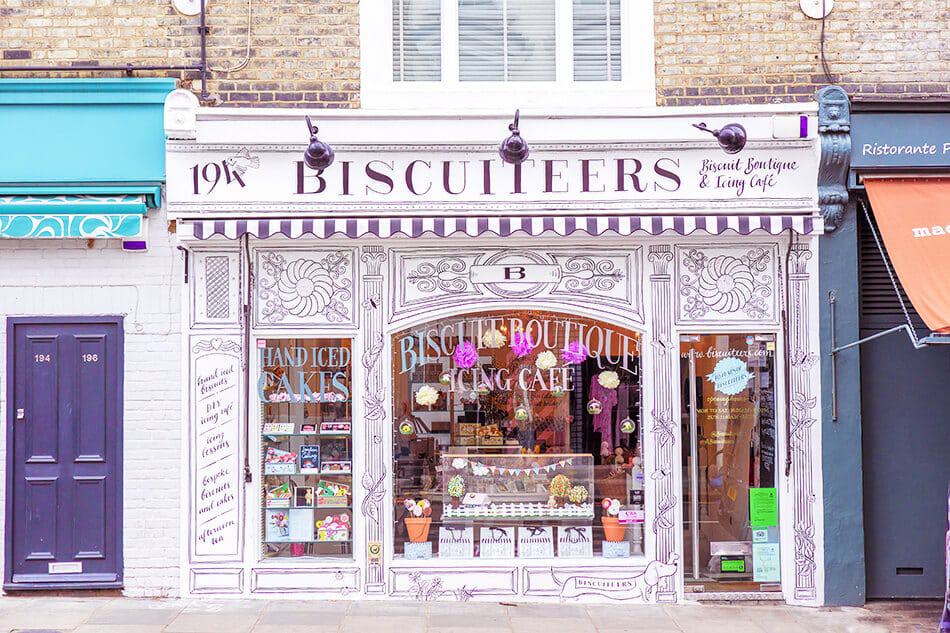 Biscuiteers
Have you walked all the way to Portobello Road and you've found it super crowded?
Sometimes taking pictures at Notting Hill can be a bit unnerving. The fact is that being one of the top photo spots in London, there are always instagrammers crowding the cutest gardens and doors (please, don't bother the locals and don't trespass just to take a picture!).
Biscuiteers is yet a super cute cafè which is a few minutes away from Portobello Road (you can just walk there).
Famous for its hand-iced biscuits, sometimes so beautiful that you don't even feel like eating them, it also has an instagrammable store front that is one of the must see sights in London.
Located on Kensington Park Road, it's been named as one of "London's quirkiest cafes" by the Telegraph and as one of the "Most instagrammable places in London" by Vogue.
You might also like:
Spring in London – photos, flowers and events
Ultimate itinerary – 4 days in London
The best London souvenirs you should buy
How to spend a cool night in Soho
The most instagrammable spots in London
Plan a fabulous weekend in London
20 awesome fall trips in Europe
Easy-to-use guide to Christmas in London
Do you need a visa to enter Europe?
Thank you to the Visit London team for inviting us to London and offering a few of the pictures on this page. All opinions are my own and don't necessarily reflect those of the Visit London team.
Pin it for later!
This post is also available in:

Italiano