All you need to know on Plitvice Lakes (Croatia)
This post includes affiliate links. As an Amazon Associate, I earn from qualifying purchases. Full disclosure.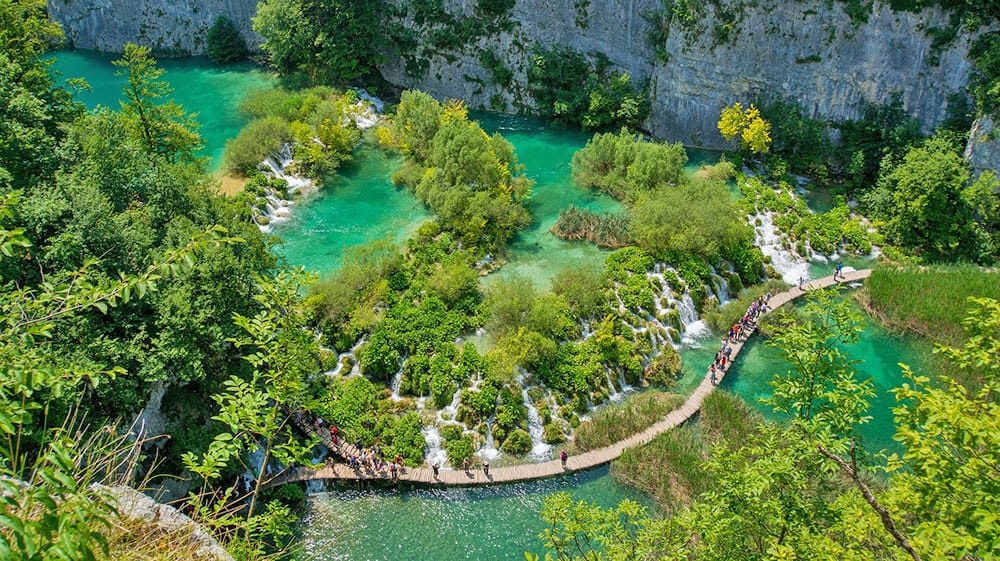 For a while now Plitvice Lakes have been all over the socials, with stunning videos and impressive pictures that get a lot of Ooohs and Aaahs. Someone thinks it's all a matter of photo filters and post-editing. The luscious green of the trees and the incredible blues of the water can't really exist in Europe, right? And yet as someone who has been to Plitvice Lakes for the first time over 20 years ago, I can tell you that yes, it's all true. Lots of things have changed since then, but there's still that magic, the tremendous beauty of this oasis well hidden in the heart of Europe. But what should you expect from the Plitvice Lakes National Park in Croatia and how can you get there? Let me tell you everything I know about one of the most beautiful natural parks in the world.
Quick Links to Post Content
Plitvice Lakes National Park
Plitvice Lakes is one of the oldest (and the largest) national parks in Croatia. Added to the UNESCO World Heritage register in 1979, it has always been a hidden gem in Europe, until recent years, when thanks to a few videos it has gained a lot of popularity, especially on social networks.
This National park is located in central Croatia, near the Bosnian border and extends over 296.85 square kilometres (73,350 acres)! It includes world-famous waterfalls and 16 lakes, which are the result of the confluence of several small rivers.
All the lakes in Plitvice are interconnected and only separated by natural dams of travertine, deposited by the action of moss, algae and bacteria. This ecosystem is particularly fragile and keeps on changing throughout the years.
Plitvice Lakes National Park in Croatia is also famous because of the distinctive color of its lakes: it feels like seeing the world in technicolor! The shades depend from the quantity of the minerals and organisms in the water and the angle of sunlight, so you could visit this park hundreds of times and see that it always has some new wonder to show you.
In case you want to visit Plitvice Lakes, know that there's a lot to do, so planning ahead is a must. There's in fact the chance to experience several trails if you like to hike, or you can tour the lakes on a self guided trip according to how much time you have, and even in winter you will find a lot of interesting things to do.
Contrary to popular belief, you're not allowed to mountain biking inside Plitvice Lakes National Park, but you can surely have some fun on your bike on the state roads D429, D42 and D52. Outside of the Park borders in fact there are many cycling trails that you can enjoy.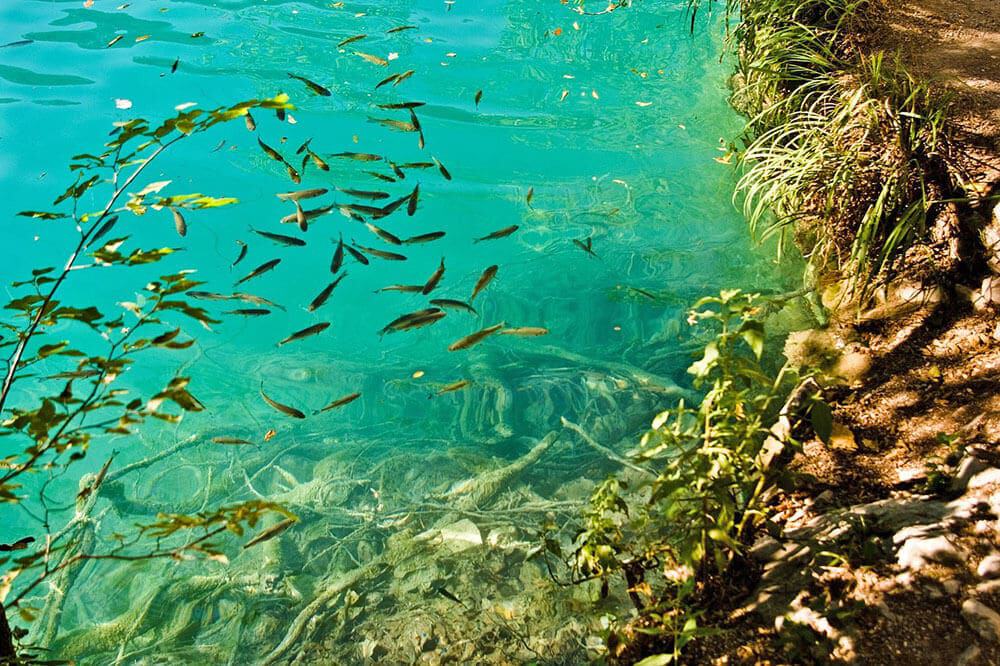 Map of Plitvice Lakes and useful tips
As I already mentioned, there are so many things to do in Plitvice Lakes, so planning well in advance is a must, especially if you don't have too much time to visit. Here you can find a useful map of the park, and here a handy list of the tour programs, including duration and trail length.
I couldn't stress it enough when I told you about my hike on Mount Vesuvius: also in this case wearing the right kind of clothes and shoes is absolutely mandatory.
Here you can find some great deals on hiking boots: I like to wear ankle length hiking boots also in summer, because if you get good, breathable ones, you won't feel uncomfortable at all. Also make sure to wear breathable clothes and bring at least 1 liter of water (possibly using a reusable bottle just like we do, to reduce plastic pollution) per person, plus a good sunscreen.
Plitvice Lakes tickets
Plitvice Park is open every day of the year, but in winter they close earlier than usual and you can lodge only in Hotel Jexero. You can get in from 3 entrances, Rastovača, Hladovina and Flora (secondary entrance), all open from 07:00 am to 07:00 pm.
The ticket office closes at 05:00 pm, and the parking lots at Rastovača and Hladovina close at 09:00 pm. You can buy the tickets at the park or plan things well in advance, by booking a tour from an tour operator online. The park itself doesn't sell tickets online.
Plitvice Lakes tickets include transport with the electric boat and scenic train, visitor insurance and taxes. One day tickets are free for children up to 7 years and persons with disability.
From January to March and in November and December, tickets for children from 7 to 18 cost about 5€, while adults will have to pay about 7,45€ (in Croatia they still use the Croatian Kuna). In April, May, June, September and October (included), children from 7 to 18 will have to pay about 11€, and adults about 20€. July and August are by far the most crowded months, but the tickets will cost you more or less like in mid-season.
You have the option to buy a half day ticket (from opening to 04:00 pm and from 04:00 pm to closing time), that will cost less, but the best deal, in case you are planning to stay for a weekend, is to buy the 2-days tickets!
Note: dogs are very welcome to Plitvice, but they have to be on a leash all the time.
Swimming in Plitvice Lakes
On our first visit to Plitvice National Park, we were the only ones who didn't wear a swimsuit. I remember being so annoyed because me and my sister really wanted to jump in the water like everyone else was doing, and I couldn't understand why my parents didn't allow us to do so.
Now swimming in Plitvice Lakes is forbidden, just like littering (doh!) to preserve this delicate environment, and there's a strict policy that you should be aware of if you are planning your visit.
You can't pick flowers or plants, and you can't bring home "natural souvenirs" stolen from the park. In case of wildlife encounters you can't get too close and you shouldn't give them food (it should be obvious but still some people think that giving sandwiches to squirrels is a good idea). It is mandatory to stick to the marked trails, and it's your responsibility to make sure you know the specifics (difficulty, length, etc) of the trail you want to hike, to make sure you have enough time to complete it before closing time.
How to get there
Unless you rent a car (and pay hourly parking fees at the park), getting to Plitvice Lakes will need some planning. There aren't airports nearby, but you can definitely fly to Zagreb or Zadar, and then reach the park using the public buses.
A lot of Italians visit Split and I remember we drove all the way from Pula, but now Game of Thrones has become so famous so people are adding Dubrovnik to their itinerary: let me try to offer the best options to reach Plitvice Lakes National Park from the most popular destinations!
Just a brief note: buses generally stop outside the two main entrances but always ask your driver just to make sure!
Getting from Zagreb to Plitvice Lakes
Zagreb Airport is about 140 km from Plitvice Lakes and you won't need a car because just outside the terminal building you will find a connecting bus to the main bus station in town.
Once you're there you will find a lot of buses to Plitvice Lakes (especially during high season). The trip will take 2 hours and 20 minutes and you can even book your tickets in advance on the Zagreb Bus Terminal official website.
Getting from Zadar to Plitvice Lakes
Another great option for those who want to visit Plitvice lakes in the first part of their itinerary is to fly to Zadar. The airport is about 130 km away from the national park and you might also be able to score a good deal on your flight tickets! The bus ride from Zadar bus station to Plitvice lasts about 2 hours.
Getting from Split to Plitvice Lakes
Many private companies offer tours (usually by bus or minivans) from Split to Plitvice Park, often as nice day trips that you can book well in advance. Split is 242 km away from the park, and because there isn't a direct train connection, getting there, unless you rent a car, might be a bit difficult. In July and August there are buses connecting the park to Split, but it's a long journey so you will have to spend the night at Plitvice.
Bus tickets have to be purchased at the bus station.
Getting from Dubrovnik to Plitvice Lakes
Dubrovnik is a whopping 432 km away from Plitvice lakes, so if you have more days I suggest you to have a stop in the middle of this long trip (also if you're driving!). When I used to visit with my family we liked to stop in Sibenik for one or two days! It's a nice medieval city, with a lovely stretch of sea and still not tainted by mass tourism so definitely a good option, also because it's halfway from Dubrovnik to Plitvice!
To get there using public transport, if you don't have time for a stop to Sibenik, you should take a bus from Dubrovnik to Split, and then change to another bus to Plitvice.
Getting from Pula to Plitvice Lakes
Istria, and especially Pula, was another one of our favorite Croatian retreats when I was younger and definitely a place Italians love to visit because the sea is amazing and there are so many restaurants, clubs and fun activities to do.
In case you have planned your vacation and you want to plan a trip to Plitvice, know that it's almost 257 km away and you might want to book a tour with a company that will take care of transport and entrance to the park. It's definitely easier and will let you enjoy the trip without getting a headache!
In case you don't feel like hopping from one bus to the other, you could think about renting a car. We have searched far and wide for the best deals, and found quite a few on this site. They have agencies in Split, Dubrovnik and Zagreb. Click here to have a look at their best prices!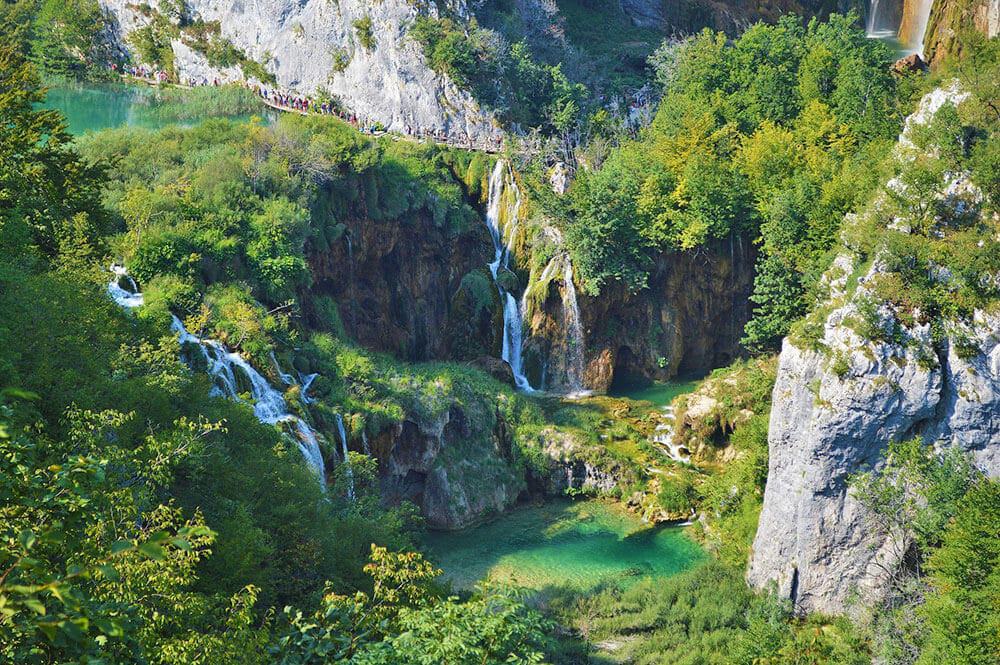 How is the weather in Plitvice Lakes?
So you're planning a trip to Plitvice Lakes National Park and you have no idea what to wear or what to expect from the weather in Croatia?
Provided that, as suggested also on the official National Park website, it's always better to wear a good pair of hiking boots, summer at Plitvice is always pretty warm. July and August are not only the most crowded months but also the warmest, with 30°C on average and good, sunny weather.
February is usually the worst month as it rains pretty often, with max temperatures on an average of 8°C. June, May and September are good months because while you might have to expect the occasional rain (bring along a foldable raincoat just in case), the temperatures are good (with an average of 24/25°C) and you won't spend as much as you would in peak season.
Note: The weather is always unpredictable, so it's important to check the weather forecast the day before your trip.
A trip to Plitvice Lakes in Winter
If you like Winter sports and activities, Plitvice Lakes is the perfect place to go to. Winter can be pretty cold in this part of Europe, with temperatures that drop way below 0°C, but you will be rewarded with lots of snow!
There's a ski resort next to the State road DC429, in Mukinje, at about 2.5km from Entrance 2 (5 km from Entrance 1) and the Plitvice Lakes National Park hotel complex. Here you will find a pretty big ski lift, and obviously ski trails for skiers and snowboarders.
If you are travelling light, you can always rent all the equipment at the Mukinje ski resort, together with sleighs, snow saucers and toboggan sleds. In case you're staying for a few days, you can reserve your equipment in advance, as it can be pretty crowded (especially during the Christmas season).
The ski trails are suitable for beginners, recreational skiers and children, because of the gentle slope gradient (15% on average).
What to expect from a trip to Plitvice Lakes
Plitvice Lakes National Park offers the chance to walk in a pristine natural environment, because the park staff always works pretty hard to preserve this protected area for future generations, therefore they are pretty strict with their rules and it's mandatory that you don't leave garbage or any other trace of your visit.
There are 8 self guided walking tours around the lakes area, and 4 hiking trails in the forest, which are generally way more quiet because people always tend to stick more to the water, due to the amazing waterfalls and the brightly colored lakes.
The trails are well marked and also shown at the two main entrances (they use green for Entrance 1 and orange for Entrance 2) and you also have the chance to use the visitor trains, at no extra cost. Remember to keep your ticket at hand because you're going to need it to use the internal transport options!
What changed for me from my first visits years ago to the latest ones? Basically nothing. While I enjoy the scenic trains, I still have a thing for the electric boats in Plitvice Lakes just like when I was a kid! They are a great way to explore (and they're included in your entrance ticket!) and take pictures/shoot videos of the lakes. Most of all they're very cool, to be honest, so go for it if you have the chance!
Whether you're going to hike or not, make sure you always bring with you a good bug repellant to avoid being eaten alive by mosquitoes and insects… that's not very nice, you know!
The trails are all pretty narrow and you will hike on uneven terrain (hence the need for appropriate clothing and good hiking shoes), also around the lake zone they are not fully adapted for the disabled. Even strollers aren't a good idea, so make sure you take this into account if you're planning to explore the park!
You might also like:
– 20 awesome fall trips in Europe you should try
Pin this for later!
Travelling Dany
Danila Caputo is a bilingual travel writer living in between Naples and the Amalfi Coast (Italy). She travels and works with her husband Aldo, photographer and videographer. Their blog chronicles their adventures around the world, Italian/European culture and tips on how to be responsible travelers. You can find out more about their latest trips and their life on Instagram and Facebook.