Tokyo | 5 days itinerary (for the first timers)
This post includes affiliate links. As an Amazon Associate, I earn from qualifying purchases. Full disclosure.
The very best itinerary to discover Tokyo in 5 days: it includes the best juicy tips and all the useful details you will need for your next trip to Japan!
Is it your first time in Tokyo? While the city itself can be a bit overwhelming, you can still visit the best parts of it by preparing an easy-to-follow Tokyo 5 days itinerary. Planning in advance will in fact help you to choose wisely while staying on budget: you might be surprised to know that most of the things we've seen are free or very cheap. Spending your time in Tokyo in fact doesn't have to be expensive at all!
Let's see how you can make the best out of this iconic metropolis without breaking the bank!
Quick Links to Post Content
Day 1: Shibuya – more than just a crossing
While planning our 5 days in Tokyo we decided to find lodging in Shibuya, near the station. But while everyone else thought we were doing it for the world-famous crossing, we had different reasons altogether. Shibuya is the one area where at night you can find lots and lots of nice traditional Japanese restaurants.
Finding a hotel near the Shibuya JR station will give you the option to either avoid the lively buzz of the Shibuya nightlife, or to jump straight into it. Using a Japan Rail Pass you will in fact be able to cross the station, showing your pass to the JR Kiosk, to avoid circling the station from the outside. Bonus: air conditioning, which is amazing if you visit Japan in the Summer!
You might also like:
15 day trips from Tokyo you will absolutely love
In case you are wondering where is the Hachiko statue, step inside the Shibuya station. There are signs everywhere, pointing you to the "Hachiko exit". The Hachiko statue location? Just outside the station, really. And a few steps away you will also see the famous Shibuya crossing. My suggestion, if you want to make sure to see it when there are lots of people crossing, is not to go there too early.
Our hotel was quite close so we had the chance to check the pulse of the Shibuya crossing, and we noticed that it starts to get crowded from 11 am. Early in the morning there are many people going to work who cross the street, but it's definitely more scattered, so to say. When the Shibuya crossing is at full capacity it's an impressive sight!
While you are in Shibuya, make sure you visit a few of the contemporary art galleries in the area. There are good ones that are completely free! One is the Diesel Art Gallery. Then you will find another one on the 8th floor at the Hikarie shopping center, where you can also spend some time on window shopping at the fashion and beauty shops (if you are into Japanese beauty and make-up products just like me, you will find some great deals here!).
Unless you have been tempted by the shopping malls (I won't even try to lie, by now you know I can't say no to some shopping!), you'll still have time to walk up Shibuya's Love Hotel Hill.
One of the things that mangas, magazines and tv-shows always make sure to mention when talking about Japan is… love hotels. These are usually pretty high on the bucket list of many tourists, and at Shibuya's Love Hotel Hill you will find quite a lot. Even if you won't lodge at one of the hotels, you can still appreciate the colorful buildings: many are themed!
After such an eventful day, the best thing you can do is relaxing. Shibuya nightlife is fun, full of people and of good live music. We were curious and decided to see an idol show. In the Japanese pop culture "idol" refers to young starlets who can sing, dance and sometimes star also in movies or tv shows. Seeing them live was a great experience: they work very hard, creating their own choreographies and costumes. Once you're there you'll realize that while they dance at a furious pace (full disclosure: we felt so old!), they never miss a beat! It's impressive!
Day 2: Senso-ji, Tokyo National Museum and Akihabara
For your second day in Tokyo my suggestion is not to be too lazy: waking up early will help you to avoid the huge crowds at Senso-ji Temple. This beautiful Buddhist temple, also known as Sensoji, is located in Asakusa and it's one of the most colorful and popular temples in Tokyo. The closest subway stop is Asakusa, on the Ginza Subway. If you have a Japan Rail Pass, you will have to use either the JR Yamanote Line (from Tokyo Station) or the JR Chuo Line (from Shinjuku) and then transfer to the Ginza Subway line, paying a 170 yen ticket.
Admission to Sensoji Temple is free and you can visit the main hall (the temple grounds are always open) from 6:00 am to 5:00 pm (from 6:30 am from October to March). Take your time to stroll through Nakamise, the long shopping street that leads from the outer gate to the temple's second gate, Hozomon. It's in fact the perfect place for a snack or to have breakfast.
You might also like:
19 Japanese Snacks you will fall in love with
We actually found a bit of everything, from skewers to matcha ice cream, from "modern" sweets to mochi, and even bento sushi. The scent will follow you as you check out all the souvenirs and cute things: we even found a shop that sells everything for your dogs, and that can customize almost every item for your furry baby, writing their name in Japanese on clothes or accessories!
Nakamise can definitely be listed as one of the most crowded (which is why you should get there pretty early in the morning), lively and funny attractions in Tokyo, so take your time to enjoy it, and when you're done, head over to the main hall.
Please, when you visit this temple don't forget to be respectful of all the people who come here to pray. While of course it's one of the must see places that get added to every Tokyo itinerary, it's not a tourist place but a real temple.
We have seen a lot of disrespectful tourists shouting and taking pictures of people who were praying, laughing out loud and completely forgetting their manners. This isn't nice, and while the Japanese are very polite, to the point that they might not scold you, it's still not a good reason to behave like rude barbarians a trip to Kyoto(this applies also to geisha in case you're planning also ).
On the temple grounds you can take pictures almost everywhere, but there are a few areas where it's not allowed. Don't worry tho, it's clearly stated so you can't go wrong!
After the temple, walk outside to explore Asakusa, one of Tokyo's districts. While there are a lot of rickshaws, the area can be easily explored on foot (which is what we did).
Asakusa was almost completely destroyed by air raids during World War Two, yet around Sensoji temple you will definitely find some traditional shops and houses that have been rebuilt after the war.
If you head over towards the Asakusa station (Ginza line), on the other side of the road you will find the Asakusa Culture Tourist Information Center. Opened in 2012, it's an eight story building with free wifi, interesting free exhibits… and an awesome observation deck on the 8th floor, near the cafe. From there (entrance is free) you will be able to take pictures of Sensoji temple and the green stalls of Nakamise from above. If the sky is clear, from the observation deck you can also take good pictures of the Tokyo Skytree.
Nakamise wasn't enough? You can shop some more at Shin-Nakamise shopping street, a covered shopping arcade housing a lot of cute shops and restaurants. The Asakusa subway station is next to it so you can't miss it!
If you had an early breakfast, our suggestion is to also have an early lunch or to buy a bento at Asakusa before you move to the next stop. There's a small café and a small restaurant inside the Tokyo National Museum, but they don't have many options and many of their most popular dishes are sold out quite early. Because you'd have to walk quite a bit to find a restaurant near the museum, it's definitely better to plan a better lunch solution, or you'll risk to skip lunch altogether!
The Tokyo National Museum is located in Ueno Park, at about 10 minutes by foot from Ueno Station. The entrance ticket costs 620 yen per person and doubles up in case there are special exhibitions (you can also just buy the base ticket for the permanent exhibition). It's open from 9:30 am to 5:00 pm (until 8:00 pm on Fridays and until 6:00 pm on most weekends and holidays), and they also have English audio guides.
We opted not to use it and still enjoyed our time at the museum because almost everything had an English translation so it's up to you! Our favorite exhibits at the Tokyo National Museum were those related to Japanese history and culture, so pottery, calligraphy, but also amazing kimonos (there's a very interesting "school" that teaches calligraphy, the art of wearing kimonos and cooking Japanese food on Miyajima Island!), samurai armours, katanas. We even found a very interesting section on kabuki!
If you're a nerd like us and want to visit what is also called the "anime district" in Tokyo, then by all means, head over to Akihabara! Again, if you have a Japan Rail Pass you're covered because the Akihabara Station is served by quite a few JR lines: the plus side is that you'll get out right in the middle of the fun… and next to a pretty quiet Gundam Café (more about this on Day 3!).
Akihabara is the place that has possibly the largest number of arcades in Tokyo, from the huge SEGA red and blue building to the several others lining the streets. It's the heart of the otaku culture, and we also found several shops selling great Japanese souvenirs (wooden magnets, kimonos, Kokeshi dolls) for less.
Many of the shops in Akihabara are in fact tax free. It means that once you purchase your items (minus the taxes) they will put the receipt in your passport (so make sure you have it with you!). Once at the airport, when you're leaving, at customs they will just take the receipt from the passport and you're done!
Many people come to Akihabara also to buy cameras and camera equipments. We gave it a try, because we are looking to buy a mirrorless Canon (we're interested in buying a Canon EOS M50 or a Canon EOS M6), but ended up buying a Fujifilm XT100 which we love immensely).
Buying online would've saved a few bucks and also the nuisance of having to carry heavy equipment throughout the trip (and let's not forget the limited warranties) so… if you find a good offer in Tokyo, always double-check on Amazon, just to make sure you can't get a better deal!
Akihabara main street, Chuo Dori, is closed to car traffic on Sundays, from 01:00 pm to 06:00 pm (05:00 pm from October to March) because this part of Tokyo is very crowded. Akihabara nightlife is fun, full of colored neons and of people cosplaying so if you want to experience something new, definitely have dinner in this area, it's full of restaurants and offers great street food options!
While the arcades are a lot of fun, beware of maid cafes, because those can be a bit expensive. On the street you will find a lot of waitresses dressed up like anime characters or French maids. They advertise cafés and restaurants where customers are pampered by Japanese cute girls dressed up as French maids. Of course it can be an interesting experience (we tried it at Lucca Comics and Games, in Italy, but it was way less expensive), but every little bit will cost you extra.
If you're looking for a fun way to spend time in Tokyo, you can try manga cafes in stead. These are cafés where have free wi-fi, and you can read comics or watch anime DVDs for as long as you want!
Day 3: Spend the day in Odaiba
By now you should know we are two big kids at heart. So imagine how excited we were to be finally able to go to Odaiba! This entertainment district is located on an artificial island in Tokyo Bay. You can easily get there using (again) your Japan Rail Pass, as there are several JR lines going to Odaiba, or you can walk across the Rainbow Bridge, or even get the Tokyo Water Bus, a boat that connects Tokyo with Odaiba Seaside Park.
We choose to get there using the JR lines because… we knew we'd be walking all day long, and we didn't want to get too tired (also: free ride)! Odaiba is pretty big, bigger than what we were expecting, so even if you just want to see the highlights there will be lots of walking. To each its own, but my suggestion is to use the JR lines or the Water bus to go from Tokyo to Odaiba. In the evening see how tired you are and decide if you still want to walk across the Rainbow bridge or not!
We won't lie to you: while you might consider us vain… Odaiba was our favorite part of Tokyo. Me and Aldo grew up watching Japanese anime and we still have a thing for huge robots (hello Transformers and Pacific Rim!). So it's obvious that the very first place in Odaiba we went to was Diver City Tokyo Plaza. I will just say two words. Gundam. Unicorn.
Now, once we exited the station all we saw were huge buildings. No sign of our childhood hero. We had to use our Maps to understand where to go. And once we saw the "life size" (it's actually 19.7 meters tall) RX-0 Gundam Unicorn we felt tiny. This metallic colossus guards the entrance to Diver City Tokyo Plaza, a huge shopping, dining and entertainment complex. The statue is a faithful replica of the Sunrise Gundam and attracts fans that go from toddlers to seniors.
Every 30 minutes Gundam Unicorn offers a little free show to its fans. It goes from Unicorn mode to Destroyer mode. It means that it shifts over 50 parts of its armour to change to combat mode. We have never, ever seen so many people awing all together! (Full disclosure: we have watched the show at least three times. Yes, we're that insane!)
The Gundam show schedule is easy to remember: it goes on from 7:30 am to 9:30 pm every day, every half an hour.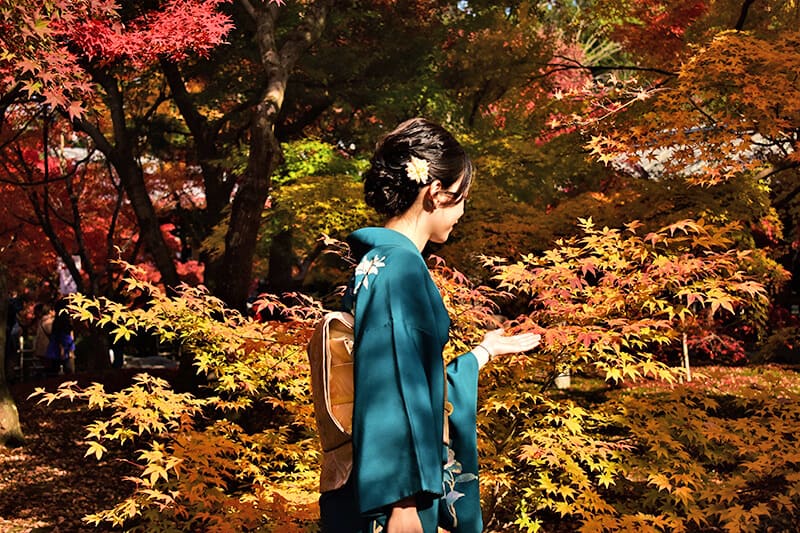 Next to the Gundam statue there is a Gundam Cafe where you can buy merchandise, grab a coffee or get something to eat while watching Gundam episodes. Yet while the Gundam Cafe Akihabara is way more quiet, the one in Odaiba is always overcrowded. I've read that sometimes you have to wait in line for more than 1 hour to find a table!
Yes, there are many themed cafe in Tokyo but if you are thinking of going full geek, then try the one in Akihabara. We had a very quiet lunch there: the food was delicious and the prices were in line with the rest of the restaurants. A bonus? They make such an amazing kakiage don!
Since there's so much to see and do in Odaiba, it's definitely better not to waste your time in line!
If you're looking for more Gundam memorabilia, go to Tokyo Diver City (behind the Gundam statue): they have a huge, and I mean huge merchandise shop on 7th floor, The Gundam Base Tokyo.
Too much testosterone? No worries. At Tokyo Diver City there's a Hello Kitty cafe! On 4th floor search for Cafe de Miki: it's the cutest thing ever! They have Hello Kitty pancakes, light sandwiches and desserts. At Diver City there's also a huge Sanrio store where you can buy kawaii souvenirs with Hello Kitty, My Melody, Little Twin Stars, Cinnamoroll and every other Sanrio character!
A little note for all the Sanrio lovers out there: if you are planning to visit Osaka, make sure you add a day trip to Universal Studios Japan! Not only there's a huge Sanrio store, but also themed cafes, and Hello Kitty everywhere! They featured the best Sanrio characters also in the night parade and in several Summer events!
As I already mentioned, there are a lot of things to do in Odaiba, so you have plenty of options.
From Odaiba Seaside Park you can take beautiful pictures of the Rainbow Bridge and… of a replica of the Liberty Statue! Here you will also find Tokyo Joypolis, a huge building completely dedicated to videogames (VR included). The admission ticket costs 800 yen for adults and 500 yen for children (from 7 to 17 years old), but you will also have to pay for each game buying the tickets at vending machines. On their official website they also offer a few bundle tickets.
If videogames aren't your cup of tea, you can have a look at Sony Explora Science, a pavillion dedicated to science and technology. It isn't huge but kids absolutely love it and it's one of the activities that the whole family can enjoy together.
Not too far from Joypolis there's also a Legoland Discovery Center (tickets from 1950 yen if you buy them online): we didn't visit but the locals told us that it's very much children oriented!
Keep walking (what did I tell you??) and you will find Palette Town, a huge shopping center and entertainment district. They even have a tall ferris wheel which is a pretty popular dating spot for the Japanese! To get there you have to head to Tokyo Leisure Land, an amusement park inside Palette Town. We decided to visit the Toyota Mega Web (free entrance), a huge Toyota technology showcase, with free rides, a pretty nice simulator ride (again, it's free!), and an exhibition called "History Garage", where you'll walk through the streets of the old Tokyo while admiring worldwide famous cars.
As you exit Mega Web you will get straight into Venus Fort. It's a shopping center designed to look like 17th century Europe. We've probably been one too many times in Las Vegas, but we thought it looks similar to the Caesars Palace in Vegas!
This shopping center is also called "dog paradise" because you can actually shop and dine with your dog. The Japanese gladly bring their dogs here to socialize… and sometimes also to bring them to pet hairdressers or to buy new clothes. I swear we've never seen so many dog boutiques!
Odaiba is also full of restaurants, fast foods and cheaper options for lunch and dinner. Your best bet (especially if you're visiting Japan in summer) is to go through the closest food court: every big entertainment center in Odaiba has at least one (or two!).
Day 4: Meiji Jingu, Yoyogi park and Shinjuku
We made sure to add a visit to the Meiji Jingu shrine during our 5 days Tokyo itinerary on a Sunday. The original reason was that it's pretty close to Yoyogi park and on Sunday there's a pretty high chance to meet cosplayers and loli girls. We could definitely list the crazy cute costumes as one of the main attractions in Tokyo, so why not!
Yoyogi park is also a popular spot during the cherry blossoms season in Japan, but it can be pretty crowded!
We visited Japan on a scorching hot summer. We really thought we'd be used to the warm weather (after all we live in Naples) but we weren't prepared to the heat wave that hit the Country. Which is why we were glad to have decided to visit Meiji shrine early in the morning: we needed to find a cool, (mostly) quiet spot where we could spend our Sunday morning!
Meiji Shrine is pretty close to the Harajuku Station, on the JR Yamanote Line (free ride again, if you have a Japan Rail Pass!). The huge torii gate that welcomes the visitors is just a few steps away from the station, and the main complex of shrine buildings is located at about ten minutes from the gate.
The walk is easy and on flat terrain, shaded by beautiful, ancient trees. After visiting Sensoji, we were surprised to notice how quiet the Meiji Jingu shrine is if compared to the bigger temple. People were quietly walking, often hand in hand, smiling at each other and enjoying the tranquility: it didn't even feel like being in the busy Tokyo anymore.
Along the way you will find large displays of colorful barrels on the walls, called kazaridaru (decoration barrels). While someone thinks they are "just" sake barrels, in a shrine they have a spiritual meaning. Because in Japan sake has always been the medium to bring people and gods together, during ceremonies and festivals the monks give sake to the people, to make them feel closer to the gods.
Nowadays the breweries that offer their sake to the shrines also send decorated barrels for display. At Meiji Jingu they stack and bound together the barrels: this beautiful composition accompanies the visitors towards the main buildings and it's very much loved by tourists. Photo op anyone?
Inside the main shrine grounds everyone is welcome to take part in typical Shinto activities, like buying charms, writing out a wish on an ema or making offerings. Another perk of an early visit, aside from avoiding the huge crowds, is that you might be able to attend a traditional Japanese wedding or a Miyamairi, similar to a Christian infant baptism.
We were lucky enough to participate to the joy of a beautiful couple who had just gotten married, wearing the gorgeous traditional wedding kimonos we had only seen… on kokeshi dolls before!
I won't have to remind you to be respectful and not to take pictures of infants or of anyone else without asking for their permission, right?
When we visited Meiji Jingu, the Treasure house was closed. The shrine will celebrate its 100th anniversary in 2020 so they are carrying out renovation works. From what we were told, most of the buildings should reopen in October 2019.
If you want you can visit the Inner Garden, the only part of Meiji Jingu which has an admission ticket (of 500 yen). We decided to just walk to the nearby Yoyogi park in stead. We bought some takoyaki (Japanese octopus balls) for lunch and ate them sitting near a pond inside the park. It might sound strange but we still got the feeling to be somewhere else, away from the busy Tokyo streets. The locals go to Yoyogi park to relax and enjoy the nature. Maybe we were lucky but we didn't find too many tourists! Actually we didn't even see any loli girl, but the park was so beautiful that we didn't feel like complaining!
After a very relaxing morning at Meiji Jingu and at Yoyogi park, we decided to spend the rest of our day in a completely different environment: Shinjuku. We were lucky once again, because the area is served by many JR lines included in our JRP so we could hop on and off the metro to visit different parts of this popular district. The hard truth is that we always want to walk everywhere, but when it's a city as big as New York or Tokyo… the distances can be a bit of a problem, and we end up with our feet begging for mercy!
The first thing we wanted to see, after reading a few several Italian blogs about the wonders of its roar, was Godzilla at Hotel Gracery. The closest metro station is Shinjuku. The hotel is just a few steps away from the station exit.
Maybe we were expecting something completely different, or maybe it's just that if you see it at night it's much more impressive. The fact is that we felt it was disappointing. The head is pretty big but it barely came out from behind the hotel, next to a huge Tom Cruise poster for Mission Impossible – Fallout (the Godzilla head is visible from the Toho Cinemas entrance, on Kabukicho dori), half hidden by all the other tall buildings in the area. Every now and then Godzilla starts roaring and there's lots of smoke, I guess also some neon lights? Yet the street was so busy that the noise wasn't that impressive!
The hotel rooms are Godzilla-themed, but also pretty expensive. If you're a die-hard fan and you don't want to spend half of your budget on a hotel room, you can head to the hotel lobby. From Toho Cinemas, walk to the Hotel's ground floor. Take the elevator to the 8th floor to the lobby for some cool Godzilla memorabilia: they have the entire timeline of the Godzilla movies released since 1954, Godzilla themed cakes and a lot of toys. You can visit also if you're not staying at the hotel!
Shinjuku is one of the large entertainment and shopping areas in Tokyo, and because we visited on a (hot) Sunday afternoon, it was also pretty crowded. Yet it was a pretty colorful (and young) crowd made of locals and tourists having a great time. We saw many loli girls, cosplayers, teenagers sporting a pretty cool rainbow head: people watching in Shinjuku can be a pretty interesting activity!
There's so much to see and do in Shinjuku, especially if you're on the geek side, with a few cultural spikes that you can't miss. In Kabukicho, named after kabuki theater, there are love hotels and a red lights district. While it's harmless, especially during the day, I'd still stay away if you're traveling with your kids, if only because that way you won't have to answer to embarrassing questions!
There's also a Samurai Museum, that not only lets you try the helmets and the Japanese kimono so you can take pictures (for free!), but also offers free group tours every 10-20 minutes. Packed with interesting information, it has an admission fee of 1900 yen for adults and 800 yen for children under 12 years old.
Were you planning to spend the evening nerding? Tokyo is the nerdiest city in the world so you have every right to indulge!
Three of the coolest activities in Shinjuku are videogaming, having dinner at Robot restaurant… or spending the whole night singing and laughing!
The first option is VR Zone Shinjuku, for the die hard gamers who want to try the latest VR video games. To make sure you don't spend the night waiting in line to try that amazing videogame, go to their official website and reserve your tickets in advance: they even offer live info on waiting time for every attraction! The downside is that the one day ticket with just 3 videogames (the cheapest option) costs 3300 yen if bought online (there's a special Internet rate). If you want to try the newest releases you'll have to buy extra tickets that cost as much as the basic bundle! So… yeah. Not exactly a budget option.
Unfortunately also the Robot Restaurant Shinjuku is pretty expensive. You've probably seen this restaurant/bar all over the socials. It's a dark room only lit up by colorful neon, strange dresses and scenes straight from a futuristic anime. Entrance to the show will cost you 8000 yen per person (you might find discounts online) and the meal, which is usually a regular bento, costs an additional 1000/1500 yen.
You can buy a discounted ticket here to the Robot Restaurant in Tokyo, and buy a bento box outside if you're visiting on a budget! Click here to find out more about rates and availability.
Because of the very loud music, the lights and the super loud customers, we're not entirely sure this place is suited for families with children!
What did we do in stead?
Well, we had yet another experience on our bucket list so… we opted for Japanese karaoke!
In Japan karaoke is pretty popular and so much fun, because they have special places where you can rent your own room to sing loud together with your friends or just to relax and chill. The minimum stay is 30 minutes, and you pay for the time spent inside your karaoke room. Some places offer free drinks, some others have small cafes inside where you can buy snacks or a bento. Many have a free refill option, which is always a good thing when you're singing… and all in all the prices are not as expensive as you might guess.
You usually pay less if you visit during the week, before 7 pm (on average 120 yen per person for 30 minutes), and slightly more after 7pm (on average 500 yen per person for 30 minutes). We have been to Karaoke Kan, one of the biggest karaoke franchise in Japan. It was futuristic, cheap and pretty popular with the students. Don't worry tho: you'll only feel "too old" until they leave you alone with your karaoke room!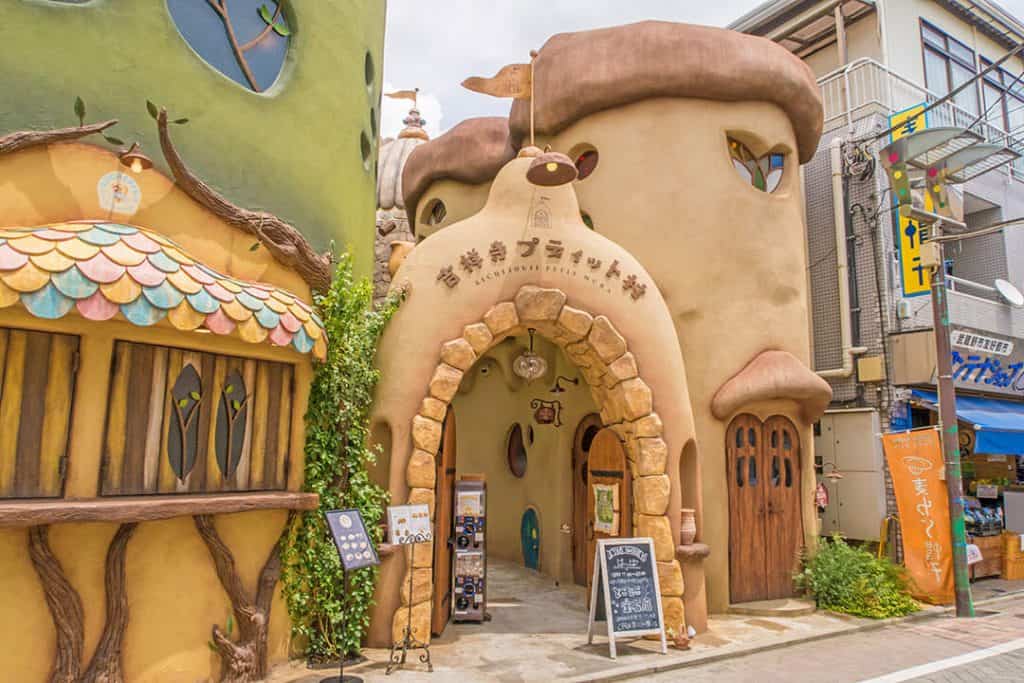 Day 5: Ghibli Museum and "cat town"
While there are surely many more things to see in Tokyo (after all it's a huge metropolis), there's one that you can't miss. Whether you're a grown up or a kid, you deserve to step into a fairytale, very much different from everything else you might have experienced.
In 2001 director and animator Hayao Miyazaki opened the "land of dreams". Inspired by the fantastic world created by the Japanese animation studio he directs, Studio Ghibli, he decided to open a Ghibli Museum at Inokashira Park, in Mitaka (Tokyo). It had to be a place where the visitors had to feel like dreaming with their eyes open wide, stepping into the land of My Neighbor Totoro, Princess Mononoke, Ponyo on the Cliff by the sea and many others.
Studio Ghibli is a children's museum, a technology museum and a fine arts museum all at once. Inside there are also a café (I was sold already at the huge Totoro by the entrance gate), a bookstore, a rooftop garden and a theater where you can watch exclusive short films by Studio Ghibli.
Because they only sell a certain number of tickets per day, it's very important not only to buy them well in advance, but also to keep a flexible schedule, so you might be able to visit even if it's just your first day in Tokyo (everything else can be shifted to another day, after all!). They start selling Ghibli Studios tickets 3 months in advance and my suggestion is to book them immediately.
You can either try to find an authorized travel agency in your Country to find your ticket, or use a third party service online that offers both the tickets and transport from Tokyo. This is what most people do, and because the price is particularly good (we've found agencies in Italy that charged the same amount, plus shipping expenses, only for the ticket and agency fees, without transport from Tokyo), it's also what we suggest you to do. Here you can find all the details on prices and availability.
Now, while I still have mixed feelings about animal cafes, I'm the kind of person who wants to go and see clearly how the animals are treated in such establishments (poorly, in many cases). It's a bit of a masochist thing I suppose, because I get mad and sad at the same time, then I usually try to gather my thoughts and start online petitions, blog articles to tell people of what I've seen and so on.
While I've been mostly lucky with the few cat cafés I've visited, in Milan (Italy) and in Manchester (U.K.), I was curious about this "new thing" that the Italian press kept on showing us. An amazing place, called "Cat Town", where good samaritans welcomed stray cats, taking good care of them, protecting them and letting them walk freely in an establishment that looks a bit like Ghibli Museum.
Because Kichijoji Petit Mura is actually pretty close to the Museum, we decided to visit. We absolutely love cats (if you follow us on Instagram you already know we love to post Insta Stories of our furry babies) and we wanted to visit this "miracle town" with our own eyes.
I won't say it was a huge disappointment, because I don't want to lie. I had fun, I always have fun whenever cats are involved so that's a no brainer, but still… There's no "cat town" at all (check out our IGTV or Facebook, we have uploaded our videos from this place!).
Once you get there you'll see a very cute entrance gate that actually looks like the Ghibli Museum. A lovely waitress showed us inside. On the left you'll find a cute tea house where you can sip a cup of tea into what looks like a magical three. On the right you can climb narrow stairs to get inside another little "tower" with a cute (and very tiny) gift shop. Then there's a small bridge that leads you to the Temari no Oshiro Cat Café. So… it's a Cat Café, not a place of good samaritans like the Italian press told us. It is't a bad thing at all, provided that the cats are taken good care of, but why lying so blatantly?
Anyway, once you get past the little bridge near a huge cat statue, you have to walk past a door that looks straight out from a fairytale. Inside, the staff will ask you to remove your shoes and to sanitize your hands. They give you a ticket (payment is requested upon exiting) and let you inside another door. The place is tiny (like the rest of Kichijoji Petit Mura), but as soon as we got in we were welcomed by an adorable chubby cat. He was half asleep, hiding his face with his paw, and checking us out with just one eye while wagging his tail. We were off to a good start.
Another waitress inside will ask you to see your ticket and will guide you to an assigned table. Once you're there, you can stay all you want. There's a menu for drinks, cakes and light lunch/dinner options, but ordering is not mandatory. You can also just come here to relax and spend some time with the cats, paying only the admission fee.
The inside of Temari no Oshiro Cat Café is very pretty, it looks like a Totoro tree house, with little huts, a second floor and a tree in the middle, with tiny steps for the cats, so they can come and go as they like. It's mandatory not to give any food to the cats (unless you buy cat snacks at the cat café), and in fact when they bring out food/drinks for the customers, they also give you food covers… because the little rascals won't hesitate to jump on your table to try and steal your fish!
What we've seen inside was a very quiet, relaxed environment. There were no tourists, a bunch of girlfriends spending some quality time together, a few couples who couldn't keep a cat at home and had already their favorites that they visit every week.
The staff is attentive and makes sure no one bothers the cats (not that the Japanese would ever). They even have a food schedule with specific timings and specific food for every cat. We've seen the staff members trying to keep the cats separated because they have to check exactly how much each one of them eats, noting everything down on paper.
The cats aren't strays saved from the street as the Italian press said. They have all been bought. We saw Munchkin cats for the first time and I'm only sorry I didn't get to film Aldo's face when he first saw one of them. The rascal was sleeping in his cat bed. He stood up and because Munchkins have very short legs (they are also called "sausage cats") Al immediately felt alarmed. What have they done to this poor cat? He doesn't have his front legs! To be honest, Munchkins could jump and were also pretty active… but if you ask Aldo he'll still comment "that poor cat…"!
There were also a few Siberian cats, two Maine Coons and a few Scottish folds. All the cats are… cats. They decide if and when they want to play or be cuddled. But no one was bored by that, as people go to Temari no Oshiro Cat Café just to spend some relaxing time away from the busy streets of Tokyo.
So, the entrance isn't exactly cheap. You get to pay 1200 yen (+tax) on a regular weekday, and 1600 yen (+tax) on holidays. If you get to the Cat Café after 7pm the ticket will cost you 700 yen (+tax). Once you've done playing with the cats (again, there's no time limit, we've spent two hours sipping cold tea and chilling away from the scorching July sun) you walk outside with your ticket and pay the admission fee. They will also provide brushes to clean your clothes from the fur, in case one of the fluffy Siberians decides to sleep on your black skirt!
We hope this article is going to be useful to plan your trip to Tokyo: here you can find a full 14 days itinerary for Japan that might interest you!
While our trip to Japan was kindly sponsored by JNTO, we have given your our honest opinion as usual. So yes, let us proudly state that all opinions are our own and they don't necessarily reflect those of JNTO.
Pin it for later!
Travelling Dany
Danila Caputo is a bilingual travel writer living in between Naples and the Amalfi Coast (Italy). She travels and works with her husband Aldo, photographer and videographer. Their blog chronicles their adventures around the world, Italian/European culture and tips on how to be responsible travelers. You can find out more about their latest trips and their life on Instagram and Facebook.