The Best Places for a White Christmas in Europe – 2022 Updates
This post includes affiliate links. As an Amazon Associate, I earn from qualifying purchases. Full disclosure.
If you're like us, you're probably thinking about where to go for Christmas this year. Because there are so many gorgeous places to spend Christmas in Europe, it's easy to feel a bit lost. So we listed here the very best places for a white Christmas in Europe. You know, those spots where you get the once-in-a-lifetime experience you've always dreamed of!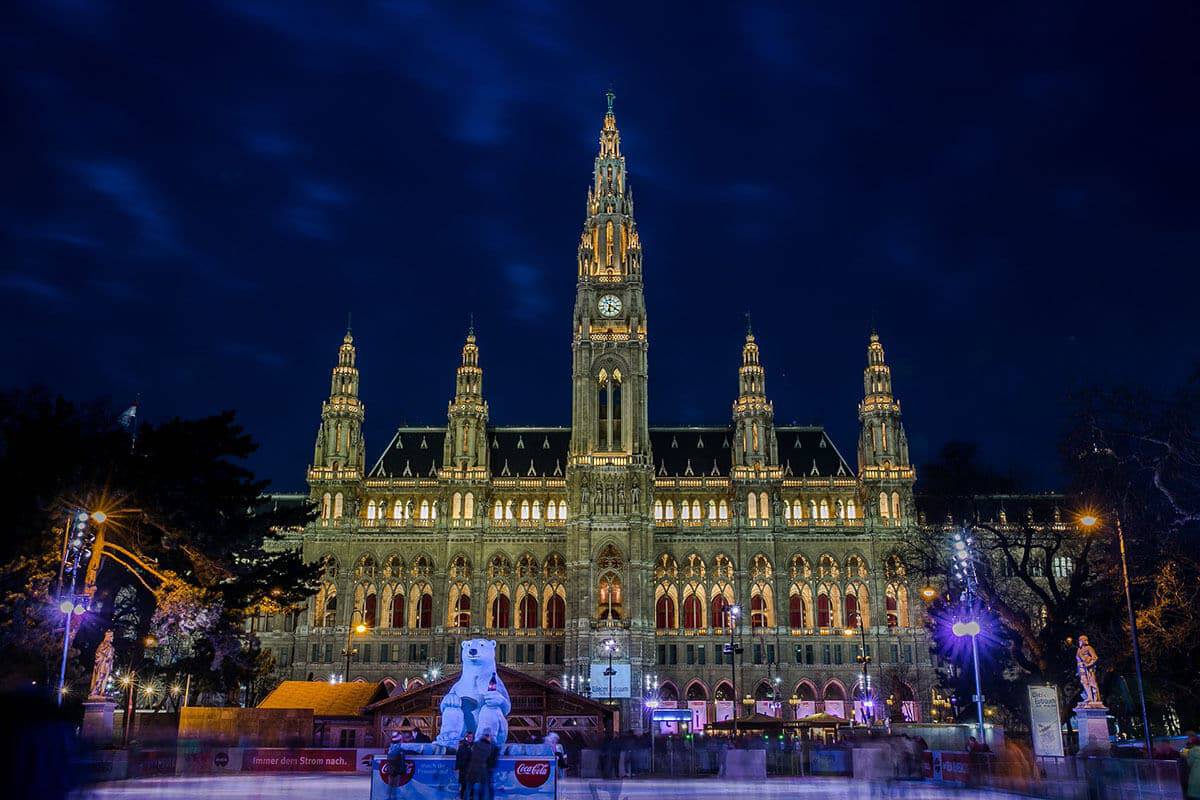 Europe is one of the most popular destinations for Christmas holidays. This is a time to reconnect with family and friends, indulge in tasty treats and explore the local traditions.
Let's discover the very best places to spend Christmas in Europe. And also why it's a great idea to do so!
Christmas in Europe is a pretty important celebration for the people. Heck, for me and Al, this is the most treasured festivity of the year!
Every Country in Europe has its own traditions and customs when it comes to the holiday season.
While there are many different ways to celebrate Christmas, there's usually some common elements.
Gorgeous Christmas markets, absolutely delicious seasonal food and great decorations.
Let's have a look.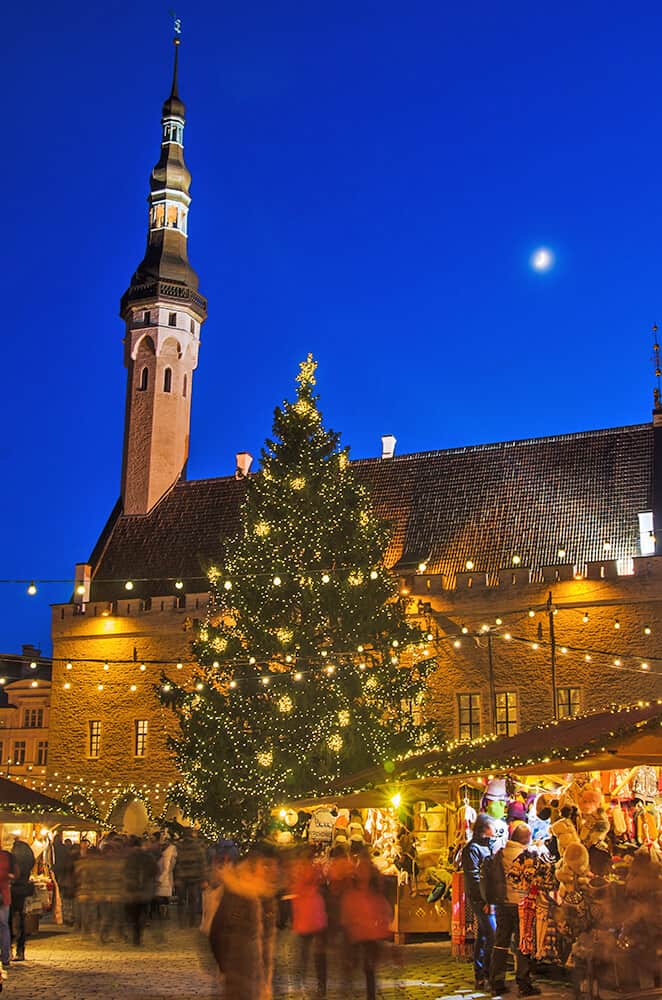 Quick Links to Post Content
How Do You Celebrate Christmas in Europe?
Christmas in Europe lasts so much more than a day!
For us the season's main event is Christmas Eve.
In Italy it's usually celebrated with a grand meal, and then we all go to the Midnight Mass.
Christmas Day is December 25th, and then the day after is known as "Boxing day".
Yet you can say that our holiday season lasts much longer than that.
Many places in Europe start decorating for the holidays by the end of November. So they're ready to open gorgeous Christmas markets by early December.
Some European Christmas Markets will close right after Christmas. But most often, they will stay open until January 6.
What does that mean?
Well for once you do have a good month and half to enjoy the best Christmas destinations in Europe!
If you want to travel on a budget, avoid the "busy" days like 23-24-25-26 December.
The best time to visit Europe at Christmas is early-mid December.
When you'll get to see all the cute markets without having to push through the crowds.
Vienna Christmas Markets
Thanks to the Vienna Christmas Markets, Austria is definitely one of the best Christmas destinations in Europe.
Vienna in December is very cold, but not as much as January.
Make sure you bring warm, thermal clothes.
Having a good packing list for winter has never been more important!
If you are looking for a snowy winter destination in Europe, Vienna won't disappoint.
In fact it might snow nearly every day with just a few hours per day of sun.
As a personal tip, bring a raincoat with you, so you won't get your hair wet because of the snow. I swear it's super unpleasant!
At many Christmas markets in the Austrian capital (but not only there) you will be able to taste the traditional festive street food.
Typically, it's hot stuff as roasted chestnuts or mulled wine, that the Austrians use to fight the temperatures generally going down below zero.
On bank holidays restaurants and hotels will be open, but the shops are always closed. However, you won't miss too much your shopping session. At Christmas you will in fact be able to attend (mostly for free) Christmas carols and events not only at the Christmas markets in Vienna, but also in many of its magnificent Churches.
The best way to visit Vienna is using the public transport.
Here you can buy a discounted Vienna City Card for unlimited rides on metro, buses and trams. It also offers over 210 discounts at popular attractions, museums and shops!
I strongly advise you to book a table in advance at the restaurant where you want to eat at Christmas, or you won't find a free spot anywhere!
Vienna can get pretty crowded during the holidays.
In a nutshell, the Austrians absolutely love Christmas time.
That is why you will always find the best decorations, the best Christmas souvenirs and the greatest events during the holidays.
If you have enough time, I suggest you book a tour of the Christmas shops and markets in Vienna, with a local guide that speaks English.
It's the best way to actually get to know all the authentic Christmas traditions!
You can click here to book the best one (with free cancellation).
When do the Christmas Markets start in Vienna in 2022?
According to the local authorities at the time of writing, there will be about 20 markets in Vienna this year.
Here are the ones that have already confirmed the 2022 openings:
November 10: Spittelberg market
November 11: Stephansplatz, Am Hof, Altes AKH, Genussmarkt bei der Oper markets
November 16: Weihnachtsdorf on Maria-Theresien-Platz market
November 18: Karlsplatz and Belvedere markets
November 19: Christkindlmarkt am Rathausplatz, Wintermarkt am Riesenradplatz and Schönbrunn Christmas markets
All the Christmas markets in Vienna will stay open until at least December 23rd. Some might continue into early January.
September 2022 Update
Most of the Vienna Christmas markets have been confirmed for 2022!
Budapest and the Danube
The spectacular Budapest (Hungaria) offers several Christmas markets, at the city center and in the outskirts.
You will find them from mid-November to the end of December. Two of them are the most awe-inspiring and loved by tourists from all over the world.
The Christmas market in Vorosmarty square is the most popular one.
Located in Budapest city center, it dates back to 1998.
According to many sources, it's the very reason why Budapest is considered one of the best Christmas towns in Europe!
The second one is the one situated in front of St. Peter Basilica and it's usually open (not confirmed yet for this year), from November 19, 2022 to January 1, 2023.
These are two of the best places for a white Christmas in Europe because no matter what, the atmosphere will never disappoint.
The first one is often believed to be the only Christmas market in Budapest, maybe because it's the one that has a nice fairytale atmosphere, and it's also very colorful… and crowded.
The air is full of Christmas scents, cinnamon above all, because it's largely used in the traditional Hungarian pastries.
Even if it's a fairly touristy Christmas Market, it has an almost vintage feel.
You won't find plastic lights or huge (and horrible) Santa's at every corner.
They tried in fact to preserve the beauty of the historical buildings in the area, so on the front of Cafe Gerbeaud, a building that dates back to the 19th century, there's a laser light show every night.
It represents the traditions that this Budapest Christmas market wants to show to its visitors.
Here you can buy a discounted Budapest Card for unlimited free public transportation.
The Christmas market in front of St. Peter Basilica, one of the tallest buildings in Budapest, is managed by the National Association of Folk artists.
Its members come here to sell high quality crafts representing Hungarian history, culture and traditions. It's the perfect place for you if you intend to buy souvenirs or Christmas presents!
Why have I added Budapest (click to read a useful guide on what to do in the city) to my list of the best places for a white Christmas in Europe?
Well not only you will surely find lots of snow, but the two main markets are within walking distance. Thus it feels like the whole city becomes one huge Christmas village.
Just think that the Christmas market in front of St. Peter Basilica has over 100 stalls, street food… and a beautiful ice skating ring in St. Istvan square!
When do the Christmas Markets start in Budapest in 2022?
As of September 2022, the confirmed date for the main Christmas Market in Budapest, at Vörösmarty Square, is November 19, 2022 to January 1, 2023.
The Magic of London Christmas Lights
We're here to explore the best Christmas destinations in Europe. Especially the snowy ones.
So I must be absolutely honest with you. Snow in London is not a sure thing. At least in December.
Some years the weather is terribly cold and icy. Some others it just rains a lot.
Yet Christmas travel to Europe can't overlook London. The British capital is absolutely gorgeous during the holidays!
One of the things you absolutely can't miss during a Christmas vacation in London is Winter Wonderland.
Hyde Park not only has a nice Christmas market, but also great decorations (festive lights, mostly).
If you go over there, be prepared for lots of Christmas carols, handmade gifts… and crowds.
Sad but true! Yet it still is one of the best places for a white Christmas in Europe, crowds or not!
You might also like:
Spring in London – photos, flowers and events
Ultimate itinerary – 4 days in London
The best London souvenirs you should buy
How to spend a cool night in Soho
The most instagrammable spots in London
Plan a fabulous weekend in London
20 awesome fall trips in Europe
Easy-to-use guide to Christmas in London
Do you need a visa to enter Europe?
Leicester Square also dresses up for the holidays. They generally have the usual Christmas market stalls, Santa's grotto and a vintage Speigeltent, which is a velvety, wooden, mirrored place where you will be able to assist to a very busy programme of Christmas cabaret by the Underbelly team.
If you want something even bigger, Southbank Center is the right place for you. Sweet treats, seasonal Christmas shows, lights and lots of fun, especially (but not only!) for the little ones.
London is a multicultural city, and possibly one of the best places to visit for Christmas in Europe.
Every market, even the smallest one, represents history and the authentic European Christmas traditions.
Just like the Scandinavian Christmas market, in front of Rotherhithe's Finnish and Norwegian Churches, with Scandinavian treats, decorations, musical performances and gifts.
Or the Danish Christmas market, at Hampstead villa, which turns into a little piece of Denmark, with Danish carols, hot dog stalls (the real stuff!), Danish crafts and lots of delicious food.
Those who do not feel like walking around to much (it will be cold!) can book a private tour.
There's a very nice tour of London's festive sights and Christmas lights with a local guide.
It's a very good one in my opinion because you can cancel up to 24 hours in advance. That means that if you change your mind, if you're too tired or if you just do not feel like going you can cancel. For free.
The tour also includes hot chocolate, mulled wine or a soft drink. Allocate about 3 hours for this tour in your London Christmas itinerary!
Click here to check out rates and availability.
Afternoon tea in London should be on every London bucket list.
Most of the luxury hotels offer it, as do some of the city's grand department stores. And they don't come much grander than Fortnum & Mason, which has been open since 1707.

Fortnum & Mason's venue for afternoon tea is the Diamond Jubilee Tea Salon, which was opened in 2012 by Queen Elizabeth II.
It was built 307 years ago and has been an apartment, an antiques department and a restaurant in its time.

The store has been selling tea since 1720, and they even have tearistas to guide you through the extensive tea menu.

The food is just scrumptious – a mixture of finger sandwiches, scones with clotted cream, jam and lemon curd, and a selection of patisseries and cakes.

Their afternoon tea doesn't really change in the run-up to Christmas, but the store does very much. It's beautifully decorated for Christmas, and full of great Christmas gifts including some delicious hampers.

They also sell tins of special Christmas spiced tea to keep you warm during the festive season.

David Angel, London expert of Delve into Europe
Feel like you need a unique experience to celebrate Christmas in Europe?
How about a festive afternoon tea with Brigit's Bakery?
When I visited London for Christmas with my sister and my mom, we treated ourselves to this amazing experience.
A tea on a British double decker bus: we got to eat delicious seasonal cakes and sandwiches, while a guide showed us the best of London. They even offered a souvenir cup and a keychain.
It was amazing!
Click here to check out the London Afternoon Tea Bus Tour with Brigit's Bakery!
London Christmas Markets 2022 Updates
We have just been confirmed that Winter Wonderland in London will be open from November 18, 2022, to January 2, 2023!
Yay!
The Christmas events in Leicester Square should open from mid-November to early January.
The official dates for 2022 haven't been confirmed yet.
Also the Tudor Markets, with their Christmas By The River, between London Bridge and Tower Bridge, have confirmed their 2022 dates.
You can visit from November 15, 2022 to January 1, 2023.
The Kingston Christmas Market, located on the outskirts of London, is another great one.
A European style market in a traditional British setting.
You can visit from November 10, 2022, to December 24, 2022.
Discover all the latest news and dates for the best events to enjoy an amazing Christmas trip to London.
Click here for the updates!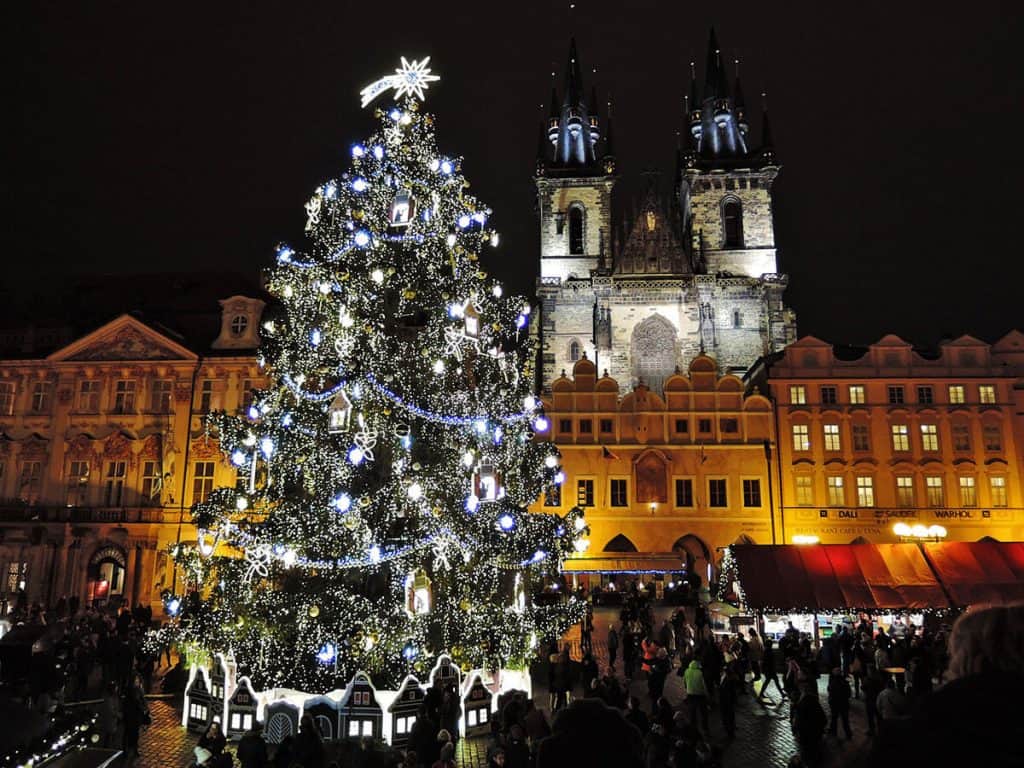 Christmas in Prague: Trdlo, Markets & Cinnamon
Prague is another one of the snowy Europe Christmas cities.
We have been there in December, then in January, and then also in February for Valentine's day.
While February was the month when it snowed the most, we still got blessed with a romantic white Christmas in Prague!
The most beautiful thing in Prague for the holidays is the authentic Christmas atmosphere.
The scent of cinnamon and clove in the air. The locals warming up with a cup of mulled wine, the delicious trdlo. And of course the yummy and juici roasted ham they cook and sell in every food stall.
Prague is also one of the cheap European destinations you can visit if you're travelling on a budget.
Even during the holidays you'll still get to eat for less. We did buy huge panini with roasted ham at the Old Town Square for like 1€!
A good option to save even more money is to get a Prague Card for 2, 3 or 4 days. It includes unlimited use of public transport, discounts and free tickets for museums and attractions.
Click here to get a discount on your Prague Card!
You might also like:
Where and what to eat in Prague
Prague districts – where to find lodging
How to spend 2 days in Prague
Why Prague in Winter is awesome
Visiting Europe in October: 20 awesome fall trip ideas
The best destinations in Europe for a Fall trip
New Europe entry requirements and ETIAS authorization
The Christmas markets in Prague are the most impressive in the Czech Republic. They lit up the city, bringing locals and tourists together in what feels like a Winter Wonderland setting.
The most popular and largest one is usually held on Old Town Square. The area becomes one huge Christmas village and the main centre of Christmas celebrations for the whole December.
There are a lot of reasons why visiting Prague in Winter can be amazing, so keep them in mind if you're still not sure of where you want to spend the Christmas holidays.
Old Town Square in Prague is dominated by a huge Christmas tree that every year is selected from a different region of the Czech Republic.
At the stalls you will easily find great Christmas gifts, souvenirs and traditional arts and crafts.
Kids especially love to pet goats, sheeps and donkeys at the animal stable. It represents the Bethlehem scene, with Mary, Joseph, baby Jesus and the Three Kings.
Prague Christmas Markets – 2022 Updates
We just got news that there will be Christmas Markets in Prague in 2022!
The official opening will be November 26, 2022. They will stay open until January 6, 2023.
Also the Prague Christmas Markets will be open on Christmas Eve, Christmas Day and New Year's Day!
White Christmas in Bratislava
Just like Vienna, Bratislava deserves a special mention in our list of the best places for a white Christmas in Europe.
When I visited this Christmas market it was freezing. And there was so much snow!
If you already read my guide to Bratislava Christmas market, you will know that Bratislava is the ideal homebase. Especially if you're planning a longer European Christmas vacation.
Find a hotel in Bratislava, then you can also go to Prague Christmas Markets and Vienna Christmas Markets.
It's easy and cheap, by train!
If you go to Bratislava during the Christmas holidays, beware. It will be super cold.
Make sure you pack accordingly!
Yet Bratislava looks like a fairytale city when it's covered in snow and ice, all lit up with the Christmas lights and decorations.
In front of the town hall there's always a huge Christmas tree and some of the biggest hotels also have awesome trees or wintery scenes as decorations for the holiday season.
Bratislava smells like good food and mulled wine.
Locals here like to eat a slice of fried bread with a generous serving of caramelized onions on the top, while drinking a cup of mulled wine.
At the Bratislava Christmas Market you will also be able to buy handmade Christmas gifts without spending a fortune.
I bought a bunch of wool scarves for just a few Euros!
Bratislava Christmas Market – 2022 Update
The Bratislava Municipality has just confirmed that there will be a 2022 edition of the popular Bratislava Christmas Market!
The market will be open from November 24, 2022, to December 21, 2022.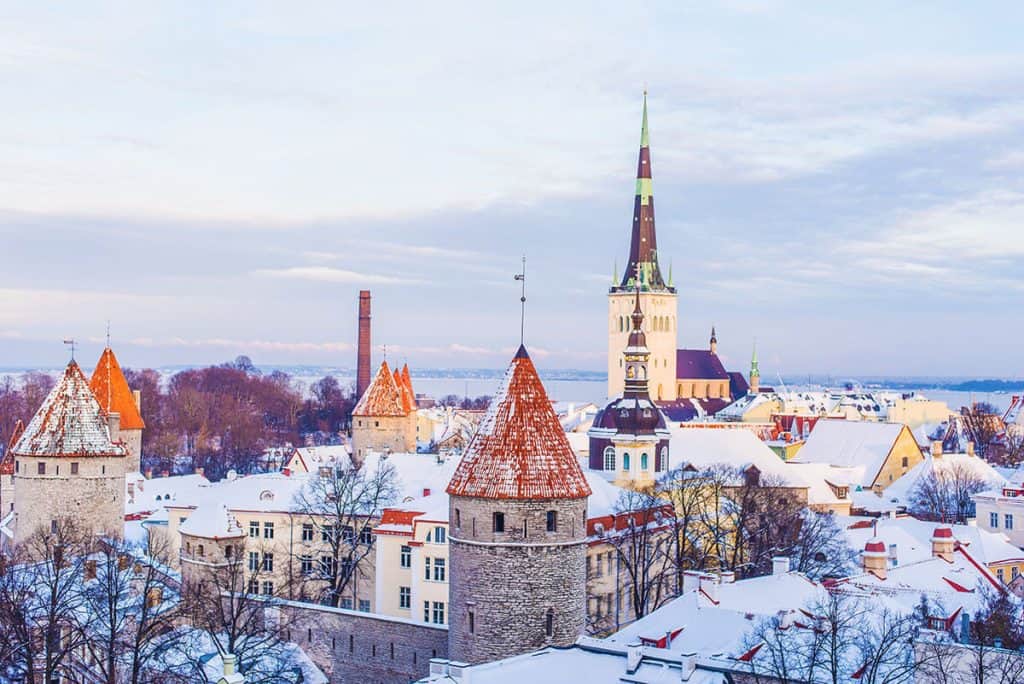 Tallinn and the first Christmas tree
Another one of the best places for a white Christmas in Europe is Tallinn, in Estonia.
Here snow during the holidays is always guaranteed!
The Tallinn Christmas Market is colorful and with a touch of fairy tale.
It's held every year at the Town Hall Square, where you will also find a huge Christmas tree, the most important one in Estonia.
The tradition of decorating a Christmas tree in the Town Hall Square dates back to 1441, making it the first one of its kind in Europe!
The Tallinn Christmas market is lit up with about 40.000 led lights. There's even a stage decorated with over 600 Christmas stars.
One of the perfect Christmas towns in Europe you should add to your itinerary!
If you intend to spend a few days here, you can book a 3 hour medieval walking tour to see the best sights of the city.
It will be even more beautiful with all the fairy lights and the Christmas decorations!
Click here to check out rates and availability.
The cobblestone streets and the rooftops in Tallinn are layered in white.
The whole town has this vibe that makes you feel like you are walking through an animated postcard.
Strings of lights illuminate cafe windows and little shops. Candles flicker on the tables as you sit for a traditional dinner. Outside the snowflakes fall lazily on the singers who perform Christmas carols.
The foodies like us can book a food tour of Tallinn to taste the best dishes and wine. There's even a tour to taste the Estonian craft beers in a cozy cafe near the Town Hall.
Both are great because you get to interact with the locals in stead than having to deal with the tourist traps.
Christmas in Tallinn is always an unforgettable experience.
So much so that Tallinn has been named the number one best value destination in the world to visit in 2018 in Lonely Planet's Best in Travel.
According to the experts, Tallinn isn't just one of the best places for a white Christmas in Europe. But the perfect destination for a city break, throughout the year!
Tallinn Christmas Market – 2022 Update
The Tallin Christmas Market has officially been confirmed for 2022!
You can visit from November 25, 2022, to January 8, 2023.
Christmas Fairs and festivals in Berlin
Christmas markets in Berlin are a huge deal. From the end of November to the early days of January, tourists and locals get spoiled by the awesome scent of seasonal food, mulled wine and colorful lights.
In the evenings the streets are busy with people from all over the world who come here to enjoy the atmosphere, even if it's cold and there are good chances at snow every year.
Berlin is in fact one of the popular destinations for Christmas in Europe.
December is busy but also full of Christmas events, festivals and so much more.
From the Arts and Crafts Christmas market Frohnau, with approximately 140 artists who sell their creations. To the Fairy Tale Christmas Market at Jagdschloss Grunewald, in front of a gorgeous Renaissance palace.
They even have an environmental Christmas market, with trendy hip Berlin designer pieces, not to mention all the fun rides, ice skating rings, Christmas choirs and shows.
If you are planning to treat yourself to a unique experience in Berlin for Christmas, I have a tip for you.
Make sure you book a hipster tour to visit Berlin in a Volkswagen bus.
You read that right, the classic "hipster bus"!
The tour lasts 2 hours and is so much fun, with the added bonus that you can cancel up to 24 hours in advance!
Click here to check out dates and availability.
Berlin is indeed the place you should visit if you are looking for a fun European Christmas.
The most important thing is to plan well in advance where you want to go. Also add a couple of nights to your stay: there is so much to see!
Berlin Christmas Markets – 2022 Updates
Here are the confirmed Berlin Christmas Markets 2022 dates so far!
WeihnachtsZauber at Gendarmenmarkt: November 21 to December 31, 2022
Spandauer Weihnachtstraum in front of the Spandau town hall: November 21 to December 22, 2022
Jagdschloss Grunewald: not yet confirmed
Christmas Garden Berlin: November 21 to December 30, 2022.
Traditional Christmas Bazaar in the Finland Center: not yet confirmed
Fairytale Christmas Markets in Hamburg
Hamburg is quite famous for its food markets, but it's also the second most important city in Germany for the Christmas markets tourism.
While snow isn't guaranteed in December, experiencing the winter magic in Hamburg is a once in a lifetime thing.
I decided to add it to my list of the best Christmas European destinations because, just like Berlin, it offers you the chance to do and see so much.
Hamburg is perfect if you're looking for a cold European city to spend your Christmas holidays.
The best way to explore it is by using public transport. It will be easy, cheap and hassle-free.
The beautiful architecture offers the perfect backdrop for awesome and romantic trips, especially when it's all lit up with led lights and Christmas decorations.
If you can only add one tour to your Hamburg itinerary, there's one you just can't miss.
Book an evening cruise to see all the lights at the harbor. At Christmas it's even more beautiful (and super romantic)!
Click here for rates and availability.
The prettiest Christmas market in Hamburg is set in front of the Town Hall, and it's been lovingly designed by Roncalli director Bernhard Paul.
You will find woodcarvers from Tyrol, gingerbread bakers from Aachen and Nuremberg, silversmiths, sword makers and many others in this Christmas market that mixes history, tradition and heritage.
It is one of those places where both kids and adults will have so much fun!
Christmas season in Hamburg is full of parades, festive shows, but also shopping, sightseeing and winter fun. This is the one city that that never forgets that there are so many children attending. If you're visiting with your little ones, they sure won't get bored.
The Harry Potter fans will fall in love with a 2-hour secret guided tour. You'll in fact have the chance to discover the magical and mystical places in Hamburg, including the Hamburg Diagon Halley!
Click here to check out rates and availability.
Hamburg Christmas Markets – 2022 Updates
At the time of writing, 5 out of 5 Christmas Markets in Hamburg which have been confirmed for 2022.
City Hall Market: November 21 to December 23, 2022
Winterwald in Hamburg: November 17 to December 30, 2022
Fleetweihnachtsmarkt: November 21 to December 30, 2022
White Magic on the Jungfernsteig: November 18 to December 23, 2022
Santa Pauli: November 14 to December 23, 2022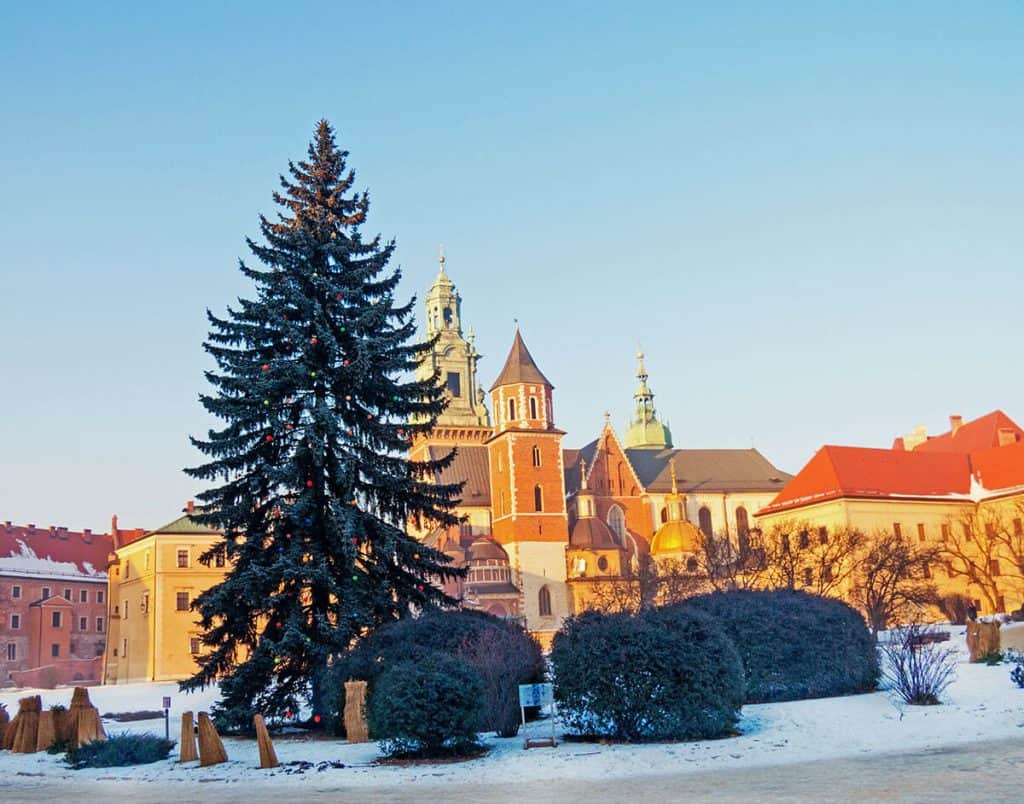 Christmas Market in Rynek Glowny – Krakow
Truth be told, we fell in love with Krakow at first sight. Unexpectedly, too, since I thought that Warsaw was the place I liked the most in Poland!
While maybe a visit to Auschwitz-Birkenau isn't exactly something you want to add to your Christmas itinerary (or is it?), I can tell you that Krakow offers so many nice things to do for the holidays.
If you are staying a for few days, I strongly suggest you also visit Zakopane and the Tetra mountains on a guided tour.
The locals also love to visit during the Winter season, when it's snowy.
Click here to book a day tour with pick-up service from your hotel to Zakopane.
It includes insurance, English speaking guide and lunch!
The Krakow Christmas Market is located in the evocative Rynek Glowny, in the Old Town. Here all the major events in Krakow take place, not just for the holidays.
At the wooden stalls you will find a wide range of Christmas decorations, gifts, sweet treats and traditional Polish food.
Eating in Krakow is very cheap, and the food is to die for: with the Christmas market in Krakow this rings even the more true.
The street food will warm you up, together with the mulled wine, and you will be surprised, just like us, at how inexpensive it is.
Krakow should be added to your list of cheap European Christmas destinations.
There's also a huge bonus. Poland in December is super cold. Which means you can easily expect a white Christmas in Europe if you're booking this trip to Krakow!
Krakow Christmas Market – 2022 Update
The official 2022 opening date for the Krakow Christmas Market in Poland hasn't been confirmed yet!
Based on past years, it should open by the end of November and it should last until December 26, 2022.
We'll keep you updated!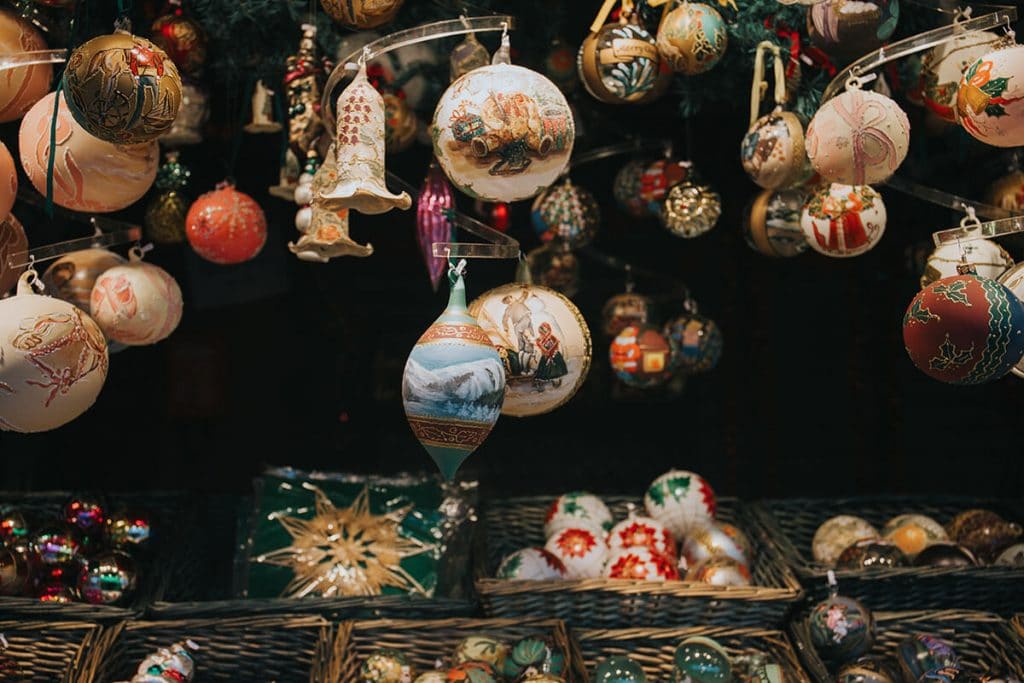 Unforgettable Christmas in Frankfurt
Frankfurt Christmas Market is one of the most beautiful markets in Germany. While snow isn't always a given in December, I swear it's still worth the trip.
Mostly because it's one of the oldest Christmas markets in Germany, and it has a breathtaking backdrop!
Let's face it, Frankfurt is a pretty town. Add wooden stalls, lights and decorations to that and you'll have the perfect place to put you into an especially festive mood.
The one thing that some people just don't like is that almost everything will be closed at Christmas.
The locals truly believe in spending the holidays with their beloved ones, so they're just not going to work.
Because it might be difficult to find a table at any restaurant for Christmas, make sure to either book one well in advance or to book a hotel room which includes dinner.
Many pubs will open after the Christmas dinner, because Frankfurt is a lively city, so you might find lots of young people going out after the family dinner.
The best way to explore Frankfurt is by using public transport.
Buying a a Frankfurt card will help you to save quite a lot. It includes free public transport during your stay and also discounted rates at museums, shops and restaurants.
Click here to buy the Frankfurt Card at a discounted price.
If you are history nerds like us, let me suggest two amazing day trips from Frankfurt that you will absolutely love.
The first one explores Rothenburg, one of Germany's best-preserved medieval towns, Rothenburg.
The second one will show you the majestic Eltz Castle on the Moselle.
Both are perfect for Christmas, which is why I had to add Frankfurt to my list of the best places for a white Christmas in Europe!
Frankfurt Christmas Market – 2022 Update
We just got the official confirmation: there will be a gorgeous Christmas Market in Frankfurt in 2022!
The official dates are: November 21 to December 22, 2022.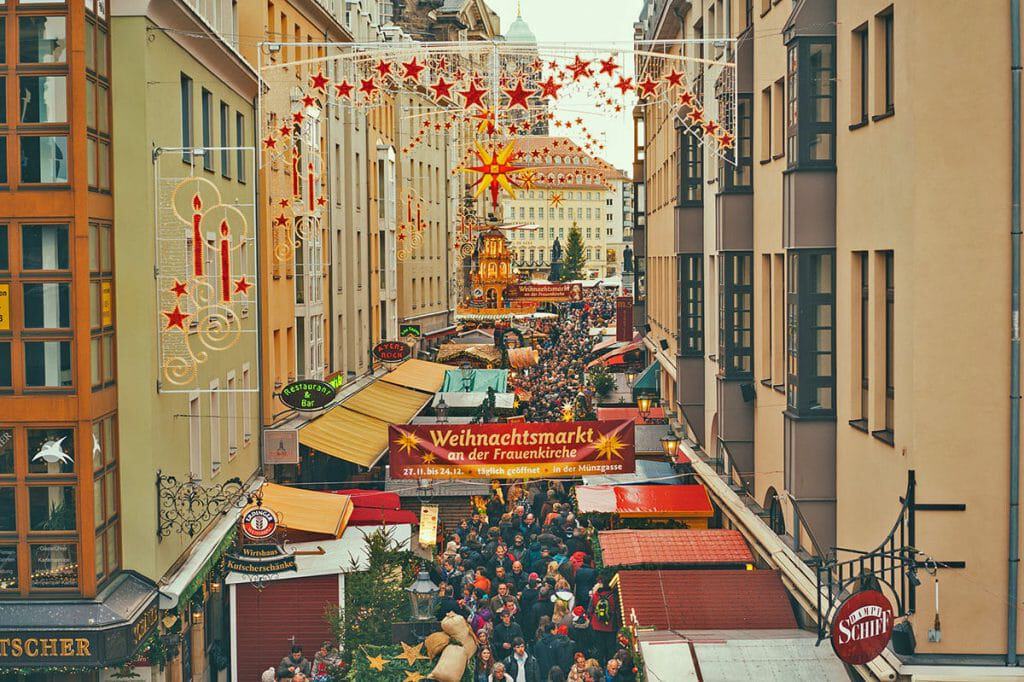 Baroque Christmas in Dresden
Yet another German city made it to our list of the best places for a white Christmas in Europe: Dresden.
If you like the European Christmas traditions, you will fall in love with Dresden.
This baroque city is in fact the perfect backdrop for the perfect Christmas.
Because there is so much to see, it's sometimes difficult to decide what to add to the itinerary. That is also why we consider it one of the best christmas breaks in Europe!
Make sure you decide well in advance all the activities you do not want to miss. It'll be way easier!
The Dresden City Card is super cheap and it will help you to plan a self-guided tour of Dresden.
Especially if you're visiting on a budget.
It's the best way to save on public transport because it includes unlimited rides and a few discounts on activities and restaurants.
You can click here to buy it at a discounted price.
The Christmas in Dresden is particularly awesome.
The decorations, the snow and the special festive events introduce the visitors to Saxon Christmas traditions and culture, through food, arts and crafts.
If you are into classical music, you absolutely have to treat yourself to a Festive Christmas Concert in the Marble Hall in the Zwinger.
You will listen to music written by Vivaldi, Bach and Mozart, in an impressive venue.
Click here to check rates and availability.
Dresden Christmas Market – 2022 Update
The Dresden Christmas Market in Germany has just been confirmed for 2022.
The official dates are November 23, to December 24, 2022.
Copenhagen and the Hygge Christmas Markets
Hygge is a Danish and Norwegian word that can't easily be translated.
Usually it's desribed as cozyness and "feel good" vibe that you get when you are very happy.
Christmas in Copenhagen embodies this concept: both locals and tourists enjoy themselves in a cozy and easygoing setting.
They even organize foodie tours of the city, at some of the best restaurants, which will teach you a lot about the hygge culture. And food. Did I mention the lovely food?
Click here to discover rates and food stops included in the guided tour.
Tivoli Gardens is a must visit place in Copenhagen, especially during the Christmas holidays, because it becomes a white Winter Wonderland.
This Copenhagen Christmas Market is probably the most crowded one but you just can't help going there, it's too beautiful!
Copenhagen is an expensive city, so to save lots of money, the best option is to buy a Copenhagen City Card.
It includes free public transport rides and also free entrance to over 73 museums and attractions, as well as discounts on many restaurants.
Here you can buy it at a discounted price.
Kronprinsensgade is a narrow street in Copenhagen, decorated with thousands of small led lights which look like a starry roof over your head.
It's a good place not only for some seasonal shopping, but also to take a few pictures: this is one of the most Instagrammable places in Copenhagen, especially at Christmas!
Our favorite place in Copenhagen is Kogens Nytorv square, where you can see the best Christmas displays.
Hotel D'angleterre alwayshas a themed display with light curtains that transform its facade in a theater. Yet almost every shop and hotel here shines with lights and decorations.
Did I mention that it's my favorite part of Copenhagen during the Christmas season?
No wonder that I added the Danish capital to my list of the best places for a white Christmas in Europe!
Copenhagen Christmas Market – 2022 Update
According to the most recent official news, the King's New Square Christmas Market in Copenhage will be held in 2022.
The official opening dates are November 18 to December 31, 2022.
The Snowy Christmas in Riga
Among the very best places for a white Christmas in Europe you can find Riga, in Latvia.
With its Old Town Christmas fair, the roasted almonds and the local handcraft, it offers the visitors the chance to find their Christmas miracle every day.
The seasonal program is always stuffed with workshops and concerts (there is some classical music, but mostly Christmas carols) and the city is tiny enough that you can visit just using public transport.
Or just walking around, which is what we love the most!
In the city center there are Christmas markets on Dome Iakumus and Līvu laukums, two beautiful squares, and at Esplenāde Park.
Make sure to visit especially the last one as it has a cute "village" populated by rabbits.
Super cute and definitely unique!
The traditional treats include mulled wine, gingerbread, roasted almonds, but also smoked meats. At the Christmas markets you will also find nice – and locally produced – presents and souvenirs.
Patterned mittens, candles, but also Latvian honey, socks, hats and scarves.
Spending the Christmas holidays in Riga also means learning about the Latvian traditions, that don't only include food and crafts but also things like log dragging and local Christmas songs.
Riga Christmas Market – 2022 Update
The Riga Christmas Market 2022 has just been confirmed!
It will be held from November 27, 2022 to January 2, 2023.
Helsinki – Christmas City Break
Helsinki is officially considered the "Perfect Christmas City Break".
After all, here they are used to get lots of snow in time for the holidays.
Which is perfect if you are looking for a place in Europe to enjoy a white Christmas.
While it will be very cold, Winter is probably one of the best seasons to visit Finland, because Christmas is a the most heartfelt festivity here.
To the point that, to be able to spend Christmas with their family and still have fun during the holidays, Finns have a "pikkujoulu".
It's a traditional party that anticipates Christmas in a highly festive, informal way.
If you walk over at Aleksanterinkatu, named the "official Christmas street in Helsinki", you will find beautiful shop windows and lights decorating the whole area.
It's the place where the locals go to do their Christmas shopping so chances are that you will find beautiful souvenirs and presents as well!
You can buy a discounted Helsinki City Card to discover Helsinki with free public transportation. It includes a free sightseeing tour and discounts on restaurants, shops and tours.
Click here to check the updated rates.
The traditional drink for Christmas in Finland is Glögi, made from spiced wine with a sprinkle of almonds, raisins and, if you want, a dash of vodka.
After all, the sun is reluctant to rise as Winter starts to grip Helsinki, so you'll have to keep warm somehow!
Helsinki Christmas Market – 2022 Update
The Helsinki Municipality just confirmed that there will be a Christmas Market in 2022!
The official opening dates for the Helsinki Christmas Market are December 1 to December 22, 2022.
Italian beauty: Milan
Being Italian I couldn't help myself: I had to add Milan to the list of the best places for a white Christmas.
Even if it doesn't snow every year (but when it does… oh boy, it's gorgeous!).
My sister lives in Milan, so I've had my fair share of snowy Christmase holidays with her, but it really depends. Again… global warming and pollution aren't helping. Every year seems to be different from the previous one!
I have quite a few info on Italy winter weather that will be super useful for your next trip.
Worried you'll need a bit of help?
Download the FREE Italian Travel Phrasebook here! It includes the correct Italian pronunciation and lots of useful sentences that you'll be able to use on your trip to Italy!
The traditional Christmas markets in Milan are called "Oh Bej! Oh Bej", which is dialect and means "Oh beautiful!".
The name seems to recall the time when kids were all screaming "Oh Bej!" back in 1510, when the papal envoy Giannetto Castiglione was sent to Milan to give gifts to the kids there.
Around the Sforza Castle there's a huge Christmas market with almost 400 stalls.
Many of them are traditional of Milan, so you will find artisans, florists, book sellers or toy makers, among others.
They represent the ancient arts and craft of this beautiful city, with the castle that makes the perfect backdrop.
You might also like:
– A taste of Italy – The best regional food in Italy
– Italian Christmas food you should eat on your next trip to Italy
– 30 types of Italian Pizza you should absolutely eat
– 23 romantic Tuscany villages you'll fall in love with
– Abruzzo Food Guide: How do the Abruzzese eat?
– 38 Authentic Italian Cocktails & Wines You Should Try
– Guide to ETIAS Authorisation and Schengen Visa Requirements
– Discover the best time to travel to Italy
– 37 Movies about Italy to watch before your trip
Another Christmas market is located at the Public Gardens Indro Montanelli, where you will also be able to taste the traditional "Firunatt", smoked chestnuts only sold during the holiday season.
Lately they have even opened a "Green Christmas", a Christmas market that celebrates a green lifestyle, held at the Fonderia Napoleonica Eugenia, an archaeological site.
Milan at Christmas is a sight to behold, with all the lights and the decorations.
And if you spend the New Years here, there's a huge concert near the Duomo, which is completely free!
Another reason why this is a great Christmas break in Europe, is that you can visit the best of Milan in one day if you don't have much time.
If you're traveling with your significant other, make sure to also visit the most romantic spots in Milan on a free, self guided tour of the city.
They will love it!
Milan Christmas Markets – 2022 Updates
We finally have the official dates for the 2022 Milan Christmas Markets!
Piazza Duomo: December 1, 2022 to January 6, 2023
Oh Bej! Oh Bej!: Not yet confirmed (should be early December 2022)
Villaggio delle Meraviglie (Porta Venezia): November 20, 2022 to January 9, 2022
You might also like:
Insider tips for visiting Italy in winter
Why Prague in winter is absolutely amazing
Italian Christmas food you never knew existed
How to visit Vienna Christmas markets
The best of Bratislava Christmas market
15 awesome trip ideas to visit Europe in winter
Where to find the most amazing Christmas markets in Europe
Incredible travel gift ideas for women – have a smart Christmas!
20 awesome Christmas markets in Italy
Christmas in London – Everything you need to know
Why you should travel with your partner
Guide to the best time to visit Italy from a local
Pin it for later!
Travelling Dany
Danila Caputo is a bilingual travel writer living in between Naples and the Amalfi Coast (Italy). She travels and works with her husband Aldo, photographer and videographer. Their blog chronicles their adventures around the world, Italian/European culture and tips on how to be responsible travelers. You can find out more about their latest trips and their life on Instagram and Facebook.