This post is also available in: Italiano (Italian)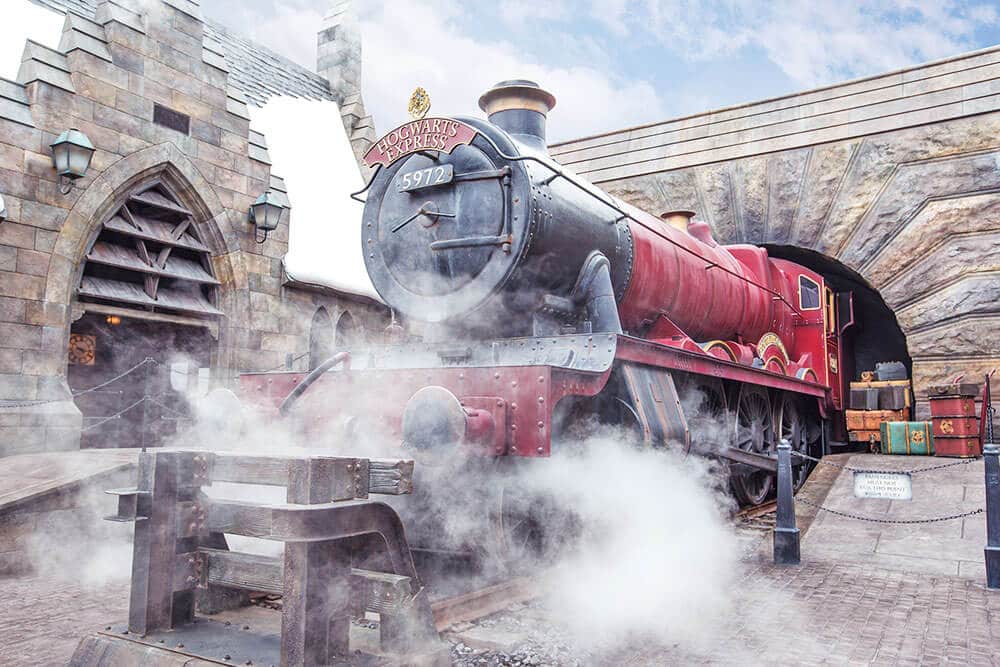 Are you planning a trip to Osaka? Geek much? Do you like amusement parks and Harry Potter? If you answered yes to at least to one of those questions, we're sure our Universal Studios Japan tips will be super useful to plan your visit.
Let's see what happens when you let two hardcore geeks into one of the most amazing amusement parks in the world!
Universal Studios Japan is the land where everything is possible, and where every Potterhead in the world should go at least once in their life. It had been on our bucket list for such a long time, and we were super-happy to be able to visit, even if we were in Japan during one of the warmest summers ever.
While I'm usually a big kid that can't contain herself when it comes to theme parks or cosplay events, Aldo is way less unbiased. We are both enthusiastic people, yet he's the one who usually has to bring me down to Earth when I feel over excited about something.
Our visit to Universal Studios Japan in Osaka was on my birthday and I had big plans, even if it was scorching hot, if the humid warmth was melting us and if we knew that the crowds were going to be huge. As soon as we saw the enormous spinning globe at the park entrance I was already jumping up and down. I mean… come on, everyone has read about the wonders of the Wizarding World of Harry Potter, right? Our Whatsapp was on fire: friends and relatives from Italy were pressing us. Could we send some pictures? A short video? Did it live up to the hype?
We'll get to that in a moment, in our guide with the best Universal Studios Japan tips (field-tested).
As we mentioned already, we visited when it was scorching hot. While walking in the park, the humidity rate was through the roof. And yet the Universal Studios Japan staff kept on smiling. Gosh, they were amazing. Even the always-serious Al had to acknowledge the fact that these men and women were doing an incredible job. Always smiling, welcoming everyone, acting the part, dancing away under the sun. We could say it was hard but they were genuinely happy whenever a kid smiled at them. And gosh, the way they danced, or acted while dressed up as our favorite characters… priceless!
Absolutely, hats off!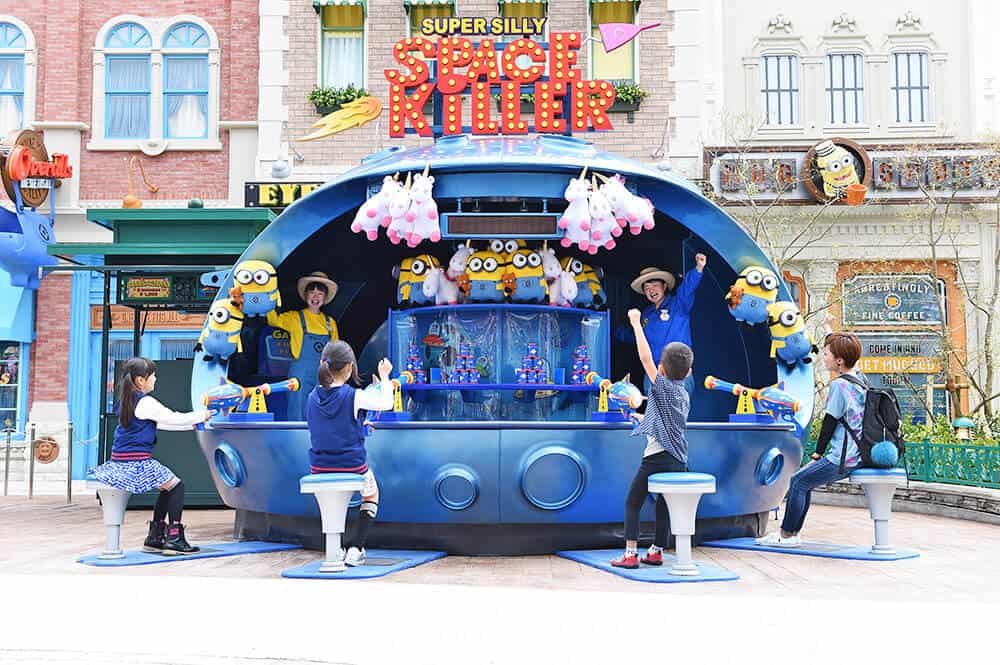 Universal Studios Japan tickets – Info and prices
Buying tickets in advance for Universal Studios Japan can be a tad bit difficult if you intend to do it online… unless you can read Japanese or you want to order from a travel agency.
1 day Studio pass costs 7,900 yen for adults, 5,400 yen for children (from 4 to 11), and 7,100 yen for seniors over 65. All the prices include tax. If you plan to visit on two consecutive days, then you will get a discounted price of 13,400 yen for adults and 9,000 yen for children, for a 2 day Studio pass (as of August 2018). To this you might have to add the travel agency costs. The most reliable online sellers are JTB, Viator or Get Your Guide.
Buying tickets online – How to
We promised some juicy Universal Studios Japan tips, didn't we? Well, then let us tell you that there is a way for you to buy the tickets online without having to go through a dealer. You will only need to carefully follow the following steps:
Become a member of Universal Studios Japan Club
Go to the USJ shop in Japanese (get the help of Google translate or Chrome translator for better understanding)
Choose the ticket date (when you want to go to the park)
Add the Studio Pass of your choice to the shopping cart and ask to get e-tickets with QR codes in stead than having them shipped
If you want to buy an Express Pass (more on this on the following paragraph), choose the type you want and the time slots for the timed attractions of your choice
Add the Express Pass to your shopping cart (select again to get e-tickets)
Choose the payment method
Enter your payment details and finalize
Within minutes you will receive the e-tickets by email!
Universal Express Pass
The Express Pass is an additional ticket that can be bought after you bought a Studio Pass (together with it in case you buy it online), because on its own it won't allow you to enter the park. So make sure you bring both a Studio Pass and an Express Pass if you bought them online, or you'll risk being left outside!
Also if you have bought a 2 day Studio Pass, your Express pass will be valid only for the day printed on the ticket, just that one day, not two.
This ticket lets you enjoy specific attractions with shortened waiting times, and it can be used to guarantee a good viewing spot for the night parade.
A very important thing to remember is that every Express Pass includes a timed entry ticket to the Wizarding World of Harry Potter. Sadly, in fact, both the Express Passes and the Harry Potter World at the park are available only while supplies last!
There are different types of Express Passes and the price obviously changes according to what you're going to buy. There are express passes for 3, 4 and 7 attractions. You get to choose which ones you want to ride, and the times. This means that you will have to make sure you know which attractions are your absolute must do so you won't be wasting precious time (and money).
But how does an Express Pass work?
Once you've bought it, you can print your list of attractions and timings. There's a different time window for each one of those. You have to make sure to be at the attraction within your time window, and follow the line for those who have bought a Express Pass. Staff members will ask you to see your express ticket so keep it at hand!
The lines will be considerably faster: we managed to ride Harry Potter and the Forbidden Journey in about 10 minutes. So using an Express Pass allows you to spend less time in line and to enjoy more attractions. It's not something that many Japan theme parks do!
One of the best tips for visiting Universal Studios Japan we were given was thus to get the Express Pass. While it is more expensive, it is definitely a life-saver if you're only buying a 1 day Studio Pass!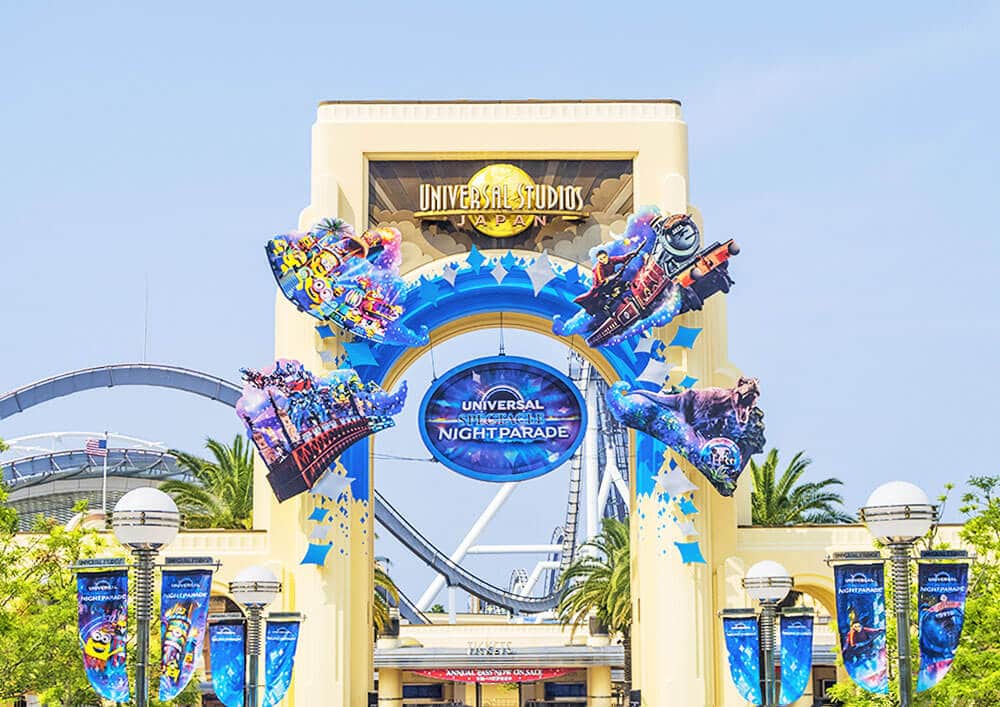 How to get to Universal Studios Japan
To go to Universal Studios Osaka using a Japan Rail Pass you need to hop on the JR Yumesaki Line (also referred to as JR Sakurajima Line), and get down at Universal City station. There's a pleasant 5 minutes walk to from the station to the park entrance.
In case you don't have a JRP, you can take one of the direct trains from Osaka Station. There's more or less one every 15 minutes and tickets cost 180 yen. Make sure you always check the times also of last train for Osaka before you go, to make sure you know when you need to head back.
Universal Studios Japan also has a bus connection with Kansai Airport and Itami Airport.
You might also like:
The best 15 day trips from Kyoto you shouldn't miss!
Park Opening hours
The Opening hours at Universal Studios Japan in Osaka can change without notice, so checking before you go is always a good idea (especially if you haven't bought your tickets in advance and they start admission earlier on the day you want to visit: what if you can't find any more timed tickets or Express Passes?).
The park usually opens between 8:30am and 9:30am. The closing time goes from 7:00pm to 9:00pm, with longer opening hours on weekends and bank holidays.
You can check the Universal Studios Japan opening hours on their official website.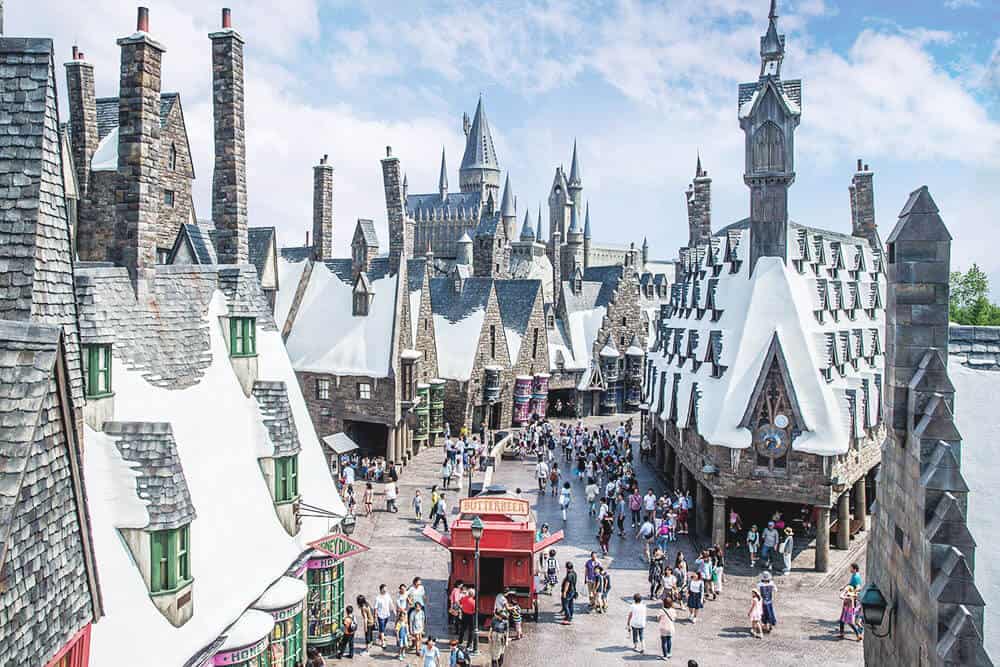 Harry Potter Universal Studios Japan
If you're a Potterhead like us you'll probably already know everything about the amazing Harry Potter area, but what USJ guide would this be if we didn't talk about it for a moment?
Aaand… we really just had to get it off our chest. The Wizarding World of Harry Potter at Osaka is such an amazing place!!!
It all starts with a trail half hidden between the shrubs, where the sound effects already lure you into a world of magic.
Once you get to Hogsmeade… you'll forget where you are. It truly feels like walking into the magical land created by the writer J. K. Rowling. With the huge train for Hogwarts (life size) on one side and the Ollivanders wand shop on the other, it truly feels like an immersive experience. If you're lucky (check the schedule you'll be given upon entrance to the park), you'll also see a few Hogwarts students walking around, maybe carrying their animated patronus!
Yes, the Osaka Universal Studios Japan in our opinion was worth a visit even just for their Harry Potter area: gosh, we felt like kids!
One note is that they only have a certain number of tickets for you to enjoy Hogsmeade. While they are absolutely free, they are very much needed during peak times. The lines can be very long and to make sure that everyone enjoys their walk through the streets of Hogsmeade, the staff has to restrict entrance. With timed entry tickets you will know you can visit at a designated time.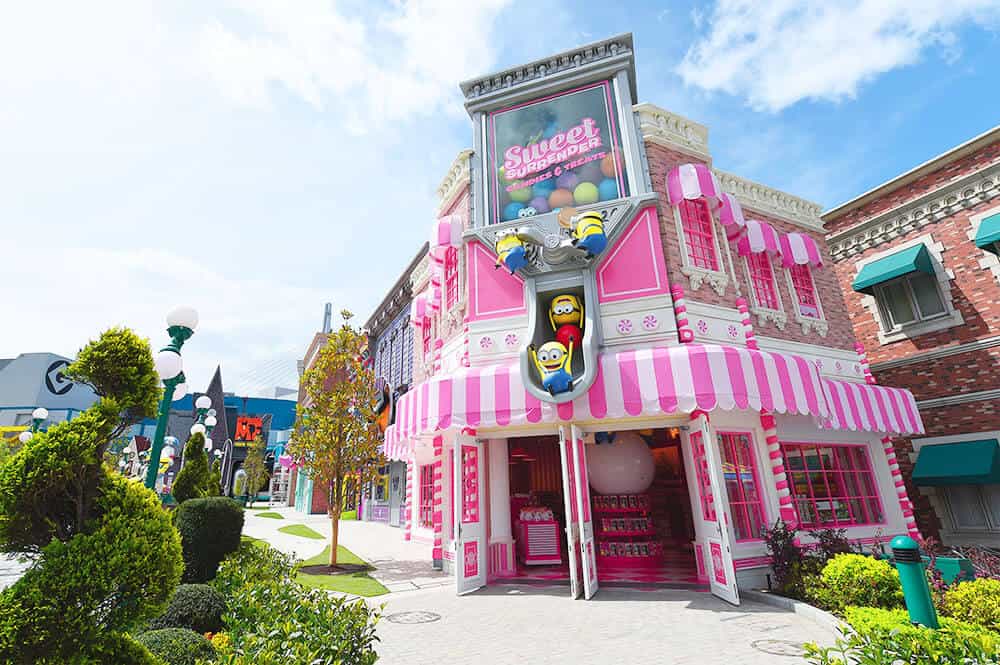 How to get a timed entry ticket to the Wizarding World of Harry Potter
There are two ways to get your hands on a timed entry ticket (again, it's free!). One is by buying an Express Pass, because entrance to the Harry Potter area is always included (info on Express Passes can be found in a separate paragraph). And the other is by being smart and lucky once you visit the park.
To obtain a timed entry ticket to the Wizarding World of Harry Potter in the park, you have to make sure you're at the parks gate way before they open, unless you already bought your Studio Pass online. While the Studio Pass doesn't include entrance to the Wizarding World of Harry Potter, you will still be able to avoid the line at the ticket booths.
As soon as the gates open, walk straight to the Harry Potter world. Near the entrance you will find the ticketing site. To be able to book a timed entry ticket you will need the Studio Passes of all the members in your group. Choose the time you want to enter the area and print your entry tickets.
Remember that you cannot re-enter the area with the same timed entry ticket, and you can only get inside on the times clearly printed on the ticket.
Evangelion XR Ride – An adrenalinic VR experience
We were quietly walking through the park, making sure to note everything down for our guide with useful Universal Studios Japan tips, when all of a sudden it felt like I had a vision. Was that an Evangelion sign? Both me and Al perked up immediately, and I might confess we have been squeeing a little. I mean… it's Evangelion! If you add that it's a VR ride, and that Al is absolutely VR-bsessed (in fact he loved to spend a few days in Tokyo because of all the VR video gaming facilities over there), you'll know that trying this ride was basically mandatory.
You might also like:
The best Tokyo day trips you should add to your itinerary
The Evangelion XR Ride operates where there was the Space Fantasy – The Ride, and it runs from July 6, 2018 to January 6, 2019, so it can be defined one of the many, amazing, events at Universal Studios Japan.
If you are interested in buying an Express Pass, absolutely make sure you add Evangelion to your list of attractions to skip the long line. Another way to try to avoid the crowds is to go there as soon as the park opens… then again, remember you'll have the same problem with Harry Potter World, if you want to see both!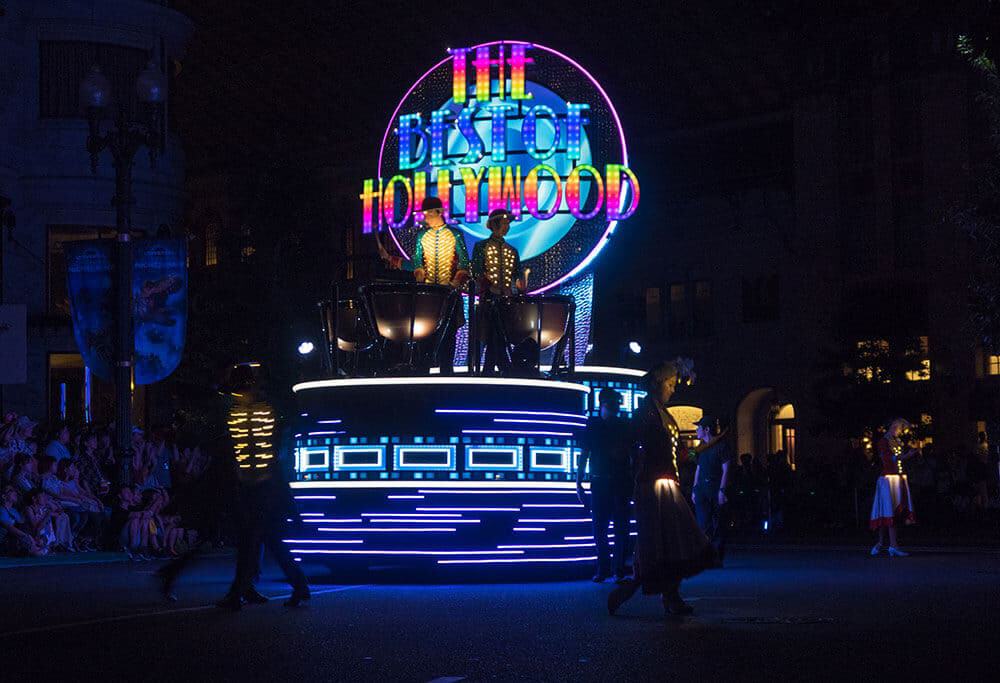 Before you step inside the Evangelion XR Ride the staff takes a very cool and fun picture of you. We were about to get blasted by a huge monster that was applied in post production: you can choose if you want to play the warrior ready to fight… or if you want to look terrified! Also in this case the staff members were super friendly and always smiling, so you won't feel uneasy in making silly faces!
The tunnel that lets you inside is filled with videos that explain what is going to happen and what to expect. Being huge nerds, we absolutely couldn't wait!
Because I wear glasses, I was offered a safety case to put them aside, so I was able to keep them on me all the time (outside there's also a locker room, in case you're visiting with a large backpack). At first I was worried I wouldn't see well through the VR device, but I was wrong. After getting seated in your cart, the staff will help you to wear your device and you can adjust it to make sure you see well also without your glasses (miracle!!!).
This is an adrenaline rush ride, because it adds a VR experience to a rollercoaster, so it's immersive and realistic. We had so much fun, but we realize it's a personal thing: if you think you or your children might get too scared, then skip it. Me and Aldo absolutely never felt unsafe or too scared to keep going, even if of course you get to scream when all of a sudden the road in front of you goes down and you get that not-so-nice feel that you're really falling down!
Should you give it a try? By all means… yes! Maybe you can explain to your kids that it's all make believe if you're worried they might be too afraid, but we've seen lots of young children having the time of their life on the Evangelion ride so we don't think they'll be scared at all.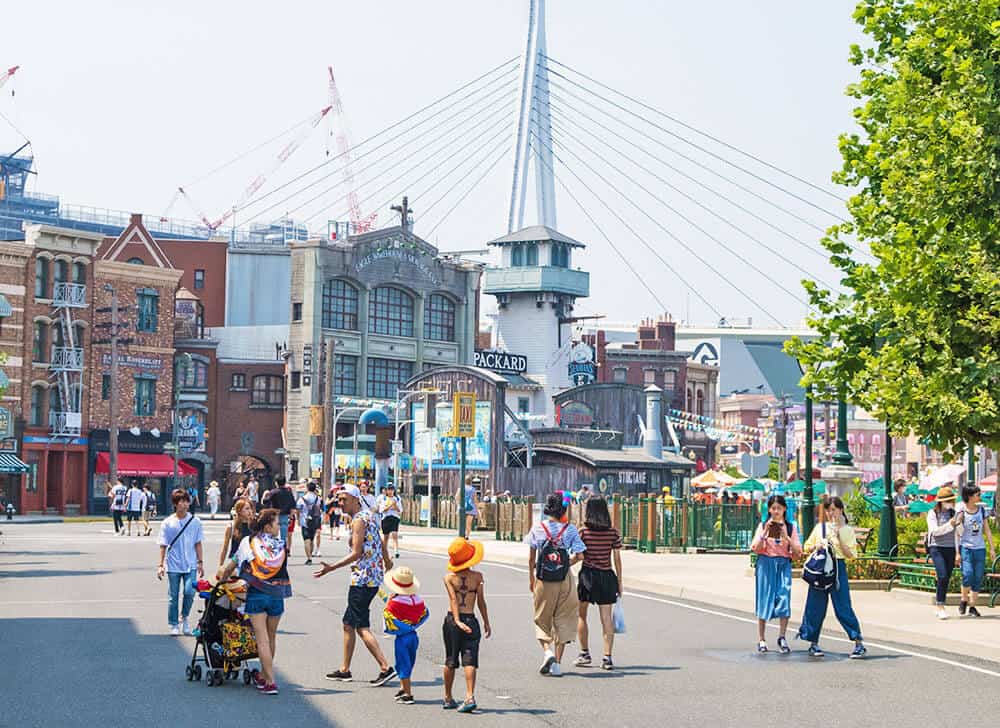 Japan attractions – Anime themed events
Universal Studios Japan events are always amazing. They can last for a while longer, just like the Evangelion XR Ride, but generally they switch to a new one every two months.
We were lucky enough to be able to attend the Sailor Moon summer event (gosh, the feels!), and the only complaint we had was that there weren't English subtitles. We could understand the meaning of the special movie of course, because it was an anime and we knew the characters already, but we missed completely all the dialogues because we couldn't understand a single word of what they were saying.
It's something you should keep in mind, whether you're visiting with children or not. If the event is a movie, you might not understand anything they say. And if you're short on time, maybe it'd be wise to spend it by staying in line for another attraction.
What you can do is to visit the shops and the restaurants close to the theater where they are showing the 4-D event movie. They usually sell themed merchandise (we bought very cool Sailor Moon items that we didn't even find at the Japanese shops during our last Lucca Comics & Games!) and even special dishes or cakes for the events!
Throughout the last months there have been the coolest events you could find in any other Japan theme park, from Evangelion to Sailor Moon and Detective Conan: they are all themed on the Japanese anime and in our opinion this is absolutely amazing. After all one wouldn't come all the way to Osaka to see the exact copy of a Universal Studios Japan that you can find anywhere else, right?
Of course they also plan seasonal events for Halloween, Christmas, Eastercherry blossom season in Japan, even for the ! The best way to keep yourself updated is by having a look at the official USJ website.
Our best rides – Universal Studios Japan
When the night parade started, we realized that our day trip to Universal Studios Japan was really over… and while the parade was amazing, we felt a bit sad. Being huge nerds and big kids at heart, we admit that, had we stayed more in Japan, we would've probably spent two days at the park!
I had the best birthday ever and while we have visited many other amusement parks in other parts of the world, including all the parks in Orlando (USA), this one holds a special place in our heart. Me and Aldo, like so many other kids in Italy, have grown up watching Japanese anime. They are a huge thing even today in Italy, with people binge watching Lupin III, Dragon Ball, One Piece or Detective Conan! So you'll understand what an incredible experience it was for us: we felt children all over again!
Had we spent more time at the park, we would've definitely had a second round of the following rides, our very favorites at this park:
Harry Potter and the Forbidden Journey
Evangelion XR Ride
Despicable Me Minion Mayhem
The Amazing Adventures of Spider-man (watch out for a Stan Lee cameo!)
Hollywood Dream – The ride
Jurassic Park – The Ride
Another one of the very busy rides was The Flying Dinosaur, in the Jurassic World area. But the idea that we were going to ride so high, upside down, with so many 360 degrees swings, freaked me out.
What to expect from this amusement park in Japan
Walking through the iconic gate was mesmerizing. We had so much fun and enjoyed a beautiful day even if it was scorching hot, also thanks to the helpful, ever-smiling members of the staff.
Two of the most important Universal Studios Japan tips we can give you are to buy the Express Passes and to plan wisely what you want to do even before you get to the park.
We know it's a bit expensive, but it's the best way to go to maximise your time at Universal Studios Japan. Spending hours in line for every attraction (especially if it's a hot summer in Japan) is definitely a less than pleasurable way to enjoy the area.
If you can't really buy the Express Passes, then make sure to get there extra early in the morning (like… one or two hours before the opening time) to make sure you won't waste too much time in line to buy your tickets, and then dash over to the timed tickets machines to get as many timed tickets as possible.
What you should definitely do when you are still planning your trip to Japan is to have an in-depth look at the official website, to make sure you maximise time at Universal Studios Japan. This means writing down the attractions you don't want to miss in order of importance: priorities, folks. Priorities!
You can also check show attractions and street shows in advance. There are some that are very good, like the Universal Spectacle Night Parade (which is extra good if you're Harry Potter fans), the Harry Potter shows like the wand studies or the frog choir, among others. We were lucky and got to see the Summer street fun parade: it was amazing, so many artists and dancers!
Our thrilling experience was kindly sponsored by Universal Studios Japan. All opinions are our own and don't necessarily reflect those of Universal Studios Japan™
Pin it for later!