Easy to plan day trips from Tokyo that you can plan on your own and on a budget. Discover how easy it can be to explore Japan without spending a lot!
Are you planning a trip to Japan? This article will help you by offering smart ideas for the best day trips from Tokyo. We'll be hitting all the side trips from Tokyo you can plan without breaking the bank, with tips on how to save money and why it's a good idea to go (if you have enough time). The maximum travel time we consider doable is 3 hours – always remember not to add too many things to your itinerary! Being spontaneous, especially in Japan, will repay you with tons of extra fun and local goodies. Read this post together with our Tokyo travel guide to plan the smartest Japan holiday ever, all on your own!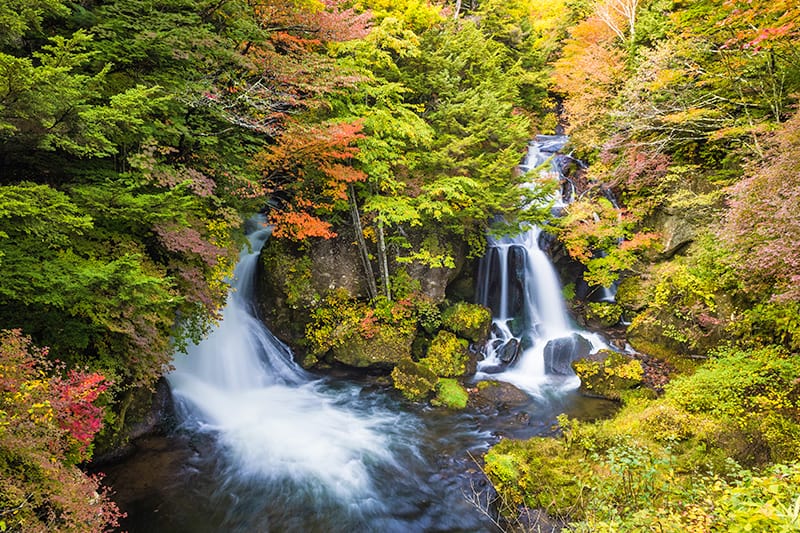 Nikko day trip: fall colors and samurai history
Nikko is a super popular destination in Japan thanks to its rich collection of Buddhist temples, Shinto shrines, UNESCO World Heritage sites and samurai history.
A Tokyo to Nikko day trip is perfect for those who are visiting in autumn, in search of beautiful spots to enjoy the colorful fall foliage. It can be also amazing if you're interested in Japanese history and culture.
Because this will be only a day trip from Tokyo, you will have to decide whether you want to go hunting for the best autumn color spots in Nikko or if you prefer to explore the remains of the Edo Period in Japan.
Doing both things in one day will result in having to rush the whole trip. You should in fact consider the return trip to Tokyo and of course the time it'll take you to go from Tokyo to Nikko.
If you're visiting Japan in autumn and you don't mind having to walk a bit, bring your hiking boots and add places like Ryuzu Waterfall, Yutaki Waterfall or Lake Chuzenji to your itinerary.
Another option can be exploring Kegon Waterfall (especially if you're bringing a DSLR or Mirrorless camera): it's one of the three most beautiful waterfalls in Japan, even more stunning from mid to late October!
Nikko is very famous in the whole world because of Toshogu, Japan's most gorgeous shrine, which is also the mausoleum of Tokugawa Ieyasu, one of the most powerful samurai in Japan in the Edo Period. The Tokugawa shoguns have ruled Japan for over 250 years!
You might also like:
19 Japanese snacks that will cause MAJOR drool!
Toshogu Shrine is a spectacular complex which consists of over 12 buildings set in a gorgeous forest. Tickets will cost you 1300 yen and to get there you'll have to walk 30-40 minutes from the nearest bus station (the bus ride from the JR Nikko station is included in the Japan Rail Pass).
Nikko is one of the day trips from Tokyo you can plan whether you have a Japan Rail Pass or not.
The fastest way to get to Nikko from Tokyo is using the Tobu Railway. You can hop on a SPACIA train at Asakusa Station in Tokyo: there are two SPACIA limited express trains.
They'll both get you to Nikko in 1:50 or 2 hours. Tickets will cost you about 2700 yen (including the seat reservation fee).
Those who have a Japan Rail Pass without having to spend extra money for a fastest ticket, can opt for a regular JR East train from Shinjuku Station.
The Shonan Shinjuku Line trains are included in your JRP and run to Utsunomiya Station. There you'll have to transfer to the JR Nikko line to Nikko: the whole journey will take you 2:40 minutes.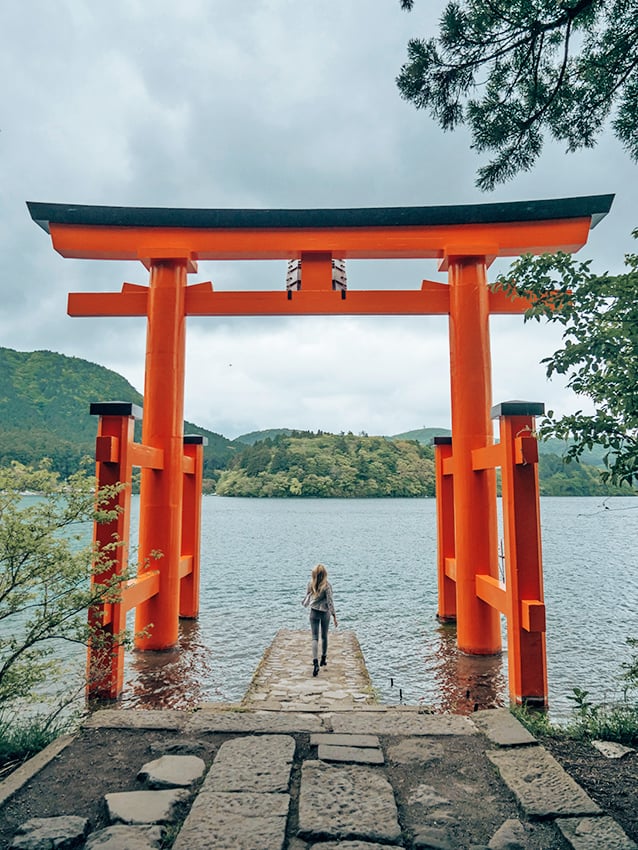 Tokyo to Hakone day trip: hot springs and relax
Hakone is part of the Fuji-Hakone-Izu National park and it's very popular because of its hot springs, natural beauty and great views of Mount Fuji from the shores of Lake Ashi.
Those who are looking for a break from the city can easily plan a Tokyo to Hakone day trip. It can be cheap, fun and very interesting if you follow my advices!
First things first, you should be aware that, due to Typhoon Hagibis (#19) on October 2019, the Hakone Tozan Railway has been damaged and train service has been interrupted between Hakone-Yumoto and Gora.
While there are substitute buses, they can get quite crowded.
Restoration works are expected to last until autumn 2020.
An Hakone day trip can be scheduled for less if you have a Japan Rail Pass, but you'll still have to buy an extra ticket to explore the area.
From Tokyo (Tokyo or Shinagawa station) hop on a Tokaido line train to Odawara. The trip will last 35 minutes (a local train will take about 90 minutes) and then you'll have to buy a Hakone Free Pass by Odakyu Railways for 4600 yen (for 2 days).
This pass provides unlimited use of Odakyu-affiliated buses, trains, boats and ropeways to explore Hakone.
If you're not planning to explore much, you can buy a Romancecar ticket from Odawara to Hakone-Yumoto for 320 yen (not a round trip).
If you don't have a Japan Rail Pass, you can buy a Romancecar ticket included in the Hakone Free Pass. The train will take you from Shinjuku (Tokyo) to Hakone-Yumoto station in about 1:40 hours. The pass, including the round trip ticket from Tokyo, will cost you 5700 yen for two days.
Using your pass, you can spend the day moving from one hot spring to the other, according to how much time you have.
Yumoto, next to the Hakone area near Odawara, is the most famous hot spring in Hakone. In case it's crowded or too expensive for your budget, keep looking.
There are many public bath houses or ryokan which allow also daytime visitors to use their baths.
The admission fee can go from 500 to 2000 yen.
Please be aware of the fact that not every bath house will allow entrance to tattooed people.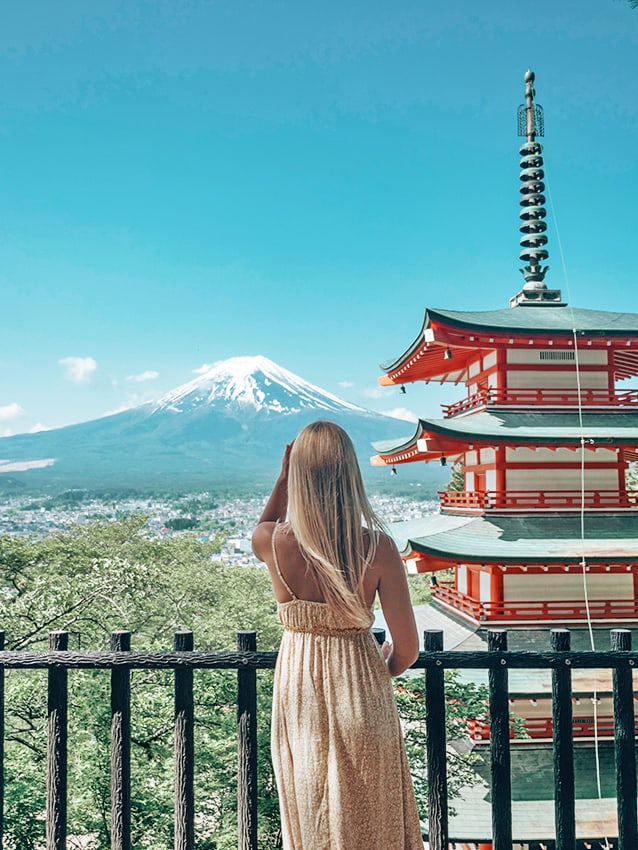 Mt Fuji tour: the Fuji Five Lakes region
Planning a Mt Fuji day trip isn't overly difficult, but there are so many misconceptions about it that I feel the need to clarify a few things.
The Mount Fuji climbing season (so the best time to attempt this day trip) goes from July 1 to September 14. Usually people hop on a JR train from Tokyo station (JR Tokaido) to Kozu, through Odawara. In Kozu they transfer to the JR Gotemba line (usually there's a train every 30 minutes) to Gotemba station.
Gotemba is the 5th Station on Mt Fuji: there's a bus that will drive you to the closest trail and you will have to pay 1000 yen to climb during the most crowded season.
Other people start climbing at Fuji, which is also the 5th Station (Yamanashi Prefecture).
What do I mean by stations? Well, Mt Fuji is divided into 10 stations, with the tenth being the summit. Paved roads only go as far as the fifth station, then the terrain starts getting steep and rocky.
On paper, climbing Mt Fuji is "easy" if you are fit and exercise regularly. Yet you have to consider the fact that the whole ordeal will take 5-10 hours and the lack of oxygen will make things difficult. Because the air gets thinner, at the 5th station small bottles of oxygen will be available to the hikers.
Should you start feeling the effects of altitude sickness, you have to descend the mountain and give up on your journey: please, don't risk with your health!
An easier way to try and tackle this, even if you're not fit, if you have asthma issues like me or if you're worried you won't make it far, is to book a Mt Fuji tour from a reliable source.
There's a very nice one from Tokyo to the Five Lakes, the area surrounding Mt Fuji, which includes tickets to visit the Oshino Ninja Village, hiking around the ponds at Oshino Hakkai, instagrammable spots to take the best pictures and even a traditional Japanese lunch.
Click here to check out rates and availability.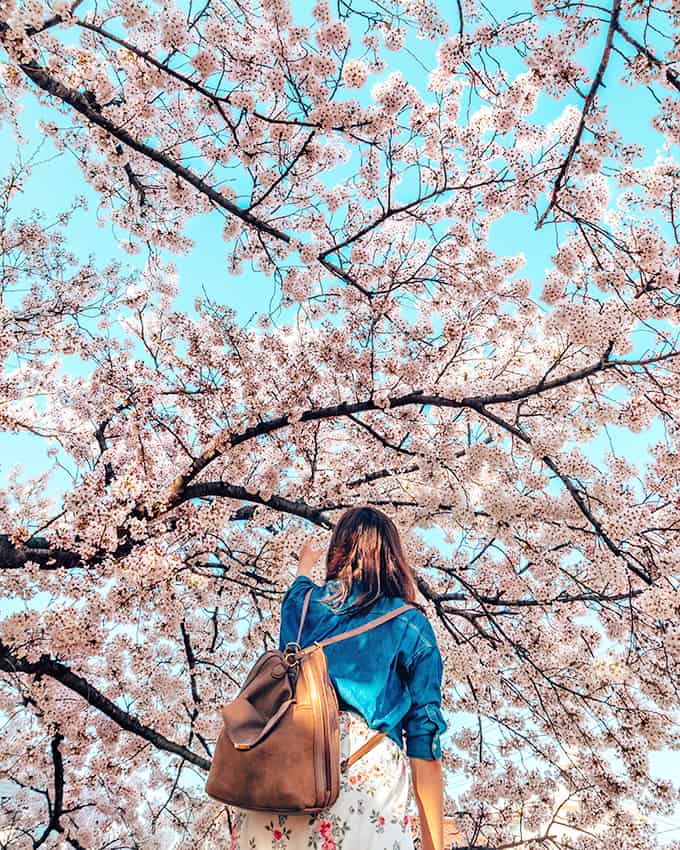 Lake Kawaguchi: instagrammable views of Mt Fuji
Another option to plan a day trip from Tokyo to Mt. Fuji on your own is by exploring the Lake Kawaguchi area.
From Shinjuku (Tokyo) take the JR Chuo line (included in your Japan Rail Pass) to Otsuki station. Then the Fujikyu Railway to Kawaguchiko station. The whole trip will take a bit more than two hours.
While from Kawaguchiko station you can take a bus to start climbing Mt Fuji, I'd rather encourage you to explore the area. There's so much to see and do, no matter how fit (or unfit, like me!) you are!
The perimeter of Lake Kawaguchiko is 20 km. If you feel like hiking, there's a 14 km long walking trail (pedestrians only) for you to enjoy the area, taking pictures and relaxing.
The best views of Mt Fuji can be enjoyed from the northern shores. This is also a great place to go to during the cherry blossom season in Japan.
If you're visiting Japan in spring, head over to the seaside promenade near the Kawaguchiko Music Forest.
In case you're heading there in autumn, you will love the "Momiji Tunnel". It's a maple tree covered road along Lake Kawaguchiko northern shore.
You might also like:
The best places to see cherry blossoms in Japan
This is one of the best day trips from Tokyo because you can shape it any way you like it.
At only 4 km from the train station you will find the Arakura Sengen Shrine. Or you can take amazing pictures of Kawaguchiko bridge. Or you can enjoy the view from the Mount Fuji Panoramic Ropeway.
Heck, there's even an amusement park, Fuji Q, that you can explore if you're visiting with your kids (click here to buy your tickets in advance)!
Are you feeling a bit overwhelmed? Don't worry about a thing!
There's a great full-day bus tour from Tokyo that should be perfect for you!
It'll allow you to enjoy the best of Lake Kawaguchi, with a visit to Oishi Park to take instagrammable pictures of Mt Fuji and the five lakes. Then you can ride a cable car up to an observation deck to enjoy 360-degree views of the area!
The tour includes a traditional Japanese lunch, an English-speaking guide, all the transport fares (including the cable car) and a return trip to Shinjuku station in Tokyo.
Click here to check rates and availability for this guided tour.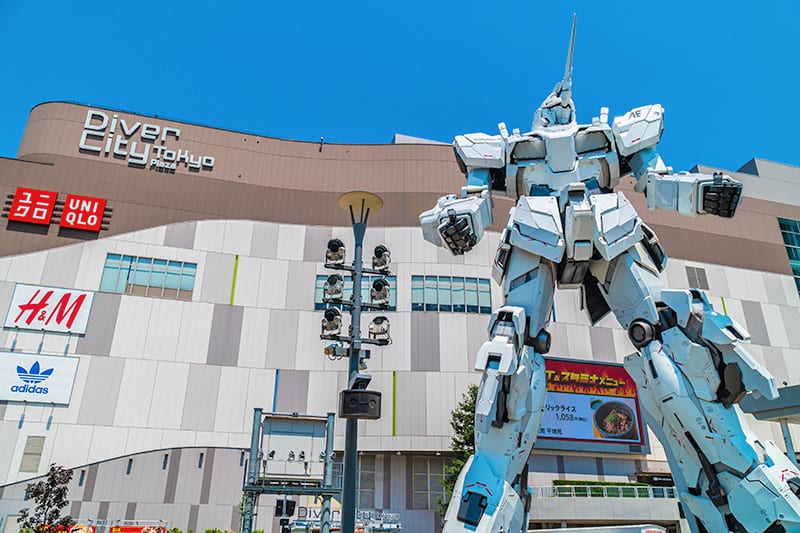 Exploring Odaiba: shopping and fun
Some people prefer to squeeze a trip to Odaiba in a few hours, thinking they will be enough to see everything. As you might have read on my article on how to spend 5 days in Tokyo, we planned Odaiba as a day trip from Tokyo and while we actually returned late at night, there wasn't enough time to see everything!
Odaiba is a shopping and entertainment district on an island in Tokyo Bay. You might have seen pictures and videos of this area because of the giant Gundam statue in front of the DiverCity Tokyo Plaza, but that's just a small part of what you can see and do in Odaiba!
Because we had a Japan Rail Pass, we used the JR Saikyo Line from Shinjuku (Tokyo) to Tokyo Teleport Station. The ride took us 22 minutes. Before you leave the station, you will be asked to pay for an extra, because part of the trip is not covered by the JRP (the fee was still minimal).
Those who don't have a JRP can use the Yurikamome elevated train from Shimbashi Station (Yamanote Line) to Daiba Station. The ride takes 15 minutes and you can buy a daily pass.
Another way to get to Odaiba is by using the Tokyo Water Bus, between Odaiba Seaside Park and Hinode Pier. The boat ride takes about 20 minutes.
You might also like:
Tokyo itinerary – what to see in 5 days
The very first thing we did, because we're huge nerds, was to run to the life-sized Gundam: every 30 minutes it starts moving during a short show (free!). The Gundam version we've seen was the Gundam Unicorn, which turned into a "battle Gundam" during its transformation.
Don't judge: we've watched the show quite a few times! Whenever we found ourselves near DiverCity Tokyo Plaza, we couldn't resist!
If you're fans like us, step inside DiverCity and up to the Gundam Base Tokyo on the 7th floor. You'll find a huge selection of Gundam memorabilia, all kinds of special editions and reprints of the very first 80's models. Of course there's also tons of interesting info on the history of Gundam.
On the 4th floor, head over to the Cafe de Miki: it's a Hello Kitty themed cafè! We had some delicious pancakes with fresh fruit and it was a lovely experience. You can find a short video about the Cafe de Miki on our TikTok account, by clicking here.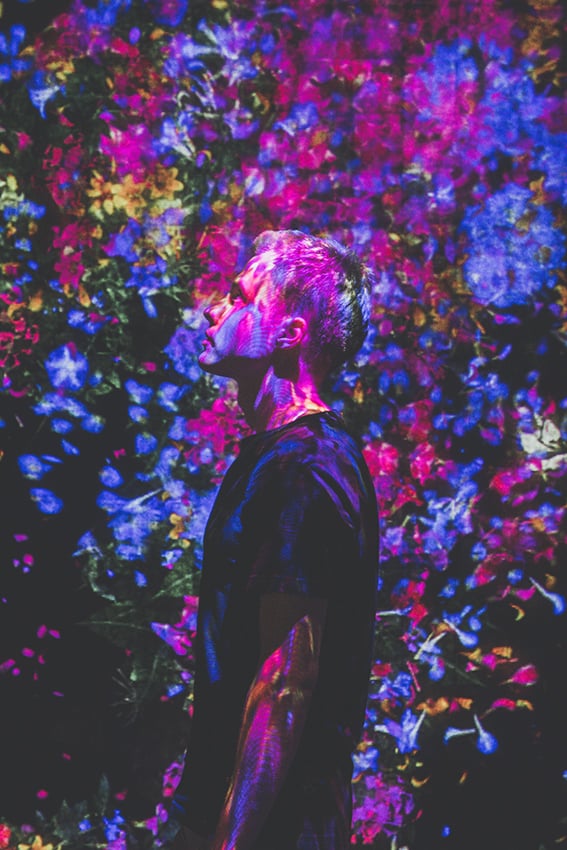 One of the best things you can do in Odaiba, that I'm sure you've seen all around the net, is visiting the TeamLab Borderless museum of digital art. It's located in Palette Town, next to the Megaweb Toyota City Showcase.
Visiting this one of a kind museum is an unforgettable experience. You'll walk through a 10,000 square-meter building, discovering 5 different worlds, housing 60 interactive artworks. If you revisit the same rooms, you'll realize the artworks keep on changing!
If you plan to visit the teamLab Borderless museum, you must book your ticket well in advance. The tickets are often sold-out so you risk going there only to realize that you can't get in. That's the worst!
Make sure you book your teamLab Borderless tickets through a reliable seller with a good cancellation policy: that's how you won't lose your money in case of last minute changes.
Click here to find the most reliable source to buy your tickets with a last minute cancellation policy.
If you're visiting with kids, you might want to also go to Legoland Discovery Center or the Sony Explora Science museum. They sure won't get bored!
Many of the videogame "parks" (tall buildings with lots of gaming stations inside) are quite expensive in Odaiba. If you're visiting Japan on a low budget, stick to the free experiences and you won't be disappointed!
You can visit the Rainbow Park, the Daiba Park and Gundam stores for free. Another interesting experience for us was to visit the Toyota Mega Web showcase.
Not only it was free, but we also discovered that there are free rides, a free simulator and an interesting exhibition named "History Garage", which guided us through the streets of old Tokyo, with gorgeous vintage cars parked all around us.
Odaiba is also a great place to go if you're looking to enjoy some shopping time. We bought a lot of souvenirs from Japan, but also found great deals on clothes, stationery and… stuff for our dogs!
Day trip to Nagano: the Jigokudani Monkey Park
Many people plan a day trip to Nagano from Tokyo specifically to visit the Jigokudani Monkey Park.
This park attracts many visitors because its natural hot springs are the place where the Japanese macaques love to bathe (can you really blame them?).
The monkeys are used to humans and can be observed from up close because usually they tend to ignore the weird guests who take pictures.
During the colder months, the view is even more beautiful, because the macaques tend to spend a lot of time in the hot springs, surrounded by a blanket of snow.
While it does sound pretty exciting, you should also be aware that getting to the Jigokudani Monkey Park from Tokyo takes a lot of time and involves quite a lot of walking. So while Nagano can be considered an "easy" day trip from Tokyo, the Monkey Park… is not.
You can use your Japan Rail Pass to go from Tokyo to Nagano. Hop on a Hokuriku shinkansen from Tokyo Station or Ueno Station, to JR Nagano station. The trip will last more or less 1:30 hours.
Once there, you'll need to walk at bus stop n. 2 (East exit) and find a bus to the Monkey Park. The bus ride takes about 40 minutes and will cost you 1400 yen.
You should get to the Kanbayashi Onsen stop or the Snow Monkey Park bus stop. From either stop, there's a 30-40 minutes walk to the Jigokudani Snow Monkey Park.
Admission to the park is 600 yen and usually it's open every day of the year.
There's one tour operator which can help you make this a little bit easier, with a Nagano day trip which includes also a cherry blossoms tour.
The tour starts in JR Nagano station (so you can easily get there from Tokyo by using your Japan Rail Pass), and will take you to the Jigokudani Snow Monkey Park, to some of the most beautiful hanami spots in Nagano, and also to eat to a Japanese restaurant, with an English-speaking guide.
Click here to check rates and availability for this tour.
Kyoto tour from Tokyo: explore the traditional side of Japan
Kyoto is one of the best day trips from Tokyo: if you don't have enough time to spend a few days in the old capital of Japan, by all means, add this trip to your itinerary and you won't be disappointed!
Getting from Tokyo to Kyoto is super easy with a Japan Rail Pass. Head over to Tokyo station or Shinagawa station and hop on a Shinkansen Hikari bullet train to Kyoto station.
Just think that the regular one way fare from Tokyo to Kyoto is 13,080 yen on a non-reserved seat so buying a JRP is the best way to travel on a budget because many of your day trips will be virtually "free"!
The trip will last about 140 minutes.
So while planning a Kyoto tour from Tokyo is super easy, you should also try to decide what you want to do and how much you want to see. You're visiting a big city and a major tourist destination.
It is home to Buddhist temples, shrines, palaces and gardens, many of which are listed by UNESCO as World Heritage sites.
You might also like:
The best day trips from Kyoto
With this being a Kyoto day trip from Tokyo, you will need to consider also the return trip and thus you can't really think of visiting everything in one day.
My suggestion is to stick with a theme or to list on paper all the things you absolutely want to see and add them to your itinerary.
You can check out my article on a 3 day Kyoto itinerary for inspiration.
If you like the idea of visiting temples and shrines, the three that in my opinion you shouldn't miss are Kinkaku-ji (the Golden Pavilion), Ginkaku-Ji (the Silver Pavilion) and the Fushimi Inari Taisha shrine. To this, you could – and should – add a lovely couple of hours in Gion, the geisha district.
On the contrary if you want to visit the Arashiyama Bamboo Forest, you might have to cut on your time in Kyoto because you have to add the travel time to and from Kyoto-JR Saga Arashiyama.
Yet you wouldn't have enough time to visit the Nishiki Market, where you'll find hundreds of food stalls and tons of unique Japanese souvenirs!
In a nutshell: Kyoto is huge and you should make up your mind on what you want to see and do before your trip to Japan. Write down a realistic itinerary where you also add the travel times so you'll know if it's doable or not.
One day at Disneysea: a unique Disney park
Whether you are a huge nerd like us or a Disney fan, DisneySea is one of the best trips from Tokyo you should plan if you have one extra day.
DisneySea is one of the best Disney parks in the world, and even better, it's unique to Japan, so you won't find anything similar anywhere else!
This fantasy theme park is inspired to the myths and legends of the sea.
Almost every Disney fan out there expects to see a Main Street and Cinderella Castle.
At DisneySea you have Mysterious Island, which is a "port of call" land featuring a huge volcano: it's a unique area, designed specifically for this Disney park!
It's easy to explore the whole park by using various means of transportation, from Venetian gondolas to an elevated Tokyo DisneySea Electric Railway, to boats and even cars.
The cherry on the top? Food is actually very, very good! Unless other Disney parks there are way more options, which include special meals for vegans and those struggling with gluten intolerance.
You might also like:
Easy guide to unique and cheap souvenirs from Japan
DisneySea is located next to another huge park: Disneyland.
Much like Disneyland and California Adventure in Anaheim (CA), they are side by side, but have different entrances.
Some people take advantage of the Park Hopper option to visit both DisneySea and Disneyland in one day. Of course it's up to you, but I really don't think it's a good idea.
Tokyo Disneyland is just like any other Disneyland park: awesome, but you can see it also at home. DisneySea is unique to Japan and you won't find it anywhere else in the world. It's a great reason to focus on this park alone, making sure you enjoy all the rides!
Getting to Tokyo DisneySea is quite easy. From Tokyo Station, using your Japan Rail Pass, use the Keiyo line or Musashino line to Maihama station. The ride will take about 15 minutes.
Once you're there, you'll find an easy-to-use shuttle bus service to Tokyo Disneyland and Tokyo DisneySea.
Yokohama foodie trip: not just noodles
For quite a while, Instagram has been flooded by images shot at the Cup Noodles Museum. Which is fun. The downside of this is that people never considered actually visiting Yokohama. They all went there exclusively for the fun museum.
If you have an extra day, one of the Tokyo day trips could be Yokohama. You'll visit the Cup Noodles Museum, but you'll also enjoy beautiful views and great food.
Yokohama is famous in Japan because of its sightseeing spots, so bringing a camera is a good idea.
The Minatomirai district is an entertainment complex with many shopping malls, an amusement park and movie theaters. It's perfect if you want to unwind or if you're looking for that perfect souvenir.
The best sightseeing spots are to be found in Motomachi, Yamashita Park and Yokohama Foreign General Cemetery.
What you might not know is that Yokohama has a special dish that is super popular among the Japanese.
Sanma-Men is a ramen dish, served in shoyu (soy sauce) broth and covered with stir-fried vegetables. You should eat it at Gyokusen Tei restaurant in Chinatown, which is believed to be the birthplace of this special kind of noodle soup.
Yokohama station is yet another great place where you can stop for a cheap but delicious meal. You can choose between sushi, Takoyaki or Okonomiyaki, BBQ, Curry rice, noodles and so much more.
Now, about the Cup Noodles Museum, you should know that it's going to be a very fun experience, whether you're travelling with kids or on your own.
It's an interactive museum located in Minato Mirai District, that shows the history of instant ramen noodles through a combination of exhibits and workshops. There are a ton of fun videos and photo ops.
Tickets will only cost you 500 yen.
You should add 300 yen more if you want to take part to the My CUPNOODLES Factory, which will allow you to create your own original flavour, complete with a cup you will design on your own! It can be a great souvenir!
Ideally you should consider about 45 minutes to complete the CUPNOODLES experience and you'll need a numbered ticket. There are just so many each day so if you're interested, you should go to the Cup Noodles Museum as soon as you get to Yokohama!
Getting from Tokyo to Yokohama isn't really difficult. From Tokyo station or Shinagawa station, you can take the JR Tokaido line, Yokosuka line or Keihin-Tohoku line (included in your Japan Rail Pass). Travel time between Tokyo station to Yokohama station is 48 minutes!
Enoshima and Kamakura: temples, cats and the Great Buddha
How about visiting two cultural sites in one day?
Both Enoshima and Kamakura are historic sites, perfect if you want to learn about the Japanese culture through architecture, art and cuisine. It might be a long day trip from Tokyo but it's absolutely worth the time and effort!
Your first stop should be Kamakura.
You can reach Kamakura from Tokyo station by using the JR Yokosuka line, included in your Japan Rail Pass. The train ride to Kamakura station will take 57 minutes.
If you don't have a JRP, you might want to check how much it'd cost you to use the Odakyu Enoshima Line: in that case you'd visit Enoshima first, and Kamakura next.
Kamakura is full of history and amazing temples. Unfortunately, just as I mentioned in my chapter about Kyoto, you won't be able to see everything in one day, because there are just too many things to see and do!
Starting in Kamakura means that you can visit popular spots like Tsurugaoka Hachimangu Shrine early in the morning, before it gets too crowded.
If you are a fan of the Japanese architecture and you love photography like Aldo, then your second stop of the day should be Hasedera.
This gorgeous temple is famous for the eleven-headed statue of Kannon, the goddess of mercy. Personally I think the architecture of this temple is absolutely amazing.
Hasedera is also built along the slope of a wooded hill, which means that you'll be able to take great pictures from above. The main garden is especially beautiful if you're planning to visit Japan in autumn, because of its lovely ponds and the red leaves.
Another very interesting thing to see in Kamakura is the Great Buddha, a bronze statue of Amida Buddha, which stands on the grounds of Kotokuin Temple. It's also considered the second tallest Buddha statue in Japan after the one in Todaiji Temple at Nara deer park.
When you're finished, you should go to Enoshima by using the Enoshima Electric Railway. The ride will take 23 minutes and tickets are 260 yen.
Because you're probably very tired after visiting Kamakura, you should spend a couple of hours on Enoshima island, just walking around and… cuddling cats. Enoshima is in fact also known as "Cat island", because it has a large population of semi-wild cats who are mostly friendly (approach them with caution).
Of course you know that cats love gourmet fish: Enoshima is famous for its fishery, which is also why you should have an early dinner on this little island, surrounded by chubby cats, before you get back to Tokyo!
Sanrio Puroland: an original Hello Kitty theme park
Not all the best day trips from Tokyo have to be about culture and history, right? And besides, we could also object that Hello Kitty is part of the Japanese culture as well!
Sooo… did you know that there's a Hello Kitty theme park not too far away from Tokyo?
Sanrio Puroland is an original, and quite unique, theme park, located in Tama.
This is one of those day trips you can consider also on a rainy day, because Sanrio Puroland is an indoor amusement park, with rides and shows that celebrate Hello Kitty, Cinnamoroll, My Melody, Little Twin Stars and other Sanrio characters!
You can get to Sanrio Puroland from Tokyo in 30 minutes. At Shinjuku station take the Keio Line and get off at Tama-Center station. Then there's an 8 minute walk from there to the park entrance.
Beware: if you're shopping-fanatics like me, you risk going crazy at Sanrio Puroland! They have the largest collection of limited edition Sanrio goods, and if you visit during your birth month, you can also enjoy a special celebration with your favorite characters!
Osaka day trip: castles, food and fun
While we spent a few days in Osaka, because of our trip to Universal Studios Japan, it's possible to plan an easy day trip from Tokyo to Osaka on your own.
The most expensive – but faster – option to get to Osaka in 2:30 hours is by using a Nozomi shinkansen, which unfortunately isn't included in the Japan Rail Pass (tickets are about 14.000 yen one way).
If you bought a JRP, I suggest you take a Hikari train from Tokyo station or Shinagawa station, to Shin-Osaka station in Osaka.
The train trip should take about 3 hours.
While it's cheaper, I advise you not to use the Kodama trains on a day trip to Osaka. They're slow, which means spending 4 hours or more of your day to get there, to which you'll have to add the over 4 hours to get back to Tokyo.
It makes no sense to waste so much time, so if you can't afford a Japan Rail Pass, avoid Osaka, the train trip would be too expensive and time consuming!
We found Osaka an absolutely beautiful city, and only after visiting we understood what people meant by saying it's the "cheaper Tokyo".
Shops and restaurants stay open until very late, there are many malls, interesting shops, yummy eateries: Osaka never really sleeps and it's a very safe city also for solo female travelers!
Among the best things you can do in Osaka is visiting the gorgeous Osaka Castle, which also houses an informative museum about the mighty samurai Toyotomi Hideyoshi.
If you liked Akihabara in Tokyo, head over to Dotonbori. It's full of video games, maid cafes, electronic shops and weird souvenirs.
You can also have lunch here: the most popular restaurants in Dotonbori have huge neon signs which represent their special dishes.
Osaka is famous for its Takoyaki and Okonomiyaki. Both are cheap and absolutely delicious!
Takoyaki are small dumplings filled with octopus bites. Crispy on the outside and soft on the inside, they're a popular snack in Osaka. You should eat them hot!
Okonomiyaki are savory pancakes. Some restaurants will let you cook them at your table, by bringing all the ingredients and tools: it's so much fun!
One day in Katsunuma: wine tasting in the vineyards
While you probably associate them with a day trip from Florence, wine tours in Japan are definitely a thing, and you can plan them as day trips from Tokyo.
The history of winemaking in Japan started in the 19th century. Now wine is produced in several parts of Japan. Some Japanese wines even won the gold medal at international wine competitions in France.
Great Japanese wine is produced in Katsunuma, which lies in the beautiful countryside north of Mt Fuji.
The best part of it? You can plan a wine tour on your own, by exploring this area, without having to pay a huge amount of money to book a pre-planned tour.
In this area there are over 31 wineries: 27% of Japanese wine is produced in Katsunuma!
Because in October vines are laden with grapes, lots of people visit the wineries and even do some grape picking.
While it's hard work (we do it in Frosinone where Aldo's family makes wine) it's also something you don't get to try every day. So if you have never tried, make sure you find a local winery that also allows you to pick your own grapes!
A very good winery is Chateau Mercian, where they explain the whole winemaking process with interesting tours that allow you to visit the cellar and even to look at the huge barrels used for fermentation.
One of the highlights is the bottling process, but of course… you're there to enjoy some nice wine tasting! At Chateau Mercian, you can drink – and eventually purchase – limited-edition wines.
One of the wineries that allows grape-picking is Haramo Wine. Here you can pick grapes in September and October, depending on the season. There's also a nice cafè where you can have lunch while drinking a glass of Japanese wine.
From Shinjuku you can get to Katsunuma in about 2 hours, using your Japan Rail Pass. Take the LTD. Exp Kaiji 7 for Kofu to Otsuki. Once you're there, change to a JR Chuo line for Matsumoto, to Katsunuma Budokyo.
Chichibu: Japan off the beaten path
Visiting Japan off the beaten path is one of those things you should do if you have an extra day. One of the best day trips from Tokyo to visit somewhere not overly crowded by tourists is Chichibu.
This city in Saitama prefecture is known for its impressive shrines and beautiful views.
The surrounding mountains provide a lot of hiking opportunities, so if you are interested in giving this a try, you might want to pack a pair of hiking boots!
If you're planning to visit Japan in winter, specifically in December, Chichibu is a must see. Here you'll attend one of the top three festivals in Japan: the Chichibu Night Festival, on December 2 and 3.
Get ready to see the night sky filled with floating lanterns and fireworks: it's a fairytale experience!
Mitsumine Shrine is a gorgeous shrine at the summit of Mount Mitsumine. A popular center of mountain worship, which still continues ancient traditions, it can be reached by bus or car, but many people prefer to access it through a scenic trail that connects Mount Mitsumine with the valley below.
At the entrance to the shrine there's a triple torii, which is quite rare. Next to it there are two stone wolves, instead of the foxes that usually flank the shrine entrances.
The fact is that Mitsumine Shrine worships Japanese wolves, now extinct: they were considered guardians against bad luck.
Chichibu Shrine, built with the support of Tokugawa Ieyasu, is the shinto shrine where the Chichibu Night festival is held.
It's pretty popular in Japan because of the elaborate carvings that decorate the main hall, including depictions of tigers, monkeys and dragons. Even in this case, the shrine is surrounded by trees, making it a lovely getaway from the busy city life.
The best way to get to Chichibu from Tokyo is by using a SEIBU 1 day Pass, which includes unlimited rides on the Seibu trains.
The direct "Red Arrow" express train from Ikebukuro station in Tokyo will take you to Seibu Chichibu station in 80 minutes.
Pin it for later!
This post is also available in:

Italiano