19 Best Japanese Snacks You Will Love (+ Where to Find 'em)
This post includes affiliate links. As an Amazon Associate, I earn from qualifying purchases. Full disclosure.
A useful list of the best Japanese snacks you should try: it includes all the popular small treats, with info on where to find them online!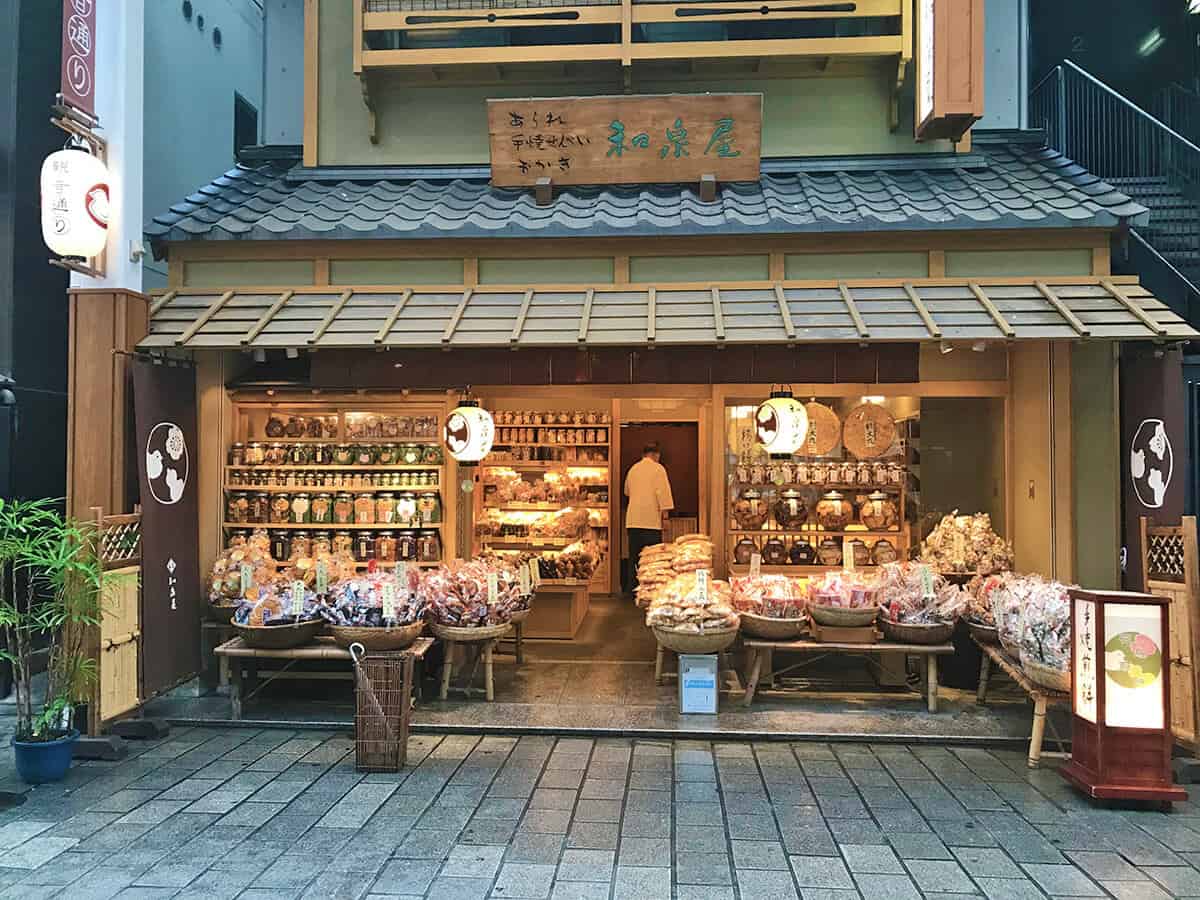 Visit any Japanese convenience store and the brightest and most colorful section is the snacks and small treats corner. If you are planning to visit Japan for the first time then looking for yummy treats should be one of the must-try things to do on your list. Trust me, you will enjoy liberating that little kid in you!
Let us show you a handy list of the best Japanese snacks you will fall in love with!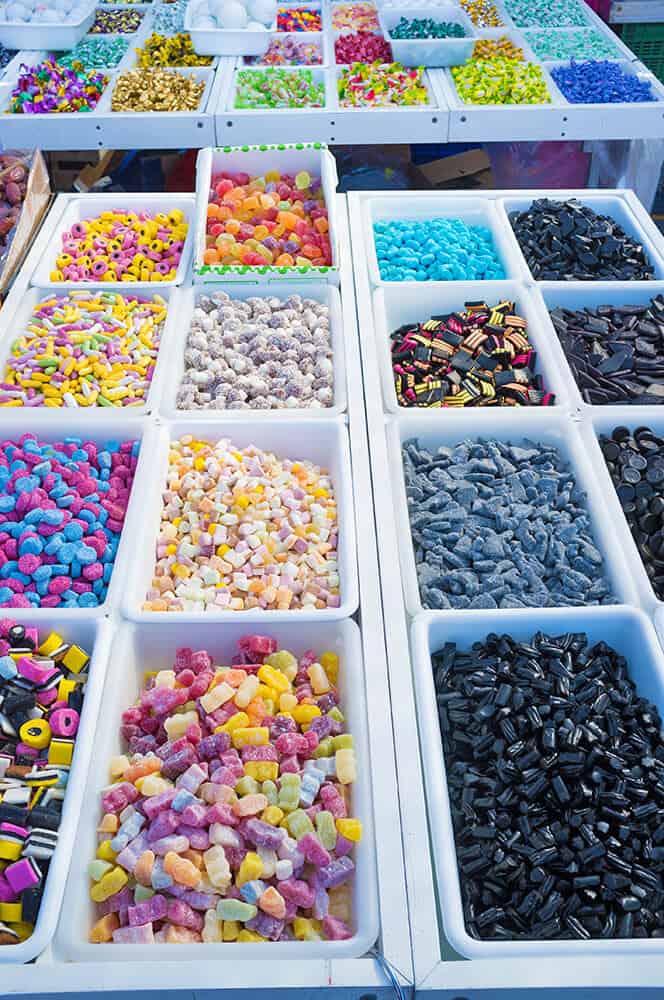 Just like the diverse Japanese cuisine, their snacks and small treats are also extremely varied and unique in their own way. In fact, they are so popular that some retail chains only sell these items.
Furthermore, if you are smitten by the anime culture, then you will be happy to know that there are Japanese snacks inspired by the anime characters.
From Shin Chan and Pikachu to Mario and the Disney gang, you can expect to find their faces all over the snacks and small treats shops in Japan.
What we like best about Japanese snacks is that they are so readily available in street-side shops, retail shops, and malls.
They also come in a wide-ranging price point, so you don't have to spend a lot to treat your tastebuds with delicious snacks.
If you are here looking for the best Japanese snacks and small treats,hen expect to feel overwhelmed as there is an unbelievable range of candy, chips, chocolate, and nibbles to choose from.
To take the guesswork out of your buying decision, we have created a list for you.
In this post, we have included details of some of the finest snacks and treats you can find in Japan.
Since we're sure you will love them just like us, we added even more info. You will thus discover where to buy original Japanese snacks online from anywhere in the world.
Let's get started!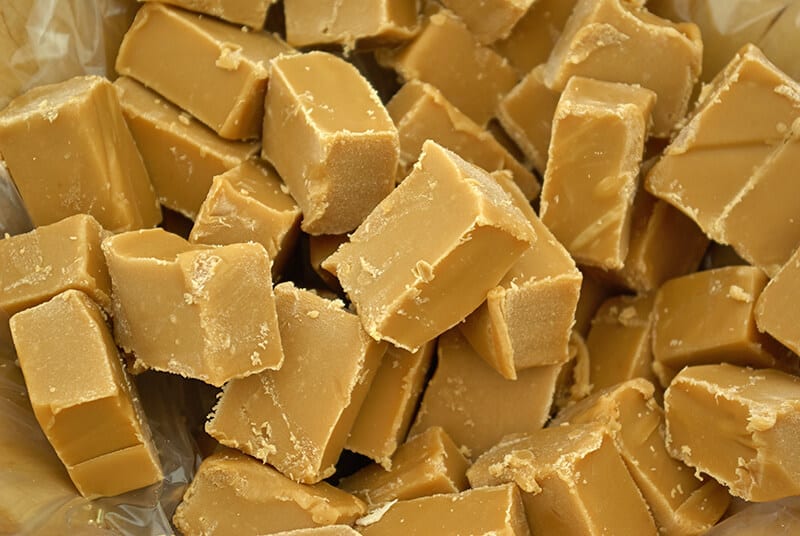 Quick Links to Post Content
Traditional Milk Caramel Candy
If you are looking for sweet Japanese snacks and you love milk chocolate, you should check out the traditional Caramel Morinaga Ninjapo, made from high quality ingredients.
Milk caramel is a popular Japanese candy that has a mild sweet taste – the milk flavor is not overwhelming at all.
The traditional packaging comes with an attached Ninjapo sticker or yellow wrapping paper.
This is a western snack that came to Japan in the late 19th century (Meiji era) and was sold at the local markets by Morinaga in 1913.
Morinaga soon became a bestselling candy brand and today has a variety of flavors such as matcha, yogurt, and red beans. Caramel milk delights are still the most popular sweet Japanese treats.
Click to buy them online.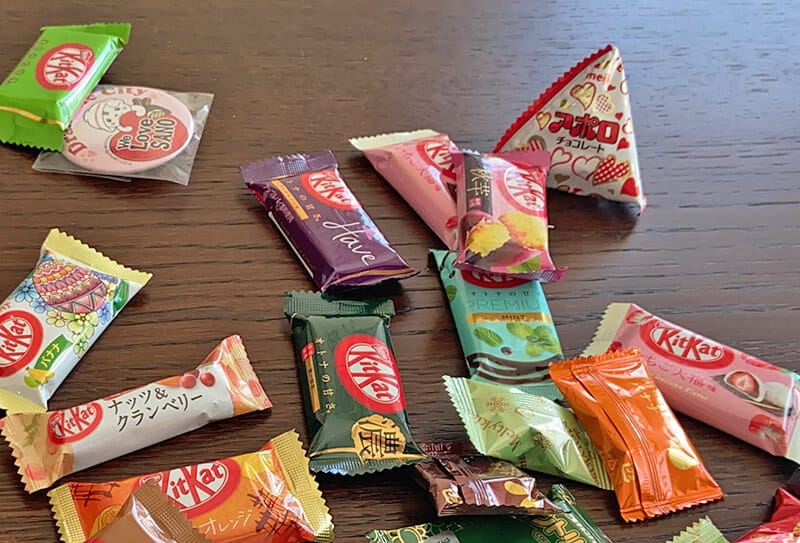 Dagashi box – Japanese Kit Kats (on a budget)
Kit Kats are possibly the best Japanese snacks, and they are also wildly popular.
Nestle produces more than 300 Kit Kat flavors for the Japanese market. Whether you're visiting Japan on a budget or not, the best way to try as many Kit Kat as possible is by buying a Dagashi Box.
Dagashi refers to something similar to the American penny candy and snack foods. The name is derived from da, which means 'negligible' in Japanese, and kasha, which means snacks.
Usually a Dagashi box is filled to the brim with Japanese snacks and mini sizes!
The fun and attractive packaging of the snacks is enough to lure the kids and the low price makes them extremely affordable for less. You should make sure to add a Dagashi Box to your list of souvenirs from Japan: everyone will love it!
Besides the bright wrapping, Japanese Kit Kats in a Dagashi Box may also include a small prize or toy.
Click here to buy one online.
Authentic Shiroi Koibito Chocolate
Made from dark chocolate and inspired by a French recipe. The Shiroi Koibito White & Black Chocolate from Japan can also be a tasty souvenir for the foodies out there.
The boxes come in an attractive gift wrap that displays the special attractions in Japan. You're not just buying Japanese chocolates, but also a box that you can keep for memory's sake.
The chocolate part in these deliciously sweet treats is sandwiched between two very thin layers of crunchy biscuit.
The Shiroi Koibito are manufactured in Hokkaido (Japan) and sold at local Japanese snack stores.
High-quality milk is used to make the chocolate. This is how you get an extra rich and creamy taste.
These small Japanese sweets are great if you serve them with afternoon tea or a nice cup of coffee.
Click here to get yourself a box.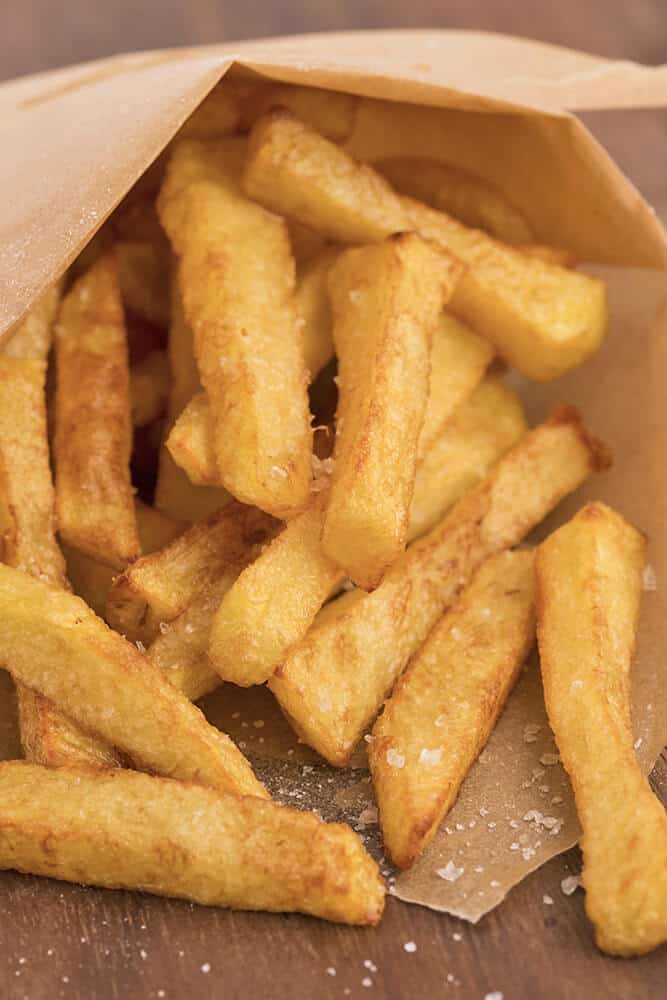 Calbee Japan Jaga-Pockle Potato Snacks Hokkaido
When you are in the mood for some light Japanese nibbles, nothing works better than a scrumptious bag of Calbee Jaga Pockle Snacks. They are made from 100% Hokkaido (Japan) grown potatoes.
If you are planning to visit Hokkaido in spring to see the cherry blossoms, this is one of the best edible souvenirs you can take home from this place.
Besides the jaga-pockle potato snacks, Calbee is also famous in Japan for its exciting and delicious flavored crisps.
They are especially popular thanks to their number one seaweed-flavored chips. Among the top Japanese snacks, they are lightly coated with seaweed flakes and have a nice crispy taste.
Click here to buy Calbee potato snacks.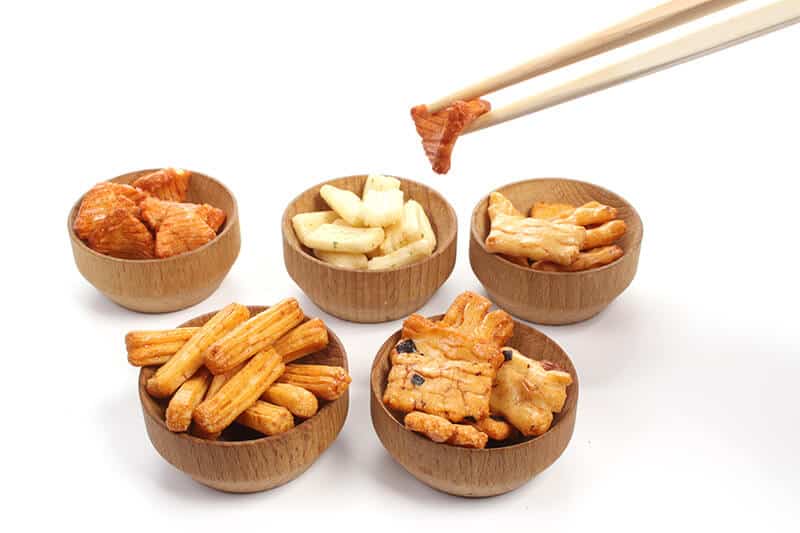 Senbei – Japanese Rice Crackers
A trip to Japan is incomplete until you go to Tokyo, which is the potpourri of traditional culture and modern influences. This is the city where you can see the past and present walk hand in hand.
To maximise your experience, you should also plan some day trips from Tokyo to the nearby shrines. Even a day out at the onsen can help you to get to know the Japanese food culture.
While you experience your four or five days in Tokyo, don't forget to grab some delicious rice crackers, one of the most popular Tokyo treats.
Traditional rice crackers are known in the Japanese food culture as Senbei. You can find some good ones in the shops in Tokyo. They're pretty cheap so make sure you get them also if you're visiting on a budget!
It is believed that Senbei were originally from China and were brought to Japan by Buddhist monks. Some examples are Raijin-do (flavored with soy sauce), Iriyama Senbei (fried and crunchy), and Tanuki Senbei (shaped like a raccoon).
Click here to buy some traditional rice crackers from Japan.
Pocky Sticks – Flavor and Fun
Pocky is a super famous Japanese snack brand. They make a type of stick cookie that is covered with solid chocolate cream for two-thirds and has a crunchy, slightly salted, biscuit part to balance the sweetness.
Pocky is by far one of the most popular Japanese snacks in Japan and in the whole world. It represents the concept of "sharing happiness" with friends, family or co-workers. You open a box, pass it around, and smiles will immediately lit up their faces!
Sold by Glico, the Pocky sticks have a lot of history. They are in fact nearly 50 years old. Only in recent years it has been exported to several Countries. Back in the day, the only way you had to get them was to visit Japan.
Matcha Pocky Japan is made from biscuit dough that uses the highest quality flour, and green tea cream made from Japanese tea, to ensure the very best quality flavor.
It is possibly the most sought-after Pocky flavor out there!
You can find a handy pack of ten Pocky boxes online, usually sold in unique flavors. The best ones are almond crush, adult amber whisky, green tea cream, and the rainbow ones.
Click to shop for Pocky online.
Note: The giant cantaloupe Pocky can only be found in Hokkaido (Japan).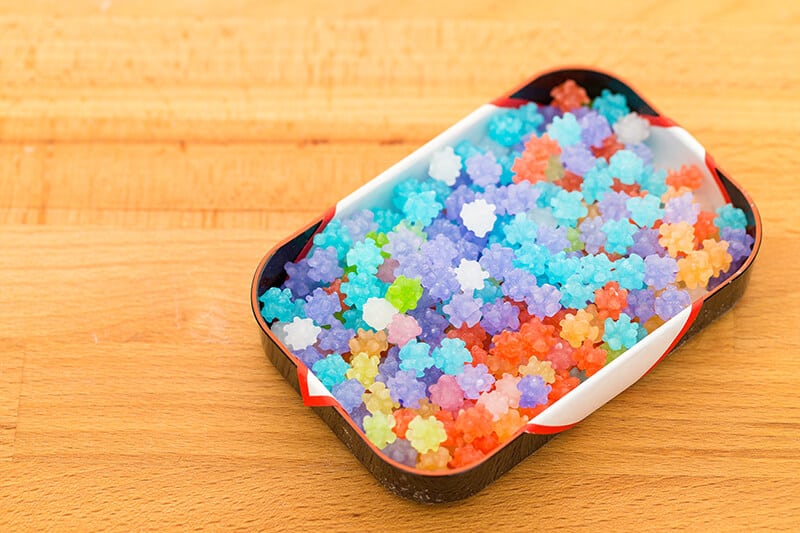 Authentic Konpeito Sugar Candy
Are you looking for the best Japanese candy which is as good looking as it's nice to eat? You just found it!
The Japanese sweet snacks konpeito are colorful, tiny, and star-shaped pieces of rock candy that are extremely attractive.
A single bag contains more than a hundred pieces of these rainbow-colored drops.
The konpeito also hold a unique and important place in Japanese food history and culture. They were first introduced to Japan by Portuguese missionaries in the 16th century.
More often than not, konpeito are offered as a sweet snack, also during the traditional tea ceremonies.
On their trip to Miyajima island (Japan), Dany and Aldo were gifted bags of colorful konpeito candy while staying at a traditional ryokan.
They found it an even better present than Japanese kitkats!

Konpeito are easy to find at any convenience store or shop in Japan. Search for them in the snacks and small treats corner. This kind of Japanese candy can be pretty cheap and is easy to carry around.
Click to get some konpeito online.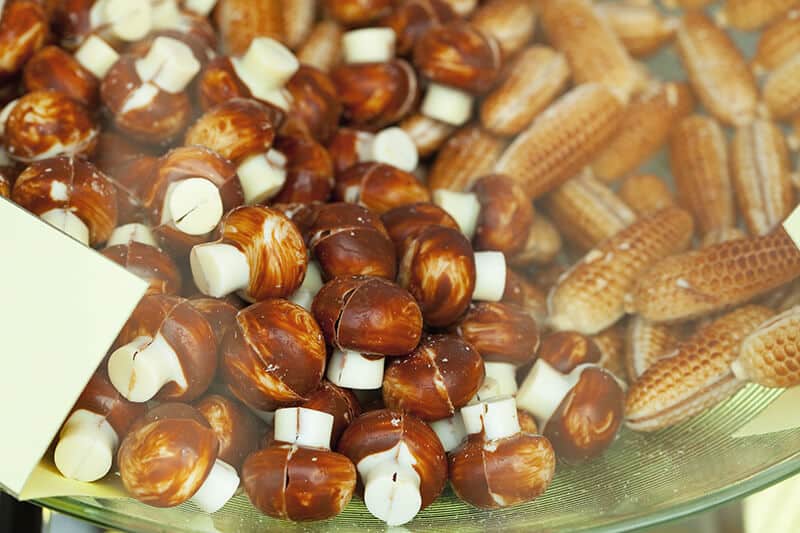 Meiji Chocorooms – Unique Japanese Chocolate
Have you ever dreamed of eating fancy chocolate-flavored mushrooms?
Then consider your wishes granted because Meiji Chocorooms is just that.
Sold by Meiji, these are Japan's number one chocolate snacks in the shape of cute mushrooms.
It's hard not to fall in love with these small mushroom-shaped treats. They have a smooth cookie stem, similar to the texture of Pocky, another one of Japan's favorite snacks.
Chocorooms are sweet snacks topped with a delicious chocolate cap. You can say they offer the perfect crunchy combination of biscuits and chocolate.
If you are very lucky, you can find Meiji Chocorooms also in the US. Look out for them at Costco.
In case you prefer to order online, click here to find the original ones!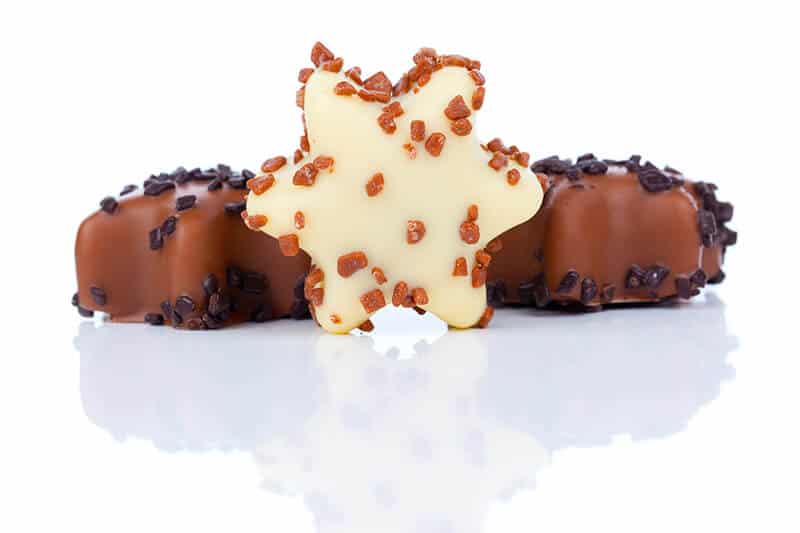 Chocobi Crayon Shinchan – Star Shaped Chocolate
Japan has a notorious anime culture. If you are an anime fan, or if you are looking to buy unique Japanese snacks that come in a cute box, consider checking out Chocobi Crayon Shinchan.
Shinnosuke is a super popular Japanese treats brand that produces yummy snacks inspired by anime.
The Chocobi I'm talking about is a fictional chocolate star-shaped snack brand, seen in the Crayon Shin-chan manga and anime.
The Chocobi Japanese box is bright green and has a picture of the character Crayon Shin-chan. It looks just like the retro Japanese candy you might have seen in the manga!
The anime lovers who are curious about this phenomenon can also look for other Crayon Shin-chan snacks from Japan. Lots of products have been released due to the popularity of the anime.
Click to get your box of Chocobi Crayon Shin-chan star shaped chocolate: it includes a cute sticker!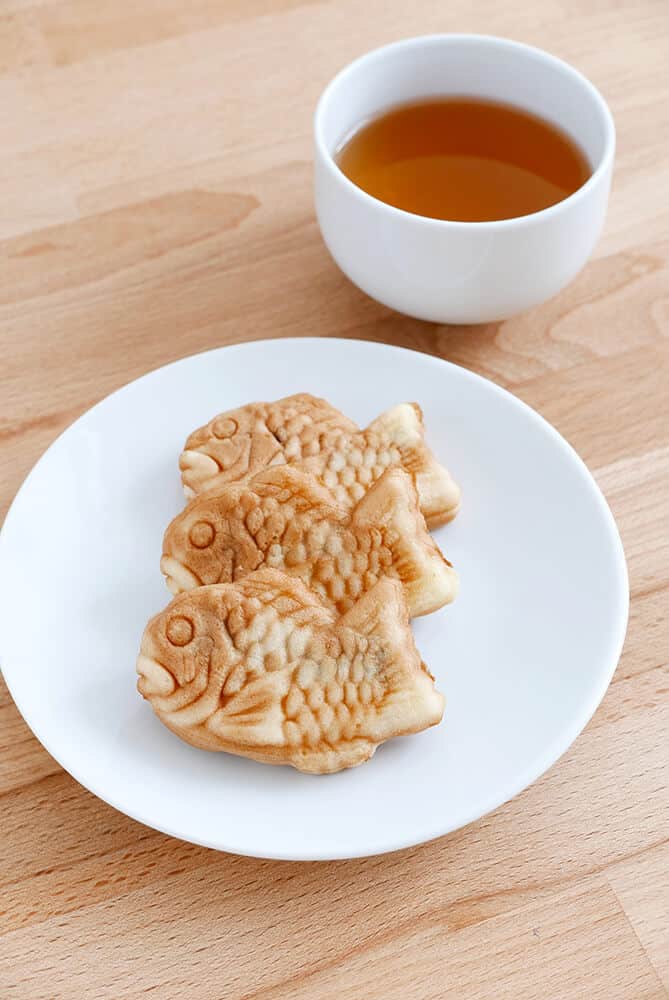 Pukupuku-Tai – Fish Shaped Crunchy Chocolate
You don't need to be an anime fan to have seen a fish-shaped sweet.
Taiyaki is a classic street food in Japan: a warm fish-shaped pastry with red bean filling. You're bound to find them everywhere when you'll visit the Country.
The Japanese name "Tai" means fish-eating during the holidays or a special celebration in Japan.
Pukupuku-Tai is a Japanese fish candy that looks like Taiyaki with a twist. Made with simple ingredients like chocolate, sugar, wafer and milk, this special treat from Japan is crisp if compared to Taiyaki. A crunchy bar of milk chocolate is in fact wrapped in thin wafer.
There are three main variations of this unlikely Japanese snack combination: original, caramel and strawberry.
If you play Animal Crossing you might also know that some people are celebrating their Animal Crossing anniversary by enjoying these yummy Japanese snacks!
Check them out here and order online.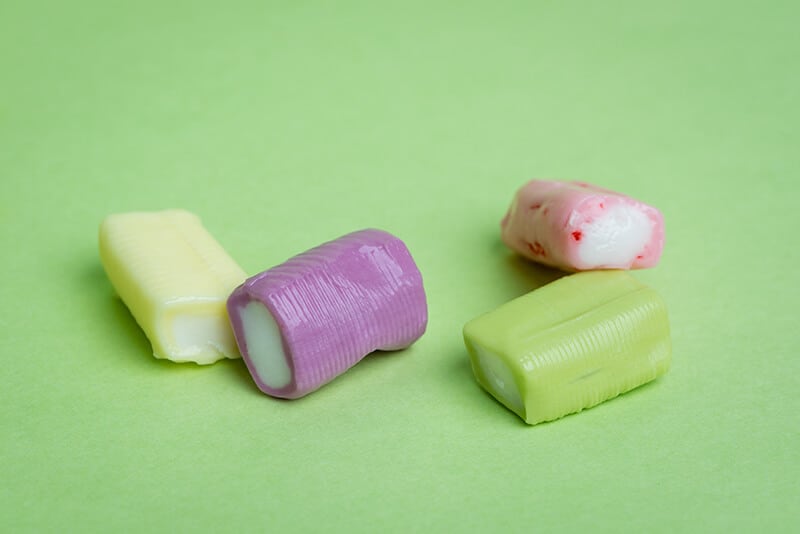 Hi Chew – Chewy Japanese Candy
Some think that the very best Japanese candy has to be chewy and full of flavor.
If you're one of them, then you'll get hooked to the Hi Chew candy!
Add them to your Japanese snacks list if you love sweet and sour flavors, the kind that lasts for quite a while, even after your candy has completely melted.
Hi Chew is a popular sweet snack in Japan thanks to the long lasting chewy texture, that preserves the real fruit flavor until the very end.
In recent years it has become a hit also in Asia and many other Countries.
Luckily enough, both combinations of these sweet treats can be now found online.
The Sweet and Sour mix includes watermelon, lemon and grapefruit. The Tropical Mix Flavor favors kiwi, pineapple and mango.
Click here to check them out.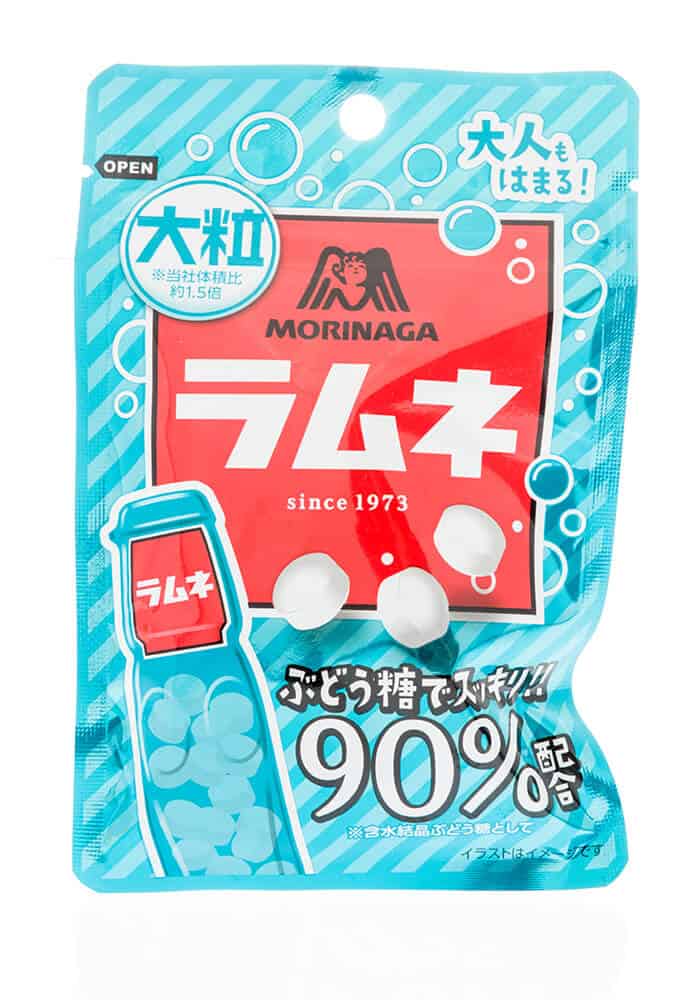 Unique "Japanese drinks" – Soda Candy
Tokyo is the place where all the magic happens. Almost every one of the most popular trends of the recent years has started there. Including the ones related to the Japanese food culture.
The Morinaga Candy Ramune Soda has been one of the most sought after candy in Japan for more than 40 years.
Ramune is a sparkling lemon-lime Japanese drink, and it has been made available in fizzy candy form.
The Morinaga Candy Ramune Soda is made from 90% grape sugar and it tastes just like drops of Japanese soda in a bottle. It is sold as a sweet snack that helps to keep your mind sharp while working late or studying.
You can now buy soda candy by Morinaga online. They come in "Ramune" bottles that look just like the Japanese soda you'd find in the fridge. Let them melt on your tongue and you'll be surprised by their taste!
Click to find them online.
Japanese Mochi – The Traditional Sweet Bread
Mochi is a traditional sweet snack from Japan: cute buns made of soft and chewy rice. It is impossible to visit Japan without being somehow exposed to mochi!
Making mochi is an art.
The rice is first steamed and then vigorously pounded until it transforms into a sticky mass. It is then shaped and baked or boiled.
The traditional ceremony to make mochi is known in Japan food culture as "Mochitsuki".
While modern mochi can be filled with ice cream, in Asia they much prefer to eat the traditional version of the timeless Japanese sweets.
Mochi has always been a symbol of good fortune, widely consumed by the aristocracy and by the samurai.
Japanese eat mochi with some soy sauce on it, and wrap it with Nori or dried seaweed.
The sweet snack is sprinkled with soy bean powder with sugar, and filled with sweet red bean paste.
Daifuku is a delicious type of mochi.
Imagine a soft ball, covered in sugar and soy bean powder and filled with anko (sweet red bean paste) or fruit jelly.
You can now also buy traditional sweet mochi daifuku online. A multi-pack is perfect to try all the best fruit daifuku, including the all time favorite treats like strawberry, matcha tea and melon.
Click to check them out.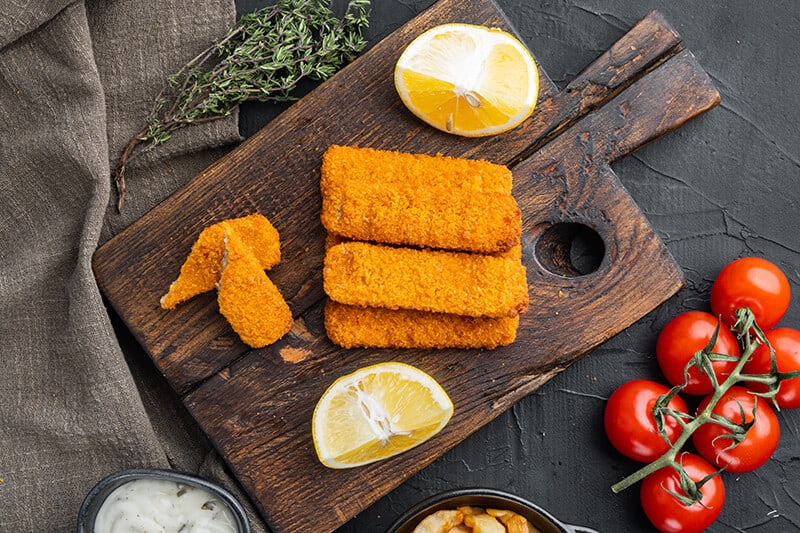 Umaibo – Savory Treats Made in Japan
Umaibo are savory Japanese snacks, made by Yaokin and sold since 1979 in Japan.
The name means "great tasting stick": they are made from corn and shaped like a puffed stick, full of flavor.
While there are sweet flavors like chocolate, the best Umaibo are definitely the savory ones. They make unique Japanese treats, due to the fact that they actually taste like cheese, pizza, curry or Mentaiko (spicy pollock roe).
Umaibo are light and delicious: in Japan it's common to buy larger packs that you can share with family members, co-workers or friends.
Buying Umaibo online is easy and cheap. The multi pack from Japan usually includes a lot of interesting flavors, including Pork Kimchi, Teriyaki Burger and Salami. You can't decide which one is your favorite unless you try them all!
Click to check out the online store.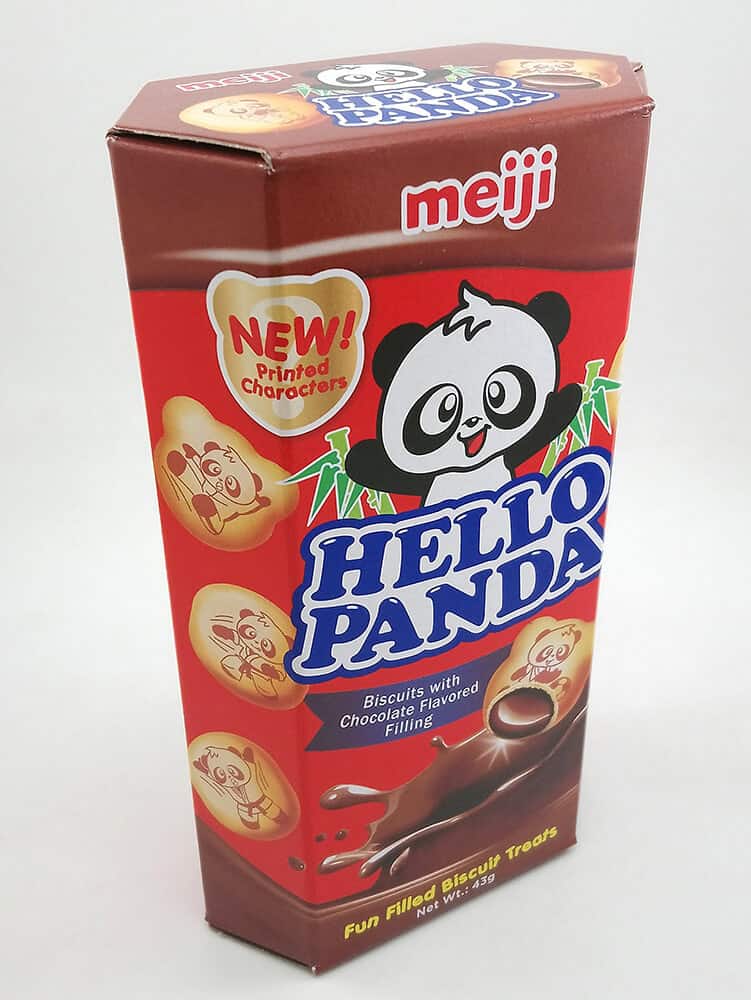 Hello Panda Biscuits – Bite-sized Snacks
Hello Panda is a brand of Japanese cookies, manufactured by Meiji. While originally it was only baked by Meiji Seika in Japan, as the brand grew in popularity, production started also in other places like Singapore and the US.
They date back to 1979 and are absolutely delicious. If you're looking for affordable and fun snacks to buy in Japan, that you can also find when you get back home, Hello Panda is going to be perfect!
Each one of these beloved sweet snacks has a shortbread shell, and a usually soft sweet filling. The production process makes them swell, so they are puffy and crunchy on the outside.
Before the packaging they are engraved with a cute panda figure. That's how you can check that they are the Meiji originals!
While at first they were intended for kids, Meiji Hello Panda cookies soon became quite popular also among the… grown ups!
Caramel Creme is a popular Japanese chocolate flavor, perfect for a snack or a very quick breakfast on the go.
You can now buy cheap and handy multi packs online.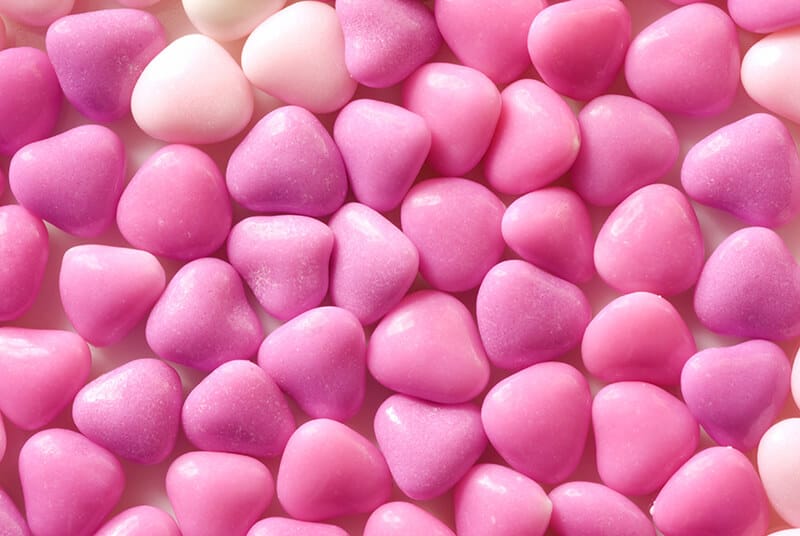 Fuwarinka Kracie Rose – The Beauty Candy From Japan
I'm sure no one really expects to find beauty products in a Japanese snacks list, right?
And yet…
Kracie has managed to put together Japanese candy and skincare, all in one product that has become so popular that it's hard to find.
Also known as "Princess Candy" or "Beauty Rose Candy", this beauty supplement comes as candy or chewing gum.
This sweet treat tastes and smells like roses, but it contains all the necessary beauty supplements for your daily needs. Including collagen, hyaluronic acid, vitamin C and damask rose oil.
They are of course safe to eat, and offer the chance to enjoy a luxury moment on the go, with a crunchy shell and a very soft, almost creamy inside.
While it might be difficult to find the beauty candy in Japan, due to the fact that they're often sold out, it's now possible to order them online.
Click to find out how.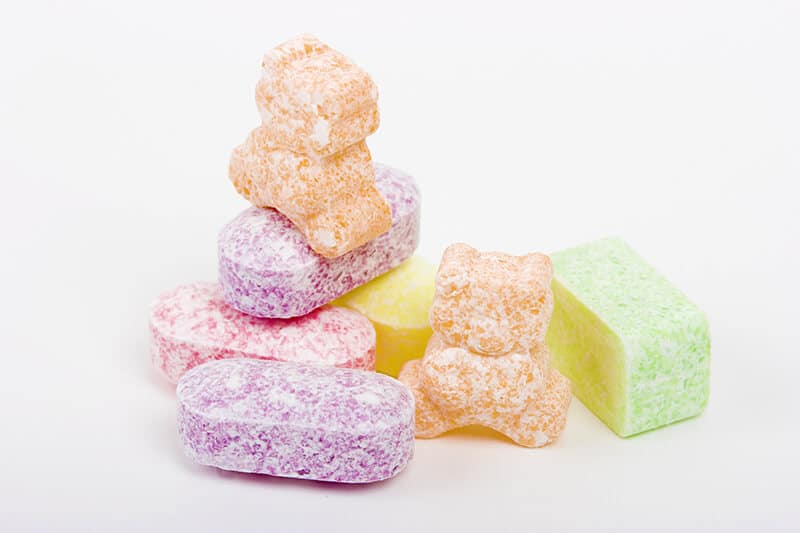 UHA Kororo Gummy Candy – Real Fruit Taste
Those who have tried the Japanese UHA Kororo Gummy Candy know how addictive it can be.
At first, the peach-flavored sweet may feel a bit weird: it's just like biting into a peach!
This Japanese jelly comes with a casing that looks like a sausage and has a gummy type jelly in the midsection.
The UHA Kororo Gummy Candy is made from 100% fruit juice and is one of the healthy Japanese snacks that you can eat on the go. The bag is in fact resealable so it's easy to carry around!
In Japan they are a popular treat that sometimes is eaten after being frozen: give it a try by clicking here!
Hotaru No Haka Candy Tin – For the Studio Ghibli Fans
The fruit candy was created for every Studio Ghibli fan out there. The tin features authentic Japanese art that commemorates the Grave of the Fireflies animated movie.
If you have watched it, you'll recognize it as the candy from the movie. On the tin, in fact, you can see an image of Setsuko holding the little can above her head.
The best Japanese candy for anime fans has been sold in the Country since 1908, so it is deeply embedded in the Japanese snack culture.
It is possible to buy the Hotaru No Haka tin online. It contains delicious fruit drops (hard candy).
Once you've finished eating your sweet snack, keep the tin: it's a collectible!
Meiji Milk Chocolate – Dating back to 1926
The first chocolate by Meiji, a famous Japanese sweets brand, was introduced in 1918.
The Meiji Milk Chocolate bars followed right after, in 1926. Since then, nothing has changed. Not even their nice and sophisticated packaging!
This mellow Japanese chocolate is made from high quality ingredients and manufactured according to strict specifications and ancient techniques.
The best part? It's a sustainable cocoa product, as Meiji works very hard to improve farmers' lives in Ghana. That's how it has turned into the perfect afternoon sweet snack with a heart of gold!
You can now buy traditional Meiji chocolate online, in nice packs with 28 small chocolatey blocks. They come in assorted flavors (recommended): black chocolate, milk chocolate or strawberry chocolate.
The Meiji chocolate bars are quite small if you compare them to the American chocolate, but 1-2 are enough to satisfy your sweet tooth.
Your fingers won't even turn messy as you eat them, because you can pop them in your mouth.
Many people in Japan like to add a few pieces of Meiji chocolate to coffee and milk to make an amazing warm drink. Click to order and try it for yourself!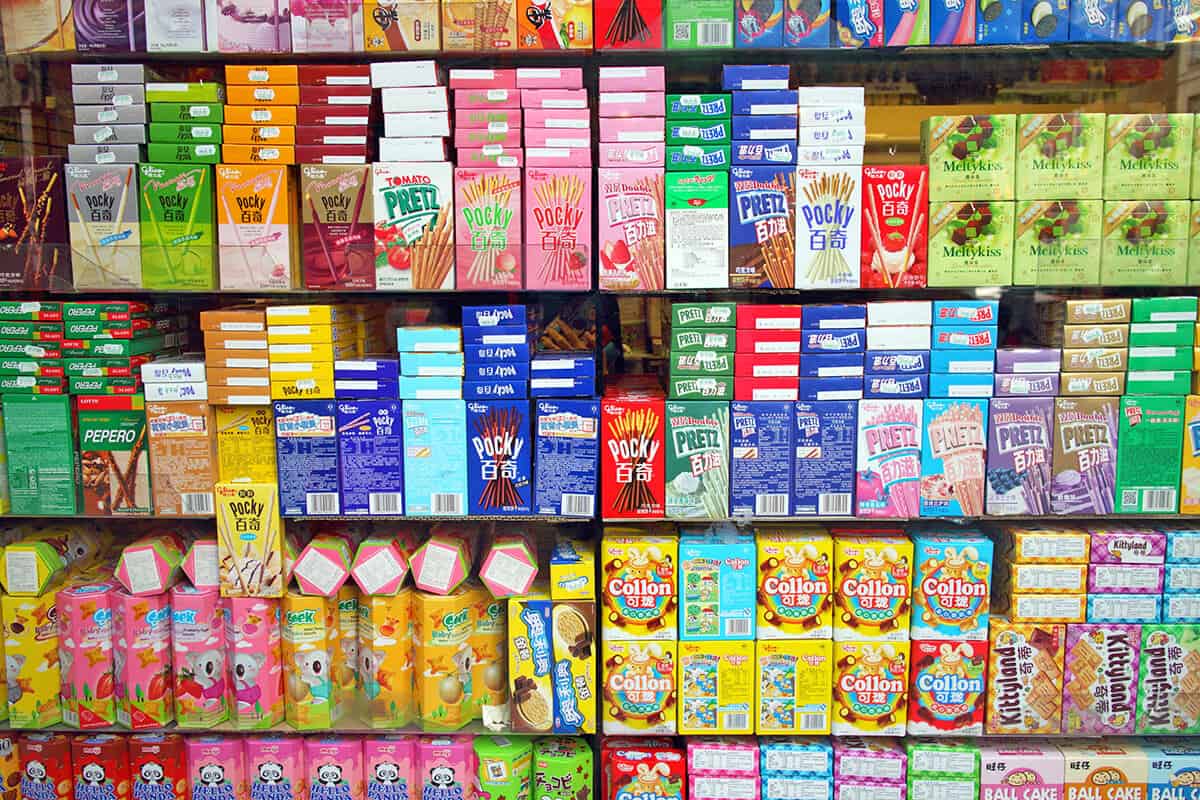 Popular Snack Questions In a Nutshell
What is Dagashi candy?
Dagashi candy is a common type of Japanese snack that is made from corn or starch. It is the cheaper version of the more expensive Yogashi that is made from white sugar.
Why are Japanese snacks so good?
The Japanese snacks are not only delicious but also so nice to look at them.
They are typically made of ingredients that have been featured in Japanese cuisine for thousands of years, hence why they are safe and healthy.
Savory Japanese treats are also known to have some really great seasonings.
What makes Japanese treats so popular?
The Japanese are known to snack in between meals, but they do it no more than once or twice a day.
As a result, they enjoy their sweet or savory snacks but still manage to stay thin and healthy. Snacks are usually small in size, so they can be considered "safe" to eat without the negative effects of an unbalanced diet.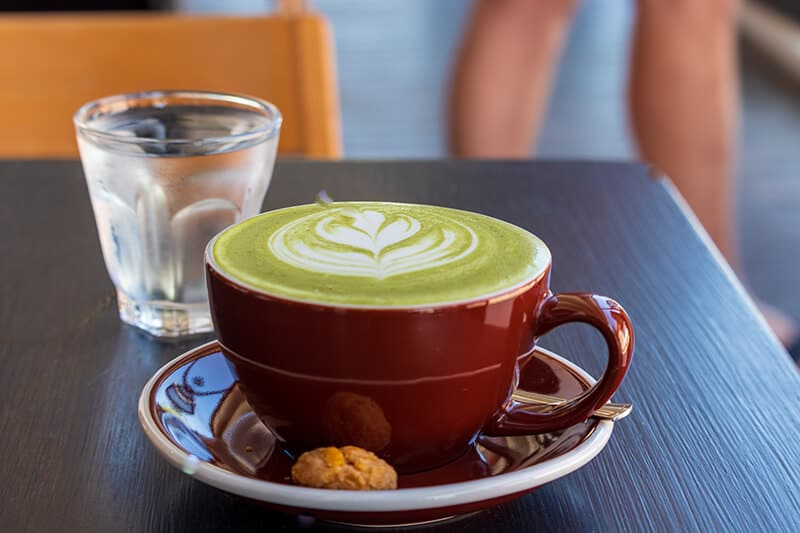 About the Author
James Hsu is a sushi enthusiast and owner of a sushi blog called Easy Homemade Sushi. He has been to Japan several times and loves Japanese food and culture. He is also a passionate writer and likes to share his experiences and knowledge through his blog.
You might also like:
– How to spend 3 days in Kyoto
– 15 insanely beautiful day trips from Kyoto
– Hiking in Kyoto – Fushimi Inari Taisha shrine
– What to do in Nara in one day
– 19 Japanese snacks that will cause MAJOR drool!
Pin it for later!
Travelling Dany – Danila Caputo
Danila Caputo is a bilingual travel writer living in between Naples and the Amalfi Coast (Italy), graduating from the University of Naples Suor Orsola Benincasa in Foreign Languages and Literature. She travels and works with her husband Aldo, photographer and videographer. Their blog chronicles their adventures around the world, their love for the USA (where they have family), Italian/European culture and tips on how to be responsible travelers. You can find out more about their latest trips and their life on Youtube, Instagram and Facebook.