A useful guide to the best day trips from Kyoto that you can plan on your own and on a budget! Discover gorgeous spots like Kanazawa, Okunoshima and many more!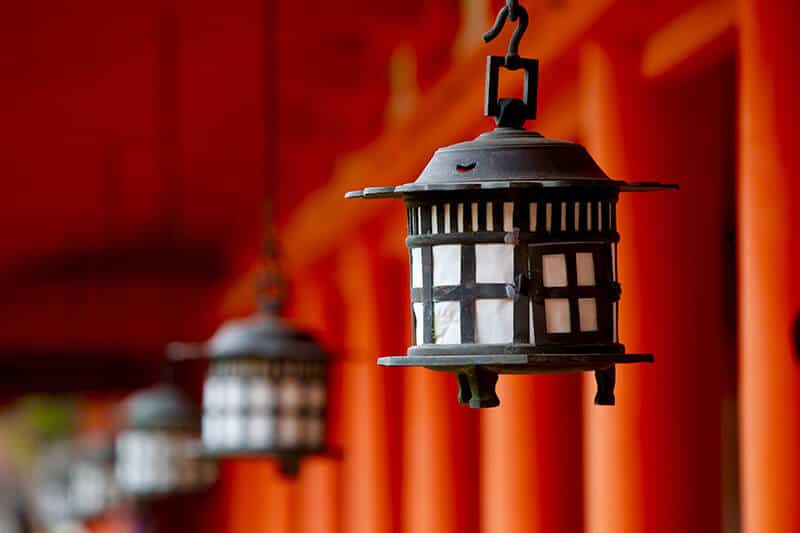 If you're planning a trip to Kyoto, whether it's your first time in Japan or not, there are some things you absolutely shouldn't miss. In this article I will show you all the best day trips from Kyoto that you should add to your itinerary: the public transport in Japan is amazing so you won't need a car! I also added lots of useful info on two shorter trips and quite a few hidden gems. The shorter trips are perfect if you don't have a lot of time! Now let's get ready to discover where you can go from Kyoto and why you should visit all these awesome places!
Enjoy a Nara day trip from Kyoto
I'm sure that you've already seen lots of pictures and videos of the friendly deer in Japan. The good news is that planning a day trip to Nara from Kyoto is super easy, especially if you are using a Japan Rail Pass.
… the not-so-good news on the contrary is that the Nara deer aren't always very friendly and sometimes can also steal or bite.
Nara-Koen is a Japanese park located in Nara, not too far away from Mount Wakakusa. Being one of the oldest National parks in Japan, it's very much loved, by the locals and of course by the tourists.
Sika deer throughout Japan are considered sacred animals, so you should be respectful to them as you would be to any other Japanese person.
Having lived with humans for centuries, these little rascals have learned to bow their head (hence the nickname "Japanese bowing deer") to ask for food. Yet with the passing of time they have gotten a lot more brazen, to the point that they have learned how to steal food from humans.
In Nara you will find lots of signs that clearly indicate that you have to be careful in dealing with deer, as they can bite, scratch or even kick tourists.
Having had our map stolen by a curious deer, we can definitely confirm that you should pay attention to them (they could've easily bitten my fingers and I hadn't even realized it): be as careful as you would be when dealing with a wild animal.
This is one of the day trips from Kyoto we were worried about. The info we found online was confusing and we had no idea how we'd get there. So I really hope I can be of use with this article: it's absolutely not as difficult as it might seem!
From Kyoto Station, hop on a train to JR Nara station (covered by the Japan Rail Pass). If you don't know where to go, don't hesitate to ask the stationmasters in Kyoto. They will be more than happy to show you to the right platform.
Did you know you can hire a professional photographer in Nara to take a walking photo tour? Click here to read all the details and make sure you get awesome pictures from this trip!
As soon as you walk out of the JR Nara Station, you will spot the bus for Nara. It's bright yellow and there are signs indicating the direction it will take.
The bus number 2 will drive you to the Nara park entrance in 10 minutes for 210 yen per person. You will need to pay cash and you can buy the ticket on the bus.
Walking to the park entrance from the JR Nara station is an option, but unless you want to return to Kyoto from your Nara day trip with blisters on your feet, I encourage you to use the bus. You will walk more than enough during the day!
Here you can find all the things you can do in Nara on a day trip from Kyoto or Osaka.
Spend a day at Universal Studios Japan
Not sure if you're nerds like us, but if you love theme parks, Japanese anime, thrill rides and movies, then you absolutely have to add Universal Studios Japan to your list of day trips from Kyoto. USJ is worth the trip!
Let me remind you that we visited Japan using a Japan Rail Pass so even in this case we didn't have to pay for an extra ticket.
To get to Universal Studios from Kyoto, you will need to hop on a train to Osaka (usually it's a Shinkansen Nozomi or a special rapid train). Once in Osaka, change to the JR Yumesaki Line for Sakurajima, to Universal City.
As you exit the station, you'll find yourself in a lovely street lined with themed shops and lots of cool things (here you can buy quite a lot of interesting souvenirs from Japan). Usually it takes 5 minutes to walk from the station to the USJ entrance, but you might be delayed by all the shiny things!
Click to watch our experience at Universal Studios Japan and follow us on Youtube!
Universal Studios Japan is super famous because of the Wizarding World of Harry Potter and for a new Minions area. But me and Aldo are also huge fans of Japanese manga and anime, so we kind of loved the Sailor Moon and Evangelion themed events!
USJ in fact is the perfect mix between Hollywood movies and Japanese galore. A must see if you like theme parks, because this one is very different from any other Universal Studios you've ever been to.
Before you ask: yes. The Wizarding World of Harry Potter was super cool and we had so much fun! We bought exclusive merchandise also for our friends at home!
If you are worried about the long lines or if you want to know more about all the rides and the Express Pass, you should click here. My article provides all the info you will ever need on visiting Universal Studios Japan and how to buy your tickets in advance (without being scammed).
Meet the Japanese cat station master
How would you feel if I told you that the famous (and super cute) Japanese cat station master is part of a unique trip you can plan on your own?
Me and Aldo live in the countryside with 3 cats and 3 dogs. I've always lived with cats, since when I was a kid, so I was ecstatic at the thought I could finally meet Tama, the furry station master in Japan.
We'd heard about her thanks to a documentary on Japan. Sadly, the documentary was old and failed to inform us of the fact that the beautiful Tama had passed away in 2015.
Because people were actually very upset about the news (it was impossible not to fall in love with Tama), she was honored with a Shinto-style funeral at the station and enshrined at a nearby Shinto cat shrine.
She's now the spirit goddess Tama Daimyojin. Japan dedicated a train to her (the Tama Densha train) and she was given a posthumous title, "Honorary Eternal Stationmaster".
You might also like:
15 Tokyo day trips you can plan on your own!
The cat lovers out there should make sure to find some space for this on their list of day trips from Kyoto. The Kishi Station (Wakayama Prefecture) is at a bit more than 2 hours from Kyoto station!
Kishi Station was almost abandoned before Tama, because of financial problems.
The station manager used to feed a group of stray cats near the station and one day adopted Tama.
When people started to notice the friendly cat, they demanded the station to stay open and Tama was awarded the title of official station master. She was paid in cat food, a comfortable home, and of course a special station master's hat that was designed to fit her.
Tama immediately became famous and this lead to an increase in passengers that saved Kishi Station. The lovely calico cat had her own office and actual "work hours" during which she was sitting at the ticket booth, while people took pictures.
Nitama, Tama's official apprentice (another rescued cat) has been appointed station master when Tama passed and now has her own apprentice, the young Yontama.
The new Kishi Station, on the Kishigawa Line in Kinokawa (Wakayama) is operated by the private railway operator Wakayama Electric Railway (so you will need an extra ticket even if you have bought a Japan Rail Pass). If you're lucky you will be able to get there using one of the three cat-themed trains: Tama, Strawberry and Toy.
The station is now housed in a cat-face-shaped building, and has a Tama themed cafe, with cat themed chairs and cakes. It's paradise for every cat lover and instagrammer out there!
The Tama souvenir shop is popular because it sells a wide range of cat-themed stationery that you won't find anywhere else in Japan.
You'll find Nitama on duty from Friday to Tuesday, from 10am to 4pm.
Travel from Kyoto to Osaka for a foodie trip
The trip from Kyoto to Osaka takes less than half an hour and I need to be super honest with you: Aldo keeps on saying he liked Osaka better than Tokyo!
From our experience, Osaka is a perfectly safe destination also for solo female travelers. We have been walking around even late at night and we never had to get worried about the things that, as travellers, we usually think about when we're on our own, late at night in a city we don't know.
Osaka is famous for its delicious food. So as soon as we hopped off our Super Hakuto train (included in our Japan Rail Pass) we got to Dotonbori to try Takoyaki, the classic Osaka snack.
They are ball shaped dumplings, filled with bits of octopus, ginger, spring onions and tempura crumbs. Usually they are served in a box, topped with mayo, bonito flakes and powdered nori seaweed.
Remember: Takoyaki have to be eaten scorching hot!
Dotonbori is the equivalent of Akihabara in Tokyo, a bit of a Japanese Las Vegas. Unless Akihabara, in Dotonbori the best restaurants have giant signs representing their speciality on the main entrance. Just think of the famous Kani Douraku restaurant, with a giant red crab at the entrance: it's impossible not to notice it!
You can now join a private street food tour to explore Namba and Dotonbori! It includes a local guide (who speaks English), 6-8 tastings according to your preferences, 2 beers, tea or soft drinks. Click here to check rates and availability!
I am admittedly a planner, so I tend to note down all the things I have to see. But for our Osaka trip from Kyoto we decided to note down the best food in stead. Planning a self-guided foodie tour is in fact a fun way to explore the best of the city in one day.
Another famous dish in Osaka is Okonomiyaki. We have had these savory pancakes also in Kanazawa, but Osaka is particularly famous because they make huge Okonomiyaki, filled with… a lot of ingredients. So make sure you're very hungry before you order one!
The main ingredients you can add to the batter are pork, squid, shrimps, cheese, tomatoes, and in some cases even noodles. The Okonomiyaki is topped with brown sauce, mayo, powdered nori seaweed and dried bonito flakes.
Some restaurants let you cook your Okonomiyaki at your table. If you don't know how to do it (we didn't, either), a server will show you and explain. Basically it's a free cooking lesson!
Osaka is where many people try Fugu, also known as blowfish. It's famous because it's super poisonous and it's said that if the chef doesn't know how to cut it, you might die.
Fugu has to be eaten raw, as thin slices of sashimi, often arranged in a floral pattern on a large plate. Usually the best restaurants have specially trained chefs with a license to prepare Fugu.
Full disclosure: we didn't eat Fugu. If you did, let us know how it was!
You might also like:
How to visit the best of Japan in 14 days!
In Dotonbori we also found a huge sign shaped as the face of an angry Japanese cook. It made us think of Shige-san (known in Italy as Marrabbio), a character of a manga shojo, Love me knight – Kiss me Licia, another one of the things me, Aldo and our friends grew up with.
We discovered it's a branch of Kushikatsu Daruma (which has nothing to do with our manga) and is famous for Kushikatsu.
Kushikatsu are skewed kebabs of meat, seafood or veggies, breaded and deep fried. They are served with a variety of dipping sauces. We have tried pork, beef, shrimps, mushrooms and even lotus root from the a la carte menu. It was cheap and delicious. Besides, we were eating at Marrabbio's restaurant, so many childhood memories!
Eating in Osaka is cheap and absolutely delicious. Head over to Dotonbori, because you'll find tons of restaurants, kiosks, interesting shops and a lot of Japanese people having fun.
The only thing you have to pay attention to is the time: make sure you have enough to catch a train back from Osaka to Kyoto!
A Kyoto to Hiroshima day trip: please don't forget!
One of the best day trips from Kyoto, that has so much to offer, is Hiroshima. The usual bullet train (Shinkansen Hikari that you will use often), included in the Japan Rail Pass, will get you to Hiroshima station in less than 2 hours.
Planning a Kyoto to Hiroshima day trip is a good idea in springtime. In Hiroshima there are some of the best places to see the cherry blossoms in Japan, and they're never overly crowded.
But whether it's spring or not, me and Aldo strongly suggest you to visit the Hiroshima Peace Memorial Museum and the A-Bomb dome.
I won't lie to you: it's never easy to visit places where many people have died. But it's important to keep the memory alive, to share their story and to make sure the world will never forget, so we won't make the same mistakes in future.
After having visited places like Auschwitz-Birkenau, the 9-11 Memorial and Museum and the Pearl Harbor Historic Sites, there was no doubt we'd want to add the Hiroshima Peace Memorial to our list.
We spent the whole day visiting this very interesting museum and we hope that if you'll visit as well, you'll take some time in actually reading all the documents on display: there's no blame laid on someone else. The whole museum serves as a huge exhibit to show what hate and violence can lead to.
After seeing blood stains on kimonos, toys completely destroyed by the impact, pictures and videos explaining what happened to the children who were at school, even miles away from where the A-bomb was dropped, we felt very disappointed in humanity.
If you decide to visit, make sure you also walk to the Atomic Bomb Dome, a UNESCO World Heritage Site, and the only building still standing after the atomic bomb was dropped in 1945.
You might also like:
The very best spots to see cherry blossoms in Japan
I was already in tears by the time we walked out, but there was one more statue we wanted to pay our respects to, and that was the Sadako Sasaki statue. It is located in the garden surrounding the museum and you will recognize it because of the thousands of colorful paper cranes laid to her feet.
Sadako Sasaki was a 2 years old Japanese girl when the bomb was dropped. She was about 1 mile away from ground zero, with her mom. While running away, they were both caught in the black rain.
After life returned more or less like it was before, Sadako started attending school. Years later, she developed what was known as the "atomic bomb disease", an acute leukemia, caused by radiation exposure.
At the hospital Sadako, who desperately wanted to live, heard of the legend of the cranes: if she could fold 1000 paper cranes, they would grant her a wish. So she started to work on her task, using medicine wrappings and whatever paper she could find.
While the novelized version of her life states that she never made it, at the Hiroshima Peace Memorial Museum, the exhibit confirms that she achieved her goal and continued to fold even more cranes.
Her last words were a thank you for her family and friends who had been there with her until her very last moments.
After her death, the story of Sadako became viral and in 2013 the Peace Crane Project connected students all over the world in a vision of peace. They all fold colorful paper cranes and send them to the Hiroshima Peace Park to be laid next to the Sadako statue.
At the Hiroshima Peace Memorial Museum they provide paper and instructions on how to fold a paper crane, as an offering you can bring to Sadako Sasaki statue. We also bought a beautiful glass crane that now stands proudly among our most prized possessions from all over the world.
In short: would we visit again? Heck yes! Was it emotionally difficult to visit? Of course it was! But we'll never regret spending our time at the Hiroshima Peace Memorial Museum and we keep on spreading the world, hoping that such things will never happen again.
What to see in Kanazawa in one day
There are many things to do in Kanazawa, so if you are planning a list of day trips to Kyoto, note down that you should try to be there early in the morning, so you won't be wasting too much time.
The trip from Kyoto to Kanazawa is usually included in the Japan Rail Pass and should take 2:30 hours. Leaving Kyoto early in the morning, with an itinerary already at hand, is the smart way to tackle this day trip. Did I mention that there's so much to see, doo and eat in Kanazawa?
Many people who visit Kanazawa head straight for Kanazawa Castle, as soon as they arrive in town.
I have a different suggestion for you: visit the geisha district first. Higashi Chaya is absolutely amazing, and the reason why Kanazawa is known as "little Kyoto".
There are many traditional houses and ancient buildings at Higashi Chaya. If you visit early in the morning like we did, this area will be absolutely crowd-free.
Why should you care? Because we got to listen to geisha practicing with their shamisen while walking the narrow streets, between the old tea houses. We got to meet a few maiko running errands and one geisha (please, please, please: be respectful, don't touch them and don't force them to take a picture with you!).
You might also like:
19 Japanese snacks that will cause MAJOR drool!
They weren't running away as it often happens in Kyoto, so we got to enjoy the moment, with this unexpected music soundtrack.
And… we found the Utasu Shrine (free entrance): there was no one else around and the place was soothing, super relaxing and absolutely beautiful.
If you're looking for something authentic, a place where you can take beautiful pictures without having to push your way through the crowds, then by all means, head to Higashi Chaya early in the morning!
The second stop you should plan, to make sure you can fit everything into only one day in Kanazawa, is the lovely Kanazawa Castle.
Walk through the Ishikawa-mon Gate like many legendary samurai did back in the day, and enjoy a few hours exploring Kanazawa Castle park (free entrance).
We did visit the inside of Kanazawa Castle, for 310 yen per person, but it's mostly bare, so if you don't have much time, I suggest you avoid it and just focus on the garden.
Keep walking, and in 5 minutes from Kanazawa Castle Park you will find Kenrokuen, one of the three most beautiful zen gardens in Japan. Tickets cost 310 yen and they're absolutely worth it!
Kenrokuen is also a great spot to enjoy the autumn foliage in Japan.
At lunch you should head over to Omicho market, open from 9am to 5pm. They sell all sorts of delicious food for less. We walked around, trying different dishes, sushi bites and chocolate delicacies, and we couldn't believe that everything was so cheap!
Last but not least, get a bus to the Nagamachi district. Here were housed the samurai in the Kaga era, and you will find a lot of artifacts and statues of Lord Maeda Toshiie.
If you have some time before you return to Kyoto, you should visit one of the best restored samurai houses, the Nomura-Ke. Tickets are 550 yen, and it's open from 8:30am to 5:30pm.
In case it's already too late, have a quick look at Kaga Hanshi. It's a well preserved building with a tiny garden, which once was a stable. Entrance is free!
Imagine our surprise when, as soon as we walked inside, we found a Japanese maple tree, like the one we have in our garden at home! Aldo, who's the gardener of the house, spent at least 15 minutes admiring that beauty!
You can find more info about our trip to Kanazawa by clicking here.
Okunoshima – the Japanese rabbit island
Okunoshima, also known as the Japanese "Rabbit Island" is one of the day trips from Kyoto that might seem very difficult to plan. But it really isn't the case.
To get to Okunoshima island from Kyoto, you'll have to hop on a train to Tadanoumi (about 2:30 hours). Once there, there's a 5 minutes walk from the station to the ferry terminal.
Just walk out of the exit, then turn right and keep walking: there are clear signs for the ferry. The ferry will take you to the island in about 12 minutes. The whole route is covered by the Japan Rail Pass.
Please, be aware that, while Hiroshima and Okunoshima island seem to be "close", it's not advisable to see both in one day. You'd spend most of your time on public transport in stead than enjoying yourself!
Okunoshima island is, as the nickname suggests, mostly inhabited by hundreds of wild rabbits. The original rabbits were used to test the chemical weapons during World War II and then they were intentionally let loose when the island was turned into a park.
On the island you can enjoy yourself by feeding the rabbits (be always careful: they're wild creatures, not pets).
Another interesting thing to do in Okunoshima island is visiting the Okunoshima Poison Gas Museum. It's small so the visit won't really take too much time.
There's one hotel on the island, the Kyukamura Ohkunoshima. Unless you have brought with you slices of carrots, ask them if they have some available. Usually they sell small bags with carrots for the rabbits to the tourists.
Plan a day trip to Kobe
While you can definitely plan a day trip to Kobe from Kyoto just to eat the world famous Kobe beef, there are also other things you can do to keep yourself busy between a slice of beef and another.
The trip from Kyoto will take about 50 minutes, so you won't have to get up extra early, but arriving in Kobe in the morning will allow you more time to explore this interesting city, one of the 10 largest in Japan.
Those interested in landscape photography can head over to the Shin-Kobe ropeway, which will lift you up the Southern slopes of the Rokko mountain chain. The entrance to the ropeway is next to the shinkansen station.
Keep your camera at hand because you'll be able to see the Nunobiki waterfall and the Nunobiki herb garden from above!
Another good point for some aerial views is the Akashi Kaikyo Bridge, the world's longest suspension bridge, connecting Kobe to Awaji island. While you probably won't have time to explore Awaji island, you might still enjoy walking the Maiko Marine Promenade, an observatory under the bridge platform, 50 meters above the water (accessed by elevator).
If you've never visited a sake brewery, you should add it to your list of day trips from Kyoto, because the Nada Sake District in Kobe is known as the top sake producing area in Hyogo Prefecture. Many of the breweries offer tours and tastings!
Kobe Beef is a prized Japanese delicacy, possibly the most widely-known specialty food in Japan. This tender, flavorful meat is marbled with fat and contrary to popular beliefs, the cows are absolutely not fed beer, nor massaged with sake!
One of the best Kobe Beef restaurants in Kobe, which serves a delicious lunch which without breaking the bank is the Steak and Grill Meriken Hatoba (in Kobe's Chinatown). Get there early for lunch because this place is tiny and the locals absolutely love their meat.
They're also popular because they serve Kobe steaks with large servings of fresh vegetables and rice: the average price per person at lunch is 1500 yen.
Enjoy the day at Ishiyamadera temple and visit a romantic town
One of the best day trips from Kyoto for those who love Japanese culture and traditions, but don't like the crowds, is to Ishiyamadera Temple, near Lake Biwa.
Ishiyamadera Temple is easy to reach from Kyoto and the whole route is covered by your Japan Rail Pass. Take the Keihan Ishiyama Sakamoto Line to Ishiyamadera Station. Then there's an easy 10 minutes walk to get to the temple.
This temple has a very important role in the Japanese culture, being the thirteenth of the Kansai Kannon Pilgrimage, and also because here Murasaki Shikibu started writing her book, "The Tale of Genji" in 1004. It was Japan's first novel.
If it wasn't enough, the moonlight on Lake Biwa, seen from Ishiyama-Dera, has been celebrated as one of the Eight Views of Omi, a motif in Japanese art, for centuries.
In case it does look familiar, maybe you've seen the moonlight at Ishiyamadera on a 4 yen Japanese stamp!
Within the temple precincts there are numerous monuments and National treasures, due to its religious importance. You will be able to walk around a beautiful forest while searching for all the things to see at Ishiyamadera.
There are lots of instagrammable spots, but because this is an important religious site, remember to be very respectful at all times.
Spring at Ishiyamadera Temple is not just about the popular cherry blossoms: this place is known as "Temple of Flowers" due to the high number of blooms that flourish all around the area.
After visiting Ishiyamadera Temple, get back to the station and hop on a train to Omihachiman. This is one of the hidden gems in Japan that not many tourists know about. One more reason to explore this amazing historical town in Shiga!
Developed as a commercial town in the 16th Century, it's divided by a small waterway that once was an important transportation hub: today there's the chance to enjoy a short canal cruise to see the town from the water.
Omihachiman is full of Japanese traditional buildings and rarely crowded, so you can walk hand in hand with your significant other, taking postcard pictures of small bridges and patches of flowers.
Remember: being overly affectionate in public in Japan is not polite!
What to do in Nagoya in one day
Nagoya is another one of the day trips from Kyoto which are pretty easy to plan. To get to the city center in fact, you just have to hop on a Shinkansen Nozomi.
The trip only lasts 35 minutes. Yet because Nozomi trains are not covered by the Japan Rail Pass, if you have one, hop on a Shinkansen Hikari in stead. The same trip will take 53 minutes, but you won't have to pay an extra ticket!
There are many things to do in Nagoya, Japan's fourth most populated city. Choose wisely what you want to see and do according to your preferences, but remember that Nagoya is a pretty big city so moving from one place to another will take some time!
The first and probably most logical thing to do on a day trip to Nagoya would be to visit Nagoya castle, which was Tokugawa Ieyasu's base during the Edo period. The original buildings were destroyed by a fire so what you see today is a reconstruction, which dates back to 1959.
The exhibition inside is worth the visit, especially if you are interested in Japanese history and the samurai wars.
The second and third stops should be Atsuta Shrine and Shirotori Garden, because you can walk from one to the other in about 10 minutes.
Atsuta Shrine is the oldest landmark in Nagoya, built in the middle of a thick forest. It's the perfect place to go if you want to enjoy a nice stroll away from the traffic of Nagoya.
Shirotori Garden is the biggest garden in Nagoya, located inside the Shirotori Park. Inside you will find a tea room and a restaurant, but they're a bit overpriced, so unless you're very hungry, I'd suggest you just visit the garden without stopping for food.
Of course, if you're going to spend a day in Nagoya, make sure to take pictures of the Osu Kannon statue, one of the biggest ones in Japan. It's located near the station, and next to the Osu Shopping Arcade, an area packed with shops and restaurants.
Those of you who love science will love to visit the amazing Nagoya City Science Museum in the city center: it's one of the most famous in Japan and has a huge planetarium where you can experience the Northern Lights, see a starry sky or even visit the inside of a tornado!
As I already mentioned before, you shouldn't have to ask yourself what to do in Nagoya, but how many things you can fit in a day. Just think that there are also a Railway museum, Toyota museums, Japanese gardens and much more!
It will surely be a busy day so choose wisely what you want to see: I'm almost sure you'll decide to get back for a few more days on a future trip to Japan!
Visit Himeji Castle (Himeji-jo) and Kokoen Garden
One of the best day trips from Kyoto in springtime is to Himeji-jo. The gorgeous Himeji Castle is in fact one of the most amazing cherry blossom spots in early April. And it's a pretty popular destination also during the Golden week, a collection of four national holidays in seven days, from April 29 to May 6.
To get to Himeji Castle from Kyoto, you should hop on a Shinkansen Hikari (included in your Japan Rail Pass). The trip will last less than 1 hour. Once you arrive at Himeji station, you can either walk to the castle (it's a 15-20 minutes walk) or buy a 100 yen ticket on a tourist bus. The bus ride only takes 5 minutes.
Himeji-jo is known as the White Heron due to its elegant, white appearance, and it's one of the twelve original castles in Japan. What you see is the original building, a UNESCO world heritage site and one of Japan's most spectacular castles.
Tickets to visit Himeji Castle will cost you 1000 yen, 1040 if you also want to visit the nearby Kokoen Garden. Since you have the whole day, get the ticket that includes the garden, especially if it's a nice, sunny day!
If you intend to visit during cherry blossom season, you must get to Himeji castle early in the morning. The castle opens from 9am to 5pm, but you can start by taking pictures of the cherry blossoms before the crowds of tourists and locals will gather in the area.
The Himeji castle complex is made up of over 80 buildings, connected by a series of gates and narrow paths.
Usually you can enter the castle via the Otemon Gate: there's a cherry tree lined lawn which is awesome also right after the cherry blossom period. When the flowers die, their petals start floating in the air and this passage turns into a fairytale. It's picture-perfect!
One very important thing you must keep in mind is that you will have to deal with a series of steep, narrow staircases. As you ascend, each level gets progressively smaller: it can be a bit uncomfortable, to the point that I let Al explore on his own the highest floors because the stairs were too much for me.
The inside rooms are mostly bare, they only display multilingual signs explaining architectural features and renovation efforts.
The top floor, on the contrary, hosts a small shrine and you can take pictures of the surrounding area from above.
Kokoen is a Japanese style garden, opened in 1992. It consists of 9 walled gardens designed in various styles representing the Edo period.
It's are a must see especially if you're thinking of visiting Japan in fall because the foliage at Kokoen is absolutely gorgeous!
Experience a day trip to Miyajima island
Miyajima island can be explored as a Kyoto day trip. Me and Aldo decided to spend the night on the island because we wanted to experience it in the evening, when tourists left, in a cozy ryokan.
Yet Miyajima island is absolutely doable in one day, and getting there is super easy. From Kyoto station, you can hop on a Shinkansen Hikari to Miyajimaguchi.
The trip will last about 2:45 hours. From the train station, there's a 5 minutes walk to the JR ferry to Miyajima. The whole trip (ferry included) is covered by your Japan Rail Pass.
Our main highlight while we were on the ferry was to take pictures of the Miyajima torii from the water. Unfortunately now the great torii is being renovated. The works have started in June 2019 and should take at least one year.
Should you still visit Miyajima island now that you can't see the great torii? Heck, yes!
Itsukushima shrine is absolutely amazing, with or without the great torii. If you're planning to take pictures of its large, red corridors on the sea, you should make sure to get there early in the morning.
The shrine is open from 6:30am to 6pm. Because you're coming all the way from Kyoto, I'm guessing you won't make it there super early, so another good time to visit is right before they close.
The sunset offers a beautiful red glow to the area and usually the tourists have already left, so you might have the place to yourself.
You might also like:
How to plan a day trip to Miyajima island
One of the main highlights of Miyajima island now that the great torii is all wrapped up and hidden, is the sika deer. They will welcome you as soon as you get to Miyajima and probably follow you around.
Unless the sika deer we've met on our day trip to Nara, those in Miyajima were much more… bossy? Whether you had food or not, they still tried to look into your purse or backpack. In doing so, they risk biting you or ruining your stuff.
In our case, they basically ripped a brand new map from my hands, missing my fingers by inches. I confess I wasn't paying attention to the deer, so be super careful!
Miyajima is also a delicious foodie spot in Japan. Omotesando and Machiya are two shopping streets, a short walk away from the port. They're full of kiosks, shops and tiny restaurants where they sell the most popular dishes in Miyajima.
Oysters, eels and momiji-manju are basically everywhere, and they're super cheap!
Check out our Miyajima video to see Omotesando, Machiya, food and the great torii!
As you walk through the shops, pay attention to those selling momiji-manju. Many will let you watch as they prepare these steamed sweets, shaped like a maple leaf and filled with custard, cheese or chocolate.
While you could spend the whole day filling your belly with delicious food and sweet treats, if the weather is good, I suggest hopping on the Miyajima ropeway to take pictures of the island and the Itsukushima shrine from above.
Those interested in taking amazing fall foliage pictures in Miyajima should head over to Momijidani Park, where they can hike in the company of squirrels and deer.
What to add to a Kyoto itinerary (shorter trips)
Adding a few day trips from Kyoto to your itinerary is a good idea if you have already planned to stay 3+ days.
Some of these trips are in fact amazing, but Kyoto sightseeing should have priority.
After all, the former Capital of Japan has so much to see and do: beautiful temples, Gion, great food… it's enough to fill at least 2 (very busy) days!
So if you only have 3 nights in Kyoto, or if you're visiting on a budget without a Japan Rail Pass, or if you're travelling with the little ones, you might want to add something else to your itinerary.
I have two awesome suggestions for places which are very close to Kyoto (technically it's still Kyoto, only you'll need to hop on a train to get there). These trips take a few hours so you can include them into your itinerary even if you don't have too much time in Kyoto.
Explore the Arashiyama bamboo forest
The Arashiyama Bamboo forest is always open and you won't need a ticket to visit. That makes it the perfect budget half day trip from Kyoto.
It is advisable to get there early in the morning, because it's usually pretty crowded, so taking good pictures without other people in the shot is quite difficult.
Next to the Arashiyama Bamboo grove there's a beautiful temple, Tenryu-Ji, which opens at 08:30am (until 5:30pm). Tickets will cost you 500 yen and you can cut through the temple gardens, straight to the bamboo forest.
The downside, especially in the crowded seasons, is that many more people will have the same idea. That means you might have to be a bit more creative to get that clear bamboo-filled shot.
To get to the Arashiyama bamboo forest from Kyoto station, hop on a JR Saga Arashiyama train (covered by the Japan Rail Pass) and you will get to Arashiyama in about 12 minutes.
Spend the day hiking at Fushimi Inari Taisha shrine
Another one of the things to do in Kyoto is close to the city centre and also completely free.
What am I talking about? Why of course we have been hiking at Kyoto's Fushimi Inari Taisha shrine!
You might not recognize the name of this shrine, but I'm sure you've seen thousands of times pictures of the red torii gates forming long vermilion corridors in the forest.
Well, this stunning shrine is one of the most beautiful in Kyoto and the secret to take beautiful pictures (without the usual crowds), is to hike further up Mt. Inari, following the vermilion torii tunnels.
It makes for a great adventure if you consider that along the way you will be surprised by quite a few smaller shrines, scattered here and there in the forest!
To get to Fushimi Inari Taisha shrine from Kyoto you will need to take a JR Nara line train to JR Inari. The ride will take you exactly 5 minutes and the shrine is located on the other side of the road, so it's super easy!
You might also like:
Kyoto hiking – Fushimi Inari Taisha shrine
Pin it for later!
This post is also available in:

Italiano