Orlando Disney World tips for first timers (be smart!)
This post includes affiliate links. As an Amazon Associate, I earn from qualifying purchases. Full disclosure.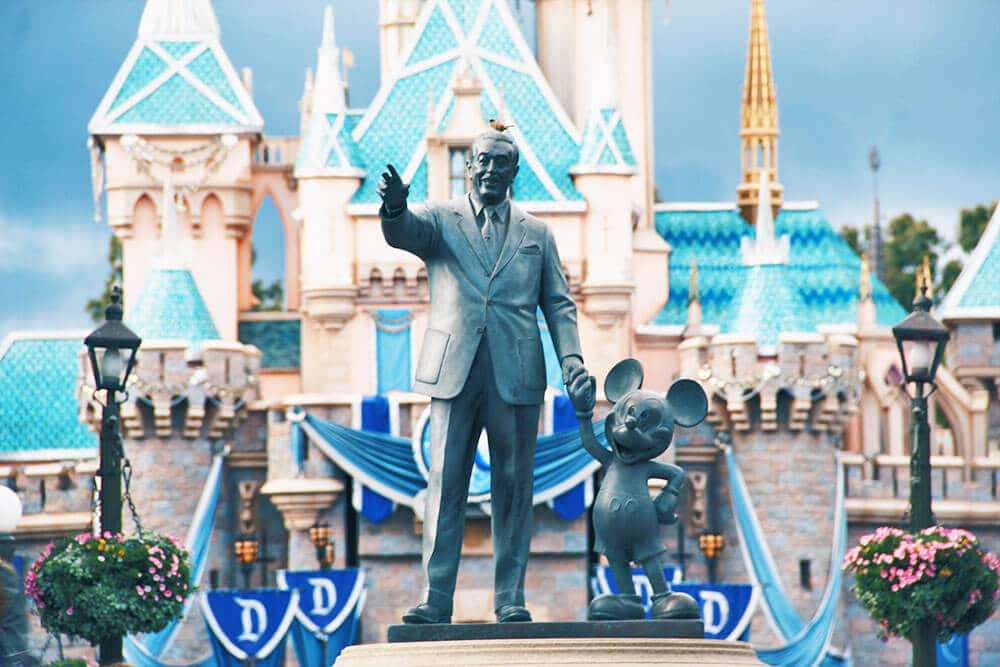 Who said that Disney parks are for kids only? Not me: if I'm exploring an area even remotely close to a Disney park, I'll always make sure to add at least one full day of fun in my itinerary… no matter how many times I've been there already! Those in Orlando (Florida) proved to be the biggest challenge. Which is why I want to offer my Disney World tips for first timers. It's very important to be super smart, or you'll end up spending a ton and feeling a bit lost. The fact is that there are too many parks and most of the times too little time. Even if time wasn't an issue, visiting all of them would mean spending a lot and if you're traveling with your family it's not always an option. So what can you do? Your best option is to plan in advance. Let's have a look at some smart tips to make the most out of your trip!
Planning your trip to Miami last minute?

Let me help you!
Here are our favorite experiences, tours, hotels and more: no need to stress out, we have you covered!
Don't forget to plan ahead also when visiting Orlando!

Top Activities and Tours in Miami & Orlando:
1. Open-top tour and Millionaire's Row Cruise
2. Biscayne Bay Evening Cruise
3. Everglades National Park Airboat Tour and Wildlife Show
4. Kennedy Space Center Entrance Ticket
5. Orlando Hop On Hop Off Trolley Pass

Our Favorite Hotels in Miami:
1. Mandarin Oriental
2. Mondrian South Beach
3. Shelley Hotel

Our Favorite Hotels in Orlando:
1. Hyatt Regency Grand Cypress
2. Floridays Condo
3. Universal's Endless Summer Resort

Click to check out the updated rates to rent a car!
First of all, know that the Disney area in Orlando includes four theme parks: Magic Kingdom, Epcot, Disney's Hollywood Studios, Disney's Animal Kingdom, and two water parks, Disney's Blizzard Beach Water Park and Disney's Typhoon Lagoon Water Park. With 25 on site resort hotels and the Disney Springs (former Downtown Disney) shopping area, there is really a lot to do.
Planning a trip to Disney Orlando can thus be overwhelming: you have to set a budget, decide when is the best time to go, choose where you're going to stay and of course select the parks that you want to visit. This is the main reason why I think it's important to not only read these Disney World tips for first timers, but also to take notes and decide what you want to see even before you leave for your vacation.
You might also like:
Disney souvenirs and more: Florida shopping tips
56 Instagrammable Spots in Miami – Ultimate Guide
If you're planning a trip with your significant other, you can also drive to the South of Florida. Here you can find a list of fun things to do in Miami for couples that you'll find super useful!
Being Italian, I'm not used to theme park tickets being so expensive, so my first time in Disney World Orlando was a bit traumatic, especially because I really wanted to go every park. At once, if possible. I'm a kid at heart and I won't even try to pretend. Of course, between the cost of the tickets, food, lodging and shopping, there were a lot of expenses. I had to rethink my plan, because I couldn't spend all of my budget in Orlando, as I was also planning a road trip from Miami to Key West , so I definitely needed to save as much as I could.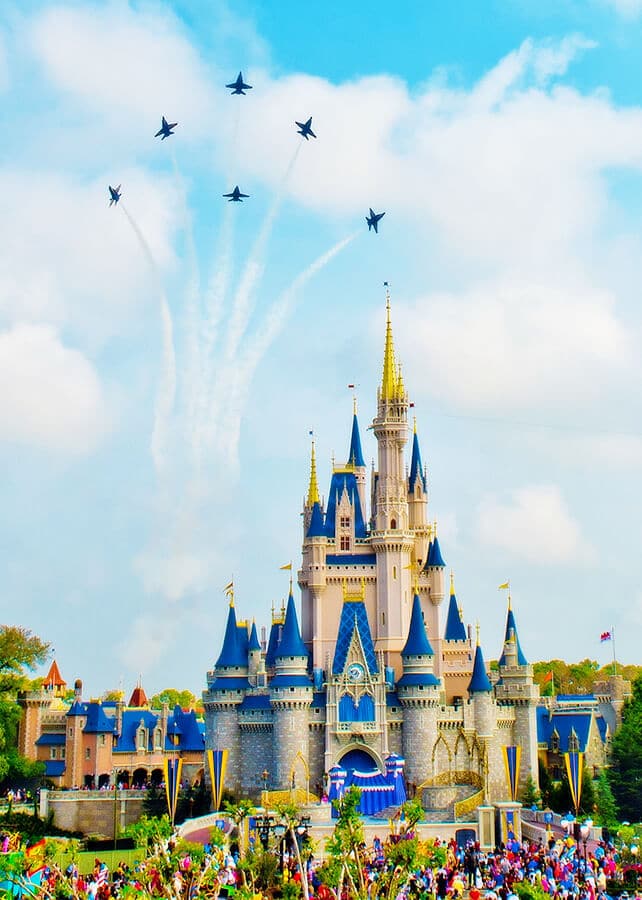 Planning a road trip?
Click to download our FREE printable
ROAD TRIP CHECKLIST!
Quick Links to Post Content
What is the difference between Disneyworld and Disneyland?
Let's start with the question I've been asked more often. Here in Italy people often confuse "Disneyworld" (actually it's Disney World) and Disneyland. They address every Disney park the same way, it's always Disneyland, so you never know which one they are referring to. I won't start a debate on Disneyworld vs Disneyland (to be honest I like them both), but I feel the need to straighten things out.
Disney World refers to the parks in Orlando, Florida. As I mentioned there are several of them so think of it as a small city made of Disney theme parks. Awesome, isn't it? Disneyland, on the contrary, refers to the park at the Disneyland Resort in Anaheim (California), the only one designed and built under the direct supervision of Walt Disney.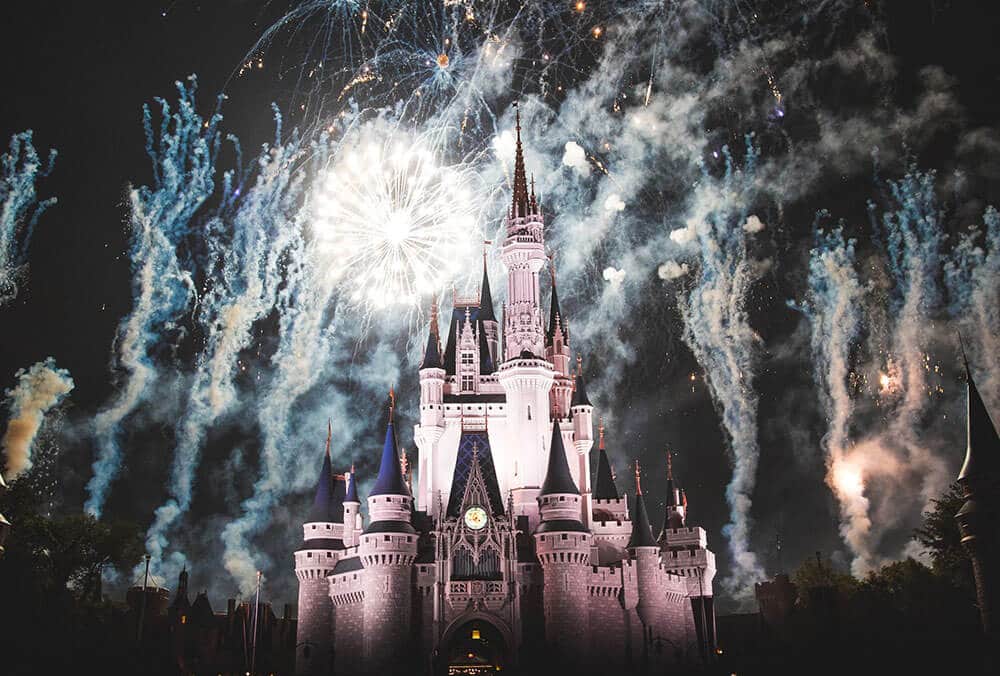 The Orlando Disney World parks
Each one of the parks has a different theme and different attractions. Planning a trip to Walt Disney World thus means that you have to choose how many parks you want to visit (and for how many days) beforehand. I think it's the first and most important of my Disney World tips for first timers. Of course you might be tempted to visit all the parks, but one day can barely fit just 1 park. Besides, tickets are pretty expensive and if you want to add a Fast Pass + (keep reading for more info), it can eat away even more of your budget.
Click here to explore Star Wars: Galaxy's Edge (Disney Hollywood Studios) with us!
If you are planning a Disney vacation with an unlimited budget, then heck, go for it! I'll probably try to hide in your luggage, just so you know! Yet if that is not your case, there's no need to be ashamed. You can still plan an awesome Disney World trip for you and your family: just be smart and follow my Disney World tips for first timers!
Magic Kingdom is where you'll find the iconic Cinderella Castle: in 2017 the park hosted a whopping 20.45 million visitors, unbelievable! This park is similar to Disneyland in Anaheim (CA), and it's divided into six themed areas. Main Street USA, Adventureland, Liberty Square, Tomorrowland, Frontierland and Fantasyland. If you are travelling with your kids, they will absolutely love it because there are a lot of attractions also for the younger ones. There's also a fireworks show at Magic Kingdom every evening, so make sure you check the timetable on the map you will be given at the entrance!
Epcot is an acronym for "Experimental Prototype Community of Tomorrow", a utopian city of the future planned by Walt Disney, that showcases new ideas and technologies. The park is divided into two main themed areas: Future World and World Showcase. The first one includes pavillions and attractions that grown ups and teenagers will enjoy, while the little ones will like attractions like Soarin' Around the World (which is our absolute favorite, like… ever!) or The Seas with Nemo & Friends, just to name a few. The World Showcase opens at 9 am and remains open until 9 pm. It is a large area that looks like a world's fair containing 11 pavillions that represent each a specific Country. You can eat gelato in Italy, then hop over to Japan to see Itsukushima Shrine, and afterwards eat croissants in Paris! It made me think of the huge Expo in Milan, only less crowded (believe me, nothing beats the crowds at Expo!).
Disney's Hollywood Studios is the place where a whole new area dedicated to Star Wars is being built (there are several Star Wars themed attractions already). As the other parks, it's divided into six areas and you will even find an exact replica of the Grauman's Chinese Theater, which houses a dark ride paying homage to several classic movies. Because there's also a lovely Muppets Courtyard, an area dedicated to animated movies and Pixar Place, this park is surely going to offer a fun day to kids and adults alike.
Disney's Animal Kingdom is a zoological theme park, which means that it's entirely dedicated and themed around the natural environment and animal conservation. It features several animal habitats and it's divided into six themed areas. Because you will get to see animals, I'm sure kids will definitely love this park. It's better to go when it's not too hot nor too crowded, if you want to enjoy it at its best! Summer, at least in my opinion, is definitely out of the question: the damp heat in Florida can be brutal. Keep reading for more info on when to visit the Disney parks in Orlando!
Disney's Blizzard Beach Water Park looks like a ski resort that has melted into a watery wonderland. You will thus find bobsled and toboggan runs, slalom courses… and the tallest water slide in America masked as a ski jump. It is a water park mostly designated for grownups and teenagers: you can bring your little ones with you but they won't have as many chances at fun as the older kids!
Disney's Typhoon Lagoon Water Park is home to one of the world's largest outdoor wave pools. The theme is the "legend" of a typhoon that wreaked havoc upon a tropical paradise, so you will find ships, fishing gear and surfboards scattered here and there. Because you will find beginner slides for toddlers, a play area for young children and fountains, this water park is better suited for families with children.
How to find the best hotel in Orlando
The very first thing you should decide is where you're going to stay. Choosing a Disney hotel will cost you a lot of money, yet it has two bonuses. The first one is that it might be a themed hotel (which means more fun), and the second one that you'll be able to easily access the parks. Disney resorts grant perks like extended park hours, but I still find them to be very expensive, especially if you're planning a longer vacation in Orlando.
If you only have a couple of days and you want to visit just one park, then it's fine to splurge a bit. But what if you want to see more than one park? Should you hop from hotel to hotel? And what if you want to stay a whole week? Should you… sell your actual house to pay for your trip? Come on!
Renting a villa (also using AirBnb in the Orlando Disney area could be a great money-saving tip for Disney World, if you have planned a longer trip to Orlando. I did some math and calculated how much it would cost me to rent a villa with a private pool, internet, air conditioning and a luxurious bathroom, against the price of a Disney hotel close to one of the parks, for a week.
You might be surprised to know that renting a villa for a week was way cheaper than staying at a Disney hotel… especially if you're travelling with a group of friends or with your family.
This is definitely one of the best tips for Disney World you'll ever get. Why? Because renting a villa will allow you to cook your own meals at home. This saves you a lot of money. Bigger group? You're still covered, because you get to split the cost of the rent and have a lot of fun with your family or friends. And if you are visiting with young children, you can enjoy the quiet of a private house, away from the traffic in the Disney district (there's a lot, especially at opening and closing times).
Some of the villas up for short rentals in this area also have a private pool, which is an added bonus, especially in the very hot summer days in Florida.
Another option is of course to find a hotel. They get cheaper the more you move from the Disney and Universal districts. Yet I've heard a lot of horror stories about the hotels that have extremely cheap rates.
While sometimes you can be lucky enough to find a great deal, my suggestion, if you're planning a trip to Orlando, is to check guest reviews online before you book. You can use portals like Tripadvisor or Booking.com to see if the hotel is clean (believe me, you don't want to be in a hotel that has a bed bugs issue), and if other guests have enjoyed their stay.
We found that these tips are very useful not only for the Disney parks, but also for the Universal ones. We've done the same when we visited Universal Studios Japan in Osaka, and were able to save quite a lot of money on our hotel!
The best season to visit Orlando
Disney high season tends to follow school vacation schedules: there's nothing worse than having to wait for hours in line under the Florida sun.
September, with the exception of Labor Day, or early December, would be the perfect months for your trip to Disney World Orlando because they are the least crowded.
The rates are considerably lower and you will be able to enjoy the parks without the huge crowds. Of course keep in mind that the weather will be different, but it's not as if you're going to have a white Christmas like we do in Europe!
Also track diligently the Disney World promotions for a chance to save money. Disney periodically offers discounts and special deals that disappear quickly, so sign up for their mailing list and the Orlando Tourism Board not to miss them!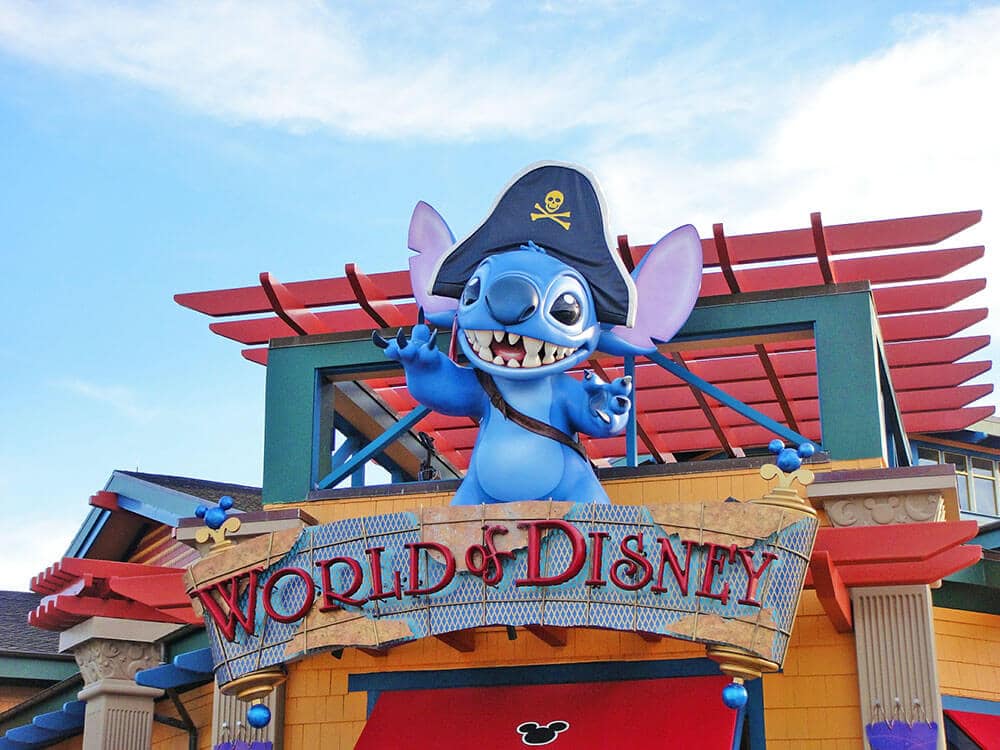 Disneyworld stroller rental
If you are flying to Orlando, there's no need to bring your own stroller to Disney World. You can easily rent one in every Walt Disney World theme park and at Disney Springs. A single stroller, recommended for children 50 lbs or less, will cost you $15 per day, or $13 per day in case you want to rent it for more days. If you need a double stroller, the price is $31 for one day and $27 for multiple days.
To rent a stroller you will need a $100 credit card deposit.
Another one of the money saving tips for Disney World is to pre-pay for the number of days you will need your stroller for: it is cheaper and more practical! Upon arriving at the Disney park, just show them your receipt and you will get the stroller. Easy peasy!
Advance Dining Reservations at Walt Disney World
Did you know that you can make your dining reservations online at Walt Disney World up to 180 days in advance? It was a recent discovery even to me, and I've noted it down for my next trip to Disney Orlando (hopefully to see the new Star Wars Area!). Some restaurants and experiences like character breakfasts tend to fill up quickly, so booking well in advance is definitely a good idea. Make sure to book your table at less popular times for a better chance.
As I already mentioned, always keep an eye on the Disney official channels for special offers and discounts!
Plan in advance with FastPass+
Many popular attractions operate two separate lines: a standby line for guests who enter and wait, and another one labeled as "FastPass+". To use the FastPass+ line each member of the party needs to have a time specific reservation for an individual ride.
You can book up to three FastPass+ reservations per day in advance for each ticket, and the best part of it is that they are free! Once you have used your three reservations, you can make some more, one at time, using the kiosks in the parks. FastPass+ tickets can be booked online 30 days in advance with general park admissions, so you should check the park maps available on the official Disney website, read what the attractions are, watch some videos on Youtube in case you're not sure what they're about, and then book.
Always give priority to the overcrowded attractions!
This is yet another of the Disney World tips for first timers that I wish I knew before to go there! FastPass+ will in fact help you to maximize your park time and avoid the long lines.
Park hopper and other money saving options for the Disney parks

If you want to experience more than one park, Disney offers a series of options that might definitely help you to do that.
Park hopper and Park hopper plus are two options that let you enjoy same-day admission to all 4 theme parks in the Orlando Disney Area (Magic Kingdom, Epcot, Animal Kingdom and Hollywood Studios) on each day of your ticket.
The plus option also offers a number of visits to other Disney parks depending on the length of your ticket. For example a 4 day ticket allows 4 visits. For each one you can choose if you want to add the two water parks, the ESPN Wide World of Sports Complex, or the three Disney golf courses. Sometimes Disney offers "magic tickets", on a limited time basis that allow you to enter 4 parks on 4 separate days, saving a lot of money.
If you want more fun things to do in Florida, you can check out this article with very nice ideas!
You might also like:
– 30 Unique Florida Souvenirs you'll love
– Disney World Tips for Beginners
– Best cheap eats at Disney World in Orlando
– Road Trip from Miami to Key West
– Fun things to do in Miami for Couples
– USA Babymoon Ideas on a Budget
– 56 Gorgeous Places to take Pictures in Miami
– Florida Packing List for Every Season
– Florida off the beaten path: 8 cute towns
– 12 Florida Bucket List Places to Visit
– Guide to the best time to visit Florida
– 17 Amazing Florida Road Trips
Pin it for later!
Travelling Dany
Danila Caputo is a bilingual travel writer living in between Naples and the Amalfi Coast (Italy). She travels and works with her husband Aldo, photographer and videographer. Their blog chronicles their adventures around the world, Italian/European culture and tips on how to be responsible travelers. You can find out more about their latest trips and their life on Instagram and Facebook.