This post is also available in: Italiano (Italian)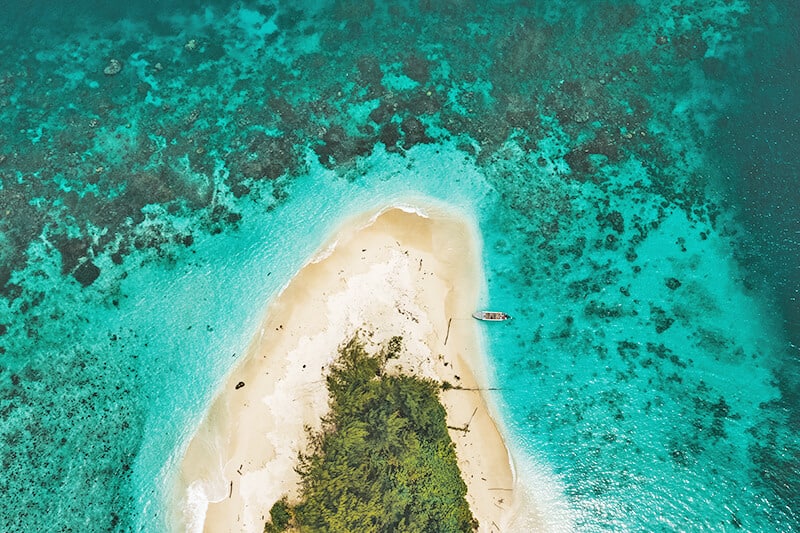 Are you planning to hit the Virgin Islands beaches and you don't know where to start? This easy and useful guide will show you the 10 best St Thomas beaches (USVI) and it's updated with the latest news (with pictures and a video)! You won't have to be worried about closed beaches or outdated info: we've recently experienced these places on our own and we are more than happy to show you all the pretty beaches we fell in love with! Whether for a honeymoon, a cruise or a longer vacation, get ready to explore the US Virgin Islands on your own. Or book a tour, knowing exactly where you want to go and what you want to see. Sea turtles, tropical fishes, corals and powdery white sand beaches are waiting for you!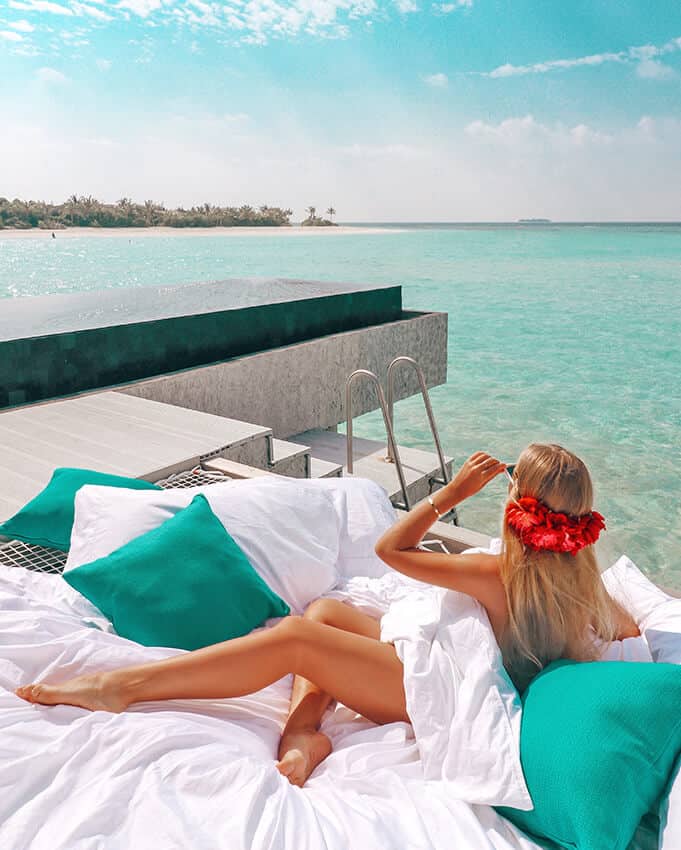 How to get to the best beaches in St. Thomas
At the Port of Charlotte Amalie you'll find dozens of taxis and small shuttle buses for the beaches. Because St Thomas is a pretty touristy place, the local taxis, which follow rules set by the VI Taxicab Division, help the local economic development.
Taxis on St Thomas aren't metered: rates are fixed, per person and per destination. It took us 12$ (for the both of us) to go to Magens Bay. Generally speaking, during our visit rates went from 8$ to 15$ per person, according to where we wanted to go.
Usually minibuses are cheaper because they can keep their rates low, as they carry quite a few people on each ride. At Charlotte Amalie there's usually a long line of minibuses. All you have to do is to ask where they are going and how much is it for the ride.
Quite often the drivers keep the fixed price on their vehicle, so you'll know in advance how much you're going to spend.
When big cruise ships get to the port, the locals usually help by asking tourists where they want to go and directing to the nearest taxi or shuttle bus that will drive them there.
The beaches listed in this article usually have a few taxis waiting around so you'll be able to get one at any time to go back to your cruise ship or lodging. I have listed the taxi availability for each beach, that way you can easily plan ahead!
You might also like:
Useful cruise essentials you should absolutely pack
People in St. Thomas are very friendly and helpful so don't ever be afraid to ask!
In our experience they were very transparent with their rates, so there's no need to ask for a cheaper price: it wouldn't be fair to anyone. They're not trying to scam you. They're just working. Please don't try to pay less, their prices are super low if you compare them to how much cruise ships will ask you for a day trip to one of the following beaches!
Note: Taxis are safe in St. Thomas. Yet make sure to use only cars or vehicles actually marked as cabs. Don't hesitate to wait for more people if you're worried about being on your own, or use another taxi driver if you feel uncomfortable, for any reason.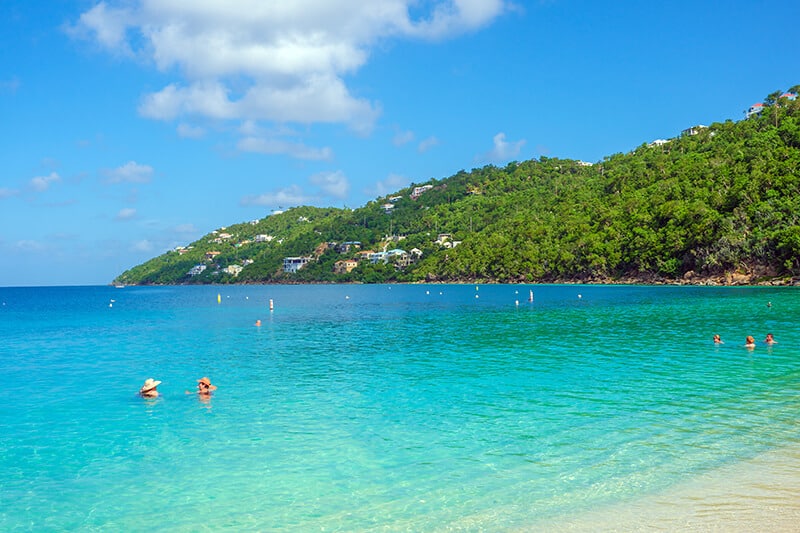 One of the best St Thomas beaches is Magens Bay, which not only is pretty popular, but also our favorite beach ever!
This beautiful one mile stretch is often considered one of the very best beaches in the world, so we absolutely had to see for ourselves if it was true: if you've had the chance to check out our Youtube video you'll realize that it's definitely worth the trip!
While Magens Bay beach is a public park, donated to the people of the US Virgin Islands by Arthur Fairchild, there's a 5$ entry fee. The funds are used to maintain the facilities, and to help with the restoration after Hurricanes Maria and Irma.
I'm sure you've all seen those movies where couples get married on pretty beaches: Magens Bay is where the real thing happens.
You might be lucky enough to see couples getting married at the shoreline, those who are proposing because yes, this is one heck of a location if you're looking for a special place where you can make memories with the person you love!
What we liked the most is that there's a nice shady spot, with tables and a dressing area. Because the sun is pretty strong, I often need to stay in the shade to cool down, re-apply some sunscreen and just drink lots of water.
The tables are also perfect if you're planning to enjoy a family picnic, because they're pretty big. Make sure you're getting there early in the morning if you want to get one. By 11 am usually the tables are all already taken!
Snorkeling is a fun activity at Magens Bay: we had lots of fishes swimming through our legs, and we were pretty close to the seashore. The water is usually very calm and crystal clear. Yet I must admit that there are other beaches on this list that provide a much better snorkeling experience.
Magens Bay is also full of local wildlife. We got to see tons of colorful fishes (you can see some in our video), pelicans flying pretty low on the water while looking for their meal, parrots and more. If you have a GoPro, or a sturdy/underwater camera, bring it with you because you'll get nice photos and videos!
Highlights:
Powdery white sand beach
Covered picnic tables (free)
Showers
Dressing rooms
Snack Bar
Parking available
Taxis available
Bathrooms
Beach chairs
Snorkel sets for rent
Water sports booth
Artificial shade
Who is it for:
The bay deepens gradually so it's perfect for families with small children. Early in the morning (usually before 12 pm) it's super quiet, but afterwards it can get pretty crowded because of the cruise ships coming in.
Those who to love to just lay down and enjoy a gorgeous cove full of life, with white powdery sand, won't be disappointed. Make sure to leave before it gets too crowded: using a taxi you can get to yet another one of the beaches listed in this article in the same day!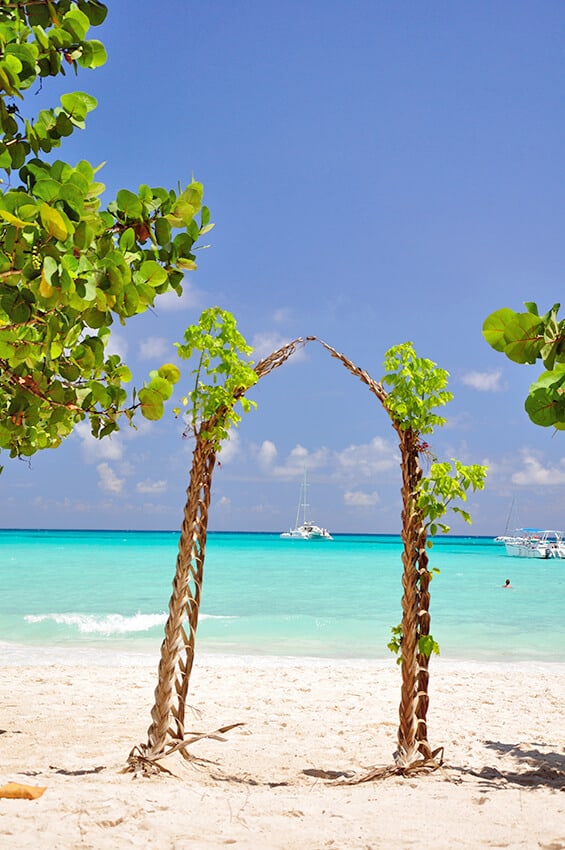 Honeymoon Beach – St Thomas turtles spot
Honeymoon Beach in St Thomas is another beautiful white sand beach.
To get there, you'll need to hop on a ferry to Water Island: they depart every hour from the Crown Bay Marina. The ride will last only 5 minutes and the 10$ ticket includes a bus ride to the beach (1/2 mile up and down a hill).
Let me add a personal note here. Use the bus to get to the beach because while at first it seems that walking there is a good idea, you'll regret it halfway up the hill! The scorching hot sun won't be kind to you and you might end up drinking all of your water before your day at the beach even starts. Then, on your way back, you'll already be tired from having fun at the beach so climbing the hill under the sun might spoil your day. The shuttle bus ride is free so why not?
You might also like:
Useful guide to plan the perfect honeymoon on your own

Palm trees line the white sand shore and the crystal clear water is usually pretty warm, even early in the morning. The shore deepens gradually so you can also sit down on the sand with half of your body in the water (remember to use waterproof sunscreen in this case!): the gentle waves will help you to relax and unwind, while keeping the heath at bay.
The highlight of Honeymoon Beach however is the presence of lots of corals, tropical fish and sea turtles. If you're lucky you'll be able to see a (usually large) number of turtles feeding off the grassy bottom of the bay (check out our video to see what I mean).
Click here to check out the best (and cheaper) all-day watersports package at Honeymoon Beach!
Honeymoon Beach is one of the pretty beaches that are hardly ever crowded on weekdays. The locals love to come here on weekends, even just to sip a nice cocktail at one of the two bars.
Highlights:
Bathrooms
Bar and grill
Free chairs
Lots of shade
Live music
SUP and kayak rentals
Who is it for:
Honeymoon Beach is one of the best beaches on St Thomas to see sea turtles feeding off the bottom of the bay. This is thus a great place to enjoy some snorkeling.
Families with children will also enjoy the calm water and the fact that it deepens gradually.
Lindquist Beach – Snorkeling and local wildlife
Lindquist Beach is part of a protected 21 acre area, Smith Bay Park. This means you'll be able to enjoy turquoise water, perfect for swimming.
If you keep on walking, heading west, the swimming area gives way to another part of the bay, quite shallow, with tide pools.
Snorkeling fanatics will love this beach because there are seagrass beds with many turtles. The lucky ones might even spot a few rays (manta rays or eagle rays) as they are pretty common in the area.
Since the water is crystal clear, most of the times you don't even need snorkeling equipment to actually see that there are fishes swimming all around you. It's an unforgettable experience!
Entrance to Lindquist Beach is 5$ per person and 5$ to rent a chair. If you have your own car, there's a parking lot (2$ per vehicle) which includes handicap facilities and easy beach access.
From Lindquist beach you'll be able to take great pictures of St. John and the British Virgin Islands so bring your camera!
Even in this case, please leave the wildlife alone and don't steal sand or shells from the beach: I've seen so many people taking away shells or even using starfishes for Instagram pictures.
Be a conscious traveler and leave them alone! Besides, if this wasn't enough, it's illegal to take sand or shells from any beach in the Virgin Islands.
The sand at Lindquist Beach is bright white, with a faint touch of pink. We found it super soft. As you walk barefoot on the beach the sand feels almost like baby powder!
You'll also find plenty of shade on the right and left sides of the beach thanks to a coconut grove and sea grape trees. The middle part of the beach has no natural shade.
Highlights:
Lifeguard
Picnic tables
Parking
Handicap facilities and easy access
Bathrooms
Rental sheds (advance reservations are mandatory)
Diving
Snorkeling
Who is it for:
Snorkeling fanatics and families with young children (they can safely play in the low tide pools).
If you're looking for a beach party, by all means, visit on Sundays. During the week Lindquist Beach is very quiet. When we visited there was almost no one else: it was super romantic!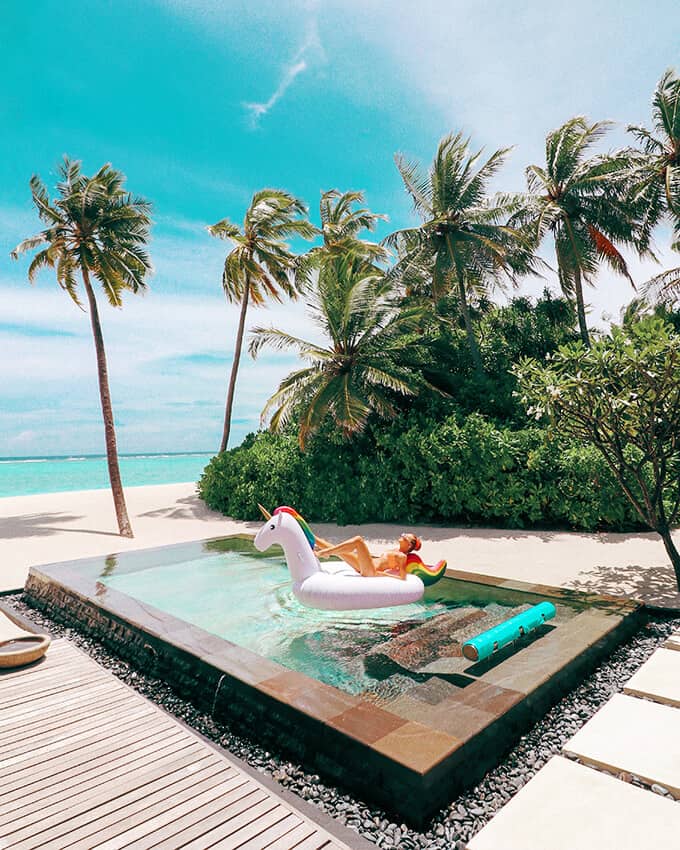 Secret Harbour – off the beaten path
Secret Harbour, as the name suggests, is a very nice beach on St. Thomas, a little bit out of the way, which is absolutely perfect early in the morning and at sunset.
Palm trees scattered along the shoreline, a rocky coastline and hammocks suspended between the palms give to Secret Harbour beach the Caribbean atmosphere that so many people love. The bonus is that it's not very close to the touristy areas, so there's a good chance that it won't be too crowded, even on Sundays.
Unfortunately, due to climate change, the hurricanes and the sunscreen pollution (read the last chapter for more info), the coral has pretty much died off, but the sides of the bay are still full of life. There have been many sightings of a nurse shark which sometimes swims near the shore on the left side, but there's more.
Secret Harbour is in fact home to eels, lobsters, turtles and rays.
In the middle of the bay there's a floating raft which has been anchored there and is a great viewing spot early in the morning: you can lay down on it and watch the sealife when it's more quiet.
On the busiest hours, children enjoy playing on the raft and jumping from it, so usually fishes and rays stay away.
Parking is free, but beach chairs usually come at 10$ per day.
Highlights:
Restaurant
Beach Bar
Taxis available
Hotel
Free parking
Diving
Snorkeling
Beach chairs for rent
Bathrooms
Who is it for:
Secret Harbour is one of the off the beaten path beaches on St Thomas. You should visit if you have more time, so you can stay there the whole day (food is great: you don't really need to go somewhere else for lunch).
Families with children and teenagers will love the floating raft!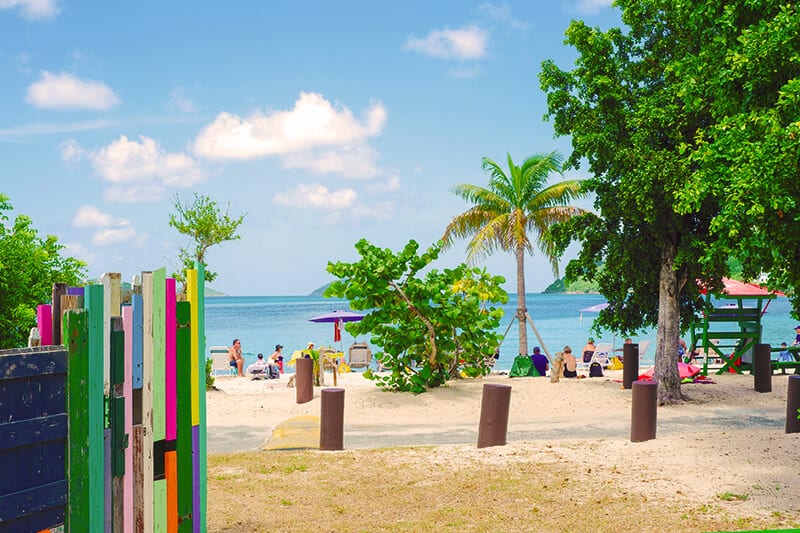 Sapphire Beach – St Thomas dreamy white sand beach
Sapphire Beach is one of the crowded spots in high season that the locals stay away from. Yet if you're planning a Caribbean vacation off season, it's by far one of the best beaches in US Virgin Islands that you should add to your bucket list!
This long stripe of white sand offers breathtaking views on the ocean, and the chance to shot nice underwater videos even without a snorkeling or diving equipment: the water is that clear!
Sea grape trees line on the right side, offering shade and a relaxing spot where you can hide during the warmest hours of the day. On the left side of the beach there are less trees. Yet the added bonus is that you'll see much more wildlife thanks to a man-made pond, which attracts iguanas and brown ducks.
You might have read that in the past Sapphire Beach was damaged by the hurricanes, but don't worry. We visited by the end of 2019 and it was just perfect. Everything has been fixed, including the lovely marina with its restaurants and shops.
Snorkeling is very good at Sapphire, but the seabed is rocky at first, so you'll have to swim a bit to see tropical fishes and the reef. While we haven't seen sea turtles at Sapphire Beach, many locals claim there have been sightings: maybe if you visit when it's less crowded, it's more likely to happen!
Highlights:
Marina
Fun parties with live music on high season
Bathrooms
Beach chairs for rent (9$/chair)
Gift shop
Restaurants
Dive shop
Snorkeling
Cafe
Taxis available
Water sports
Hotel
Who is it for:
Sapphire Beach is one of the best beaches in St Thomas for those seeking a festive beach experience. It's perfect for water sports, especially windsurfing and diving.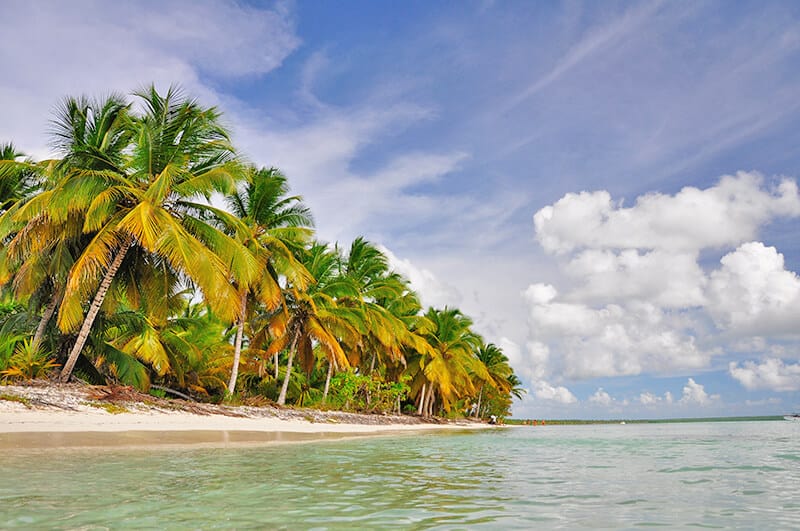 Hull bay – A secluded and romantic cove
Hull Bay is where you'll find possibly one of the best beaches in St Thomas for couples and all the travelers looking for a secluded spot, away from the crowds. This is also where you'll have a greater chance to get to know the locals: we got to chat with quite a few people here and they were super friendly so don't be shy!
Note: According to the residents we talked to, Hull Bay beach is only crowded during the super-popular fishing tournaments.
The rough waters at the western tip attract lots of surfers: whether you're one of them or not, I swear it's awesome even just to look at how they take on the waves. Since I'm super clumsy I admire them a lot. Aldo also loves to take pictures of surfers while they ride their boards so if you're a fan of sports photography, this is absolutely the best place to go in St. Thomas.
Looking for an eco-tour to discover the inner Mangrove Lagoon Sanctuary and Cas Cay island? Click here to find one that includes kayaking, hiking and lunch!
While there are a few sandy spots for entering the water and bathing, the seafloor is mostly rocky, so bringing some shoes to protect your feet is a great idea.
Hull Bay has a tropical, natural feel, laid back and crowd free. White sand here is mixed with pebbles and small rocks.
The small pebbles dominate the right side of the shore, but there are trees all around, providing natural shade.
The only huge downside we noticed is that there are no taxis: you should ask the driver who has brought you to Hull Beach for his phone number and call him to pick you up.
If you don't have any means to return to the port of Charlotte Amalie, walk to the nearby Magens Bay. Over there there's always a line of taxis and shuttle buses waiting for the tourists.
Highlights:
Great surfing spot from November to March
Roadside parking
Free admission
Dive shop
Bar (they also serve food)
Who is it for:
Outdoors lovers who enjoy quiet beaches. It's also the perfect spot for newlyweds looking for a secret place to enjoy their Caribbean honeymoon.
Here you'll have a better feel at the real St. Thomas, away from the crowds of tourists. Many locals come here with their fishing boats or to walk their dogs.
Coki Point Beach – Lots of tropical fish and calm water
Coki Point is possibly one of the few St. Thomas beaches quiet during the weekends and super busy on weekdays. Those cruising the Caribbeans in fact usually visit Coki Point during the week, while local families love to get there for picnics on Sundays.
The downside is that when there are too many cruise ships at Charlotte Amalie, this beach turns into an absolutely crowded tourist trap.
The shoreline is a crescent of white, powdery sand, with some tiny pebbles. There are lots of beach chairs and umbrellas for rent, because only a few large trees provide natural shade.
Bring your camera, because from Coki Point you can shoot some great pictures of the turquoise water and the underdeveloped Thatch Cay island.
Swimming here is absolutely fabulous, because the water is usually very calm, it deepens gradually, and it's transparent enough that you can see what's underneath even without a proper snorkeling equipment.
Because in the past tourists have been encouraged to buy dog biscuits to feed the fish (please read the last chapter to learn why this is a very bad thing to do), the wildlife is very friendly and approaches swimmers for food. To some this can be pretty scary so be aware that fishes can sometimes be too forward because of a human-induced behaviour!
Note: Taxi drivers refer to this place also as Coki Beach or just Coki.
Highlights:
Chairs and umbrellas available for rent (usually 5$ for chairs and 10$ for umbrellas)
Music from from the dj at the bars or from locals playing on the beach
Snorkeling
Souvenir shop
Food vendors
Rental gear
Dive shop
Bathrooms
Watersports
Showers
Wheelchair accessible ramp
Free entrance
Parking (5$/Car)
Taxi stand
Jet Ski
Who is it for:
Coki Point beach is perfect if you're looking for some fun. While Magens Bay is super popular, it lacks "fun" activities like jet ski, watersports and of course dance music on the beach.
I don't think it's well suited for families with young kids, because it can be pretty chaotic and loud.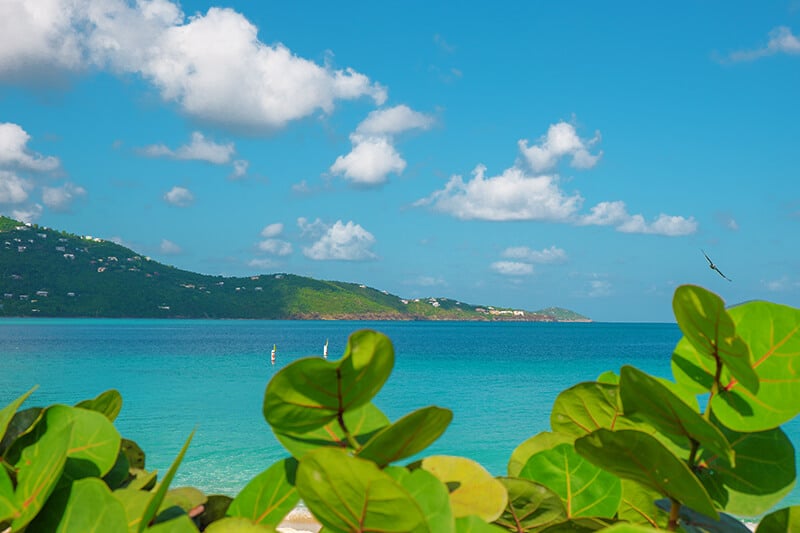 Bluebeard's Beach (Limetree) – A tiny, quiet beach
Many people know this dreamy, off the beaten path beach as "Limetree" (that includes also the taxi drivers). It was its old name, changed officially to Bluebeard's because of a new ownership.
Bluebeard's is one of the pretty beaches you often see on Instagram. A paradise-like spot located in a natural cove.
This picture-perfect beach is framed by blooming bougainvillea and other tropical plants home to lots and lots of iguanas (some were pretty large, me and Al had no idea there were iguanas that big at Virgin Islands!). Don't worry tho – they usually don't let the visitors approach them and tend to stay away, so they aren't dangerous at all.
The ocean at Bluebeard's is usually very quiet, so you'll be able to enjoy some lazy snorkeling. The best spot is by a large rock at the far end of the beach.
Because there's no clear access from the road, we had to use Google Maps to find it after a taxi driver left us there: just ask them where Limetree is if you don't have a phone at hand, they'll show you the way!
Getting to Bluebeard's Beach on St Thomas isn't that difficult once you know the general direction where you have to go.
To give you a (hopefully) clear idea, you should walk past the Ritz Carlton property along the beach to reach Bluebeard's. It's not too far and the walk there, along the ocean, is pretty nice as well!
Bluebeard's beach is the ultimate romantic spot on St. Thomas: quiet, lovely, small and usually ignored by the tourists because they have no idea it's even there.
Highlights:
Natural shade
Picture-perfect spot
Very romantic
Seaside eatery
Bathrooms can be found at the restaurant
Snorkeling
Water sports shack
Who is it for:
Honeymooners looking for a quiet spot will love to spend some quality time on this Caribbean little cove.
Perfect if you need a place to shoot great pictures, because there are flowers, views and it's never crowded so people won't get in the way.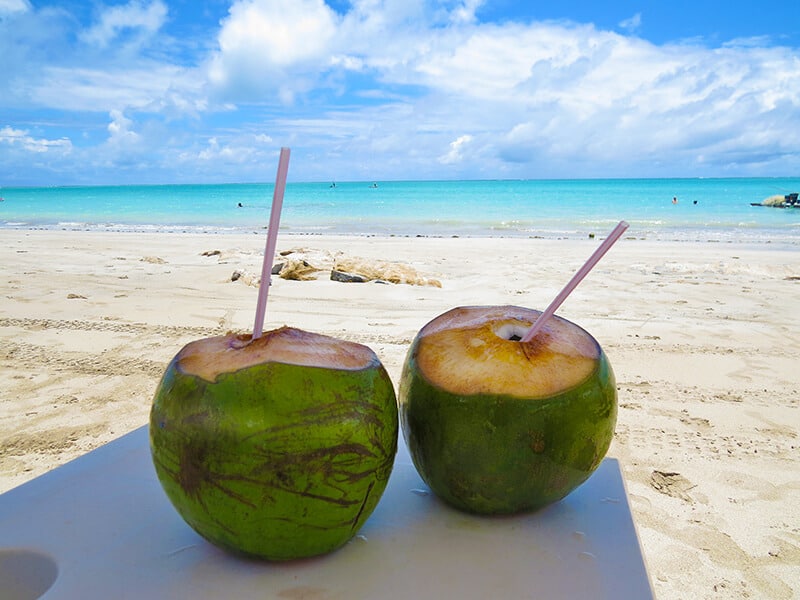 Brewers Bay is one of St. Thomas' hidden gems that you should add to your list of the best Virgin Islands beaches.
Surrounded by lush green hills on the right and by the University of the Virgin Islands campus on the left, it's very quiet and pristine.
Brewers Bay has one of the widest shores on St. Thomas, so it's perfect for a game of frisbee or volleyball (please try not to hit anyone!).
The crystal-clear water is a favorite for Green Sea Turtles and Hawksbill Turtles. The beach is also dotted with lovely shells, but you shouldn't touch them: it is illegal to remove shells from this one or any other beach in the Virgin Islands.
Weekdays is when you want to visit Brewers Bay, because usually there's no one else around. You can sit under the trees for some shade, but you'll be on your own near the water.
I suggest you spend the early hours of the day near the water and walk to the trees when it the day starts to get too hot. Rely on some waterproof, safe sunscreen to make sure you won't get sunburned: mine didn't last long in the water so I managed to burn a few spots around the knees. I can assure you that it's no fun!
One of the things you can do while sitting on the sand is watching the planes take off and land in the distance. There's a clear view of the St. Thomas airport, so if you're looking for uncommon pictures, this is where you want to go. Don't worry about the noise: it's not overwhelming.
Highlights:
Snorkeling
Sea turtles
Natural shade
Bathrooms
Showers
Very quiet
Roadside food vans
Great spot for pictures
Free admission
Who is it for:
Brewers bay is super quiet and very nice. While the sand is not as powdery white as on other beaches, we still enjoyed sunbathing and watching the airplanes.
I don't think it's a beach suitable for families with kids, because there are no facilities aside from public bathrooms and a couple of food trucks. Beach chairs, umbrellas, towels and all this kind of stuff are not available here.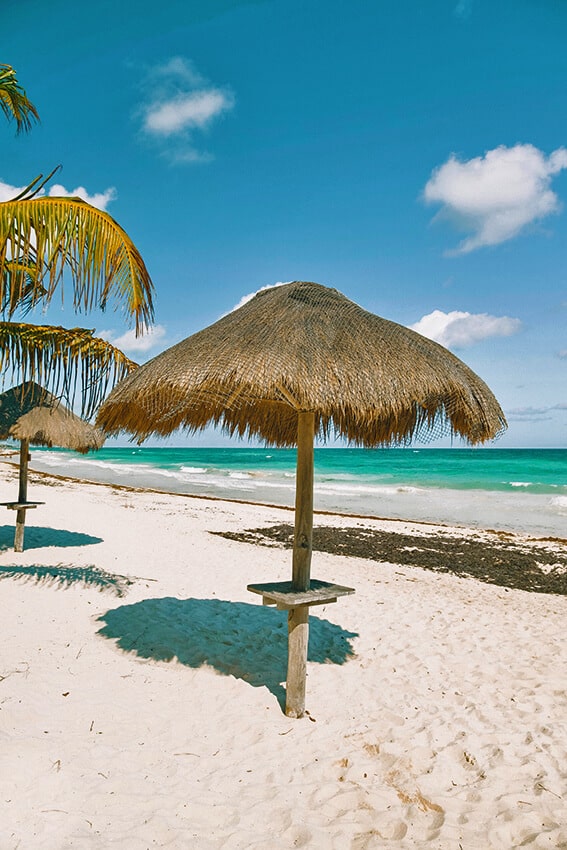 Lindbergh Bay Beach – Very close to Charlotte Amalie
Lindbergh Bay Beach is very close to the airport and a short taxi ride from downtown Charlotte Amalie. This lovely beach is located on Emerald Beach Resort, but contrary to popular belief, the entrance is free.
Yet if you're visiting the US Virgin Islands on a budget, I suggest you bring your own beach towel, because the rental rates here are a bit high (if compared to other beaches on this list). Two lounge chairs come for 14$/20$ and an umbrella will cost you 20$.
Looking for a less expensive guided snorkeling tour in Charlotte Amalie? Click here to find the best rated one!
This gorgeous US Virgin Islands beach is tiny, so you should get there early in the morning to find a good spot to relax. When there is more than one cruise ship in port, it fills quickly, as many people prefer to stay close to Charlotte Amalie.
We've met lots of tourists who thought that unless you book an expensive tour with a cruising company, you won't get to see any gorgeous beach, so they decided to get to Lindbergh Bay because it's the "easiest one to get to and it's cheaper".
Hopefully this article will help you to plan more on your own on a budget!
The taxi ride to Lindbergh Bay beach costed us 7$ per person, and usually there's a line of taxis waiting on the street, so you can leave whenever you want.
When we visited, the beach stayed clean early in the morning, but as the cruise ships started disembarking, rude tourists have started littering, so by the end of the day it was pretty dirty.
Please don't be that kind of tourist: don't leave anything behind!
Highlights:
Bathrooms
Hotel
Taxis available
Parking
Restaurants
Water sports booth
Close to the airport and to Charlotte Amalie
No smoking policy
Who is it for:
If you're visiting on a Caribbean cruise, you might want to check out Lindbergh Bay beach because it's the closest one to the port of Charlotte Amalie. That way even if you have only a few hours, you'll still be able to enjoy the best of St. Thomas.
St. Thomas Beaches: what you can do to preserve them
We don't usually think about it but applying sunscreen and then bathing will pollute the ocean. Corals and fishes die. Because the Caribbean are endangered enough, we should all do our part to protect the oceans.
Avoid at all costs sunscreens containing oxybenzone and octinoxate – they actually kill corals and marine animals like shrimps and clams, because they're toxic to several species.
Always clean up after your day at the beach. Don't litter and of course don't feed the wildlife! While for some it can be a "good photo op", it's the worst thing you can do.
I've seen one too many Insta-pictures with people holding up starfishes like they're toys so I'm very sensitive about this. Taking starfishes from the water will kill them.
Do not touch the wildlife!
Sometimes you'll find locals selling food for fishes (like dog treats), or encouraging tourists to feed the wildlife. This is not a good behaviour for the marine environment and it actually damages the wildlife more than helping it.
Feeding the fish will cause unnatural behavior and the nutrients will pollute the water around the reefs, eventually damaging them through the growth of harmful algae.
Please, say no to them and don't throw food in the water.
Last but not least, don't ever touch the the corals. Ever. And the sea turtles. They are gentle giants, why would you ever feel the need to disturb them or scare them away only to show off on Instagram?
You might also like:
Fun things to do in Miami for couples
Ultimate guides to the best stop from Miami to Key West
30 unique Florida souvenirs you'll love
Pin it for later!