This post is also available in: Italiano (Italian)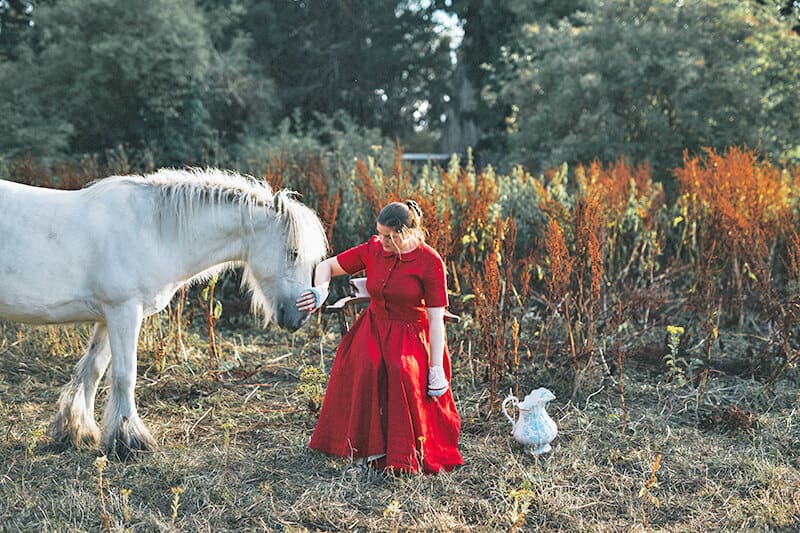 There's an hidden Ireland, off the beaten path, that most people don't even know exists. From ancient forts to spectacular rural scenes, some of the best places to visit in Ireland are "secret" and can be found only if you know where to look. Let me show you the 20 things you should add to your bucket list, with inspiring pictures that will fuel your wanderlust and useful info about each one of them!
You might also like:
40 clever souvenir ideas from Ireland
What is the best way to visit Ireland off the beaten path?
While there are trains and buses that you can use to get to the touristy places, you will need to rent a car to get to the hidden gems in Ireland.
On our first trip there, over 12 years ago, we rented a small car and decided to just drive. It was one of those spontaneous road trips where you stop wherever you want. That's how we found some of the places I'm going to tell you about in this article.
Some of the Irish towns we got to, by pure luck, were so small, and so unused to see tourists, that people actually stopped to wave at us or to chat. They had no idea how and why we got there, because most people only visit the big cities, without actually trying to get to know the authentic Ireland.
That's how I know, out of experience, that the best way to get to all the small towns in Ireland, is to get a rented car so you can just drive on your own.
Some of the places listed here are quite remote so you'd have to walk a lot and waste so much time travelling using the public transport, that it wouldn't really be worth it.
How about an extra bonus?
Road tripping in Ireland is a unique experience, especially if you go off the beaten path. The road will offer spectacular views and the "getting there" will be part of the fun!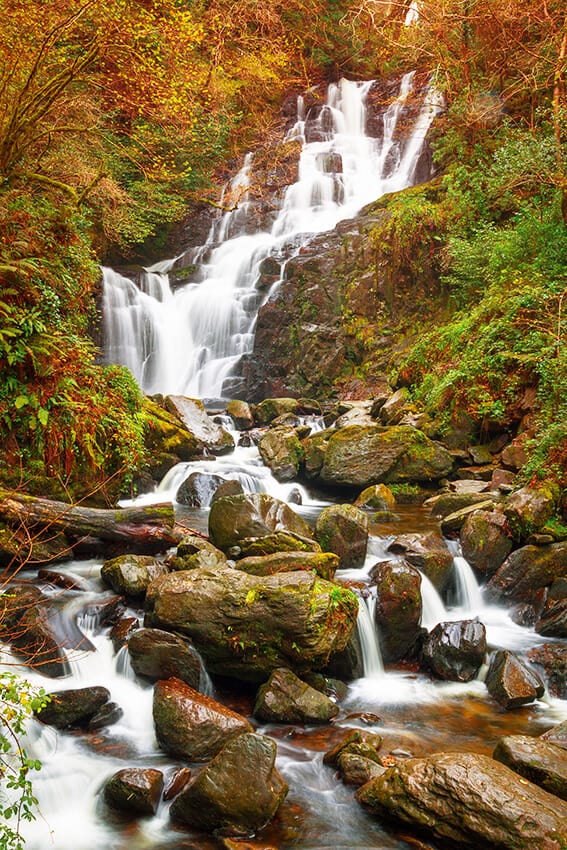 Torc Waterfall, Killarney National Park, Co. Kerry
As I already mentioned, the best way to visit Ireland off the beaten path is by renting a car. Once you have one, the first spot you should add to your hidden Ireland bucket list is Torc Waterfall.
Located at about 7 km from Killarney and 2.5 km from the motor entrance to Muckross House, it might be a bit difficult to spot it at first.
There's a sign indicating where the trail starts at a car parking off the N71. The trail is super easy and very short: it'll take you only 200 metres to get to this spectacular waterfall.
From there, you can climb the steps to yet another viewpoint, which leads to a higher altitude: from there you'll be able to take gorgeous pictures of Middle Lake.
If you have more time, you can also explore the Kerry Way, it's a long distance walking route, indicated on a map down at the start of the trail (at the car parking).
Torc Waterfall is a 20 metres high, 110 metres long waterfall, formed by the Owengarriff river. The best time to visit this waterfall is after heavy rainfall.
While many people drive the Ring of Kerry, not many hike to this place, which, in my opinion, is one of Ireland hidden gems that you should absolutely visit especially in autumn. The fall foliage here is a photographer's dream!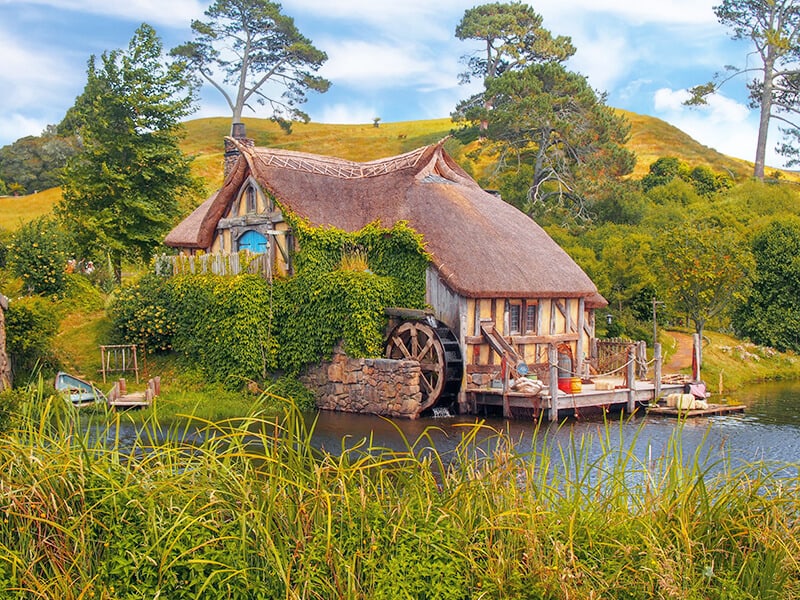 Aran Islands, Co. Galway
The Aran islands are a group of three islands located at Galway Bay, off the West coast of Ireland. They are very much loved by the locals. We have a friend who lives in the South of Ireland and whenever he has to plan a relaxing getaway with his gang, he sets something up for the Arans.
Which is why of course we had to go and see for ourselves what was so beautiful about these islands!
The Arans can be considered Ireland off the beaten path because they're not very easy to get to and they're pretty small, so of course lodging can be a problem unless you plan your trip well in advance.
They are Inishmore (the largest island), Inishmaan and Inisheer, which is the smallest.
Only about 1200 people live on the three islands.
Ferries operate to all three islands from Rossaveal in County Galway (every day of the year) and Doolin in County Clare (seasonal). There are flights operated by Aer Arann Islands from Inverin, but then again, let me remind you that getting there without booking a hotel first is absolutely a bad idea. Lodging are scarce!
You can plan a trip to the Aran islands before or after a road trip to Connemara National Park in Ireland.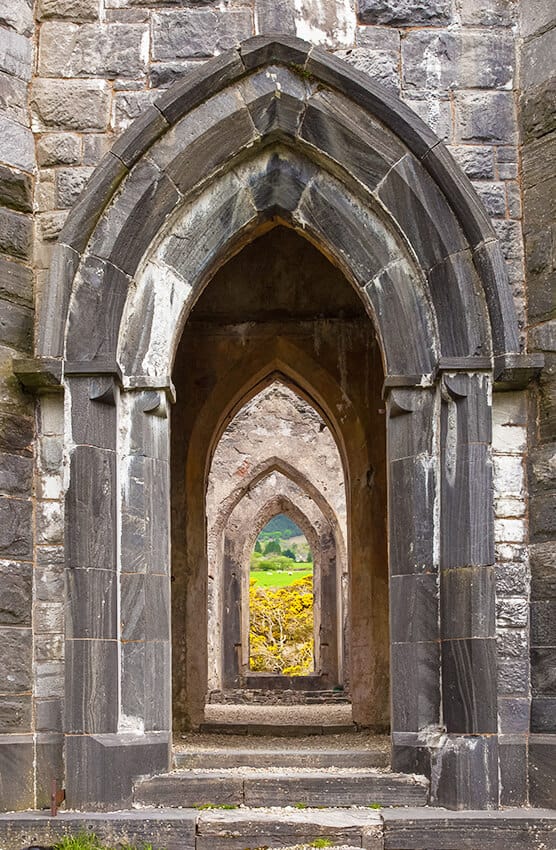 Leap Castle, Roscrea, Co. Offaly
Leap Castle is another one of the must see places in Ireland that not many people add to their itinerary.
Located at about 6 km North of Roscrea and 10 km South of Kinnitty, on the R421, it's easy to get to if you have rented a car.
The paranormal investigators from ABC Family Scariest Places on Earth and Most Haunted (Living TV) have been here. Leap Castle was also investigated from The Atlantic Paranormal Society (TAPS) from Syfy's Ghost Hunters. Even Travel Channel's Ghost Adventures filmed a Halloween special at the castle.
Some report to have seen the ghost of a red lady walking the halls and holding a dagger. Others refer to the ghost living at Leap Castle as "It".
What we know for sure is that Leap Castle has been declared "the world's most haunted castle" so beware if you're scared of ghosts!
The local legends may have started when, during the renovation of the castle in the 1900's, workers found an oubliette behind a wall in the chapel, with many human skeletons amassed on wooden spikes. It took three cartloads to remove all the bones!
Unfortunately, the dungeon is now covered and people won't be able to visit it.
If you believe in ghosts, then you might want to know that some think that the paranormal activities in this area are due also to the fact that Leap Castle was built on the same site as an ancient ceremonial structure.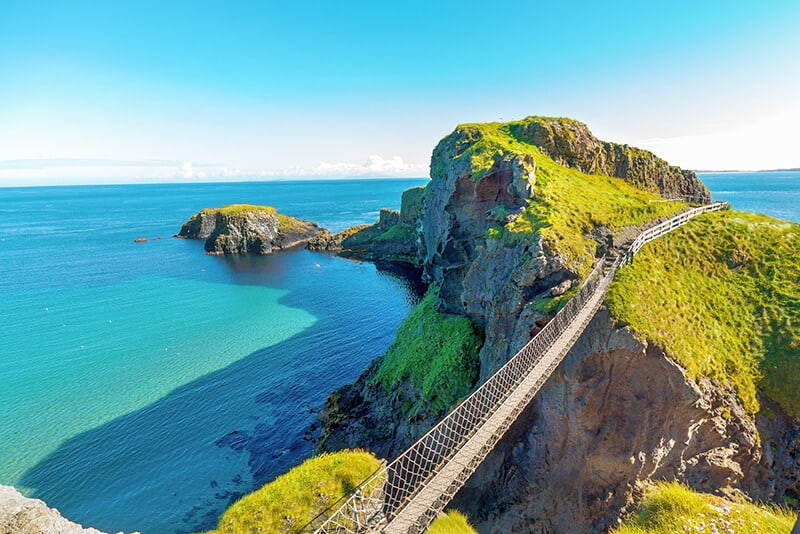 Carrick-a-Rede Rope Bridge, Co. Antrim, Northern Ireland
The super instagrammable Carrick-a-Rede Rope Bridge in Northern Ireland is definitely not for the faint of heart.
If you're like me, terrified by heights, send your Insta-husband/boyfriend to take pictures, because there are high chances that your fear might paralyze you in the middle of the bridge. Because this rope bridge is one way, you'll prevent other people to enjoy the experience and that would be pretty rude!
Suspended at almost 30 meters above seal level, this Irish rope bridge was erected by salmon fishermen over 200 years ago and is now one of the highlights of the North Coast, that you can get to by driving a car (as with many other places in Ireland, getting there with public transport might prove quite difficult).
Admission tickets are 9£ per person, and with an extra 3.50£ you can also join a 45 minute guided tour of this coastal area, in collaboration with the National Trust.
After crossing the bridge, stop at the Weighbridge tea-room, a tiny cafè which is the only place where you can drink a hot chocolate and eat a good slice of homemade cake in the area.
From the Weighbridge tea room you can also take pictures of Rathlin island and the Scottish islands!
The Carrick-a-Rede Rope Bridge is one of the unique hidden gems in Ireland you should add to your itinerary, especially if you are an adrenaline junkie!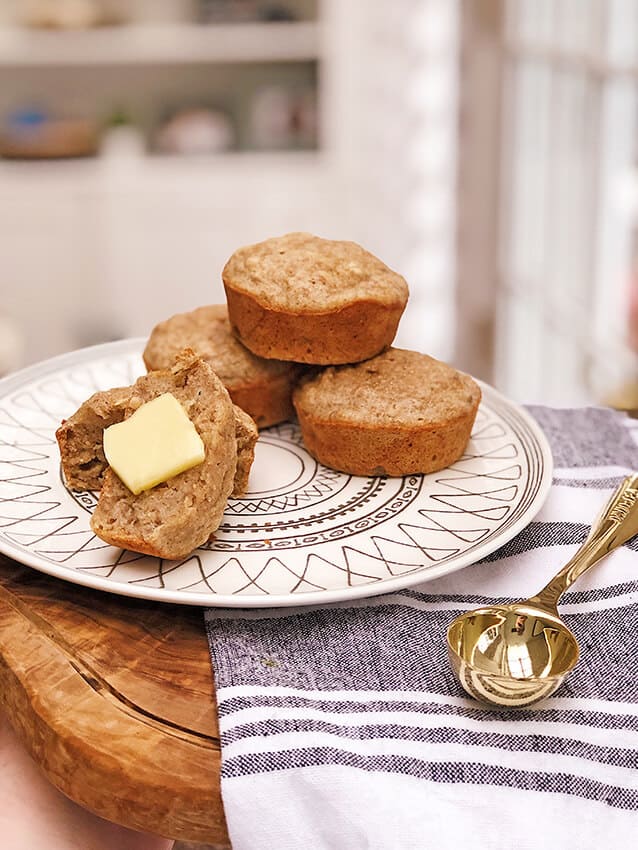 The Butter Museum, Co. Cork
Another off the beaten path gem in Ireland you should add to your itinerary is The Butter Museum. We were there when we planned a tour of the best bars in Cork with a friend, and found it super interesting, whether you're visiting Ireland with your kids or not!
This unique museum celebrates the butter trade, and it's located in the historic part of Cork city.
The Cork Butter Market building isn't big but it's very cute, and it felt fitting, especially because in the 19th century, Cork was the largest exporter of butter in the whole world.
The Butter Museum shows the role of dairy culture in Ireland and the role of butter exchange, the way it has changed Cork, and how it has brought to success the Kerrygold brand.
Throughout the visit, you'll be able to see a large collection of elements used for butter production, including a medieval container which dates back to about a thousand years ago.
Tickets will cost you 4€ (seniors and students pay only 3€ and children 1.50€) and include a free butter making demonstration if you visit on Saturdays. The butter making demonstration usually starts at midday but you should get there a little earlier!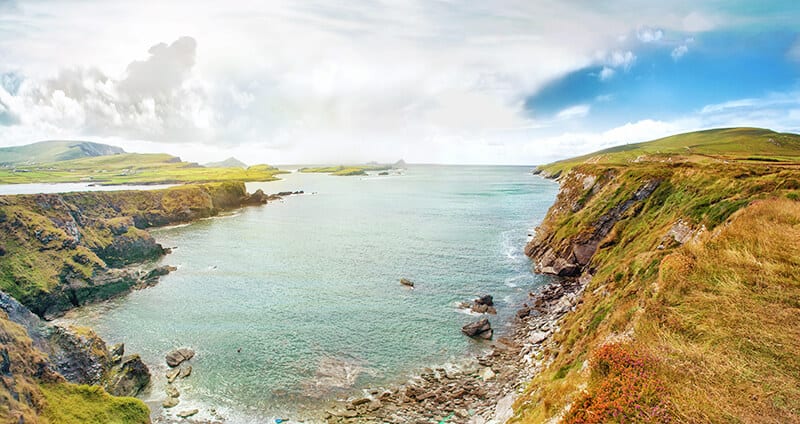 Bray Head Loop, Valentia Island, Co. Kerry
The Bray Head Loop is a must see in Ireland, along the Skellig Coast of the Wild Atlantic Way. This loop walking route of about 7km offers gorgeous views of the Skellig Islands, where Star Wars: The Force Awakens was filmed.
It is a steady climb up to the old Bray Head tower, used as a signal station by naval authorities up until 1920s.
Now the tower is abandoned, but this is still a good photography spot.
Sometimes you might find sheeps or cows enjoying the morning sun on the grass: they're absolutely harmless. In case you're visiting with young children, please make sure to take care of them at all times.
What scared me the most was the fact that there are exposed cliffs. The view will leave you breathless, but when it's windy, you might feel breathless for another reason: I was terrified I'd be blown off the cliffs so I urged Aldo to get back to the car as soon as possible.
Yes, I'm a worrywart!
Parking your car will only cost you 2€ and then you can just walk to Bray Head loop for free. On wind-free days this is also a great picnic spot!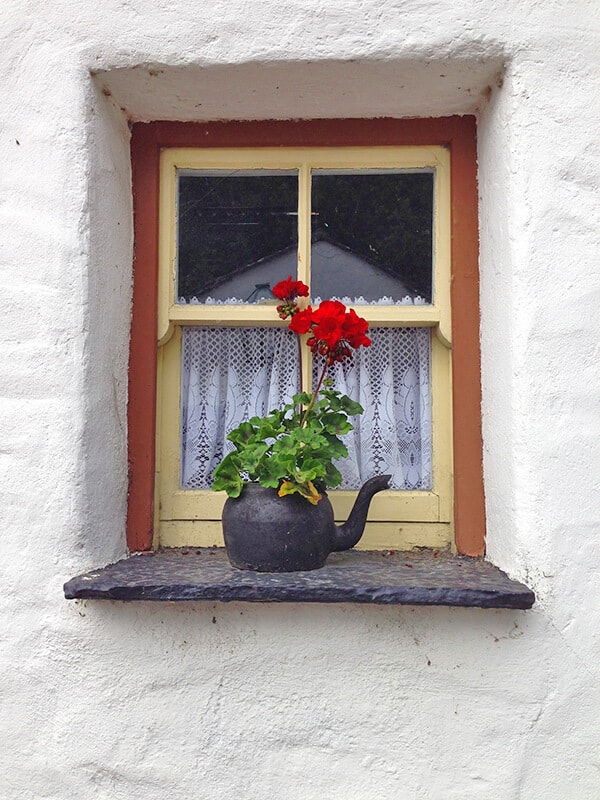 Annascaul village, Co. Kerry
Annascaul is a small village on the Dingle Peninsula, in County Kerry, Ireland. You can get there by driving on the N86 Tralee – Dingle National secondary road, 32.9 km west of Tralee.
Not many people know about Annascaul but for us wanderlusters it's a very important landmark. Annascaul is in fact the birthplace of the Antarctic explorer Tom Crean, part of Robert Scott's attempts to reach the South Pole and Ernest Shackleton's epic open boat journey from Elephant Island to South Georgia.
Tom Crean was one of us!
We can truly say that going to Annascaul is visiting Ireland off the beaten path, since this tiny village is usually never much taken into consideration by tourists driving the Wild Atlantic Way. Annascaul is also one of the cute small villages in Ireland with a lovely background: it lies in the Southern foothills of the Slieve Mish Mountains. Picture perfect!
Quite a few walkers who decide to hike the Dingle Way stop at Annascaul: if you are looking for gorgeous views and unspoiled Irish countryside, this is the perfect place to go!
Because it's one of the less touristy parts of Ireland, Annascaul has lovely B&B's and people ready to welcome everyone with open arms. Try it yourself: whenever you stop for a pint somewhere, people will approach you to ask where you're coming from and how you're liking Ireland!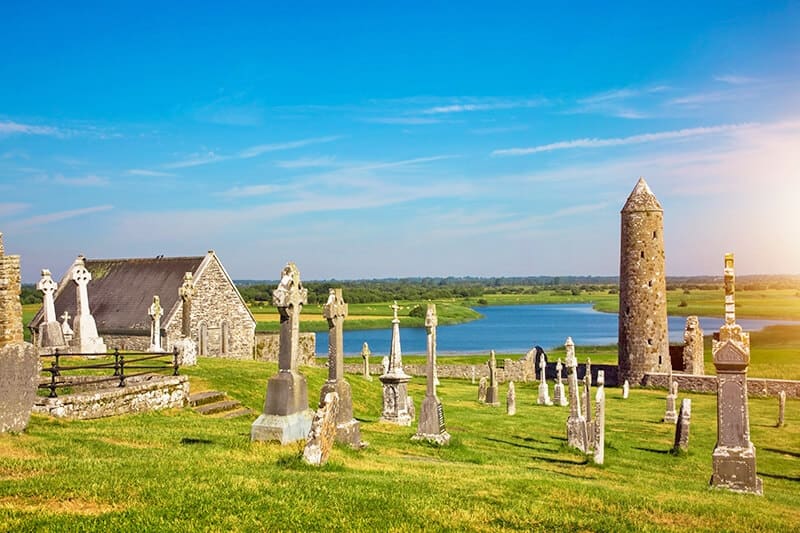 The monastery of Clonmacnoise, Co. Offaly
On one of our trips to explore the hidden Ireland we still hadn't seen, Aldo was driving through the Irish countryside. After Shannonbridge, I was like "oh my gosh, look, it looks like some kind of ancient building was swallowed by the hill!".
I just couldn't find a better way to describe the ruins I saw in the distance. The ancient castle that you can see when you're approaching the monastery of Clonmacnoise, is half collapsed and seems to have a super weird shape.
The fact is that this monastery is very old: it dates back to 544, and it was founded by St. Ciaran, on a point where the major East-West land route met the River Shannon.
Its strategic position helped Clonmacnoise to become a major centre of religion, learning, craftsmanship and trade by the 9th century.
Soon this monastery became the most famous in Ireland, visited by scholars from all over Europe.
The site includes the ruins of a cathedral, churches, two round towers (one of which is well preserved), three gorgeous high crosses and a large collection of ancient graves labs.
Tickets will cost you 8€ and before you access the ruins, you'll go through a very nice visitor centre, where you can see up close a number of cross slabs and the Cross of the Scripture. There's an audiovisual presentation in English and leaflets in Irish, English, German, Italian, Spanish and French.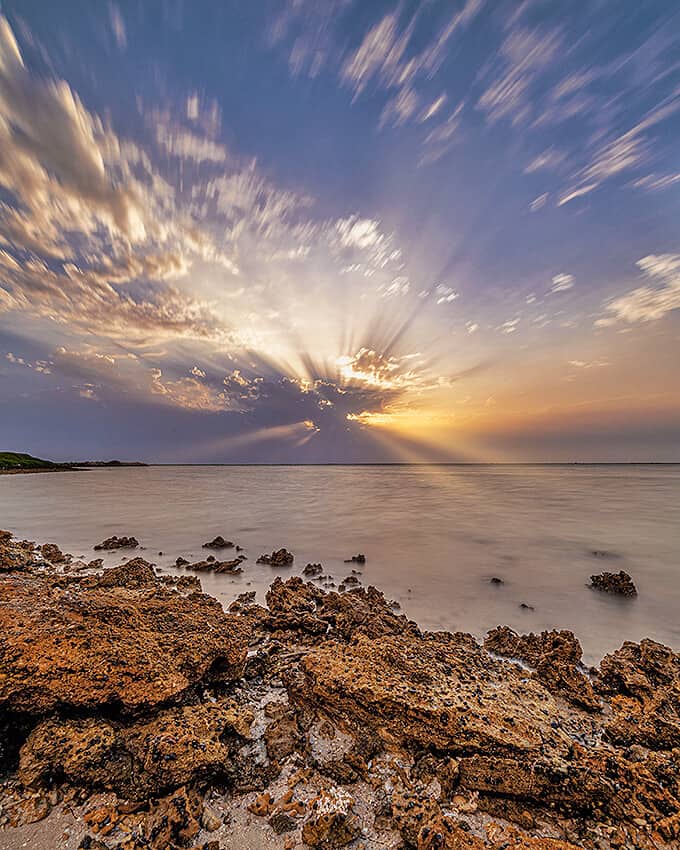 Ferriter's Cove, Co. Kerry
Ferriter's Cove is a small-but-pretty bay located at the westernmost point of Dingle Peninsula, in County Kerry.
The cove was named after the Ferriter family, which comes from the Norman French Le Fereter. The family name was first recorded in the area in 1252.
At Ferriter's Cove, you can explore the earliest known archaeological remains on the Dingle Peninsula. Here, after discovering a Neolithic knife, the excavation uncovered an undisturbed Mesolithic land. Debris, faunal remains, shells and even burnt stone were recovered in this area. They date back to 3670 and 3240 BC, which is something you don't see every day for sure!
Ferriter's Cove is also a great location for swimming, snorkeling, kayaking or windsurfing.
If you're not a fan of cold water (did I ever mention that the Amalfi Coast has spoiled us?), then by all means, make sure to get there before sunset, because the golden hour here is absolutely magical. Pictures will be insta-perfect!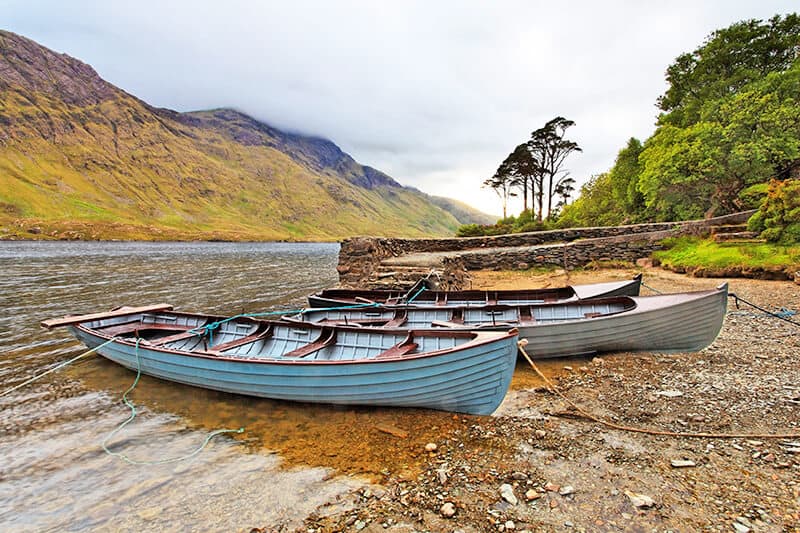 Doolough Pass, Co. Mayo
Are you planning a road trip to visit Ireland off the beaten path? Doo Lough Pass should then be in your itinerary!
Doolough Valley is a scenic driving route on the R335 between Delphi and Louisburgh in County Mayo. Along the route you'll find the Doolough Pass (which means "Black Lake"), between Mweelrea Mountain and the Sheeffry Hills.
Once you're at the pass, make sure to stop at the Doolough Famine Memorial, a stone cross engraved with the words "Doolough Tragedy 1849". It's a reminder of one of the darkest times of Irish history.
This unique road trip is way less busy than the popular Wild Atlantic Way (they share the Eastern shores of two lakes): keep your camera at hand and slow down for a chance to see the hidden Ireland you won't find anywhere else.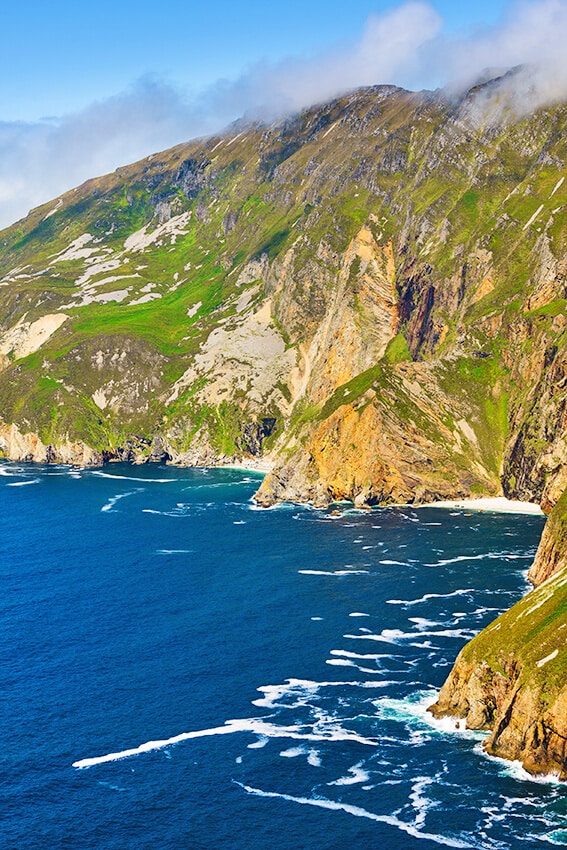 Slieve League Cliffs, Co. Donegal
Slieve League is a mountain on the Atlantic Coast of County Donegal, which has some of the highest sea cliffs in Ireland (596 metres!). While most tourists prefer to go to the iconic Cliffs of Moher (County Clare, Ireland), the Slieve League Cliffs are three times higher.
You can take great pictures of the cliffs from the Bunglass viewpoint, which you can reach from a narrow road from Teelin.
Beware: you must be very careful and avoid going there when it rains or when it's windy. The last few kilometers are built along a precipice and it could be very dangerous.
A picture isn't worth your life!
To reach the Slieve League cliffs, you can leave your car at the car parking and walk to the cliffs. The scenic trail will allow you to enjoy fantastic views of the Atlantic Ocean, the Sligo Mountains and Donegal Bay.
This has always been a sacred mountain, way before the Christians got here. Remember to be respectful of the place you're visiting and do not disturb the mountain.
You can learn a lot about this area by visiting the Slieve Liag Cliffs Centre, which is all about local culture, great food and crafts.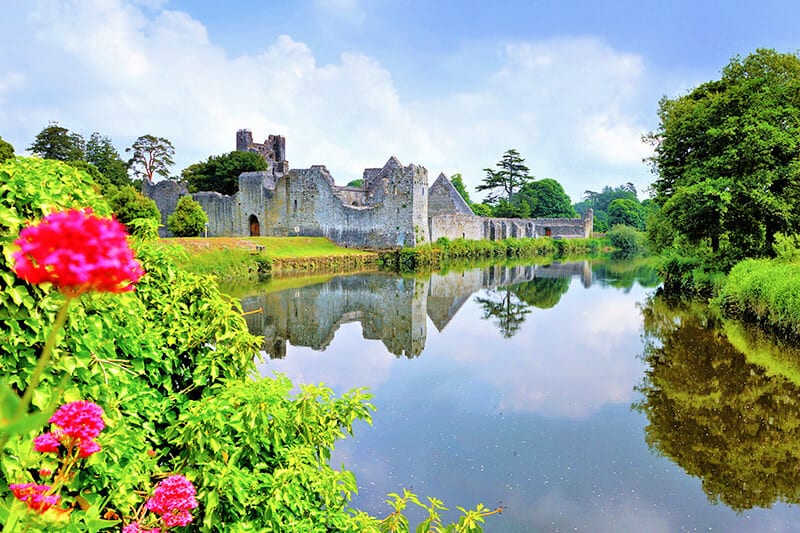 Ruins of Desmond Castle, Adare, Co. Limerick
When faced with the ruins of Desmond Castle, on the edge of the village of Adare, the first thing we thought was… Oh gosh. It looks just like the Scottish Highlands!
The view is indeed quite charming: ancient ruins surrounded by the lovely Irish countryside. There was no one else around when we visited and thus the "fairytale vibe" was more powerful than ever. If you're looking to take some great pictures while road tripping Ireland off the beaten path, by all means, make sure you get here early in the morning.
Desmond Castle was erected with an ancient ring-fort in the 13th century. It used to be a strategic fortress, property of the Earls of Kildare for nearly 300 years, before it was granted to the Earls of Desmond, who gave the castle its present name.
Tours operate daily from June to the end of September. You'll have to buy your ticket online (10€) and once you're there, park your car at the Adare Heritage Center on the main street.
A shuttle bus will drive you to Desmond Castle, and an English-speaking guide will tell you all about this place.
Multilingual options are available but you need to request them online first.
To get to Desmond Castle, drive on the N21, on the main Limerick to Kerry road, until you get to Adare.
Fanad Head Lighthouse, Co. Donegal
The Fanad Head Lighthouse is another one of the hidden Ireland gems that not many people know about. Located on the Northern coast of the Fanad Peninsula (North Donegal), it's on the Wild Atlantic Way.
Should you see it from above (like on the picture on this blog), you'd realize immediately that it sits on the edge of a mighty cliff: of course me being me, I didn't even try to walk nowhere near the edge. Thanks, but no thanks.
The Tower is 22 metres high from foundation to the top (not including the lantern) and to get to the top you'll have to climb 79 narrow steps. It marks the entrance to Lough Swilly, a natural harbour of refuge.
If you've decided that staying in a castle hotel in Ireland isn't for you because you'd like something more unique, know that it's now possible to rent one of the newly refurbished self catering cottages near the lighthouse. How's that for a unique trip to Ireland?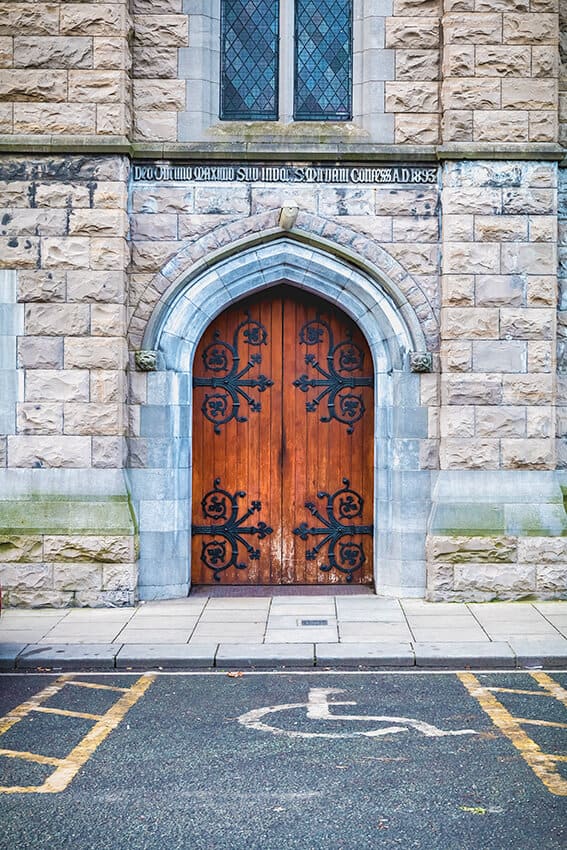 St Michan's Mummies, Dublin, Co. Dublin
Not many people know that the mummies in the basement of St. Michan's Church in Dublin seem to have inspired Bram Stoker's Dracula.
In this case we're discussing one of the hidden gems in Ireland that is basically in plain view, and yet so many people who have visited Dublin never knew about.
St. Michan's Church is ancient: it was founded in 1095 and it has been the only church on the Northern side of Dublin for over 600 years.
The highlight of this Church is what lies below. Five long burial vaults containing mummified remains dating back to 1600. They might have been the most influential families in Dublin back then.
Full guided tours of the vaults are available in English: there are leaflets in different languages, just ask at the front desk!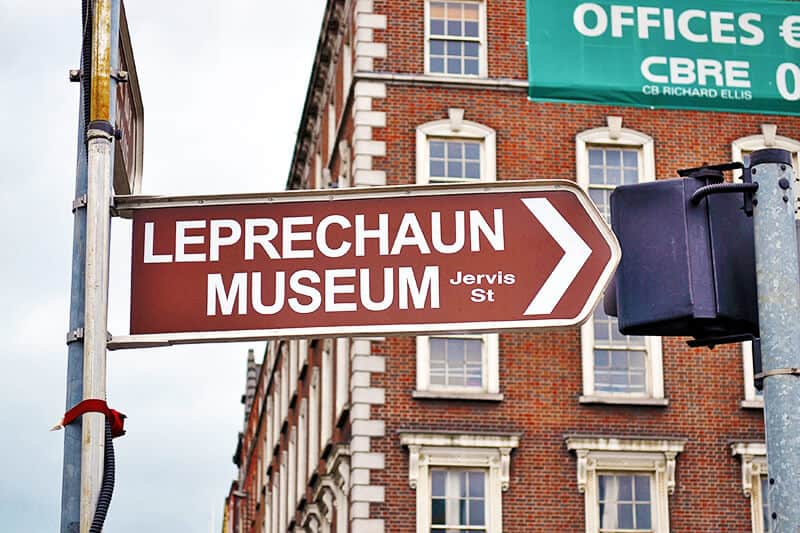 The National Leprechaun Museum, Dublin, Co. Dublin
Dublin isn't just one of the best towns to visit in Ireland if you can't rent a car: there's also quite a few must-sees you can easily get to.
One of them is the National Leprechaun Museum. It's a bit of a mix between the Camera Obscura experience in Edinburgh and the teamLab Borderless in Tokyo.
Located in the city centre, this interactive museum is completely dedicated to the Irish mythology, especially to the leprechaun, a type of fairy, usually depicted wearing a green coat and a hat, who partakes in mischief.
The Leprechaun Museum in Dublin narrates a story in 12 chapters, showing rooms full of myth and legend, with huge chairs and furniture, or creatures from the Irish folklore.
There's also a night time experience, only open to visitors 18 and older, with a 60 minutes tour through the darkest side of Irish storytelling. It is quite scary, almost horror-like in some parts, so if you like the chill, you should add this tour to your Ireland bucket list!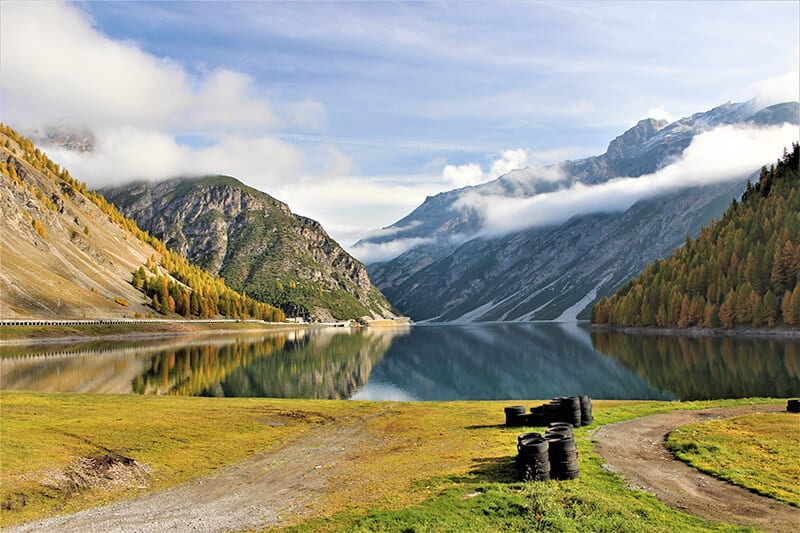 Glendalough, Co. Wicklow
Glendalough means "Valley of two lakes": it's a gorgeous, glacial valley in County Wicklow. One of the must see places in Ireland also if you're interested in learning the history of this Country.
Glendalough is in fact renowned for an Early Medieval monastic settlement dating back to the 6th century. But it's not the only reason why this is one of the best places to go in Ireland. This is in fact the perfect spot for picnics, walks through the Irish countryside on well maintained trails of varying difficulty, and – for the adrenaline lovers – rock climbing.
This part of Ireland off the beaten path is particularly peaceful, which is also why St Kevin spent most of his life in prayer at the Glendalough monastery.
Because there is no direct train service to Glendalough, you'd have to hop on a train from Dublin, then half the way there you'd have to hope for a taxi, but that would eat away at your budget.
Once again, the cheapest – and most practical – option is to rent a car. There's a car parking at the Visitor Center, an Upper Lake car park which will charge you 4€ per car, and two more parkings (in Laragh village and at the Brockagh Resource Centre) one mile away from Glendalough. These would be perfect if you're also planning to go for a walk!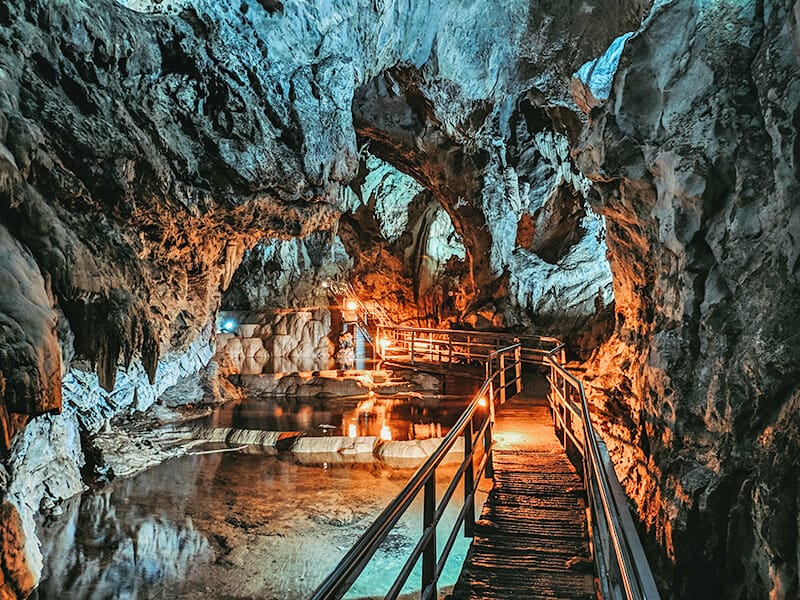 The Dunmore Cave, Co. Kilkenny
Another one of the must do in Ireland is Dunmore Cave, a spectacular limestone cave in Ballyfoyle, County Kilkenny.
The cave is open to the public and particularly well known in Ireland for its archaeological discoveries: it is the site of a Viking massacre in 928!
While the Dunmore Cave isn't the largest cave in Ireland, it still descends to 46 m (about 150 ft): there are lots of passages and some very nice calcite formations. The most beautiful one is probably Market Cross, a cross-shaped column over 5.8m (19 ft) high.
The cave is close to the N78 Kilkenny-Castlecomer road, 11 km North of Kilkenny city. The entrance is in Mohill, and you'll easily find it thanks to a visible tourist centre which marks it.
Rossbeigh Beach and Glenbeigh, Co. Kerry
I'm sure that while planning a trip to Ireland, the possibility of going to the beach never even crossed your mind. But I can tell you that Rossbeigh beach might surprise you!
This lovely stretch of sand is ideal for families (there's a pretty big kids playground), and for those who want to experience horseback riding along the Irish coast.
Me and Aldo loved to walk on the sand, even while wondering how could anyone jump in the water – it was freezing according to our standards! And yet, Rossbeigh beach is a pretty popular spot for the water sports lovers.
After a long walk on the beach (bring your camera because you're going to need it!), head over to the nearby Glenbeigh, at just about two miles from Rossbeigh beach.
This tiny village is one of Ireland hidden gems you should absolutely visit: it's a fairytale spot, framed by the Coomasaharn mountains and by the scenic beauty you can only find in Ireland.
On bright, sunny days, you can park your car in Glenbeigh and just walk to Rossbeigh beach. It will be a quite long walk but it's usually easy and quite pleasant: when we visited we were possibly the only tourists from abroad. So we can say this area is an authentic Irish getaway for the locals. Just what we were looking for!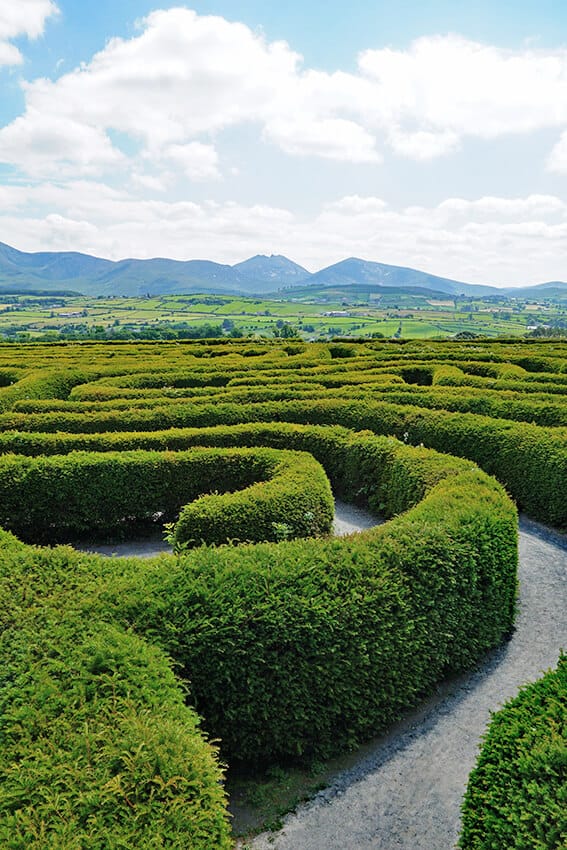 Dunbrody Abbey and its maze, Co. Wexford
Dunbrody Abbey was founded for the Cistercian Order in the years following the Norman invasion of Ireland (1170). The castle next to it was built over 500 years later, but it was never fully completed.
It's the castle gardens that hide another one of the gems in Ireland you should add to your itinerary: an incredibly beautiful maze!
This intricate yew hedge maze is one of the only two full size mazes in Ireland: around the maze (on the outside) there's a 9 holes pitch and putt course – you can rent clubs in the shop if you want to give it a try.
On summer time, trying to get through the maze is so much fun. There's also a picnic area available, and even a local market selling plants and shrubs.
Another one of the highlights of this hidden gem is the Dunbrody Castle Doll's house located in a tiny museum, inside the Craft Shop. Make sure you go there if you're looking for unique things to see in Ireland!
Those looking for nice Irish souvenirs will want to check out also the large range of items produced by local craftsmen on display at the shop. They sell decorative candles, jewellery, painted glass and woodware.
Dunlough Castle, the "Three Castles Head", Co. Cork
One of the Ireland hidden gems sits atop the cliffs at the Northern tip of the Mizen Peninsula, overlooking the Atlantic Ocean from the extreme Southwest point of Ireland.
Dunlough Castle, known as "Three Castles Head", because of a series of three fortified towers, can be accessed only from the South.
Take the R591 from Schull to Goleen. At the Southern end of the village, follow the signs to Mizen Head. Once you get to a T-junction, the castle will be clearly indicated, and you'll get to a small car park at the Northern corner of Dunlough Bay.
The walking trail is easy, but there's rough ground here and there: please make sure you're extra careful, especially after it has rained. It will be slippery!
The main highlight of the area might be Dunlough Castle, but I highly encourage you to just walk around, taking in the beauty of the Mizen Peninsula. To take the best pictures of the Three Castles Head you should be a little far away so you can also get the lake and a bit of the surrounding countryside. Keep the camera at hand!
In case you get hungry, stop for a bite at the Dunlough Café and restaurant, a top class eatery only open during the warmer months, on a private farmhouse. The food is delicious because – of course – it's a farm-to-table kind of café.
Pin it for later!