Things to do in spring in London: photos, ideas & packing!
This post includes affiliate links. As an Amazon Associate, I earn from qualifying purchases. Full disclosure.
There are so many fun things to do in London this spring!
Discover the best London parks and beautiful gardens to get your floral fix.
Learn how to pack light and all the ways to enjoy the UK capital this season!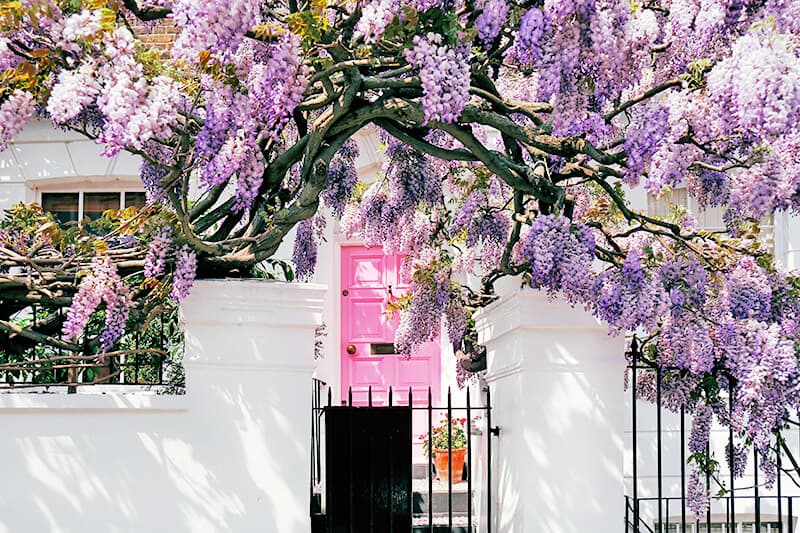 London in the spring is when it all turns into a fairytale, full of colorful flowers. All the cute spots in London are lined with powdery pastel splotches of colour. White, pink and lavender blue. It is a sight to behold!
Are you planning your trip to London last minute?

I can help you!
Here are the top tours, hotels and more: everything you need to make sure it'll be unforgettable!

Top Experiences and Tours in London:
1. Westminster Abbey Tour
2. St. Paul's Cathedral
3. Madame Tussauds London
4. Harry Potter Walking Tour
5. Tower of London and Crown Jewels
6. The London Eye

Our Favorite Hotels in London:
1. The Clermont London
2. Park Grand Paddington Court
3. The Standard
Cherry blossoms are what most people think about. Yet right after spring blossom season and just before summer, a sweet scent starts wafting through the streets.
You might have heard of "wisteria hysteria" and for a good reason. Imagine the lovely buildings in London completely covered in purple flowers. Notting Hill and Kensington are even more gorgeous!
Spring is in the air. So let me show you all London has to offer and the events and festivals you should go to!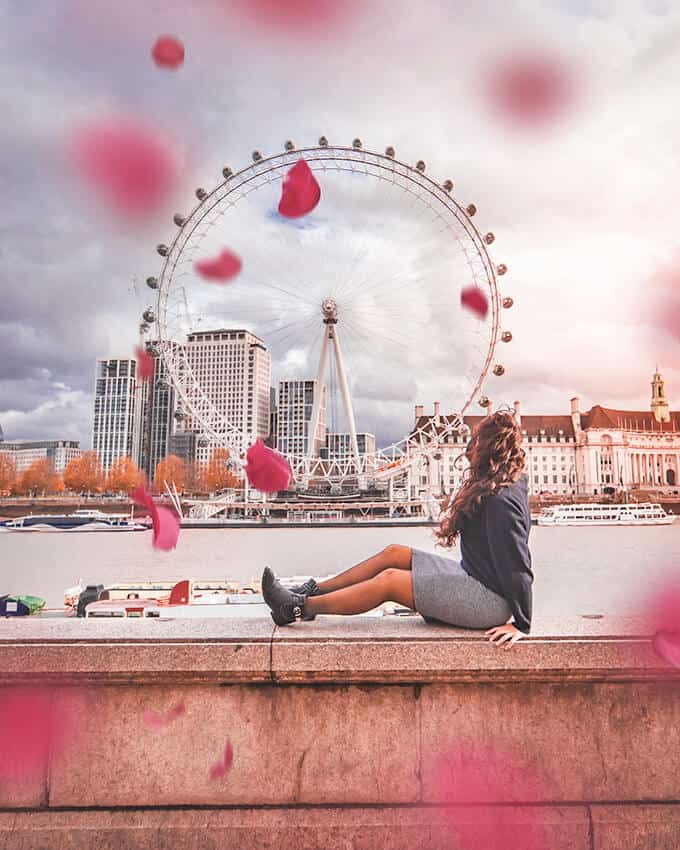 Quick Links to Post Content
London spring weather: what to expect
One of the things about spring in London you should know is that the weather can be unpredictable.
While you might not get huge rainstorms, springtime can definitely gift you a lot of drizzle. The kind of light rain that londoners are used to.
Spring is never overly cold. Temperatures settle between 11°C and 15°C (52°F and 59°F).
In March the average daytime temperature starts to crawl up.
Just as it happens in spring in Italy (we love to say that "March is crazy"), it can drop overnight out of the blue.
April is definitely sunnier and it starts to get warmer. It's one of the best times to see London in bloom.
I've read somewhere that May would be a great time to visit London because it's never "that bad".
Well, I can tell you that in 2019 we have spent 4 days in London in May and we barely saw some sun.
Absolutes don't really work in the UK!
In a nutshell
We've experienced scorching hot days in autumn and storms in summer, sunny December days and a very wet May.
You never really know.
So be prepared for everything and check out the last chapter, where I'll give you a few packing tips.
Guide to the best photography spots (+ London parks and gardens)
Alexandra Palace (Haringey)
Alexandra Palace is a Grade II listed entertainment and sports venue in London.
Often overlooked by those who are looking for cherry blossoms.
Yet a long line of cherry trees points straight to this majestic palace. You even have the added bonus that usually this place is not overly crowded by tourists.
On our last visit, we only found lots of Londoners eager to enjoy springtime in London away from the crowds.
Which is something we love very much, whether we're in Europe or hunting for cherry blossoms in Japan!
Alexandra Palace is a landmark with tons of green patches where you can lay down to enjoy hanami or a nice picnic.
To get there, use the Piccadilly Line to Wood Green station.
Redcliffe Road (Chelsea)
Another one of the places you should visit to take pictures of London in bloom is Redcliffe Road.
A residential street famous for its gorgeous houses, lined with cherry blossom trees.
Some have even compared it to Mary Poppins' Cherry Tree Lane!
While I'm aware that this is one of the places where you can shot pretty pictures, I must ask you to always be respectful of the locals.
Spend as much time there as you want.
But don't step into someone else's garden, don't knock at their doors, and don't spend hours taking pictures of every angle, because that would be terribly rude!
The closest station to Redcliffe Road is Gloucester Road.
The District, Circle and Piccadilly lines stop there.
Blithfield Street (Kensington)
We "accidentally" discovered Blithfield Street while looking for a place for breakfast in Kensington.
This area can be super-crowded.
So we got up early in the morning to take lots of pictures without having to wait for people to stop walking in front of his camera.
As we strolled through the cute streets of London at 7 am, we found a tiny mews street.
With pastel coloured houses, instagrammable lamp-posts and the kind of small cherry trees that you'd expect to see on a magazine.
It was picture-perfect!
Because it was super early, we had Blithfield Street all to ourselves.
Yet I have to remind you again not to talk too loud if you visit: there's a high chance that people are still asleep. Be a conscious traveler and let the locals rest!
Redcliffe Road and Blithfield Street are within walking distance so you can add both of them to your itinerary!
They're great stops whether you're in the mood for a lazy spring day or just for a walk around London.
The closest station is thus Gloucester Road (District, Circle and Piccadilly lines).
You might also like:
30 gorgeous photography spots in London!
Kynance Mews (South Kensington)
Springtime in London is full of life and floral fragrances.
Cherry blossoms aren't the only flowers you should be looking for!
If you're in London between April and early May, add the iconic Kynance Mews to your itinerary.
It's one of the instagrammable spots you should hit for some gorgeous pictures!
Set across two cobbled lanes, it features a bunch of houses almost completely covered in wisteria. We found them at the beginning of the street, so you won't have to walk too much to get there!
Just like Redcliffe Road and Blithfield Street, Kynance Mews is 5 minutes away from the Gloucester Road station (District, Circle and Piccadilly lines).
St. Paul's Cathedral
St. Paul's Cathedral is the place where we actually understood the meaning of "London in bloom".
As soon as we walked out of the tube station, we were welcomed by colorful patches of yellow daffodils. Which I also have at home and their scent always means "springtime" to me.
Walking towards the most famous famous Cathedral in London, you'll find a few tall trees at its back: they can be the perfect frame if you're looking for shots of the iconic dome.
But that's not it.
Keep walking all around the Cathedral and you'll find gorgeous rose bushes and some of the best wisteria in London, that you can use as a lovely background for your Insta-pictures!
Because St. Paul's Cathedral is a pretty popular sight for those visiting London in spring, I suggest you head there early in the morning.
By our experience, 10 am was already "late", as many people were sitting on the wooden benches, hence crowding the background. There was also a small line to shoot near the wisteria flowers, so get there early!
If you want to see the daffodil patches, use the Central or Circle lines to St. Paul's station. It's also the closest one to the Cathedral (2 minutes walk).
You might also like:
How to spend 2 days in London on a budget
Crouch End (Haringey)
I will be super honest here and confess that I knew about Crouch End because of the Stephen King horror story, set in the real-life North London district.
Yet I never, ever actually thought of going there because I truly believed it was yet another residential area.
And when you visit London there's always so much to do that you have to be super-picky.
Last time we decided to enjoy spring in London we finally managed to visit and gosh, I had been missing out big time!
Crouch End is a little hidden gem in London, featuring a particularly beautiful town hall dating back to 1935.
Just around the corner from Hornsey Town Hall, you'll find Cecile Park. Well, to me this place felt like walking in a dream.
We've only seen that kind of victorian, pastel colored houses in San Francisco before: Aldo was ecstatic!
The street is lined with pink prunus, which usually are full of flowers in April.
The easiest way to get to Cecile Park is to hop on a train. The Crouch Hill Overground station is only about 10 minutes away by foot, whereas the Archway tube station is more than 20 minutes away!
Elm Place (South Kensington)
As you walk through the gorgeous Kensington streets in spring, I'm sure you'll want to visit the iconic Flower Stand Chelsea, and possibly also Peggy Porschen, which is one of the most instagrammable spots in London.
Well, if you're planning to visit all the cute spots in London, then add Elm Place to your itinerary.
It's within walking distance from some of the top sights in this area!
As I already mentioned, wisteria in London is gorgeous and at Elm Place you'll find a few houses almost completely covered in purple flowers.
They usually bloom for a short period between the second half of April and the first half of May.
The nearest station to Elm Place is South Kensington, on the District, Circle and Piccadilly lines.
You might also like:
10 secret Soho Bars & Restaurants and how to get there
Sumner Place (Chelsea)
Sumner Place in West London is where you should go to look for wisteria in London if all the other places are super busy.
The most people we've found were a couple of bloggers queuing to take pictures in front of a beautiful white house half covered in wisteria vines.
Which, according to the owner, had just vigorously bloomed a few days before.
Because the season for wisteria in London only lasts a few weeks and is difficult to predict, I suggest you head over to Sumner Place if you see that the wisteria has already bloomed somewhere else.
Or if you're already there, so it won't take you long to check it out.
Sumner Place is within walking distance from Elm Place, and the nearest station is South Kensington (District, Circle and Piccadilly lines).
Spring gardens you should add to your itinerary
Greenwich Park (Greenwich)
Greenwich Park is a lovely green area you can visit while spending the good part of the day in Greenwich, just like we did.
If you've planned to spend a few days in spring in London, even before visiting the Royal Observatory, you should climb up the Greenwich Park hill, and actually head beyond the Planetarium.
That's where we found candyfloss arches made of gorgeous cherry blossoms.
A cherry tree lined road leads to a Georgian villa known as the Ranger's House.
It's an instagrammable spot that you should absolutely visit if you're looking for some pretty pictures of spring in London.
Because the cherry blossom tunnel at Greenwich is particularly popular among the photographers, it can be also pretty busy.
Which is why I suggest you get there very early in the morning.
You can take lots of crowd-free pictures and then visit the Royal Observatory and the Planetarium!
The best way to get to Greenwich Park is to hop on a bus: it's super comfy and you'll also be able to take lots of pictures.
The bus number 53 Trafalgar Square – Plumstead stops directly outside Blackheath Gate entrance.
You might also like:
50 unique souvenirs from London you can't miss!
St. James' Park (Westminster)
St. James's Park is one of the places where you can see London in bloom.
Not only because of the daffodils, roses and geraniums: there are cherry trees as well!
If you're thinking of visiting London in spring, then make sure you walk in full circle around St. James's Park.
There are a ton of photography spots for both Instagram pictures and for blog posts.
At Storey's Gate there are about 8 trees usually full of cherry blossoms.
As you keep walking towards Buckingham Palace, you'll see a bunch of cherry trees leaning over the lake.
Usually they're among the first trees that bloom in spring, so you'd have to visit before the delicate petals fall.
Another picture-perfect spot we truly loved is at the eastern end of the lake, facing Horse Guards.
Tree branches frame the fairytale buildings of Whitehall and there's one single cherry tree leaning towards the water!
There are many ways to get to St. James's Park.
My mom prefers the bus, because she can't get enough of the view.
Me and Aldo usually use the tube.
The closest station is of course St. James's Park (District and Circle lines).
Regent's Park and Primrose Hill (Westminster)
Regent's Park is absolutely my favorite park in London.
I don't think I've ever seen anything more spectacular than the huge rose bushes at Queen Mary's Gardens!
Just like at Central Park (NYC), you can also rent a rowing boat and take lovely pictures from the lake.
Which is also a very romantic thing to do, in case you're looking for a particularly beautiful date spot.
As I already mentioned, springtime in London is when you have to hunt for cherry trees, so walk through the Chester Road entrance and you'll find an avenue belted by white cherry blossoms.
Another great spot you should hit is the South end of Avenue Gardens, where there's a bunch of pink cherry trees which you can see from far away.
After you've taken enough pictures of the gorgeous bushes at Regent's Park, walk towards Primrose Hill.
This is where the londoners like to go to find some peace and to walk their dogs.
There's the odd cherry tree lining the streets, and a bunch of white victorian-style houses where you can take a few pictures.
Our favorite springtime spot was near St. Mark's Church, where Aldo shot a picture of the cherry blossoms with the Church as a background.
Our instagram followers loved it!
Just like St. James's Park, it's super easy to get to Regent's Park, because there are so many buses and tube stations you can use.
The closest station is Regent's Park on the Bakerloo line.
If you want to visit Primrose Hill like we did (after visiting Regent's Park), you can get back to central London by hopping on bus number 31 or 274.
Kew Gardens (Kew)
London's biggest botanical garden is the obvious place to go if you're looking for cherry blossoms and blooming bushes.
There's a special "Cherry Walk" which starts at the Rose Garden and leads you to the Japanese Landscape.
Here, two parallel rows with 15 cherry trees are the perfect complement to a Japanese zen garden, stone lanterns and a dripping water basin.
Make sure to also visit Chokushi-Mon, a near replica of the Gate of Nishi Hongan-ji in Kyoto (Japan).
It's absolutely gorgeous, with finely carved flowers and animals.
At the rose garden behind the Palm House you'll also find multiple varieties of cherry blossom tree.
In different colors: take a few pictures of the flowers with the Palm House in the background!
If you're lucky enough, you could also see the magnolias in bloom. But don't hold your breath: spring in London is a bit unpredictable!
The best entrance gate if you're interested in visiting the Japanese gardens is the Lion Gate, so you should get off at Richmond station (North London and Waterloo lines).
If you want to visit the Palm House first, then enter through Victoria Gate.
The closest tube station is Kew Gardens (District and North London lines).
Kensington Gardens (Westminster)
Kensington Gardens, once private gardens of Kensington Palace, are shared by Westminster, Kensington and Chelsea.
They sit to the west of Hyde Park, but while this last one lacks in cherry blossoms, Kensington Gardens are among the best spring gardens in London!
Enter through the Lancaster Gate, where an explosion of pink and white blossoms will walk you to the Albert Memorial.
Once there, you'll find six more big trees usually covered in bright pink flowers.
After you've gotten your fill of spring blossoms, head over to the Peter Pan statue, and bring it to life by using your smartphone.
Thanks to a smart project known as "Talking Statues", you can swipe your phone on the nearby plaque and get a personal call-back from Peter Pan!
In case you're visiting London with your kids, there are two more spots you should hit.
One is the huge wooden pirate ship at the Diana, Princess of Wales' Memorial Playground, and another one is close by.
The Elfin Oak is a sculpture made from the trunk of an oak tree, carved with figures of fairies, elves and animals. It's so popular that it also appeared inside the cover of Pink Floyd's album Ummagumma!
There are a number of tube stations and bus stops surrounding Kensington Gardens.
The closest tube station to the Lancaster gate is Lancaster Gate & Queensway (Central line).
Kyoto Gardens at Holland Park (Kensington)
Do you want to enjoy spring in London but you're visiting on a tight budget?
That's not a problem at all!
The Kyoto Gardens in Holland Park are free to enter and you might even get to see the popular Holland Park peacocks!
Kyoto Gardens was built in 1991 as a gift from the city of Kyoto to celebrate long friendship between Japan and the UK.
It's a traditional Japanese garden, with ponds full of large koi carps, stone lanterns.
And Aldo's favorite thing ever: Japanese maple trees (we even have a small one in our garden at home!).
Of course, being a Japanese garden, there also had to be some sakura where you can sit for hanami.
The Japanese traditional custom of enjoying the beauty of cherry blossoms!
Holland Park is open daily from 7:30 am to 30 minutes before dusk.
The closest tube station is Holland Park on the Central line.
Springtime in London: all the events you can't miss
Planning a spring trip to London doesn't mean that you have to spend all your time hunting for cherry blossoms.
What if it rains?
What if you want to treat yourself to something special?
What if you're a foodie?
The best part of visiting London in spring in my opinion isn't only that it's cheaper and (way) less crowded.
Spring season in London means festivals, fun events and mouth-watering seasonal menus!
Kew Gardens Tulip Displays
Kew Gardens (scroll up to read about their gorgeous cherry blossoms) celebrates spring for kids of all ages (which includes me) with a super cute event.There's always something new!
The amazing green space in southwest London will display Julia Donaldson and Axel Scheffler's Superworm for 2023.
There will be a lot of interactive trails that will show the young visitors the life of this strong hero and bug companions.
If you're coming to London with your little ones, make sure you visit Kew Gardens!
The new Superworm event will be held from April 1 to April 17, 2023, at Kew Gardens.
You can also visit from March 30 to April 23, 2023 at Wakehurst.
King Charles III's Coronation
You might think that the coronation of King Charles III has nothing to do with London travel.
Yet… you might be wrong!
Provided that attending it's a great way to learn about the British culture, you might want to know when the whole City will be super crowded.
The historic occasion will be marked with a bank holiday.
Lots of hotels are already fully booked so make sure you avoid this long weekend if you prefer to visit when it's less crowded.
… and less expensive!
King Charles III's coronation will be held on May 6 at Westminster Abbey. The celebration will last until May 8.
Chelsea Flower Show 2023
The Chelsea Flower Show is one of the most iconic events in London, and it's been a staple of the city for over 200 years.
Held annually at the Royal Hospital Chelsea, this flower show brings together some of the world's best gardeners, designers, and horticulturalists to showcase their work and compete for awards.
This gorgeous flower event will be organized on the grounds of the Royal Hospital from May 22 to May 27, 2023.
Depending on how much time you have and what you would like to see, you could easily spend one or two days at the show.
However, if you want to get the full experience and really take your time to appreciate all of the displays, then you should plan for three or four days.
This will give you enough time to explore each garden and take in all of the amazing sights without feeling rushed.
I've been often asked which is the best day to go to the Chelsea Flower Show.
To be honest, I think the opening day is definitely super crowded.
I'd avoid it, but then it's up to you!
If you can't wait to see the gardens and share some beautiful pics online, make sure you get there before the opening.
So you won't have to wait in line for too long!
What to pack for London in spring
Spring season in London is a bit unreliable, to the point that Londoners carry both an umbrella and sunglasses whenever they go out.
Just to make sure they're well prepared.
But when you have to stick to the airline luggage restrictions, you can't exactly carry too much.
Smart packing is the way to go.
The very first thing you should keep in mind is that wearing layers will save you a lot of space.
I always mix and match, so it seems like I've packed tons of different outfits when most of the times I fly to London with just my carry-on.
A good waterproof breathable jacket is always a good idea. You can fold it and put it in your backpack if it's a warm day, or you can wear it on your coat if it starts to drizzle.
This one from Columbia is perfect for a spring trip to London, and it comes in gorgeous colors!
Some prefer to carry a foldable, windproof umbrella.
It's really up to you.
Aldo for example never goes anywhere without an umbrella.
I prefer a raincoat, because when the London tube is too crowded crowded, having to fold your umbrella becomes some sort of mission impossible.
Also I'm clumsy, so I know I might hurt someone: I'll leave the umbrella to Al.
A good trench coat will keep you warm and classy (you can wear your waterproof jacket on the trench as well).
This one has a lovely British style which goes with every outfit and looks good on everyone.
I always wear a spring scarf that I can eventually use also to cover my head if I need it.
That's how I make sure to keep myself warm enough not to get a sore throat, and classy enough to be able to walk into any restaurant, no matter the dress code.
This plaid infinity scarf is absolutely gorgeous and so British: you're going to love it!
Shoes are also very important, especially if you have limited space in your luggage.
When I'm abroad I rarely carry high heels with me because they're not practical and I'm always walking too much.
For our last trip to London I bought these waterproof rain boots and I absolutely love them!
They're comfy, I didn't get wet, they can be used for several outfits and you'll look classy also if you're not wearing heels.
Check them out: you won't go anywhere else without them, it's guaranteed!
My spring packing list for London always has one jeans (high rise skinny jeans by Levi's are like my second skin) and one pair of black leggings.
I know, I know.
We said we weren't going to overpack.
But heck, leggings can be folded into a tiny thing that won't take too much space in your carry on, yet they're always so handy!
The High Waisted tummy control leggings are also nice enough that you can explore London without feeling out of place or underdressed.
They're buttery soft, don't slip and feel super comfortable.
Make sure you always choose thick leggings so you won't go flashing your underwear!
It's springtime, so packing a colorful turtleneck sweater is a must!
I love the bright colors of this sweater, and they turn out super nice in pictures!
Those of you who love to pose in flowy dresses for the 'gram should check out this floral print maxi dress. It fits almost every size, and the colors are so bright!
Make sure you pair it with an open front chunky knit cardigan like this one.
It's also perfect to dress in layers and it will look super stylish if you wear it with your jeans!
Last but not least, the staple of my London packing list is a black tote.
You have no idea how much I can fit into a tote!
Souvenirs, my iPad, phone and my Amazon Kindle for when I need in-flight entertainment.
This model is cheap but it looks very classy, and it fits with the items I linked above, to complete your outfit. After all, buying a new tote is always a good idea, am I right?
You might also like:
Spring in London – photos, flowers and events
Ultimate itinerary – 4 days in London
The best London souvenirs you should buy
How to spend a cool night in Soho
The most instagrammable spots in London
Plan a fabulous weekend in London
20 awesome fall trips in Europe
Easy-to-use guide to Christmas in London
Do you need a visa to enter Europe?
Pin it for later!
Travelling Dany – Danila Caputo
Danila Caputo is a bilingual travel writer living in between Naples and the Amalfi Coast (Italy), graduating from the University of Naples Suor Orsola Benincasa in Foreign Languages and Literature. She travels and works with her husband Aldo, photographer and videographer. Their blog chronicles their adventures around the world, their love for the USA (where they have family), Italian/European culture and tips on how to be responsible travelers. You can find out more about their latest trips and their life on Youtube, Instagram and Facebook.