A list of the best souvenirs from Japan you can get on a budget. Discover all the things you can only find in Japan and make sure you don't miss any of them!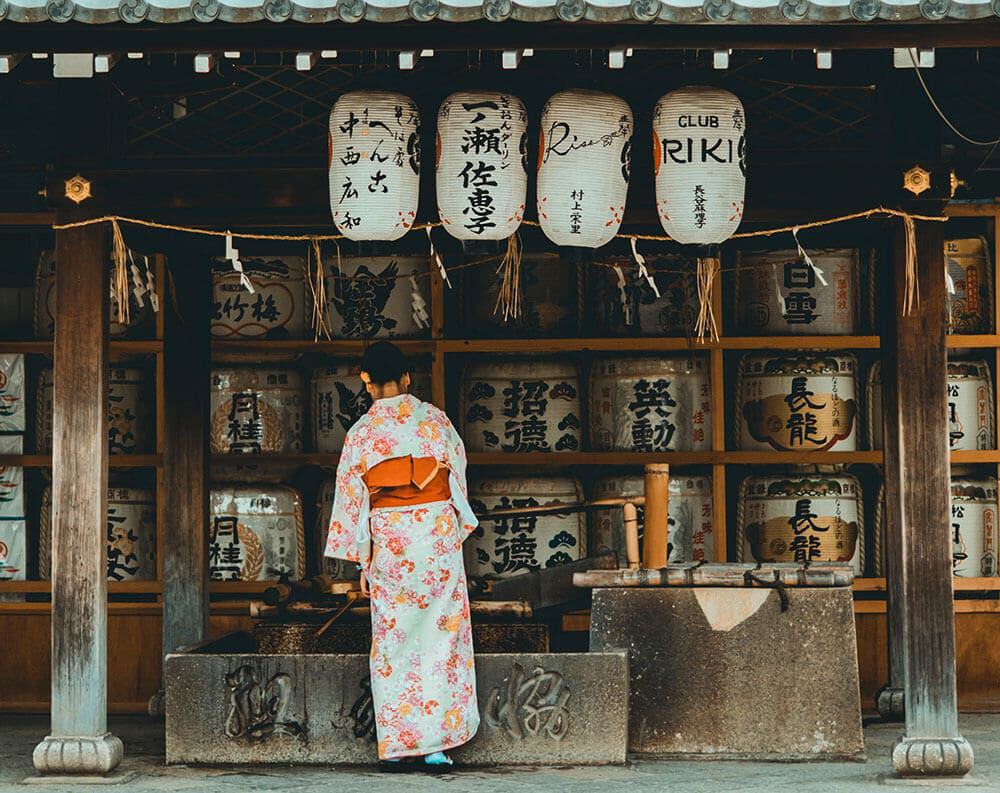 Are you planning a trip to the Land of the Rising Sun and you want to make sure you're not going to miss anything? Here's our list of the best souvenirs from Japan that are fun, traditional and affordable. With useful tips on how to carry them back with you on a flight, and who you might buy them for. After all you can't return home without buying some delicious matcha tea, a few kokeshi dolls or a pair of cool chopsticks, right?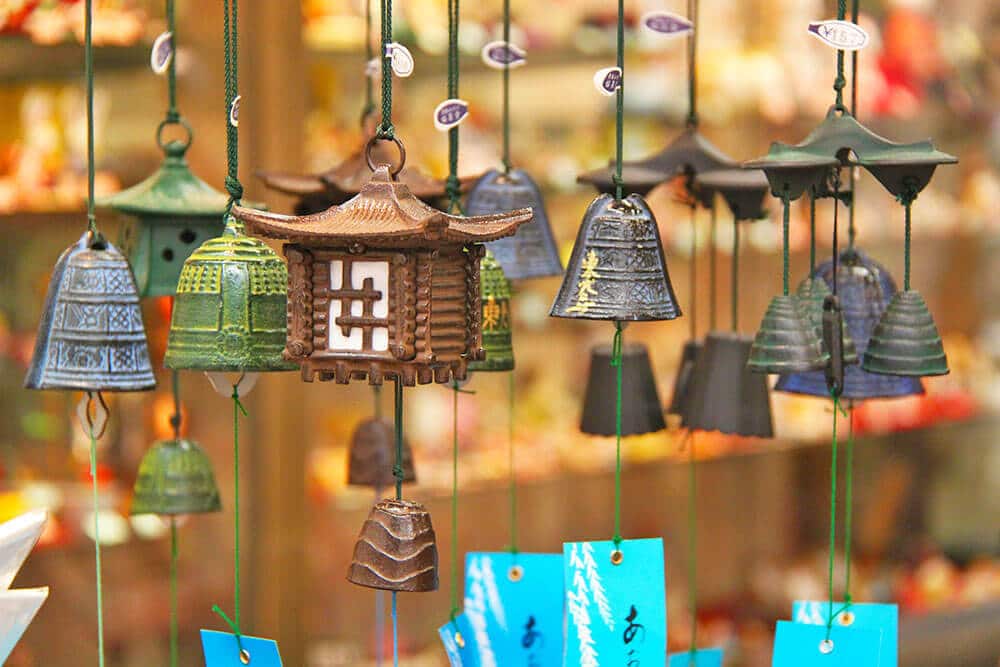 Gotochi goods
Gotochi is a word used in Japan not only to describe local specialties and regional flavors, but also things like special goods only sold in specific prefectures. I'm thinking of Hello Kitty Gotochi Series charms, special postcards, or Pokemon game cards, for example.
Gotochi goods are the kind of things you can only buy in Japan… and not even in every prefecture!
Some of the cutest ones we bought (but we're nerds so…!) were Sailor Moon special edition items at Universal Studios Japan because they were having a Summer event at the park. During our trip to Miyajima island we found beautiful mini-armor sets of the legendaryJapanese samurai. Keep your eyes open and you'll find a lot of interesting treasures!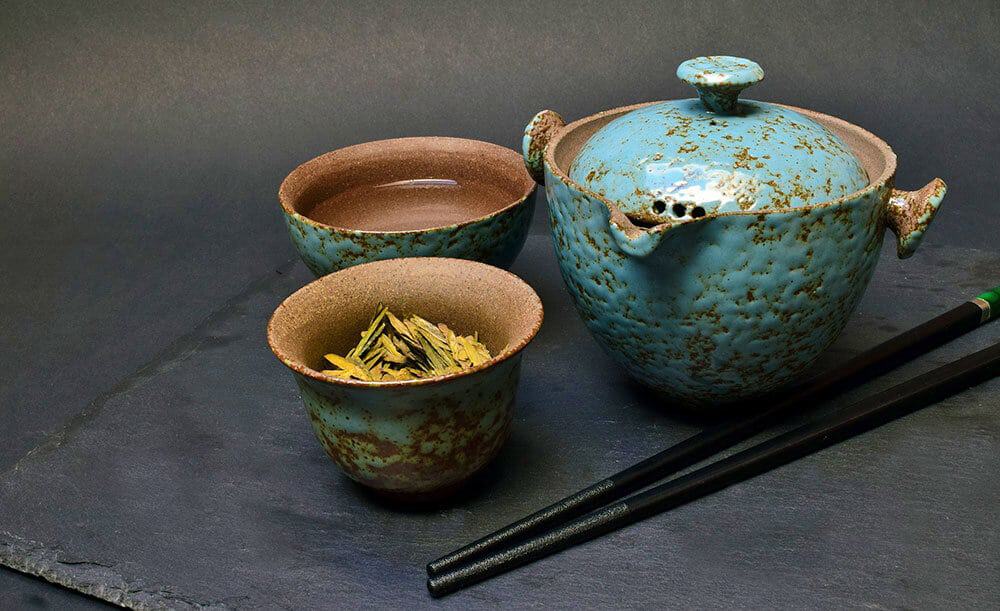 Green tea
Another great souvenir from Japan that will make your tea lover friends is Japanese green tea. You might have drank it already, cold or hot (according to seasons) at the restaurant, for in Japan it is served free of charge together with your meal. Green tea from Japan is easy to carry, not so expensive and yet delicious, because it's sweeter than other varieties.
We have found dozens of green tea boxes in every shop: if you want it to be even cheaper, you can buy yours at a supermarket or at a convenience store in Japan.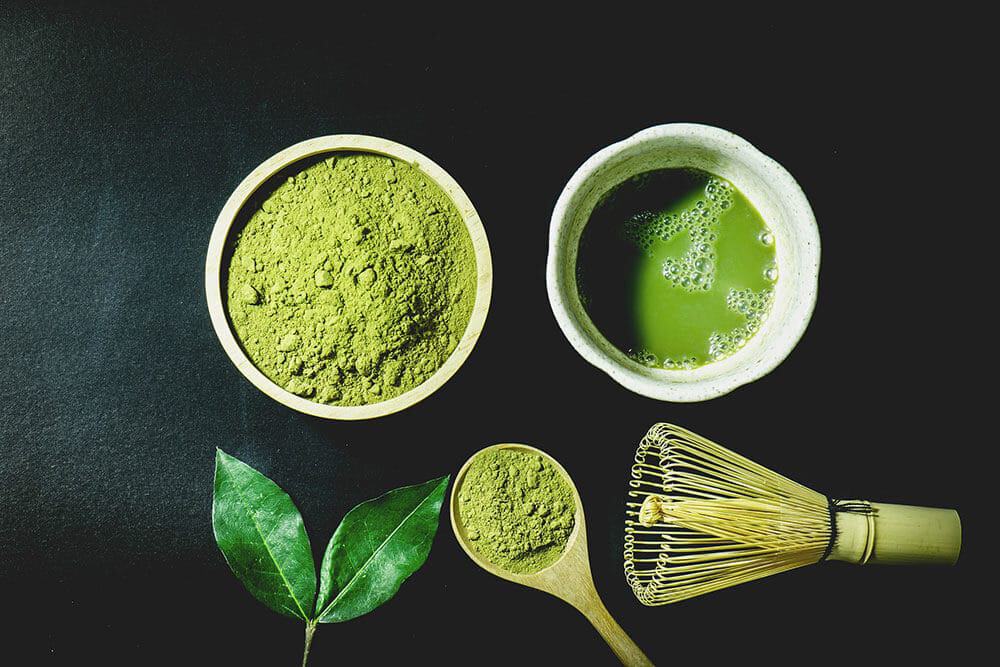 Matcha tea and matcha sets
Matcha tea comes as a green powder. The tea leaves are harvested and ground into this powder: you will probably see it used during a tea ceremony in Japan.
Studies on matcha have shown a variety of benefits, like helping liver, heart health and weight loss. Rich in antioxidants, it is a great alternative to coffee, because it is a natural stimulant. The effect (I drink mine every day now) lasts longer than an espresso cup… even hours!
What you need to know is that the best Matcha is harvested in the Uji prefecture and in every shop you will find 3 grades. Culinary, Premium and Ceremonial. Culinary is the matcha powder you use for baking and preparing drinks like matcha latte. Premium is a mid-high quality, that you can drink on its own or with some milk. Ceremonial is the most expensive one, generally used for the tea ceremonies and in Buddhist temples.
Matcha tea is probably one of the best gifts from Japan because outside of the Country it's way more expensive… and unfortunately some shops sell Chinese Matcha as the "original Japanese" one. I'm buying my ceremonial matcha at Matcha Organics on Amazon: Japan spoiled me!
If you have some space in your luggage, consider buying matcha sets as well. The small ones consist of a bowl (Chawan), a bamboo whisk (Chasen) and a particular kind of "spoon" (Chashaku) that is perfect for taking just the right amount of powder. We bought ours at the Japanese shops at Lucca Comics and Games, but if you don't feel like carrying it around (the bamboo whisk is pretty fragile) you can order yours from Amazon once you get home.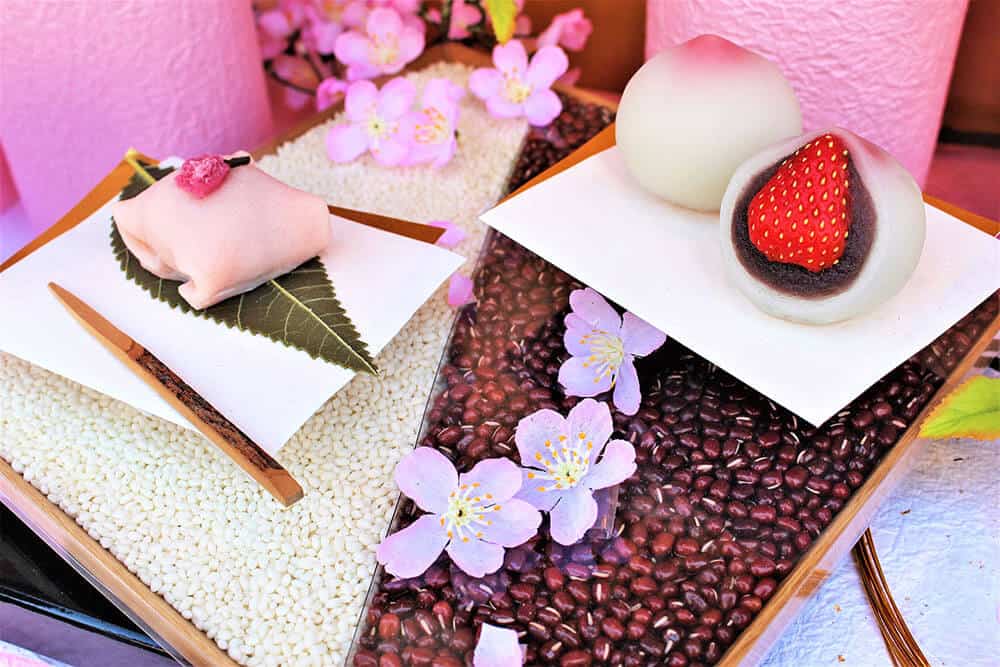 Tea confections
If you visit a tea house in Japan, you will be served the cutest sweets together with your tea. Matcha in particular has a strong taste so it is always served with sweets like Mochi, Daifuku, Dango skewers, Dorayaki or Higashi. Every kind of sweet is prepared in dozens of flavours and colors, according to season and purpose.
They help to enhance the taste of Matcha (I miss them so much in Italy and I still haven't been able to find out how to order some!) and can be a great Japanese souvenir. The best way to go would be to buy some travel-ready boxes before you leave Japan, to make sure they will be fresh once you deliver them to your loved ones!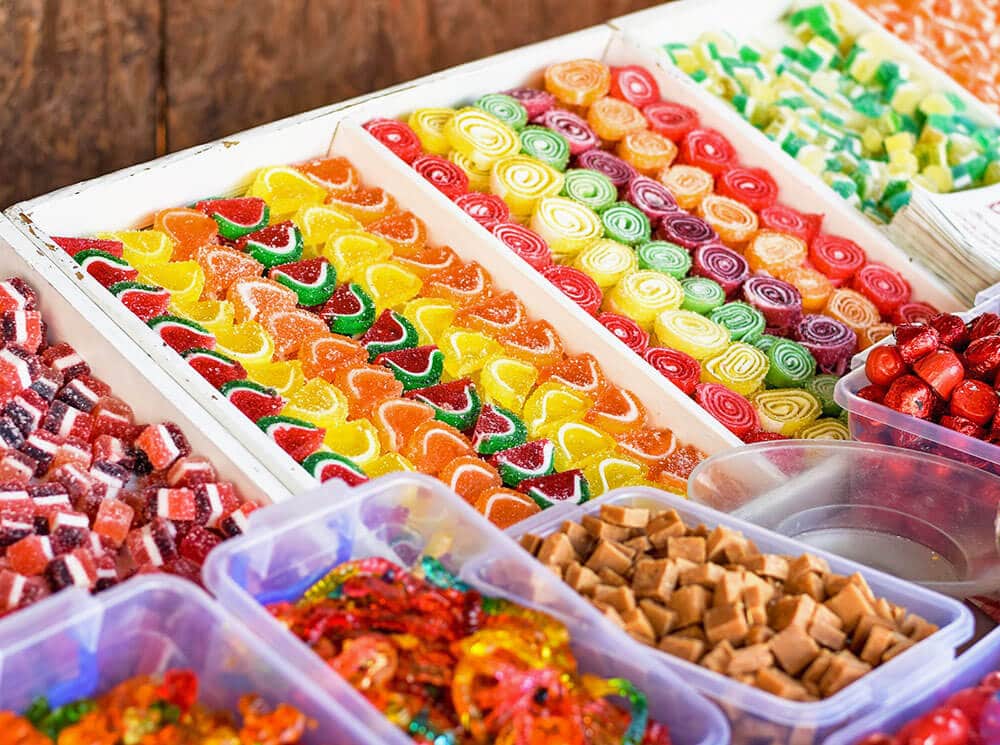 Japanese Candy
Probably everyone and their mother know about the hundreds of different Kit Kat flavours you can find in Japan. Most of them have never been sold out of the Country so they make the best Japanese souvenirs, especially if you have daring friends or relatives. I can't assure you that every flavour is edible (sometimes it feels like tasting Bertie Bott's Every Flavour beans from Harry Potter) but I swear our brother in law was absolutely over the moon about the huge Kit Kat bag we brought him!
You might also like:
19 Japanese snacks that will cause MAJOR drool!
The best thing is that there are tons of different candy in Japan! At Universal Studios Japan we counted hundreds of candies sold in different cans: basically every attractions had its own candy sold in customized cans. Yum!
If when you get back you suffer from withdrawal, know that there's a Japanese subscription box only for candies and sweets!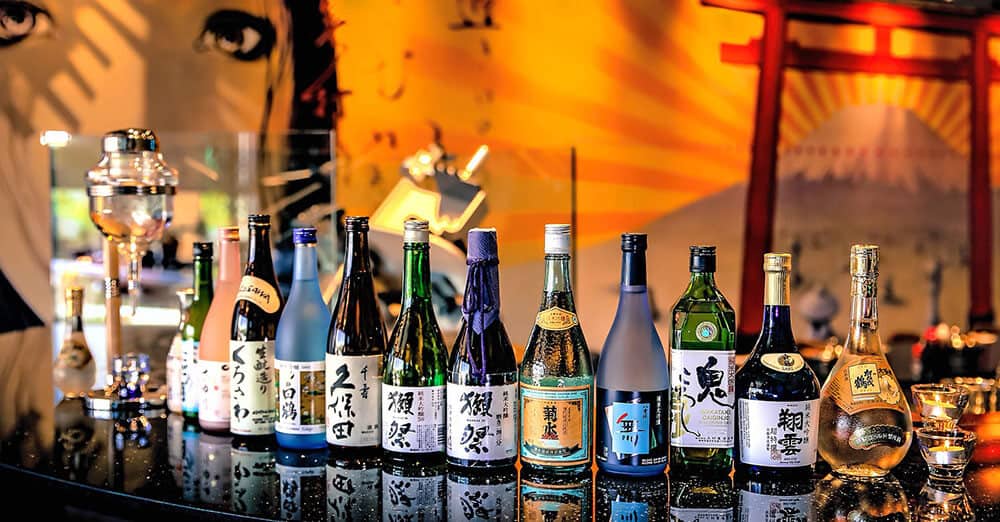 Sake and Japanese liquors
In Italy sake is pretty well known because even if you go to a Chinese restaurant and ask for sake… they'll serve you some as if it's a Chinese traditional drink.
The connoisseur of liquor on the other hand knows that Japanese whisky is absolutely amazing (in Italy Japanese whisky costs an arm and leg!). Also while you might think that sake is always the same, there are many flavours and ways of drinking it.
While in Miyajima, one night we had a local teach us a bit about it, and Al got to taste some cold sake to go with his very spicy noodles. He loved it!
If you don't know much about it but want to buy a bottle, don't be afraid to ask the shopkeeper, they will be glad to help!
And if you don't want to carry around a fragile bottle for the whole trip, have a look at the duty free shops at the airport. They often have very nice discounted prices. Yet that can be a bit of a trouble, in case you have connecting flights!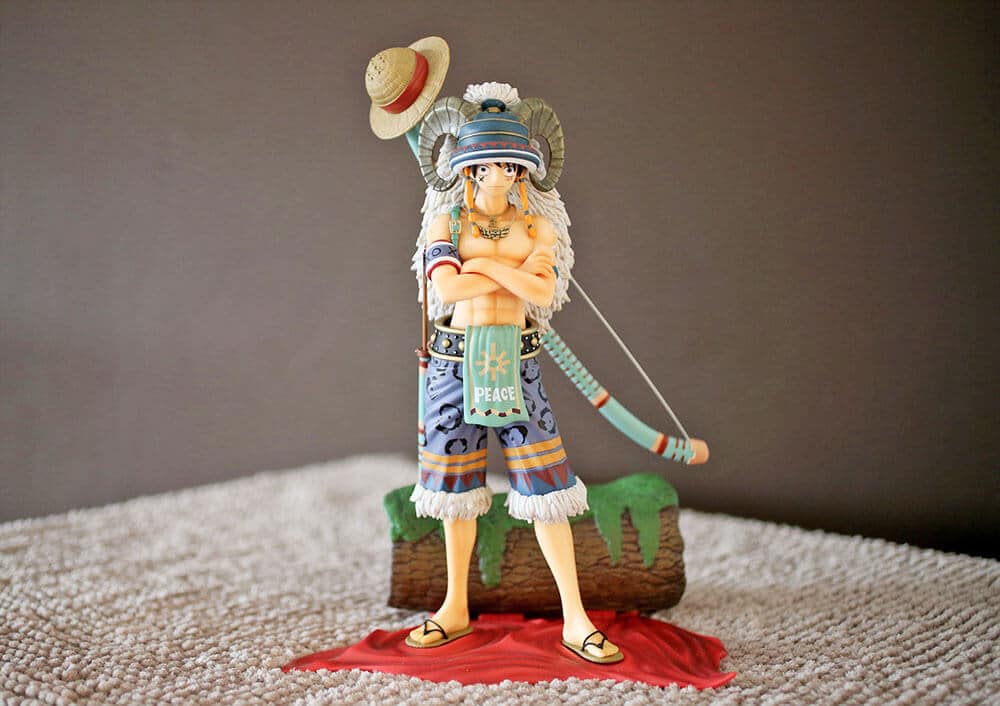 Action figures and miniatures
Gaming, mangas and anime are a big thing in Japan. It's not "being nerd", it's part of the otaku culture and thus you will find all sorts of shops where you can buy interesting things.
In Akihabara, Tokyo, there are huge arcades (like… 7 or 8 floors of fun) with games where you can win all sorts of action figures or miniatures. The Gundam Base in Odaiba has thousands of them on display: if you love this sort of things, walk inside with a friend who can drag you away before you spend all your budget in miniatures!
Some of the miniatures for One Piece, Gundam or Saint Seiya for example could be considered Gotochi goods. They are only sold in Japan or in just a few specific shops!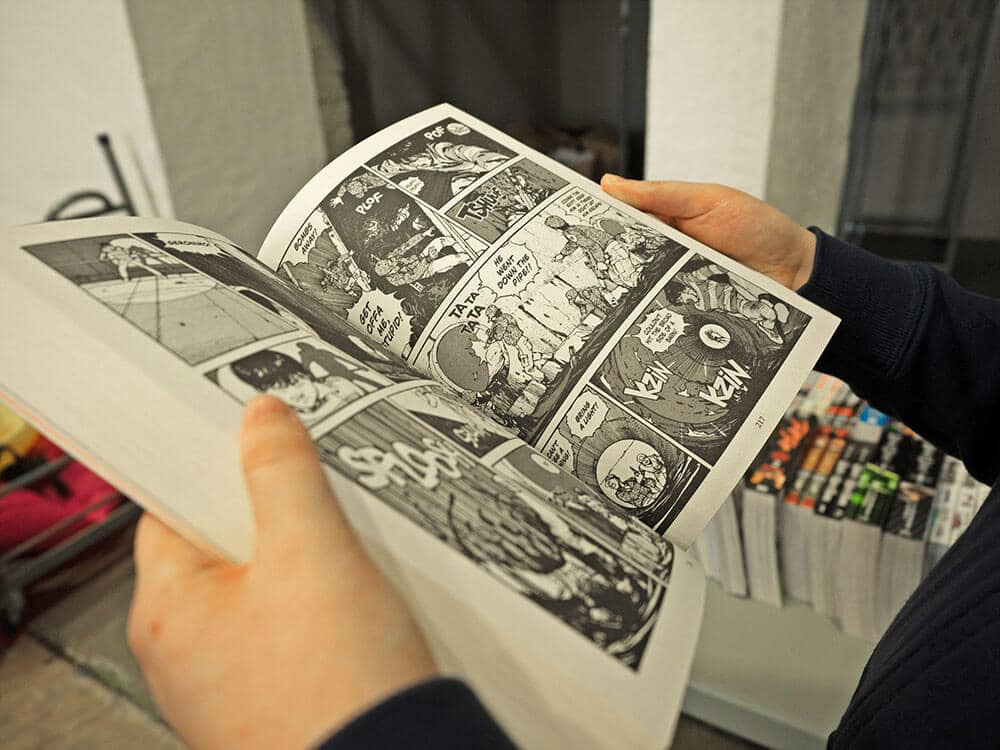 Anime and manga goods
Speaking of otaku culture, we couldn't not mention anime, manga and the related merchandise in the top 10 things to buy in Japan, right? One of the hotels we have stayed at even provided Japanese manga for its guests and gave us a few for free.
This is how deeply rooted manga and anime are in the Japanese culture. While most mangas are written in Japanese, they still make a great present for someone who collects them.
The bonus? They aren't too heavy and won't take up too much space in your luggage! You'll find good ones also at every newspaper kiosk (also in the station!).
Bento
In Japan a bento is a take out or home packed meal that you put in a nice box. This kind of boxes are sold basically everywhere, in different sizes. Even the 100 yen shops sell very cute ones, decorated with Japanese anime, comic books or video game characters.
They make one of the best Japanese souvenir because they can be also very small, they are traditional and cheap. Besides, if you're used to pack your lunch for your kids, or want to bring a present to a young relative or a friend, they are perfect. We bought one for our nephew and our sister in law absolutely loved it!
Japanese sandals
If you are an avid history nerd or manga reader like us, the first thing you'll think about in reading "Japanese sandals" is geta. But the traditional wooden footwear with the two supporting wooden pieces below the base board isn't the only kind of cool flip-flops you will find in Japan.
In almost every traditional shop (especially in Kyoto's geisha districts) you will find dozens of designs. Usually the upper part is beautiful Japanese fabric, and can be pretty colorful. They can either go with a kimono or with a long skirt.
There are also suitable models that can be used by men who don't like to wear frilly sandals.
You might also like:
– How to spend 3 days in Kyoto
– 15 insanely beautiful day trips from Kyoto
– Hiking in Kyoto – Fushimi Inari Taisha shrine
– What to do in Nara in one day
– 19 Japanese snacks that will cause MAJOR drool!
Japanese geta are definitely recommended Japanese souvenirs if you have enough space in your luggage. If not, go for a stylish but "regular" model that won't be too heavy to carry: you can squeeze those almost in every carry-on!
Japanese pottery
I'm not going to lie: wherever I find Japanese pottery, especially if it's about tea making, I have to buy it. I'm still jealously keeping two chatwans (tea bowls) I bought at the Japanese stores at my first Lucca Comics and Games, during one of our countless Italian getaways… almost 10 years ago. They're hand painted with little cute kittens and cherry blossoms: I love them!
So imagine my face when I saw all the beautiful, hand painted pottery in Kanazawa (they even have a pottery museum)! Al had to basically drag me away or I'd buy the whole store!!! Anyway, while pottery is a very interesting thing to buy in Japan, you also have to remember it's very fragile.
If you buy pottery my suggestion is to wrap it extra well into your clothes and then store it in your cabin luggage to make sure it won't be broken on your way home!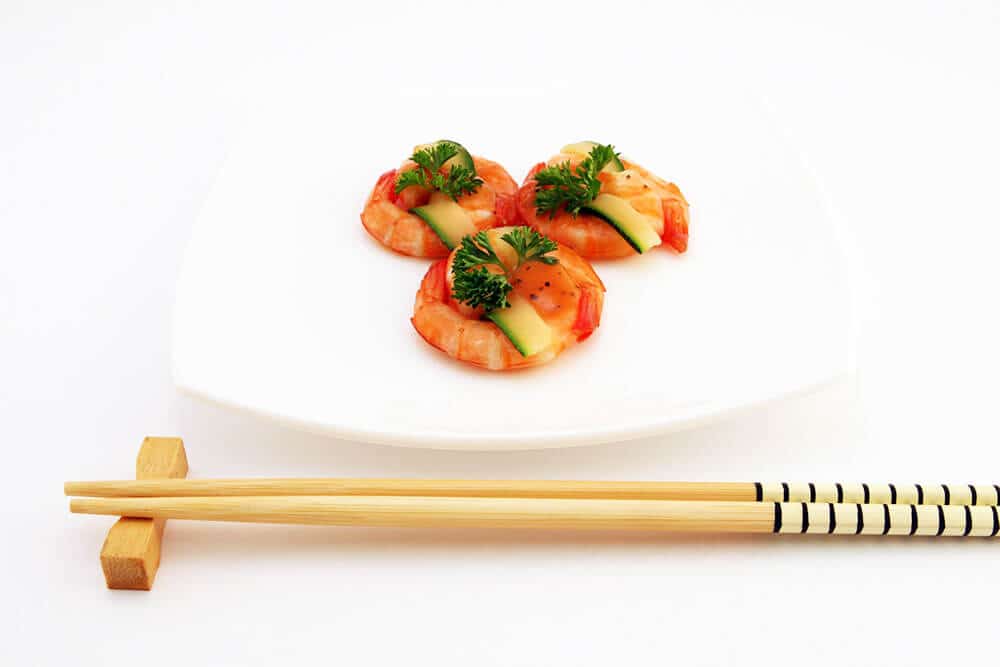 Hashi (chopsticks)
Chopsticks are the one thing you will find everywhere you go during your trip to Japan. They are the perfect things to buy in Japan, because they are easy to carry and can also be very cheap.
You will find nice ones at 100 yen stores or at Daiso stores in Japan, or you can get the more expensive ones, that are usually hand painted and particularly beautiful. In Italy some girls use decorated chopsticks also as hair ornaments!
If you want to buy a full set you can also get a cute chopstick rest, fully decorated. Again, easy to carry, lightweight and very cheap! Make sure you either wrap your chopsticks very good (put them in the hard shell of your suitcase), or you bring them with you in your cabin luggage.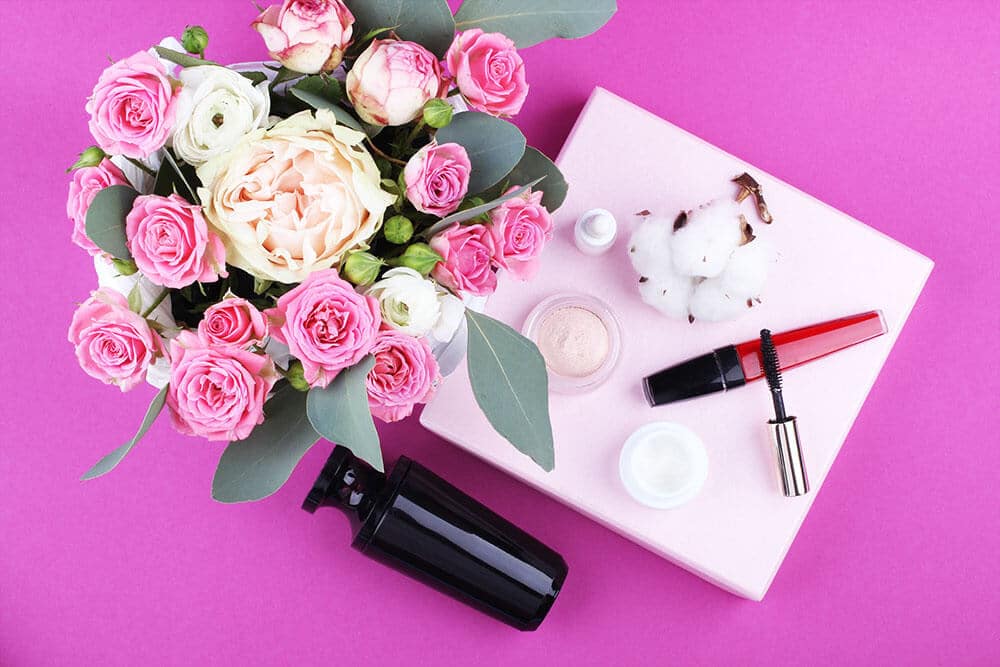 Japanese cosmetics
I must confess that while I like make-up and beauty products, I was usually buying them online from Korea. So when in Japan I kept seeing Shiseido products in every hotel, I kept on wondering why they loved this brand, which is pretty expensive in Italy. The answer was easy: Shiseido is a Japanese luxury brand and the prices in Japan are half of what we have in Italy!
If you go to the big shopping centers like Rakuten you will find a lot of very good cosmetics at decent prices. Some of the must buy cosmetics in Japan are Excel, Shiseido, Canmake, Bioré, Sofina and Muji.
Yet if you make it to a Daiso store, have a look at the reusable silicone mask covers: they are to be used on the top of sheet masks and I love them because I can't always lay down when I'm having my beauty moment, so with this cover I make sure the mask doesn't slip off and it also adds a nice bit of steaming which opens the pores.
Beauty products are the souvenirs from Japan you can buy for yourself, your mom or sister, best friends… I can assure you that they will be very happy, especially because many products have such a cute packaging!
Blotting paper and face masks
Cosmetics aren't the only thing you should buy in Japan. Yojiya is a pretty famous brand that was founded more than 50 years ago and is well known for its skin-cleansing paper pad. They have stores in many train stations and in the main cities (especially Kyoto, where we found a great one in Gion).
Blotting paper absorbs oil from the skin, without ruining your make-up. At Daiso we also find little boxes of blotting paper decorated with Walt Disney characters: cute and absolutely cheap!
Even face masks are some of the best souvenirs from Japan because they are a budget present, they won't get ruined in your luggage and are lightweight. Again, have a look at 100 yen stores and Daiso stores, you will also find some very good hand, lips and feet masks.
In Italy they are super expensive, but in Japan I bought a set of 50 face masks for less than what I'd pay here for 2. I still can't believe it! The only downside in my case was that the box was pretty heavy and big, but hey, I gladly sacrificed for that!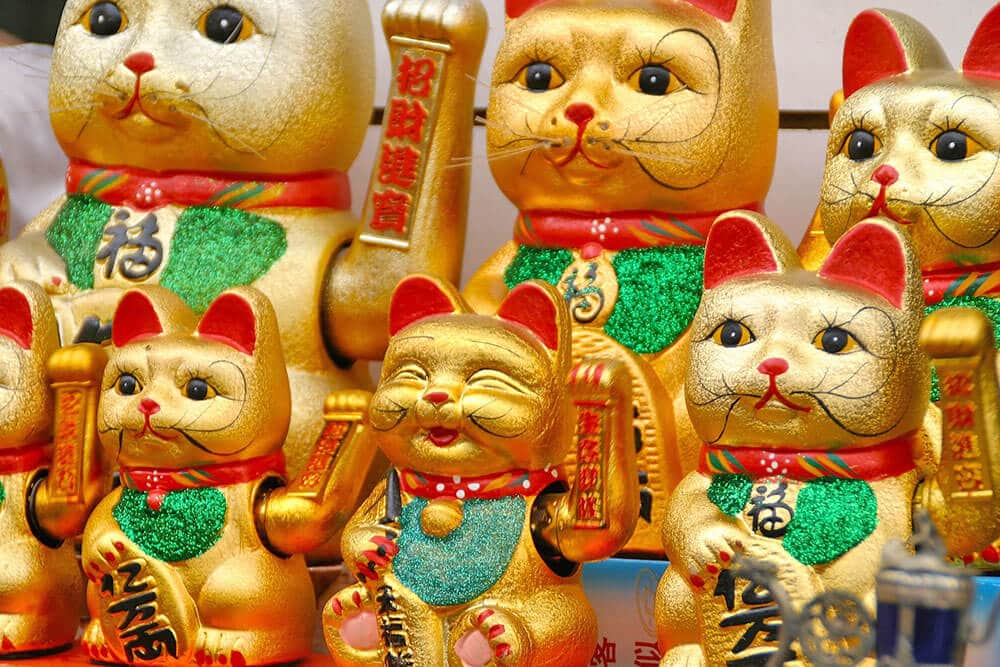 Maneki neko
Are you wondering what to get in Japan that can be a nice present for the whole family? Go for a Maneki Neko! This little statue represents a cat holding up one of his front paws. You will find those wherever you go in Japan, even in the smallest store, at very cheap prices. It is believed that it welcomes the owner of the house, bringing good luck to the family.
It should be put at the entrance, according to the legends, and it's also pretty popular among Chinese merchants.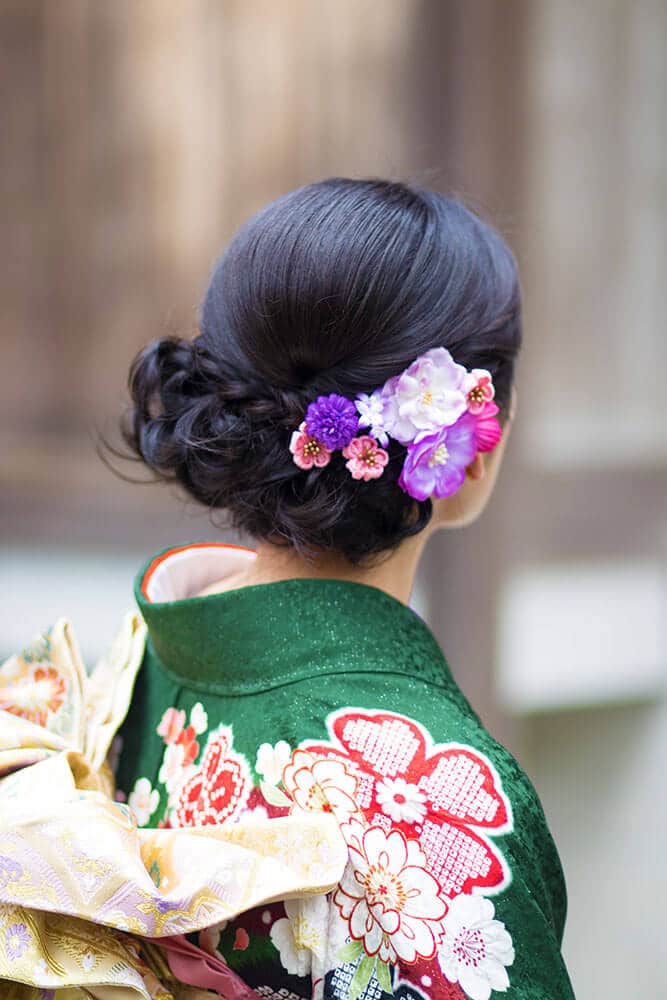 Hair ornaments
Kanzashi are hair ornaments traditionally used in Japan, especially by maiko and geisha. They are very pretty, often depicting flowers and blossoms. If you are thinking of things to buy from Japan that are a little bit more pricey, then Kansashi can be an interesting option. Because they can be fabricated from a wide range of materials (wood, silk, gold, silver… or plastic), their price varies a lot.
Of course the modern plastic ornaments are way less expensive, and while they are still pretty, they're not as beautiful as the hana kanzashi, the traditional long, fluttering flower ornament you've probably seen countless times on maiko. Often you will find beautiful cherry blossoms hair ornaments: hanami is, after all, very important in Japan!
If you plan to buy the expensive ones, make sure you pack them in your cabin luggage because they're quite fragile!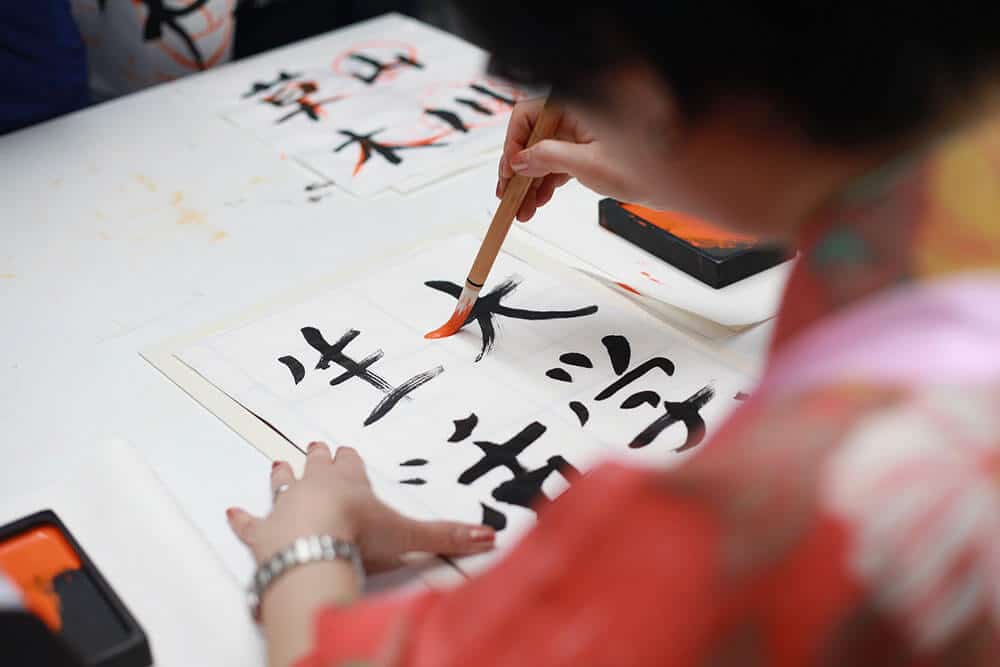 Washi paper and tape
Paola, my go to guide for Florence, is absolutely in love with washi paper and washi tape. Washi paper is the traditional Japanese paper, made from local fiber, processed by hand and usually colored, especially if you're meaning to use it for crafts. Just think that washi paper is registered as a UNESCO intangible cultural heritage!
So if you have that one friend who loves handcrafts or if you plan to prepare a scrapbooking photo album with your best pictures from this trip, washi paper and tape (much less expensive than the paper as it can be found also at 100 yen stores) are the recommended Japanese souvenirs. I'd store everything at the bottom of the suitcase, to make sure it doesn't get ruined.
While looking for things to buy in Tokyo we found the lovely Ozu Washi, a paper museum which has a great shop with thousands of styles of handmade paper. If you're thinking of visiting Osaka, over there have look at Abeno Q's Mall, where they have a huge assortment of Art and Crafts.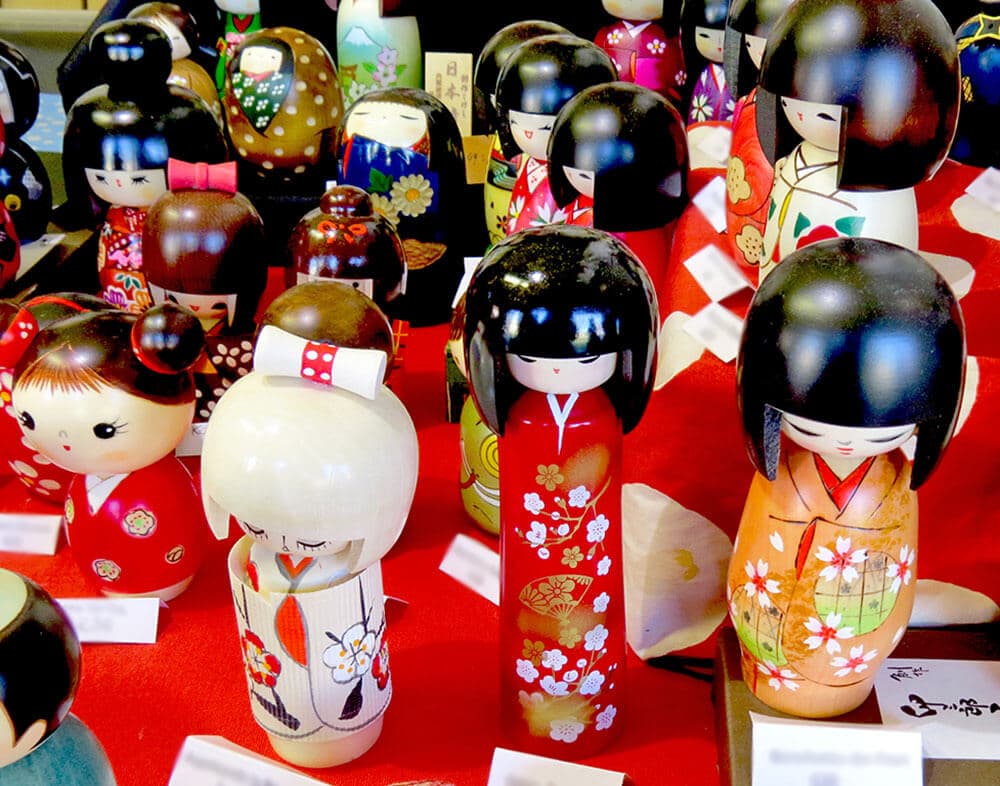 Kokeshi dolls
Kokeshi are a traditional kind of Japanese wooden dolls. They have a round head and a cylindrical body, with… a "secret pocket" at the bottom. Inside you can put a tiny scrap of paper with your wish: it is believed that the doll will make your wish come true.
We have already collected 3 kokeshi dolls which we absolutely love. Whenever we look at them we think of Japan. And they look great at our place!
Kokeshi were on my list of things to buy in Japan. While the most beautiful one in our collection was bought in Tokyo, we saw them in each and every one of the cities we have visited in Japan. While they might look sturdy, it's another one of the things I suggest you put into your cabin luggage, because it'd be a pity to ruin them in case your luggage gets… manhandled at the airport. Better safe than sorry, right?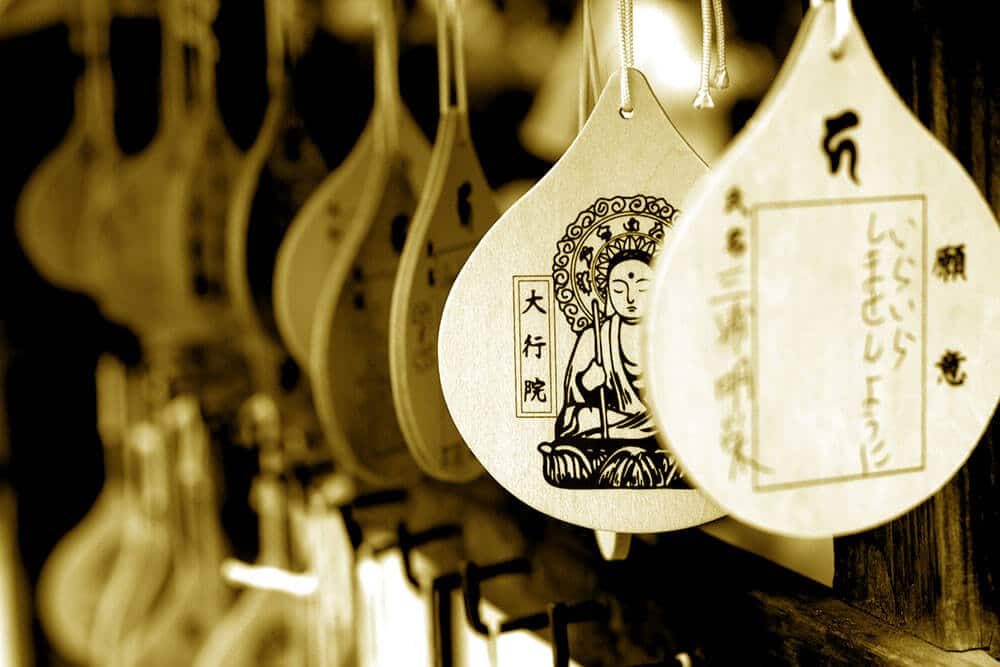 Tsuko-Tegata
Tsuko-Tegata are also known as "wooden passports", used in the Edo period as identity cards for travelers moving from region to region. They are now sold as souvenirs from Japan mostly at hot spring resorts and at the biggest temples, like Todaiji at Nara deer park. I know that a few of my Japan-bsessed friends buy them whenever they go to Japan: they have quite the collection by now!
One side is written in Japanese, with indications on where you went and when. The other usually has a picture of the area or temple where you bought them. This is the kind of souvenir that can be a bit bulky and heavy (in case you intend to buy a lot of them) but that can go in a checked luggage as it's definitely pretty sturdy so you won't have to worry about it being damaged!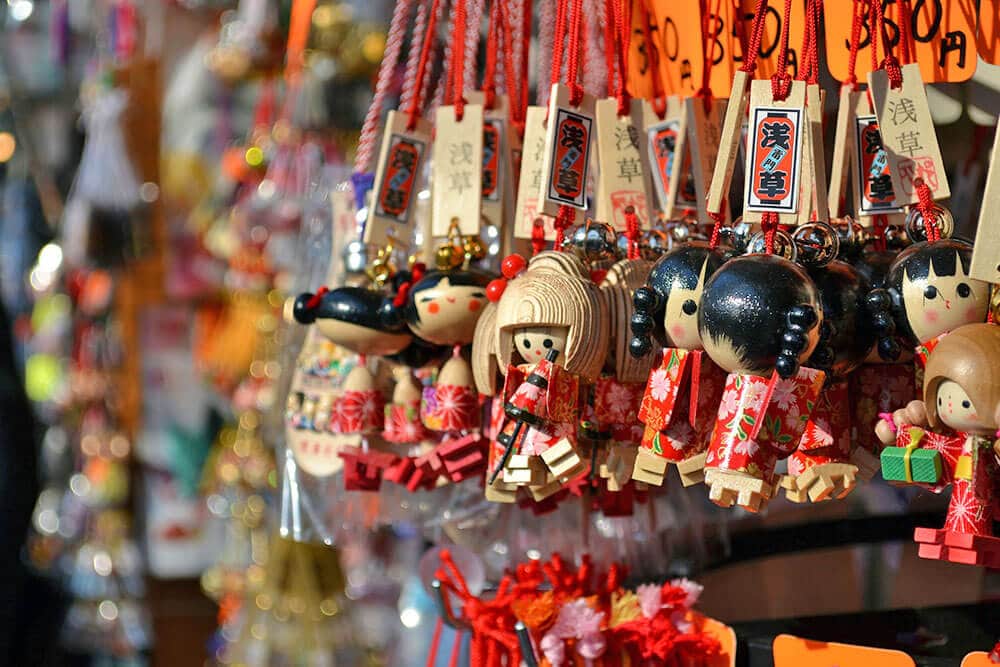 Lucky charms
Two of the Japanese souvenirs I always carry with me are a fluffy Bonbonribbon (Sanrio, from the Hello Kitty verse) charm tied to my purse and a tiny, wooden kokeshi doll charm tied to my wallet. Whenever people see them, they ask me where I bought them because they're so cute.
In Japan you will find lucky charms a bit everywhere, from the 100 yen stores to the temples, and even of course in the big shopping centers. They are the sort of thing you might want to buy because they are lightweight, cute, not very expensive and they are perfect for mostly everyone.
If you don't want them on your purse or wallet, you can strap them to your phone case, or to your car. And they can be traditional (made in silk or in wood like my kokeshi doll) or more modern (with every manga character you can think about) so basically you can purchase each for every one of your friends: there's always the perfect charm waiting for you!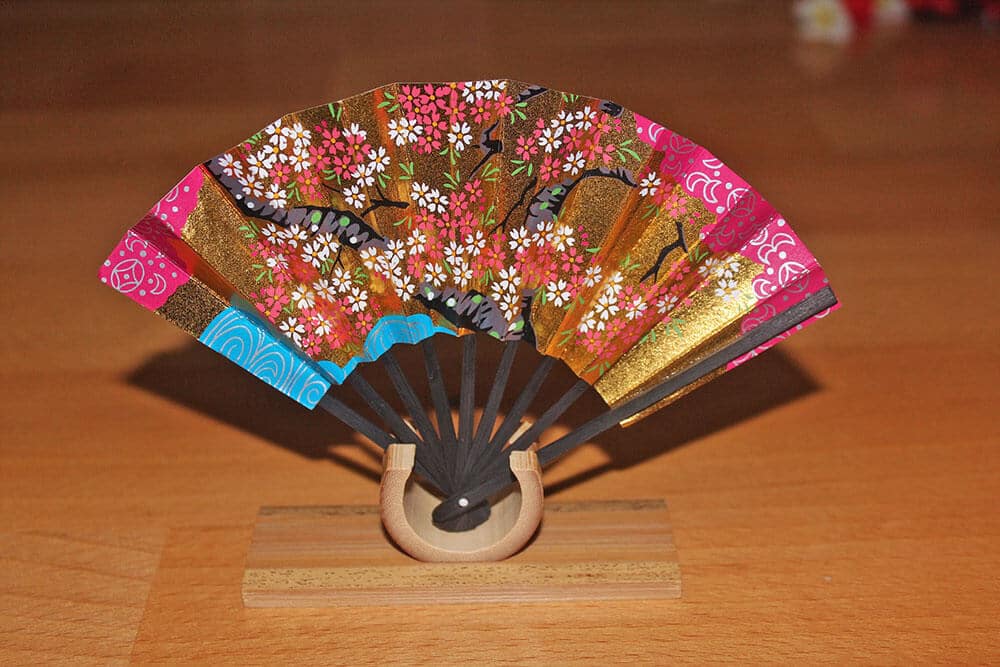 Japanese folding fans
Because my mom is affected by wanderlust just like me, she has her own travel collection. It's made of foldable fans and because she uses them (Naples in summer can be very hot), she can basically mix and match them with her outfits. Foldable fans, made in silk, paper or wood, are some of the best Japanese souvenirs you can think of.
We are Italians so we tend to buy those to our nonna (granny) or mamma (mum) but they're not for "the old ladies" (if my mom reads this I'm a dead woman, just so you know).
In Japan foldable fans are colorful, pretty, largely used and come in different sizes, so you can bring them with you in your purse and use them if it's too hot. Their price goes up if you choose to buy silk fans or wooden fans (which are absolutely breathtaking, by the way), but you can find some cute ones also in every 100 yen shop, and we bought a few also at Daiso.
The one I have in my purse at the moment was bought near Kinkaku-ji in Kyoto and it's paper and bamboo. When it's open you can see a beautiful scene, all painted in shades of pink and orange: a geisha watching the sunset near a pond. Now you see why I think that foldable fans are such amazing souvenirs from Japan?
Face towels
One of the things you will absolutely need if you're visiting Japan in summer is a face towel. They are one of the first things to buy in Japan if you're hoping to survive the heat!
Because we're having a scorching hot summer here, I also used it while hiking Mount Vesuvius and I'm still wondering why on Earth we don't sell them in Italy as well?
These small towels in Japan can be found anywhere and are very pretty or plain, according to your tastes. They are really small towels that fit in a pocket or in your purse, used to lightly dab the sweat from your face. At 100 yen stores or at Daiso you will find dozens for a really tiny price, mostly decorated with Japanese anime or manga characters.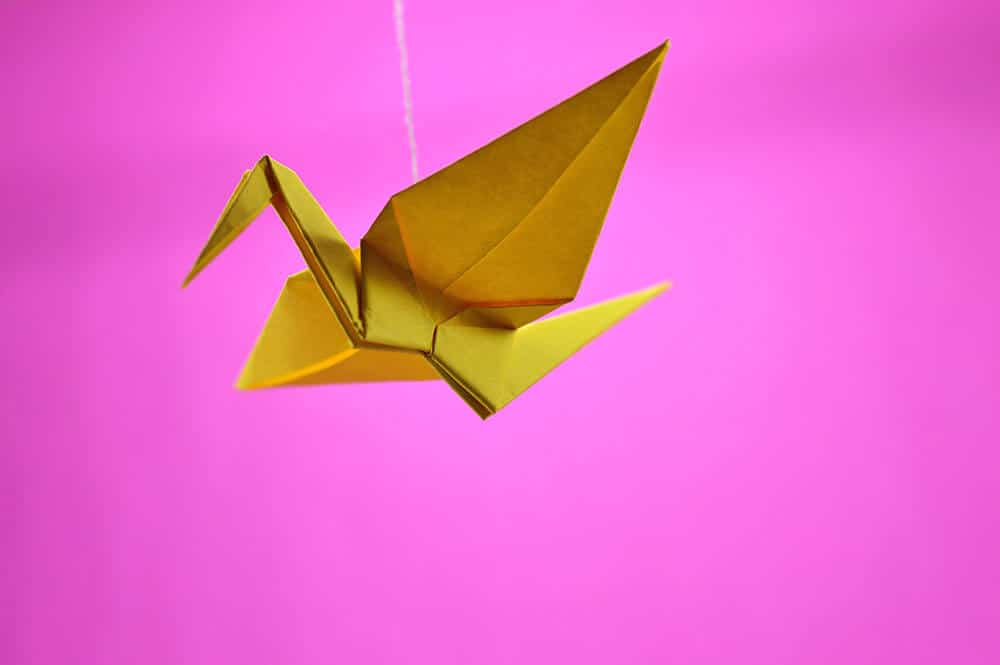 Origami paper
If you are planning to visit Hiroshima you'll probably see a lot of paper cranes at Hiroshima Peace Memorial. Origami is the Japanese art of folding paper to create animals or cool shapes.
Since you won't need scissors at all, it's the perfect family activity also for those who have younger children. In case you are wondering about things to get in Japan suited for a family, absolutely get some origami paper.
Once you're back home, you can buy online a book on origami which explains how to fold your paper (in Japan we have only found Japanese books, unfortunately): it can be also a pretty cool Christmas present!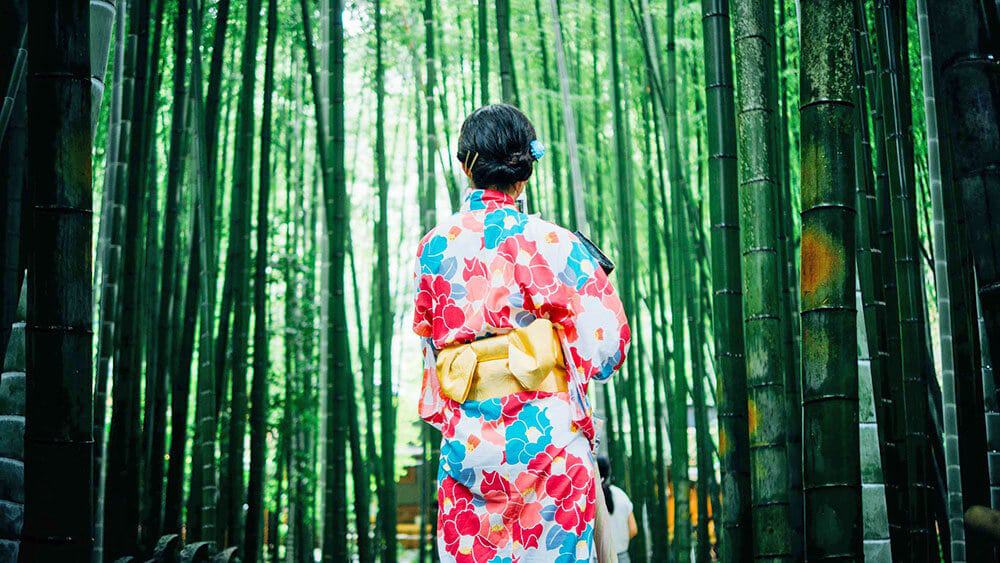 Kimono
I am often asked by bigger girls if they can fit in a kimono, because they are terrified that they'd be ridiculed.
This is exactly what I was scared of. What if it didn't fit? I knew I'd feel so ashamed, so I was almost too scared to try one. Yet Aldo gently convinced me. What should I be afraid of? Better trying than being sorry, so I can definitely tell you that yes. You don't have to worry: there are kimono shops that sell all kinds of sizes.
If you are in doubt, just ask. No one, absolutely no one will feel the need to tell you that you're too big. The Japanese are very respectful and always try to help.
You might also like:
The very best day trips from Tokyo you shouldn't miss
We found lovely kimono shops in Kanazawa, at Kanazawa Forus next to the train station. At The Cube, a big shopping center at Kyoto Station we bought a lovely cotton kimono for our nephew (the cutest thing ever!), and there were some very nice stores also at Odaiba, albeit those were a bit more expensive (remember that Tokyo souvenirs could be a bit more pricey because… well, it's Tokyo, so you'll have to be extra careful to find the best deals!).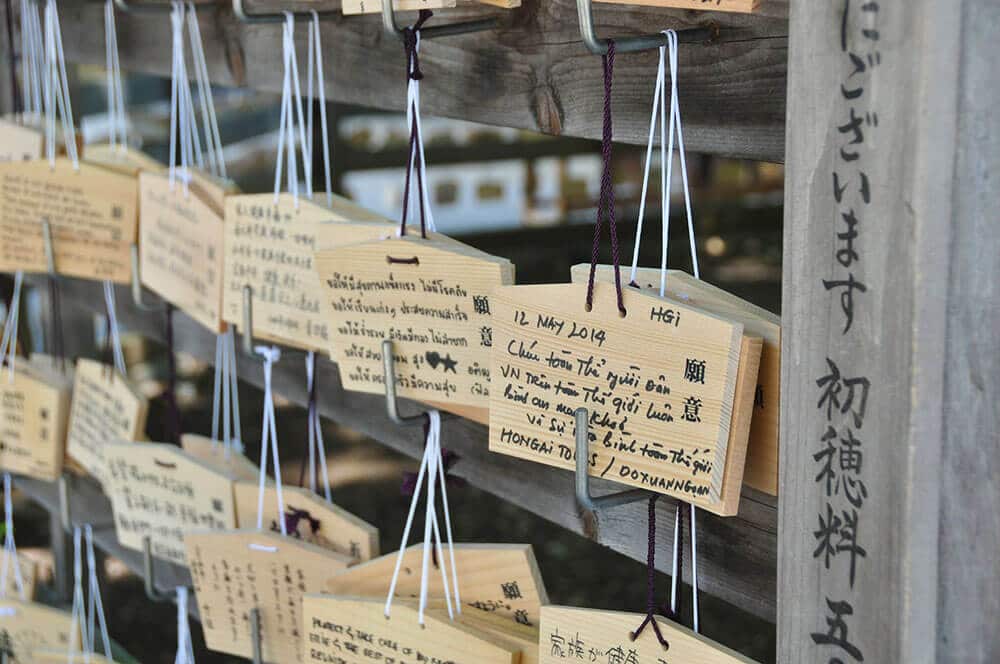 Ema boards
Ema are small wooden plaques sold in Japan, where Shinto or Buddhist worshippers write prayers or wishes. They are generally left hanging at the shrine, as it is believed that the spirits or gods will read them, but you can also buy them as souvenirs from Japan.
Ema boards are lightweight and you can buy quite a few, also starting your own collection: each temple or shrine has different ones and you can ask the monks to write your wishes in Japanese if you want to!
You might also like:
The very best souvenirs from Italy (tips from a local)
What to buy in London – a complete guide
25 incredible souvenirs from Japan
30 Florida souvenirs for every pocket
Souvenirs from Ireland – 40 smart ideas
Scotland souvenirs and gifts you should buy
While our trip to Japan was kindly sponsored by JNTO, we have given your our honest opinion as usual. So yes, let us proudly state that all opinions are our own and they don't necessarily reflect those of JNTO.
Pin it for later!
This post is also available in:

Italiano