23 Gorgeous Tuscany Villages You Should Visit
This post includes affiliate links. As an Amazon Associate, I earn from qualifying purchases. Full disclosure.
Discover all the fairytale Tuscany villages you should add to the itinerary for your next trip to Italy!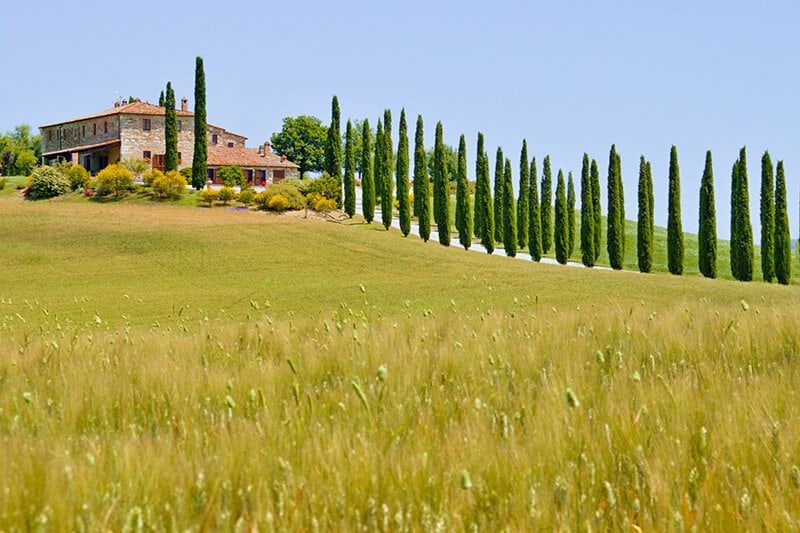 Visiting a few authentic Tuscany villages in Italy is on most people's bucket list. Yet finding the real deal is not easy, especially because the tourist traps are sometimes deceiving. Thanks to friends who live in Florence and Arezzo I got to compile a list of the best places you should add to your next trip. Let's discover the traditional side of Tuscany!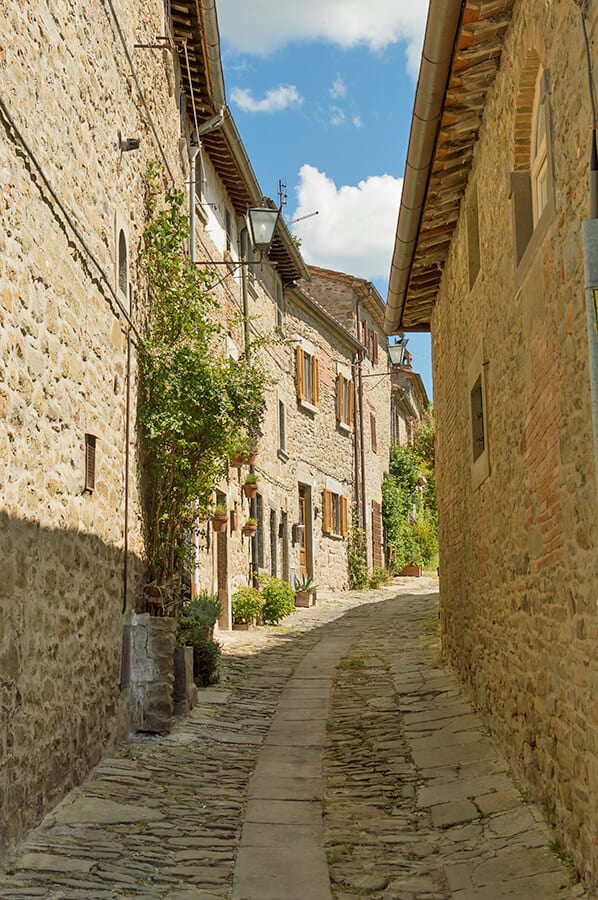 Quick Links to Post Content
Cortona – Under the Tuscan Sun
Pretty, winding alleyways draped with washing lines and hanging baskets of roses, gorgeous views of the surrounding Valdichiana in Tuscany… did you recognize it?
Cortona is one of the popular small towns in Italy thanks to the Hollywood movie "Under the Tuscan Sun", directed by Audrey Wells and starring Diane Lane, which was based on Frances Mayes memoir of the same name.
This ancient Tuscan village is topped with an imposing medieval tower. Even if it's quite small, it's packed with things to see and do.
If it's part of your day trips from Florence, I suggest you spend most of the day here: how does eating traditional Tuscan dishes sound to you?
Of course, don't forget a good glass of Italian red wine!
The three things you should add to the must-visit list are the Diocesan Museum, the Etruscan collection at MAEC, and the view from Cortona's Medici fortress (Fortezza del Girifalco).
You might also like:
10 Day Italy Itinerary – 5 Routes You Can Plan On Your Own!
Guide to the best time to visit Italy from a local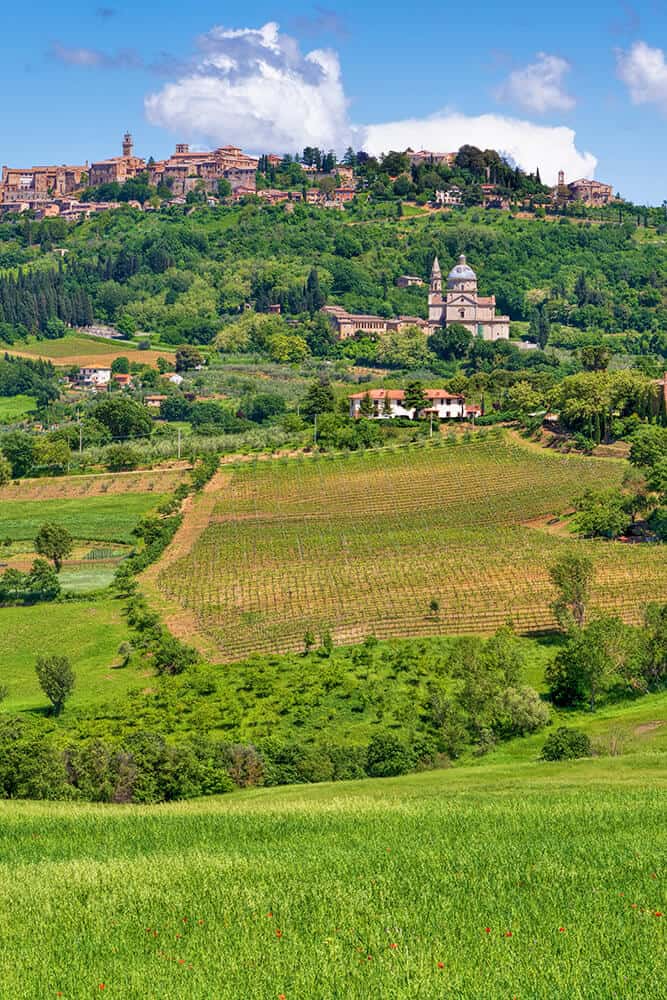 Montepulciano – For the Wine Lovers
One of the Tuscany villages which are super popular in Italy due to their wine production is Montepulciano.
This medieval village in Tuscany is located in a fairytale valley and blessed with Renaissance architecture brought by the Medici family in the 16th century.
Montepulciano, nestled between Val D'Orcia and Val Di Chiana, used to be what we now call a "resort" for wealthy families from Florence during the Renaissance.
Art and architecture reflect that time: make sure you walk around Piazza Grande and take a lot of pictures of the Renaissance palaces!
Click here to check the only wine tour which lets you meet the smaller producers in Montepulciano.
The foodies will love to visit this quaint little town in Tuscany. Wine lovers should plan a wine tasting tour in one of the Montepulciano cellars.
Here you should try the handmade Pici pasta and Bistecca alla Fiorentina.
The flame-grilled steak is often served with fresh arugula and thin slices of Parmigiano cheese: it is absolutely delicious!
You might also like:
The 20 Best Christmas Markets in Italy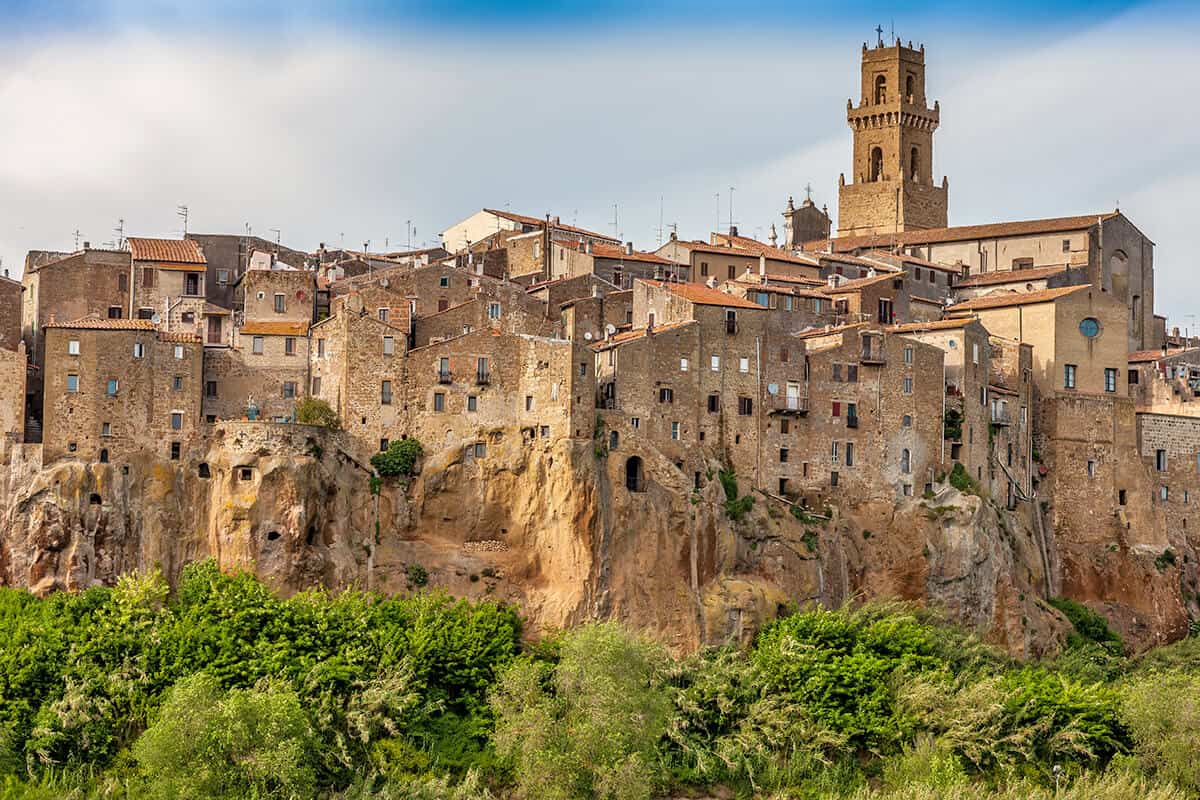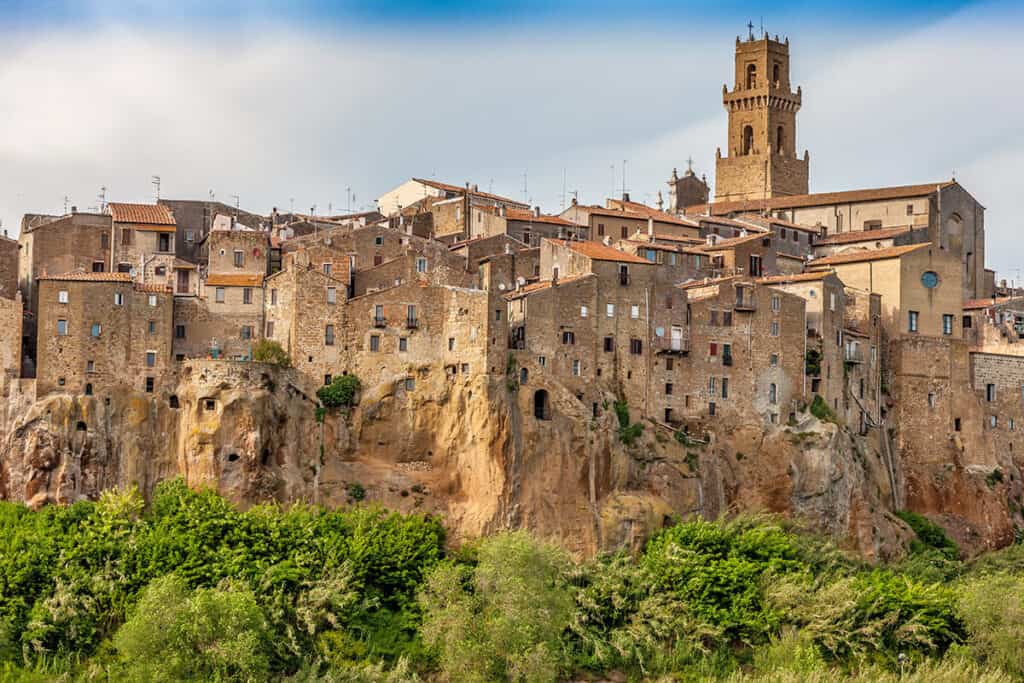 Pitigliano – Little Jerusalem
Pitigliano is possibly one of the most instagrammable hidden gems in Tuscany.
This lovely small village is an extraordinary natural sight. I suggest you stop on the drive there to take a few pictures of the view. Pitigliano in fact sits on the top of a tuff mountain in the Maremma area.
As you approach this ancient Tuscan village, you'll come to realize that houses were actually built into the tuff. It's like an extension of the mountain, chiselled out by the Etruscan and polished by the Romans.
Winding cobblestone alleyways duck under cascades of bougainvillea and traditional stone archways. The perfect romantic place also if you're planning an Italian honeymoon. In case you prefer to visit Italy in spring, this is the one place you absolutely can't miss!
Pitigliano is also known as "Little Jerusalem" because of its Jewish neighborhood. Jews have been living peacefully here until 1622.
I suggest you visit the Jewish Museum of Culture, and since you're there, also sample some local Jewish goodies at one of the small restaurants!
Our favorite Jewish pastries, that we usually also buy as a souvenir for our relatives at home, are known as Sfratti.
These are stick-shaped cookies filled with walnuts, honey, nutmeg and orange peel.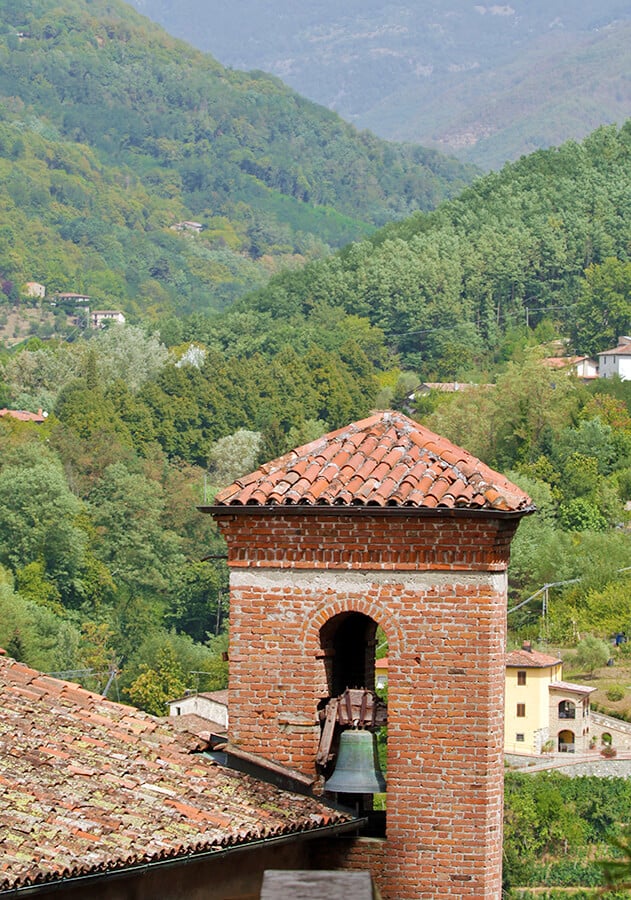 Barga – A bit of Scotland in Italy
Barga is a tiny village in the Garfagnana region, above the Tuscan highlands.
Now, speaking of Highlands, it's interesting to know that by the end of 1800 many locals moved to Scotland, looking for a better life.
Many of them have now returned with their grandchildren. So you can say that Barga is a little Scottish village in Tuscany!
The best part of it?
You won't have to worry at all if you don't know Italian language: almost everyone in Barga speaks English!
Worried you'll need a bit of help?
Download the FREE Italian Travel Phrasebook here! It includes the correct Italian pronunciation and lots of useful sentences that you'll be able to use on your trip to Italy!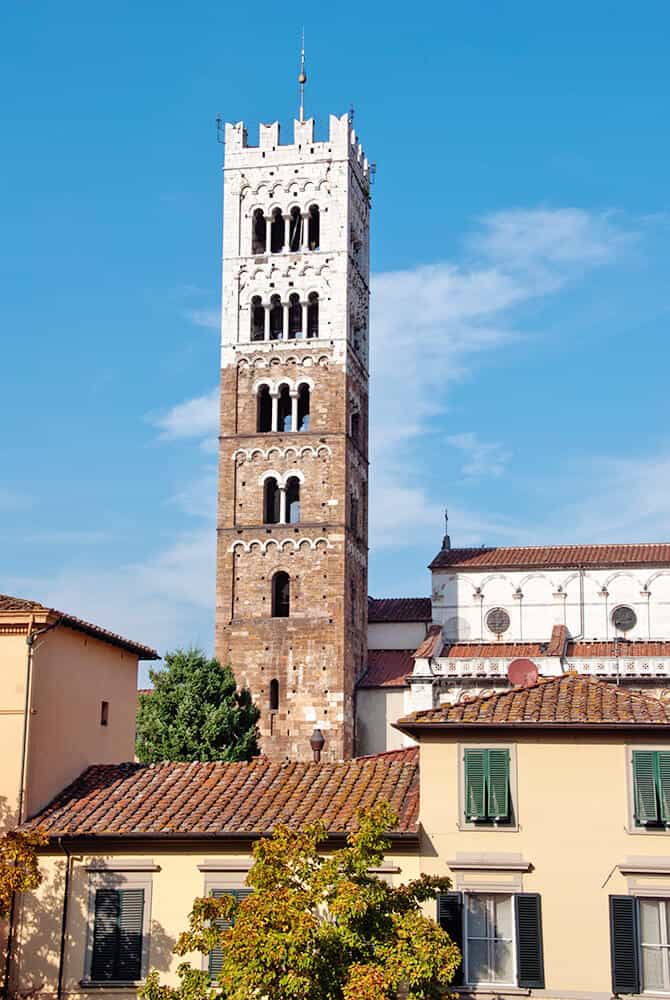 Lucca – More than Cosplay
When you say "Lucca" in Italy, the very first thing that comes to mind is "Lucca Comics and Games".
Me and Aldo have been attending this event, one of the biggest ComiCons in Europe, for years. We love taking pictures of the cosplayers and enjoying the free concerts with our friends.
If you're planning to visit this beautiful town in Tuscany between the end of October and the beginning of November, you'll soon find out how crowded it can become.
The whole area turns in fact into one big fairytale realm, with pop-up shops, exhibits and cosplay parades.
It's a lot of fun and, unless you want to enter some areas, it's also free. So it can be very interesting if you're visiting this charming town in Tuscany with your kids.
Yet Lucca Comics and Games also means that you won't be able to visit the real Lucca.
You might also like:
Packing Guide for Autumn in Italy
Throughout the year, this is yet another lovely town in Tuscany, very peaceful and known as the "city of 100 Churches".
You'll soon notice how little crowded it is compared to Florence!
The oldest part of the town is enclosed within ancient walls.
Lucca has grown a bit more throughout the years, also thanks to the comicon events, so the new houses had to be built outside the walls.
All the main highlights are located within the city walls: you should leave the car outside the small town, in one of the parking areas, and explore by foot.
The old town center is Piazza dell'Anfiteatro, surrounded by ochre-painted buildings and little cafes. It does look like a miniature version of Piazza del Campo in Siena, only… much less crowded!
The must sees in Lucca are the Duomo, the Basilica di San Frediano and San Michele in Foro.
If you have enough time, make sure you climb one of the gorgeous towers.
Torre Guinigi is the most popular one and also the tallest building in Lucca, sporting a lovely hanging garden, located on the rooftop.
Spending the day in Lucca doesn't even have to be particularly expensive. Those visiting on a budget can buy a yummy sandwich in one of the local "salumeria" shops.
Try getting one with Cinta Senese ham or with Finocchiona salami: these delicious cured hams are must-eats in Tuscany!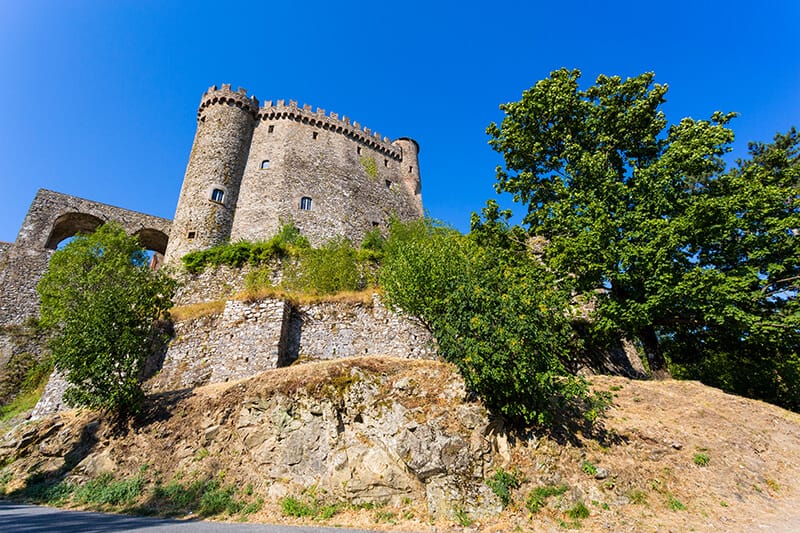 Fosdinovo – The Haunted Castle in Tuscany
Fosdinovo is an ancient Tuscan village located in Lunigiana. It lies on the top of a hill overlooking Val di Magra, a dash of brown stone against the olive forests of the Apuan Alps.
The main highlight is the 12th century Malaspina family castle, perched on the top of the hill.
Even if the Malaspina family still lives there, you can visit its rooms and towers by booking a guided tour.
According to history, Dante Alighieri has visited Fosdinovo quite often, so much so that one of the larger rooms at the Malaspina Castle is dedicated to him ("camera dantesca").
The local legends say that the castle in Fosdinovo is inhabited by a ghost.
The young Marquise Bianca Maria Aloisia di Malaspina, who had fallen in love with a stableman, was killed to avoid scandal.
Many swear they have seen her walking inside the castle, unable to find peace because her family tried to hide the crime they committed.
Olive oil is delicious in Fosdinovo: fresh-pressed olive oil is usually offered on a thin slice of Italian bread so that people can celebrate the new olive harvest.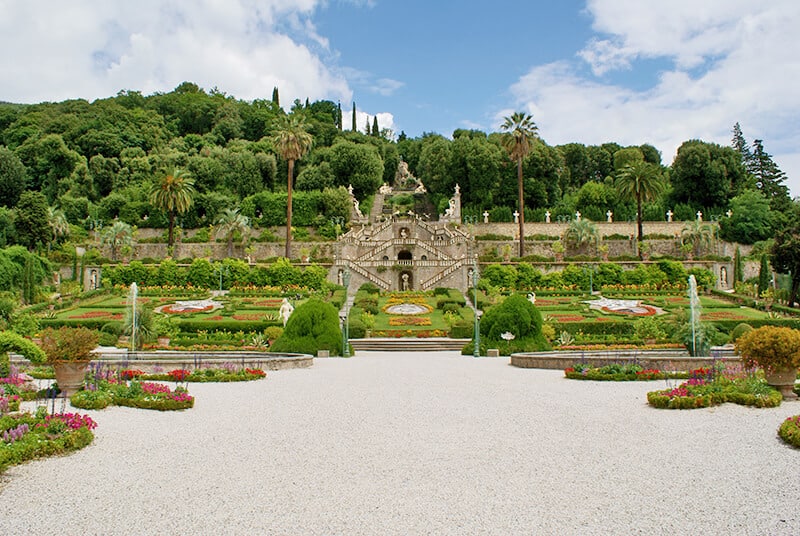 Collodi – Visiting Pinocchio Park
Collodi in Italy means only one thing: Pinocchio, the animated marionette created by the Italian writer Carlo Collodi (his real name was Carlo Lorenzini).
This cute Tuscany village is definitely worth a visit, also if you're not a kid anymore.
Located between Lucca and Pistoia, it looks like a cascade of little houses descending from a steep hill.
At the very bottom you'll see the Baroque Villa Garzoni, where Carlo Collodi spent his childhood.
He loved it so much that he decided to use "Collodi" as his pen name when writing The Adventures of Pinocchio.
Another thing you can't miss in Collodi is Pinocchio Park, a lovely park dedicated to Pinocchio.
It is full of activities for kids and fascinating sculptures representing characters from the world-famous book: perfect also if you're planning to take a few pictures for the 'gram!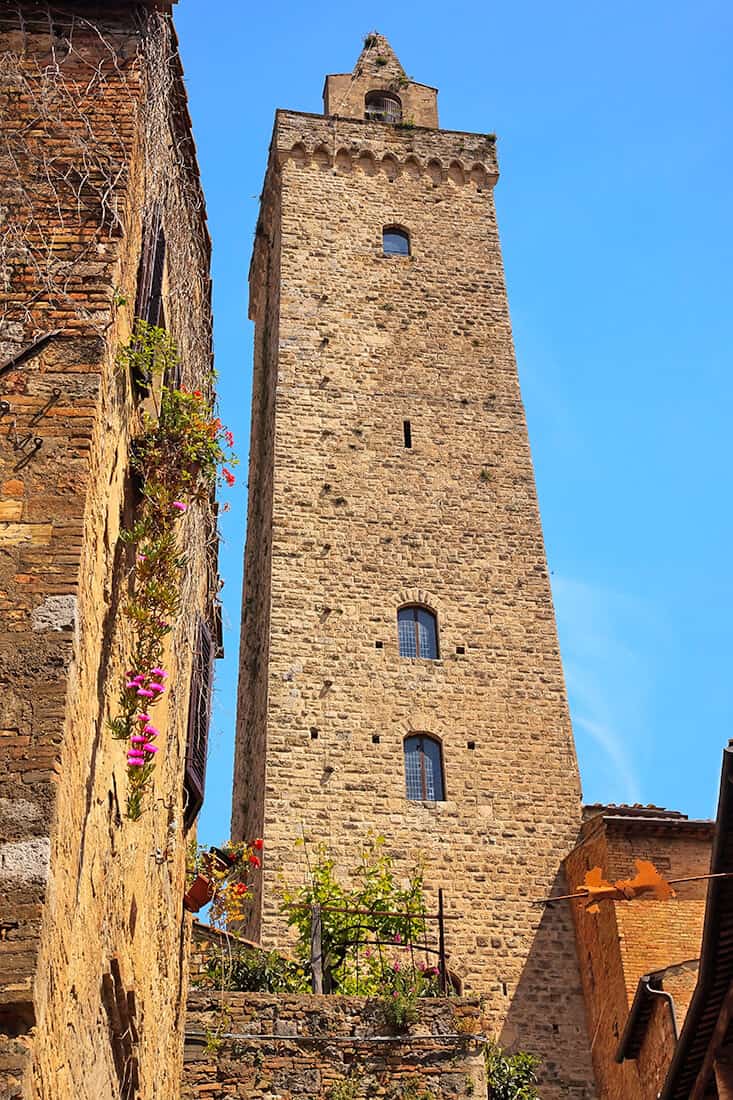 San Gimignano – Step Back in Time
San Gimignano, with its fourteen medieval towers rising above the Tuscan countryside, is a UNESCO World Heritage site that you should add to your Tuscany itinerary.
The village is pretty small and it's best to explore it by foot.
That's how you'll be able to actually experience all the little shops. Cheese, hand embroidery, wine and a lot more Italian souvenirs that will let you bring a little piece of Tuscany back at home with you.
Thursday is a market day, so you should get to this small village in Tuscany early in the morning. It gets pretty crowded, all things considered, and you'll want to have a look at the fresh produce and handmade goods sold at the market.
Sometimes we've found delicious Porcini mushrooms in the morning: by 10 a.m. they were already sold out!
Wandering through San Gimignano is like stepping back in time. It is, in fact, one of the best preserved medieval towns in Italy!
Don't miss the chance to explore Piazza della Cisterna, and climb to the top of the Torre Grossa. It's the tallest tower in San Gimignano and you'll get to enjoy amazing views of the Tuscany countryside.
Looking for something unique?
Click to check out this tour in San Gimignano and hunt for truffles with the help of local experts!
Monteriggioni – Assassin's Creed town in Tuscany
Monteriggioni is one of the Tuscany villages that video game players associate immediately to the fictional Guerritore family.
It was in fact used as inspiration for the video game "Assassin's Creed 2".
Yet what not many people know is that this is also another perfectly preserved medieval town in Italy, boasting magnificent walls, with fourteen towers on square bases, that used to defend the little stone buildings inside.
The small Tuscan town was also mentioned in Dante Alighieri's Divine Comedy (Inferno) and sports a very interesting museum dedicated to Knights Templar.
Certaldo – Tuscan Onions and Boccaccio
Certaldo is another one of the Tuscany medieval towns famous for one of its citizens. The Italian poet and writer Giovanni Boccaccio, author of the Decameron, was in fact born here.
This rustic Tuscan beauty was built between the 12th and 15th centuries and still has traditional restaurants, taverns, museums and lovely little Churches.
In the summer time Certaldo hosts the Mercantia Festival, an international festival of street arts that draws thousands to this hidden gem in Tuscany.
You might also like:
What to Wear in Italy in Summer
Certaldo is also associated with a certain type of onion, the Italian "cipolla di Certaldo", which was cultivated here since when the town was founded.
Today this onion has been preserved as Italian "Presidio Slow Food".
Every restaurant in Certaldo offers dozens of dishes that include the local onion, from savoury soups to juicy stews.
If you want to try a truly authentic Tuscany dish, you should order Carabaccia, a traditional onion soup.
Suvereto – A small hidden gem
Suvereto is a true hidden gem in Tuscany, not so far from the Etruscan Coast. It dates back to the year 1000 and it's rich in history and art.
Travertine and stone buildings dominate the town's centre, crowned by a Renaissance castle almost completely covered in vines.
Every summer this small town in Tuscany hosts local events that we call "sagre", where you'll get to taste the traditional dishes, handmade by Italian "nonne" (grandmoms) with love.
The best way to explore Suvereto is by walking around: the town is small so you can add it as a half-day trip to your itinerary.
If you're staying for lunch or dinner, I suggest you walk down to Via Matteotti. It's where you'll find the best slow-food joints, wineries and instagrammable spots.
You might also like:
Tipping in Italy – How not to be rude
Anghiari – A Quiet Place
Anghiari is a small village in Tuscany, set on a spur of rock. It's located on the border with Umbria, in the Valtiberina area.
You can easily say this is one of the unspoilt, hidden gems in Tuscany, because it hasn't been invaded by mass tourism.
This walled village is super quiet, very romantic and perfect also for honeymooners.
Getting to Anghiari from Arezzo or Florence, you will find the perfect instagrammable spot. As the car rounds a hairpin bend, the entire town suddenly pops into view: it's the perfect postcard from your trip to Italy!
Volterra – Alabaster and vampires
Volterra is possibly one of the most popular Tuscany villages thanks to the book "New Moon" (Twilight saga) by Stephenie Meyer.
Yet not many people know that there was quite a stir when the movie was filmed: the production chose to shoot in Montepulciano.
The reason is still unclear but the locals felt particularly offended by the fact that another town in Tuscany was used as a "prop" to represent their beloved Volterra.
Once again you'll be able to admire the work of the formidable Medici family. While Volterra was built by the Romans, we owe all the gorgeous basilicas and gateways to the Medici.
Volterra is the perfect romantic destination in Italy, especially at night. Since it's located pretty close to San Gimignano, you can easily visit both in one day.
Known for its alabaster production, Volterra has plenty of shops selling bowls, platters, lamps and even jewels made with this particular stone.
At Rossi Alabastri d'Arte, a workshop open since 1912, you can admire the machinery used to make the incredible sculptures you'll see throughout Volterra.
If you don't have much time, make sure you visit at least the 3 of the must sees in Volterra: the Cathedral and the Baptistery, Palazzo dei Priori and Pinacoteca.
Casole d'Elsa – Art and nature
Casole d'Elsa is another small town in Tuscany that you can add to your Volterra day trip, as it's very close to the much more popular "Twilight village".
It's a rustic Tuscan beauty featuring ancient walls, two round towers and the "Rocca", a square tower which now hosts the town hall and the Pinacoteca Arte Viva.
Driving a few minutes out of the walled village, you'll find the Parco Selva di Sogno L'Arte: this gorgeous garden is full of sculptures and wall art, hidden between bushes and imposing trees.
The best activity in Casole d'Elsa is walking around and exploring all the little shops selling handmade Italian products and food.
If you have more time, you should also visit San Nicolò Church and the Museo Archeologico della Collegiata.
Cetona – Romance off the beaten path
Cetona is considered one of the most beautiful little towns in Italy.
It's located in Val di Chiana, at the foot of the Cetona Mountain.
The houses surround a small castle, built on the summit of a hill, covered with pines and cypresses.
Cetona is a super romantic small town. Just walking around, through the narrow cobblestone alleys, is enough to make you fall in love with this place off the beaten path in Tuscany.
The most famous dish you can eat in Cetona is Pici con l'aglione.
Pici pasta is shorter and thicker than spaghetti. Here they're handmade and topped with a delicious garlic and tomato sauce. The restaurants in Cetara also add crushed red pepper flakes (it can be pretty spicy!) to enhance the traditional recipe.
Chiusi – Underground Labyrinth
Those looking to explore Tuscany villages off the beaten path should also consider Chiusi.
This small town not too far away from Siena boasts an extraordinary necropolis, known as "Labirinto di Porsenna".
The underground tunnels are located under the oldest part of the city center and you can access them from the Museo della Cattedrale (Cathedral Museum), without having to pay an extra ticket.
In case this isn't your first trip to Italy, you might have already been to Napoli Sotterranea, one of the most popular things to do in Naples.
The Chiusi labyrinth is like the one in Naples, only very much smaller. Visiting will require a lot of walking: do not attempt it if you're claustrophobic!
Chiusi can be added to a day trip to Montepulciano or Cetona, as it's very close to these other two small villages in Tuscany.
Montalcino – Red Wine Hub
Brunello di Montalcino is one of the most popular red wines in Italy. And Montalcino, the small town where it is produced, is one of the cutest spots in Tuscany.
Win-win!
The hilltop town of Montalcino is perfect for a half day trip from Siena.
You can spend the morning driving through the rolling hills of Val d'Orcia. Stop often: this is possibly the most instagrammable area in Tuscany!
Once in Montalcino, explore the medieval city by foot. The main attractions include romantic narrow streets, a fortress and the charming Abbey of Sant'Antimo.
While there are quite a lot of gourmet restaurants, we decided to stop at a less touristy place for lunch.
Locanda Demetra & Montalcino is a family-owned restaurant and cooking school. From the terrace you'll be able to take amazing pictures of Val d'Orcia.
The cozy environment and warm welcome were a nice extra to a menu full of traditional Tuscan dishes, made with the freshest ingredients.
Booking in advance is always a good idea!
Note: Aldo fell in love with the tiramisu at the Locanda Demetra & Montalcino. It was served in cappuccino mugs and topped with fresh flowers. Super instagrammable and also delicious!
Do you want to discover the real Brunello di Montalcino wineries?
Click to check out a fantastic wine tour in Montalcino – small group and local product tastings!
Pienza – UNESCO Capital of Pecorino
When Aldo's brother used to live in Siena, there was one place where we always wanted to go, whenever we visited. Pienza.
Considered one of the best towns in Tuscany, Pienza is also world-famous thanks to Pecorino di Pienza.
If you've never tried this cheese with sheep's milk, I absolutely encourage you to do so. It's one of my favorite cheese types in Italy!
Pienza is a UNESCO World Heritage Site, commissioned by Pope Pius II in the 15th century as the "ideal" little town.
The things you shouldn't miss are Piazza Pio II, with incredible views on the Val d'Orcia, and of course "window shopping".
Basically you'll walk through a lot of tiny shops that sell a lot of handmade souvenirs, pici pasta and of course Pecorino cheese.
Much better than looking at designer shops, if you ask me!
You'll have to leave your car outside Pienza and explore by foot.
Because there will be a lot of walking, I recommend you wear super comfortable shoes: your feet will thank you by the end of the day!
Radda in Chianti – Wine and Views
Another pretty Tuscan town every wine lover should visit is Radda in Chianti.
Located in the instagrammable Chianti hills, it's the capital of Chianti, another extraordinary Italian red wine. And Aldo's favorite, too!
This cute small town boasts a medieval, hilltop city center, with a bell tower that dominates the countryside.
As you might have guessed, it's surrounded by gorgeous vineyards, where Chianti wine is produced.
Explore Radda in Chianti by foot: you can enter through lovely gardens or Porta Fiorentina. Both are lovely and the village is too small for it to make a real difference!
The rural atmosphere is almost surreal when there's no one else around. You'll get to walk through olive gardens and stone alleyways in silence. Almost as if you were the only one left on the planet.
This is one of the wine towns in Tuscany that haven't been completely overwhelmed by tourists.
If you love Italian wine, I suggest you visit the Casa del Chianti Classico, which extends into the Convento di Santa Maria del Prato.
This wine tour will show you all the secrets of Chianti wine making, and you'll also get to taste some of it!
Do you want to explore Chianti but you don't have a car?
Click here to check out this amazing tour from Florence, which includes an English-speaking guide, a cooking lesson, a tour of the Chianti wineries and a delicious lunch!
Sorano – One of the tuff Tuscan towns
Sorano is located in Maremma. It is one of the several Tuscan towns carved out of rock.
While it dates back to the Etruscan civilization, it's under the Aldobrandeschi family, in the mid 800's, that this small village became powerful enough to dominate Southern Tuscany for centuries.
This cute town in Tuscany is super romantic: all small streets, stone arches and rural architecture.
You can park up next to the Orsini Fortress and walk through the castle, then keep going until you get to the city center.
Parking near the fortress is free!
If you have time, make sure to also visit the Renaissance Museum, which also features many Medieval pieces.
Another highlight is the Masso Leopoldino, a fortified terrace which seems to rise out of the mountain: it was built even before the Orsini Fortress!
Just like Pitigliano, Sorano preserves a Jewish ghetto. You can still see the Sorano Synagogue and the signs of the hinges where the door closed the ghetto at dusk.
A very interesting hike that you should add to the itinerary is Le Vie di Cave.
These are deep scars embedded as winding paths in the tuff. They were used to help people go from the city center to the cultivated countryside and the Etruscan necropolis.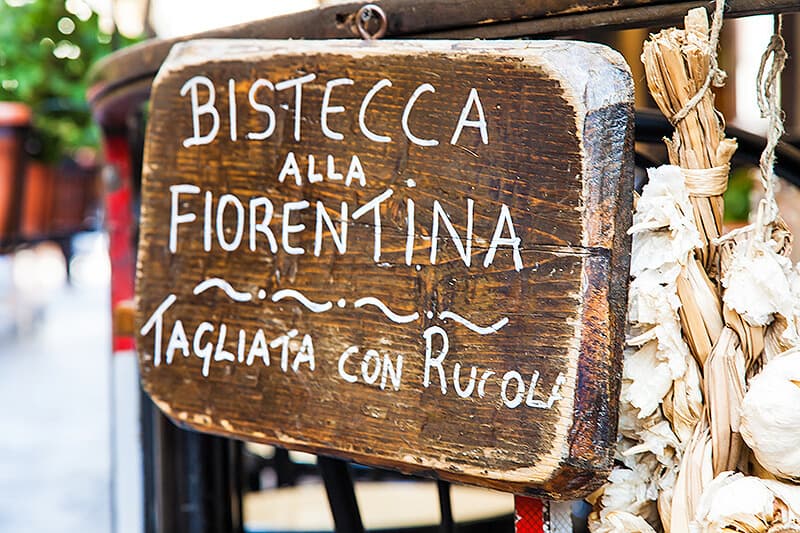 Vinci – Everything Leonardo
Vinci is the tiny Tuscany village where Leonardo (da Vinci) was born. It's located on the Montalbano hills, between Pistoia, Prato and Florence.
The whole town is dedicated to all things Leonardo: make sure you plan to spend at least a half day here, because there's a lot to see and do!
The medieval Vinci was built around the Castle of Conti Guidi, also known in Italy as "Castello della nave" due to its shape, that makes it look like a big ship.
The Museo Leonardiano hosts one of the biggest collections of Leonardo's models in the world. They have been all rebuilt following in details the authentic drawings.
You'll get to see over 300 objects, including a few plane prototypes.
Behind the castle you can also see a wooden sculpture inspired by the Vitruvian Man (Uomo Vitruviano), possibly one of the most popular drawings by Leonardo, which shows the proportions of the human body according to Vitruvius.
The view from the terrace is amazing so it's the perfect instagrammmable spot!
If you still have time, you can visit Chiesa di Santa Croce, where they preserve a baptismal font which was used to baptise baby Leonardo.
Even just walking around in Piazza dei Guidi is a unique experience. The Italian artist Mimmo Paladino has in fact created a modern urban space with statues and drawings that you can touch and photograph.
Vinci is a good place to have lunch.
If you decide to stay in this old town, make sure you try Italian bruschetta with IGP olive oil (Olio Extravergine di Oliva Toscano IGP), and a glass of Carmignano DOCG wine.
You won't be disappointed!
Palazzuolo Sul Senio – Chestnuts, Horses and Tortelli
One of the lesser known Tuscany villages, that even many Italians haven't heard of, is Palazzuolo sul Senio.
The second smaller town in the Firenze area is located on the border with Emilia Romagna and is a little slice of Paradise, hidden behind the Apennine Mountains.
Me and Aldo have discovered this tiny village in Tuscany after riding for about 7 hours through the mountains: we were sore, thirsty and hungry.
Yet when we rode in town, a lot of Italian nans waved at us, smiling and clearly happy to have visitors.
Palazzuolo is one of those fairytale villages you've often read about. Unless many tourist traps, this is the real deal.
Mass tourism has never touched this area, which relies on good food and horseback adventures.
While driving to reach Palazzuolo you'll get to see hills covered with herds of Haflinger horses, as well as chestnut woods.
Once in town, the first thing you'll notice is that everything is super colorful. There are so many blooming blushes, trees and even a small stream which cuts Palazzuolo sul Senio in two.
From the ancient clock tower you can just walk around, enjoying the quiet of this place off the beaten track in Tuscany, and getting to know the locals.
Everyone is super friendly and tries to help even if they don't speak English!
The culinary scene in Palazzuolo reflects dishes and traditions from Tuscany and Emilia Romagna. Here the Italian nonnas still make handmade tortelli, that are sometimes sold to raise money for good causes.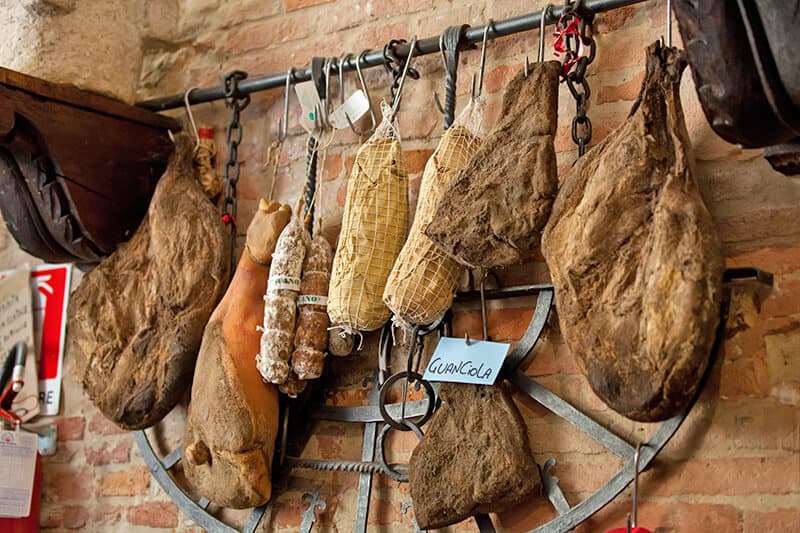 Il Borro – The Ferragamo Village
On one of our visits, our friends drove us from Arezzo to this lovely small town in the Tuscany countryside.
We walked around, exploring the narrow cobblestone streets, and I thought it was yet another one of the beautiful towns in Tuscany. I mean, everything looked just like the kind of place I'd expect to see in that area.
After we visited the last "bottega", a tiny shop inspired by Collodi's Pinocchio, our friends casually asked us… "Did you know that the Ferragamo family has bought the whole town?".
Il Borro – Toscana is actually what in Italy is known as "albergo diffuso".
The family bought a whole town which had been almost completely abandoned by the locals, restored the ancient buildings and turned everything into a hotel.
Unbelievable, right?
Looking closely enough we noticed the uniformed maids coming out of the little stone houses, carrying baskets full of fresh fruit or hot-off-the-oven pastries.
Because at Il Borro – Toscana you can actually rent a house inside the medieval village, and still have the luxuries you'd expect from a five stars hotel.
But wait, there's more!
The Ferragamos have made sure to restore the whole village, so there's an authentic piazza, stone paved alleys and authentic Italian little shops (botteghe) that you can explore.
There are kids activities, the chance to enjoy a day at the Orto del Borro, to see how they grow the vegetables they're cooking for their guests, and of course there's a whole series of wine and cheese tastings.
Il Borro – Toscana has become super popular as a wedding venue, and it's often used also as a unique honeymoon nest.
While it's definitely not cheap, it provides an exclusive solution if you're planning to celebrate a special something in Italy.
Check the rates and offers: Booking.com | Kayak
How to visit Tuscany off the beaten path
While there are many trains that make travelling in Italy easy and fast, in this case the only way you have to reach some of the most beautiful towns in Tuscany is by renting a car.
Florence is well connected to a lot of other cities in Italy, but many of the Tuscany villages are completely off the grid. That's the main reason why overtourism hasn't ruined them, and to be honest we prefer them like this: authentic!
The best way to go is thus to rent a car online.
Since you definitely do not need a car to visit Florence (it's more of a hassle, actually), be smart.
Rent a small car only for the days when you'll have to explore the Tuscany countryside and lump a few villages (the closest ones) together so you can see more without having to keep the car for too long.
Once you're done, return the rental car and keep exploring Italy by train.
Easy and cheap: online rates are in fact much lower than the ones you'd find in the agencies in Florence.
Pin it for later!
Travelling Dany
Danila Caputo is a bilingual travel writer living in between Naples and the Amalfi Coast (Italy). She travels and works with her husband Aldo, photographer and videographer. Their blog chronicles their adventures around the world, Italian/European culture and tips on how to be responsible travelers. You can find out more about their latest trips and their life on Instagram and Facebook.