Yosemite Itinerary – 2 Days of Adventure & Fun
This post includes affiliate links. As an Amazon Associate, I earn from qualifying purchases. Full disclosure.
2 days in Yosemite National Park are perfect to get a taste of this awe-inspiring natural wonder in the US.
Planning a Yosemite itinerary for 2 days might feel pretty complicated at first. The park is huge and there's so much to see. We decided to put together a 2 day Yosemite itinerary that covers all the classic highlights, and some lesser known sights you might like, in case you have more time. Hopefully it will help you to feel less intimidated by this gorgeous US National Park.
Spoiler alert: we fell madly in love with Mariposa Grove of Giant Sequoias!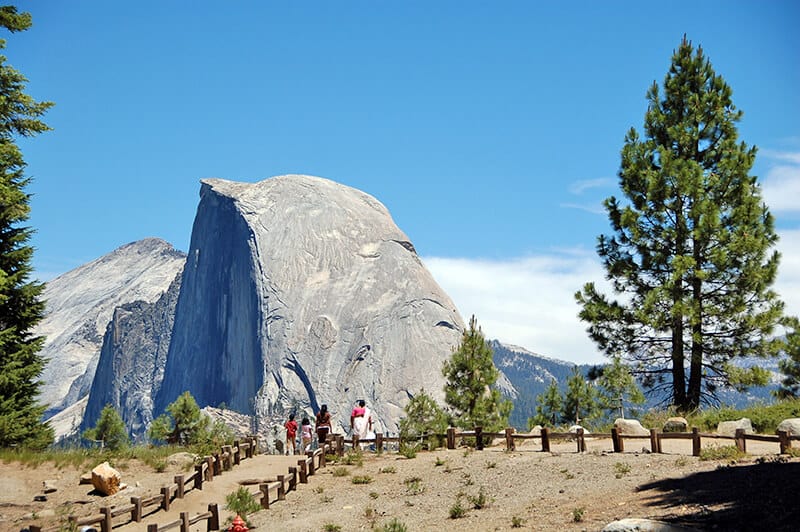 Quick Links to Post Content
Day 1 – Yosemite Valley Hiking
Me and Al visited Yosemite a few times. Our very first trip to this National Park was added to the itinerary on our first visit to the US. I won't lie to you: we had no idea what to expect!
The second time around we decided to add one more day to enjoy a few Yosemite hikes. Let me just tell you that the park didn't disappoint.
What we learned is that sometimes you really have to get smart to see all the best sights in a weekend.
While 3 days in Yosemite would definitely allow you to hit most of the major attractions and to plan a couple of extra hikes, you can still do it in two days.
Put it that way: you'll have the perfect excuse for planning another Yosemite National Park vacation!
To visit this gorgeous US national park you will need a car. You can either rent one for a few days, or you can book a private tour.
There's the chance to visit Yosemite from San Francisco in one day with a very nice tour!
Those who have more time can also book a private tour to explore Yosemite park in two days. The tour includes hotels, pick up in San Francisco, expert guide, Yosemite entrance fees and so much more! You can click here to have a look.
Planning a road trip?
Click to download our FREE printable
ROAD TRIP CHECKLIST!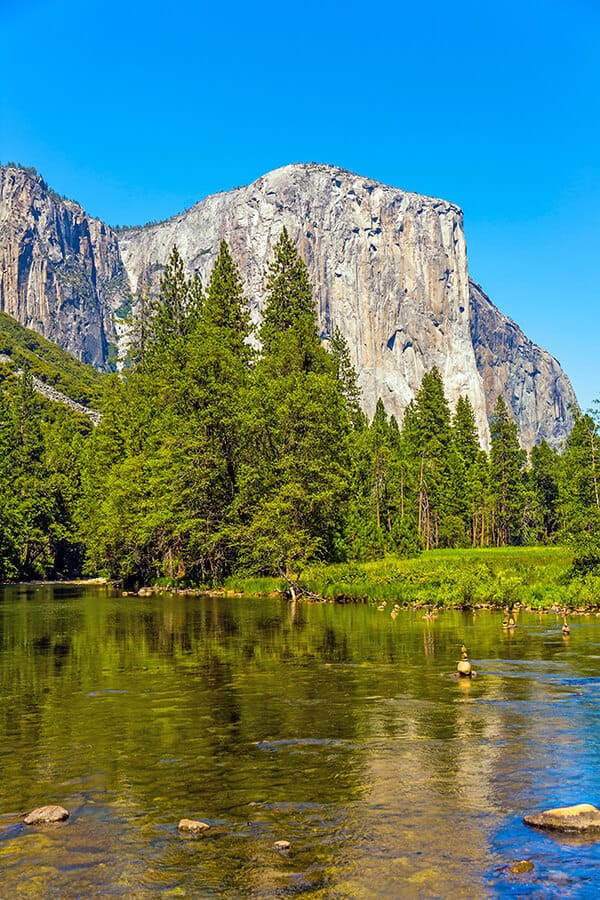 The first part of your Yosemite itinerary depends a lot on where you are coming from.
The road to Yosemite Valley is in fact full of interesting things to see so it will be like starting your trip earlier than expected!
Those driving to Yosemite National Park from San Francisco on Highway 140 will have the chance to explore the lovely Gold Rush town of Mariposa.
Then they will pass through the Merced River Canyon, which is the perfect instagrammable spot!
In case you are coming from Highway 41 through Fishcamp, you will want to make a stop at Glacier Point. It's an hour drive from Yosemite Valley, off Highway 41, but the view is definitely worth the drive!
From this viewpoint you can in fact take gorgeous pictures of Half Dome.
Glacier Point at Yosemite National Park is accessible by car from late May to October or November.
You might also like:
US Babymoon Ideas On a Budget!
The lucky ones who are planning to visit Yosemite National Park in summer should take the Tioga Pass or Highway 120.
That will allow you to stop at Tenaya Lake, also known as "Jewel of the High Country" due to its amazing turquoise waters.
Is this your second trip to Yosemite National Park? In case you already visited the places mentioned above, you should drive straight to Yosemite Valley, making sure you get there early in the morning.
It will give you enough time to visit the Valley Floor: this is where you can take gorgeous pictures of Half Dome, El Capitan and Yosemite Falls.
One of the most popular spots is known as "Tunnel View", you'll read more about this place later on!There's also a paid tour to explore the valley but using the free shuttle buses is definitely easier.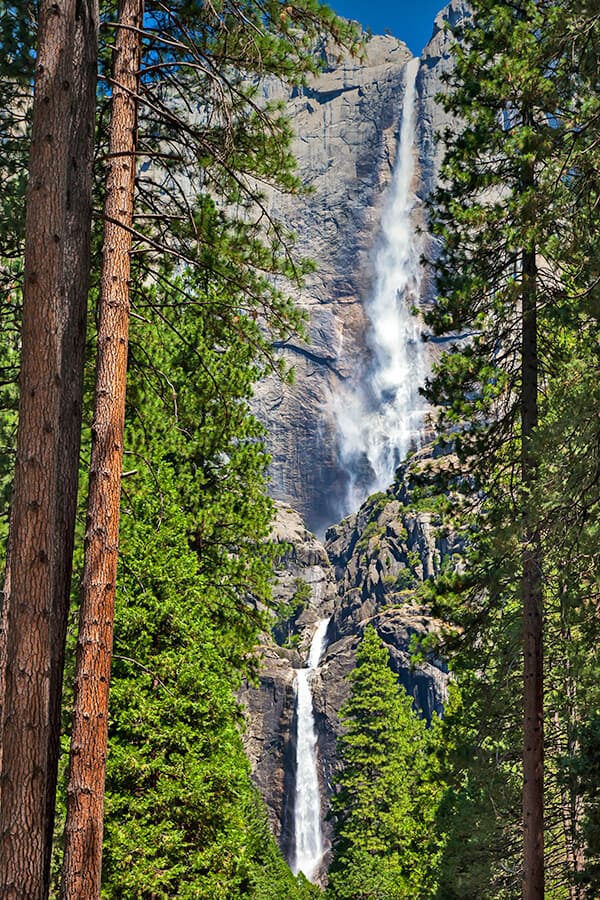 Walking around Yosemite Valley will take quite a lot of time: if you're like us you will want to stop often for pictures or just to enjoy the view.
The shuttle bus is perfect because you can hop on and hop off as much as you want. It'll help you to pack more views on the first day of your Yosemite itinerary.
Make sure you stop at Bridalveil Fall, especially if you're planning to visit Yosemite National Park in spring.
It's the very first waterfall you will see as you enter Yosemite Valley.
The water spray actually looks like a bridal veil, trickling down from 189 meters above the viewing area.
Some of the notable stops at Yosemite Valley include Cathedral Beach, Sentinel Beach, Swinging Bridge, Sentinel Bridge, El Capitan Bridge and Valley View (the best one in our opinion).
Another great option for your Yosemite itinerary is an easy hike to Mirror Lake, which is especially romantic at sunset.
If Mirror Lake is too far, an additional instagrammable spot at Yosemite park (which is also pretty romantic) is the Tunnel View viewpoint.
Head over there at least 1 hour before sunset to make sure you'll be able to park and find a good spot. Then just sit and enjoy the gorgeous view!
Looking for a romantic Yosemite sunset tour?
Click to check out how to book a romantic sunset hike which includes champagne and finger food!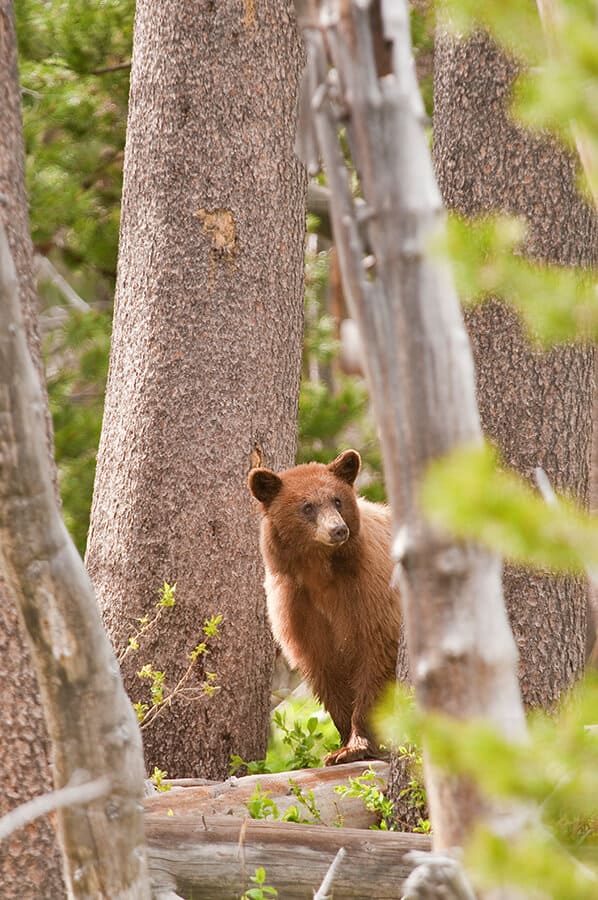 The Yosemite Museum is also an interesting place to visit if you have enough time or if you don't feel like hiking.
You will have the chance to experience the Native American culture, and a demonstration about Miwok and Paiute Native American traditions in the area.
Next to the museum there's also a very nice replica village that helps understand how people lived in Yosemite, and a cemetery with headstones of Native Americans and pioneers.
Since we are huge fans of the "Old Wild West", we found the Yosemite Museum absolutely impressive.
A visit can take 1-2 hours, but it really depends on how much time you have.
Stargazing should always be an option in your Yosemite itinerary, even if you only have 2 days.
After dinner make sure you spend some time with your nose up in the air and you won't regret it!
There's also the chance to join a star-gazing tour, but you'll need to book in advance.
How do I get to Tunnel View in Yosemite?
From the junction of Highway 41 and Highway 140 in Yosemite Valley, head south on Highway 41 toward Wawona.
After about 1.6 miles (2.5 km), pull into the parking area on the side of the road, just before the tunnel.
Bring your camera: this is one of the most instagrammable spots at Yosemite National Park!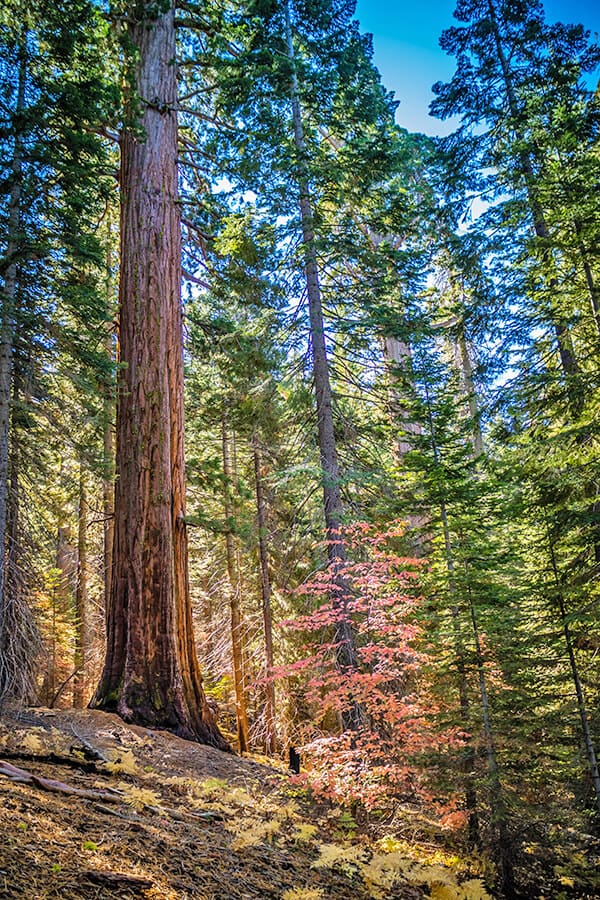 Day 2 – Giant Sequoias and Short Hiking Trails
Waking up early is absolutely mandatory: you only have 2 days in Yosemite National Park and there's so much to see and do!
Right after breakfast you should drive to Mariposa Grove to see the giant sequoias.
Wear comfortable shoes, in case you want to treat yourself to a short hike!
Getting there early in the morning is a great idea which has a lot of perks. To begin with, the parking lot won't be full. Mariposa Grove is in fact a beautiful hiking area, which can get crowded.
No parking means that you will need to drive back to the visitor centre and hop on a shuttle bus. With only a weekend in Yosemite, the last thing you want is wasting precious time!
Another thing you should consider when visiting Mariposa Grove early in the morning is that this area is usually way less crowded. This will give you the chance to get up close and personal with the animals living at Yosemite. Including bears. Please make sure you do stay at a safe distance when you spot one and do not even attempt to feed them!
You might also like:
How to plan the perfect Utah road trip
The very best Arizona road trip itinerary
Back in the day, on our very first trip to Yosemite, you could actually park your car pretty close to the giant sequoias.
We had rented a compact sedan. I swear I'll never forget Aldo's face when he actually realized the nearby sequoia was larger than our car.
There are no giant sequoia trees in Italy and that is why we fell madly in love with Mariposa Grove and Yosemite Park!
The giant red trees are not "just" impressive. They're some of the oldest living beings on our planet. Some of those in Yosemite are definitely over 3000 years old.
If you have a little extra time on your Yosemite itinerary, I suggest you hike to the 1800-year old Grizzly Giant sequoia.
Hiking there (1.2 mile – 1.9 km) should take you about two hours.
The Big Trees Loop trail is a super short hiking trail. It's only 0.3 miles (0.5 km) long and it will take only about 30 minutes. The perfect place to go if you do not have much time or if you just do not feel like hiking.
Bonus: the Big Trees Loop Trail is wheelchair accessible.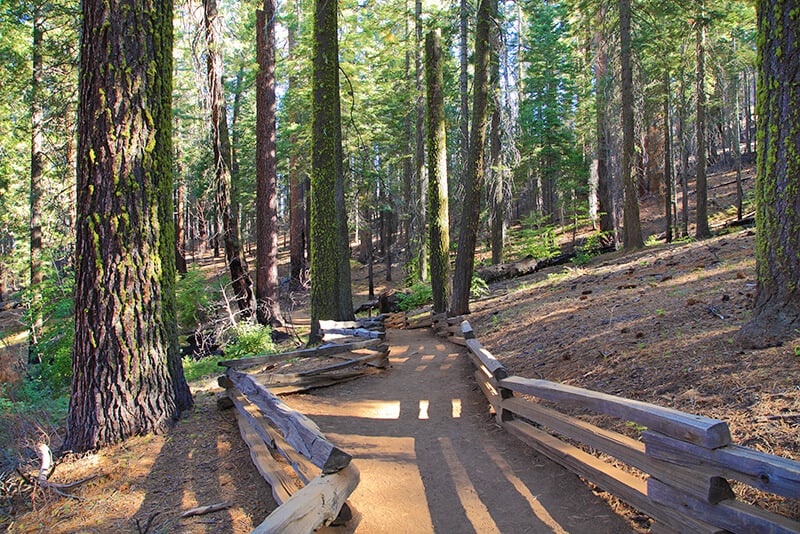 Treat yourself to the perfect National Park picnic by stocking up on food at the Tuolumne Meadow Grill and Store. It's located a few minutes down the road to the Tuolumne Meadow Visitor Center.
The Soda Springs trail is a 1.5 miles round trip hike (2.4 km) that you can also add to your itinerary.
The trail is nice, flat and very easy. Consider 1-2 hours to get back to your car.
Start at Lembert Dome parking area (shuttle stop n. 4).
Soda springs are protected within a log enclosure for obvious reasons: it's carbonated, cold water bubbling out of the ground!
There's a very nice pic-nic area with grills at Tenaya Lake, at Tuolumne Meadows. It's perfect for a lunch stop with a view.
Should it be too crowded, opt for a sandwich lunch at Yosemite Creek.
Note: the Yosemite Creek pic-nic area is not accessible to wheelchairs and has no grills.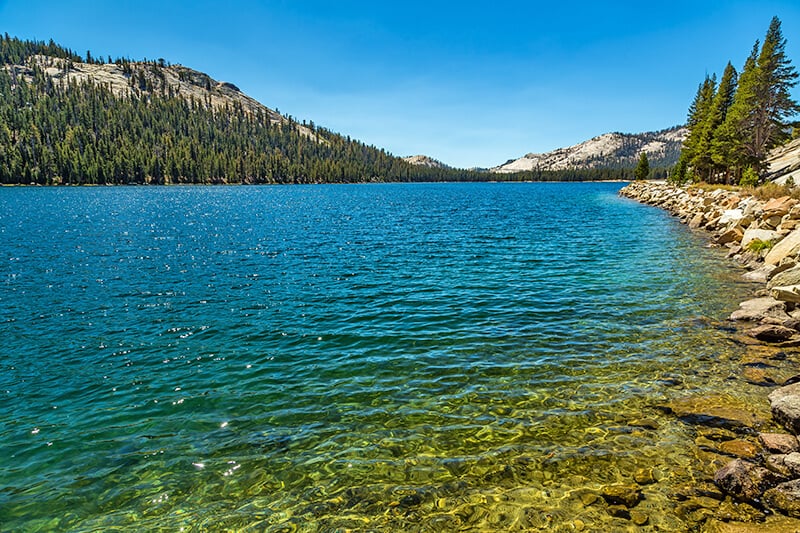 Those of you who haven't made it to Glacier Point yesterday can do so in the early afternoon.
The view from up there is breathtaking and you'll want those pictures for your Yosemite weekend album!
Useful tip: have an early and quick lunch if you want to go to Glacier Point.
It will be way less crowded as many other visitors will leave to get some food!
Since we already visited Glacier Point, we decided to go for a quick stroll along the Lower Yosemite Falls trail.
The 1-mile (1.6 km) loop is super easy, completely paved and with a very minimal incline.
It will get you to a small footbridge at the base of the falls: get your camera ready because the spray from the waterfall creates a lovely rainbow!
Aldo said that the hike to the Lower Yosemite Falls was so pleasant that it'd be the perfect post-lunch stroll. No stress, no need to over-do it and it'll also be less crowded in the early afternoon.
How can you say no to that?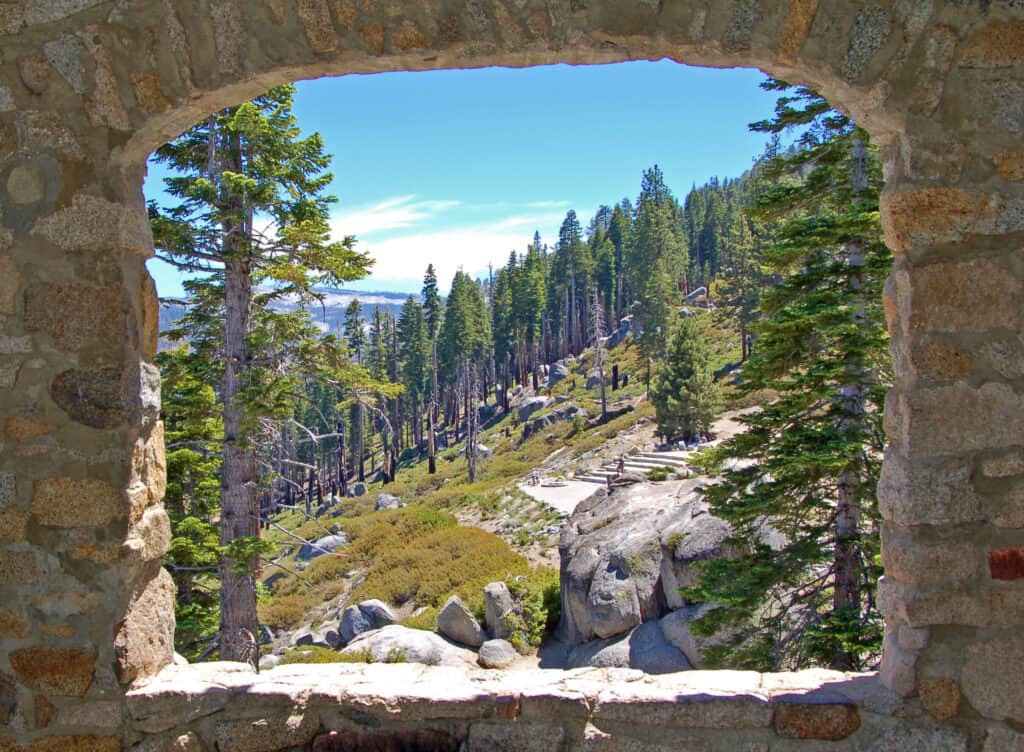 2 Day Yosemite Itinerary In A Nutshell
Are you in a hurry?
Here's your Yosemite itinerary for 2 days in short!
Day 1:
Enjoy the drive to Yosemite National Park
Visit Yosemite Valley and take lots of pictures
Hike to Mirror Lake or any other romantic spot for sunset
Look up to the gorgeous sky and relax
Day 2:
Wake up early
Drive to Mariposa Grove
Hike to see the giant sequoias
Treat yourself to a lovely picnic
Hike to Soda Springs or to the Lower Yosemite Falls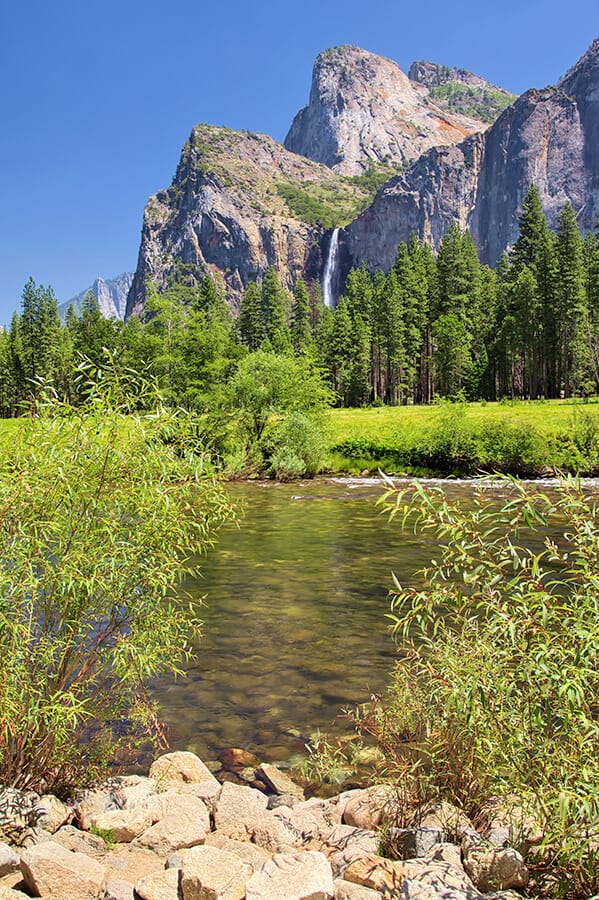 A little more time? Add 1 More Day at Yosemite
The lucky ones who are planning a trip to Yosemite and can get one more day to visit this gorgeous National Park should add a longer hike to their itinerary.
Mist trail is Yosemite's signature hike and thus one of the most crowded trails in the park.
Should this scare you? Of course not!
Since you're already there, get up early to make sure you get the trail all to yourself (mostly)!
While hiking Mist trail you will pass two of the most spectacular waterfalls at Yosemite Park: Vernal Falls and Nevada Falls.
Bring along your camera because the views over Yosemite Valley and the back of Half Dome from Nevada Falls are super instagrammable.
That is why this is one of the most popular hiking trails at Yosemite!
This is a 7 miles (11 km) long hike: take the park shuttle to the trailhead to avoid having to walk at least one extra mile!
Mist trail is a moderate/strenuous round trip trail. Wear your hiking boots or shoes. You will also need a lot of water and food, but above all… take it easy.
You have one full day: there's no need to hurry!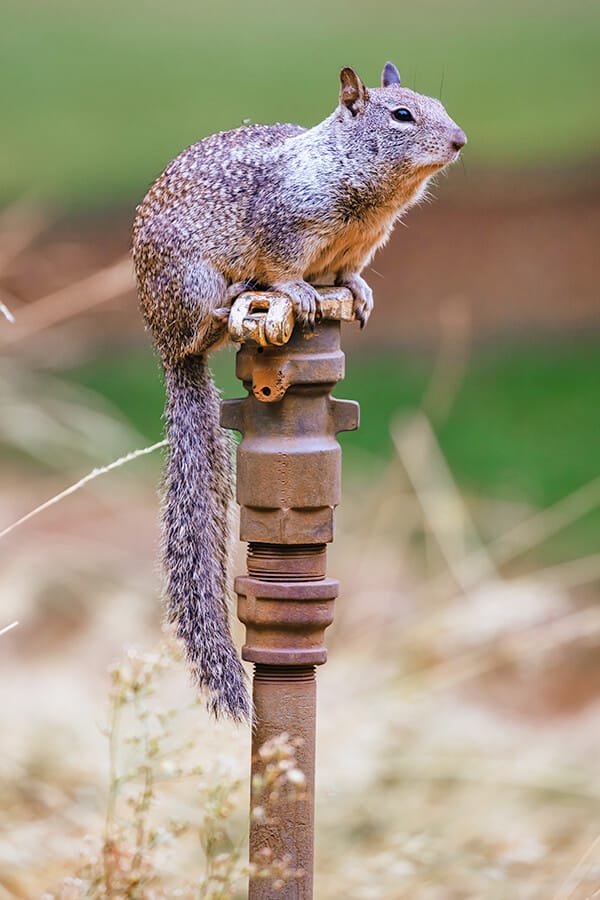 Yosemite Restrictions 2021 And Entrance Fees
While Yosemite National Park is open, from May 21 you will need a reservation to visit.
The temporary day-use reservation system will be in effect through September 30, 2021.
The Yosemite reservations are required for visitors who are staying outside the park.
Visitor numbers will be limited, yet if you are booked to stay within the park, you won't need a day-use reservation.
Of course you will have to show accommodation arrangements at the entrance: any campsite, hotel or vacation rental within the park will allow you to visit without a reservation.
Beginning at 8 am Pacific time on the following dates, most reservations will be available for the summer on Recreation.gov.
Yosemite National Park reservations will open on:
April 21 for visits from May 21–June 30
April 28 for July 1–31
May 5 for August 1–31
May 12 for September 1–30
If you miss these slots, additional reservations to visit Yosemite Park will become available seven days in advance, every day starting May 14 at 8am PT.
The reservations are per vehicle (valid for all passengers) and cost $2 (included in the $35 car entrance fee).
If you cancel a day-use reservation ($35), you will receive a $33 refund.
This means that you will get back the Yosemite National Park fees, minus the $2 reservation.
In case you are planning to visit more than three National Parks within a year, it might be worth purchasing the America the Beautiful annual pass. It will cost you $80 and it helps to save big.
Your reservation is valid for three consecutive days, starting on the first day of the reservation.
While you don't have to arrive on the first day, it's definitely the best thing to do because you'll need to maximise your time in the park.
You only have 2 days at Yosemite and there's so much to do!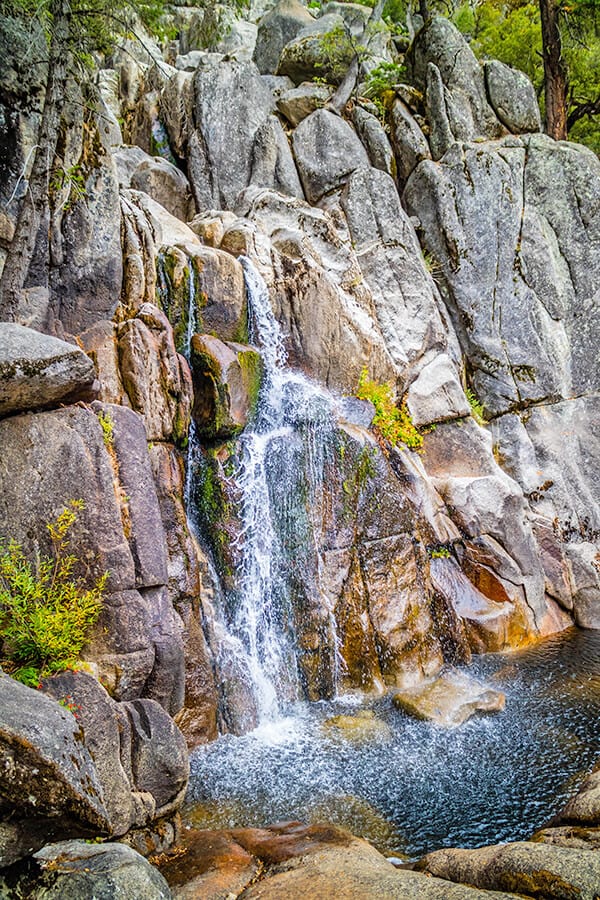 Where to Stay for a Yosemite Weekend Trip
We have been to Yosemite National Park quite a few times: let us share some personal experience based advice that we think you will find pretty useful.
The key element when planning the perfect Yosemite vacation is that you should always start looking for accomodation as soon as possible. Hotels tend to be expensive and campgrounds fill up pretty quickly.
You should book as soon as you know your Yosemite itinerary dates.
Ideally you should start planning your trip months in advance. Usually that helps to avoid going insane while looking for a decent hotel room close to this amazing national picture perfect park.
Some travellers find great deals on hotels because they choose to book only a few days before leaving. They even add that to their top Yosemite travel tips.
The truth is that we've always been too scared to even try. It might mean that you either have to deal with driving for over an hour just to get to Yosemite or you need to spend a ton of money to book a room.
Sleeping in your car within Yosemite National Park is not allowed.
The only exception is if you're registered to stay in a campsite. You might get in serious trouble.
We personally find it's not worth the risk: book as soon as you have the dates for your trip!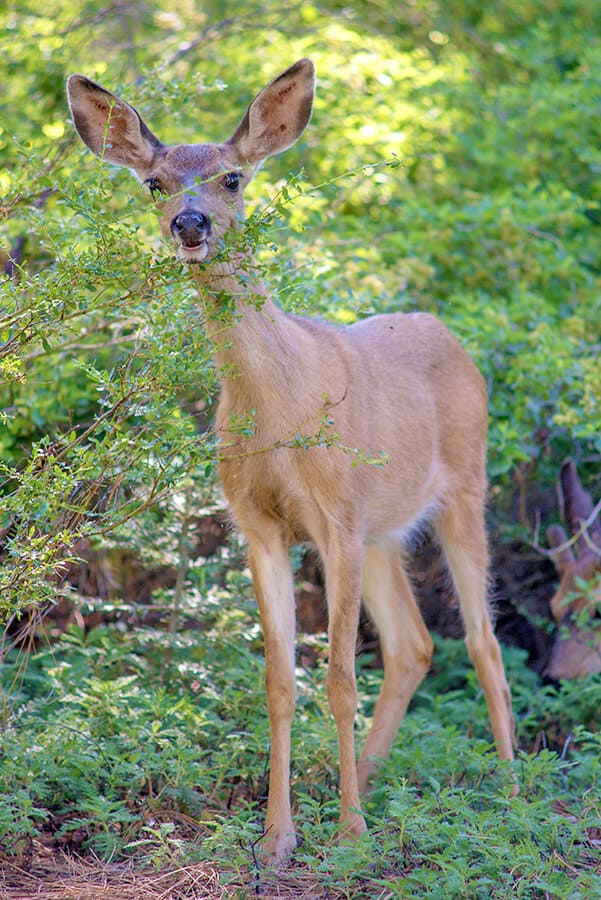 Sleeping outside Yosemite
Me and Aldo have stayed twice outside this national park and we had a great experience.
The following hotels have all been personally tested, so we feel confident that you'll love them as well!
Yosemite View Lodge, a 20 minute drive to Yosemite Village, will forever be the place where we got to experience our first raccoon encounter. Ever.
There are no raccoons in the wild where we live in Naples. Imagine our face when we found one who seemed to be waiting for us not far from our room.
I personally thought it was the perfect ending to our first US national park trip. Aldo on the contrary was terrified.
The raccoon edged closer and closer… and gently bit the side of my hiking boot (as if to taste-test if I was any good at all). Then he just walked away indignantly.
The following morning, as we got out for our day hike, we discovered that the rascal had broken into the trash cans near our unit.
At Yosemite View Lodge we had a room with a river view and a kitchenette. It was affordable, relaxing and lots of fun.
Click to check Yosemite View Lodge rates and availability: Booking.com | Kayak
Rush Creek Lodge is another very nice place you should keep in mind for your next trip to Yosemite National Park.
It is a bit more expensive than the previous option but it offers a whole lot more.
We had the chance to grill our own s'mores (another first for us, as we don't really make s'mores in Italy – sadly!). The hotel provides them for free to their guests.
If you get to enjoy some late night grilling, look up: the sky is absolutely gorgeous and super romantic!
Rush Creek Lodge is only a 5-minute drive to Yosemite National Park West entrance, on Highway 120.
They have beautiful rooms and villas (some with fireplaces, but we only booked a regular room so we haven't tried those), with an outdoor pool and hot tubs. Believe us: you'll come to love them when you get back after the long day hikes!
Click to check Rush Creek Lodge rates and availability: Booking.com | Kayak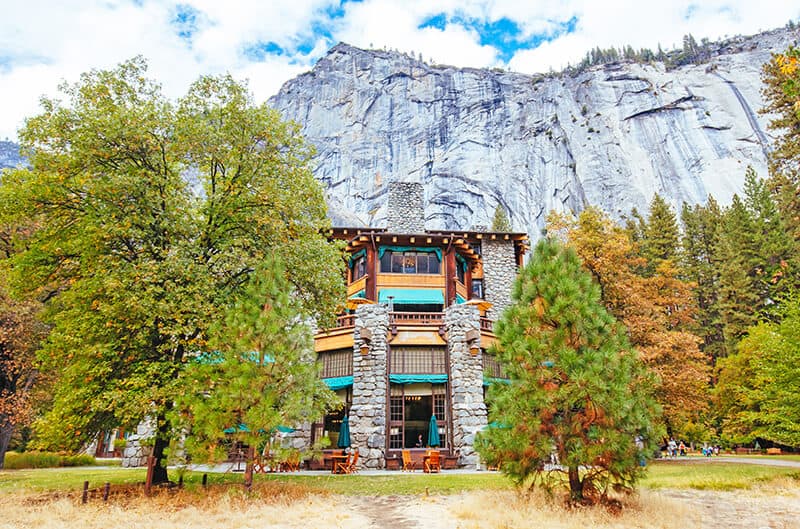 Sleeping within Yosemite
Two days at Yosemite isn't a lot. If you can't spend a little more time there, the best way to go would be to find accommodation within the park.
The Ahwahnee Hotel (formerly Majestic Yosemite Lodge) is a luxury hotel in the park, while the Yosemite Valley Lodge is a more affordable option, with a great location too: it's close to Yosemite Falls.
Being flexible gives you the best chance of grabbing a good deal. However, unless you book a long way in advance, you might not have a choice.
Lodging options inside Yosemite National Park are managed by NPS through the Yosemite Hospitality portal. You can book up to one year in advance!
Camping at Yosemite National Park
Camping within Yosemite is a great experience, but there's something to be said.
Campgrounds are in fact notoriously difficult to book. Make sure you reserve as soon as humanly possible. Check NPS for all Yosemite campground information.
There are 4 campgrounds in Yosemite Valley. They are perfect for those interested in a full day hike on a weekend trip:
Upper Pines – Requires a reservation. Book up to 5 months in advance. 137 sites available.
Lower Pines – Requires a reservation. Book up to 5 months in advance. 64 sites available.
North Pines – Requires a reservation. Book up to 5 months in advance. 58 sites available.
Campgrounds outside Yosemite Valley are the best option for those who are spending more time in this beautiful national park:
Bridalveil Creek – Requires a reservation. Book up to 5 months in advance. 83 sites available.
Tuolumne Meadows – Requires a reservation. Book up to 5 months in advance. 137 sites available.
Wawona – Requires a reservation. Book up to 5 months in advance. 72 sites available.
Hodgdon Meadow, Crane Flat, Tamarack Flat, White Wolf, Yosemite Creek, and Porcupine Flat Campgrounds will not open in 2021.
Also note that showers for campers are not available in Yosemite Park in 2021.
Popular Questions about Planning a Trip to Yosemite
How many days should I spend in Yosemite?
If you only plan to do a few short hikes and drive around to see the must see sights in Yosemite, then two days is enough. Add one more day if you want to add one longer hike to the itinerary.
Is 2 days really enough for Yosemite National Park?
Yes, two days is enough for a nice Yosemite itinerary. We suggest adding 1-2 short hikes to your trip. If you've already been there before, treat yourself to a longer hike on your second day and make sure to start early to avoid the crowds.
Which national park trip is better, Yosemite or Sequoia?
Yosemite is perhaps the top choice when it comes to the landscape. There are gorgeous waterfalls which provide incredible views that you won't find in Sequoia.
Another bonus is that it's easy to find fabulous shorter hiking trails, which work well when you don't have much time.
Sequoia is less varied and doesn't have as many hiking trails. Yet Sequoia is usually much less crowded so it could be a better option if you're planning to visit a national park during peak season.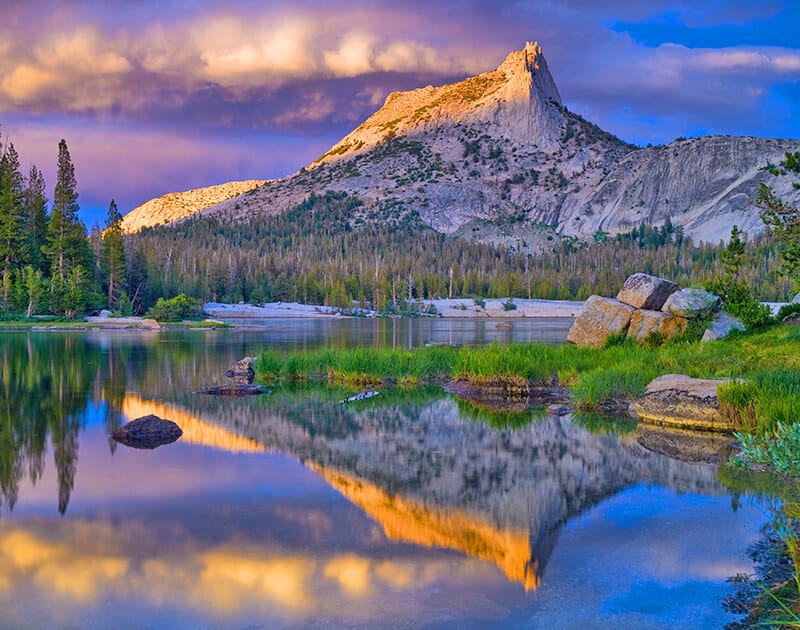 Should I visit Yellowstone or Yosemite Park?
Yosemite is only a 3-hour drive from San Francisco and is much more accessible than Yellowstone. The latter is vast and serene, with much more wildlife.
At Yellowstone National Park we have had close encounters with animals several times: they were just not scared of humans (please make sure you keep your distance anyway).
As with everything else, consider how much time and budget you have for this trip!
When is the best season to visit Yosemite?
May and September are the best times to visit Yosemite National Park. Everything is open and it's not too crowded, if you know how to plan in advance.
Remember that many roads and trails are closed for the most part of the year due to snow.
Peak season lies between Memorial Day and Labor day. It's better to book your accommodation as soon as your Yosemite 2-day trip plan is ready.
Another good option is to plan your trip to Yosemite the week before Memorial Day or maybe one week after Labor day, when most of the tourists have already left.
You loved the itinerary but you can't visit the park on your own?
Click here to book a private tour to explore Yosemite Park for two days with the help of an expert guide!
You might also like:
Grand Canyon in one day: South Rim Itinerary
Upper Vs. Lower Antelope Canyon: How to choose
Visiting the Devil's Tower in one day
How to plan your honeymoon without going insane
Pin it for later!
Travelling Dany
Danila Caputo is a bilingual travel writer living in between Naples and the Amalfi Coast (Italy). She travels and works with her husband Aldo, photographer and videographer. Their blog chronicles their adventures around the world, Italian/European culture and tips on how to be responsible travelers. You can find out more about their latest trips and their life on Instagram and Facebook.