The 15 Best European cities to Visit in Winter: For Every Pocket
This post includes affiliate links. As an Amazon Associate, I earn from qualifying purchases. Full disclosure.
Winter is the best time to visit Europe. Whether you want to experience the magnificent natural beauty of the northern lights in Sweden, see the gorgeous Christmas markets in Prague, or simply enjoy a relaxing break in one of Europe's most beautiful ski resorts. There are plenty of reasons to start planning your winter Europe trip now!
Discover the best European cities to visit in winter and make sure it's going to be unforgettable.
This list of the best European cities to visit in winter will provide lots of useful ideas and inspiration for your next trip!
It's not even limited to the popular winter destinations in Europe. You'll be surprised by quite a few hidden gems!
Northern lights, festivals, events, Christmas markets, but also lots of snow and quite a few budget destinations.
Let me show you the must see places in Europe in winter. For every pocket!
You might also like:
Insider tips for visiting Italy in winter
Why Prague in winter is absolutely amazing
Winter Packing List for Europe
Italian Christmas food you never knew existed
How to visit Vienna Christmas markets
The best of Bratislava Christmas market
15 awesome trip ideas to visit Europe in winter
Where to find the most amazing Christmas markets in Europe
Incredible travel gift ideas for women – have a smart Christmas!
20 awesome Christmas markets in Italy
Christmas in London – Everything you need to know
Why you should travel with your partner
Visiting Europe: Schengen visa or ETIAS Visa Waiver?
Discover the best time to visit Italy
Quick Links to Post Content
Prague in Winter – Snow and Trdlo
Prague (Czech Republic) is one of the best winter places to visit in Europe.
Me and Al have visited for Valentine's day, on a snowy February. Gosh, it was one of the most romantic trips ever!
Since winter is considered low season in Prague, you'll get to book an awesome hotel room for less.
Which is amazing, if you ask me!
Another important thing you should keep in mind is that, the queue at Prague Castle will be much shorter.
When we visited in spring, we had to stand in line for more than 1 hour just to get inside the castle.
Being low season, you won't have to push your way through the crowds while visiting Prague. That's exactly why we loved to explore its narrow streets hand in hand with our nose up in the air.
You might also like:
Where and what to eat in Prague
Prague districts – where to find lodging
How to spend 2 days in Prague
Why Prague in Winter is awesome
Visiting Europe in October: 20 awesome fall trip ideas
The best destinations in Europe for a Fall trip
New Europe entry requirements and ETIAS authorization
Prague is definitely one of the best European cities to visit in winter, not only because it's cheaper to go there.
The colder months give it a completely different feel.
The scent of trdlo, the snow slowly falling down from the sky and the silent streets.
Your winter trip will be romantic, unforgettable and absolutely amazing.
As many of you surely know already, winter in Europe means… Christmas markets!
The Prague Christmas Market will be held in the Old Town Square.
It was recently confirmed that the 2022 Christmas Market will open on November 26, 2022, and you can visit until January 6, 2023.
Being one of the best European winter holiday destinations, Prague has lots more to offer.
Like the huge Christmas tree located in the middle of its Christmas Village. Every year it represents a different region of the Czech Republic!
Find A Hotel In Prague For Winter
Copenhagen – Hygge For Less
Copenhagen (Denmark) is one of the Winter European destinations where you can go from November to February. Especially if you really love snowy and colder places.
Temperatures can sink below zero in December and January. It is thus super important to pack the right winter gear!
Thermal underclothes have saved our day trips more than once when we visited Copenhagen in winter.
The main reason why you should plan a winter trip to Copenhagen is… your budget.
While throughout the year this is a pretty expensive city, prices will drop during the colder months.
The best way to tackle this trip is by planning it right after Christmas.
Due to the lower prices, Copenhagen is one of the best places to visit in Europe in January.
The tourists visiting for the holidays will have left already.
That's why you'll find better rates and above all, it'll be less crowded.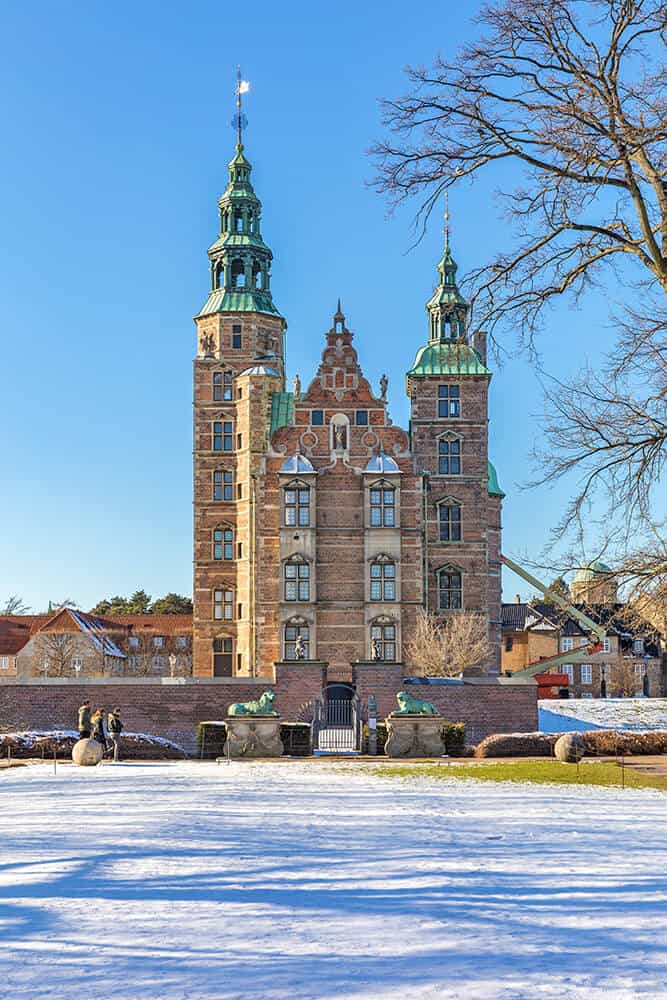 Less tourists mean that you will be able to take amazing pictures of Copenhagen's most popular attractions without having to wait in line.
Keep on checking your favorite airlines: Copenhagen is often a discounted destination in January!
Now, if you're at least a little bit like me (I could never resist Italian Saldi and I enjoy shopping on the road), you will be happy to know that January is when the Copenhagen sales start!
Those who really want to visit Europe in December, adding Copenhagen to their itinerary, should book well in advance.
The King's New Square Christmas Market in Copenhagen has already been confirmed!
It will be held from November 18 to December 31, 2022.
Copenhagen is also one of the must see places in Europe in winter because of a pretty awesome festival (already confirmed for 2022).
From February 4 to February 27 you can attend the Copenhagen Light Festival!
The harbour and city spaces will be lit up by gorgeous light installations.
About 35-40 areas in Copenhagen will turn into some kind of futuristic fairytale villages. It is a must see!
Find a Hotel in Copenhagen For Winter
Vienna – The Perfect Winter Destination in Europe
Vienna (Austria) hosts one of the most famous European Christmas markets.
It's thus one of the best winter destinations in Europe if you are looking to spend a traditional Christmas.
Vienna in winter is in fact covered in snow!
One of the most instagrammable spots is the Belvedere Palace. Here you'll find a gorgeous Christmas market. The perfect place to buy traditional handmade souvenirs and "gluhwein" (mulled wine).
Vienna is one of the best European cities to visit in winter for yet another reason.
The seasonal street food is filling, warm, delicious and… cheap!
Bratkartoffeln was my favorite "walking snack".
Thick slices of roasted potatoes that you can eat like Italian "caldarroste" (roasted chestnuts).
Sausage stands are also everywhere.
You can try a wide variety of European sausages with bread and side dishes for just a few Euros.
A big panini I bought for 3€ managed to warm me up and fill my stomach. Even if we'd been exploring under the snow for hours!
You might also like:
Vienna Christmas markets – updated dates and useful info
The dessert girls (and boys) like me will love their winter trip to Vienna.
While I'm aware that sachertorte is a must eat, you should also add krapfen to your foodie bucket list.
There are krapfen stands in the street or in every Christmas market in Vienna.
Krapfens are warm doughnut-like pastries, filled with chocolate or jam. They are covered with powdered sugar and served piping hot.
You can't leave Vienna without having tried their decadent dark chocolate krapfens!
Vienna is also one of the best European cities to visit in winter for those who want to experience "ball season" or concerts at the Vienna State Opera House.
Ball Season in vienna takes place between November and January.
You'll be able to waltz with your partner at the Bonbon Ball. Or you can take lessons: it's definitely a unique skill you can learn while visiting Europe in winter!
Find a Hotel in Vienna For Winter
Venice – Winter Carnival in Italy
Winter in Venice (Italy) is super romantic and way less crowded than spring or summer.
The most famous Italian city is perfect if you're planning to visit Europe in February. You can in fact can combine a romantic Valentine day trip to Italy with your partner and also enjoy one of the most important winter events in Italy. Carnevale!
Venice Carnival 2023 breathes life into the sleepy low season Venice, with seasonal treats, music, dancing, and of course tons of awesome dresses!
The Venice Carnival 2023 will be held from February 4 to February 21, 2023.
Masquerade balls are pretty popular for Carnevale in Italy!
In Venice even more. If you want to give it a try, there's a masked costume contest that takes place in Piazza San Marco during Carnival!
The most famous event at the Venetian Carnival is Il volo dell'angelo ("The flight of the Angel" in Italian) on February 20 in Piazza San Marco.
It's a traditional event. An "angel" will fly from the bell tower to the middle of the square, offering an homage to the Doge.
Venice is thus one of the best European cities to visit in winter if you love street shows and traditional events.
As I already mentioned, February is the perfect month because thanks to Carnival of Venice there are tons of free events and parties on the canals!
Find a Hotel in Venice For Winter
Bratislava – The Snowy European Destination On a Budget
Bratislava (Slovakia) is one of the budget winter destinations in Europe that you should add to your bucket list.
I was lucky enough to visit Bratislava in December, and I got to enjoy awesome Christmas markets filled with seasonal treats.
Absolutely zero regrets, even if I might have gotten some weight on!
Bratislava is also the best winter city in Europe for those who dream of a multi-country vacation.
From Bratislava you can easily reach Vienna and Prague by train. The Slovakia capital is located right in the middle between Austria and Czech Republic!
Being Bratislava the cheapest of the three, I suggest you find a hotel there.
Prague and Vienna can be two easy day trips from Bratislava. Plan one extra day for each one of them.
That is the best way to plan a budget multi-city trip to Europe in winter. You can visit 3 of the best European Christmas market in one single holiday!
Winter in Bratislava is snowy, romantic and still super colorful.
There's a lot to see and do in Slovakia, and always on a budget!
Eurovea is a great shopping mall right on the Danube river bank.
It's full of nice cafes where you can sip hot cocoa while taking a break from your shopping spree.
I even found super cheap stationery and cute Christmas tree decorations!
Last but not least: you can explore Bratislava by foot!
There is no need to rent a car. If you want to plan a day trip, use the local trains or taxis. They're cheap!
Find a Hotel in Bratislava For Winter
Bolzano and Italian Dolomites – Skiing in Italy
Winter in South Tyrol is absolutely amazing.
Tall mountains covered in snow, Christmas Markets, fun snowmobile adventures, toboggan runs and romantic dinners in front of a lit fireplace.
There's no way you'd ever get bored.
Bolzano is one of the best European cities to visit in winter. Not just because it's the perfect homebase you can use to explore South Tyrol.
Bolzano is in fact the place where you can find the best Tyrolean Christmas markets in Italy!
If you're looking for a fun adventure in Europe in winter, Bolzano should be on your itinerary.
Us Italians consider it one of the best skiing destinations.
Just like Lake Placid in the Adirondacks, in Bolzano you can try cross country skiing, snowshoeing, winter hiking, tobogganing, ice skating and even horse riding in the snow.
You might also like:
The best Christmas markets in Italy from a local
Italian Christmas food – regional traditions and must eats
Christmas Alley in Naples – 365 days of Christmas
Guide to Europe Visa Requirements and ETIAS Authorization
When is the best time to visit Italy?
37 Movies filmed in Italy you should watch now!
The Italian Alps in winter are snowy, but usually good weather and sunshine will allow you to enjoy the great outdoors.
On rainy days there's still plenty to do.
That's why this is one of the best winter European cities. Also for families visiting with young children!
December and February are two of the best months to visit Bolzano for your European winter trip.
In December you will love all the Christmas Markets and seasonal food.
In February you can spend a few romantic days in a chalet with your partner to celebrate an unforgettable Valentine's day!
Find a Hotel in Bolzano For Winter
Rovaniemi – Fairytale winter Europe trip
Rovaniemi is one of the must see places in Europe in winter.
The capital of Finnish Lapland is known for being home to Santa Claus, but there's so much more than that!
This is one of the fairytale winter destinations in Europe.
Packed with cultural and family-friendly activities.
Rovaniemi is also super safe for solo female travelers so don't be scared to treat yourself to the trip of a lifetime!
Those looking for unique adventures will have plenty of activities they can book.
From snowmobiling to ice-fishing (usually the catch of the day is cooked on an open fire), from reindeer encounters to a husky safari.
Never a dull moment!
Whether you're visiting with your kids or not, you shouldn't miss the chance to visit the fairytale Santa Claus Village.
It is located 8 km North of Rovaniemi and you can easily get there on your own by hopping on bus n. 8.
At the Santa Claus Village in Rovaniemi you can ship presents, letters and postcards from Santa Claus Main Post Office. Not many know it but they will have a unique Arctic Circle postmark!
There's also an ongoing exhibition in the Christmas House, to learn about the holiday traditions in different Countries.
That's why I consider Rovaniemi one of the best winter destinations in Europe for a once-in-a-lifetime trip.
It wouldn't be the same in summer!
Find a Hotel in Rovaniemi For Winter
Abisko – Northern lights and Winter Adventures
If you still don't know where to go in winter in Europe, consider visiting Abisko (Sweden).
This town in Swedish Lapland is located about 200 km into the Arctic Circle and is possibly the best place in the world to see the Northern Lights.
The best time of the year to see the Northern Lights in Abisko is between October and March.
December and January are particularly cold, but there's about 20 hours of darkness every day.
So if the conditions are right, you have the chance to see the Northern Lights even in the late afternoon.
February and March on the contrary are usually more popular among the tourists, so Abisko is very crowded.
Booking well in advance is the best way to find a nice hotel and a spot on a tour to see the Northern Lights.
Sweden is also famous for its IceHotel in Jukkasjärvi.
This unique place is only open in winter and has rooms built from blocks of ice. You can even try the authentic Swedish spa experience!
Find a Hotel in Abisko For Winter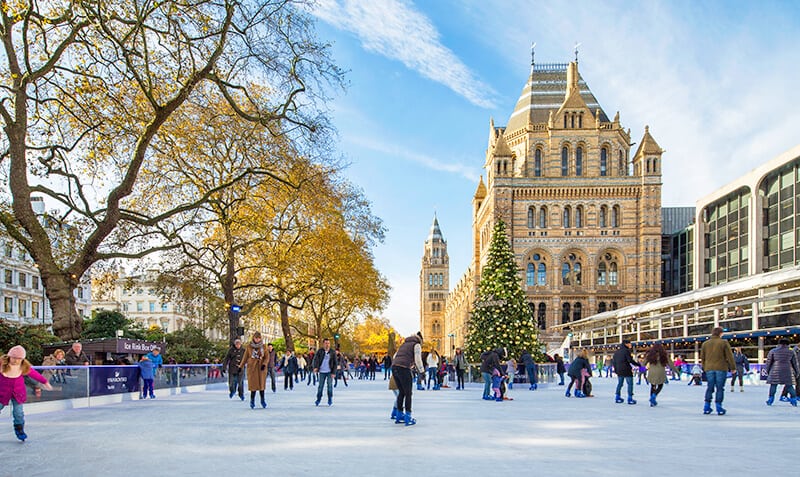 London – Winter Wonderland and Christmas Lights
I probably already said it so too many times to count them all, but… London (U.K.) is always a good idea, no matter when you decide to visit!
Winter in London can be cold, but not as much as you think.
Unfortunately the weather has become very unpredictable, so you might or might not get snow.
Being one of the best European cities in winter, London can be pretty crowded and expensive.
While you won't be able to do much about the crowds, I strongly advise you to book well in advance (3+ months, preferably).
That is the only way to find a decent hotel without breaking the bank.
If you're planning to visit London at Christmas, you shouldn't miss the chance to visit Winter Wonderland in Hyde Park (November 18, 2022, to January 2, 2023).
This free-to-enter winter village is one of the best things to do in London at Christmas!
Ice skating, seasonal treats, circus shows, a Christmas market and awesome live music. You definitely won't get bored!
Winter Wonderland in London is also a family-friendly event.
You might also like:
Spring in London – photos, flowers and events
Ultimate itinerary – 4 days in London
The best London souvenirs you should buy
How to spend a cool night in Soho
The most instagrammable spots in London
Plan a fabulous weekend in London
20 awesome fall trips in Europe
Easy-to-use guide to Christmas in London
Do you need a visa to enter Europe?
Winter walks in London are also a popular activity which is completely free.
There's nothing like walking with a cup of hot cocoa while searching for the amazing Christmas lights!
Besides, your Insta-pics will look absolutely amazing.
My mum, who's been in love with London for over 10 years, always adds the Kew Gardens to her itinerary whenever she visits London in December.
Christmas at Kew is an after-dark event which guides the visitors through illuminated trails, live performances, light installations and spectacular displays.
Some of the LED installations are interactive (they change colours when you touch them). Let's just say that you won't want to leave after trying them!
Find a Hotel in London For Winter
Budapest – The Best Winter Spa in Europe
Many people don't really associate Budapest (Hungary) with winter.
They tend to believe that you can only enjoy Budapest baths in spring and summer. But that's so wrong!
Szechenyi Baths is open in winter, and you should absolutely try a thermal bath when it snows!
Even the outdoor pools are open in winter… if you are brave enough to try them!
Szechenyi Baths is also one of the pretty popular destinations in Europe at Valentine's Day.
Couples drink champagne in the baths, soak in the warm waters, then get a massage and get out as good as new.
It's the perfect way to relax and unwind!
Christmas markets in Budapest are obviously very popular in December.
Mulled wine, warm strudel, traditional dishes and lots of interesting souvenirs make them one of the most loved destinations in Europe at Christmas.
There's even a huge ice skating rink in front of Vajdahunyad Castle!
The Budapest Christmas Market will open from November 19, 2022, to January 1, 2023.
The best way to explore the city during the holidays is Christmas tram (also known as "Budapest light tram"). That wil make the perfect Christmas combo!
The Christmas tram is put into operation from 5 pm every day in December and January and it's completely covered in Christmas lights.
In case you need another bonus, know that you do not need an extra ticket ride it!
Just use a Budapest Card, which is also good for unlimited public transport rides and tons of discounts on attractions and restaurants.
Find a Hotel in Budapest For Winter
Transylvania – European Hidden Gem in Winter
Whenever I think about Transylvania (Romania), one thing pops into my mind.
Bram Stoker's Dracula. I just can't help myself!
Transylvania is one of the winter hidden gems in Europe for several reasons.
First of all, it's a budget destination that has so much to offer.
There's nothing like exploring Bran Castle, where Vlad Tepes (aka the "real" Dracula) might have lived, when it's covered in snow!
Local legends about Bran Castle are particularly chilling.
Do not book a tour with a local guide in winter (when it gets dark soon) unless you want to be scared to death!
But Transylvania isn't just Dracula.
There are so many cute little towns to explore, and doing so in winter will help you to avoid the crowds.
Cities like Brasov on cold winter evenings are quiet and full of locals willing to chat with people coming from all over the world.
Medieval towns like Sighisoara, with its historical city center which is a UNESCO World Heritage site, turn into fairytale villages.
Especially when the streets are covered with a white blanket of snow.
Find a Hotel in Brasov For Winter
Dublin – Perfect Place to Visit in Europe in January
Dublin (Ireland) is possibly one of the best European cities to visit in winter.
It is also known as the "friendliest city of Europe", according to TripAdvisor.
There's nothing the Irish love more than chatting over a pint of beer. They are friendly and spontaneous people.
To the point that (and this happens to me and Aldo all the time) if they see you sitting alone at a pub, they'll just come sit with you.
Within five minutes they're already chatting as if they've known you their whole life. We love their attitude!
Winter in Dublin is cold, but full of awesome festivals, Christmas markets and pop-up shops.
Planning your winter holidays in Ireland can be a great idea, but make sure you're ready to drive if you want to attempt a multi-city trip.
Public transport in Ireland isn't the most reliable, especially in winter. Renting a car is absolutely mandatory.
If you're planning to stay exclusivey in Dublin, do not get a car. Parking can be a nightmare.
Just make sure to book a hotel in the city centre and just walk around as much as you want.
You'll have a lot of winter fun!
You might also like:
Road trip to Connemara National Park – Irish beauty
The best Irish beer in Cork – all the pubs you must try!
Fairytale Castle Hotels in Ireland – where to find them
40 unique souvenirs from Ireland
Easy guide to Europe Visa Requirements + ETIAS Authorization
January in Dublin is especially packed with great events. Two of our favorites are the Temple Bar TradFest and the Dublin Bowie Festival.
TradFest is a traditional Irish music festival, held from January 25 to January 29, 2023.
It showcases the best Irish music and international folk artists, while promoting the next generation of Irish musicians.
All the venues are historical landmarks, most of them located in the Temple Bar area.
Which is also a good place to look for a hotel or b&b.
Another must see is the Dublin Bowie Festival, celebrating the work and life of David Bowie.
It will be held from January 10 to January 15, 2023.

Find a Hotel in Dublin For Winter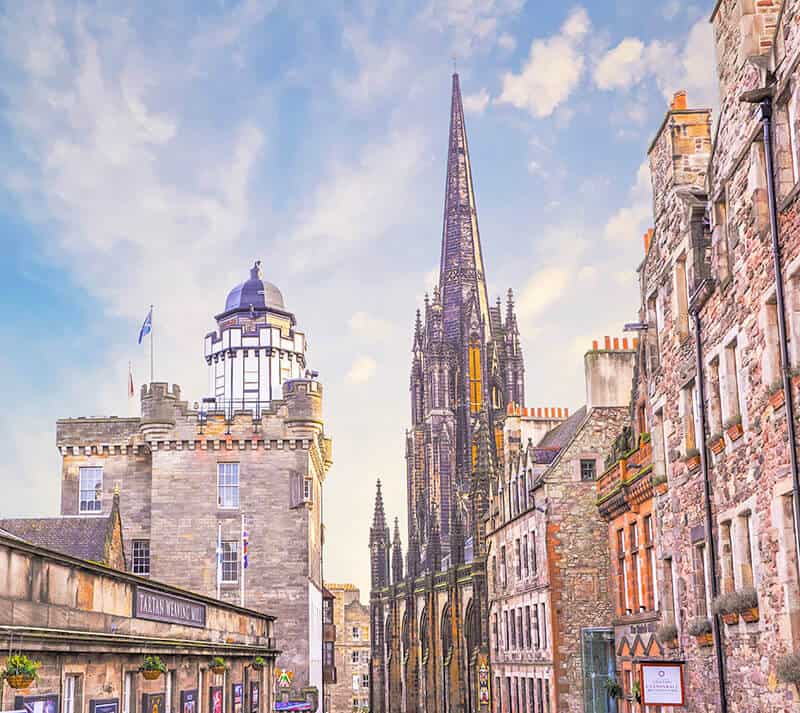 Edinburgh – Hogmanay and European Christmas Markets
Edinburgh, in Scotland, is a great place for a Europe winter vacation.
While winter in Edinburgh is particularly cold and windy, temperatures shouldn't drop below zero.
Provided that you wear warm clothes, nothing will prevent you from exploring all the Harry Potter spots in Edinburgh. For free, on a self guided tour!
In case you have rented a car, you can also plan a few easy day trips from Edinburgh.
It's a great way to explore Scotland and visit its few iconic castles on a budget.
There is absolutely no need to rent a big car: get the smallest one and just go!
You might also like:
How to spend 4 days in Scotland
Where to buy the best Scotland souvenirs
Walk the Harry Potter tour in Edinburgh
Travel guide to the best 20 day trips from Edinburgh
Planning a trip to Scotland: the best tips & tricks
20 ideas for an awesome autumn trip to Europe
New requirements to travel to Europe
Edinburgh, as many other cities in Europe, hosts lovely Christmas markets.
Even the historical buildings are covered with cute Christmas lights.
Those of you who are less clumsy than me can also enjoy ice skating.
I nearly broke my arm the first and only time I tried, so I wisely decided that it's not for me!
The Edinburgh Christmas Market is scheduled to take place from November 19, 2022, to January 3, 2023.
If you're planning to visit Europe in winter, make sure your trip ends in Edinburgh of the Hogmanay festival.
We still don't have official dates for this super cool New Year's party in Edinburgh but we'll make sure to update as soon as we have news!
Don't expect it to be "just a concert".
Hogmanay celebrates the Winter Solstice and has been featured by Discovery Channel as one of the Top 25 World Travel Experiences!
This huge street party has marchers bearing firelit torches, traditional Scottish music beneath Edinburgh Castle, fireworks and candle-lit concerts.
It's definitely a must see if you are looking for something unusual and super cool to and if you have planned a trip to Scotland in winter!
Find a Hotel in Edinburgh For Winter
Lucerne – The Budget Destination in Switzerland in Winter
Skiing in Switzerland in winter is a popular activity.
Yet not many people know that Lucerne in winter is way less crowded and less expensive.
We can safely state that Lucerne is one of the best European cities to visit in winter for quite a few reasons.
Because it's less crowded, it becomes super romantic when it's covered in Snow.
Unsurprisingly, Lucerne in winter is also a great family destination in Europe, because it's so quiet.
There are lovely Christmas markets in Lucerne, from December to early January.
The old town is lit up with cute little Christmas lights. Walking hand in hand on the small bridges is a truly romantic experience.
Be aware that while Lucerne is absolutely magnificent between December and January, it might also be more crowded because of the Christmas markets.
The adventurous travellers will soon find out that Lucerne is one of the best European destinations in winter.
The one not many think about.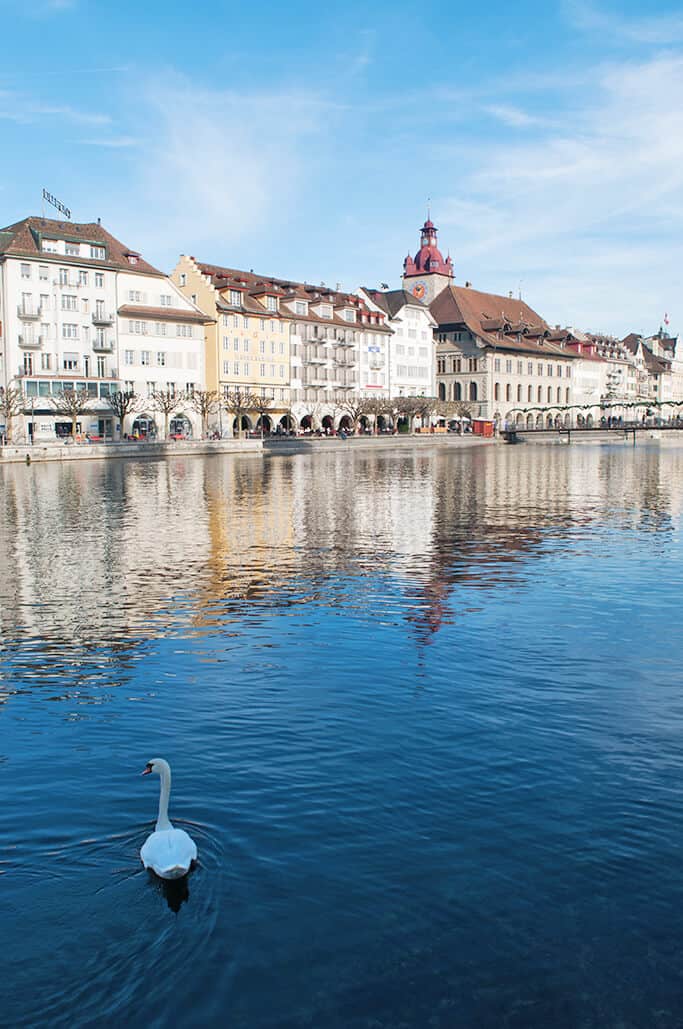 From Lucerne you can easily hop on a train to go to to the top of Europe's longest glacier.
Reaching Jungfrauijoch in the Swiss Alps is super easy!
The eternal ice and snow on Titlis Mountain is even closer. You just need a half-day trip from Lucerne to visit an ice cave and ride the Ice Flyer-chair lift.
Of course winter in Switzerland also means… skiing all day long!
Well, Lucerne is the less expensive base you can use for that. Then you can easily plan a full-day trip to the idyllic Bernese Oberland, one of the most beautiful places in the Alps.
Click to check out a tour which includes a skiing class with a certified ski instructor!
Lucerne can be explored on a budget, with a self guided walking tour.
Make sure not to miss the Chapel Bridge, that you will find on the walk from the train station to the old town.
It's the oldest wooden covered bridge in Europe and while it's usually very crowded in the warmer seasons, in winter is much more quiet and… romantic.
Did I mention that Lucerne in winter is also the perfect destination for a Valentine's day trip?
Find a Hotel in Lucerne For Winter
2022 Update
The Lucerne Christmas Market 2022 official dates have finally been confirmed!
Save the date, it will be held from December 1 to December 21, 2022.
Bergen – A Fun and Adventurous Winter Destination
Many people believe that travelling to Bergen (Norway) automatically means they will see the Northern Lights.
Yet while it's geographically possible, it's still uncommon.
Bergen is one of the places to visit in Europe in winter you should add to your itinerary if you love the snowy destinations. And fun. And adventure.
All the thrill-lovers out there who love the great outdoors will surely appreciate a trip to this medieval city.
It's located among snowy mountains, and is the best place to go to enjoy tons of winter activities.
Even if you don't feel like hiking in winter, you will appreciate the beauty of Bergen covered in snow.
There are also a lot of easy options to explore the mountains without having to hike.
One of the best things to add to your itinerary is the Fløibanend funicular. One of Norway's most popular attraction.
You hop in at the city center, next to the Fish Market. It takes you to Mount Fløyen in about 8 minutes.
The views on the fjord from up there are amazing!
The Cable Car Ulriken 643 will take you to the highest of Bergen's "Seven Mountains".
That will allow you to enjoy spectacular views and mountain terrain 643 metres above the city streets.
Winter is also a great time to take a fjord cruise from Bergen to idyllic Mostraumen, to see steep mountains and gorgeous waterfalls.
This cruise lasts about 3 hours. The starting point is Zachariasbryggen in Bergen, right next to the Fish Market.
Find a Hotel in Bergen For Winter
Pin it for later!
Travelling Dany – Danila Caputo
Danila Caputo is a bilingual travel writer living in between Naples and the Amalfi Coast (Italy), graduating from the University of Naples Suor Orsola Benincasa in Foreign Languages and Literature. She travels and works with her husband Aldo, photographer and videographer. Their blog chronicles their adventures around the world, their love for the USA (where they have family), Italian/European culture and tips on how to be responsible travelers. You can find out more about their latest trips and their life on Youtube, Instagram and Facebook.