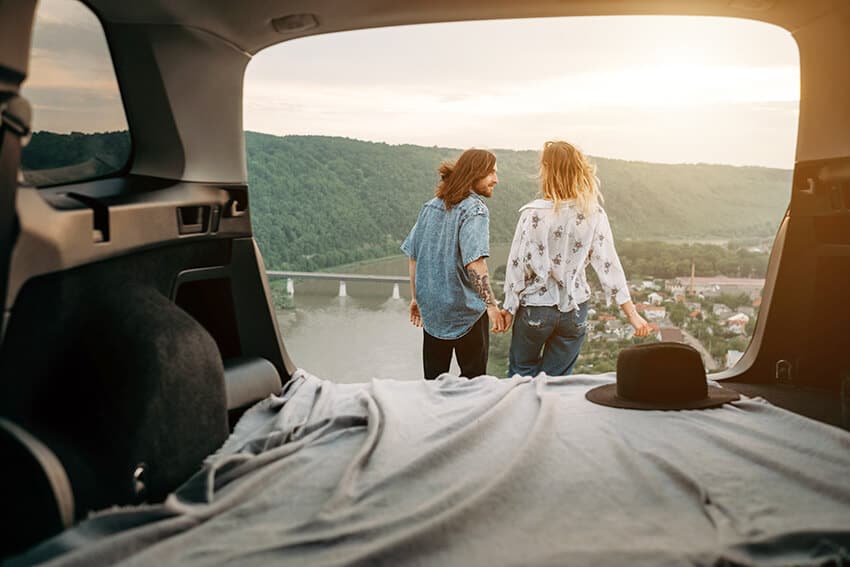 Sleeping in your car is a budget, flexible alternative to hotels. It might yet be an unpleasant experience if you don't plan everything in advance. Let me offer a few useful tips for sleeping in your car on a road trip, as well as a few invaluable information for solo travelers. We'll get to the bottom of things, starting with where it's legal to sleep in a car and when you should instead avoid it. Whether you're planning to go car camping or you're interested in driving without a destination, a car is a great tool that can double as a reliable shelter. Let's see how!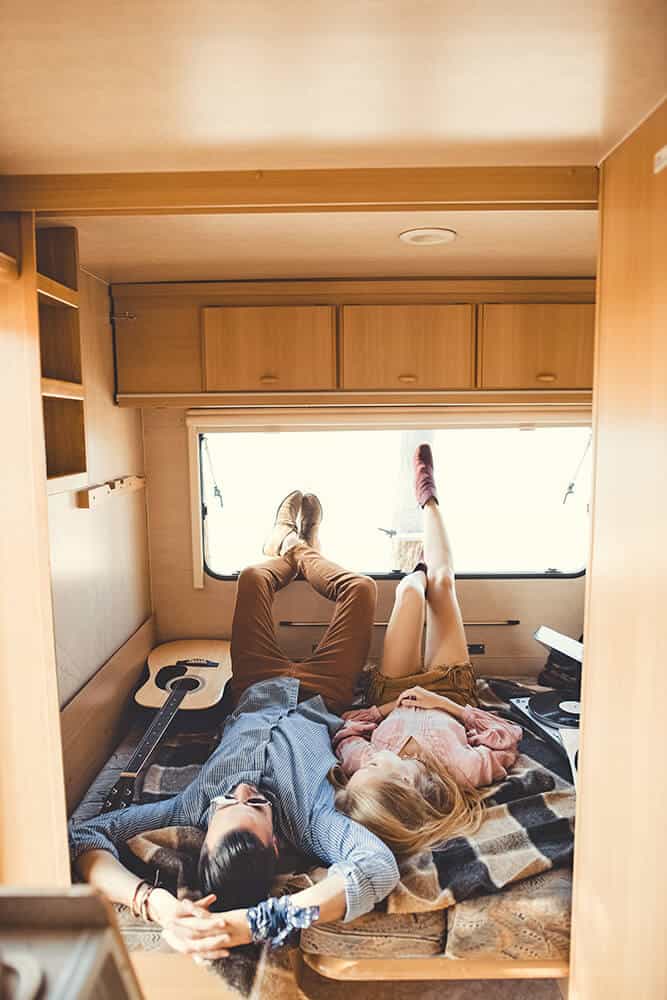 Can I sleep in my car? Is it legal?
Car camping and sleeping in a car were a thing here in Southern Italy already ages ago.
I remember when we were little girls: road trips were the only kind of vacation we knew. And gosh, we loved them!
My dad used to talk to his brother in law for hours, just to find ways to let us sleep comfortably in the car.
We toured Italy, visited France, Croatia and many other European Countries. It's no surprise that even now road trips are my favorite kind of getaway!
Many times people worry that sleeping in a car is illegal.
But is it really?
If you're looking to sleep in your car in the USA, it depends.
The rules vary from State to State. Some cities have also banned sleeping in your car, albeit you can do so in high-rent cities like New York City or San Francisco (during specified hours).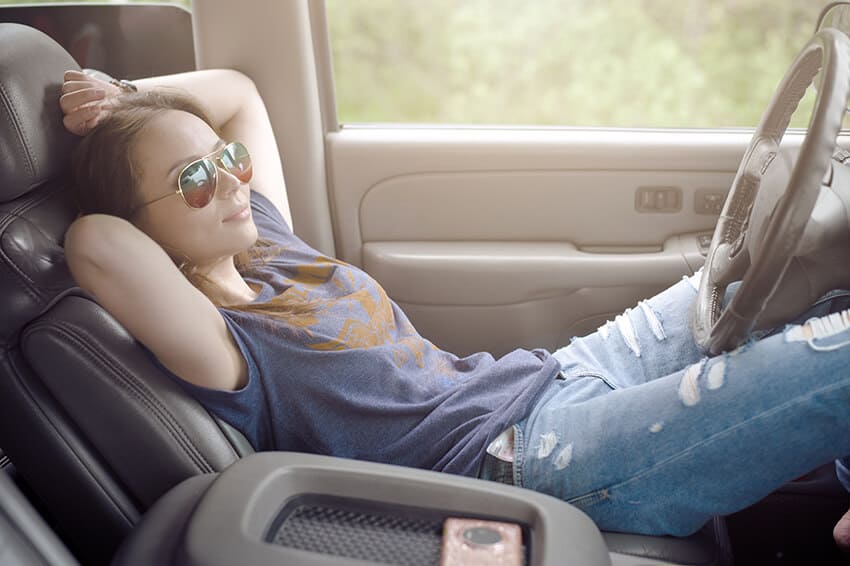 In Europe it is absolutely legal to sleep in your car, as long as you have parked in a spot where it's allowed to.
You can in fact be fined because you haven't positioned your car in the right spot but not because you are sleeping in a vehicle.
Even in Italy, my Country, sleeping in a car is absolutely legal, unless you're driving on Autostrada (our highways).
While there are designated areas known as "Piazzole di sosta", these are to be used exclusively for emergencies (keep reading for more info on this).
My suggestion is that you always google your destination before you start your road trip. Check whether it is legal to sleep in each one of the places where you're planning to stop. The rules tend to change so much that it's super important to keep updated.
The one thing that will put you in trouble is the same wherever you go: sleeping in your car whilst inebriated.
Why?
You will be charged with DUI, even if your car is parked and you are just sleeping.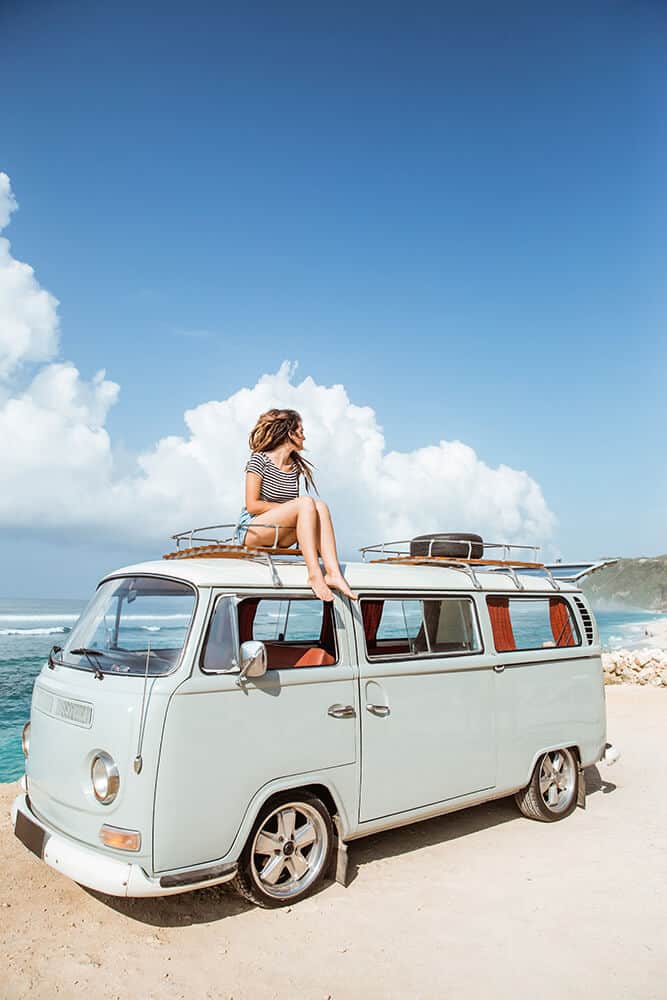 Where can one sleep safely in a car?
Provided that you've already googled that the city where you're planning to stay doesn't have rules that ban car camping, you should make sure to find a fitting place.
There are in fact several options to spend the night in your car legally.
Many Walmart locations in the US allow free overnight parking.
They also rank highly in terms of safety because of security and lighting.
Once you get to a Walmart near a National Park, if you see RVs already parked there, it's a good sign that you've found a free overnight parking spot.
If you are roadtripping solo, it's important to spend the night in a place that is illuminated, relatively safe and not overly remote.
Both in Europe and the US there are many rest areas where you can park to rest for just a few hours, but prohibit overnight parking.
Usually it's clearly stated, so drive around the neighborhood to make sure it's okay to stay, before you stop for the night.
Campgrounds are perfect if you're planning to sleep in your car for a few days, because they are cheaper than a hotel, with the added value of security, showers and bathrooms.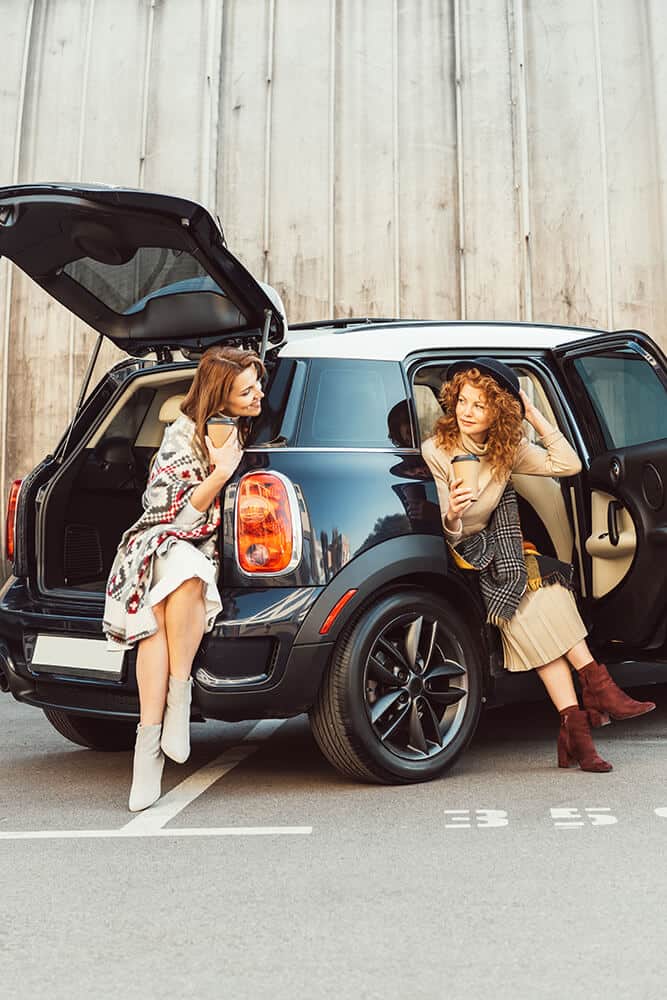 I know that some 24-hour stores are known for letting visitors park overnight, but I'll be super honest: we never really tried this option before.
The best way to go, in my opinion, is always to politely ask for permission. The worst that could happen is that they say no!
Spending the night in a vehicle on private property is illegal, unless you know the owner and you have their permission.
Of course, you can sleep in a car on your own property, unless there are specific residential parking laws that won't allow car camping.
It is important to know that most truck stops are considered private property: you can only consider sleeping there if they allow overnight car or RV parking.
Planning a road trip?
Click to download our FREE printable
ROAD TRIP CHECKLIST!
Many people find it safer to sleep in a vehicle at 24-hour gyms: there are always a lot of folks around, but I'd still ask for permission first.
You don't want to wake up in the middle of the night because a security guard is knocking on your car window!
I'm well aware that some websites suggest you can spend the night inside a hospital parking lot. But I can't tell you that.
Usually in Italy (and not just here) hospital parking lots are full to the brim. So we prefer to avoid them: let people who are visiting their loved ones park there.
You can find a much better place to spend the night.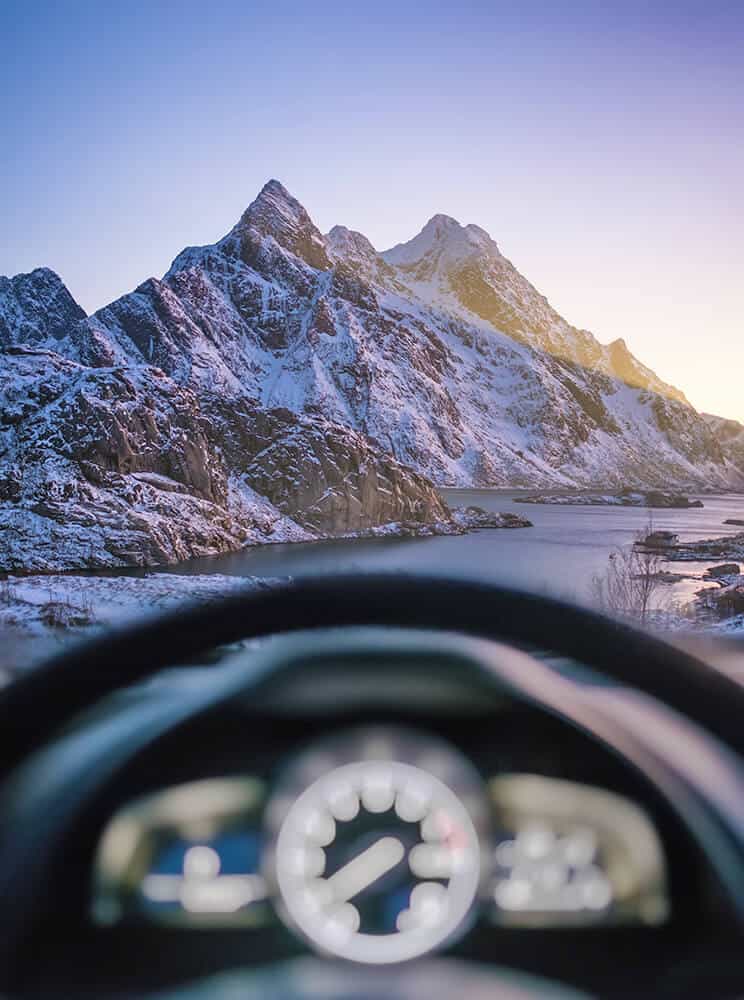 What to do if a police officer knocks on your car window
Assuming that you've already googled the area, you already know that you're car camping in a place where sleeping in a vehicle is allowed.
While it is still generally acceptable to sleep in your car on a road trip, as we already mentioned, there are cities or States that won't allow that.
Even the more so if you're trespassing or inebriated.
Officers might knock on your car window to wake you up because they are fulfilling their community caretaker function.
They need to make sure you're not inebriated or unconscious, so it is within their right to ask you to step out of your vehicle and hand them your I.D.
There's no need to feel scared, provided that you are sure that you have slept in an area which allows overnight parking (and specifically sleeping in a vehicle).
Be polite, comply with their requests and let them know you're tired and you're on a road trip.
After they've made sure that you're okay and that there's nothing to be worried about, they will leave, or they will inform you that you've parked in an spot where you can't sleep, so they will ask you to vacate the area.
In case you don't know where to go next, you can ask them to point you towards a place that allows overnight parking to rest a little more.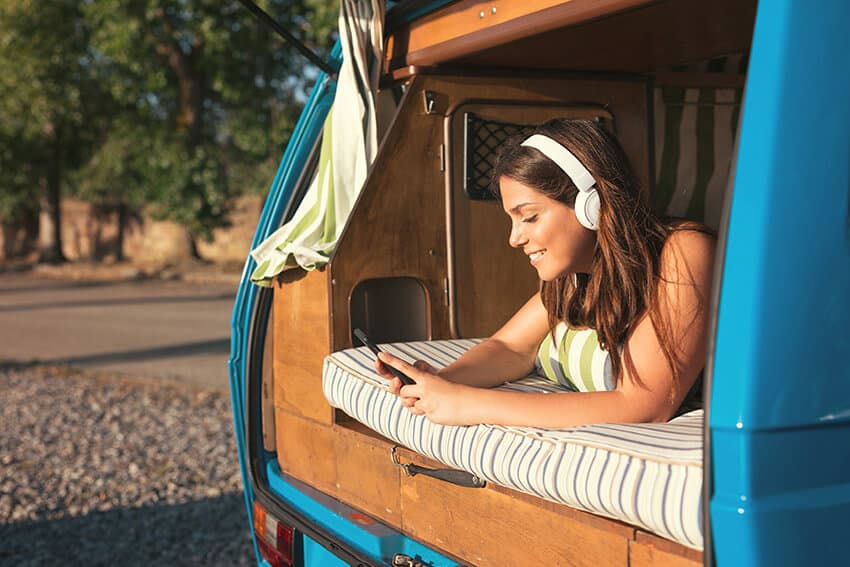 What kind of car makes the most comfortable bed?
When searching for a rental car, you should always filter for vehicles that make the most comfortable bed.
Of course, each ride will be different, but there are a few general guidelines that might help you choose, according to your need.
Another filter you can apply to your research while looking for a car to rent, is tinted windows. In Europe they aren't common but we have seen a lot of rental cars in the US with tinted windows. They offer the best privacy, because people won't be able to see you sleeping or the bags and suitcases you have left inside the car.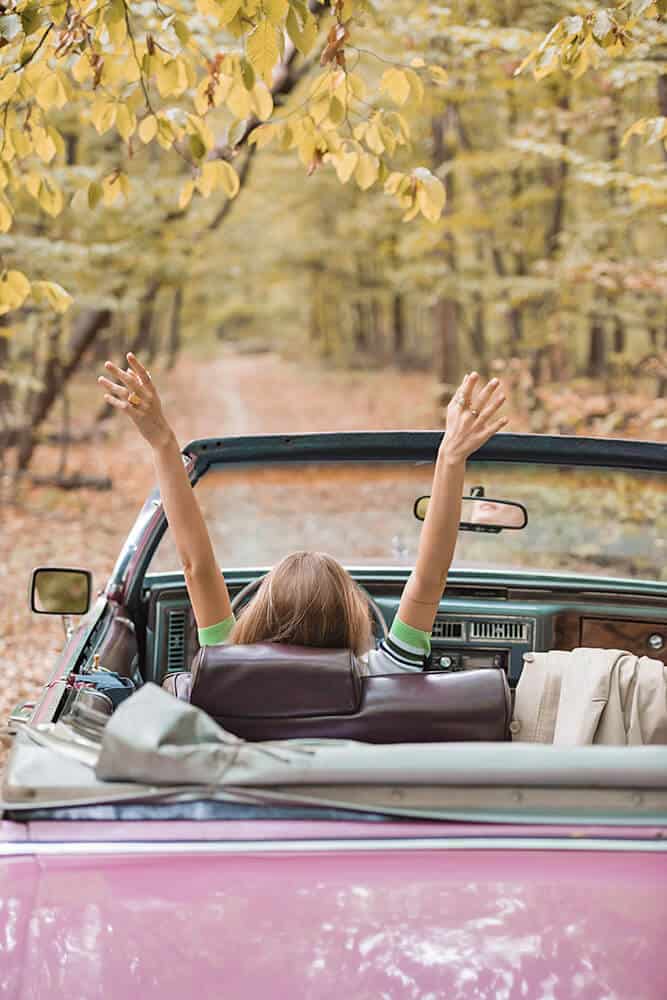 How to make a comfortable bed out of every vehicle
Truck
Sleep in the truck bed. It is a comfortable ride but not particularly practical.
SUV/Crossover
You can fold down the rear seats and use the flat space. This is the kind of setting we often used on road trips when we were kids!
Minivan
Quite a lot of minivans have rear seats that fold completely flat. This creates a massive open area where you can unfold a sleeping bag or an air mattress.
Two people can easily sleep in a minivan with such a setting.
Before you rent a minivan, always research the model first, so you can be sure that the rear seats will fold flat.
Hatchback
Fold down the rear seats and use the flat space. It might be a bit cramped but it's more comfortable than sleeping in a sedan.
Sedan
The trunk in this kind of car is a separate compartment.
If the seats do not completely fold down to create a long surface, you will have to use the back seat.
I won't lie: it will be cramped, so you should avoid an air mattress and focus on a comfortable sleeping bag.
Coupe
By far the least comfortable kind of vehicle you could ever choose. It's much better to sleep outside on a warm night!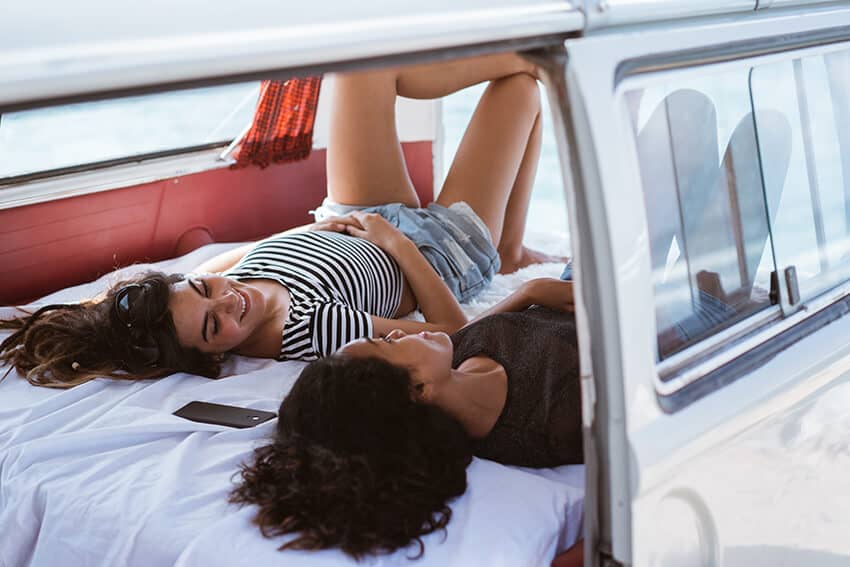 Tips for making the bed
Check for any protrusions or uneven surfaces. You can make those more comfortable by covering them with your extra pillow.
Inflate the air mattress or unfold your sleeping pad and lay it in the desired position.
In case you don't have one, use your blankets, your sleeping bag or extra clothes to create some sort of soft mattress between your body and the car surface.
The makeshift bed should be as flat and long as possible.
Sleeping crunched up or on uneven seats will create poor conditions for your back and blood circulation.
A tip many tend to forget is that sleeping with your head towards the front of the car allows for more upper-body space and your sleeping bag won't slide into the trunk as easily.
If it's too hot, consider bringing a rechargeable battery-operated fan. You should avoid turning the a/c on for the whole night!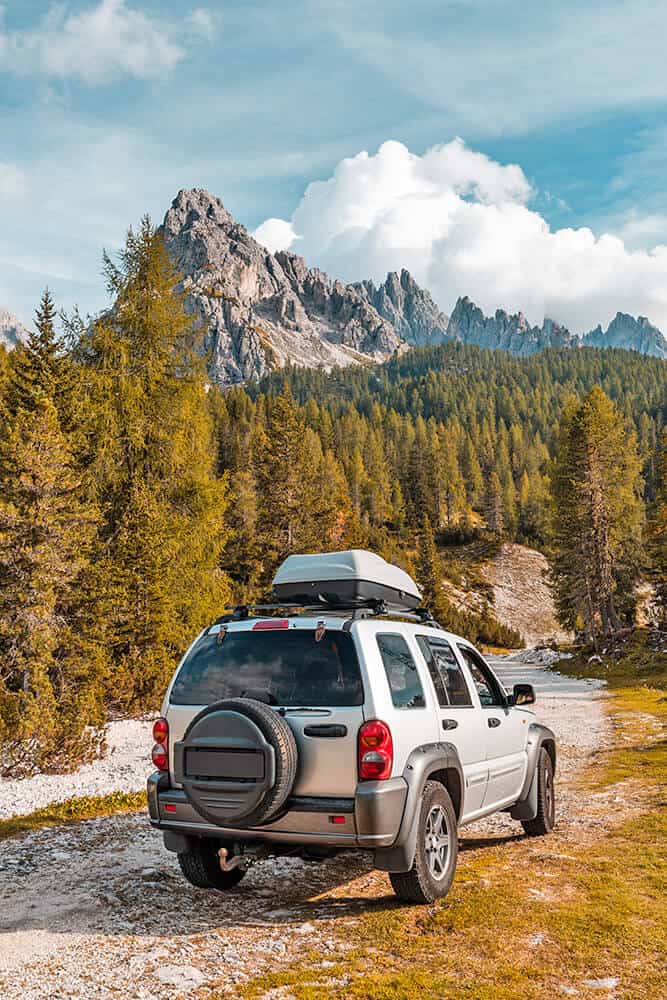 Safety Tips For Sleeping in your car on road trips
Sleeping in your car in an illuminated area is always a great idea. You can use a sleep mask to filter the light to rest better.
Always text somebody your location and check with them first thing in the morning to let them know you're safe.
Avoid parking on the side of the road in the middle of nowhere!
Never leave the car running or the key on the "on" position overnight. You risk breathing in harmful car emissions, draining the battery or running out of gas.
Leave your car window open just a crack. Ventilation is important but you don't want to invite thieves or animals into your vehicle.
Park near a bathroom and use it before you go to sleep.
If you're planning to sleep in your car on a summer road trip, make sure you find shade.
Sleeping hot is horrible and you might not realize how warm your car is until it's too late.
Do not use your car's dome lights. If you forget to turn them off, you will drain your car battery.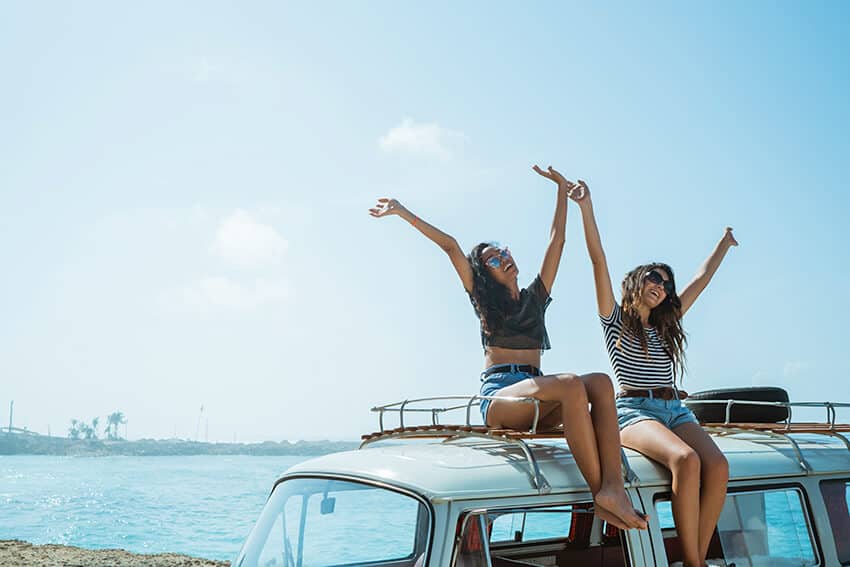 What do you need to sleep in a car on a road trip?
If you want to sleep comfortably in your car on a road trip, there are a few things you should keep in mind and little secrets that will help you to avoid any hassle.
Staying warm while sleeping in your car involves a nice and cozy bed. According to the vehicle you have chosen (find all the details in a previous chapter) you can bring a great quality summer sleeping bag or a winter sleeping bag.
Another option is to bring an inflatable sleeping mattress (some are specifically made for car camping) or a sleeping pad for camping.
The thing you should never forget is your pillow. Me and Al prefer to bring 2 pillows each (if you're flying there you might want to buy a camping pillow).
Car interiors are built in awkward shapes and there are gaps or uneven bumps that can make sleeping impossible. Usually an extra pillow covers them so we can rest comfortably.
If you're planning your road trip in winter, you will want to pack warm and breathable clothes. Wear lots of layers that you can easily adjust during the night and check to see if you can insulate the car windows. If it isn't possible, pack an extra blanket.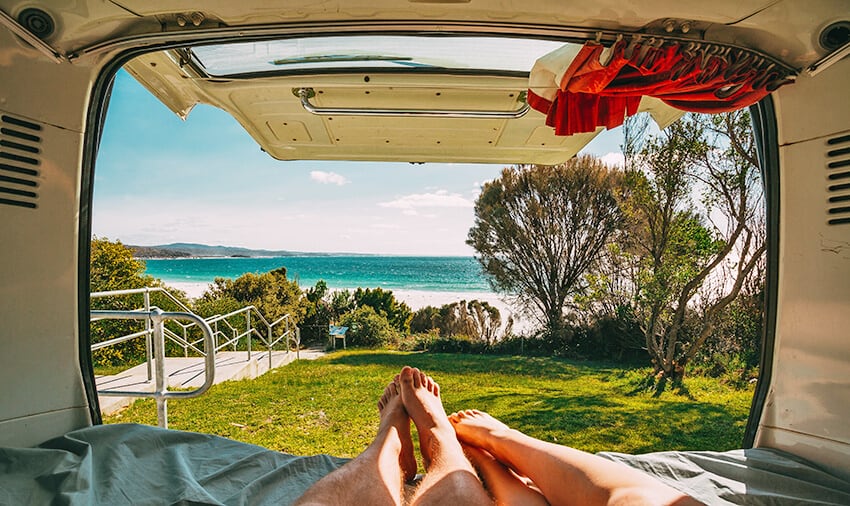 Whether you're on a solo road trip or with someone else, it's super important to be able to charge electronic devices, also for safety reasons.
You might want to bring an in-car charger that uses the car battery to charge several devices, or a power bank that you can charge and use as an extra supply. On summer road trips you can also consider a solar panel, which you can also charge while you're hiking.
Me and Al usually bring power banks with us.
The modern ones are powerful enough to charge tablets and cameras. We charge them while the car engine is on (which means less chances to drain your car battery) and we can also bring them with us while we go to eat or hike.
Car camping also requires a headlamp or a lantern, so you can see what you're doing in the vehicle (or outside) without having to turn any car lights on. If you forget to turn those off, you might find it difficult to start the engine in the morning!
Lanterns are also great if you're camping and you want to sit and relax outside, without having to light a fire.
In case you are planning a longer road trip in a remote area where Walmarts aren't a thing, you might want to also buy a budget portable shower.
Water will be cold (unless you boil some) but you'll be able to stay clean also if you won't find a place for you to use a restroom.
Always bring with you a can of bug spray, especially because you'll keep your car window open during the night. You'll want to avoid being eaten alive by bugs!
You might also like:
– The best Arizona road trip itinerary
– Utah road trip: the Mighty 5
– Epic road trip from Miami to Key West (Florida)
– Amalfi Coast Road Trip info (Italy)
– Road to Hana stops for a Maui road trip (Hawaii)
– The Devil's Tower travel guide
– Upper vs Lower Antelope Canyon: how to choose
– Fun Joshua Tree Day Trip Itinerary (California)
– Guide to Sleeping In Your Car on a Road Trip
– How to visit the Grand Canyon in one day
Pin it for later!
This post is also available in:

Italiano