The best Manchester Tour (cool, fun and self-guided)
This post includes affiliate links. As an Amazon Associate, I earn from qualifying purchases. Full disclosure.
Manchester is the second big city in Great Britain and the most popular study destination in the UK for international students. Whether you are planning a day trip from London, or a longer stay, we have prepared the best self-guided Manchester tour, because you can mix and match all the experiences based on your preferences and time. This beautiful British city will surprise you for how cheap it is if compared to other popular destinations in the UK, it has an international airport and it's definitely easy to explore because you can basically walk everywhere (and if you're too tired, they have an amazing public transport system). Let's get down to business!
Quick Links to Post Content
Interesting facts about Manchester
The symbol of Manchester is a bee. You will find it everywhere in the city and it represents its hard working past, during the Industrial Revolution. Also intended as "busy bee" because Manchester is a lively city rich in pop culture and music history;
Museums in Manchester are free;
In Manchester they have the famous "Curry Mile". Over 70 South Asian restaurant within a length of half a mile. It's the largest concentration of South Asian restaurants outside the Indian subcontinent;
Booking a hotel in Manchester city center is a great idea if you want to make the most out of your trip, because you can walk almost everywhere;
Public transport in Manchester is easy to find (especially trams) , easy to use and very clean;
Going from London to Manchester via train takes only a couple of hours!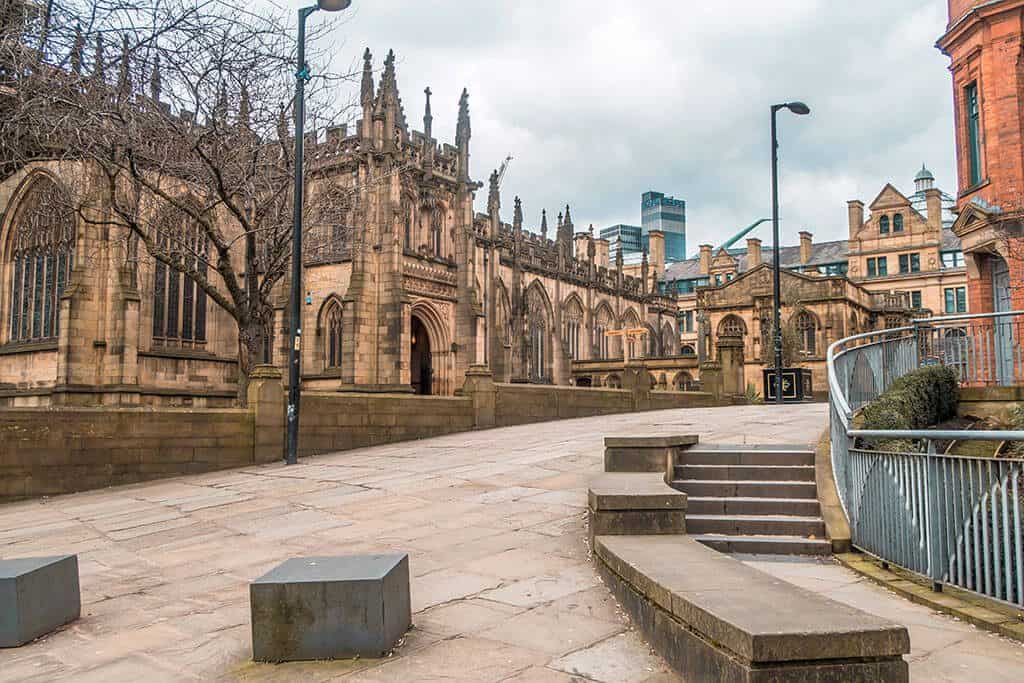 The Manchester Cathedral
There are many free things to do in Manchester, but I want to start with one that should always be in your itinerary: the Manchester Cathedral. Particularly beautiful in springtime, when the gardens all around are in full bloom, it is located on Victoria Street, in Manchester city centre.
This is the mother Church of the Anglican Diocese of Manchester, a late-Medieval building which will leave you speechless for how beautiful it is. This Grade I listed masterpiece has survived wars and bombings, witnessed the birth of the world's anti-slavery movement and has been the center stage of the Industrial Revolution.
On the roof there are beehives to take care of the Manchester bees, and they often have classical music concerts.
Inside the Manchester Cathedral Visitor Center you will also find a cute and cozy cafè.
Proper Tea is a traditional British tea room that also offers nice cups of coffee to go. It's also a good place to stop at for a quick soup or sandwich.
Very close to: National Football Museum, Chetham's Library, Manchester Arndale, Corn Exchange. You can also reach John Ryland's Library and Northern Quarter with a 5 minutes walk (for each one of them).
Manchester Art Gallery
If you love art, then this Manchester tour won't disappoint you, as this is a surprisingly artsy city. Pay a visit to the Manchester Art Gallery (of course, it's free!), located on Mosley Street in Manchester city center.
The outside looks a bit like the New York public library, thanks to its beautiful colonnade, but the one in Manchester is made of three connected buildings, two of which were designed by Sir Charles Barry.
Open seven days a week, it houses works of local and international importance, with oil paintings, watercolours, drawings, sculptures, miniature and even Egyptian objects. Particularly famous for its collection of Victorian Art, it's appreciated by the visitors for the Pre-Raphaelite Brotherhood paintings. Every year more than half a million people visit the Manchester Art Gallery.
In January 2018, the gallery removed the painting Hylas and the Nymphs by John William Waterhouse, leaving an empty space and post-it notes to the visitors to encourage debate as to how women's bodies should be displayed. There was a huge backlash and they were accused of censorships and puritanism, to the point that they were forced to put rehung the painting after a week.
Amid the controversy, they were even compared to Nazi curators who, during World War II, decided what had to be removed from museums only according to their taste.
Was it puritanism or a way to discuss about how we should be more respectful of the women, in the wake of the #MeToo movement? We'll leave that up to you.
Very close to: John Rylands Library, Royal Exchange Theater, Manchester Town Hall.
John Rylands Library (the "real life Hogwarts")
Are you Harry Potter fans? We sure are! Dany is a proud Ravenclaw and Aldo a Gryffindor. Imagine our face when we visited the John Rylands Library in Manchester… we were baffled! And we could totally see why they keep calling it "the real life Hogwarts".
This late Victorian neo-Gothic building is located on Deansgate in Manchester. Opened to the public in 1900, it was founded by Enriqueta Augustina Rylands in memory of her beloved husband, John Rylands. In 1972 the Library merged with the University of Manchester. Can you imagine how amazing it is to be able to study in such a beautiful setting?
We have promised you lots of free things to do in Manchester, just like we did when giving you nice budget ideas for a weekend in London. So yes, the entrance to this library is completely free, and you will often be treated also to interesting exhibits (check out their official website for the updated exhibit calendar).
Once you step inside, the first idea that comes to your mind will be… castle. Imposing columns, high ceilings and beautiful statues: the books collection is located in the Historic Reading room, with quiet alcoves where you can sit and read or study.
An interesting fact is that the original Victorian toilets can be found down the stairs from the main entrance hall. They are the same installed in 1900 and still in use!
Did we already mention Hogwarts?
Very close to: Manchester Town Hall, Royal Exchange Theatre, Manchester Art Gallery. With a five minute walk you can reach respectively the Museum of Science and Industry, and the Manchester Cathedral.
National football museum
Unless you are a huge football fan, we wouldn't advise you to add a visit to the National Football Museum if you only have one day in Manchester. Click here to get a pretty big discount on the entrance tickets!
Football is a huge part of the history of Manchester, a city that has two world famous teams (Manchester United and Manchester City), but there are so many things to see and do!
We'd save that for a longer trip. Of course, if you think you can make it a (very) quick visit, then you can add it to your Manchester tour. It is, after all, pretty close to several other points of interest!
The entrance to England's national museum of football is free, and it's located on Todd Street. You definitely can't miss the big glass building with its name in white, so don't worry, you'll definitely spot it even from far away!
The museum is pretty big (which is why we suggested you leave it for a longer trip to Manchester), and it's laid out over 4 floors. The collection is impressive also for those (like Dany) who don't understand much of football. Of course, being from Naples, with Naples Soccer Team so deeply rooted in our everyday life, we were particularly impressed by Manchester.
Football here is even more important than it is in Naples (and believe us, in our city saying "Forza Napoli" is mandatory!), and between this museum, the impressive Old Trafford stadium and all the highlights you'll find almost everywhere, it is easily a paradise for those who love this sport.
Kids for example absolutely love the National Football Museum!
Very close to: Chetham's Library, Manchester Arndale, Manchester Cathedral, Corn Exchange.
Museum of science and Industry
Another one of the fun activities in Manchester, if you have kids or if you like space like us, is a visit to the Museum of Science and Industry.
The entrance to this large museum is, of course, completely free and located on Liverpool Road, in Manchester city center. It focuses on the development of science, technology and industry, with a particular emphasis on the city's achievements in these fields.
Inside you will find extensive displays on transport with cars, aircrafts (including a RAF Avro Shackleton) and trains, information on Manchester's sewerage and textiles, communications and computing.
We suggest you check out their official website to see if there are special exhibitions when you are visiting, because they will charge you for those. Yet don't be quick to delete this Museum from your Manchester tour in case there's a special exhibit. We were lucky enough to attend a space exhibit and saw the descent module and space suit used by the astronaut Tim Peake in 2016, among other things. Al was beyond himself: he absolutely loved the visit!
Very close to: You will need to walk for about 10 minutes to get to the Museum from the John Rylands Library (sorry, not so "very close"!).
Feel like you'd like to visit with a guide? My tip is to book a private tour with a local guide: they're affordable and fun. Plus you can cancel if you change your plans! Click here to check out price and availability.
Chetham's Library
If you are on Facebook chances are that you have seen a lot of mini-videos on the best libraries in the world. Or the most instagrammable ones. What we always found absolutely incredible is that they generally leave out both the John Rylands Library, and the oldest free library in the U.K.: Chetham's Library.
Located on Long Millgate, a few steps away from the National Football Museum, this tiny library, founded in 1653, is free, provided that you can only visit the Library itself and a very small part of the medieval building. The staff will accompany you for a tour in small groups, from Monday to Friday at 10:00am | 11:00am | 12:00pm | 01:30pm | 02:30pm | 03:30pm. Chetham's library is closed on public holidays and between Christmas and New Year.
Chetham's Library holds more than 100.000 volumes of printed books, of which 60.000 were published before 1851.
The visit is interesting but won't last much. Yet because Chetham's Library is so close to many points of interest, we think it can always fit in every Manchester tour!
Did you know that Chetham's Library has the same colonnade as the St. Bernard de Clairvaux Monastery in Miami?
Very close to: National football museum, Manchester Art Gallery, the Manchester Cathedral, Corn Exchange.
Shopping in the Northern Quarter
The Northern Quarter is Manchester's hipster haven and home to everything that is colorful, unique and… well, ok. Hipster!
The area is fiercely independent and a bit more gritty if compared to Manchester city center, but full of bars, cafes, music venues, vintage clothes shops and street art.
In Stevenson Square, the remains of a former public building are used by the OuthouseMCR organisation to showcase street and graffiti art. OuthouseMCR also manages the urban art which decorates an electrical sub-station on Tib Street. On one wall of the substation, protected by Perspex, there's a painting that some say belongs to the world famous artist Banksy.
In case you're planning a Manchester tour and you're a movie nerd (like us), then you absolutely have to add the Northern Quarter to your itinerary. Here they filmed several scenes for the movie Alfie (2004), Captain America: The First Avenger (2011), and Guy Ritchie's Sherlock Holmes (2009).
There are so many places to go in Manchester's Northern Quarter, but while you are sightseeing, make sure you also check out the unique shops that you won't find anywhere else in the city. Like the Manchester Craft and Design centre, an old victorian market that has become a creative place where artists, designers and makers craft and sell their masterpieces. Or Afflecks, a super famous, eclectic indoor market with small shops and unique souvenirs at a tiny price.
We also particularly liked the colorful shop Oklahoma, where we found the most bizarre, unique and cute objects ever. And we mean… really colorful and bizarre, with a touch of nerd!
Very close to: Manchester Cat Cafè.
Manchester Cat Cafè
We already talked about the Cat Cafè in Milan (Italy), so you know that we absolutely love cats: as soon as we realized there's a cat cafè, we added it to our Manchester tour.
Located in the Northern Quarter, on High Street, this Cat Cafè is pretty different from the one we go to when we are in Milan. It has a proper mission, to help people dealing with physical, mental and emotional stress. They want to teach their guests to relax, because sometimes… we forget that we have to stop and breathe. Having several cats, we are aware that they definitely know how to relax… after all they sleep for the most part of the day!
This company aims to have a Cat Café in every major city in the UK (they have one in Manchester and one in Liverpool, for now). But this doesn't mean that they stress their cats to make sure humans can relax. In every Cat Café you have to agree to a set of rules. No children under 10 years are allowed inside. You can't pick up the cats or force them to do something they don't feel like doing. You can't touch them if they are sleeping.
And… something we didn't see in Milan and that we really appreciated. Before to get in the cat's area, you either have to remove your shoes or wear shoe covers, as well as sanitising your hands to make sure you're not bringing dirt or bacteria inside.
Tickets cost 12£ per hour, but you can also buy just fractions of it (we decided to stay for about half an hour, to drink a cup of tea while I said hello to the amazing Harvey, you can see him in our video on Youtube). Inside they have a lovely cat themed cafè which sells sweets, muffins, coffee, tea, and of course cat themed souvenirs.
Very close to: Northern Quarter shops.
Corn Exchange Manchester
The Corn Exchange in Manchester, located on Exchange street, is an historical building, once used for the corn exchange (in case it wasn't clear enough). In 1996 it was destroyed by an IRA bomb and it has been re-developed into a dining destination, with 17 restaurants and bars inside.
This beautiful building is located in an area full of fun things to do in Manchester and can be a good place to stop if you want to have lunch (or dinner, of course). You can find everything, from pizza to Vietnamese cuisine, to Italian restaurants or Mexican delicacies.
In the evening this area is always full of people because there's a movie theater, the Hard Rock Cafe Manchester, and also the big shopping center Manchester Arndale is just a few minutes walk from the Corn Exchange.
If you are looking for an interesting backdrop, the Corn Exchange building is one of the most instagrammable places in Manchester!
Very close to: Manchester Arndale, National Football Museum, Chetham's Library, the Manchester Cathedral.
Manchester Arndale
Manchester Arndale is a pretty big (for our European standards) shopping center, built in the '70's. It's part of the largest chain of Arndale Centres built across the UK and was redeveloped after the IRA bombing that also affected the Corn Exchange, and many other buildings in this area.
Today it's Europe's third largest city-centre shopping mall, and it's also pretty close to Selfridges and Marks and Spencer. The three are connected by a few bridges. It's also one of the largest shopping centres in the UK.
Like many large shopping malls, there's a food court. If you're planning your Manchester tour on a budget, here you will find cheap eats and everything else you might need.
Do you need a guide for your next trip to the UK? Click here to buy the new Lonely Planet England on Amazon!
What can we say… we like to unwind by strolling into a large shopping center, especially because in Italy we only have the very big ones (and not as big as Manchester Arndale) in Milan.
Note it down as a place where you can have lunch or hang at in the evening, as it's pretty close to a few of Manchester highlights!
Very close to: Corn Exchange, Manchester Cathedral, National Football Museum, Royal Exchange Theatre.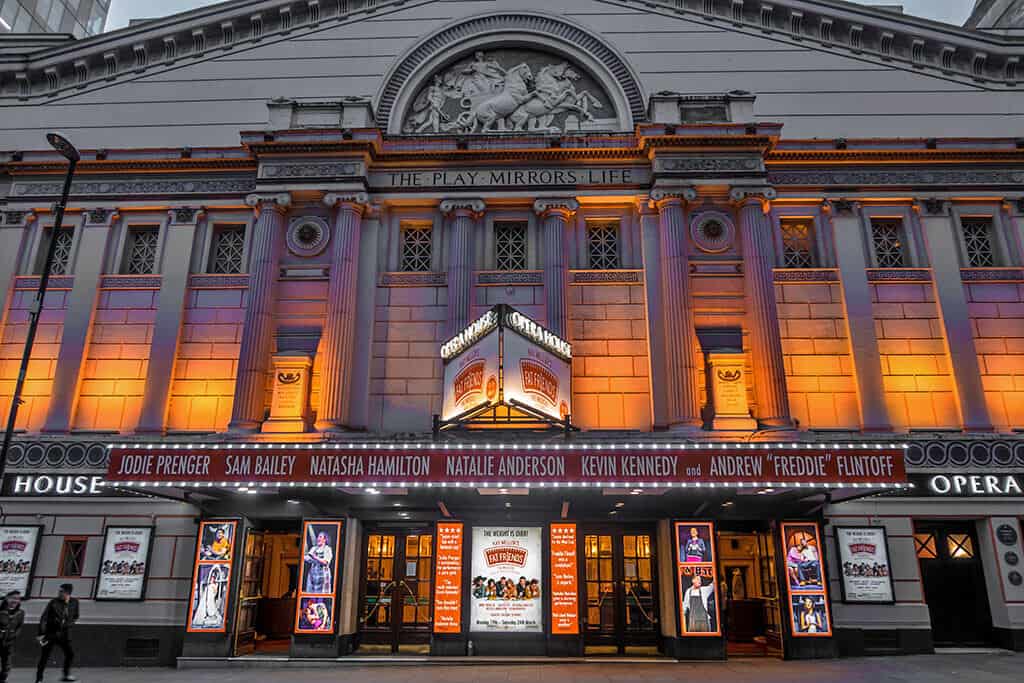 Manchester Town Hall
The Manchester Town Hall in Albert Square is probably one of the most iconic buildings in Manchester. It looks a bit like the Big Ben in London, and just like the Big Ben… it's been closed for refurbishment since January 2018. While you won't be able to visit the inside until 2024, you can still take beautiful pictures and admire the view from Albert Square.
The Town Hall celebrated its 140th birthday in 2017, and it's definitely the one building we have photographed the most in Manchester. You can see it from many of the hotels in the city center (upper floors, of course), and we loved to admire it early in the morning with a warm cup of coffee.
It should be the very first thing you add to your Manchester tour, also if you can't walk inside! Strolling in Albert Square, taking pictures while drinking your coffee, is definitely priceless!
Very close to: Manchester Central Library.
Smart tip to save money on your trip to Manchester
Trains in England can be a bit more than expensive, unless you do some strategical planning, making sure you actually know how to save on your tickets.
If you haven't been so lucky to find decent rates, my suggestion is to rent a car for one day in London. It's the cheapest way to get to Manchester!
Once there, find a parking spot outside of the city center and use the free public transport to enjoy your day without having to spend extra money.
Me and Al always use this car rental service which is super cheap: we never had a single problem and we paid a fraction of what bigger resellers were asking us. Click here to check out rates and availability: don't be too surprised when you discover it's actually much cheaper than a train ticket!
This post was written in collaboration with Visit Manchester. Needless to say, our opinions are our own and aren't necessarily the same as the Visit Manchester Team.
Pin it for later!
Travelling Dany
Danila Caputo is a bilingual travel writer living in between Naples and the Amalfi Coast (Italy). She travels and works with her husband Aldo, photographer and videographer. Their blog chronicles their adventures around the world, Italian/European culture and tips on how to be responsible travelers. You can find out more about their latest trips and their life on Instagram and Facebook.