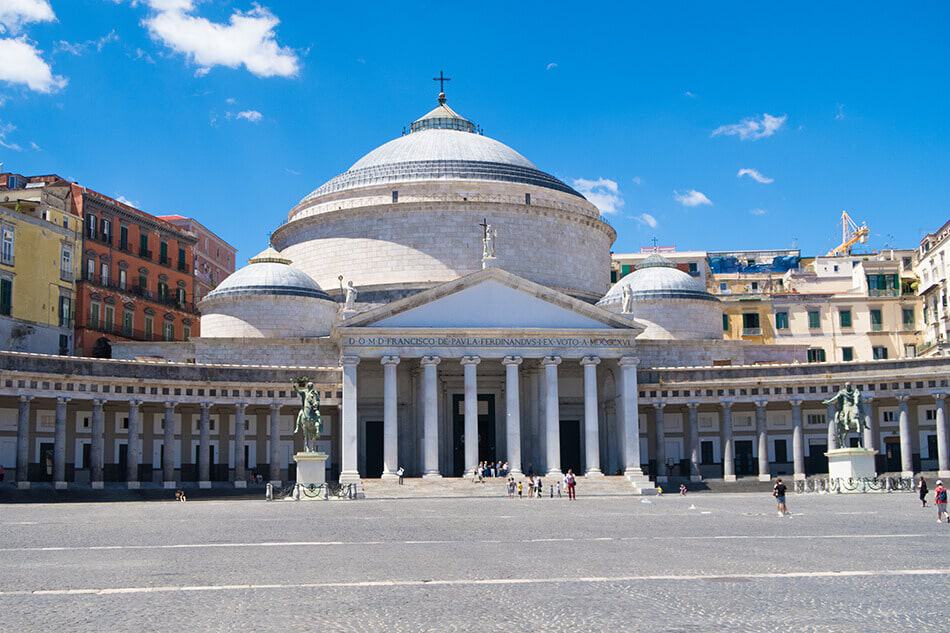 Naples is a very popular port for the best cruise ships, as well as one of the most loved stops for the cruisers interested in foodie tours to taste the traditional Neapolitan dishes. Many decide to pay for an expensive day tour: there's no need to! Here's a self-guided walking tour to spend one day in Naples, full of useful tips from a local! There are so many things to do in Naples, but I know just the way to plan a budget one day trip. Let's see how!
Many people hop on a ferry from the Amalfi Coast to Naples and go straight for a visit to Pompeii. Others disembark from a cruise ship and pay for expensive tours that only show them the outskirts of my city: visiting Naples in a day doesn't mean that you only get to see one street!
I am well aware that planning a three or four days trip would be the perfect way to visit Naples, but if you can't do that, why don't you try to make the most out of your day?
One day in Naples means that you will have to skip the popular spots like via San Gregorio Armeno (also known as Christmas Alley), yet not many people know that from Molo Beverello (the main harbor) you can just walk to some of the top things to see in Naples!
Day trip to Naples: how to get there
If you are visiting the Amalfi Coast and its beaches, getting to Naples is particularly easy. Either you get a bus to Sorrento and then a train to Napoli Centrale (the biggest train station in Naples), or you hop on a ferry.
There are daily ferries (here we call them "metro del mare", which means "sea subway" in English) from Amalfi, Positano and Sorrento to Naples. Prices and journey time depend on where you are staying on the Amalfi Coast. On average it should take you about 2 hours to get to Naples from Amalfi.
Worried you'll need a bit of help?
Download the FREE Italian Travel Phrasebook here! It includes the correct Italian pronunciation and lots of useful sentences that you'll be able to use on your trip to Italy!
If you are planning your trip to Italy in spring or summer, I suggest you use the ferry in stead than buses and trains. I'm not saying it to scare you away, because Naples is a safe city, but the Circumvesuviana trains can be quite confusing and buses tend not to show up sometimes due to the traffic jams on the Amalfi Coast.
For a winter trip you might be forced to use the Circumvesuviana because ferries can be suspended due to the bad weather.
In case you are staying in Naples already, use the Art Metro to visit the best of Naples in a day. Toledo is considered the most beautiful subway station in Europe and it's located in the middle of my suggested itinerary.
To get there use the subway: Line 2 is where most of the Art stations are located! Buy a ticket TIC Unico Campania. You will need to ask for a "biglietto giornaliero" (daily ticket) for Naples. It costs 4,50€ and you can obviously use it for the whole day.
Bonus: if you really don't feel like exploring Naples on your own, book a 2-hour walking tour with a local guide. You will be able to visit the historical city center, hear legends about Naples and learn its history. The tour starts in Piazza Municipio, by the fountain of Neptune, so pretty close to the harbor! Check out prices and availability here!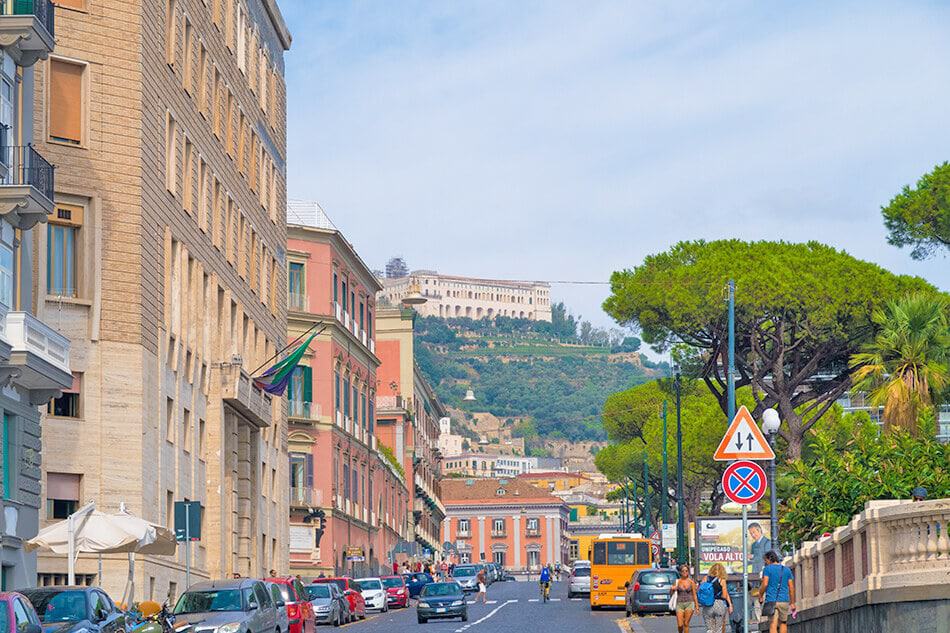 A daily ticket is the most cost-effective way to spend one day in Naples by public transport. Yet validating your ticket on every ride is still mandatory, even with this kind of ticket. Write down your name, date of birth and the date with a pen on the ticket in a clear, readable way. If you fail to do so, you might be fined!
Are you on a cruise? There's no need to buy a public transport ticket! This is a self-guided walking tour to spend one day in Naples. You will disembark (as those who are getting to Naples from the Amalfi Coast) at Molo Beverello, which is the starting point for this itinerary.
Useful info: Molo Beverello is also where you have to go for a day trip to Capri. Unfortunately on this occasion there is no time to visit this beautiful island!
Please don't rush your day trip to Naples: there's no need to! You can and should explore at your own pace while eating delicious treats. I am sure you will fall in love with Naples so much that you'll decide to get back for a longer trip!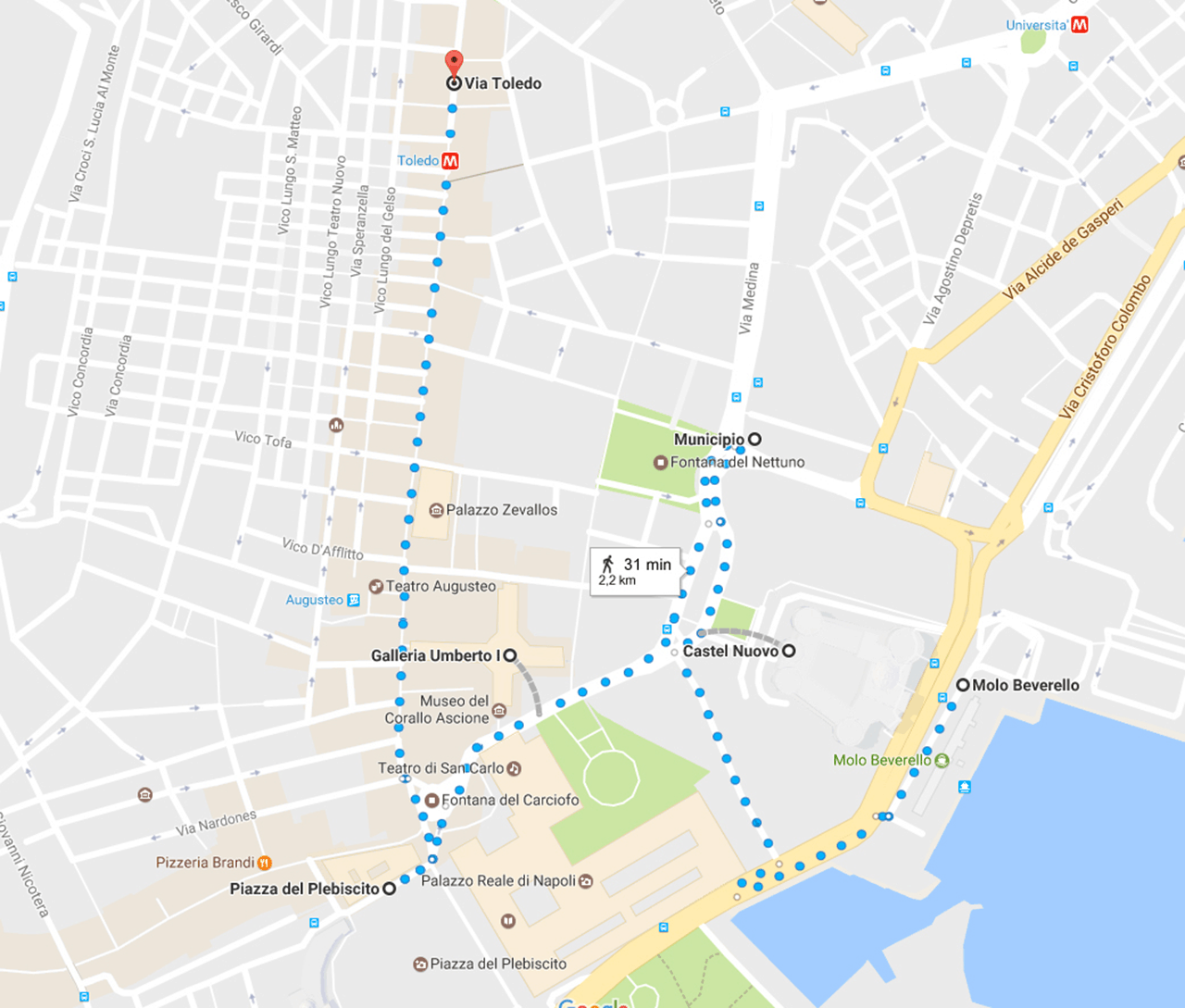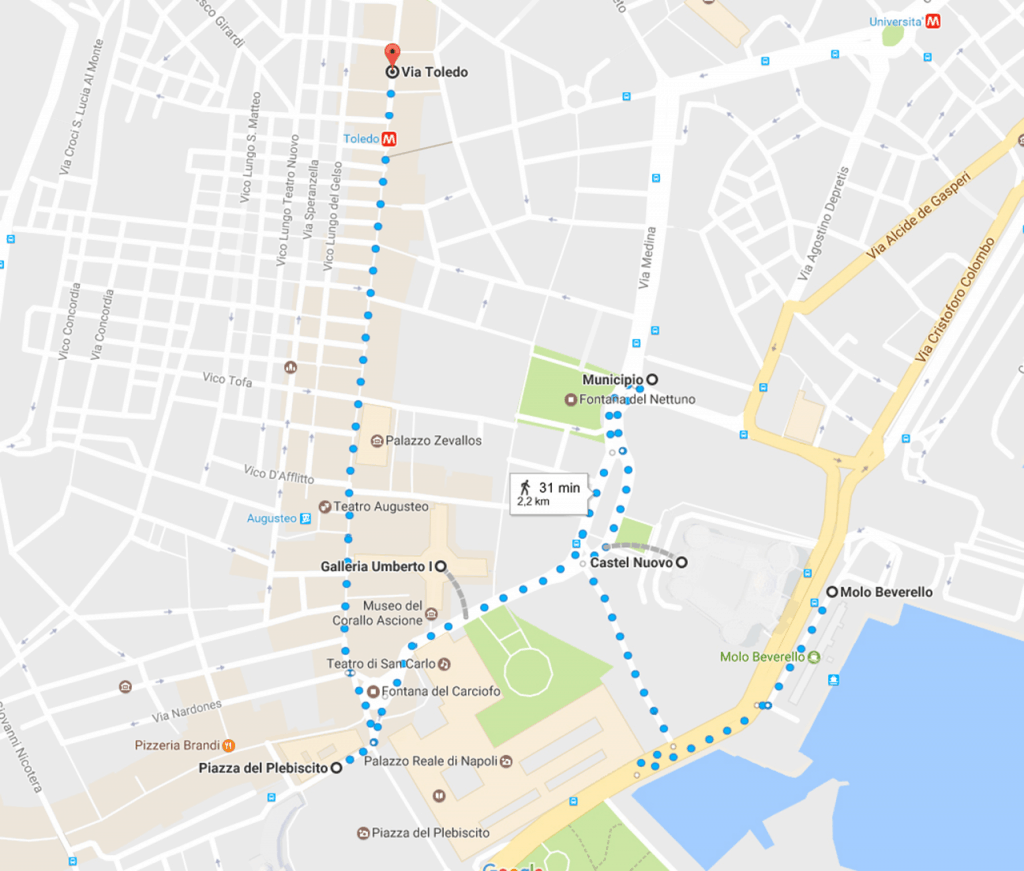 What to do in Naples in one day: a walk through history
From the harbor you will immediately notice the unmistakable shape of the Maschio Angioino castle, also known as "Castel Nuovo". It dominates the scenic Piazza Municipio.
This mighty castle was built between 1279 and 1284 by Charles I of Anjou, and has welcomed important writers, poets and artists as Giotto, Petrarch and Boccaccio over the years.
The Palatine Chapel, which is today the seat of the Civic Museum, is still intact. According to the legend, in the Castel Nuovo underground prisons there was a huge crocodile that fed on the prisoners who had earned a death sentence.
There never was a crocodile in Naples, but everyone used to think so. The prisoners were terrified of being sentenced "to death" (by the crocodile)!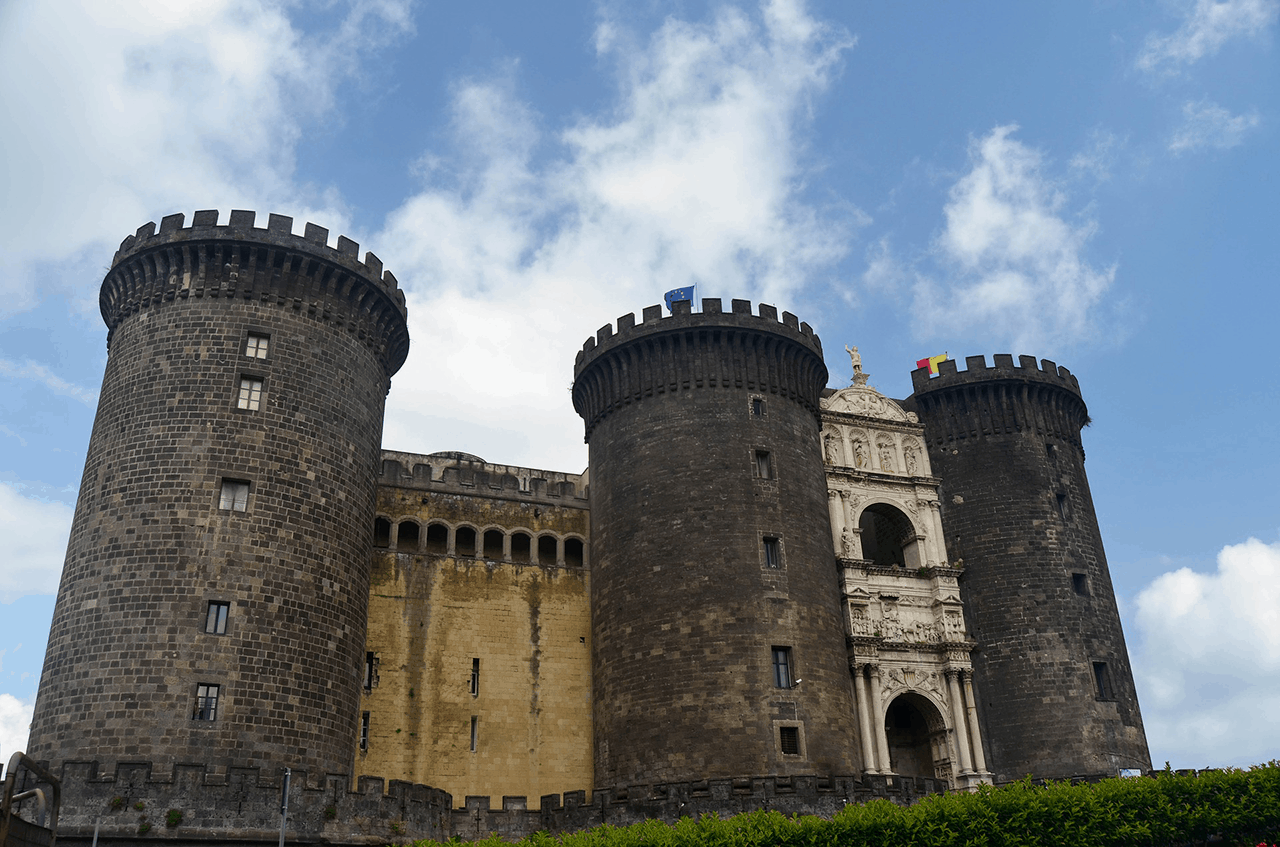 The Town Hall in Naples is located inside an historical building, Palazzo San Giacomo, at Piazza Municipio. This is one of the largest squares in Europe! The area was recently restored and it's magnificent.
Via Medina is a large street where there are lovely Christmas decorations that you'll see if you're planning to visit Italy in winter. Cross it carefully and walk towards one of my favorite fountains in Naples.

Fontana del Nettuno (Fountain of Neptune) has been brought back to life in 2018. With Palazzo San Giacomo at its back, Castel Nuovo on the front, the historical Grand Hotel de Londres on the side and some amazing historical buildings all around, it's one of the most instagrammable spots in Naples.
There are some lovely marble benches near the fountain and a café near by. Stop here to eat some Italian gelato or to drink a cup of Neapolitan coffee: there's some shade, which is perfect if you're going to visit Naples in summer!
When you're ready to go, walk the promenade next to the Maschio Angioino to the Royal Palace of Naples. This palace and museum is usually featured among the top places to visit in Naples. It was one of the four residences used by the Bourbon Kings during their rule of the "Regno delle due Sicilie" (Kingdom of the Two Sicilies). The others were the Royal Palaces of Caserta, Capodimonte (overlooking Naples) and Portici, on the slopes of Mount Vesuvius.
If it's still early in the morning, you can visit the Royal Palace: I love the marble staircase at the entrance! In case you're a movie nerd like me, you'll like to know that this staircase looks a bit like the Grand Staircase of Honour at Caserta, featured in movies like Angels and Demons, Mission Impossible III and Star Wars Episode II: Attack of the clones (did I mention I'm a nerd?).
The visit should take at least one full hour, but if you like history and art, you might stay for a couple of hours (worth the time, in my opinion).
You'll see the Royal Apartments, the roof gardens, the Throne room and the National Library.

Tickets cost 6€, but if you are living in the EU and are between 18 and 25 years old, you'll only pay 2€! Visitors under 18 years old who live in the European Union can visit the Royal Palace of Naples for free.
Bonus: you can book online a ticket for the entrance to the Royal Palace of Naples and an audio guide for only about 13$! Book your ticket in advance here with no hassle!
If you don't have enough time or don't want to pay for a ticket, you can visit part of the gardens for free (not the roof gardens).
And you'll enjoy some amazing statues that are very famous in Naples. Keep reading for more info!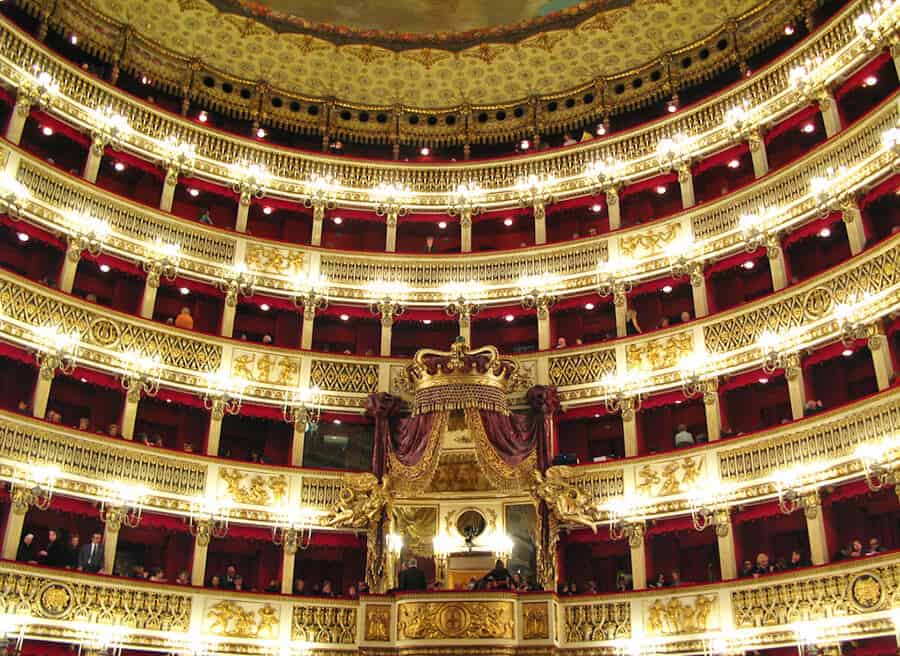 Iconic spots that you should add to your Naples itinerary
I promised one day in Naples without breaking the bank, didn't I?
Unfortunately you won't see the magnificence of our most amazing theatre in Naples from the outside. The San Carlo Opera house is connected to the Royal Palace and while the building has been only recently restored, as you're strolling through the busy streets of Naples you might not even realize what lies inside.
While many people who have visited Milan believe that the Teatro alla Scala is the oldest one in Italy, they are wrong! Teatro di San Carlo is the oldest active venue for public opera in the world: it was opened in 1737!
Since you're only staying in Naples for a day, you might not have time to visit this iconic Opera House. A visit lasts 40 minutes but it has to be booked in advance and might be cancelled without notice. There are still so many things to see in Naples that I suggest you to save the San Carlo for your next visit, when you'll have more time!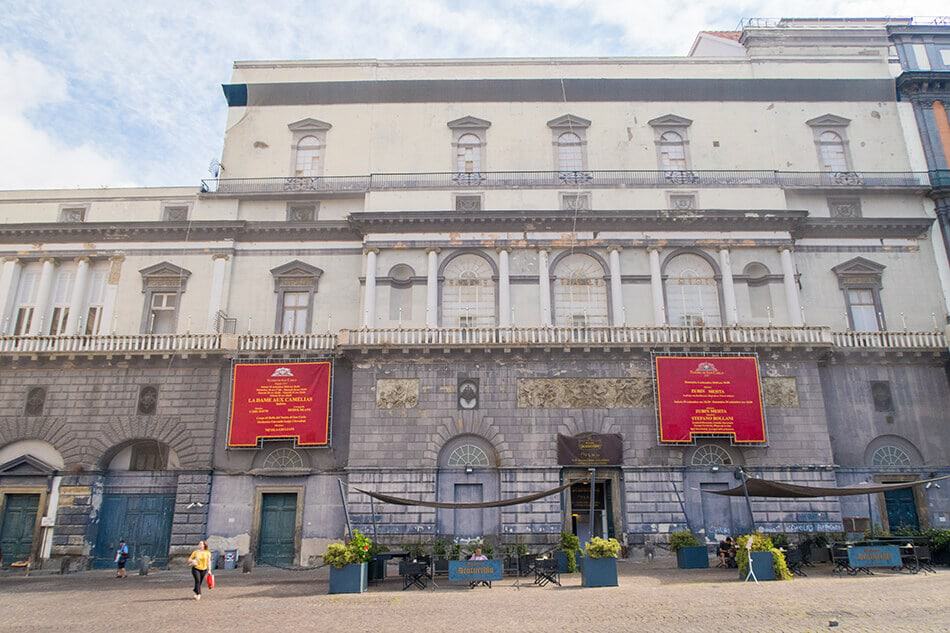 While my itinerary for one day in Naples suggests you keep walking in front of you to make one nice loop that will get you back to the Molo Beverello, you have the option to stop again at this point.
Across the street from the entrance to the San Carlo Opera House there's the Galleria Umberto I (which, again, looks a lot like the Galleria Vittorio Emanuele II in Milan). Under the glass dome there are many shops and cafes.
If you follow my itinerary there's a good chance you'll get to take amazing pictures of Piazza del Plebiscito without the usual crowd of tourists, so keep walking towards Piazza Trieste e Trento: I promise you'll have time to stop at the Galleria later!
Piazza Trieste e Trento is located in the city centre and can be recognized by the Fontana del Carciofo (Artichoke Fountain: I swear that's the English translation!). Once you get there, I dare you not to stay there with your mouth open for a few moments.
Bonus: You can see the sights of Naples on a sightseeing tour by electric bike, with an experienced guide! The tour lasts 2.5 hours and includes helmets and child seats rental, snacks and… the chance to take awesome pictures! Check prices and availability here!
I am Italian, Naples is my hometown, and still I am in awe whenever I come here. From this fountain you will see Via Toledo and Via Chiaia, the two shopping streets in Naples where you can buy awesome souvenirs from Italy, the San Carlo Opera House, the Royal Palace of Naples, the historical Grand Cafe Gambrinus and Piazza del Plebiscito.
And that's why I told you that this is the best itinerary out there if you only have one day in Naples! You'll get to see the most amazing spots in my city in just a few hours. It is the area that will make you fall in love with Naples, if you haven't already!
Piazza del Plebiscito is easily another one of my favorite spots in Naples. This huge square is close-by to a lot of awesome attractions.
If you haven't seen the inside of the Royal Palace of Naples, know that on a side of Piazza del Plebiscito you will get to see the statues of the eight Kings of Naples for free.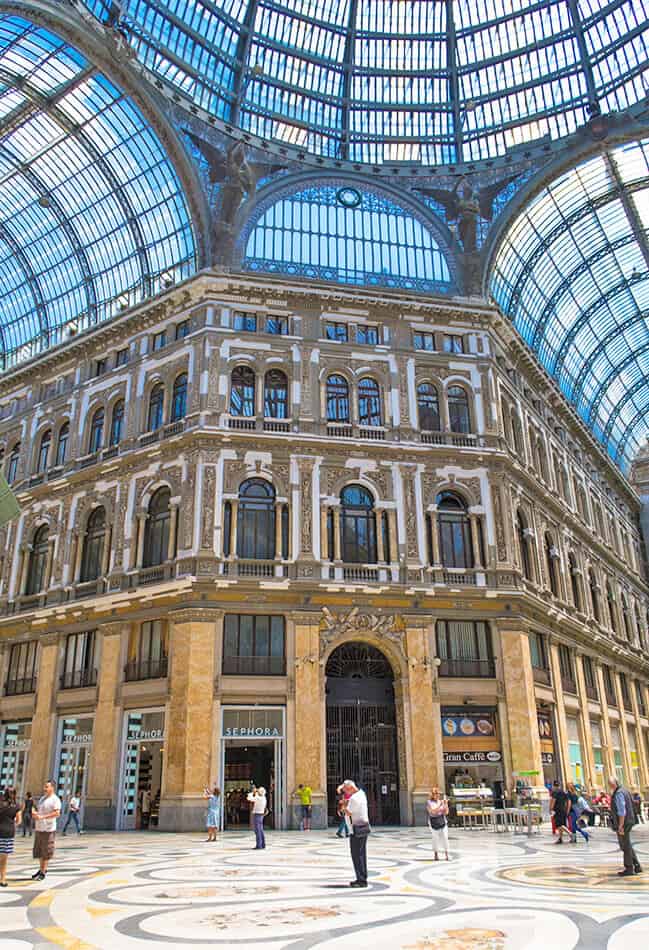 The funny legend every Neapolitan knows
As you might have guessed already, Neapolitans are quite creative with their legends. When the statues of our Kings were built, in 1888, people immediately created a funny story about them.
As you walk from Piazza del Plebiscito towards the Gulf of Naples, look at the statues.
Charles V is pointing his finger to the floor: "Who peed on the floor?"
Charles III of Spain replies, while looking terrified: "I didn't do anything!"
So Joachim Murat boldly confesses: "I did it, so what?"
At this point an enraged King Vittorio Emanuele II grabs his sword and threatens: "How dare you! I'll castrate you as a punishment!"
Please, have a look at the statues and imagine them talking among each other! They look as if they are actually having this conversation, it is pretty realistic, albeit it reflects the way of the "scugnizzi", the Neapolitan kids usually playing soccer in Piazza del Plebiscito and having fun.
What can I say… Napoli, I love you!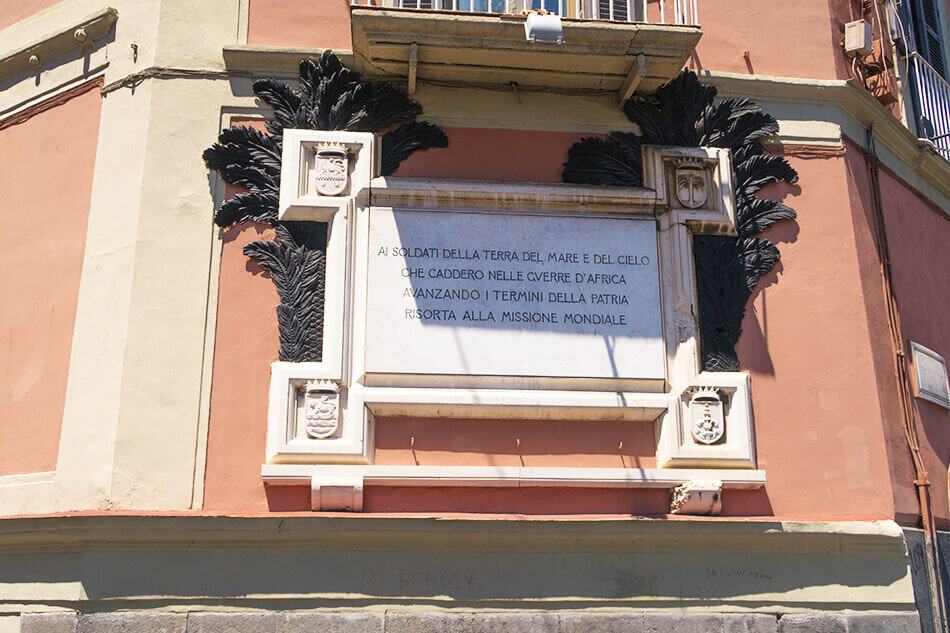 The essence of Naples in a day: sea, sun and espresso
Piazza del Plebiscito is the place where in May 2013 Bruce Springsteen and the E-Street band gave one of the most amazing concerts of their carreer. I was there and upon seeing the Boss tearing up a little while telling us "It's beautiful to be home", made me feel so proud of my city.
Because the acoustic in this square is absolutely amazing, it's occasionally opened for concerts, like the free one we have every New Year's Eve.
The half-moon church you see on one side is the Church of San Francesco di Paola with its beautiful colonnade, extending on both sides as if to hug Piazza del Plebiscito.
If you cross diagonally the whole square, you'll get to Borgo Santa Lucia and the Grandi Alberghi, one of the most expensive lodging areas in Naples, and for a good reason. Stop here to take awesome pictures of the Gulf of Naples: you will see Castel dell'Ovo (Egg Castle) in the distance!
As you return towards the Fontana del Carciofo, you will find two of the nicest cafes in Naples. One is Grand Cafe Gambrinus, which opened in 1860 and is like a museum inside. Another, a few steps away, is the tiny Bar del Professore, which is the local alternative to Starbucks. You'll get to try espresso with white chocolate, hazelnuts cream, pistachio and more!
Where you want to stop depends from you: Grand Cafe Gambrinus is pretty elegant and can be expensive, but here you might see politicians, movie stars or singers. Bar del Professore is tiny and less expensive (more easygoing), so you won't really be able to sit down.
Note: don't eat anything! We're almost at my favorite foodie spots in Naples!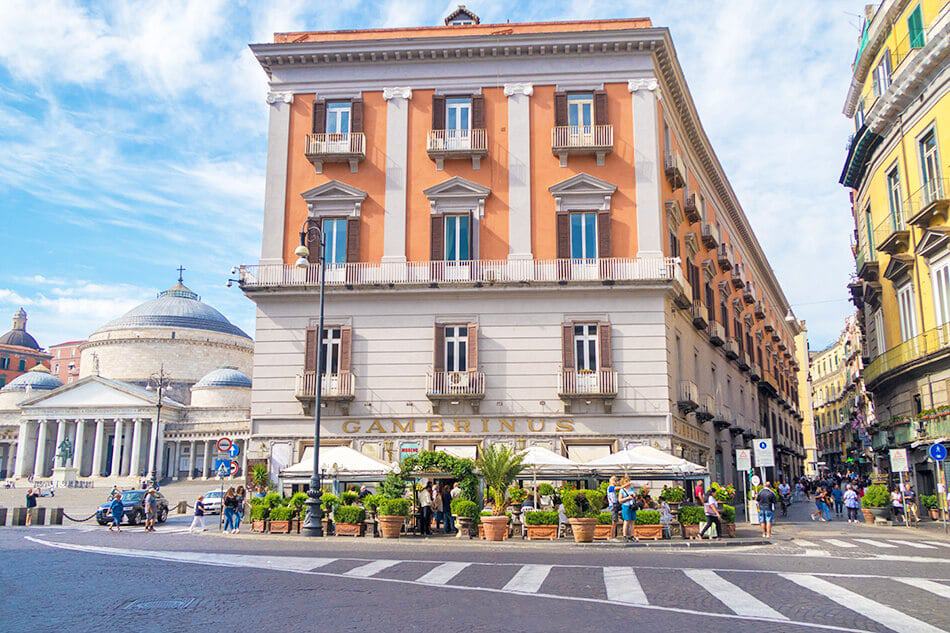 Sfogliatella break: the two best sfogliatella in Naples

Via Toledo isn't only the most famous shopping street in Naples. It's also the place where you will find some of the oldest shops (you can order handmade leather gloves here), awesome Christmas decorations, and the entrance to the Toledo Art Station, considered the most beautiful in Europe by The Daily Telegraph and the CNN.
While you stroll down this popular street, you have two options for a sweet break. Well, to be honest, two of my favorite shops ever, even if there are many more places where you can buy yummy treats along via Toledo!
The first one is Pintauro, an historical little pastry shop on Via Toledo that you wouldn't notice… except for the fact that it spreads such a sweet scent on the street! They make sfogliatelle, babà and struffoli (sometimes on a stick, like the dango we ate in Japan!).
Another one is just a few steps away, at the entrance of Galleria Umberto I. Sfogliatella Mary has always been my favorite in Naples. When I was a university student I made sure to walk by this tiny pastry shop every day to eat a fresh-from-the-oven sfogliatella frolla.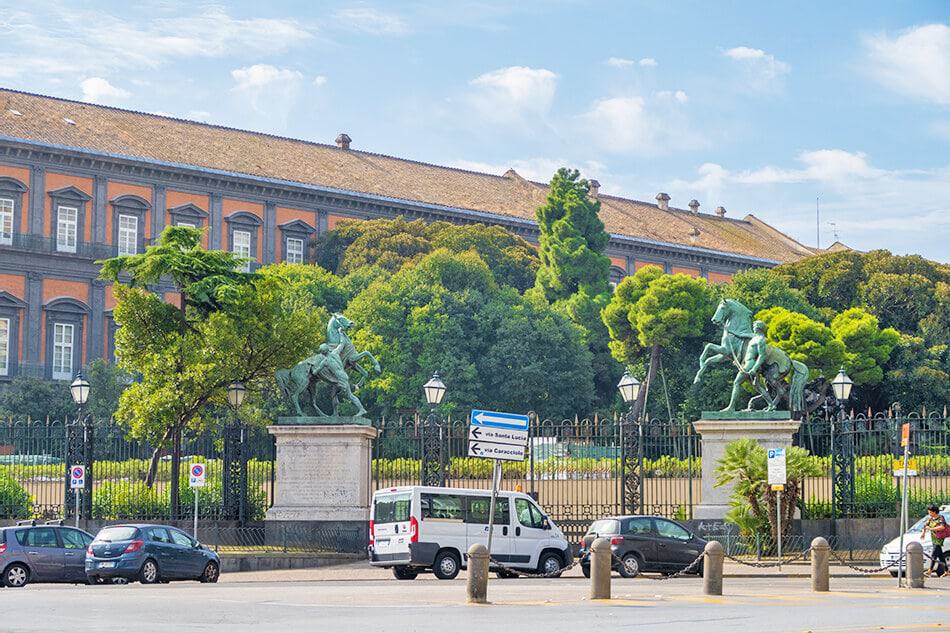 Both these shops don't have tables so you will have to eat your sfogliatella while walking. If you ask them, they will prepare your sfogliatella to go, so you can bring it back on the cruise ship or wherever you want. Be aware of the fact that a fresh sfogliatella frolla can last even two days, but sfogliatella riccia won't be as crunchy and delicious if you eat it the following day!
I prefer Sfogliatella Mary also because there are many cafes inside the Galleria Umberto I. I like to sit down for an espresso, or I just walk around doing some window shopping: there are many designer shops, just like in Milan!
Bonus: Are you a foodie? One of the tastiest tours will guide you to eat the best street foods in Naples, on a 2.5 walk. The tour includes all the food tastings and the help of a professional (local) guide. Check out prices and availability here!
As I already mentioned several times, tipping in Italy is not expected, not even when you buy a delicious sfogliatella (a bit of a "shut up and take my money")! Have a look at my tipping guidelines for Italy to make sure you won't come across as rude!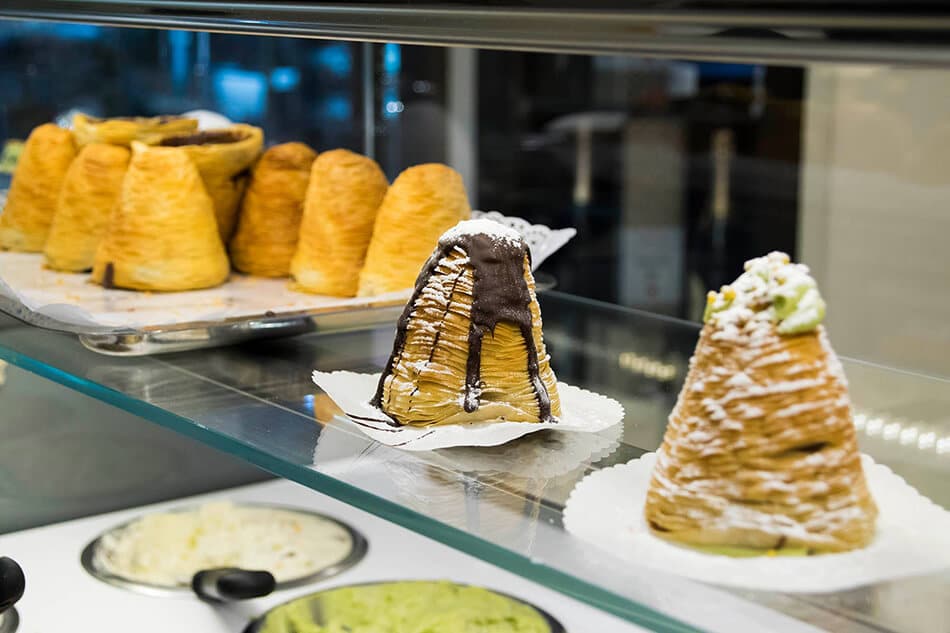 One day in Naples: best treats!
Since you're visiting Naples, which is one of the Italian cities where food is everywhere (yes, I'm totally biased), you should absolutely make a few foodie stops for treats along the way.
One of my friends has been telling me that "Naples smells like delicious food everywhere you go" and that is true!
You might also like:
What to eat in Naples
Naples neighbourhood guide – where to book your hotel
The best 45 things to do in Naples
How to spend one day in Naples
Naples cafes and how to drink espresso
Is Naples really dangerous?
Pompeii travel guide from a local
Riding the art metro in Naples 
Hiking Mount Vesuvius – how to get there
18 lip smacking street foods in Naples
How to visit Naples Christmas Alley
Procida island travel guide – Our hidden gem
20 best destinations in Europe for a fall trip
30 different types of pizza you should eat in Italy
22 Amazing Day Trips from Naples (Italy)
Pin it for later!
This post is also available in: Italiano (Italian)