The best Czech food in Prague (delicious suggestions from the locals)
This post includes affiliate links. As an Amazon Associate, I earn from qualifying purchases. Full disclosure.
A handy guide to the best food in Prague (Czech Republic) and where to find the places where the locals eat yummy traditional dishes for less!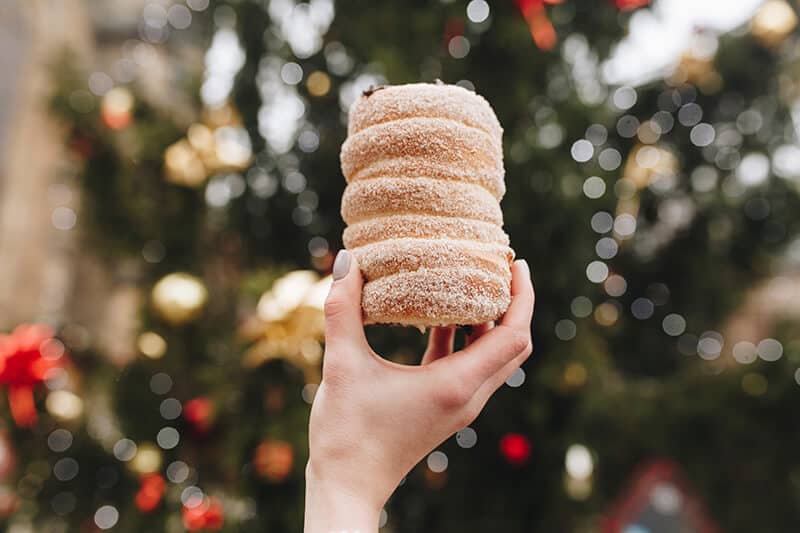 Whenever we are on the road, we're always interested in learning about new places through their traditional dishes and getting to know the locals by eating where they eat.
While planning our itinerary for our two days in Prague, we decided to prepare a list of the typical Czech food, but we soon realized that what we found online was a bit confusing.
Everyone was gushing about Trdlo, while the locals were all about Kolache. Trying to find out what to expect wasn't easy, so we asked for some local help and decided to write a guide about the best Czech food in Prague, to make sure you avoid the tourist traps.
Eating like a local will in fact help you to find cheap places to eat in Prague… and drink a pint for no more than a couple of Euros!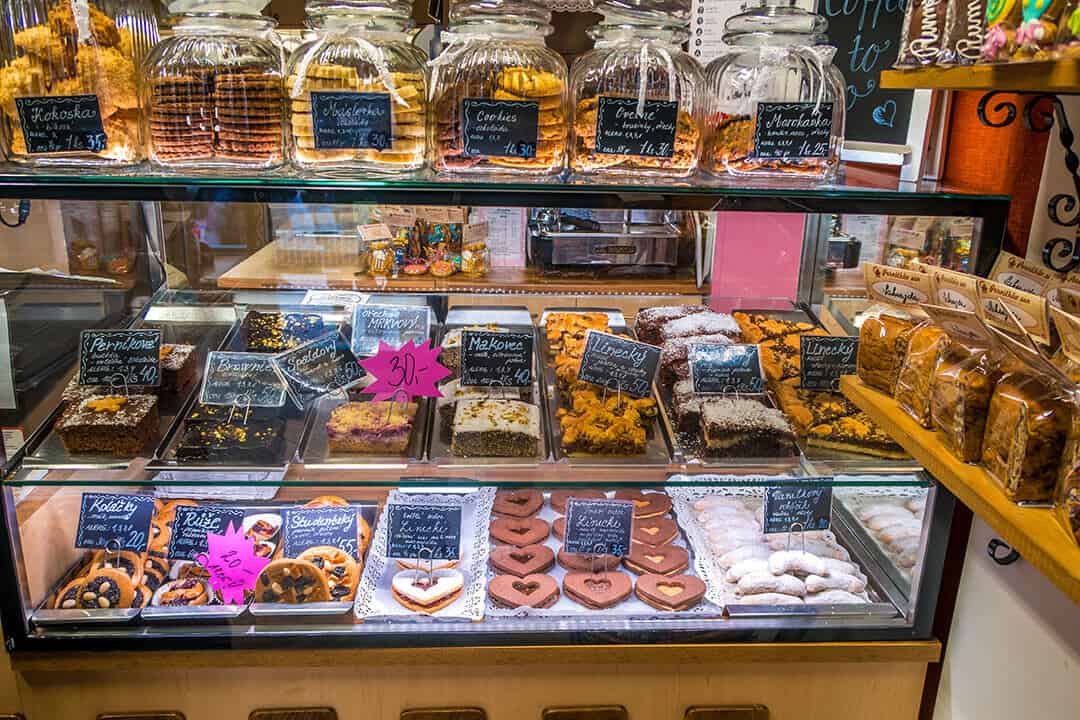 Quick Links to Post Content
Eating Prague Food Tour
To understand more about the good cheap places to eat in Prague we have been invited by Eating Prague tours to attend one of their food tours. At first we were skeptical.
The tour lasts a few hours and while we had meticulously planned even the best area to stay in Prague because we only had a long weekend, spending half a day just eating felt like a huge waste of time.
Sure, good food is still good food but there's so much to see in Prague that we were worried we'd miss out. Yet we were visiting Prague in Winter, so trying out new, rich dishes from the local cuisine didn't sound to bad.
Also we soon came to realize, reading a few of the reviews online, that a good food tour (one that won't be a waste of time) won't only show you the best foods to eat in Prague, but it will tell you about history and the local traditions.
Our appointment with the tour guide was at… a gingerbread shop (see below). While we often experienced our self guided food tour in Naples, we weren't sure what to expect when we opened the door to this little shop that felt a lot like Christmas Alley in Naples.
Sitting at a round table there was Robert, our guide. An American who moved to Prague to live with his wife, a Praguer. With time he started to feel at home in Prague, so much so that he decided to show people from abroad the "real" Praha, not the diluted, over-touristy version of the city that many get when they decide to live off the street food in Old Town Prague.
While sitting down with a bunch of strangers, with a nice gingerbread cookie each, we all felt a bit uneasy. All it took Robert was a constatation: the Praguers looked at us like we were having some secret book club meeting.
And that was it.
If you add the fact that he has friends in Naples, that he loves our city and was reading my post about the Art Metro stations in Naples for his next trip to Napoli, you'll guess why it was love at first sight. Throughout the tour we got to discuss of the differences between Naples and Prague, and it was an interesting way also to learn more about a city we still didn't know well.
You might also like:
Insider tips for visiting Italy in winter
Why Prague in winter is absolutely amazing
Winter Packing List for Europe
Italian Christmas food you never knew existed
How to visit Vienna Christmas markets
The best of Bratislava Christmas market
15 awesome trip ideas to visit Europe in winter
Where to find the most amazing Christmas markets in Europe
Incredible travel gift ideas for women – have a smart Christmas!
20 awesome Christmas markets in Italy
Christmas in London – Everything you need to know
Why you should travel with your partner
Visiting Europe: Schengen visa or ETIAS Visa Waiver?
Discover the best time to visit Italy
Another bonus point to a Prague food tour, for us, was that we got to meet people from all over the world. Our group was made by people from Italy, Australia, London and the USA. The size was also perfect, it was just six people, ideal to be able to chat, make new friends or just ask questions. So yes, a food tour can be a great chance to socialize also if you are travelling solo.
The Eating Prague Food is a walking tour: don't feel worried about having to walk too much, because it will be done at your own pace. We got to do some nice sightseeing in Prague with Robert, who told us a lot of stories, and important historical events about the Czech capital, so we managed to fit this tour perfectly in our schedule, because we explored the parts of the city we still hadn't been to.
Now, while Robert told us that someone in the past complained that the food wasn't enough, let us just be very honest. We got to eat seven courses at different Old Prague restaurants, shops and secret gardens. By the end we were so full that we decided to skip dinner.
To be able to eat everything, have a light breakfast before to attend! And in case you are still hungry or want seconds, all you have to do is ask.
Wondering where and what we ate? Let us show you!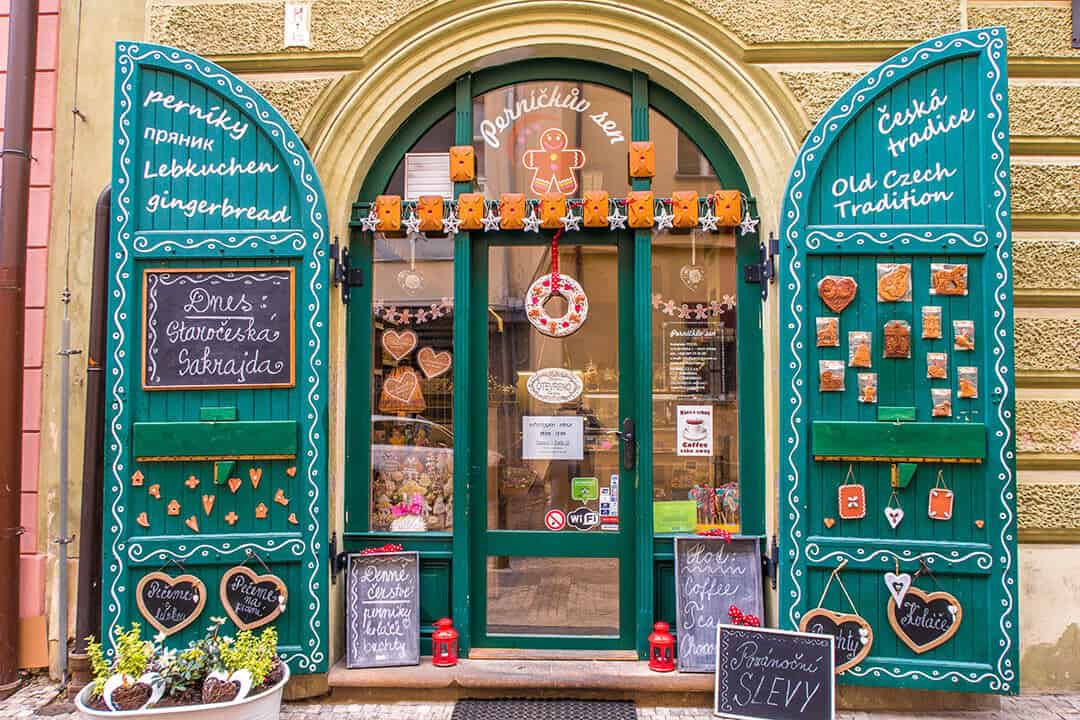 Perníčkův sen ('The gingerbread man's dream')
This quaint little shop where it's always Christmas is owned by two sisters-in-law, who are reviving Prague's gingerbread tradition.
Now, our question was… why the heck did we have to start a food tour with cookies?
Well, the fact is that while everyone is eating trdlo thinking they are "traditional Czech desserts", the Praguers prefer gingerbread.
What we learned with this tour in fact is that Praha's cuisine is split in two.
The kind of food they prepare just for the tourists, and the kind of food that the locals really eat. The touristy dishes are of course much more expensive, whereas of course the best local restaurants in Prague can be very cheap.

If you want to make sure you recognize a pub for the locals, check the Prague Beer price: if it's very cheap (we calculated about 2€ with our currency) then go for it!
While we were sitting in this shop we only saw locals, and not one tourist!
At Pernickuv Sen we tried the traditional gingerbread, which is often used in the Czech Republic as a digestive, then a delicious version with plum jam and walnuts (it was divine!) and poppy seed kolache, a soft pastry filled with poppy seeds.
While nowadays the Praguers eat gingerbread cookies throughout the year, they traditionally baked them for Christmas. They still do, actually and they also sell them at the lovely Christmas markets in Prague.
It's a very long process that can take weeks, because they have to be perfectly dry to decorate them.
When they are ready, the Czech tradition is to exchange them as presents to relatives, friends and loved ones. Some families bake hundreds of them to make sure they always have some in case of a surprise visit!
Of course each family has a slightly different recipe, passed down through the generations, and claims they make the best gingerbread cookies ever!
Another curiosity we learned is that poppy seed cookies or gingerbread cookies are generally gifted when a couple hands down wedding invitations. You can't give someone only the invitation, because it has to go with a small box of cookies: how lovely is that?
In this shop you will also find everything you need to bake, as well as nice gingerbread cookies decorated with Praha designs, perfect if you're looking for a different souvenir to bring home!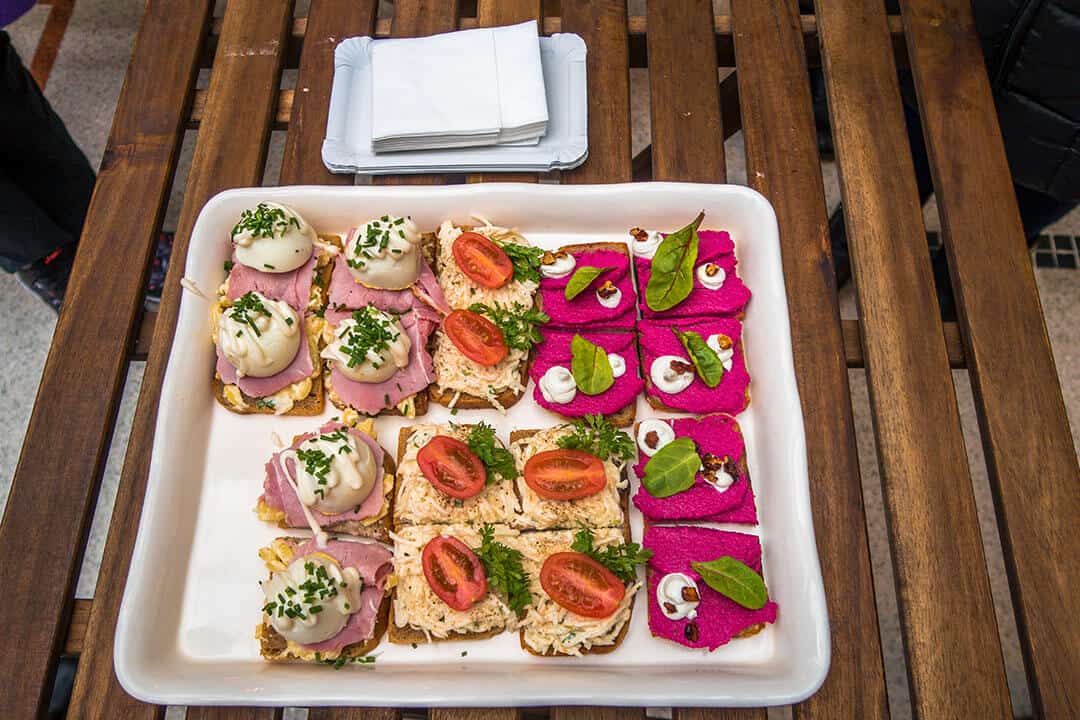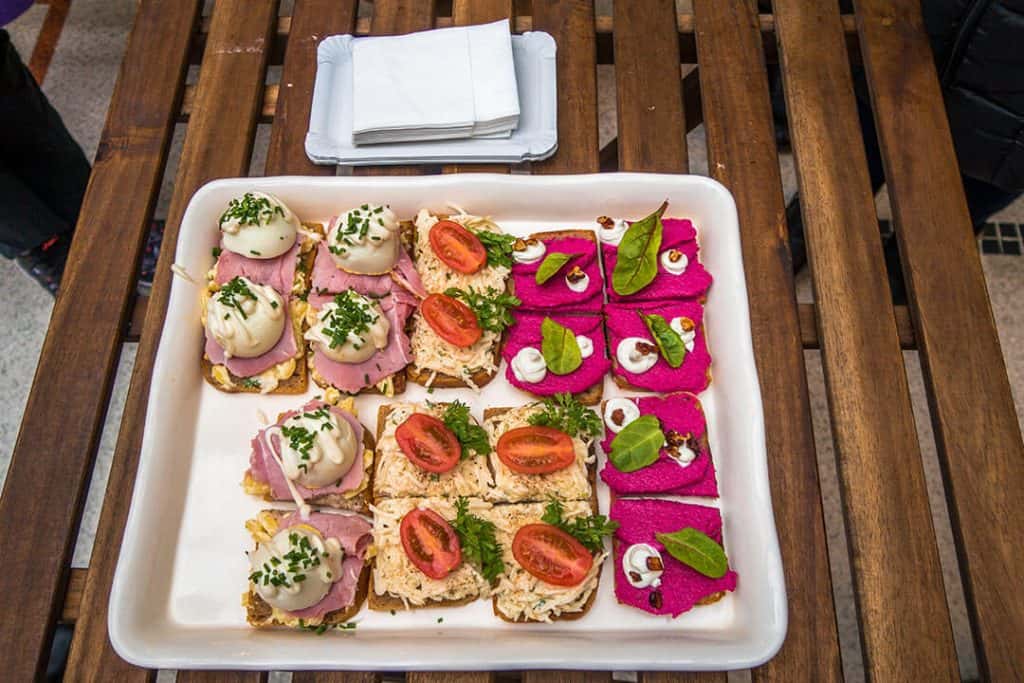 Sisters Bistro
Another very typical Czech food in Prague is Chlebíčky. The open sandwich is served as an appetizer or as a snack. You will find chlebíčky at every party, and here at Sisters, thanks to the famous chef Hana Michopulu, chlebíčky becomes more modern and healthy.
The sandwiches are to be eaten in small morsels, and become a fancy finger food, resembling some French delicacies. The spreads are made out of vegetables, eggs or meat, and the bread is often sunflower bread.
We tried Chlebicky with beetroot spread, goat cheese and walnuts, with a celery spread and tomatoes, and one with potatoes, Prague ham, egg and mayo. The ingredients are always very fresh and because it's half hidden in an alleyway, only the locals (or the wise travelers) come here.
If you are a vegetarian/vegan and were worried that you wouldn't find anything to eat in Prague, Sisters Bistro is the place to go to!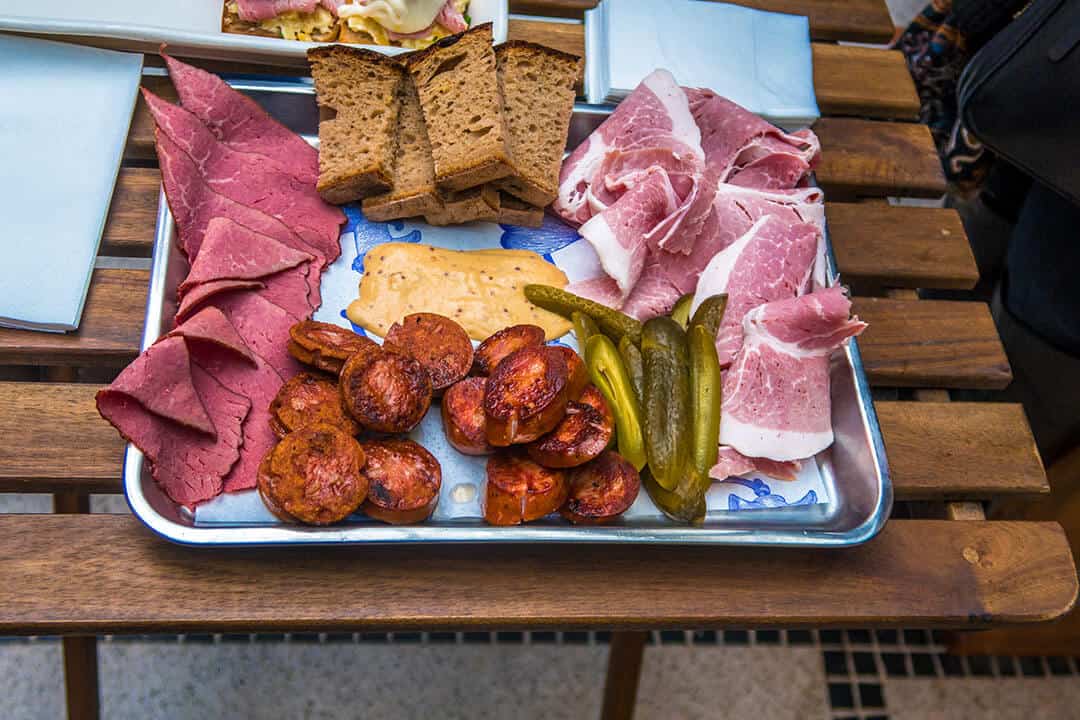 Naše maso Butchery
Next to Sisters Bistro you will find the best and most famous butchery in Prague. Nase Maso (in English it's: "Our Meat") is a traditional butcher shop that sells quality meat from Czech farmers, using exclusively local ingredients.
This is the place that is reviving the art of butchery in Prague: the owner only hired people who had never worked in this field before and who hadn't studied butchery. Clean slate, as you might say.
The reason is that he wanted them to learn only the old ways of cutting the meat. You can see inside the shop from the windows (check it out in our video on Youtube), so in case you are curious, you'll see them working also on huge chunks of meat.
There are two adjacent shops. One only sells hot dogs and sausages, while the other one sells raw meat and prepares delicious sandwiches and panini to go.
Sausages are definitely to be considered traditional Czech food and are to be eaten while drinking a deliciously cold Prague beer.
Now, even if Dany isn't a drinker, she found the beer in Prague to be especially good.
They have two versions, the blonde one is "stronger" (yet less strong than beer in Italy), and then they have a dark beer that is even lighter: the Praguers think that the dark version is the "beer for women".
We can assure you that they're both very good but we preferred the blonde one!
At Nase Maso Butchery we got to try the traditional Czech sausage, and a very good (but more fatty) alternative: in Prague they have bacon sausages, y'all!
The Prague ham at this butchery is probably the best you'll find in Praha, and guess what? There's homemade mustard!
Because the shops are tiny and very crowded (by the locals) at lunch, we suggest you to go get your sandwich or hot dog in the morning. Take it and save it for lunch, so you will be able to have a nice picnic somewhere or eat it by the Vltava River.
Restaurant Zvonice
If you are looking for an unusual Czech restaurant in Prague, Zvonice is perfect for you. Located in Nove Mesto, in a place that marked the beginning of the "new" part of Prague (as opposed to Old town Prague), you might not realize it's there on first sight.
It is in fact in the Old Bell Tower, on two floors (7h and 8th). You can easily say that this is the most romantic restaurant in Prague! Inside you will be able to dine next to the big bell, in an historical building that has only a few tables scattered here and there. It's so tiny that the kitchen is above the dining area!
Here we had the chance to eat the best Old Bohemian sauerkraut soup in the world. To be honest the word "sauerkraut" scared Aldo to death, to the point that he didn't want to taste his soup. Yet it was delicious!
The soup was thick and filling, with wild mushrooms, sour cream and potatoes. Back in the day soups were the center point of Bohemian cuisine, and even today, albeit with a modern touch, are very much loved by the locals.
Be aware that Restaurant Zvonice can't be listed among the cheap places to eat in Prague, because it's a bit more expensive than average. But if you are looking for a romantic place to celebrate something, or if you want to treat yourself to something unusual and classy, this is it!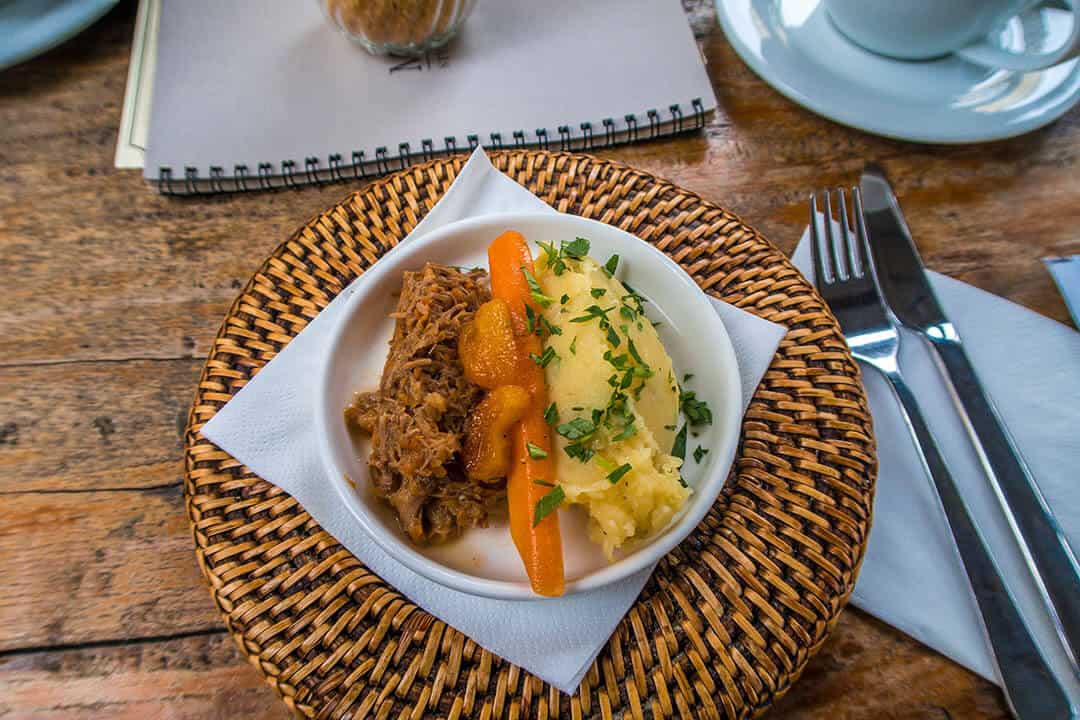 Styl & Interier
Have you ever dreamt of discovering a secret garden? You will find one in Praha. Styl & Interier is a haven of calm even in the peak season. This little garden cafè offers some of the best Czech food in Prague, and it's hidden behind a home décor shop!
To get inside you will actually have to go through the interior design showroom. Just like in some kind of secret club, you will be guided in a completely different area.
The garden can be used both in Winter and in the warmer months. It was February when we visited and the air was particularly cold, so we were served mulled wine and hot apple juice to keep us warm. The funny thing is that on every chair or table there's a price tag: just in case you want to bring home your garden table!
They serve coffee, homemade soda, and had mouth-watering desserts. So beautiful that one of the girls in our group decided to order a cake for her birthday the following day!
Styl & Interier has a seasonal and weekly menu: everything is homemade with their own recipes and fresh ingredients.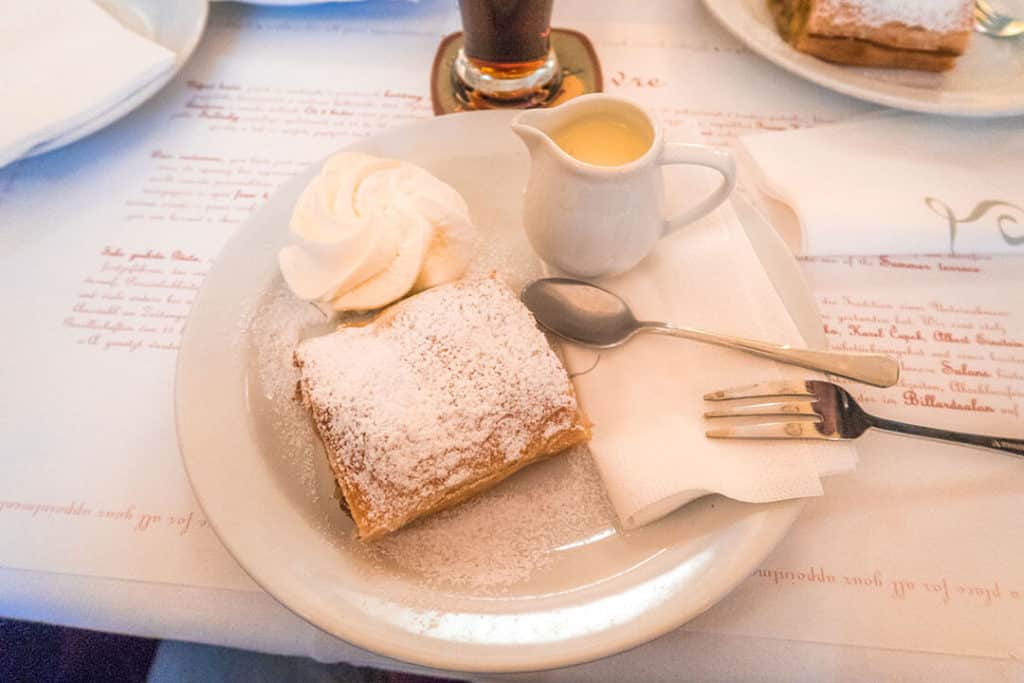 Café Louvre
The last stop on our Prague food tour brought us to the place where Robert invited his wife for a first date in Praha!
Café Louvre isn't just your Old Prague restaurant, but a famous hangout for Franz Kafka and Albert Einstein. It has in fact been in business since 1902 and has always belonged to the first rank of Prague's cafés.
They open at eight in the morning, which is particularly unusual in Prague, and it's very popular among the locals… and the educated travelers.
The Parisian Style of this café is particularly classy and romantic, but it never feels stiff. Here we ate Svíčková, a sirloin beef dish with a creamy sauce, dumplings and cranberries.
The traditional dumplings in Prague aren't what you'd expect. They are in fact slices of big loaves of boiled bread, moist and deliciously soft. The deal is that, just like a local, you have to dip the dumplings into the sauce and manage to finish both the sauce and the dumplings at the same time. Do you think it's easy? Think again!
Now in stead than just trdlo (which isn't a local recipe), try a slice of the best dessert in Prague: Jablečný závin. What is it? But of course a deliciously warm apple strudel!
Served with fresh whipped cream, powdered sugar and a side of caramel, it was absolutely divine. To the point that even while Aldo claimed to be full just a moment before the waiter brought us our plates, he polished his slice off in no time!
According to us, apple strudel is the true must eat food in Prague, the one that really represents the Capital of Bohemia.
If you're visiting Prague in the cold months, have a look at our packing list for Europe in Winter, with super-useful tips, cool outfit ideas and more!
You might also like:
Where and what to eat in Prague
Prague districts – where to find lodging
How to spend 2 days in Prague
Why Prague in Winter is awesome
Visiting Europe in October: 20 awesome fall trip ideas
The best destinations in Europe for a Fall trip
New Europe entry requirements and ETIAS authorization
This post was written in collaboration with Eating Prague tours. Needless to say, our opinions are our own and aren't necessarily the same as the Eating Prague tours Team.
Pin it for later!
Travelling Dany
Danila Caputo is a bilingual travel writer living in between Naples and the Amalfi Coast (Italy). She travels and works with her husband Aldo, photographer and videographer. Their blog chronicles their adventures around the world, Italian/European culture and tips on how to be responsible travelers. You can find out more about their latest trips and their life on Instagram and Facebook.