One of the questions that travelers who want to visit the South of Italy ask me never changes. Is Naples safe? For real? Being a female blogger from Naples, born and raised in this city, I get a lot of questions about the safety in Naples, the garbage, or even if my city is worth a trip… "all things considered".
But is it really? Let's see what to expect from a trip to Naples, how to enjoy it properly, and how to feel safe, in a city that is considered to be one of the most beautiful in Europe.
If you have been following this blog for a while, you probably already know that I live in Naples and that I love to tell stories about the most uncommon aspects that not many people know about my city, as well as showing you all the best things to see in Naples. Unfortunately I often have to deal with either rudeness, by people who haven't even visited and pretend to know more than me how people live here, or disbelief at the fact that I feel safe also while walking in Naples at night on my own.
It happened on my cruise with Norwegian Cruise Line, when a British journalist refused to visit Naples because she deemed it "unsafe", but it's a common occurrence also in my everyday life as a travel blogger.
I keep reading, both on magazines and online forums, posts about the lack of basic safety, how we live in the dirt, how dangerous it is and what are the places to avoid in Naples (most of the areas, as if it's only safe to teleport to Piazza del Plebiscito straight from the airport). Being Neapolitan, I find it very humiliating, even the more so when people say my opinion doesn't count because I'm biased. Or because we tend to only focus on the positive aspects of living in Naples. Yet tourists often feel worried and ask me where to sleep in Naples, because they want a "safe" neighbourhood: the issue is real. Sure, there are amazing Naples cafe hidden in the narrow vicoli: but does "narrow" and "old" mean "dangerous"?
The truth is that in Italy we are our own worst enemies. Not only we don't know how to appreciate what we have… but we often focus on the worst aspects. We tend to complain a lot, making things worse when probably they are just a blip on the radar. For us it's normal by now, even because we never compare ourselves to other places in the world. But to a foreigner this might seem weird, or even worse, undermine their safety, scaring them away.
We are basically feeding the online trolls and the fake news without even realizing it.
Will you visit Naples in Summer? Check out what to pack for a summer trip to Italy!
So let me be completely honest about what you should expect from a trip to Naples, data at hand.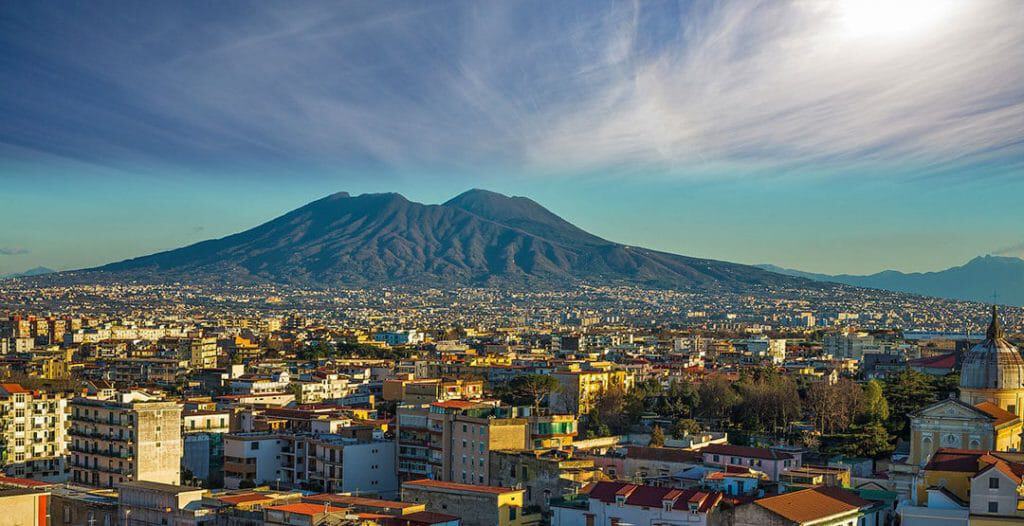 Is safety in Naples an issue?
Many solo female travelers are worried about visiting Naples because my city gets thrashed online (like… a lot). According to the British magazine The Sun, Naples is one of the 10 most dangerous cities in the world. The article, full of lies, became viral and when the Mayor of Naples, Luigi De Magistris, threatened to sue them, they removed quietly Naples from their list. Of course they never issued a public apology for what they wrote… and because lies spread faster than truth, many people believed to what they read.
Some here blame it on Gomorra – la serie (Gomorrah), an Italian crime tv series based on the book Gomorra by Roberto Saviano. The series, set in the suburbs of Naples, focusses on organized crime and has been a success also abroad. It is, basically, the Neapolitan version of Sons of Anarchy… without the cool motorbikes.
But while some might feel scared that they'll meet Genny Savastano and his camorristi as soon as they get off the train in Naples, the truth is that the stereotypes and the fake news have nothing to do with Gomorrah.
Worried you'll need a bit of help?
Download the FREE Italian Travel Phrasebook here! It includes the correct Italian pronunciation and lots of useful sentences that you'll be able to use on your trip to Italy!
The pictures of the Naples garbage years ago have marred the reputation of our beautiful city. Even if things have changed a big deal these last years, not many journalists have rewritten their articles. As a travel blogger my priority is to offer updated, true information to fellow travelers who want to see the world. Yet the media unfortunately often rely on old sources, scaring away people with outdated info. The only thing we can do to protect ourselves and make sure we aren't lied to, is fact checking.
I promised to be completely honest, and that's the truth of things. Not everyone in Naples knows how to live in a civil way. They still litter the city, making it difficult to keep it always clean – this gives weapons to the critics and doesn't help us at all.
Some areas of Naples can be still dirty (not as they were years ago), because of a number of strikes and incivility. We are doing our best, but it will take time. I can tell you that no one in Naples wants to live in the hell that we've been through years ago.
According to the crime statistics issued by the Italian Ministry of Interior and published by the magazine Il Sole 24 ore, Milan is the most dangerous city in Italy. Naples is only the fourth, after Rome and Torino, in the top ten of the Italian cities where more crimes were committed. Does it mean that we should be too scared to visit Milan as well? Or Rome?

Travel agents, as you can see for yourself just by googling a bit, often scare away people who want to visit Naples. Maybe they've never even been there, but why bother? They tend to send tourists always to the same destinations in Italy… generally Florence, Rome, Venice or Milan. As if only the upper half of Italy is worth a visit, while the South can be just disregarded. This makes me think of the amazing beaches in Sicily and the delicious Sicilian food. They have no idea how much they're missing out!
Because Naples is a big city, of course we do have a problem with crime. Just like any other big city. To increase the safety in Naples, there are a lot of police agents, carabinieri and even soldiers roaming the streets to make sure to prevent crimes or offer immediate assistance to the citizens.

We all would like to live in a world where these measures aren't necessary, but all the honest citizens in Naples are working pretty hard to improve our city. All we need, more often than not, is being given a chance.
What can you do to help? Being a street smart traveler can make the difference.
The Spanish Quarter – Naples
Horror tales about the Spanish Quarter have been going on for years, both in Italy and abroad.
Located in the Old Town, this area was built in the XVI century to host the Spanish troops that had to contain rebellions. Us Neapolitans have always been a particularly loud and proud bunch, so the Spanish King was scared we'd kick him out of the city!
Since the beginning, the Spanish Quarter has been a place where crime and prostitution were the norm. Soldiers wanted to have fun, after all. Even if there were laws to keep things under control, no one really cared. Throughout the years this part of the city has always been particularly difficult.
In the recent years, those living in the Spanish Quarter have started not only to clean up their narrow vicoli, but also to make it more livable for everyone. The rent is cheap, so many students, also from abroad, have moved to the Spanish Quarter, because it's close to two of the best Universities in Naples, Federico II and Seconda Università degli Studi di Napoli. New shops and restaurants are opened every month and there are tiny fish markets or farmers' markets every week. The area still keeps alive its traditions, the artisans shops and the Neapolitan folklore.
You can see one of the entrances to Quartieri Spagnoli from the posh Via Toledo. It's easy to spot it, as there's a big, colorful sign indicating that yes, this is the Quartieri Spagnoli, where the fun begins. The tiny flags from all over the world show that everyone is welcome. Neapolitans are very open minded and welcoming. While in many parts of the world the LGBTQ community was oppressed and called names… in Naples we were just dumbfounded: why on Earth were people behaving so weirdly over such a normal thing?
Back in the day (and I'm talking really ages ago), gay people in Naples were (they still are) an important part of our community. Our local dialect named them "femmenielli" (mostly referring to gay men) and they were believed to bring good luck, so everyone loved them. In Naples Old Town, in the narrow vicoli that today scare people away, we always had a good word for everyone, and some good food that we were ready to share. Regardless of the race, gender or religion.
It's not uncommon to find an amused crowd of curious tourists taking pictures at the entrance of the Quartieri Spagnoli in Naples. To get there you can use the Naples Metro to Toledo Station (the most beautiful one in Europe): you will immediately spot the colorful signs on the other side of the road. While we're used to it, those who come from abroad find the contrast between the international, expensive shops on Via Toledo, and the artisan shops in the narrow vicoli, particularly impressive.
That being said, even if the area is always pretty crowded, there might be pickpockets, so make sure you are aware of your surroundings.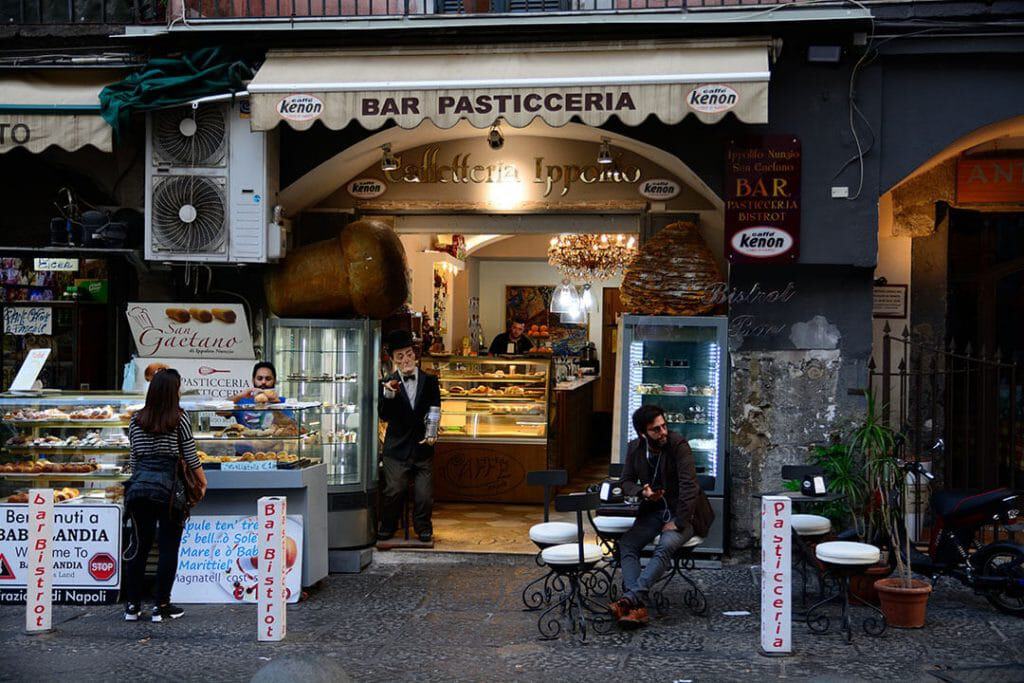 Places to avoid in Naples… what?
If you search online you will probably find more articles about the dangerous, scary places where not to go in Naples than about the rich history and the monuments in our city. What I always find fishy is that more often than not they are written by people who haven't been here for long (is a long layover enough to define yourselves experts about Naples?) or who have been to Naples many years ago.
The crime in Naples is just like any other big city. Especially in the city center, there's nothing to worry about, if you are aware of your surroundings. Heck, if even the "hellish" Spanish Quarter has become a touristy area, what are we even talking about?
Unfortunately when people arrive in Naples with a preconceived idea, everything, even a lesser crowded alley, can become dangerous. And even a couple of thrash bags (the garbage service picks them up early in the morning… unless there's a strike) become a garbage problem. Narrow vicoli and old buildings are what makes Napoli. Some find that the Old Town is scary. So places like Christmas Alley, that you can see also in our Youtube video, should be a place to avoid at all costs because it clearly is "awful". Have you watched the video? Can you honestly tell me there's something scary about that area?
The truth is that some areas in the outskirts are still dangerous. Places like Scampia or Secondigliano, in the extreme outskirts of Naples, have a huge drug problem (and unfortunately not only that). There are honest citizens fighting against drug dealers every day, and they'd desperately need some help from our government (still waiting for it, by the way).
Yet if you are a traveler and are looking for monuments, castles, museums, fun places to go, you won't find any in these areas. So why should you even think of going there? More often than not planning a "unique trip" because you want to see the drug areas in the outskirts is not a good idea. It'd be like going to a place where bears hunt, hoping to take a selfie with a grizzly… the number of bear accidents happening every year should give you a clear idea of how that isn't smart. At all.
As a Neapolitan and a female traveler, Scampia and Secondigliano are the only two places where I wouldn't go alone, especially at night. So my list of places you should avoid counts… just two places, far away from the city center. Impressive, isn't it?
One of the areas tourists complain about is the Central Station in Piazza Garibaldi at night. There's a high concentration of homeless people (from all over the world), and yes, it can look scary at night especially if you don't know the city or if you are expecting murderers behind every corner.
Me and Aldo have been traveling a lot and we have found similar areas in many other big cities in the world. Even Milan and Rome have spots where there are many homeless people. Does it mean that you will get raped/robbed/killed as soon as the sun sets? Of course not.
If it makes you feel safer, just avoid this area in the evening. Not all homeless are dangerous, yet some might be intoxicated and they might scare you.
What to expect from Neapolitans
As I already mentioned (quite often, I know), we are very friendly in Naples. We love to get to know new people and… well, men can be particularly flirty. It happens a lot in Italy, but in Naples men tend to compliment, smile and try to woo us girls… more than they do in other parts of the Country. They aren't dangerous: if you ignore them they will go away, no hard feelings. After so many years I can honestly say that some men here flirt almost… out of reflex!
We love our city and we always want to make sure that tourists have fun. It's not uncommon for us to stop and offer our help if we see someone who looks lost. So if you don't know where you are, don't be shy and just ask away. Even if English is not widely spoken in Naples, we will still find a way to help. It's just the way we are: we wouldn't feel right otherwise!
Besides, you could even learn a word or two of our dialect in return! Neapolitan dialect is completely different from Italian, and it has many similarities with Spanish, Portuguese and a bit of French. Not only difficult to speak properly, but extremely difficult to write! But still… Italians love the Neapolitan dialect, to the point that many of the most famous comedies in our Country are based in Naples or have at least one character speaking our dialect.
We're popular, yay!
Naples safety tips
I promised you to be honest and thus let me help you with a few "safety tips" that I generally apply to all of my trips, not only to my hometown. These are general suggestions that will be helpful everywhere you go!
Bring a satchel or a smaller backpack with you. Muggers can be nasty, but they won't disturb you if they see you are under control. When I want to feel absolutely safe, even in a crowded metro, I wear my backpack on my chest, so I can always look at it. This is a useful trick that will make you feel safe also in a crowded market;
Always be aware of your surroundings: while the city can be beautiful, don't forget to look around you and look after yourself;
Do not wear expensive jewels, expensive watches or walk around waving the latest iPhone or camera like there's no tomorrow: would you do that in every other city?
If men start flirting and you don't like it, just ignore them. In case they insist and you feel uncomfortable, ask for help to a policeman, a carabiniere or even a soldier. They're there to make sure we all feel safe and they will definitely take care of the matter;
If you go out at night, please, avoid the dark alleys or the dark vicoli where there's no one else around. I don't know about you but these make me feel unsafe, not only in Naples, but everywhere I go;
In case you're renting a car, don't leave your belongings (or your keys, doh!) inside, especially if they can be seen;
Be extra careful when you cross the street. And I mean… extra careful! We can be messy when driving and when scooters and cars don't respect the road signs, it can be dangerous. Someone once said that people in Naples drive like we are F1 pilots: it's absolutely true!
Last but not least… please, visit Naples with an open mind. It is a complicated, beautiful city which has its problems. But yes, Naples is worth the trip, I promise!
In case you're planning to visit Italy, here you can find a handy guide to souvenir shopping in Italy!
You might also like:
What to eat in Naples
Naples neighbourhood guide – where to book your hotel
The best 45 things to do in Naples
How to spend one day in Naples
Naples cafes and how to drink espresso
Is Naples really dangerous?
Pompeii travel guide from a local
Riding the art metro in Naples 
Hiking Mount Vesuvius – how to get there
18 lip smacking street foods in Naples
How to visit Naples Christmas Alley
Procida island travel guide – Our hidden gem
20 best destinations in Europe for a fall trip
30 different types of pizza you should eat in Italy
22 Amazing Day Trips from Naples (Italy)
Pin it for later!
This post is also available in:

Italiano