Discover what to do in Milan in a day, and all the bucket-list spots you'll fall in love with. With useful travel tips from real locals that you won't find anywhere else!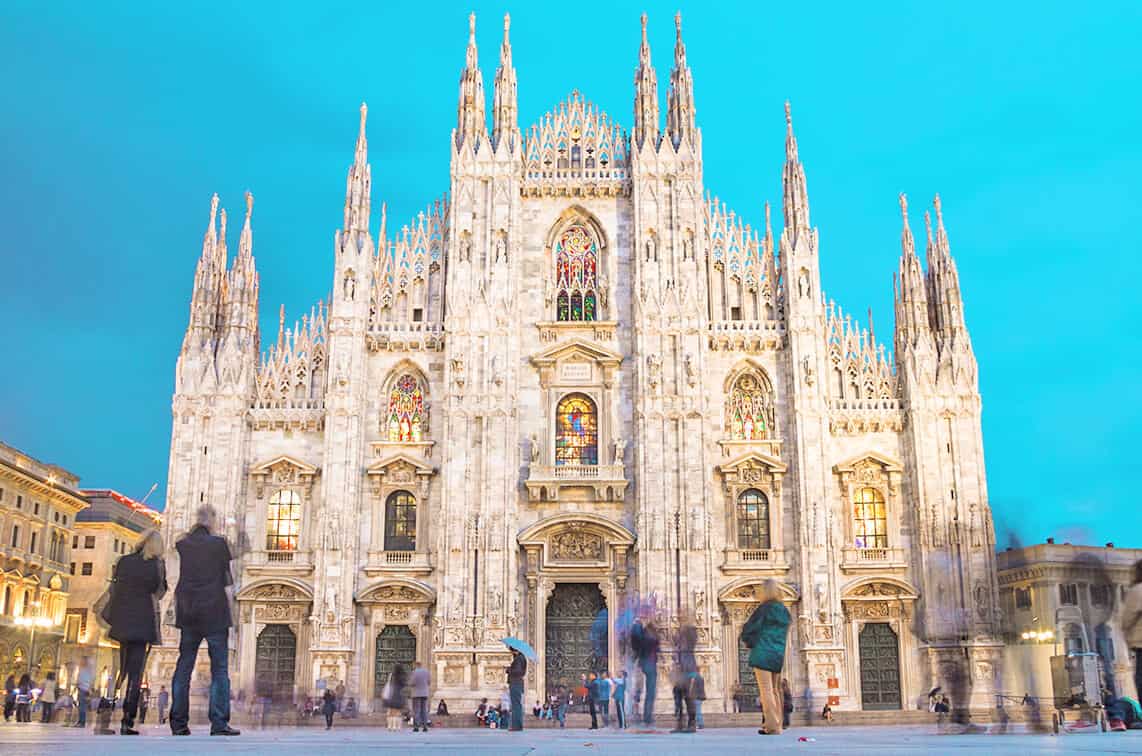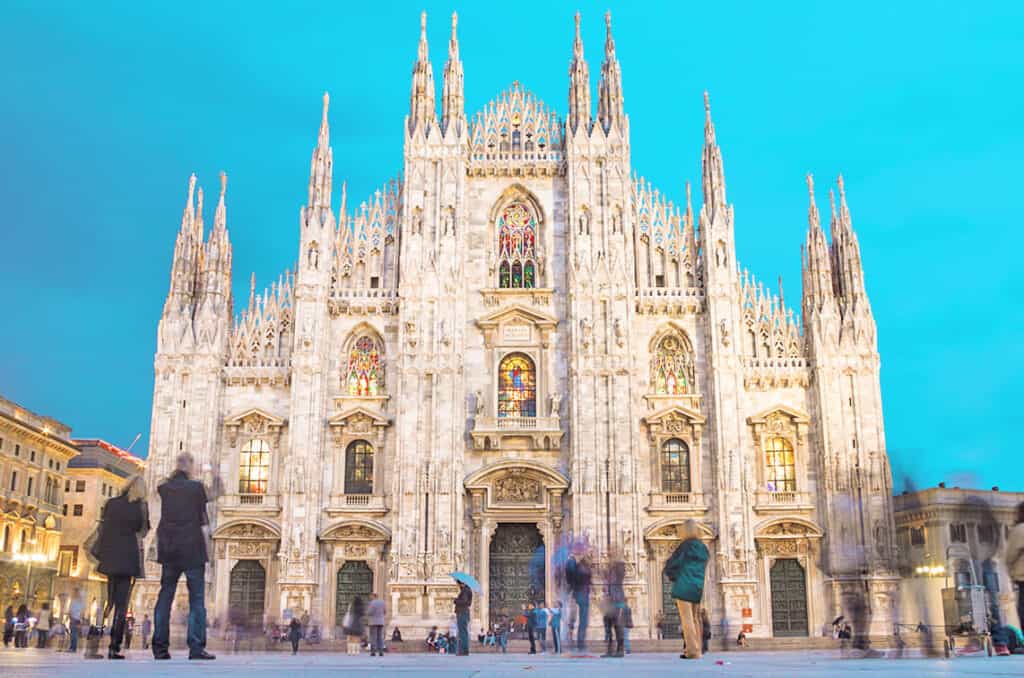 Are you planning your trip to Italy and you don't know what to see in Milan in a day? Or if it's even worth going? Milano is the Italian fashion capital, a unique mix of historic and modern architecture, like nothing else you'll see in the Bel Paese. Do not worry if you only have one day in Milan: there are quite a lot of bucket list spots you can easily add to your itinerary. Let me show you what to see, what to do and the unique spots you don't want to miss!
Click to watch our Milan Video Itinerary on Youtube!
My sister moved to Milan from Naples over 10 years ago, and has thus explored the "big city" just like any traveler would do. Heck, she still gapes at the new skyscrapers and roof gardens built in just a few short months!
I asked for her help and she showed me all the unique spots one shouldn't miss in her new hometown.
Contrary to popular belief, there are many free things to do in Milan, and others that you can do on your own. Milano is not super expensive if you know what to do and where to go!
Booking a tour is not necessary at all.
If you're planning to explore Milan in a day, there are quite a few places you might want to check out, according to the kind of trip you are planning.
Discover the must-see things you can (and should) add to your Milan itinerary. Then see which ones you might like the most and make sure you plan around them.
It's that easy!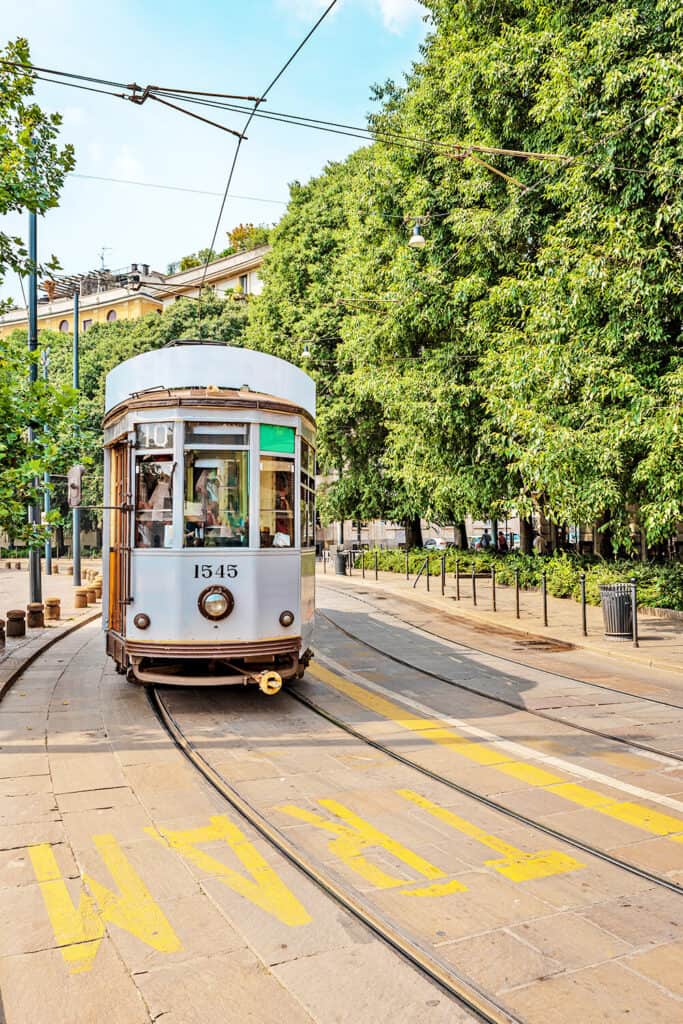 How to visit Milan in a day – Fast and Cheap!
The best way to get around Milan is by using the efficient and cheap public transport system.
Subway is the way to go: you'll avoid all the ground traffic and you can get everywhere in just a few minutes.
Milan also has lots of buses and trams that you can use to explore without having to rent a car.
Actually, and take this from someone who has lived there for a while, having a car in Milano can be less than pleasant! Parking is expensive and difficult and you'd have to pay to access the city center, as it's a "ZTL – Zona a Traffico Limitato" (Restricted Driving Zone).
There's a super useful app that you can use on your smartphone. It's "ATM Milano". I swear it will make your day in Milan much easier!
Atm Milano is also easy to use. Type in the place you want to go to and it'll offer several itineraries to get there by using the public transport system.
The app also informs travelers of delayed buses, traffic jams and so much more.
Thanks to this free app you can also buy tickets whenever you need them.
The best tip I can offer is to use the subway as much as you can, especially if you just have one day in Milan.
You'll avoid all the ground traffic and the long queues to get your tickets.
A bonus? It's great for your wallet too!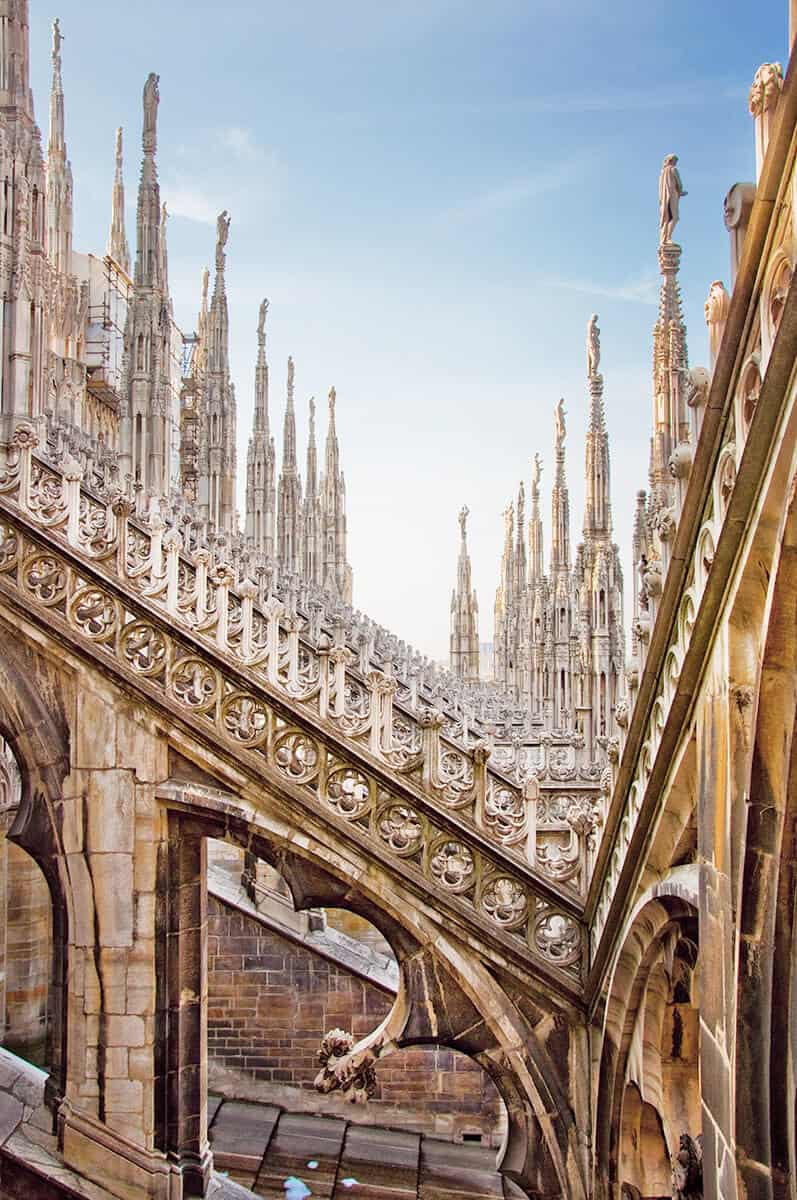 Duomo and Piazza Duomo in Milan
The Duomo Cathedral is probably the most famous spot in Milan.
On my first Milan walking tour with my sister as a guide, we left the subway station "Duomo" and the view was breathtaking.
Using the subway in Milan is great also because you won't have to walk a lot: the Duomo Cathedral in Milan is super close to the subway exit!
The 135 spires and 3400 statues on the facade are the most photographed ever.
Whenever you think of Milan in Italy, the first image that comes to mind is this gorgeous Cathedral.
With time this has also turned into a nice fashionable area.
Here you'll find the first Starbucks shop in Italy, the Starbucks Reserve Roastery.
Starbucks Milano has become a staple among the fashionistas and the Instagram influencers!
Milan Piazza Duomo is the perfect backdrop for every shooting, in my opinion. So if you are looking for instagrammable spots in Milan, there's no need to waste precious time by standing in line!
The same thing applies to visiting the inside of the Duomo Cathedral.
If you are in a hurry, you'll have to carefully consider how much time you can spend in this area. There's so much to see in Milan and you only have one day!
Many people think that you can visit the Duomo in Milan for free. Sadly this is not the case anymore.
Planning to visit Milan in the warmer months?
Check out our awesome guide to discover what to wear in Italy and avoid the common travel mistakes!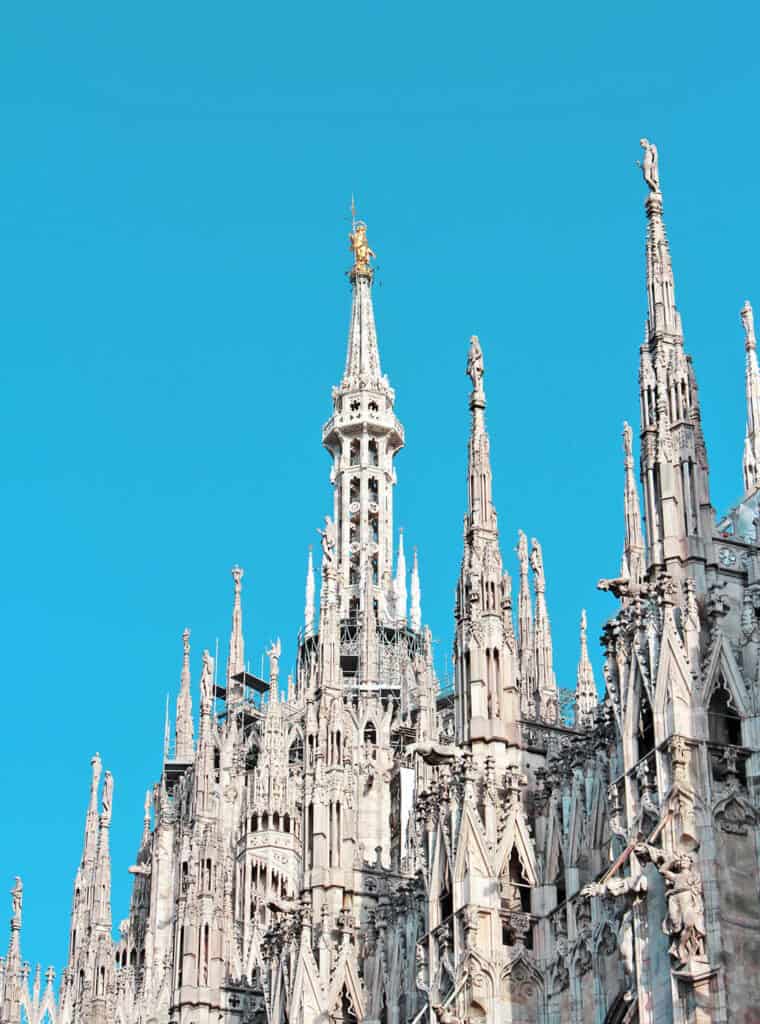 Visiting the Cathedral on your own will cost you 5€ (about 6$). If you want to visit the Museum, you'll have to add 5€ (about 6$) .
The Duomo follows the same rules as any other Church in Italy.
You will have to cover your shoulders and legs. If you're wearing a tank top, they won't let you in. Not even if you already bought a ticket!
Pack a light cotton pashmina that you can wrap around your shoulders.
One of the city's major attractions is the Duomo Terrace. They are open every day from 9am to 7pm (last ticket sold at 6pm).
Tickets are sold online and they can be a bit expensive.
If you want to climb the stairs you'll have to pay 15€ (about 18$). Those who prefer to use the elevator will pay a 20€ (about 24$) ticket.
Due to the new safety rules, it can take also a few hours to get up to the terrace. So unless you absolutely want to get up there, I suggest you save this place for your next trip to Milan.
NOTE: The Duomo Terrace is closed on Monday, while you can access the Duomo Cathedral every day from 9am to 7pm (last ticket sold at 6pm).
You can – and should – buy the tickets online in advance, to save precious time. Check out the official Duomo website.
Worried you'll need a bit of help?
Download the FREE Italian Travel Phrasebook here! It includes the correct Italian pronunciation and lots of useful sentences that you'll be able to use on your trip to Italy!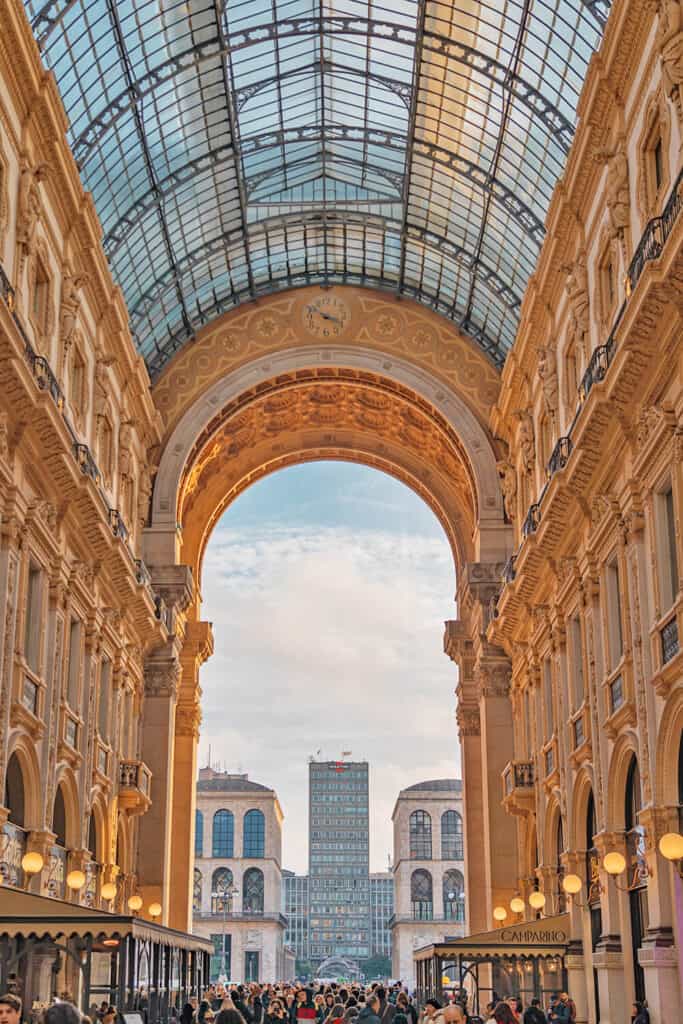 Galleria Vittorio Emanuele II
Look up towards the Milan Cathedral when you are in Piazza Duomo.
You'll see the most important civic symbol in Milan: the Madonnina!
The locals believe that the gilded statue located on the top of the Duomo is there to protect their city.
The Galleria Vittorio Emanuele II in Milan Piazza Duomo looks a lot like the Galleria Umberto I in Naples.
This place has always been one of the most trendy shopping areas in Milan. Here in fact the rich people in the past gathered to discuss art, politics and literature.
The Neo-Renaissance iron-and-glass structure marks the walking trail from Piazza del Duomo to Piazza di Marino, and leads to the Teatro alla Scala.
Think of it as a 19th century mall!
The Galleria in Milan is full of luxury shops, fancy restaurants and great (but expensive) gelato shops.
Each and every one have to follow strict rules to respect the aesthetic standards of the galleria.
Since you're planning to see the best of Milan in a day, I suggest getting here early in the morning.
Visit the Milan Cathedral Complex first (or take a lot of pictures!) and then move to the Galleria.
A great way to start your walking tour might be to grab a cappuccino or an espresso with an Italian "cornetto" (croissant) or a fluffy brioche at the Galleria Vittorio Emanuele II!
The oldest café in Milan is Biffi Caffè, dating back to 1867.
It would definitely be an epic way to start your day in Milan, don't you think?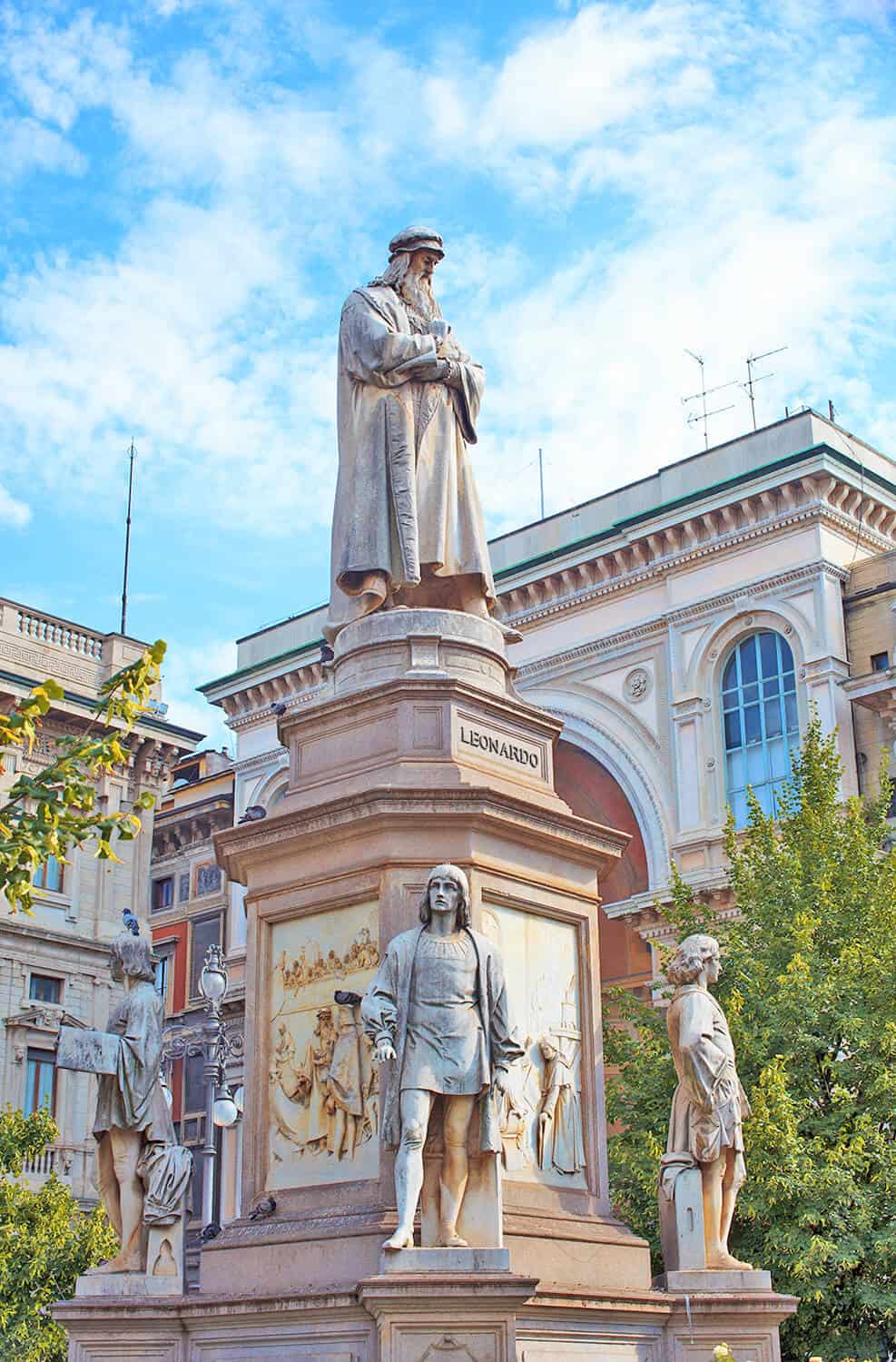 Famous La Scala Theater – Teatro Alla Scala
Teatro alla Scala in Milan is known in Italy only as "La Scala".
It's the main opera theatre in Milan and one of the most famous in the world.
La Scala Opera House is the one place where, when a new season opens, you'll find celebrities, politicians and pop stars.
A bit like an Hollywood red carpet event!
It is still possible to tour the Teatro alla Scala. You can do so every week from Tuesday to Sunday (included) from 10 am to 6 pm (last ticket sold at 5:30pm).
The Opera House is closed on Mondays.
There's also a tiny La Scala Museum that you can visit! It has been reopened in May, 2021.
Tickets are sold online.
You can get an individual ticket for 9€ (10$).
Families get a very nice discount: a Family Ticket (10€ – about 12$) will let in 2 adults and 1 or 2 kids under 12.
Teatro alla Scala in Milan is a place you should visit if you absolutely love this opera house.
Otherwise, take a few pictures outside and keep walking!
Visiting Milan in a day won't be possible unless you are very selective on what you should add to your daily itinerary.
Think about it this way: you'll have the perfect excuse to visit Milan again in future!
Sforza Castle, Parco Sempione and Triennale
Sforza Castle – Castello Sforzesco
The iconic red brick castle in Milan and its clock tower were built in the XVth century by Francesco Sforza.
Italians love to visit the castle courtyards and to take pictures of the gorgeous fountain located by the entrance!
Getting to Sforza Castle from Piazza Duomo is very easy: use the subway!
All around the Castello Sforzesco there are 3 subway stops: Cairoli Castello, Cadorna and Lanza.
The museums inside the Castello Sforzesco have been reopened in February, 2021.
You can visit from Tuesday to Sunday, from 10 am to 5:30 pm (last entrance 5 pm) by booking your ticket online.
Sforza Castle in Milan is popular because of the Museo d'Arte Antica, with its frescoes by Leonardo da Vinci.
The Frescoed hall of the former Ospedale Spagnolo is also dedicated to Michelangelo's final masterpiece, the Pietà Rondanini.
The Municipal Museums hosted inside the Castello Sforzesco include the Museum of Ancient Art, the Raccolta di Mobili, the Museum of Decorative Arts, the Egyptian Museum and the Armory. But there's so much more!
Visiting each and every Museum at Sforza Castle is nearly impossible if you're only spending one day in Milan. Even the more so now that there's a daily limited number of people allowed in.
Every first and third Tuesday of each month you can visit the Castello Sforzesco for free.
But since things keep on changing, I suggest you check out the official website to make sure you won't have to pay!
Because you don't have much time, I suggest you take a few pictures of the Sforza Castle, and then move on to the courtyards.
The castle courtyards are open and allow visitors to explore freely, every day from 7 am to 7:30 pm.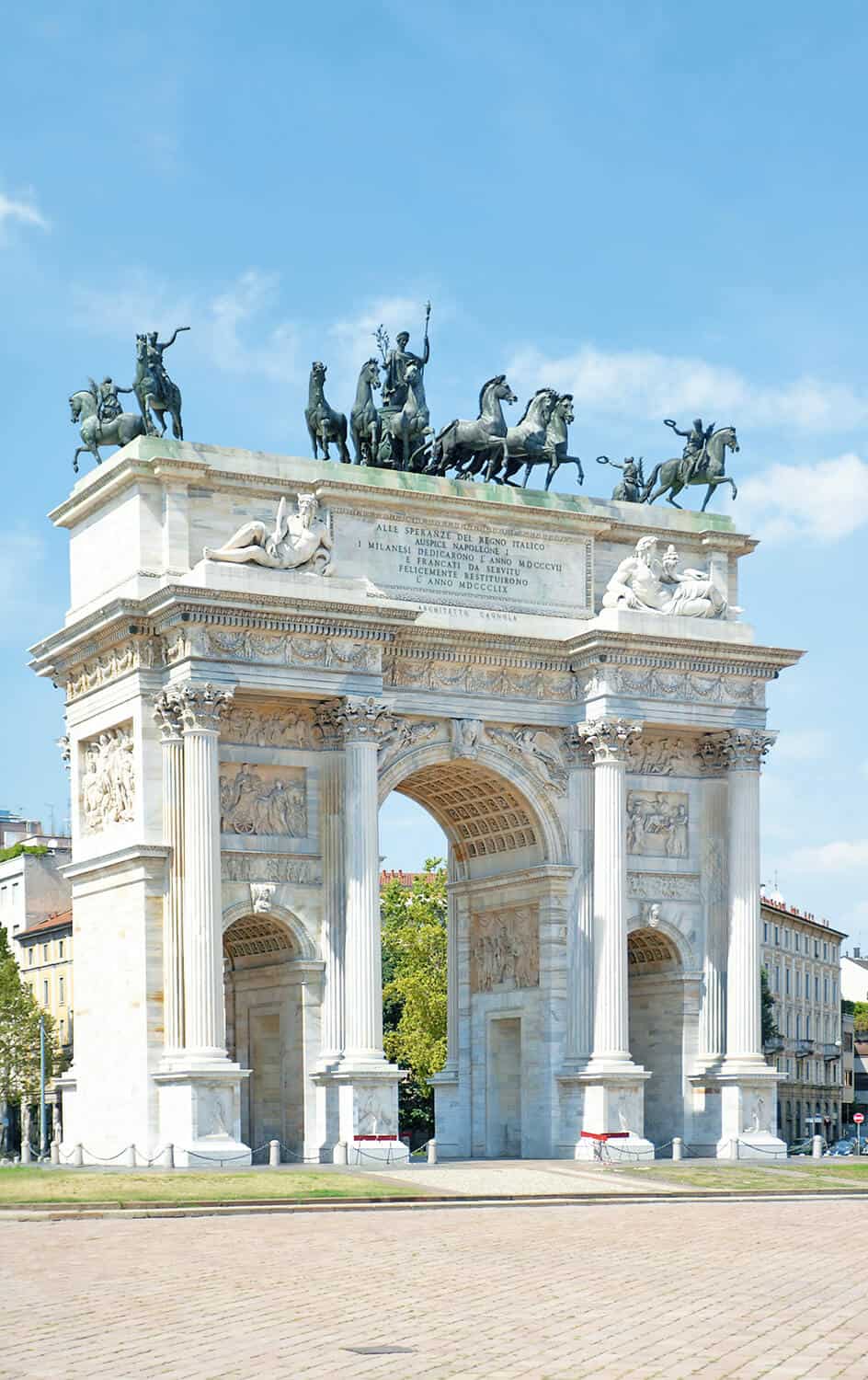 Parco Sempione
Visiting Milan in a day can be tiring. Since you're already in the area, how about you stop for lunch at Parco Sempione?
The green expanse known as Parco Sempione in Milan is surrounded by gorgeous buildings and monuments. You can just walk there from Sforza Castle, however there are a lot of subway stations in the area!
Parco Sempione can be visited on a free walking tour.
The two most imposing monuments inside the park are the Palazzo dell'Arte, also known as Triennale, and the Branca Tower by Gio Ponti.
Next to the Sforza Castle there's also a Civic Aquarium, one of the oldest in Europe, located in a tiny decò-style building. The Civic Aquarium was reopened in February, 2021.
Arco della Pace (Arch of Peace) is another superb instagrammable spot in Milan. It is often featured in Italy travel guides and international magazines.
The imposing stone arch is also known as Porta Sempione (Sempione Gate), an ancient city gate of Milan. It dates back to 1859!
Visiting Arco della Pace is among the many free things to do in Milan. Before or after your picnic lunch at Parco Sempione, make sure you stop here to take a few pictures!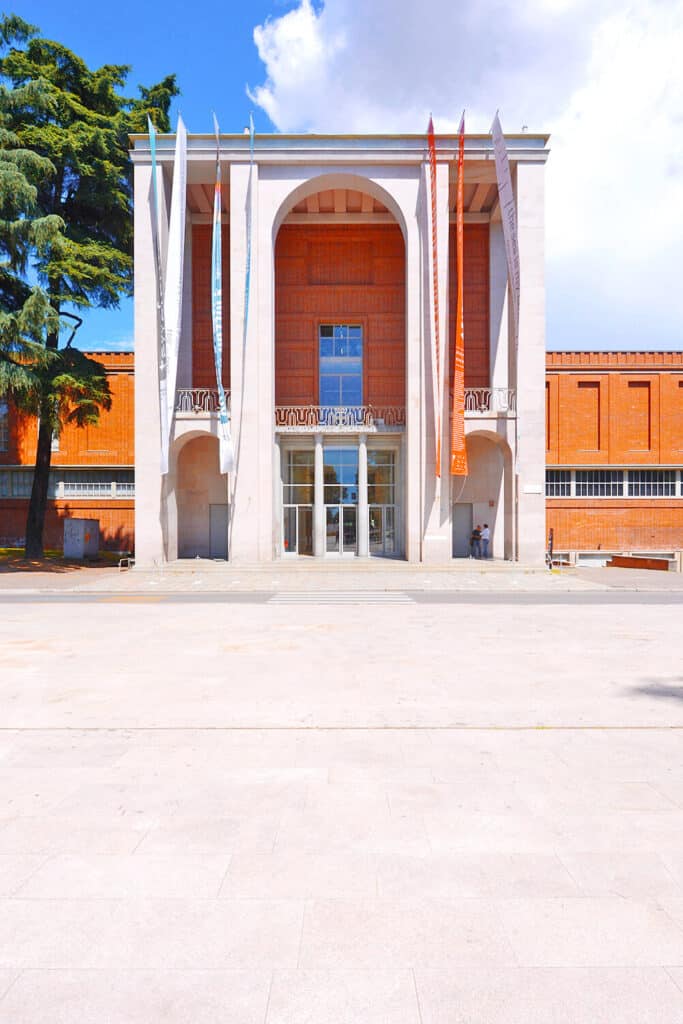 Modern Italian Design Museum La Triennale
La Triennale di Milano is located inside the Palazzo dell'Arte, in the same area as Sforza Castle and Parco Sempione.
So right after lunch, you should aim to at least take a few pictures of this iconic building designed by Giovanni Muzio.
The Triennale is Italy's foremost institution for design and culture. The main reason why Milan is seen as the flagship of Italian design!
This iconic building also hosts the Teatro dell'Arte and a Library.
Visiting the exhibits at the Triennale can be a bit pricey.
Every single exhibit can cost you between 8€ (a little over 9$) and 10€ (12$). You can buy a special ticket which includes all the exhibits, at 22€ (26$).
Because you're thinking of visiting Milan in a day, I suggest just taking pictures of the Triennale building.
Visiting the exhibit would need at least a few hours so I'd keep this on the side for a longer trip to Italy.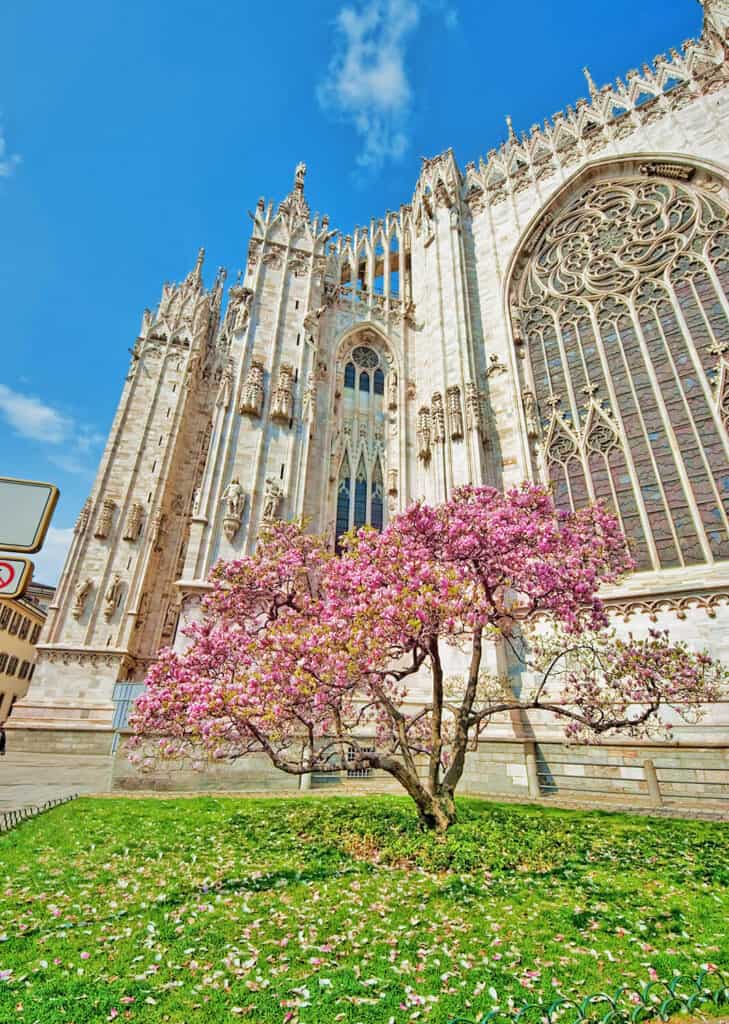 Other Impressive Churches in Milan
One day in Milan can be enough to visit at least one of two churches (more, if you want!).
Many of them are pretty old and hide incredible secrets. That's why we consider them Milan's hidden gems!
Just remember that churches in Italy enforce a strict dress code.
You need to cover your shoulders and legs.
If you're visiting during the warm summer months, consider bringing a cotton scarf that you can wrap around your torso before you get in.
Santa Maria delle Grazie
Santa Maria delle Grazie church is one of the highlights in Milan, due to the fact that here you can get up close and personal to The Last Supper.
One of the world's most famous murals, painted by Leonardo da Vinci, is in fact located on a wall of the refectory next to the Basilica di Santa Maria delle Grazie.
The Santa Maria delle Grazie Church and the Cenacolo di Leonardo are UNESCO World Heritage Sites.
They have been reopened on May 4, 2021.
You can buy a ticket which includes a self guided tour of the main Church and of the Cenacolo (including seeing The Last Supper) online. Tickets will cost you 15€ (18$) per person, but if you are between 18 and 25, show them your ID. You can visit this incredible place in Milan for only 2€ (a little more than 2$)!
The Museum is open from Tuesday to Saturday, from 9:45 am to 7 pm (last entrance 6:45 pm). On Sunday it will be open from 2 pm to 7 pm (last entrance 6:45 pm).
If you want to visit the Santa Maria delle Grazie church and the Cenacolo, make sure you book your ticket well in advance. You won't be allowed in unless you reserve a spot!
Due to the fact that sometimes there's a long line, due to the usual delays, consider if you have enough time for this on your one day itinerary.
The Church from the outside looks a bit bland and almost unfinished. Getting there just to take a picture without getting inside, is a waste of time!
Santa Maria del Carmine
The 15th century Santa Maria del Carmine Church is located within walking distance from Sforza Castle and Parco Sempione.
You can easily walk to this impressive religious building after your picnic at Parco Sempione, or you can hop on the subway to get there.
The nearest subway station is Lanza (M2 line).
The church is open every day from 7:15 am to 12 am and from 4 pm to 7 pm.
Because the facade is absolutely stunning, you can also just walk there to take a few pictures. Early in the morning or right after it closes it shouldn't be too crowded!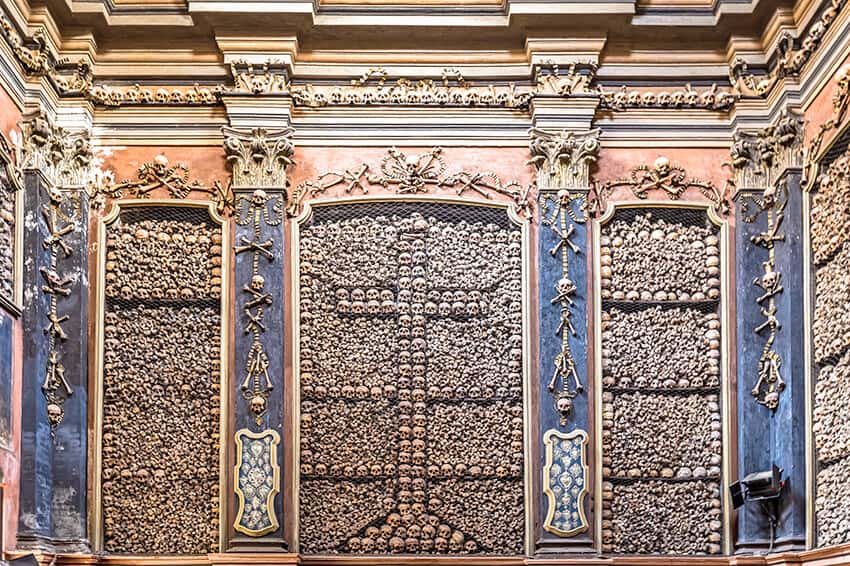 San Bernardino Alle Ossa – San Bernardino Ossuary
The San Bernardino alle Ossa in Milan is a peculiar church in Milan, which is famous for its ossuary.
The fact is that the walls of this ossuary are completely decorated with skulls and bones. That is one unique (a bit macabre) thing to add to your one day itinerary for Milan, isn't it?
San Bernardino alle Ossa can be visited for free from Monday to Friday, from 8 am to 6 pm, on Saturday from 9:30 am to 6 pm, and on Sunday from 9:30 am to 12 am.
If you're visiting Milan in a day, only looking for cool buildings that you can use as a background for your Instagram gallery, then San Bernardino alle Ossa is not worth your time.
The outside is not as spectacular as other churches.
On the contrary, if you're planning to visit the hidden gems in Milan, this would be one of the best ones on the itinerary!
San Maurizio al Monastero Maggiore
This ancient paleochristian church in Milan reopened in May, 2021, after a very long time.
It took over 30 years to restore the paintings to their ancient splendor!
It's also known as "Milan's Sistine Chapel", and for a good reason!
The visitors can in fact admire over 4,000 square meters of brightly painted frescoes, which might remind you of the Sistine Chapel in Rome.
The San Maurizio al Monastero Maggiore Church is unique, due to its architecture and the spectacular decorations.
The Italian Touring Club volunteers will walk you on a free tour in August and July 2021 (future dates will have to be decided).
You can book a free tour every Friday, Saturday and Sunday, from 10 am to 4 pm.
Please remember that you can visit for free: if someone asks for money, it's just a scam!
While I am aware of the fact that there are way too many things to see in Milan in one day, I encourage you to visit San Maurizio al Monastero Maggiore.
This is one of the well kept secrets in Milan, and a unique place that not many visitors from abroad get to see.
If you can fit it in your itinerary, you definitely won't be disappointed!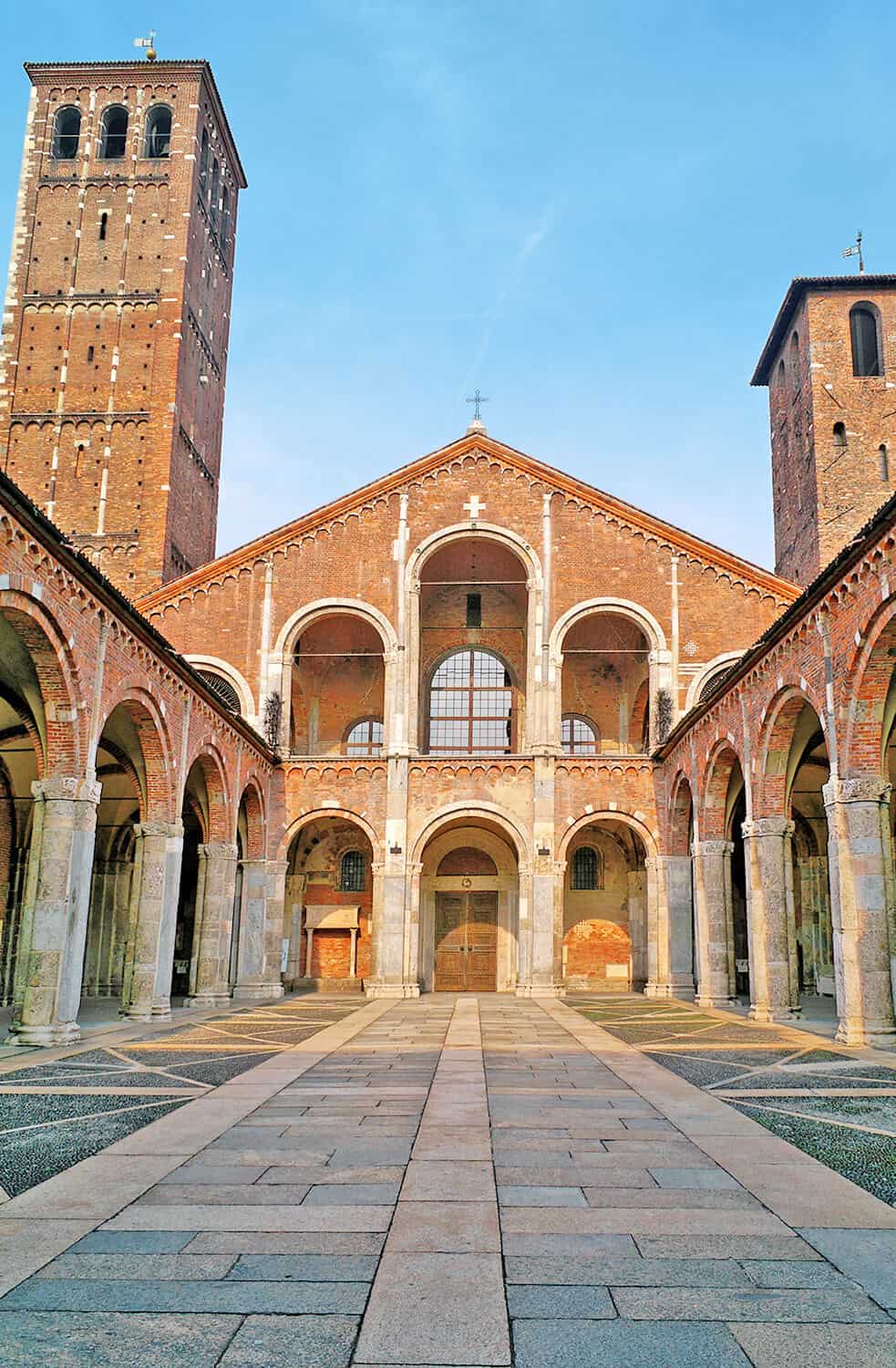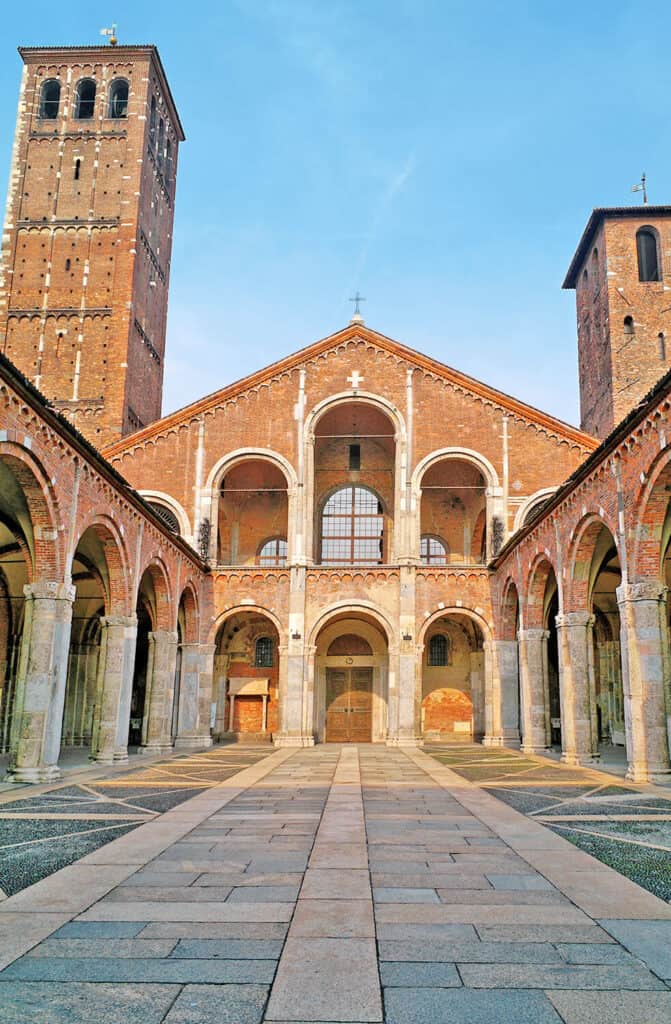 Basilica di Sant'Ambrogio
Sant'Ambrogio (St. Ambrose) is Milan's patron saint. His body was buried in the crypt of this cathedral, which he founded in 379 AD.
You might have seen the Sant'Ambrogio colonnade on Instagram. This is in fact one of the most instagrammable spots in Milan!
The Basilica di Sant'Ambrogio in Milan is open every day.
From Monday to Saturday you can visit from 10 am to 12 am and from 2:30 pm to 6 pm. On Sunday the Basilica is open from 3 pm to 5 pm, only if they aren't celebrating mass.
The Museum and its Bookshop reopened in June, 2021.
You can visit the Basilica di Sant'Ambrogio on a one day Milan tour right after visiting Parco Sempione and Castello Sforzesco.
The closest subway station is S. Ambrogio (MM2 – Green Line).
If you are visiting Milan for Christmas, then know that around December 7 they have the "Oh Bej! Oh Bej" fair, dating back to 1510 in the area surrounding Sforza Castle!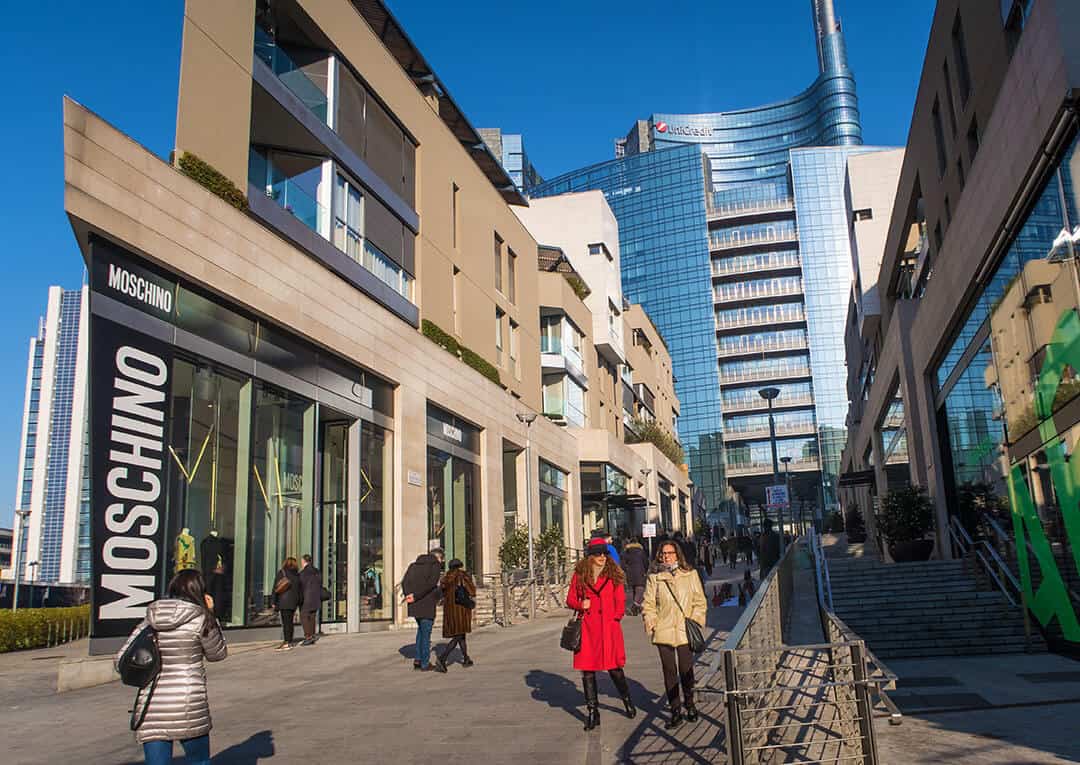 Shopping in Milan – Where to go
The Italian fashion capital has a lot of famous shopping streets.
If you don't have enough time to visit the beautiful Churches or museums of Milan in a day, there's an interesting alternative.
Shopping in Milan is fun, interesting, and it can be done in a few hours. So even if you only have a half day in Milan, before you travel somewhere else, you can – and should – hit a mall!
There are many shopping areas in Milan, but all of them can be easily reached using the excellent public transportation network.
Here are the 3 places where I love to shop in Milan.
Milan City Life Area
The City Life residential area is located in the old Milan Fiera area. This urban renovation project is a mix of green and concrete, and one of the city's trendiest neighbourhoods.
The new Milan area is popular thanks to the fun social events, which also include… gardening lessons.
Next to the tall skyscrapers in fact there are over 3,000 square meters of urban vegetable gardens, where people attend interesting free lessons on horticulture.
The locals also know City Life as "Le Tre Torri" because of the three huge skyscrapers: "lo Storto", "il Dritto" and "il Curvo".
In case you are planning to spend the day in Milan doing shopping and taking pictures, the City Life Shopping District is also a good place to have lunch.
You will find lots of restaurants, sushi bars, gelato shops and small breweries.
Prices might not be super low but you can splurge a little bit for once!
The easiest way to get to Milan Citylife is hopping on a metro (M5, Tre Torri station stops at Citylife, or M1, Amendola station), or you can use a tram (Lines 1, 78, 19 or 68).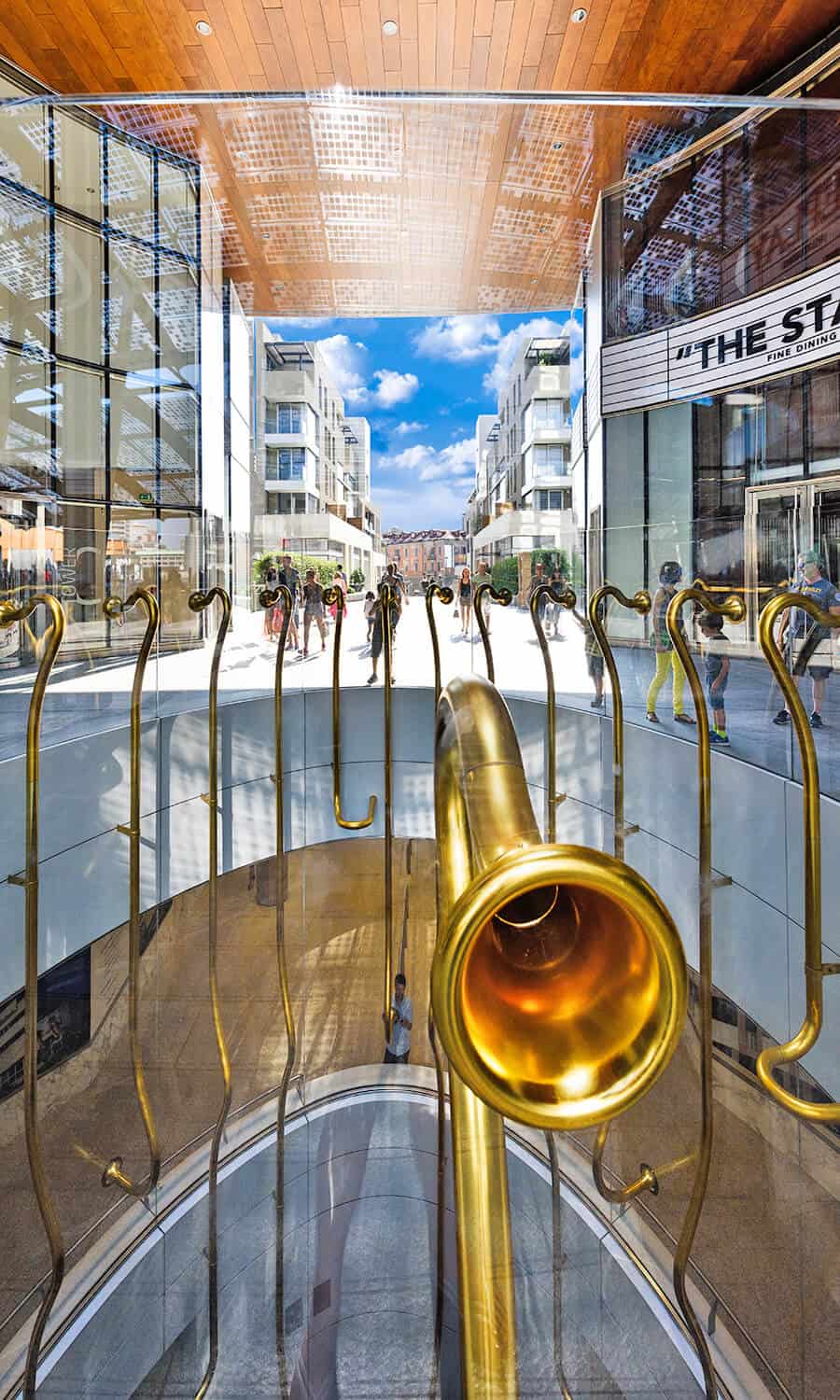 Piazza Gae Aulenti Area
The nice fashionable area around Piazza Gae Aulenti is full of the citie's smart boutiques, including the Chiara Ferragni store, Moschino and Prada.
Piazza Gae Aulenti is yet another one of the new Milan areas, which was built in 2012. They also know this place as the "futuristic square".
The main concept is that of a place of social gathering, with a long bench where you can sit next to a pool.
Piazza Gae Aulenti runs on photovoltaic cells and on the "Solar Tree", a metal tree. Not just a nice modern sculpture, but a way to reuse the solar energy.
From Piazza Gae Aulenti you can take great pictures of the "Vertical Forest", two residential skyscrapers located in Porta Nuova. You might know them from the press: they're covered with trees and plants that produce oxygen!
The Vertical Forest in Milan is also popular because a lot of celebs live in this exclusive residential area. So keep your eyes open: you might get to meet actors, singers or politicians!
Those visiting Milan in winter will love to know that Piazza Gae Aulenti is where you can go ice skating.
Shopping in Milan in winter can also be "cheap" (all things considered!) due to the fact that there are sales!
Getting to Piazza Gae Aulenti is easy thanks to the excellent Milan metro. You can use the M3 green line or the M5 liliac line.
There's also the Porta Garibaldi train station nearby and quite a few tram stops.
Milan Duomo Area
After taking a few pictures around the Duomo area you can definitely enjoy some window shopping.
The Milan Quadrilatero della Moda is in fact within walking distance from the Milan Cathedral!
Quadrilatero della Moda are 4 streets enclosing the most popular shops in Milan. Via Montenapoleone and Via della Spiga are the most famous ones.
The shops you will find at the Quadrilatero della Moda are all super instagrammable. Prada, Gucci, Moschino, Versace and Bulgari all have smart boutiques here.
After gaping at the incredible clothes (at incredibly high prices) at the Quadrilatero della Moda, keep walking.
Corso Vittorio Emanuele and Via Torino is where you can enjoy some shopping in Milan at decent prices.
Make sure you hit these two streets also if you're planning to go souvenir shopping!
At Corso Vittorio Emanuele and Via Torino there are a lot of cheap bars and eateries where you can buy pizza slices or Italian street food.
Eating as you walk is not considered rude in Italy. Of course you won't be able to bring gelato or pizza inside the stores, but that happens everywhere in the world!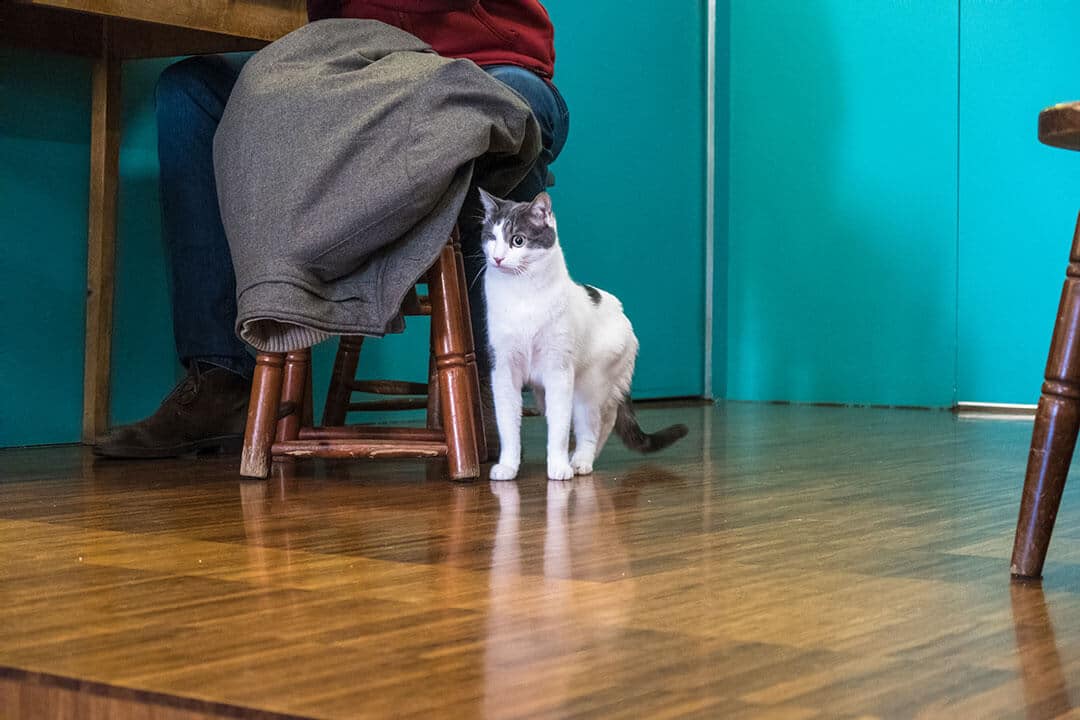 Add a Few Cute Cats to Your Milan Itinerary!
Many years ago, a bunch of stray cats living in Milan were adopted by some nice "hoomanz".
Nine of them got themselves a new house when the volunteers opened the first cat café in Italy, Crazy Cat Café in Milan.
Since then, the furballs have become social media celebs.
Including Freddie, that you see in the above picture. He was just a kitten when he lost his eyes, and no one wanted to adopt him.
Now he's super famous and people visit the Crazy Cat Café to take pictures of him as he's goofing around.
This tiny and super cute cafe in Milan is also trying to make the difference by teaching people how to take care of their cats. There are special events to encourage the locals to adopt cats from the shelter.
Because the Crazy Cat Cafè only reopened by the end of May 2021, booking a table well in advance is always a good idea. Their cats, all named after world famous musicians, are so loved that there's always a long line to get in!
Me and my sister love to have a late breakfast or an early lunch at the Crazy Cat Cafe whenever I visit Milan.
It's the best way to get a table, because that's when the place is less crowded!
The Crazy Cat concept is pretty different from the Cat Cafè in Manchester, where kids under 10 years can't get in and where they have adopted a style much closer to the Japanese cat cafes.
The Central train station in Milan is within walking distance from the Crazy Cat Cafe.
Metro lines M2 (green) and M3 (yellow) are not so close. You have to walk for about 10 minutes to find the cafè.
Many tourists visiting Italy stop at the Crazy Cat Cafè for an espresso or a cappuccino before they leave Milan for another leg of their tour.
Try to go there anyway if you have time, even in case you can't book a table in advance. You might get lucky!
One Night in Milan – Hit the Navigli!
Milan is a city where "aperitivo", the Italian word that indicates a very light brunch to accompany a cocktail, has been taken to a whole new level.
In Italy, it's common to enjoy aperitivo after work with friends or colleagues.
Everywhere you go, you'll find crowded bars at night where people eat and laugh.
Well, even if you're trying to visit Milan in a day, you should make sure you try their aperitivo.
Milan doesn't really do the "light brunch" thing: everyone expects an entire dinner (or lunch). You'll get to eat a lot of yummy finger foods, a bit like the Spanish Tapas.
The Navigli's pretty canal network wakes up at night. Here they invented the term "Apericena". A mix between "aperitivo" and "cena" (dinner in Italian). Which means you get to eat a lot while drinking Negroni or Spritz.
How about you try aperitivo with a local? Click to check out a fun 2 hours semi-private tour with a local which ends with Italian Aperitivo and Negroni at Navigli!
The area surrounding the old canals in Milan is full to the brim with tiny restaurants, artsy cafes, exclusive clubs. Aldo always says it's a bit like exploring Amsterdam, only it's the Milan city centre!
If you live in Milan like my sister, you either love or absolutely hate the Navigli District. There's no in-between.
While it can be noisy and crowded, I still think it's a nice place to go to if you want to experience Milan by night.
Beware: in the warmer months there's a ton of mosquitoes. Bring a can of bug spray and use it often!
The Navigli area is easy to reach, thanks to the public transport network in Milan.
Buses, trams or subways (use the M1, red line) stop all around the area.
Do not go there with a car: parking can be a nightmare, especially if you're planning an apericena!
You might also like:
– 30 Italian pizzas you must try in Italy
– Discover the 20 most romantic spots in Italy
– Italy in Spring: everything you need to know
– Discovering the best time to visit Italy
Pin it for later!
This post is also available in:

Italiano