Whether you're planning a longer trip or a short weekend stay, discover the best places to take pictures in Miami! An easy guide to all the best spots, for every kind of photographer!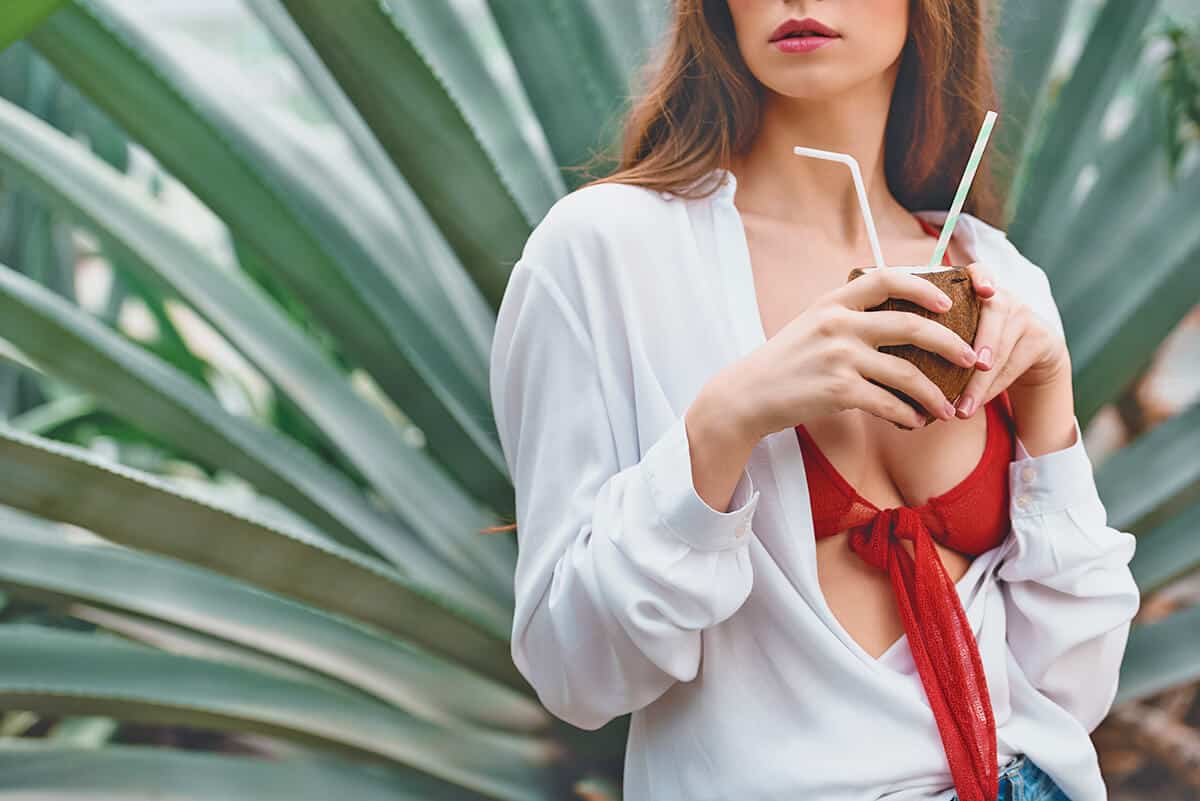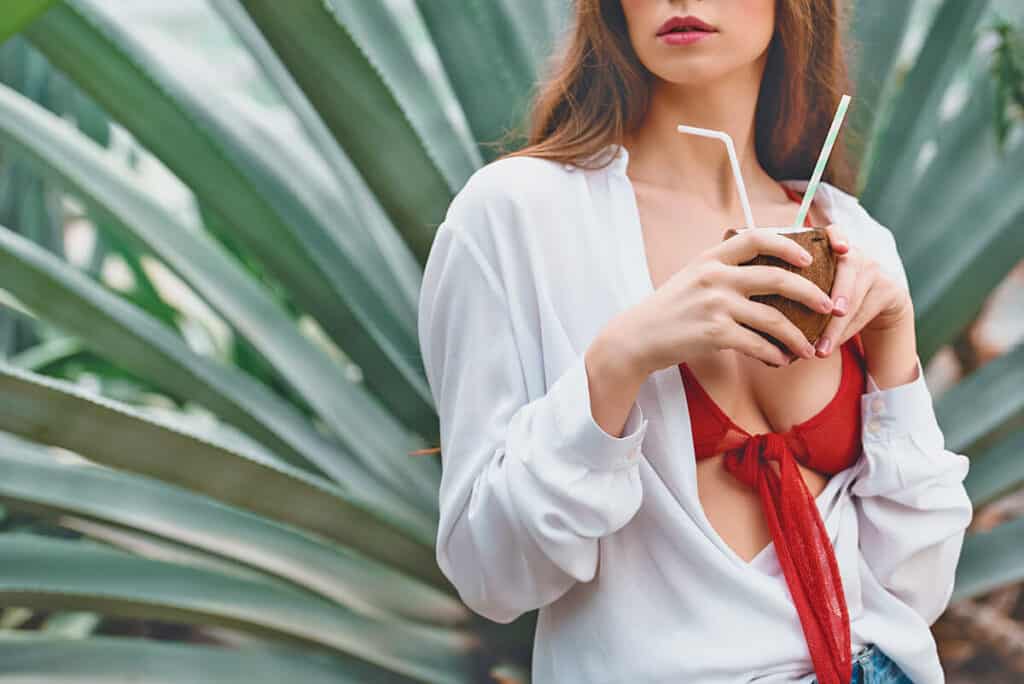 Miami is a unique city. With its palm trees, beautiful beaches, and vibrant vibe, it's the perfect place to capture your memories. Either for the 'gram or for your travel album.
With all of these places to take pictures in Miami, it's hard to find the perfect spot for your photoshoot. That's why we've put together this list of some of the best locations in Miami for you to try out!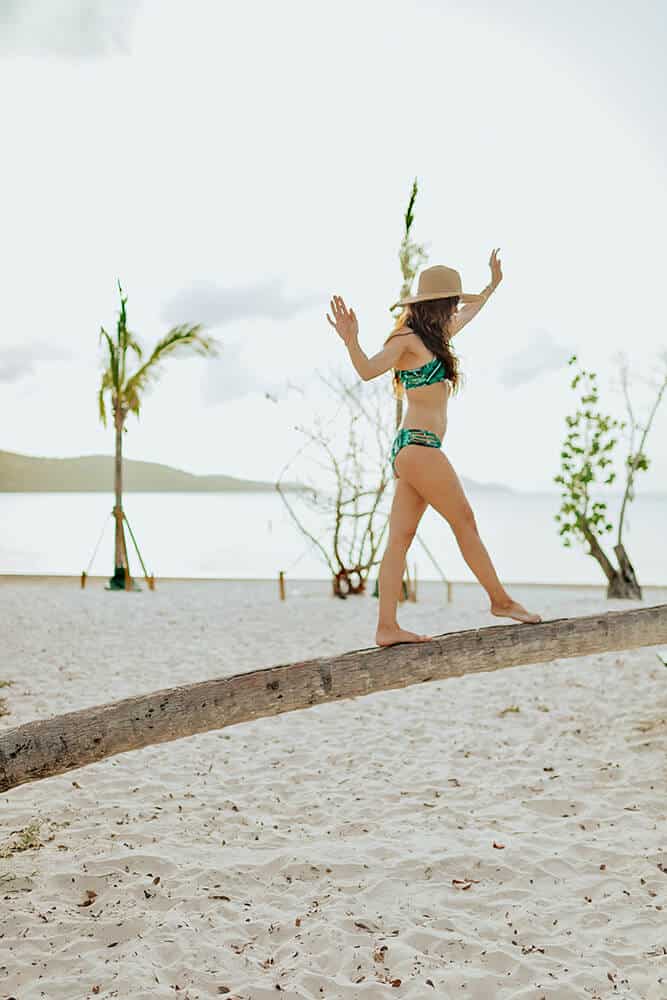 What Makes a City a Great Place to Photograph?
It is often said that a picture is worth a thousand words.
That is why the quality of the city's scenery is one of the most important factors in making it an amazing place for photographers to visit.
There are also many elements that contribute to how good a city is for photographing.
According to me and Al, the Miami aesthetic includes 3 unique main elements you can't ignore.
Hence why it is worth a whole photo album. All by itself.
The original art deco architecture, a photogenic scenery and the chance of accessing extra luxe instagrammable spots.
There's a ton of places where you can shoot: often for free.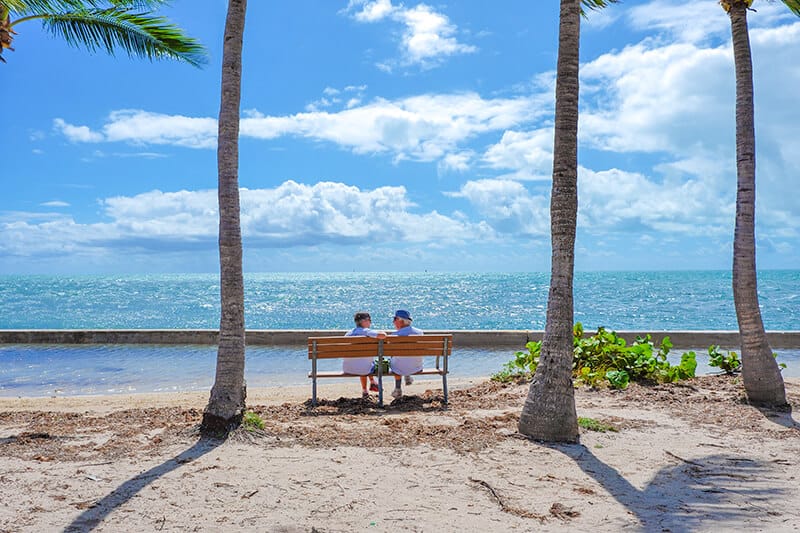 Why You Should Shoot in Miami
Miami is a city that's uniquely sunny and full of life.
The palm trees and the lush green landscapes make the perfect backdrop for any photo shoot.
You can find a wide range of locations in Miami to shoot at.
From the tropical beaches to the beautiful parks, to the downtown Miami skyline or even inside an art gallery!
Miami has it all. And you don't have to be a professional photographer to take amazing pictures.
The people of Miami are also very friendly and welcoming. They will help you find your way around town, take care of you while you're there, and sometimes they will share that perfect place to take pictures no one else knows.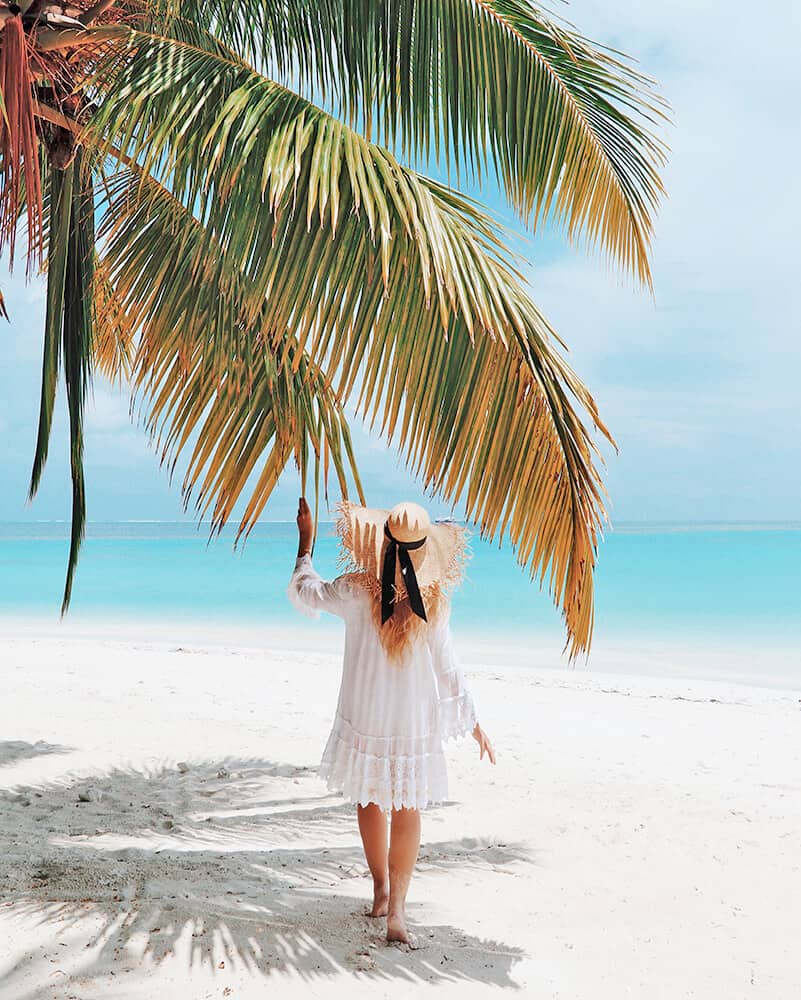 The 56 Best Places to Take Pictures in Miami for Every Type of Photographer
Southern Florida is full of beauty and adventure.
It is no secret that many newlyweds searching for romantic experiences in Miami also spend quite a lot of time shooting here. There are so many incredible photo ops!
Among the most loved photography spots in Miami, there is a wide range of opportunities. You can choose between luxury hotels, dreamy pools, a serene landscape and even the Miami bustling streets at night.
Some might think that there are no perfect locations in this busy city. But they're wrong!
Let us show you the 56 best places to take pictures in Miami: we divided them into groups, so you can mix and match.
We're sure any itinerary can fit in at least a few!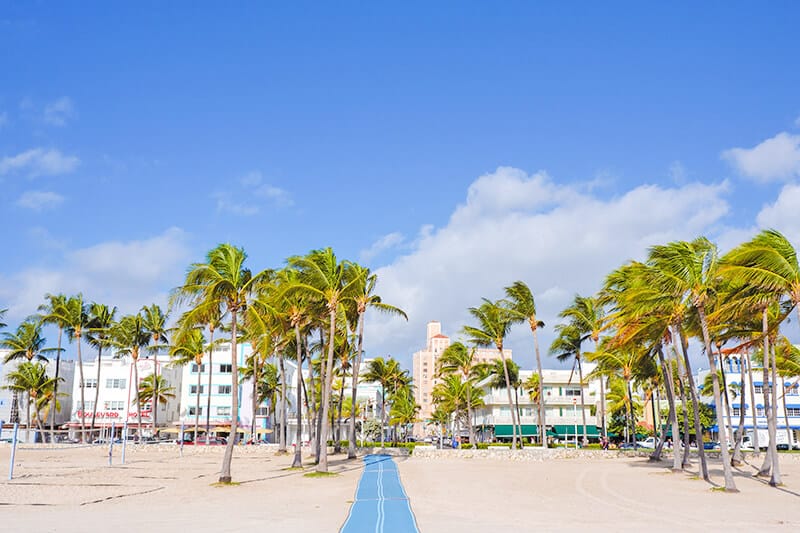 Miami Beach – Lifeguard Stands & Original Art Deco Architecture
Miami Beach is a major tourist attraction in Florida and for a good reason.
With its miles of pristine white sand, palm trees, and turquoise waters, it's a sight to behold. It's also home to the world's largest art deco district.
The Miami Beach area is in fact famous for its colorful Art Deco District, with its pastel-hued buildings, dating back to the 1920s and 1930s.
The most famous structures in this area are the Ocean Drive Hotel, The Betsy Ross House, and Lincoln Road Shopping Mall, where you can also find unique Florida souvenirs.
In addition to these landmarks, there are many other attractions such as the Museum of Contemporary Art North Miami (MOCA), the Miami Children's Museum, the Miami Science Museum, or The Wolfsonian-FIU Museum of Design + Art.
Let's see in detail where to take amazing pictures of Miami Beach.
When to visit: Beat the crowds and arrive before the shops and restaurants open for photos.
Entrance fees: All the places mentioned in this section can be visited for free!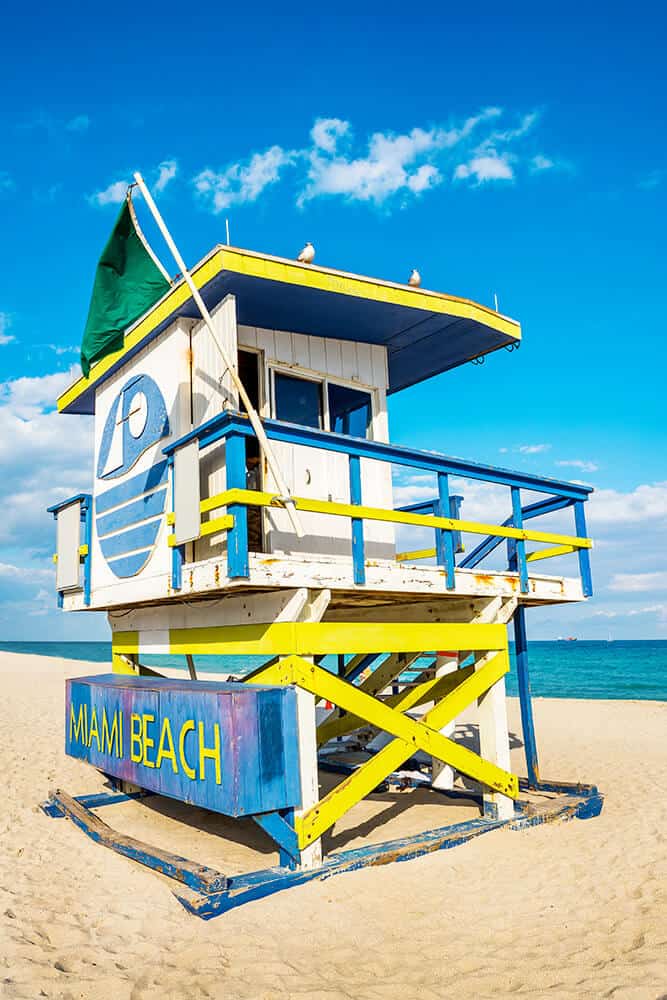 Lifeguard Stands at Miami Beach and South Beach
The multicolored lifeguard stands are possibly the most instagrammable places in Miami.
They expand from South Pointe Park, all the way up to 72nd street. So you will have 40 lifeguard towers to choose from. Not bad, right?
Just walk down the beach until you find the one that catches your eye or that goes with your bikini. Each lifeguard stand is different!
The most iconic one, according to us, is the 5th Street lifeguard tower. It marks the southern edge of Lummus Park and the busiest stretch of Ocean Drive.
This lifeguard stand is also the perfect Miami postcard shot because it says "Miami Beach".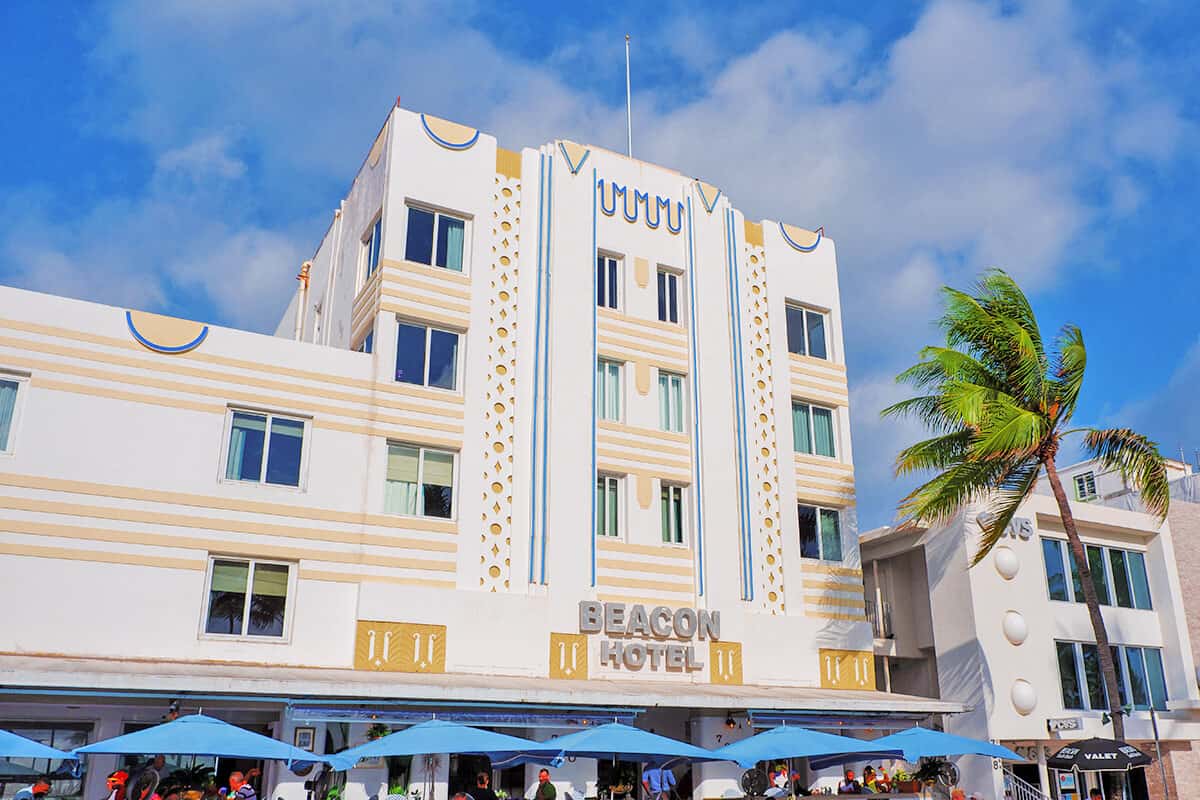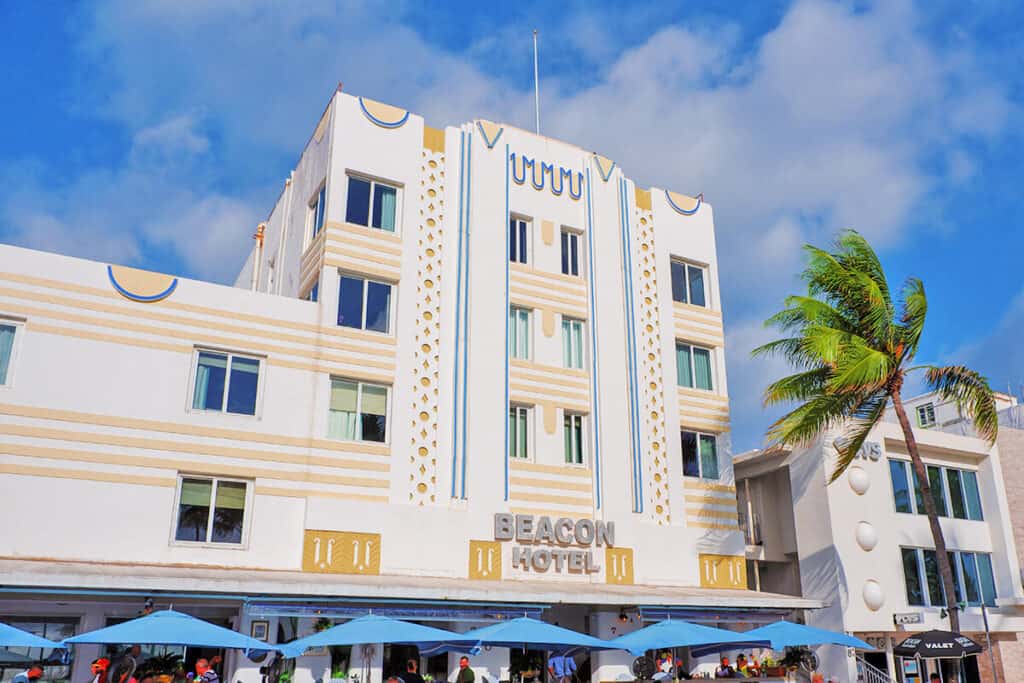 Miami Art Deco Historic District
The Art Deco Historic District is often considered one of the prettiest places to take pictures in Miami.
Ocean Drive is the place to go for snazzy snaps, with unique buildings in the background.
We do not think there's a "bad spot" here: anywhere you go you'll feel mesmerized by the gorgeous pastel colors and geometric details.
Shooting at the Art Deco District in Miami is also so much fun!
If you do not have much time to explore the area, some of the instagrammable spots in Miami Beach you do not want to miss are the Avalon Hotel, the Beacon Hotel and the Park Central Hotel.
They're all super easy to find!
Palm Trees on Ocean Drive
The most iconic Miami photos include beaches lined with palm trees, or framing the skyscrapers in the background.
If you are looking for this kind of photography, then Ocean Drive is the perfect shooting location in Miami.
Park your car and just walk around. There are quite a few rows of palm trees: the only limit is the sky… literally!

Even if you get to Ocean Drive on a busy weekend, point the camera up to the sunny blue sky.
It will be the perfect backdrop (together with the palm trees) for your Miami pictures!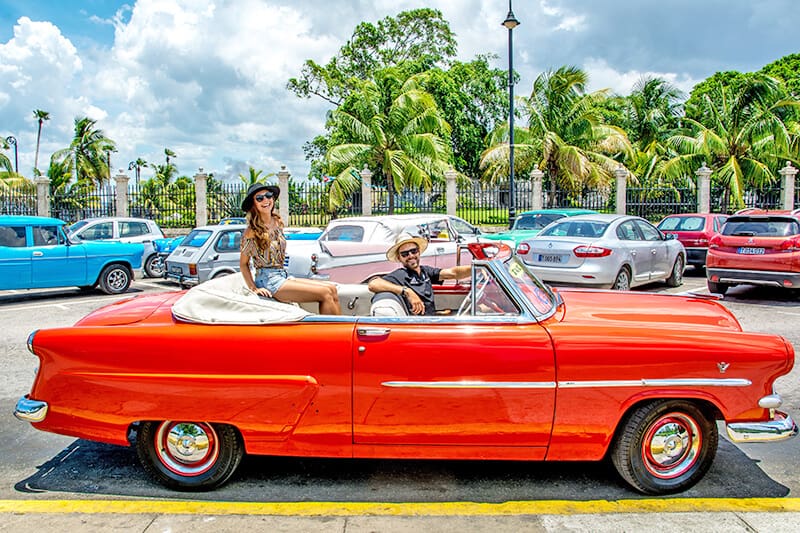 Vintage Cars
Are you just as in love with classic American cars as we are?
Then add them to your bucket list: they can be the perfect backdrop for your Miami Beach pictures!
Because Miami Beach is a popular place to "cruise" in a vintage car, it is impossible not to find one.
They are often parked in front of the gorgeous hotels in the Miami Art Deco District.
That's also why this is one of the best places to take pictures in Miami: you just need to keep an eye out for photo ops!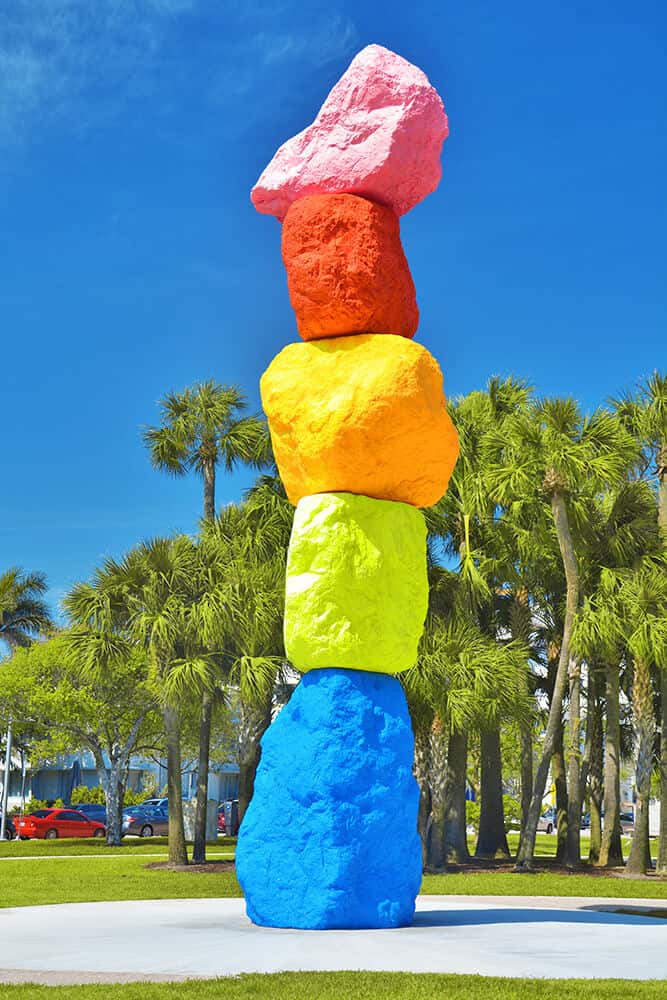 Miami Mountain – Bass Contemporary Art Museum
In case you're feeling these Las Vegas vibes, do not worry. You're definitely not alone.
Ugo Rondinone did it again: after Seven Magic Mountains in Vegas, he uncovered his 8th Magic Mountain in Miami!
It is located in front of the Bass Museum of Art and, just like the ones in Sin City, it's a 42-feet tall column of brightly colored boulders.
While Collins Park already was one of the cool places in Miami to take pictures, now there's one more reason to go there.
Miami Mountain is a free attraction in Miami, so you won't have to pay a ticket to take your pictures. Win-win!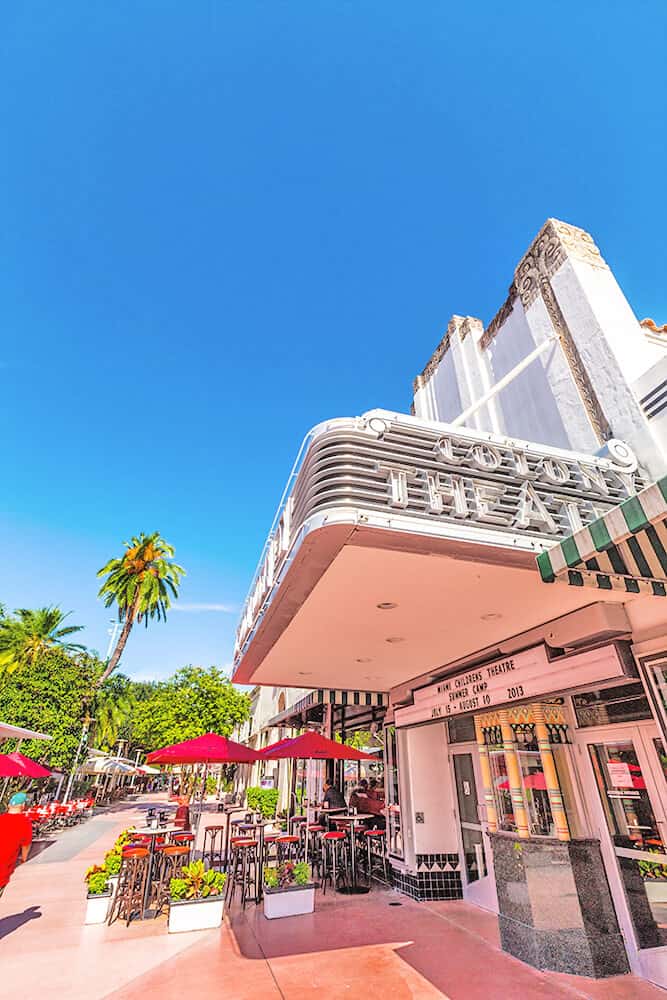 Colony Theater
One of the popular spots to take pictures in Miami Beach is in front of Colony Theater on Lincoln Road.
This Art Deco Theater has been around for a while and it still preserves its exceptional facade.
Located at the end of the pedestrian Lincoln Road, this is a building you can't miss if you're looking for unique instagrammable spots in Miami.
While it's also great at night, when it's full of lights and good vibes, we prefer to shoot at the Colony Theater early in the morning.
It's way less crowded, pictures are generally better and when we're done we can just have breakfast at the nearby Lincoln Road Mall!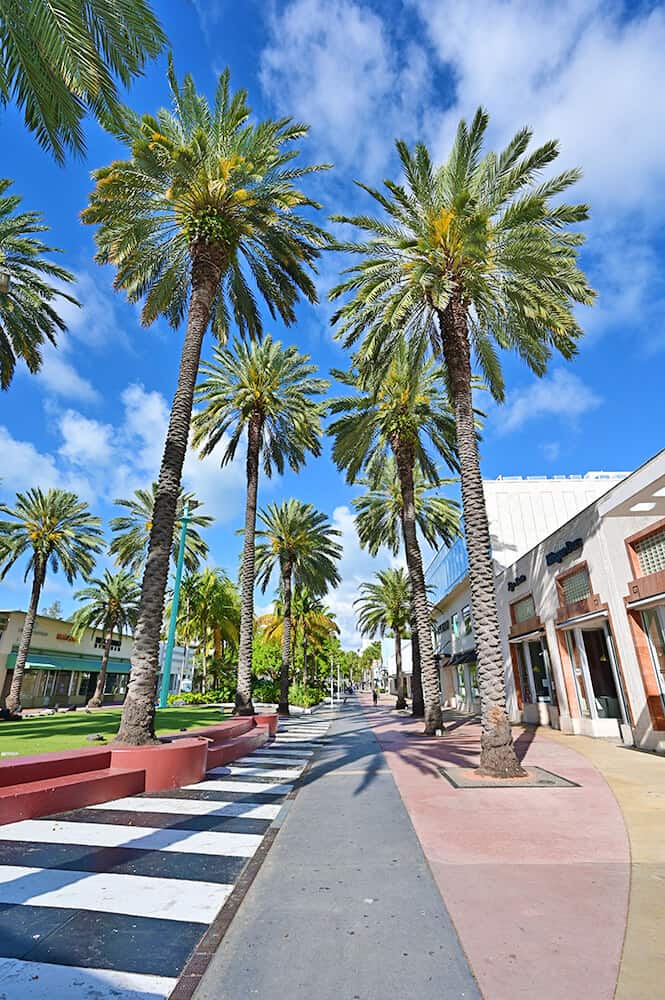 Lincoln Road Mall
Do not expect a standard, grey building on the beach.
Lincoln Road Mall in South Beach Miami is a pedestrian outdoor shopping district.
It mixes the South Beach classic architecture with the unique Miami style.
The Lincoln Road Shopping District is one of the great places to take pictures in Miami because there are so many photo ops!
You just have to choose between the world famous boutiques, art galleries or trend shops.
If you manage to get there early in the morning, we suggest you take a few pictures of the iconic road lined with palm trees. Your pics will be amazing!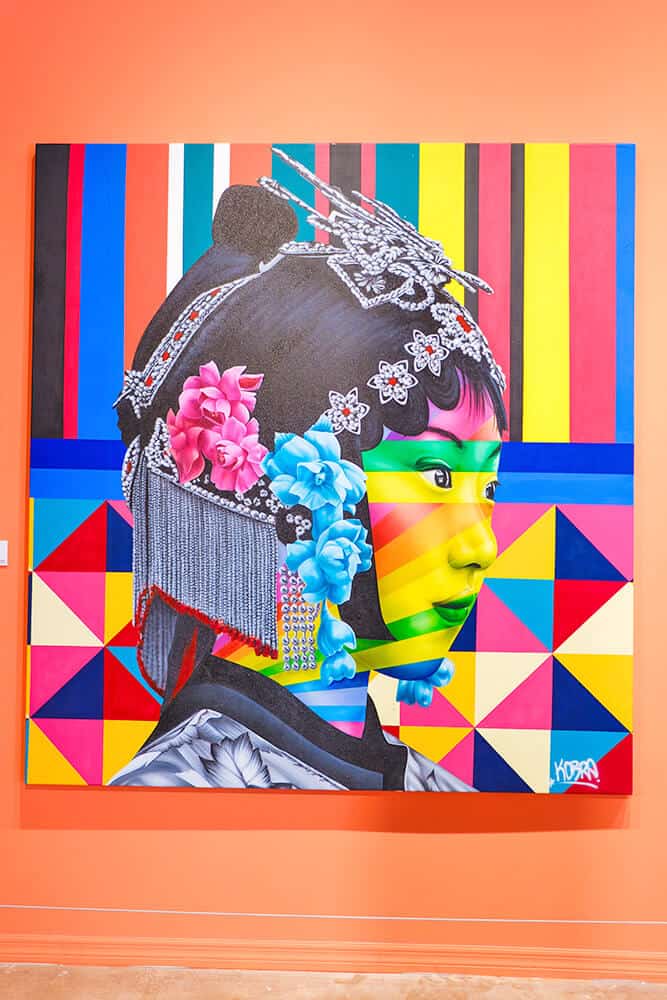 Miami Design District
The Miami Design District is a creative neighborhood that provides a lot of photo ops.
The innovative design mixes with world-famous brands, shopping venues, dining and art.
This is a unique place in Miami where you can plan a full immersion into visual art and creativity.
When to visit: Like many other places in Miami, it's better to get there early in the morning to take the best pictures.
Entrance fees: All the spots mentioned in this chapter are completely free to visit!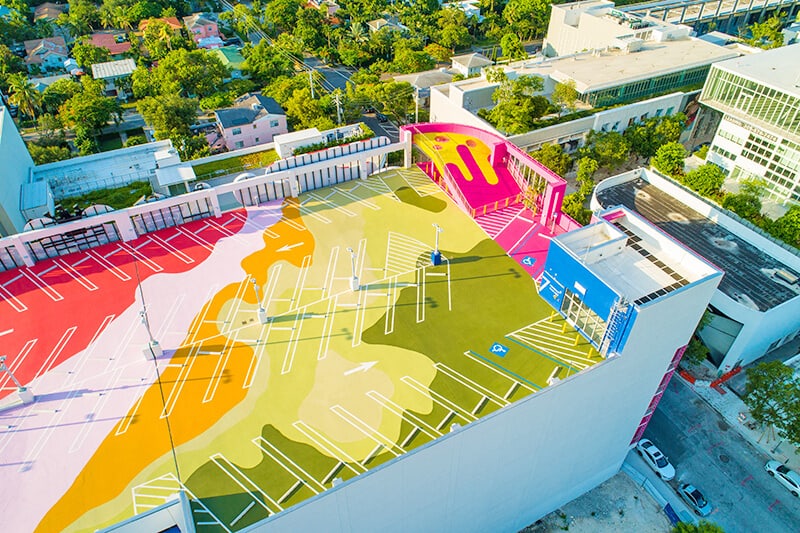 Colorful Murals
While most travelers think that Wynwood is one of the most instagrammable places in Miami because of the murals, there's more.
Not many know that the Miami Design District features a huge collection of public art and murals by renowned artists in the world. And it's fully accessible, for free!
Walk around to find the colorful murals. Our favorite is the Vortex.
Find it at NE 38th Street between NE 2nd Ave. and NE 1st Ave.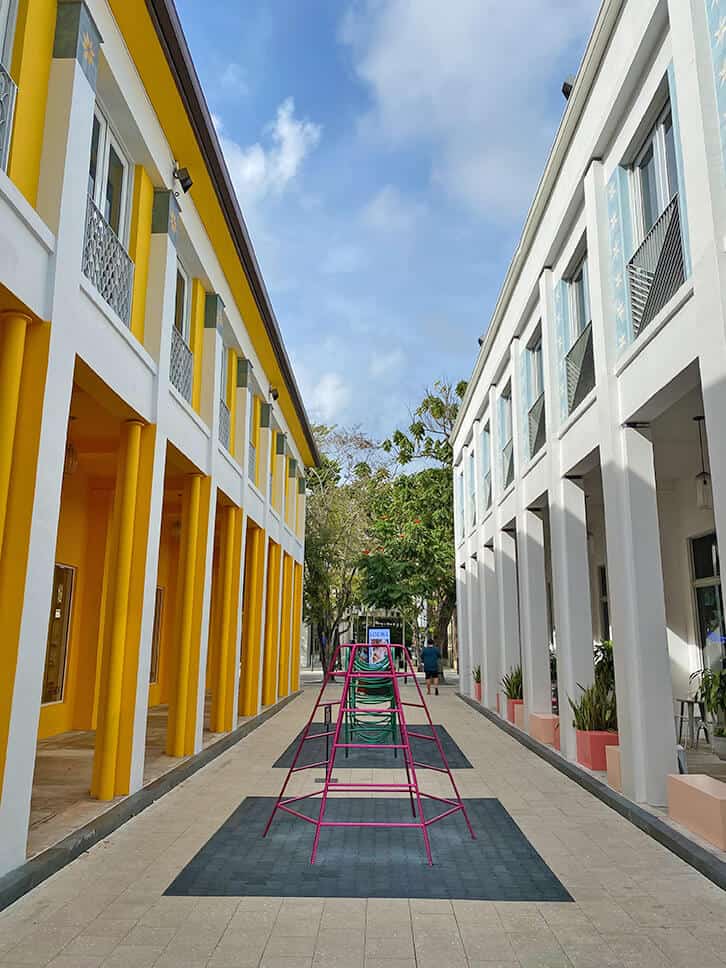 The Fendi Colonnade
The brightly colored Fendi colonnade is located in the heart of the Miami Design District.
Fendi is an Italian brand and makes every shop unique. So we were pretty curious to discover the Miami Design District store.
And wow, it was definitely a surprise!
The pillars and walls of this building are vividly colored with a rainbow palette. Perfect for the couples who are looking for unique photography spots in Miami or instagrammers who want a splash of color for their feed.
Find it at 150 NE 40th St, Miami.
Fly's Eye Dome
In 1965 artist Buckminster Fuller patented and designed the Fly's Eye Dome. It had to be a low-cost portable house.
Fuller died before he could realize his vision for the structure. But the Buckminster Fuller Institute, over 50 years later, produced the complete version of this incredible house.
It was incorporated in the Miami Design District and today is one of the unique places to take pictures in Miami that not many people know about.
Find it at 140 NR 39th St, Miami.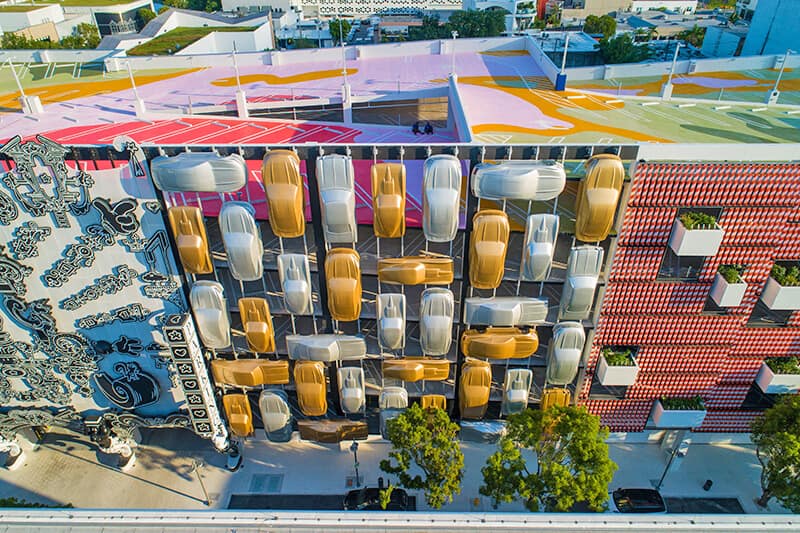 Museum Garage
As we already mentioned, Miami is a one-of-a-kind city in Florida.
Why do we remind you of this?
Because even a "simple" garage can become an instagrammable spot in Miami.
The Museum Garage is an incredibly creative building that has specifically been designed to fit into the Miami Design District.
This unique garage is one of the best photography spots in Miami for a few reasons.
The first being that not many people know about this place and they definitely do not give it enough credit.
While the unique cut-outs and its bold structure make a good background for a few photos, we encourage you to walk inside.
The Museum Garage interior is even better! In between pink stairwells, and the super colorful roof, there are a lot of instagrammable spots!
If you have enough time, stay for the sunset.
You'll get to take great Miami pictures from the Museum Garage roof!
Find it at 90 NE 41st street, Miami.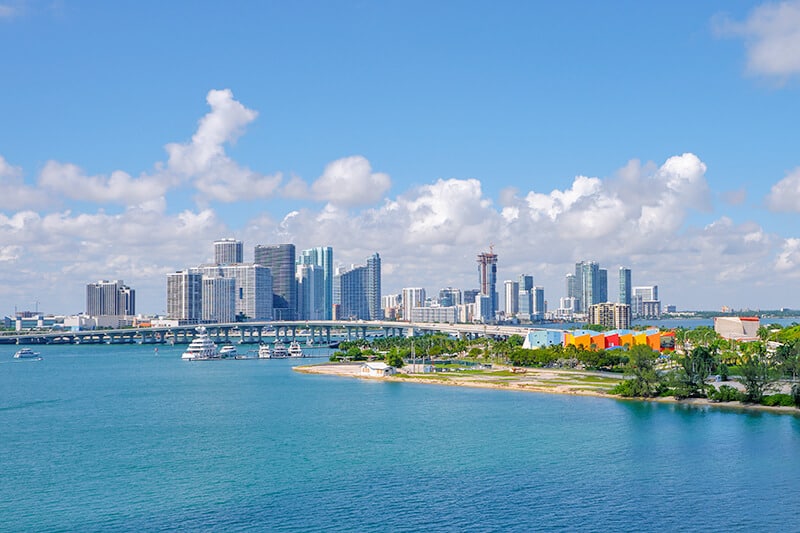 Downtown Miami / Brickell
While looking for cool places in Miami to take pictures, do not neglect the underrated spots.
The Miamy city center is amazing for its amazing skyline over Biscayne Bay. With its incredible skyscrapers and modern buildings, you will also find some unique spots that you just can't miss.
In case you do not have a car, you can easily get around Downtown Miami using Citybikes or the Metromover, a free, air-conditioned elevated train.
When to visit: If you are planning to book a boat cruise, you should go to Downtown Miami in the morning. Those interested in shooting in the street should be there early in the morning during the week, to avoid spending your time dodging cars.
Entrance fees: All the spots in Miami mentioned in this chapter can be visited for free!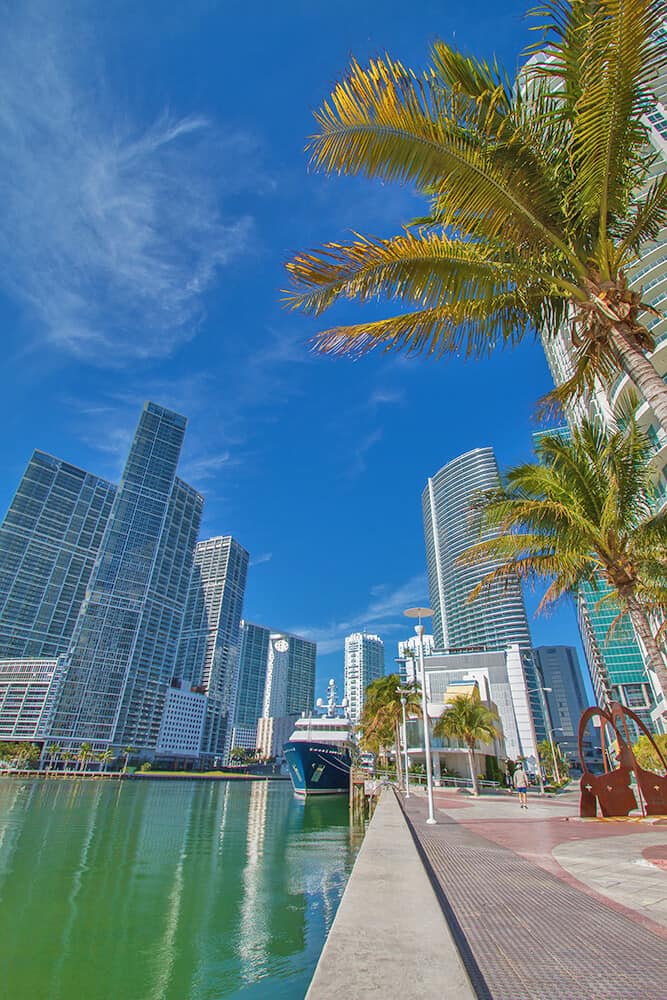 Brickell – Brickell City Centre
Brickell is a modern neighborhood in the middle of Downtown Miami. You'll recognize it for its incredible skyscrapers, upscale boutiques and cool restaurants.
One of the best photography spots in Brickell Miami is the Brickell City Center.
A 3-level outdoor mall which is the perfect place to go for a photo of the Miami skyscrapers.
Take some pictures by pointing your camera up, so you'll get to use the clear sky as a background. That will also give your Miami photos a unique point of view.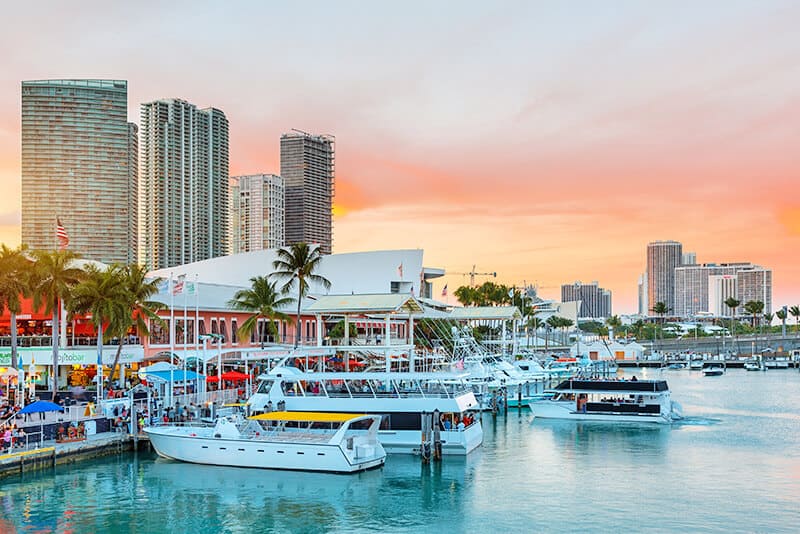 Bayside MarketPlace
Bayside Marketplace is a festival marketplace in Downtown Miami, located between Bayfront Park and the American Airlines Arena.
You will find a lot of tourist attractions, and the chance to go on boat tours, to take even prettier pictures of Miami.
If you have time, we encourage you to spend the whole day at Bayside Marketplace. There's so much to do and… be prepared for a lot of shopping!
Wynwood District
Everyone thinks that Wynwood Walls is one of the best places to take pictures in Miami. While this is absolutely true, there's so much more in Wynwood Miami!
Wynwood is in fact one of the best neighborhoods in Miami and the center of art and culture. A bit like the Miami Design District, but much more colorful and laidback.
According to Forbes Magazine, Wynwood is one of America's best hipster neighborhoods!
Let us show you where to take some of the best pictures in Miami. Also for free!
When to visit: Wynwood tends to get pretty crowded and noisy. We did visit in the morning, so we had time for breakfast and we easily found a parking spot near Wynwood Walls. Because we got in as soon as they opened, there weren't too many people around.
Entrance fees: Some of the places in Miami mentioned in this section can be visited for free, except for Wynwood Walls, Wynwood Garage (but you can take pictures outside) and the Miami Selfie Museum.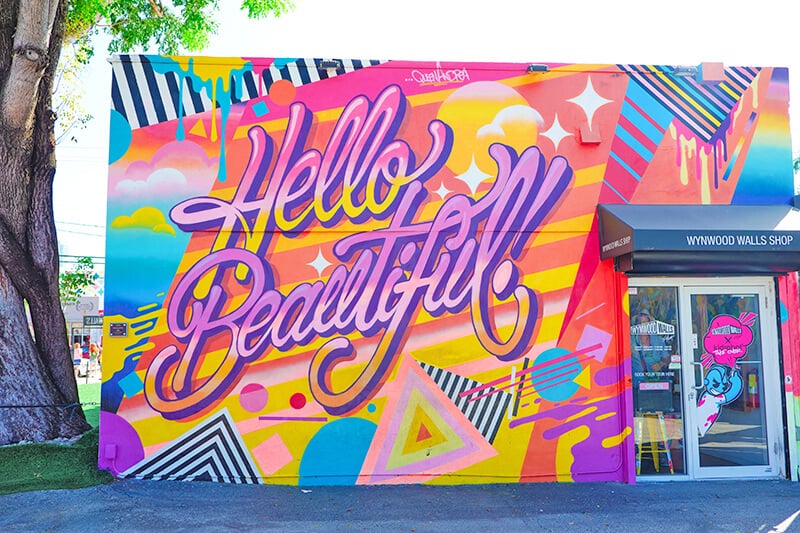 Wynwood Walls
Wynwood Walls is a staple among the most instagrammable places in Miami. Consider it an Instagram Classic, if you want!
This big outdoor museum has brought together artists from all over the world.
We also met a few popular instagrammers here. Some used a cute pink Instax as a prop: it really did make the difference!
Update 2021: While Wynwood Walls used to be free, from 2021 to visit this gorgeous outdoor museum in Miami you will need to reserve a spot in advance. Tickets now cost $10 for adults, $5 for seniors and military. They will still be free for visitors 12 and under.
Click here to pre-purchase your ticket.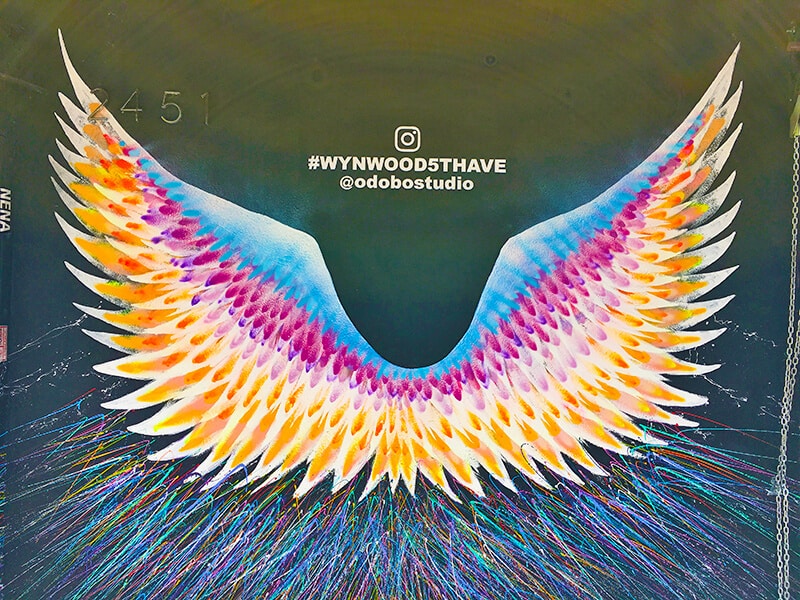 Angel Wings Murals
Another classic Miami instagram shot is the one with the butterfly wings, also known as angel wings.
The mural is super popular and was created by @odobostudio.
While the wings have been vandalized several times, the artist keeps on painting them again and again.
Thank you for that!
Where to find the Wynwood Wings
Find the butterfly wings mural in Miami at 2401 NW 5 Ave.
Because this spot is usually crowded, we suggest you visit early in the afternoon during the week.
Another popular spot where you can take a very nice photo with wings in the background is next to The Salty Donut, 50 NW 23rd St #112 Miami.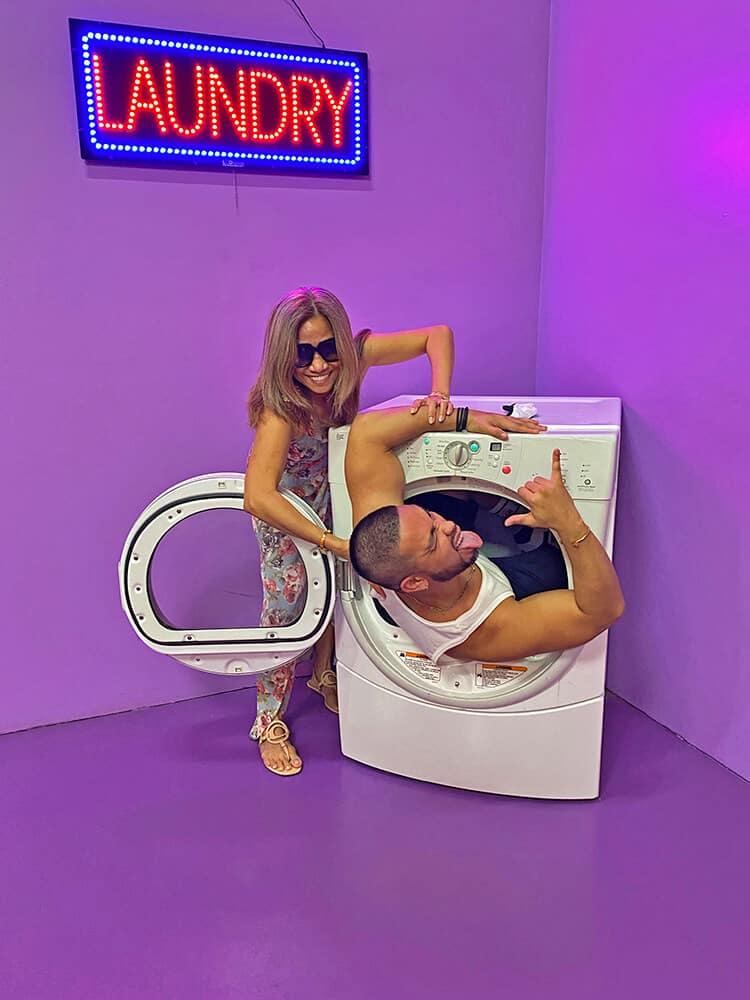 Miami Selfie Museum
The Miami Selfie Museum is a super fun place in Miami where you can take gorgeous pictures.
More of a photography studio than a museum, it allows you to take pictures and videos using professional settings, props and lights.
They specifically claim they are "one of the most instagrammable places in Miami" that makes sure your pictures will always look great!
Adult tickets during the week will cost you $29 ($34 if you visit on a weekend), kids aged 4-12 will have to pay $22 while 3 and under can enter for free.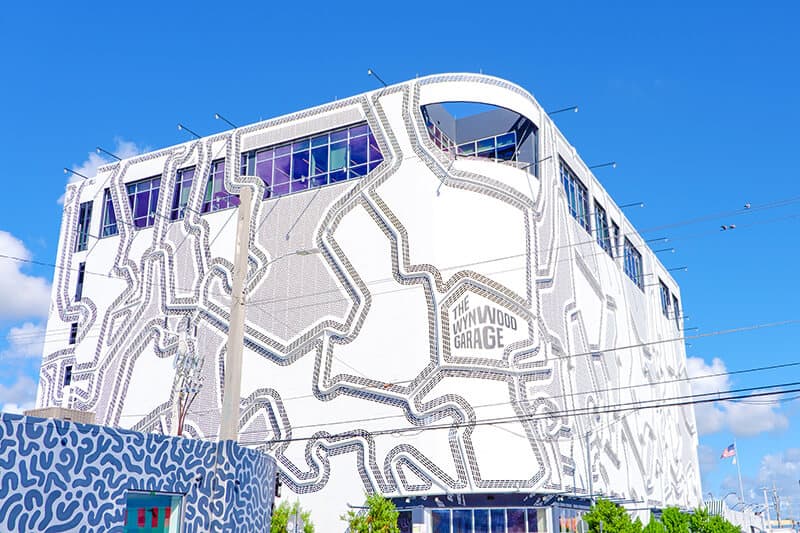 Wynwood Garage
The Wynwood Garage is a huge building that looks as sleek as a modern art museum.
Yet you soon realize that it's where you're supposed to park your car.
Located in the heart of Wynwood and pretty close to Wynwood Walls, it's a great place where you can leave your car if you want to visit the neighborhood.
In case you don't have a car or you don't want to park here, you can still take pictures of the Wynwood Garage facade for free.
Find it at 311 NW 26th St, Miami.
Wynwood Murals
So… is there any cool Instagram spot in Wynwood where you can take some photos for free?
We're so glad you asked!
While everyone talks about the Wynwood Walls, we decided to just walk around the neighborhood. After all, we were looking for cool places to take pictures in Miami. And we did want to go off the beaten path.
Guess what?
Wynwood is absolutely full to the brim with murals! There's no need to pay to visit Wynwood Walls if you're visiting on a budget.
Walk around and bring your camera along. You will soon realize that every wall, every shop facade and even some doors are painted with big, brightly colored murals.
There's also an interesting bonus. Not many people decide to go off the beaten path in Miami so chances are that you will be able to take as many pictures as you want, while no one else is around.
Little Havana
Little Havana is a colorful and lively neighborhood of Miami. Home to many Cuban exiles, it's named after Havana, the Cuban capital.
After reading a few articles we got a bit scared, but we decided to visit anyway. Guess what?
Little Havana is not a dangerous place.
We discovered a beautiful, vibrant and culturally rich neighborhood!
We encourage you to visit to get a taste of Cuba in Miami. There are also a lot of restaurants where you can try authentic, rustic Cuban food and souvenir shops.
Let us show you the best photo spots in Miami, and specifically around Little Havana!
When to visit: Little Havana is usually less crowded during the week, when everyone else is at work.
Entrance fees: The insta spots mentioned in this section can be visited for free. Unless of course you decide to buy ice cream at Azucar Ice Cream. By all means, do it!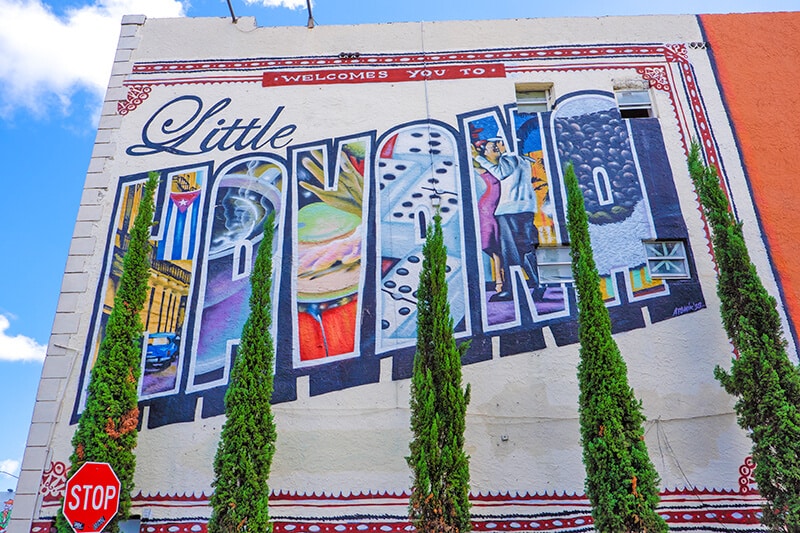 Little Havana Mural
The famous Little Havana Mural is a great place to take cool Miami photos with a unique angle.
Make sure you crouch down and tilt your camera or iPhone up.
The location of this beautiful mural makes it so that you won't have to work too much with exposure to ensure both the person and the mural are on focus.
So it is the perfect picture every kind of photographer can take!
Find the Little Havana Mural at 2682 FL-90, Miami. Next to Chase Bank on Calle Ocho.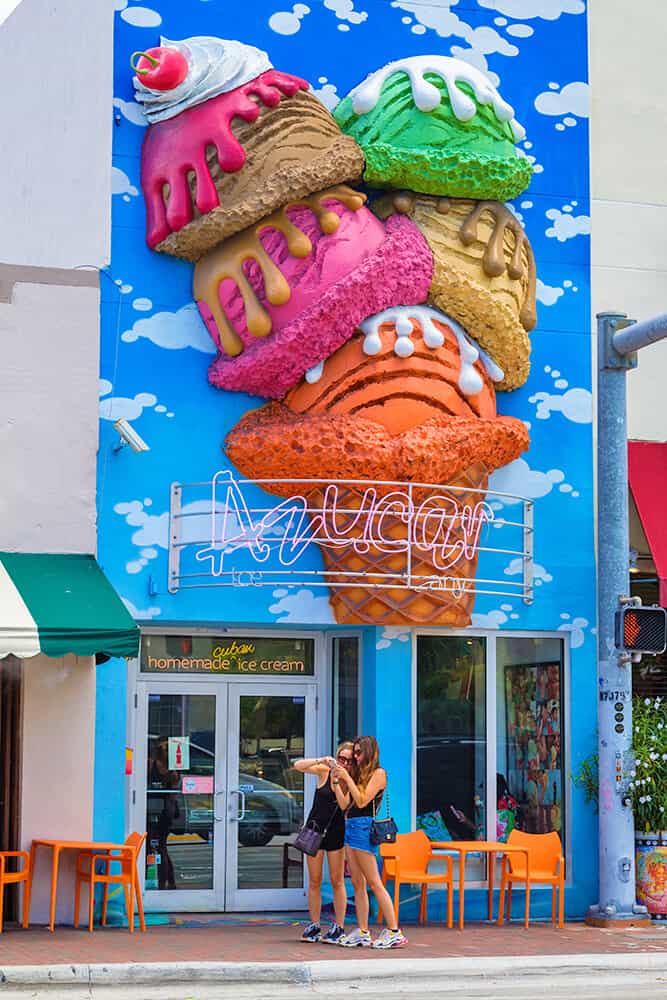 Azucar Ice Cream
Azucar Ice Cream has one of the best storefronts in Miami. It's perfect for selfies or Instagram shots!
You can recognize it immediately thanks to the huge 3D ice cream cone.
They make artisanal gourmet ice creams and sorbets in Cuban and tropical flavors. So make sure you try one (Miami is hot, and ice cream is always a good idea).
And also take a picture of their seasonal cold treats: they're super colorful and make for a good shot!
Find Azucar Ice Cream at 1503 SW 8th St Miami.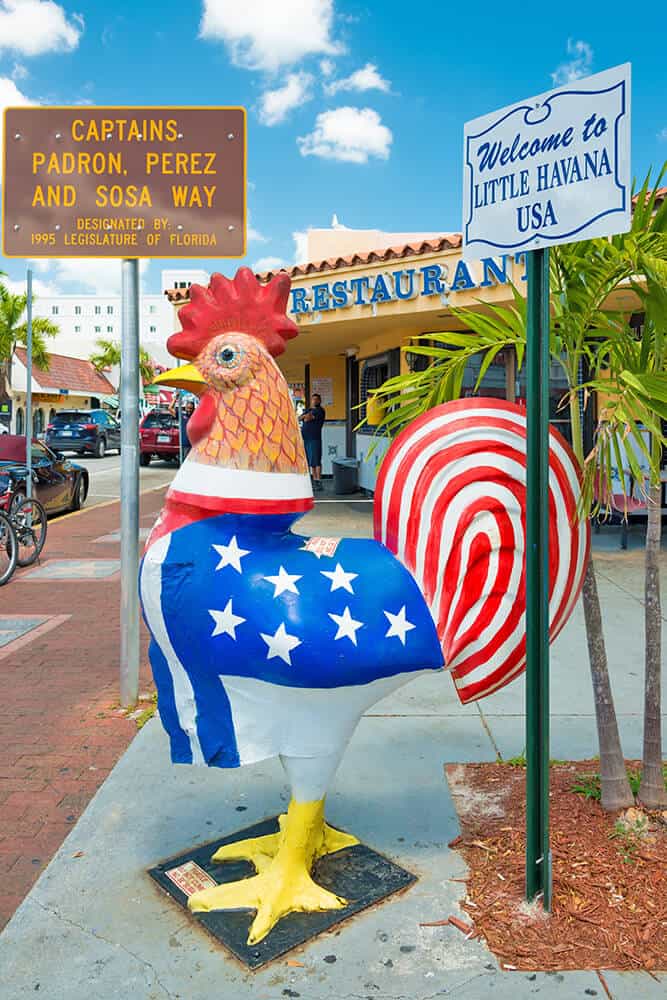 Calle Ocho
Visiting Little Havana without seeing Calle Ocho would make your trip to Miami incomplete.
This vibrant street exudes Cuban culture and it's super colorful.
You will find local markets, great food, murals, statues and iconic buildings.
One of the best photography spots in Calle Ocho is next to the chicken sculpture, where the "Welcome to Little Havana USA" sign is located.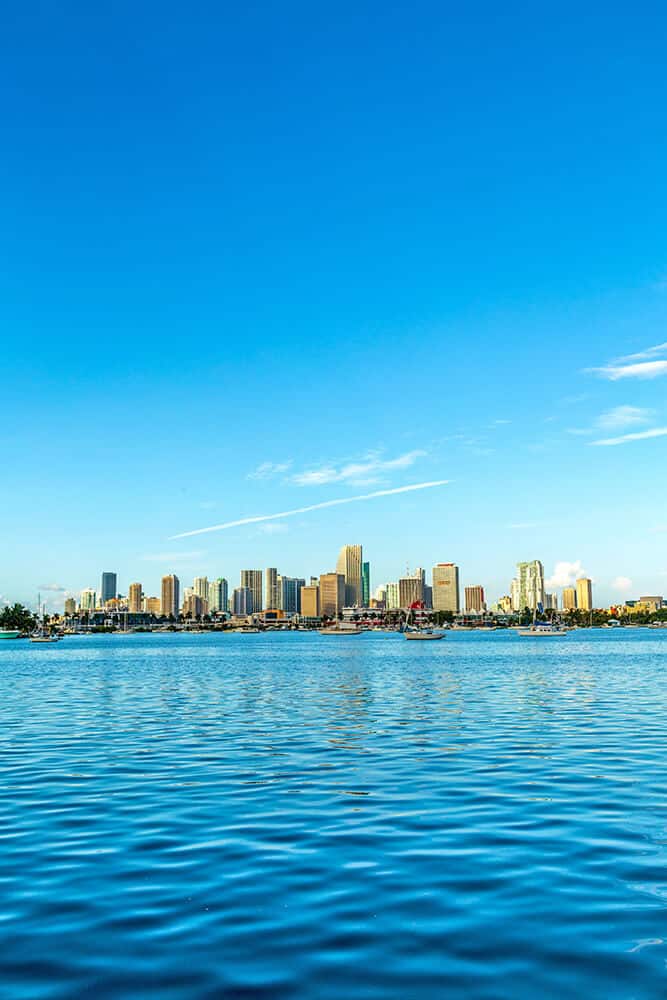 Where to take the best Miami skyline pictures
The best spot – ever – to take pictures of the Miami skyline is Watson Island.
If you want to take sunset pictures, make sure you get there well in advance.
There are so many photographers and people fishing, so you will want to choose a good place before it gets too crowded!
Other possible spots are South Pointe Park, which will allow you to also include ships and port in your photos, or Bayside.
A super popular photography spot in Miami is located under the MacArthur Causeway. Shooting the Miami skyline here at dusk is amazing: there are still people around and thus it's relatively safe.
Key Biscayne is the place where Aldo loved to shoot. While you will be taking pictures of the other side of the skyline, it is a safer area where you can take some night photos.
Near the entrance to Key Biscayne, after the toll booths, there is a small parking area where you can leave your car under a tree line.
That's where you can get a clear view across the water!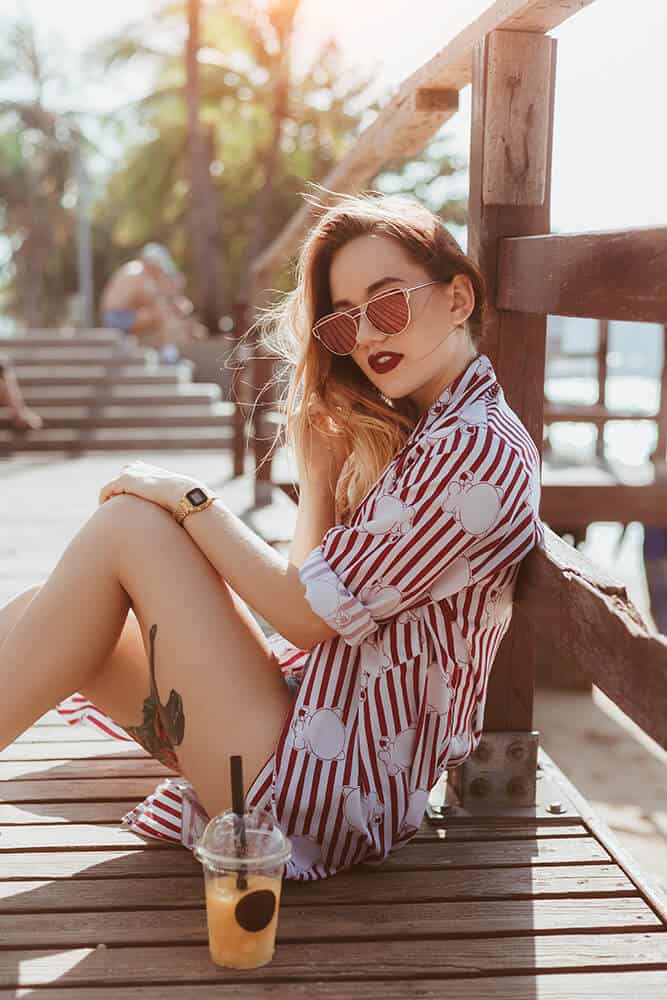 Best places to take pictures in Miami: Stunning Hotels
A lot of people stay away from the luxury hotels in Miami because they think they're never going to fit into their budget.
Me and Al on the contrary have managed to visit some amazing hotels by scouting the net for deals. You would be surprised at how little we paid for some of our stays, thanks to black friday deals or hotel discounts found online.
Why should you stay at one of the luxury hotels in Miami?
First things first, you will never regret taking care of yourself and splurging once in a while.
Even couples who are planning their babymoon should consider one of the following hotels.
Not just because they're super instagrammable!
Spending some time relaxing at the spa and getting ready for the big event is a must do!
The following are some of the most instagrammable hotels ever. Expect spa, swimming pools and stunning rooms.
How about you treat yourself to an unforgettable weekend in Miami?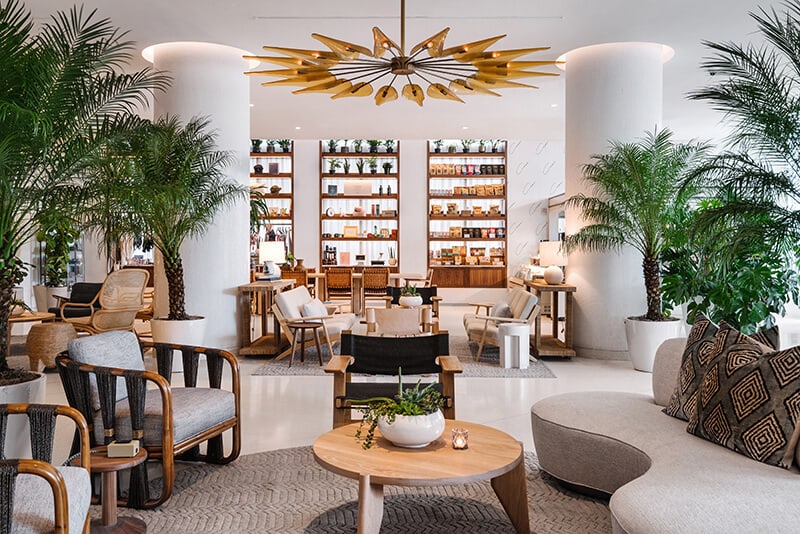 Nautilus by Arlo
Nautilus by Arlo is an original Art Deco building, dating back to 1950.
This ocean-front hotel is within walking distance from South Beach and provides plenty of photo ops.
The outdoor space has an alfresco lounge, a huge salt pool, cabanas and props that will look amazing on your Instagram feed!
Find it at 1825 Collins Ave, Miami Beach.
Click to discover rates and availability: Booking.com | Kayak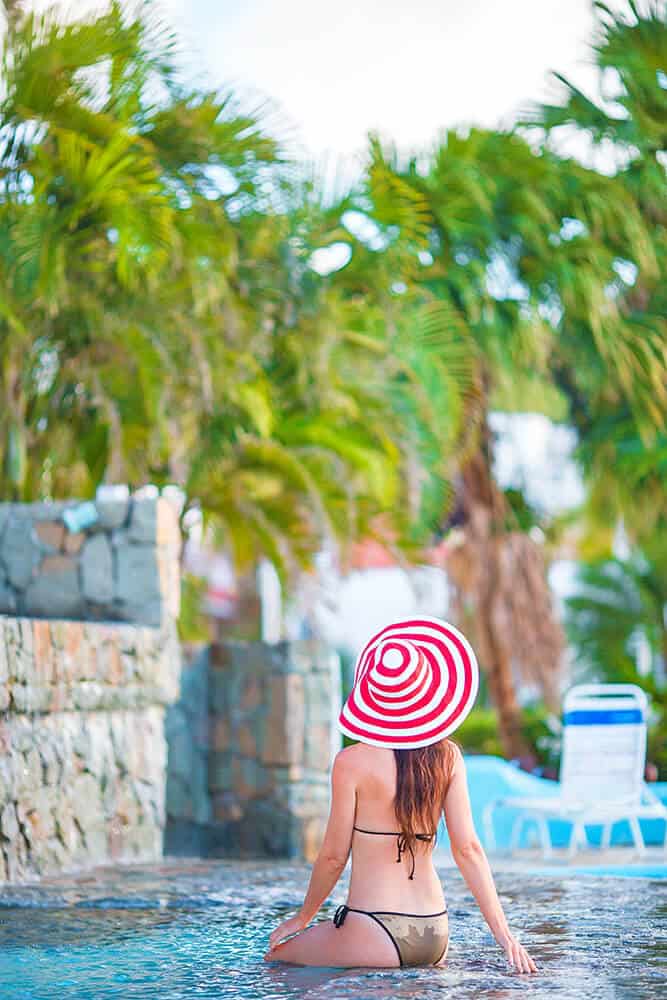 1 Hotel (South Beach)
1 Hotel in South Beach is the perfect place to go in Miami if you're looking for insta spots and a super relaxing experience.
With its private beach, 4 swimming pools (including a rooftop pool!), organic cotton sheets and wood-themed rooms, it's designed for elegant comfort.
The Lincoln Road Mall is within walking distance and in 5 minutes by car you'll get to tons of clubs and restaurants in South Beach.
Find it at 2341 Collins Ave, Miami Beach.
Click to discover rates and availability: Booking.com | Kayak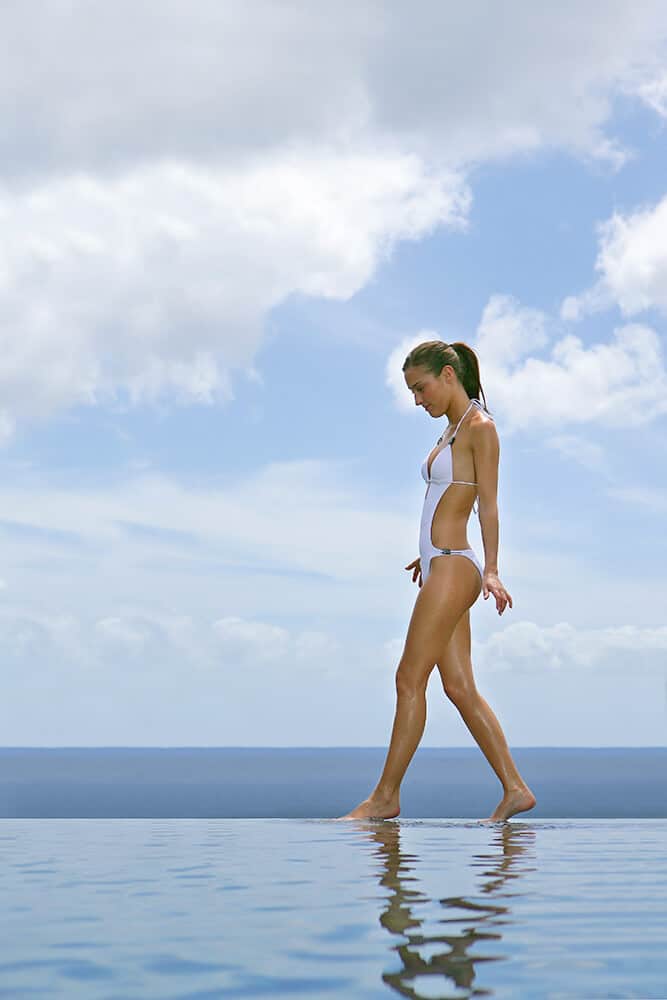 Mondrian South Beach
Designed by Marcel Wanders, this unique Miami Beach hotel with plenty of open space provides quite a lot of places to take pictures. And it's not even difficult to find them!
The ocean-facing pool, surrounded by lush gardens and lounge areas, is perfect for bikini shots. Especially at sunset.
Their Baia Beach Club Miami is also a great photography spot, thanks to its gorgeous views on Biscayne Bay.
Plus they serve some amazing sushi, just in case you'd love some Japanese food!
The Bayfront Marketplace is 5 minutes by car, and in 2 minutes you can also get to Lincoln Road Mall and Lummus Beach Park.
Find it at 1100 West Ave, Miami Beach.
Click to discover rates and availability: Booking.com | Kayak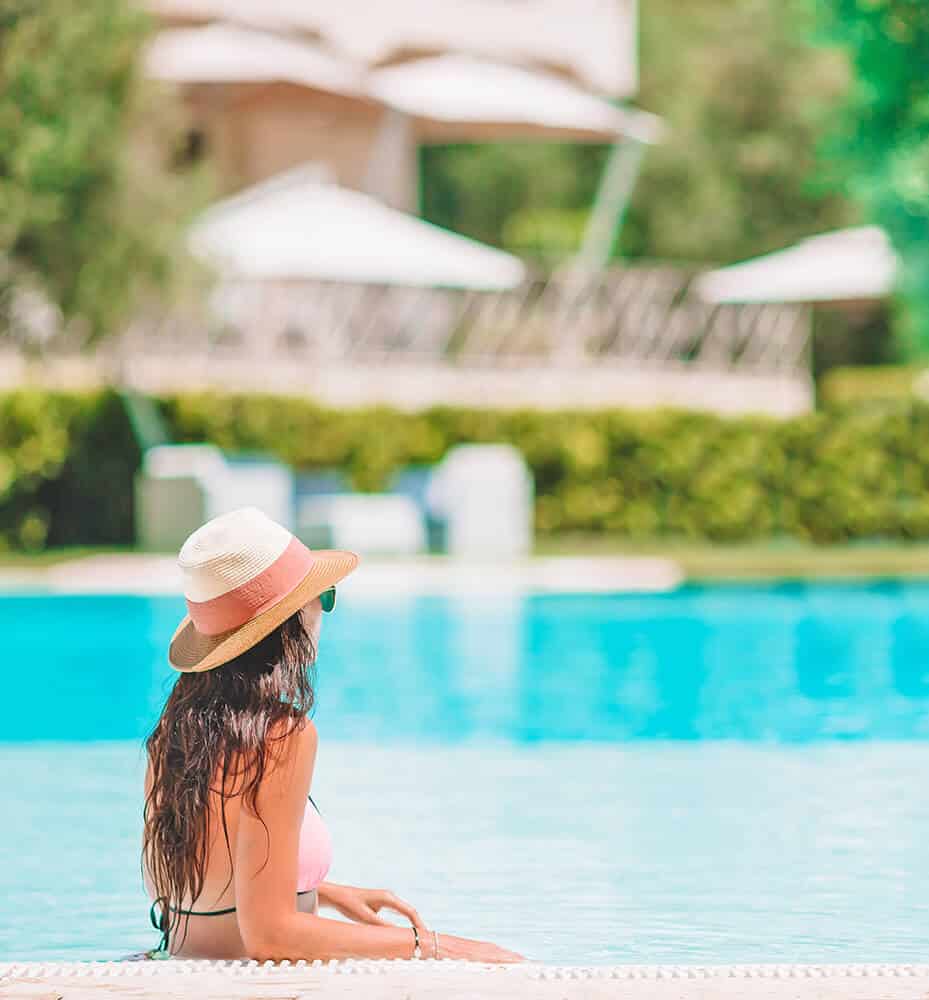 Eden Roc Miami Beach
The Eden Roc Miami Beach is yet another luxury beachfront hotel which sports a huge pool. Perfect for lots of bikini pics.
From this hotel you can just walk to Miami Beach. Thus you will easily reach many of the Miami Beach instagrammable spots mentioned above.
This means that you get a lot more photo ops without having to drive around.
Not sure about you but we dread the Miami traffic!
Find it at 4525 Collins Ave, Miami Beach.
Click to discover rates and availability: Booking.com | Kayak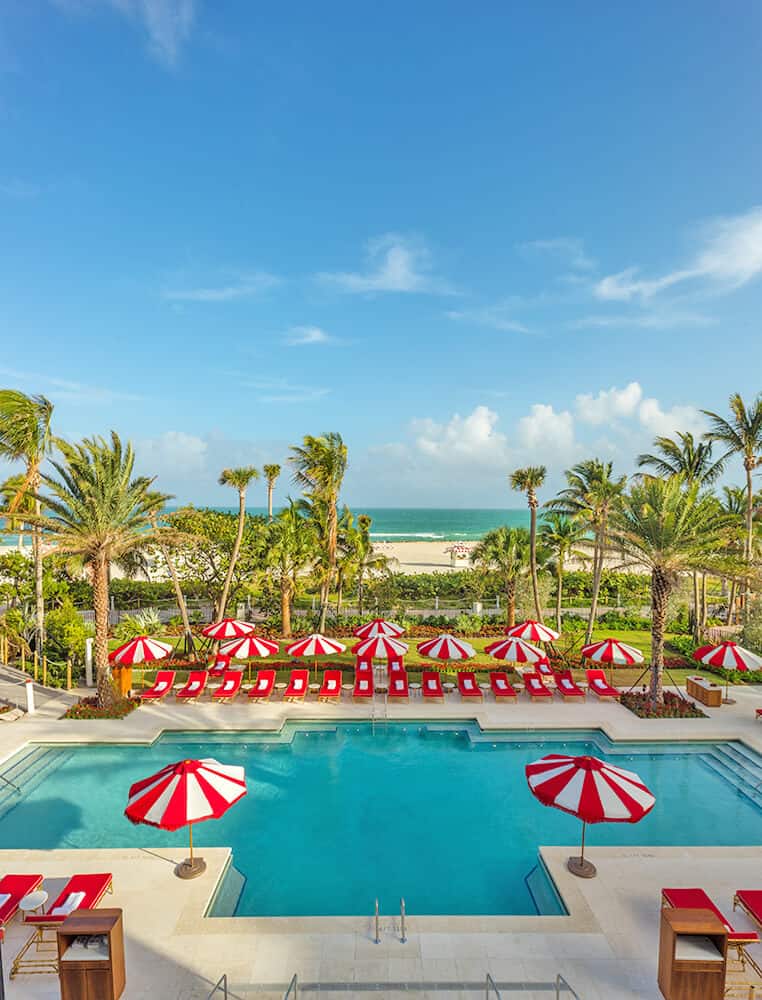 Faena Hotel Miami Beach
The Faena Hotel is located in one of the popular photoshoot places in Miami Beach. Just a few steps away from the beach, with its lovely lifeguard stands.
The red and white umbrellas in their pool and beach areas are definitely a trademark. Absolutely perfect if you want to add a splash of color to your feed or travel album!
In case you are planning an absolutely relaxing weekend in Miami or a babymoon, know that there's no need at all to leave the Faena.
In fact you will find everything you need inside the hotel. From a South American-inspired spa and salon, to an Asian cuisine restaurant.
Lincoln Road Mall is less than 10 minutes away by car, and the Art Deco District is also pretty close.
So many cool places to take pictures!
Find the Faena Hotel at 3201 Collins Ave, Miami Beach.
Click to discover rates and availability: Booking.com | Kayak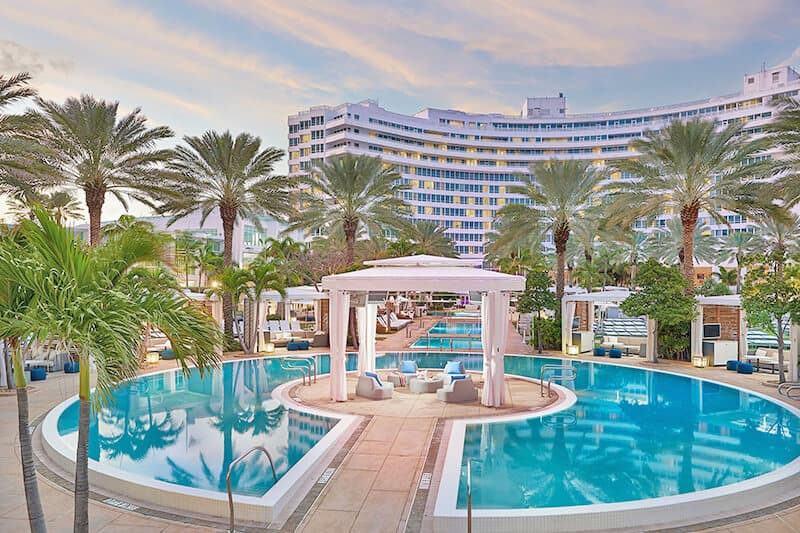 Fontainebleau Miami Beach
Those looking for instagram worthy places in Miami who need as many locations as possible will love the Fontainebleau Miami Beach.
This beachfront luxury hotel features scenic ocean views and 6 outdoor swimming pools! You'll never have to worry about finding new places to shoot!
The Fontainebleau is also a good hotel for those planning a trip to Miami with their children. There's plenty to do for them. Thanks to the children's playground and children's waterscape, they definitely won't get bored.
Find it at 4441 Collins Ave, Miami Beach.
Click to discover rates and availability: Booking.com | Kayak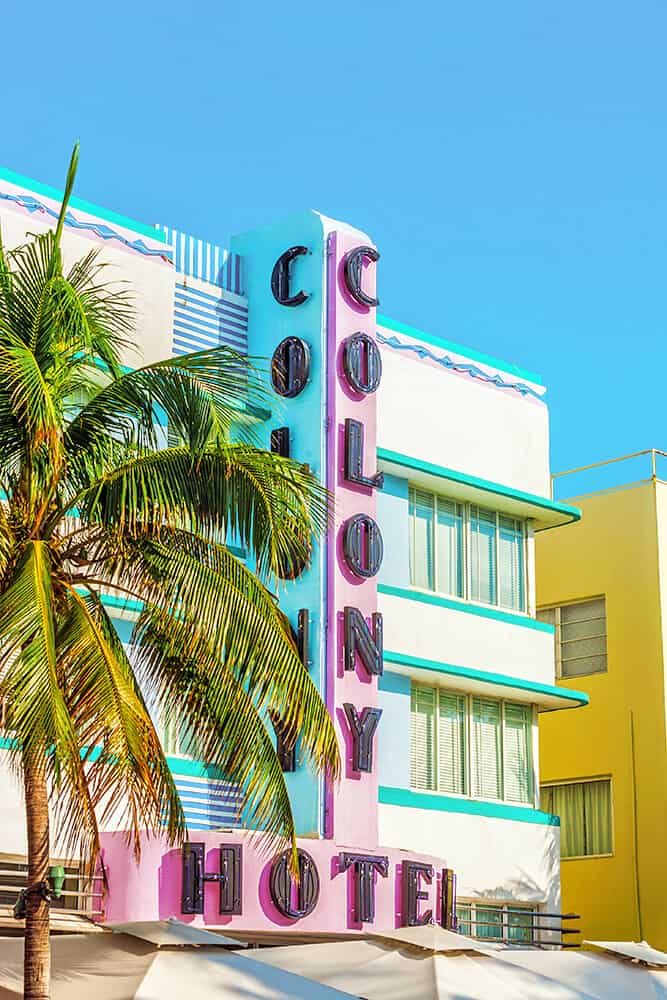 Colony Hotel
Recognized in the world as the symbol of South Beach, the Colony Hotel dates back to 1939.
You will immediately notice its Art Deco building along Ocean Drive thanks to its giant neon signage.
The facade of the Colony Hotel is definitely one of the popular places to take pictures in Miami. Yet also the rooms and the lobby are super colorful and perfect for a fun photoshoot.
Find it at 736 Ocean Dr, Miami Beach.
Click to discover rates and availability: Booking.com | Kayak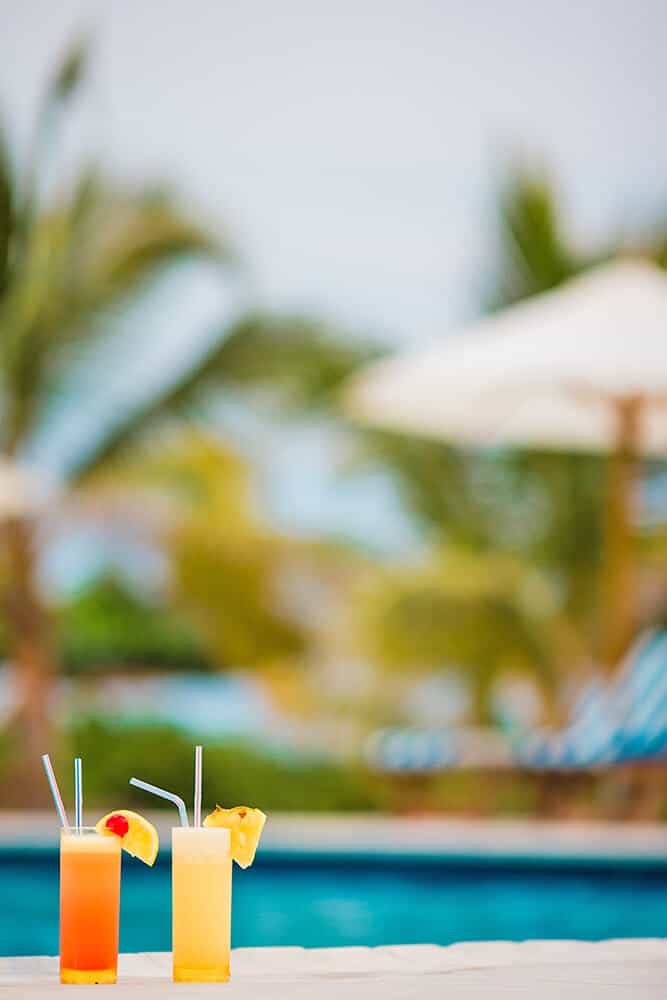 The Confidante
The Confidante Miami Beach is one of the popular hotels in Miami that couples absolutely love.
You have no idea how many photo ops you will find!
Every room is just about perfect and super colorful. Even the Art Deco inspired beach chairs will make a great splash of color for your feed!
And there's so much more. An open-air spa, 2 heated outdoor pools with pool lounges (in case you're planning to visit Miami in winter) and two super romantic restaurants.
The Confidante Miami Beach is 10 minutes away by car from Lincoln Road Mall and has direct beach access.
Find it at 4041 Collins Ave, Miami Beach.
Click to discover rates and availability: Booking.com | Kayak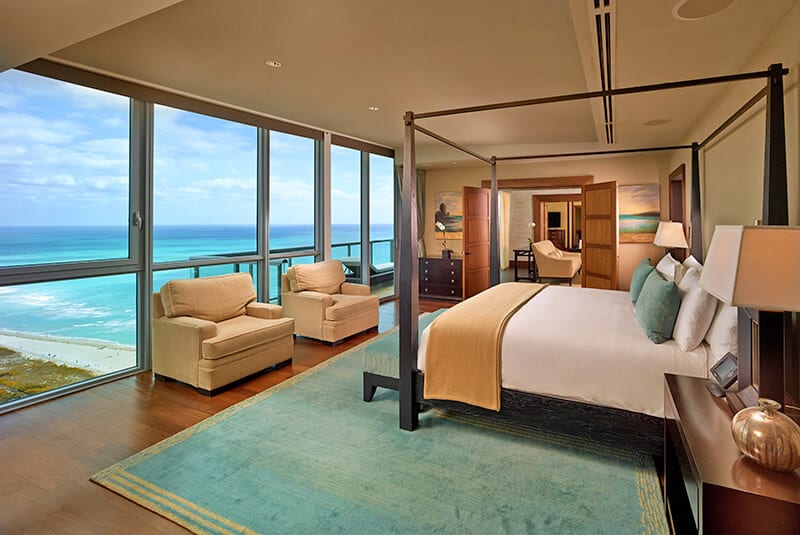 The Setai Miami Beach
Are you in need of waking up to the beauty of the ocean every morning?
The Setai Miami Beach is an excellent choice!
Located directly on the beach in the heart of the instagrammable Art Deco District in Miami, this is the perfect hotel for those who need peace and relax.
They even offer yoga and tai-chi classes!
With 3 infinity pools and a gorgeous spa, the Setai Miami Beach is the ultimate retreat for those looking to impress by taking tons of stunning Miami pictures.
Find it at 2001 Collins Ave, Miami Beach.
Click to discover rates and availability: Booking.com | Kayak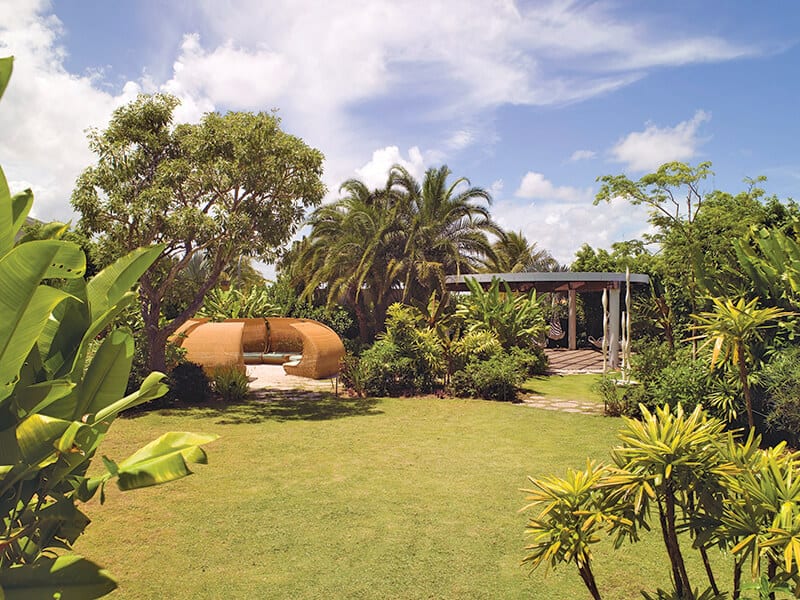 The Standard Miami Beach
Walking into The Standard Miami Beach is like stepping into a tropical jungle. Wait, weren't you strolling on the beach just a moment ago?
The Standard Miami Beach is one of the unique places to take pictures in Miami. Very different from any other hotel thanks to the gorgeous tropical gardens.
The view on Biscayne Bay at sunset alone is worth the trip!
Planning a trip to Miami with your girlfriends? Then by all means, consider staying here. You will be able to enjoy the Turkish Hamam with heated marble (which is the best thing ever, fyi), milk baths and full body scrubs!
The Standard Miami Beach is also a great hotel for the babymooning couples.
Find it at 40 Island Ave, Miami Beach.
Click to discover rates and availability: Booking.com | Kayak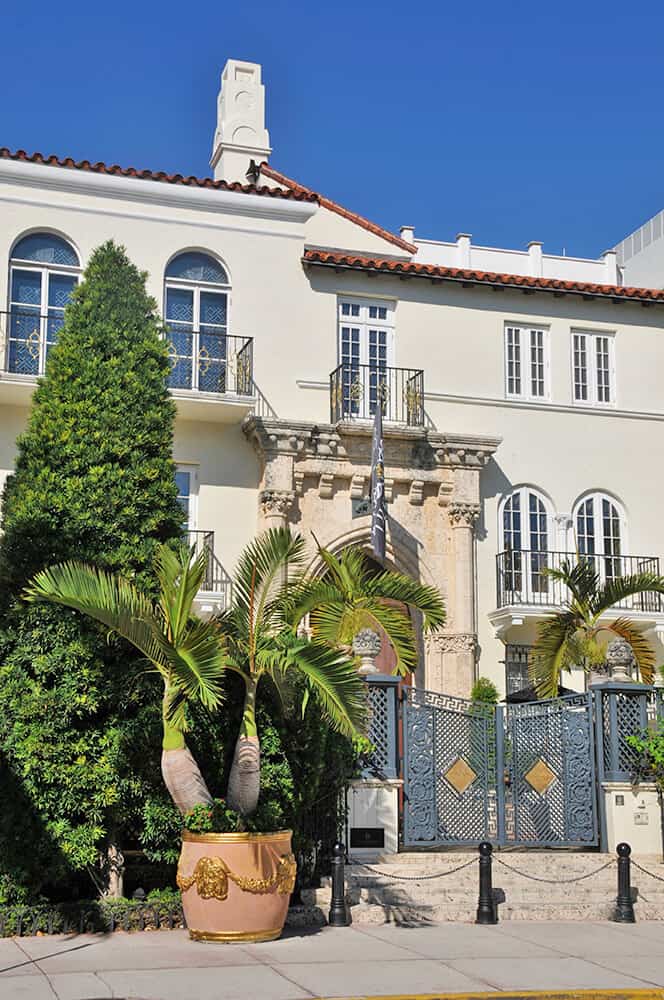 Villa Casa Casuarina – Former Versace Mansion
Being from Italy, we just couldn't avoid adding the Versace Mansion to our list of the best places to take pictures in Miami!
The former Versace mansion is now a luxury boutique hotel, the Villa at Casa Casuarina. While you can definitely take pictures of the mansion from the outside, staying here will allow you to visit every corner of this place.
Between the elaborate window frames, mosaic pool and tiled courtyard, any place is great for that special Instagram shot!
Find it at 1116 Ocean Dr, Miami Beach.
Click to discover rates and availability: Booking.com | Kayak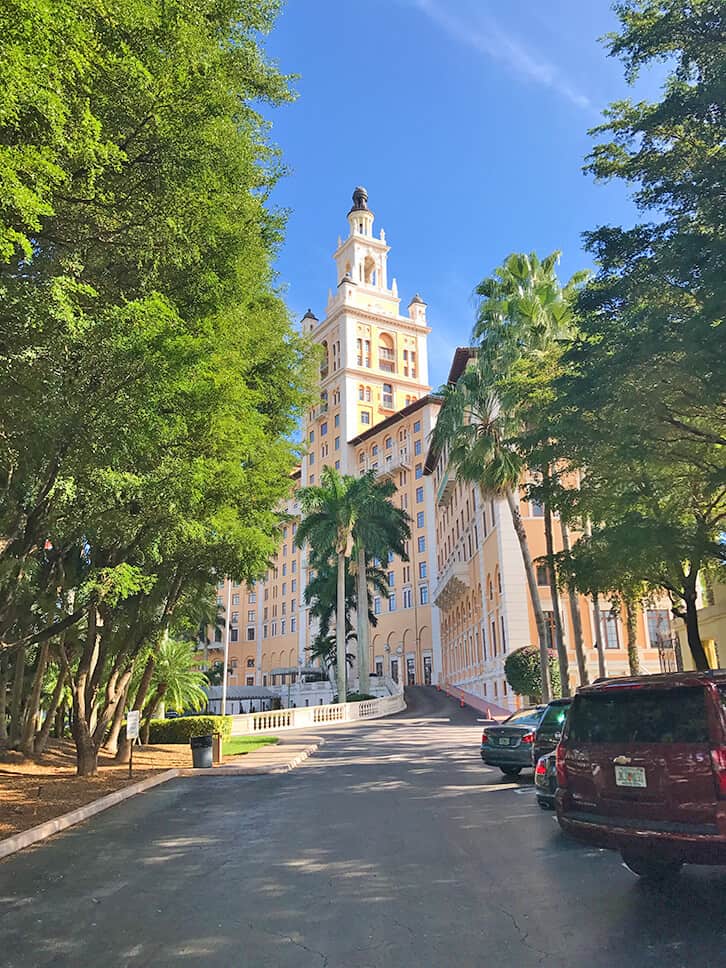 Biltmore Hotel
Are you looking for something different from all the oceanfront hotels in Miami?
The Biltmore Hotel in Coral Gables might be the perfect place then!
Dating back to 1926, this historic building that looks a bit like one of the castles in Ireland where we spent the night, is pretty close to the Miami International Airport.
Its clock tower is the perfect background for spectacular Miami pictures with a twist. And you won't even have to give up on the bikini shots!
The Biltmore has a huge outdoor pool with cabanas, hidden among acres of lush tropical landscape.
You'll get tons of photo ops with that Miami aesthetic which doesn't end in the usual beach shot. Amazing, isn't it?
Find the Biltmore Hotel at 1200 Anastasia Ave, Coral Gables.
Click to discover rates and availability: Booking.com | Kayak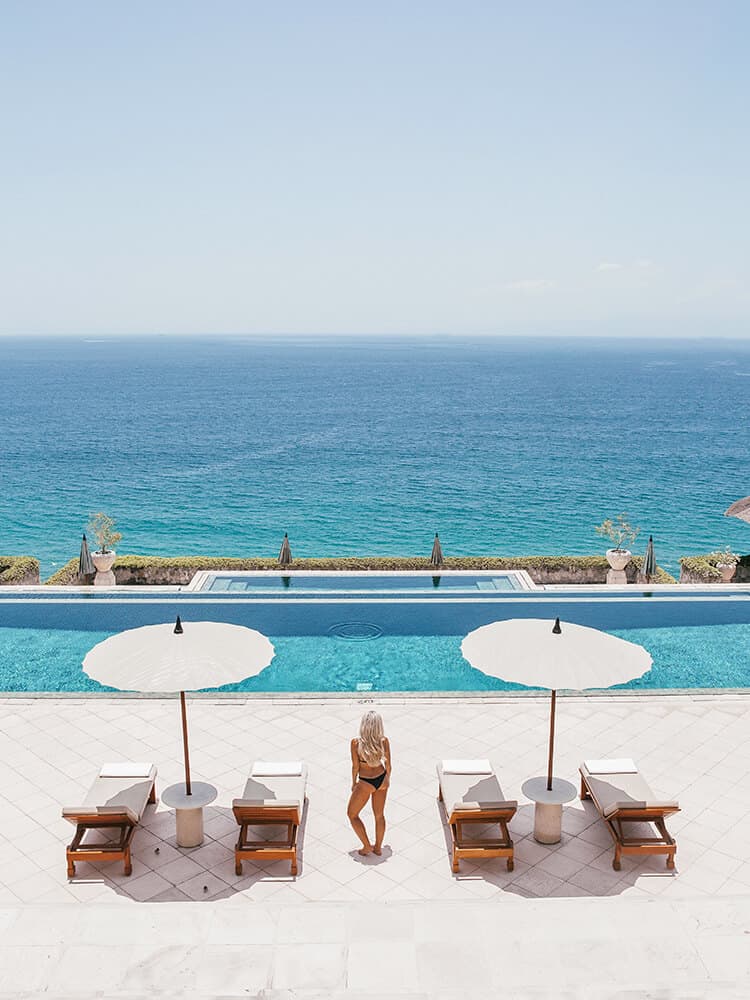 Discover the Most Instagrammable Restaurants in Miami
Restaurants aren't just a place where you go to eat.
In cities like Miami or London they can be super instagrammable spots.
Some of the restaurants in Miami and Miami Beach are fun, easygoing, very colorful and can be perfect if you are planning a unique photoshoot.
Let us show you all the cool restaurants where you can shoot that perfect Miami pic!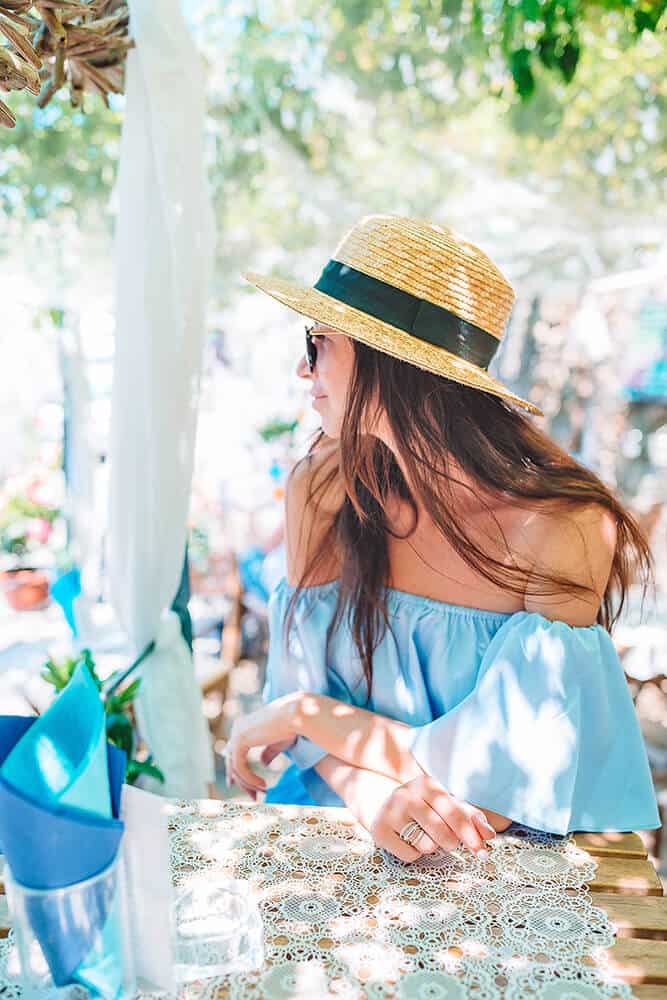 Broken Shaker Cocktail Bar Miami Beach
The Broken Shaker is a popular cocktail bar in Miami Beach, located inside the boutique Freehand Hotel.
Consider it for a hipster photoshoot: they have a boho vibe thanks to their leafy trees and mismatched furniture.
If you are planning to shoot here at night, they have cute fairy lights outside that you will absolutely love!
Find it at 2727 Indian Creek Dr, Miami Beach.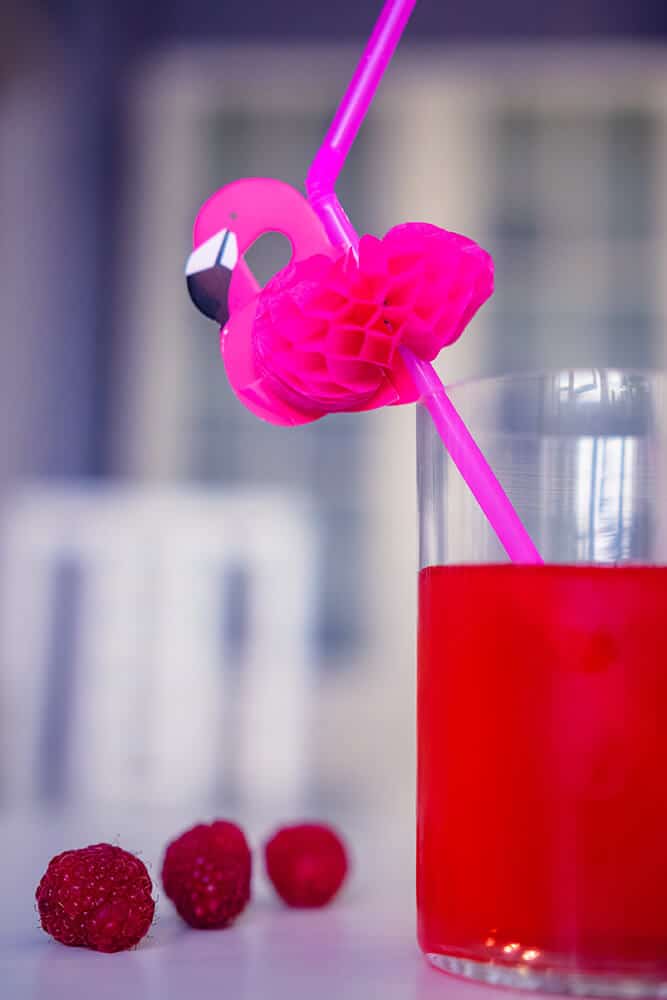 Dreamer Miami
Dreamer Miami is… anything flamingo. And tropical vibes!
This juice bar serves healthy juices and colorful drinks. Not only that, it's also one of the best places to take pictures in Miami.
Especially if you absolutely love pink flamingos, tropical flowers and an artsy shop.
There are 3 locations in Miami: all gorgeous and super instagrammable.
The most crowded (and maybe iconic) one is at 100 Collins Ave #C-3.
Juvia
Juvia is a great rooftop bar and restaurant in Miami Beach where you can take great pictures.
The photographers who want to shoot the Miami sights from above will have better chances at night, with all the lights on.
The skyline seen from Juvia is in fact gorgeous!
Those looking for instagram spots in Miami to populate their feed with food and drinks should visit during the day.
At Juvia there's a nice natural light outside, so you can take spectacular selfies or pictures.
Even if you're not an experienced photographer!
The Garden House Restaurant SOBE
The Garden House restaurant is a cozy place, serving Colombian food in an easygoing environment.
While they have a plant wall which includes the restaurant sign, we suggest you try also taking different photos of your food.
Close up with your camera on the table, covered with delicious servings. Then just reach out and grab a bit of food or your glass.
The picture will look very dynamic and super interesting!
Find The Garden House restaurant at 710 Washington Ave Suite 15, Miami Beach.
Big Pink
One of the cool photography spots in Miami is… completely pink. The name says it all!
This retro diner serves instagrammable food, which is also great if you are visiting Miami on a budget.
They have over 200 menu items so you definitely won't have to worry about not finding something you like!
Sit outside during the day for the best pictures: the light will be much better!
Find the Big Pink at 157 Collins Ave, Miami Beach.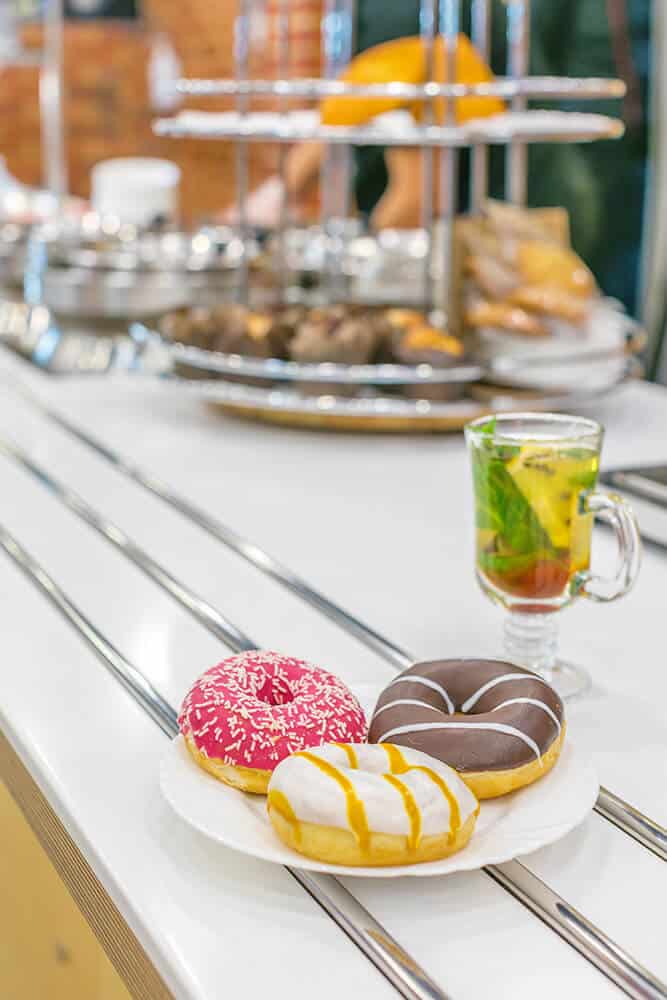 The Salty Donut
This is by far our favorite donut shop in Miami.
Not only that: it's located in a super instagrammable area and sells super cute donuts or lattes.
Not far from The Salty Donut you'll find one of the popular butterfly wings mural in Wynwood.
You can also just buy a box of donuts and then walk around, using them for different kinds of shots.
Just remember to eat them fresh because they are absolutely delicious!
Our favorite donut at The Salty Donut is Maple + Bacon. There's nothing ever remotely similar in Italy!
Find The Salty Donut (Wynwood) at 50 NW 23rd St #112, Miami.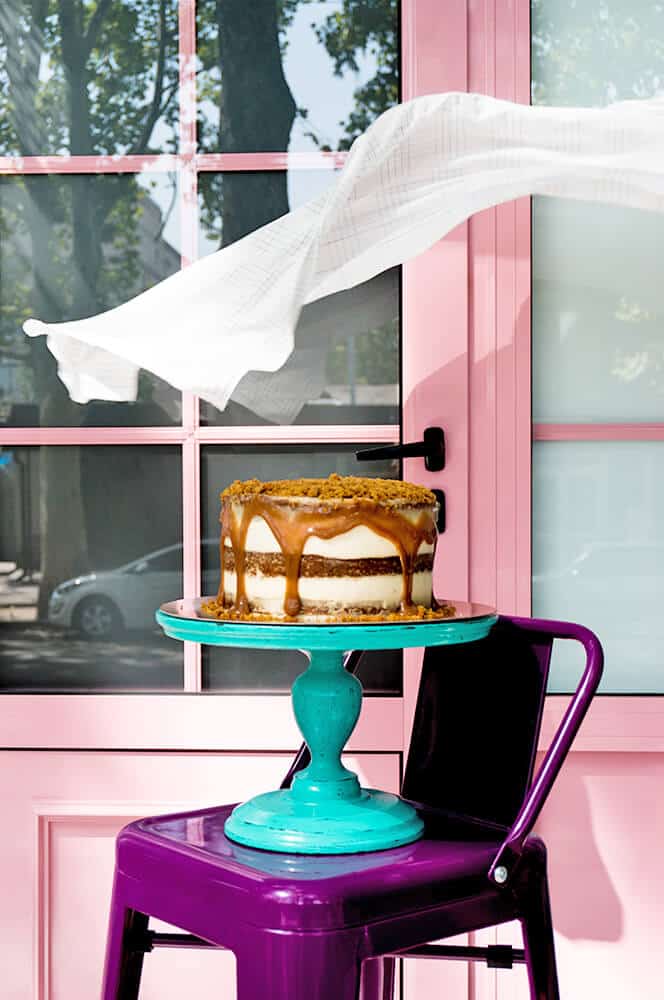 Casa Florida
The one spot in Miami that offers so many photo ops is Casa Florida.
If you love pastel colors, unique shots and a hipster vibe, by all means, add it to your itinerary because you're going to love this place!
Among the best photography spots inside Casa Florida, there's one vintage bus and a completely pink tiki bar that is perfect for that splash of color on your feed.
Because there are so many insta spots, it's quite easy to take nice pictures even if you're not an expert photographer.
Make sure to reserve a table or go there during the week, in the afternoon. It should be less crowded!
Find Casa Florida Miami at 437 SW 2nd St, Miami.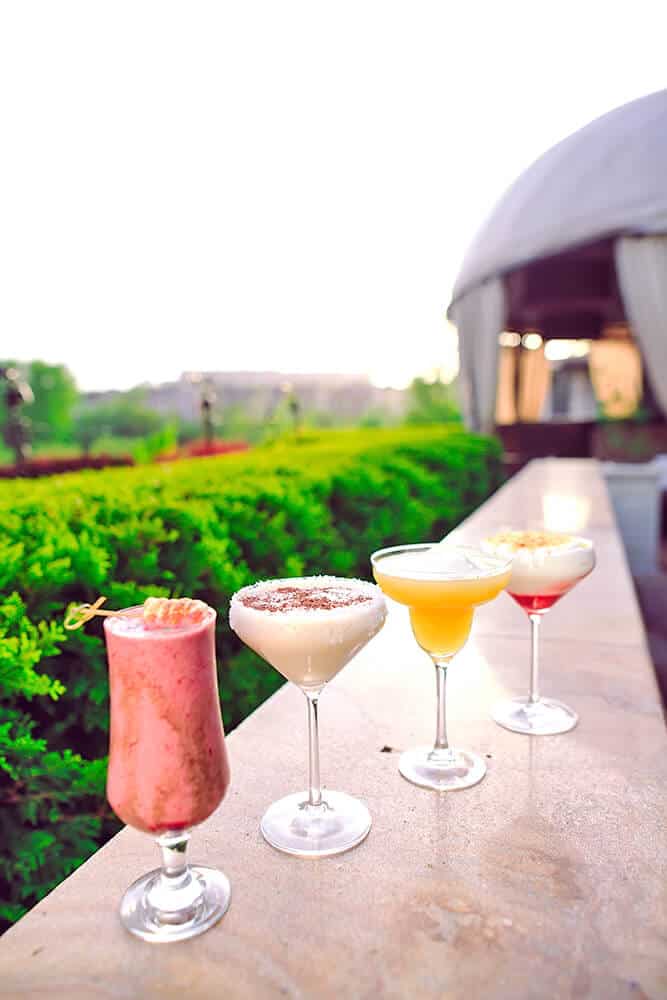 Sugar Rooftop bar at EAST Hotel Miami
On the 40th floor of the East Miami Hotel in Brickell City Centre there's an amazing rooftop bar.
The lush garden setting and the views of the Miami skyline are absolutely romantic.
It can also be a great place for an anniversary photo shoot.
Beware: it can be a bit crowded at night!
Find the Sugar Rooftop Bar at 788 Brickell Plaza #40, Miami.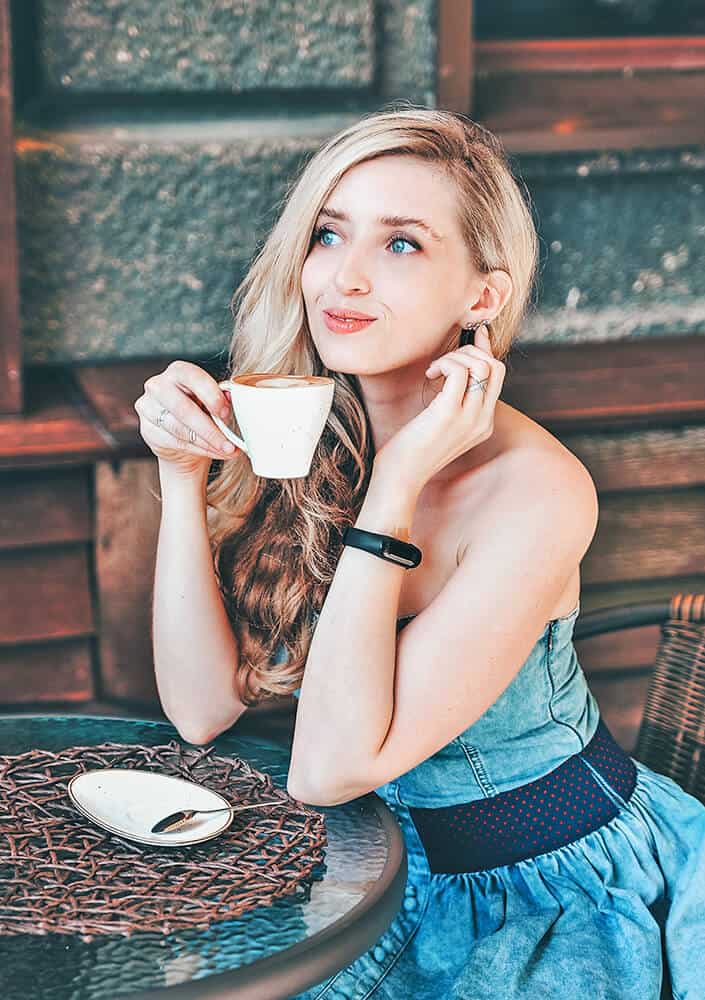 Crema Gourmet Espresso Bar (Coral Gables)
Looking for a hipster, instagrammable coffee place? Stay away from the usual Starbucks and head over to Crema Gourmet Espresso in Coral Gables!
Dark wood and bricks are perfect for many photo ops. The coffee-in-hand shot is absolutely a must do.
But make sure to also put to use the dark wood table!
Spruce up your lattes and reach over to take a cup. If you shot from above, with a different point of view, the photo will be amazing!
Find the Crema Gourmet Espresso bar at 1601 Washington Ave, Miami Beach.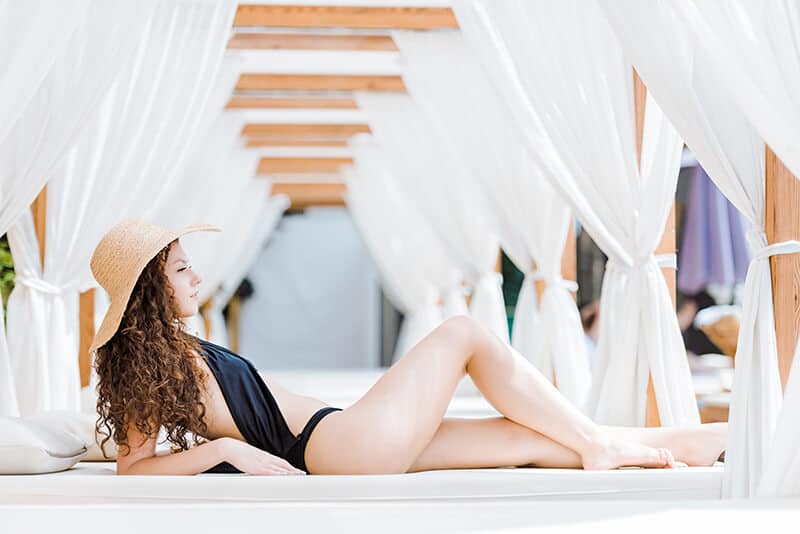 Cool Miami Instagram Spots You Didn't Think Of
Many places in Miami are either overlooked or underrated.
While everyone rushes to the gorgeous beaches or to the lifeguard stands to take pictures… there's so much more!
That is why lots of photography spots in Miami can be considered "secret" or "off the beaten path".
They turn out to be interesting and way less crowded.
The following Miami attractions can be great photoshoot sets. And you can easily add them to any itinerary, even a super short one.
We hope our list will provide lots of creative ideas!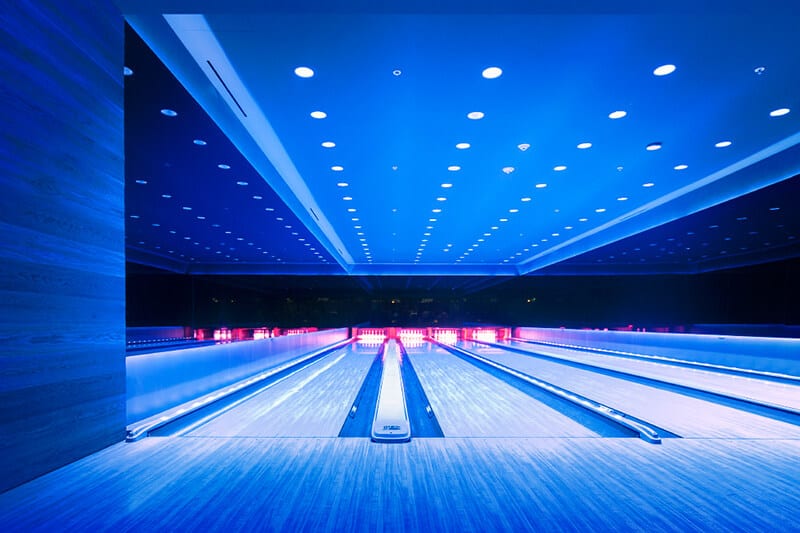 The Basement Miami
When we first visited The Basement Miami, it felt like being back in Japan.
Places like this are super common in Tokyo!
Imagine a bowling alley that doubles as a skating rink and as a nightclub. Add a sprinkle of sci-fi vibe thanks to the dramatic lighting and projection effects.
Boom! You have the perfect instagram spot in Miami that isn't the usual beach!
Find The Basement Miami at 2901 Collins Ave, Miami Beach.
Villa Vizcaya
According to many couples, Villa Vizcaya is one of the best places to take pictures in Miami. Me and Al actually love to go there because the gardens are absolutely romantic!
The former estate of James Deering is definitely something out of a fairytale.
You can visit both the mansion and the gorgeous gardens with the same ticket.
Unlike other Miami attractions, visitors can take as many photos as they want while visiting Villa Vizcaya.
Pre-purchasing your tickets online is now mandatory. Adult tickets will cost you $25, while children from 6 to 12 will pay $10.
USA military veterans and active duty US military personnel (bring your ID!) can visit for free.
Tip: Make sure you get there as soon as they open in the morning to avoid the crowds!
St Bernard De Clairvaux
St Bernard De Clairvaux is the one place you wouldn't expect in Miami.
An authentic monastery dating back to the 12th century and built in Spain.
It was dismantled and shipped over to the US. How awesome can this be?
The arched corridors are just the same as the ones we have explored while visiting Manchester. Chetham's Library has such a similar setting!
You can either plan a medieval photo shooting or just take interesting pictures while walking around. The courtyard is stunning!
In case you are thinking of a bridal, sweet 16, engagement or maternity photo shoot, there's a $250 fee. Otherwise… you can take as many pics as you want!
Find this amazing Spanish Monastery at 16711 Dixie Hwy, North Miami Beach.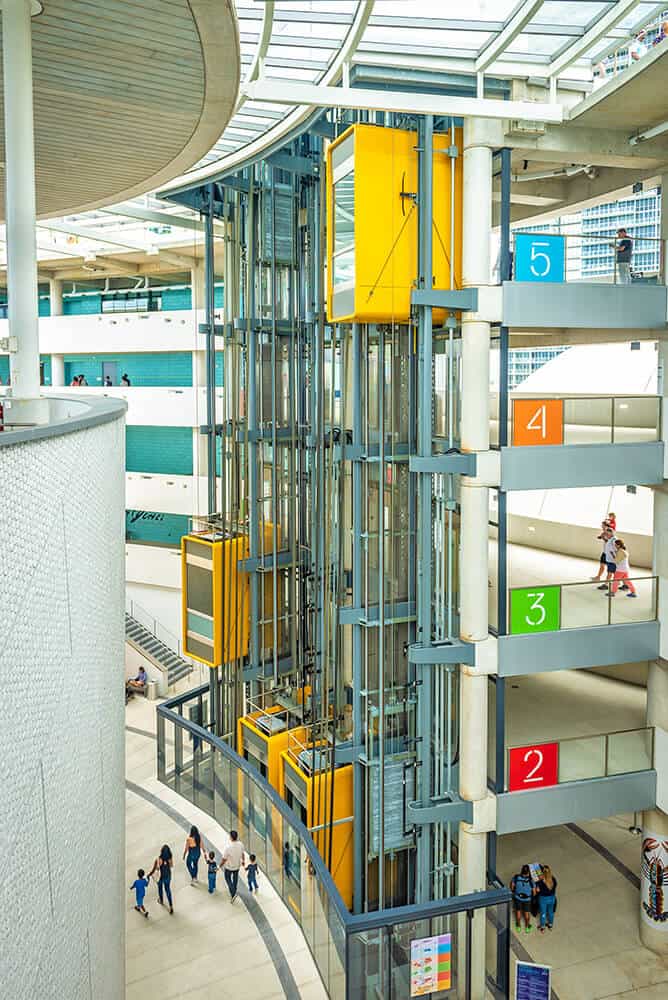 Phillip and Patricia Frost Museum of Science
The Frost Museum of Science is by far one of our favorite places in Miami!
Not only it's super interesting: there are lots of cool instagrammable spots!
Spending at least 3-4 hours at this museum is mandatory.
You will have a lot of fun exploring all the exhibitions and the three-story aquarium.
Once you get to the Power of Science exhibit make sure you spend some time posing in front of the huge fish tanks.
Your pics will look amazing and super professional!
Another cool spot is the roof. Sounds weird? It isn't! There are exhibits also on the roof, which include live animals you can see up close.
The view is also amazing: you'll get nice pictures of the Miami skyline.
Note: Adult tickets will cost you 29.95$.
Find the Frost Museum of Science at 1101 Biscayne Blvd, Miami.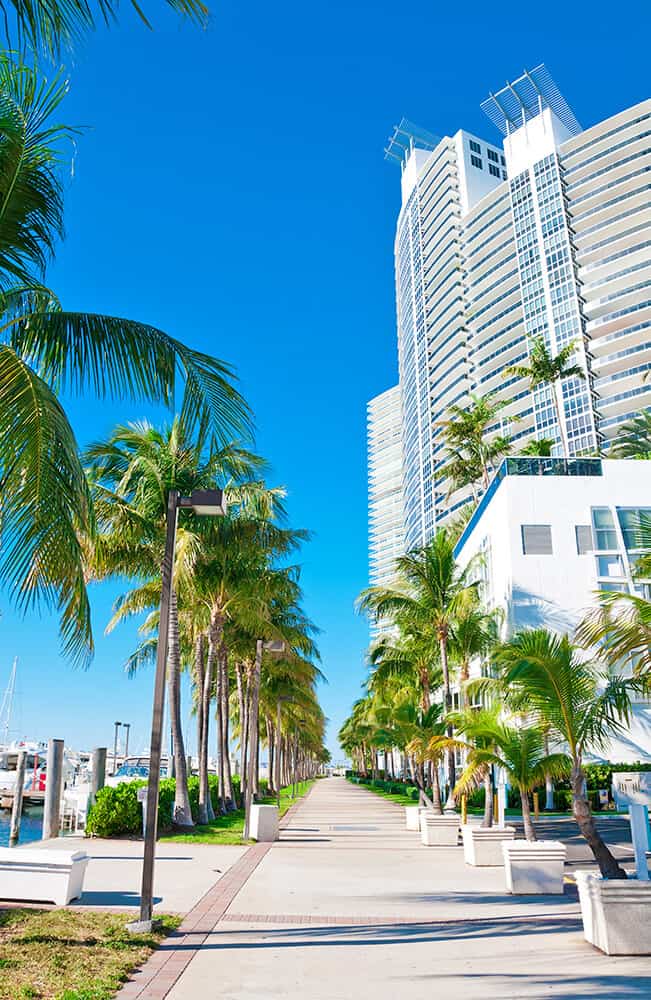 Maurice A. Ferré Park
We walked through this beautiful Miami park to get to the Frost Museum of Science. You're basically bound to see it as they're super close.
Before or after you visit the Museum, stop to take a few photos!
The rows of palm trees framing the skyscrapers in the background are the perfect place for a photoshoot. They're great at offering the tropical vibe you'd expect from a trip to Miami.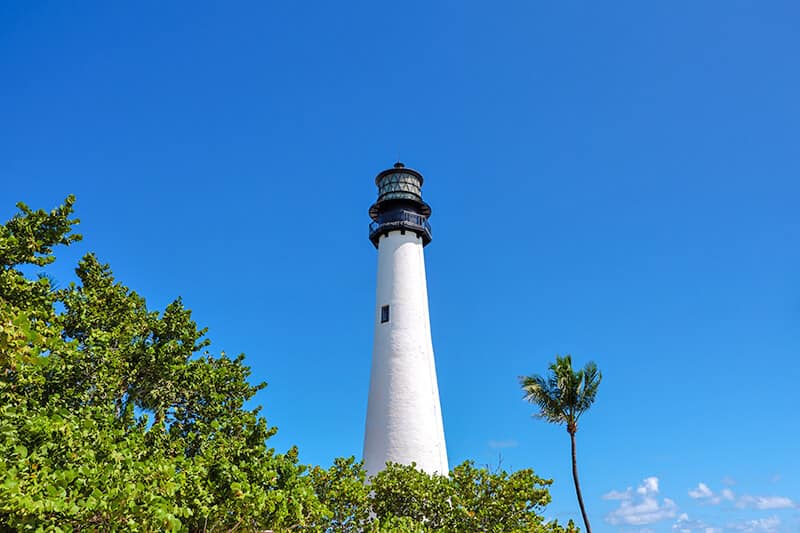 Cape Florida Lighthouse / Bill Baggs Cape Florida State Park
One of the most instagrammable places in Miami dates back to 1825.
You should add it to your Miami bucket list, because it's the only lighthouse in South Florida!
The Bill Baggs Cape Florida State Park is an amazing park where you can take a lot of great photos.
We visited in the morning on a week day and there was almost no one else around. The locals told us that it can be pretty crowded on weekends.
Apparently it's a popular picnic spot!
Entrance tickets are fairly cheap, only $8 per vehicle.
There's also a bonus: there are manatees roaming the area!
We saw a super cute one next to the Cape Florida Lighthouse!
Find the Bill Baggs Cape Florida State Park at 1200 Crandon Blvd, Key Biscayne.
Click to watch our Bill Baggs Cape Florida State Park Video Tour!
Venetian Pool
The Venetian Pool in Coral Gables is considered one of the most beautiful swimming pools in the world. Make sure you add it to your list of insta-worthy places in Miami!
Dating back to 1924, it's the only swimming pool on the National Register of Historic Places. There are also quite a lot of photo opportunities between the caves, the stone bridges and the waterfalls.
Non-resident rates for adults (over 13 years old) are $15, while children from 3 to 12 will pay $10.
Because the Venetian Pool won't sell any more tickets once it has reached its maximum capacity, make sure to pre-purchase yours in advance.
You can do so here.
Find the Venetian Pool at 2701 De Soto Blvd, Coral Gables.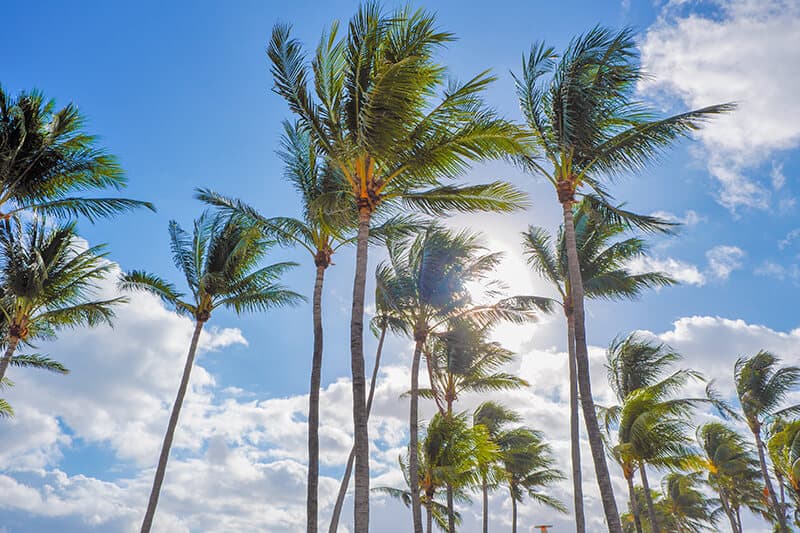 Fairchild Tropical Botanic Garden
This 83-acres garden is one of the best photoshoot locations in Miami for pretty portraits.
The whole place collects rare tropical plants and is thus perfect for any Instagram shooting. You'll get the tropical vibe, but it will be way less crowded than Ocean Drive!
Day tickets to the Fairchild Tropical Botanic Garden will cost you $24.95. Children from 6 to 17 will pay $11.95, while those under 5 can visit for free.
Find them at 10901 Old Cutler Rd, Coral Gables.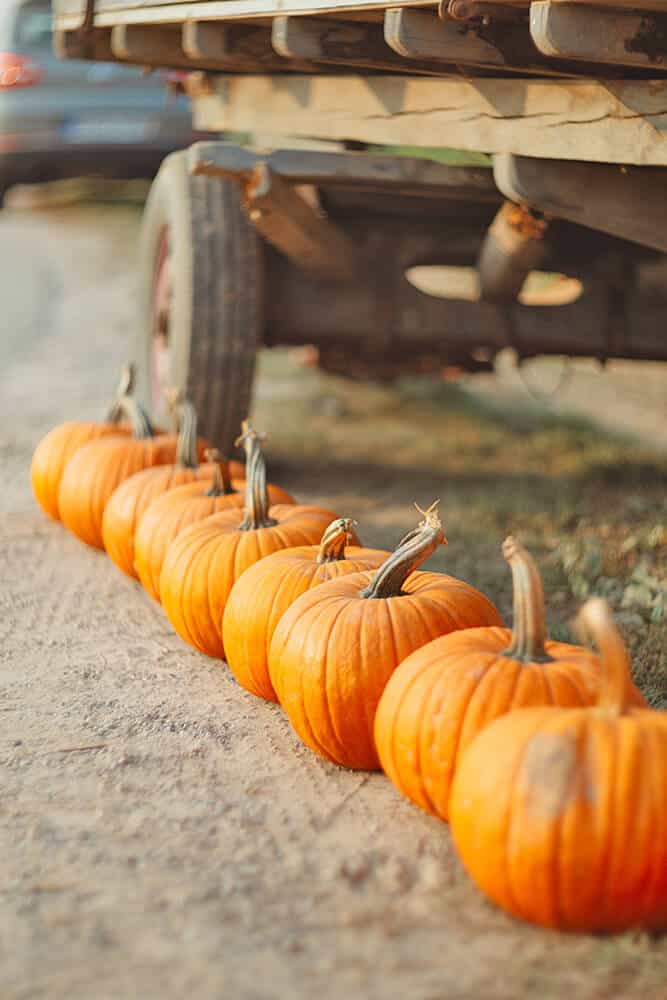 The Berry Farms
Miami's own pumpkin patch awaits you at The Berry Farms!
One of the best places to take pictures in Miami in fall and Halloween.
Well, to be honest we believe it's gorgeous all year round. But we live in the countryside so we're biased!
There are so many photo ops at The Berry Farms in Miami that you'll want to stay a few hours.
Grab an ice cream at the ice cream parlor, or wander through the sunflower field. You can even take a few photos wearing cowboy hats and boots next to a big tractor!
Tickets will cost you 11$ ($9 for children) during the week, when it's way less crowded.
On weekends prices go up, adult tickets are $17 and children will pay $13.
Because The Berry Farms are quite crowded on weekends, go during the week for a quiet photoshoot.
Find them at 13720 SW 216th St, Miami.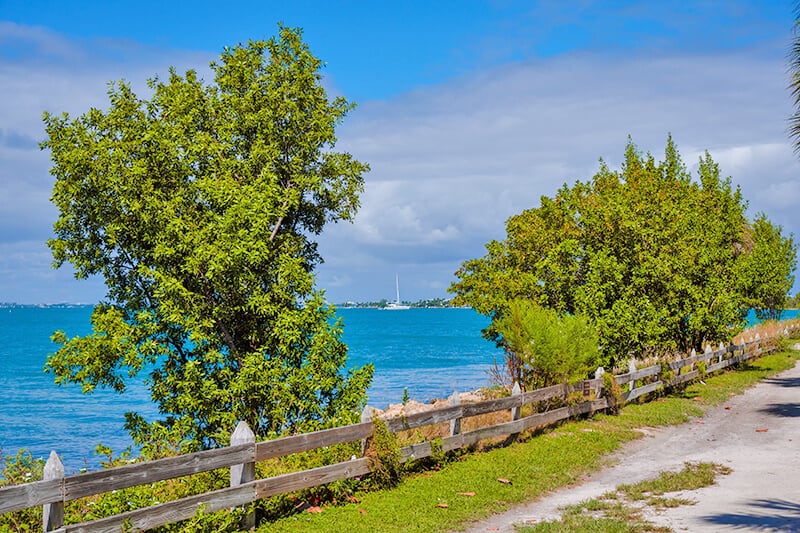 Barnacle Historic State Park
This historic State Park is located on the shore of Biscayne Bay. It is one of the great photoshoot places in Miami for those willing to pose for unique pics.
The Barnacle offers a glimpse of frontier life during the Era of the Bay.
Left in its natural state, it looks like a wild jungle. There are tree-lined paths and rocking chairs on a gorgeous front porch.
Entrance fees are pretty cheap at only $2 per person.
Plan to spend a few hours here: you can also have a picnic on the lawn!
Find the Barnacle Historic State Park at 3485 Main Hwy, Miami.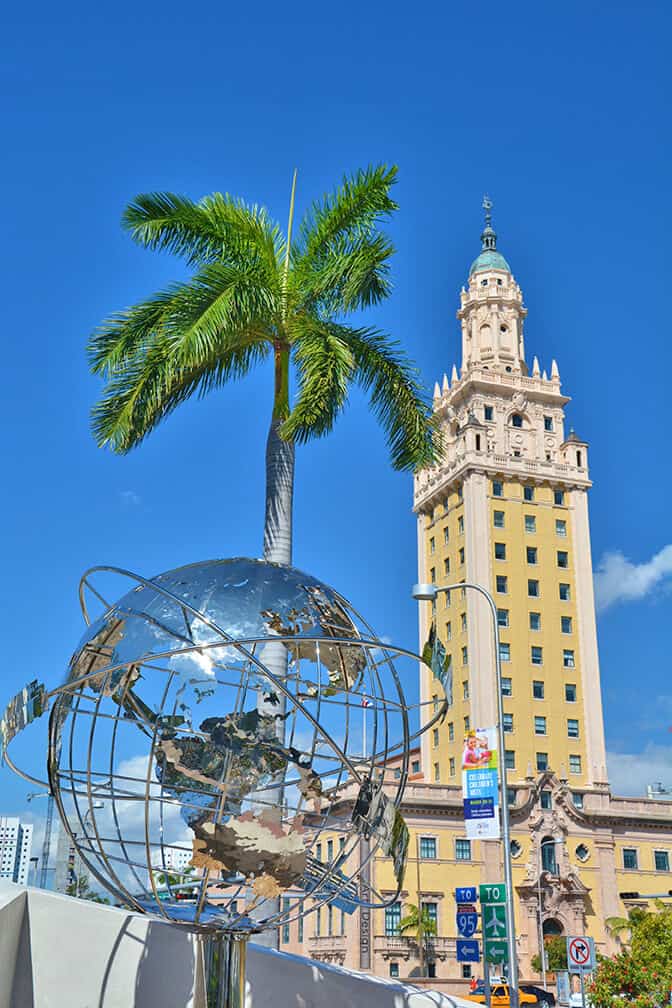 Freedom Tower
This iconic building in Miami can be a great place for your photoshoot.
Opened in 1925, it became a US National Historic Landmark in 2008.
It is currently used as a contemporary art museum and central office to different disciplines, associated with Miami Dade College.
The Freedom Tower is a beacon representing freedom for Cuban-Americans. Some even address it as "Miami's Ellis Island".
Because this place in Miami is super close to Bayside Marketplace, you should add it to your list.
You'll be able to take pictures of both spots on the same day!
Find the Freedom Tower at 600 Biscayne Blvd, Miami.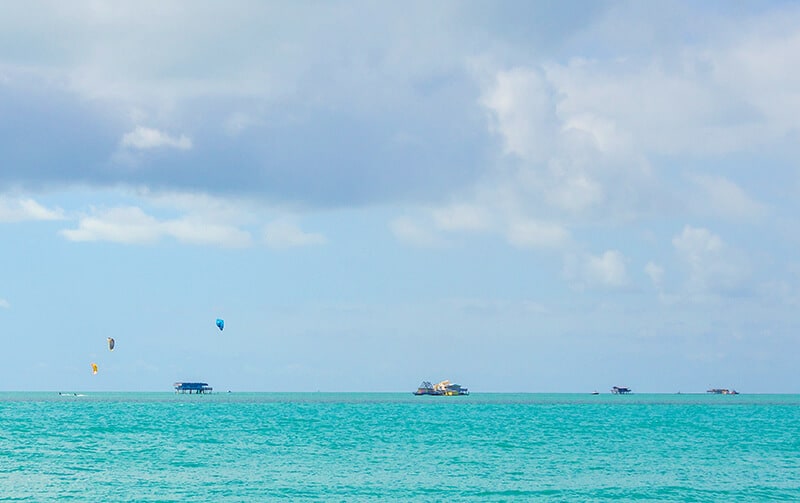 Stiltsville
Stiltsville is one of the interesting places in Miami not many people know about.
Once you get to Key Biscayne you will see a bunch of wood houses in the middle of the ocean.
They have been built a mile South of Cape Florida, 10 feet above the water.
Back in the 50's and 60's they used to be a popular social spot for those living in the bay.
Now you can use them as a great background for your photoshoot!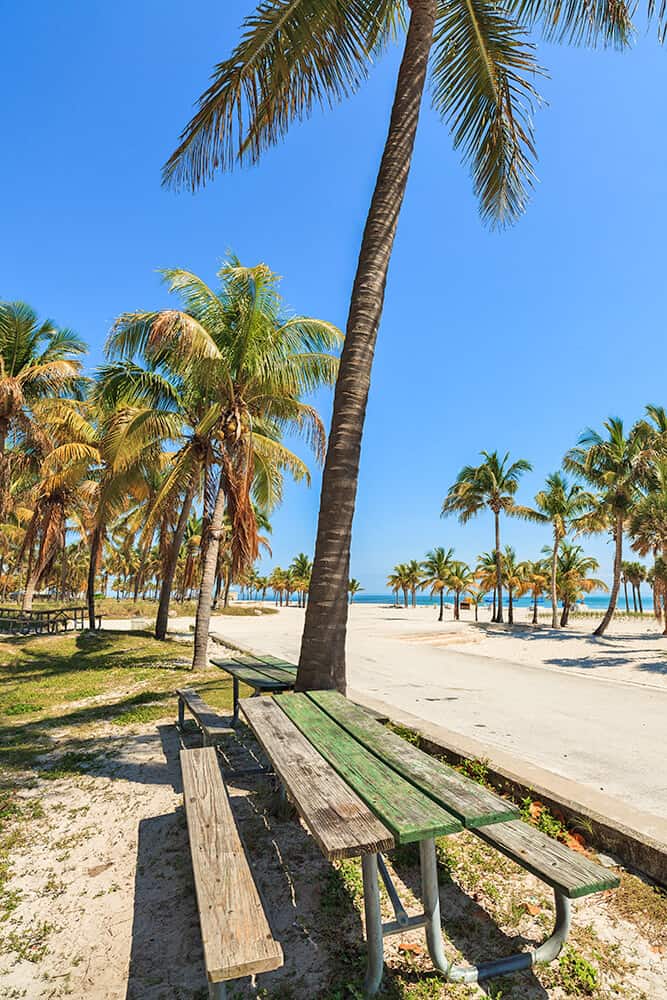 Crandon Beach Park (Key Biscayne)
Crandon Beach Park is a pretty quiet and relaxing spot to take pictures in Miami.
You can stop here on the way to Bill Baggs Cape State Florida Park.
The 800-acre oasis on Key Biscayne was once a coconut plantation. Now you will find a picturesque beach, a golf course, a nature center and a lovely marina.
There are a lot of interesting photo ops, especially if you visit early in the morning.
It gets busy during the day but in the middle of the week Crandon Beach Park is less crowded.
Bonus: at the Nature Center you can see baby sea turtles up close!
Find Crandon Park at 6747 Crandon Blvd, Key Biscayne.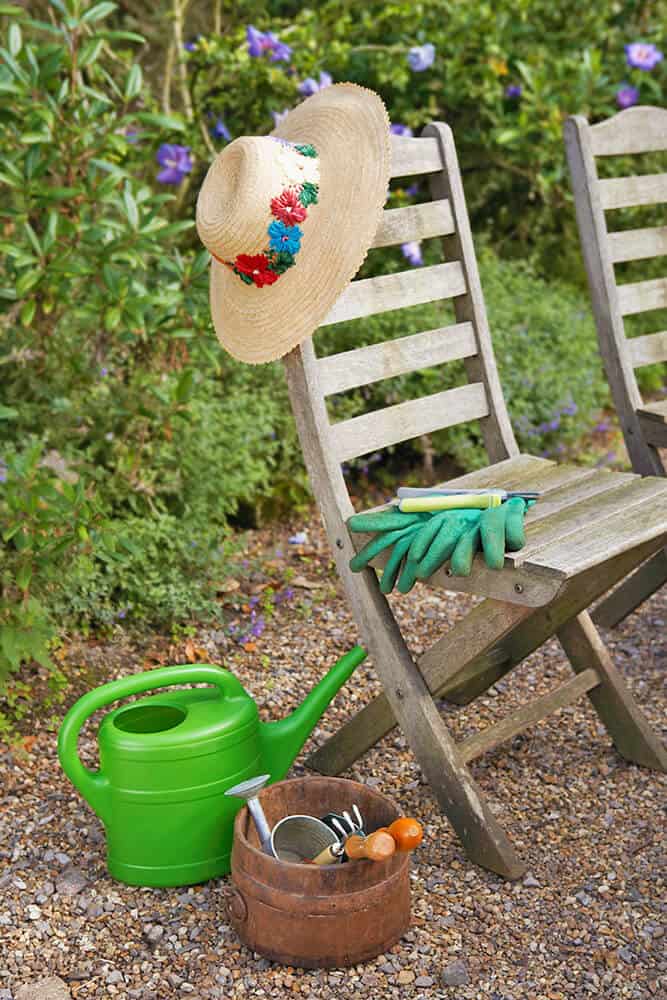 Midtown Garden Center
We immediately fell in love with this hidden gem in Miami!
Blame it on the fact that we live in the Italian countryside. So it basically felt like home!
Midtown Garden Center is a vintage gardening centre in the heart of Midtown. There are so many instagrammable spots and props.
Visiting for lunch is great also because they have a juice bar and a taco stand. Two more places to take great photos!
Note: You can take a few selfies and visit the garden for free. Yet if you are planning an elaborate photo shoot, you will need to contact them in advance. They will charge you according to the scope of your project.
Find the Midtown Garden Center at 2600 NE 2nd Ave, Miami.
You might also like:
– 30 Unique Florida Souvenirs you'll love
– Disney World Tips for Beginners
– Best cheap eats at Disney World in Orlando
– Road Trip from Miami to Key West
– Fun things to do in Miami for Couples
– USA Babymoon Ideas on a Budget
– 56 Gorgeous Places to take Pictures in Miami
– Florida Packing List for Every Season
– Florida off the beaten path: 8 cute towns
– 12 Florida Bucket List Places to Visit
Pin it for later!
This post is also available in:

Italiano