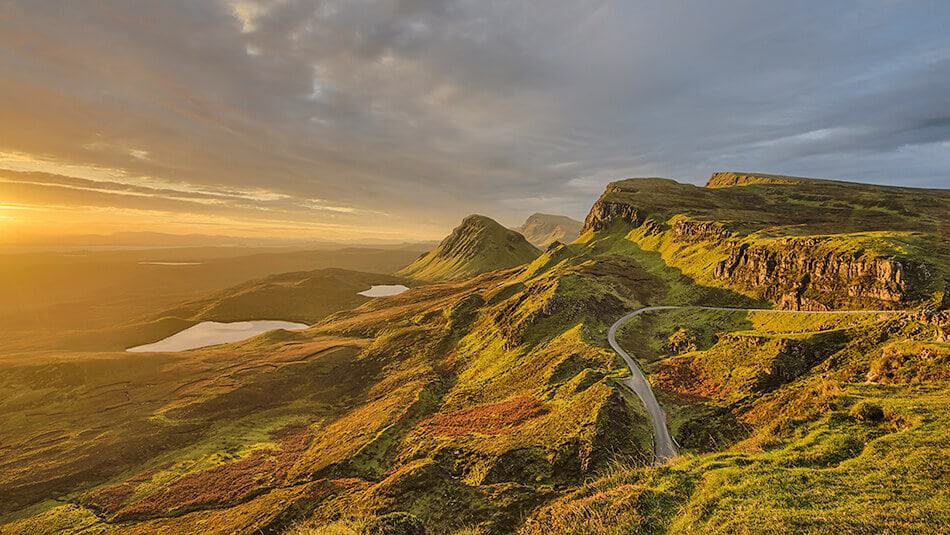 Scotland is one of those places that had been on our bucket list for quite a few years already. The beauty of nature, the majestic castles and the fierceness of the highlanders are awe-inspiring. Yet there was never enough time to plan a trip to Scotland. Even because let's face it: at least for us living in Italy, Scotland is quite expensive! So when we found cheap flights, we immediately booked 4 days in Scotland. Of course it's not enough to see everything, but this trip will let you enjoy a nice taste of the impeccable beauty of Scotland. We planned the perfect Edinburgh itinerary, and while we have been driving, it's definitely doable also using public transport. Honestly, exploring Edinburgh without a car is much better! Let's see how we spent our 4 days in Edinburgh: hopefully this will offer a few nice ideas for your Scotland itinerary!
4 days in Scotland: landing in Edinburgh
Our flight from Naples to Edinburgh lasted a bit more than 3 hours. I must admit that we spent it re-watching Braveheart (cliché, I know!) and reading our Lonely Planet Scotland guide. We were kind of giddy and excited, until we landed in Edinburgh. A chilly wind and some rain welcomed us. Definitely something we're not used to: thank gosh we had packed for winter!
While the best time to visit Scotland is definitely spring (or autumn), you must be aware of the fact that it will probably be chilly. At least it was chilly to us but then again, you know that Naples spoiled us! Just to make sure, we always check the weather forecast the day before we go on a trip. That way we will know what we should expect.

A tip on Scotland for beginners is to pack light. Not only because hotel rooms are small, but also because you might have to drag your luggage around and it won't be nice. Me and Al had packed light (thank you thermal underclothes) and we've had to climb a lot of stairs at the airport. Elevators were available for the disabled, but overall you will need to be ready to walk quite a lot with your luggage. Opt for a spinner or for a comfortable backpack!
Getting from Edinburgh Airport to the city center is super easy. There's a tram stop right outside the airport. Trams run quite often and will get you into the city in 35 minutes. Of course it depends on where you are lodging but to be honest public transport was almost as easy to use as during our trip to Japan: enough said!

Driving in Scotland can be difficult if you're not used to drive on the left. Edinburgh parking zones are also pretty expensive: sometimes finding a parking spot can be a nightmare, and some other times you might end up paying like 40£ just because you've spent too much time exploring the area. True story.
Using the public transport can help you to save some money and to avoid lots of stress.
Of course if you absolutely want to rent a car, I'm sure you don't want to spend all of your budget: there's much better things to do with your money! We have been looking far and wide for the best deals to rent a car in Scotland and ended up on this website. Click to check their budget rates: they have agencies in Edinburgh and Glasgow!

Planning a road trip?
Click to download our FREE printable
ROAD TRIP CHECKLIST!
Edinburgh itinerary Day 1: Royal Mile and Edinburgh Castle
People identify the Royal Mile with the road that goes from Edinburgh Castle to the Holyroodhouse Palace. The streets that make up this iconic part of Edinburgh are Castlehill, the Lawnmarket, the High Street, the Canongate and Abbey Strand. It is the busiest tourist street in the Old Town.

While at first you might believe that you can only spend a few hours here, since you only have 4 days in Scotland, I really think it needs at least one full day. In our case we also spent part of our second day in Edinburgh on the Royal Mile! According to what you want to see or do, you will need more or less time to visit this part of the Old City. Your Scotland itinerary wouldn't be complete if you'd ever decide to skip the Royal Mile in Edinburgh.

The most important thing of this first day in Edinburgh is that you want to be at Edinburgh Castle (tickets will cost you US$ 22.43 if you buy them online, and 18.50£ if you buy on site, which means saving about 3$ by pre-purchasing and skipping the line) in time for the One O'Clock Gun. A cannon is in fact fired every day at 01:00 pm (the cannon won't be fired on Sunday, Good Friday and Christmas Day). The L110 Light Gun is fired from Mill's Mount Battery, on the North face of the castle. If you actually want to be there when it's fired (and be able to see something), you'll need to make sure to get to Mill's Mount Battery at least 10-15 minutes in advance. More, if you intend to visit Scotland in summer. If you don't care, you'll surely hear the mighty cannon firing, whether you are visiting Edinburgh Castle or the Royal Mile.

With this in mind, my suggestion is to have an early breakfast, so you can start exploring Edinburgh first thing in the morning.
In case you are a Harry Potter fan like us, there are at least a couple of interesting things you can see on the Royal Mile. You can just add them to your 4 days in Edinburgh itinerary without having to go out of your way.
The first place you should go to is the Edinburgh City Chambers. The current building was originally built as the Royal Exchange. There's no need to buy a ticket for anything, because as you walk inside the courtyard, fronted by an open arcade facing the street, you'll find J.K.Rowling's handprints, not too far away from Annie Lennox' (singer) hand prints. While you're there, enjoy the statue of Alexander the Great taming the horse Bucephalus.

The second "Harry Potter place" on the Royal Mile is The Writer's Museum (free entrance). Here you will find a rare first-edition of Harry Potter and the Philosopher's Stone, featuring anecdotes and drawings by J.K. Rowling. Edinburgh is the world's first UNESCO designated City of Literature. Not only Harry Potter, but also Robert Burns, Walter Scott and Robert Louis Stevenson: it's a pretty interesting visit!

Whether you visit the Writer's Museum or not, another interesting place to go to is located next to the Edinburgh City Chambers. We live in the South of Italy and here one of the most interesting things to see is Naples Underground. Which is why we couldn't wait to visit The Real Mary King's Close (buy the tickets on site at £15.95: they're cheaper!)! In case you didn't know, there's also an "Edinburgh Underground"! Guided tours start every 15 minutes, and you will be able to enjoy this incredible testimony with the help of an actor/guide (audio guides are available in many languages, free of charge). The visit lasts a bit more than 1 hour, enough to explore a warren of streets frozen in time, located under the old Royal Exchange. Both me and Al absolutely loved this tour: it was informative, creepy (are you scared of ghosts?), funny and enlightening all at once!

Edinburgh Castle is located 10 minutes away from The Real Mary King's Close. If you manage to get there early enough, go for a tour in the morning, then walk to the castle to make sure you see the One O'Clock Gun. If you aren't sure you have enough time, visit Edinburgh Castle first, then go back to The Real Mary King's Close!

These I listed here are the main things I always suggest you visit also if you only have 2 days in Edinburgh: don't miss out!

A thorough visit to Edinburgh Castle will take you at least 2 hours. Add 2 or 3 hours to your Edinburgh itinerary only for the Castle: there is so much to see and do and it's yet another very interesting visit!
In the afternoon you can choose between several options. According to your preferences, or to how much you're tired, here are the things you can fit in your Scotland travel itinerary to end your first day in Edinburgh on a light note:

Day 2: Scottish history and royal galore
For this tour I promised you 2 days in Edinburgh, full of history, culture, fun and good food. So since yesterday we visited Edinburgh Castle, today we'll explore the other side of the Royal Mile. The Palace of Holyroodhouse is the Queen's official residence in Edinburgh and the home of Scottish royal history.
First things first: the Palace of Holyroodhouse is always open unless the Queen or the royal family are visiting. For example during the "Holyrood week" (also known as "Royal Week"), usually from June 24 to July 5 Her Majesty the Queen is welcomed in Edinburgh and will hold several ceremonies and garden parties at the Palace of Holyroodhouse, which will be completely closed to the public. To make sure you will be able to visit, check the official website, where there will be timely updates in case the Royal family intends to visit.

Another practical thing I think you should know is that toilets and baby-care facilities are only located inside the Café at the Palace. If you are anything like us, spending entire days exploring, then there's a chance you'll need to use a toilet. There's only one and it was pretty crowded: it can be a bit of a nuisance if you are in a hurry!

Visiting the Palace of Holyroodhouse will cost you £15.00. If you want to combine also a visit to the Queen's Gallery, you'll spend £20.20 per person. Children under 5 will enter for free.
Visits usually last at least one hour. You will be offered a free audio guide (easy to use and with nice voice messages also from Prince Charles), and to get inside you and your belongings will be subject to security checks.
The Queen's Gallery is the place where there are ever changing exhibitions of paintings, decorative arts and rare furniture from the Royal Collection. We decided to skip it, as we already saw a lot of beautiful paintings inside the Palace. If you are interested in seeing original photographies of the Royal family, keep reading: you'll find plenty on the Royal Yacht Britannia!
When you're done exploring the majestic rooms at the Royal palace, head over to Rosslyn Chapel. It is the very first thing we added to our itinerary for 4 days in Scotland! You've probably seen the Da Vinci Code movies or read the books: Dan Brown decided that he wanted the finale to take place at the "most mysterious and magical chapel on Earth" even while he was only writing the first book!

We visited Rosslyn Chapel off season, on a cold morning, and have been warmly (pun intended) welcomed by staff members who were genuinely happy to see us so interested. The fact is that Rosslyn Chapel can be easily listed as one of the best of Scotland. And for a few very good reasons!

Founded in 1446, it is located in the village of Roslin, Midlothian, and easily reached from Edinburgh.
If you want to use public transport, hop on a bus from Edinburgh city center (Lothian service 37). In case you are driving a rented car, follow signs to Penicuik: it's easy to spot the tourist signposts and they have also free parking. If you want to just enjoy the day, you can book a very nice (and reliable) tour to visit Rosslyn Chapel and the Scottish Borders, with a guide who will tell you everything about the myths of the Holy Grail.

While Rosslyn Chapel is tiny, we spent about 40 minutes taking pictures, checking out all the stonework… and having fun with William, the Chapel Cat. William is a sweet, lovely furball who has been a visitor since he was a kitten. He's so famous that they are now selling mugs, books and "Pawsports" with his image!
Because Rosslyn Chapel is a working Church, you won't be able to shoot any pictures inside the chapel, while you can take as many as you want of the gardens and the garden. Please, be respectful when visiting! Turn your phone off, don't talk too loud and make sure you don't disturb those who worship. The fact that Rosslyn Chapel is a working Church also means that it can occasionally be closed for weddings, funerals or other events. Always check their official website before to visit.

Admission to Rosslyn Chapel is £ 9. Children visiting with their family can enter for free.

In the afternoon we decided to visit the Royal Yacht Britannia, one of the highest rated attractions in Scotland. The Britannia was the first Royal Yacht to be built with ocean-going capacity. Built in 1952, it has sailed until 1997. Since then it has been welcoming visitors as a huge, and unique museum on water in Edinburgh.

Tickets for the Royal Yacht Britannia cost £ 16.50 and include an easy to use audio handset. Tours are always self-guided, and will usually take about 2 hours. There's lots to see and we had so much fun, also because this visit will actually show you the hidden side of the Royal Family, through pictures, anecdotes and interesting pieces of information about the Royals as they enjoyed some rare private moments.

We visited during the Cuddly Corgi Treasure Hunt (Jan 25 to April 30, 2019) and it was so much fun! Cuddly Corgi had been hidden on board and you'd find them in the most unthinkable places (spoiler: there was a "hurt" Corgi also at the infirmary and he was so cute!). Actually it is a family activity but everyone took part in the hunt and loved it!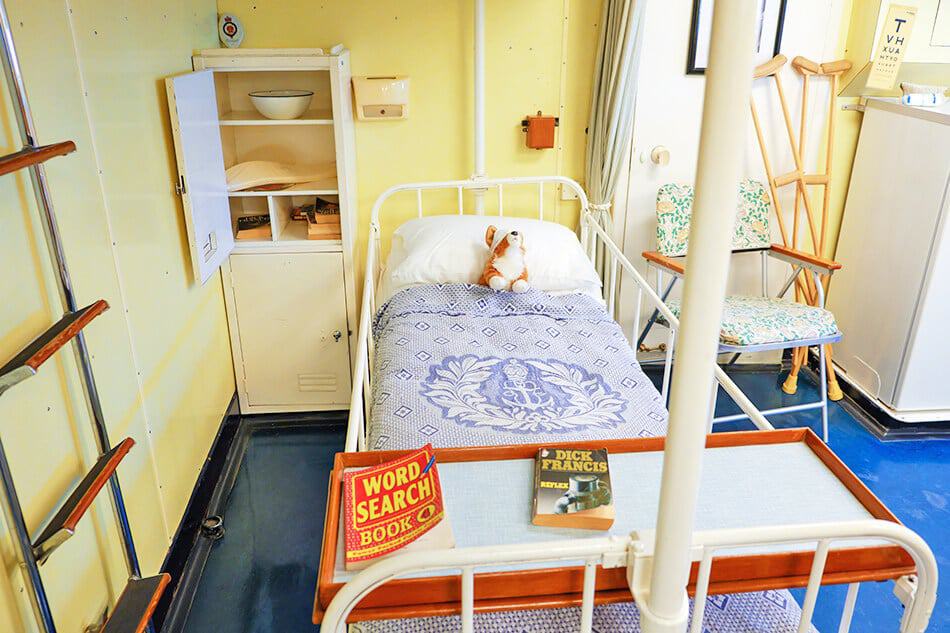 Finding the entrance to the Royal Yacht Britannia was a bit confusing. To make sure you don't get lost (we almost did, thank you Al for having a better sense of direction than me), walk inside the shopping center. You will need to get to the second floor in Ocean Terminal. So you have to actually enter the Debenhams shopping centre, and inside you'll find signs guiding you to the entrance.

The Royal Yacht Britannia is a 15-minute drive from Edinburgh city centre. You can get there using a Lothian Bus (number 11, 22 or 35) to Leith. Tickets can be purchased (please have the correct change) from the driver.

Edinburgh vacations Day 3: Exploring the Forth Valley Tourist Route
The Forth Valley Tourist Route is 43 miles long and makes a great Scotland road trip. You should keep your camera at hand at all times, because you'll explore UNESCO World Heritage Sites, some of the most iconic Scottish attractions and amazing castles.

Almost all of the places we have visited can be reached using trains or buses. At the worse you will have to walk a bit. Or you can rent a car only for a day, to explore at your own pace. Another option is booking a private tour. This one for example is a lovely full day tour to explore Stirling Castle, Loch Lomond and the Glengoyne Distillery, from Edinburgh.

Today's first stop was Forth Bridge, an iconic red bridge located next to the cute historic town of South Queensferry. The best place to take pictures of Forth Bridge is the waterfront area at Hawes Pier (you can see it also in our video!), located right beside the bridge.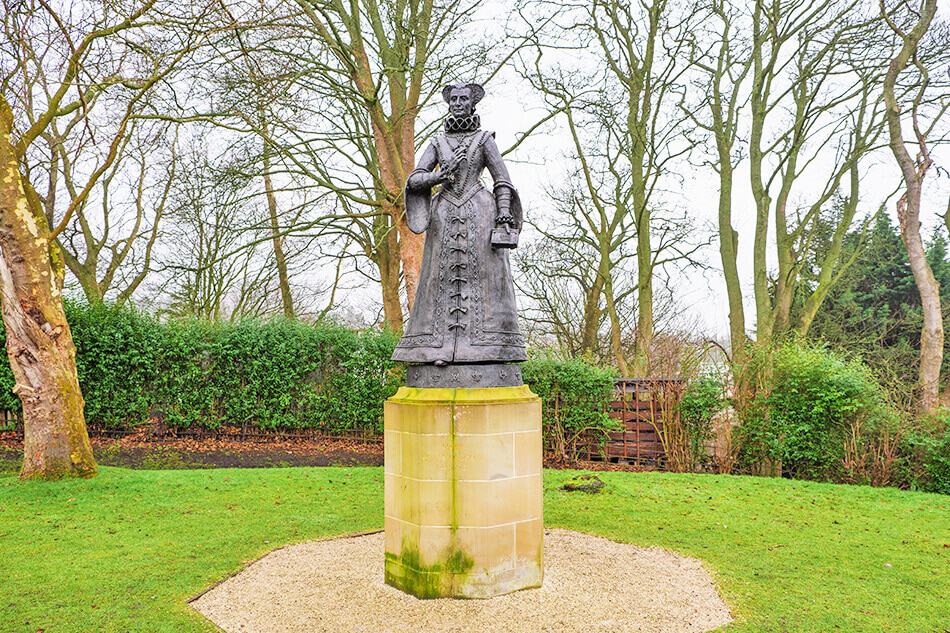 Our second stop on this day trip from Edinburgh was Blackness Castle (adult tickets £6), that you might know from the tv series Outlander. It was the filming location for the Fort William headquarters of Black Jack Randall in the popular series. Another must-see location from the Outlander tv series, on the Forth Valley Tourist Route, is Linlithgow Palace (adult tickets £6), the birthplace of Mary Queen of Scots and James V.

If you have only taken pictures of the previous two sites (as opposed to spending some time visiting the inside), you'll have time to enjoy the Kinneil Museum and Estate (free admission), home to a section of the Antonine Wall World Heritage Site. There are also the remnants of a Roman Fortlet and a 12th century church.
Another short stop for us was The Helix, at Falkirk. If you have kids and are planning 4 or 5 days in Scotland with the warm weather, by all means, stay for a few hours here! This Park has cycle paths, an adventure playpark for children and a splash area!
We actually stopped because we really wanted to see the Kelpies, two 30 foot high stainless steel sculptures by Andy Scott. You might have seen the huge horse-like heads of the Kelpies on my Instagram: they're based on mythical Scottish creatures and are actually impressive! If you have enough time, there are tours (adult tickets £ 7.50) that explore the inside of the sculptures. They start at the visitor centre.

All lovers of virtual reality 3D experiences (we already told you a bit about our VR experience at Universal Studios Japan) will love the Battle of Bannockburn on the Forth Valley Tourist Route! This immersive experience will let you walk around the battlefield and you will actually have to fight to save your life, as the armies of Robert the Bruce and Edward II fight in a recreation of the 1314 event. It is so much fun! To visit you will absolutely need to pre-book your ticket online. It'll cost you £ 11.50.
The last stop of a pretty full day was Stirling Castle. If you are using public transport, don't go there by train. Stirling Station isn't very close to the castle and you'll have to walk quite a bit or call a taxi. On the contrary Stirling Bus Station is within walking distance from the castle!

Tickets for Stirling Castle, one of the most important castles in Scotland, are £ 16.00.
The visit will take you about one hour, but you can stay for a longer time if you want to. There are in fact many interactive activities, also for children, and the chance to dress up like a Lord or a Lady to take some funny selfies! Take your time: it's the last stop of the day!

At Stirling Castle you will have the chance to choose between a guided tour (included in the ticket price, they start every hour between 10 am and 5pm. Find the guide at the well outside Fort Major's house) or an audio tour, using a headset. Audio tours are available in English, French, Gaelic, German, Spanish, Italian and Japanese. You will need to pay an extra £3 to rent a headset.
Day 4: Fife Coastal Route sampler
Since the Fife Coastal Route is quite long (77 miles), we could only have a small taste of it while keeping it a day trip from Edinburgh. This Coastal Route goes from Kincardine to Newport on Tay and traces a path along the Firth of Forth coastline, through beautiful fishing towns and awesome views.

We drove down to South Queensferry (yesterday's route), on the M90, crossing a quite majestic bridge. On the other side you will find lots of signs to the Deep Sea World, a pretty big aquarium, home to hundreds of sea creatures. It is pretty big but tickets can be expensive.

We drove on the highway all the way up to Saint Andrews (it took us about 1:30), a quaint little town packed with history. Here we stopped to take lots of pictures: if you have enough time visit the St. Andrews Botanic Garden. I suggest you spend at least a couple of hours to enjoy the beauty of Saint Andrews. There's so much to do! From horse riding to exploring historic sites, from taking pictures of the local wildlife on the Fife coastline to visiting the British Golf Museum. This is a lovely town, take your time to enjoy it!

In case you don't have a car, there are several trains and buses that go from Edinburgh to Saint Andrews.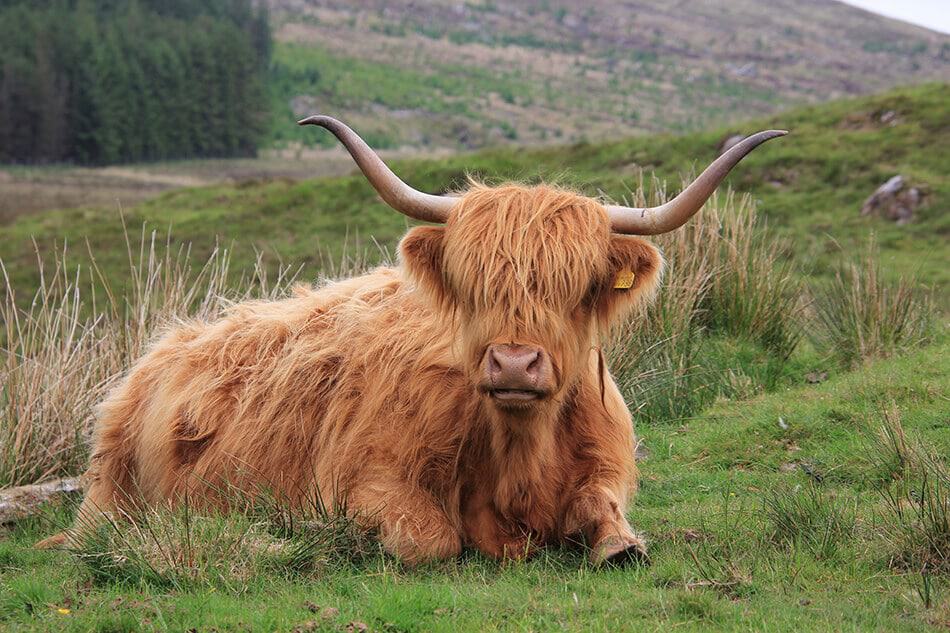 On the way back, we drove to Kingsbarns to explore the Kingsbarns Distillery. It was a beautiful day and we basked in the sun, while Al enjoyed a complimentary sample od whiskey. Birds of prey are your thing? Not far from here there's The Scottish Countryman, an centre that will teach you a lot on falcons, owls and other birds of prey!

According to how tired you are, decide if you want to drive back to Edinburgh or explore more of the lovely towns on the coast. In case it's a sunny day and you want to keep driving, another charming village by the coast is Anstruther, where you can also visit the Scottish Fisheries Museum, with its fleet of 22 historic boats. Other gorgeous villages on the route are Crail, Elie, Earlsferry, Kingsbarns, Pittenweem and St. Monans.

Did you enjoy this itinerary for 4 days in Scotland? If you have questions, leave us a comment, we'll get back to you as soon as possible!

You might also like:
How to spend 4 days in Scotland
Where to buy the best Scotland souvenirs
Walk the Harry Potter tour in Edinburgh
Travel guide to the best 20 day trips from Edinburgh
Planning a trip to Scotland: the best tips & tricks
20 ideas for an awesome autumn trip to Europe
Pin it for later!
This post is also available in:

Italiano