Are you a big fan of one of the world's most famous wizards (Gandalf still comes first for me)? Well then your trip to Edinburgh will be even more fun! In case you didn't know, there's absolutely no need to spend big bucks to book an expensive tour. Let me show you how to plan a self-guided Edinburgh Harry Potter tour to see all the best spots. Those that inspired J.K. Rowling, the birthplace of Harry Potter and more: you can easily do it on your own for free! This is the perfect experience also for a budget trip to Scotland, whether you're traveling solo or with your kids!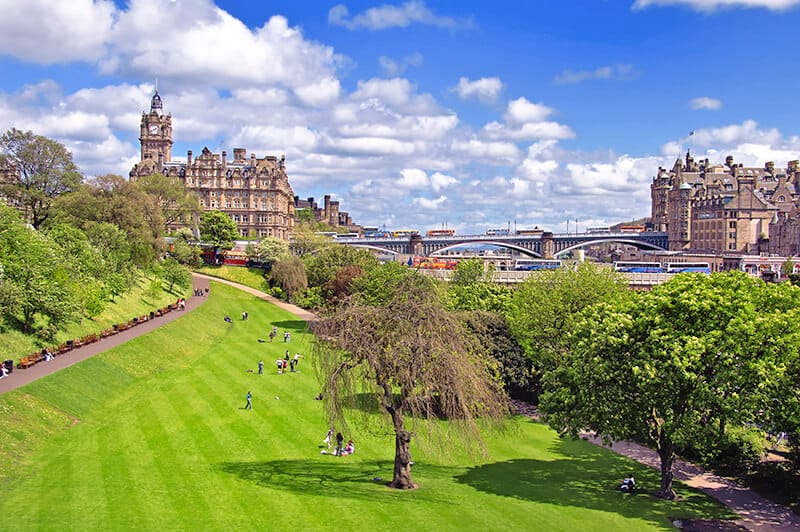 Edinburgh, with its cobbled streets, dramatic medieval architecture and charming atmosphere, is a dreamy destination for every Harry Potter fan. When J. K. Rowling moved to Scotland in the '90s, she landed on a goldmine of inspiration. So much so that now she has a home there and keeps on writing amazing books that we all love.
These are the best Harry Potter locations you can visit on your own: some are the cutest instagrammable spots in Edinburgh!
The Elephant House Café
The Elephant House in Edinburgh (also known as "Elephant Cafe") is one of the most popular spots for every Harry Potter Edinburgh tour. Many Scottish writers have been here, Ian Ranking and Alexander McCall-Smith among others. This small café is the place where J.K. Rowling started to write the Harry Potter Series. She has in fact confirmed that she wrote many parts of the first book in the back room of The Elephant House. The bright red entrance states that it's the unofficial "Birthplace of Harry Potter".
Nowadays one of the highlights is the thousands of Harry Potter-themed graffiti in the toilets. The walls are completely covered, and people have started writing also on windows and toilet seats.
While I understand someone might be tempted to leave their own mark, I strongly suggest you refrain from doing that: the staff used to paint the walls over and over again, until they had to give up. The toilets are a right mess because of the tourists and it's definitely not civil to write on someone else's wall!
Greyfriars Kirkyard
This ancient graveyard surrounding Greyfriars Kirk in Edinburgh is pretty close to The Elephant House. Usually associated with Greyfriars Bobby, the loyal dog who guarded his owner's grave for years (just like Hachiko in Tokyo!), it's also deemed one of the world's most haunted places (not sure about you but I've had enough at the Bomarzo Monster park in Italy so I'd never visit in the evening!).
J.K.Rowling used to walk here to relax. Here she found the grave of a Thomas Riddel Esquire… the same name (albeit with a different spelling) given to none other than Lord Voldemort. The kirkyard also houses the graves of Elizabeth Moodie and William McGonagall, who might have inspired the names of Mad-Eye Moody and Professor McGonagall. This is thus yet another important Potter-spot on our free walking tour of Edinburgh!
If you want to visit Bobby the loyal dog's headstone, you'll find it at the entrance to the kirkyard, opposite the graveyard's gate.

Entrance to Greyfriars Kirkyard is completely free.
How to get to Thomas Riddel's grave at Greyfriars Kirkyard
The graveyard is pretty big so finding this grave without the help of a local guide might be a bit difficult. I hope these directions will be useful!
Enter the graveyard
Walk to the right of the yellow church
Keep walking and you will find the Flodden wall arch (clearly marked)
Pass through the arch and turn immediately right
When the path splits, turn right and keep following the Flodden wall
Thomas Riddell Grave is the second one from the bottom (on the wall). There's dirt on the floor and it looks abandoned so it's easy to overlook it!
Edinburgh's Diagon Alley: Victoria Street
Our self-guided Edinburgh Harry Potter tour will now bring us to the most instagrammable spot in Edinburgh!
Victoria Street, a curving ribbon of cascading cobblestones punctuated with pastel colored buildings, is one of Edinburgh's most beautiful streets. Some say it rivals with Portobello Road, which is, as you might know, one of the best photography spots in London.
Built between 1829 and 1834, it is believed to have been, together with the adjacent Candlemaker Row, the main inspiration for Diagon Alley. There's even a Diagon Alley plaque and mural in Candlemaker Row, and a joke shop, "Aha ha ha" on Victoria Street. Unfortunately it's not run by Fred and George Weasley!
Lined with independent shops selling lots of interesting stuff, from cakes to Harry Potter merchandise (keep reading for that), to… everything you need to plan your next wiccan meeting, it is believed to have inspired J.K. Rowling also because of something else.
Before Victoria Street was created, Major Weir was living here. A godly man and pillar of society (also known as "Angelical Thomas") during the day, but a necromonger during the night. He was tried for hideous crimes and dark supernatural activities. That's how he went from "Angelical" to the "Wizard of the West Bow". He was executed for witchcraft in 1670. His house went unoccupied for a whole century as the locals said it was haunted. It was destroyed when Victoria Street was built.
Since Victoria Street is one of the cutest streets in Edinburgh, it's often crowded. If you want to take nice pictures, make sure to go there early in the morning!
Diagon House
If you are looking for Harry Potter-themed souvenirs, head over to Diagon House on Victoria Street. As some kind of Ollivanders of modern times, this magical emporium sells official Harry Potter merchandise and fantastic finds from local artisans. It is the one place where we found some of the most curious objects in Edinburgh (often hand-made)!
From 1873 to 2004 this was Robert Cresser's Brush Shop: they have decades of broom-making heritage. I wonder if they keep a few Firebolts on the back?
This amazing shop can be found halfway down Victoria Street, make sure to visit, even if you don't want to buy anything!
Spoon Café
Once known as Nicolson's Café, Spoon battles with The Elephant House for the "birthplace of Harry Potter" title. Speculations state in fact that J.K. Rowling started thinking of the first book of the Harry Potter saga at this cute café. Here in fact she could work for hours, while saving on electricity at home (back then she was in dire straits).
The owner was Rowling's brother-in-law, who was absolutely happy to help this young mum with free coffee and a big window seat whenever she felt like writing.
Spoon Café overlooks Edinburgh University Old College, and can be pretty crowded even if not as much as The Elephant House.
George Heriot's School
While Spoon Café has a nice view, yet also The Elephant House offers an impressive sight from its window. I'm talking of George Heriot's School. Those who see it for the first time usually say that the resemblance between this castle-like school and Hogwarts is uncanny. Which is why of course it had to be part of this Edinburgh Harry Potter tour!
This private school also uses the House system to sort students, which could have inspired J.K. Rowling into sorting her wizards as Ravenclaw, Slytherin, Gryffindor and Hufflepuff. Rowling's children also attended George Heriot's School!
Unfortunately the school is not usually open to the public, so you'll only be able to take pictures from the outside. Sometimes they host public events during the Edinburgh Festival in August so if you're thinking of visiting, check out their official website to keep updated!
The Writers' Museum
As you walk back towards the Royal Mile, one of your first stops will be The Writers' Museum. This little witch-like building celebrates the fact that Edinburgh became the first UNESCO city of Literature in 2004.
While it primarily pays tribute to Edinburgh-based writers as Robert Burns, Walter Scott and Robert Louis Stevenson, it has been added to this Edinburgh Harry Potter tour because there's also a space dedicated to J.K. Rowling. Here you'll be able to see a rare first edition of Harry Potter and the Philosopher's Stone, with original drawings by J.K. Rowling.
Entrance to The Writers' Museum is free.
Edinburgh City Chambers
In case you didn't know, Edinburgh has a little slice of a Walk of Fame, just like Hollywood. Located inside the courtyard at Edinburgh City Chambers, it's a popular spot for every Harry Potter trip.
You can just waltz in the courtyard and you'll find a bronze impression of Rowling's hands on a flagstone, created in 2008 when the Harry Potter author received the Edinburgh Award.
Not far from her plaque you'll also find one for Annie Lennox.
This is yet another Harry Potter spot in Edinburgh you can visit for free.

The Balmoral Hotel
Another popular stop for every Edinburgh Harry Potter tour is The Balmoral Hotel, both a staple in Princes Street's skyline (thanks to its lovely tower) and a legendary institution.
While for the muggles it's an amazing hotel, with a Michelin-starred restaurant, celebrity guests and high-end furnishings… the Harry Potter fans know it for a different reason.
The Balmoral Hotel has a Rowling Suite. J.K. Rowling in fact checked into room number 552 to concentrate while finishing The Deathly Hallows. Since this suite costs £1,000 per night, I don't really think you can fit it into a budget trip to Edinburgh. Yet you can take pictures of the hotel from the outside!
Cramon and Barnton
The harbour suburb of Cramond, located on the North-West of Edinburgh, is one of the instagrammable spots in Scotland that are never overly crowded, even during the high season.
With the neighbouring Barnton, one of the fanciest areas in Edinburgh, it should be added to your Edinburgh Harry Potter tour. And for a good reason!
It's home to J.K. Rowling, who moved here from Edinburgh. Her new home is a turreted mansion bought in 2015. Fans usually spot her buying groceries at local shops or walking on Cramond beach. Keep your camera at hand!
Potterrow Port
While there (still) hasn't been anyone willing to confirm that Potterrow, or Potterrow Port, has inspired J. K. Rowling when it came to naming our favorite wizard, this is still one of the must-see Harry Potter spots in Edinburgh.
Potterrow is a street located in the old city center, south of the Edinburgh Castle. It goes from Main Point to Grassmarket and it once was the only way out of the city if you wanted to go west.
The book lovers always add Potterrow to their itinerary because there's a huge number of pretty libraries where they can find amazing second-hand books. So if you're just like us, make sure you visit this part of Edinburgh: you definitely won't regret it!
Bonus: Foodie Guide to Harry Potter in Edinburgh
While looking for all the Harry Potter spots in Edinburgh, you're bound to get hungry. Let me offer a few tips on themed treats and foodie places you should hit, to maximize your experience!
Taste Some Butterbeer
Not many people know that Spoon has recently added Butterbeer to their menu! This sweet drink, drunk by wizards and witches in the books and described as "a little bit like less-sickly butterscotch" features ginger and cream soda foam!
Go for a Foodie Harry Potter Tour
If you love the idea of jumping aboard a vintage double-decker London bus, to explore the best of Edinburgh, while eating delicious themed dinner, make sure you book with Red Bus Bistro! Their Edinburgh Harry Potter Tour includes butterbeer (or alcoholic drinks if you prefer), chocolate frogs, pizza and even Voldemort's sandwiches!
Note: they also serve kid-friendly menus!
Are You feeling a little overwhelmed?
Click here to book a cheap Harry Potter Tour with a local guide.
It's kid-friendly and super safe!
Brew a Harry Potter Cocktail
The Department of Magic is a popular place in Edinburgh, where Potterheads from all over the world challenge each other by playing inside Harry Potter themed escape rooms.
Even if you decide not to play the game, you can still order a Harry Potter themed cocktail at Magic Potions Tavern. They have bubbling, colour-changing and interaction Potion Cocktails (also non-alcoholic) that you can brew on your own!
You might also like:
How to spend 4 days in Scotland
Where to buy the best Scotland souvenirs
Walk the Harry Potter tour in Edinburgh
Travel guide to the best 20 day trips from Edinburgh
Planning a trip to Scotland: the best tips & tricks
20 ideas for an awesome autumn trip to Europe
Pin it for later!
This post is also available in:

Italiano