60 Authentic Scotland Souvenirs & Gifts [New Items]
This post includes affiliate links. As an Amazon Associate, I earn from qualifying purchases. Full disclosure.
Discover the 60 best souvenirs from Scotland that you can also buy on a budget… and what Scottish gifts you can buy for your pet!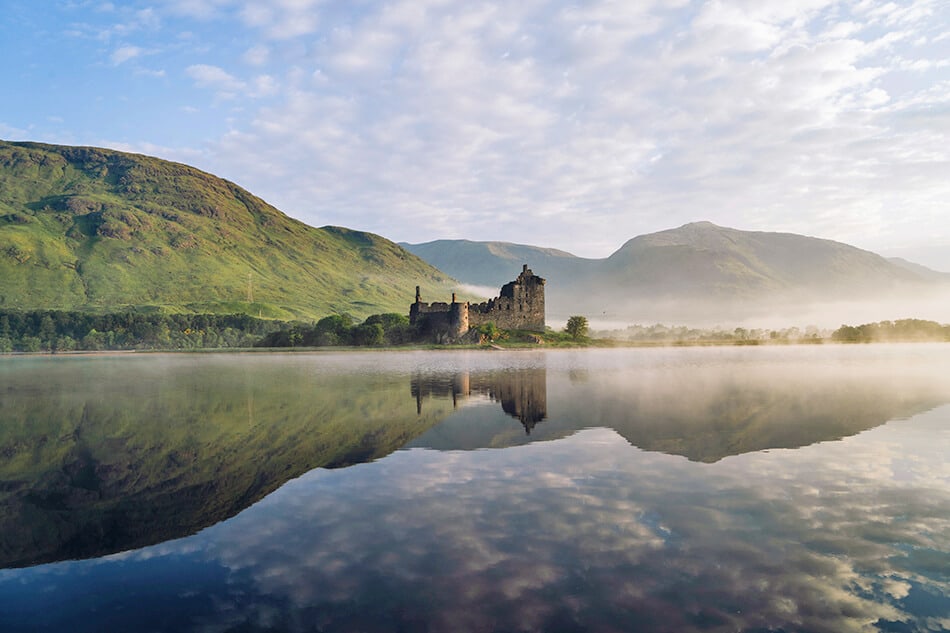 Have you planned a trip to Scotland and you're already thinking of how many Scottish gifts you can fit into your luggage? When we visited Scotland, souvenirs were on the top of my "to-do" list. Even if I still had no idea what to buy, I knew I wanted to find cute things, possibly locally made, that would always remember us of the days spent day-tripping from Edinburgh and exploring one of our bucket list destinations. This useful collection of ideas will help you to pick the best gifts from Scotland, also if you're visiting on a budget. It includes traditional items, the more touristy gifts, info on where to buy and… a few ideas for Scotland souvenirs you can get for your pet!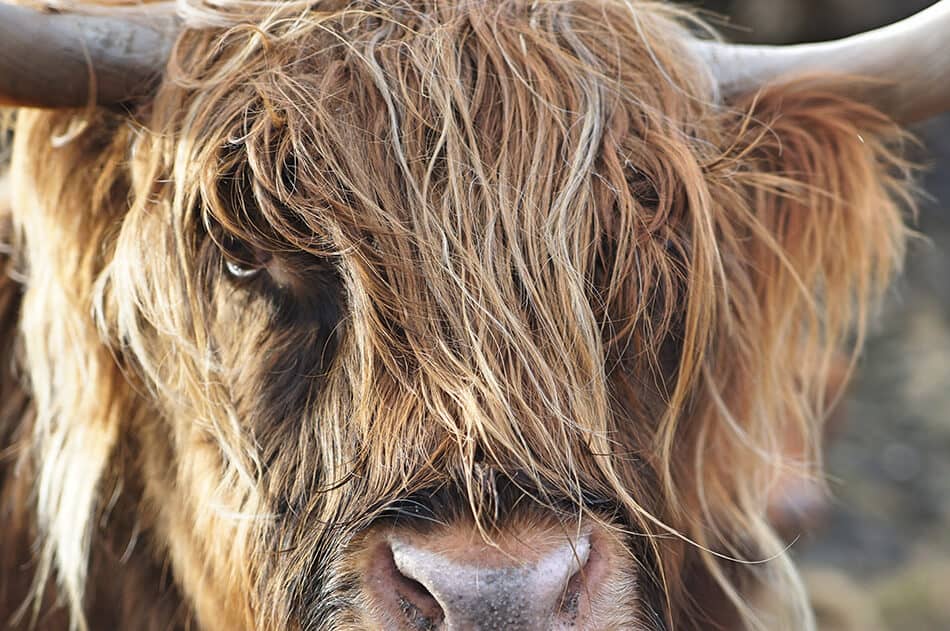 Quick Links to Post Content
Scottish gifts for the whole family
While I've divided this long list of Scotland souvenirs into smaller chunks (as you might have realized, I tend to write quite a lot!), you can absolutely mix and match as much as you want.
If your brother is addicted to aromatic toiletries, buy him some handmade soap! And if your sister likes a good glass of gin, then by all means, get her a nice bottle of the Scottish stuff: she'll thank you for the rest of her life!
These are just my tips to get an idea of the things to buy in Scotland!
The following Scottish gifts are meant for a wider audience, which can be a good thing when you don't want to be too personal or too specific with one of the souvenirs in the other categories.
Planning a road trip?
Click to download our FREE printable
ROAD TRIP CHECKLIST!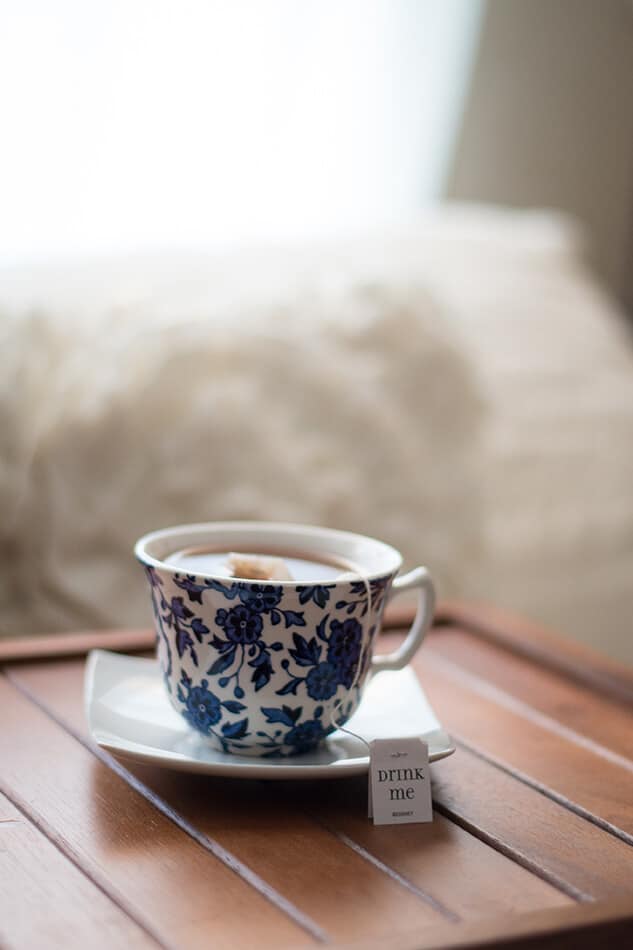 What to buy in Scotland if you're a coffee or tea addicted
While, like in so many other houses, our fridge is completely covered in magnets, there's something else I have been collecting for years.
Mugs!
I know, you might be thinking that it's definitely not among the Scotland souvenirs you'd have thought about, right? And yet in Scotland my collection grew larger… and larger (to the point that Al was glad there was no more space in my carry-on).
Never underestimate the power of a nice mug looking at you through a shop window!
You will find lovely mugs in many shops in Scotland. I bought the cutest one on the Royal Mile in Edinburgh. While they are a little bit more expensive than the ones you will find in the smaller Scottish villages, they were perfect for my collection.
Starbucks in Scotland is almost everywhere. We have found beautiful Glasgow and Edinburgh mugs with the Starbucks logo.
The Starbucks Scotland mugs collection is often enlarged with special edition mugs for the holidays so check them out!
There are also generic Scotland mugs and some with Aberdeen images.
If you want to support small makers in stead of a big company, you can shop for handmade ceramic mugs. Some can be customized with names or small paintings.
The latest trend is to paint your own pottery: that's the best Scottish gift I can think about!
Many shops in Edinburgh will let you try your hand at ceramic painting. Several workshops have specific options for children, which is perfect if you're planning a family trip to Scotland.
Two of the nicest places you can check out are the Doodles Ceramics Workshop and the Honey Pot Creative Cafe in Edinburgh.
Bonus: they also sell fun make-at-home craft kits for adults, teens or kits, birthday boxes and memory plates with Scottish themes!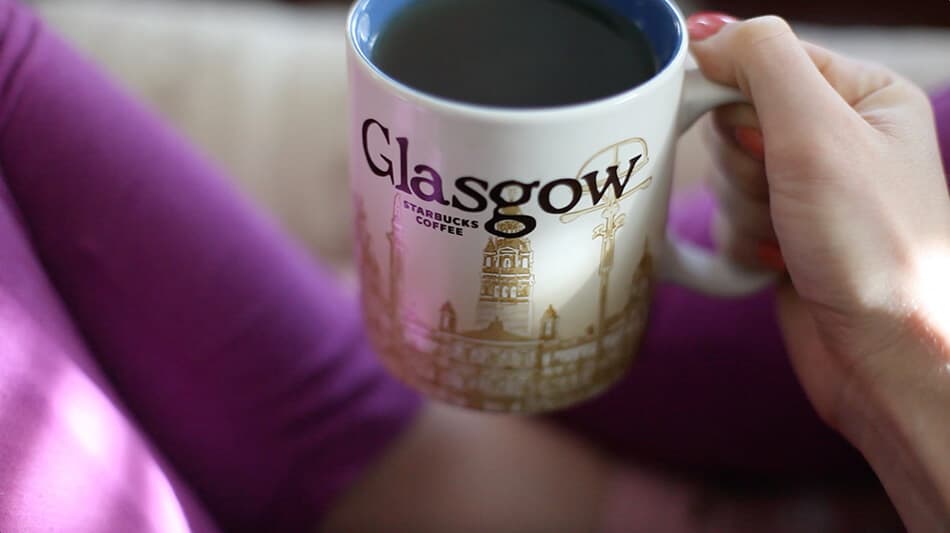 Speaking of mugs, tea and coffee immediately come to my mind (as you might know the art of coffee in Naples is a thing so I'm a coffeeholic).
If you're looking for Scotland souvenirs for a tea addicted but are worried a mug won't fit in your carry-on, there's something else you can buy.
Not far from Edinburgh Castle you will find a huge shop. At Tartan Weaving Mill they sell a lot of cute Scottish souvenirs, from fridge magnets to tartan. We even bought a nice teddy bear we bought for our baby nephew.
And then cookies, fudge (keep reading for more!)… and tea.
While you might think that tea is a "boring" gift from Scotland, we found a very… particular fragrance (we bought ours at Tartan Weaving Mill). Have you ever heard of whisky tea before? Neither had we!
They sell these small boxes with 10 enveloped tea bags and the Edinburgh Logo on the top. Not only you can fit them in your purse if you don't have enough space in your carry-on, but it's also one of the budget souvenirs from Scotland that you can buy in large quantities without going broke!
We tried the whisky tea: don't worry, it's absolutely not alcoholic! It only has a very strong Scotch whisky fragrance. Al said he could smell the barrel!
At least in our case it was a well appreciated gift, especially because we don't have whisky tea in Italy!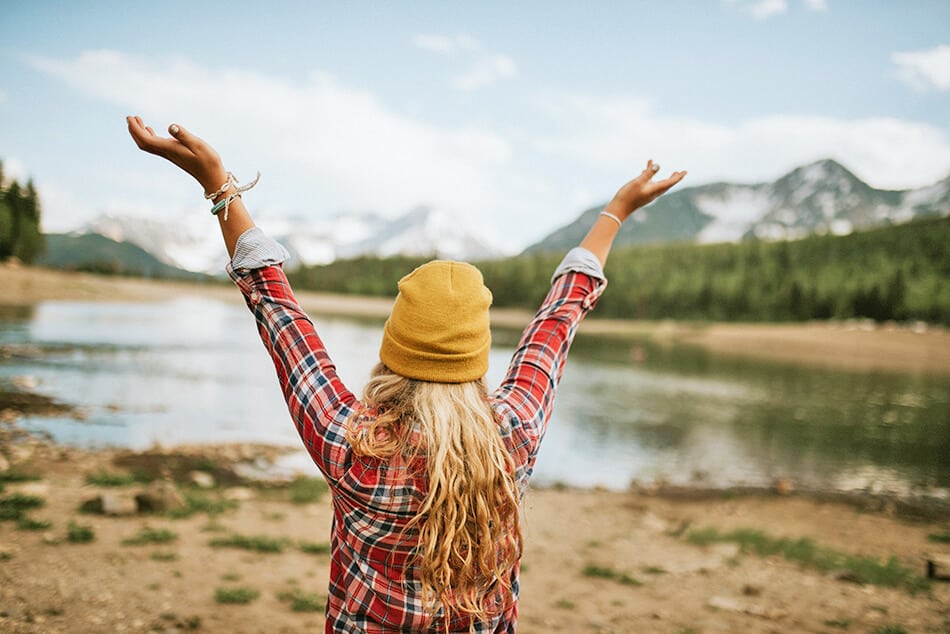 Tartan "brolly"
I must confess that being Italian, even if I've been speaking English since primary school, I found it a bit difficult to understand the Scots.
Why do you ask?
Because Scottish English uses completely different words. Someone thinks of it as a dialect, but since we live in Naples, we are well aware that some so-called "dialects", like Scottish or Neapolitan, are languages of their own.
When we speak Neapolitan sometimes even people from Northern Italy can't understand us!
In Scottish "Brolly" means umbrella.
Since the weather in Scotland changes quite often (as in: you can have 4 seasons in one day), it's common to see tartan umbrellas sold all over the place. They can have different Scottish plaid ("tartan") designs.
It's one of the cool Scotland souvenirs you can fit into every bag, provided you buy a foldable umbrella. I also find it particularly useful, so it's perfect if you're looking to buy a Scottish gift that is both classy and functional.
Full disclosure: when we visited Scotland in winter not many people used umbrellas, because it was pretty windy and it would've been useless.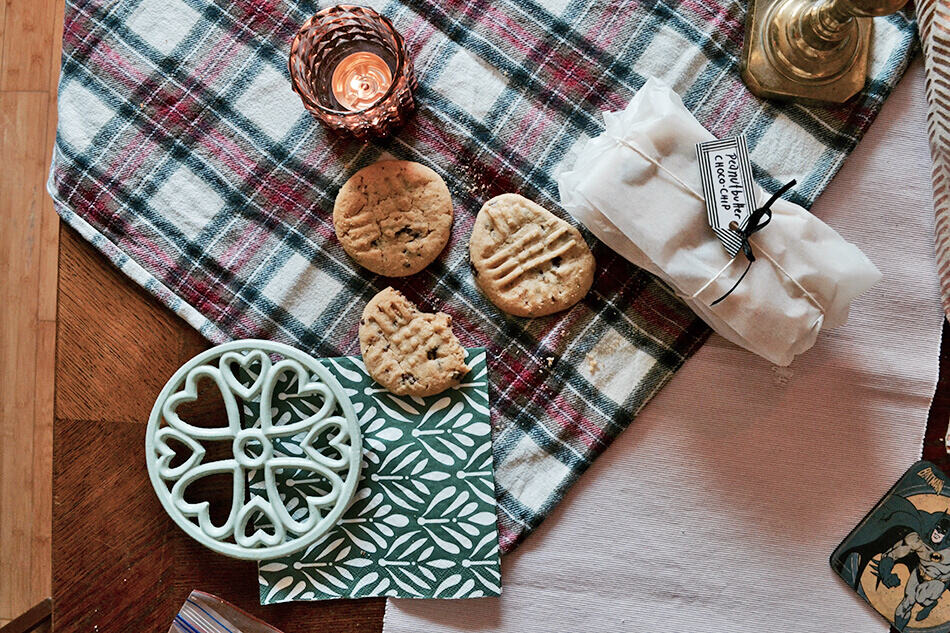 Scottish treats and drinks
I'm not sure if it's just me, but I love to eat the best dishes even when I'm in Italy. That is why when I'm abroad I always try to find traditional foods and yummy treats (which were also a large part of my stash of souvenirs from Japan) that I can bring home.
Be aware that in some cases, as for other items in this list, import restrictions might apply. Always check what you can bring back beforehand or you will be forced to leave your items behind when you leave!
Some of the easier to carry Scottish souvenirs for all of those who have a sweet tooth are Edinburgh rock and Shortbread.
Edinburgh rock is a traditional Scottish confection that from the outside looks a bit like a colorful marshmallow. Yet it has a completely different texture, almost between candy and chalk.
It's pretty crumbly once you bite into it, and sometimes it can be referred to as "Castle Rock". There's even a picture of the Edinburgh Castle on the top.
The Edinburgh Rock Factory has been making these treats since 1947: if you're looking for authentic Scottish souvenirs that have a history, you got them.
While you can find Walkers Shortbread also in the rest of England (I never leave without buying a few boxes for us), this manufacturer is very much Scottish. You can recognize their boxes because they have a Scottish plaid design. It's also pretty easy to find them all over Scotland.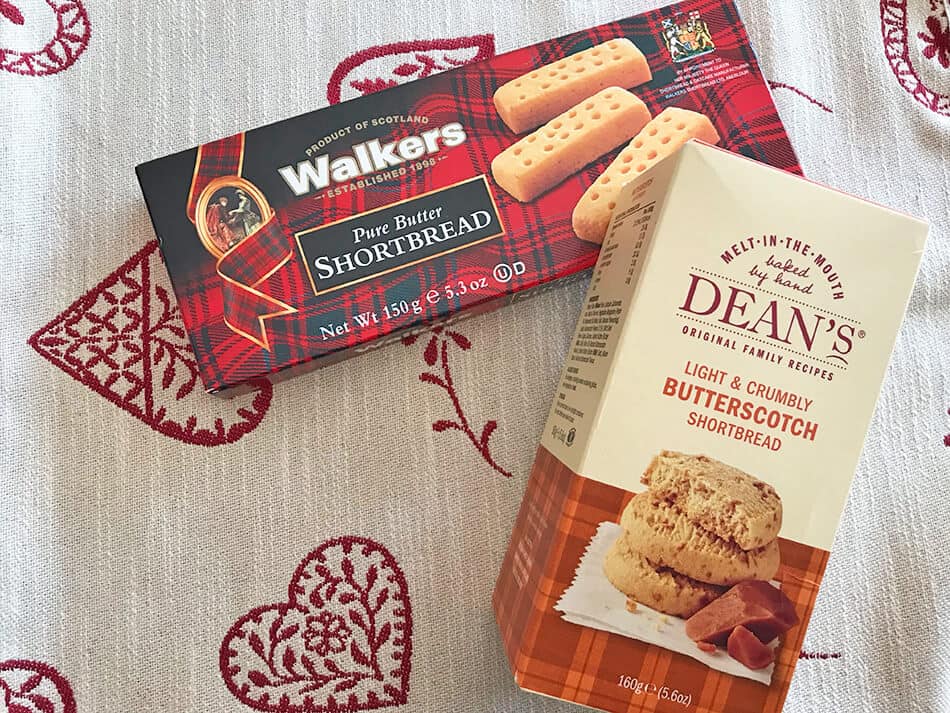 You'd be surprised to know that the last time we spent a couple of days in London we realized that shortbreads over there are way more expensive than in Edinburgh! So you can add them to the list of budget Scotland souvenirs.
Besides… who can really say no to some buttery cookies?
Another brand we loved is Dean's. They make delicious butterscotch cookies. Al also tried their lemon shortbread. He asked me to mention are absolutely irresistible!
This is another made in Scotland souvenir idea that you should absolutely try.
If you're planning to visit Edinburgh Castle, there's a shop inside that sells butterscotch cookies (Dean's) and Scottish shortbread!
Mrs Tilly's tablet is yet another (much appreciated) item you should add to your "what to buy in Scotland?" list. I'm sure you'll see a lot of fudge and butterscotch sold on the Royal Mile but nothing compares to Mrs Tilly's.
They make traditional Scottish confectionery by hand, using traditional methods.
Once again you'll see the tartans of Scotland on the boxe. They indicate that it's another authentic made in Scotland gift: bonus points because they're so easy to recognize!
Mrs Tilly's Confectionery is a family run business that still uses a secret recipe to make fudge, toffee and the delicious Scottish tablet.
Whether you're planning to buy Scotland souvenirs on the cheap or bigger boxes that you can share with your family and friends, they've got you covered. There is a wide variety of flavours, both in single bars (which are pretty cheap) or in bigger bags, up to 1kg of tablet and fudge!
We found Mrs Tilly's products also in many shops on Victoria Street while we were enjoying our self guided Harry Potter tour of Edinburgh.
Scotch pies are yet another thing you should eat at least once in Scotland.
They are double-crust pies usually filled with meat. In case you want to bring some back at home with you, be aware of the fact that they won't survive a long flight. Eat them while you are visiting Scotland!
Sadly in fact, while they can be carried around in Europe for short flights, some of the ingredients are off limits for many other Countries.
One of the most popular cakes in Scotland is the Black Bun, a fruit cake completely covered in sweet pastry.
If you're shopping for gifts from Scotland in Edinburgh, you can buy a slice of black bun at Jenners: they have delicious treats and lots of Scotland souvenirs!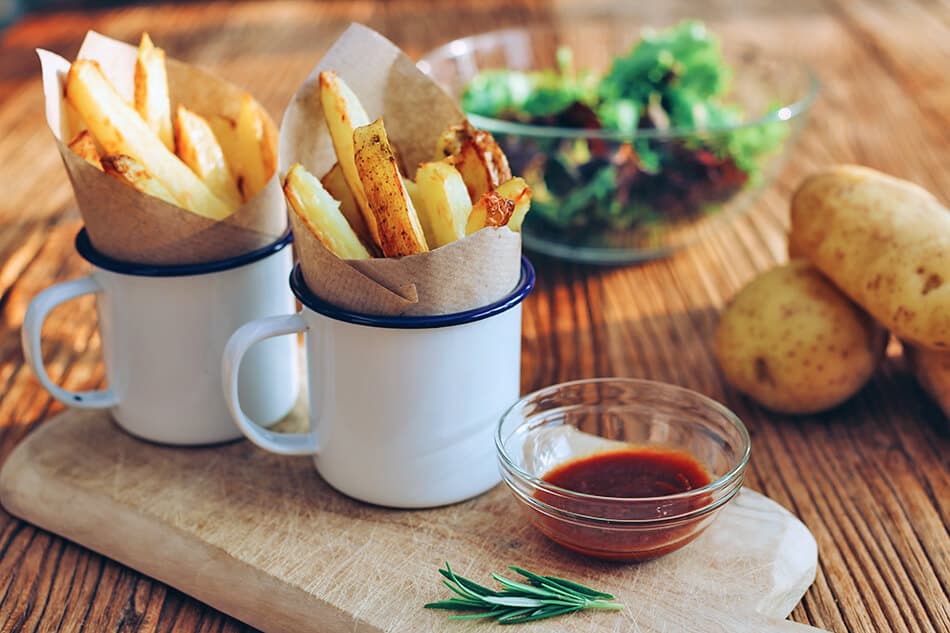 One of the best kept Scottish secrets, that not many tourists know about, is Edinburgh's chippy sauce.
Add it to your list of things to buy in Scotland if you're allowed to bring it back home!
Chippy sauce is a brown sauce that is traditionally found in Edinburgh. A unique blend of fruit and spices, used on fries or fish and chips. It looks like gravy but please, don't offend the Scots by asking them if it's the same thing: it's not!!!
Chippy sauce can be also used for sandwiches, potatoes, fried chicken… and someone uses it as pizza topping.
Please forgive me I'm not fond of eating my pizza with chippy sauce: pizza in Naples is a completely different thing!
By now I'm sure you might be thirsty (and hungry).
Another one of the Scottish things travelers like to buy is Irn Bru, a Scottish soda, often described as "Scotland's other national drink" (after whisky). It's produced in Glasgow, and sold throughout the United Kingdom.
Unless you pack it in your checked-in baggage, being extra careful in wrapping it in a lot of layers, you might not be able to bring it back with you on a plane because of the restrictions on liquids.
If you're lucky you'll find Irn Bru after the security controls at the airport.
Many travel enthusiasts prefer to bring back an empty can of Irn Bru that they can use as a pencil holder on a travel-themed writing desk!
It's another quirky idea for a super cheap souvenir from Scotland!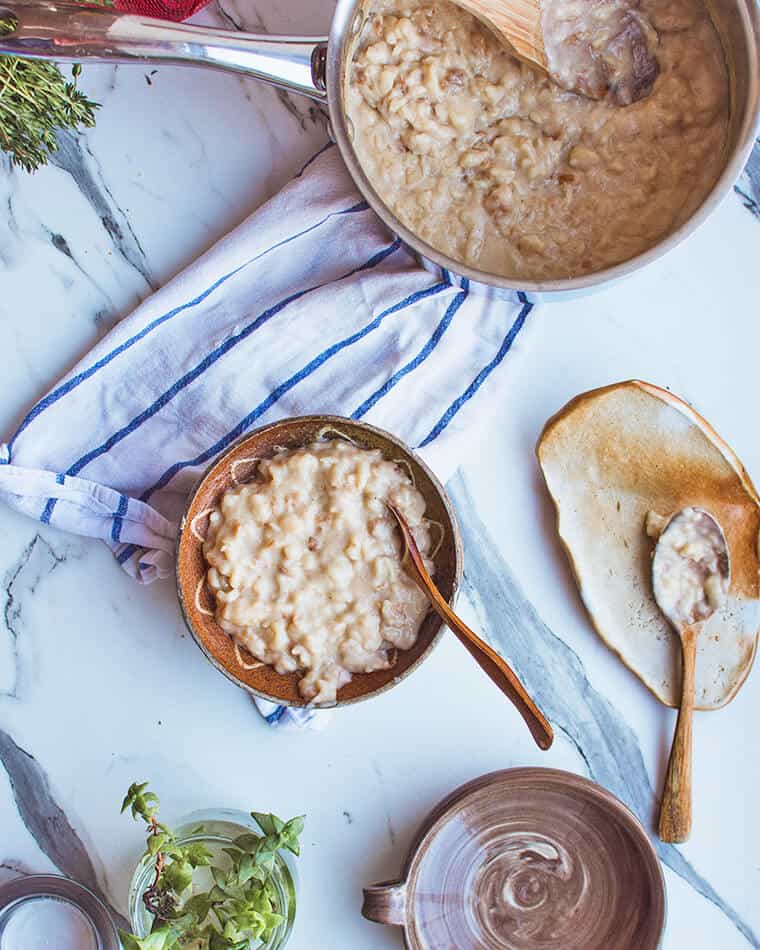 Scottish craftware
There are many souvenirs you can buy if you are interested in Scottish craftware.
All over the Royal Mile in Edinburgh, but also in thousands of shops in Glasgow and Aberdeen (as well as in the smaller villages), you will find lots of cute things you can buy for your own home or as a Scottish gift for someone you love.
If you're a fan of Outlander or Game of Thrones, you'll probably smile in seeing the Scottish horn cups. They are used for drinking (just like in Game of Thrones) and are usually handmade by local artisans.
Horn is also used for lots of different spoons. We have seen horn porridge spoons and even horn egg spoons in many shops at the Royal Mile in Edinburgh. Of course they're not a budget option and you should make sure to wrap them very carefully if you don't want them to break (put them in your carry-on to be on the safe side!). Yet they're definitely traditional gifts from Scotland that you won't find anywhere else.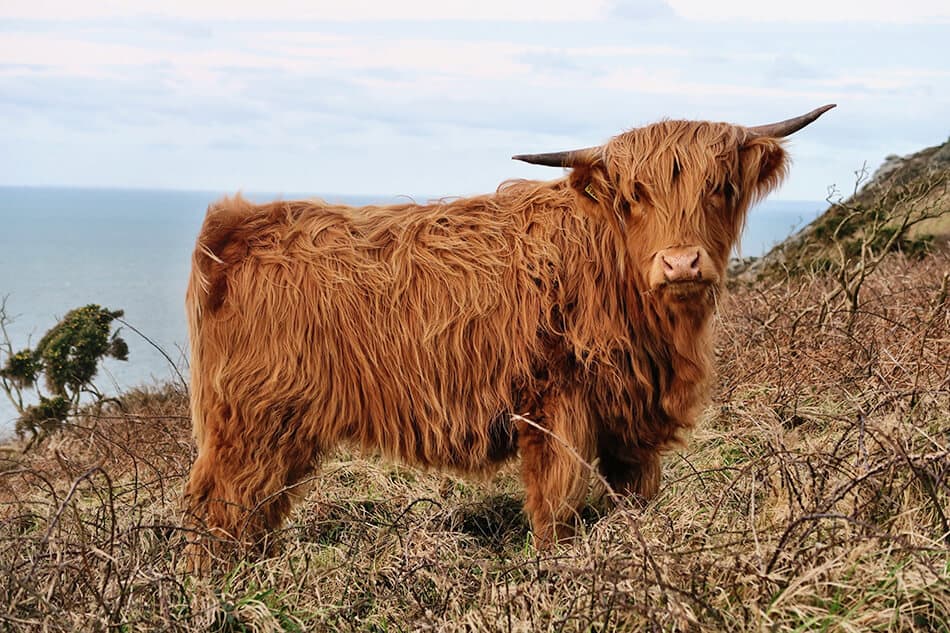 A different kind of kitchen tool, which you can put in your checked-in luggage, is the wooden spurtle. This Scottish tool dates back to the fifteenth century and it's used to stir porridge, soups or stews.
Sometimes the spurtle (or "sprirtle") is carved with a thistle decoration at the top: these are a bit more expensive than the plain ones, but also nicer. Choosing which one you should buy is up to you.
I suggest you look around for deals and discounts before you decide!
Being in love with Highland cows, I was looking for a souvenir from Scotland that would remind me of these beautiful animals, that we don't have in Italy. Well, on the Royal Mile I found some super-cute wooden sculptures of Highland cows.
They came in different sizes: some were unbelievably cheap. We bought quite a few of the tiny ones for our friends and family. It's a cute and unique Scottish gift that everyone will love!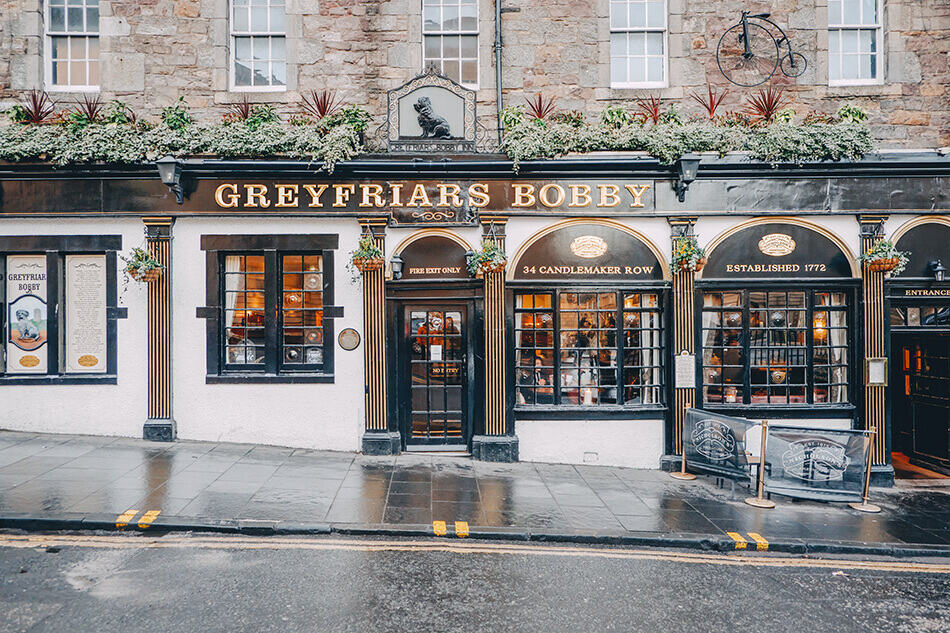 Greyfriars Bobby trinkets
Everyone knows about Hachiko, the loyal dog that has walked to the train station in Shibuya (celebrated by a statue that you can find in Tokyo) every day for 10 years after his owner died at work.
Yet not many people know about Bobby, the Skye Terrier who spent 14 years guarding the grave of his beloved human friend in Edinburgh, until the day he died.
Bobby has been buried just inside the grave of Greyfriars Kirkyard, not far from his owner's grave.
At the junction of George IV Bridge and Candlemaker Row you'll find a statue representing Bobby, the smallest listed building in Edinburgh, once a drinking fountain for humans and dogs.
Everywhere in Edinburgh you will find mugs, trinkets and keychains with Bobby's image, sold as Scotland souvenirs: the perfect gift for every dog lover!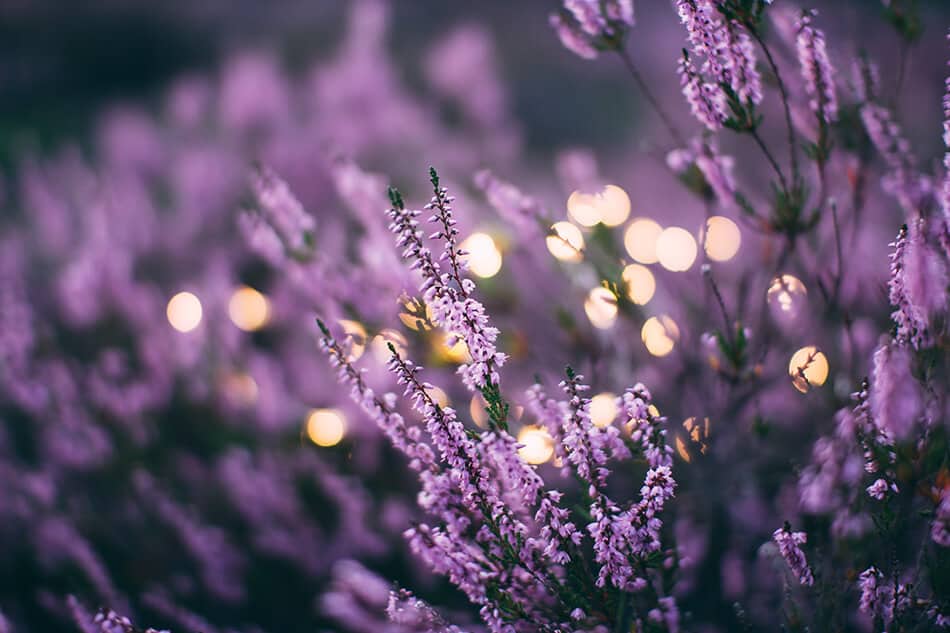 Heather Seeds
If you intend to visit Scotland in summer you're definitely in for a surprise. The moors will be completely covered in pink and purple flowers. The Heather (Calluna Vulgaris) is a low-growing, evergreen kind of shrub that you will find everywhere in Scotland.
Heather is an icon of Scotland and many people like to buy seeds so they can plant it at home. It's another one of the budget Scottish souvenirs you can buy, but only after making sure you won't get in trouble at the airport in your homeland.
Another good reason to buy Heather seeds is that these flowers are an important source of nectar for bees and other pollinators.
They're easy to grow and can be spread in a garden or in a pot to help the bees, as a small, Scottish bee garden!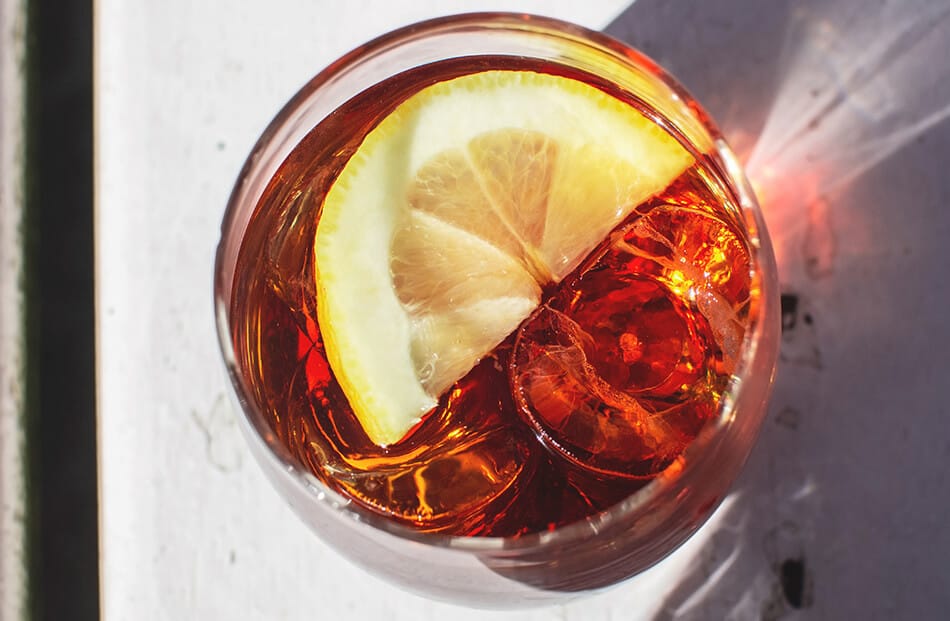 Luckenbooth brooch
A Luckenbooth brooch is a Scottish heart-shaped brooch. It's one of the Scotland souvenirs meant for the whole family because it has different meanings. This jewel is a traditional love token that people wear as a wedding brooch, or it can be given to a nursing mother. Some even pin it to a baby's clothing to protect them from harm.
The Luckenbooth brooches are typically made of silver and can be engraved or set with stones. While the most intricate designs will be very expensive, you can also find some budget options.
The motifs on the Luckenbooth brooch are similar to those you'll find on the Irish Claddagh ring: they both use the heart and the crown!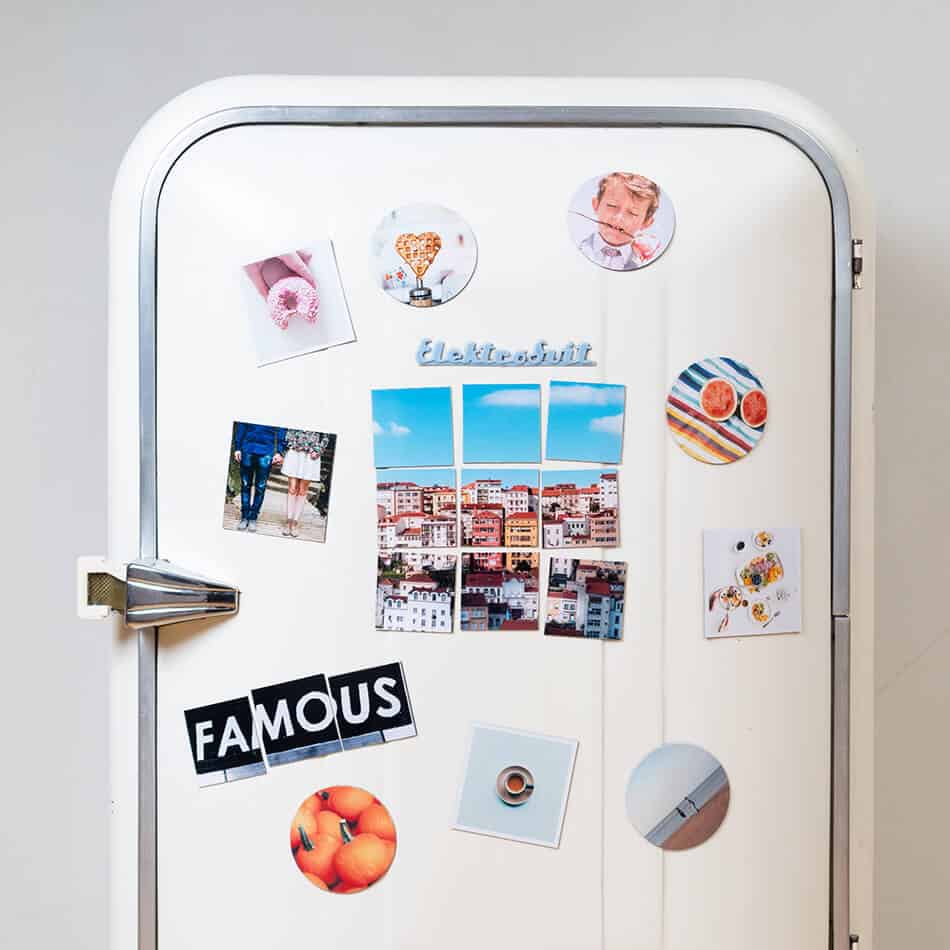 Fridge magnets
While I can imagine your eye roll, I had to add the mighty fridge magnets to this list of gifts from Scotland!
Even if they are touristy and sometimes tacky, so many people (us included!) collect fridge magnets. To our defence, we actually like to see our fridge completely covered by magnets showing all the places we've been to. It's like a trip down memory lane every time that we look at them!
If you really have no idea what to buy in Scotland and you don't have a big budget, then by all means get a few fridge magnets that you can also offer as a present to your family and friends!
Almost every shop on the Royal Mile in Edinburgh sells fridge magnets. They usually come as cheap as £3!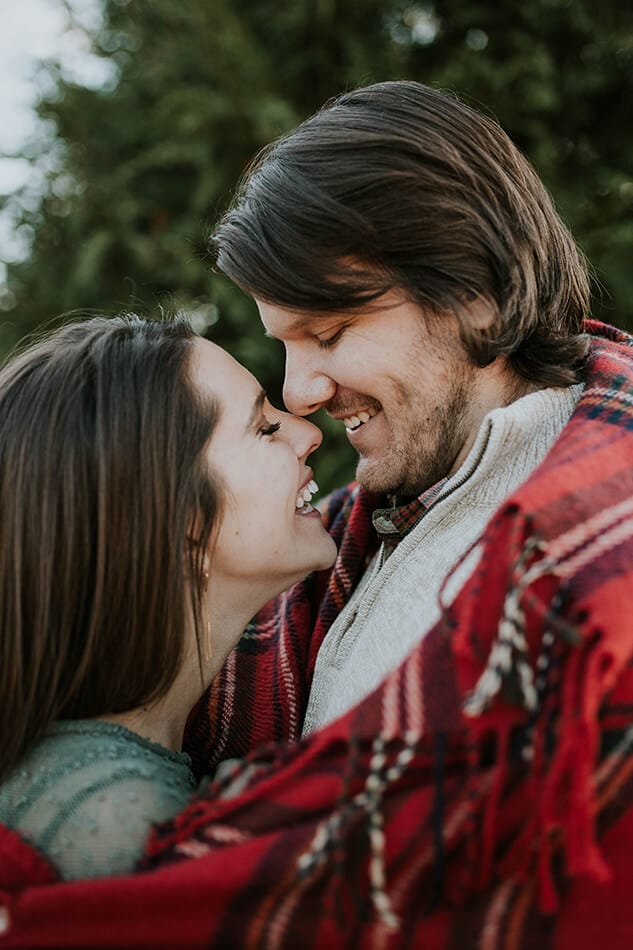 Scottish tartans: not just kilts!
When people think of what to buy in Scotland, the first things that come to mind are the beautiful Scottish tartans.
Tartan is a pattern consisting of criss-crossed horizontal and vertical bands in multiple colors. You might know it as "plaid", which is the common word used in the United States, but that isn't just the right one you should use.
In Scotland in fact a "plaid" is a large piece of tartan cloth that is worn as a shawl, or an ordinary blanket. In Italy "plaid" has the same meaning!
If you're looking for unique Scotland souvenirs, you really should think of buying something tartan. As you probably already read above, even many cookies and candy producers are using tartan on their boxes to show that it's an authentic Scottish product. We even found little teddy bears wearing tartan jumpers: our baby nephew loved the one we bought for him!
A nice Scottish gift for a man can be a tartan tie: you will find them in different colors and some shops will also tell you which colors belong to the different Scottish clans.
Shopping in Scotland is awesome, especially if you're looking for traditional tartan designed for modern Scottish clothes. A tartan scarf is very much trendy nowadays and buying an original one would be the perfect way to look stylish and remember your trip to Scotland!
Other tartan items you can buy are hair bows, shirts, bags, purses and more.
You can find some of the best tartan clothes at Ness in Edinburgh. They sell original designs made in Scotland, and have a nice Outlet section where you can buy super cute Scotland souvenirs for yourself or your friends on a budget.
When we visited I've found some beautiful tartan scarves for less than £9!
Make sure you pay a visit if you're looking for a budget souvenir designed in Scotland. I suggest having a look at their seasonal deals and discounts before you buy anything!
Buying a Scottish kilt is a bit more complicated. One of our friends who is absolutely in love with the Scottish culture has bought a traditional tartan kilt and he claims it took one full carry-on bag to bring it back to Italy!
Sure thing, he also bought a sporran, which is a small bag worn around the waist, over the kilt. But then again, it was bulky and very expensive.
That doesn't mean you should give up.
You can find a lot of nice kilts in Scotland, including those using the Pride of Scotland Tartan, which is a modern version with colors that indicate all things Scottish (blue, white, green and purple).
To avoid the tourist traps you should make sure that it's a "made in Scotland" product.
It's easily recognized by the clothing tag and the fact that it's a particularly expensive gift!
Make sure you bring one extra suitcase for this kind of gift (especially if you intend to buy the full set with a sporran). Another great option is to ask the shop if they can ship internationally.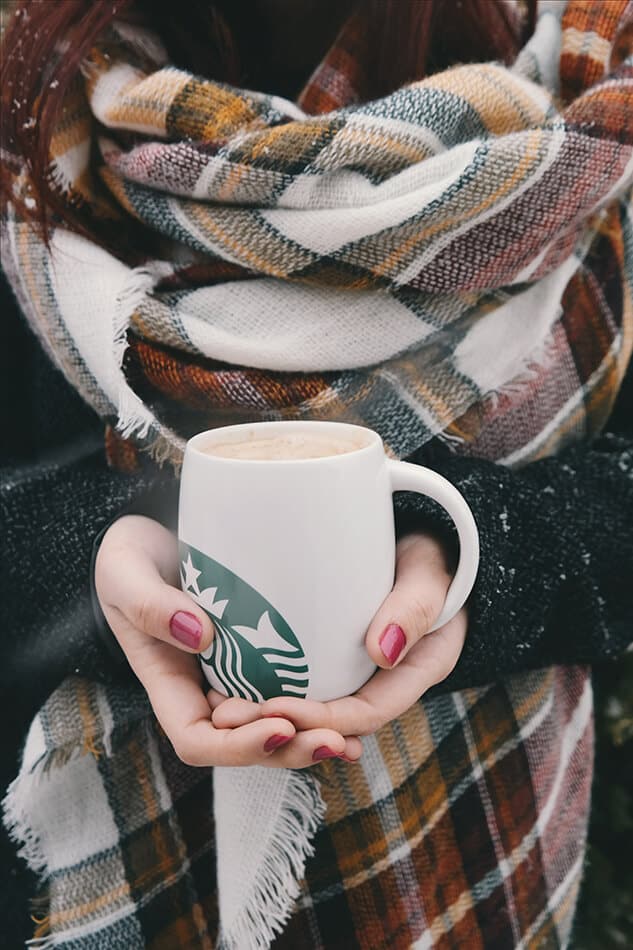 Scottish gifts for her: quirky and interesting ideas
Both me and my mother loved shopping in Scotland. There's a ton of things you can buy for a girl and nope, not only for the millennials! You can buy Scottish gifts made in Scotland for your grandma, for your mum, sister, best friend: believe me if I say you won't be disappointed!
The best part of it is that your Scotland souvenirs don't have to be super expensive. Let me offer a few tips, with budget ideas you can copy to buy gifts and souvenirs without splurging too much!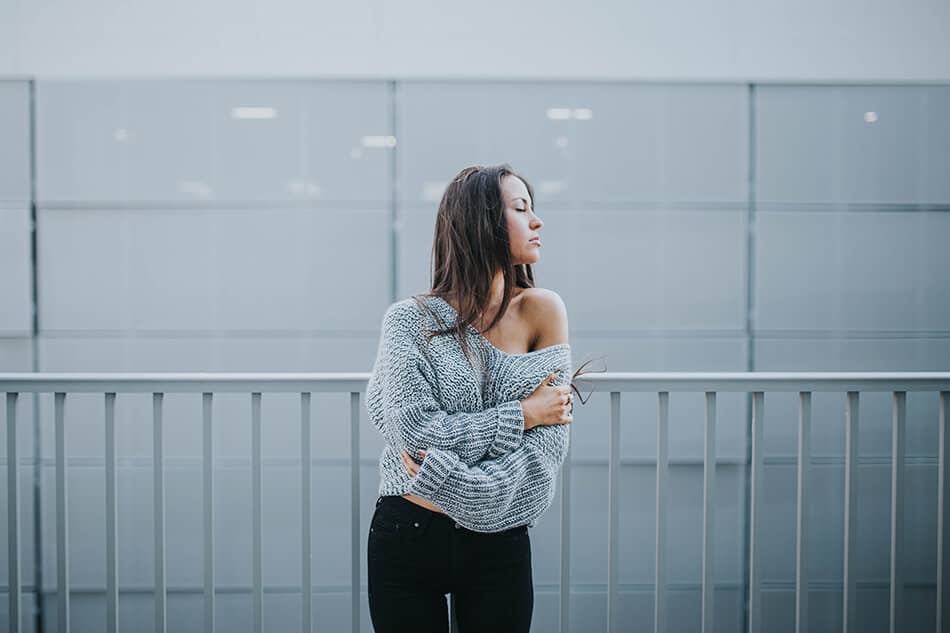 Scottish clothing – not so obvious!
In Edinburgh we found lots of shops selling cashmere items as "Scotland souvenirs". Provided that cashmere products are also particularly expensive, there's something to be said about Scottish cashmere.
While cashmere has been woven in Scotland since the 1800s, nowadays quite a lot of manufacturers import raw cashmere from abroad (mostly from Mongolia and India) and then weave the products in Scotland, so they can apply the "made in Scotland" tag.
Of course cashmere is timeless, smooth and silky on your skin: perfect for the cold winters in Scotland. Beware, buying cashmere clothes will spoil you for the "regular" wool items, and it can be expensive! Yet if you fall in love with a cashmere jumper, buy it with the knowledge that it's not really "Scottish"!
In our opinion, we didn't find worth investing so much money for something that isn't even really from Scotland. So unless you have a large budget, my suggestion would be to stick to Scotland souvenirs like wool items (we'll get there in a moment).
If you want to buy a nice gift to yourself or someone else and the price tag isn't an issue, check for clothes at Hawico, in Edinburgh, which has been making cashmere clothes since 1874, always in the same factory, or at House of Cashmere in Glasgow.
As I already mentioned, there's no need to splurge for a cashmere jumper, considering that it's not even 100% Scottish. For way less you can buy cute wool knits like scarves, fluffy jumpers, cardigans, hats, socks, gloves and so much more!
One of the best tweeds you can find is Harris Tweed. The Edinburgh Woollen Mill, with stores throughout the Country (have a look here at the store locations so you can check if you can find one during your trip), has some very nice items. You'll find a ton of Scottish gifts made in Scotland that you can buy for yourself or your loved ones. Especially if they're girls!
Those like me who love knitting will also find many shops selling lovely Scottish yarn.
One of the shops I liked the most is the one at the J. C. Rennie mill in Aberdeenshire. They sell super-soft and colorful Scotland-inspired yarn!
Modern Scotland souvenirs
If you're looking for modern souvenirs from Scotland, you should head over to Anta, a Scottish shop that has showrooms in Edinburgh and the Highlands.
They sell ceramics and textiles in contemporary Scottish tartan patterns.
From hand decorated pottery to carpet rugs, scented candles, teapots and mugs, with a few bonus items like shirts and bags. There's everything you can think of!
Anta really has the best modern Scottish gifts for her if you're planning to buy something nice and not too cheesy.
You will need to have some space in your luggage and a nice budget, because while items sold at Anta can be pretty expensive. They're also so nice that you will keep on piling them into your shopping basket: been there, done that!
I couldn't help myself!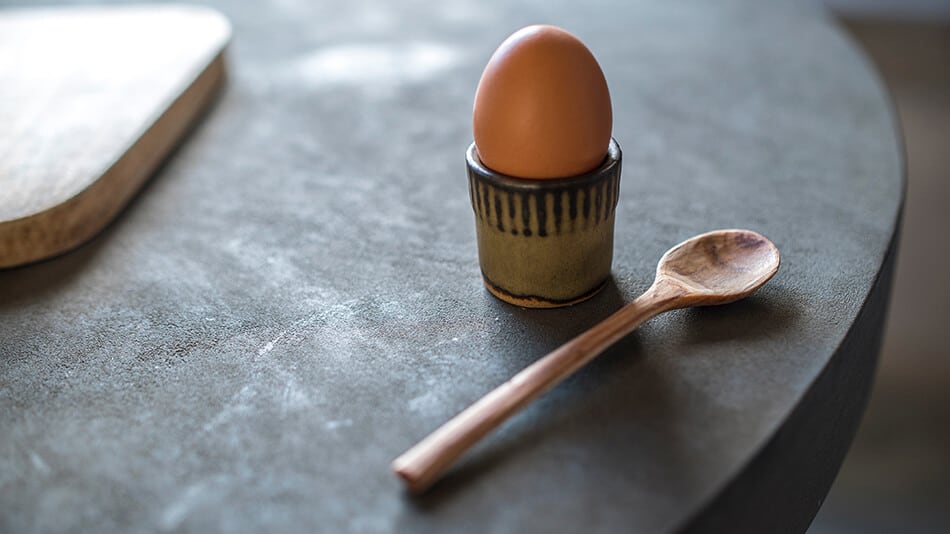 Heather Jewellery: only in Scotland!
As you probably already read in this article, the heather is an evergreen shrub, known for its cute blooms. It is pretty common in Scotland. What you probably don't know is that you can buy handcrafted jewelry that actually uses this plant to make unique gems!
Heather gems are made from the stems of heather. They gather, dye and then actually compress them into gemstones in a long process. Every gem is unique, because of the colors and patterns: you will be able to buy Scotland souvenirs that no one else has!
This kind of stone is usually fitted into sterling silver jewellery. We have found a lot of shops selling them both in Edinburgh and in the smaller Scotland villages.
It's a gift that people won't expect, great if you want to stay away from the usual tartans of Scotland, to buy something that has a deeper meaning. Some cool ideas might be bangles, brooches or pendants. I'd avoid buying earrings unless you know for sure that the person you're buying them for isn't allergic.
Rings are particularly nice too. They come in a variety of designs, including many Celtic ones that we'd never seen before, not even during our road trip to the Connemara National Park in Ireland!
Aromatics toiletries: I'm in love!
In case you're following me on Instagram you probably already know, thanks to my IG Stories, that I'm in love with beauty products, especially if they are natural and nicely scented.
Well, while I was looking for nice and uncommon Scottish things I could buy during our trip, I've found one of the five Arran stores in Scotland. And… Oh. My. Gosh! It was love… at first sniff.
I didn't know it was a thing until I stepped in and the mixed scent of lavender, sea salt, patchouli and rose hit my nostrils. Thank gosh they also sell online, because I'd feel lost without their products now!
The Arran products are Scotland souvenirs for those who want to buy something that reminds them of their trip to Scotland whenever they're taking care of themselves.
For 28 years this brand has been creating evocative scents in a dairy farm on the Isle of Arran. While nowadays the factory is much bigger, the scents have stayed the same. Their philosophy is that crafting the aroma always comes first, and then they decide what they're going to use it with.
You'll find soap, scented candles, body moisturizers, massage oils, salt scrubs (which are amazing). The best part of it? Their price! The Arran toiletries are pretty cheap!
If you are worried that you can only carry tiny bottles of liquids, be aware that they also sell inexpensive soap bars (the quality is absolutely good) and solid organic shampoo. The eco-friendly version of conventional liquid shampoos.
While you can also order online, shipping might be expensive. That's why you should make sure you buy these souvenirs from Scotland while you're there!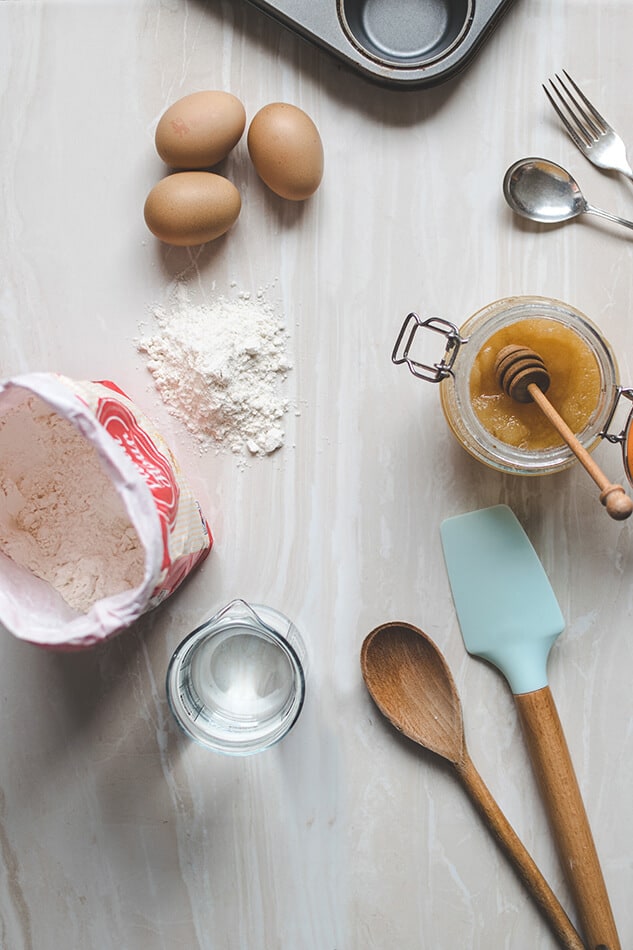 Cookbook with Scottish recipes
You're only traveling with a carry-on and you can't bring too many liquids with you. Nor delicate things that might break while you return home. Does it mean you won't be able to shop for Scotland souvenirs? Absolutely not!
If you or someone you know like to cook, how about you buy a cookbook with the best Scottish recipes? There are some very simple ones like potato scones, oatcakes, the delicious Scottish red lentil soup, and the super-famous shortbread cookies, which I've prepared at home as well: they were surprisingly good!
Provided that you, or the person you're buying the book for, understand English quite well, there are quite a lot of recipes that you can prepare at home and that will make you think of your trip. Definitely a nice thing to add to your list if you still don't know what to buy in Scotland!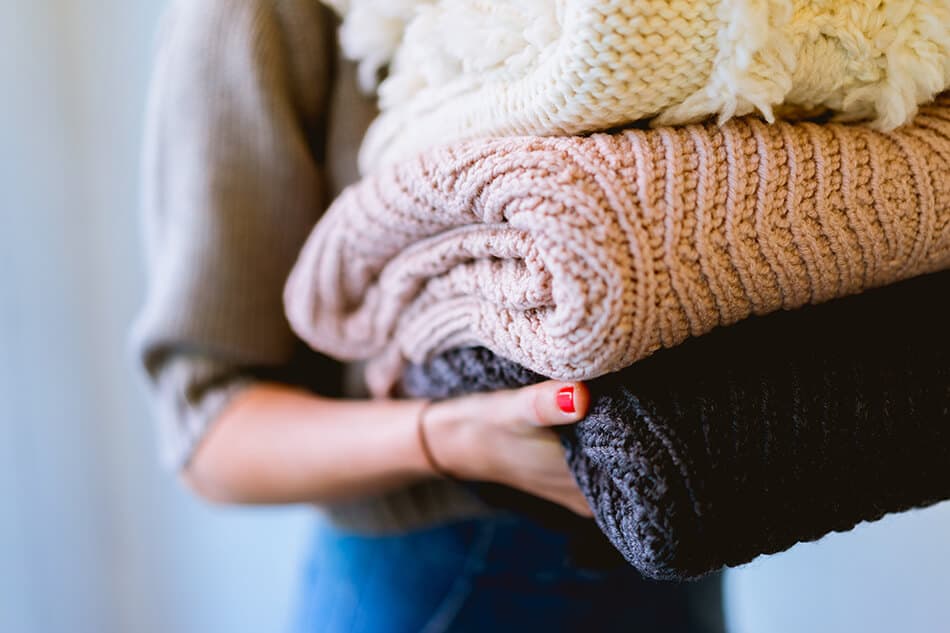 Scottish gifts for him: whisky and more
I must confess that unless I'm shopping for Al (who is a nerd like me, so I always know what to buy), I find it difficult to buy little somethings for men. So when I was thinking of Scotland souvenirs I could get to my dad and to our best friend, I knew that there had to be something more than liquor. After all, by now you know that Scotland has so much to offer!
So once in Edinburgh I started to go over the shops like a woman on a mission.
Here's all the interesting Scottish things you can buy for your men. Just as usual, there is something for everyone, regardless of their age and of your budget!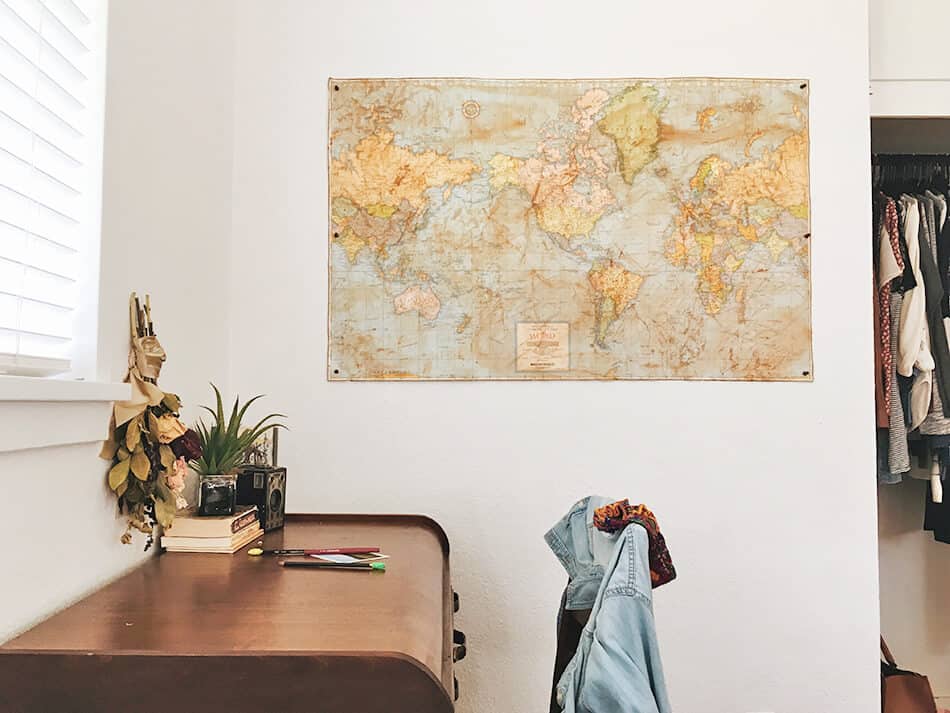 A vintage map of Edinburgh
While you'll be able to find a lot of homeware at Anta, buying a vintage map of Edinburgh (or of Scotland) will please all of those who have a love for history and home decor.
I'm sure it's not the first thing that comes to your mind when you're thinking of Scotland souvenirs, but a vintage map can be framed and hung on a wall. Always a reminder of your wonderful trip to Scotland.
The perfect Scottish gift for your dad's office or study.
I have a small confession to make: my mom loves history and Scotland so she'd love to have a framed, vintage map of Scotland at home!
So it doesn't have to be specifically a gift for men !As with many other suggestions in this list, always keep an open mind!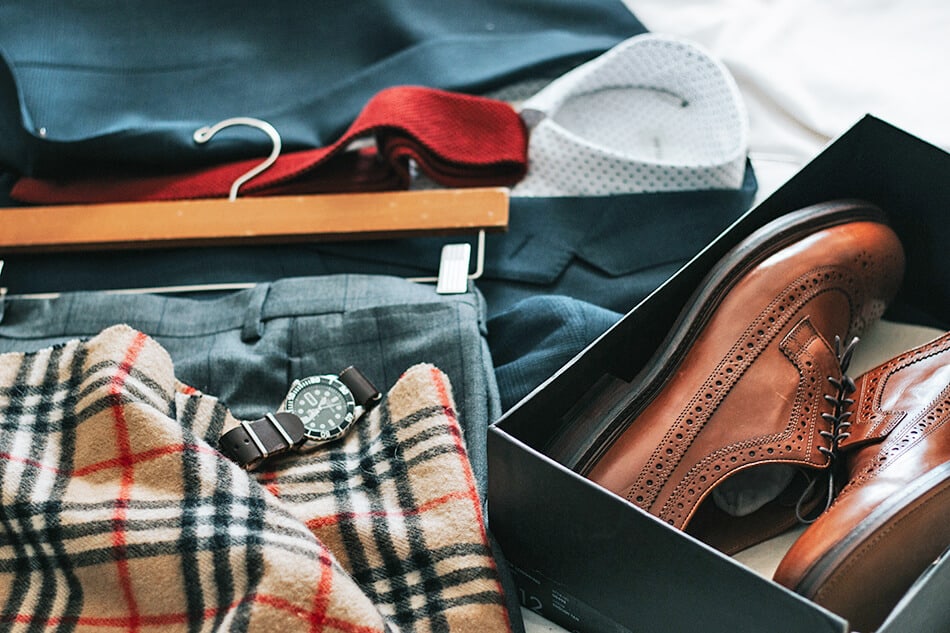 Oor Wullie comic strip: nerd alert!
Oor Wullie is Scotland's favorite comic strip. Written in Scot's slang, it follows the adventures of Oor Wullie, a Scottish fellow who lives in the fictional town of Auchenshoogle.
You can find these comic strips in the Sunday Post, they've been a weekly insert for over 80 years. Some shops in Edinburgh, included a few in Victoria street (where you'll find more nerd Scotland souvenirs, from Harry Potter to wizardry stuff), sell interesting Oor Wullie merchandise: it's a cheap gift that can be perfect for every comic collector and geek out there!

Harris Tweed Items: the best shopping in Scotland
If you scroll up, you'll see that I've already suggested Harris Tweed as a very nice Scottish clothing tweed for girls. Well, there are also clothes for men and they're quite nice.
You can find proper Harris Tweed in several shops all over Scotland, especially in the Highlands and, of course, on Isle of Harris.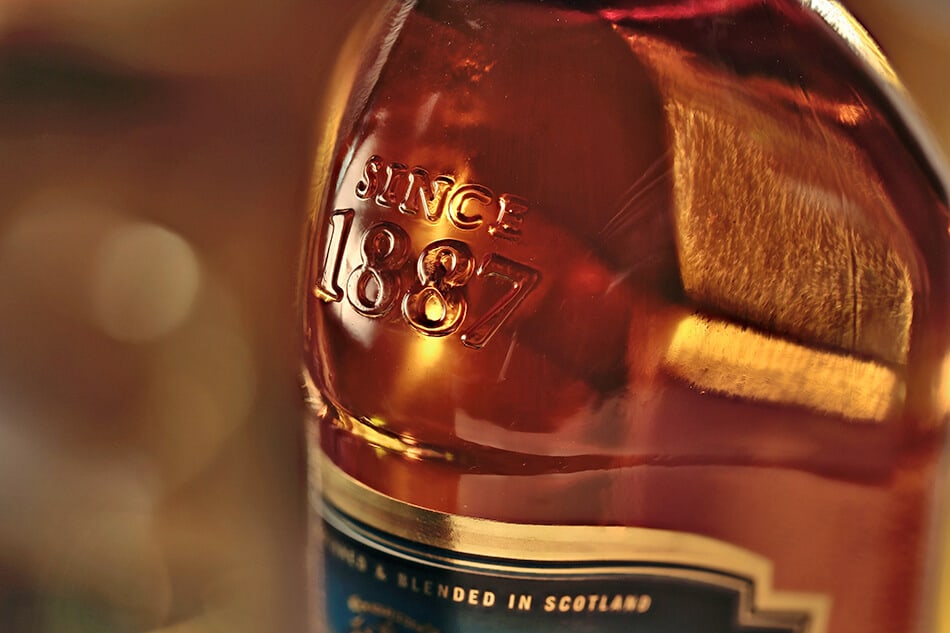 Malt Scotch whisky – a staple of the Scottish souvenirs
I'm quite sure there's no need to tell you that a bottle of whisky is one of the most appreciated gifts from Scotland you could think of. There are so many distilleries in Scotland, and they sell the finest whisky selection. So much so that choosing the right one could be a bit difficult, especially if you're not much of a whisky drinker (just like me)!
The Single Malt Scotch Whisky is made from malted barley and it's Scotland's biggest export. In Edinburgh you will find tons of shops selling all kinds of whisky, but more often than not they will also let you taste a little bit, so you will be able to decide if you like it or not.
While visiting Edinburgh Castle, we also found a quite lovely whisky cream at their shop. It was a bit like the Baileys Irish Cream, but with a different scent and taste (a little bit stronger, too). It can be a really nice alternative if the person you're buying it for isn't too fond of strong liquors.
An important tip for those of you flying with only a carry-on: you can buy a bottle of Scotch whisky also at the airport! Once you've gone through the airport security, at Edinburgh airport you'll find quite a lot of nice shops. Those selling liquors have very nice offers on whisky.
If you buy it in this area (remember: after you've gone through security!), they will ask you to show them your passport and flight ticket. Then the bottle will be sealed in a bag and you will be allowed to bring it with you as a hand luggage!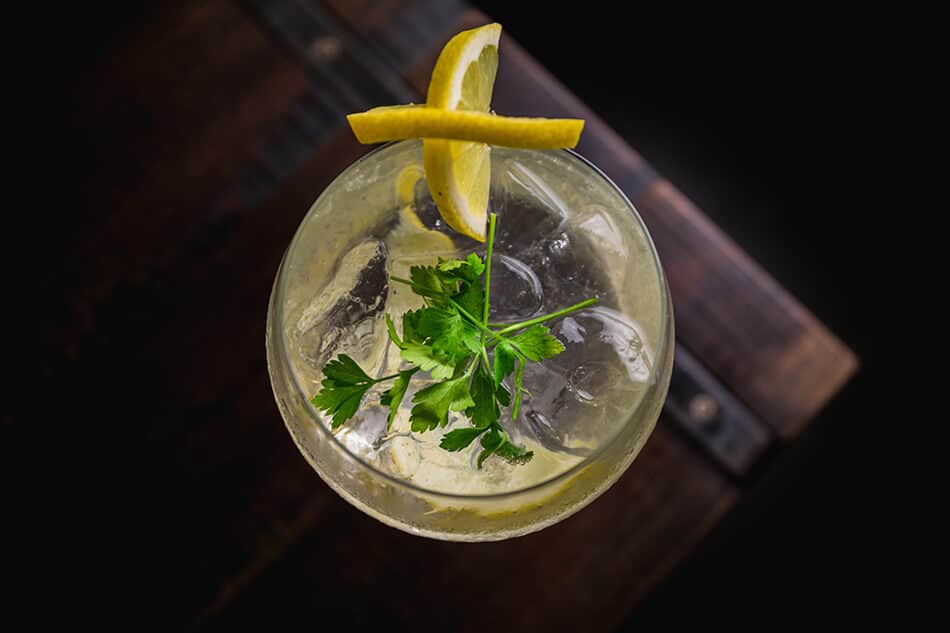 Scottish spirits that aren't whisky
Since I'm not really a drinker, I was unaware of the fact that there are actually quite good spirits in Scotland that aren't whisky. Al on the contrary is passionate about good quality liquors and wines (as you probably got already from our souvenirs list for Italy where he suggested lots of wines), so he was very interested in tasting Cairn O'Mohr wines.
These outstanding Scottish wines are unique because they're made with fruit. As in, you can really taste strawberry, raspberry, bramble, elderberry and oak leaf wine. Not only that, the Cairn O'Mohr wines are colorful, so you'll find a bright pink raspberry wine, and a bright green oak leaf wine.
These are unique Scotland souvenirs not many people think about, but they're sure to surprise everyone once you unpack them at home!
Made from the freshest ingredients, the Cairn O'Mohr wines attract people from all over the world… just like Aldo, who was super curious!
Another amazing spirit you can buy in Scotland, which is worldwide famous, is the Edinburgh Gin. This multi-award winning gin can be found also at the airport, as I mentioned above (in the whisky chapter), so you can also buy a bottle before to leave. Perfect way to buy some souvenirs from Scotland also if you're only visiting with your carry-on!
Quaich – a piece of history
Just like other gifts from Scotland mentioned in this guide, the Quaich has a rich heritage and is a unique drinking bowl. Different from all the other drinking vessels in Europe, it was used to offer a guest a welcome cup and a farewell drink (usually whisky).
Travelers were known to always carry a quaich, so it could be a great gift from Scotland for every traveler you know!
Quaichs are Scotland souvenirs that come in different sizes and materials. The price changes considerably: I've seen quaichs that costed about £15 and others that were well over £150, engraved with special messages or a clan crest.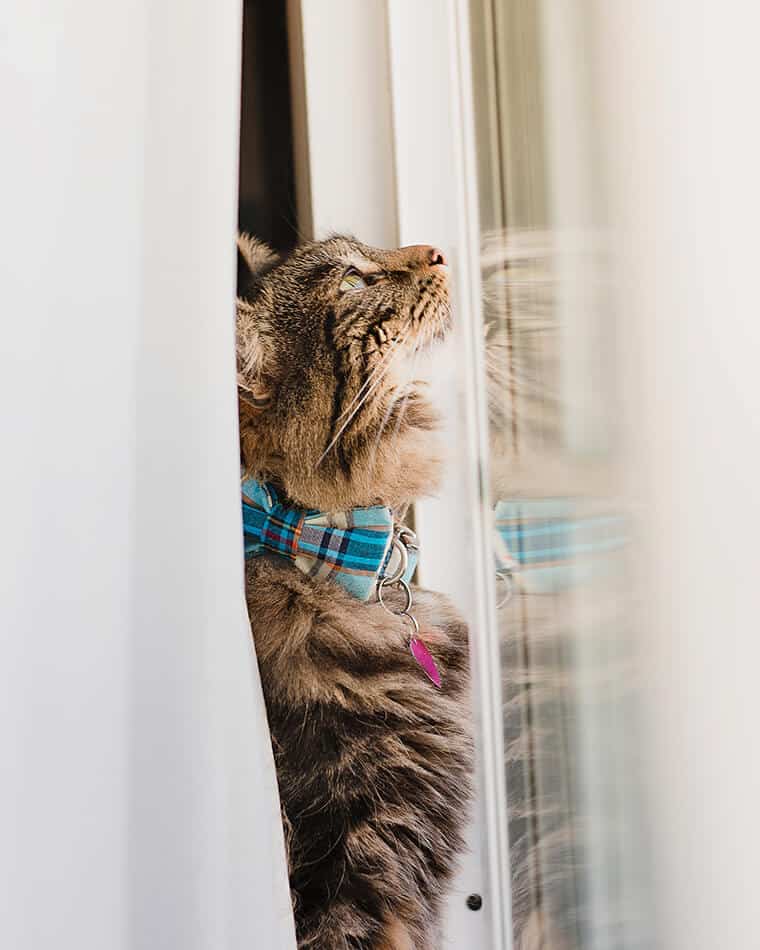 Sgian-dubh – you must check if you can carry it!
The Sgian-dubh is a small, single-edged knife worn as part of the traditional Scottish Highland dress, along with the kilt. It was originally used for cutting meat, bread and cheese, but it also served for protection.
While it's part of the traditional Scottish kilt ensemble, you absolutely must ask if you can import it, before you buy it. And of course it can't be packed in your carry-on!
It's one of the Scotland souvenirs that many people buy and then pass as a legacy to future generations. If this is your main goal, don't be cheap and buy a good one! They can be pretty expensive if you want the real thing, which is why I can't stress enough that it's important to make sure you can carry it back home: otherwise it will be confiscated at the airport!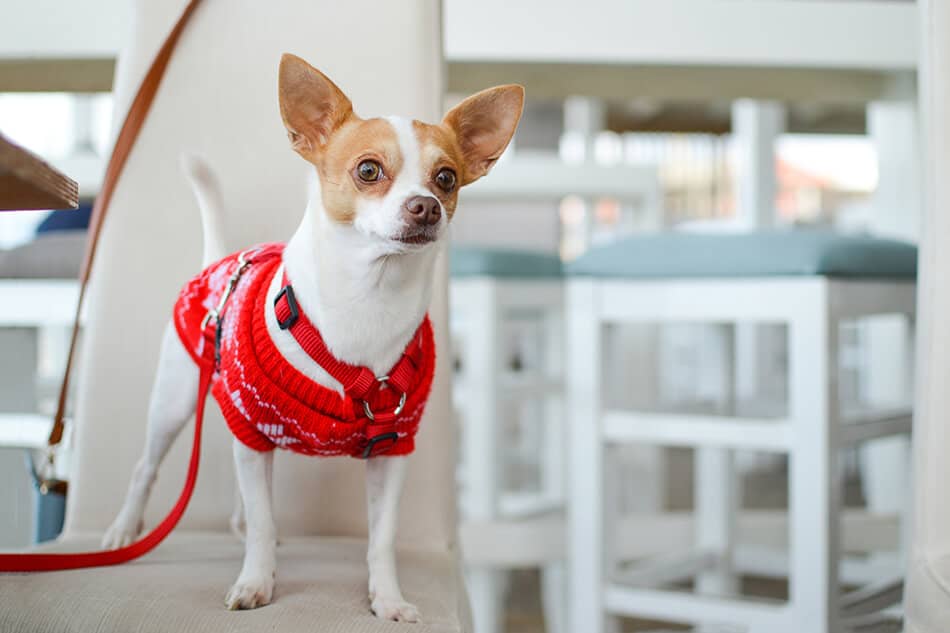 You might also like:
The very best souvenirs from Italy (tips from a local)
What to buy in London – a complete guide
25 incredible souvenirs from Japan
30 Florida souvenirs for every pocket
Souvenirs from Ireland – 40 smart ideas
Scotland souvenirs and gifts you should buy
Bonus: Scotland souvenirs for your pets
Please, don't tell me I'm the only one who always buys a little something for her furbabies whenever she is away from home!
Our pets are probably spoiled rotten, but I absolutely don't mind, so I wanted to buy something nice for them in Scotland.
In case you're like me, let me offer a few ideas: our cats and dogs appreciated them!
You can buy wool dog clothes (I once bought a nice fleece jacket for my very old cat and she couldn't pur loud enough to thank me) with a Scottish tartan design, or also tiny tartan bow ties, if your furball is a little Lord!
Our cats absolutely loved the tartan-like blanket we brought back from our trip, it's still their favorite place to go when they want to nap. Super soft and quite warm, just the way they like them!
You can buy nice Scotland souvenirs for your pets at Pets at home in Edinburgh, which is a pretty big shop that sells a lot of interesting things, including several kinds of treats.
In case you like the smaller shops, you can find some cute dog clothes and toys at House of Hound, also in Edinburgh!
Printable list of Scotland souvenirs (easier to carry around!)
Scotland decorated mugs
Starbucks Mugs (Scotland Collection)
Handmade Ceramics
Make at home craft kits
Paint your own pottery experience
Scottish tea
Whisky tea
Scottish coffee
Teddy Bear wearing tartan
Tartan "brolly"
Edinburgh Rock
Walkers Shortbread
Dean's Butterscotch Cookies
Mrs Tilly's Tablet
Scotch Pies
Black Bun
Edinburgh's Chippy Sauce
Irn Bru
Scottish horn cups
Horn porridge spoon
Horn egg spoon
Wooden spurtle
Wooden sculpture of Highland cow
Greyfriars Bobby trinkets or keychains
Greyfriars Bobby mugs
Heather seeds
Luckenbooth brooch
Fridge magnets
Tartan budget items (hair bows, shirts, bags, purses)
Expensive tartans of Scotland clans
Scottish kilt
Sporran
Pride of Scotland Tartan
Scottish cashmere
Tweeds
Scottish yarn
Scottish knitware
Ceramics with contemporary tartan patterns
Scented Candles
Hand decorated pottery with modern Scottish patterns
Heather jewellery
Sterling silver jewellery
Aromatic Toiletries
Handmade soap
Solid organic shampoo
Cookbook with Scottish recipes
Scottish whisky
Vintage map of Edinburgh
Oor Wullie comic strips
Whisky cream
Cairn O'Mohr wines
Edinburgh gin
Quaich
Sgian-dubh
Wool dog clothes
Tiny tartan bow ties for pets
Tartan-like blankets for pets
Tweeds for men at Harris Tweeds
Massage oil from Arran stores
Handmade Scottish craftware or kitchen tools
Frequently Asked Questions on What To Buy in Scotland
What should I bring home from Edinburgh specifically?
In short: knitwear and fabric. Edinburgh is world-famous for knitwear, so this is an obvious souvenir choice.
Also know that knitwear like cashmere or tartans can be expensive. Another good souvenir from Edinburgh is the Edinburgh gin.
Scroll up to find more souvenir ideas for Edinburgh: there's so much more you can buy also on a budget! One example? The Edinburgh Chippy Sauce!
Is tipping customary in Scotland?
Tipping is not expected in Scotland. We are used to it also because tipping in Italy is not a thing.
Staff in the UK receive at least minimum wage, so there isn't the same pressure to leave a tip for most services in Scotland.
Why is Haggis illegal?
In 1971 it became illegal to import haggis into the US from the UK due to a ban on food containing sheep lung. Because lung constitutes 10-15% of the traditional haggis recipe, you can't bring haggis into the US.
Related articles:
How to plan the perfect trip to Scotland
The very best souvenirs from Japan
60 souvenirs from Italy: tips from a local
Shopping in London: what to buy and where
20 awesome fall trips in Europe
The best day trips from Edinburgh
Free Harry Potter walking tour in Edinburgh
Plan your Scotland itinerary!
Pin it for later!
Travelling Dany
Danila Caputo is a bilingual travel writer living in between Naples and the Amalfi Coast (Italy). She travels and works with her husband Aldo, photographer and videographer. Their blog chronicles their adventures around the world, Italian/European culture and tips on how to be responsible travelers. You can find out more about their latest trips and their life on Instagram and Facebook.