The best Amsterdam trips usually include the chance to explore the nearby attractions and maybe a few amazing instagrammable spots. Let me show you some easy-to-plan Amsterdam day trips you should add to your itinerary. Also if you're visiting on a budget!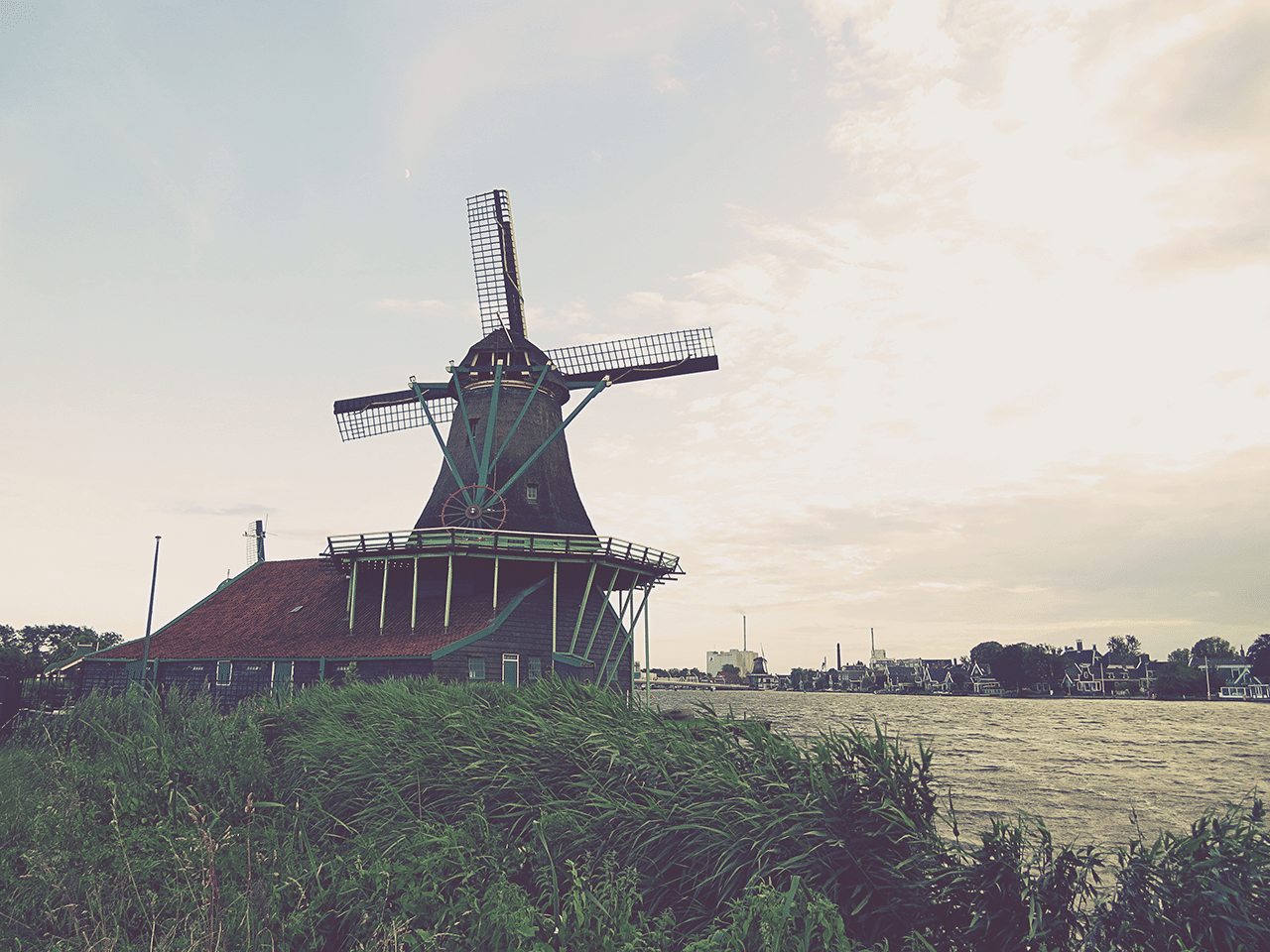 Planning a trip to the Netherlands? If you are using Amsterdam as a home base, renting a car might be absolutely useless. All you need to explore this beautiful Country is a train ticket – and a bike, if you feel like exploring the Dutch countryside on your own. Let me show you the best day trips from Amsterdam by train: discover windmill villages, historic towns, cheese markets and tulip fields: it will be an unforgettable vacation!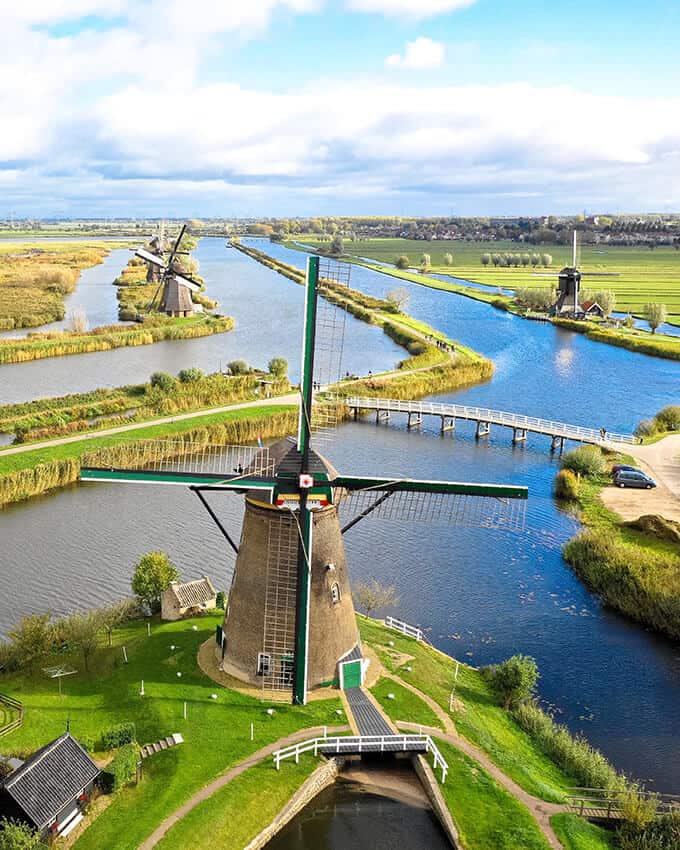 Train trips from Amsterdam vs. renting a car
You won't need to rent a car to visit The Netherlands, for two main reasons.
The first one being that by renting a bicycle you can go wherever you want.
The second? The Dutch railways are some of the best in Europe.
Not many people know, but you can still combine the two things, because in The Netherlands they're awesome like that.
In case you don't feel like you can work on your pedals for a long distance, you can still buy a ticket for your bicycle and carry it with you on the train.
Imagine our face when, during our first trip to The Netherlands for a nice weekend in Amsterdam, we saw a woman carrying her bicycle on the train like it was everyday's stuff.
We'd never seen anything like this while exploring Italy and yet it's the perfect way to explore a green Country that doesn't particularly like pollution. By visiting the Netherlands, you'll see by yourself that we still have a lot to learn from them about taking care of our beautiful planet.
Trains are a popular way to explore the Netherlands, as the stations are generally very close to the starting point of the main cycling routes.
The Dutch just hop off the train and on their bike to go to work.
Anyone else besides me who would love to start the day with a view? The landscape in the Netherlands is full of windmills, flower bushes and green. It really is difficult not relish in the beauty of the countryside (so yes, please, ditch the car, you won't need it!).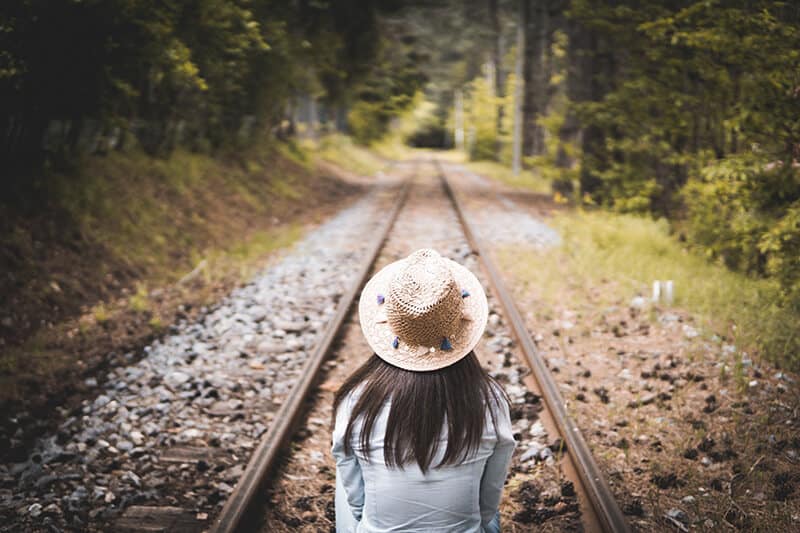 Bicycles are allowed only from 9:00am to 4:00pm and after 6:30pm. The restrictions won't apply during the weekend, on National holidays or in July and August.
The ticket for your bike will cost you 7,50€ and it's only valid in combination with a regular train ticket.
If you are planning a few day trips from Amsterdam by train, the best way to save is to buy a prepaid OV-chipkaart that you can just recharge like a normal SIM card for your smartphone.
You will need at least 20€ as a starting fare before you can travel and you will have to check in as soon as you hop on the train and check out when you hop off.
Another opcion is to buy a single use smart card at the NS ticket machines or service counters, but you'll have to pay a 1€ surcharge for each journey (so 2€ if you're doing a return ticket as well).
Tickets can be purchased online.
We suggest to do so through this link to avoid incurring in the extra-expenses. Especially if you're planning your Amsterdam trips on a tight budget.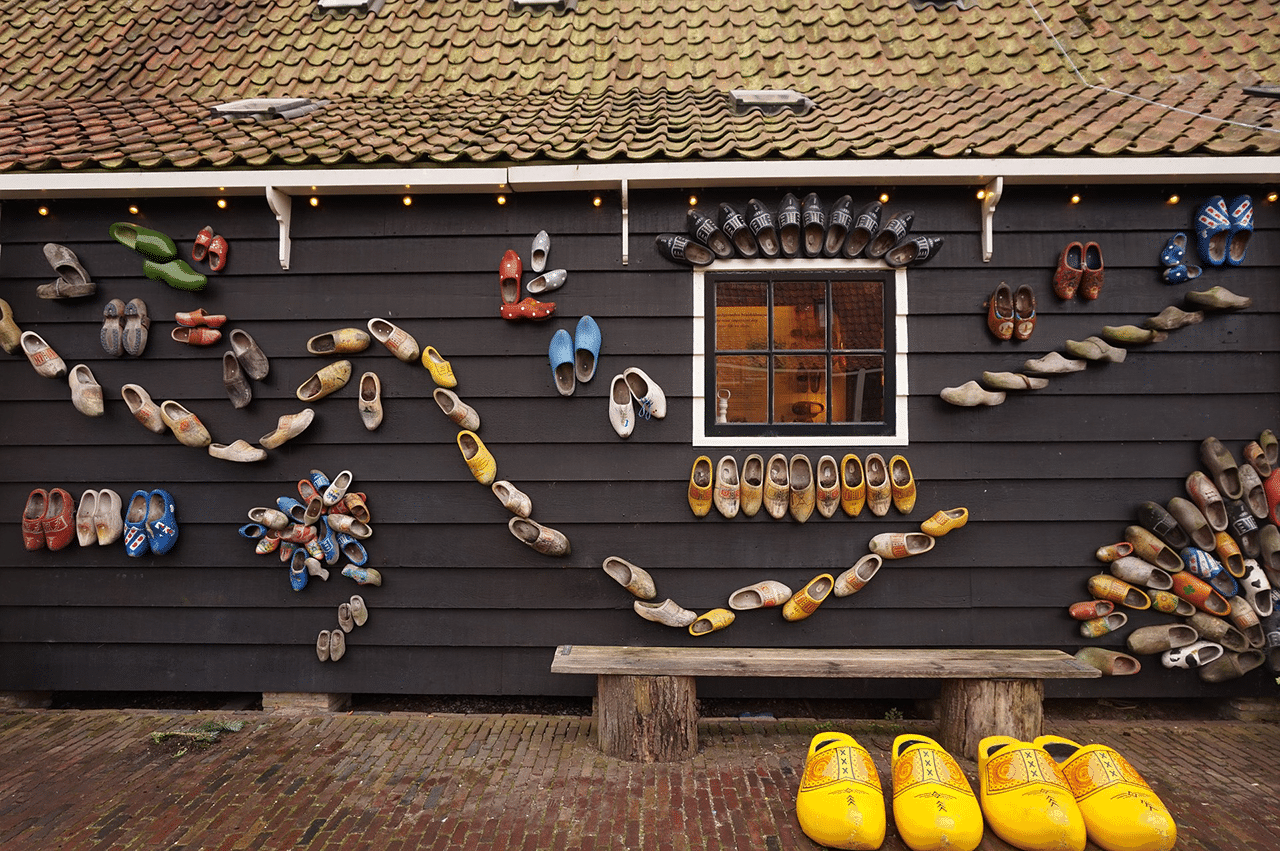 Haarlem: the little Amsterdam
Given that you already have your train ticket, the first one of the suggested day trips from Amsterdam by train is Haarlem, a city full of history and culture.
Getting there only takes a 15 minutes train ride from Amsterdam to Haarlem, so if you don't have much time, you can definitely plan this as a half-day trip.
That way you can also add another short train trip on the same day: there's so much to see around Amsterdam!
This medieval city is one of the most instagrammable destinations in the Netherlands. It's often referred to as a miniature Amsterdam, but it's much more than that. I found it lively and less crowded than its famous neighbour.
Going to Haarlem by train is also a great idea in case you have rented a car for a road trip in the Netherlands.
The parking fees in Haarlem are pretty expensive. Because you won't need a car to explore Haarlem, you'd have to spend a lot of money to just park your car: leave it in Amsterdam and use the train in stead!
Even if there's so much to do in Haarlem, your first stop should probably be the Grote Markt (market square). It's the heart of Haarlem, not too far away from the train station. It is located under the Grote Kerk (main Church).
You will probably recognize the area because photos of its main buildings have been published on more than one travel guide for the Netherlands, like the Lonely Planet.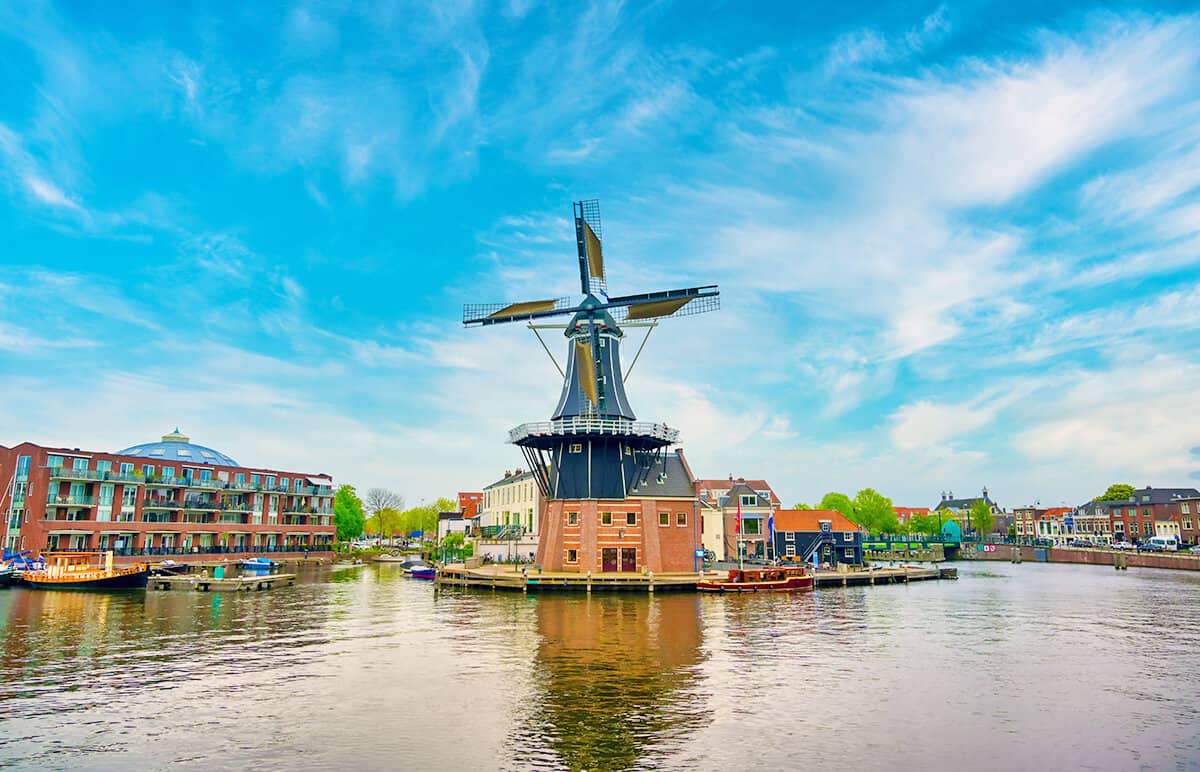 If you travel to Haarlem on a Saturday, you will be able to visit a very nice (and a bit crowded) street market where they sell just about everything, from wooden clogs to clothes, to some delicious Dutch cheese that you can eat on warm bread (which is absolutely delicious, just so you know!).
For those like me, who tend to lose track of time when they are shopping, the best option would be to visit the Grote Kerk first. You won't have to worry about not having enough time later!
This magnificent Cathedral dates back to the 14th century and it's definitely worth a visit. On Tuesdays and Thurdsays (occasionally also on Sundays), from July to October, there are free organ recitals you can attend, in case you aren't visiting in a hurry.
If you haven't decided yet where to go from Amsterdam and you don't have much time, Haarlem is definitely your must-see place!
The shopping streets in Haarlem are known also as "de Gouden Straatjes" (streets of gold), because they're full of great deals, typical products, but also clothes and accessories from big brands.
As you walk by, you'll probably also find several cheese shopkeepers asking you to try their goods. We've had the chance to taste some of the best Dutch cheese in Haarlem and also bought some for my dad, a big fan of cheese: he was the happiest dad in the world!
Note: Before you buy cheese in the Netherlands, make sure you are allowed to bring some back home. Always check with TSA first.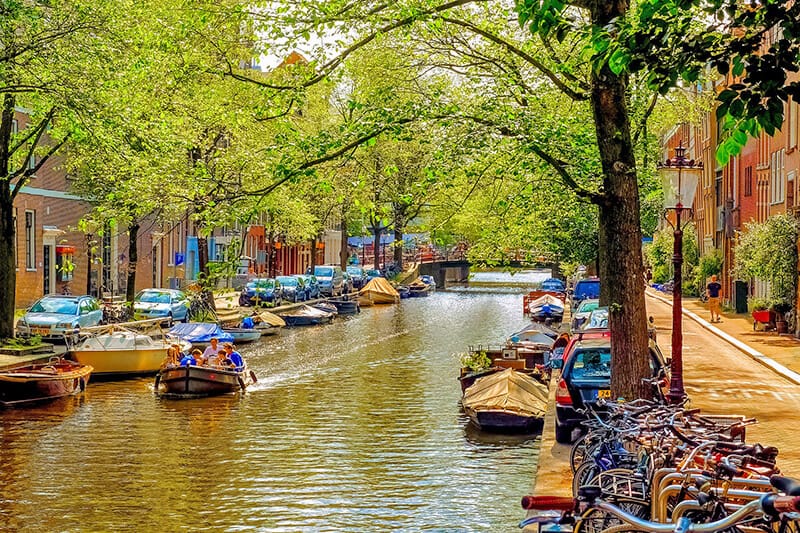 If you are interested in a nice instagrammable place, then head over to the Molen de Adriaan. This is the nicest windmill in the area and it can also be visited with a guided tour. From the inside, aside from the spectacular views of Haarlem, you won't find much, so take it into account if you aren't sure you have enough time!
For those of you interested in museums, you might want to check out the Frans Hals Museum, dedicated to the Golden Age and Hals portraiture.
In Haarlem we also found our favorite brewery in The Netherlands. De Jopenkerk is located in a former Church in the city center.
You should've seen Aldo's face when he actually realized we were to drink beer in a former Church – priceless! It's another thing we never thought about in Italy, so we have fond memories of this place.
If you have allotted one full day to Haarlem in your Amsterdam itinerary, make sure you book a tour at De Jopenkerk to see the brewing process. It's informative and super interesting – besides, you can have lunch here!

Me and Al had a great pint of Duch beer, with a delicious cheese platter and spicy little sausages. Prices are average: we didn't spend more than we would have in Amsterdam.
Zuid Kennemerland National Park: gorgeous sand dunes
Those who have spent only half-day in Haarlem will be able to spend the other half exploring the Zuid Kennemerland National Park, known for its gorgeous sand dunes.
Zandvoort is very close to Haarlem so if you have brought a rental bike with you, you can easily skip the train and enjoy the trip there, especially on a sunny day.
If you don't have a bicycle with you, then hop on the train at Haarlem and go to Overveen. It's a six minute ride and from there you can just walk 10-15 minutes west to the park entrance.
If you just want to see the sand dunes and not the whole park, just head over to Zandvoort and from there walk to the sea. This is definitely one of the best places to visit from Amsterdam if you're looking for a day out in the open.
The Zuid Kennemerland National Park is one of the most beautiful and unconventional parks in The Netherlands.
This nature preserve is located North of Zandvoort and it covers 38 km2 of sand dunes and forest. It protects over 100 different animal species and it's the perfect place to go if you are into birdwatching.
Some say you can see deer, hedgehogs and foxes but I will be very honest with you: it was (very) windy when we visited, so we didn't even get to see the birds!
The Zuid Kennemerland park is perfect for your list of day trips from Amsterdam if you don't have enough time, because you can easily visit in a couple of hours.
The area is super quiet and completely different from anything else you'll see in the Netherlands. If you have brought a sandwich you can even sit on the sand for a very special picnic!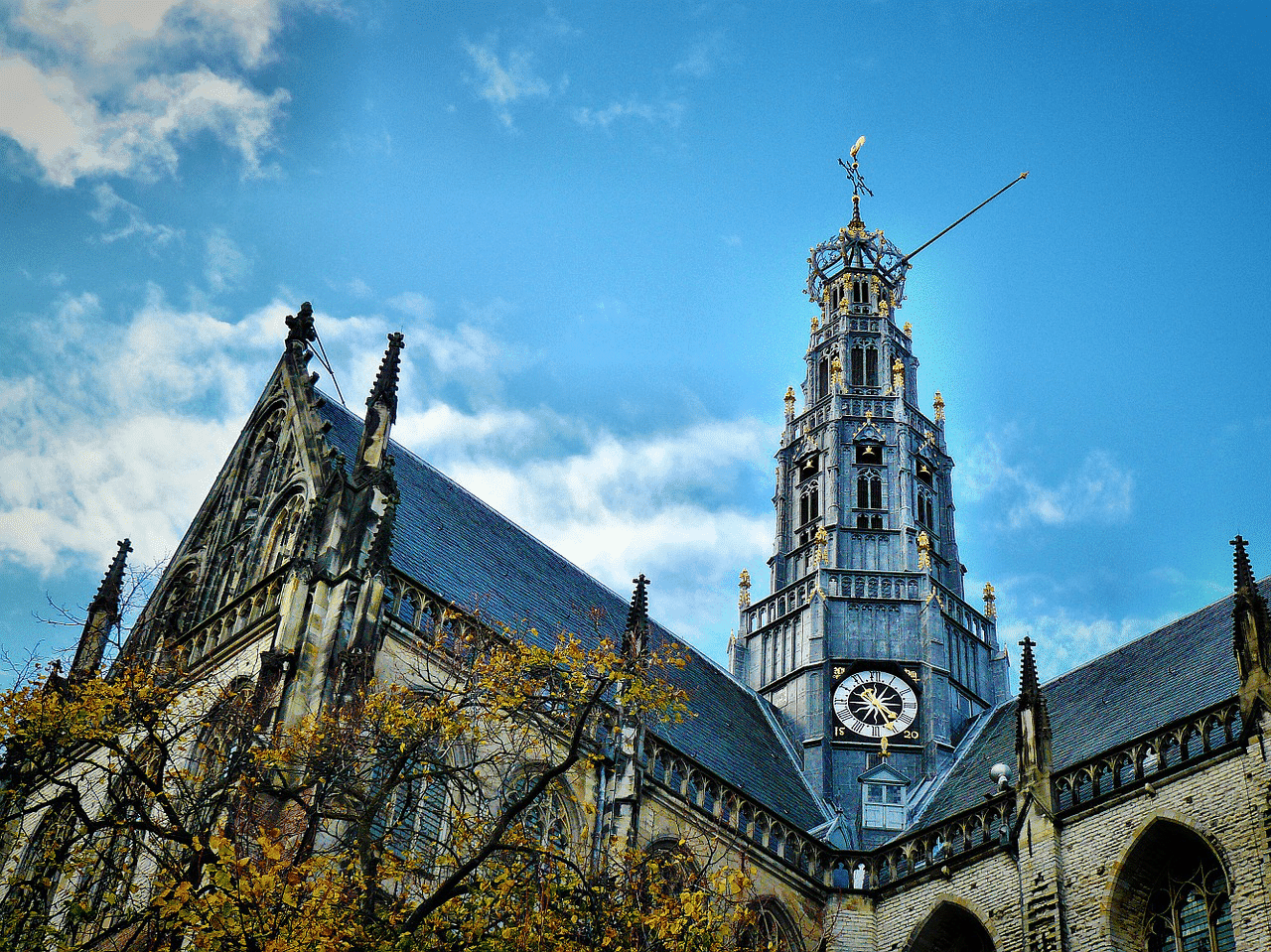 Zaanse Schans: a windmill village
Another one of our suggested day trips from Amsterdam by train is the historic village of Zaanse Schans. You can reach it in about 15 minutes by train from Amsterdam; hop down at Zandaam and then walk to Schansend 7.
The entrance is free if you have an I Amsterdam City Card. The card also provides free unlimited public transport, a free canal cruise, discounts, free entry to some of Amsterdam's best museums and overall it's a great deal if you're spending a few days in the Netherlands.
Click here to order your I Amsterdam City Card!
You might also like:
See how to plan the perfect weekend in Amsterdam!
Many of the characteristic windmills at Zaanse Schans are now museums, workshops or gift shops.
The area attracts nearly one million visitors per year. That's why we decided to visit in the late afternoon, when the buses full of tourists had already left.
Our reward was having the place all to ourselves… and a very special guide. A chubby, super cute cat with a red collar walked with us as we explored the area. We had to pay him in cuddles, as he was mewling loudly every now and then to ask for attention: the best guide ever!
In case you don't speak the cat language, maybe you'll want to download the free, interactive map to Zaanse Schans, for Apple and Android.
It explains everything about the buildings in this iconic windmills village.
Me and Al were actually quite surprised to discover that one of the windmills at Zaanse Schans still works.
It produces high quality paints and pigments, supplied to artists and restorers across the world.
This is the last windmill in the world that produces this kind of paint: our cat guide loved this part of the village, so we guessed he lives there!
As you walk around, with the delicious scent of cocoa filling your nostrils (beware, it made us hungry!), have a look at the beatiful gardens in the area surrounding the village.
We found the most spectacular ones: Al has a green thumb and had a serious case of "garden goals" at Zaanse Schans!

Some of the owners of the cute houses surrounding the windmill village even created lovely scenes with garden dwarves, or fairytale villages with glass ornaments.
If you have been following our Instagram page you've probably already seen some of these gardens: so gorgeous!
Near Zaanse Schans there are also quite a few stables, in case you're interested in a horseback ride!
The Zaanse Schans opening ours are 09:00am to 05:00pm. Check out their official website for more info.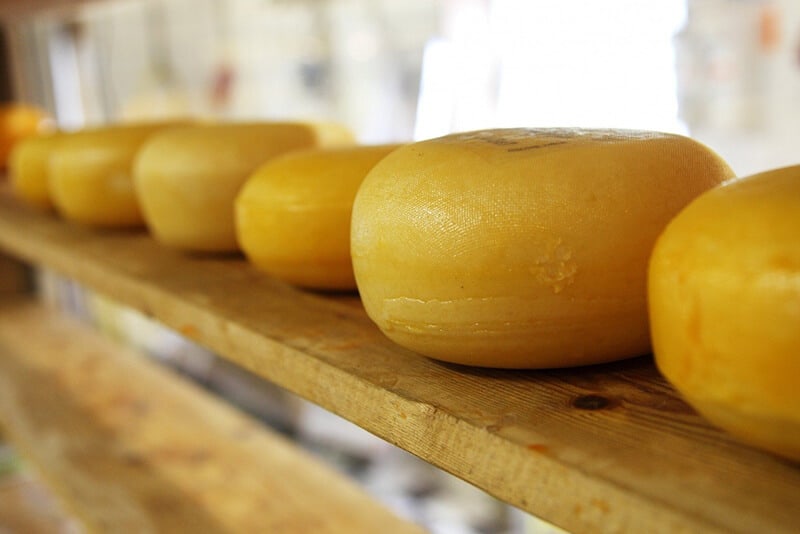 Alkmaar: the traditional cheese market
A lot (and I really mean a lot) of people decide to visit Alkmaar only because of their very colorful cheese market.
There's one every Friday from 10:00am to 01:00pm.
Now, while the Alkmaar cheese market is very colorful and fun, it has also turned into a bit of a tourist trap. Besides… it's crowded. And I mean really, really crowded.
The only chance to be "on the front row" is to go there early in the morning, but you should be prepared to share the space with hordes of tourists. I won't lie to you: sometimes it's uncomfortable, especially with families who visit with young children.
Me and Aldo decided to visit Alkmaar during the week to avoid the crowds. What we value the most is to actually enjoy the visit, get to know the locals and possibly take some good pictures. That isn't possible on Friday in Alkmaar.
If you want to visit a cheese market, consider going to Gouda, it's way less crowded. Scroll down for more info about the Gouda cheese market!
Alkmaar, The Hague and Delft are possibly the easiest to reach out of this list of day trips from Amsterdam by train. The best choices if you don't have much time and if you still want to get a taste of the Netherlands… literally!
While Alkmaar one is about half an hour from Amsterdam by train, Delft and The Hague are about 1 hour away, and about 25 minutes from each other.
If you decide to save Alkmaar for another trip, I suggest you to spend the day visiting Delft, The Hague and maybe Leiden. You'll also save on time and train tickets.
If you want to see how cheese is made, click here to check out a lovely tour which covers Volendam, Edam and the Zaanse Schans windmill village, with a local guide and the chance to also visit a clog maker's shop!
The Hague: the center of politics
The Hague is the thirld biggest city of the Netherlands, after Amsterdam and Rotterdam. You might have heard of it because it's the seat of the Dutch government, Parliament, the Supreme Court and the Council of State.
Most foreign embassies in the Netherlands hare located here, and also international organizations, including the International Court of Justice and the International Criminal Court that prosecutes crimes against humanity.
It was created after the Nuremberg International Military Tribunal prosecuted the German leaders who participated in the Holocaust and the atrocities in camps like Amsterdam or Birkenau.
The Het Binnenhof is the center of politics in the Netherlands. When we visited the sun was shining, so we could see its reflection on the quiet waters of the Hofvijver lake.
Spring in the Netherlands is gorgeous and even the more so at The Hague: there are so many flowers everywhere you go!
Beware: you'll feel tiny while walking Gothic Riddezaal, a great hall that creates a large courtyard in front of the building. If you are interested in history, definitely opt for a guided tour here!
We were told it's better to reserve through their official website.
You can still make this a day trip from Amsterdam, but whether it's a full day trip or a half-day trip is definitely up to you. Decide according to how much time you have and if you're interested also in other day trips on this list.
When we visited The Hague, we spent a good part of the day just walking around: there were so many flowers, the weather was perfect and Den Haag wasn't even too crowded.
We loved it enough to add it to our Netherlands bucket list: we definitely want to spend more time there!
A few of you have asked me if I know of a reliable private driver to visit the Netherlands. You can click here to check out a tested private tour which will drive you to The Hague and Delft with hotel pick-up and drop-off. It's the best one I know!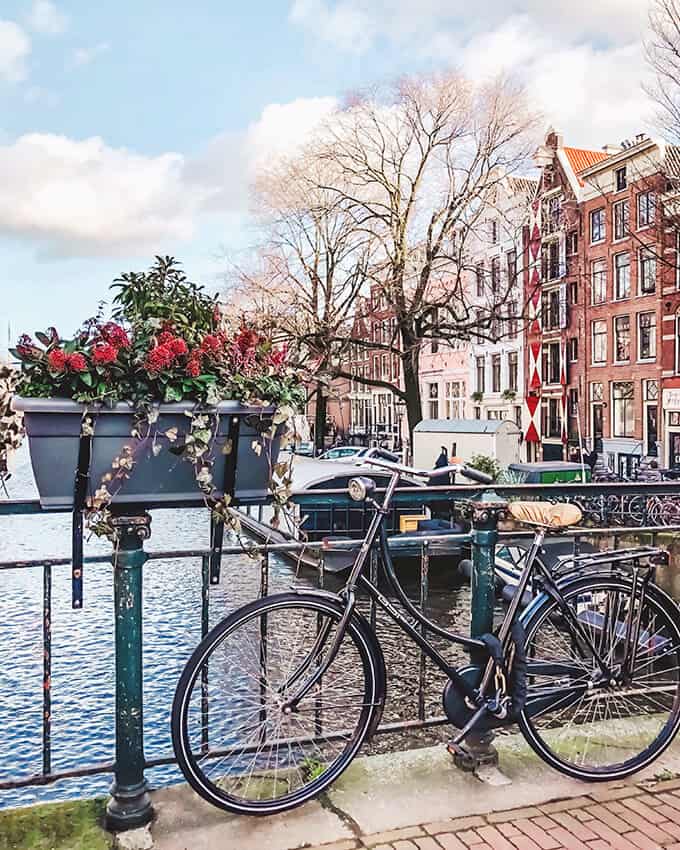 Leiden: great photo spots and historical buildings
Leiden is yet another city in the Netherland where everything is within walking distance: picturesque canals and 17th-century buildings make this one of the best places to go if you're interested in taking great pictures for the 'gram.
Renowned for being Rembrandt's birthplace, Leiden is home to the oldest and most prestigious university in the Netherlands. Just think that Einstein was teaching here!
The 27,000 students living here make it a great spot for those interested in soaking up the nightlife, and who are visiting the Netherlands on a budget. Snacks and to-go food are pretty cheap in Leiden!
The most famous landmark in Leiden is the De Valk windmill, built in 1743. It has been turned into a museum that you can visit if you have enough time.
Tickets for adults will cost you €5 while children 0-5 can visit for free.
You can check out the opening hours and bank holidays for 2021 on their official page.
Those visiting the Netherland early in spring will be able to see the first ever tulips to appear in the Netherlands in springtime at Leiden: make sure to visit the Hortus Botanicus!
Tickets for adults will cost you €8 and if you are lucky enough, you might also take part to their seasonal events.
Like many other cities in the Netherlands, Leiden's historic city centre revolves around its canals: the oldest neighbourhoods are surrounded by a series of picturesque wateways.
There's a ton o photo ops here so if you are interested in taking crowd-free pictures, make sure to get to Leiden very early in the morning.
Leiden is yet another one of the easy day trips from Amsterdam by train that you can turn into a half-day trip. How much time you spend here is totally up to you!
Delft: home to the famous Delftware
I first heard of Delft because of the famous black and blue pottery. It's also known as "Delftware", and according to history books, it was originally a copy of the Chinese porcelain.
I imagined it as one of those tourist traps with high prices. Yet I soon had to admit I was completely wrong.
Sure, Delftware is sold in almost every shop, not only in Delft, but it's not true that you have to spend lots of money to get one.
Delftware comes also for the budget travellers who can't afford super-expensive souvenirs or those who are backpacking in the Netherlands.

The cutest Delftware souvenirs you can buy in Delft are small animals, and I mean… as small as 3-4 cm. We did get cute kittens and tiny owls, as well as one slightly bigger windmill.
The most expensive souvenir we bought costed us 10€: our tiny Delftware animals came for 3-4€ each. I've never been happier to be wrong about something!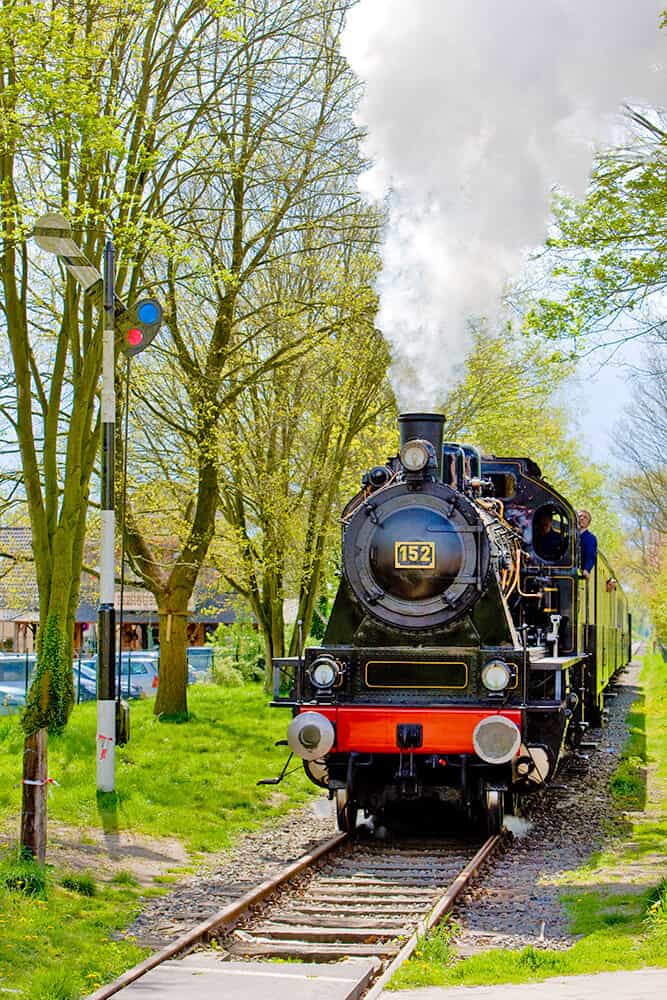 If you want to experience Delft through the eyes of a local… hire a local guide to explore the Old Town! Click here to check rates and availability.
Delft is one of the day trips from Amsterdam we loved the most. Maybe because it was very relaxing and we got to talk to the locals.
We got to Leiden right after lunch, when people were still sitting at the cafes along the canals.
The sun hit the tall tower of the Nieuwe Kerk, while in the square underneath artisans were crafting wooden clogs and street vendors were selling colorful tulips.
The essence of the Netherlands was all here, unfolding in front of us.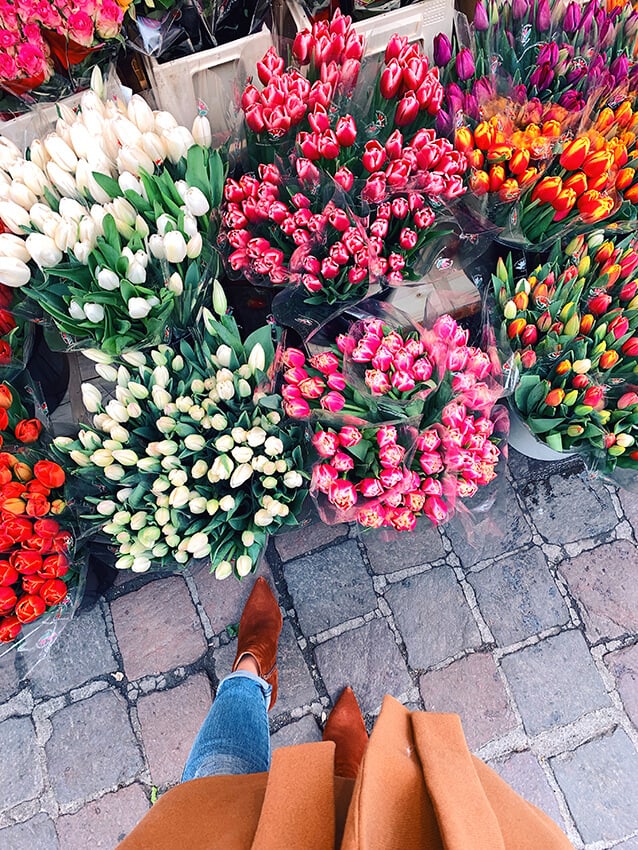 Delft has everything we were expecting from the Netherlands and then some.
People here are welcoming and warm. There are narrow streets, romantic bridges on the canals, and prices are not as expensive as one might think.
If you can spare at least one afternoon in your trip to the Netherlands, add Delft to your itinerary and you'll fall in love just as we did.
If you get hungry while exploring Delft, top at the Ten to three bakery.
This cute bakery has also a tea room inside and also serves lunch.
It looks like something straight out of Breakfast at Tiffany's, everything is pink and white, and their cakes are to die for!
Me and Aldo chose to grab a homemade cold tea and a unicorn cupcake, then we sat outside, so we could look at the main square, while enjoying the sunset.
Gouda: cheese, farmers and traditions
Gouda is great add to this list of day trips from Amsterdam by train. The Amsterdam to Gouda train trip will take just about one hour. Start your day trip at the Amsterdam Central Station.
As many of you pointed out on my Instagram page, not many people know that Gouda isn't just a cheese, but also a beautiful city! The famous cheese wasn't named after the city because it was produced here, but only because historically it has always been traded here.
Every Thursday morning, from 6 April to 31 August, you can attend the spectacular Gouda cheese market, and quite surprisingly, we also found it way less crowded than the cheese market in Alkmaar.
You will get to see farmers dressed up with traditional costumes, negotiating over the price with the traders: the deal is sealed with a handshake and it has been like that for centuries.
If you're visiting the Netherlands with young children or if you just can't stand the crowds (we're also guilty of that), my suggestion is to visit the Gouda cheese market in stead than the one in Alkmaar.
The Town Hall, with its red and white shutters and Gothic architecture, welcomes travellers with a beautiful carillon with mechanical puppets, located on the right side of the building.
For two minutes, each half hour, the carillon makes the puppets move. It attracts lots of people and some even compared it to the Astronomical Clock in Prague!
There are many museums and historical buildings in Gouda, but we decided to take an audio tour of the Sint-Janskerk in stead.
This beautiful Church, originally Roman Catholic and then Protestant (today it's still run by the Protestant community of the town), is the longest one in the Netherlands: 123 metres!
You will love the stained glass windows dating back to the Middle Ages and Reinassance periods, displaying scenes from the Bible and the Dutch history. They are on the UNESCO list of protected Dutch monuments.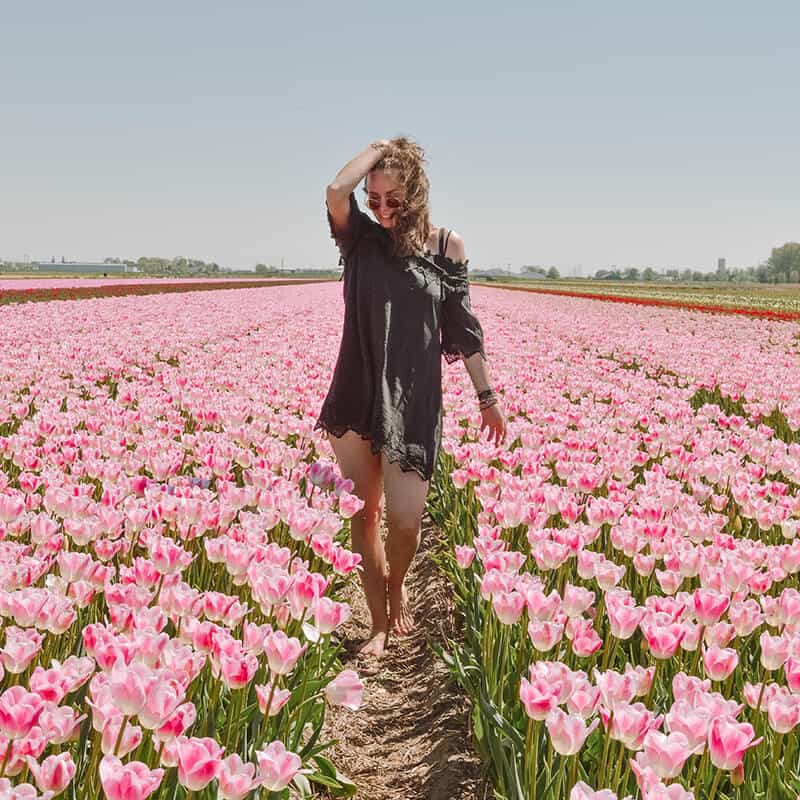 Seasonal day trips from Amsterdam by train – The Easy Guide
Amsterdam in spring: the tulip fields
If you are planning a few day trips in Netherlands from mid-March to the end of May, you can't miss a visit the beautiful tulip fields near Amsterdam.
They will be in full bloom so add them to your Netherland bucket list – they're easy-to-plan day trips from Amsterdam by train and you won't need an expensive tour to visit them!
Spring turns large areas of the Netherlands into a colorful patchwork. According to the experts (my black thumb doesn't work so I have actually asked to the locals), mid-April is absolutely the best time of the year to visit the tulip fields if you want to shoot spectacular photos.
Most of the tulip farms are located in the province of Flevoland, and in an area known as Kop van Noord-Holland.
Another well known area is Bollenstreek near Leiden, where you will also find the world famous Keukenhof gardens (tickets €17), a huge park/garden with more than 7 million tulips!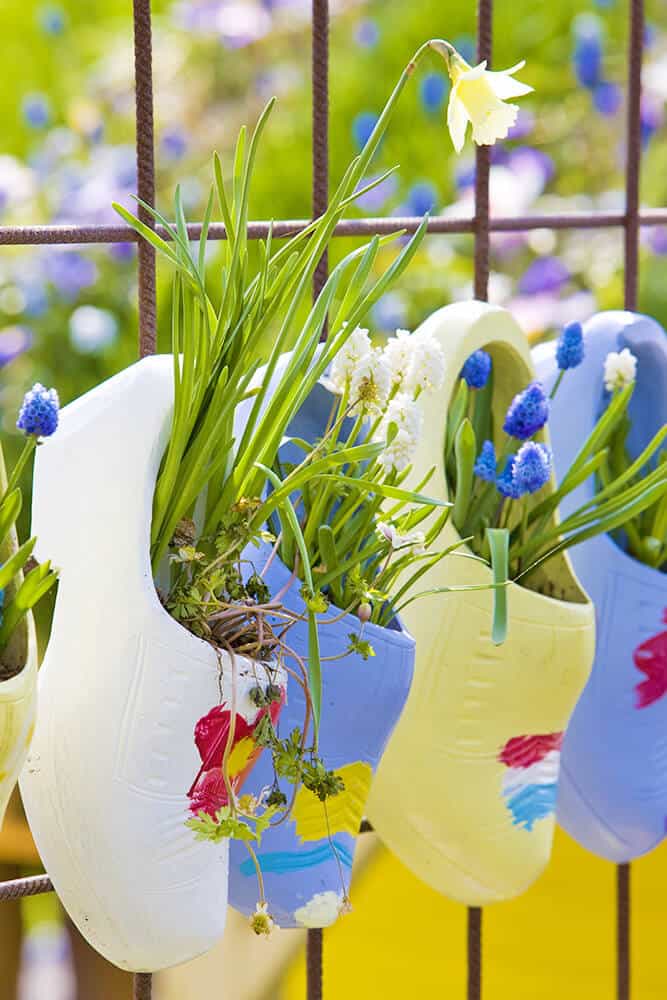 There's also an easy and fun 5-hour day trip to Keukenhof from Amsterdam that you can book online (with free cancellation up to 24 hours in advance, of course).
The tour includes entrance ticket to Keukenhof Gardens, a native English-speaking or Spanish-speaking guide, and transport to and from Amsterdam.
Click here to check discounted rates and availability.
Do you want to see the popular Giethoorn, but you don't have a car?
Plan the perfect spring day trip by booking a tour from Amsterdam!
This tour includes the trip from Amstedam to Giethoorn and even a boad tour to visit this fairytale village with a local guide.
Spring is a magical season, make sure you get the most out of this trip by planning well in advance!
Click here to get a discounted rate for this tour.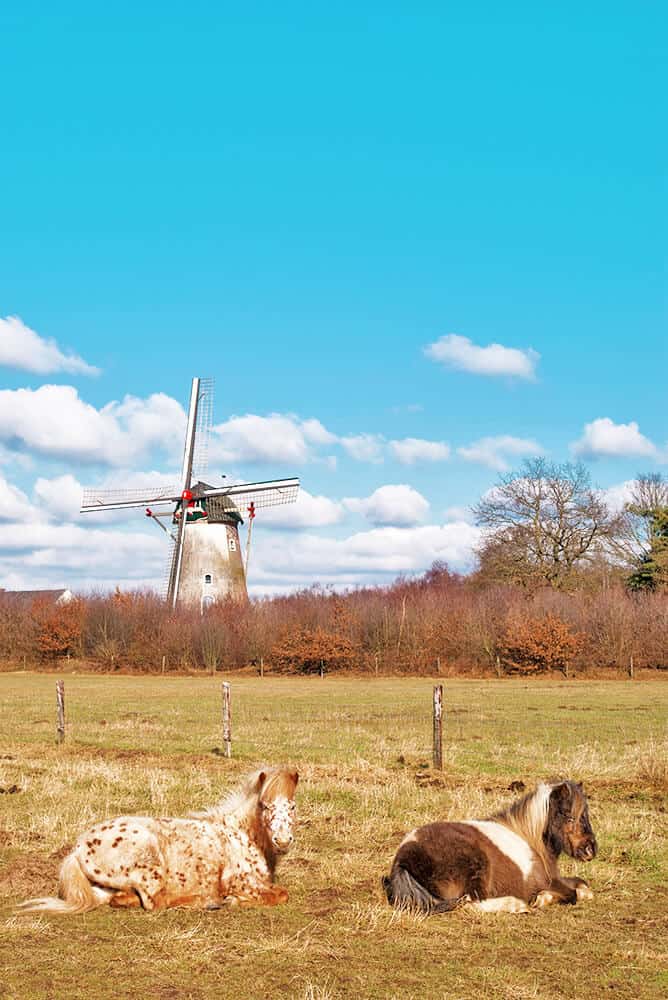 Fall day trips in the Netherlands
The golden palette and temperate weather are ideal to explore Amsterdam nearby attractions, or maybe to book a yummy food tour.
Between September and November the Dutch engage in "gezelling". This special word represents many feelings associated with autumn activities, like drinking beer with friends, eating delicious meals or maybe even reading a book next to a log fire.
Fall in the Netherlands is when you can relax, hang out, and… settle into a gezelling-rhythm!
The canals, in Amsterdam, Haarlem and many other cities I mentioned above, are going to be framed by lovely trees in full fall foliage. Which means you can take a lot of amazing pictures for the 'gram!
Consider visiting places near the sea like the Zuid Kennemerland National Park. Another spot worth mentioning is also the island of Texel, off the coast of Northern Holland.
Of course you can't get there by train!
Autumn also means that there are loads of film festivals in the Netherlands that you can go to. And tons of indoor music festivals, not only in Amsterdam!
To explore the Dutch countryside on a day trip from Amsterdam you can also book a tour.
This one will show you the picturesque Dutch towns of Edam, Volendam, Marken and Zaanse Schans in a day, by bus.
There are a lot of instagrammable places, so bring your camera!
Oh and in case you're a foodie like us, it also includes a cheese tasting experience. Yum!
Click to save up to 20% on this incredible tour!
Where to go from Amsterdam in winter
During the winter months canals and lakes in the Netherlands usually freeze, especially up in the north.
Hence why many locals decide to just go ice skating all over the place! According to them, nothing beats skating on "authentic" ice!
While the weather can be unpredictable, winter still have its perks. Many cities hold traditional Christmas markets and there will be a lot ice skating rinks.
It will be cold, so you should stick to the indoor activities when it's raining or snowing.
Gouda in December is amazing because of the Gouda by Candlelight festival. The entire main square is darkened and then one thousand candles are lit.
It's super romantic!
Maastrict is another popular day trip from Amsterdam in winter. The city center turns into one amazing Christmas village. All the shopping streets pay homage to the traditional Christmas celebrations, so it's definitely a one of a kind experience!
You might also like:
– What to pack for your winter trip
– The best Christmas markets in Europe
– 15 fairytale places in Europe in winter
Summer Amsterdam trips
Summer in the Netherlands arrives around July, and while the days are warmer, they're never unbearably hot.
We live in Naples (which is a furnace in summer) so when we visited Amsterdam and the nearby attractions we were pleasantly surprised!
It can definitely rain even in summer, but it's rarely more than a sprinkle.
Which we absolutely loved because the air was fresh and the sun didn't burn my super-fair skin.
If you're planning Amsterdam vacations for the summer, add interesting activities in the open to your itinerary. You're going to love the warm season!
All the day trips from Amsterdam I mentioned in this guide are going to be great for the summer time.
You can spend one day at the Zuid Kennemerland National park, or explore Zaaanse Schans. Go shopping for cheese in Alkmaar and Gouda. Or even just sit at a cafe in Delft while drinking organic cold tea. Why not!
In case you have rented a car, make sure you hit Efteling.
This theme park in the Netherlands is one of the best in Europe!
We had a lot of fun and since it wasn't overly warm outside we decided to spend the whole day there.
Getting to Efteling theme park in the Netherlands is also easy if you're booking a tour from Amsterdam.
This one includes free cancellation up to 24 hours in advance, so you're covered even if rain hits last minute to ruin your day out.
Click to book the tour – includes a discounted park ticket!
You might also like:
– How to spend a fantastic weekend in Amsterdam
– The best day trips from Amsterdam 
– Guide to Giethoorn – the fairytale Dutch village
– 20 gorgeous European cities in autumn
– ETIAS Visa Waiver and all of Europe Visa Requirements
Pin it for later!
This post is also available in:

Italiano