This post is also available in: Italiano (Italian)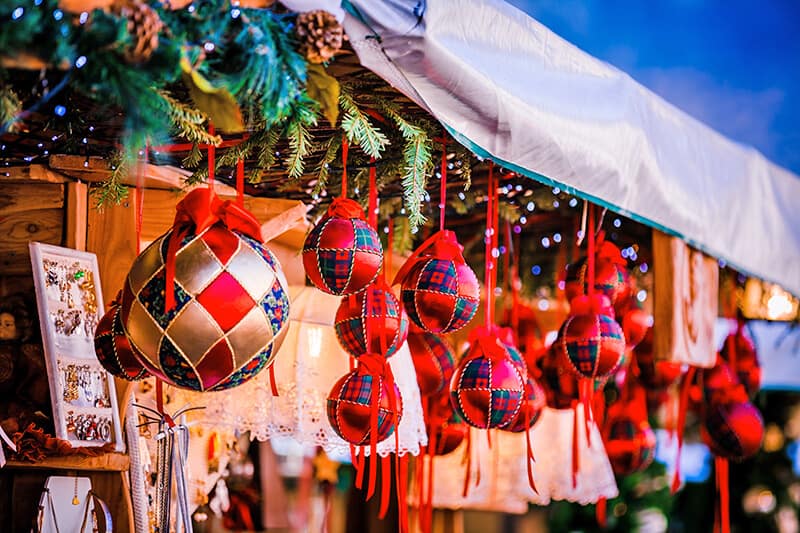 There are quite a few Christmas markets in Italy. Here it's all about food and the local folklore of the area where they are held. Some visit them merely to buy Italian Christmas gifts, while some others love them because they're the best place to go if you're looking for Italian Christmas treats and street food. Yet there's so much more than that, including themed events and light festivals! If you're planning a trip to Italy in December, make sure to read this article until the end. I've added a useful bonus chapter which includes easy Christmas greetings in Italian!
You might also like:
The best Christmas Markets in Europe – Where to find some snow
Christmas Markets in Italy: why you should go
Italy at Christmas is decorated with cute lights, nativity scenes and huge Christmas trees. Basically everywhere.
Those who visit Italy expect Christmas to be a purely religious holiday, yet the truth is that us Italians also love to enjoy the folklore and the cultural aspects related to Christmas.
I'm thinking for example of old family recipes that have become the staple of the regional Italian Christmas food, usually exclusively cooked a few times during the year, to celebrate Christmas with the family.
You might also like:
What to eat in Italy at Christmas – regional dishes
Christmas markets have become super popular, but people mostly think of the big, iconic European cities like Vienna or Berlin, forgetting that there are other areas in Europe where you can see them just the same.
In Italy we've had Christmas markets for many years and the best ones have become the perfect destination for Italians who want to plan an unforgettable Christmas trip.
When you visit the Italian Christmas markets, you will always find delicious seasonal food, Italian Christmas ornaments, handmade gifts and many of the amazing souvenirs from Italy I've often talked about.
Visiting our Christmas markets is a good idea if you want to know more about the authentic Italian regional culture. There's nothing touristy about most of them, and besides, they're free, so they are a great option for those who plan to visit Italy on a budget!
Let's find out more about the best Christmas markets in Italy, divided by region!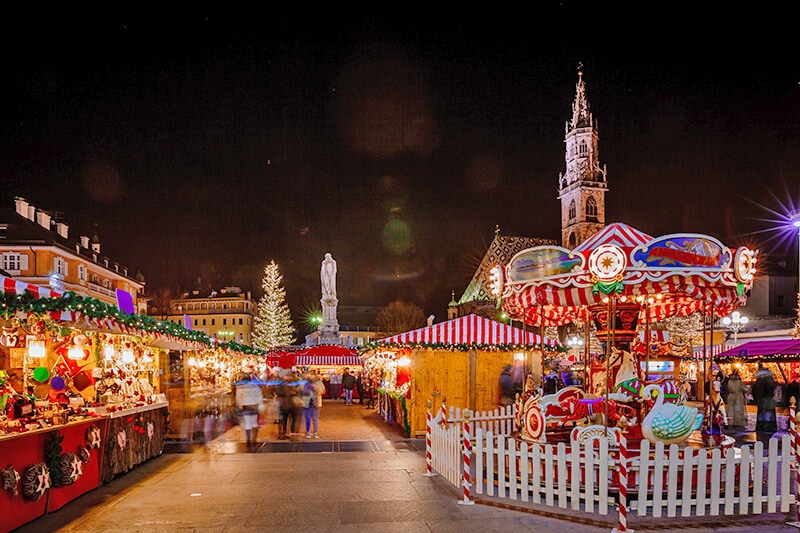 Christmas holidays in Trentino Alto Adige
Trentino Alto Adige, in the North, is where the most popular Christmas markets in Italy are held.
There are quite a few of them: here I'm listing only those that both me and Al think should absolutely be in your itinerary if you're lucky enough to visit Northern Italy at Christmas.
The Trentino Christmas markets have a Tyrolean atmosphere that is usually associated with European markets held in snowy areas: there are wooden stalls, good food and handmade souvenirs.
Many people who visit the Christmas Markets in Trentino and Valle d'Aosta can only associate them with gorgeous Christmas villages. Let's see which of those winter wonderlands you should add to your bucket list!
You might also like:
Winter packing list – how to pack like a pro
Bolzano Christmas Market
The Bolzano Christmas market is the oldest and largest market in Italy.
This lovely Christmas village started in 1991, just like the Bressanone Christmas market (keep reading for more info). There are 80 stalls in Piazza Walther, and while it was decided not to add more, the Municipality chose to invite only the finest artisans, selling high quality Italian products and great food.
If you have an extra day and want to experience the Italian Dolomites covered in snow, I have a tip for you. Instead than a carriage ride, hop on a snowmobile and follow the Great Dolomites Road for an adventure of a lifetime! This UNESCO world heritage site can be explored by sledding and snowmobiling with an expert guide.
This day tour will guide you through the Isarco Valley and up the Misurina Lake, up a scenic road to view the Three Peaks of Lavaredo. By booking this group tour you'll also get to Cortina d'Ampezzo where you'll get the chance to explore the Christmas markets over there!
Click here to check rates and availability.
Since 2014 the Bolzano Christmas market (just like the others mentioned here for Trentino Alto Adige) has been working with the Ecoistituto Alto Adige: sustainability and ecology have become their main keywords. That's why it is a certified Green Event!
The Bolzano Christmas market 2019 will be open from November 29 to January 6, 2020. On Christmas day the market will be closed.
Opening times: daily, 10 am to 7 pm.
Bressanone Christmas Market
The Bressanone Christmas Market is the second oldest one in Italy, after the market in Bolzano.
The wooden stalls are located in Piazza Duomo, and the background is the gorgeous Bressanone Cathedral, with its two towers.
This is one of the Christmas markets in Italy which smell like cinnamon and fried apples: drink a cup of mulled wine while browsing through nativity scenes, wooden sculptures, ceramics, handmade candles and much more.
Your Italy trip in Bressanone wouldn't be complete without visiting the Hofburg palace, where you will find the Museo del Presepe. The exhibit counts hundreds of nativity scenes!
Tickets to the Museo del presepe will cost you 5€. Kids under 13 will only pay 2€.
The Bressanone Christmas Market 2019 will be open from November 29 to January 6, 2020.
Opening times: Monday to Thursday, 10 am to 7 pm; Friday and Saturday, 10 am to 7:30 pm; Sunday 9:30 am to 7 pm.
You might also like:
Italy in Winter – Why you should visit
Brunico Christmas Market
The Brunico Christmas market is tiny but lovely. Only 35 wooden stalls are scattered in two locations, via Bastioni and Piazza Municipio, but they sell a lot of cute things if you're interested in buying 100% Italian souvenirs.
Handicrafts, Italian Christmas ornaments, wooden toys and lots of leather products reflect the Tyrolean culture and the essence of a real Christmas market.
Foodies love to go to Brunico during the Christmas holidays as this market is very popular thanks to its local treats. You should definitely try their loaded potatoes, the Tyrolean "tirtlan" and "niggilan", the local wine and the roasted chestnuts: there's a reason why Brunico Christmas market is the best choice for all the food lovers out there!
The Brunico Christmas market 2019 is open from November 29 to January 6, 2020. The only closing day is Christmas day.
Opening hours: daily, 10 am to 7 pm.
Vipiteno Christmas Market
The Vipiteno Christmas market is a great place to go if you're planning a Christmas Italy trip.
The very traditional setting is in fact a mix of Italian and Tyrolese culture.
All the wooden stalls are located in the main square, in front of the Torre delle Dodici.
The ancient tower also hosts a "Mostra dei presepi", a small exhibition of Italian nativity scenes.
Vipiteno was an old mining district which has turned into one of the most beautiful towns in Italy: walking hand in hand in the narrow streets when they are all decorated with Christmas lights is super romantic.
Vipiteno sweets and pastries are very popular. The air smells like cinnamon and mulled wine, but I strongly encourage you to also try the local bread with Italian speck!
The Vipiteno Christmas market 2019 is open from November 29 to January 6, 2020. It will be closed on December 25.
Opening times: daily, 10 am to 7 pm.
You might also like:
The best romantic Italian getaways from a local
Merano Christmas Market
Another popular spot for those who love to visit Northern Italy in December is the Merano Christmas market in Trentino Alto Adige.
This certified Green Event is quite big: 80 wooden stalls will wait for you in Piazza della Rena, Lungo Passirio and Piazza Terme. They actually turn Merano into one big Winter Wonderland, filled with Christmas lights, great food and lots of family activities.
The Merano Christmas market also has an official mascotte, Goldy, who invites children to take part to the workshops (unfortunately only in Italian) and the family-friendly Christmas shows.
Among the food you should eat at Merano, our favorites are the cheese Spatzle (a particular type of Tyrolese dumpling) and Stockbrot, a traditional kind of bread that people cook and eat near the fire.
The Merano Christmas market 2019 is open from November 29 to January 6, 2020. It will be closed on December 25.
Opening times: Sunday to Thursday, 10 am to 7 pm; Friday and Saturday, 10 am to 8 pm.
Trento Christmas Market
Trento is a lovely Italian city that many people add it to their Italy itinerary.
If you've planned to visit Italy at Christmas, then you might also want to visit the Trento Christmas market: you'll find a huge Christmas tree in Piazza Duomo, perfect for Insta-pictures, thanks to the historical buildings surrounding the square.
The first part of the Christmas market in Trento is located in Piazza Fiera, with about 70 wooden stalls. The second part, 16 wooden stalls mostly dedicated to cheese, wine, local food and cured meats, is located in Piazza Cesare Battisti.
The Trento Christmas market 2019 is open from November 29 to January 6, 2020. It will be closed on December 25.
Opening times: Sunday to Thursday, 10 am to 7:30 pm; Friday and Saturday, 10 am to 8:30 pm.
How to spend a fantastic Christmas in Tuscany
While Tuscany doesn't really have a long standing Christmas markets tradition as other Italian regions, it's still a magnificent area that many people love to visit in December, when it's way less crowded.
The little Tuscany towns all decorated for Christmas, the delicious local dishes and the great wines make Tuscany Christmas markets a must see if you're interested in the authentic Christmas spirit in Italy.
Let me show you the best Christmas markets in Tuscany and why you should go.
Montepulciano Christmas Market
Montepulciano is a lovely town in Tuscany, not far from Siena and about one hour and half from Florence by car. You probably heard of it because of the super famous red wine (Vino Nobile di Montepulciano DOCG) and because of the great food.
Wine tours in Montepulciano are particularly popular. If you have enough time you could book a Wine Tasting tour in Montepulciano (English speaking guide), which includes also a selection of pecorino cheese, Italian salame, bruschetta and so much more!
Click here to check out dates and availability.
You should also be aware of the fact that your trip in December can only get better, since in Montepulciano they have some of the best Christmas markets in Italy!
Click here to calculate how much renting a car in Tuscany would cost you!
The Montepulciano Christmas market is very much family-oriented, thanks to the "Castello di Babbo Natale" (Santa Claus' Castle), which is, obviously, the favorite spot of every kid in town.
The Christmas market itself is located just next to the Castello di Babbo Natale, and it's pretty big. 80 wooden stalls are usually built in Piazza Grande, in Via San Donato and in the surrounding streets.
Every year the municipality selects the best artisans and cooks for the Montepulciano Christmas market: they have to be original and sell top quality products.
You will find lots of Italian Christmas ornaments, candles, leather products, but also tons of street food.
Me and Aldo always make sure to eat at the Montepulciano Christmas market instead of going to a restaurant. Not only we save quite a lot of money (which is perfect if you're planning to visit Italy on a budget), but we can also sample a bit of everything, from pastries to pasta, and of course skewers with the delicious Chianina meat.
The Montepulciano Christmas market 2019 is open from November 16 to January 6, 2020. On Christmas day it will only be open in the afternoon.
Opening times: daily, 10:30 am to 7:30 pm.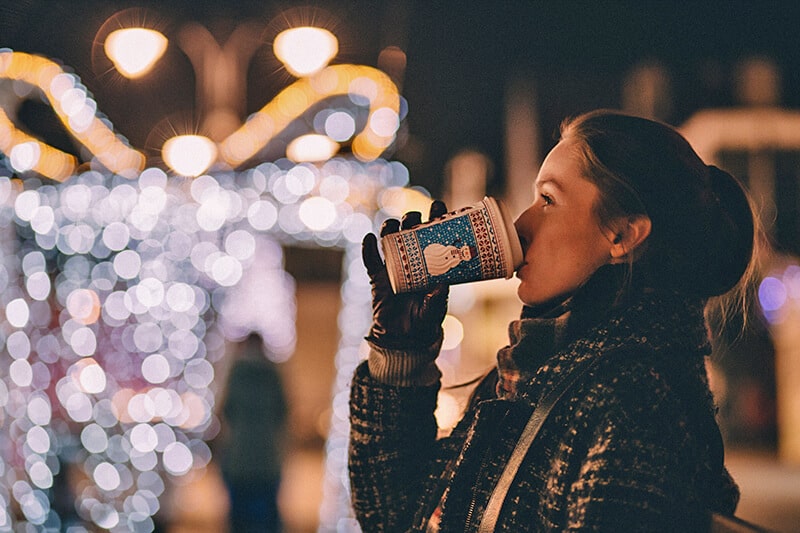 Florence Christmas Market
I could never write about Tuscany without mentioning Florence. The end of November and the first part December is when this iconic Italian city is slightly less crowded, because the city is colder. Many people decide to visit to try and enjoy the authentic Tuscany feel.
If you have an extra day, book a tour to visit San Gimignano, Siena and the Chianti area. A local guide will drive you to the medieval town of San Gimignano, which is absolutely gorgeous during the Christmas holiday, then you can explore the Siena Christmas market and then you'll have a lunch/wine tasting with traditional Tuscan dishes!
Click here to check rates and availability.
What you probably don't know is that there's one Florence Christmas market so beautiful that it feels almost out of place.
The Weihnachtsmarkt in fact is a German Christmas market in the heart of Florence. 55 wooden stalls sell unique souvenirs, Christmas decorations, German handicrafts and food.
Every evening there are family-friendly shows, music and events.
Last year a bunch of the local restaurant owners gathered at one of the stalls to cook traditional food with family recipes so they could offer it to the tourists visiting from abroad!
The Weihnachtsmarkt is a relatively new event but not the only Christmas market in Florence.
You can find it in Piazza Santa Croce, from November 28 to December 22.
Opening hours: daily, 10 am to 10 pm.
You might also like:
What to do and see in Florence
Arezzo Christmas Market
Let me start by saying that old town Arezzo is absolutely gorgeous. Quite a few of my friends have had their wedding pictures taken in Arezzo so believe me when I say that it's one of the hidden gems in Tuscany you should absolutely visit!
Arezzo is also a very friendly city. To fully understand how it is to live there, you could book a tour to visit the Arezzo market with a local, then enjoy a private cooking show and have a 4-course meal with an Italian family. After all, the best way to really get to know a place is by eating with the locals, away from the tourist traps!
The nice bonus is that this tour also offers an apron and shopping bag as souvenirs from Italy so you won't have to buy them! Click here to check out rates and availability.
The Arezzo Christmas market is particularly beautiful because they actually hold the biggest Tyrolean market in Italy outside of Trentino Alto Adige.
Located in Piazza Grande, it's a sight to behold thanks to its Christmas Garden and a huge Christmas-themed Lego village (yes, it's a thing!).
As I already mentioned, Italy at Christmas is even more yummy, so at the Arezzo Christmas market you will be able to enjoy quite a few tastings (at random timings). Italian (and Tyrolean) beer, traditional Tyrolean main dishes and pastries.
At the Palazzo della Fraternita there will be a Casa di Babbo Natale (Santa's House), with traditional Christmas dinners, music and Christmas shows.
The Arezzo Christmas market 2019 will be held from November 16 to December 26.
Opening times: Thursdays, 2 pm to 9 pm; Fridays, Saturdays and Sundays, 10 am to 9 pm.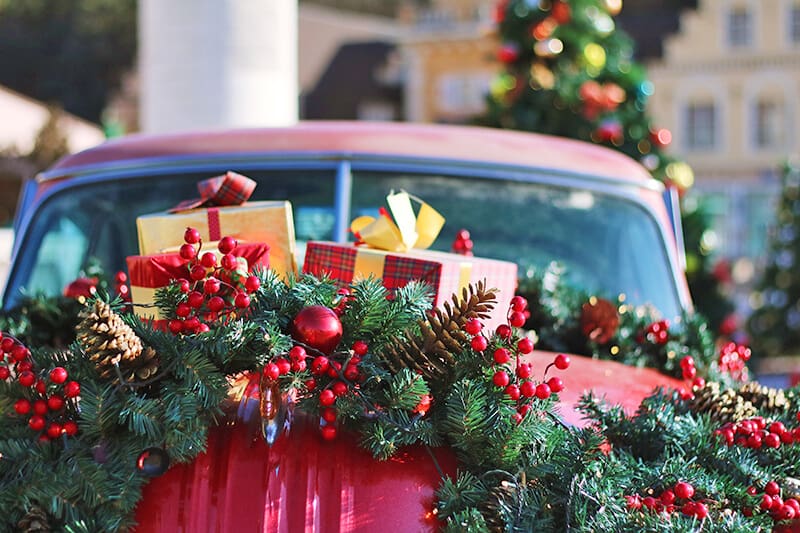 Visit Lombardy at Christmas
When people think of Lombardy, and specifically Milan, the first thing that comes to mind is the delicious Panettone. Yet there's so much more!
I have obviously added Milan to this list not only because I know it quite well (my sister lives there), but because it's one of those places that usually are always added to an itinerary for a trip to Italy (also thanks to the fact that Milan has 3 airports nearby).
Yet if you have rented a car I suggest you drive around because there are many nice events in Cremona, in Valle Camonica and Valtellina, among others!
You might also like:
One day in Milan – food, monuments, shopping, history
Milan Christmas Market
There are quite a few Christmas markets in Milan that you can (and should!) visit, and even a lovely event which celebrates the old arts and crafts.
The biggest Milan Christmas market is located in Piazza Duomo (from December 11 to January 8, 2020): here's where you can go buy lots of Italian souvenirs and of course also Christmas pastries and treats.
Those who are going to spend the holidays in Italy with their family can head over to the Giardini Indro Montanelli (Corso Venezia, Milan). Here they will find a "Villaggio delle Meraviglie" which has a Santa's house built for the little ones. It's definitely the most family-friendly Christmas market in Milan!
Yet Christmas in Milan means also lots and lots of interesting events. If you're planning a trip there in December, you should head over to the Castello Sforzesco, where, from December 6 to December 9 (10 am to 10:30 pm) you can find the "Fiera degli Oh Bej, Oh Bej!".
This event dates back to the thirteenth century and is literally huge. Over 400 stalls representing the old Italian arts and crafts. Here's where you can find lovely souvenirs and amazing street food. But what is even more interesting is the fact that at the Fiera degli Oh Bej, Oh Bej! there are artisans, florists and toy makers actually working in front of you!
If you want to bring home something absolutely unique from your trip to Italy, head over to Rho Fiera. From November 30 to December 8 you can attend the Fiera dell'Artigianato (10 am to 10:30 pm).
Attending means having the opportunity to buy and touch unique creations of the highest quality, that you won't find anywhere else. The Fiera dell'Artigianato (also known as "Artigiano in Fiera") also hosts dance performances, music shows, show-cooking sessions and tastings of international dishes!
What to see in Veneto for Christmas
Christmas in Veneto can be absolutely unforgettable. I'm not only talking about the cute, little markets, but about the amazing historical buildings all decorated and covered in Christmas lights.
If Venice is already gorgeous on a regular day, just imagine how much more it can be during the Christmas holiday!
Veneto is where you can eat delicious Pandoro, which is a sweet bread, tall and star-shaped, originated in Verona. While you can find the industrial version in every supermarket in Italy, I suggest you walk into a pastry shop and order the handmade version. It's like nothing else you've ever eaten!
Are you looking for a unique foodie experience in Verona, with or without your significant other? How about a Cheese tasting lesson that will teach you how Italians pair cheese and wine? The lesson, with an English-speaking local expert, includes the most delicious tastings. Not only cheese but also mustards, jams, bread and fresh fruit.
Click here to check rates and availability.
Verona Christmas Market
Verona is one of the most romantic Italian cities, the home of Shakespeare's Romeo and Juliet: it's perfect if you're planning to travel with your significant other!
Every year Piazza dei Signori turns into a magical village thanks to the Verona Christmas market. In collaboration with Nuremberg's "Christkindlmarkt", this market features over 100 wooden stalls, selling Christmas treats, gifts and souvenirs.
The main city gate will be decorated with thousands of little lights: the final effect is a bit like the Champs Elysees in Paris!
In Piazza Bra, next to the amazing Roman Verona Arena, there will be a huge comet: it's the biggest movable sculpture in Italy.
Other (smaller) Christmas markets will also be located at Cortile Mercato Vecchio, Via della Costa, Piazza Indipendenza, Piazza Viviani, Lungadige San Giorgio, Ponte Pietra, Ponte di Castelvecchio and Piazza San Zeno.
The Verona Christmas market 2019 will be open from November 16 to December 26.
Opening times: Sunday to Thursday, 10 am to 9:30 pm; Friday and Saturday, 10 am to 11 pm.
Venice Christmas Market
Venice at Christmas is even more beautiful than usual. Spending your Christmas holidays in the Italian laguna will be truly unforgettable (albeit a bit crowded)!
Piazza San Marco at Christmas is all decorated, and Christmas lights will be activated from sunset to midnight, every day.
All the surrounding colonnade is going to be decorated with lights that will make you think of falling snowflakes, and the narrow streets will smell like cinnamon and Italian panettone.
Click here to book a water taxi from Venice Marco Polo airport to your hotel without breaking the bank!
Because of the unique setting, Venice at Christmas will feature a lot of Italian Christmas lights, but not a Christmas market as you will find it anywhere else in Italy.
You can find a proper Christmas market, with wooden stalls and lots of Christmas events, in Mestre. Venice usually holds a smaller market which is a "Fiera di Natale di Venezia", with smaller stands, between Campo di San Felice and Campo dei Santi Apostoli.
Another very interesting feature in Venice is the ice skating rink: you'll find it at Campo San Polo!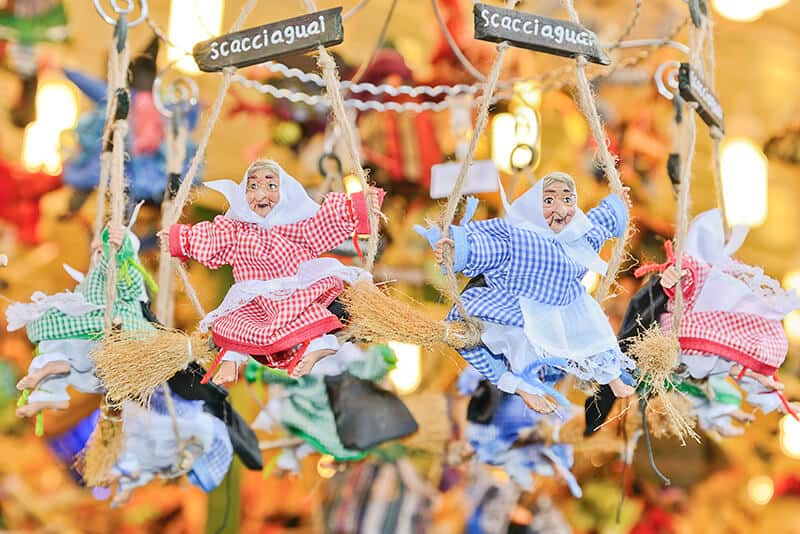 Spending Christmas in Piedmont
Christmas in Piedmont means enjoying a lot of Christmas markets and… chocolate!
If you have rented a car, I suggest you also visit Ornavasso, Govone, Santa Maria Maggiore and Val d'Ossola, where you will find lovely Christmas markets and the authentic Italian Christmas traditions.
In case you don't have a car, stick with Turin and you won't regret it!
Once you're there, drink Bicerin, a yummy hot beverage which is traditionally served in Turin, yet it can now be found in the whole region.
Bicerin is served in a round glass, and it's a mix of Italian espresso, chocolate, milk cream and foam. The locals sometimes add liquor to Bicerin but the original recipe is alcohol free.
You might also like:
A taste of Italy – The best regional food in Italy
Italian Christmas food you should eat on your next trip to Italy
Turin Christmas Market
When my dad used to travel a lot for work, he often had to visit Turin. Whenever he went there, he always returned with a bag of Gianduiotti, the traditional Turin chocolate with hazelnuts.
Now it's our turn: whenever me and Aldo go to Turin, we always bring back a huge bag of Gianduiotti for my parents.
Since it'll be cold, you won't risk the chocolate melting. So make sure to stock up and buy tons of Gianduiotti in Turin, because they are probably the most delicious chocolates in Italy. Not just a souvenir, but a reminder of your Italian trip once you're back home!
The Turin Christmas market is a mix of lights, decorations, events and of course the traditional stalls.
At the Borgo degli stracci (where all the antique shops are located) you will find traditional Italian "trattorie" (for casual dining) and about 50 wooden stalls.
At Borgo Dora on the contrary there's a themed market: some stalls sell vintage clothes, others art stuff, then musical instruments, vinyls and so on.
The Turin Christmas market 2019 starts on December 2 and will last until December 23.
From the end of November to January 15, 2020, there's a very interesting event known as "Luci d'Artista": about 18 light installations that turn the Turin city center into an open air museum. This event is collaboration with Luci d'Artista in Salerno (scroll down to read more).
The best Christmas Markets in Emilia Romagna
Emilia Romagna is where the foodie magic happens: tortellini, agnolotti, ravioli, prosciutto, mortadella… There's no way you're not going to put on some weight if you're planning a Christmas trip to one of the most amazing Italian regions!
Traditionally the Christmas markets and events open on December 8, when it starts to get cold and the air smells like cinnamon and lit fireplaces.
As in many other Italian regions, there are quite a few lovely places you might visit, but it'll be easier to do so if you have a car. Forlì, Cervia, Rimini, Riccione and Cattolica are only some of the cities you can visit in Emilia Romagna, other than Bologna and Ferrara.
Click here to check how much renting a car in Emilia Romagna would cost you!
Bologna Christmas Market
Christmas in Bologna doesn't mean that you'll only get to see the Christmas markets. Events, Christmas decorations, colors and traditional holiday dishes will make this city even more beautiful.
Two main events usually gather lots of tourists and locals. The first one is the Mercatino di Santa Lucia (from November 20 to December 26), which is very old and full of interesting findings. Walk to Strada Maggiore, inside the Chiesa dei Servi to get to the stalls.
The second event is the Villaggio di Natale francese ("French Christmas village") in Piazza Minghetti (from November 24 to December 23), where you will find a lot of Christmas French dishes and great sparkling wines.
Make sure you enjoy a guided food tour in Bologna: it's the very best way to experience the foodie scene like a local! The food tour we liked the most lasts 3.5 hours and includes 5 food and wine tastings at 5 different places, a trip to the oldest market in Bologna, and to a pasta laboratory. Click here to check rates and availability.
Ferrara Christmas Market
Every year Ferrara celebrates Christmas with events that make sure that everyone has a great time, including the little ones. It is thus one of the Italian cities that are very family-oriented. Yet it doesn't mean you will have time to get bored!
The activities usually start on November 16, until January 6, 2020.
There will be lirical concerts (last year it was dedicated to the Italian tenor Luciano Pavarotti), dancing fountains at Piazza Castello, Christmas choirs and plenty of activities for adults and young adults.
At the Castello Estense you can test your abilities with a special event "The Castle Escape Room": you have 45 minutes to try and find enough clues to get out from the escape room. It's an awesome group activity!
On January 1, you shouldn't miss the "Incendio del Castello Estense", an unforgettable fireworks show that seems to put the sky on fire, above the majestic Castello Estense.
Christmas in Umbria: off the beaten path
Umbria is a lovely region of central Italy. Too often it's neglected in favour of the most famous cities: yet there's so much to see and do!
The small towns in Umbria are usually very quiet and peaceful. Perfect if you're not interested in being crushed by the huge crowds, if you're traveling with toddlers or if you're interested in a romantic Italian getaway.
There are many Christmas markets and Presepe (the Italian nativity scenes) exhibits.
Being an off the beaten path destination in Italy, Umbria is a region that you should explore by renting a car, to make sure you can visit also the smaller villages.
Click here to check how much renting a car in Umbria would cost you!
Perugia Christmas Market
When Aldo was studying at Perugia University, we spent more than one Christmas over there. And actually, we drove to Perugia from Naples quite often. It's also a good homebase if you're interested in an off the beaten path Italian road trip in Umbria.
The old city center in Perugia hosts the Mercatino delle Strenne. Piazza del Circo will thus be decorated and filled with wooden stalls for this Christmas market where you will find gifts, lots of toys, handmade Italian products, ceramics and jewels.
The Perugia Christmas market 2019 is held from December 1 to December 24.
A very unusual and highly recommended Christmas market is Natale alla Rocca, which has been held for over 20 years at the Perugia Castle, in the surrounding medieval streets and in the Undergrounds.
Basically it's like a labyrinth which makes you feel like you're back in the old times, surrounded by Christmas colors and scents.
Natale alla Rocca will be held from December 7 to December 24 in Perugia.
Opening times: Monday to Friday, from 10 am to 7:30 pm; Saturday and Sunday, from 10 am to 8 pm.
If you don't feel like driving, book a tour to Assisi and Spello from Perugia! Not only it includes a hotel pick-up service, but also wine and olive oil tastings and a local, English-speaking guide. Click here to check rates and availability.
Gubbio Christmas Market
At Gubbio you will find some of the best Christmas markets in Italy, loved by us Italians and usually neglected by the tourists.
The most popular event is known as ChristmasLand. The whole town turns into one big Christmas village. Piazza dei Quaranta Martiri hosts the wooden stalls for the Christmas markets, but every tiny shop and restaurant has its own window displays: usually everyone loves to walk around to try and establish which one is the best!
Gubbio also has the biggest Christmas tree in the world. You can find it on Mount Ingino, facing Gubbio.
It's 750 meters tall and decorated with over 700 light sources!
The Gubbio Christmas market 2019 "ChristmasLand" will be open on December 1/2/7/8/9/15/16 and from December 21 to January 6, 2020.
Opening times: daily, 10 am to 8 pm.
Lazio Christmas Markets: where to go
When you think of Christmas markets in Italy, Rome isn't the first city that usually comes to mind. The fact is that many people believe that because of Vatican City, Rome sticks only to the religious aspects of Christmas, hence forgetting all the festive traditions. It's absolutely not true!
Those who have planned a longer trip to Italy in December should rent a car to explore the little villages in Lazio. That's because Rome is absolutely not the only nice city in this region!
Even the Tuscia Viterbese area turns into one big Christmas Village, with the added bonus that you will be able to enjoy narrow streets flanked by historical buildings. Some of the smaller towns even look like time has crystallized them into a postcard of the early 1900!
If you want to visit the Colosseum in Rome I highly suggest you buy a Priority Ticket. Rome at Christmas can be pretty crowded and you'd be wasting too much time in line! Click here to buy a cheap but legit priority ticket covering Colosseum, Roman Forum and Palatine Hill – Valid for two days!
Rome Christmas Market
The Rome Christmas market is the most famous in Lazio. Yet, while many people associate it only to the Piazza Navona Christmas market, there are markets and events in several parts of our Capital.
The Piazza Navona Christmas Market 2019 will be held from December 2 to January 6, 2020.
It's dedicated to the "Befana". The legend says that, to celebrate the Epiphany, the "Befana", an old witch flying on a broomstick, will gift toys and sweets to the good children, or lumps of coal to the bad ones.
The Piazza Navona Christmas market in Rome is thus full of sweets, food, pastries, chocolate and toys. They also sell a sweet version of the lumps of coal, made with sugar: lots of kids (and adults) like it even if traditionally it'd mean they've been bad!
In Piazza Primoli, from the end of November to December 23, there's a Christmas Market and a Secret Garden, where the Italian Ape Cars (the traditional three-wheeled vehicles) will sell traditional street food and treats.
Christmas in Campania: the must-visit spots
Christmas is my favorite time of the year. I like it more than my birthday, and that's because I live in a region, Campania, that is even more beautiful during the holidays.
While of course the religious aspect is very important, Christmas in Campania is also made of great food and quality time spent with your beloved ones and your friends. We leave tons of unopened gifts under the Christmas tree and we smile thinking of how much they'll like what we have bought for them. And we spend hours cooking dishes that we can actually eat once or twice per year, only during the Christmas holidays!
Every city in the South of Italy has something special, so I encourage you to explore because even the smallest towns now have their very own Christmas markets. Yet I have two that are my favorite cities ever.
One is Naples, and I'm super-biased because it's my hometown. The other is Salerno, where my sister in law has lived most of her life. It's thanks to her if I've discovered one of the most beautiful Italian Christmas lights shows in the world!
You might also like:
What to eat in Naples
Naples neighbourhood guide – where to book your hotel
The best 45 things to do in Naples
How to spend one day in Naples
Naples cafes and how to drink espresso
Is Naples really dangerous?
Pompeii travel guide from a local
Riding the art metro in Naples 
Hiking Mount Vesuvius – how to get there
How to visit Naples Christmas Alley
20 best destinations in Europe for a fall trip
Naples Christmas Market
Christmas in Naples is when the nonne (grandmas) cook for an army, and often hand over some food to the less fortunate, because honestly, everyone should celebrate Christmas!
While people expect a Naples Christmas market, the staple of our Christmas is a specific narrow street in the old city center.
Via San Gregorio Armeno is also known as "Christmas Alley". Here our artisans craft the famous Italian nativity scenes, from tiny things to huge ones that take years to finish.
Every year the artisan craft statues that represent the most popular politicians, singers, actors and celebrities. There are thus limited edition statuettes: from Trump to Salvini and Berlusconi, from Theresa May to Beyonce and Ariana Grande. They are always ready to craft the newest flavour of the month, and they do it throughout the year!
What you might not know in fact is that Christmas Alley is always open, 365 days a year. The small workshops usually close for lunch because the artisans need a break, but they stay open until late at night, also at Christmas!
If you want to visit Christmas Alley in Naples, November is better than December. The reason is quite simple: the narrow street is super crowded in December and that makes it difficult to actually enjoy this unique experience.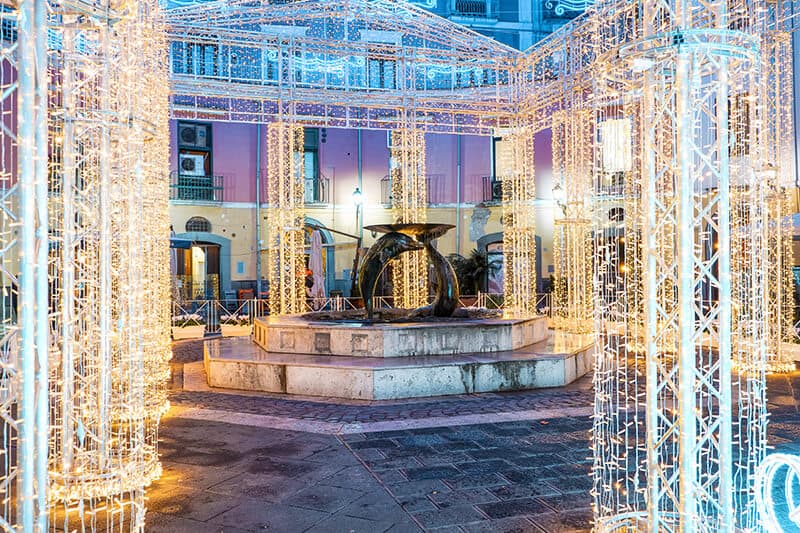 Salerno Christmas Lights Festival
The best Christmas markets in Italy in my opinion have be unique and offer a very distinct feel. Well, then while you're visiting my region, I encourage you to add Salerno to your itinerary.
The Salerno Christmas lights are in fact super popular in the whole world!
This lights show started in 2006, following the success had by the same event in Turin. Yet throughout the years this event in the South of Italy has grown bigger and turned into something else entirely.
From Piazza Portanova to Corso Vittorio Emanuele, and in the most beautiful parts of the old city center, Salerno turns into a magical Christmas village at night.
Children are not the only ones who gape in seeing the magnificence of the lights installations!
Luci d'Artista is in fact an event that transforms the Medieval part of Salerno into a fairytale world. If during the day people prefer to eat pizza or gelato (even in winter), at night they all walk hand in hand reverently exploring every inch of the city lights, through neon light tunnels, or chasing fairies hidden among the trees.
It takes 3 months to build all the lights installations, with over 30 km of streets decorated with sea scenes, mermaids, Christmas trees and angels. Luci d'Artista in Salerno is huge!
Not many know that Salerno and Turin sometimes exchange the most popular lights installations, to make sure they reach a wider public!
Luci d'Artista is a free event, open from November 9 to 20 January 2020.
You can get from Naples to Salerno using a local bus: the last ride is usually at 10:30pm. There's also a Trenitalia train from Naples to Salerno. From the Salerno central station you can hop on the metro to visit the city center.
If you're visiting with a group of friends or with your family, consider booking a private transfer from Naples to Salerno. It's the easiest way to enjoy the day (and night) without having to worry about train delays and traffic. Remember that taxi rides are very expensive and there's no Uber! Click here to check how much a private transfer from Naples for up to 3 people would cost you.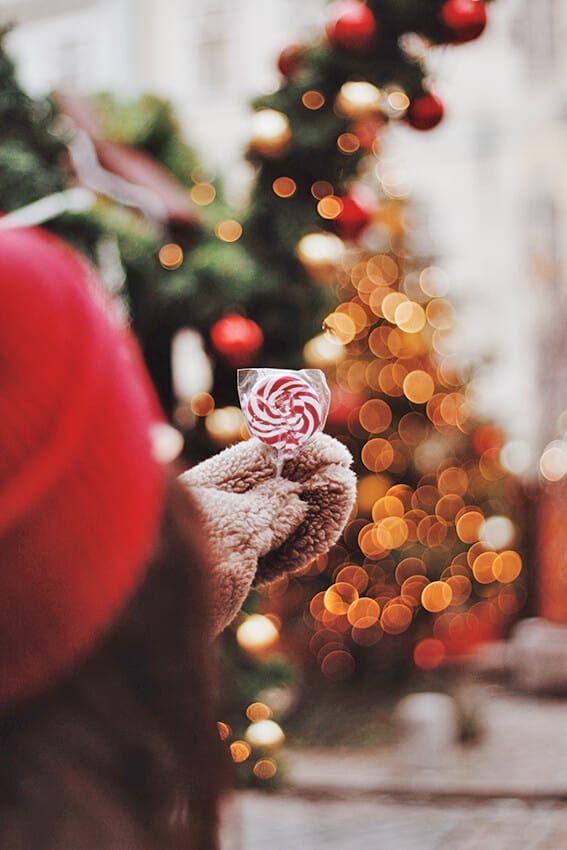 Christmas greetings in Italian – How to from a local
A couple of years ago we published a short video on our Facebook page to wish our followers a merry Christmas in Italian.
Since then we have received a lot of requests from people asking us to teach them how to say Merry Christmas in Italian.
While you can hear how we pronounce it by clicking on the video here, I thought I'd also leave you a few pointers in case you need to write a Christmas card!
Don't hesitate to ask us if you need more info or a specific sentence, we'll be happy to help!
Merry Christmas: Buon Natale – we also elaborate with a longer "Auguri di Buon Natale"
Happy Holidays: Buone feste – same as above, we can also use a longer "Auguri di Buone Feste" (it usually includes the new years greetings)
Happy New Year: Buon Anno Nuovo
Merry Christmas and Happy New Year: Buon Natale e Felice Anno Nuovo
For a Christmas card you might want to add a little something more.

I wish you (to one person): Ti auguro
I wish you (to more people): Vi auguro
We wish you (to one person): Ti auguriamo
We wish you (to more people): Vi auguriamo
(second part of the sentence)
[…] a Christmas filled with love, peace and happiness: un Natale pieno di amore, pace e felicità
[…] and a Happy New Year: e un felice Anno Nuovo
With best wishes: Con i migliori auguri
Pin it for later!