This post is also available in: Italiano (Italian)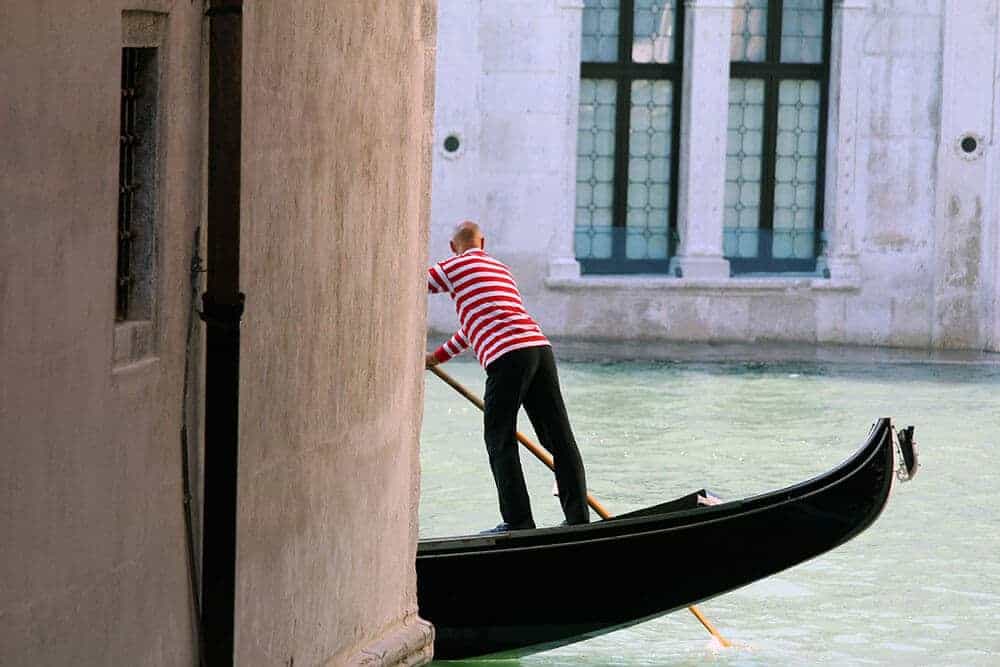 Planning a romantic trip is probably one of the best ways to celebrate Valentine's day or a special anniversary. Yet it can be particularly difficult to choose when there are so many beautiful places to see in Italy. Let me introduce you to the most romantic places in Italy that you should visit with your better half, with quite a few tips, tricks and traditions from the locals.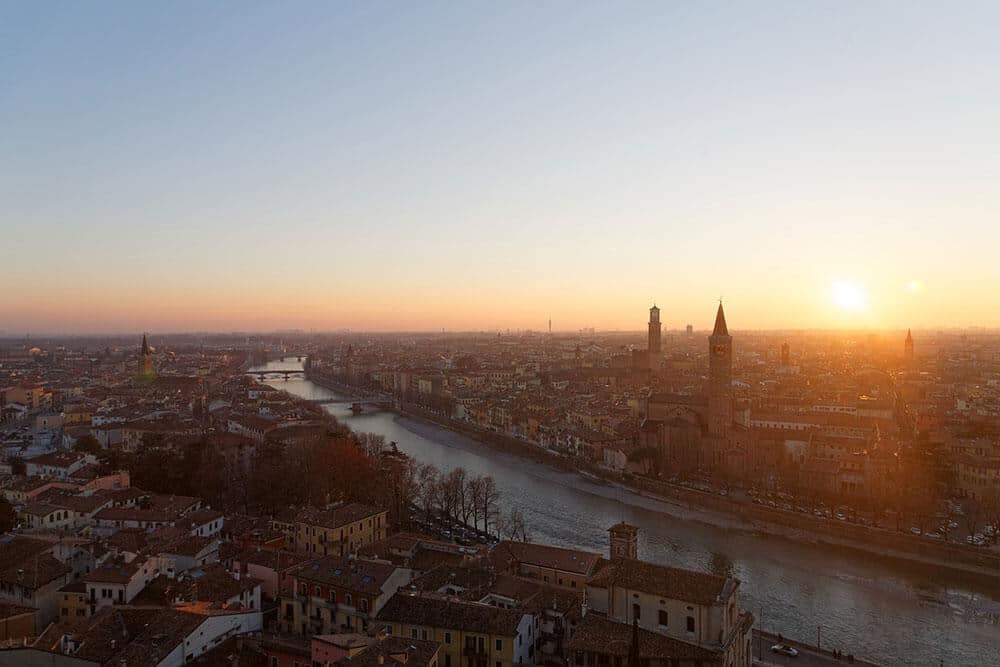 Verona: Romeo and Juliet city
Verona is one of the most romantic places in Italy for a good reason.
The city of William Shakespeare's Romeo and Juliet is visited every year by thousands of lovers who want to see the medieval building known as "Casa di Giulietta" (Juliet's house), located in via Cappello 23.
You will be able to see Juliet's balcony and her bronze statue. The visitors put their hand on its heart and wish for eternal love. In case you feel like eloping in Italy, know that it is possible to get married at Casa di Giulietta! How romantic is that?
Are you visiting Italy in the warmer months? Check out what to wear in summer in Italy to make sure you avoid these common tourist mistakes!
Not too far away, in Via delle Arche Scaligere, there's Casa di Romeo (Romeo's house). Because this is private property, you can't visit the inside, but the walk from Juliet to Romeo's house, hand in hand with your special one, is also very romantic.
Near Casa di Romeo there's Osteria del Duca, a very nice restaurant with local (delicious) food (please make sure you read our guide to Italy tipping before you go).
Another thing you can – and should – add to your romantic trip to Italy is the place that the locals identify as Juliet's tomb. It's located in an ex monastery right outside the Verona walls, in via Pontiere 35.
If you're visiting Verona, make sure to also check out the events at the breathtaking Arena di Verona. Snatcing tickets for a concert, opera night or ballet at the Arena would definitely be the cerry on the top to a super romantic trip to Italy!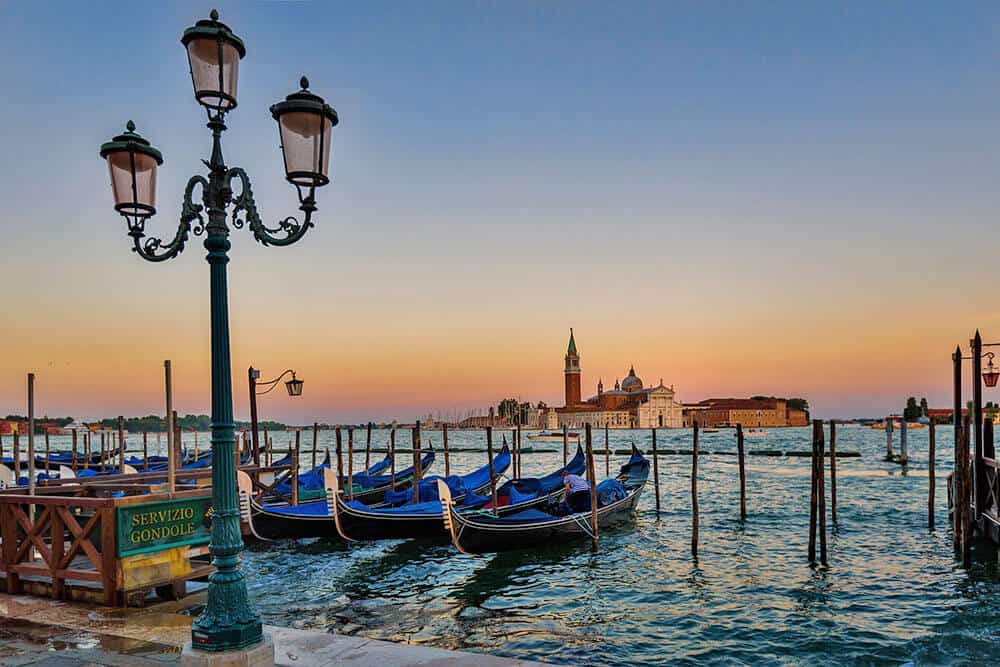 Venice: gondolas and romance
Venice is one of the most romantic Italian cities and one of the places that people always add to their itinerary for Italy.
La Serenissima is very popular, and while it might sound like a cliché, I can't help myself.
If you're looking to surprise your special someone, you ought to plan a gondola ride to the point that one of the most romantic things you can do to spend some quality time with your partner is either go for a gondola ride (which you can book here in advance at a special price) or wander around, in places hopefully less crowded.
Venice can be explored also renting a bicycle, if the weather is good and you're up to the challenge!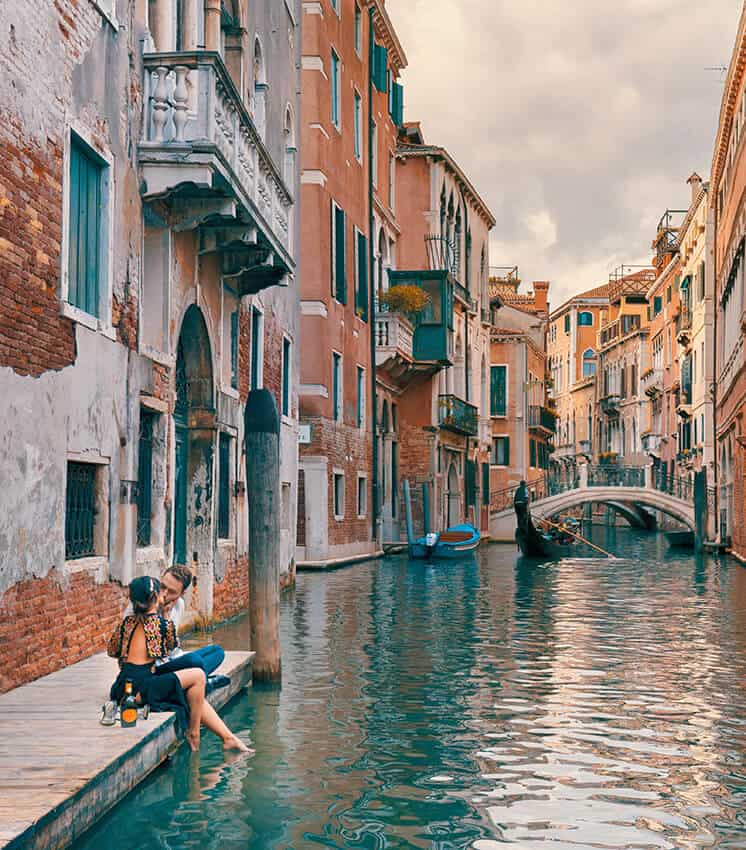 A labyrinth of medieval alleyways and canals is the perfect place to get lost, snatching the odd moment of solitude.
If you walk out of St Mark's Square (to the west), you will reach the Cannaregio area.
Usually Cannaggio isn't full of tourists, as you can consider it a bit like exploring Venice off the beaten path. So it can be pretty romantic. As you stroll through the narrow streets, you can explore the Ghetto, one of Venice's most evocative areas, or sit at a cafe watching kids play football.
Another pretty romantic area is Dorsoduro, the southern part of Venice. It feels more like a village, far away from the huge crowds and the fuss of the touristic side of the city. This area is full of cute bars where you can drink without spending too much, and it's also close to Campo Santa Margherita, generally busy with students and lovers.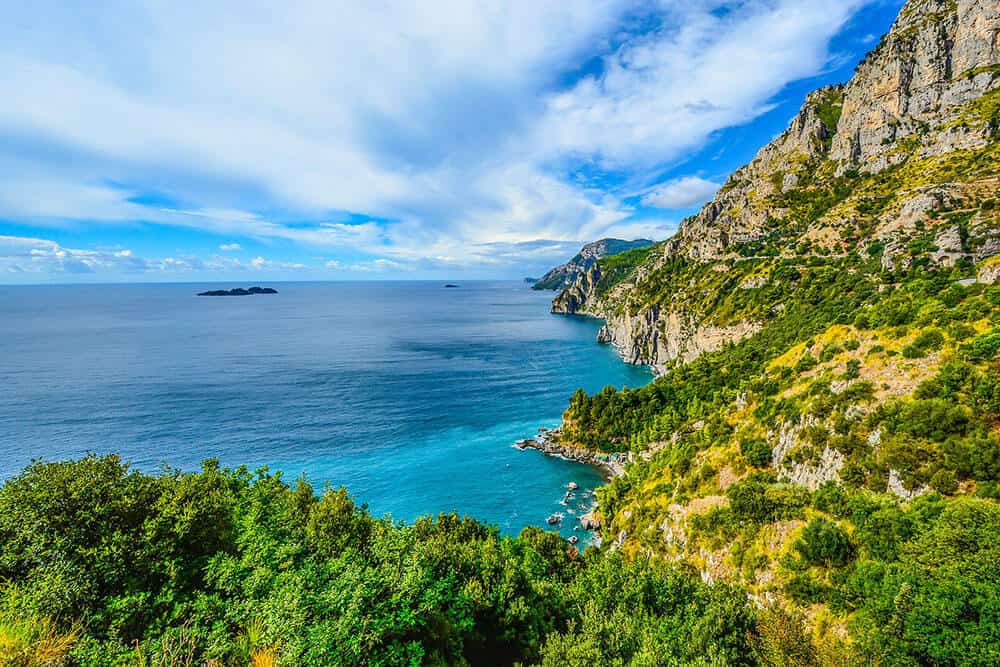 Amalfi Coast: Sea, festivals and cakes
A road trip on the Amalfi Coast can be the perfect romantic trip to Italy that you can plan to surprise your partner.
According to the season, there are many festivals or events that you can attend, like the Ravello Festival (one of the oldest and most renowned music festivals in Italy) or several food festivals where you can taste traditional Neapolitan food at tiny prices.
If you're interested in tanning and getting lazy, then by all means, explore all the best beaches on the Amalfi Coast: many of them are only known to the locals!
Whether you decide to book a hotel in Positano, Amalfi or any other town on the coast, don't forget to visit Sal De Riso, the popular bakery in Minori. You can spend an afternoon there or even the whole evening, tasting cakes and pastries from the Naples or Salerno tradition, or drinking hot cocoa while eating colorful macarons.
The Sal De Riso shop looks almost like an art exhibition more than just a bakery: Mr. De Riso loves beautiful things and makes sure the aesthetics in his shop are always perfect.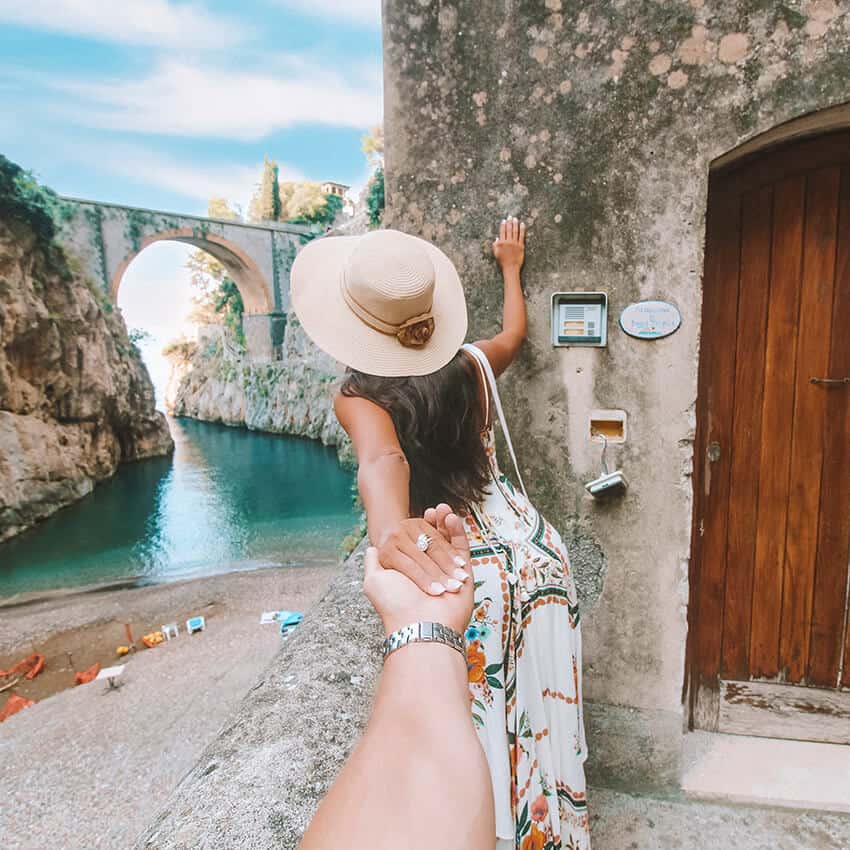 If you want to spoil your partner you can book a scenic cruise that includes homemade limoncello tasting (the real stuff)!
Walking at night along the coast or on the beach, hand in hand with your beloved one, with the sea sounds in the background and the Moon as a witness to your love is one of the most romantic experiences ever. The perfect way to celebrate a special occasion or to enjoy your honeymoon in Italy!
Extra-special occasion? Think of booking a hotel in Ravello: it's by far the most romantic town on the Amalfi Coast and also the least crowded!
If by any chance you're not sure you can plan your own trip or if you're visiting from Rome and don't want to deal with train tickets and buses, check out my hand-picked list of the best Amalfi Coast tours!
Florence: art, culture and good wine
Famous for art and good food, Florence is also one of the most romantic places in Italy.
Perfect either to spend a romantic weekend with your better half or to propose, Florence can be enjoyed in two ways.
If you have visited already, then you can spend some time eating delicious food (they have some of the best dishes in Italy) and maybe treating yourself to a glass or two of Chianti wine by booking a great tour.
Another option is to rest, visit the spa and relax.
If, on the contrary, you've never been to Florence before, then you should spend the days visiting museums, exploring the ancient shops (the Italian "botteghe") and walking hand in hand on Ponte Vecchio.
You might also like:
30 day trips from Florence to explore Tuscany
Now, allow me a moment of truth, hopefully to help you decide what you can or can't add to your list of the most romantic cities in Italy.
I've been to Florence many times and unfortunately I've always found it pretty crowded.
Tourists from all over the world stand for hours in line to get into the Uffizi Gallery, wasting precious time they could spend otherwise.
In case you're planning to visit the world-famous museum, make sure you buy your tickets online in advance.
My suggestion is to wake up pretty early, grab a cornetto (croissant) and a cappuccino, then enjoy a peaceful walk along the Arno river, before the huge crowds start gathering. Take lots of beautiful pictures of you two, then head over to the Uffizi Gallery. In my opinion this is the best way to make the most out of a day in Florence!
Cinque Terre: pesto with a view
Some views of the Cinque Terre look awfully similar to the Amalfi Coast and specifically to Positano, so much so that some tourists tend to get quite confused. I won't be telling you which one is most romantic, that's for you to decide.
My two cents? They're both absolutely gorgeous so if you have the chance, you should add them to your itinerary!
Cinque Terre is a cluster of towns that I absolutely had to add to my list of the most romantic places in Italy. There's an important bonus to spending a few days here: you can explore the area using public transport – train, specifically!
Actually, renting a car is pretty useless in this case, because finding a parking spot takes so long!
According to how much time you have, you should choose which one of the five little towns you want to visit during your romantic weekend. Cinque Terre is the perfect place for a slow kind of trip, just enjoy yourself and eat all the delicious food! That's why in my opinion you shouldn't add too many towns to your itineary if you don't have quite a few days to explore Cinque Terre: you wouldn't have enough time to actually enjoy this trip!
As I already mentioned, planning a road trip to Cinque Terre isn't really a good idea, because while the road comes with a view, it is particularly windy and especially in the evening it can be a bit dangerous.
Another thing you must pay attention to are the mighty scary "ZTL", where you can't drive or you'll be fined. Even Italians sometimes get fined because driving into a ZTL is super easy and, unfortunately, quite expensive as well!
Another thing you can do at Cinque Terre is a boating trip to explore the cute little towns. The main boarding points are Levanto, Portovenere, Lerici and La Spezia.
You can choose between a longer cruise (usually they take one full day), or a shorter one that takes just one afternoon. The shorter route is perfect if you want to see Vernazza and/or Monterosso.
The wine lovers should also book a wine tour with tastings, to enjoy all the different kinds of local wine, paired with the best snacks and bites from the Italian tradition.
Click here to have a look at one of the best wine tours in Cinque Terre – with a free cancellation policy!
Bologna: mortadella, tortelli and arcades
Bologna is the perfect getaway for the foodie couples (Emilia Romagna region is very famous for its dishes).
One of the highlights of the city is the "Torre degli Asinelli" (Asinelli Tower) also known, with its twin, as the Two Towers (Lord of the rings anyone?).
You can visit the tallest of the two, dating back to 1119, only if you are willing to climb 498 steps to reach the top. From the top you will be able to take breathtaking shots of Bologna and if the sky is clear enough you'll be able to see the sea. Take it that way: it'll be a great way to loose the extra pounds from all the good food you'll eat in Bologna!
While this is a city built on water, just like Venice, you can't see many canals in Bologna. The most beautiful and romantic one can be seen from Via Piella. The Canale delle Moline has been used for centuries, because of the water mills in the area.
In the evening Bologna turns into one of the most romantic cities in Italy: walk hand in hand under Bologna's arcades: they cover every point of the city and they're about 40 km long!
Everyone knows about the delicious you can eat in Bologna, from handmade pasta to tortelli, to the pork meat used in so many dishes. Mortadella is the most famous cured meat in Italy after prosciutto. It's a large sausage also used as a filling for tortelli or as a delicious foam that is generally served with little toasts or canapés.
Looking for a different experience? How about you book a semi-private cooking class with a local cook? You'll learn how to prepare an Italian meal that you can recreate at home to celebrate your anniversary!
Click here to check out rates and availability.
If you are planning to spend a few days in the area, I strongly recommend planning a day trip from Bologna. There are quite a few interesting little towns that you can visit, mostly unknown to the crowds of tourists!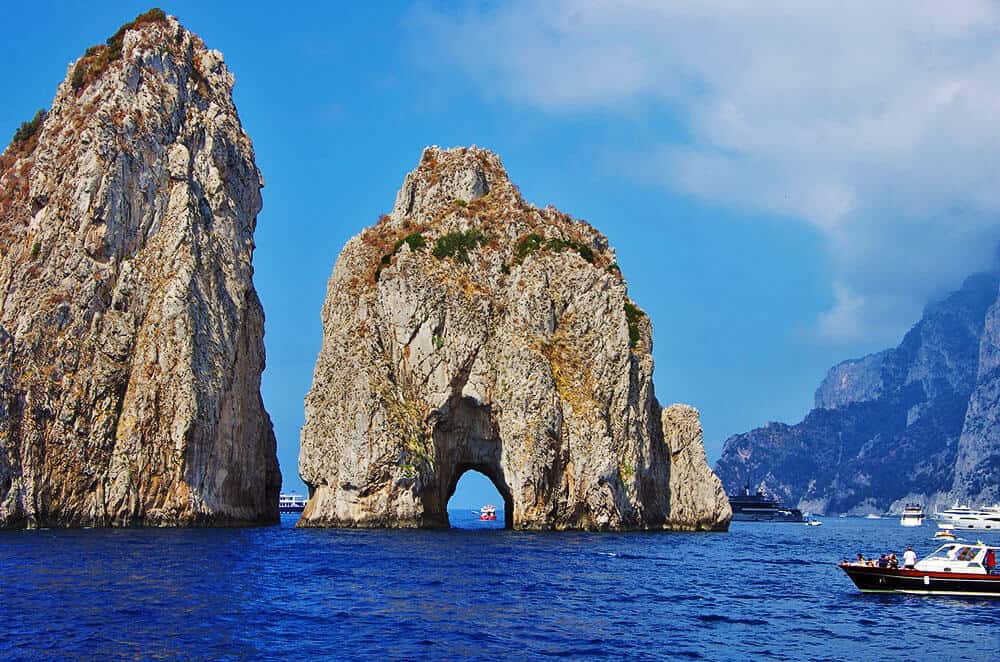 Capri: propose under the Faraglioni
This jewel in the Gulf of Naples isn't only the perfect place for a very romantic weekend, but it's also the place, among the top romantic spots in Italy, which scores the highest number of proposals every year!
A Capri honeymoon is also very popular worldwide. Couples visit the island and pledge undying love and there are a few places just about perfect for that.
Two of the best romantic spots are Punta Tragara Belvedere and Punta Cannone Belvedere, from which you can see the faraglioni. At sunset or in the early evening, the tourists will get back to Naples or the Amalfi Coast, so you'll have the place all to yourself.
If you want to pop the question under the faraglioni you can rent a boat and tell the captain that you want to propose. He will slow down near the big arch to give you time to enjoy the view… and find the ring.
Because it's such a romantic spot, they're used to this kind of requests so don't worry about a thing: they'll make sure to surprise your beloved with a dream trip!
Other beautiful places in Capri to propose are the Eremo di Centrella, where you can also plan a romantic picnic, the Punta Carena lighthouse and the Belvedere delle Migliera.
Belvedere delle Migliera is particularly interesting because there's a small amphitheatre where you can also have a symbolic wedding ceremony like the one the poet Pablo Neruda planned for his beloved Matilde.
Find out more in my guide to the best things to do in Capri from a local!
Alberobello: the romantic trulli
Alberobello is a tiny town in Puglia region, in the South of Italy, famous for the trulli and UNESCO World Heritage Site since 1996.
Trulli are the perfect nest for a romantic trip to Italy.
If you're planning to escape the big cities and just spend some time cuddling and eating delicious food, tell the owner that you are celebrating a special occasion. Most of them will make sure to scatter rose petals in the room and leave you tons of candles.
Sometimes there's the chance to book a romantic experience with a bottle of red wine and strawberries.
If you feel like cuddling all day long, make sure to arrange for your breakfast to be delivered to your trullo, so you can just eat it in bed. So very decadent!
Lake Como: more than just George Clooney
Many Italians associate Lake Como with George Clooney. Tales of his beautiful villa, of exclusive parties with his vip friends and of how he tends to walk around like a local are well known in Italy.
Maybe it'll sound bizarre, but there really are people who visit only because of him!
Yet Lake Como has so much to offer, from the historical city center to the funicular railway that brings locals and visitors to Brunate. This is way cheaper than a boat ride and also a great way to enjoy the view from above.
The ride has a 55% slope and will leave you to the "Alps balcony": Brunate is famous because of the breathtaking views on Lake Como!
Another very important city in the area is Lecco, famous because of the novel "Promessi Sposi" (The Bethroted) written in 1827 by Alessandro Manzoni.
While you're visiting Lake Como, make sure to find lodging in Bellagio, especially if you're planning an Italian honeymoon. This little town is also known as the "pearl of the lake", because it's like a classy jewel, full of historical buildings and colorful houses.
If the weather is good, visit also Villa Serbelloni, a magnificent complex in a park made of exotic plants, rose gardens and beautiful views.
Civita di Bagnoregio: dying city or cats town?
Civita di Bagnoregio is one of Italy's best kept secrets. It's perfect if you're looking for an unusual destination off the beaten path. Because I loved our time spent here, I couldn't help myself and I had to add it to my list of the most romantic Italian cities!
Civita di Bagnoregio is also known as the "dying city". This beautiful town is in fact destined to vanish as it's located on a hill, eroded at the base by two streams, as well as by the effect of rain and wind.
Only a handful of families still live here and the silence as you walk the narrow streets only adds to the unique feel of this place.
The main highlight, aside from the views and the fact that it feels like stepping into a twilight zone, is the Cathedral, probably built in the early 7th century.
Inside you will be able to see a 15th century wooden crucifix.
To be honest, in stead than calling Civita di Bagnoregio the "dying city", I prefer to refer to it as "cats town".
Even before you step on the long bridge that will led you inside the city walls, you'll see warnings everywhere: you are not to touch the city's protected cats.
Volunteers take care of the pretty big cat colony and they make sure the visitors don't mess up with their work. The result is that as you stroll through the narrow streets, dozens of cats just hang around, mostly sleeping. They are more photographed than movie stars on red carpets!
Civita di Bagnoregio is the perfect place to propose in a very unique setting, especially if you go early in the morning or at sunset, when the whole town is bathed in the last sun rays of the day, making everything pink and orange.
Milan: a romantic metropolis
A romantic weekend in Milan? Before you think I'm crazy, let me tell you that this big Italian metropolis still has much to offer to the undying romantics.
This is one of the easy-to-plan romantic trips to Italy: Milan is well linked to two airports, and it's reachable thanks to a series of fast trains and bus services like Flixbus.
You won't need a car thanks to the extensive metro network.
Using the Milan subway is easy, cheap and it will bring you wherever you want to go.
If you're looking for something different than Duomo or shopping, there are a few big parks that you can visit.
Think of Central Park in New York: Milan has a lot of green areas but some can be particularly crowded. If you're visiting Italy in Spring, make sure to add the Brera Botanical Garden to your itinerary. It's the perfect place for a romantic walk hand in hand, through colorful bushes and cute little ducks.
The Indro Montanelli Gardens are also pretty big and mostly visited by locals only. Inside you will also find the Natural History Museum, which often has interesting exhibits.
Milan still holds onto its past, not only for the Christmas markets I already told you about, but also for repurposed areas like the Vicolo dei Lavandai. In 1800 in this street people came to find the washermen fraternity shops.
Today Vicolo dei Lavandai is one of the most romantic (and mostly unknown to the tourists) areas of Milan. It's been completely renovated, with a touch of romance, and it's very common to find lovers walking hand in hand or having a candlelight dinner in the (only) historical restaurant in this area.
Naples: candlelight dinner by the sea
You've probably got it by now, but Naples is my hometown and I am deeply in love with it. While in the past I gave you a one day itinerary for Naples and information about the traditional Neapolitan dishes, now I want to highlight the romantic side of my city (read my article in case you are wondering if it is safe to vist Naples).
Lungomare Caracciolo in the evening is probably the most romantic place for couples (and the place where I've had my first date with Aldo!) who love to walk hand in hand by the sea, while the Moon shines into the quiet waters of the Gulf of Naples.
Here you can either eat a "cuoppo" with fried fish, a delicious pizza or sit down for a romantic dinner.
If you're planning to propose, keep walking until you reach the area where the luxury hotels are located.
Right in front of them you will see Castel dell'Ovo, our beloved "Egg Castle". In the evening the small stone bridge that connects the tiny island to Naples is all lit with romantic street lamps. And it's the one place in Naples where most people propose to their significant other.
That's what makes Castel dell'Ovo one of the most romantic spots in Italy!
If you want to celebrate a special occasion, your proposal or if you just want to have a special evening on your honeymoon in Naples, cross the stone bridge to Borgo Marinari. Here, next to Castel dell'Ovo, you will find a few tiny candlelight restaurants that will be perfect for that. Of course be prepared to eat lots of delicious fresh fish (away from the crowds)!
Are you dating an adventurous someone? No worries! Why don't you go hiking on Mount Vesuvius? You can hike your way up to the crater!
Bonus tip: in stead than renting a car use the Naples Metro to explore the city and enjoy the new Art Stations (contemporary art museums for free)! There's so many things to see and do in Naples that you won't get bored for sure!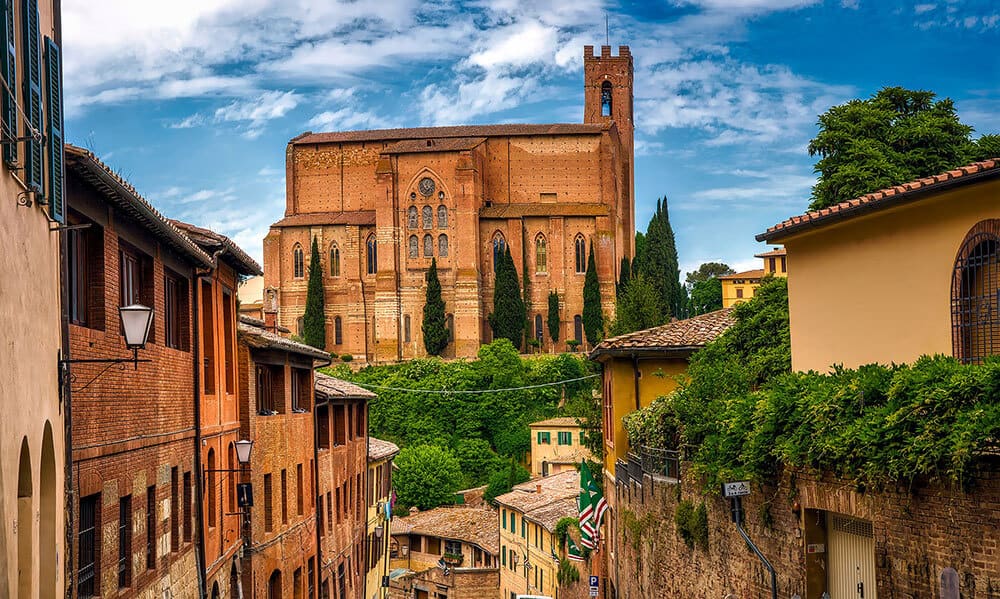 Siena: a different side of Tuscany
If you want to plan a Tuscany honeymoon and you don't want to feel suffocated by the crowds in Florence, Siena could be the perfect compromise. This beautiful little Tuscany town has so much to offer for every kind of tourist.
In case you aren't scared of heights, climb up the Torre del Mangia, the most famous bell tower in Tuscany. Siena and the surrounding countryside are even more beautiful from above!
Piazza del Campo is full of restaurants and tea rooms. If you feel at home within the crowds of tourists and students, this is where you want to go to in the evening.
If you prefer the quiet, have a full Italian breakfast at Piazza del Campo in the morning or enjoy an aperitivo at sunset before the crowds take over!
On the contrary, Piazza San Francesco is very crowded during the day (especially because of the University) and way more quiet in the evening. It's the perfect place to have a gelato. After all you can't visit Italy without eating gelato, right?
For the undying romantics, the Orti dei Tolomei, in the Sant'Agata area, is perfect to lay down on the grass at night: it's a popular star watching ispots, and also very romantic!
Ischia: wellness and good food
Not too far away from Capri, Ischia is another pearl in the Gulf of Naples and the biggest island in Campania region.
Every year over 6 million tourists visit Ischia, worldwide famous for its hot springs.
This volcanic island in fact has a whopping 103 natural spas all located on a 42 km2 area. It's best visited in spring or autumn, because the warm months are always overcrowded and noisy.
The spas in Ischia look like paradise, because the thermal pools are usually surrounded by exotic gardens and close to the beach.
The natural pools are always warm or very warm (over 40° C) and rich in minerals, so we can definitely say that Ischia is one of the romantic Italian destinations completely dedicated to wellness, relax and good food.
The traditional dishes in Ischia are the "Coniglio all'Ischitana" (Ischia rabbit, slow cooked with small tomatoes, garlic, oregano and olive oil), and a delicious octopus cooked with candied tomatoes, potatoes, olives and capers.
To get to Ischia you can hop on a ferry from Pozzuoli or Molo Beverello in Naples.
Palazzuolo: Tuscany off the beaten path
We discovered Palazzuolo sul Senio thanks to the Memorial Enzo Mengozzi. I'm talking of the trip when we crossed the Apennine on horseback to go from Firenzuola to Palazzuolo.
This beautiful, tiny town is in Tuscany but also pretty close to Emilia Romagna. Me and Aldo fell in love with the place as soon as we got there (and no, it wasn't because we'd just been on the saddle for over 7 hours!).
A small river runs across the town. The locals come here to fish and lay down on the grass when the weather is sunny.
Palazzuolo is full of flowers and romantic weeping willows. A wonderful historical clock tower welcomes the visitors, giving this town a strong fairytale vibe.
Palazzuolo Sul Senio can be a great idea if you want to visit a very romantic place on your Tuscany honeymoon.
It's a tiny village with stone houses, still untouched by mass tourism and completely dedicated to slow food, genuine farm-to-table products and wellness.
If you know how to ride, this is the perfect place because horses are a big part of the tradition at Palazzuolo sul Senio. You'll be able to enjoy breathtaking views on horseback. And even if you don't know how to ride, you'll still have time to get a lesson or two!
The hikers will be able to enjoy awesome hiking trails through the chestnut woods. Birdwatching here is very popular: the locals will be happy to teach you everything about the birds living in this area.
Tivoli: history and gardens
Just like Palazzuolo sul Senio can be a good alternative to the most famous (and crowded) cities in Tuscany, Tivoli is the perfect romantic getaway that you can add to your Rome itinery for 4 days (or more!).
A romantic weekend in this cute little town means that you will be immersed in history, nature and good food.
Worldwide famous, Villa d'Este should always be on your itinerary, especially if you're visiting Tivoli in the summer time.
Its beautiful gardens in fact will offer shelter from the heath of the warmest months.
My suggestion? Visit Villa d'Este in the morning and the nearby Villa Adriana in the afternoon. Both, just like Villa Gregoriana, have been added to the UNESCO World Heritage Sites list.
Located just about one hour away from Rome, Tivoli can be reached by car, bus or train. This cute little town is one of the best Italian getaways for those who are looking for a quiet place and for families traveling with children.
A romantic weekend in Tivoli becomes, in fact, the perfect way to learn Italian history through beautiful views, but it also offers the chance to taste ancient recipes, with farm-to-table ingredients. It seems like time has stopped in Tivoli!
Pienza: Reinassence and…cheese
Another very romantic little town out of the beaten track for a Tuscany holiday is Pienza, located in Val d'Orcia, South of Siena.
Nestled between wonderful green hills and breathtaking views, it was built as the ideal Renaissance city. Lovely buildings covered in travertine marble that gives them a light green color, narrow streets and even some views that you might recognize from the movie "Romeo and Juliet" one of the masterpieces of the Italian director Franco Zeffirelli.
Walking hand in hand in Pienza really does make you feel like you're stepping into a painting: this is one of those little towns that represent my Country and that you should always add to your Italy bucket list.
Pienza is also famous for its cheese, called "pecorino di Pienza", made with sheep milk. It is sold, together with wine, spices, pici (a particular kind of pasta), honey and other traditional products throughout the little town.
Cheese is so important in Pienza that every September they have a "Fiera del Cacio", a town fair where you can eat free samples of the local products and enjoy century old traditions.
They even have a "Palio del Cacio Fuso", an exhilarating game where the participants, one for each district of Pienza, have to push a wheel cheese around a little wooden spindle in the middle of the main square. It's always so much fun!
Tuscia Viterbese: wine, relax and history
We already told you about our itinerary in the Tuscia Viterbese: one year later we still think it was the most relaxing of our Italian getaways…ever!
The Tuscia Viterbese area includes parts of Lazio, Tuscany and Umbria regions. It's a place full of history where you can spend a romantic weekend with your better half, walking hand in hand on the shores of Lake Bolsena, eating traditional dishes and learning so much about the Etruscan history.
The area is best seen in Spring or in February for Valentine's day, because during the Summer is pretty busy with (mainly) Italian tourists who go there to enjoy the good weather and the lake.
Whether you decide to visit Bisentina or Martana, the two (very) tiny islands on Lake Bolsena, or the breathtaking Bomarzo Sacred Grove, remember to have a glass of the delicious wine produced in Montefiascone: "Est! Est!! Est!!!".
We decided to spend a weekend here to celebrate Valentine's day we were able to relax and recharge. Of course, we also discovered that food here is absolutely delicious: I think we put on quite some weight on this trip!
If you are visiting for Valentine's day or off season, remember to book a table in advance to every restaurant you want to go to. Many restaurants here will be closed off season, so you'll need time to plan in advance!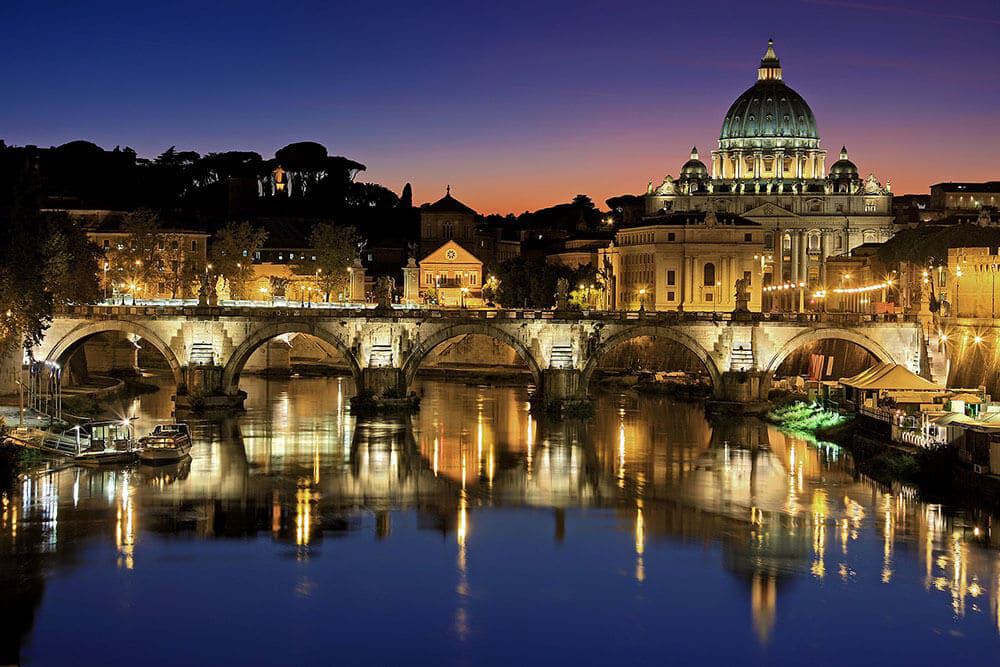 Rome: Italian history and romance
Rome is one of the most romantic places in Italy and for a good reason.
It's a big city with so much to see and do, so if you are planning a short Italian trip, it's mandatory that you plan well in advance what you want to see.
Prepare a list with the best places to go and things to see in Rome and take into account not only how long you'll be there but also how much time it'll take you to reach the area. Remember that traffic in Rome is a nightmare! Buying tickets in advance online might be a great idea to avoid the long lines, provided of course that you get them on official websites, to avoid getting scammed.
If you are planning to celebrate a special date with your partner or if you want to visit all the most romantic spots, let me offer a few super useful tips.
The most beautiful walk in Rome, according to the locals, is the one at the Pincio, the first public garden in Rome, built thanks to Napoleon. The view on Piazza del Popolo from the terrace at the back of villa Borghese will leave you speechless!
If you're planning to propose or if you just to give voice to your feelings, go see the sunset behind the Campidoglio. Walk up the road that takes to the Town Hall and from above you'll see a wonderful view of the Roman forum.
You might also like:
Plan the perfect 4 days in Rome on your own
After dinner, if you want to have a night walk and are already in the area, visit the Gianicolo. The view of Rome all lit up is super romantic!
I'm sure you've heard of the Fontana di Trevi, the most famous (and crowded) fountain in Rome. Well, not many people know that on its right there's another tiny, rectangular fountain. It goes almost unnoticed, but in Rome they say it's dedicated to love. A legend in fact claims that if a couple drinks here, they'll both stay in love and faithful to each other for life.
Another very beautiful postcard of Rome (together with the Colosseum) is the stairs at Trinità dei Monti. Yet because it's so famous, it's always very, very crowded. You can try to take pictures with less people if you go there early in the morning, midweek but… don't be too hopeful!
If you are looking for deals, check out the newly opened Hampton by Hilton Rome East: they're often having good deals and the food is absolutely delicious!
Pisa: leaning tower and foodie experiences
Last but not least in our list of the most romantic places in Italy, the magnificent Pisa. Worldwide famous for its leaning tower, UNESCO World Heritage Site, located in Piazza del Duomo, also known as Campo dei Miracoli, Pisa deserves at least a couple of days.
Rich in history and art, it can be the perfect base for a very romantic Tuscany honeymoon or for a weekend with your special someone. Not too far away from the Tower of Pisa, in fact, you can also visit the bell tower, the baptistry and the Duomo.
You might also like:
The very best day trips from Florence
A nice walk (less than 1km) will lead you to Piazza dei Cavalieri, one of the most beautiful areas in Pisa.
The gorgeous Palazzo della Carovana houses the prestigious Scuola Normale di Pisa and one of the masterpieces of Giorgio Vasari. The facade is completely decorated with zodiac signs and allegorical figures.
Also in Piazza dei Cavalieri you can visit the Chiesa di Santo Stefano and then move to two less crowded areas generally (mostly) left alone by the tourists.
While walking near the Arno river in Florence is crowded also in the evening, here in Pisa it's very quiet… and romantic. It's the perfect place if you are planning to propose, with all the lights reflecting in the placid water and this Italian beauty as a background.
If like us you like street art, don't forget to visit "Tuttomondo", a huge mural that covers entirely the back of the S. Antonio Church in Pisa, by the American artist Keith Haring.
Pisa is also a popular food tours destinations. Here you can taste all the traditional Tuscany dishes and also some interesting Pisa variations. Among the most famous dishes, try the Riso al tartufo alla Pisana (Pisa recipe for risotto with truffles), a traditional Pisa recipe for boar meat, Torta coi bischeri (a traditional cake) and Minestra sullo scio alla moda di Volterra (a delicious local soup).
If you are visiting Italy in February it might be cold: make sure you have everything you need with our packing guide for winter! Here you can also find the ultimate list with souvenir ideas for your trip to Italy!
Many of the places mentioned in this guide are also awesome if you're planning a fall trip to Europe in October or November!
Pin it for later!