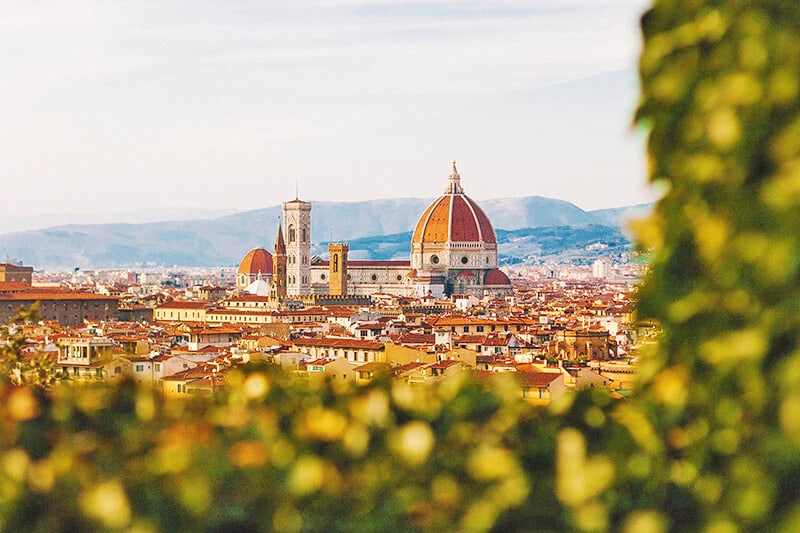 Have you booked a vacation to Italy and you want to make it memorable? These 30 best day trips from Florence will show you cute little towns, fairytale villages, delicious wine tours, foodie heavens and so much more. Don't worry if you haven't rented a car: there are many day trips from Florence by train that you can plan on your own! With Aldo's brother living and working in Siena for years and my own cousin living near Florence, we have been visiting the area quite often. Let us show you the very best day tours from Florence you can, and should, add to your itinerary!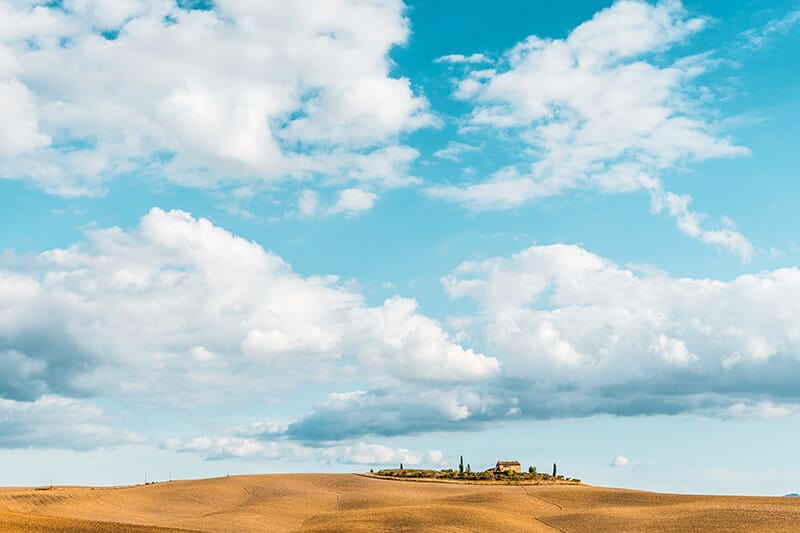 Enjoy a few day trips from Florence to Chianti
San Gimignano
Some of the very best day trips from Florence are those in the Chianti area. I'm sure you've all seen the beautiful pictures with the luscious green hills and the wineries: that's Chianti, the most popular part of Tuscany!
One of my favorite trips from Florence is to San Gimignano. This medieval town is a UNESCO protected site and the one place you should always have on your itinerary if you have planned to spend a few days in Italy.
A day trip to San Gimignano can be quite fulfilling, because you will experience good food, wine tastings, history and culture. Make sure you bring a camera because you're going to need it!
San Gimignano is very famous for its medieval towers, the reason why it's also known as a "Medieval Manhattan". There used to be 72, but today you can only see 14 of them.
Since you have only one day in San Gimignano, make sure you visit the Duomo: the outside looks quite simple, if compared to the churches in Florence, but the inside is absolutely gorgeous and very colorful.
As you walk around, stop at Piazza del Duomo to have some gelato: from there you'll see quite a few examples of the local architecture.
You might also like:
20 romantic Italian getaways you can plan on your own
30 types of Italian pizza you'll find on the menu in Italy
Why you should plan your first vacation as a couple
In stead than stopping at the Museo della Tortura – Torture Museum (it can be interesting but in my opinion it's not worth the price), walk around and explore the beautiful churches, the narrow streets and the tiny shops.
If you're looking for a great place to take pictures, make sure to visit the Rocca di Montestaffoli: nothing much remains of the old castle, but the view from up there is unforgettable!
The Vernaccia is the popular San Gimignano wine. It's white and dry, you should drink it fresh out of the fridge and pair it to strong flavors like cured meats, local pecorino cheese or meat.
If you're looking for unique souvenirs from Italy, buy a tiny bag of saffron in San Gimignano: back in the day it was known as the "yellow gold" and you could recognize its distinctive scent anywhere. It will be a much appreciated gift, especially if you learn to cook a delicious risotto allo zafferano in Italy!
Click here to book a 4 course cooking experience in Florence!
There's no direct train from Florence to San Gimignano, so you will have to go to Firenze Santa Maria Novella train station, hop on a regional Trenitalia train to Poggibonsi, then walk to Largo Gramsci (Poggibonsi) and get a bus (number 130) to San Gimignano.
Renting a car might be a good idea if you're planning to spend the whole day exploring, so you won't have problems at night when you have to go from San Gimignano to Florence. Click here to check how much it'd cost you to rent a car for one day in Florence.
Another option is to book a Tuscany tour from Florence to Chianti which includes San Gimignano. Click here to check out the most popular one (San Gimignano, Pisa, Siena and wine experience).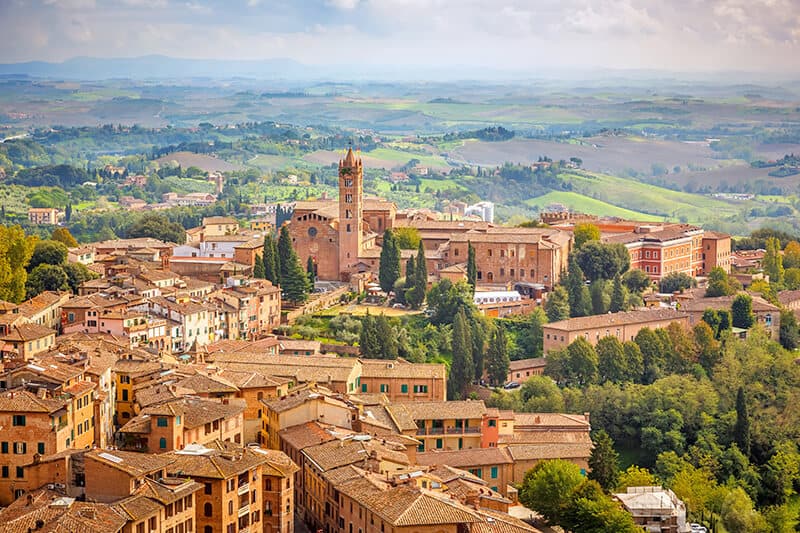 Siena
As I already mentioned before, my brother in law has worked and lived in Siena for many years.
We have spent Christmas and New Year's eves walking around and laughing after a great Tuscan dinner, trying to forget we were freezing (winter in Siena is definitely colder than what we are used to in Naples!).
You might also like:
Winter in Italy – what to wear and what to expect
Siena is also one of the super easy day trips from Florence.
How far is Siena from Florence? Just one hour and half, using public transport! Renting a car in this case is not necessary.
Go from Florence to Siena using bus number 131 or a Trenitalia train.
The first thing we always do as soon as we arrive to Siena is to walk to Piazza del Campo, the main square that looks like a shell, and we drink a coffee at one of the many nice cafes.
From Piazza del Campo you will see the Palazzo Comunale, the Torre del Mangia and many historical buildings.
After our espresso break, we just walk the narrow streets lined with boutiques and food shops. You can explore via Banchi di Sopra, then walk to Via di Città and Via dei Montanini. Find a nice place to have lunch and enjoy a good glass of Tuscan wine.
The Duomo can be visited right after lunch. By clicking here you can buy skip-the-line tickets which will help you to avoid the long lines. Because you have only one day in Siena and there's still so much to see and do, I'd suggest buying the fast pass entrance ticket!
According to how much time you have, you can also add the Pinacoteca Nazionale to your itinerary.
There's no such thing as having seen too many paintings already, but if you're interested in something else, I can suggest the Chiesa di Santa Caterina and the Chiesa di San Domenico (both churches are within walking distance from each other).
At sunset, walk to the Fortezza Medicea. From up there you will be able to take amazing pictures of Siena from above. There are also many wineries so you can have a wine tasting dinner with Chianti wines and Italian cheese.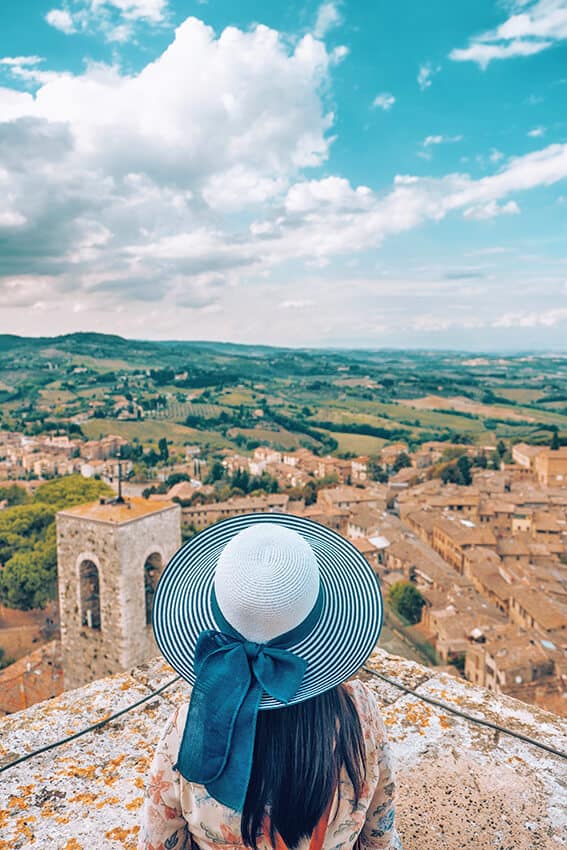 Montefioralle
Montefioralle is one of the most beautiful little towns in Italy.
Located in the heart of Chianti, it's one of the day trips from Florence you can plan using the bus.
The SITA bus number 365A will drive you to Montefioralle in a little over one hour, and then you will have to walk a bit.
Beware: the narrow streets are steep so wear comfortable shoes!
This is also one of the Tuscany wine tours from Florence you should do if you love a good glass of traditional Chianti wine.
You might also like:
Iconic Italian dishes and where to eat them
Bistecca alla fiorentina (Fiorentina steak) here is served with white beans or with a light garden salad. I suggest the latter, so you'll have some space left to enjoy Cantuccini con il Vin Santo.
The Tuscany cookies with almonds ("Cantuccini" or "Cantucci") have to be served with a glass of Vin Santo, a dessert wine which can be very sweet or very dry. It depends from the Italian cantina that produces it!
If you're planning a trip to Tuscany in March, make sure you add a day trip to Montefioralle to attend the "Festa delle Frittelle"!
The whole town celebrates it by deep frying sweet fritters made with rice boiled in milk, eggs and sugar. The main frying pan is huge (about 2 meters in diameter) and usually it's located in the oldest part of the town.
You might also like:
20 magical Christmas markets in Italy you shouldn't miss!
What to eat at Christmas in Italy
Montalcino and Montepulciano
If you have rented a car to explore Tuscany, I encourage you to visit Montalcino and Montepulciano in the same day, instead than planning two different day trips from Florence.
While these two beautiful towns are pretty close to each other, it's pretty difficult to get there from Florence: it'd take you 3:30 hours and you'd have to change at least two trains and one bus.
Yet Montalcino and Montepulciano are super popular because of their good wine and great traditional dishes.
Some of the best wine tours from Florence have both Montalcino and Montepulciano in their itinerary. Why? Well, because of the delicious Brunello di Montalcino wine!
Montalcino is located South of Siena, and it's a fairytale little town in Tuscany that is located all around an ancient castle. Here they produce Brunello di Montalcino wine which is then exported in the whole world.
Montepulciano is one of our favorite places to go for Tuscany food. While many people only know of Montepulciano because here they filmed a few scenes from the New Moon movie (yet Montepulciano was standing in for Volterra, keep on reading for that one!), we love this town because we can sit down at one of the osterie to have a delicious platter with local cheese, finocchiona and unsalted bread. It's a decadent experience, even the more so when there's no one else around.
This quaint little town is surrounded by vineyards, which produce the popular Vino Nobile di Montepulciano, a deep red wine usually served with cheese, so you can drink it while eating Parmigiano Reggiano, Grana Padano, or you can follow Aldo's steps: he loves to enjoy it with bites of Pecorino romano and Pecorino di Pienza (keep reading for more info).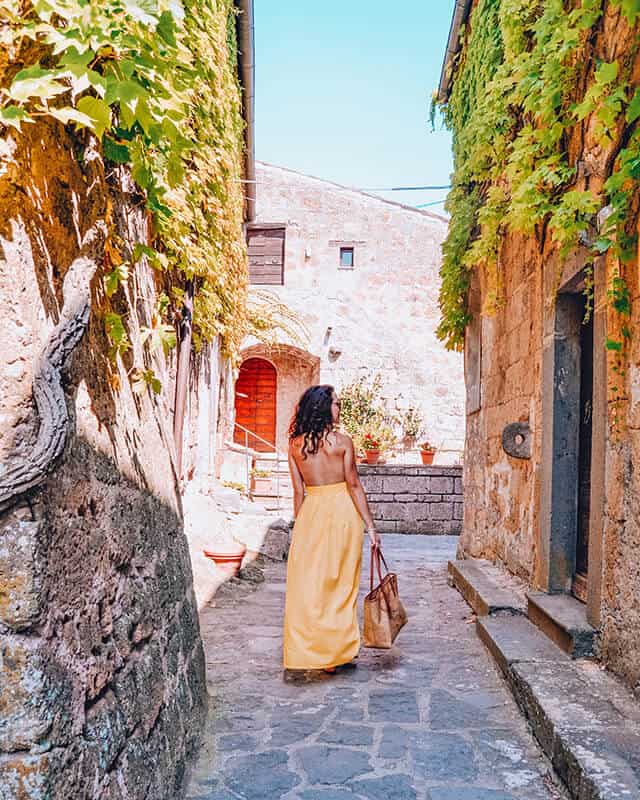 Monteriggioni
Another one of the Florence day trips you can easily plan on your own is Monteriggioni. It's not too far away from Siena, and you can get there by hopping on bus 131 (SITA) in Florence. It'll get you to the town city centre in about one hour and half.
Monteriggioni is one of the cities near Florence which still have medieval walls: the stone houses were built all around a castle and tall walls were built to protect the city from the Florence soldiers.
What is different in this case is that the walls have enclosed the whole hill, so what you'll see from the distance is a small hill entrapped by stone walls and imposing towers.
Once there, you can visit the Monteriggioni castle, walk through medieval castle doors, and even visit a museum which preserves old armors and medieval weapons.
The Museo delle armi e delle armature in Monteriggioni also offers the chance to touch and feel for yourself how heavy the medieval weapons were. It's a quite uncommon – and rare – experience that you won't be able to replicate anywhere else.
There are also a few tiny shops in Monteriggioni where you can buy nice souvenirs. They're a bit touristy, mainly selling medieval replicas and leather products, but I appreciate the fact that their goods aren't overpriced. Have a look, maybe you'll find something you like!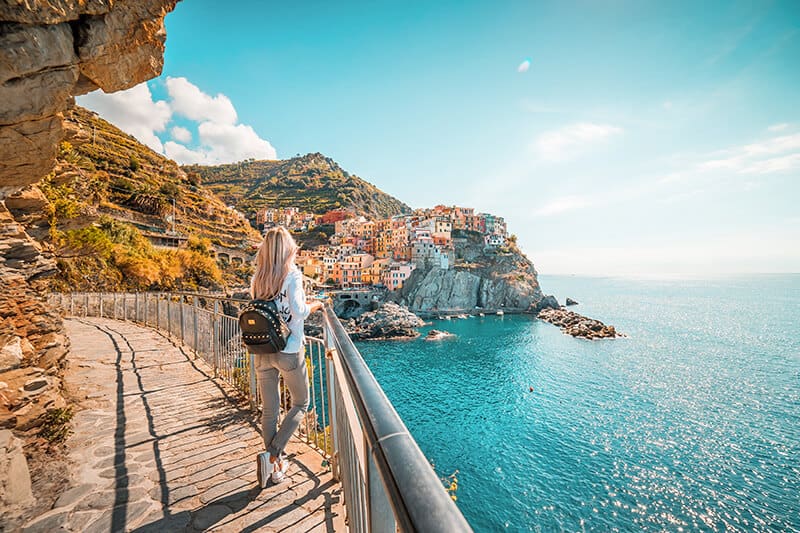 Plan a Cinque Terre day trip from Florence
Among the best day trips from Florence there's the one to Cinque Terre. Spending the night in this super popular part of Italy isn't always an option, but if you're planning to stay in Florence for a few days, you can plan a Cinque Terre day trip from Florence on your own.
From Firenze Santa Maria Novella station you can hop on a train to Monterosso (usually it's a Trenitalia Regionale train).
It'll take you between 2:30 and 4 hours to get there (it depends on where you want to stop) and you might have to change at La Spezia.
Start the day by visiting the town, and if you're visiting Italy in summer, head straight to the beach for a swim. A very nice public beach is located near the "Il Gigante" (the Giant), a huge statue carved into the cliffside. If you choose to spend a few hours on a private beach, you will have to pay to access it, plus an additional fee for renting umbrella and lounger.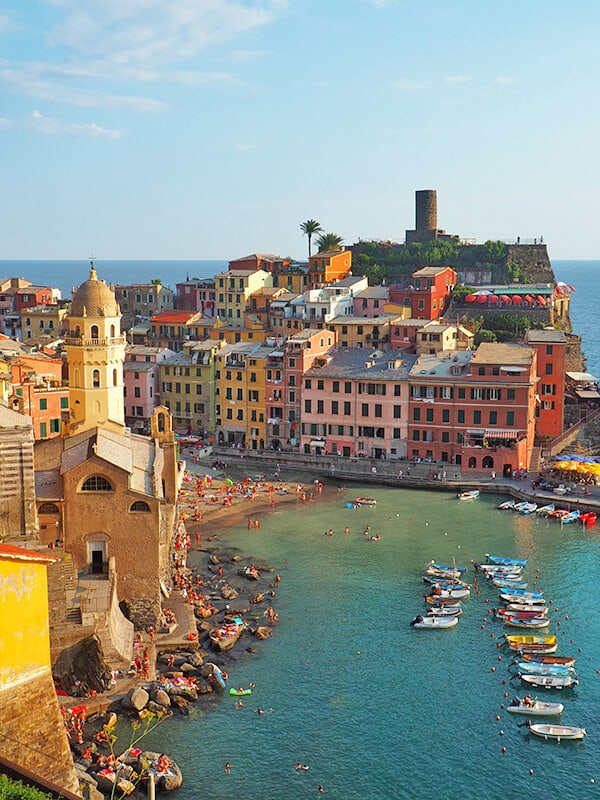 After the beach, have an early lunch in Monterosso's Old Town and then walk to the ferry dock. Once there, buy a ticket to Riomaggiore.
At Riomaggiore I suggest you make your way over the piazzale, a large square where you'll find the main church, Chiesa di San Giovanni Battista di Riomaggiore.
You can visit this lovely church, provided you're dressed properly. Remember to cover your shoulders (if it's too hot, pack a light scarf that you can put in your backpack, you'll drape it on your shoulders before to get into any church), and your legs.
As an afternoon snack, I suggest you eat a gelato while you walk towards the train station. Your next stop will be Manarola.
In Manarola, explore a bit as you like and then you can have an Italian aperitivo. I suggest going to Nessun Dorma Cinque Terre, where you can order a Negroni or a Spritz (our friends who live in Tuscany prefer Negroni). It will be served with little crackers, chips and delicious finger food tastings.
You might also like:
Italy in spring – why visiting is a good idea
At this point, if you're not too tired and it's not too late (always consider the time it'll take to get back to Florence), you could take the train to Vernazza, where you can dine or just walk around taking pictures.
If it's late or you have already walked too much, just hop on a train from Manarola to Florence. Leave the rest for your next visit!
Be aware that you might want to leave Florence quite early in the morning and you won't be able to visit all 5 villages on a single day! It will surely be a long day so make sure you do your homework before you leave for your trip.
While driving to the Cinque Terre is a bad idea, there's the chance to book a Cinque Terre day trip from Florence with hotel pickup: they'll take care of everything. The only thing left to do will be to have fun!
Click here to check rates and availability.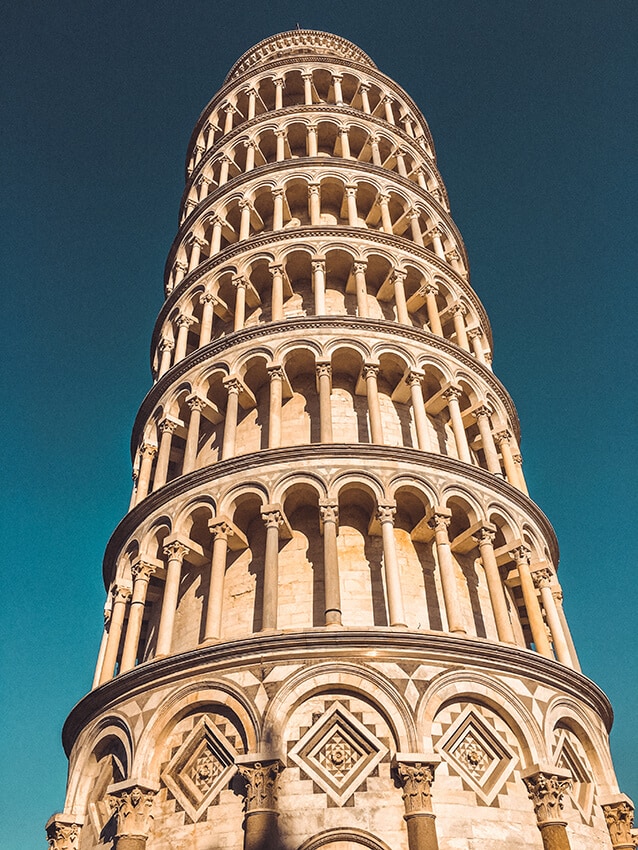 See the leaning tower of Pisa and the vampire royalty house
One of the most popular pictures from Italy is that of the leaning tower of Pisa. Even Italians love to visit this unique landmark, and never miss the chance to stop by for a few pics whenever they're in the area.
When I first saw the leaning tower it felt surreal: until you actually see it with your own eyes you don't seem to realize how… crooked it is!
Getting there is super easy. Hop on a Florence to Pisa train (Trenitalia regionale). The ride lasts a bit over 1 hour. Trains depart from Firenze Santa Maria Novella every 30 minutes.
Once you're at Stazione Pisa Centrale, if the weather allows it and if you don't feel too tired already, I suggest you to walk to the leaning tower of Pisa (follow the signs for "Torre di Pisa"). You'll cross the Arno river, and you can do some shopping along the way or eat gelato. Once you're close enough, you might want to walk through the amazing Piazza dei Cavalieri or visit the Orto and Museo Botanico on the way to the tower.
If walking isn't an option, plan your Pisa tour from Florence using the public transport. You can use the metro LAM Rossa, at Station 4 to Torre 1. It'll take you about 12 minutes to get to the leaning tower.
Most people plan a Florence to Pisa day trip, willingly spending only a few hours in Pisa, only to return right after lunch to Florence.
How about you spend your afternoon in Volterra?
While it'd be way easier to get to Volterra with a rented car, you can also get there using public transport. It'll be a bit more difficult but it's absolutely doable.
From Stazione Pisa Centrale, hop on a Trenitalia regionale train to Pontedera-Casciana T. (15 minutes). Then walk to the closest bus station and get a bus to Volterra (Pontedera Corsia 4 to Volterra). It will take you 1:17 hours on average, but that really depends on traffic.
The only downside is that from Volterra to Florence you have to choose between two options. Either you return to Pisa and from Pisa you get a Trenitalia train to Florence, or you opt for the Bus 500 in Volterra, which will take you to Florence in about two hours and half.
Volterra was always one of our favorite towns in Tuscany, way before the Twilight series by Stephenie Meyer hit the shelves. Afterwards it became quite crowded because every reader wanted to see the town where the Volturi vampires reside.
Too bad that in the movies… Montepulciano was turned into Volterra!
The fans didn't like this decision and even the Volterra Mayor expressed his disappointment. Yet the movie director said that Montepulciano worked better so they re-created Volterra in Montepulciano. As an Italian, let me be blunt: I found it such a stupid thing to do!
I suggest you visit the real Volterra, which is a lovely town with an incredible history written in every stone. Walking in the narrow streets and taking pictures of the stone buildings will be amazing: I visited Volterra the first time when I was a little girl and as an adult I still feel the same awe when I go there!
If you can, stay over for dinner and eat Pici al cinghiale (pici pasta with boar sauce). It's absolutely delicious!
Discover a secret garden in the sky in Lucca
I must confess that I've experienced Lucca more often than not because of the Lucca Comics and Games, which turns the whole town into some sort of huge fantasy realm.
When the Lucca Comics isn't crowding the streets, this quaint little town is absolutely gorgeous, because you can just walk around, discovering tiny shops and historical buildings, or just eating finocchiona while smiling from ear to ear.
You can easily go from Florence to Lucca on your own: not having a car in this case is much better. Lucca is a walled city and parking outside of the city walls can be quite expensive. Besides, from the parking lot you'd have to walk all the way to the city. I don't suggest you try to drive through the city walls because there's a ZTL. It's is an area (unfortunately sometimes you don't even realize you're driving in a ZTL) where only the locals can drive: you will get fined even if there's no one around.
Me and Aldo have driven our car to Lucca only a couple of times and we always parked outside of the walls: spending one day in Lucca means having to add a quite expensive parking fee to your budget, so use public transport whenever you can.
The Florence to Lucca train (Trenitalia regionale) will cost you less than 8€ (one way) and it only takes 1:20 hours to get there. Try to take the one from Firenze Santa Maria Novella at around 9:10 am!
Lucca can easily be explored on foot. Every corner seems to hide a surprise, but make sure you also look up!
The most popular tower in Lucca, Torre Guinigi, hides a real garden on the very top. There are tall holm oaks that you can see from below and you can also climb all the stairs to visit this unusually beautiful garden in the sky!
Tickets to visit the Medieval towers in Lucca will cost you 5€. If you also want to visit the Orto Botanico, there's a bundled ticket at 9€.
From up there the view is amazing and you'll be able to take great pictures of Lucca from above and the surrounding area.
Other things you should see in Lucca is the main square, Piazza dell'Anfiteatro, one of the most beautiful in Italy, and the Chiesa di San Michele, in the oldest part of Lucca.
This is one of the day trips from Florence you should plan at a slower pace. Lucca is so beautiful, and the food there is so good, that you should just let yourself wander on foot. Pick a restaurant that you like and have a great Tuscany lunch. For today, just rest, enjoy yourself and eat a lot!
Visit "Little Jerusalem"
One of the day trips from Florence which you should pick if you are renting a car (otherwise I don't suggest it) is Pitigliano.
This beautiful village in Tuscany is known as "Little Jerusalem" because there's a high number of Jews who have been living here since the 15th century.
Pitigliano looks like a fairytale village, as it's located on a promontory, surrounded by green valleys and two rivers, Lente and Meleta.
The medieval buildings hide ancient prehistoric traces, those of the Roman Empire and a well preserved Jewish ghetto, where you can visit a Synagogue, a Jewish cemetery and an area where bread and wine were produced.
In Pitigliano, the adventurous travellers looking to plan one of the most interesting Tuscany day trips on their own, can also add the Etruscan rock-cut ways and tombs. The Etruscan necropolises are one of the things you should always add to your itinerary, especially if you're visiting Italy in spring, when the weather is great and not too warm!
As I already mentioned, the downside is that Pitigliano is one of the off the beaten path day trips from Florence that you should add to your Italy vacation only if you have rented a car. Getting there with a bus is quite difficult and it'd take you too long, you'd be wasting way too many hours!
Plan a couple of Southern Tuscany day trips from Florence
Cortona and Arezzo are two more day trips from Florence you can plan on your own. According to how much time you have, you can visit both in one day, or if you can spare one more day, you can make these two separate trips.
Arezzo is the closest one. You can get there by hopping on a Trenitalia regionale veloce train from Firenze Santa Maria Novella. Tickets cost 8,70€ and the ride will only last about 1 hour. If there's no regionale veloce, opt for an Intercity. The regionale train will take 1:40 hours at the same price so I'd avoid that!
One of our friends decided to plan a shooting for her wedding album in the Arezzo old town in stead than Chianti. Since we'd never been there, we wondered why she'd forfeited the Chianti countryside… until we finally visited Arezzo and understood. What a gorgeous city!
Because people focus more on Siena, Florence and Pisa, Arezzo isn't overly touristy and definitely not crowded. If you're visiting from abroad, you might think that it's an off the beaten path trip in Tuscany, but us Italians love Arezzo! Not only it's less crowded but it's also way less expensive than Florence!
The very first thing you should add to your Arezzo itinerary is the Basilica di San Francesco ad Arezzo, where you'll find "La leggenda della Vera Croce", a stunning fresco by Piero Della Francesca, also known as one of the most beautiful masterpieces of the Italian art scene.
Another Church worth mentioning (there are more in Arezzo so visit as many as you want) is the Basilica di San Domenico ad Arezzo, where you can admire the huge Crocifisso by Cimabue. It's a 3 meters tall cross, which dates back to 1268.
The Piazza Grande in Arezzo is a big square, which has a quite "weird" shape if you see it from above, but is absolutely filled with ancient buildings and Churches. Here, every first Saturday and Sunday of every month, you can attend (for free) the Fiera Antiquaria. The whole square will be filled with vendors selling antiques (usually over 500 stalls).
The first Sunday in September and the second to last Saturday in June are when you can enjoy the Giostra del Saracino. It's an amazing medieval fair: people will dress up like knights and maidens! Four knights represent 4 different neighbourhoods in Arezzo and they will be jousting: the champion will be the knight who can hit the dummy, without being hit in return!
To get from Florence to Cortona, you'll have to use the same train you'd get to visit Arezzo (hence why you could spend half a day in Arezzo and the other half in Cortona), then you have to walk to the nearest bus station to hop on the SU5 bus to Viale C. Battisti. It's the closest stop to Cortona. From the bus station, you have to walk 10 more minutes to get to the city center. The whole trip from Florence should take you a bit more than 2 hours.
Cortona has become quite popular because of the movie "Under the Tuscan Sun", about a woman who decides to move to Italy and buys an ancient villa. Aside from the super famous Diane Lane, the movie featured one of the most loved Italian actors (and hunks), Raoul Bova, who played Marcello, so of course everyone here has watched this movie!
Click here if you want to read the original memoir by Frances Mayes.
The villa used in Under the Tuscan Sun is Villa Laura, a 17th century Tuscan Estate. Unfortunately it can't be visited, but it is available for weekly rental. Yet don't be too sad: there's much more to see and do in Cortona!
Among the most spectacular things you should add to your itinerary, there's the Eremo Francescano Le Celle, an hermitage where Saint Francis stayed for a while.
As you walk around, enjoying the view, make sure you stop at Piazza della Repubblica and the Duomo. You're in Italy: no one is going to blame you if you eat too much gelato!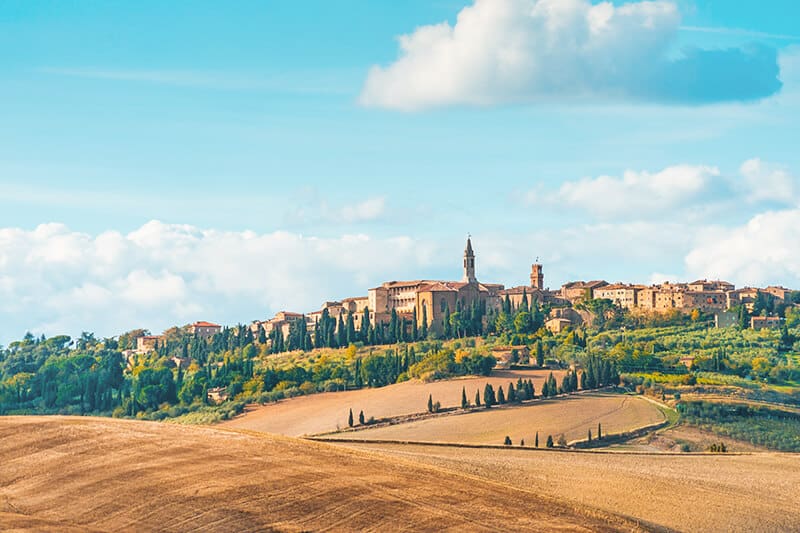 Walk through two quaint little towns in Tuscany
San Miniato and Pienza are two more day trips from Florence you can plan on your own if you like small, fairytale villages and great food.
Because they are distant from each other, I wholeheartedly suggest you not to visit both in one day. You wouldn't have time to enjoy yourself and you'd have to spend a long time just hopping on and off from trains and buses!
Pienza is perfect for a romantic Italian trip. This little town, located in Val d'Orcia, can be a bit tricky to reach using public transport, so I'd suggest renting a car to get there. There are parking spots for tourists outside of the main city center, then you can just walk around to explore as much as you want.
If you can't drive, either you hop on a train from Firenze Santa Maria Novella to Buonconvento (through Grosseto), then on a bus to Pienza (total time about 3 hours), or you book a private tour. Some of the best wine tours from Florence also stop at Pienza.
You can click here for more info on a delicious wine and cheese tasting tour in Val D'Orcia.
This gorgeous town is nestled between luscious green hills and offers breathtaking views of the Val d'Orcia. It's famous because of the "Pecorino di Pienza" cheese, made with sheep milk.
Among the foodie souvenirs you can buy in Pienza there are Chianti wine, spices, pici, honey and pecorino.
Before you buy anything, make sure you can bring this stuff back home or they'll have to take it from you at the airport!
One of the things you should start with is the lovely Duomo. After you're done visiting this gorgeous church (please cover your shoulders out of respect!), you can take pictures of the Palazzo Comunale, and eventually visit the Museo Diocesano.
If religious art doesn't interest you, bring your camera and go to Palazzo Piccolomini, next to the Duomo.
There's a magnificent open gallery, a roof garden and even secret rooms you can visit.
Palazzo Piccolomini is our favorite place to visit in Pienza and it's absolutely never crowded so if you're looking for a place to take Insta-pictures, go for it!
Pienza is a UNESCO site. Even if you only have half a day, consider visiting: you can add it to your day trip to Montalcino.
San Miniato is way closer to Florence, but you'll still have to hop on both a train and a bus to get there.
From Firenze Santa Maria Novella, take a Trenitalia regionale train to San Miniato – Fucecchio. The bus station is just outside the train station: find bus 320 to S. Miniato Riposo Rotatoria. There's about 1.4km you have to walk to get to the city center.
Renting a car or booking a day trip to San Miniato would make things easier. There's even a truffle hunting day trip to San Miniato from Florence that you should check out!
San Miniato is one of the "short" Tuscany day trips. If you don't have enough time, you can make this a half-day experience.
I personally always encourage people to just take a deep breath and enjoy the day without having to rush it. Yet I understand that there's so much to see and do in Tuscany, so maybe you can visit the main highlights in San Miniato this time and the rest on your next trip to Italy!
Located midway between Florence and Pisa, San Miniato is absolutely gorgeous, both for its architecture and because in this area you can take pictures of the Tuscany countryside you've probably seen on every travel guide.
San Miniato is popular mainly for two things. The exquisite white truffles (you can also book a truffle hunting tour if you want), and the San Miniato Tower.
The Cathedral dates back to 1200: a series of ceramic discs depicts the Ursa Major and Minor constellations.
If you have planned a fall trip to Italy, make sure you add San Miniato to your itinerary: the second, third and fourth weekends in November there's a Mostra Mercato Nazionale del tartufo bianco delle Colline Sanminiatesi. It's a White Truffle fair, where you'll be able to smell, taste and eventually buy the best truffles in Tuscany!
Have fun at the Viareggio Carnival
Have you planned your trip to Italy in winter? Well, take note of the fact that February isn't only Valentine's day: it's Carnevale di Viareggio!
Viareggio is a lovely city, known for having hosted popular artists like Percy B. Shelley, Lord Byron, Alessandro Manzoni, Giacomo Puccini and many others. During the summer time its beaches are usually crowded and full of people enjoying the warm Italian weather.
Yet there's one thing we all think about whenever we talk about Viareggio: Carnival!
The Viareggio Carnival 2020 will be held on February 1-9-15-20-23-25 and has a very long history. It started in 1873, could you believe that?
Attending this event means being able to take part in huge night parties, fireworks, foodie days, sport events and of course colorful carnival parades.
Viareggio is an easy day trip from Florence. From Firenze Santa Maria Novella take a Trenitalia Regionale train to Viareggio: the ride lasts 1:40 hours.
Mind you, if you want to attend one of the Carnival parades you have to leave Florence pretty early in the morning, because Viareggio will be very crowded.
If on the contrary you decide to spend the night, you absolutely need to book a hotel room months in advance! Click here to find the best deals in Viareggio and do so as soon as possible!
Plan a foodie day trip from Florence
The foodies will love the following day trips from Florence!
If you are planning a few day trips to enjoy the best Italian dishes in the Northern regions, maybe renting a car would be the best way to experience the foodie destinations in Italy everyone talks about!
Not only you'll be more independent, but you'll also cut the costs! Does it seem crazy to you? Well, driving around is less expensive than buying fast train tickets to go to and from Florence!
The best foodie destinations in Northern Italy are definitely cities like Bologna, Modena, Parma, Ferrara and Perugia.
Click here to find a very detailed guide on the traditional dishes you can find in each and every one of these cities.
You might also like:
Italy tipping etiquette – do you know what to do?
The easiest day trip you can plan on your own without a car is from Florence to Bologna. There's a number of direct trains from Firenze Santa Maria Novella, and on average it'll only take you about 35 minutes to get to Bologna.
The fastest trains are more expensive, but if you plan in advance you might find good discounts on the Italo and Trenitalia trains.
Italo and Trenitalia will be perfect also to reach Modena: the trip will last 1:15 hours.
Parma is on the same line, so you won't have to get off the train at Modena. The ride will last 1:46 hours.
Ferrara is on a different line, but you can still get there using either a fast train from Firenze Santa Maria Novella or a regional (cheaper) train. On average the ride from Florence will last 1:16 hours.
Perugia is located in the South, in Abruzzo region. But you can still get there easily (and explore on foot) by using a direct regional train from Firenze Campo di Marte station. Tickets are super cheap and the ride will last 1:30 hours.
Experience an adrenaline-filled day at Imola
Whether you are a motorhead or not, one of the day tours from Florence you should add to your itinerary, provided that you have enough time, is Imola.
The Autodromo di Imola (Imola raceway) was first used in 1952: since then it has provided adrenaline filled days to pilots and their fans.
The Autodromo Internazionale Enzo e Dino Ferrari is in fact an extremely technical track, which is constantly redeveloped to meet the homologation requirements set by the International Motorcycling Federation.
While in the USA there's Nascar, in Italy we are huge fans of Formula One (so… Ferrari!) and Motogp (Ducati!).
In Imola we have it all: World Superbike Championship, Special races, the 200 miglia di Imola, and even a Porsche Cup, among others!
The Imola Racetrack can be visited on a tour to discover the places where the magic happens. Almost every area is accessible, from the pit lane to the garages, going through the race control room and even the podium!
The tour on a shuttle bus will last about 1:15 hours and usually starts at 1 pm, so you have all the time in the world to get to Imola from Florence.
Tickets will cost you 30€ per person, tickets for kids from 6 to 16 will cost you 20€, while toddlers from 0 to 6 can enter for free.
Make sure you reserve well in advance using the official Imola racetrack contacts: there's a max. 8 participants limit per tour!
The fastest and easiest way to get from Florence to Imola is by train. Get Trenitalia or Italo train from Firenze Santa Maria Novella to Imola, and then a bus from Imola stazione to Imola Colli, which is the closest you can get by public transport.
There's yet another 10 minutes walk from Imola Colli to the Autodromo Internazionale Enzo e Dino Ferrari but once there, the whole tour will be on a bus so it won't be an exhausting day trip!
Drive through the Tuscia Viterbese
Renting a car in Italy means that you'll be able to experience many of the lesser touristy day trips from Florence.
One of the areas you should thus add to your itinerary should be the Tuscia Viterbese, which includes parts of Lazio, Tuscany and Umbria.
The ancient Etruria is still full of historical evidence that you can find even in the smallest towns.
The wine lovers will surely love to go to Montefiascone, home of the famous white wine Est! Est!! Est!!! Not even the foodies won't be disappointed: because Tuscia includes 3 different regions, chances are that you will find a lot of traditional dishes from all of them on the menu.
Taste the Italian dishes in a small trattoria or osteria rather than going to an expensive restaurant. The flavour will be more authentic and your credit card will thank you!
Whether it's Halloween or not, if you're looking for interesting day trips from Florence, why don't you visit the most haunted spot in Italy?
The Bomarzo Monster Park is a beautiful garden, filled with monstrous and bizarre sculptures: as of today, we still have no idea if the whole garden was built to express grievance or as some kind of arcane ordeal.
Every statue has obscure inscription on it and they're definitely not easy to understand.
Pair all this with stories about human sacrifices and weird noises heard at night in the area, and you'll have the scariest Italian trip ever!
Tuscia Viterbese makes a good day trip from Florence for those who are interested in trying great Italian food for less and delicious wine. The little towns are as authentic as they could be!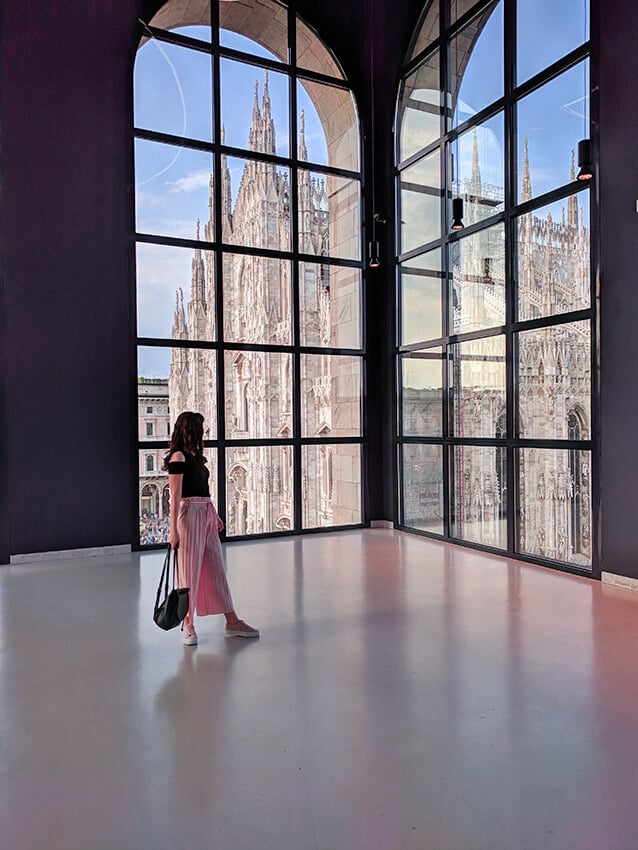 Spend one day in Milan
Not many people know that you can easily spend one day in Milan as a day trip from Florence. Getting there is in fact super easy: all you have to do is hopping on a fast train.
Fast trains from Florence usually depart from Firenze Santa Maria Novella station. In Italy we have two big companies, Trenitalia and Italo. While Trenitalia is slightly less expensive, I tend to prefer Italo because it's usually on time, very clean and they have comfortable chairs.
You might also like:
One day in Milan – things to do from a local
The ride from Florence to Milan will last less than 2 hours and there's one trick you should take advantage of, if you're visiting on a budget.
Make sure you book your Italo (or Trenitalia) ticket well in advance, by buying online. They often have offers and discounts. Subscribe to their newsletter and book at super cheap prices (I once managed to grab a Naples-Milan ride on Italo for 10€) whenever they have a big savings campaign.
Using the fast train will allow you to spend more time in Milan. While there are a lot of interesting things you can do in one day in Milan, I encourage you to mainly enjoy the Duomo, Galleria Vittorio Emanuele II and the Castello Sforzesco.
If you have some time left before to get back to Florence, then you could (and should) eat gelato while doing some window shopping in the super famous "Quadrilatero della moda" in Milan!
Fall in love again in Verona and Garda Lake
Whether you're specifically planning a romantic Italian getaway (or a honeymoon) or you just want to surprise that special someone in your life, you should add two places to your bucket list. Verona and Lago di Garda (Garda lake).
We're lucky because part of Aldo's family lives in the area, so we visit as often as we can. But if you've never really visited the city of love, then you should absolutely go!
You might also like:
5 awesome 10 day itineraries for your next trip to Italy
You probably heard already of the Giulietta's statue at Juliet's house in Verona. Did you know that, according to the local legends, touching her right breast will bring you never ending love? The locals in fact believe that this statue is the keeper of true love!
Once you're in Verona, make sure you take a stroll in Piazza Bra, the heart of the city. Over there you can visit the mighty Arena di Verona and of course do some shopping (don't forget to buy gelato!).
Piazza delle Erbe, one of the most beautiful squares in Italy, is where you should go to have an Italian aperitivo. Sit down at a cafe and sip a Crodino, Spritz or Negroni. Usually they will also serve you some crisps or some light finger food goodies.
Getting to Verona from Florence is super easy, once again thanks to the fast Italo trains. The ride from Firenze Santa Maria Novella only lasts one hour and half!
If you have rented a car, you should also make sure to visit a few of the lovely little towns near Garda Lake.
Because you have to return to Florence, you might not have enough time to visit Sirmione (save it for your next trip: it's one of the Italian gems you must see for yourself!), but surely you can add Peschiera del Garda to your day trip!
Me and Aldo share fond memories of eating aperitivo on a sunny day, on the shore of the lake in Peschiera del Garda, while small boats passed us by. It's already on our "do it again" list for our next trip to Garda Lake!
Peschiera del Garda is a UNESCO protected site. The main activity here is to take pictures of the canals and the romantic stone bridges. If you have enough time, visit the Fortezza di Peschiera: this mighty keep has protected the town for centuries!
Explore the best of Venice on a day trip
Another one of the super easy day trips from Florence by train you can plan on your own is to Venice.
Lodging in Venice can be in fact quite expensive, even if you book your room well in advance. But a Florence to Venice day trip can be planned on a budget, provided you follow just a few easy steps!
First things first, subscribe to the Italo and Trenitalia newsletters and book a Firenze Santa Maria Novella to Venezia S. Lucia fast train.
The ride will last less than 2 hours and the station is located in the heart of Venice. This means that as soon as you get there you can start exploring Venice: no need to spend more money on a water taxi or a bus ride!
Planning well in advantage will also allow you to find discounted tickets. The cheapest rate on Italo is "Smart Low Cost". Often you'll find Florence to Venice train tickets at 9,90€ one way: always book by using the official Italo or Trenitalia websites, they're safer and usually offer the best deals.
If you leave Florence early in the morning, there will be enough time to visit the iconic Piazza San Marco in Venice when it's not too crowded. Take lots of pictures and then move to the Basilica di San Marco.
Once you're done, explore the Canal Grande. You can cross it by using one of the four big bridges in Venice. The closest one to you should be Ponte degli Scalzi (you can see it from the train station).
To plan a budget lunch in Venice, leave the most touristy areas and just walk through the narrow streets. The cheapest meal would be panini bought at an Italian "salumeria", but you're probably tired and have been walking the whole morning. Treat yourself to lunch at a trattoria or osteria. The farther you walk from the Venice city center, the less you'll pay.
Revel in the beauty of Rome and Vatican city
Visiting Italy without taking a picture of Fontana di Trevi in Rome, or without strolling through Piazza San Pietro in Vatican City would be a crime. So make sure you add Rome and Vatican City to the list of easy day trips from Florence!
Even in this case, you can hop on a fast train to get from Firenze Santa Maria Novella to Roma Termini (the closest one to all the things you want to see) in one hour and half. There's a train every 20 minutes and honestly I really, really think you should save your money and plan this on your own, because so many companies charge so much for a Florence to Rome trip!
A budget option would be to use Flixbus, but the bus ride from Florence to Rome would take on average 3:40 hours. Saving 10-20€ is not worth wasting precious time you could use exploring Rome and Vatican City.
If you're visiting Italy on a budget, you can save a few bucks by eating a slice of focaccia bianca con mortadella in Rome, instead than sitting down at a restaurant!
By clicking here, you'll find a lot of ideas on what to see in Rome. Because you only have one day, I'd avoid the Vatican Museum. You should make sure you have quite a few hours for that one alone, so save it for your next trip!
You might also like:
Rome itinerary – 4 days of La Dolce Vita
What you want to do is to rush to Fontana di Trevi as soon as you arrive in Rome. If you got off the train early enough, you'll be able to take pictures with almost no one else around.
Then explore Piazza di Spagna, but remember that there's a law according to which you can now be fined if you sit on the iconic steps!
After Piazza di Spagna, you can do some window shopping in Via dei Condotti, where all the most famous brands in the world have a shop.
The afternoon should be spent in Vatican City – sometimes there's a long line to walk inside, due to the security checks. If you go there when everyone else is sitting down for lunch, you'll be able to avoid most of the crowds!
You might also like: 
– What to see and do in Florence from a local
– 23 tiny towns in Tuscany you will love
Eager to leave for Italy?
Click to find the best hotel deals in Florence!
Pin it for later!
This post is also available in:

Italiano