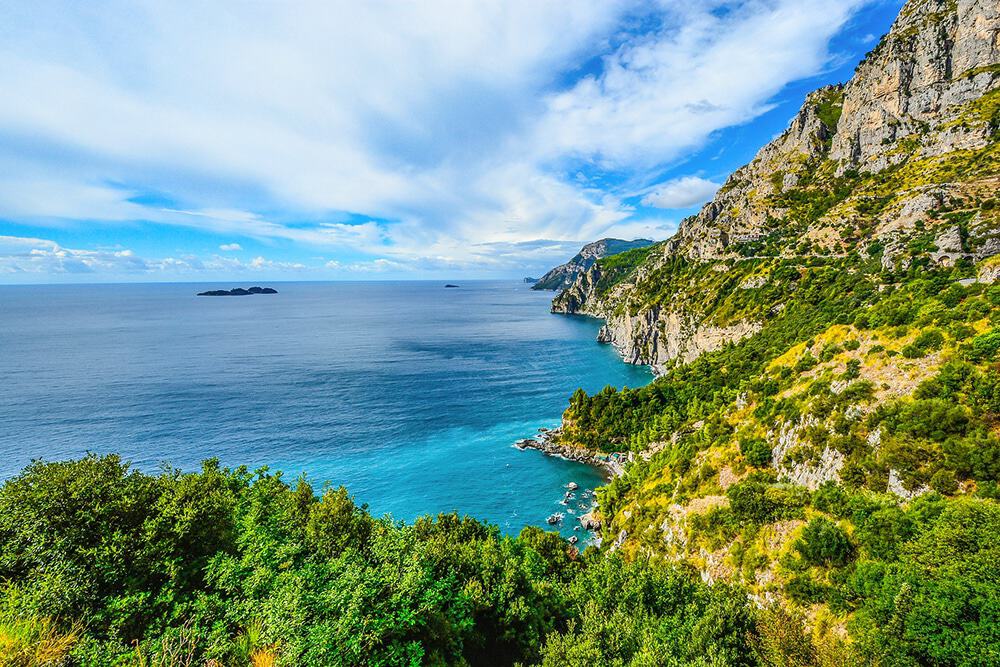 As you probably know, me and Aldo love to ride our Moto Guzzi to explore the Amalfi Coast towns. We've been doing so for the past 18 years so we have some experience! Enough to know when to go, where to eat and what to do. Well, one of the most popular things to do during an Amalfi coast vacation is getting a tan (unsurprisingly). Yet with so many cute towns it's not easy to understand where to go. Which is why we decided to make a list of the best beaches on the Amalfi Coast, including juicy insider tips and hacks to enjoy an unforgettable trip!
How to get to the Amalfi Coast
The main connection points to the Amalfi Coast are Naples, Salerno and Sorrento. The closest international airport is Capodichino, in Naples.
If you're planning your Amalfi Coast vacations the first thing you should decide (aside from knowing what to wear in Italy when it's so hot) is if you want to drive a rented car, if you want to use public transport and eventually rent a Vespa once you're there, or if you prefer a private transfer.
There are pros and cons to each one of these options:
Car – Driving the Amalfi Coast can be a nightmare if you're not used to the sharp curves. Parking… is even worse. You can't drive in Positano or in Ravello so you will need to park your car outside of these towns. It can be expensive! Yet having a car you can reach also the places not served by the public transport;
If you're sure you want to rent a car for your road trip, click here to get a free quote: it's the company me and Aldo have been using for years! Best rates & Hassle free!
Public transport – While trains are more or less okay, buses are a completely different thing. They get blocked in traffic jams often so they might not show up at all. Yet you can still rent a scooter once you're in Amalfi (if you know how to drive it well!), and you won't have to spend a lot of time and money to find a decent parking spot;
Guided Tour / Private transfer – Tours of the Amalfi Coast are usually very expensive and you have less freedom because you have to follow their itinerary. Yet if your budget allows you to book one, go for it.
This one is a reliable company that works well and takes care of everything.
To save a bit on a private transfer, if you're landing in Naples, get the Circumvesuviana train to Sorrento. Over there you will find a very good private taxi that will drive you straight to your hotel!
That said, getting to the Amalfi Coast by train and bus from Naples is easy. Get to the Stazione Centrale in Naples (Piazza Garibaldi) and buy a ticket for Circumvesuviana train to Sorrento (3.60€). Once you reach Sorrento, you have to take a SITA bus to one of the main Amalfi Coast towns.
Here you can find all our info to drive the Amalfi Coast if you're getting there by car. There's also a useful Amalfi Coast itinerary with all the best towns!
Worried you'll need a bit of help?
Download the FREE Italian Travel Phrasebook here! It includes the correct Italian pronunciation and lots of useful sentences that you'll be able to use on your trip to Italy!
Exploring the Amalfi Coast towns
One of the best things to do on the Amalfi Coast is just exploring the colorful little towns and enjoying the view. All the small villages are located between a steep rocky wall and the spectacular sea cliffs. Each one has a different feel, different colors and, in some case, different traditional dishes that are a treat both for the eyes and the nostrils.
Are you visiting in summer? Have a look at this guide to pack the right clothes for this trip!
You need to be very careful if you are driving a vehicle because you might be fined if you get into a "ZTL", zona a traffico limitato. The restricted areas are for now Ravello and Positano, where you just can't drive inside the narrow vicoli for obvious reasons. There are small, private parkings in the area but they are particularly expensive (one of the parkings near Ravello will charge you 5€/hour). Yet the mayors of the Amalfi Coast towns are thinking of establishing a wider ZTL because especially in summer traffic makes the coast a living hell. At the moment nothing has been decided yet.
To avoid all this you might eventually decide to rent a bicycle. Heck, we might not be as awesome as the Netherlands where you can bring your bike with you on a train, but there are a lot of rentals anyway! And you can also get into Positano and Ravello without having to worry about parking your car or scooter!
Avoid walking from one town to the other on the motorway: the SS163 is a dual carriageway without sidewalks. For no reason you're allowed to walk, as you might cause an accident!
Click to watch our Amalfi Coast Road Trip video!
Amalfi Coast beaches – what to expect
You might have imagined the Amalfi Coast beaches as long stretches of soft sand. But this is far from the truth. What we call beach is often nothing more than a patch of pebbles, a rocky platform lying beneath the cliffs, or small natural shelters.
Knowing where to book a hotel along the coast is very important: check out the pros and cons of all the main towns to decide!
Aside from towns like Minori, Maiori and Atrani, most of the beaches on the Amalfi Coast are located at the bottom of steep cliffs. While some are accessible only by sea with a boat, others can be reached by climbing down narrow staircases. And I mean… really narrow!
Because I have asthma, I am always a bit worried when I have to climb up hundreds of narrow steps. If for whatever reason you're not sure you can do it, stick to the "easy-to-reach" beaches like those in Atrani, Minori and Maiori! Here you can find a useful article to understand where to stay in Amalfi Coast and why!
Best time to visit the Amalfi Coast
If you are planning your Amalfi Coast holidays you have to make sure to visit at the best time to enjoy the best of all the towns and beaches.
As a local I can tell you that we tend to avoid months like June, July and August. The traffic is insane, there are way too many people and even those who live in the Amalfi Coast towns tend to get bothered by the crowds. Overtourism is definitely making things difficult!
The best seasons to visit the Amalfi Coast are probably spring and an early autumn, because the weather will be still nicely warm and you will avoid all the big crowds. In case you're going to visit Italy in Winter, you probably won't be able to get a tan, but it's low season and this means that the prices can be ridiculously low. Besides, the weather in this area is never too cold, and sometimes even December is bright and sunny!
Make sure you bring all the right clothes by following my packing list for winter in Europe!
All the best beaches on the Amalfi Coast
Marina Grande di Positano – This is probably the most popular beach on the Amalfi Coast, often featured in movies and TV series. It's not uncommon to meet celebrities sipping a glass of cold white wine while enjoying their vacation. As you look up from Marina Grande you will see all the colorful houses of Positano! If you want to cool down in the late afternoon, you can go to Franco's Bar. They have a lovely terrace from where you can see Marina Grande and the Positano hill. Also it's one of the most instagrammable spots on the Amalfi Coast!
Marina Grande di Amalfi – One of the largest beaches on the coast. It's one of the easy-to-reach beaches and it's a nice place to go to because on the other side of the street there are lots of cafes and little restaurants. If the weather is too hot just enjoy a delicious slushie with Amalfi lemons juice!
Marina di Vietri – One of the very few sandy beaches on the Amalfi Coast. Accessible by car and quite large. Vietri sul Mare is one of the biggest Amalfi Coast cities and the first one you'll find after leaving Salerno. It's about 400mt long, which is… a lot, considering how small the beaches are in this area!
Spiaggia di Cauco (Erchie) – A bit hidden away, as most people go to the nearby beach of Erchie, overlooked by the houses of this tiny village. Cauco is located between Torre Cerniola and Torre del Tummolo. Expect turquoise waters and breathtaking cliffs all around you. Unfortunately, Cauco beach is only accessible by sea.
Furore – The only fjord in Italy, and yet another one of the most instagrammable spots on the Amalfi Coast. You can see the beach from the main road, but you will need to climb a few sets of stairs to get there. You will also find a tiny fishermen's village, the set of Roberto Rossellini's movie "Amore". There's absolutely no parking at all!
Cala Bellavaia – Located in a steep cliff overlooking the sea, this beach, also known as Cavallo Morto (Dead Horse) is in Maiori. Unless the main beach Marina di Maiori, this one, among the best beaches on the Amalfi Coast, can only be reached by boat. It's a popular spot for snorkeling.
Cala Gavitella – A tiny beach located in Praiano: it's only 30 meters long! Mostly made of pebbles, and you can only get there by climbing a set of narrow stairs. Yet the view is amazing as usually you can see the magnificent Capri and the Li Galli islands. At less than 2km you will find one of the most famous beach clubs on the Amalfi Coast. Africana Famous Club became popular in 1962 and to this day it's one of the most picturesque clubs in Italy. It is located inside a natural cave, 10 meters above sea level!
Spiaggia di Duoglio – Mostly known to the locals only, it's one of the hidden gems on the Amalfi Coast. Located 1 km away from the Amalfi city center, to get there you have to walk for a bit and then climb 400 steps on a narrow staircase. Or you can rent a boat to get there, saving yourself the hassle! This is probably the clearest sea on the Amalfi Coast. The beach is made of pebbles and about 170 meters long.
Have you already bought your Rick Steve's guide to the Amalfi Coast? Click here to find the best price online!
Spiagge di Minori e Maiori – The twin cities, Minori and Maiori, share one long sandy beach with colorful bathing establishments and tiny cafes. They are easy to reach by using public transport and if you cross the street you will find restaurants and pizzerias. In Minori don't forget to visit the Sal De Riso pastry shop!
Spiaggia di Fornillo – If Marina Grande of Positano is too crowded, head over to Fornillo Beach. Just walk past the Covo dei Saraceni hotel, and in 10 minutes you will reach this tiny beach that is mostly unknown to the noisy tourists.
Spiaggia di Castiglione – One of the best beaches on the Amalfi Coast, that has seen guests as Jackie Kennedy and Sophia Loren. It's a frazione of Ravello, and accessible from the city in a walk of about 30 minutes. The easy way there is taking a SITA bus to Amalfi, then another SITA bus to Castiglione, so you won't have to walk all the way up to Ravello!
You might also like:
Where to find lodging on the Amalfi Coast
The best Amalfi Coast tours reviewed from the locals
Discover the best beaches on the Amalfi Coast
Plan a fantastic Amalfi Coast road trip
What to pack for Italy in Fall
Capri in a day – plan your day trip from the Amalfi Coast
Find the best souvenirs from Italy on the Amalfi Coast
Autumn in Europe – 20 ideas for smart trips
Delicious types of Italian pizza you should eat in Italy
22 Awesome Day Trips From Naples
Pin it for later!
This post is also available in:

Italiano