Utah road trip: the Mighty 5 and all the essential stops
This post includes affiliate links. As an Amazon Associate, I earn from qualifying purchases. Full disclosure.
Planning a Utah road trip that focuses on the Big Five Utah National Parks, as well as on a few epic State Parks, doesn't have to be stressful or overwhelming. This is one of those unforgettable road trips that you can arrange on your own, also on a budget. Utah getaways are perfect for outdoorsy people who love hiking, biking, climbing and exploring: if you're that person, you're in for a real treat! Let us show you one of the most amazing US States, which has it all – mountains, lakes, slot canyons, and even a desert – and how you can tailor this road trip on your budget and preferences.
Quick Links to Post Content
Planning the perfect Utah road trip itinerary – useful info
Utah is one of the first US States we ever visited, over 10 years ago.
As a semi-professional horse rider I was almost obsessed by the USA. Western (and spaghetti western) movies were my favorite and I dreamed of exploring the Great Plains on horseback.
The truth is that I think I've been in love with the US even before that phase – at 10 I wanted to be a ranger to work at a US National park!
So of course while we were planning this Utah road trip I was super excited!
Utah proved to be everything I always dreamed about and then some. We have returned more than once to the USA and explored the "Mormon State" (that's how people know Utah in Italy) from top to bottom.
To us it will always be the "red rock State". If you love the great outdoors and road trips, Utah is the perfect spot for your next vacation. And the one place where, thanks to the beauty of nature and the welcoming smile of the locals, we always feel at home – even if we're actually so far away from home.
You might also like:
– The best Arizona road trip itinerary
– Utah road trip: the Mighty 5
– Epic road trip from Miami to Key West (Florida)
– Amalfi Coast Road Trip info (Italy)
– Road to Hana stops for a Maui road trip (Hawaii)
– The Devil's Tower travel guide
– Upper vs Lower Antelope Canyon: how to choose
– Fun Joshua Tree Day Trip Itinerary (California)
– Guide to Sleeping In Your Car on a Road Trip
– How to visit the Grand Canyon in one day
What should you be driving for this trip to Utah?
Much depends on what kind of road trip you're interested in.
If you want to stay in hotels, motels, campings or AirBnb's, renting a car would be your best option.
Cars are cheaper than RVs when it comes to rental fees and insurance, and they are more fuel efficient.
Roads in Utah are usually very clean and large. Four-wheel vehicles are not necessary for this trip, unless you want to do a lot of off-roading or back road driving. In this case, if you're renting something like a Jeep, you should make sure that you are allowed to go off-roading. It goes against the terms of service of many rental companies.
On the contrary, if you want to unleash your inner nomad, a RV will be your best bet. You will stick to the main paved roads and off-roading won't be an option, but you have much more freedom.
Many people think that RVing is "much cheaper" but it's not necessarily like that.
In case you're in doubt or struggling with a tight budget, I suggest you actually write down on a sheet of paper the following costs:
Car rental (+ insurance)
Hotels
Fuel for the car
RV rental (+ insurance)
Fuel for the RV
RVing usually is cost-effective if you are travelling with a group (3+ people).
We actually found super cheap lodging options during our Utah road trip: some of those we have been staying at several times. Unlike other super-touristy places in the US, you can still find cheap lodging in Utah, especially off-season!
Click here to rent a car in Utah!
How many days should you consider for this trip?
Some people are able to explore 5 Utah National parks in 5 days. Others are able to plan a longer trip.
In my opinion 5-7 days are good enough for a Utah itinerary, but your Utah road trip would be so much better if you have a couple of weeks. That would allow you to take your time driving, and you won't even be forced to move around as often. Consider spending a few days in each location: the Utah National (and State) parks are gorgeous, it'd be a pity to rush your visit!
The "Mighty 5" Utah National Parks
Utah has 5 gorgeous National Parks, also known as the "Big 5" or the "Mighty 5", but if you have enough time, I suggest you add more to your Utah itinerary. There's at least one State Park you should visit, plus a series of amazing scenic drives you might want to add to your Utah bucket list.
The best parks in Utah by popularity are Arches, Bryce Canyon, Canyonlands, Capitol Reef and Zion.
The best Scenic Drives in Utah
One of the things Al loves the most is driving in the US. He says nothing can beat the view and the feeling of freedom he gets. And while I'm not very fond of driving (even if I absolutely love American muscle cars), I love listening to good music while enjoying the view.
That's why we can never say no to a USA road trip.
For this Utah National Parks trip I strongly encourage you to add at least one of the following scenic drives to your itinerary. They'll sure make this an unforgettable vacation!
Highway 128 scenic byway
We drove this scenic byway from the Colorado National Monument to Moab. The views on the Colorado River and the red rocks are magnificent: take your time and stop now and then to take pictures and videos.
This scenic byway follows a canyon and the Colorado River. If you're driving from Highway 6, you'll also go through Cisco, a little "ghost town".
The Highway 128 has been recently renovated so driving a RV here is perfectly safe.
Planning a road trip?
Click to download our FREE printable
ROAD TRIP CHECKLIST!
Dinosaur Diamond Prehistoric Highway
This 512-mile-long National Scenic Byway forms a diamond-shaped loop with vertices at Moab, Helper, Vernal and Grand Junction.
We drove the Utah section from Moab to Green River. Part of this fascinating road trip goes through impressive red rock formations and Arches National Park.
If you have enough time, make sure to drive the part between Wellington and Myton, through the Nine Mile Canyon: it's the greatest concentration of rock art in the USA and has examples ot the Fremont tribe dwellings that have been untouched for hundreds of years.
Potash Scenic Byway
Also known as "Wall Street" because for 17 miles this road follows a towering sandstone cliff, with the Colorado River on the other side. It'll take you about 1-2 hours to drive the 34-mile round-trip, but once again, don't rush it because the views are breathtaking!
The Potash Scenic Byway starts North of Moab, where U279 turns off of Highway 191. While driving, keep your eyes wide open to spot several petroglyph panels on the cliffs (there are marked pull-offs to park safely so don't stop where it's not allowed!).
In case you have enough time, at the Poison Spider Trail parking there's a kiosk which has maps for a short trail to see dinosaur tracks and rock art.
Highway 12
We drove the National Scenic Byway 12 from Capitol Reef to Bryce Canyon. It's known as one of the most beautiful scenic drives in the US!
Take your time to enjoy the Dixie National Forest and the views on the valley and the Lower Bowns Lake: if you get there early in the morning or right before sunset, there's a high chance to spot deers!
There are plenty of pull-offs and scenic overlooks so please make sure to actually stop in the designated areas – taking pictures while driving is dangerous!
Alpine Loop
If you've been following our adventures and road trips on our Instagram you already know about our experience at the Alpine Loop.
We hadn't done our homework and actually drove through the rugged alpine canyons without checking the weather forecast. When it started raining, we were actually almost lost, on an unpaved road, with no cellphone signal: the weather conditions were getting worse and worse.
I rarely have felt more scared in my life: we had no idea what to do for a good while. Then Aldo managed to slowly find our way back, but it was a frightening experience for the both of us (to this day we still haven't returned to the Alpine Loop).
The 20-mile drive is great for fall foliage and it's only open from late May to late October. We visited in late October, and I'm sure the road was closed soon after our visit because of the bad weather: that's why we should've done our homework. Lesson learned!
The Alpine Loop offers gorgeous views of Mount Timpanogos, glacier-carved peaks and Alpine canyons, following Hwy 92 up American Fork Canyon and then continuing through the Uinta National Forest into Provo Canyon on US 189.
The Alpine Loop is now entirely paved (it wasn't, when we visited), and not recommended for vehicles more than 30 feet long.
Salt Lake City – Our starting point
Salt Lake City is the largest city in Utah and also the most accessible to fly into.
Whether you're flying to Salt Lake City and renting a car or driving from out of State, it's easy to plan a Utah road trip that starts here.
The Utah capital is a 4.5 hour drive from Zion, and a good in-between also if you're planning to visit the Grand Canyon next.
It is always very important to compare prices on flights to Salt Lake City or Las Vegas: they often have affordable international and domestic flights that will help you to save quite a lot.
Click here to quickly compare flight prices between Salt Lake City or Las Vegas!
In our case, we did land in Las Vegas, where we spent quite a few days enjoying Sin City. The Las Vegas to Salt Lake City drive was also quite nice because the views seemed to prepare us to what was to come.
Click here to rent a car in Las Vegas!
Since you're looking at an almost six hours drive, consider another stop along the way or visit Zion first!
Aldo loves to drive in the US so he soldiered through it without ever complaining, but it's not for everyone.
The budget option would thus be to start from Salt Lake City. In case you really want to add Las Vegas to your USA road trip, but you don't want to add one more night to your itinerary, drive slowly and take it easy for the rest of the day. Or even better, add Las Vegas to your itinerary after visiting Zion!
Me and Al left our luggage at the hotel and just walked around: Salt Lake City is a lively city with great restaurants and a busy nightlife. I mean… they even have an Axe-throwing bar, that's not exactly a common thing in Italy!
If you are in need of a good pint of beer after the long drive, Fisher Brewing Company is a good place to go. You'll support the locals and get to know the real Salt Lake City.
Because they don't serve food at the Fisher Brewing Company, we drove to the Log Haven restaurant for dinner as suggested by a few of the folks we met at the bar. We actually loved the fact that it's away from the bustle of the city, in a super romantic location, with unique dishes and local food.
Click here to rent a car in Salt Lake City!
Where to stay in Salt Lake City
Budget: Holiday Inn Express Downtown. Check and compare rates: Booking.com | HotelsCombined
Average: Hyatt Place Salt Lake City Downtown. Check and compare rates: Booking.com | HotelsCombined
Fancy: Grand America Hotel. Check and compare rates: Booking.com | HotelsCombined
Our Utah National Parks tour from Moab
The drive from Salt Lake City to Moab should take you 4 hours, unless of course you want to add one of the scenic drives I suggested earlier to this part of your Utah road trip itinerary.
Moab is a cute little oasis in the middle of the desert. Here I bought my very first cowgirl hat, that I still own today and that people always compliment me for, whenever I wear it to some western/country event.
You can easily use Moab as a home base to explore at least 2 of the Big Five Utah National Parks: Arches National Park and Canyonlands National Park. But there's so much more than that!
Moab is in fact the perfect complement to this Utah road trip, whether you're an outdoor adventures lover or if you're visiting with your family and young children.
Among the activities you can take part in, there's a lot you can plan on site.
We found lots of rental shops where you can just walk in and rent an OHV, a dirt bike, or a mountain bike.
Rock climbing is also a good option: if you're an experienced rock climber, go on your own. Otherwise, please make sure you book a tour with a reliable company, so an experienced guide can look after you to make sure no one gets hurt.
Click here to learn about the rocks you can climb at Arches National Park
The Colorado River offers also great adrenaline-filled opportunities, from slow river floats to thrill rides on the rapids: you can book a tour on site, or do some online research to make sure you're booking from a reliable company.
Many adventure centers near Moab offer the chance to book a horseback riding tour or mule trail rides in the Moab desert and La Sal mountains.
Because we did try our hand with an adventurous horseback riding tour in Tuscany (Italy), we can tell you that exploring the world from the saddle is a completely different experience, that you won't easily forget.
When we want to go for a horseback riding tour, we visit the ranches in the area and we only book if they have healthy horses that they clearly treat well (we like to make sure we're not supporting people who abuse their horses), and if the folks we meet feel reliable.
Due to the fact that I have asthma I don't ride as often as before, and Al is not an experienced rider, so we prefer to book with people who will know how to make us feel safe and how to handle every situation.
Of course I know that first impressions aren't always right but following our gut has never proved like a bad thing. Besides, there's nothing better than to walk around a ranch to get to know a bunch of friendly horses: some of the centers near Moab are absolutely gorgeous!
Where To Stay In Moab
Budget: Adventure Inn & Motel. Check and compare rates: Booking.com | HotelsCombined
Average: Hyatt Place Moab. Check and compare rates: Booking.com | HotelsCombined
Fancy: Moab Springs Ranch. Check and compare rates: Booking.com | HotelsCombined
You might also like:
20 fun things to do in Las Vegas during the day
26 Great day trips from Vegas
Visit Arches National Park
Arches is a mere 15 minutes away from Moab by car. Being one of Utah Mighty 5, it should be in every Utah bucket list, especially because it comes with impressive views and great hiking opportunities.
Since I have asthma, everyone thought I was going to have a quick visit, maybe staying in the car the whole time. Because it was going to be "too hard for me". The more they said so, the more I got stubborn about planning at least one intermediate hike.
Impossible is a word that I don't usually like to hear, especially because I have never let asthma dictate how I should live my life.
I hope I can offer a few useful info and tips that will help you visit: Arches is absolutely doable, even if you have asthma, if you're a bit overweight or if you're not a huge hiker.
There's a single road that goes through the park in a loop. It's 18 miles long and allows you to visit Arches in one day, in case a longer Utah road trip isn't in your plans. After all, you can visit again on a future trip!
To visit Arches National Park you'll need to buy a 7-day entrance pass that costs $30 per vehicle, $25 per person for motorcyclists and $15 per person for bicyclists and pedestrians.
The Fiery Furnace hike without a ranger requires a separate ticket, which will cost you $6 for adults and $3 for children.
Best hikes in Arches National Park
Delicate Arch
If you can only plan one hike at Arches, you should definitely think about taking over the Delicate Arch trail. I'm sure you've all seen the iconic picture of the red rock that creates a lovely arch, right?
Delicate Arch was also the one hike that everyone said I couldn't do. As I mentioned before, I never let asthma dictate what I can or can't do, so the more I heard it was "impossible", the more I wanted to go.
I also have to be absolutely honest with you: it was the hardest, most difficult hike I've ever done in my entire life.
The trail is a 3-mile loop, that feels like you're climbing uphill the whole time.
You absolutely must start hiking early in the morning, because by lunch time the sun is so hot that it will burn you, making this even more difficult (sunscreen is mandatory). There's no shadow at all, and no place where you can sit.
As we were climbing up, we saw many "Caution, snakes" signs so I honestly didn't want to risk anything by sitting on the wrong rock!
Always carry at least 2 liters of water per person to hike to Delicate Arch: if you think it's too much, remember that it's an intermediate/difficult hike, with no shade, and uphill. We didn't have a drop of water left when we got back to the car.
Another thing I found useful were my hiking boots. Climbing down was just as difficult as climbing up, mostly because I'm terrified of heights and the rocks felt super-slippery. I was glad I had the grip from my hiking boots, because slipping or hurting your feet is an easy occurrence.
Those of you who have asthma like me will want to hike with someone, unless they're super fit and used to this kind of activity. I had Al with me and he was my superhero.
Full disclosure: from time to time I seriously considered turning back and giving up. It was that hard. Yet Al was there with me the whole time, to literally support me, offering me water and telling me that I had to take it easy. I'm not sure I would've won this important challenge without him by my side. Support matters!
When we finally saw the Delicate Arch, I almost felt like crying: I had made it (I still hadn't realized that hiking back to the car was going to be just as difficult as the way up)!
The Delicate Arch trail will allow you to walk under the arch for a gorgeous picture. Because it can be pretty crowded, getting there early in the morning will also allow you to take better pictures without having too many people around you.
Windows Hike
The Windows Hike in Arches is a short one (only 1.2 mile long) and it will allow you to get close to several fantastic arches, so make sure you bring your camera because you'll need it!
This is a very good hike for those who don't have enough time and still want to give hiking at Arches National Park a go. You can also hike with your kids here!
Because the Windows hike is pretty popular, getting here early in the morning is always a good idea.
Double Arch
The Double Arch trail is yet another super short and fun trail. It's a 0.5 mile long loop, accessible from the parking lot of the Windows hike.
Because it's usually well maintained, you can (and should!) bring your young children as well: they'll have a blast!
Landscape Arch
The Landscape Arch is the largest arch on the planet. It's located at the end of the Devils Garden trail, in the top portion of Arches National Park.
The trail to Landscape Arch is a 1.56 miles loop, a quite easy hike provided you're not giving it a try when the sun is super warm and without water.
Because this is a wide, level and paved trail, you can definitely hike here with your kids.
A few years ago, several parts of Landscape Arch fell down (some were as big as a sedan) so the trail that passed directly under the arch has been permanently closed.
You can still get to the viewpoint to take gorgeous pictures of this magnificent arch.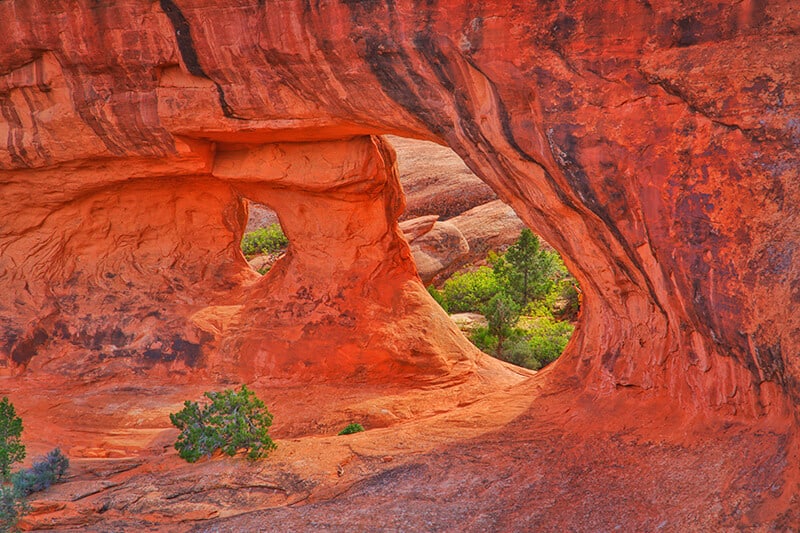 Visit Canyonlands National Park
The second park you should visit on your Utah road trip is another one of the Big 5: Canyonlands National Park.
Located at about 40 minutes by car from Moab, it's famous for an array of buttes, towering on the canyons formed by erosion by the Colorado and Green rivers.
To make this road trip even more memorable, add the Potash scenic byway to your day trip to Canyonlands!
You can find more info about our favorite scenic drives in Utah on a previous chapter.
Canyonlands is one of the best National Parks in Utah and is divided into four sections: Green and Colorado rivers, the Maze, the Needles and Island in the sky.
To access Canyonlands National Park you need to pay your entrance fee at entrance stations. Admission is good for seven days and it costs $30 per private vehicle, $25 per motorcycle and $15 per bicyclist or pedestrian.
There are two ways to visit Canyonlands. The first one is by driving to Island in the sky, and the second one is by exploring The Needles district.
If you have time to visit only one section, Island in the Sky is where you want to go. It's the most popular and easiest to get to, because it offers some amazing Utah road trip sightseeing by car.
The 34-mile drive has plenty of scenic overlooks and pull-outs, so you won't have to walk if you don't feel like it (especially if you have been hiking at Arches the previous day!).
Island In The Sky and The Needles are about two hours apart from each other so visiting both in one day is not a good idea. You'd have to rush your visit and you won't be able to hike anywhere!
The Needles can be visited if you're planning to spend two days in Canyonlands (your pass is valid for 7 days). Just like Island In The Sky, it has several pull outs and picnic spots.
The scenic drive starts at Canyonlands Visitor Center and ends at the Big Spring Canyon Overlook.
Best hikes in Canyonlands National Park
Mesa Arch
By far the easiest and most popular hike in Canyonlands National Park, Mesa Arch is a 0.6 mile loop trail that starts from an easy-to-spot parking lot.
Bring your camera, because Mesa Arch is perched at the edge of a cliff, and you can see canyons, rock spires and the La Sal Mountains in the distance.
It's just like looking through a red rock window: this same postcard view has been used quite often also as a computer background image on world-famous operating systems for personal computers.
Because Mesa Arch is super popular, the parking lot can be very busy. Visit early in the day (sunrise at Mesa Arch is absolutely gorgeous) or late in the evening.
Note: this is a great, easy hike for kids!
Cave Spring
The Cave Spring Hike is located in the Needles district. This is an easy 0,6 loop hike and offers breathtaking views.
We absolutely loved to get up close to prehistoric rock art and a real cowboy camp: it's exactly what we were looking for when we decided to plan a Utah road trip!
Note: There are two wooden ladders you need to climb on this trail. If you think you might find it difficult, please choose another one of the suggested hikes.
I didn't have any issue with my asthma, but because I really don't like heights, I felt a bit scared about having to climb down. That's the most "difficult" thing I found on the trail, the rest was absolutely easy and fun!
Aztec Butte Trail
Last but not least, the Aztec Butte trail offers great views if you're looking for some postcard-perfect pictures of Utah!
This 2 miles circular trail includes some pretty difficult sections and a steeper slope. I found it difficult because slopes and rock scrambling are not things that come particularly easy so, sadly, I wasn't able to complete this one.
It might be that I was already tired with all the hiking I'd been doing on this Utah road trip but the fact is that the Aztec Butte Trail is an intermediate/difficult trail, so you should consider it only if you're tough enough for that!
Note: this trail isn't suitable for kids or younger children.
Bonus things to do in Moab
Whether you've managed to allocate more days to Moab on this Utah road trip or if you're planning a few Utah getaways throughout the year, there are two more things you should definitely add to your bucket list!
Dead Horse State Park
Have you ever watched Thelma & Louise? Well, this American female buddy road film was one of the first things that made me fall in love with the idea of planning my very own USA road trip.
Not many people know that the last scene of this movie have been filmed at Dead Horse State Park, where tons of people go to take a "Thelma and Louise selfie"!
Dead Horse Point is a peninsula of rock atop sandstone cliffs. It's connected to the mesa by a narrow strip of land known as "the neck".
According to a legend, this point was used as a corral for wild mustangs roaming the mesa top. The cowboys rounded up the horses, herded them across the neck and onto the point. Once there, they couldn't escape and the cowboys choose the horses they wanted, letting the others go free.
While Dead Horse is not part of the Mighty 5, we think it's absolutely worth a visit.
We made it there just before sunset and Dead Horse Point was basically empty. Only a few minutes after us another car with a few French tourists arrived to enjoy the sunset.
Me and Al just sat down to enjoy the gorgeous view, 2,000 feet above a gooseneck in the Colorado River, while the last sun rays created a visual masterpiece. It was the most romantic evening ever!
The Dead Horse State Park is open every day from 6 am to 10 pm. When we visited the rangers weren't there, but they left a few envelopes for those who still wanted to visit. You had to put the money in the bag and leave it in a box.
An entry pass is valid for 3 consecutive days and will cost you $20 per vehicle, or $10 per motorcycle. Bike-in and walk-in fees are much lower: only $4 per person.
Please, please, please: be civil and don't drive in without paying the fee. Your money is used to pay the rangers for their work and to maintain the gorgeous parks you can visit with your family!
Dead Horse Point is a 40 minutes drive from Moab. If you can't stay for one more day, and you planned a shorter trip to Canyonlands, you can definitely visit Dead Horse State Park at sunset after you finished exploring Canyonlands and before you return to Moab.
Corona Arch and Bowtie hiking trail
The Corona Arch and Bowtie Arch hiking trail is located at about 20 minutes by car from Moab and offers spectacular, photogenic arches outside Arches National Park.
The 3 mile intermediate trail is easy to follow, and includes a vertical ladder bolted to the rock as well as a section with metal cables to use as handrail.
If you are afraid of heights like me, stop after the first cable to take a few pictures: the second part of the trail is pretty scary!
The Corona Arch is one of the largest and most spectacular arches near Moab, also known as "Little Rainbow Bridge". This trail also passes Pinto Arch and Bowtie Arch.
There's no shade so if you're planning this Utah road trip in summer, make sure you add this hike to your itinerary first thing in the morning and carry plenty of water.
You will also need good hiking boots, a hat and sunscreen.
The trailhead can be found along the Potash Road: it's clearly marked at about 10 miles from the turnoff north of Moab.
Let's fill your Utah Bucket list with more parks!
It's time to leave Moab for Torrey, where you should spend at least two nights (3 would be even better) if you want to add two of the best parks in Utah to your road trip itinerary.
The drive from Moab to Torrey only takes about 2.5 hours, so on the way there you can also add one of the scenic drives I told you about in a previous chapter.
The Dinosaur Diamond Prehistoric Highway is on the way to Torres, between Moab and Green River!
Torrey is a good base for visiting Capitol Reef and Goblin Valley. While Capitol Reef is one of the Mighty 5 that you'll visit on this Utah road trip, it's usually less busy than the others, so if like us you don't like the crowds, you'll absolutely love it.
In Torrey there are RV parks, as well as hotels, restaurants and shops. It's a family-oriented city that comes with a view. While it's tiny (less than 200 people live in Torrey), it's often featured in gorgeous Instagram shots, especially because of its tree-lined avenues.
Where to stay in Torrey
Budget: Days Inn by Wyndham Torrey Capital Reef. Check and compare rates: Booking.com | HotelsCombined
Average: Capitol Reef Resort. Check and compare rates: Booking.com | HotelsCombined
Fancy: Cougar Ridge Lodge. Check and compare rates: Booking.com | HotelsCombined
Fruita – Pick a healthy, fresh snack
When Al, the green thumb of our family, read that there's a place in Utah where you can pick your own fruit, he immediately signed up for it. And he was also quite excited that we could actually have a healthy, super-fresh snack for this part of our Utah road trip!
Our first stop of the day was thus Fruita, an oasis in the desert where you can pick your own fruit.
The orchards that lie within a mile or two of the visitor center are remnants of the pioneer community of Fruita, settled in 1880.
People are welcome to stroll in any unlocked orchard that has a sign that indicates that fruit is ripe so you can pick it.
Entrance to Fruita's orchards is absolutely free, but you must pay for the fruit you pick.
A self-pay station with scales and prices is usually located next to the entrance, so you can leave the money in a small box and go your own way.
While ladders and hand-held fruit pickers are provided (please don't even try climbing the fruit trees), you will need your own bag. And this is a great thing because you can bring a reusable bag in stead than using the horrible plastic ones. Yay!
Harvest times vary according to the kind of fruit you're looking for.
As a rule of thumbs, from June to July you can pick cherries and apricots. From August to September you can pick peaches and pears, and in September and October you can pick apples.
The apples we picked were small but very ripe and sweet: they were the perfect snack for a long day at Capitol Reef.
Note: As you drive on route 24, right after the orchards, you'll find the Historic Fruita School, a tiny school that served the Mormon community. Right after this building we found some petroglyphs that you can see from up close (please don't touch them!).
Capitol Reef National Park
Capitol Reef combines history, hiking, off-road driving and gorgeous views. We have fond memories of this area and it's possibly our favorite part of any Utah road trip.
The Capitol Reef National Park is defined by the Waterpocket Fold, an almost 100 mile long warp in the Earth's crust: it's definitely unique and not something you get to see every day!
The drive from Torrey to Capitol Reef is super short. It'll only take you about 15 minutes to reach the Visitor Center, so if you get there early in the morning you will have time to pick your fruit first, and then hike all you want.
Entrance passes for Capitol Reef are valid for 7 days. You'll have to pay $20 for private vehicles (including its occupants), $15 for motorcycles (and its riders), or $10 for pedestrians and bicyclists.
Because we spent one full day exploring Capitol Reef, we planned a delicious picnic. We had freshly picked apples and we got some food at the Gifford Farm, an historical, cute little farm in the heart of the Fruita valley.
They also had some homemade ice cream, but we went for a couple of delicious baked fruit pies that were mouth-watering!
During our picnic we were joined by a baby deer: he wasn't scared and kept on trotting around us like it was the cutest thing ever.
This is exactly why we love the lesser crowded parks!
At the Gifford Homestead you can also buy great souvenirs of this Utah road trip. They sell reproduction utensils and household tools used by Mormon pioneers, but also candles, pickles and jams.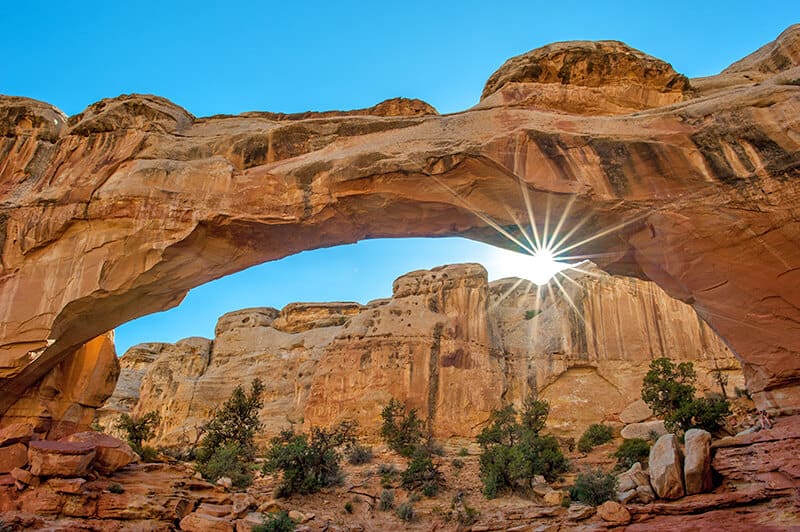 Best hikes in Capitol Reef
Hickman Bridge
Hickman Bridge is a very popular hike: the views are unforgettable… and a bit scary, if you're a worrywart like me!
The 1.8 mile loop trail has an elevation gain of 400 feet. This is a moderate hike that you can complete also if you're not very used to hiking.
Because of my asthma I just took it slowly but I had no problem in making it back to the parking lot.
Once you reach the bridge, you can walk up and behind it, like Al did, or view it from the bottom.
In case you're wondering, I did stay off the bridge because, while it's a very cool natural structure, my fear of heights decided it was best to stay put to avoid a panic attack!
Cassidy Arch
The Cassidy Arch hike is pretty long, and intermediate level.
It takes 1.7 miles only to get to the arch, then you have to hike back to the parking lot. There's an elevation gain of 700 feet and to be honest, the hike back is just as difficult.
If you're not really used to hiking or if you don't have proper shoes (you can't really hike to Cassidy Arch in flip flops), then it'd be better to spend your time on an easy-to-moderate trail!
Cassidy Arch is one of the hikes in Utah where you can walk on the top of a large, spectacular arch. From the Cassidy Arch viewpoint you can also take pictures of the arch and the Frying Pan trails.
Capitol Gorge Trail
Since you're planning this Utah road trip itinerary I'm taking for granted that you like to drive. So how about you leave the main road to get to a spectacular trailhead?
This drive is popular but it's on a dirt road. We had no problem in driving there on a Dodge Nitro, but you must make sure to check the weather forecast before you go. We learned our lesson after driving the Alpine Loop so… please don't get caught in the rain because the road will get flooded and that is very dangerous.
Once you reach the trailhead, you'll hike on a dried up riverbed, through a massive gorge. About 1 mile in you can choose to walk up the mountain to see the Tanks (water pools at the top of the cliff) or you can keep on exploring.
We did take lots of pictures of petroglyphs and historic inscriptions on the canyon walls, left by the six surveyors who worked here in 1911.
The hike was super easy, probably because we just took it slowly and enjoyed the view.
You'll have to deal with some uneven ground but overall it's doable also if you're not very used to hiking or if you have asthma.
Goblin Valley State Park
The Goblin Valley SP is another one of the lesser known parks on this Utah road trip itinerary.
Located at 1.30 hours from Torrey, it's one of the hidden gems in Utah that you should absolutely visit. Allocate at least half day to this park!
Because we had already visited Capitol Reef, we used our 7-days pass to drive on route 24 to Goblin Valley, so we could stop again (blame it on Al!) at Fruita to pick some fresh apples for our road trip. On the way to Goblin Valley we also enjoyed the view and stopped at places we missed the previous day.
This unique park is home to an incredible valley, full of viewpoints with small parking areas and easy hikes.
The name comes from the rock formations that look like actual goblins. You can decide to just drive around in your car, to take pictures with the "goblins" or to climb them – kids and adults alike will have lots of fun!
If you prefer to go on a super easy hike, you can follow a dried riverbed that runs through the park: it feels like being in a giant maze and the first thing that came to our mind was… Labyrinth, the David Bowie movie!
I know, we're nerdy folks.
The entrance pass for Goblin Valley is valid for two days. It will only cost you $15 per vehicle, or $10 per motorcycle, bicycle or pedestrian.
Grand Staircase-Escalante National Monument
This wouldn't be much of a Utah road trip without adding the Grand Staircase-Escalante National Monument to the itinerary!
Located at about 1 hour from Torrey, it should be paired to the Highway 12 scenic drive, to get the most out of this road trip. You can find more info about this US scenic highway on a previous chapter.
We explored the Escalante in one day, but there's so much to see and do that if you actually have one more day or if you've already visited the other parks on a previous Utah getaway, it'd be great to spend more day hiking there!
The fact is that the Grand Staircase-Escalante National Monument is huge. So unless you plan a trip to Utah exclusively to explore it, you'll have to plan ahead and decide what you want to see.
Best hikes at Grand-Staircase Escalante National Monument
If you want to visit a slot canyon on this Utah National Parks road trip, I suggest you hike to Zebra Canyon. You will need half day to complete this 5.3 miles round trip, but it's absolutely worth it!
Slot canyons are absolutely gorgeous, but many people think the only one they can visit is the Antelope Canyon (Upper and Lower).
Actually, there are 3 more slot canyons you can visit at the Grand Staircase-Escalante. Two are the Spooky Gulches (3.5 miles round trip), the other is the Tunnel Slot, which you can reach with a longer hike, as it's located on the Zebra Canyon trail.
With one day at the Grand Staircase-Escalante I suggest you focus either on the Spooky Gulches or on the Zebra Canyon, if you are up for a longer hike.
In case you're planning this Utah road trip for the warmer months, you might be interested in knowing that you can take a dip in the Escalante River, or to the Lower Calf creek falls, a natural swimming pool at the foot of a spectacular waterfall.
Visiting Bryce Canyon National Park
Next on this Utah road trip there's another one of the Mighty 5: Bryce Canyon.
I'm sure you've seen the pictures online: this is one of the most unique parks in the world because of its rock formations.
Hoodoos are tall rock spires, that are also known as "fairy chimneys". Bryce Canyon is a photographer's dream because hoodoos occur in greater numbers than anywhere else on Earth.
Bryce Canyon is one of the Utah national parks you can explore just driving around with your car for some stunning views. Yet because the park is usually pretty busy, the parking spots are often full to the brim.
We usually leave our car at the Visitor Center and use the shuttle bus running through the park. It's easy and free, just like at the Grand Canyon National Park. Besides, Aldo didn't mind resting for a while!
Entrance fees for Bryce Canyon are valid for 7 days. You'll pay $35 per private vehicle, $30 per motorcycle or $20 per bicyclist or pedestrian.
Check out the last part of this article to discover how to save money on this Utah road trip!
Best hikes at Bryce Canyon
Navajo Loop/Queens Garden trail
The Navajo Loop/Queens Garden trail takes you down into the canyon to walk under the majestic hoodoos.
Because of my asthma, we decided to first walk down "Wall Street" instead of going up. Some folks we met looked super tired and I got scared that I'd get an asthma attack if I tried to go that way, so we first went down the trail, starting at Sunset Point.
The views are great and you can gradually make your way up after you're finished exploring.
Beware: climbing up is pretty hard. Make sure you don't start climbing at midday because on the warmer months you'll feel like melting on the trail, it can be that hot!
Bring lots of water and remember: no one is rushing you so take your time!
Mossy Cave Waterfall
In case you don't feel like taking over an intermediate hike, or if the Navajo Loop is already crowded, you might want to hike the Mossy Cave waterfall trail.
It's a pretty short hike (less than 1 mile) and usually not many people go there because you have to leave the main park to get to the trailhead. According to how much time you have, you can visit a waterfall or a cave… or both: they're worth the hike!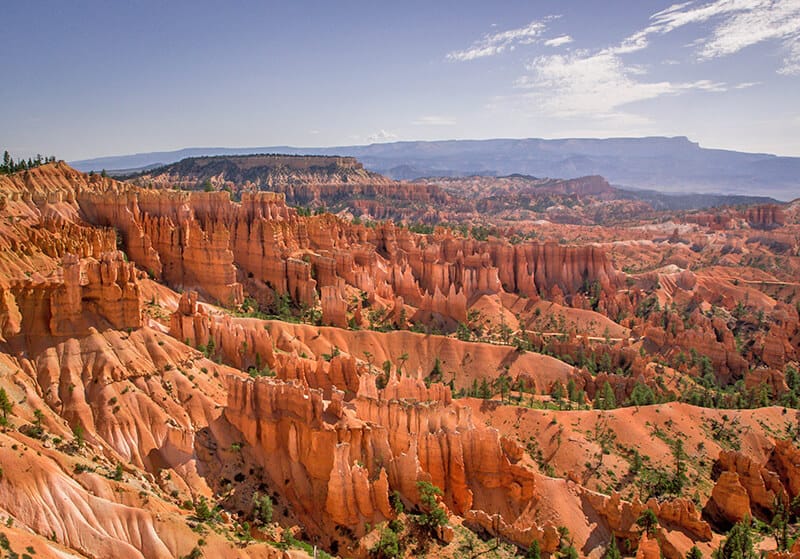 Where to stay near Bryce Canyon National Park
Bryce is a small town located right outside the main park entrance. There's a lot of hotels and restaurants to choose from.
Whenever we visit Bryce Canyon we usually lodge at the Best Western Plus Ruby's Inn, a hotel, RV resort and campground.
They offer plenty of activities like horseback riding, ATVing and mountain biking.
Throughout the summer they also host the Bryce Canyon Country Rodeo – you can buy tickets at the Ruby's Inn hotel lobby.
Tickets will cost you $13 for adults and $9 for children aged 5-11.
Check out the best rates for Best Western Plus Ruby's Inn: Booking.com | HotelsCombined
Where to eat near Bryce Canyon
As I mentioned above, we usually lodge at the Best Western Plus Ruby's Inn. Whether you're a guest or not, I absolutely encourage you to eat at the Cowboy's Buffet & Steak Room in Best Western Plus Ruby's Inn main lodge.
This family style western dining served us the best steaks we've ever had!
Because it tends to get busy (so much so that there's a long line of people waiting to be seated for dinner), I suggest you get there earlier than usual. We generally prefer to hit the Cowboy's Buffet & Steak Room in the late afternoon, as we return from Bryce Canyon, to beat the crowds.
Zion National Park – the most popular of Utah's Big 5
Zion is the last stop on our Utah road trip. It's possibly the most popular park in Utah and for a good reason.
The drive from Bryce to Springdale, our home base, took about 2 hours, through the Dixie National Forest, so the view was particularly lovely.
Zion National Park is one of the best spots on this Utah road trip for landscape photography, because the red rocks we've come to love on our trip start blending beautifully with the forest!
During the warmer months Zion can be particularly crowded. Book your lodging well in advance and schedule your hikes early in the morning, so you'll have the trails (mostly) to yourself.
If you're planning to visit Zion National Park from March to November, be aware of the fact that you can only access the Zion Canyon Scenic Drive using the free shuttle bus in the park.
It's because usually there's so much traffic and the parking areas are full from the early morning, so the park has decided to step in, to make sure everyone enjoys their Utah vacation without having to get stressed about traffic jams and parking spots.
Where to stay in Zion National Park
Budget: Best Western East Zion Thunderbird Lodge. Check and compare rates: Booking.com | HotelsCombined
Average: Driftwood Lodge. Check and compare rates: Booking.com | HotelsCombined
Fancy: Best Western Plus Zion Canyon Inn & Suites. Check and compare rates: Booking.com | HotelsCombined
Best hikes in Zion National Park
The Narrows
The Narrows is the perfect hike in Zion National Park for families with kids and those like me who suffer with asthma.
The whole thing is pretty long, about 16 miles, but you can turn back whenever you want, no pressure.
It's the best way to spend some time in the great outdoors, and if you're visiting during the warmer months, it'll be pure bliss.
You'll walk for one mile on the Riverside Walk from the Temple of Sinawava, then you get to the Virginia River… where you'll have to walk for a bit in the water!
Let's say that kids aren't the only ones who love this trail: we had so much fun!
Angels Landing
Angels Landing is the most popular hike in Zion, absolutely family-friendly, but also pretty crowded and a bit difficult if you're visiting in summer. It gets hot soon, and since it's a 5 miles trail, you'll want to get there early in the morning.
Usually the whole hike will take about 4 hours: budget at least 5 just to make sure you won't have to rush it.
Personally I think the Angels Landing hike is best enjoyed off season, when Zion National Park is less crowded.
The Canyon Overlook
The short hike that is perfect for everyone, especially if you don't have much time in Zion, is the Canyon Overlook trail.
It's super easy and… did I mention short (about 1 mile)? Nonetheless it offers stunning views and it will show you the best sights in Zion.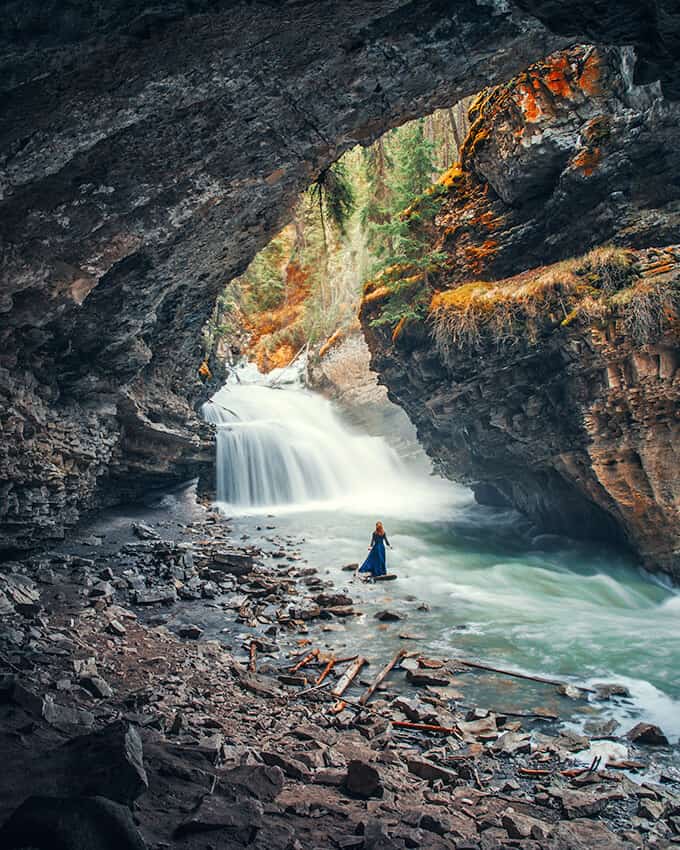 Unfortunately Zion National Park is the last stop on your mighty Utah road trip. At this point you can drive back to Salt Lake City (about 4.5 hours) or to Las Vegas (2.5 hours), where you might want to spend a couple of days enjoying Sin City. There are so many free shows and things to do in Vegas also if you don't like gambling!
The best time to visit Utah National Parks
The best time to plan this Utah road trip is April-May and September-October. That's when Utah is less crowded and less warm.
How to save on entrance tickets for Utah National Parks
Whether you're visiting Utah on a budget or not, there's two things that will help you to save money on this trip.
The first is to buy an America The Beautiful Annual Pass, which will cost you $80 and will let you visit almost every National (and State) park in the US for free for 12 months. Many of the Utah parks you'll visit on this road trip are included!
You can buy an America The Beautiful Annual Pass in person at a federal recreation site or at any National/State Park: just ask the rangers and they'll be happy to help!
The second trick is that there are a few days every year when you can visit the US National Parks for free!
The free entrance days 2020 are:
January 20: Birthday of Martin Luther King, Jr.
April 18: First day of National Park Week
August 25: National Park Service Birthday
September 26: National Public Lands Day
November 11: Veterans Day
You might also like:
What to do in Las Vegas if you don't like gambling
How to visit the Grand Canyon in one day
Upper vs Lower Antelope Canyon: which one should you visit?
Arizona Road Trip Itinerary: All the Bucket List Spots!
26 ideas for Las Vegas souvenirs you'll love
Pin it for later!
Travelling Dany – Danila Caputo
Danila Caputo is a bilingual travel writer living in between Naples and the Amalfi Coast (Italy), graduating from the University of Naples Suor Orsola Benincasa in Foreign Languages and Literature. She travels and works with her husband Aldo, photographer and videographer. Their blog chronicles their adventures around the world, their love for the USA (where they have family), Italian/European culture and tips on how to be responsible travelers. You can find out more about their latest trips and their life on Youtube, Instagram and Facebook.