Ultimate itinerary for 4 days in London – Full of useful info to have fun and visit on a budget.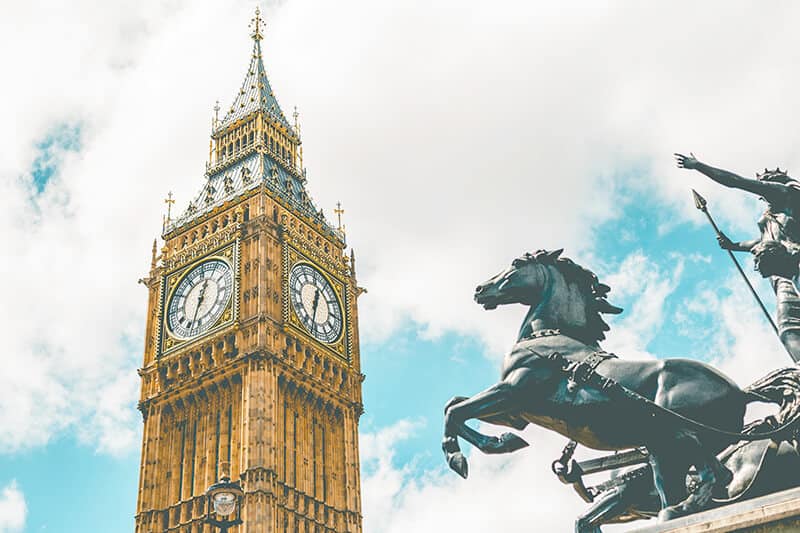 Planning a trip to London can be a bit difficult if you've never been there. Trying to decide on your own where to find a hotel, preparing a list of things you want to buy in London, gathering info about museums, subways and tours: that's a lot!
While many people decide to spend only a weekend in the British capital, in my experience planning 4 days in London is a good starting point.
Let's see together why it's the right amount of time, either for a first trip or if you're going back for more. I'll show you an itinerary with all of my must see in London and my favorite activities. Are you ready to start packing?

Are you planning your trip to London last minute?

Let us help!
Here you will find at a glance our favorite activities, tours, hotels and more. Everything you will need to make this unforgettable!

Top Activities and Tours in London:
1. The London Eye Entry Ticket
2. Tower of London and Crown Jewels Exhibition
3. Harry Potter Guided Walking Tour
4. Madame Tussauds London
5. St. Paul's Cathedral Entry Ticket
6. Westminster Abbey Entry Ticket

Our Favorite Hotels in London:
1. The Standard
2. Park Grand Paddington Court
3. The Clermont London Charing Cross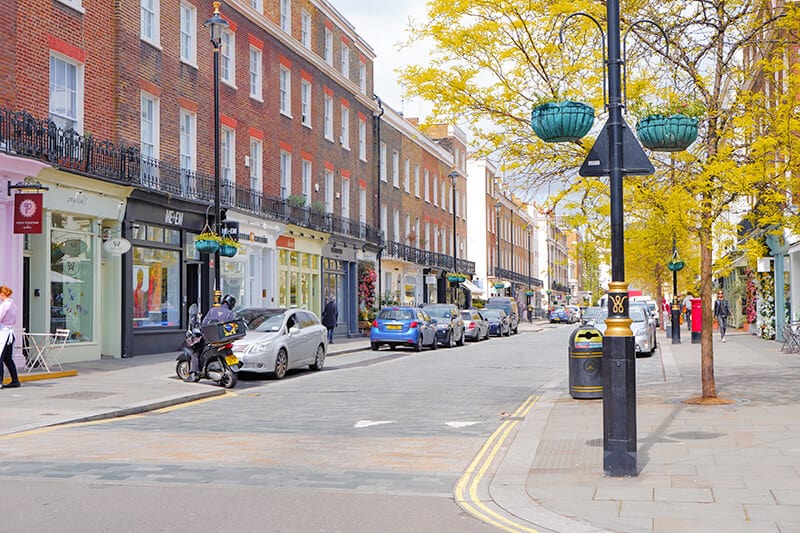 How many days in London and why?
On our first trip to London, I was sure that a couple of days would be enough to see the main attractions. After all it's just one city, and we were only planning to visit Central London anyway.
I know that a lot of people think the same thing.
While I'm aware that London isn't a cheap destination, if you have the chance to spend more than a weekend packed with things to see and do, I encourage you to splurge and go for it.
Your first trip in London in 4 days will be less stressful, you won't have to walk too much, and you'll have time to actually enjoy the trip: you deserve it!
In case you've already been to the British capital, know that you can plan a secret London itinerary. Four days packed with small parks, secret cafes, instagrammable spots and so much more.
Me and Aldo have been to London countless times already and we still manage to find beautiful spots we'd never seen before, just by wandering about, off the beaten path.
I have organized this London itinerary in a way that takes into consideration the fact that sometimes it's not easy to go from point A to point B in a short amount of time.
Which is why you should always think of grouping what to do in London for 4 days according to where everything is. Google Maps can be super helpful: add pins and see group together the closest ones in the same day.
A very useful app you should download for a trip to London is Citymapper. It'll help you to make the best use of the London subway, trains, buses and water taxis.
Just geo locate your position, add your destination and you'll find all the info you need. It's by far the best app to visit London that will save you time and money.
The best part of it? Citymapper is completely free!
London Pass or London Explorer Pass?
Since you're planning a trip to London, I'm sure you've heard of both these options to save some money while exploring the City.
But what are the difference between them and which one should you choose?
The London Pass has different prices according to its validity. You can buy a London Pass for one day, for ten or for all the in-betweens if you want. It includes more than 80 attractions in London and a hop-on-hop off experience with Golden Tours o Big Bus.
If you buy it online, a London Pass for 4 days will cost you 157$.
The London Explorer Pass is a new digital pass which you can buy according to how many attractions in London you want to visit. It is valid for 30 days, so you can activate it whenever you want, and it includes a hop-on-hop off experience with Golden Tours or Big Bus, special offers in selected restaurants and shops, as well as up to 35% off quite a few London attractions.
You can chose to use it for many of the things I mentioned in this 4 days in London itinerary.
The London Explorer Pass can be used on your phone (no need to print anything) and the one with 7 attractions included (there are passes for 3-4-5 attractions which are cheaper) will cost you $146,96 if you book it through this link (just click to go to the offer).
Which one do we prefer?
Both me and Aldo, and also my parents when they visit London, usually buy a London Explorer Pass. We find it especially good because we're not tied to a daily pass (it lasts 30 days so we don't have to pack everything in one day), and because we get to mix and match what we want to use it for.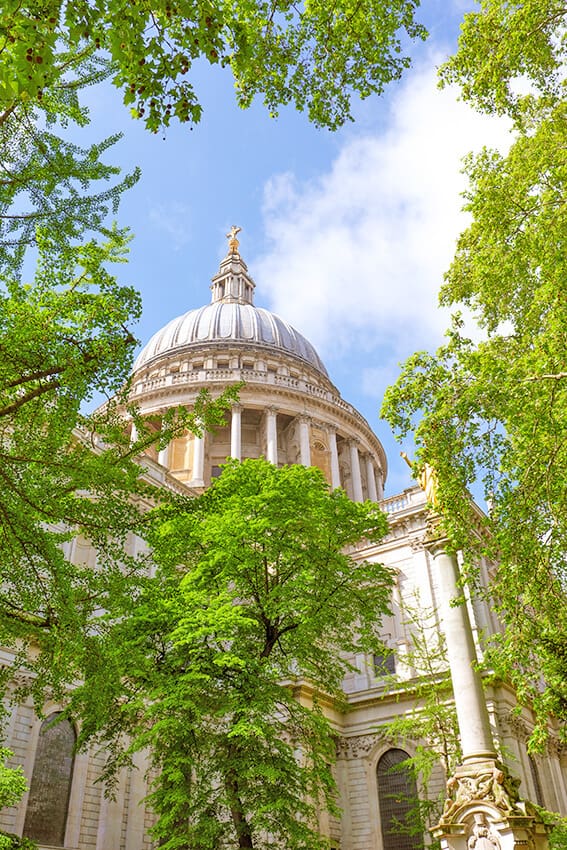 First of four days in London
St. Paul's Cathedral
Your first of 4 days in London will start at the St. Paul tube station. The area is in fact very nice, especially on a sunny day.
If you are visiting London in spring, I encourage you to add the St. Paul's Cathedral area to your itinerary because you'll be in for a surprise.
Wisteria? Check. Lots of flowers? Check. Sun? Check. Quiet little gardens? Check. There's everything you've always wanted to see in London, and you won't even have to walk too much to find it!
If it's your first time in London, you should thus absolutely visit St. Paul's Cathedral.
Tickets are £20 if you buy them on location: if you want to save, the best option would be to get them online. They will cost you only £17!
Children can get a discounted ticket, and also families will be able to visit on a special price. 2 adults and 2 or 3 children will only pay £41.20 if you buy your ticket online.
Those of you who have bought the London Explorer Pass will be able to visit St Paul's Cathedral for free (it's included in the Pass) with a skip the line ticket: you'll save quite a lot of time!
Opening hours usually go from 8:30am to 4:30pm from Monday to Saturday. On Sunday in fact St Paul's Cathedral is only open for worship.
The visit should take at least one hour. Buying a ticket will allow you to visit the Cathedral floor, the crypt and three galleries in the dome.
My suggestion is to add St Paul's as a London must see: get there as soon as they open so you will have more time to enjoy the area. If you cross the street you'll also be able to get some awesome photographs of the dome. You can find all the info in my article on the most instagrammable spots in London.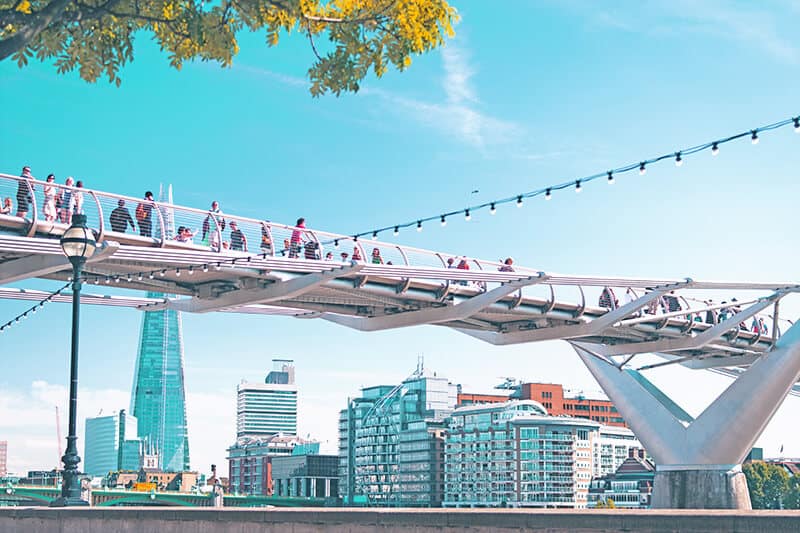 Millennium Bridge
The second stop of the day is the Millennium Bridge. It is super close to St Paul's Cathedral, so you can just walk there. Take a few pictures of the steel suspension bridge that crosses the River Thames: in the morning it's usually less crowded!
Not many people know about this but the Londoners nicknamed this bridge "the Wobbly Bridge" because as soon as they opened it, there was actually a swaying motion that alarmed the pedestrians (for a good reason!).
Since then it has been fixed, but if you're scared by heights as me, I still suggest you not to look down!
Focus instead on taking amazing pictures of St. Paul's and of the other bridges: this spot is absolutely amazing if you love photography, especially when it's less crowded!
Shakespeare's Globe
The third stop of the day awaits on the other side of the Millennium Bridge: the Shakespeare's Globe theatre!
The Globe should be part of every London itinerary. It is in fact a very important landmark and it'll help you to understand much better London's history and culture.
This theatre was built in 1599 by Shakespeare's playing company (the Lord Chamberlain's Men). The original building burned in 1613, but it was rebuilt the following year.
Nowadays you can visit a modern reconstruction of the Globe, opened in 1997. It welcomes thousands of visitors every day, both for guided tours and to actually enjoy performances.
The company is very welcoming and inclusive, to the point that not only the theatre is wheelchair accessible, but they also make sure that patrons with hearing loss or the visually impaired can enjoy the show.
Every day they have guided tours in English. Standard tickets cost £17 and the tour lasts approximately 40 minutes. You can ask for an information sheet in your language as well: we noticed those in Italian, Spanish, Russian and French in sight but they have more!
You can enjoy a Shakespeare Globe show and tour for free if you have a London Explorer Pass.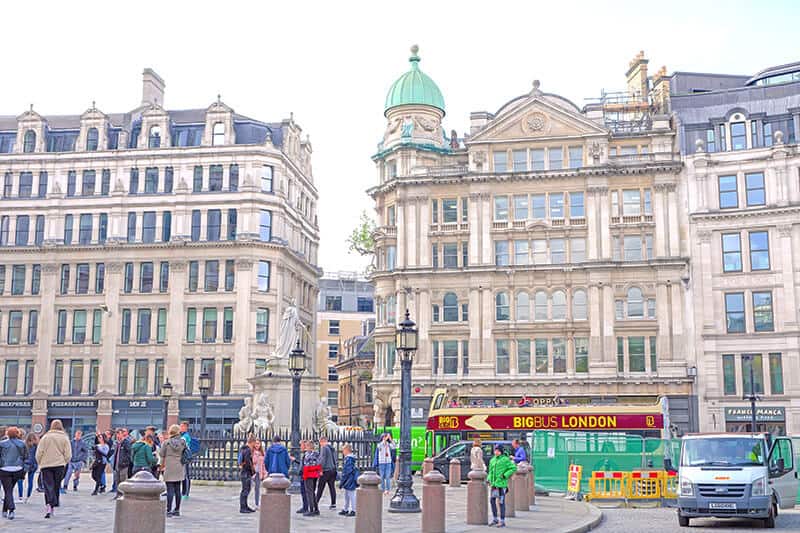 Tate Modern
When the tour is over, walk to the Tate Modern. As you walk towards this amazing gallery, I encourage you to stop now and then to take pictures of the London Bridge and of the Shard from the riverbank. The view is absolutely breathtaking!
Entrance to the Tate Modern, a modern art gallery, is completely free. Located inside a former power station in Bankside, this gallery is one of our favorite museums in London and one of the largest museums of modern and contemporary art in the world.
Because it's very big, a thorough visit should take a minimum of 3 hours. Of course this depends on how much you love art and how much you enjoy the experience!
Now, if you're planning a trip to London, you should stop and think of what you want to do. If you're interested in having lunch at Shakespeare's Globe, there's a lovely place called Swan Café. In this case, you might want to push your tour of the Globe after your visit to the Tate Modern.
In our experience, we've found quite a few cute cafes and interesting lunch spots on the riverbank, so if it's sunny and you're not too tired, just postpone lunch until after your visit to the Tate Modern. That way you can find a nice table and rest while having lunch.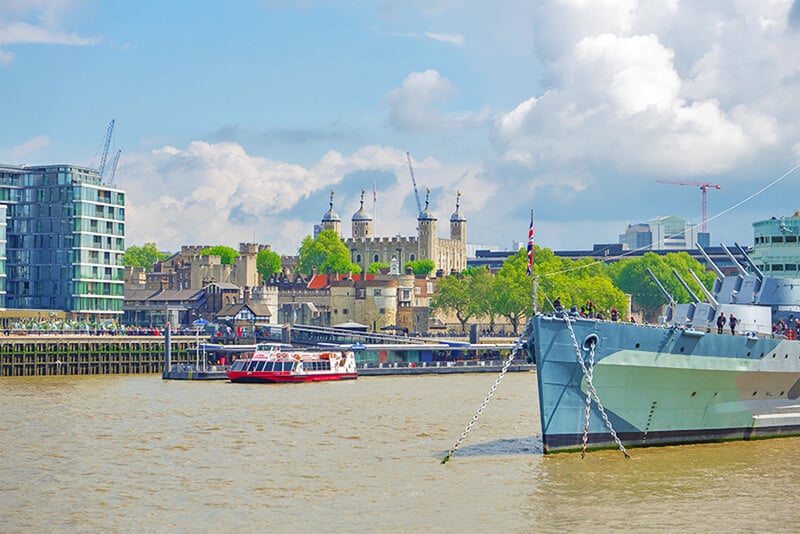 Tower of London
After lunch, find the closest tube station and head over to the Tower of London. Please, make sure to remember that they close at 5:30pm. Last admission is at 5:00pm. Always consider at least 40 minutes to get there, even more, because it mostly depends on where you are and how crowded the tube is.
Tickets to visit the Tower of London will cost you £27.20, but once again, if you buy them online (also using your cellphone!) you can save up to 10%!
Visits to this UNESCO World Heritage site usually last about 30-45 minutes. It's a 900-year-old castle that houses the crown jewels and that used to be a dungeon for the most dangerous prisoners.
The visit is very interesting, and if you're staying four days in London, I strongly encourage you to add it to your itinerary: you won't be disappointed!
From the area surrounding the Tower of London you should also take a few pictures to the Tower Bridge, one of the most iconic bridges in London.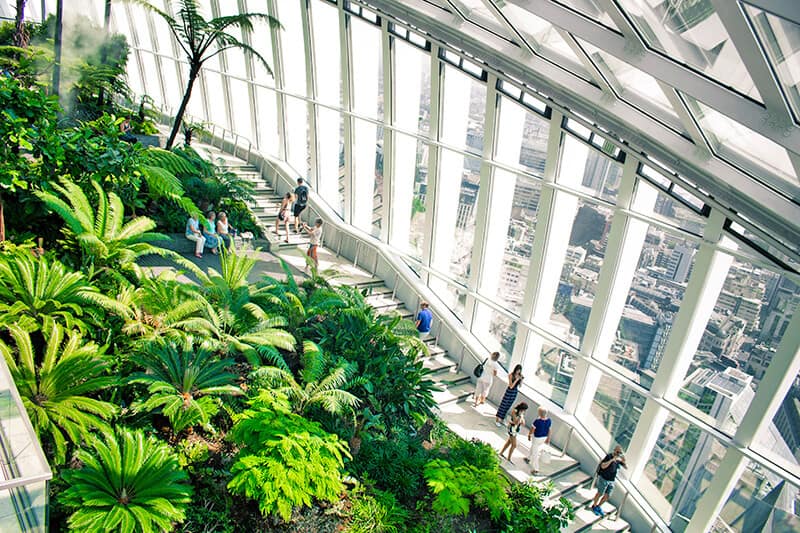 Sky Garden
After you've done, if you're lucky enough, you could visit the Sky Garden for free.
Full disclosure: it took us quite a few trips to London to visit it!
Among the top 10 things to do in London, the Sky Garden is a great roof garden which offers stunning views on the London skyline.
You can access it for free but to do so you have to book a ticket for a specific time and day in advance. It's one of the first things you should book once you've noted down all the London must see for your trip: the Sky Garden tends to be fully booked quite often!
They are open from 10am to 6pm on weekdays and from 11am to 9pm on weekends.
At the Sky Garden you can also eat at a quite romantic rooftop restaurant, the Fenchurch, or at the Darwin Brasserie. There's also a City Garden Bar which serves cocktails and platters.
Be aware that prices are quite high and the reviews on Tripadvisor aren't stellar.
Shoreditch and Brick Lane
If having dinner at the Sky Garden isn't for you, I suggest you head over to Shoreditch and Brick Lane. That's what me and Al usually do.
Shoreditch is one of those districts in London that are always evolving and changing. Whenever we go there we find new street art, different shops and different colors.
If it's not too late you'll be able to take pictures of amazing murals, especially while walking from Brick Lane to Shoreditch. The very best ones are usually located between Redchurch Street and the Shoreditch Triangle. But then again: there are always new ones so keep your eyes open!
Shoreditch is where you'll find independent boutiques and vintage shops where you can buy the best souvenirs from London. During the weekend there's also the Columbia Road Flower Market, which is absolutely fantastic, but should be visited in the morning, when you can take pictures of amazing bouquets and houseplants.
Street food at Shoreditch is a huge thing. Not only it's cheap but it's also delicious: the offer is enormous, you can eat Thai delicacies or Cambodian cuisine, or even bagels, if you go to Beigel Bake at Brick Lane!
Have dinner here and when you're finished, unless you're too tired, consider visiting one of the super cool nightclubs in the area: on Fridays they are usually crowded with Londoners who want to let loose and have fun!
London must see on day 2
Your second day in London will be full of nice things to do: make sure your phone and camera are fully charged or bring with you a powerbank. I can assure you that being somewhere super nice and not being able to take one single picture because your camera is dead is absolutely frustrating. Also you'll need Citymapper today so a charged phone is vital!
Houses of Parliament, Westminster Abbey & more
Our tour will start at the Houses of Parliament, among the top things to see in London: even if you chose not to visit the inside of the UK Parliament, you can still take amazing pictures in the area.
Unfortunately the most loved clock in London, the mighty Big Ben, is still silent and mostly wrapped up. The renovation work should end in 2021, which means that you might be in for a bit of disappointment. I know both me and Al felt a bit lost when we realized we couldn't see the Big Ben at all so I can only imagine how the Londoners must feel!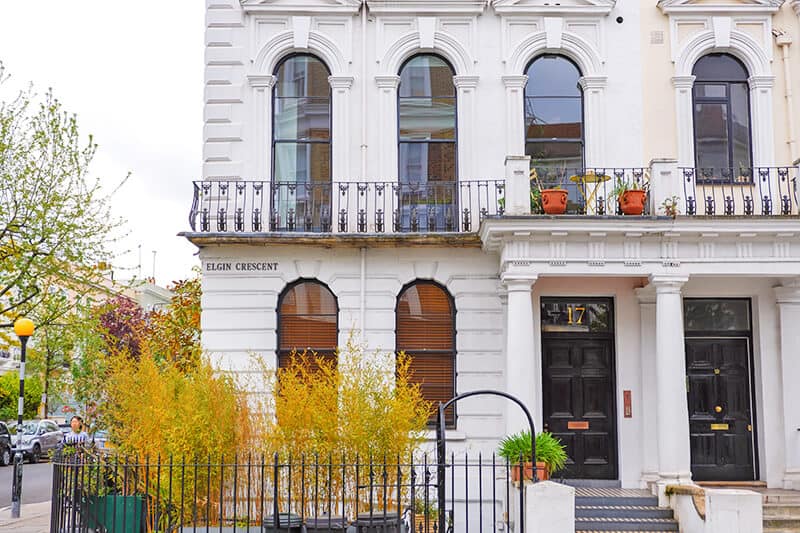 What you can do is take a few pictures of the Coca Cola London Eye, which is yet another one of the famous London photography spots. Me and Aldo have been up there for a ride: we didn't find it as awesome as we thought it would be. Yet it's up to you to decide if you want to spend some time here in stead than exploring London.
The fact is that there's usually a pretty long line and tickets are also expensive. Yet once you're up there… I don't know, we probably felt even more lost because the Big Ben was unrecognizable so this spoiled our experience. If you're up for it anyway, try to be there very early to avoid standing in line for hours!
In case you skipped the Coca Cola London Eye, I strongly suggest you have a look at the Houses of Parliament gift shop for cool souvenirs from London: you won't regret it!
If you decide to go, be aware that the Coca Cola London Eye is included in the London Explorer Pass.
Another thing you can do in the area is visiting Westminster Abbey.
Tickets are £21 per person, but they're included in the London Explorer Pass, in case you decide to use it to save some money.
Founded in 960 AD, it has been rebuilt and the current building is over 700 years old. Open from Monday to Saturday for visiting, it looks a bit like Hogwarts inside, albeit not as much as the John Rylands library we visited in Manchester (that one is actually nicknamed "the real Hogwarts").
Buckingham Palace
4 days in London wouldn't be complete without at least seeing Buckingham Palace. If you don't mind walking, it'll only take you about 15 minutes to get there from Westminster Abbey. You can also walk through the amazingly beautiful St James Park while you get there: more photo ops, especially if it's a sunny day!
Unfortunately tickets to The State Rooms at Buckingham Palace aren't included in the London Explorer Pass. The single visit to just the State Rooms will cost you £25, while a visit to both The State Rooms and the gorgeous Buckingham Palace Garden costs £35.
There are discounts available for families, if you buy a minimum of 2 adult tickets and 2 under 17 tickets so ask about them!
The full experience usually takes 3.5 hours. While it is expensive, I can tell you that the Buckingham Palace Garden is something out of a fairytale!
Decide if you want to add it to your London itinerary according to your budget and to how much time you have. In case it's not your first trip to London, Buckingham Palace can be a good alternative, especially in spring.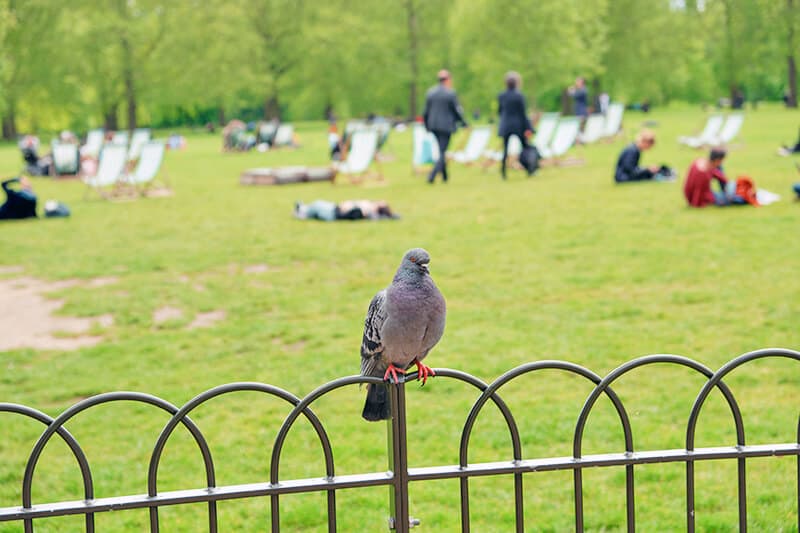 Hyde Park
If your budget won't allow you to visit the Buckingham Palace Garden, hop on the tube and go to Hyde Park.
This Grade I-listed park in Central London is the largest of Four Royal Parks and can be visited for free. It's also one of the best places to visit in London on a sunny day!
At Hyde Park you should visit The Princess Diana Memorial Fountain, the incredibly beautiful Rose Garden, and the Speakers' Corner, which has been a traditional site for public speeches since the mid 1800's.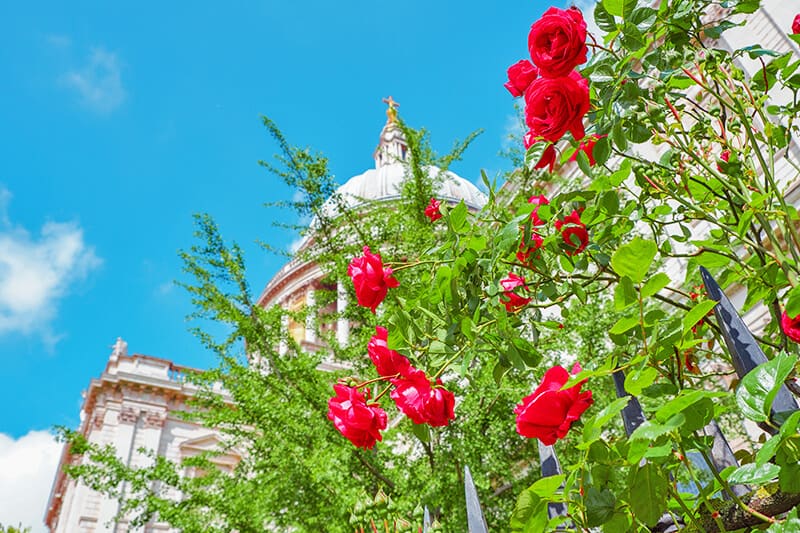 Trafalgar Square
According to where you are, you should consider if it's convenient to walk to Trafalgar Square or if you should use the London tube.
In case you decide to walk there, stop at Fortnum & Mason, the perfect place for some London souvenirs and gourmet food. They often have free tastings!
Café in the Crypt
One of our favorite lunch spots in London is Café in the Crypt. My parents also always go there whenever they're in the area. Since you have 4 days in London, there will be time to visit again if you like it!
This hidden London gem is located in the crypt of St Martin in the Fields, and all profits support the work of this Church.
It has been serving food for over 30 years and it's such a unique venue!
Original brick-vaulted ceilings and historic tombstones lining the floor are something I'd never – ever – associated with a restaurant. And yet, London has decided to surprise us once again!
Prices are not even that high, all things considered, and they provide delicious, home-cooked meals that will restore you after a long walk. We particularly appreciated the cool rooms in summer, especially because we tend to walk a lot under the sun!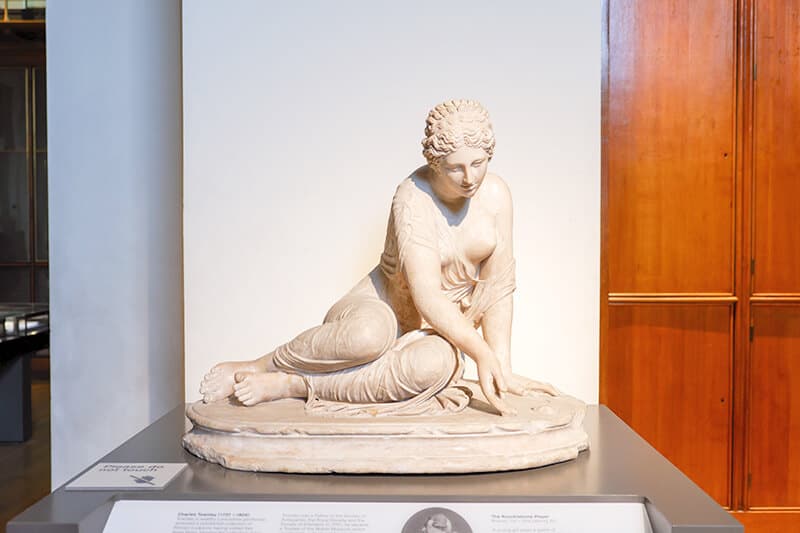 National Gallery
At this point, unless you have already done the three hours and half tour at Buckingham Palace, you should still have time to visit the National Gallery in Trafalgar Square.
The entrance is free and I absolutely love its staircase leading to the majestic colonnade. It makes me feel in awe whenever I go there!
In my opinion, if you love art and history, the National Gallery should be one of your London must see. You have four days so I'm sure you can find some time to visit!
This art gallery, founded in 1824, houses a collection of over 2,300 paintings, which includes works by Raphael, Titian, Velazquez, Piero della Francesca and Leonardo da Vinci.
If you're coming from Buckingham Palace or Hyde Park using the London tube, the closest station is Charing Cross.
Covent Garden
Even today your London itinerary was packed with history and art. But you should never forget to unplug and have some relax, right?
Then how about you spend a few hours at Covent Garden? This is a must-see destination in London's West end, for anyone who enjoys shopping, the lovely London architecture, culture, the British lifestyle and good food.
At Covent Garden in London you will find the London Transport Museum, the Royal Opera House, Somerset House and the lovely Covent Garden Market (which we absolutely love).
Plan your afternoon and evening according to what you like the most and have fun!
Oxford Street
An alternative to Covent Garden, in case you've already been there, is Oxford street.
If you're a shopaholic like me, you should know that the best section for shopping and enjoying the British lifestyle is between Marble Arch and Oxford Circus.
From Oxford Circus you can reach also Regent Street, which is filled to the brim with posh boutiques: the architecture is amazing. It's the perfect place for some window shopping. Even if you can't afford that new Burberry Coat, who says a girl can't dream?
Piccadilly Circus, Soho & Chinatown
Whether you've decided to go shopping or not, I must tell you that Piccadilly Circus at night is absolutely stunning.
Aldo always says that it feels like being into Blade Runner (did I ever mention we're two huge nerds?). This road junction in fact is famous for its curved video display mounted on a corner of one of the buildings on the Northern side: at night it's absolutely impressive!
I understand that one of the most pressing questions for many people isn't what to do in London for 4 days, but where to go at night!
Well, a juicy alternative, since you're in the area, is enjoying a tour of the hidden clubs and restaurants in Soho and Chinatown. You can either book one with a highly specialized company, run by locals, or you can enjoy an self-guided tour, provided you're willing to book a table in advance on your own.
Most of the hidden spots in Soho are absolutely amazing but that's also the reason why they're usually booked well in advance!
Best places to visit in London on day 3
The third of your 4 days in London will be way more relaxing. The reason is quite simple: you've been walking quite a lot and visiting a lot of museums the previous two days.
If you are a bit like us, you've been avoiding the London tube to enjoy the beautiful architecture and the amazing British gardens. Which means that… your feet are probably going to hurt!
This is something that a lot of people (I'm guilty as well) tend to forget when they try to decide how many days in London they should book. The British capital is very big and has so much to offer. You need to decompress and just enjoy the day, or you'll get burned out by the time you have to fly home.
So today you will enjoy a few of the London must see spots, but at a slower pace, while enjoying your day. Hopefully it's sunny! In case you're visiting in winter, or if it's raining too much, I have an alternative for you. Keep reading!
Shopping for souvenirs or taking pictures at Notting Hill
As I often say, shopping for souvenirs is always a good idea. So, unless you have read it already, I suggest you have a look at my article on the best souvenirs in London and where to buy them. You will find a lot of interesting shops, especially nice if you're a stationery fanatic like me!
If you have already been shopping, you might start the day going through one of the most crowded of the photo spots in London: Notting Hill.
This gorgeous area is always very crowded, especially if you're visiting London on a weekend. Sometimes there are so many people shooting at the same place that a small crowd of photographers gathers. They are actually in line to take a picture: that's not what I'd call a "fun experience".
The trick to be able to enjoy Notting Hill and Portobello Road without having to push your way through the crowds is to get there early in the morning.
How about you have your breakfast there?
Some of the very best spots where you can have breakfast in Notting Hill are Electric Diner, Farm Girl and Granger and Co.
Shoot away as much as you want, while you stroll through the lovely streets lined with colorful houses and gorgeous gardens. You'll leave before the crowds start gathering.
Now, if it's a sunny day, you have a lot of options. Because you have four days in London, much depends on how many times you've already been there.
Picnic at the park
London in fact has so many green spaces where you can have a lovely picnic.
Of course, if the weather threatens some mean rain, it'd be better to have lunch indoors, but if it's a nice day, make sure you spend it outside: you won't regret it!
Regent's Park is one of the most popular spots in London thanks to its elegant flower beds, the gorgeous 12000 rose bushes at Queen Mary's Gardens, the boating lake and the Open Air Theatre.
Yet not many know that if you keep on walking uphill there's an even more beautiful part of London that you can visit: Primrose Hill. This is where you get the best views of the London skyline (for free!), and where the Brits love to lay down on the grass on a sunny day.
Primrose Hill is also where some super cute London houses are located: if you haven't been to Notting Hill, you can take lovely pictures also here. After all, this is where celebs like Daniel Craig, Kate Moss and Jude Law used to live!
Maida Vale – London's Little Venice
Have you already been to Regent's Park and Primrose Hill or maybe you don't feel like having a picnic?
Then your London itinerary should include Maida Vale and its canals, also known as "Little Venice". They remind us a bit of Giethoorn the fairytale village in the Netherlands.

The main canal runs from Little Venice to the Docklands, passing by sights such as the London Zoo on the way. Just like you'd do on a weekend in Amsterdam, you can hop on a boat and enjoy a little cruise, with or without lunch.
The lovely residential roads, flanked by period homes and green spaces, make Maida Vale yet another one of the instagrammable spots in London you can enjoy without the crowds, especially on a week day.
While exploring Maida Vale isn't always included in the top 10 things to do in London, according to popular newspapers and travel guides, it's definitely one of our favorite spots, where we can just enjoy ourselves: it doesn't even feel like being in London sometimes, as the crowds usually stick to the most touristy areas!
Harry Potter Studio Tour or Royal Museums in Greenwich
On a rainy day you do have two main alternatives in my opinion. Either you spend the day exploring the Royal Museums in Greenwich, which include the Observatory and the Planetarium (they have several shows per day and they're all amazing). Or you decide to splurge on a Warner Bros Studio Tour.
London is in fact famous for what people know as the "Harry Potter Tour". There's even an official shuttle bus departing from Watford Junction Railway Station, so getting there is super easy.
Of course you have to be a fan, but the Warner Bros Studio Tour London is an amazing experience both for adults and kids. You will walk through the Harry Potter sets, between animatronics, Diagon Alley, butterbeer kiosks and animated creatures straight off the famous movies.
While some might think the ticket is expensive, I can assure you that it's absolutely not. We have been to the Disney Parks in Orlando (FL) and to the Universal Studios Japan in Osaka, among others, and we spent a whole lot more!
Must do in London on day 4
Oh gosh your last day in London is here! We've got to make sure it will be epic!
First of all, let me suggest you to add to today's London itinerary all the things you haven't been able to see in the previous days, for whatever reason. Of course that's only if you really want to go or if my suggestions for today don't inspire you.
Natural History Museum, Science Museum or Victoria and Albert
Me being me, if I'd plan another trip to London in 4 days, I'd visit again one or two of these three museums listed in the title. But one day is not enough to visit all of them. Especially if it's your first time in London, I'd suggest picking one and saving the rest for your next trip.
All three are free museums, so they are perfect if you're visiting London on a budget. They are also all pretty close to one another, so in case you want to visit two of them, you can just walk, and you won't need to use the London tube.
The Natural History Museum in London exhibits a vast range of specimens from various segments of natural history. It's super famous for three things.
The first one is the 25.2 metre-long blue whale skeleton hanging from the ceiling in Hintze Hall. The second one is that it's so beautiful that it's considered one of the most instagrammable spots in London. The third one is… Dippy.
Dippy is a plaster cast replica of the fossilized bones of a Diplodocus Carnegii skeleton, a dinosaur that was on display in the Hintze Hall.
Unfortunately, Dippy is on tour in several other museums in the UK so the majestic blue whale skeleton will have to do. According to the press, the Museum might consider bringing him back in 2021, but don't hold your breath about that: nothing has been officially confirmed!
The Science Museum in London dates back to 1857 and is well known for its child-family galleries. They're plenty of interactive, push-button fun, and there's even a playspace for kids, named "The Garden", where children aged 3-6 can enjoy their time at the museum.
If you're visiting with your children, this might be the best museum for them because it has been actually designed so the younger visitors would have fun while learning.
Temporary exhibitions may incur an admission fee, and they often have super fun "Astronights", where children and adults are invited to spend the evening performing fun science-based activities.
They can also spend the night sleeping in the museum gallery, and in the morning there's breakfast and more science.
I'll just add that me and Al would love to attend, but alas, we're too old for that!
The Victoria and Albert Museum, also known as the V&A, is the world's largest museum of applied and decorative arts and design. They house a permanent collection of 2.27 million objects and the building dates back to 1852.
Visiting the whole museum could take hours and believe me if I tell you that you won't even notice. The sheer beauty of some of the masterpieces on display will take your breath away.
We have been able to enjoy frescoes by Pietro Perugino, Raphael, John Constable, Antonio Canova's sculptures, but also collectibles, wedding gowns, embroidery and jewels. There's something for everyone!
River Thames cruise
Of course there are so many things to see in London, enough that 4 days might not be enough.
So if you don't feel like visiting more museums, if you're too tired to keep walking or if you've already been to all the previously listed museums, start the day with a lovely breakfast and a River cruise down the Thames.
You have the chance to enjoy the morning with a lunch cruise down the River Thames, which includes coffee and tea while being treated to amazing sights. Like the Tower of London or Tower Bridge, seen from the Thames in the comfort of a river cruiser.
On Sundays there's even a Sunday Lunch Cruise on the Thames with live jazz music (that's one unforgettable experience!) and a 3-course meal which includes wine and mineral water.
The morning is already gone? You can still enjoy an Afternoon Tea Cruise (this is why I love London: it's always a good time to have a delicious afternoon tea!), with a selection of sandwiches, pastries, scones and teas. It's the quintessentially English tradition meeting a touristy tour: why not!
Royal Museums at Greenwich
Another alternative for today would be to visit the Royal Museums at Greenwich.
According to where you're lodging in London, it'll take more or less time to get to Greenwich, and this means a bare minimum of 40 minutes. More, if you're staying in areas like Marylebone.
There's so much to see and do in Greenwich so you'll want to get there by 10am, when they open, and you're probably going to stay until 5pm when they're closing.
The best ticket is the Day Explorer one, which will cost you £26.25 (you can save some money by buying online), but you'll still have to pay for Planetarium shows and Special exhibits. Also be aware of the fact that there aren't shows in the afternoon so you'll have to keep yourself free in the morning or right after lunch to make sure you'll be able to attend.
If you have a London Explorer Pass you can use it to visit the Royal Observatory in Greenwich and the Cutty Sark.
This is why in my opinion you'll need to spend the whole day in Greenwich, especially if you like science and space!
Kensington Palace
The Royal Family fans might want to visit Kensington Palace, where quite a few of the Royals live, including the Duke and Duchess of Cambridge, aka William and Kate.
At Kensington Palace you'll be able to visit the King's State Apartments, the Queen's Apartments and the Sunken Garden, among other things.
Consider a bare minimum of 3 hours to visit all the exhibits, including the one dedicated to Lady Diana, and of course the amazing gardens. Yet I suggest to take your time because there's really so much to see: you won't want to rush it!
Kensington Palace opens at 10am and closes at 6pm, with the last admission at 5pm. Adult tickets will cost you £17.50 and there are discounted tickets for children.
Also this Palace is included in the London Explorer Pass.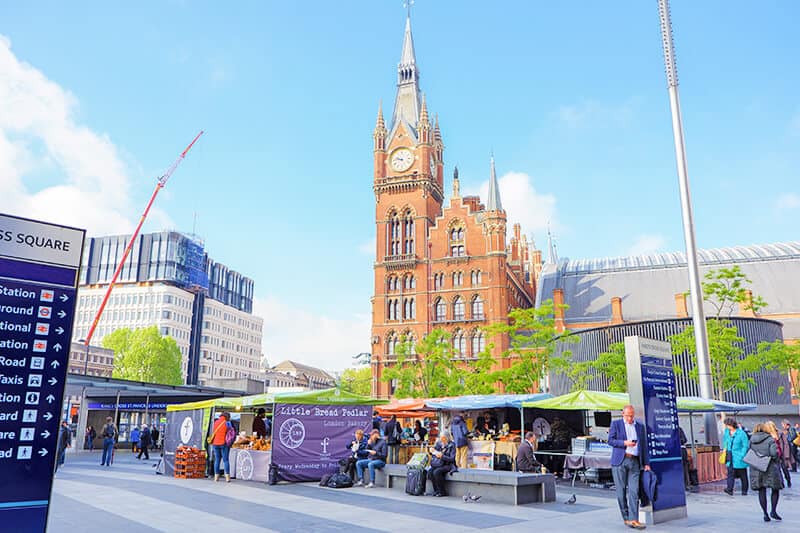 Should you add a day trip to your London itinerary?
That is a very interesting question that was asked me several times on Instagram, after our latest trip to London.
I'm afraid that the answer will be, once again, "it depends".
There are many things you should consider. But to make it short, it really depends on whether it's your first time in London, or if you've already seen the most important things.
In case you have one "free" day because there's nothing else you want to see in London, then I suggest you hop on a train to go to Manchester as a day trip.
We found Manchester to be a very interesting city, and you can explore it by foot or using the free Metroshuttle buses that link rail stations, shopping areas and tourist spots.
The most challenging thing is actually to find cheap train tickets, since trains are pretty expensive in the UK. But here you can find a few techniques to save big bucks on trains in England!
Quick tips to save money and time in London
Because I'm sure you'll want to see as much as possible (without breaking the bank), also if you only have 4 days in London, I have a super quick guide to make sure you can do that:
Buy a London Explorer Pass or a London Pass if you don't mind packing a lot of things in only 1 or 2 days
Wake up early to avoid the crowds, so you can take the best pictures
When possible eat at the many food markets in London or buy a light lunch at a supermarket, you'll save quite a lot of money!
Buy an Oyster Card and to save on tickets avoid using the London tube during rush hour
Use skip-the-line tickets whenever possible
Prepare a London itinerary before you go and check the weather forecast so you'll already have options in case it rains
Don't forget that many museums and parks in London are free!
Download Citymapper and follow the instructions to save on public transport fees.
You might also like:
Spring in London – photos, flowers and events
Ultimate itinerary – 4 days in London
The best London souvenirs you should buy
How to spend a cool night in Soho
The most instagrammable spots in London
Plan a fabulous weekend in London
20 awesome fall trips in Europe
Easy-to-use guide to Christmas in London
Do you need a visa to enter Europe?
Pin it for later!
This post is also available in:

Italiano