Christmas in London is the most wonderful time of the year!
With its amazing Christmas markets, all the Christmas food, the gorgeous events and everything else, you sure won't get bored.
This ultimate guide will show you all the things to do in London for Christmas, and the most recent updates!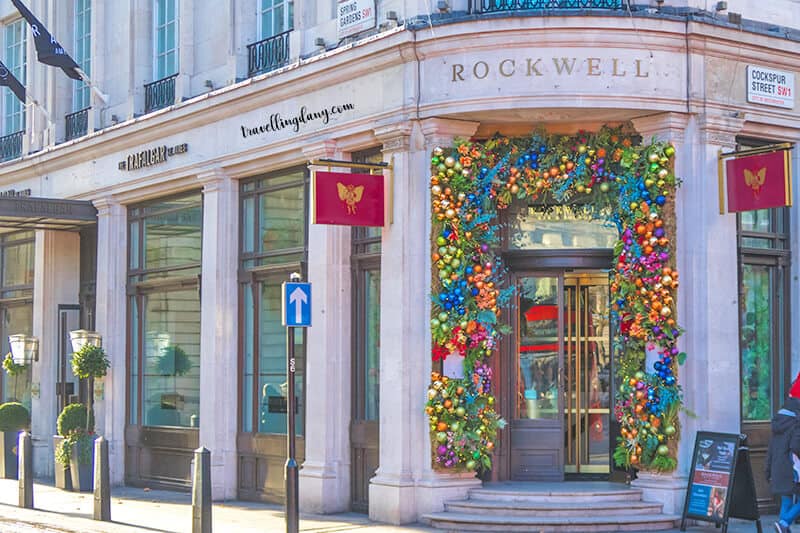 Twinkling lights, the scent of cinnamon in the air, lots of smiles, mulled wine and yummy seasonal treats. It's no wonder that we love to explore Europe during the holiday season! Christmas time in London is especially lavish, full of joy, fun things to do and engaging activities you can experience for free.
Let me show you everything you'll need to know to make the most out of this December trip: it will be unforgettable!
Are you planning your trip to London last minute?

Let us help!
Here you will find at a glance our favorite activities, tours, hotels and more. Everything you will need to make this unforgettable!

Top Activities and Tours in London:
1. The London Eye Entry Ticket
2. Tower of London and Crown Jewels Exhibition
3. Harry Potter Guided Walking Tour
4. Madame Tussauds London
5. St. Paul's Cathedral Entry Ticket
6. Westminster Abbey Entry Ticket

Our Favorite Hotels in London:
1. The Standard
2. Park Grand Paddington Court
3. The Clermont London Charing Cross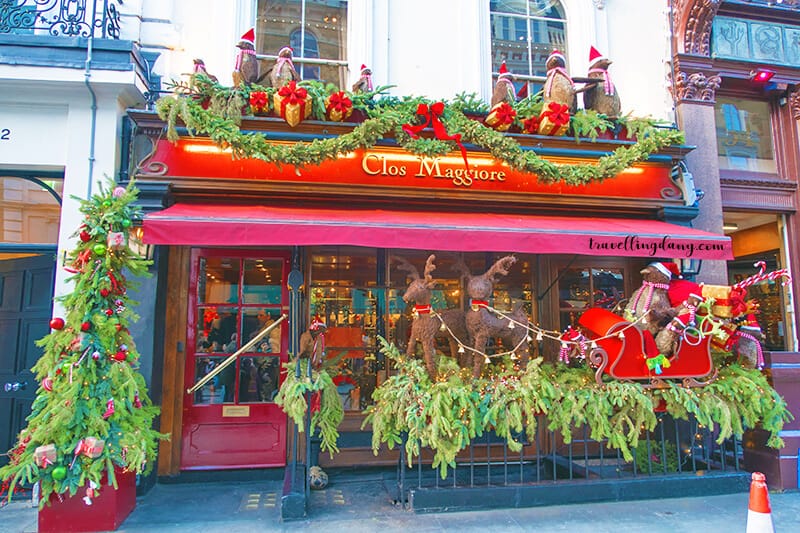 Why Visiting London in December is a Good Idea
London in December can be rainy, but it's not as cold as you might think.
Sure, there have been times when it actually snowed, yet it's not a common occurrence anymore.
Visiting London in winter means being able to enjoy one of the most festive, colorful and lively seasons of the year.
We have been to London too many times to count, and yet nothing compares to the holiday season.
Of course… that might be due to the fact that I'm Christmas-obsessed.
I'm not even trying to hide it anymore!
You might also like:
4 days in London – Itinerary and proven tips
Early winter in particular is the perfect time to enjoy the festive season without having to deal with the huge crowds.
To make sure you have fun, try to book your trip to London a few days after the main Christmas events have started.
That is how you can avoid all the locals and tourists that rush to Winter Wonderland on day 1.
And you'll also stay away from those who wish to spend Christmas day in London.
Another good idea is to book your hotel and flights well in advance.
Last minute deals are often good but you might have to settle down for a higher price, if you have been waiting too long. Think ahead and give yourself enough time to research.
Click here to book a refundable hotel in London: Booking.com | HotelsCombined
With everything that is going on in the world nowadays, the best course of action is to protect your finances with a good travel insurance which covers all the costs in case your trip needs to be cancelled.
One last word of advice.
There are a lot of things to visit in London in December, but most of them have to do with Christmas.
If you're not a Christmassy person, let me suggest you push back your trip to January or February.
It'll rain a bit more but there will be lots of museum exhibits and events you might want to check out!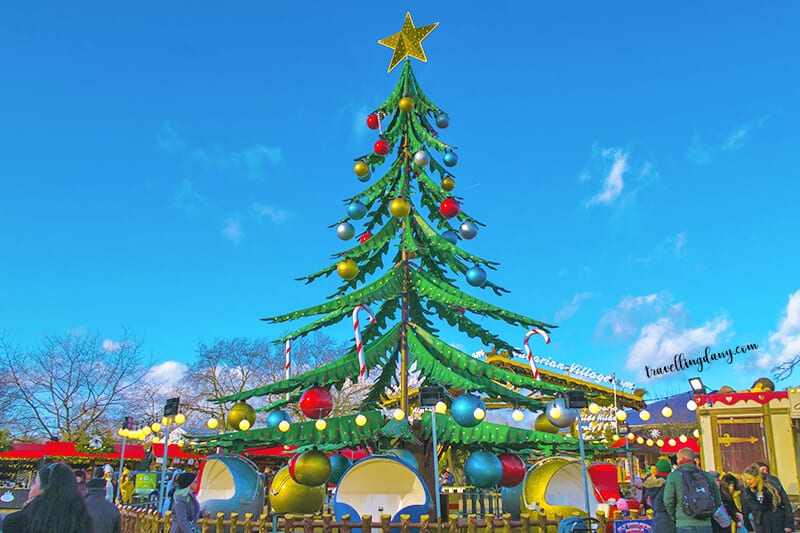 What To Do in London at Christmas
You're going to London this Christmas, yay!
But what should you do now?
Christmas season in London is a time of merriment, yummy treats, great photography and so much fun.
There's no way you'd ever get bored: the British capital turns into one huge Christmas village!
Even if it's not your first time in London, you'll soon realize that everything changes in December.
That includes having to walk around for a few days, trying to find all the most beautiful spots as if you'd never seen the streets of London before.
You might also like:
How to spend 2 days in London on a budget
My Christmas Activity Ideas for London:
Visit at least one of the Christmas markets (you'll want to see more!)
Enjoy some window shopping – every shop in London will dress up for the holidays!
Buy seasonal souvenirs from London, especially the handmade ones – they will be the perfect Christmas gift!
Treat yourself to a holiday tea – usually the best spots will serve festive cookies and treats that are almost too cute to eat!
Bring your camera and take a lot of pictures of the top Instagram spots in London – it's fun and you can print them in a small album. It'll be a great Christmas present, for yourself or the person who's visiting with you!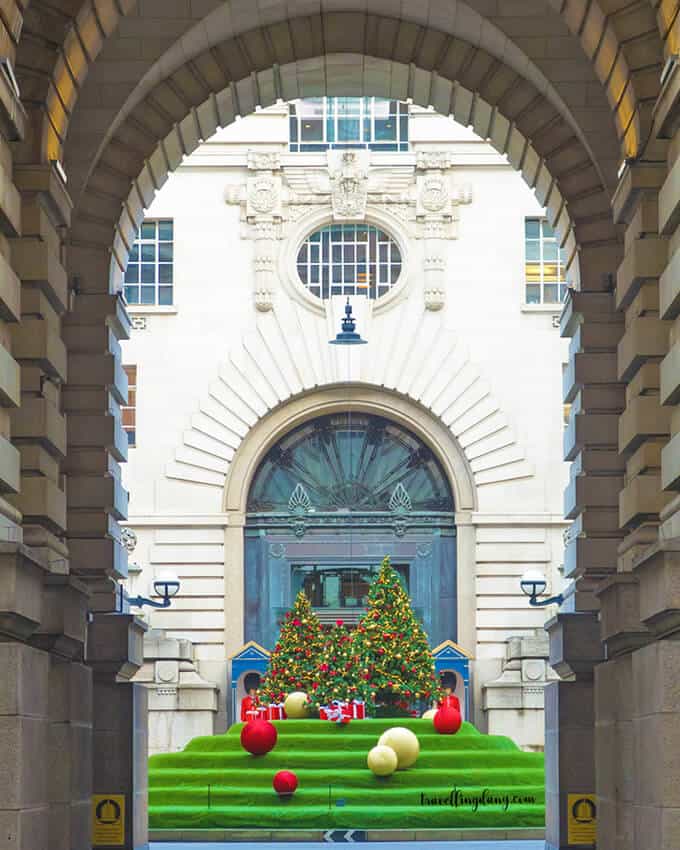 Visit the Top Christmas Markets in London
The best thing to get into the festive mood is doing some Christmas shopping in London.
While we've visited many European capitals for the holidays, we have a soft spot for the UK capital.
During Christmas in fact there are so many Christmas markets, beautiful light displays, Christmas specials and events that we just feel like stepping into Christmas-land!
Here are our favorite Christmas activities and things to do, that you should try to add to your London itinerary for the holidays.
Winter Wonderland in Hyde Park
This fun and colorful Christmas village is located in the South-East corner of Hyde Park, an it's quite big. Make sure you allocate at least a few hours to this theme park if you don't want to rush your visit!
The entrance to Winter Wonderland is free.
You just have to pay (contactless payment is available everywhere) for the shows, the rides or to go ice skating.
There are two main areas you should explore if you're interested in some shopping: the German Christmas Market and the Angels Christmas Market.
The traditional German Christmas market is one of the largest markets in London.
With over 200 chalets selling Bavarian food, cocktails, handmade gifts and so much more.
If you're looking for unusual, fun and unique gifts, head over to the Angels Market.
Here you'll also find lots and lots of festive activities and instagrammable spots!
How to get to Winter Wonderland London
The nearest mainline train station to get to Winter Wonderland is Victoria Station.
Once you get there you can either walk to Hyde Park or hop on a bus.
This second option was easier for us.
Buses in London will get you anywhere, and there are quite a few which go to Hyde Park!
New Update
The amazing Winter Wonterland London Hyde Park has just been confirmed! Yay!
You can visit from November 18, 2022, to January 2, 2023.
Do not miss out!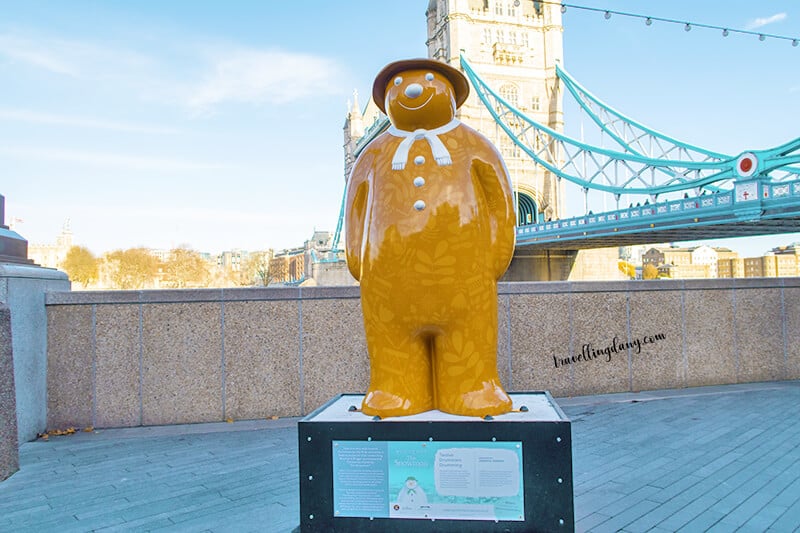 Christmas by the River (London Bridge City)
Another one of the best Christmas places in London is located at London Bridge City.
With the iconic Tower Bridge in the background.
When you visit Christmas by the River, you'll be able to explore more than 70 wooden cabins, while taking gorgeous pictures of London.
The entrance is free and you'll find a lot of handmade gifts, as well as great food (not only seasonal treats).
If you're visiting London on a budget, Christmas by the River is the perfect place to eat yummy foods which won't break the bank!
In 2019 they welcomed "The Snowman", celebrating Raymond Briggs Christmas character with a trail known as "Walking with the Snowman".
Every statue was decorated in a different way and "hidden" among the over 70 stalls.
There was even a "Snowman Hunt" on Instagram, with people trying to find them all to take selfies with the Snowman!
How to get to Christmas By The River
The closest tube station is London Bridge (Jubilee and Northern).
If it's a sunny day and you feel like walking, I suggest the Tower Hill (Circle and District Line) station!
You will walk by the Tower Hill Memorial, and you'll be able to take lovely pictures of the Tower of London, the London skyline and of course the Tower Bridge, as you cross it to get to London Bridge City.
New Update
Christmas By The River has been confirmed!
Find it at London Bridge City between November 15, 2022, and January 2, 2023.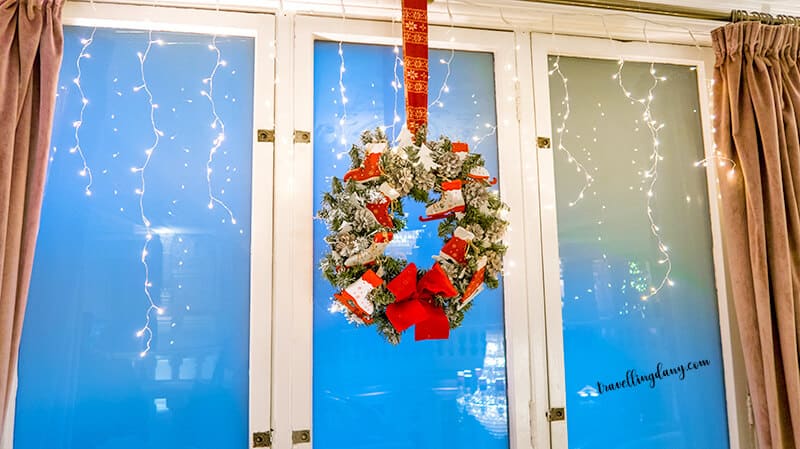 Christmas in Leicester Square
Another gorgeous area you should explore, if you're planning a trip to celebrate Christmas 2022, is Leicester Square.
The busy city center hosts Christmas in Leicester Square, which turns this area into one big Christmas village.
You probably think I'm over-exaggerating, but when you're used to see the historical buildings in Leicester Square, it comes as a shock to find that everything changes so much for the holidays!
Small wooden stalls, a Christmas Grotto, jugglers, knights, elves and singers populate one of the most iconic spots in London.
The entrance is absolutely free, and I recommend visiting at night, when all the lights have been turned on.
Going there is one of our favorite things to do in London for the holidays, and also super romantic!
At Christmas in Leicester Square there's something for everyone, even families who visit with their little ones.
From a fun "meet and greet" with Santa to cute shows, where actors and musicians make sure to involve the younger members of the public so they can have lifelong memories of their trip to London.
They sure won't get bored!
How to get to Christmas in Leicester Square
The nearest tube stations are Leicester Square (Northern, Piccadilly) and Piccadilly Circus (Piccadilly, Bakerloo).
Christmas in Leicester Square is located in the middle, between these two.
New Update
Christmas in Leicester Square will be held between November 9, 2022, to January 7, 2023.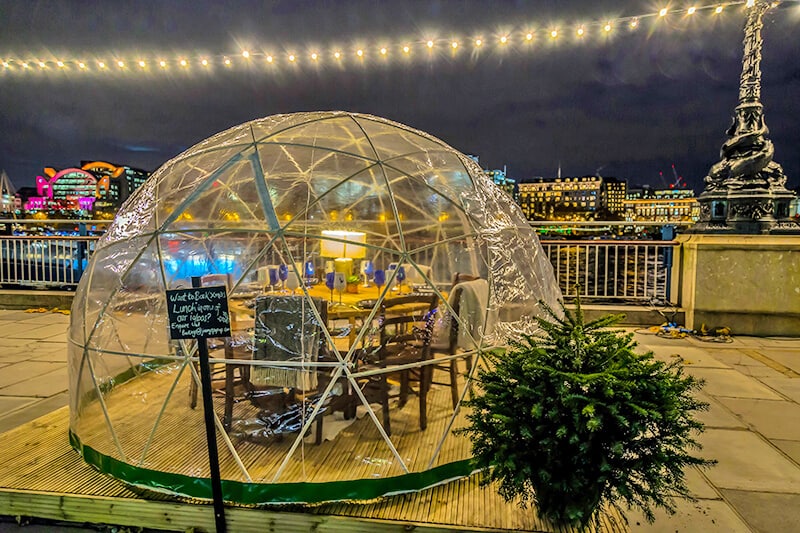 Southbank Centre Winter Festival
Still looking for things to do in London at Christmas?
Southbank can definitely provide a lot of fun, music, sights and gift ideas!
Southbank Centre transforms the south bank of the Thames (right under the London Eye) into a Christmassy place, full of pretty trinkets, shows and family entertainment.
While on some of the official outlets it was stated that the wooden stalls would be open all day long, when we visited, we realized that during the day this part of London is pretty much closed.
Make sure you add Southbank Center at night on your London itinerary, to enjoy the festive atmosphere and all the beautiful Christmas things to do!
Entrance to Southbank Centre Winter Festival is absolutely free.
There are stalls selling seasonal treats at budget prices, as well as the lovely Bar Under the Bridge to enjoy Christmas cocktails.
If you're looking for something more classy, reserve a private igloo at Jimmy's Lodge and make sure to do so well in advance. They're super romantic!
How to get to Southbank Centre Winter Festival
The closest tube station is Embarkment (District & Circle), while Waterloo (Northern, Bakerloo, Jubilee, Waterloo & City) is a 5-10 minutes walk from the Christmas village area.
New Updates
The Southbank Centre Winter Market will be held between November 3, 2022, and January 8, 2023.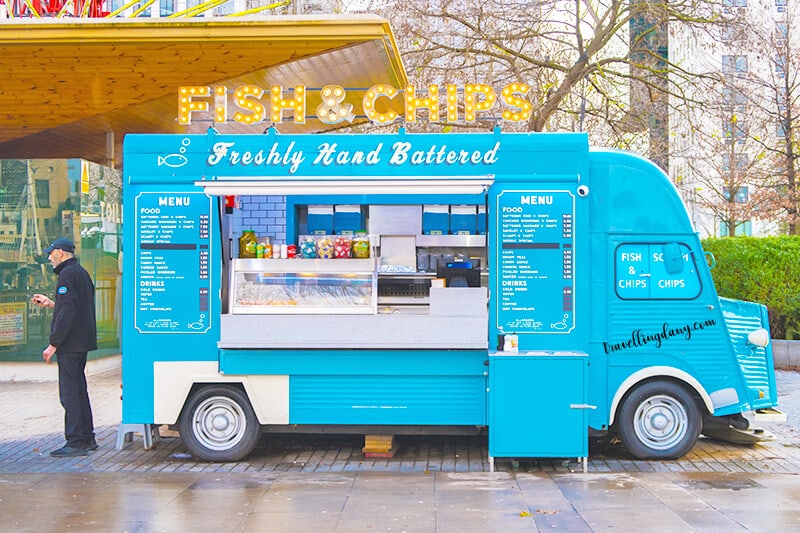 Greenwich Christmas Market
While tourists often prefer to spend their days (and nights) in the London city center, locals tend to stay away from the very crowded areas.
Of course spending Christmas in London also means having to deal with crowds (London is, after all, one of the most coveted destinations in Europe).
Yet there's an area which is rarely busy with tourists, especially at night.
The Winter Market at Greenwich is located in the Greenwich Market area.
They add lots of sparkling Christmas decor, cute wooden stalls, Santa's Grotto, and lots of shopping opportunities to the usual market.
Not only it's one of the biggest Christmas markets in London, with over 150 stalls, but it's also filled with quality vendors selling fashion items, original artworks, crafts and festive goodies!
As if it wasn't enough, it's also London's only historic market set in a World Heritage site.
How to get to the Greenwich Market
Greenwich is located in Zone 2 of London's travel network, at about 20 minutes from Central London.
You can get there by DLR (Docklands Light Railway), river boat or train.
I wouldn't recommend getting there by using the tube, as from the Jubilee line to North Greenwich you'd still have to hop on a bus to get to the market area.
Riverboats in this case are perfect because you'll get to enjoy the festive cheer in London from the Thames, including the best views, without having to pay for an expensive river cruise!
New Updates
The Greenwich Market should start by mid-November and it should be held until the end of December.
The Lantern Parade at Greenwich, which will be held upon switching the wonderful lights on, is on November 16, 2022. From 4:00 PM to 6:00 PM.
Note: The events are absolutely free to attend.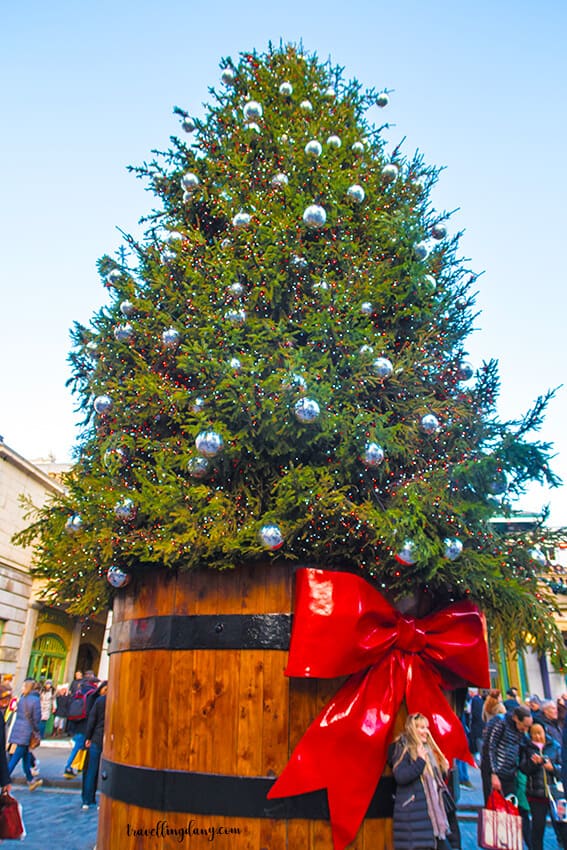 Christmas at Covent Garden
Have you already seen the pictures with the iconic Christmas tree in London with a big red ribbon?
That's one of the free things to see in London at Christmas that people even stand in line for!
Yet there's so much more, and that includes some of the top Christmas events in London!
The Christmas season here starts earlier, by mid-November, and it's usually pretty crowded, so you absolutely have to be strategic about visiting.
If you only want to take pictures of the iconic Christmas decor, by all means, make sure to get there pretty early in the morning!
At night, get into the festive mood when the lights are turned on. Including the over 30,000 on the abovementioned tree.
The whole neighbourhood turns into a winter wonderland, shining with magic.
To that contributes the ice rink sponsored by Tiffany & Co, which also decorates its stall with a huge snowglobe, wrapped gifts and a bottle of Eau de Parfum.
This is yet another one of the main highlights of Christmas in London when it comes to instagrammable spots.
Make sure you stop by to take some pictures early in the morning, to avoid having to wait in line!
Classic Christmas in this area also means lots of nice stalls selling a bit of everything.
In this area we found some of the most gorgeous door garlands ever.
If you want to take pictures, make sure you don't bother the residents!
How to get there
The closest tube station is Covent Garden (Piccadilly), but during the very crowded holiday season it might be better to get off at Leicester Square (Piccadilly and Northern).
That way you'll be able to see the Leicester Square Christmas market too. Covent Garden is a short walk away.
New Updates
Christmas in all of Central London has been confirmed.
Due to the fact that Disney's Frozen was playing in West End at Theatre Royal Drury Lane, the theme for 2021 was… Frozen!
New for 2022 is the Covent Garden Christmas Sleigh. The perfect background for a photo op and sure to become one of London's most instagrammable spots for the holidays!
The decorated sleigh is located in the South Hall of the Market Building.
Another way to experience Christmas in London is by attending the Winter Warmer Festival.
From November 8 to November 20 you'll get to try plenty of mulled wine!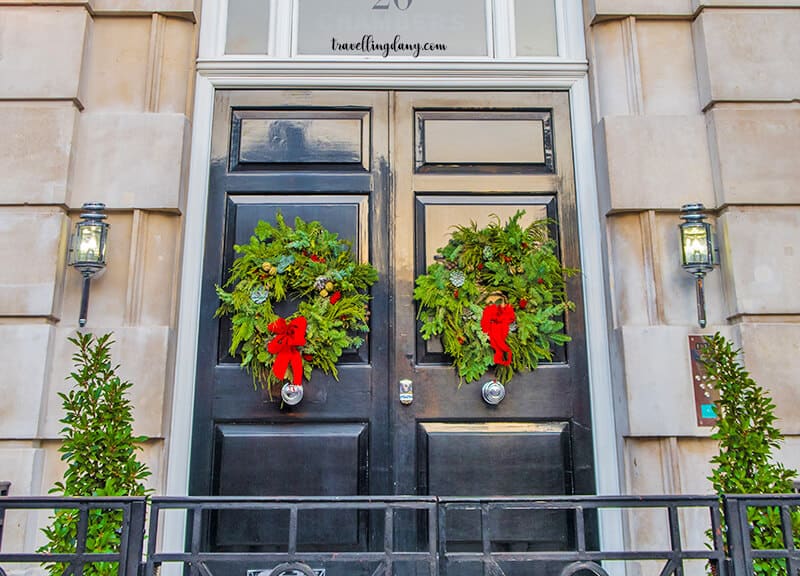 Where to See the London Christmas Lights
Among the best things to do at Christmas in London there's "hunting" for the twinkling lights.
Because it's a completely free activity, it's also perfect for those who are visiting London on a budget!
Some of the best Christmas events and decor can be seen near the areas you'll visit while exploring the annual Christmas markets.
Others are gloriously decked out where you least expect them.
Let me show you our favorite Christmas lights and festive ornaments in London, that you should absolutely visit on your next trip!
Click here and book a bus tour to see the Christmas lights in London!
Perfect activity for the rainy days!
Regent Street
I'm sure you've already seen the pictures of the gorgeous "angels" glittering above the entire length of Regent Street.
Well, in my opinion it's absolutely a must-see in London at Christmas.
While you stroll around, enjoy some window shopping on one of the most popular streets in the British capital!
Carnaby Street
In 2019 the lights on Carnaby Street were completely dedicated to Project Zero, a sustainable conservation charity which protects the oceans.
There were floating kelp forests, bright corals, whales and jellyfishes everywhere.
One of the most beautiful installations we've ever seen in this area!
The Christmas 2021 lights at Carnaby Street did bring a message of change and hope!
They were created with the Choose Love charity, which raises funds for refugees and displaced people across the globe.
So… 2021 marked the year of "Carnaby Kaleidoscope", featuring hundreds of shimmering neon butterflies!
New Update
The lights in Carnaby Street will be lit from November 8, 2022, to January 2, 2023.
2022 celebrates 25 years of light installations at Carnaby Street. Hence why there will be a medley of the most loved pieces from the past!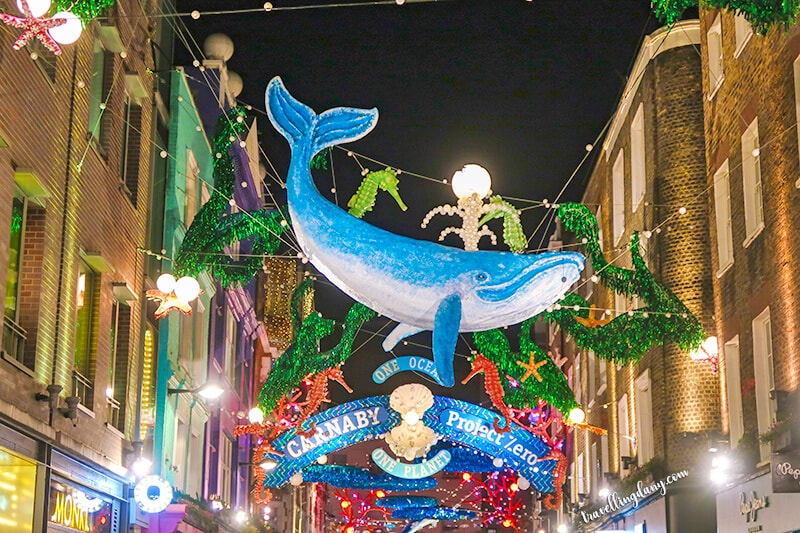 Covent Garden
As I already mentioned before, we loved the Christmas lights at Covent Garden.
Yet it's always super crowded, so if you only want to take pictures of the decorations, visit early in the morning.
Then get back for an evening stroll to enjoy the Christmas atmosphere at night!
Oxford Street
Whether you're hunting for nice pubs or heading to Primark for some Harry Potter merchandise, you'll surely have to pass by Oxford Street.
It is usually decorated with dazzling curtains of light, a seasonal display that is made up of more than 200,000 twinkling bulbs. Take lots of pictures!
Click to watch our video of Christmas in London and its beautiful light displays!
St James and Piccadilly
Some people confused the statue of Anteros, a Greek god, with mere angels in the 2019 displays.
So they thought that the lights at St James were just the same as those in Regent Street.
But they were much different!
Take some pictures and walk over to another one of the highlights of this area: The Ritz London!
As you walk by, make sure to also stop at Fortnum & Mason.
They have some of the most festive window decorations ever!
Every window has animated scenes which represent the holiday activities… with a fun streak!
Christmas at Kew – Paid Event
This light show will be held from November 16, 2022 to January 8, (2023).
It's not a free event.
Tickets for adults start at £21,50 and those for children start at £14 (if you have planned a family trip to London, ask for a family ticket, they start at £65).
The event will be held at the Royal Botanic Kew Gardens and it includes some spectacular installations, like light tunnels, a fire garden and even a waterfall with cascading lights.
Note: there are many more locations to see the lights and Christmas windows in London, so keep on exploring!
These here are just our favorite spots.
If it's your first visit and you don't have enough time to visit everything, make sure you add at least those to your itinerary.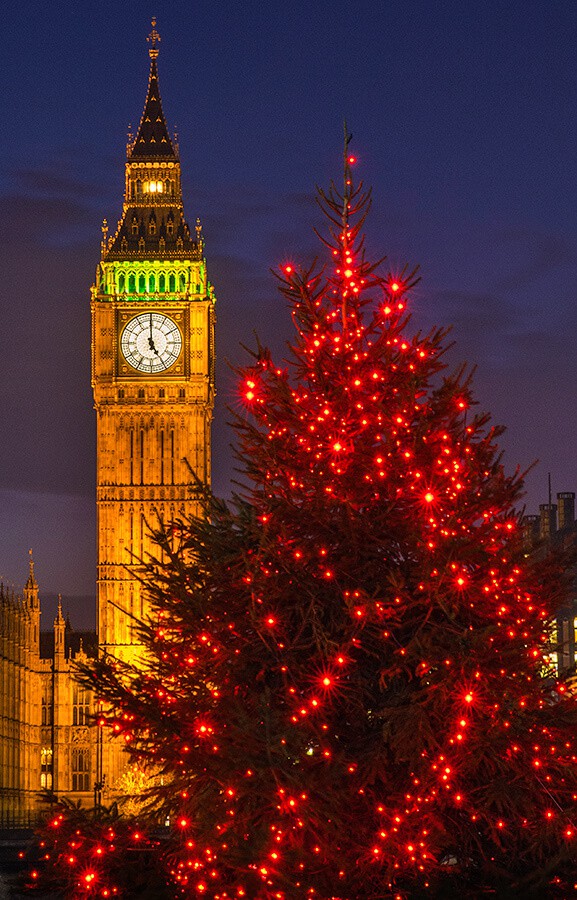 London's Christmas Light Switch-on Dates
Here are the official switch-on dates for the London Christmas lights in 2022.
Mark them down!
Oxford Street: November 2
South Bank: November 3
Covent Garden: November 8
Carnaby Street: November 8
St. James: November 9
Regent Street: November 9
Marylebone: November 10
Churchill Arms: November 15
Kew Gardens: November 16
Greenwich: November 16
Connaught Village: November 17
Mayfair and Bond Street: November 17
Leadenhall Market: November 17
Chelsea: November 19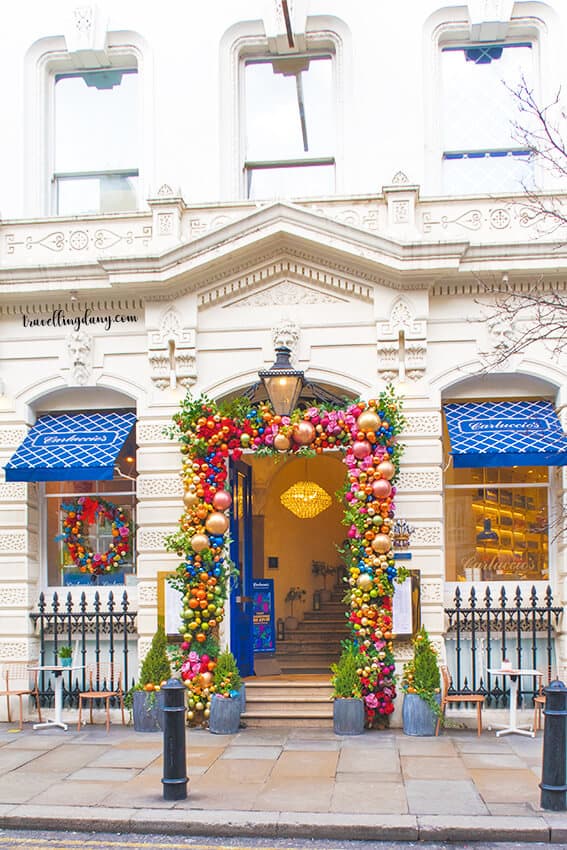 The Instagrammable Christmas spots in London
London during Christmas is one huge, and superbly decorated, Christmas village.
Many people spend lots of time in finding instagrammable Christmas spots in London that they can use for a long series of shots they will publish on social media.
Some I already mentioned before, but if you've already seen my feed for December 2019 (and my London folder on IG) you'll realize I've been searching for the most beautiful, holiday-themed, photo spots.
Unfortunately some were super crowded, so let me share with you what I've learned on my trips to London.
Hopefully some tips will be useful to plan your itinerary!
London Christmas Markets
The markets I already mentioned on a previous chapter are all absolutely gorgeous.
The best of the best to get into the Christmas spirit.
You will love the decorations, and you'll have the chance to add a little shooting to your shopping session.
Yet you must know that they will be very crowded.
Add some extra time that you will use to take your insta-pictures, because you might have to wait in line for the most beautiful spots.
At night they are magical, but even more crowded. As soon as they open there will be less twinkle but also less visitors. It's a tough decision!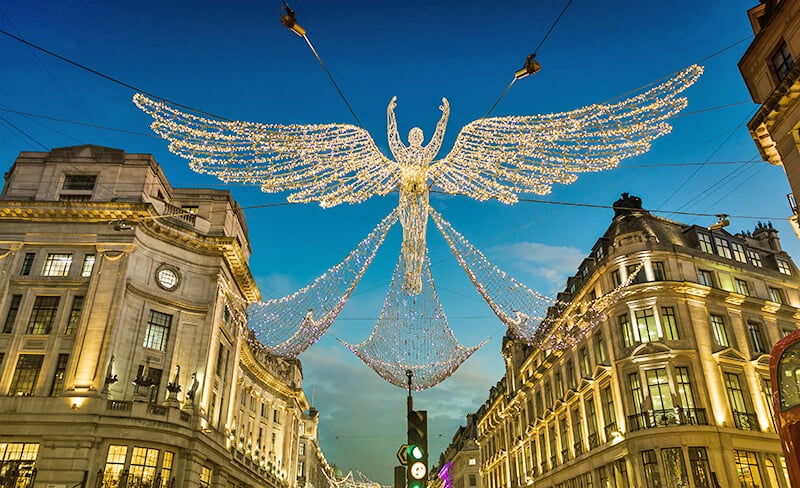 London Lights – Where to go
Christmas in London also means trying to take stunning pictures of the twinkling light installations.
In a previous chapter I mentioned the best Christmas streets in London for this.
You'll have to add them to your itinerary at night.
Note: please be careful and don't stand in the middle of the street to take pictures!
Harrods
Harrods is London's most famous department store and one of the two my mom (a rabid londonista) always visits whenever she is in town.
The Christmas decorations at Harrods and its window displays are renowned – check out the #harrodschristmas hashtag on Instagram to see what I mean!
They also sell Christmas luxury decorations that you can use as a prop for your shooting or as an inspiration to decorate your own house.
Fortnum & Mason
As I already mentioned several times before, Fortnum & Mason in Piccadilly is a lovely place to find classy souvenirs and Christmas gifts.
They have a lovely tea room where you can try the Christmas tea experience (keep reading for more info) and animated window displays that lit up at night.
For the best pictures, I suggest you visit in the morning, as soon as they open.
You'll avoid the crowds and get the best light.
Of course you can always come back at night while taking pictures of the Christmas lights in the area!
Unfortunately it'll be crowded and the light is honestly not the best.
Burlington Arcade
This covered upscale shopping arcade extends 179 meters from Piccadilly through to Burlington Gardens.
At Christmas they have gorgeous decorations and usually fresh flowers covering both entrances.
Yet it does get very crowded, so you should try to visit early in the morning.
Notting Hill
December 2019 was the very first time I managed to find an almost-deserted Notting Hill.
Christmas in London means listening to a Christmas carol while enjoing a ton of festive things.
I guess everyone was busy taking pictures at Hampton Court Palace or the other popular spots.
That left me with some gorgeous Christmas garlands and the cute, pastel-colored doors at Notting Hill.
I visited on a sunny Sunday morning, and I was the only one walking around and taking pictures, with a huge smile on my face.
If you're in love with cute doors and door decorations, just like me, you should absolutely add this area to your morning itinerary.
It won't disappoint!
Bond Street
Art stores and designer shops are famous for their lovely window displays that they put up for the holidays.
At Bond Street and Old Bond Street you'll find some of the best facades ever.
While after sunset the twinkling Christmas lights add a little more magic to the pictures, be aware that this is one of the busy instagrammable spots at Christmas.
Coppa Club Igloos
I'm sure you've already seen lots of pictures of the Coppa Club Igloos in London.
What if I tell you that they are even more romantic for the holidays?
To make sure to find an igloo you'll have to book one weeks (or months) in advance. If you still can't get in, don't worry. You can take pictures also from the outside.
Just make sure you won't ruin someone else's romantic meal!
Natural History Museum Ice Rink
One of London's most popular ice rinks is located in front of the iconic Natural History Museum in South Kensington.
While tickets aren't exactly cheap (adults £12,65, children £8,8 and families £39,6), you can still take pictures of the ice rink even on a budget… without wearing your ice skates!
Just make sure you also get the lovely Christmas tree in the background!
New Updates
In 2021 it was announced that the Natural History Museum Ice Rink wouldn't return for 2022.
We're still kind of hoping that they rethink this decision so we'll keep you updated in case there's something new!
The Winter Forest at Broadgate Circle
Behind the Liverpool Street Station hides a Nordic-inspired Christmas pop-up event.
300 snow-covered pine trees, twinkling lights, live music and wood cabins create a magical atmosphere that you shouldn't miss!
This event at Broadgate Circle usually starts early November through December 20.
New Update
The Winter Forest at Broadgate Circle in London is returning!
The official, confirmed dates, are November 6 to December 24, 2022.
Jimmy's Lodge and its Snow Globes
Another one of the lovely holiday pop-up events you will find at Christmas in London is the Snow Globes, by Jimmy Garcia, one of the most recognizable names in British cooking.
Every Christmas he recreates cute "snow globes" (which look a bit like glass igloos) on London's South Bank.
While the experience is super romantic, food is also pretty expensive and finding a free spot can be tricky.
But don't worry!
You can take pictures of the Snow Globes as you explore the Southbank Centre Winter Festival!
Where to Enjoy a delicious Christmas Tea in London
London is the one place where drinking tea is an art.
The holiday season gets even better if you treat yourself to a Christmas-themed afternoon tea!
Christmas tea means sitting down in a luxury tea room, completely decorated for the holidays.
You will be served a high tray full of cute and delicious sandwiches and cakes which will be all Christmas-themed.
Get ready to taste a bit of chocolate and mint pine, or a cinnamon Santa's hat, or even tiny gifts which taste like white chocolate and berries!
All in all, it's a wonderful experience that you should absolutely add to your to-do list if you're going to spend Christmas in London. It's definitely worth the time!
Where can you enjoy the most festive Christmas tea in London? Let me show you!
Click to watch our Christmas Tea experience at St. Ermins Hotel in London and see what is it all about!
Christmas afternoon tea at Biscuiteers
Biscuiteers is a popular photo spot in London, especially the Notting Hill area.
You might have probably seen the super cute cookies, hand-decorated to match street signs, even with your name on them!
Well, having a Christmas tea at either its Notting Hill or Battersea branches is one of those mouth-watering experiences you won't forget so easily!
You will be served Christmas biscuits, orange and cranberry scones, Christmas pudding macarons and so much more, in a very instagrammable spot: what are you waiting for?
Christmas Mad Hatter's Tea Party at Sanderson Hotel
Not many tourists know about the Mad Hatter's afternoon tea at the Sanderson, and even less are aware of their limited edition festive tea.
You will be served a selection of Alice in Wonderland-Christmas-themed treats, so keep your phone at hand because I can assure you that you'll want to take lots and lots of pictures!
We loved the Mad Hatters Christmas tree meringue, but you shouldn't miss the White Rabbit, with wild mushrooms and truffles, and the Mad Hatter's Festive Surprise.
Some were almost too cute to eat!
Christmas afternoon tea at The Ritz London
Are you wondering how does it feel to waltz through the doors of The Ritz in London?
Know that you can treat yourself to their Christmas Afternoon Tea in the iconic Palm Court, gloriously decorated for the holidays.
You'll want to wear your poshest outfit to savor the countless mini-sandwiches, seasonal pastries and a whopping 18 varieties of fine tea!
B Bakery Christmas afternoon tea bus tour
We are huge fans of the Brigit's Bakery bus tour experiences, so much so that both me and my sister decided to treat our mum to a Christmas Afternoon tea bus tour of London, for her birthday.
What can I say, she's still giddy only by thinking of it: we had such a great time!
With this kind of experience, not only you'll be able to tour the streets of London on a super cute double decker decorated for the holidays, but you'll also be served delicious food.
The menu is usually announced online on their website, and includes Stilton muffins with chestnuts, sable Breton with hazelnut cream, and warm scones served with strawberry jam.
In case you're celebrating something, make sure you send an email to Brigit's Bakery through their website to let them know.
The staff was super sweet to our mum, the whole bus sang her a lovely Happy Birthday and they even gifted small presents for her special day!
Click here to book your Afternoon Tea Bus Tour in London at a special price!
Festive Afternoon Tea at The Landmark London
The Landmark in Marylebone is off the super-crowded streets of London, in a relatively quiet area.
During the holidays they serve a Festive Afternoon Tea in the insta-perfect Winter Garden, with live music (usually harp or piano) and quite the view.
The grand staircase is perfect for pictures, and you will drink your tea in a tranquil oasis, under elegant palms.
If you can't finish your mini-sandwiches or pastries, ask for a cute little box to bring the leftovers with you.
After all you never know when the next sweet tooth attack will hit!
You might also like:
Ultimate packing list for Europe in winter
Afternoon Tea at Fortnum and Mason
The Tea Salon at Fortnum and Mason has been there for over 307 years and if you just check their reviews on Tripadvisor you'll know that people absolutely love it.
If you've planned a shopping trip to get the last Christmas gifts, stop by for tea and some pictures at the Diamond Jubilee Tea Salon.
You will be treated to a luxury experience, with tea of your choice being poured for you, exquisite sandwiches, warm scones with jam and cream, and a selection of trolley cakes to die for.
Don't be afraid to ask for a box for your leftovers!
What to pack for your Christmas holidays in London
While I'm sure that you already have all the essentials pinned down for your December trip to London, I'd like to offer a few packing tips that come from my own experience.
Hopefully they will give you a few ideas and help you to pack the best winter suitcase!
London packing – important tips:
Pack 1 elegant outfit that you can use if you're planning to have a Christmas afternoon tea
Dress in layers – it is quite warm in the tube and in many museums and pubs, yet it will be cold outside!
Pack 1 waterproof jacket – it's better than an umbrella, especially in the crowded areas
Bring some cash – not every vendor at the Christmas markets in London will accept credit cards
Make sure you pack a hat – it can be quite humid at night, especially if it has been raining
Don't overpack – if you forget something, head over to Primark to buy cute clothes without breaking the bank!
London For Christmas – The Best Tours
Is it all a bit too much for you?
Are you looking to have some Christmas fun without having to think of everything on your own?
Or maybe you're looking to explore London with a bit of company?
Check out the following tours!
These are the best London tours for the holidays – all with free cancellation up to 24 hours in advance.
Christmas Party Dinner Cruise
The perfect way to celebrate Christmas day in London!
You'll get to enjoy a traditional 3-course meal and then dance with the new friends you'll meet there!
This dinner cruise includes everything. Yes, wine too!
Check out rates and availability here.
London Afteroon Tea Bus (London Tour Included)
This unique afternoon tea experience includes a tour of London with the help of a local guide.
You'll get to sip your tea, eat delicious sandwiches and warm scones, while comfortably seated on a vintage double-decker bus.
This tour also includes a glass of Prosecco or soft drink!
Check out rates and availability here.
The London Eye – Fast-track Option Included
The very best way to see London from above is to ride the Coca Cola London Eye!
While usually it takes forever to step into your capsule, with this skip-the-line ticket you can hop on straightaway!
Check out rates and availability here.
Kew Gardens London Admission Ticket
Get a discounted ticket to visit Kew Gardens in London for the holidays!
You can cancel up to 24 hours in advance, in case of last-minute changes in your ititinerary.
The ticket includes a walking tour that takes place twice daily, subject to availability.
Check out rates and availability here.
The Most Festive London Hotels For Christmas
Looking for a super special place to stay in London, during the most magical time of the year?
Discover the most festive hotels in London and get ready for a surprise.
You might be able to book there also if you're visiting on a budget!
ME London by Melia – Luxury
The ME London by Melia hotel overlooks the impressive Somerset House.
That's where the Fortnum & Mason ice skating rink is waiting just for you!
There's even a skate school and the chance to dance on ice skates, thanks to a DJ providing the best soundtrack ever.
Check out rates and availability here.
Claridge's – Luxury
Every year, this amazing London hotel in Mayfair receives a Christmas makeover from a famous designer.
In 2021 it was "The Celestial Snow Globe", the unique Claridge's tree created by Kim Jones.
Yes, the Artistic Director of the Dior men's collection.
Illuminated with magical sparkles and snowflakes, it will surprise you with holographic projections creating magic visuals also on the iconic staircase.
Check out rates and availability here.
The Zetter Hotel – Mid-range
If you are looking for an istagrammable hotel in London to take a bunch of pictures, this is it.
The Zetter Hotel is a hipster spot where you will feel like stepping into a Dickens' tale.
Housed in a Victorian warehouse, it has rooms that combine antique and modern furniture.
Check out rates and availability here.
K West Hotel & Spa – Mid-range
The K West Hotel & Spa is perfect for the shopaholics who are planning to spend a weekend in London.
Near Shepherd's Bush, in West Kensington, and just a few steps away from a ton of shops where you can get the best Christmas presents.
Just across the road in fact you'll find the Westfield shopping centre!
Check out rates and availability here.
Stylotel London – Budget
Stylotel is a budget hotel, within walking distance from one of the Winter Wonderland's entrances.
You can see Hyde Park from your window and take pictures of the amazing winter wonderland from your room.
Or you can just sit on a bench watching the squirrels playing in the snow, like we did!
Check out rates and availability here.
The Z Hotel Trafalgar – Budget
What if I told you that you can stay in one of the most popular districts in London… on a budget?
The Z Hotel Trafalgar is within walking distance from the Charing Cross Station and 5 minutes away from Covent Garden.
It's the perfect hotel in London for those who want to take a lot of pictures for the 'gram.
Why?
Well you can reach the Christmas tree in Covent Garden early in the morning by foot, before anyone else!
Check out rates and availability here.
You might also like:
The best Christmas Markets in Europe – Where to find some snow
Guide to Vienna Christmas Market
Visiting Bratislava Christmas Market
The best Christmas Markets in Italy
What to eat in Italy at Christmas
Ultimate guide to Christmas in London
Visit Christmas Alley in Naples (Italy)
All the new Europe entry requirements you need to know!
Guide to the best time to visit Italy
Pin it for later!
This post is also available in:

Italiano